With October comes decorating, and these cute Halloween painting ideas will help you celebrate the holiday in a distinctive and fun way. If you love decorating, then you're bound to feel the excitement that a celebration like Halloween gives. It's a time to stretch your creativity, showing off your love of the holiday whether through creepy sights or more kid-friendly décor. Regardless of which avenue you take, the type of decorations you use stand out the most. Sometimes the smaller items speak more, and in this case, it's time to pull out the paintings.
Cool Halloween Painting Projects the whole Family will Love

Paintings allow you to show off a different side to your decorating. They are also a wonderful way for you to fill up any gaps in your decorating, adding that extra bit of color, depth, or contrast that is needed to make a more cohesive look. Besides, paintings also remind you how important it is to decorate the inside of your home for Halloween as it is fancying up the outside.
But what types of painting do you want? Do you want the classic kind that you can hang up? If so, there are many Halloween-themed ideas you can paint. Or perhaps you are in the market for something different? Maybe you don't want to carve pumpkins and instead want to paint them. Perhaps you need something more unique and creative? If so, you can always go for a different medium to paint on like paper plates.
Regardless of what you want to do, you will need some ideas to kickstart your decorating journey. Well, you're in luck as we have compiled a list of our favorite cute Halloween painting ideas sure to get those creative juices flowing.
1. Polka Dot Wooden Painted Pumpkins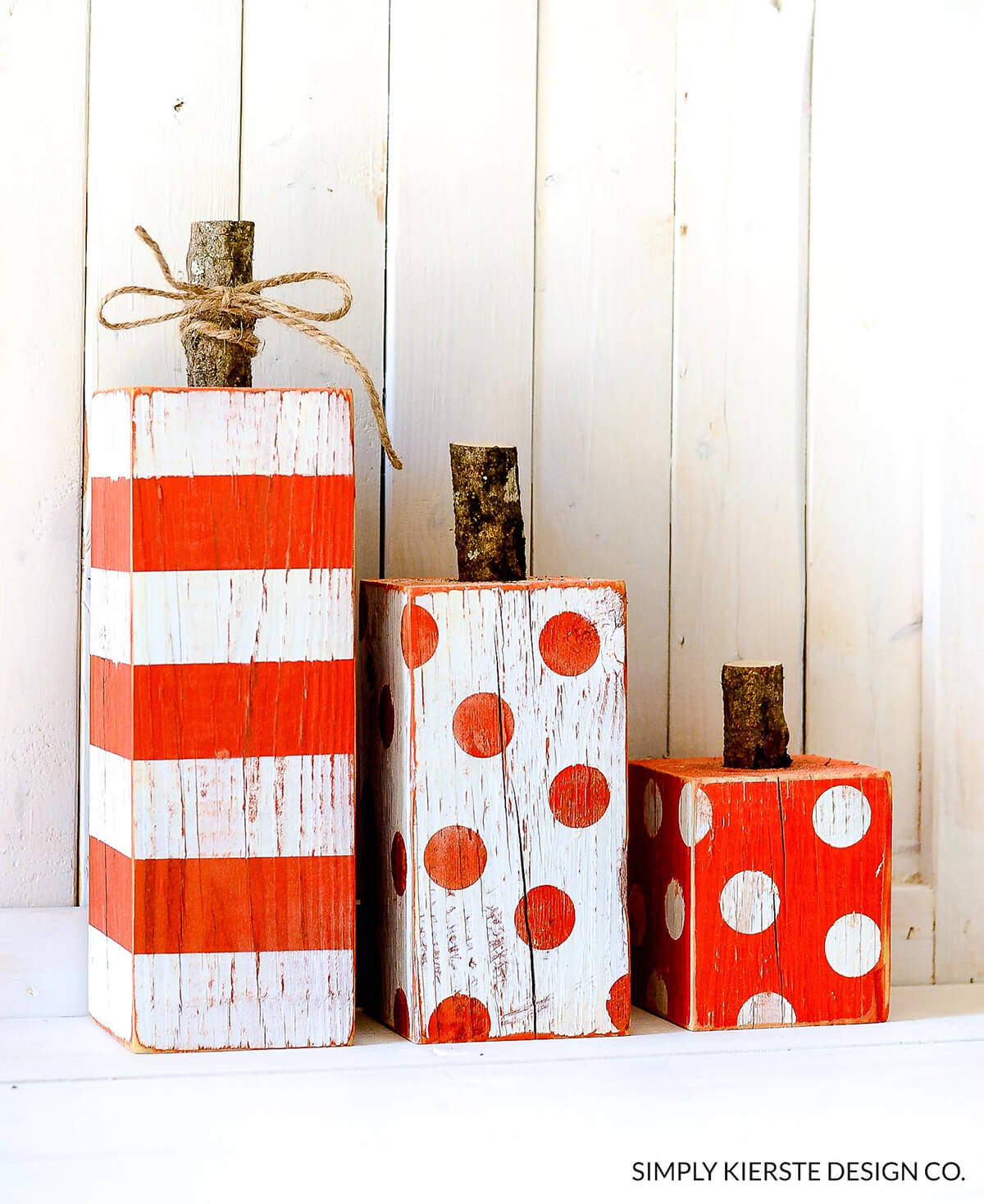 Mix things up in your décor with these wooden "pumpkins". They are a nice way to add a rustic touch to your Halloween decorations. Also, you're free to paint any design you like such as stripes and polka dots, utilizing various colors well so that these stand out effortlessly.
2. Gold Spider Halloween Painted Sign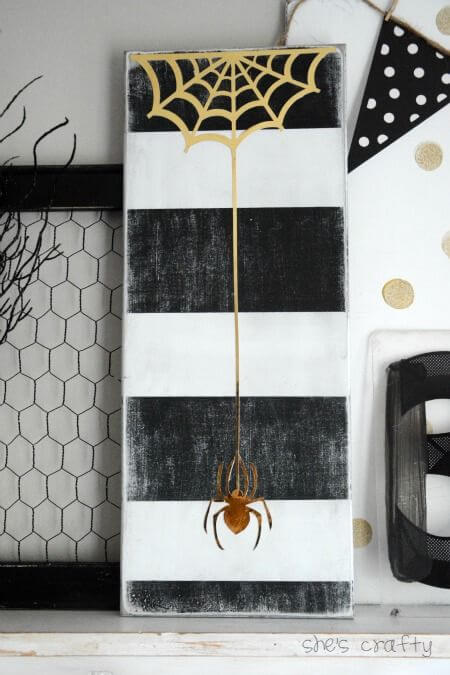 Bring some sophistication to your Halloween decorations with this incredible golden spider painting. The black and white backdrop won't look out of place alongside the natural setup of your home. At the same time, the golden spider is small yet leaves a large impact on the piece.
3. Cute Halloween Painted Pumpkin Décor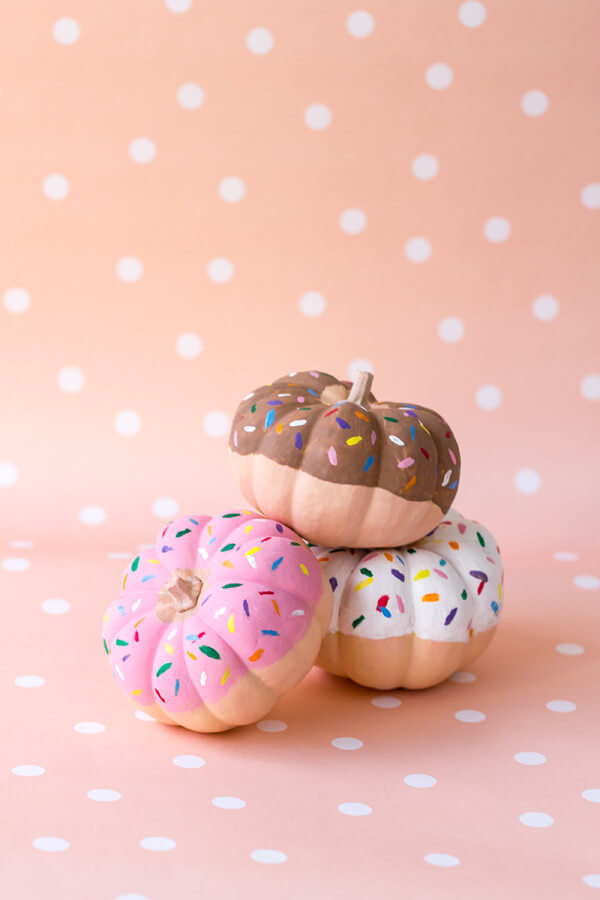 Halloween has never looked cuter than with these sweet donut-themed pumpkins. This is definitely a cool way to keep the holiday season more laid back and fitting for all ages. The pumpkin shapes work well in giving off the impression of donuts, and the vibrant colors easily allow them to stand out.
4. Creative Halloween Paper Plate Puppets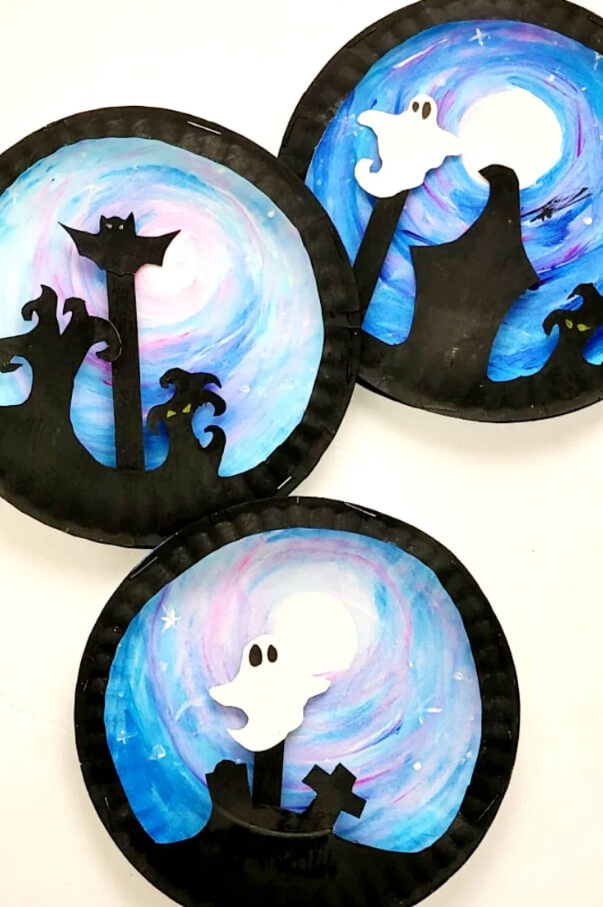 Ready to act out some scary stories? These paper plate scene puppets are perfect to handle the job. They're fun for the kids to carry around and create their own exciting and eerie stories to keep everyone entertained.
5. Fun Canvas Pumpkin Painting Decoration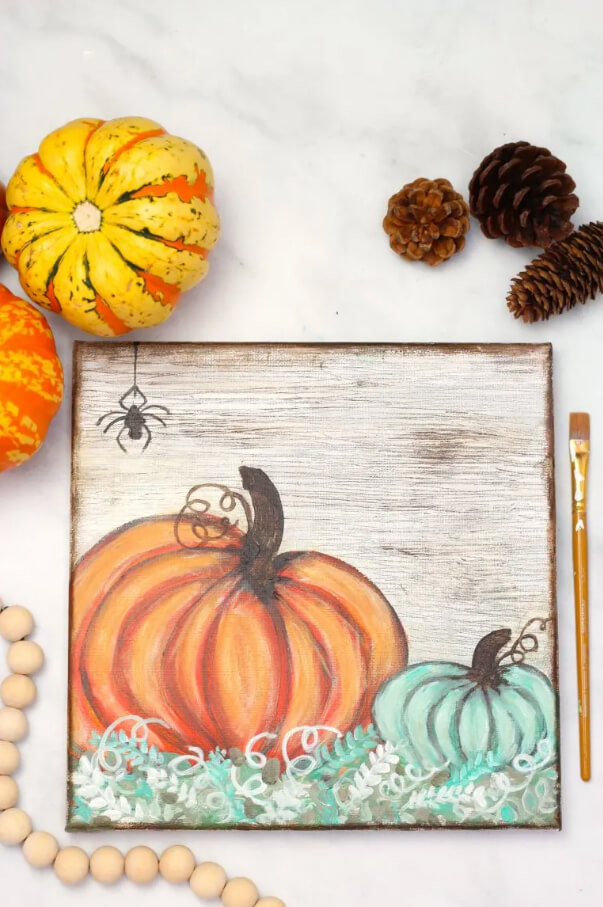 Keep things simple and fun with this adorable pumpkin painting on canvas. It's an exciting way for you to push your artistic skills and hang up something you can truly be proud of. Plus, it is the perfect way for you to better personalize your home's décor for the season, creating something that is completely distinct.
6. Wooden Painted Halloween Faces Setup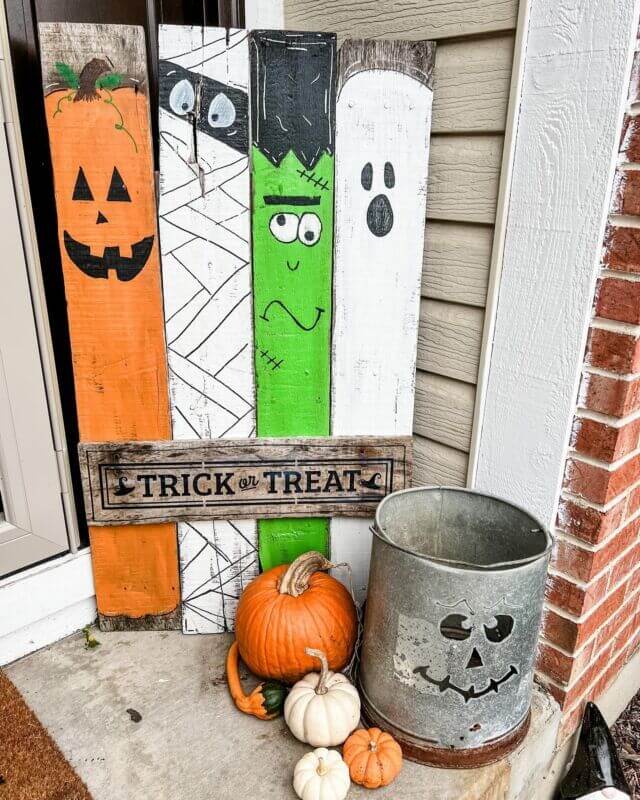 Pieces of wood serve as the best backdrop for you to create some cute Halloween painting ideas. Each wood can support a different character, allowing you to paint numerous on-theme people from vampires and Frankenstein to pumpkins and ghosts.
7. Charming Watercolor Skull Painting Project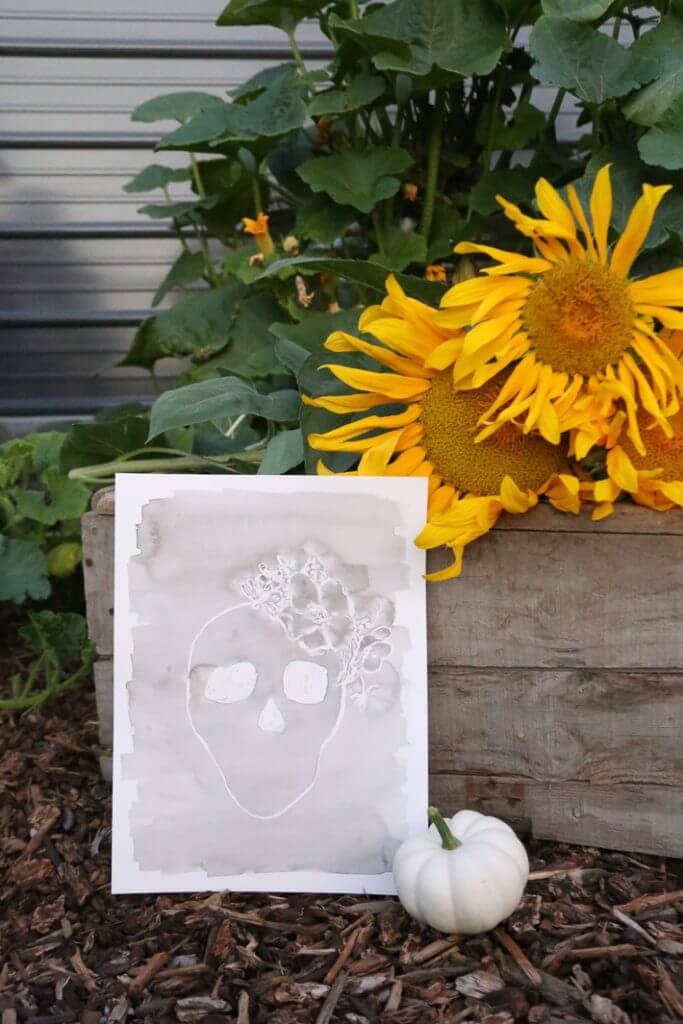 Want something distinctive to set up among your Halloween decorations? This watercolor painting is a nice choice. It instantly captures attention with its design, and the hint of a skull silhouette gives that extra creepy vibe fitting for the season.
8. Spooky Flying Bats Painting Project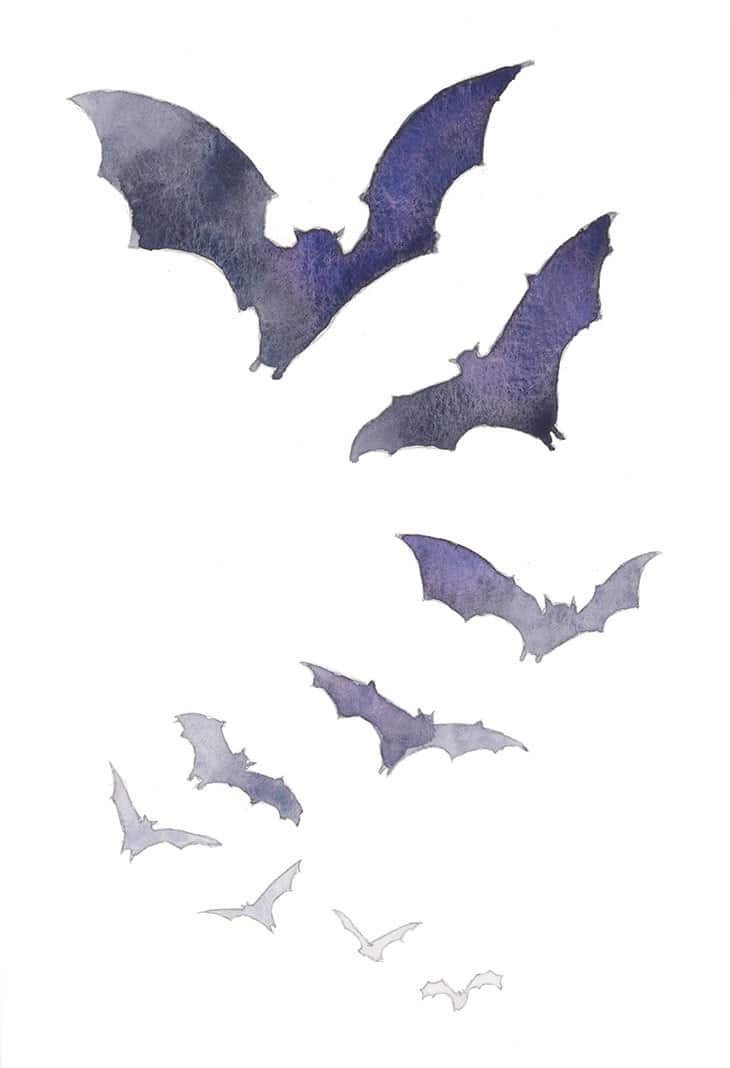 A great way to celebrate Halloween is with some bats. Rather than just hang some up, a painting can convey the same feeling of dread. The bats arranged in such a way provides it with a wonderful sense of movement, making anyone who witnesses this to believe they're really in flight.
9. Colorful Halloween Witch Hat Design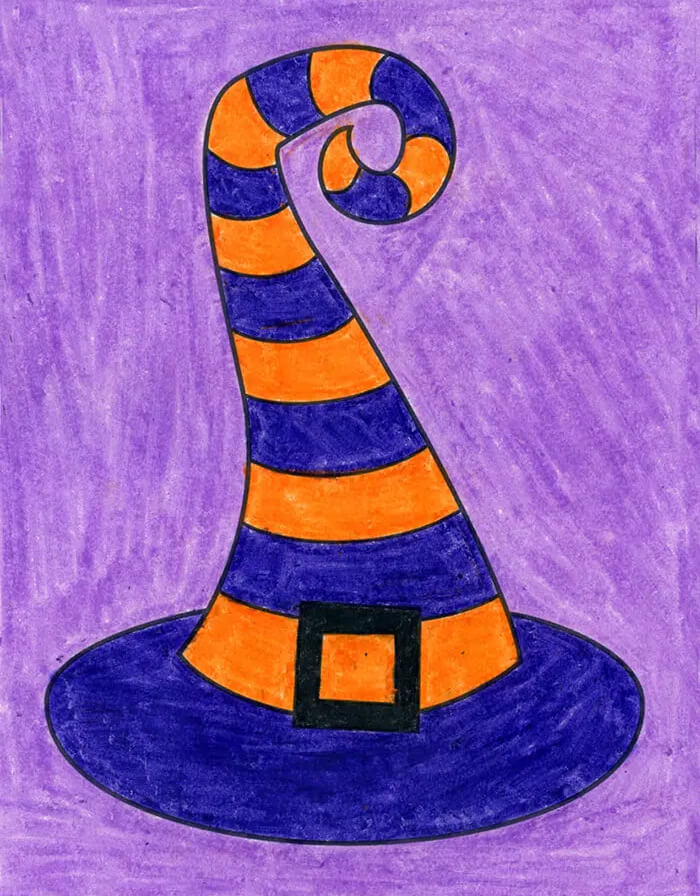 Nothing is as classic for Halloween as a witch hat. It's a nice way to add a pop of color to your decorations without going overboard. This is also a great project to do with the whole family, allowing everyone to design their own personal witch hat.
10. Floral Themed Painted Pumpkin Décor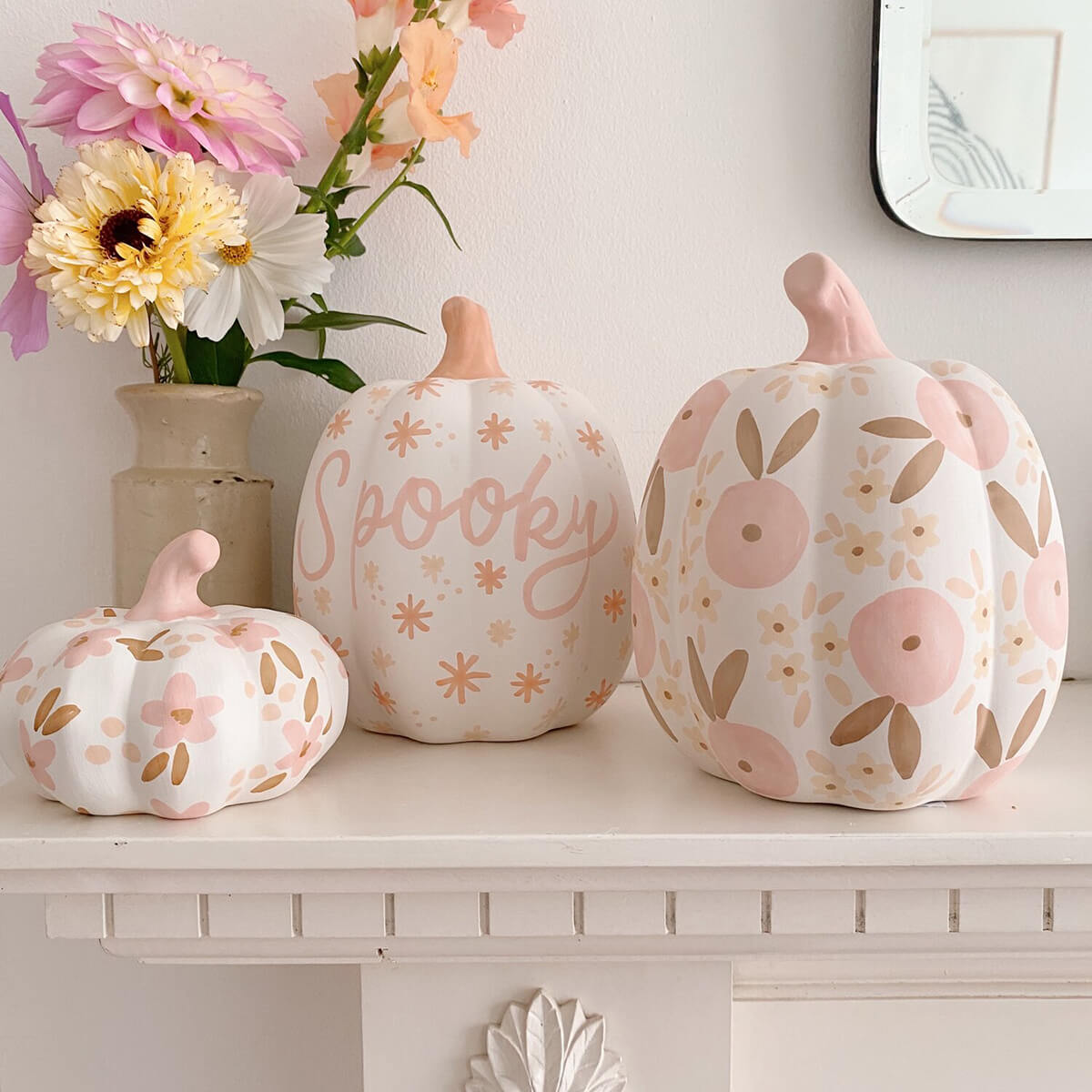 Who said Halloween colors had to only be orange and black? Keep up with any contemporary theme you have going in your home with these cool painted pumpkins. The floral designs offer a sense of elegance not standard in this type of holiday, allowing your décor to stand out even more.
11. Happy Movable Paper Bat Doll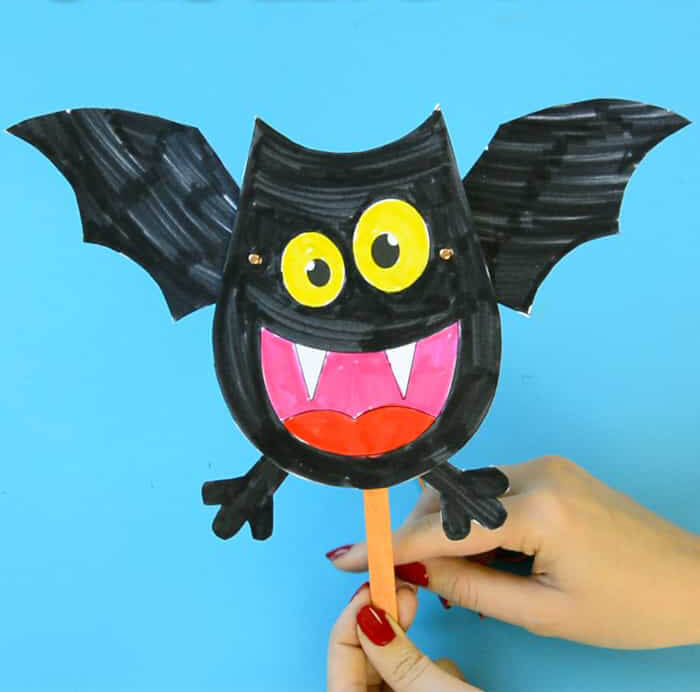 Keep things equally sweet and scary this Halloween with this movable paper bat doll. You can make it as happy and carefree as you wish or as frightening as possible. The possibilities are endless, but you're always left with something fun to play around with.
12. Flying Owl Paper Plate Craft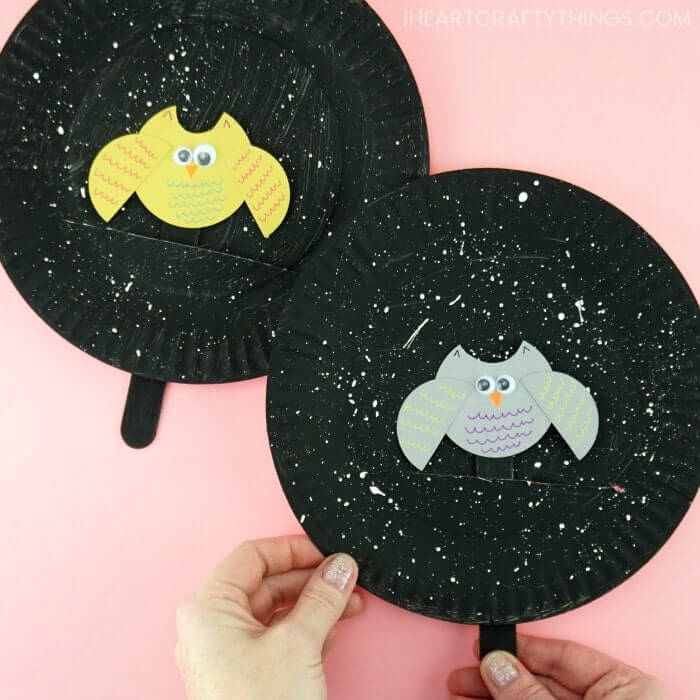 A lovely way to keep little hands busy this Halloween is to create these cool paper plate designs. The little owls on them offer the right amount of color to make these crafts vibrant and appealing. Meanwhile, kids can "fly" them around all night.
13. Rustic Themed Halloween Painted Signs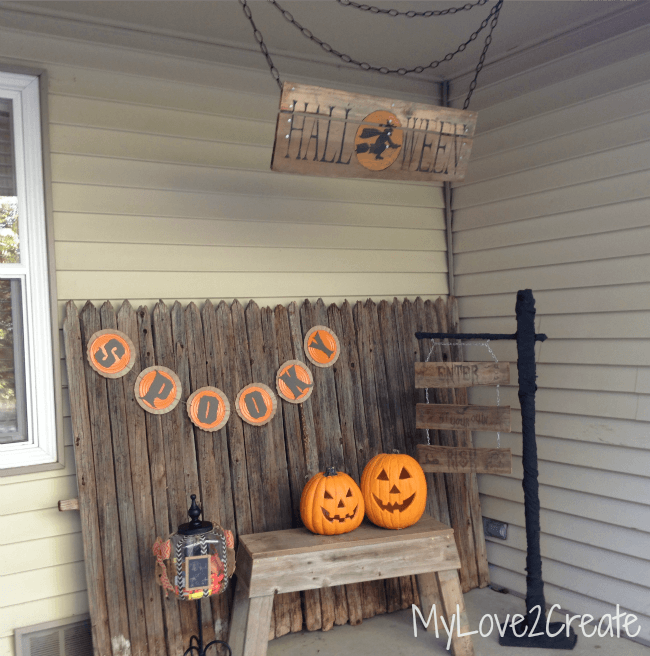 Put a rustic spin on your outdoor Halloween decorations with these exciting signs. It is a good way to welcome anyone to your home, especially those little trick-or-treaters, without things being too scary or over the top.
14. Wood Shaped Pumpkin Painting Décor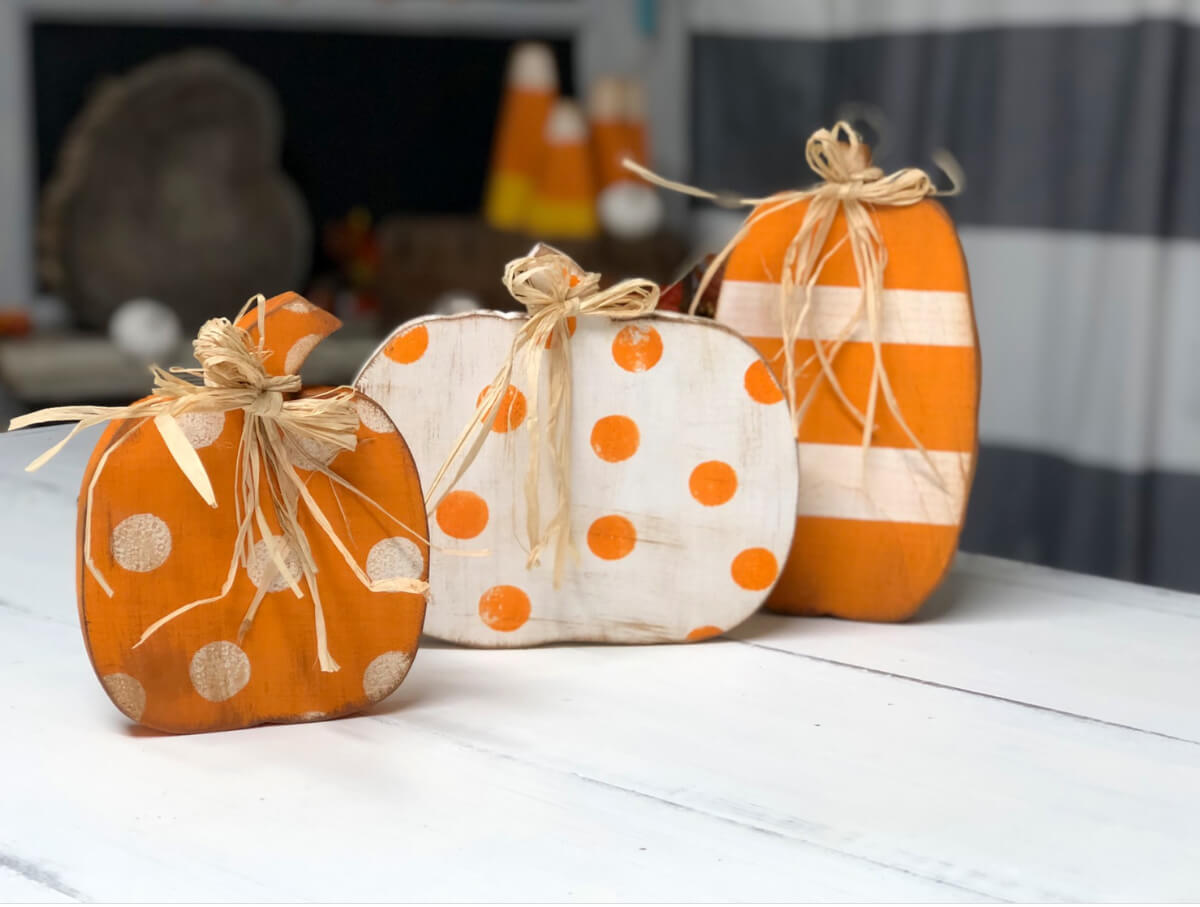 If you're not up for carving out pumpkins, then perhaps these wood-shaped pumpkins will fit better in your home. They never go bad, so these are something you can keep in the family for use the next season too. Create any design you wish on these pumpkins as your creativity runs wild.
15. Classic Halloween Cat Graveyard Artwork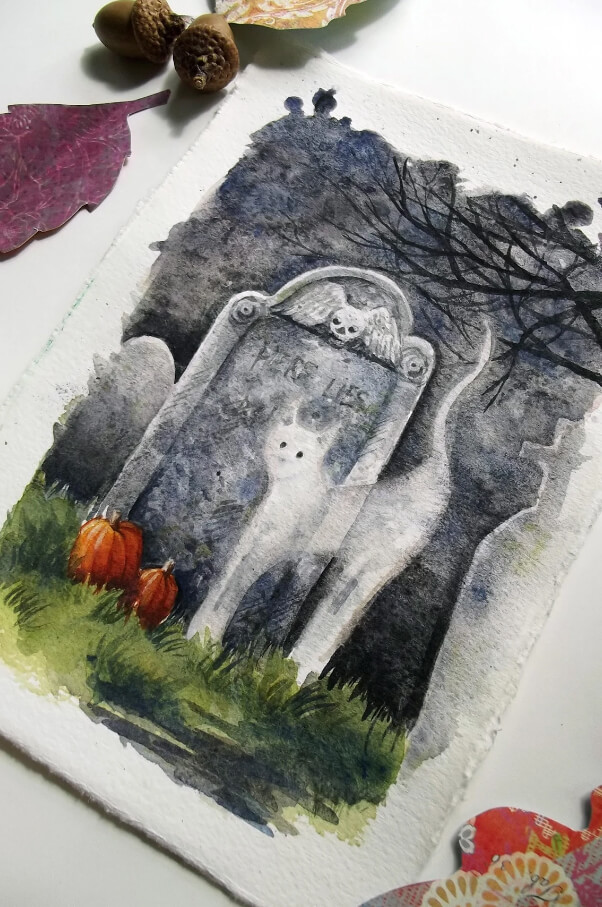 This painting is a beautiful choice when you want something classic to hang up on your wall. By using watercolor, the painting looks dated in the best way. The backdrop is straightforward what with the graveyard and the wandering cat, but there is a good deal of contrast that helps this piece make a strong impression.
16. Painted Wooden Halloween Character Sign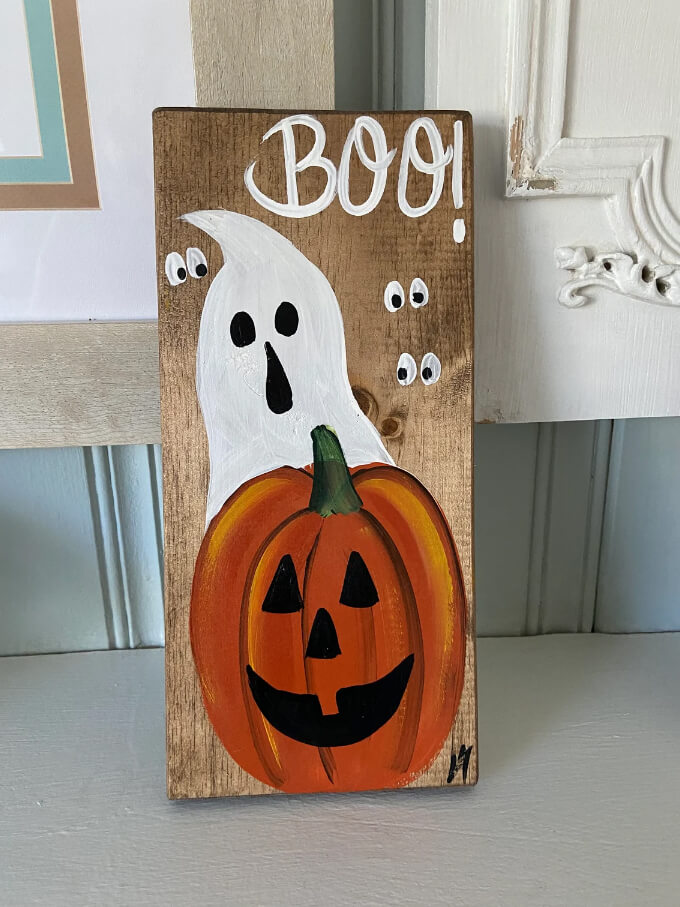 A ghost and a pumpkin are two of the most iconic symbolisms of Halloween, and they blend perfectly within this painted wooden sign. The ghost is just charming enough along with the happy jack-o-lantern. There's the added bonus of the painted eyes in the background that add a bit of spookiness to the sign.
17. Trick or Treat Painted Sign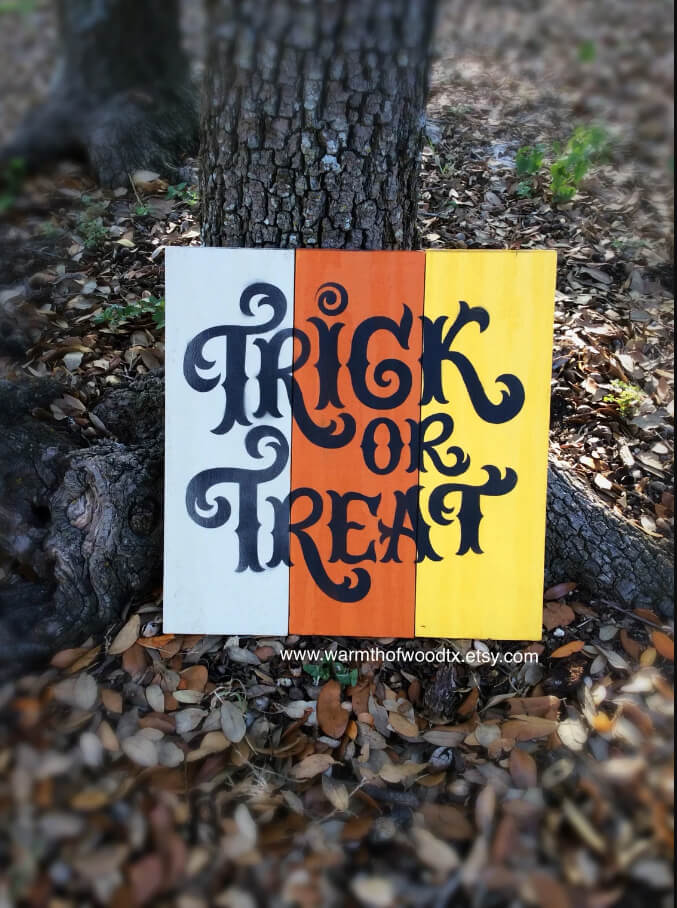 Let everyone in the neighborhood know what you're ready for with this gorgeous trick-or-treat sign. The lettering alone is bold and instantly captures attention, while the background has just enough Halloween spirit to hold that attention.
18. Hand Painted Pumpkin Shelf Sitter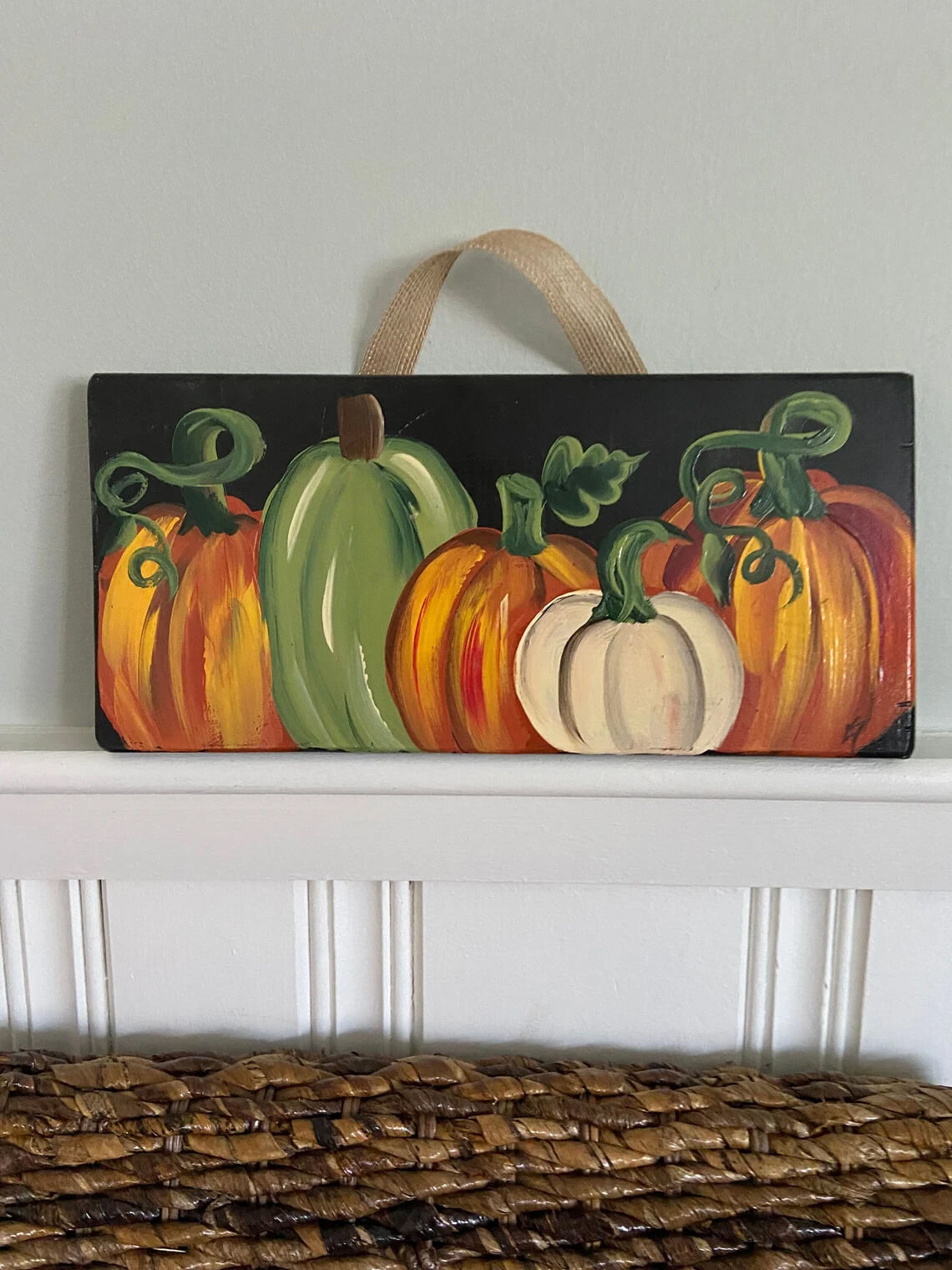 This hand-painted shelf sitter is the perfect way to add Halloween décor that you can actually keep up throughout the fall season. Rather than scary, the sign is on-brand for the season thanks to its warm colors. Meanwhile, the differently shaped pumpkins work well at giving this movement so that everything rightfully stands out.
19. Sweet Halloween Gnome Painting Sign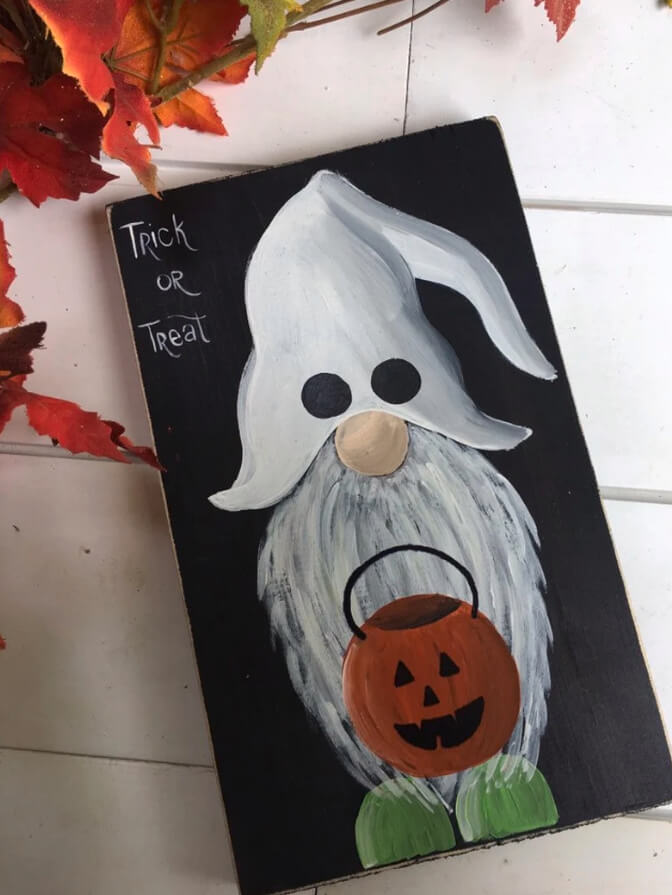 Who knew how well Halloween and gnomes would go together? Well, this painted sign proves that to be true. The gnome, in his simple ghost costume, is more than ready for trick or treating what with his pumpkin candy bucket.
20. Spooky Designed Halloween Pumpkin Painting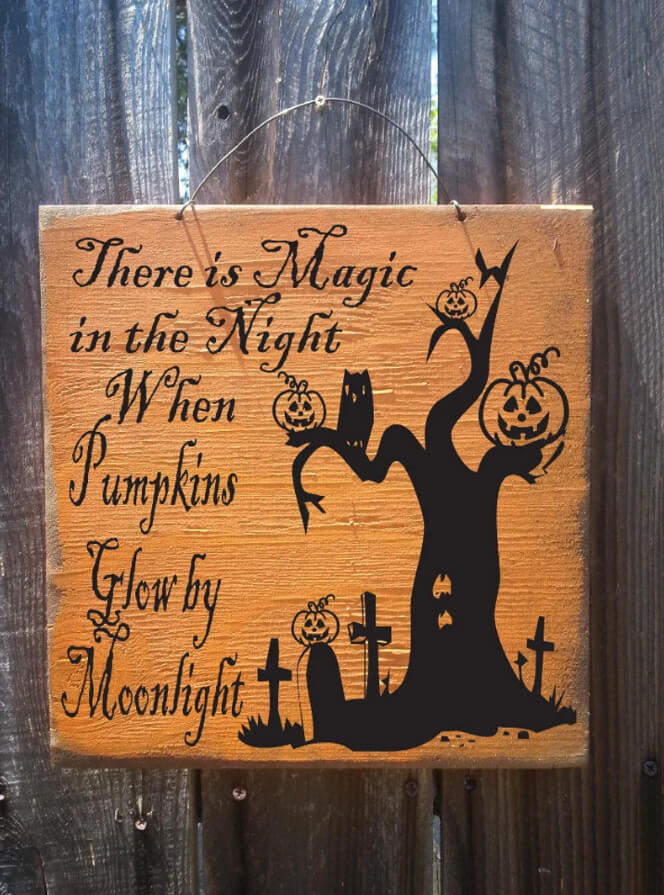 Encourage everyone to stop and admire your décor with this stunning Halloween hanging sign. The quote is fitting for the season. It is all rounded out by the remarkable artwork with the haunted-looking tree, the creepy graveyard, and the pumpkins all around.
21. Halloween Themed Canvas Wall Painting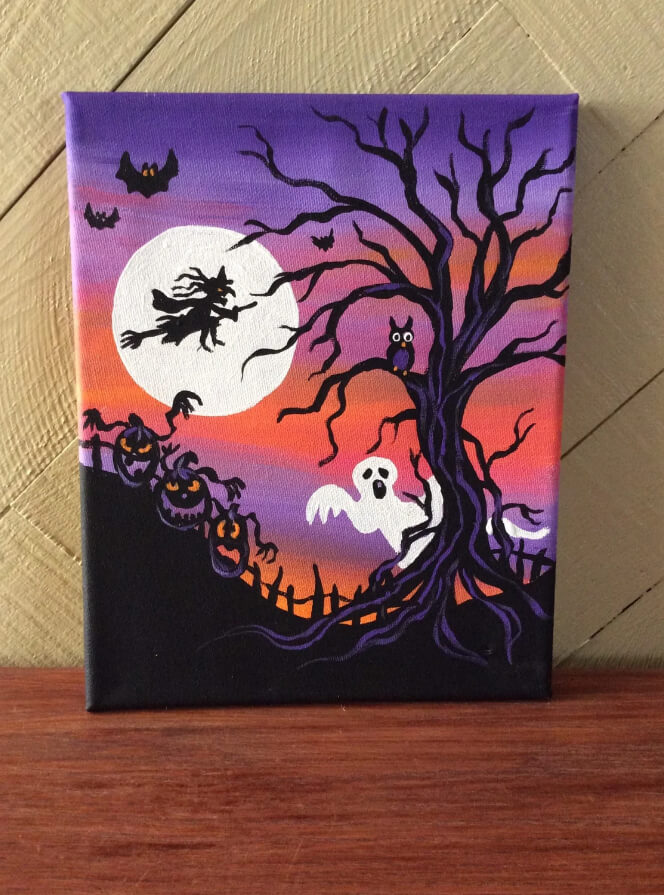 Get ready to celebrate Halloween by hanging this themed painting on the wall. The colors are vibrant while still sticking to the feel of the season. There is a whimsical touch about this painting too that helps it look more distinctive compared to any of your other Halloween decorations.
22. Acrylic Painted Halloween Art Print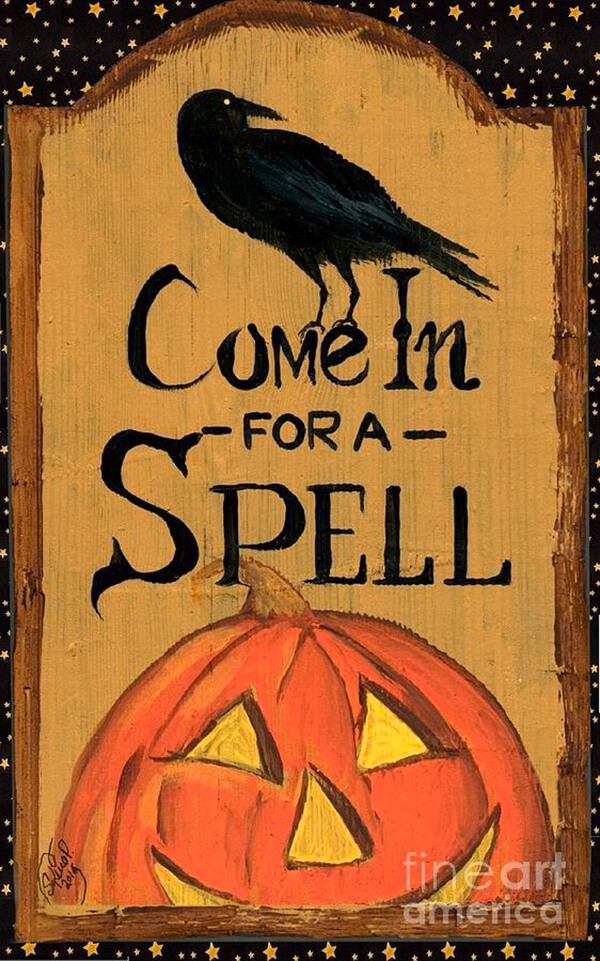 "Come in for a spell" is a wonderful saying applied to this Halloween-themed painting. We are also treated with a nice raven and a happy jack-o-lantern, bringing more life into this art print.
23. Raven Pumpkin Halloween Watercolor Print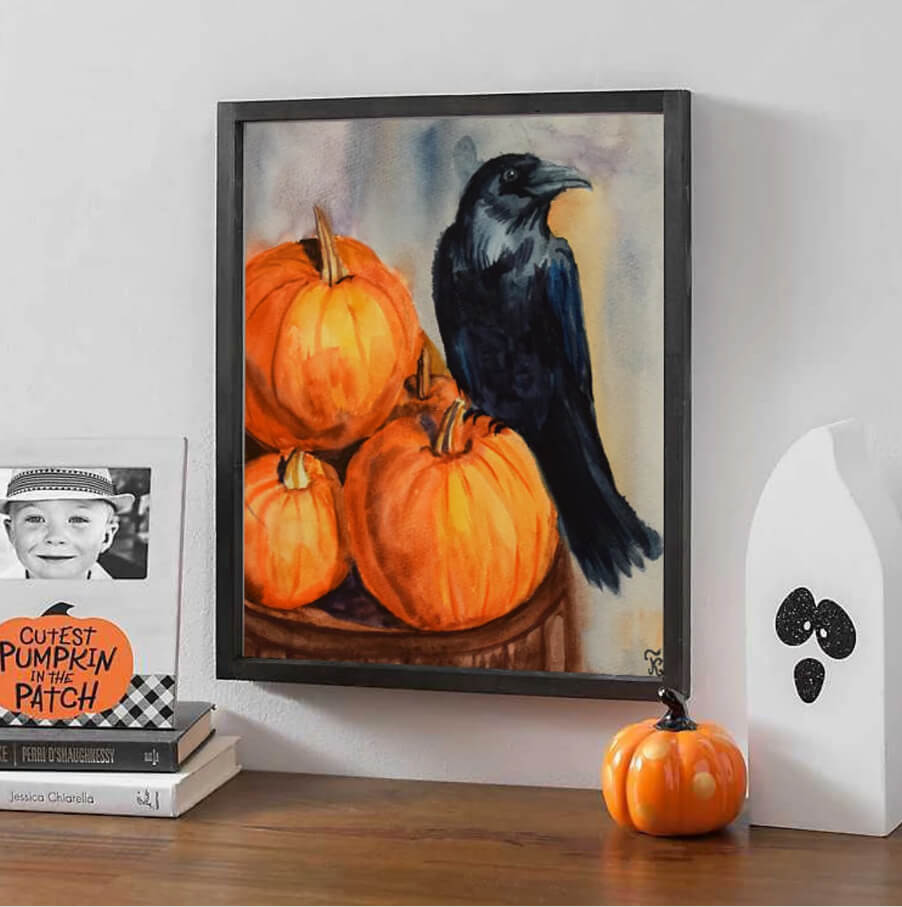 Add to your modern home decorations with this sweet watercolor Halloween print. The artwork is spectacularly made with the dark raven serving as a focal point and contrast to the brightly colored orange pumpkins.
24. Vintage Cute Halloween Ghost Art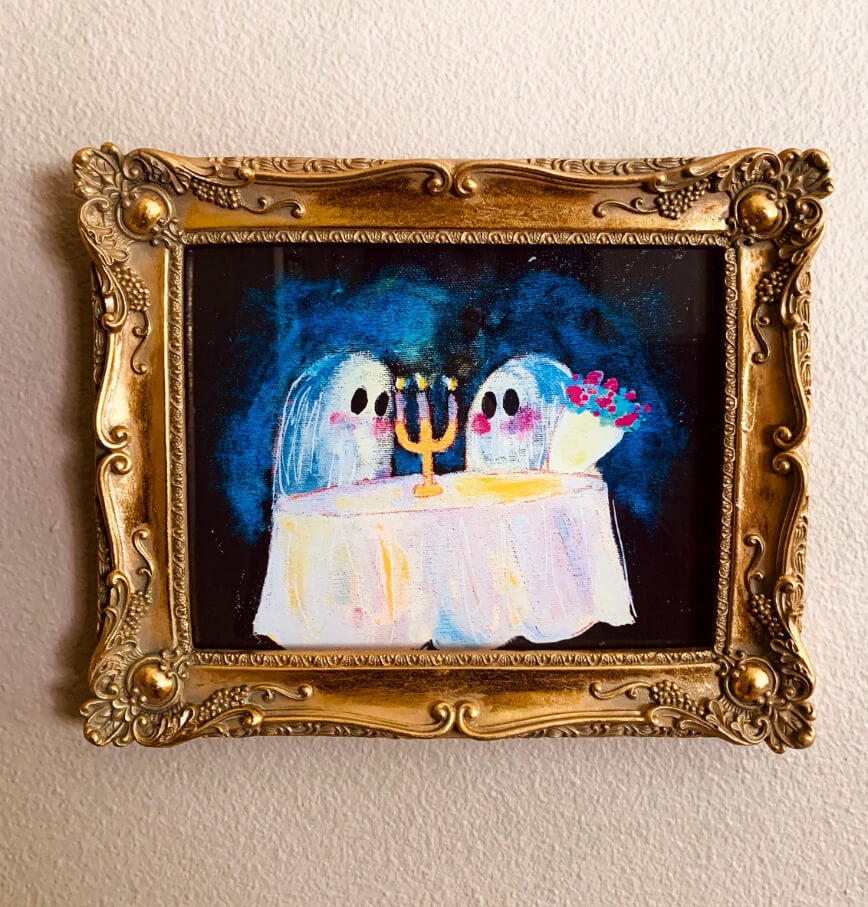 Bring a classic touch to your décor with this charming ghost art. The ghosts are adorably on a date paired with a candle-lit dinner of sorts. You can pair this painting with any frame of your choosing to really sell the vintage theme of the artwork.
Fun Halloween Painting Ideas for a Uniquely Spooky Décor
There is no shortage of ways that you can take Halloween decorating. A fun way to go about it is with paintings. This gives you more creative room to stretch your skills or show off your personality in various ways. You can go the more traditional route for the season, painting adorable and festive pumpkins. Alternatively, you can also veer toward the spooky side of things with ghosts, bats, etc.
Painted decorations are also exciting because there are several ways you can take them. You can hang up a lovely painting, ensuring that the interior of your home is ready for the Halloween season. Or you can paint other items like pumpkins, putting a spin on pumpkin carving this year. Whatever you desire to do, our list of cute Halloween painting ideas should help get you into the holiday spirit the right way.