Ranging from full table settings to simple bouquets, dining table decor ideas are a way to bring magic into your home. With so many approaches, finding the best table decoration concepts can seem overwhelming. However, this is a fun opportunity to discover more about your decorating style.
22 Inspiring Dining Table Decor Ideas to Bring Beauty into Your Daily Routine

As you navigate which dining room decor ideas fit your space, formality is one of the first areas to navigate. In general, a more formal table is decorated with more detail while a casual feel is achieved by paring down the extras. A few effortless ways to scale up the formal feel are to add a tablecloth, include a table runner layer, provide chargers, break out the patterned dinnerware, use ornate cutlery, and remember cloth napkins. For a more laid-back feel, a simple table setting and centerpiece are all the decorations necessary.
Beyond your aesthetic preferences, successful dining room decor ideas are dependent on your lifestyle. How much maintenance is right for you? If you love the low-maintenance lifestyle, your goal is to find centerpiece ideas that will look good in all seasons. However, if you have a passion for a well-decorated table, enjoy creating a fresh look for every holiday and special dinner. To strike a balance between the two extremes, seek out centerpiece ideas with a modular approach. This way, you can switch out season-specific elements with as little fuss as possible.
Functionality should not be forgotten. Remember that a tall centerpiece can block eye contact and hinder lively conversations. If you live in a smaller space, there are many attractive ways to incorporate useful items into the centerpiece. A few ideas include saucers, spoons, napkins, and bowls. Do not be afraid to mix and match the ideas below to find the perfect match for your dining room's aesthetic.
1. Spring Flowers Suspended Above an Easter-Themed Centerpiece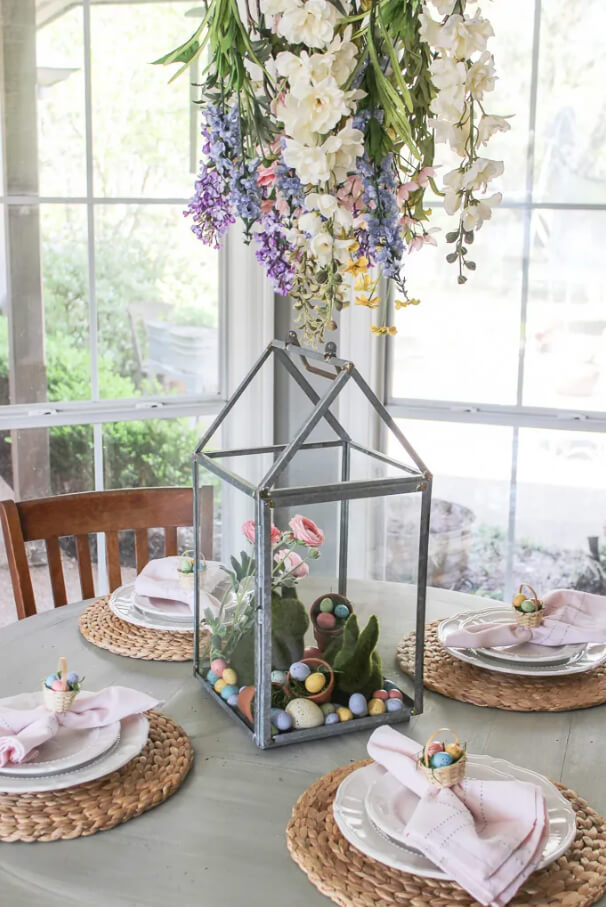 Instead of the traditional approach, this stunning centerpiece drapes flowers from a drying rack above the table. This leaves room for an adorable Easter scene inside a glass-walled terrarium. To set the springtime mood, moss-covered rabbits dwell inside. Achieving a coordinated masterpiece is as easy as choosing muted pastel eggs that coordinate with the flowers above. Make this look yours by pairing a glass vessel with any available fresh flowers. Then, fill the glass container with any decoration that suits the occasion. As long as you have fresh flowers available, you can personalize this look to fill your decorating needs.
2. Elegant White-on-white Dining Room Decor Ideas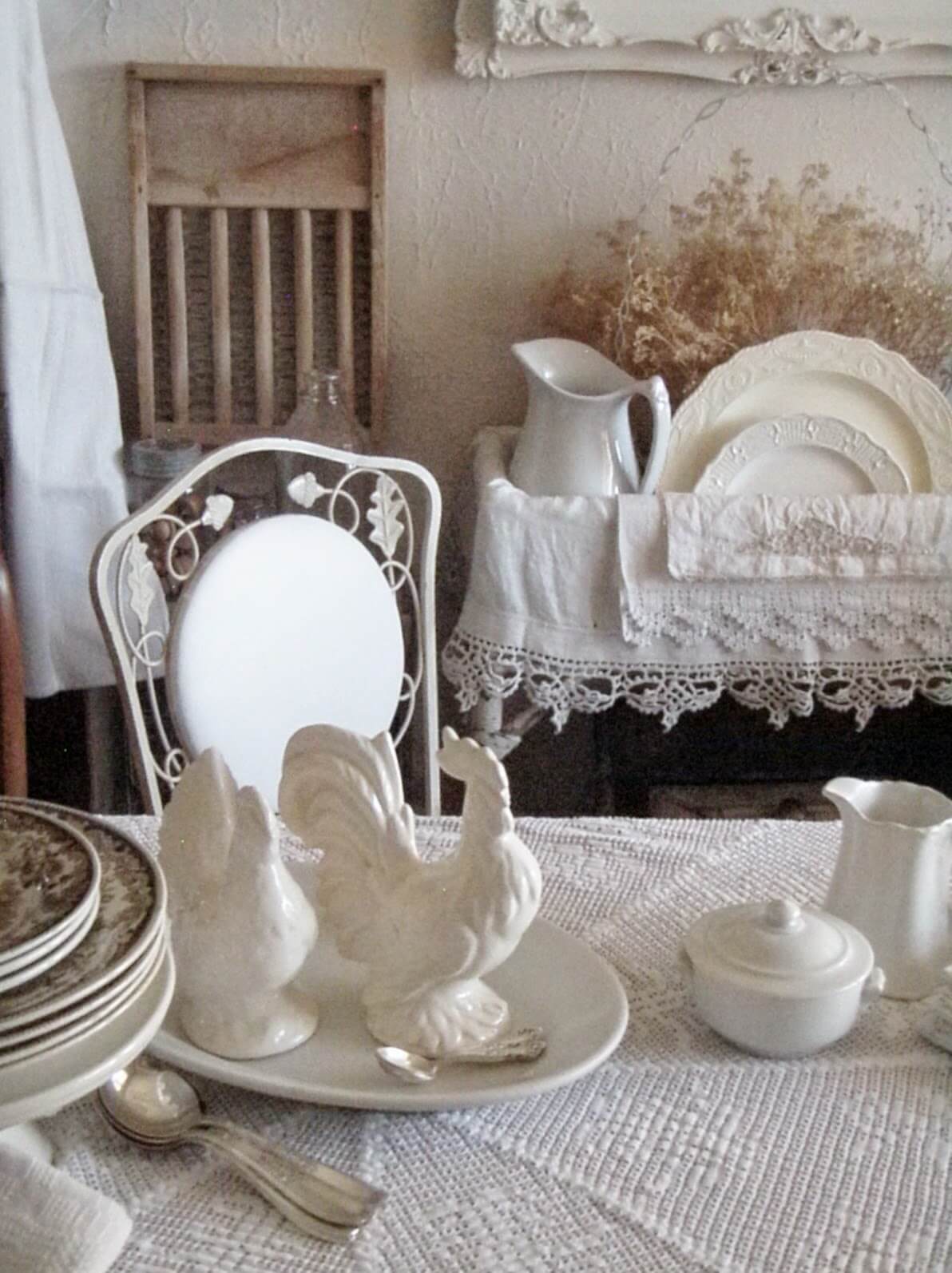 Bringing the white-on-white look to life is all in contrasting textures. Shiny ceramic chicken statues balance the soft cotton fabrics to perfection. Another way to amplify the dimension is to experiment with layered tablecloths. In this image, a rich brown tablecloth serves as a base while the crocheted white tablecloth keeps the room feeling spacious and airy. As a secondary accent color, the chocolate-colored print on transferware plates echoes the dark brown tablecloth. With all the white, this strategy offers the perfect environment to take pictures of your food and sophisticated table settings. This dining room decor idea truly highlights the food.
3. Wooden Toolbox and Boston Fern Centerpiece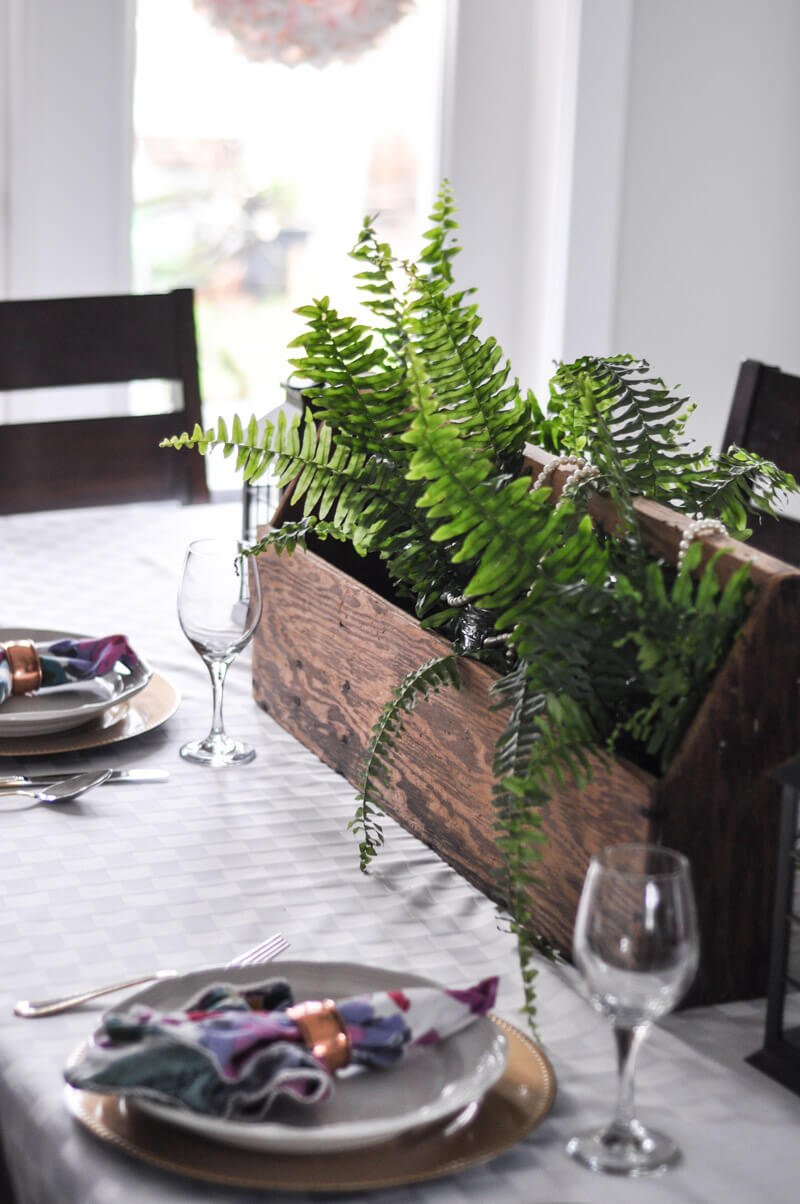 In a luxuriant show of nature's bounty, fern fronds burst from the wooden toolbox. Vibrant green makes a statement against the dark wood and white tablecloth. Without drawing too much attention away from the fern, colorful napkins contribute to the vivacious feeling this table setting elicits. The toolbox is an easy way to achieve length in a centerpiece, but you could use a variety of vessels to hold your fern. As you design your own Boston fern centerpiece, keep height in mind. If the fronds reach too high, your guests will not be able to see each other across the table.
4. Constructing a Sweet Springtime Scene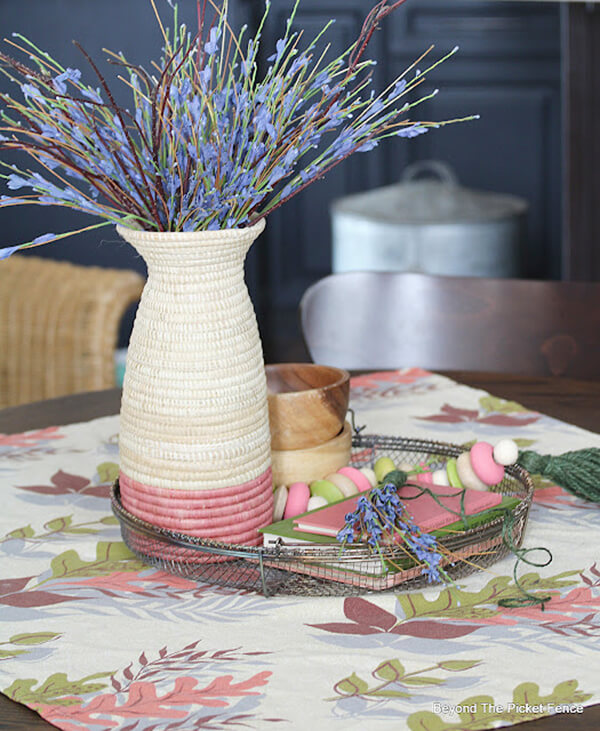 Creating a vignette like the one shown here is as easy as collecting and displaying a few items. Building this scene began with finding items that coordinated with the patterned cloth. Then, define a boundary by containing the items to a basket, tray, platter, bowl, or even mirror. This is an essential step in keeping this scene tidy. The fun part comes as you bring materials together to see how they work together. Stacked books, a rope vase, wooden beads, and wooden bowls might seem a strange combination but work beautifully in this arrangement. What surprising fusions will you create?
5. Neutral Modern Farmhouse Dining Table Decor Ideas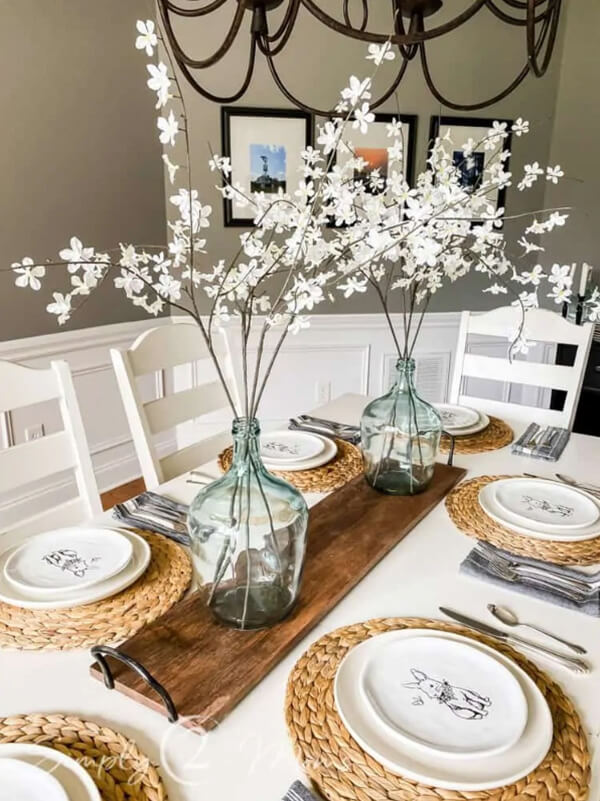 The key to capturing this table's appeal lies in balancing warm wood tones with all the crisp white and cool blue glass. Layers of inviting brown make this dining room feel like a pleasant place. Sprays of tall white blooms shine as focal points while the plates embellished with bunnies define the springtime ambiance. However, switch out the rabbit plates, and this look would work in any season. To boost the farmhouse feel, experiment with rusty watering cans instead of glass jars. If the rustic vibe is not for you, use a table runner instead of the wood board shown here.
6. A Winter Table with Irresistibly Warm Ambiance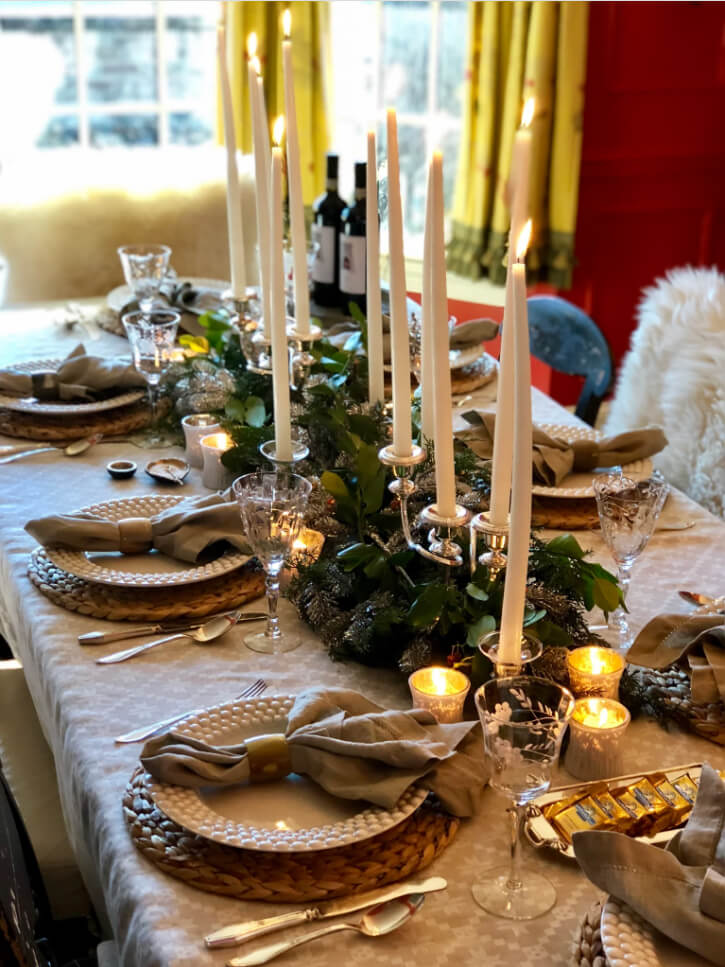 Candles are a classic way to imbue a dining room decor idea with welcoming radiance. Incorporating both tapered candles and votive candles emphasizes that feeling of warmth that is so important in building a wintertime table setting. Pine branches festooned with glitter give this table setting a glamorous twist that reflects all of winter's magnificence. With their texture and versatility, water hyacinth placemats are a great addition to nearly any table setting. Napkin rings made from horn provide enough color variation to remain interesting without distracting from the main event. Incorporating horn also looks great in spaces with cabin vibes.
7. Fun Valentine's Day Table Decor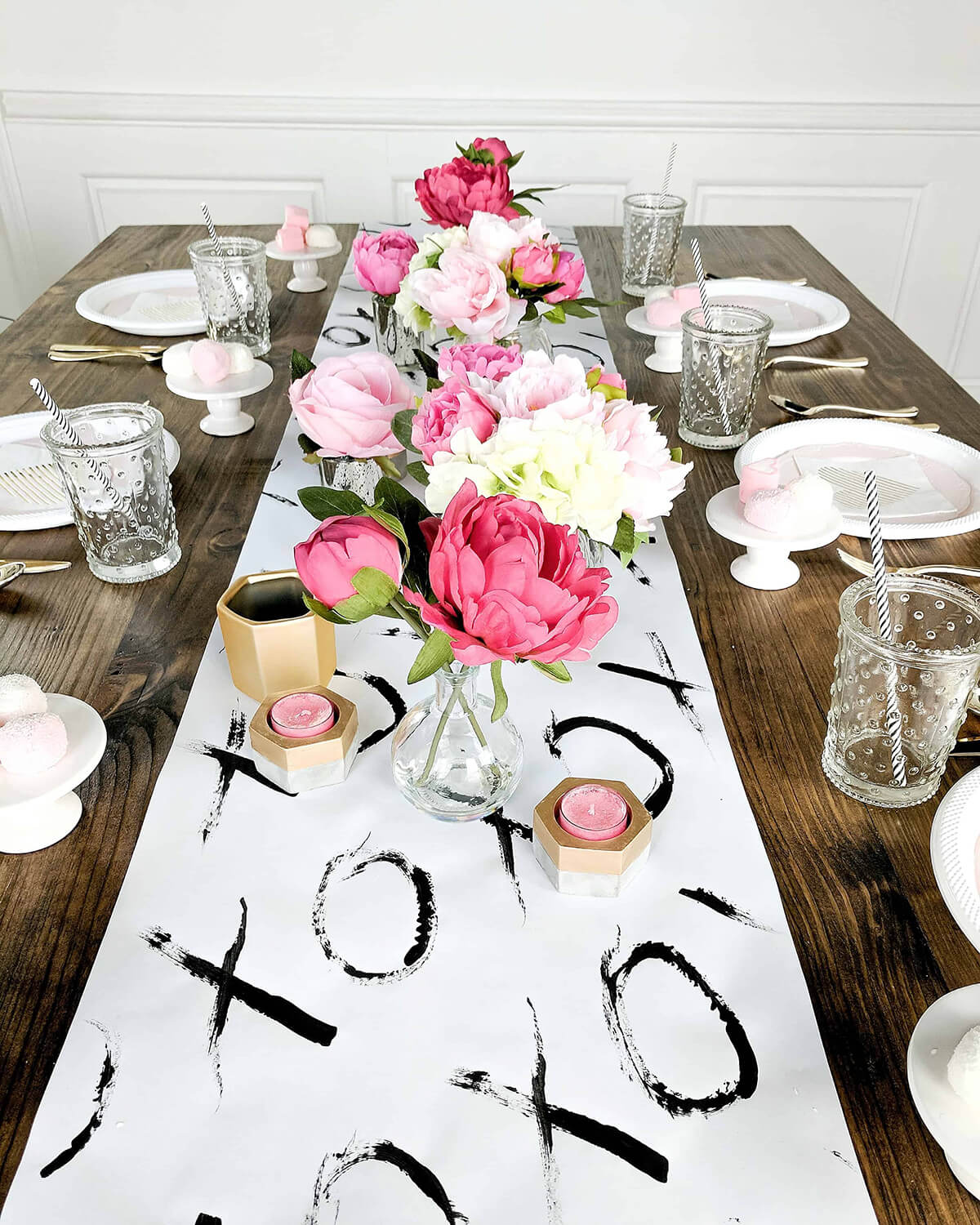 Decorating your table for a party does not have to be complicated. Something as easy as a paper table runner with a touch of paint can make all the difference. Beyond defining the Valentine's day theme, the white paper creates dramatic contrast against the dark wood table. If your table is not this dark, you could always place this table runner on a tablecloth. The intentional use of color is another secret to this table's success. Note how color is used sparsely to emphasize the luxurious peonies, fragrant candles, and scrumptious treats. Clear glass and disposable dinnerware keep it delightfully simple.
8. Playful Easter Dining Room Decor Idea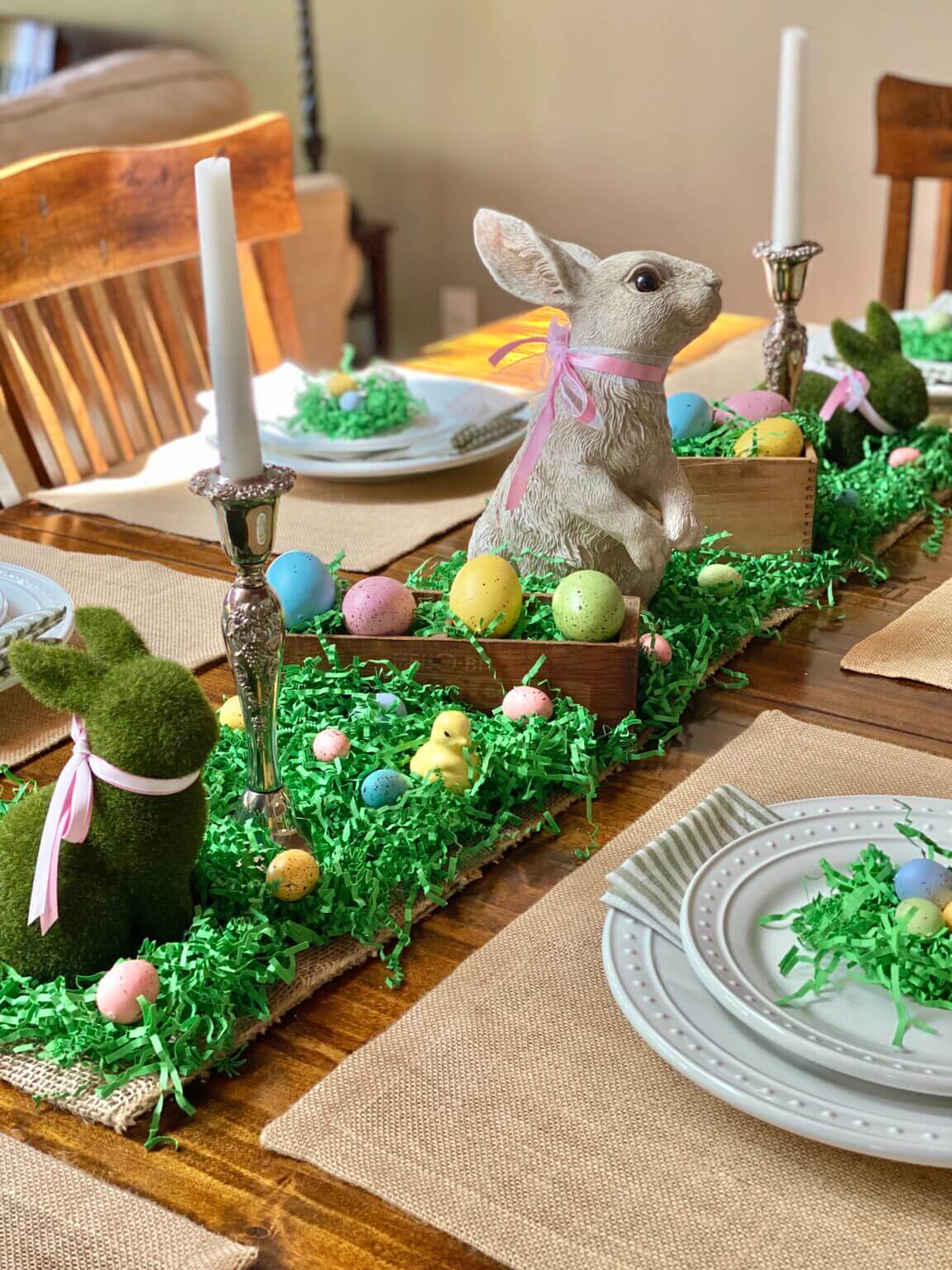 Bursting with bunnies, this playful take on a classic Easter centerpiece is sure to brighten your day. A layer of lush green Easter grass serves as a colorful base layer and immediately grabs the attention. Speckled eggs, rabbit figurines, and a ceramic chick serve to set the Easter theme. Mixing and matching rabbit figurine styles is a great way to build an ambiance that reflects springtime abundance. While vintage wooden boxes provide a little rustic magnetism, ornate silver candlesticks contribute gravitas and elegance. For an Easter centerpiece with modern vibes, skip the paper grass and stick to a monochromatic palette.
9. Delicious Pink Bouquet with a Unique Twist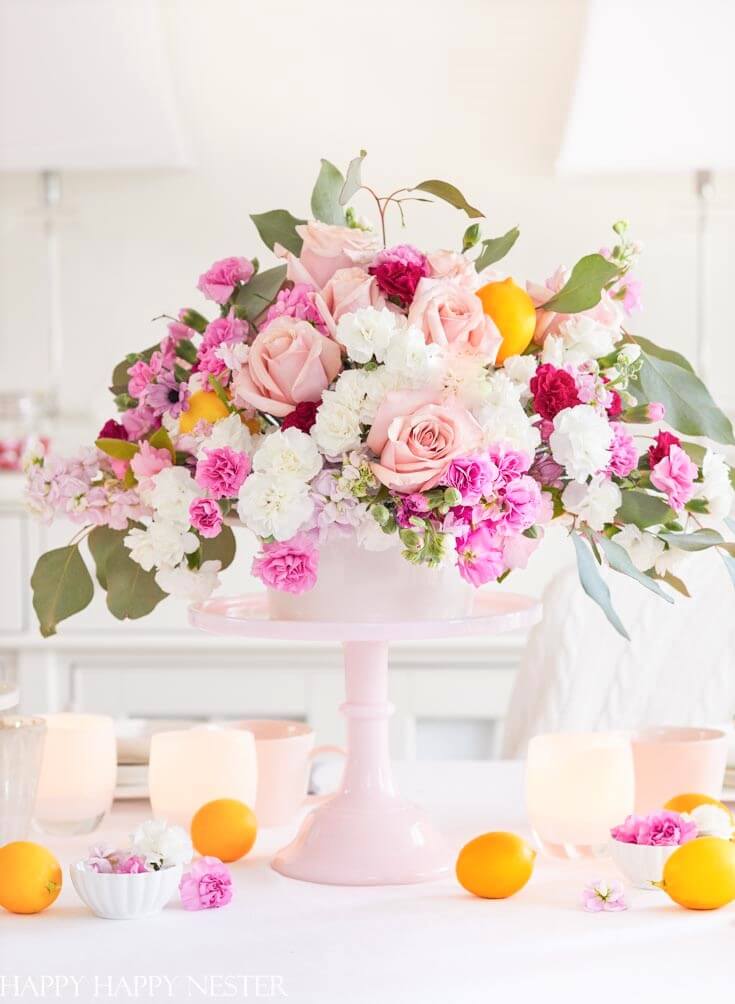 With their vivid colors, captivating shapes, and variety of textures, flowers make fantastic dining table centerpieces. To give your bouquet a whimsical touch, include fruit like the lemons shown here. Bright yellow harmonizes with the various shades of pink, white, and green showcased in the floral arrangement. However, limes, oranges, or grapefruit also hold a great deal of potential. Including any type of citrus fruit is an easy and affordable way to infuse your dining room with decor as enticing as tropical sunshine. To cultivate some cohesion, include the fruit in the bouquet as well as scattered across the table.
10. Styling a Centerpiece Perfect for All Seasons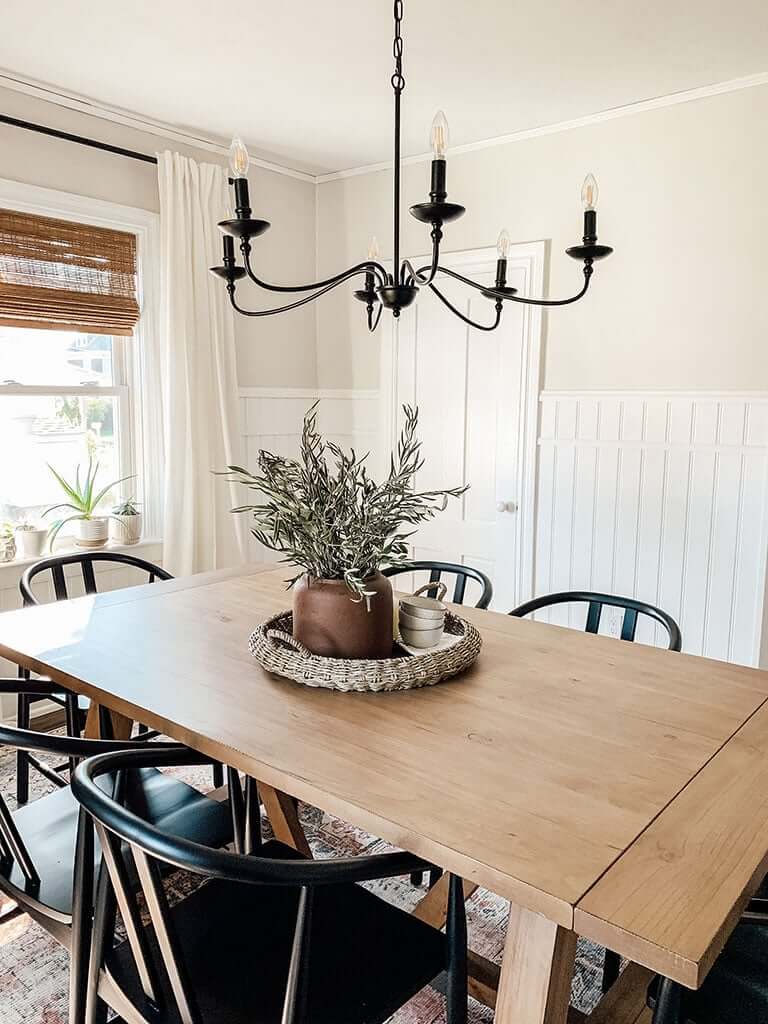 If you prefer a look that can be enjoyed all year over only a single season, this technique might be right for your style. To make it work, pair a low-profile basket or tray with a plant. Include a few practical details like stacked bowls or battery-operated candles to fill out the basket. As the most dynamic element of this centerpiece, which plant you choose will significantly impact how your ambiance. A few fun ideas include ferns, succulents, herbs, or any intriguing houseplants. The planter pot, too, is an important aesthetic decision. Have fun experimenting with different planters to achieve different looks.
11. Natural Wood Board Centerpiece Foundation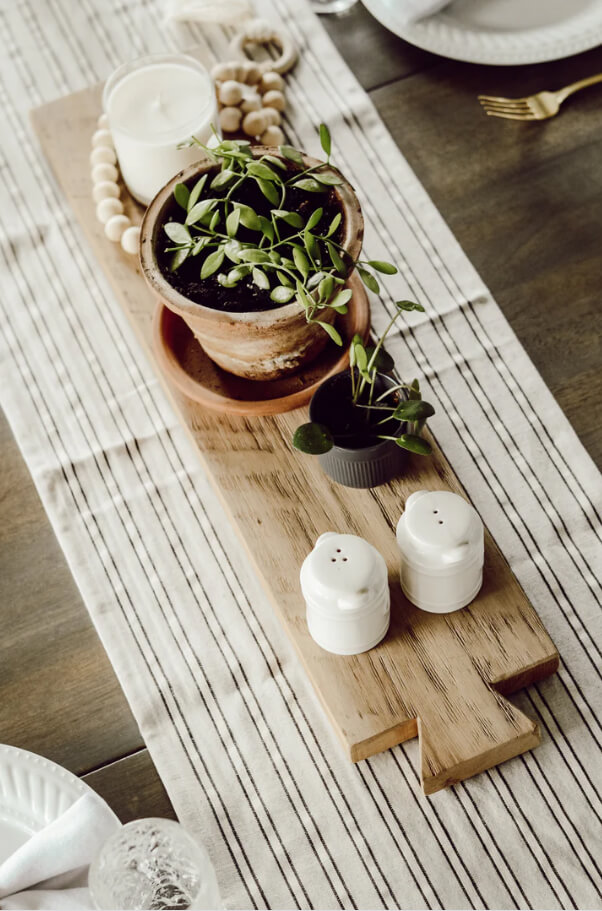 Regardless of what style aesthetic you follow, building a successful centerpiece begins with a strong foundation. As well as protecting your table, that base layer defines the area for your centerpiece. Because wood is so versatile, this board will look great in nearly any space. A dovetail accent at one end gives it enough visual interest to energize, but not so much to outshine your centerpiece. Because it is unfinished, you can paint or stain it in whatever way suits your style or simply rub mineral oil onto it. Any centerpiece design with this board is a recipe for success.
12. Harnessing Neutrals in Your Dining Table Decor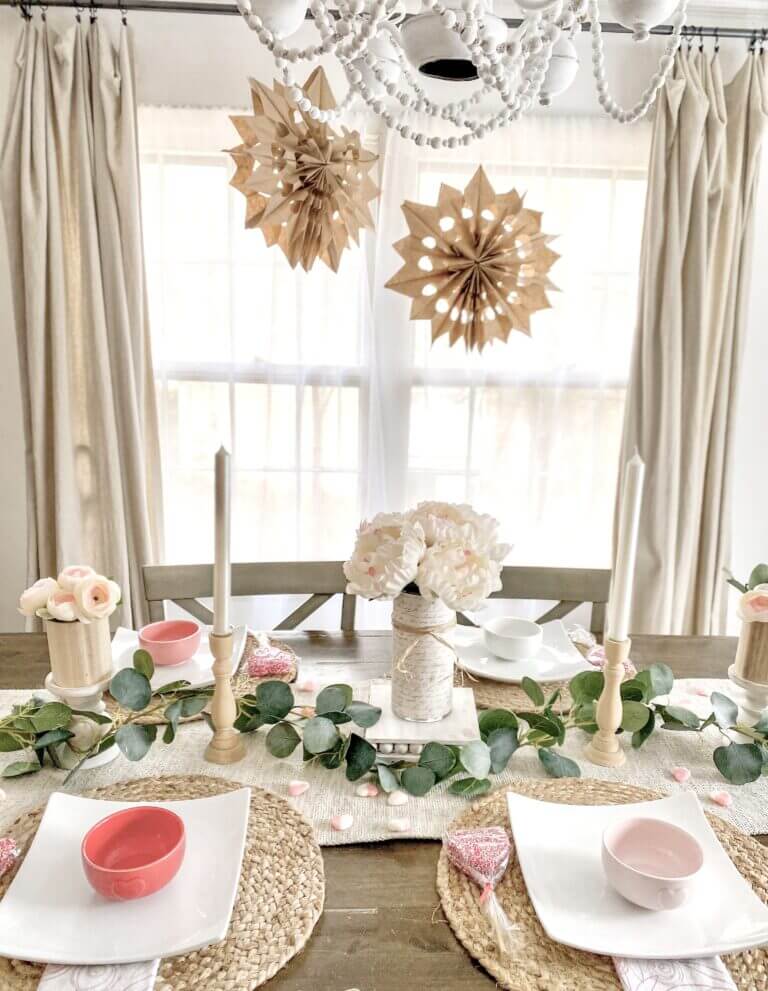 Filling your space with holiday-specific decorations is fun, but this strategy means that you will need to update your table frequently. If that does not sound right for your lifestyle, you might be ready to incorporate neutrals into your table design. This example shows that neutral elements are anything but dull. Woven chargers, a jute table runner, and craft paper ornaments offer plenty of textural contrast. As well as adding a green counterpoint to the overall ambiance, a eucalyptus vine brings both ends of the table together. The only decorations that denote a specific holiday are pink bowls, candy hearts, and floral napkins.
13. Lighter Thanksgiving Dining Room Decor Ideas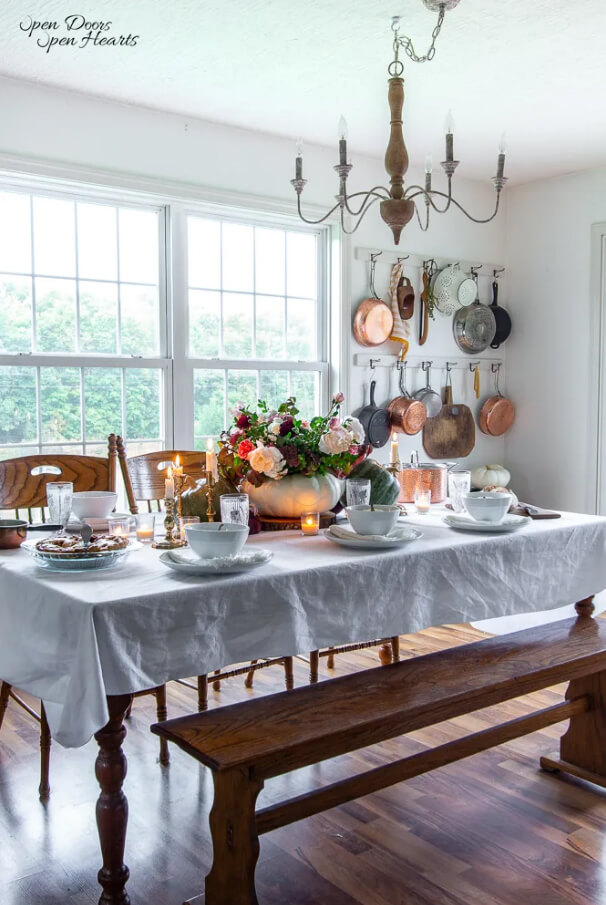 Although rich harvest colors are beautiful, they can be overwhelming at a bustling Thanksgiving gathering. By using white as a primary color, this dining room feels light, airy, and spacious. A white tablecloth elevates this table setting to show it was prepared for a special occasion. Filled with an abundance of luxe flowers, a white pumpkin provides a stunning centerpiece. To tie the floral arrangement into the decor, dark green and plum-hued pumpkins act as contrasting accents around the centerpiece. As a final touch, the profusion of votive and tapered candles imbue this table setting with inviting illumination.
14. Designing a Flower Arrangement in a Basket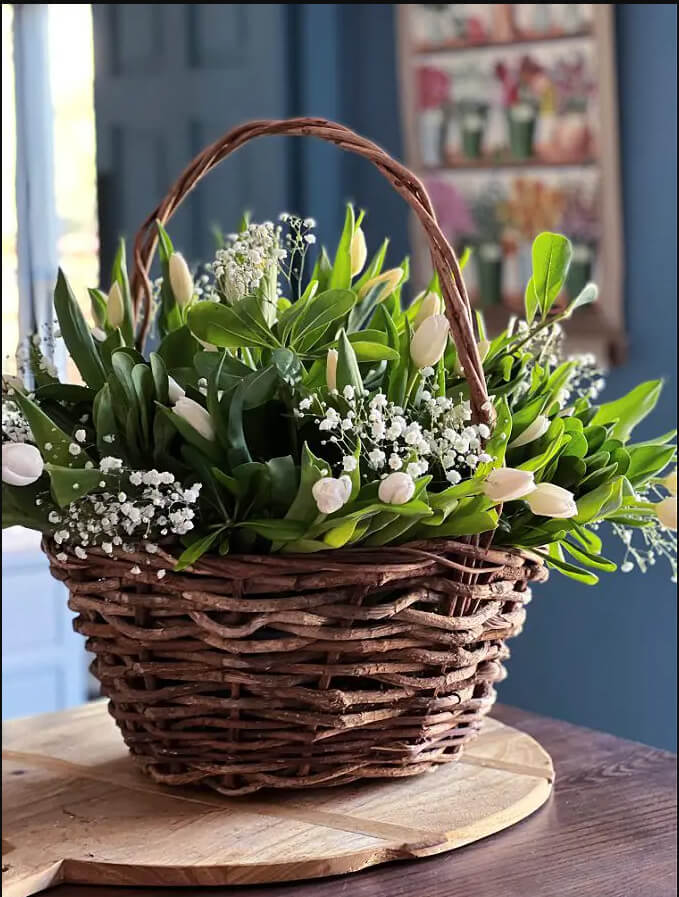 Because of their attractive texture, endless color options, and unique shapes, baskets are the perfect way to highlight a floral arrangement. Brown baskets like the one shown here exude rustic charm for a laid-back feel, but baskets can also be painted to harmonize with any aesthetic. Imagine using glossy metallic spray paint to give your basket a glamorous appearance. Of course, the basket is only one piece to this puzzle. Depending on what flowers you choose, you can enjoy a springtime paradise, harvest dream, or winter wonderland. For a magical Christmas flower display, experiment with poinsettias, holly, and pine branches.
15. Celebrating with a French Country Chic Table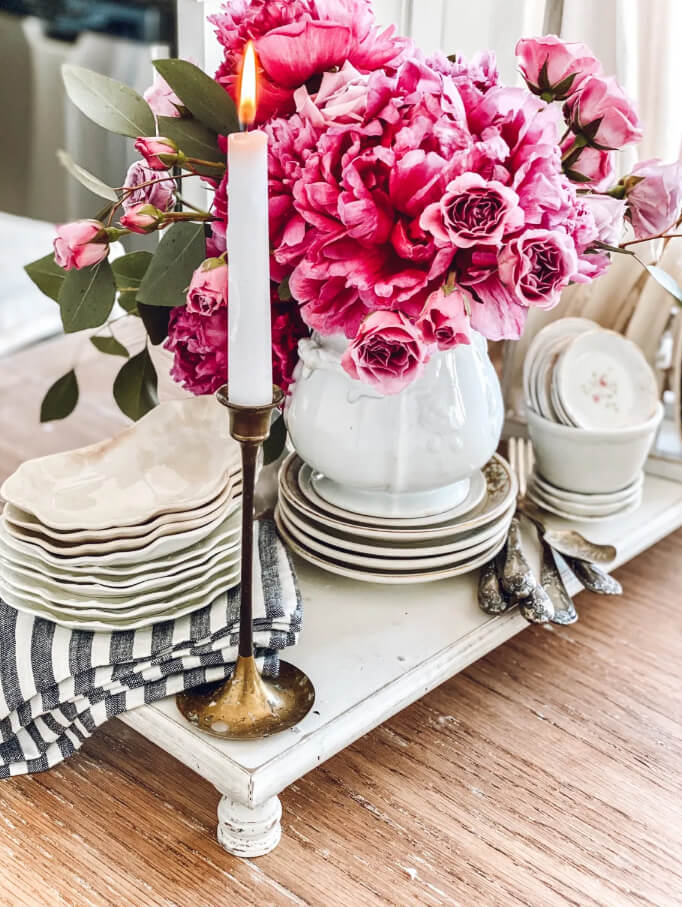 Lightly-distressed paint, white ceramics, black-and-white striped linens, and gorgeous fresh flowers are the ingredients for a sophisticated French country feel. The brass candlestick and white taper only highlight the elegance achieved. Instead of being purely decorative, this table decor idea is also practical. Guests can help themselves to an ironware bone plate, ornate silverware, or a floral saucer. Discovering a way to weave function and form together can make beautiful centerpieces possible even when space is limited. To make that work for your centerpiece, choose helpful items to keep at the table. Then, find a tray enough to accommodate it all.
16. Using Black as an Accent Color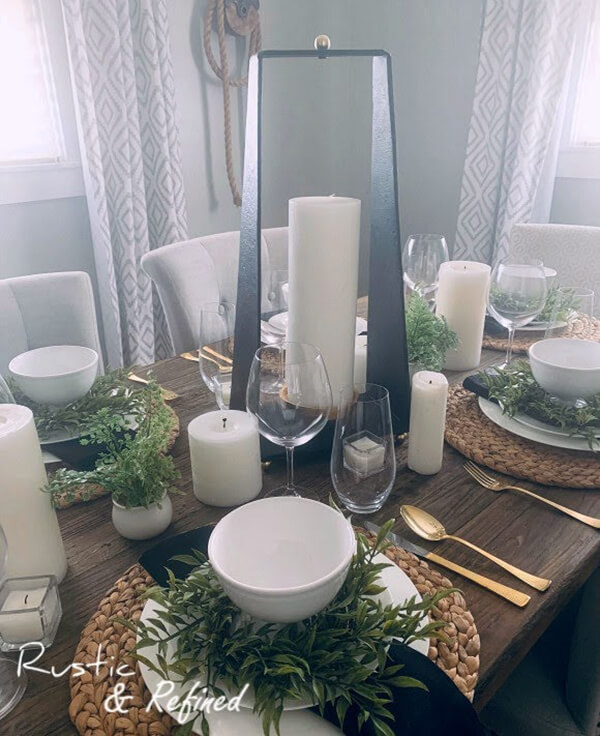 If your dinnerware is white, incorporating black into your color palette is a marvelous way to bring a little drama into your table setting design. This high-contrast combination looks classy on its own and happily pairs with nearly any other color. In this image, greenery garlands embellish the plates and fill this table with a sense of lush abundance. Gold cutlery elevates the ambiance. From farmhouse to minimalist, this black, white, gold, and green color scheme is compatible with a variety of decor themes. All you need to do is find silhouettes for the centerpiece, dinnerware, and decorations that reflect your style.
17. Garden-Themed Dining Room Decor Idea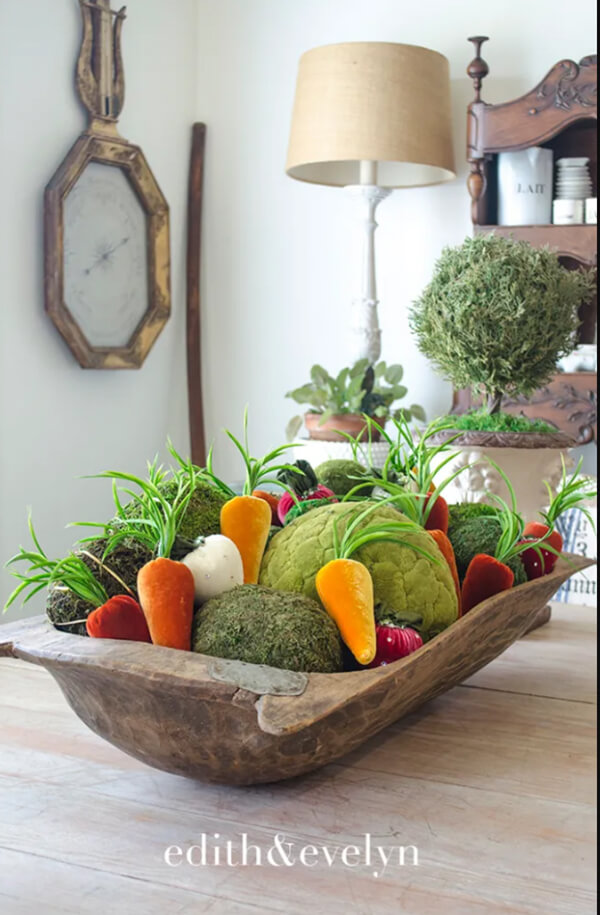 Planting a garden on your dining room table might not sound like a good idea, but velvet vegetables make this dream entirely possible. Shades of orange, red, and white energize this space. Featuring shades of soothing green, moss balls offer the perfect backdrop to brighter colors. Carrots and strawberries are just a few options – imagine using different velvet fruits and vegetables to achieve amazing centerpieces. Pairing other decorations with this technique can tailor it to fit different holidays. Placing a rabbit statuette and a few Easter eggs inside this display would make it festive for Easter. Try a cornucopia for Thanksgiving.
18. Farmhouse-Style Chicken Feeder Centerpiece with Lemons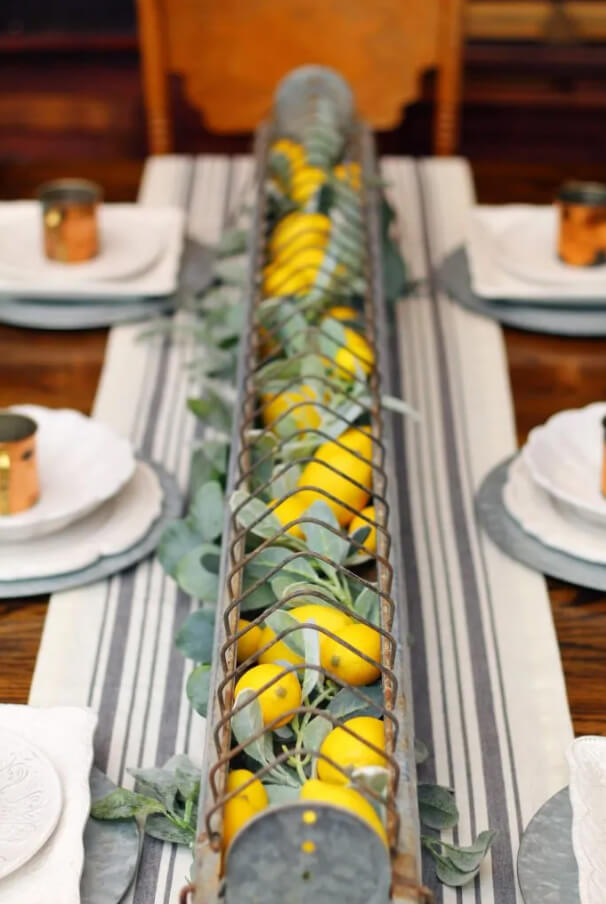 One of the most exciting aspects of farmhouse decor is how unexpected items can be reused to elicit unique results. A rusty metal chicken feeder offers an extraordinary amount of visual interest. Best of all, you can arrange decor inside before switching it out with the seasons. The muted sage-hued greenery and bright artificial lemons shown here would look brilliant as either spring or summer table decorations. Even if you do not own a weathered chicken feeder, you can still channel this vibe. Simply find a vessel that speaks to you and fill it with muted greenery and colorful citrus.
19. Assembling a Table Setting for Casual Gatherings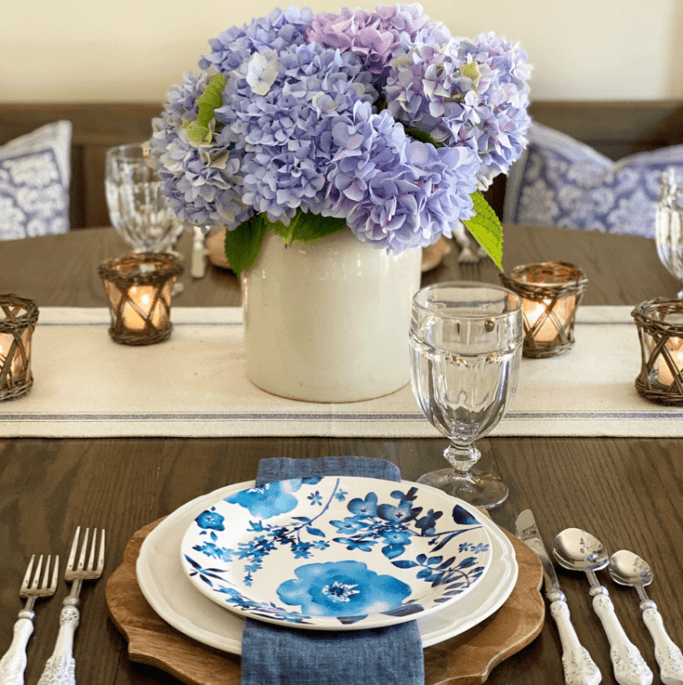 Exquisite table settings are not restricted to holidays. If you enjoy building beautiful table settings, you should be able to enjoy them no matter what the occasion. Graceful wooden chargers, cool indigo linen napkins, and twinkling candlelight show that this meal is something special. To scale back the formality, the tablecloth is left off. A simple hydrangea bouquet in a cream-colored ceramic crock shines as the centerpiece. To make this informal look possible in your home, experiment with chargers, cloth napkins, table runners, candles, and centerpieces until you have a winning combination. Then, you can relax and enjoy an attractive table.
20. Styling a Table with a Statement Chandelier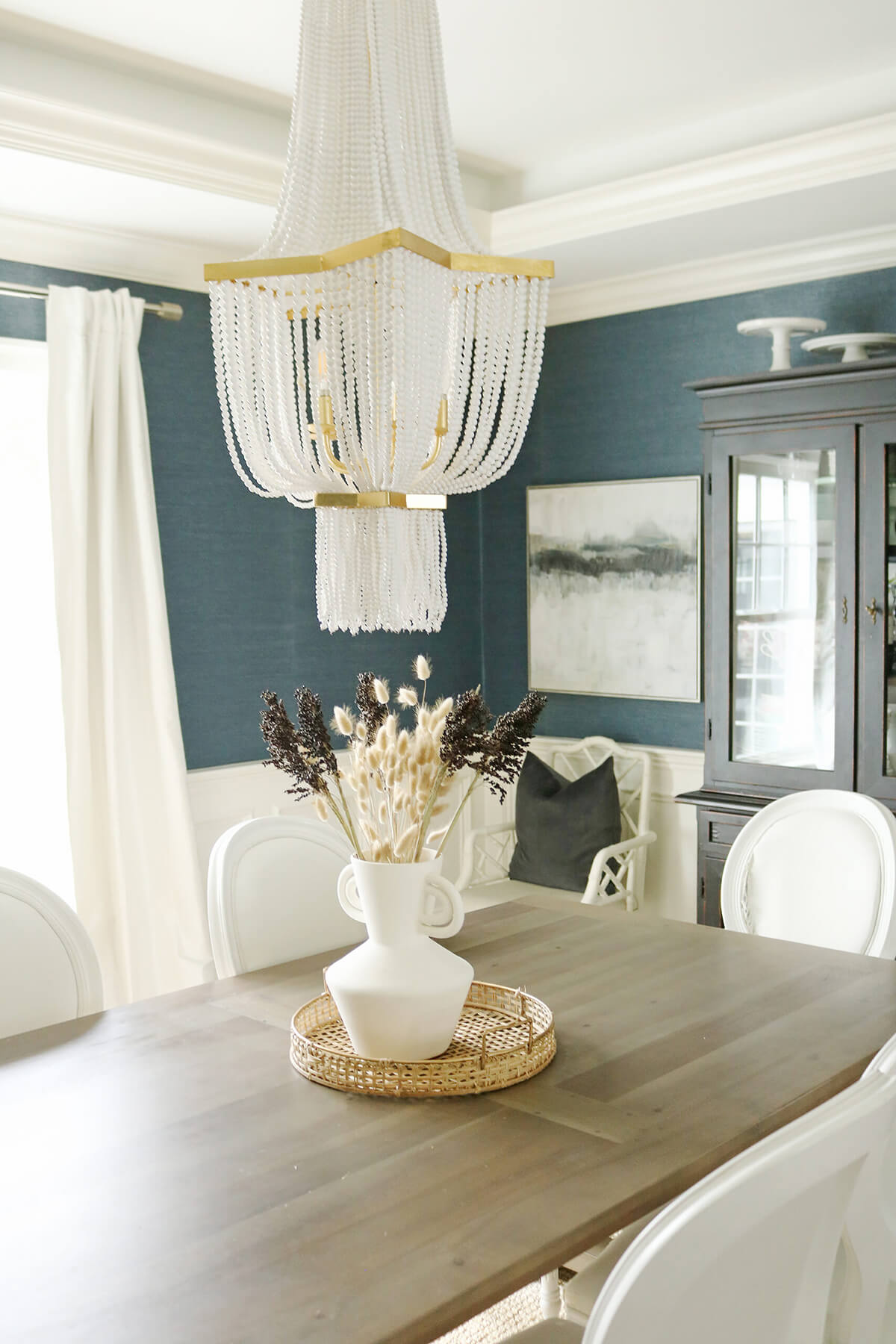 When your chandelier steals the show, it might seem difficult to decorate your table to let your statement piece shine. This image exhibits an elegant all-season solution. By placing the tall vase directly below the lighting, even more emphasis is placed on the chandelier. Besides offering visual interest, the arrangement of dried grass introduces a natural element into the space. As well as providing a pleasing centerpiece, the woven basket echoes the hues in the dried grass. While you could fill the empty basket space with other decorations, the negative space adds a pleasing balance to this dining room.
21. Sweet and Simple Dining Table Decor Ideas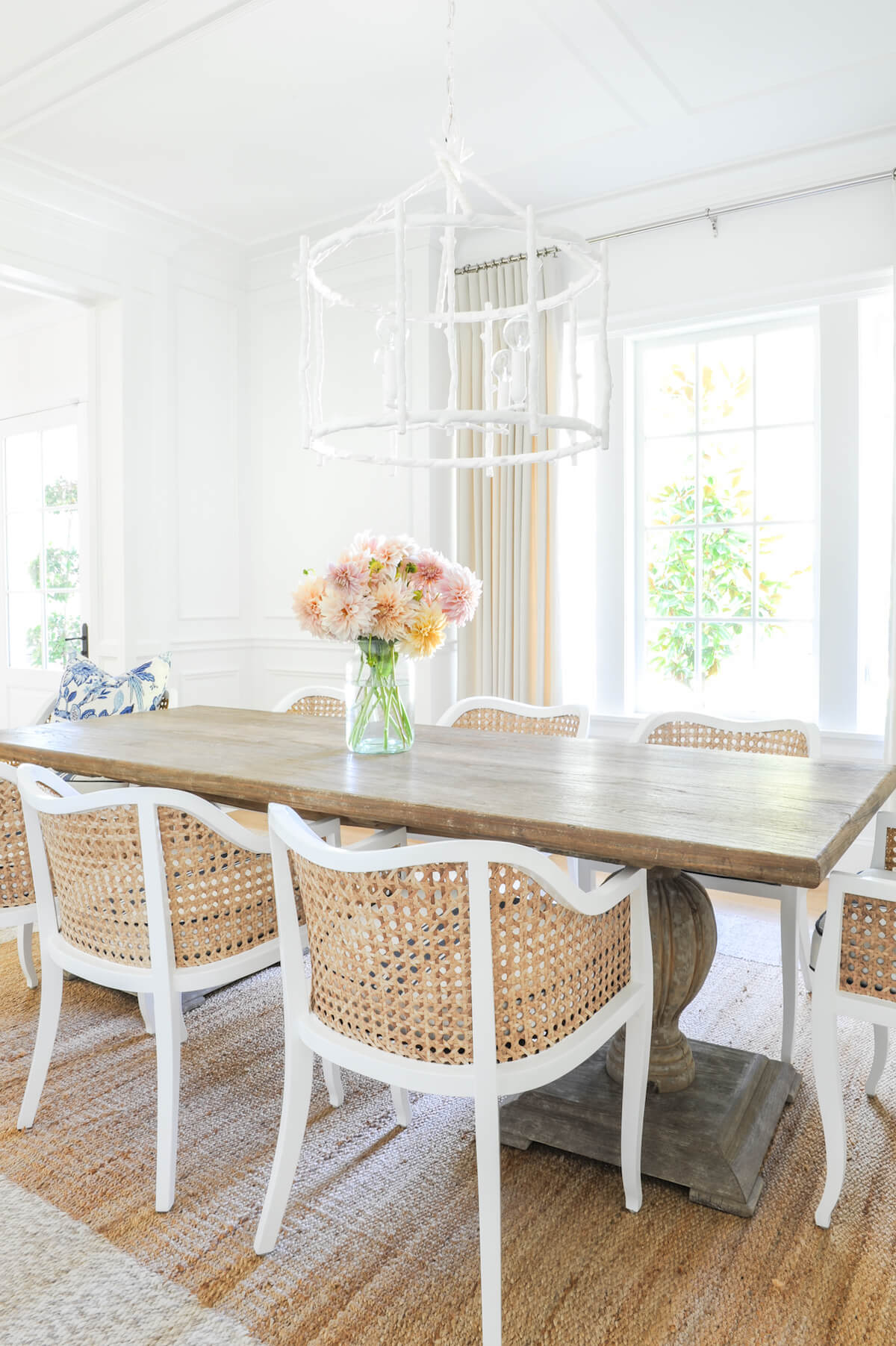 While ostentatious table displays can be stunning, a straightforward vase filled with fresh flowers is sometimes a better strategy. Knowing which is better for your dining room depends on your space, your style, your lifestyle, and the occasion. Identifying the focal point in a room is the first step to figuring out how extravagant your table decorations should be. In this room, the chairs shine as the stars so a simpler table is needed. A glass vessel amplifies the bright, breezy vibes in this dining room. Fresh-cut flowers may need a little regular maintenance, but bestow a unique vibrance within a space.
22. Conversation-Starting Handmade Cherry Wood Vase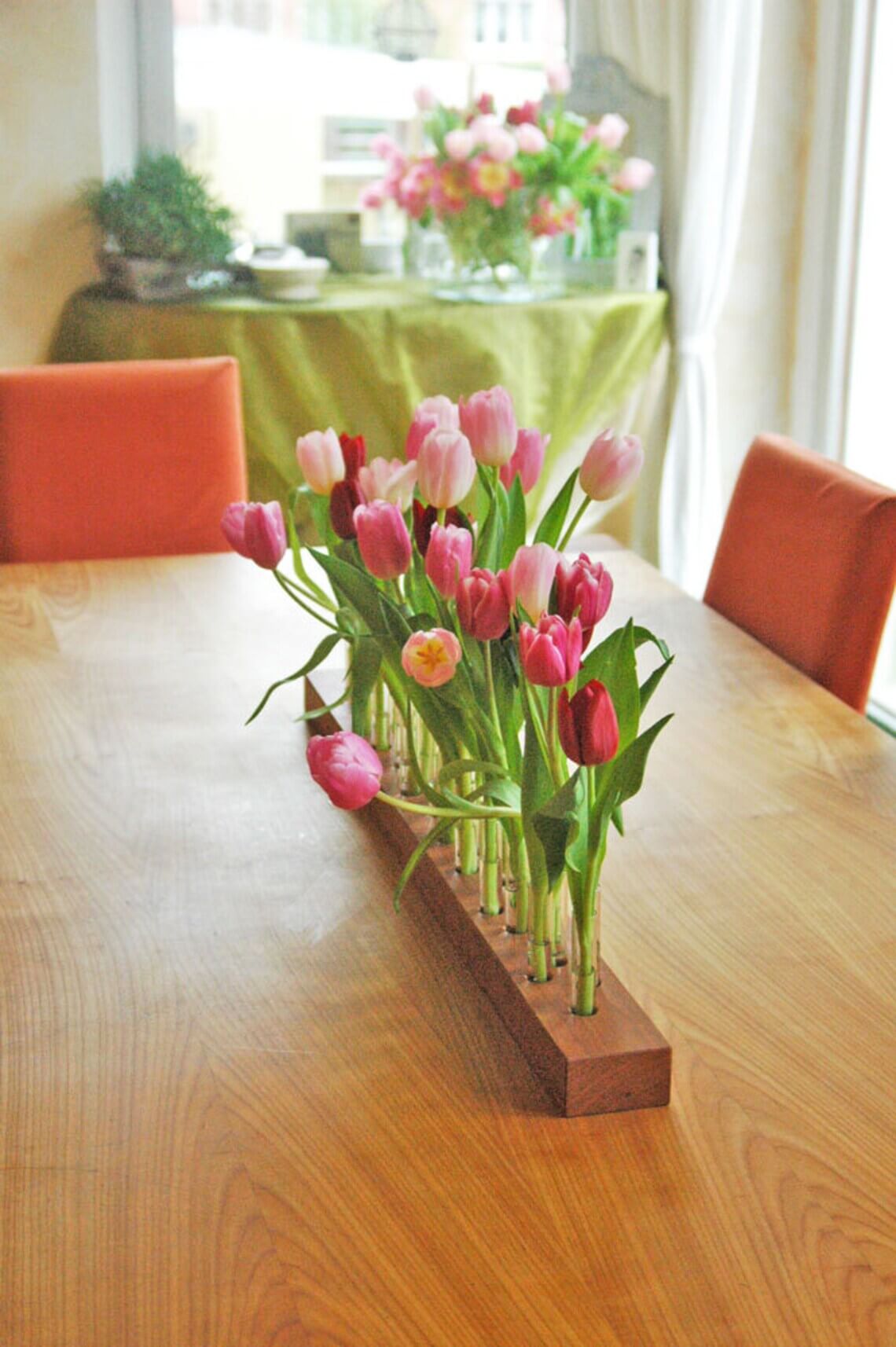 An understated design imbues this vase with captivating appeal. For a breath-taking effect, each of the 16 upright glass vials supports a single flower. The silky smooth finish even makes touching the wood a pleasure. With a 23.5-inch length, this cherry wood vase is an easy centerpiece that allows nature's beauty to shine. Of course, it would also work for artificial flowers or other slender decorative items. This vase offers versatility in every respect. Place it on a table with or without a tablecloth to enjoy ravishing results. When paired with bold patterns or solid colors, this vase will complement your decor.
22 Joyful Dining Table Decor Ideas That Will Make You Smile at Every Meal
Flexibility to experiment is one of the most exciting aspects of exploring dining room decor ideas. Because none of these ideas are permanent, they are easy to switch up until you have a combination that makes your soul smile. Of course, the first step to successful style experimentation is not to dismiss an idea if it seems too wild. Why not try pairing purple napkins, blue dinnerware, and a hydrangea bouquet? After all, if you do not love a combination, you can always change it. If successful, you might stumble upon something new to love. As you have fun experimenting, your personal style will begin to grow and evolve.
Once you begin dressing up your table decorations, you may find it difficult to stop. It feels good to enter a dining room with a joyful centerpiece and impeccable table settings. Whether it is shared with your family, your friends, or simply your pets, a well-decorated table can take a meal to the next level. Many of the ideas above are easy to modify to fit your aesthetic. Let them inspire you to see your dining room's fullest potential and bring the materials together to make it happen.