14. Down the Rabbithole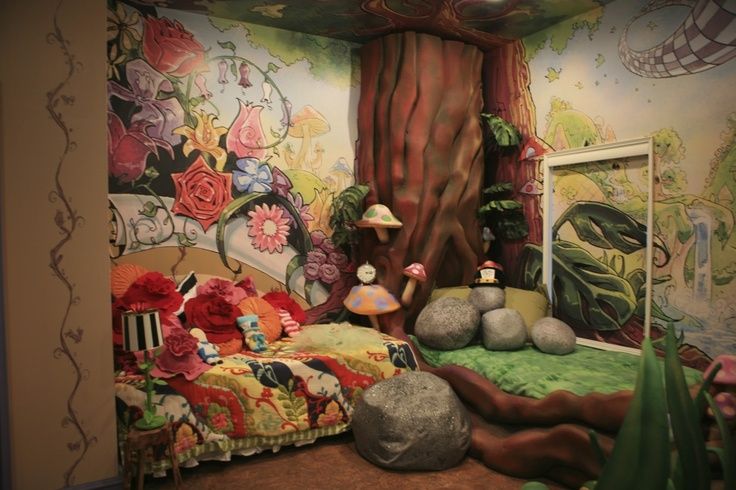 When stuck for inspiration, you can garner so many kids room decorating ideas just from looking at what other imaginations have created. This room sparks a host of ideas, from bean bag 'stones' that offer comfortable places to sit or lay your head, to how stencils can create the perfect tie-in from the entrance to the room. Surprising color combinations can work well together with little effort, and even stripes can make an appearance without being overwhelming as seen here with a small lamp and half-hidden throw pillow. Be as adventurous as Alice and create the room YOU desire.
15. Fun and Functional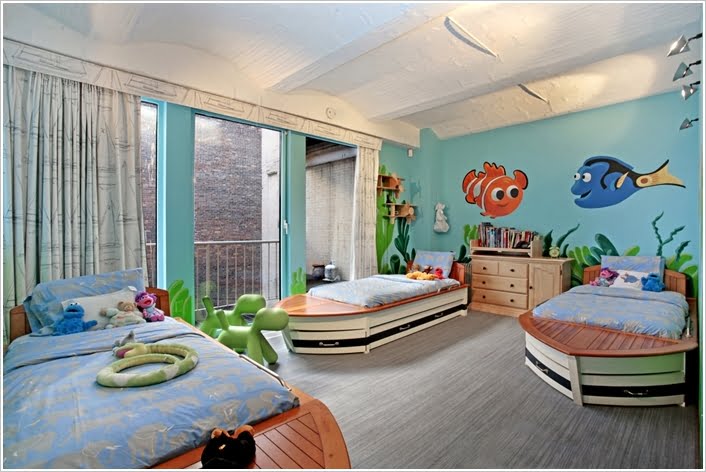 Kids room ideas can come from anywhere. This boys room decor at first glance seems as it is merely based on our favorite little lost fish Nemo, but is so much more. The room is large, but with accommodations for three, it was necessary to capitalize on the space as much as possible to keep it from being overcrowded. This is accomplished by custom beds featuring built-in drawers, along with the aft section of the boats doubling as table areas. This triple-play in the space means a more open area for the kids to move about and play.
16. Castled Coziness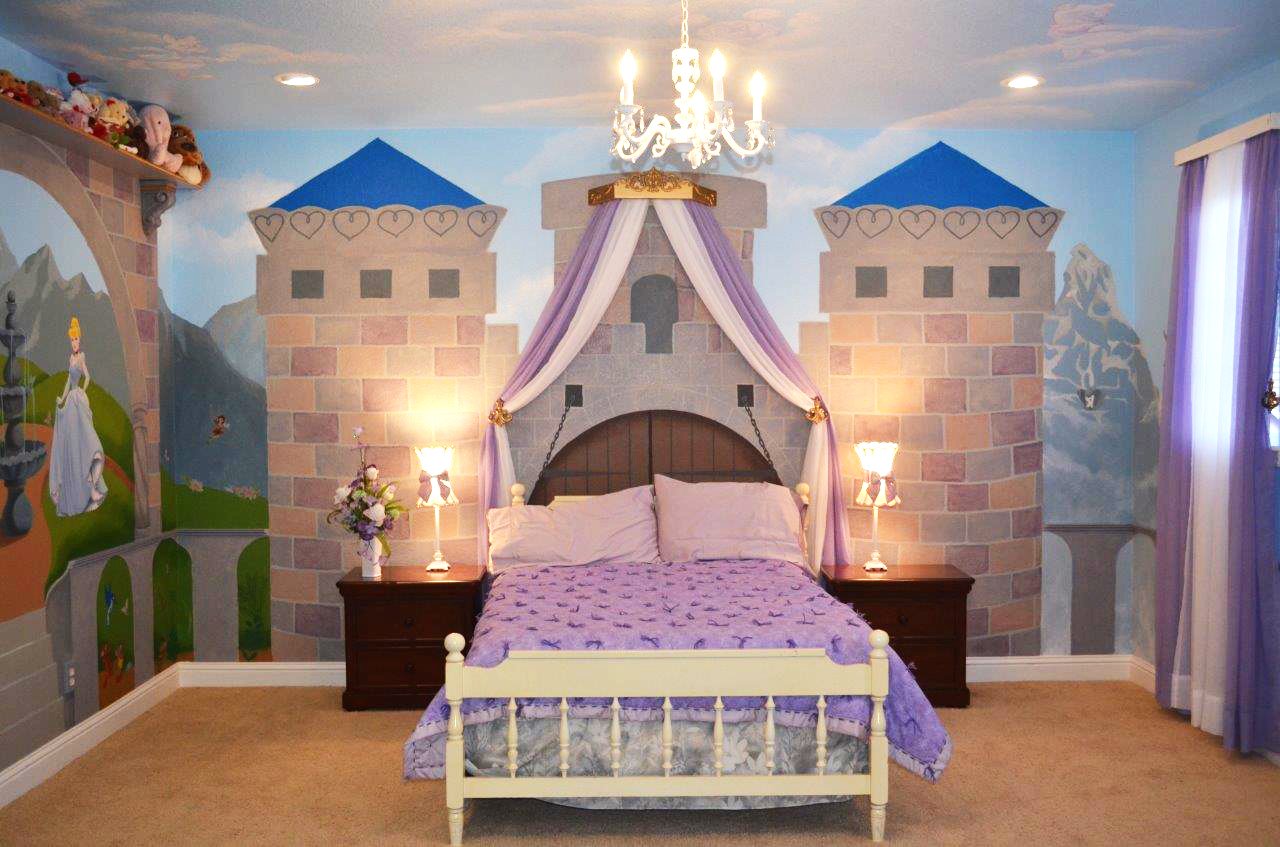 Isn't amazing what you can do with paint? Plain rooms with white walls are instantly transformed into any magical setting you desire with just a little imagination and talent. Girls and boys rooms alike can become areas they will treasure, immersed in their favorite tales. Don't neglect the ceilings – they can give your children a means to gaze up at the clouds or wish upon a star even on the cloudiest of days or darkest of nights. The fancifulness of this room is enhanced by a chandelier, elegant sheers and a castle shelf featuring friends of the forest.
17. The Mashup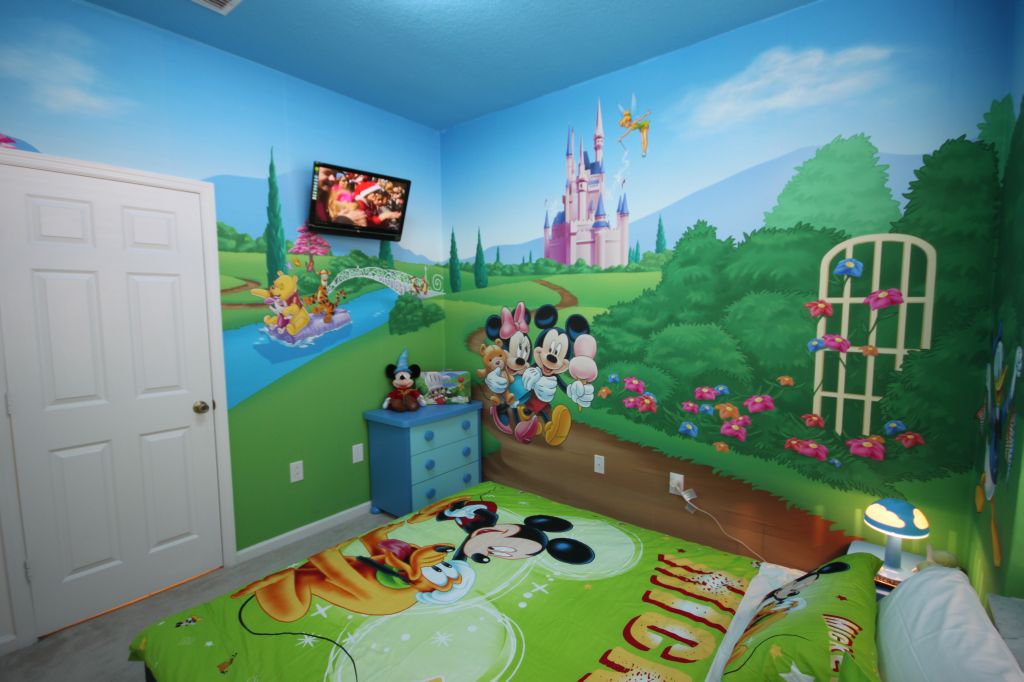 Disney rooms don't have to be centered around a single favorite character or movie as this room illustrates so perfectly. It seems Mickey is a centerpiece, yet other beloved characters like Cinderella and her castle, Tinkerbell, and even Winnie the Pooh with his entire gang make an appearance. Of course, where you find the world's favorite mouse you would expect to find his love Minnie, cohort Donald Duck and best friend Pluto, but these other icons are unexpected. However, it works. Always remember, with home decor there are no rules. Do what suits you!
18. Simple Transformations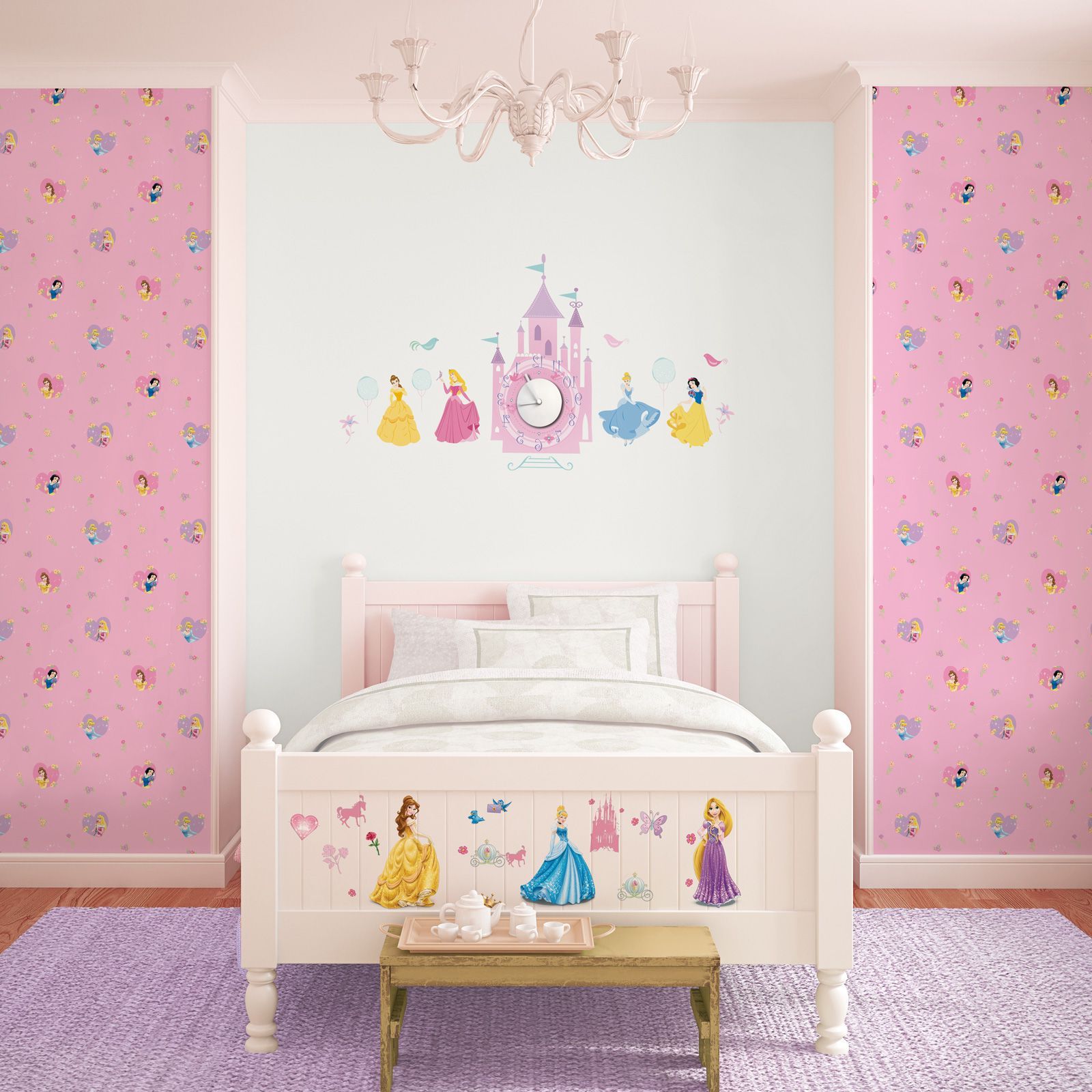 If you are someone who doesn't necessarily list painting and art on your resume as top skills, have no fear. There are many types of home decorations that don't require you to be a Picasso to make them work. Wallpaper and vinyl decals can make the mundane extraordinary with minimal investment or time. You could go from just having children's room ideas to complete transformation of the area within a day's time by utilizing these lifesavers. If the floor in the room does not work well, an area rug can be placed to complete the look.
19. Island Retreat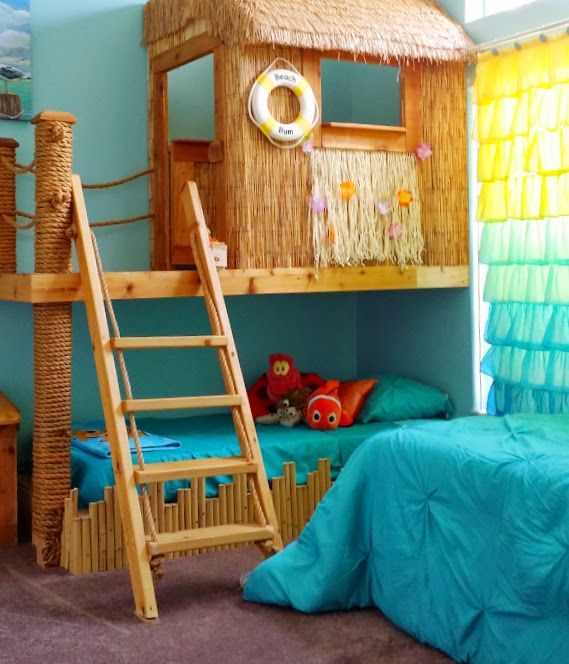 Kids room decor can be as fun for the parent to design as it is for the child to enjoy. Take your child's favorite movie and use that as a base for something surprising, as seen here with this island retreat. The colors are inspired by the vibrant ones found in "Finding Nemo", but are made the focal point instead of the characters themselves. This opens the door for other creativity, such as the bamboo bunk and thatched-roof hideaway that makes this children's room design truly one of a kind!
20. Energized Bonding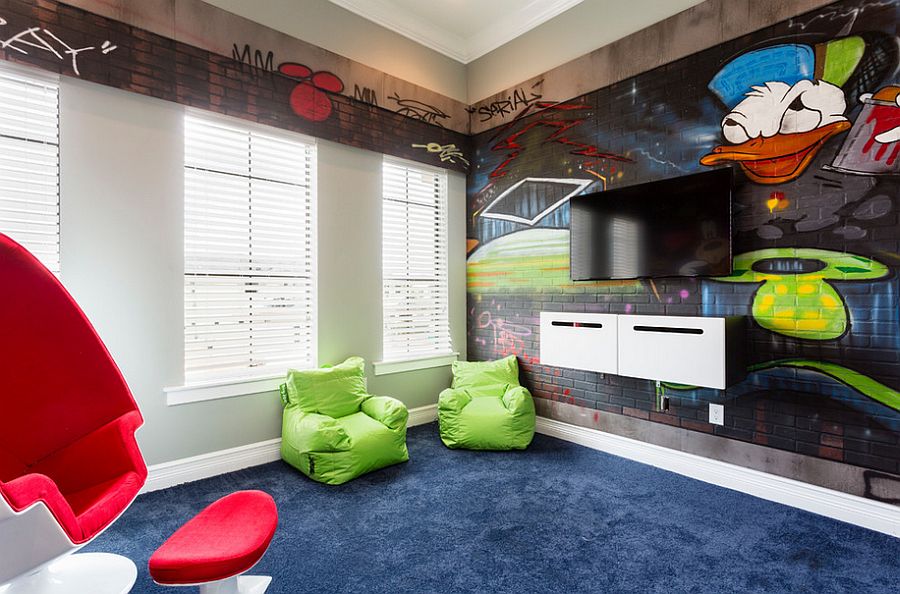 Let's face it, kids are endless bundles of energy that most adults only wish they could possess. Just imagine the possibilities! When coming up with ideas for children's rooms, it is wise to keep this in mind and incorporate it into the area. Give their imaginations room to flow freely with inspirational paint, funky furniture and bright colors. When in doubt, refer to the experts themselves – your kids. They can provide the missing details that will make everything perfect, and the time is well spent as it will be a bonding experience neither of you will forget.
21. Hakuna Matata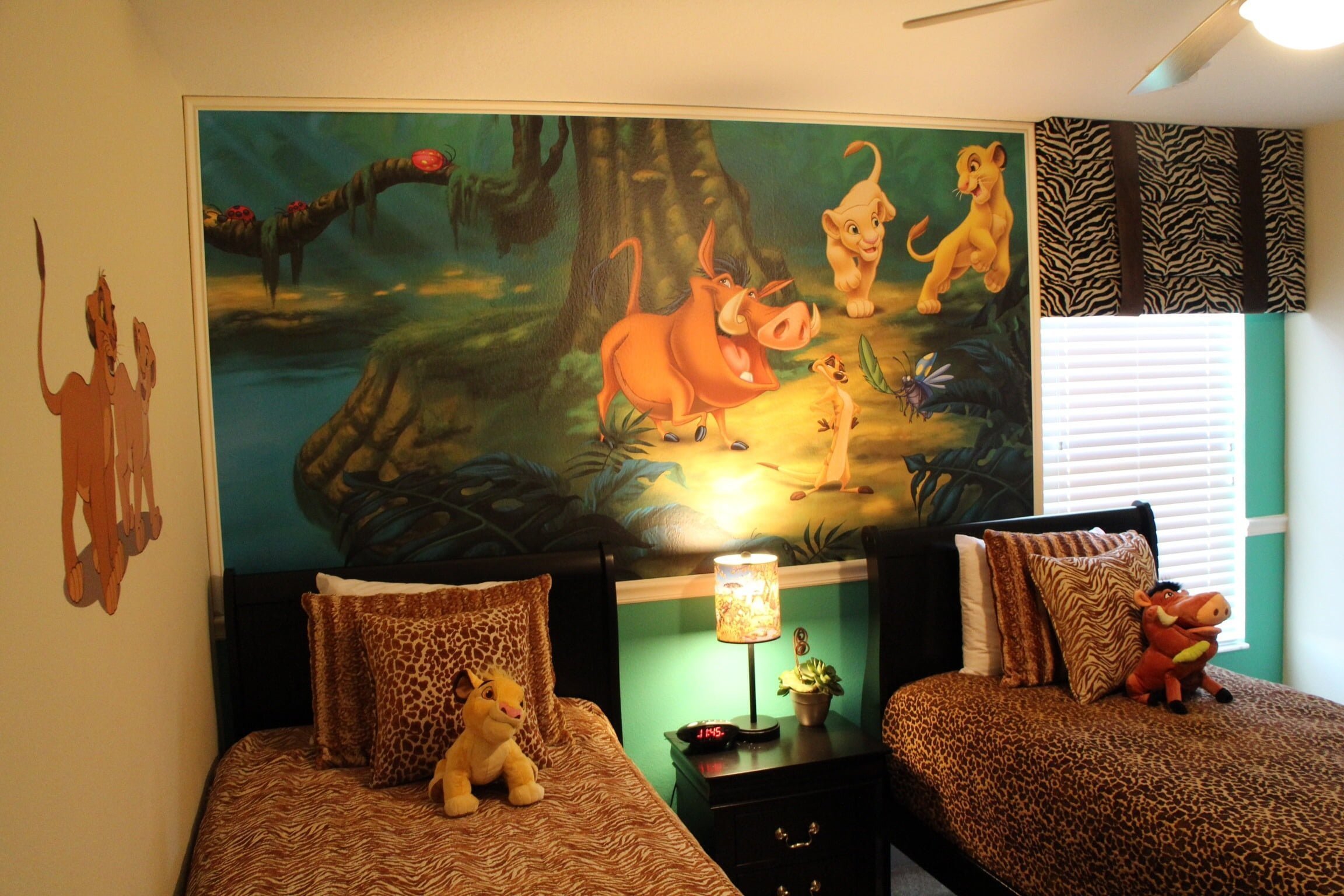 It means no worries, for the rest of your days. Design ideas and home decorations need not strike fear into your soul. Timon and Pumba taught Simba a valuable lesson with their worry-free philosophy, and it is one we could all learn from. If you do not have the means to hire a professional to paint a mural (set off here with quarter-round), use your imagination. You could easily recreate the look with a large poster or two. Pick window and bed treatments that match the them, and use Disney room decorations to complete your look.
22. Monster's Rule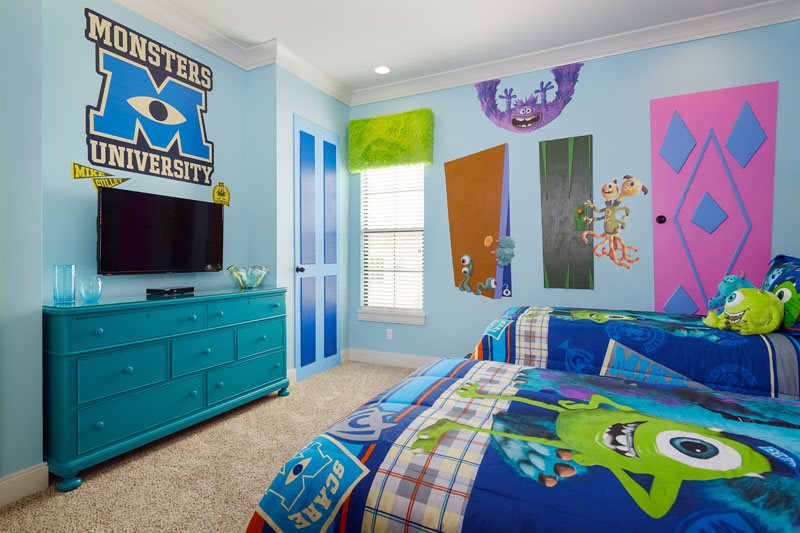 Are you stuck for boys room ideas? Look no further than Disney's monsters Mike Wazowski and Scully for some inspiration! The favorited university duo wanted to be 'Scarers' but ended up in the hearts of kids everywhere. Just like they overcame their differences to become the best of friends, you can overcome any design issue you come across with a little ingenuity. For example, a recess became the perfect place for an extra long dresser here, and the designer didn't let a lack of doors stop them from bringing the movie to life with a little paint!
More disney room decoration ideas on the next page…