23. Play on Colors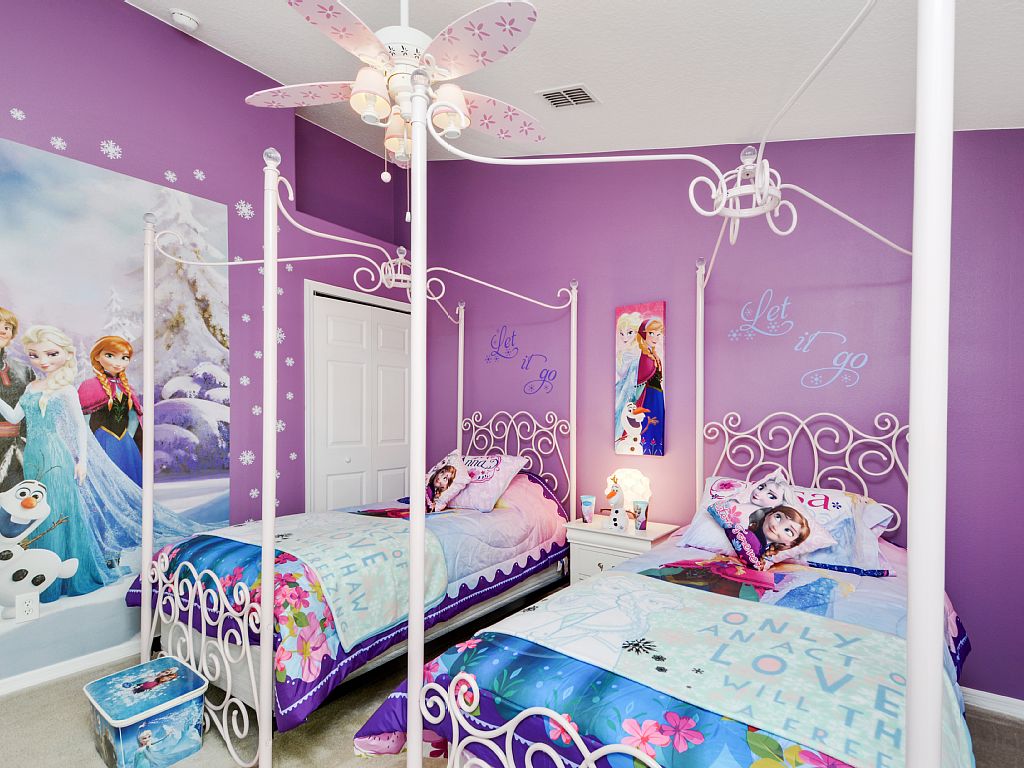 This design is really cool for the main color it uses, purple, as opposed to the ice blue that is traditionally used in Frozen-inspired designs. This shows that there really are no rules to creating the perfect Disney room. The paint you use, furniture you place and home decor are what you have to look at and live with all day, so you should use whatever speaks to your heart. As you can see, going against the norm works out quite well; I am sure these little princesses love going to sleep every night in their beautiful room!
24. Funky and Fabulous Playroom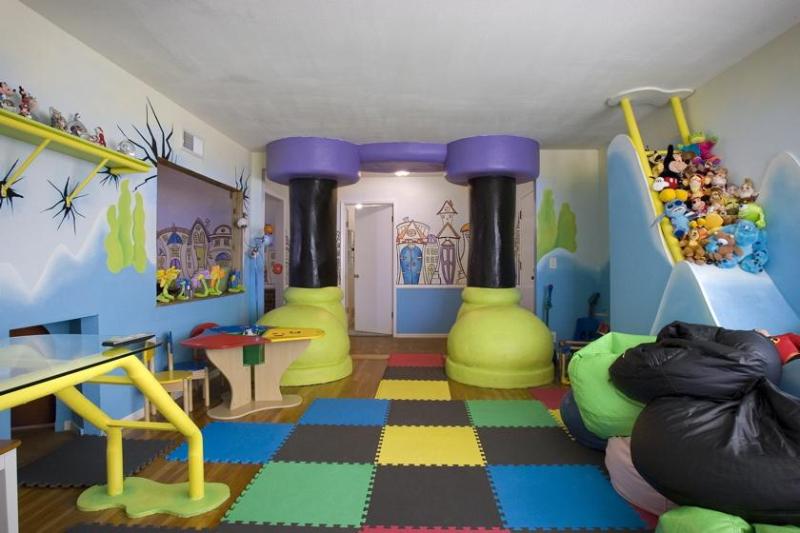 When thinking of what to incorporate in children's room design, keep in mind that a playspace is where wild and free imaginations meet. And in this space, there are likely to be spills from the children and snacks alike with all of the fun that is to be had. A wood floor provides a quick clean-up for the food and drink messes, but can be super hard on little knees and tushies. These interlocking foam carpet tiles are perfect for this type of space. Not only do they cushion falls, but they can also effortlessly be changed out in the case of stains or tears.
25. The Ballroom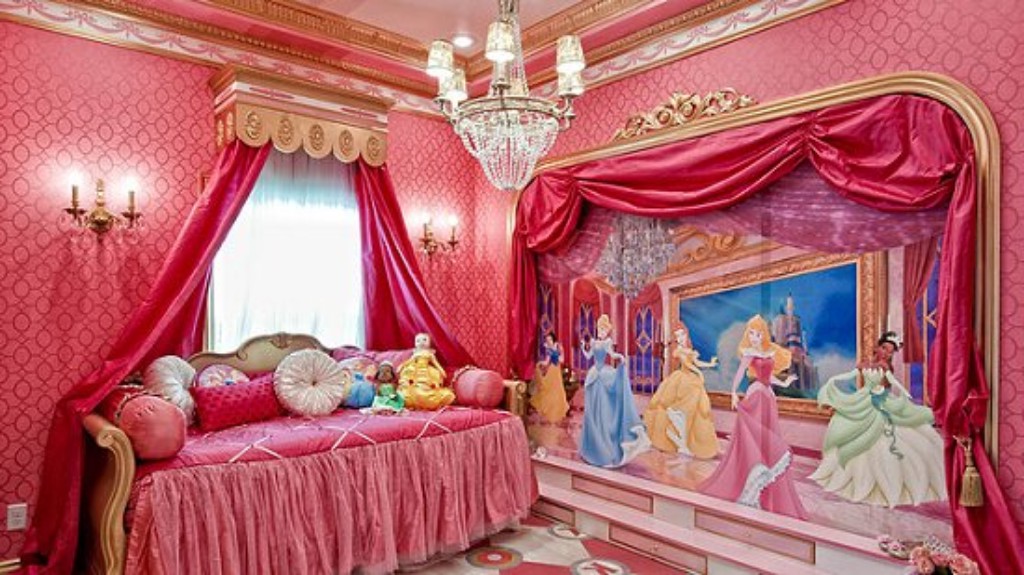 When you want to go all out for your little princess, this kind of Disney room decor is more than just that – it truly makes the fantasy a reality. You will feel as though you were invited to the ball by the Fairy Godmother herself stepping into a room that includes so much rich detail. There is opulence everywhere in this girls room decor, from the gold trimmings and chandelier to the lush bedding and velvet-rich throw pillows. Drifting off to sleep staring at the mural of dancing princesses will ensure dreams of fairy tales coming true!
26. The Focal Point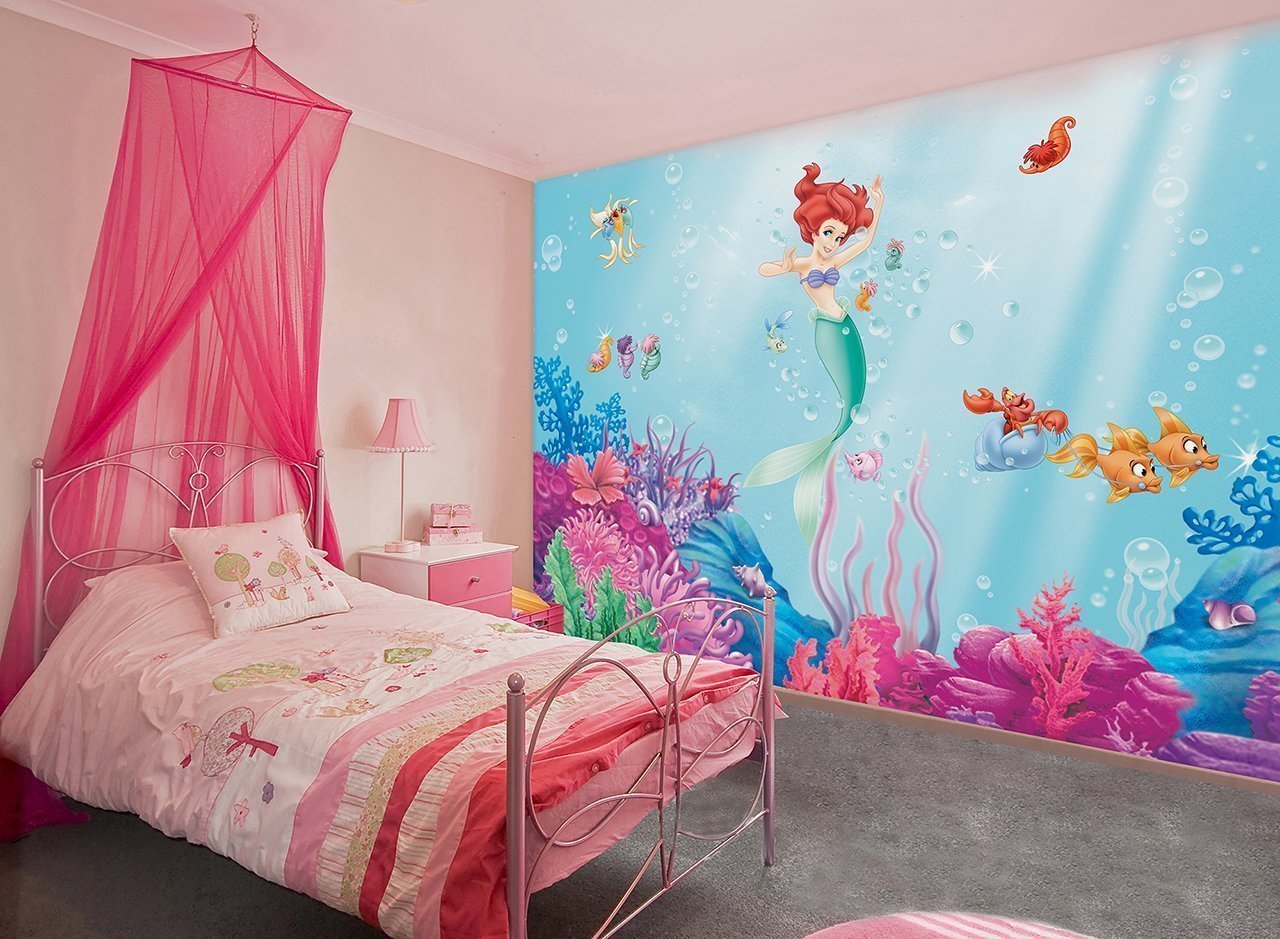 Disney room themes come to life quickly with wall murals. Making one wall a focal point can make coming up with the rest of the girls room decorating ideas a cinch. Murals are detailed enough so that the rest of the room can be simple without looking so, as seen here. The simple bed is accented with pink sheers and a bedspread that in itself is not Disney home decor, but it works because it is not overwhelming. When using a graphic as intense as this, keep other items simple.
27. Looking to the Landscapes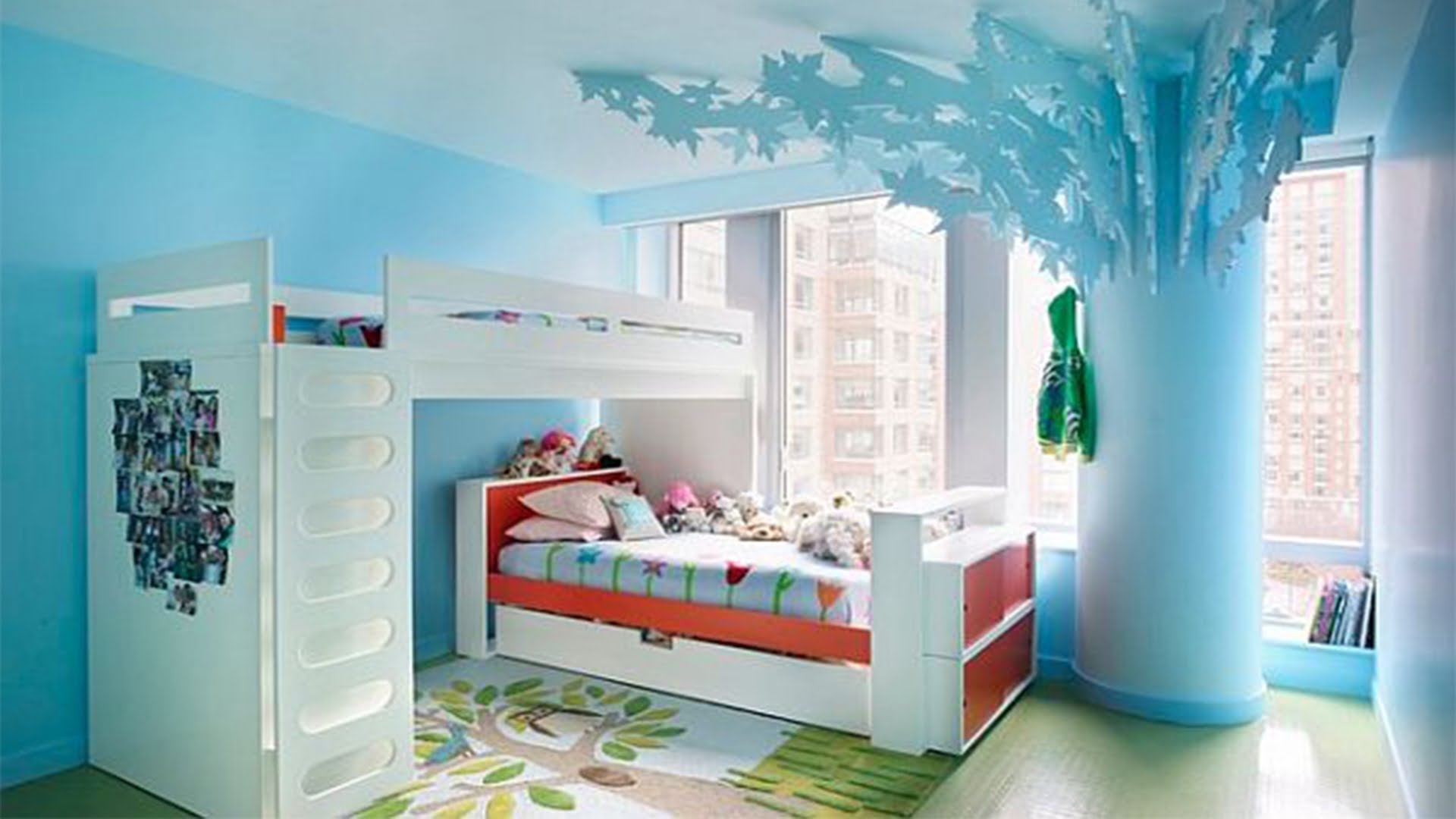 Disney themed rooms do not have to be all about the characters. Look deeper into the films for inspiration. Maybe you love the forest that Bambi frolicks through, the red and vibrant apple of Snow White's demise, or a frozen tree from Elsa's curse. What is your favorite part of your favorite movie? Perhaps the landscape spoke to you more than the story or personalities. Coming up with kids room decorating ideas can be as simple as determining what from the movies speaks to your child. Ask – it is guaranteed to be a great conversation starter!
28. Shoestring Budget Perfection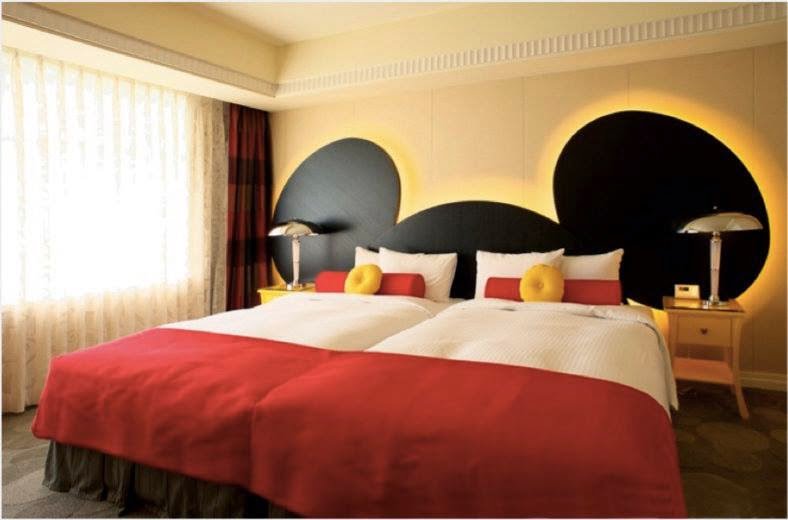 Disney room ideas often come with the anxiety of how empty the wallet will be upon completion. A little imagination can make up for a lack of money, however. Pictured is just one really cool way to make a super-funky Disney kids room that doesn't cost an exorbitant amount. A large piece of cut and painted plywood backed by a yellow light glowing behind is all it took to make this look. If you don't have access to wood, plastic would work and, in a pinch, simply paint it directly on the wall!
29. Doorway to Fun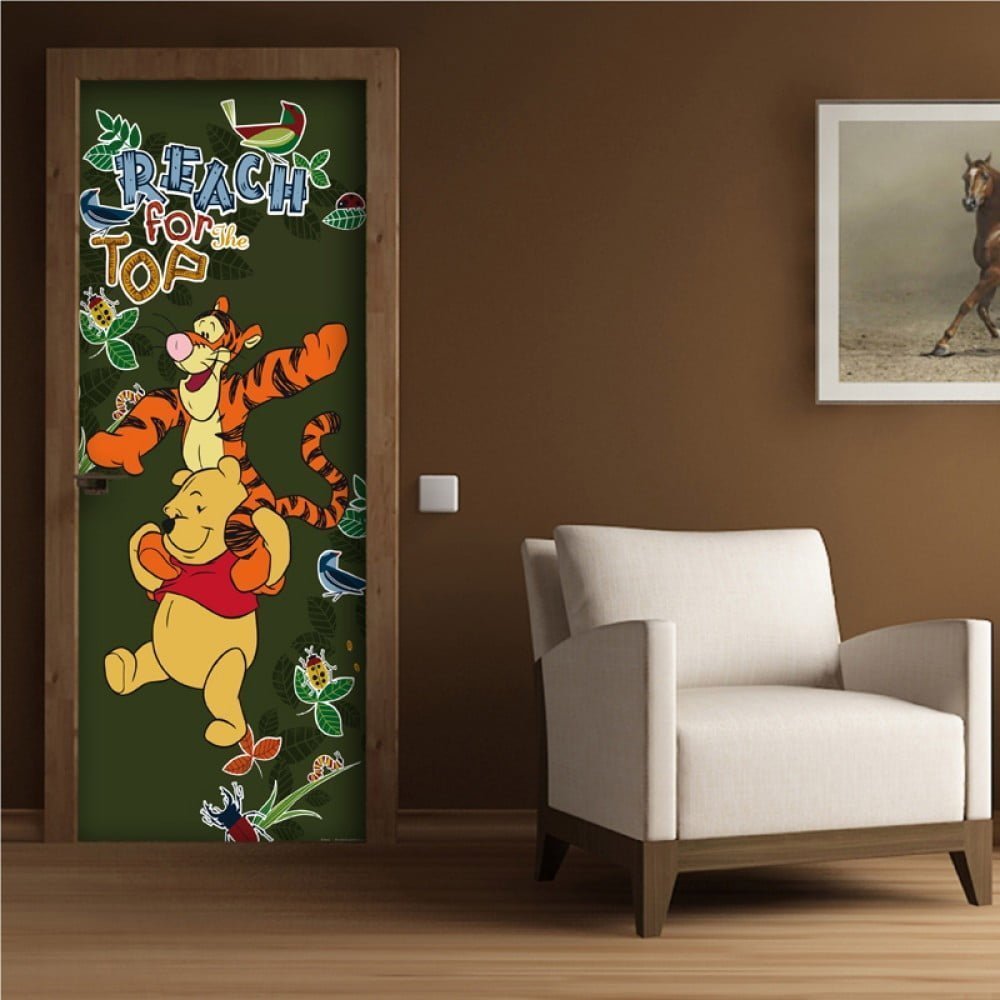 Sometimes just a little pop of fun is all that is needed to bring the magic of Disney home. Why only have a good time with girls' or boys' room decor? Everyone loves at least one of these special movies or characters, so the whole family should be able to appreciate them! Decals featuring those such as Winnie the Pooh are obvious choices for home decorations throughout the house. This brown and white room would have an entirely different feel without the colorful antics of the honey-loving bear and his cohort Tigger.
30. Fun With Foam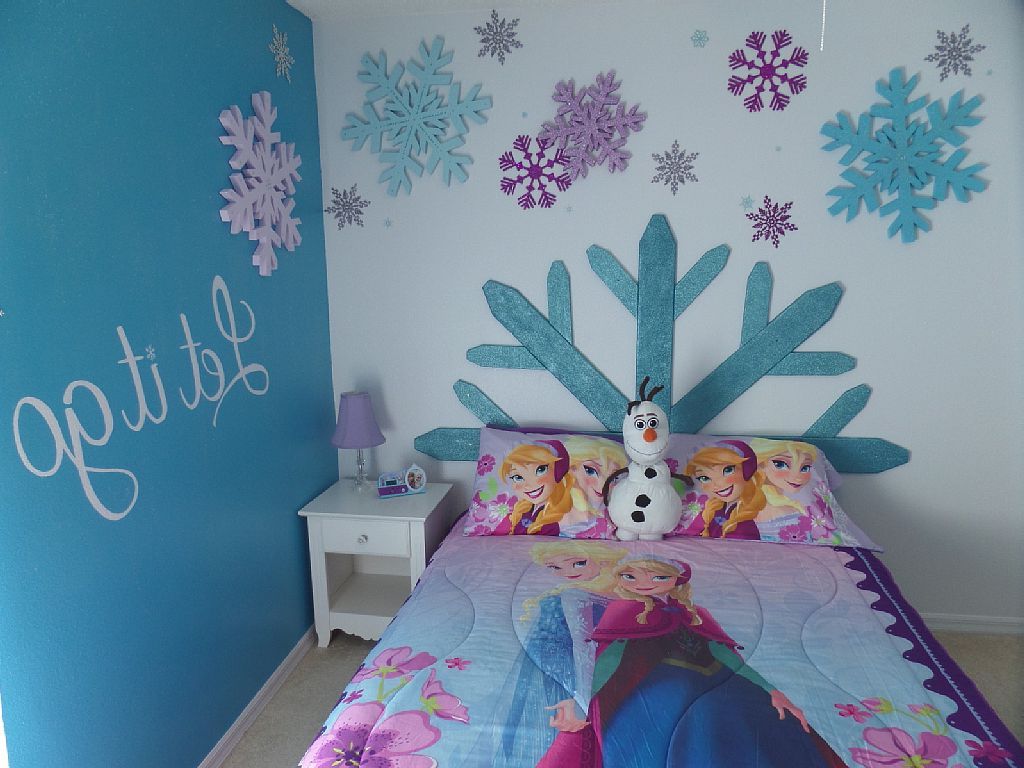 Everyone knows the difference that paint can make. For kids room ideas, do not neglect texture, which can make Disney room designs really spectacular. In this Frozen-inspired room, three walls are painted ice blue, and a focal wall is painted in a deeper hue, but it is the foam snowflakes of varying colors that stand out. Disney room decorations like these can be bought ready-made, but if you want a fun afternoon, why not visit your local craft store for materials and enlist your child to help you make your own?
31. Pirate Adventures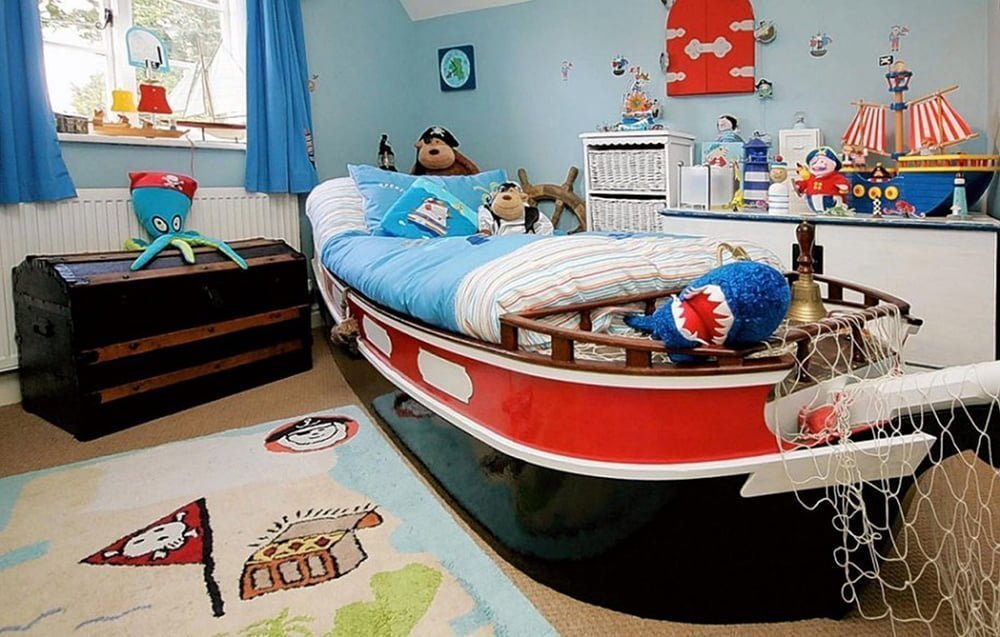 Boys room ideas can be challenging at times, but they don't have to be. Draw from what they love to do, or what they aspire to be. Of course, their goals to be a pirate or race car driver may never come to fruition, but that does not mean that you cannot make their dreams come true for now. A boat for a bed and a treasure chest nightstand that double as a toy bin create an awesome Disney themed room. Embellish the space with a cool rug, fisherman's net and fun stuffed animals to complete the look.
More disney room decorations on the next page…