32. A Nurturing Nod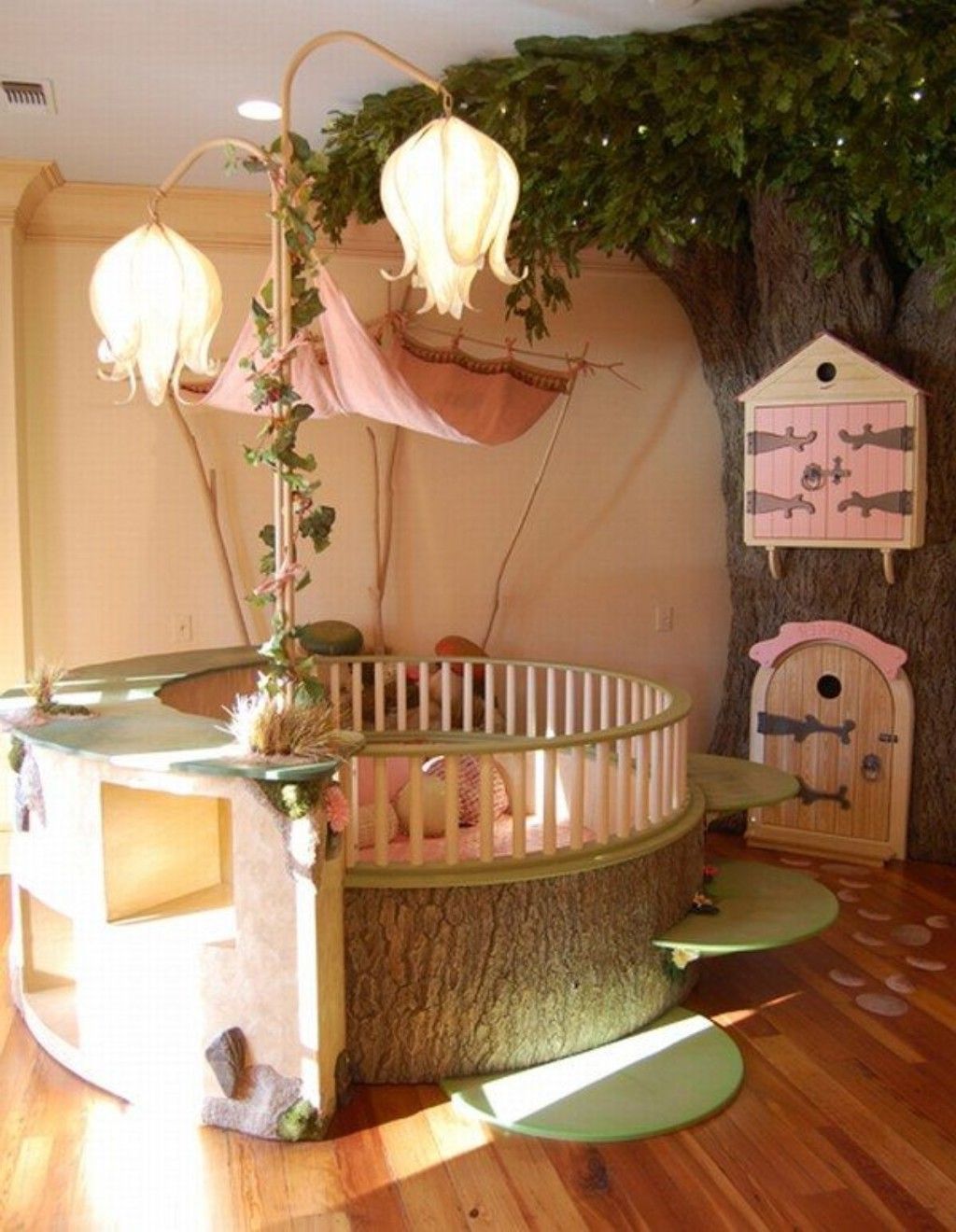 Nature is a beautiful space for adults and children alike, and what better time to start introducing your child to all its wonder than in infancy? This Disney room decor does just that, with a nod to Alice's Wonderland entrance in the corner tree. The window and door open up to conveniently provide access to Mom and Dad's changing table accessories, as do the cubbies and shelves surrounding the beautiful crib. The floral lighting and greenery winding up the lamp bring even more outdoor wonder to the space, while the soft hues will lull the baby to peaceful dreams.
33. A Space Transformed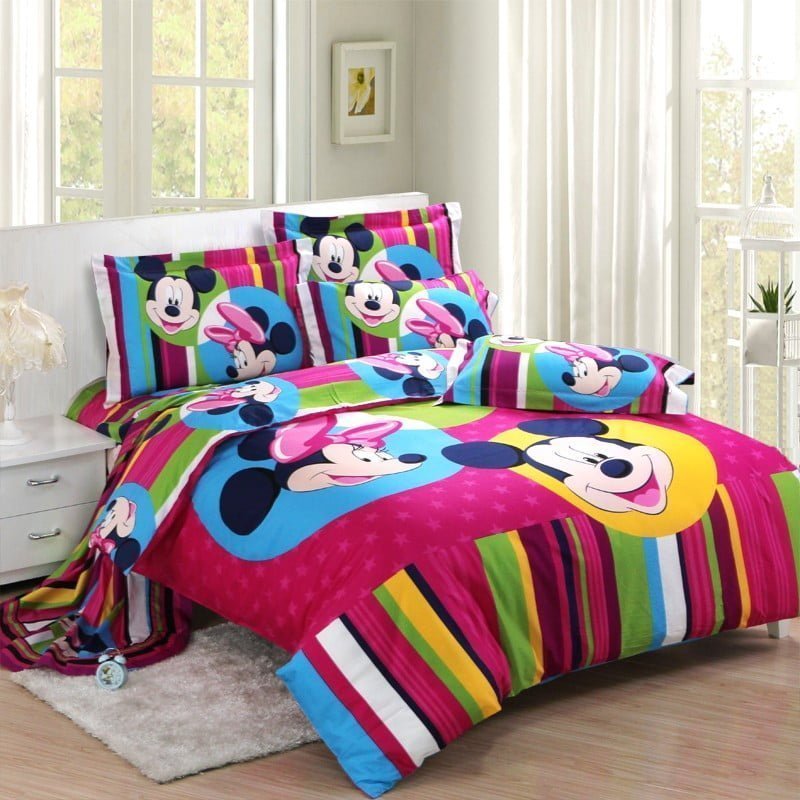 Some of the best Disney rooms are surprisingly simple, as the one shown here. The clean white of every part of the room, from the walls and window treatments to the rug, do not portray anything but crisp. However, the room comes alive with the addition of the bright and cheerful bedding. This simple addition energizes the entire space. If you are stuck for boys' room decorating ideas, want to pump up a kitchen, or just wish to bring some fun and magic into your home, remember that Disney room themes can be brought together in the simplest of ways!
34. Princess Perfection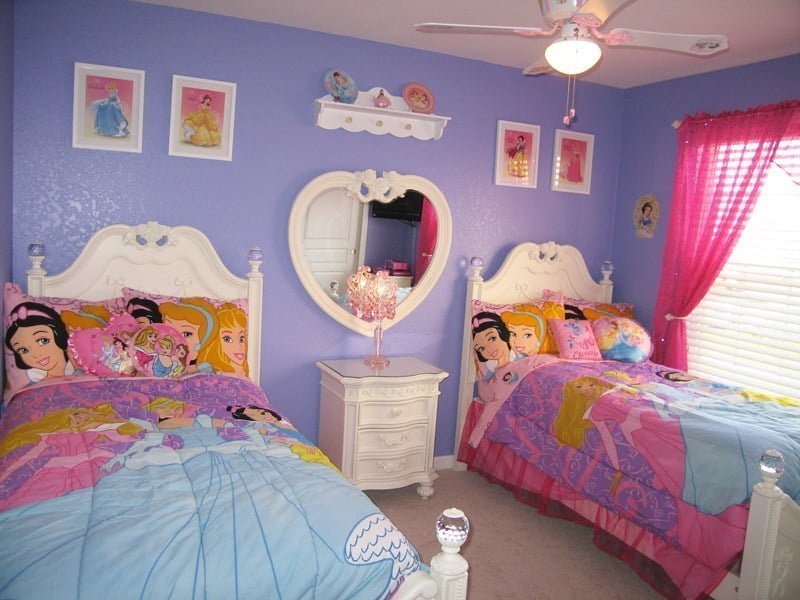 A Disney room is an excellent base for girls room decorating ideas, as there are so many things that can be done. For instance, pretty much every little girl dreams of being a princess at some point. When furnishing a room for more than one, it is a great idea to use matching sets like you see here to avoid any arguments of who gets what – and it makes shopping easier. Little adornments can make a great impact, such as crystal bed post knobs and decals in unexpected places (check out the fan!). A lamp placed in front of a mirror can also maximize light with darker walls.
35. The Little Things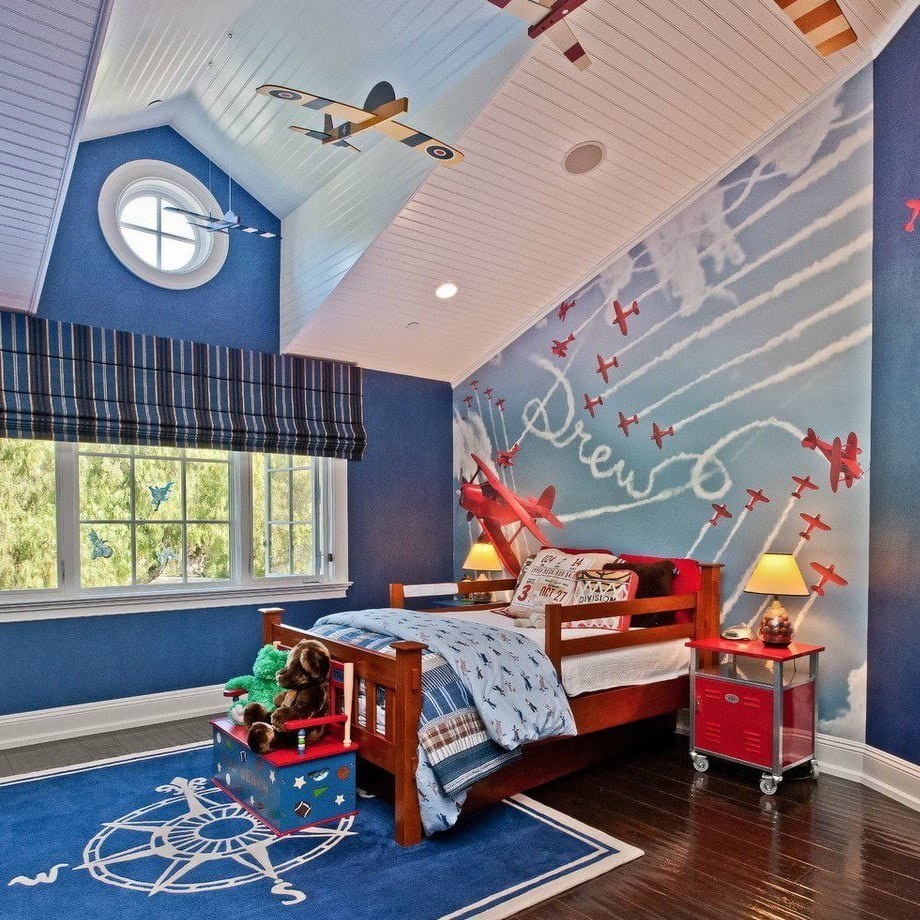 As the saying goes, it's the little things in life that count. Keep this in mind when you are coming up with boys room decorating ideas. There are so many little details in this room that together make it a very unique Disney kids room. Instead of just a mural of planes, the child's name has been painted in the tail exhaust, which I imagine brought a big smile to his face. The impressive architecture of the room was well-taken advantage of with models, and even the carpet lends its own flair with a compass. What neat ideas will you come up with for your boys room?
36. All That Glitters is Gold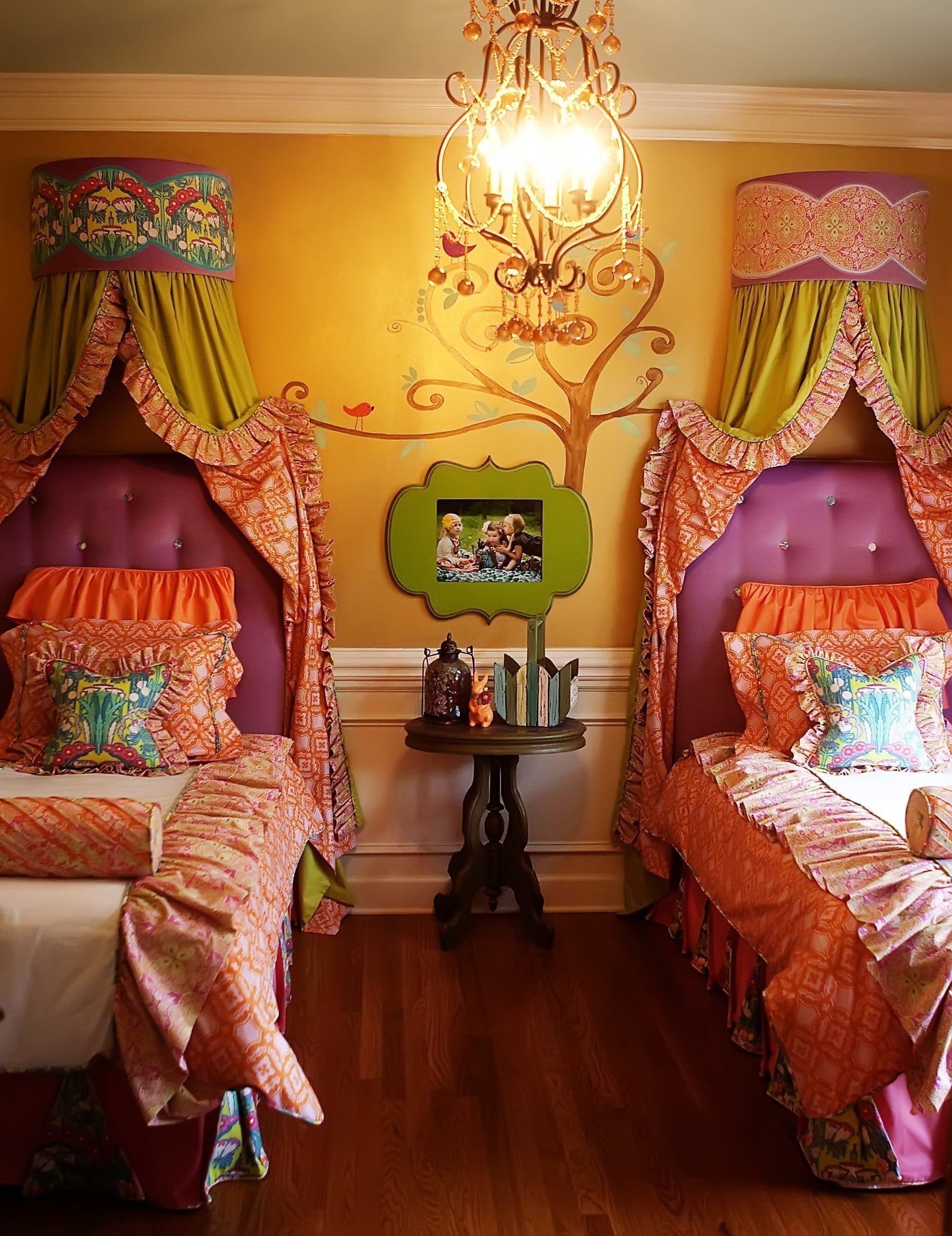 Disney room designs do not have to have a character theme, as illustrated in this lovely princess-inspired room. The padded mauve headboards are set off with lovely 3D canopies coming off of the wall, and the ruffles of the canopy curtains and bedspread will make any little girl feel extra special. Wainscoting embellishes the walls and adds to the luxury along with the golden chandelier. Wood floors and a simple wooden side table make the room reminiscent of days gone by, and the carefully placed picture adds a personal touch.
37. It's Mickey, Baby!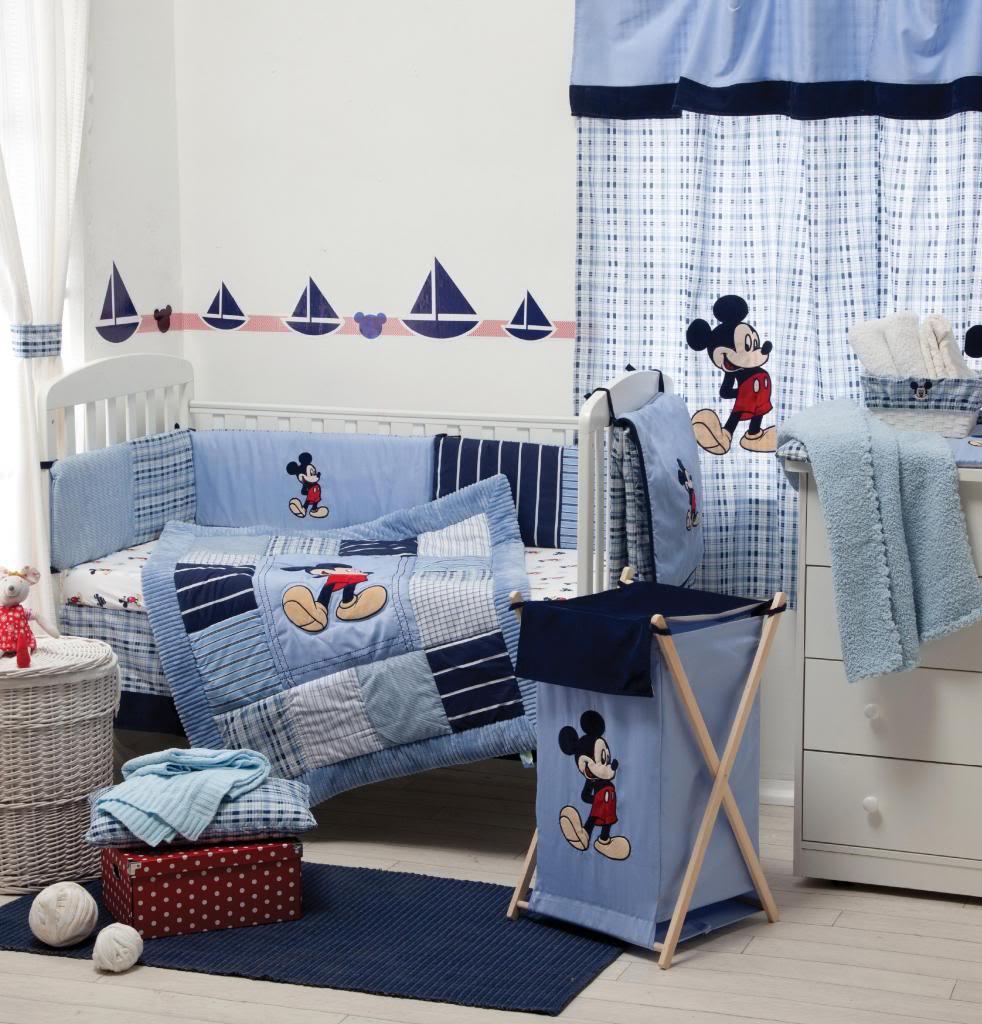 Can you believe Mickey Mouse has been delighting generations of fans since 1928? If you are ever stuck for kids room decorating ideas, he is a perfect option, and he works well for both girls and boys room decor. These parents created another little enthusiast with their choice of kids room design. Blue and white together are an excellent palette selection for nurseries, as they provide the contrast that experts recommend for growing eyes. Instead of vinyl decals or border paper, try setting your walls off with paint and stencil patterns, which can be found at your local craft store.
38. Pattern Perfection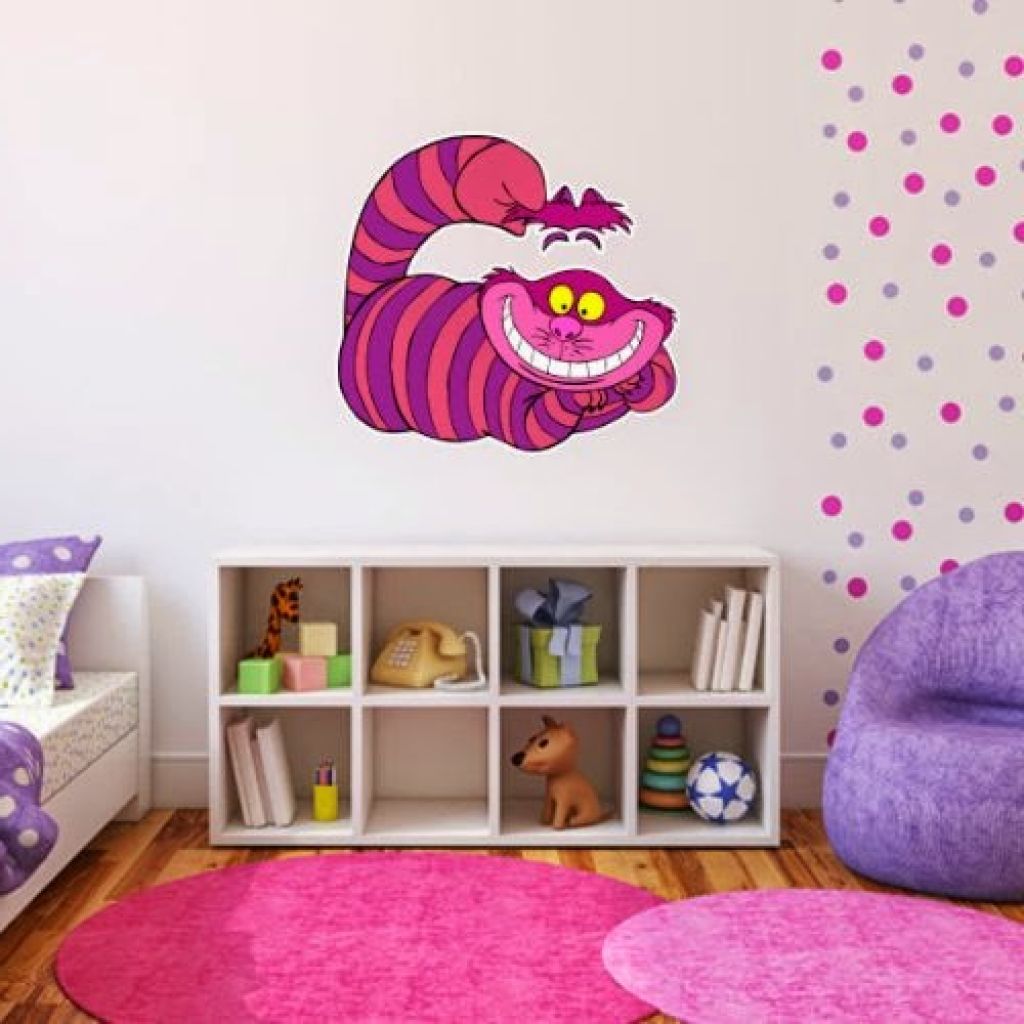 Don't be afraid to mix up patterns in your kids room decor. While you may not want to walk down the street wearing a polka dot shirt with striped pants, incorporating these patterns together in a room can be fun as this wall definitely shows. The mischievous Cheshire cat decal brings silliness to the room, and the matching hot pink and purple polka dots accent half of the wall perfectly. Cubbies keep everything nice and tidy, and the circular rugs make the whole room come together perfectly. What patterns will you use for your children's room?
39. Fancy Floral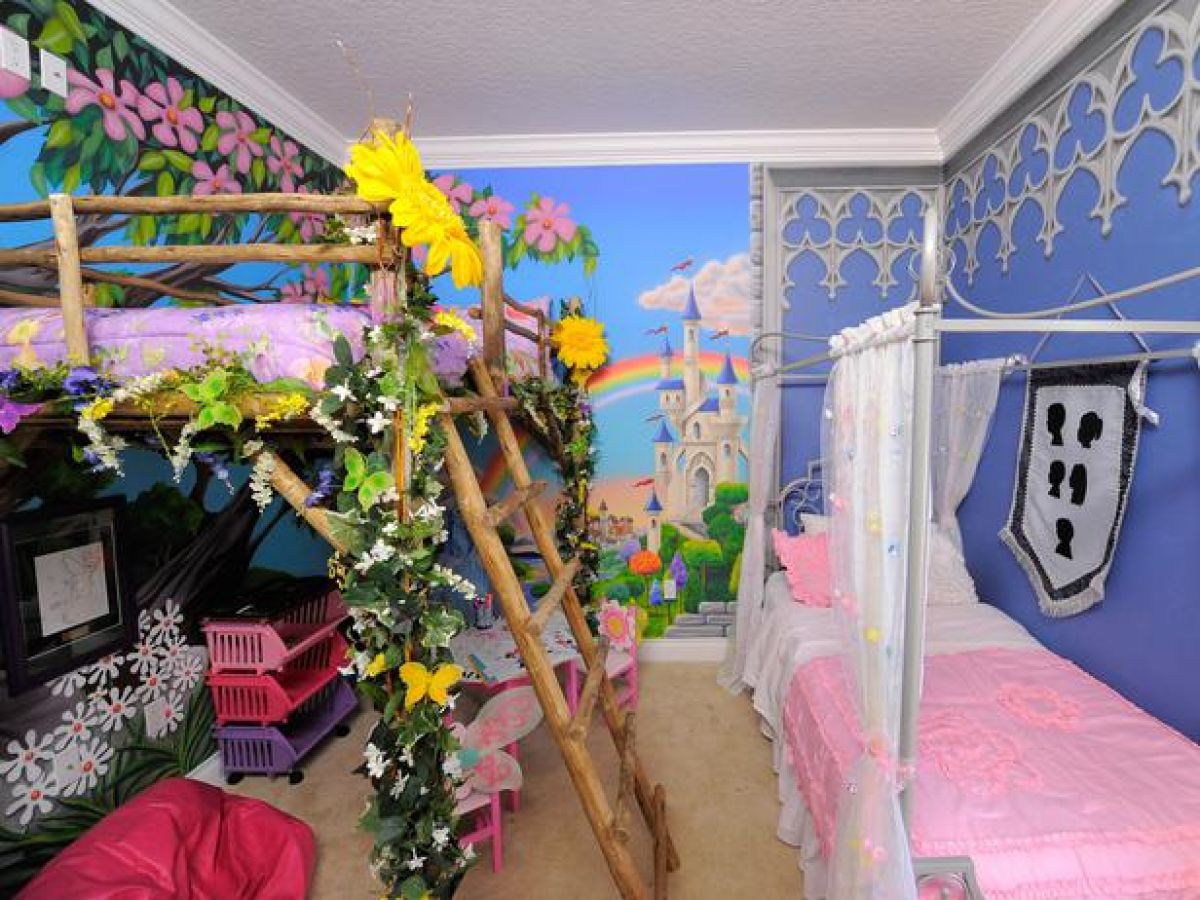 Disney room designs can be made spectacular by thinking out of the box. Instead of doing a typical 'inside the castle' princess bedroom, this girls room decor takes inspiration from the Enchanted Forest outside of the castle walls. The beauty of the forest shines through the paint in the pink oleander on the walls and comes to life with the winding vines and flowers on the wooden bunk bed. To maximize space, the bed is lifted off the floor, which makes room for a table and chairs that are the perfect size for a magical tea party for two.
40. Paws and Prints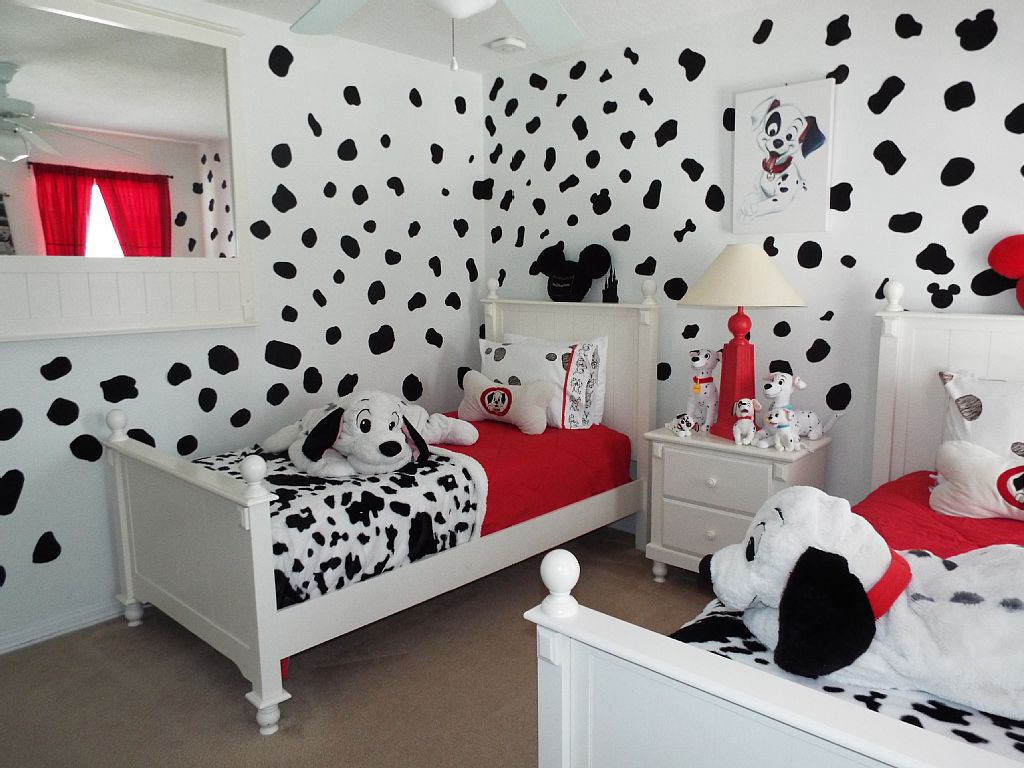 Some Disney room ideas start with a favorite movie and then take a surprising twist with where they go. For instance, in this room, the spots from the dalmatians play the starring role. The dog's red collars provide the inspiration of how to break up the monotony of the black and white. Choosing red curtains and matching bed sheets that peak out from under the made beds make the room come together in perfect fashion. To complete the look, a red lamp is placed on the table, and the happy pups look on in approval!
41. Fun With Paint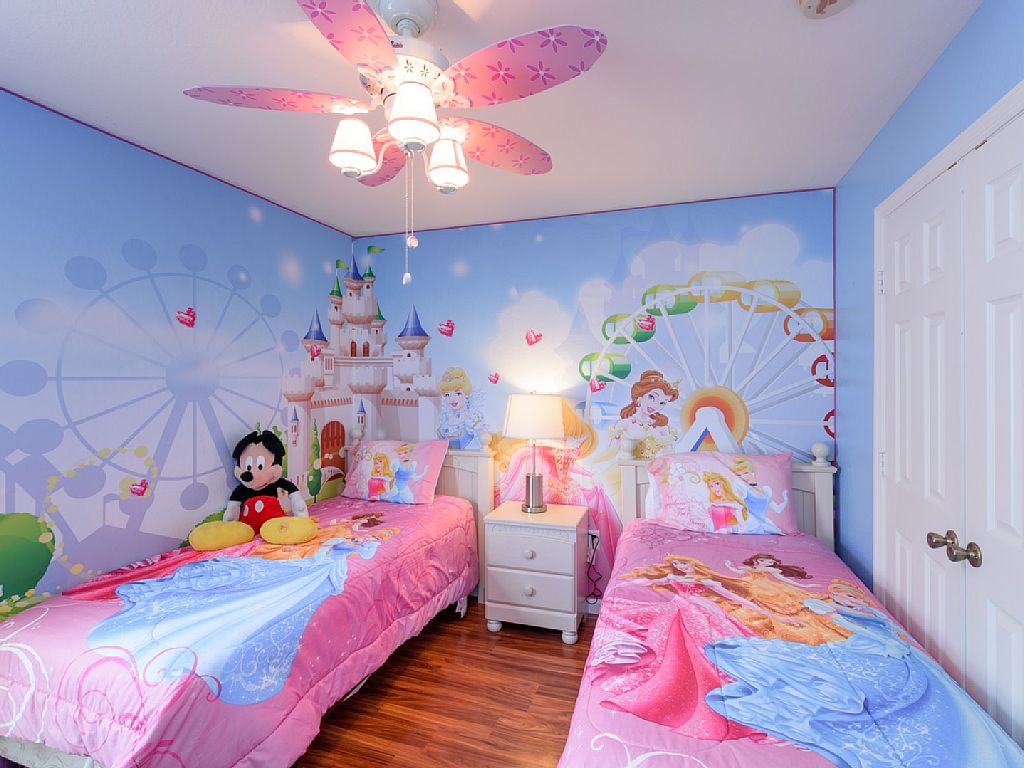 Paint is one of a designer's best friends when it comes to children's room ideas, because the things that can be done with it is truly endless. This looks like a typical princess room, but look closer. I don't think there were any Ferris wheels outside the castle! That is the joy of doing any Disney themed room, that you can do whatever your heart desires and make it your own. The castle itself is here, along with the princesses on the bed spreads. However, Mickey is here as well, which is unexpected – but that's what makes it so much fun!
How to create a Disney room decoration for your kids' room?
I hope you loved these Disney rooms as much as I did. Did it help you come up with your own kids room ideas? One of the things that make these types of rooms so intriguing is there is so much you can do and so much to pick from. If you do not want to go with a typical princess room for a girl, there is nothing wrong with doing it up Lion King-style! Maybe you are stuck for boys room ideas because your son doesn't seem to like the same types of things that other boys do. Give him Donald Duck, if that is his thing.
When decorating your child's room, be sure to include them in the decisions. It will bring you closer and provide special bonding time, and you never know what you might learn. Kid's minds are full of all kinds of things we don't know about, and it is always amazing to learn what gets them excited. Their imaginations are endless, and they can probably come up with some really cool ideas that you haven't thought about.
They will likely be more than happy to help you with the design details, too. What kind of arts and crafts projects could they do that would look awesome in their room? Are they old enough to help with the painting? If not, maybe they could place the decals on the walls or help you decide where to put them. Let them help, and create some magical memories together.
Age is a state of mind, and you are never too old for fun. Adding Disney-related items around a house can help make it so much more; they can help make it a home. Have fun decorating!