With some incredible DIY boho crafts, you can embrace lighter, eclectic vibes in any room throughout your home. Bohemian is a style that never seems to truly go away. In fact, more and more people seem to embrace it. There is some lovely versatility to be found when using this type of theme. You can go with the classic bohemian approach that sends out nothing but good vibes. Or you can aim for something that is more sophisticated, creating a shabby chic bohemian appearance. There are plenty of possibilities in which you can enhance and add your personal touch.
25 Exciting Boho Craft Ideas for Airy and Delightful Decor

Since we are aiming for this style, why not take things a step further with DIY boho decor? This allows you to further play around with your creativity, combining various colors with respect to the style in question. Macrame is a key element when it comes to bohemian decor, and this can easily become a DIY project. So, if you are coming up short on where to begin, you can check out our favorite boho craft ideas. We have a range of options so anyone can find something worth considering. This way, you can design decor that is uniquely yours all while sticking to the bohemian vibes.
1. Boho Raffia Sunburst Mirror Design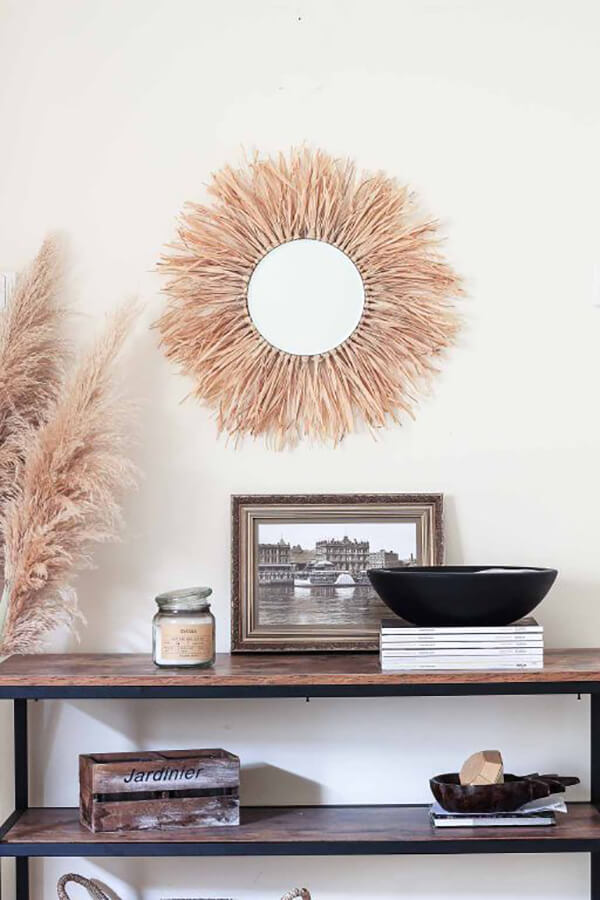 Bring sunny vibes into your home with this gorgeous sunburst mirror. The use of natural raffia is what sets this apart. It provides the mirror with some much-needed texture on top of the earthy style that provides just the right amount of color to the piece. This is an excellent representation of the bohemian style. It is relaxing, uses natural materials, and easily combines various artistic themes into one artistic design.
2. Scrap Yarn Pom Pom Designs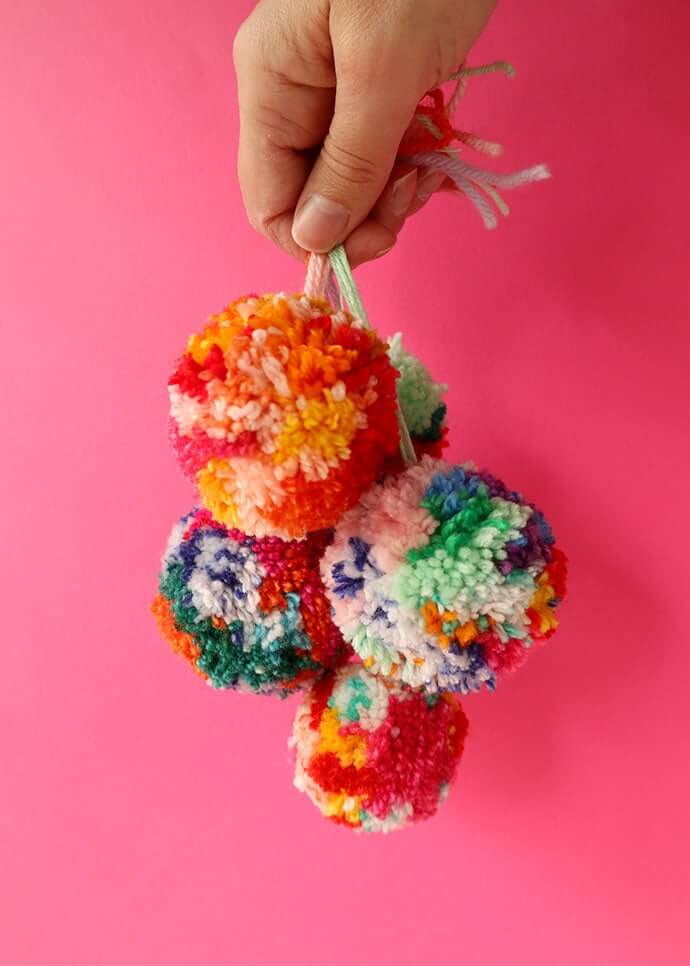 Pom poms are worthwhile when you want something fun to decorate with. For those of you who are already crafty, you can probably make homemade pom poms with items you already have. This is a good way to get rid of some excess yarn that you don't need anymore. You can create pom poms in multiple styles too, making some with one solid color and others with a sea of blended colors.
3. Unique Handmade "Hey" Typography Vase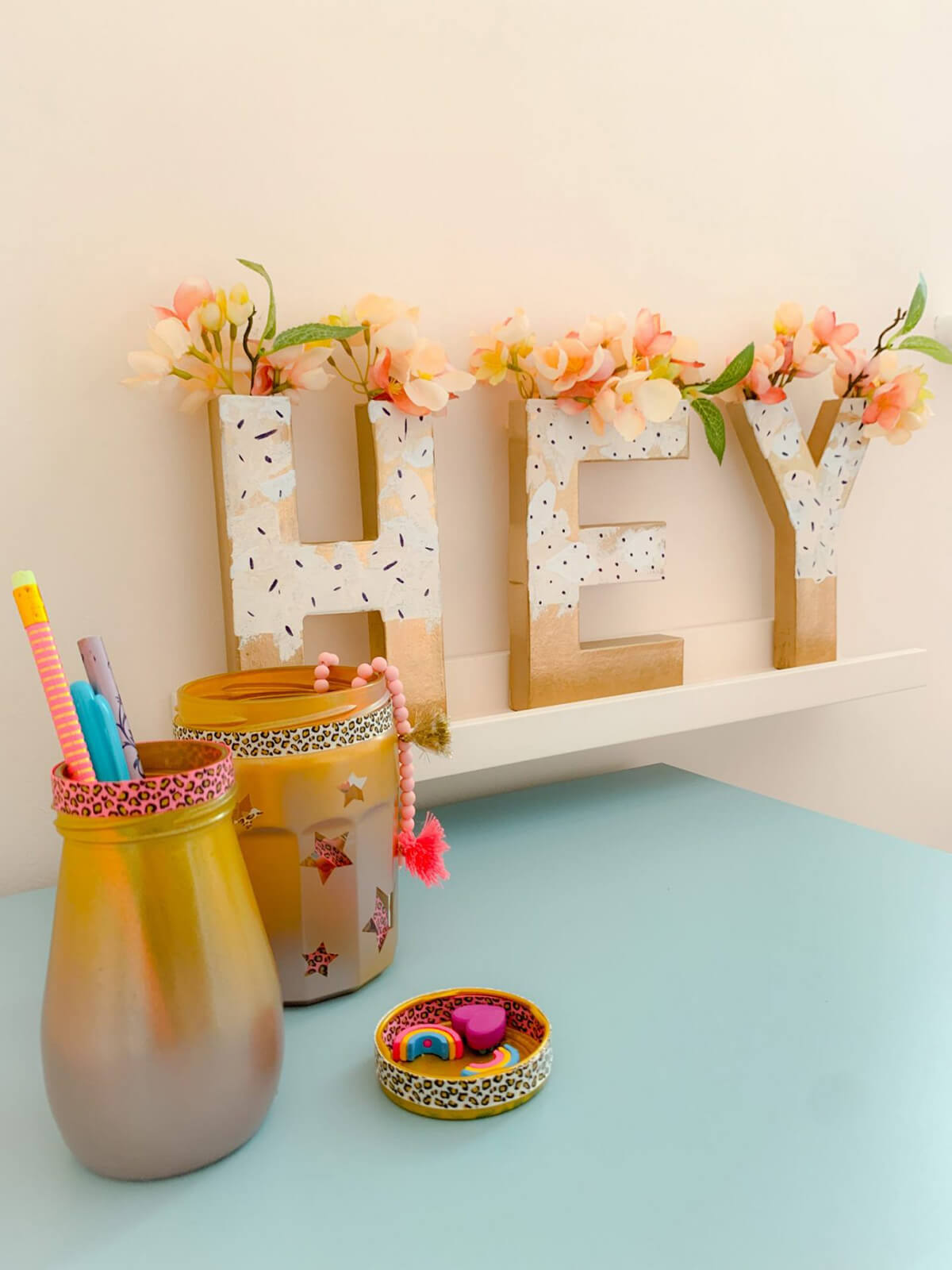 For those who need a distinctive element to their home's decor, these typography vases are the next big solution. The lettering is always fun to make. Any decorative element with typography is awesome as they work with any style. Feel free to make it colorful or stick to natural hues for more of that bohemian flair. Best of all, these are actually vases. So, you can stick some flowers in there for that extra pop of color.
4. Cozy and Bold Pom Pom Pillow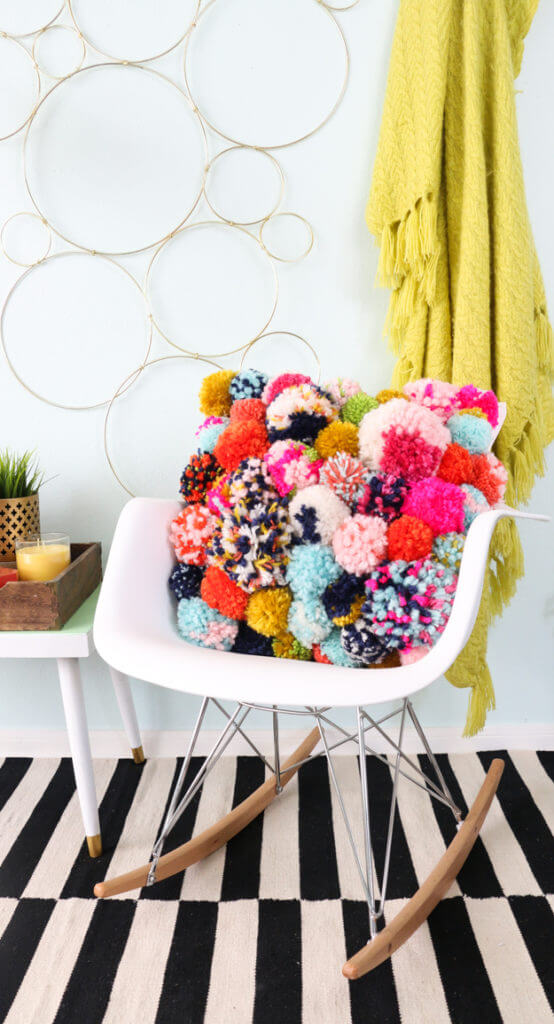 Pom poms are such fun materials to work with. Did you know that they are wonderful to use for boho craft ideas too? Finding pom poms in a sea of different colors is easy enough. You can even find some that are multi-colored, allowing you to build up a more interesting and creative pattern once you put them all together. This is a great way to make a cozy and decorative pillow that has incredible boho artistic flair.
5. Gorgeously Bright Boho Basket Design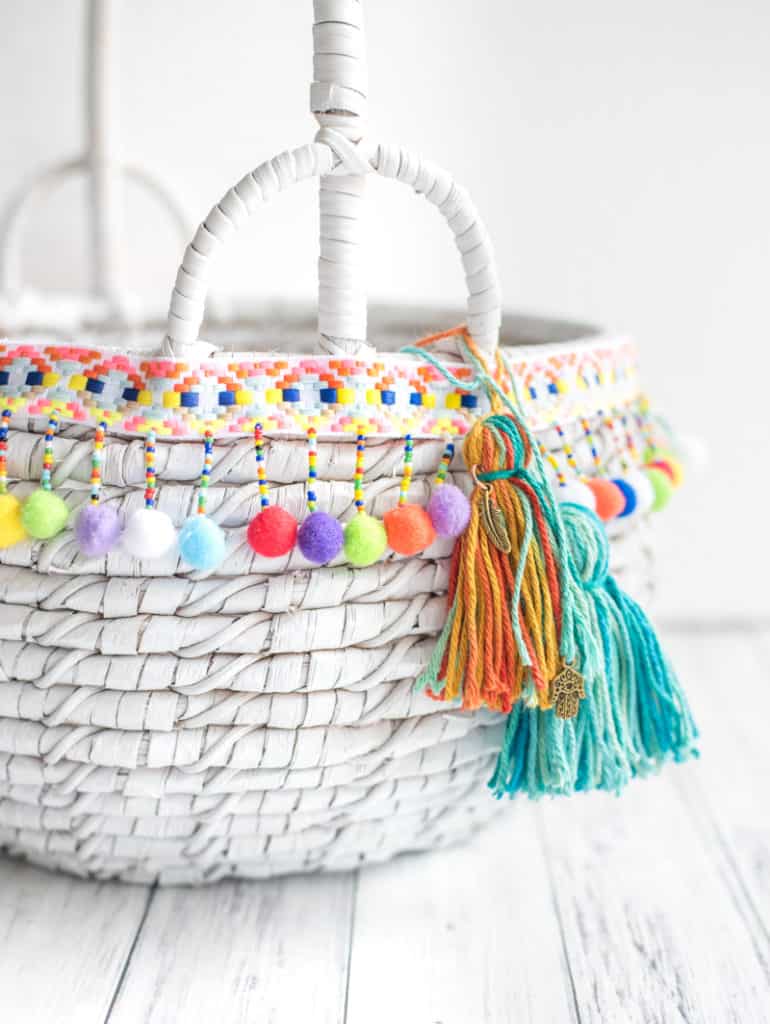 Need a basket to help make shopping around or handling cleaning tasks easier? Then why not get one that is also decorative? You can upcycle an outdated or basic basket and create something colorful, bright, and filled with far more boho flair than before. The frills and pom poms hanging off all around offer not just pops of color, but contrast in texture from the basket itself.
6. DIY Woven Boho Holiday Wall Hanging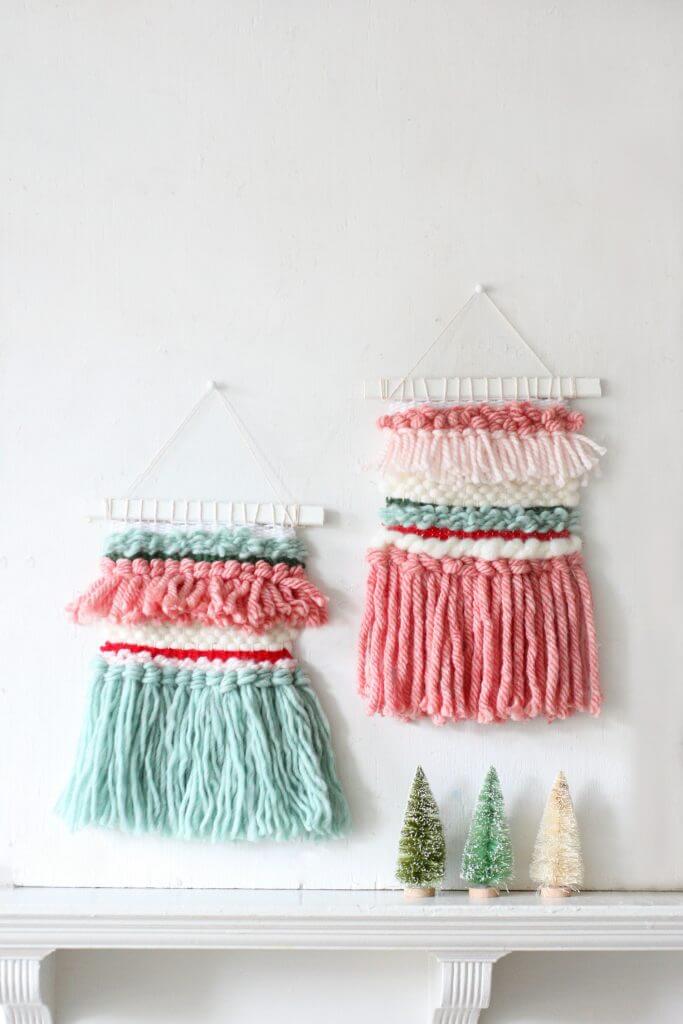 Boho is such a versatile style to decorate with that you can even use it when decorating for different holidays and seasons. Don't take away from those laid-back vibes just because a holiday approaches. Instead, lean into it all by using boho-like designs such as the woven technique and colors that are typically found during the holiday in question. It is a lovely way to fill your walls with seasonal items that are distinct and creative.
7. Affordable DIY Wall Hanging Tapestry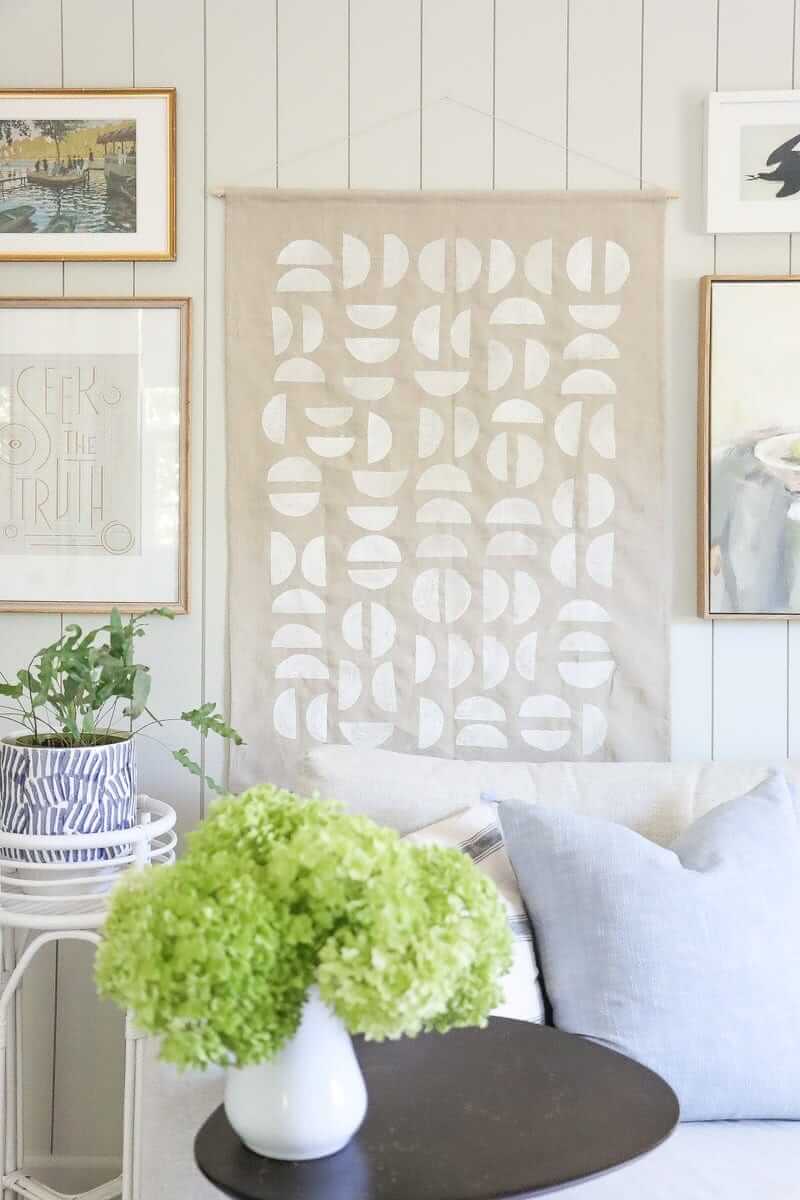 So, you want to decorate your home with some boho-inspired pieces, but you don't exactly have enough money for it. Well, you can craft this DIY project while on a budget with ease. The wall tapestry has a gorgeous earthy hue to it that is fitting for boho styles. There is a simple enough pattern on it that can still capture attention with ease. It is a wonderful size too. This tapestry can instantly take up some bare walls, transforming them into a decorative piece with style and texture.
8. DIY Painted Wooden Arrow Decor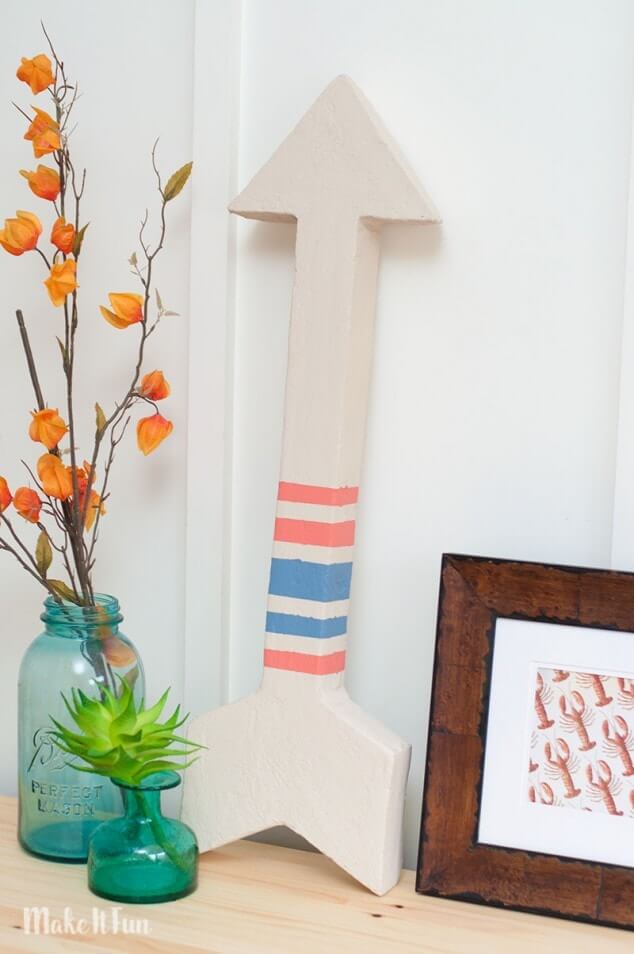 Have you ever considered using arrows as decor? They are sometimes overlooked, but they leave such an impactful statement. Additionally, they are also great to use for any type of style. This makes them easier than ever to work with your boho theme. What can really help elevate this wooden arrow is the paint job applied to it. Stick with some bold colors if you want to better suit the theme in question.
9. Trendy Boho Raffia Mirror Decor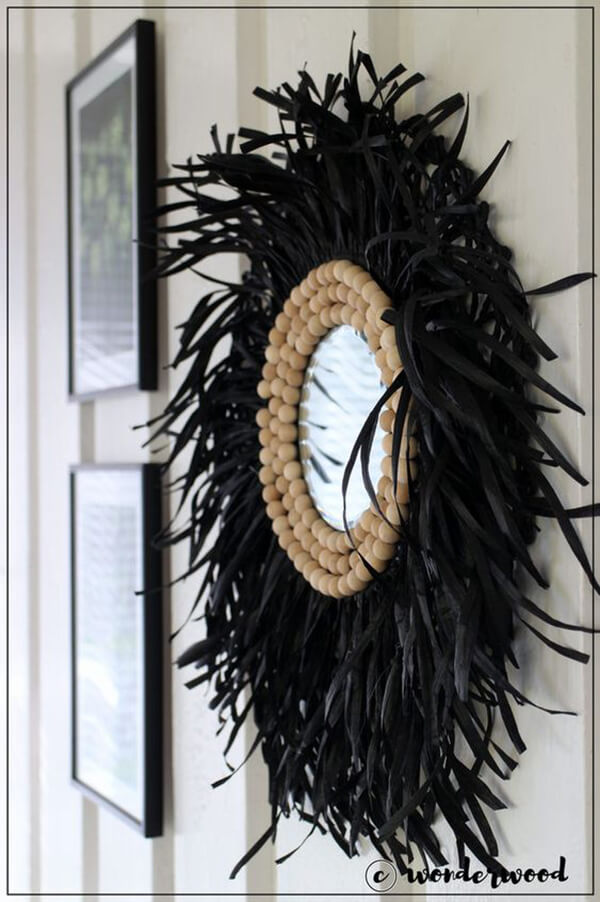 Give your standard mirror more flair and excitement by using raffia all around it. Raffia goes along well with boho as it is. Not only can you use that to align with the theme at hand, but you also can use a set of wooden beads to go around the mirror too. This gives the design those earthy hues in traditional bohemian style. It contrasts perfectly off the darker raffia color, allowing these different materials to work alongside each other well.
10. No-Sew Rope Coil Basket Design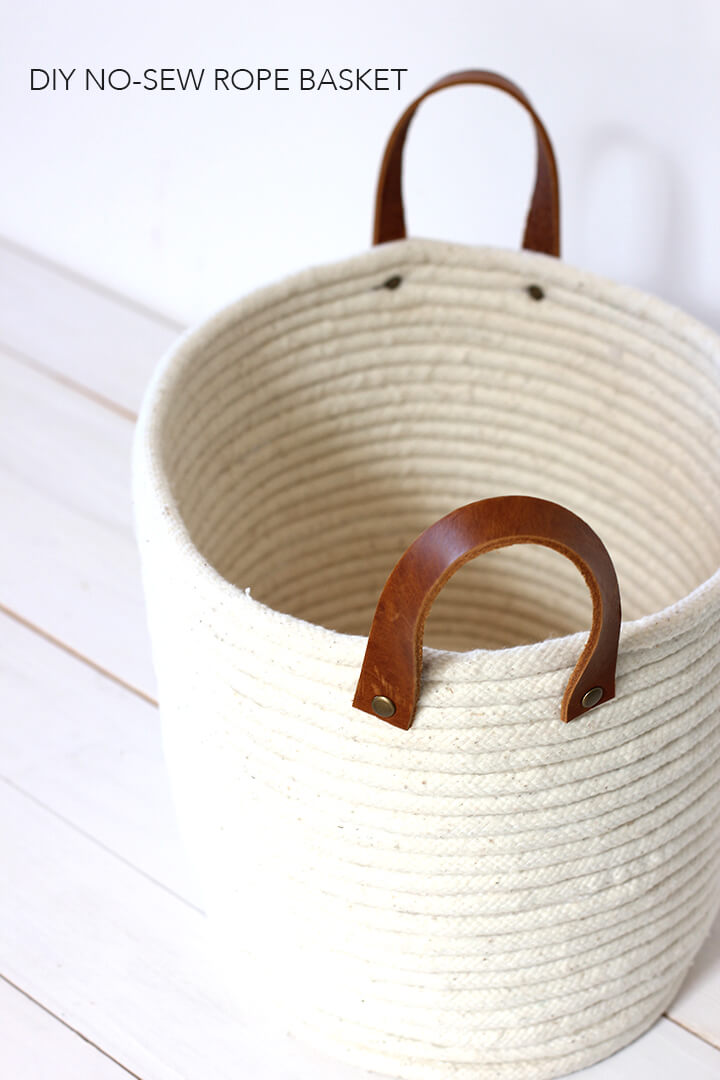 You can take a plain bucket or basket and use it as the base for this upcycling project. This is a cool way to gain that boho style when you have a container that looks anything but. The rope gives it a completely new appearance. In fact, people may assume that it looked like this the entire time. Using a solid bucket can help make this more reliable too, ensuring that you keep this stunning DIY basket for years to come.
11. Homemade Wood Slice Test Tube Vases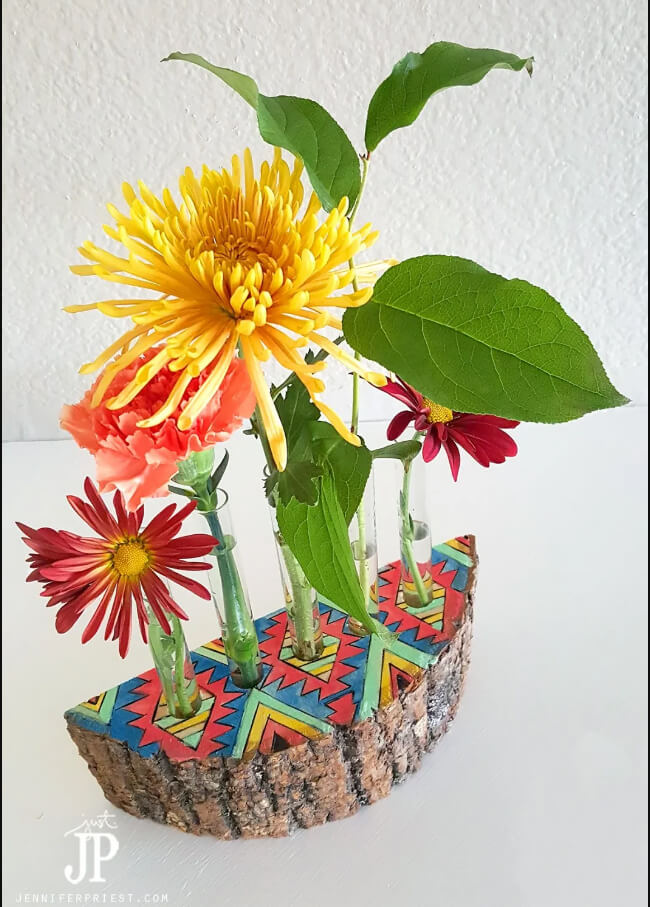 Put a spin on the traditional flower vases with these remarkable test tube vase designs. The tube is excellent at supporting simple flowers. It gives them just enough room to thrive. Meanwhile, they are all resting inside of a painted wood slice. The bold and vibrant coloring speak to the carefree spirit that comes with bohemian style. It is a nice blend of rustic and boho, and with its size, you can save it for your own decor or give it away as it makes for a cute gift.
12. Colorful DIY Door Handle Tassel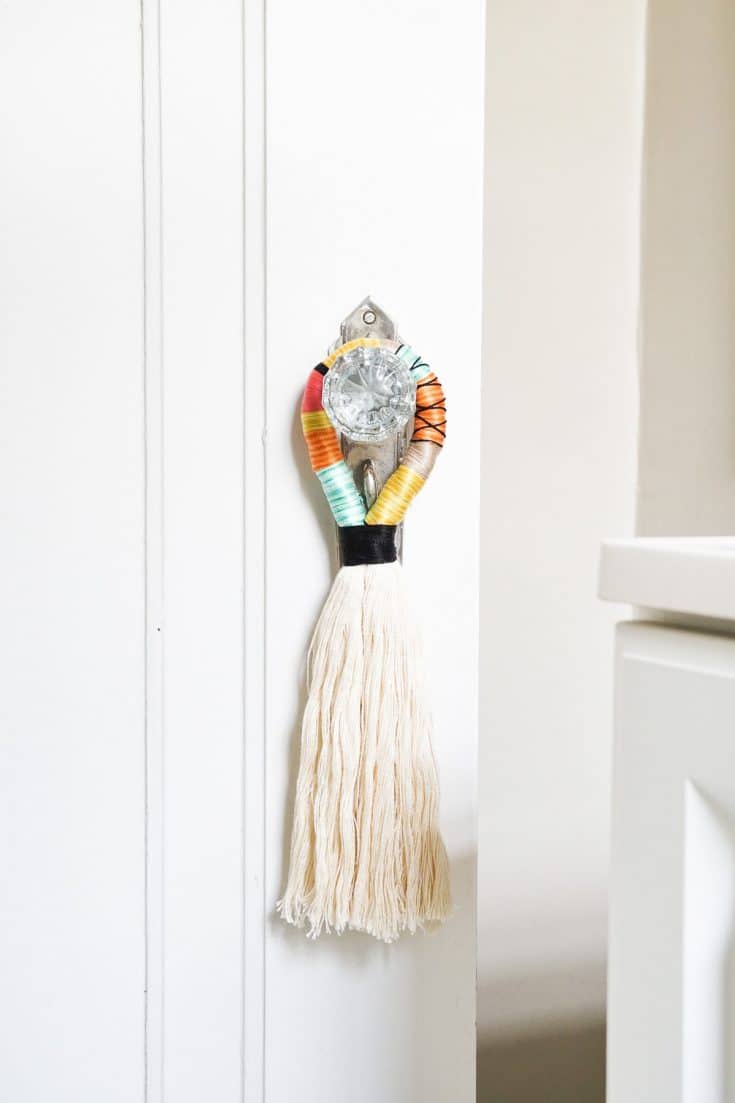 A door handle tassel is a sweet and artistic way to add a splash of decor to any door in your home. They also provide some fun texture to an otherwise basic element. You can easily create a boho-inspired door tassel too. All it takes is an accent color for this design to shine and stand out. Meanwhile, the cotton string paves way for the other styling elements from bohemian culture.
13. Braided Yarn Wall Hanging Decor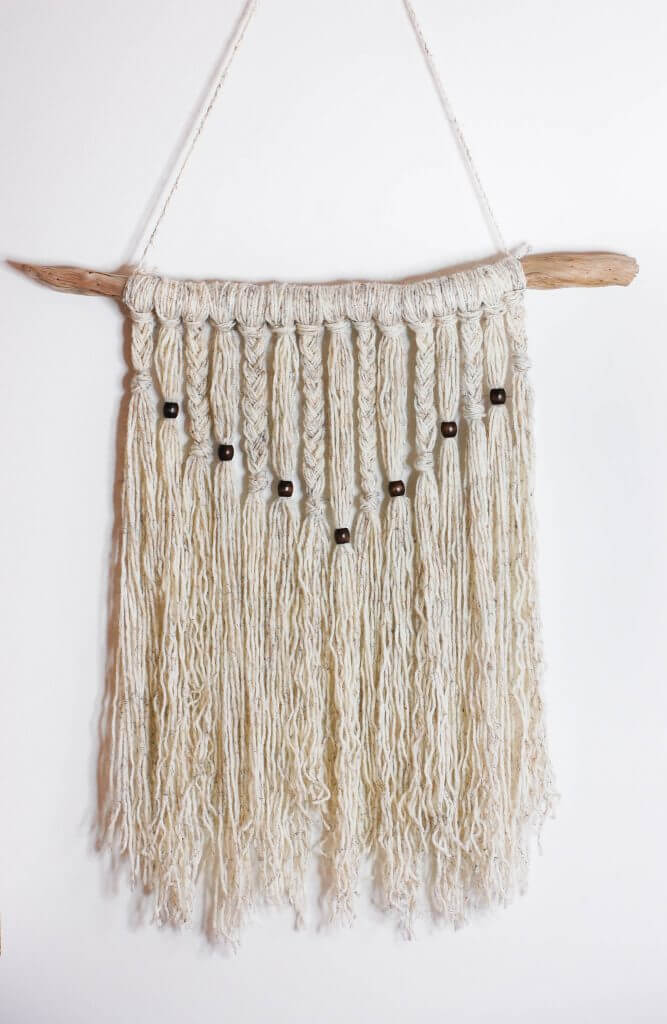 Yarn seems like almost a staple when it comes to boho styling, especially for handmade decorative items. This wall hanging piece of work is no different. It features yarn used in different ways from free-flowing to braided. It's the multi-design that gives it more texture and helps it stand out in the best of ways. Meanwhile, the simple use of wooden beads breaks up the yarn well, giving it a nice deal of contrast.
14. Beautiful Macrame Hanging Wall Shelf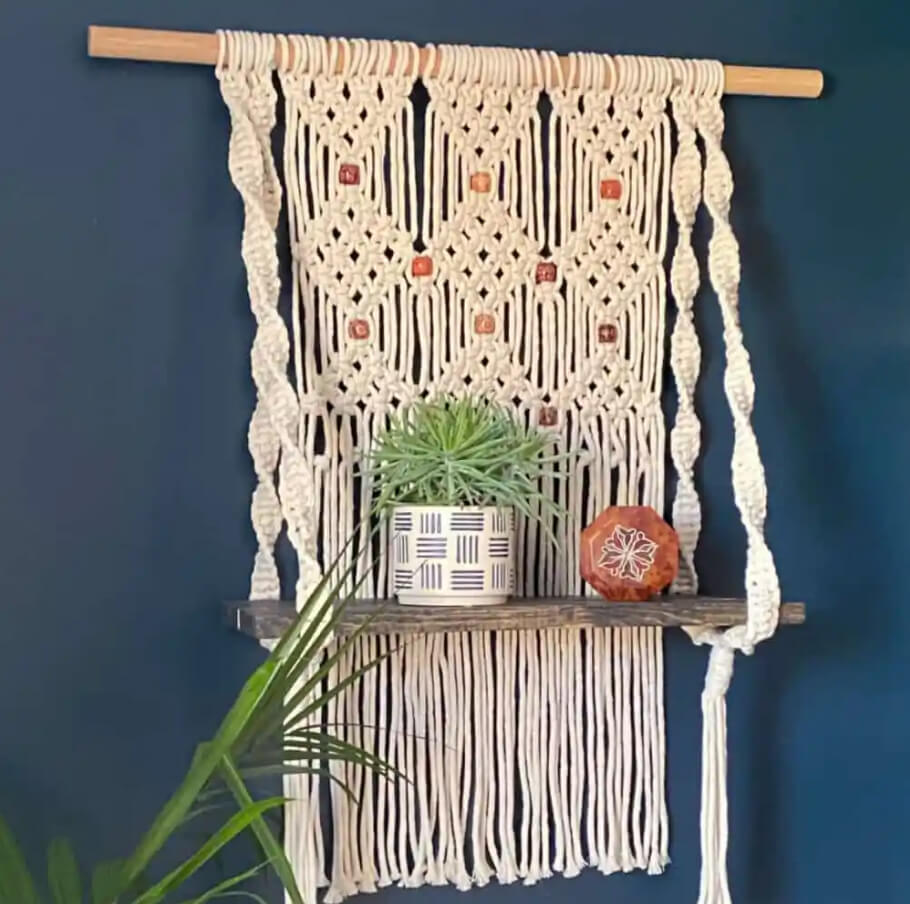 Macrame is commonly used when it comes to this theme, so why not use the style with your boho crafts? The design is intricate, and it can even have a modern spin to it so that it works alongside other types of themes in your home. What makes this stand out even more is the fact that this is not just any wall hanging. You can use that shelf to show off even more boho-like items.
15. Stylish Rope Twine Bohemian Coasters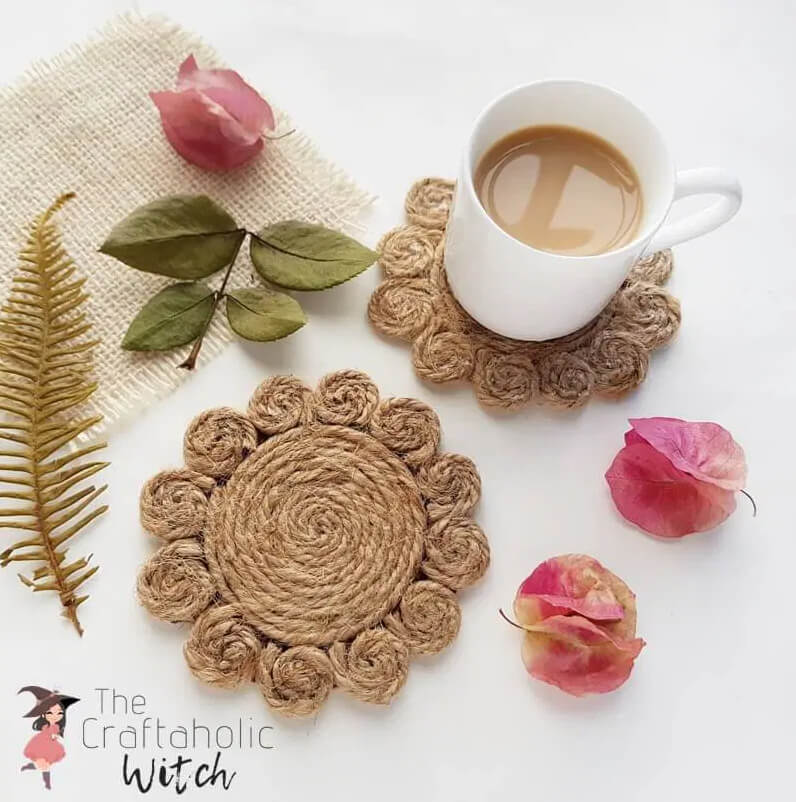 Sometimes, the best decor you can do is more small in scale. This is the perfect way to add a bohemian touch if you don't exactly have enough room for anything else. Coasters are functional enough, but you can add some style to them with this incredible boho inspired design. In fact, they have such a compelling appearance that you can leave them out even when they are not in use as they can elevate the feel in a room in a simple way.
16. Charming DIY Boho Towel Ring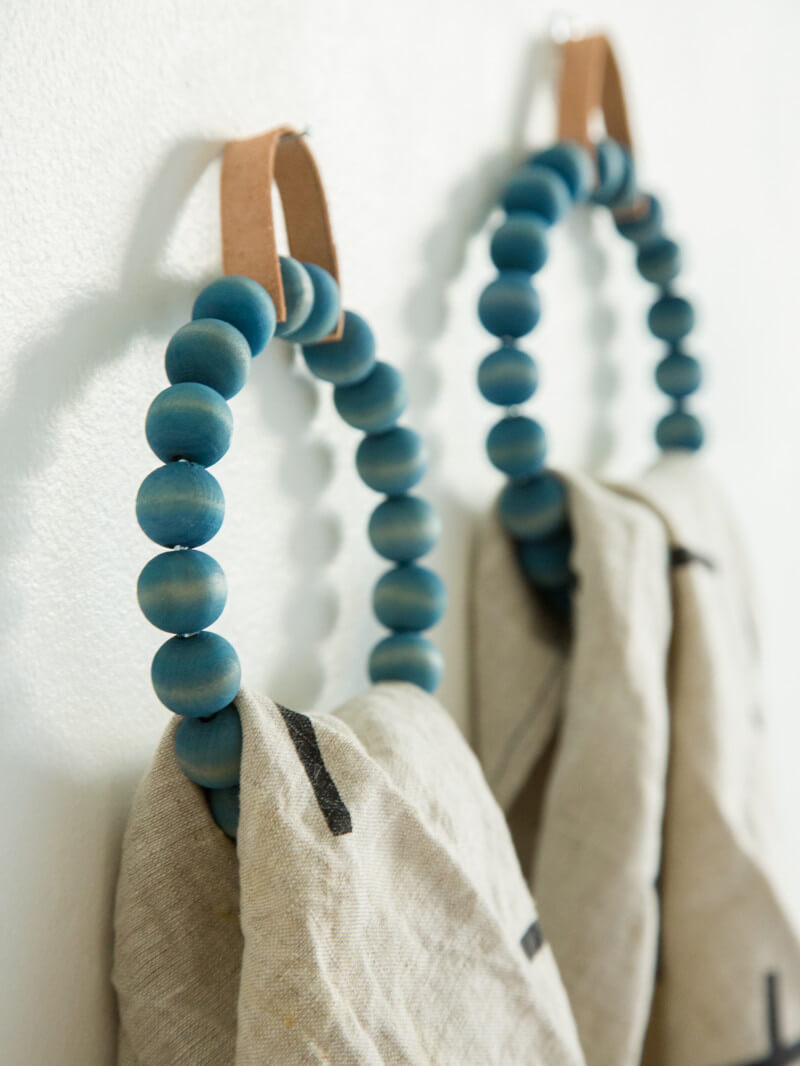 Who knew that you can elevate wooden rings in such a way to make a creative and charming boho piece? Well, this project proves that it isn't a complicated task. With the right paint applied, you can transform common wooden beads into bohemian gems. This is the perfect way for you to add some color to the walls. At the same time, it acts as functional decor seeing as you can use these to hang your towels.
17. Handmade Boho Fringe Pillow Design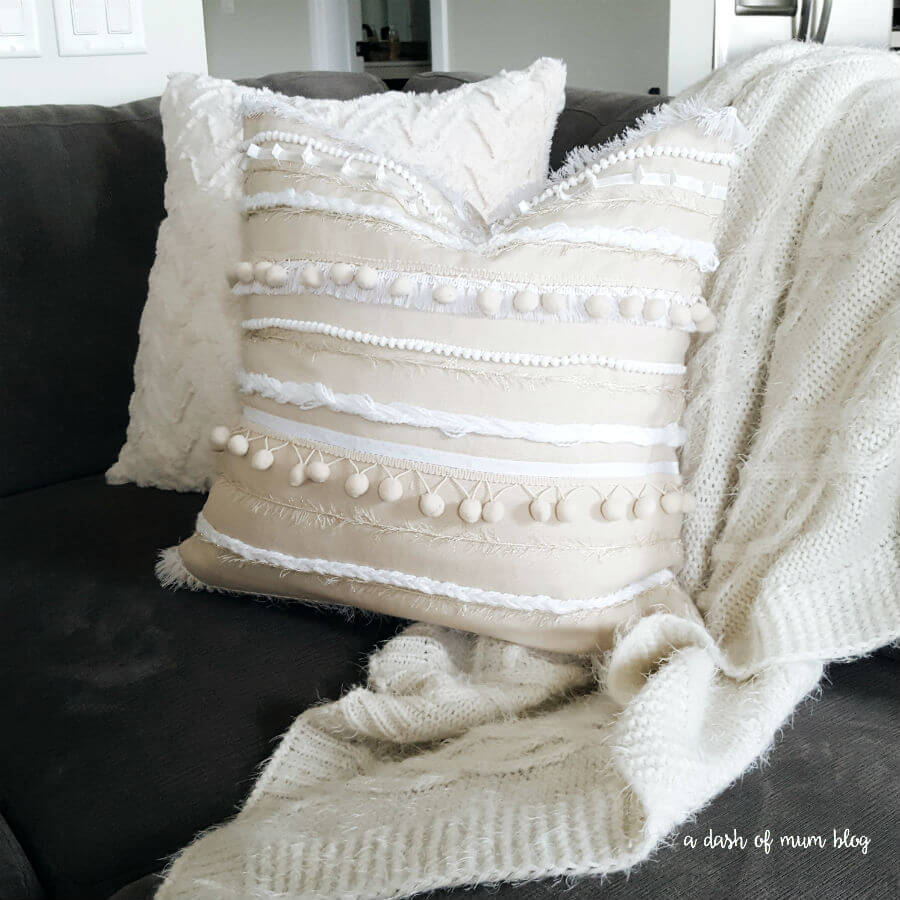 Need some decorative pillows with a bohemian slant? Rather than buy them, you can make them yourself with the right supplies and a little time set aside. Just take a plain pillow as your base and build from there. This gives you more than enough room to add your frills, ribbons, rope, etc. You can create a unique pattern fitting for your personality that will still manage to effortlessly fall into that relaxing boho style.
18. Adorable Pom Pom Owl Art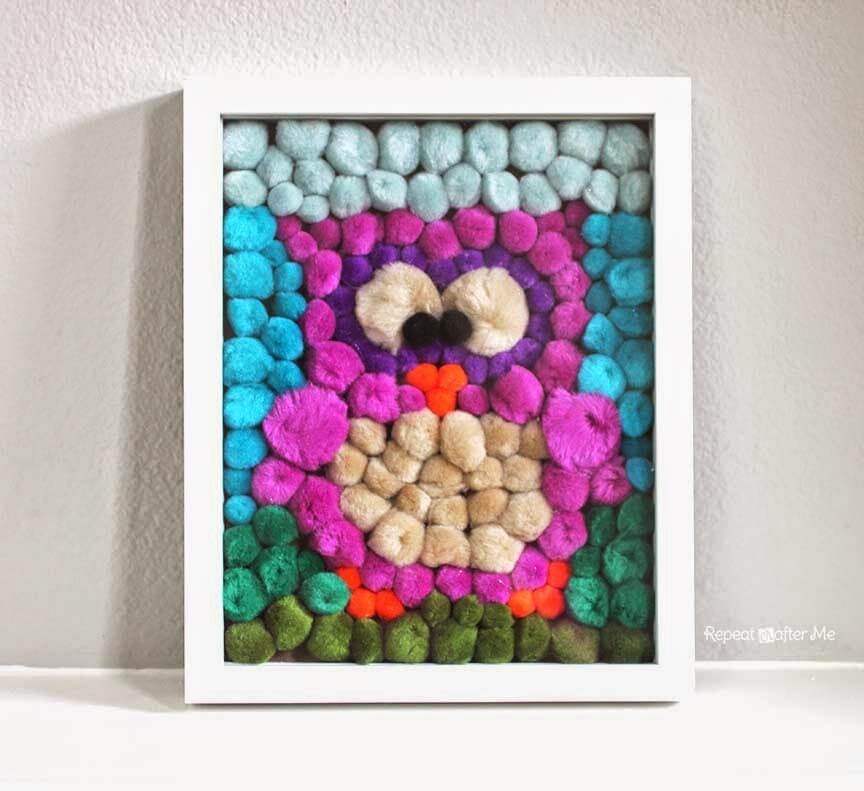 Use a host of pom poms to craft incredible artwork to hang anywhere in your home. There are plenty of colors used throughout this beautiful piece of work. Each stands out in their own right though. There is something that is just so charming and laid-back about this little owl. These are reasons why it blends effortlessly with a boho themed room. It is relaxed and can give off positive, happy vibes.
19. Weaved Boho T-Shirt Rag Rug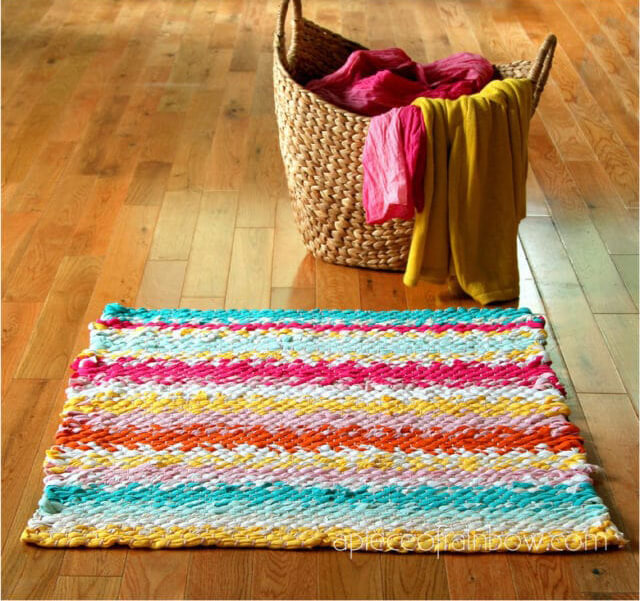 If you need something that is distinctive to hang on your walls, then you have got to try out this cool t-shirt rag rug. You can buy a loom or DIY it so that everything in the project is handmade. Either way, you are left with a vibrant and colorful rag rug that will breathe life into any empty wall in your home. Although it is inspired by bohemian coloring patterns, this can still fit into a home that may be a touch more modern.
20. Rope Covered DIY Boho Mirror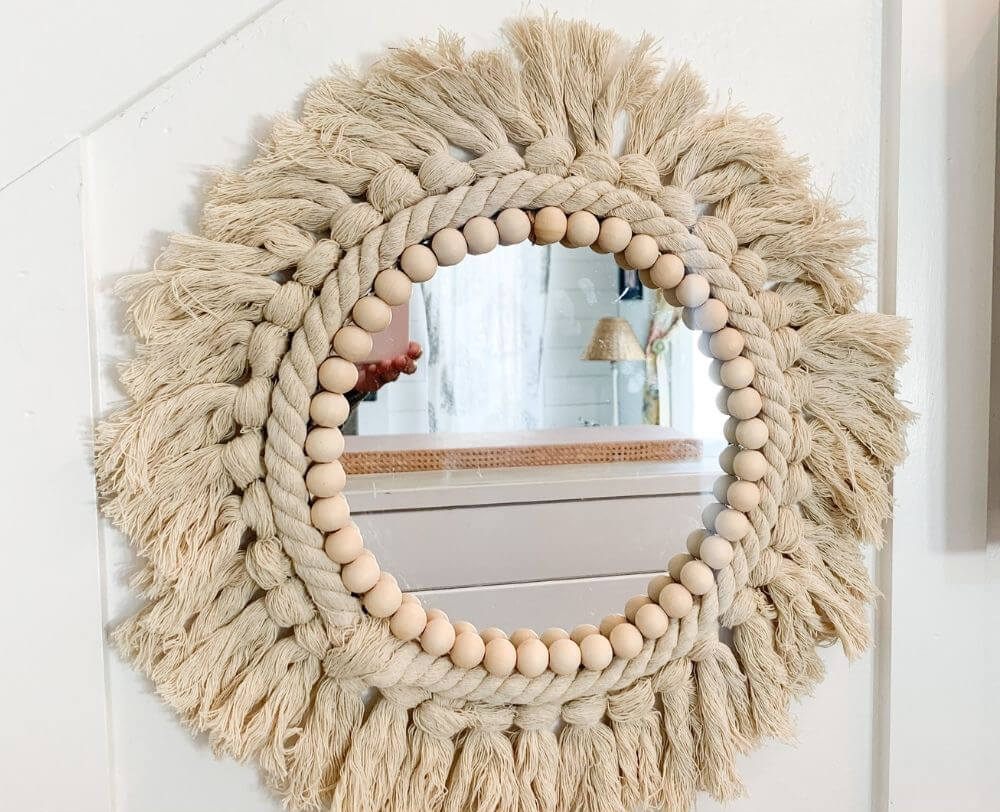 Rope is such a pleasing go-to when you want to make crafts for your boho-centric room. You can start off with just any circular mirror and work your way from there with this gorgeous rope design. The difference in pattern helps each individual layer better stand out too. Not only does this look offer a boho theme, but it can also blend into other styles in your home such as nautical or beach-themed.
21. Sweet Ombre Macrame Boho Hanging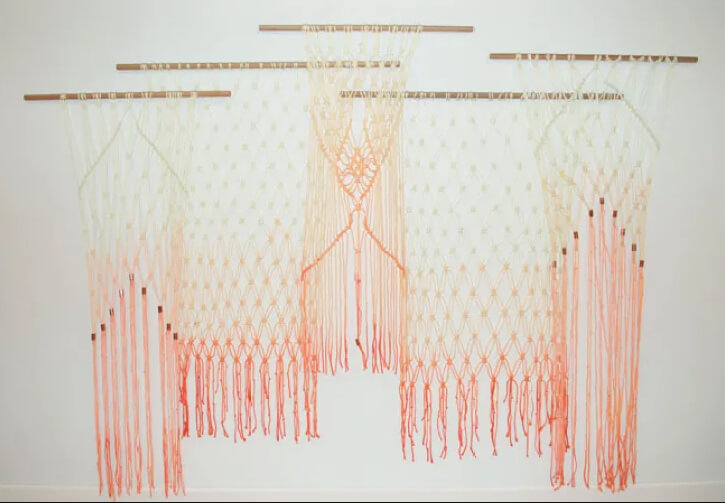 Take your DIY skills to new levels when you create these beautiful ombre macrame hangings. It effortlessly blends into the color, giving the design some movement that easily captures attention. The design itself is not too over the top, but there is a sort of sophisticated look about it that makes it far more creative and delightful to admire. If you make multiple ones, you can group them together or spread them out throughout your home.
22. Oversized Pom Pom Wall Hanging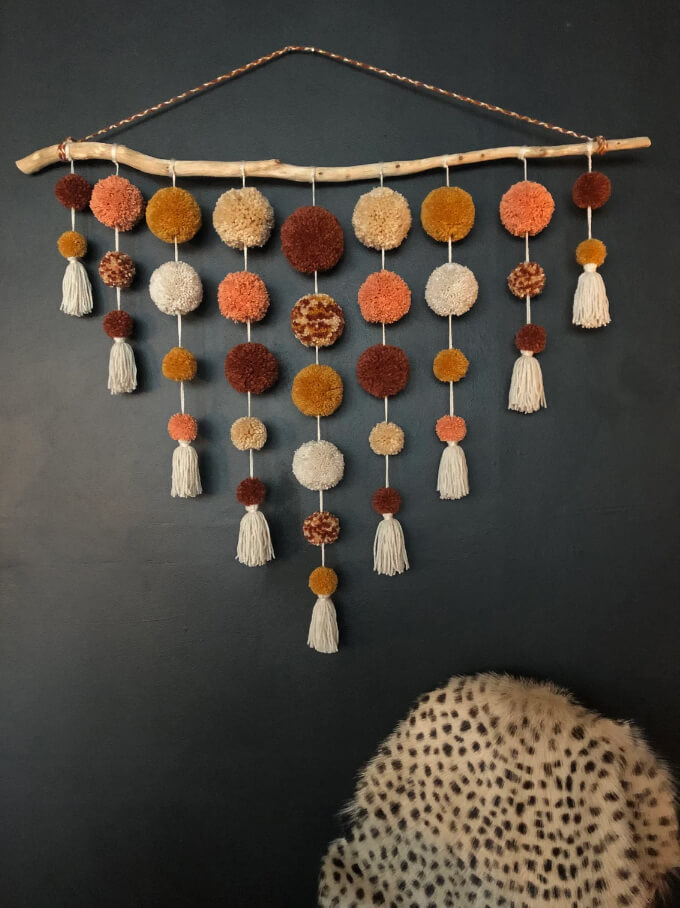 Never underestimate just how powerful pom poms can be when it comes to boho decor with this awesome wall hanging. The pom poms feature more relaxing and laid-back colors. They are hung in such a way that attracts a flowing style, urging your eye to move around to capture every inch of the piece. However, what really sells the bohemian look is the fact that the pom poms hang from a piece of driftwood.
23. Stunning Wooden Wall Hanging Vase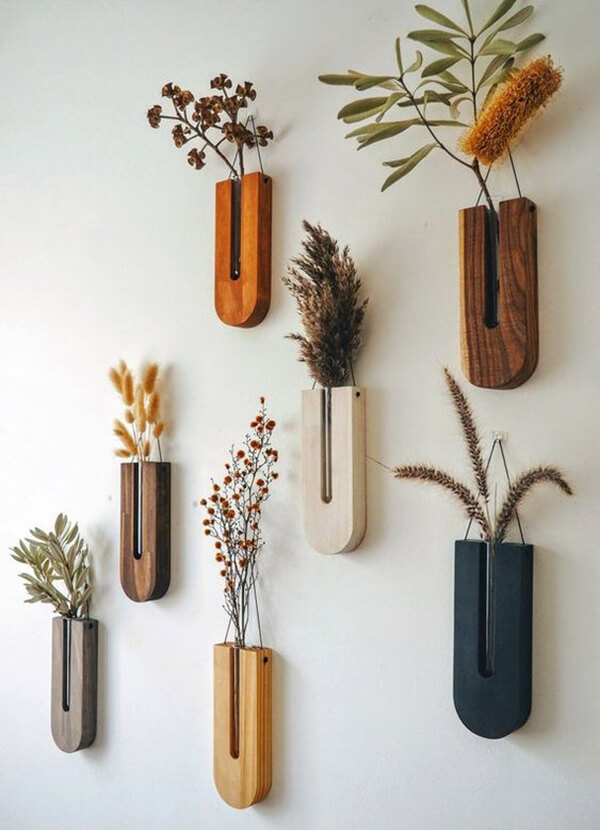 Boho is all about creativity, and what is more artistic than having wall-hanging vases designed in such a manner? There is a creative look about the design of these wooden vases. Meanwhile, the material used, and even the color options, offer that natural style the bohemian look is also known for. Choose from several different colors until you find the right hue to suit your decorative needs.
24. Macrame Styled Curtain Tie Backs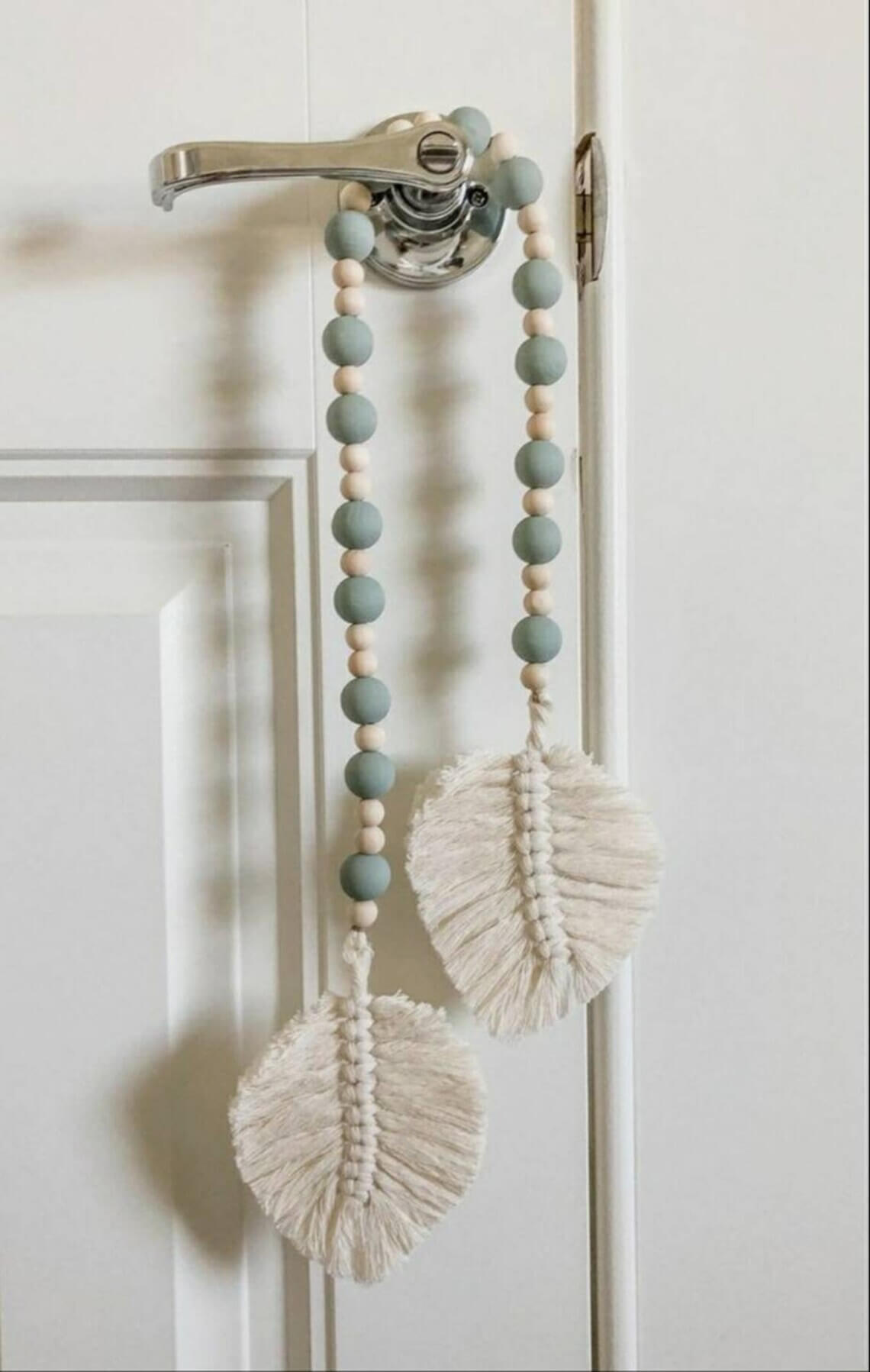 Take a different approach to macrame and create something that is small-scale instead of a piece of artwork to hang from the walls. If you have curtains, it does not hurt to have tie backs when you want to freely allow some natural sunlight to come through. The tie backs shouldn't always look so plain though, which is what these handmade ones can resolve. They offer just as much style as anything else.
25. Beaded Pom Pom Baby Mobile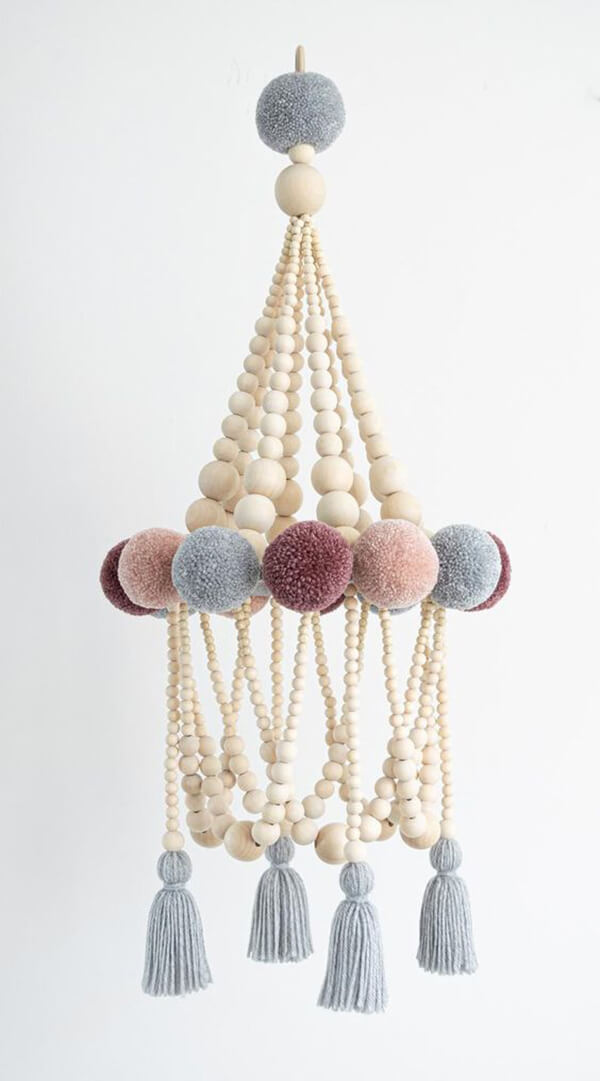 A boho theme can work just as well in a nursery as it does anywhere else in your home. Whether you decorate the entire room in such a way or just focus on one area, this handmade baby mobile will serve as a wonderful addition. It features plenty of wooden beads of different sizes that give the mobile an excellent sense of flow. Meanwhile, the pom poms and tassels offer those hints of color so that the mobile does not get one-note with all the wooden beads.
25 Creative DIY Boho Decor Ideas to Change the Vibes in Your Home
There is something that is just so fun and carefree when you use bohemian as a decorative style for your home. You can opt for some incredibly bright coloring, creating a look that is both relaxing and vibrant at the same time. Or you can start with simpler color tones and build from there. Best of all, you can use this opportunity to create some awesome boho crafts so that your personality shines from every inch of your decor.
Crafting something for the wall never hurts as this is an easy way to add color to an otherwise common and empty space. Whatever you decide to do, you can always check out our list to discover new DIY boho decor ideas to try out.