The best DIY bridal shower favors are a tangible way that you can thank your guests for celebrating with you. Finding the right favor for your shower can be difficult because it often involves finding an item that reflects your personality while being something that your friends and family will enjoy. Beyond being budget-friendly, favors you assemble yourself are also more personalized than other options. Of course, like any project, it is a good idea to determine how much time and energy you have available to devote to your bridal shower favors. Luckily, there are options to fit any skill level, any timeframe, and any budget.
17 Stunning DIY Bridal Shower Favors to Kick-Start Your Creativity

What separates good bridal shower favors from great wedding shower favors? That depends on what your priorities are. For many, the perfect wedding shower gifts coordinate with the shower theme, harmonize with your wedding colors, are embellished with a personal touch, and are useful after your shower. Making handmade favors means that you can strike the perfect balance for your shower. The 17 ideas below are a great way to help you figure out which direction to go with your wedding shower favors. All you need to do now is formulate a plan and make them happen!
1. Zen Bath Bomb Homemade Bridal Shower Favors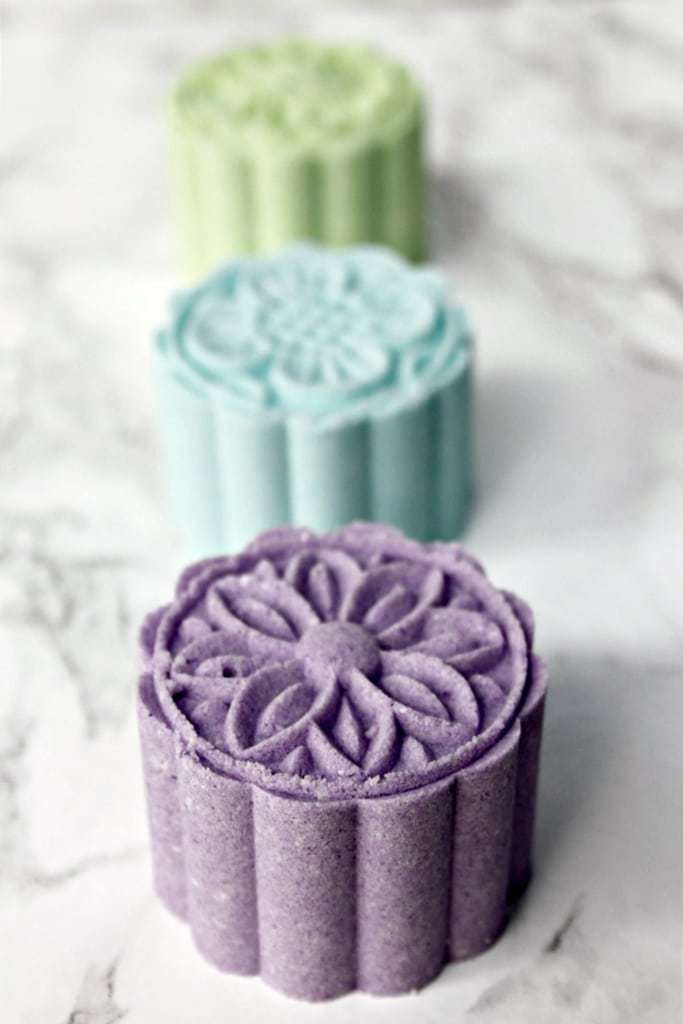 Spherical bath bombs are nice, but these blissful bath bombs take self-care to the next level. The rejuvenating, spa-worthy shape is courtesy of moon cake presses, which happen to be surprisingly affordable. However, you can use this tutorial to make bath bombs in any shape that fits your bridal shower's theme. Of course, there is more to a bath bomb than its shape; color and scent also need to be considered. Essential oils infuse fragrance and can be customized to your taste. Mica powder pigments provide color and can be used to create bridal shower favors that coordinate with the decorations.
2. Relaxing with Vanilla Lavender Sugar Scrub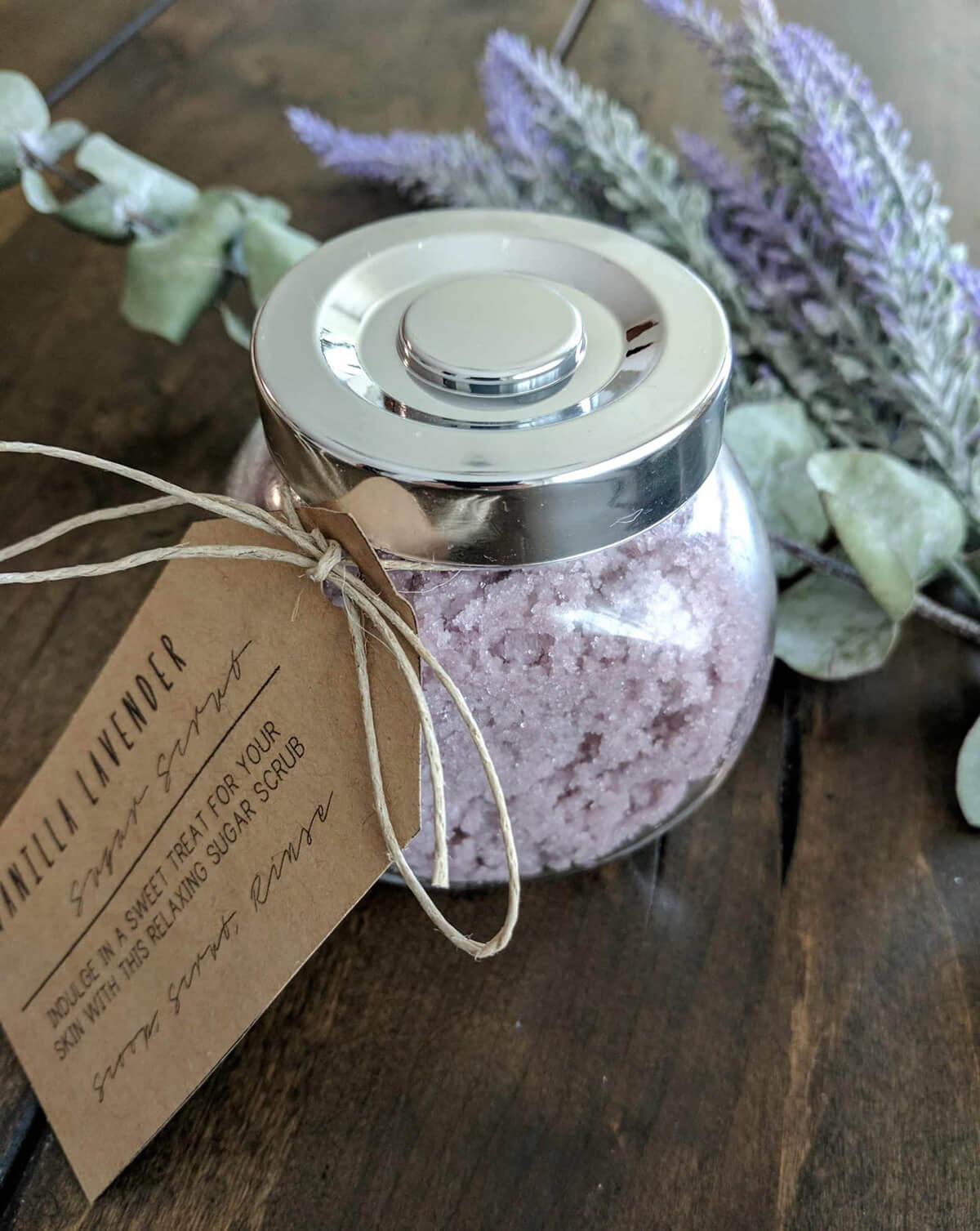 An enticing aroma is only one reason to fall in love with this easy bridal shower idea. With a little modification, it can be customized to any scent, color, or wedding shower theme. Because the scent is determined by essential oils, all you need to do is change it out for a different fragrance profile. Food color dictates the color, which can also be customized to your needs. Packaging shapes this favor's overall feel. A shiny silver lid and adorable glass container give this favor a modern vibe, while the twine bow and brown paper label emphasize rustic appeal.
3. Eco-Friendly Wildflower Seed Packet Wedding Shower Favors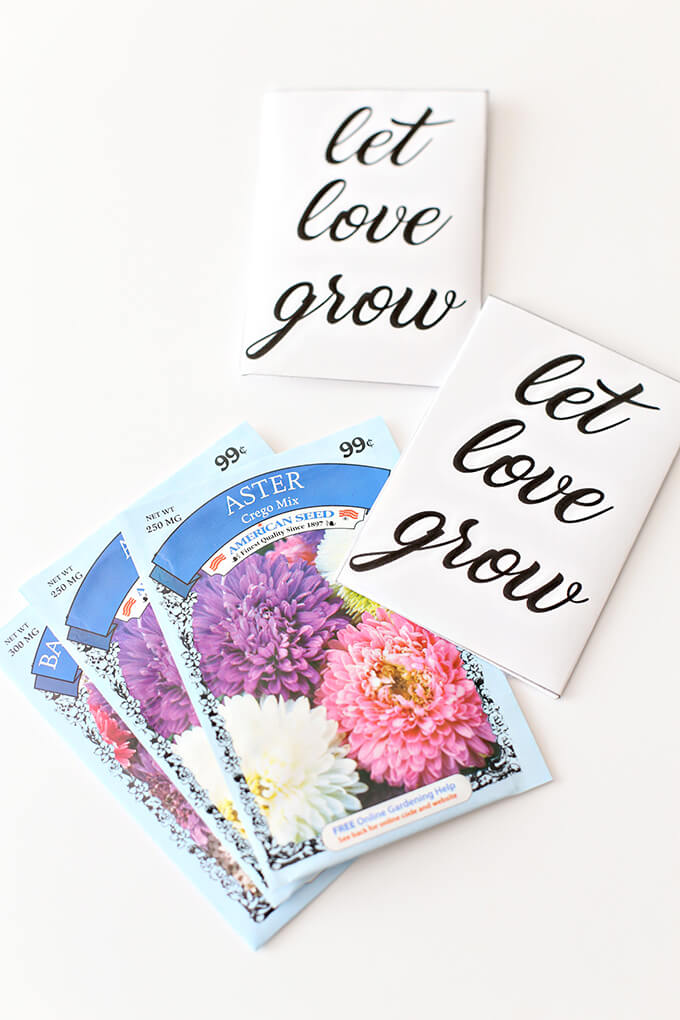 By including flower seeds as shower favors, you give guests the opportunity to make something beautiful. This tutorial demonstrates how to make personalized seed packets from ordinary printer paper. A few ways to personalize these are to use decorative paper or exquisite labels. To save time, you could also use pre-made coin envelopes to hold the seeds. On the flip side of the envelope, be sure to include planting directions so that guests know how to sow the seeds. If you cannot decide on seed type, try a pollinator-friendly wildflower mix. That way, your guests can also enjoy beautiful visitors like butterflies.
4. Lavender Candle Handmade Wedding Shower Favors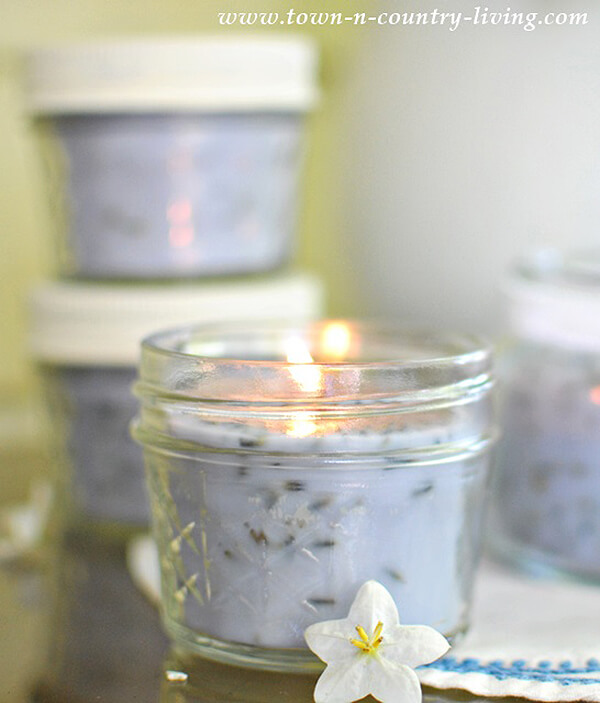 Scented candles make great favors because they can be made in large batches and everyone will enjoy them. Depending on which jars you select, these lavender-scented candles can pair with any theme. The miniature jars shown here exude rustic allure, but you could use a sleek glass container to achieve modern charm. Because the fragrance originates via essential oils, you could create a custom candle fragrance by blending scents like vanilla, citrus, or chamomile. Although the lavender buds pictured look gorgeous, they do not contribute any fragrance and are an optional ingredient. As the candles burn, they may pose a fire hazard.
5. Cookie Caddy as a Sweet Shower Favor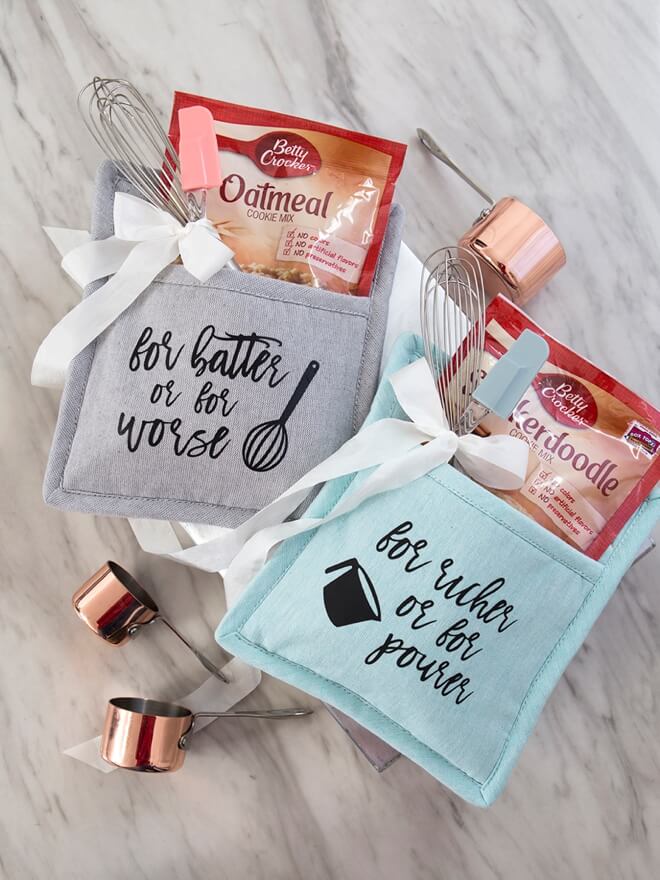 Cookie kits are a cute way to celebrate a special day. To make the magic happen, choose color-coordinating kitchen accessories and a delicious cookie mix. Creating the personalized text requires a cutting machine and some time with an iron, but takes these kits to the next level. A white bow with trailing ribbons adds a bridal aura to this favor. This image shows a whisk and a small spatula, but you could use any kitchen accessories that fit the bridal shower theme. To make each favor look a little fuller, include a container of sprinkles or a bag of chocolate chips.
6. Mix and Match Kitchen Supplies Shower Favor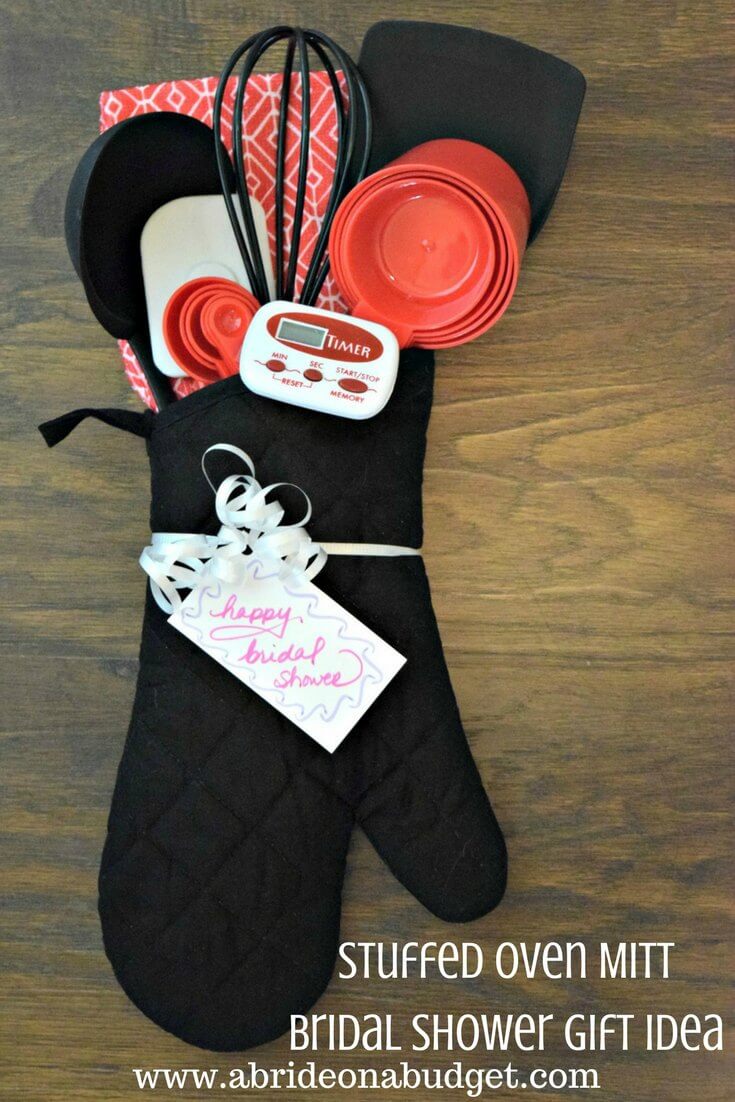 A bouquet of useful kitchen tools is a great way to thank guests for coming to a wedding shower. This favor is easy to assemble and can be made when it is convenient in your timeframe. If the black and red color scheme does not fit the shower theme, change up the colors of the culinary equipment you choose. Because of their bold patterns, the hand towel and oven mitt are powerful design elements. As you assemble these favors, remember to layer the larger utensils in the back and the smaller ones in front. A sweet card and silky ribbon finish this favor.
7. Spa Day in a Jar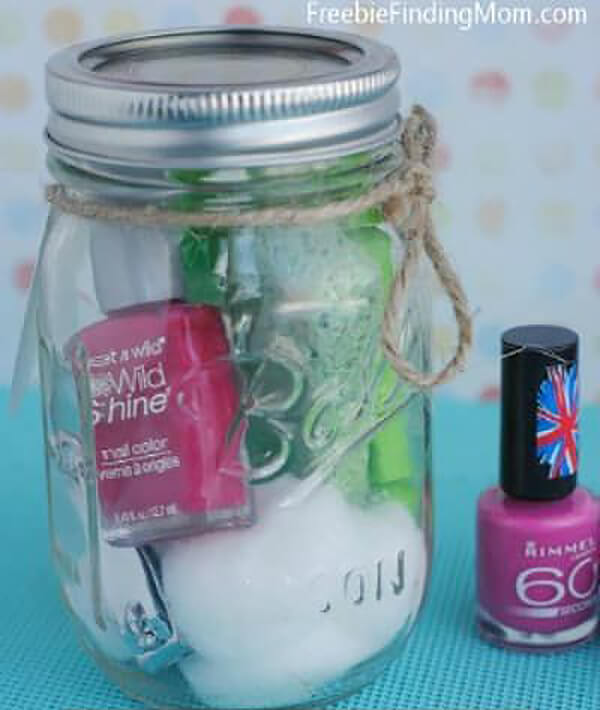 Whether you choose a manicure-themed jar or stick to self-care necessities, a spa day makes a beautiful gift. As long as it fits in a canning jar, any indulgence designed to pamper fits this theme. As well as giving guests something useful, including nail polish in your wedding colors is an easy way to personalize this favor. A few other filling ideas include lotions, bath bombs, face masks, chapstick, and possibly even a chocolate or two. Finish the jar with twine, a cute label, or ribbon. Because they offer so much customization, these are some of the best DIY bridal shower favors.
8. Air Fresheners as Homemade Bridal Shower Favors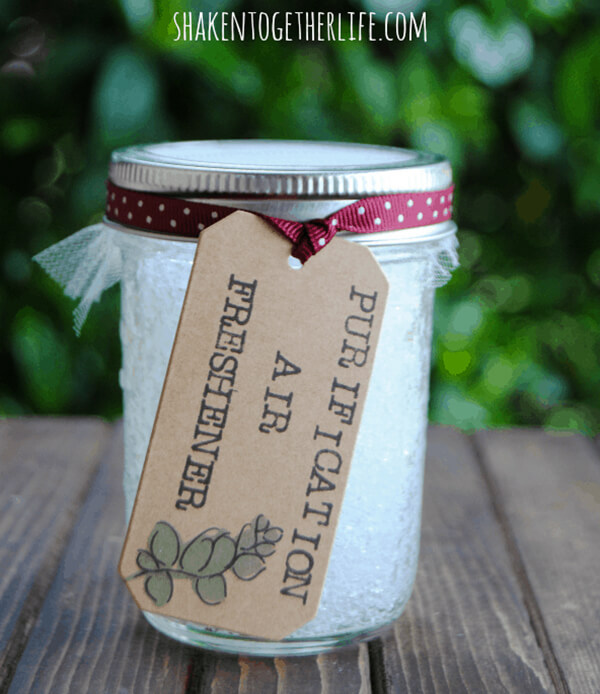 Besides looking sublime, an air freshener jar makes an utterly unique shower favor. Absorbent crystals soak up water and essential oils, then release the fragrance. Mix a few essential oils for a custom blend that guests will love. Although leaving the crystals translucent white feels bridal, you could also add a few drops of food coloring to achieve a subtle tint. Add a swatch of tulle on top, and the practical parts of the favor are done. Besides explaining what the favor is, the decorative tag and polka-dotted ribbon add a special finishing touch. For additional visual appeal, include a dried flower.
9. Shower Favors that Pair Chocolate with Romance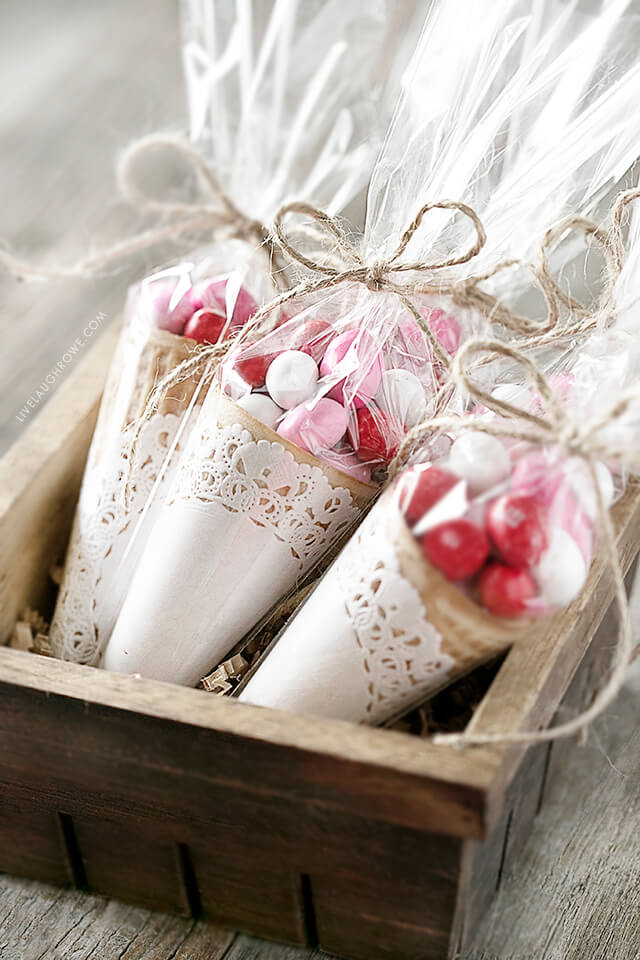 Although these only require five ingredients, they are the crème de la crème of edible handmade wedding shower favors. A white lacy doily bestows romance and elegance. Meanwhile, color-coordinated chocolate candy in a sugar cone infuses the favors with a sense of joyful playfulness. All this is wrapped in clear plastic and tied with a rustic twine bow. To cultivate cohesion, choose chocolate candies that harmonize with the shower's colors. Of course, chocolate is only one option. Exploring other kinds of candies or snack options might be the right choice for you. Popcorn or chocolate-covered pretzels are just a few playful alternatives.
10. Styling Tips for a Customized Gift Box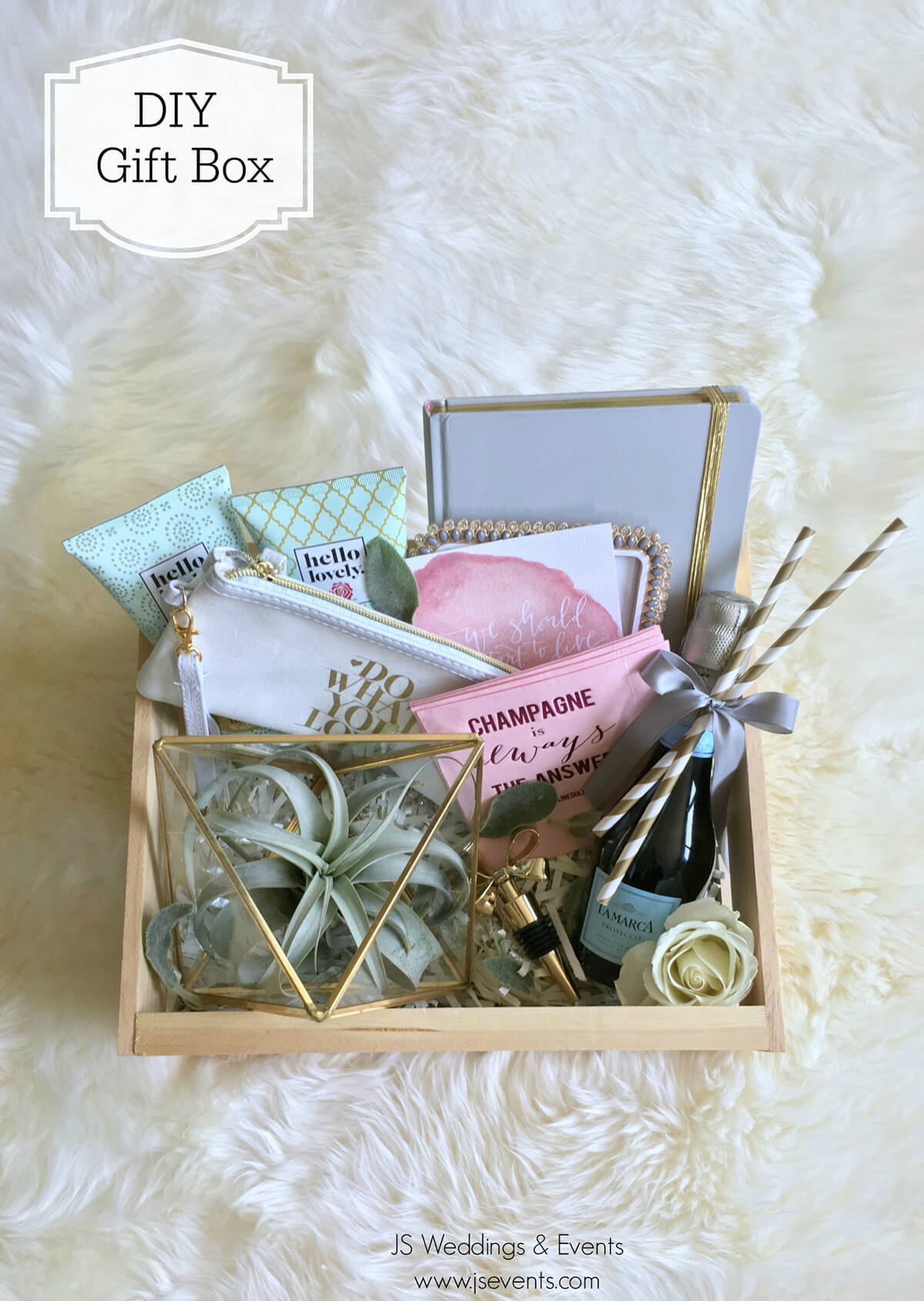 Because these can be personalized for each guest, this is one of the best DIY bridal shower favors for small showers. However, this idea can be modified to accommodate large wedding showers as well. To make this idea manageable, brainstorm three to five item categories like lotions, plants, and bath bombs. Then, pick a few different item choices for each category. As you mix and match items within your categories, each box will look exciting and feel unique. When you are ready to assemble your gift box shower favors, be sure to layer larger items behind smaller items.
11. Darling Tin Filled with Loose-Leaf Tea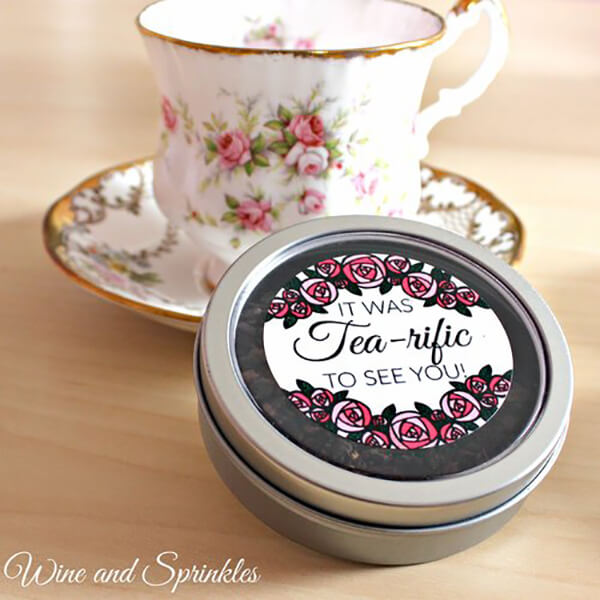 Surprisingly straightforward, these homemade bridal shower favors illustrate that simplicity sometimes works best. The label sets these small silver tins apart Change up the text, font, and graphic elements to achieve different effects. To emphasize the pun, the pictured favor pairs a highly legible sans-serif font with an elegant script. Stained glass roses add a sense of artistry to the overall effect. Beyond the label, you can customize this tin's color. Is cool silver right for your theme or would a warm rose gold be a better vibe? You could also fill your tins with coffee beans or chocolate-covered delicacies.
12. Unique Cupcake Snow Globe Favor Idea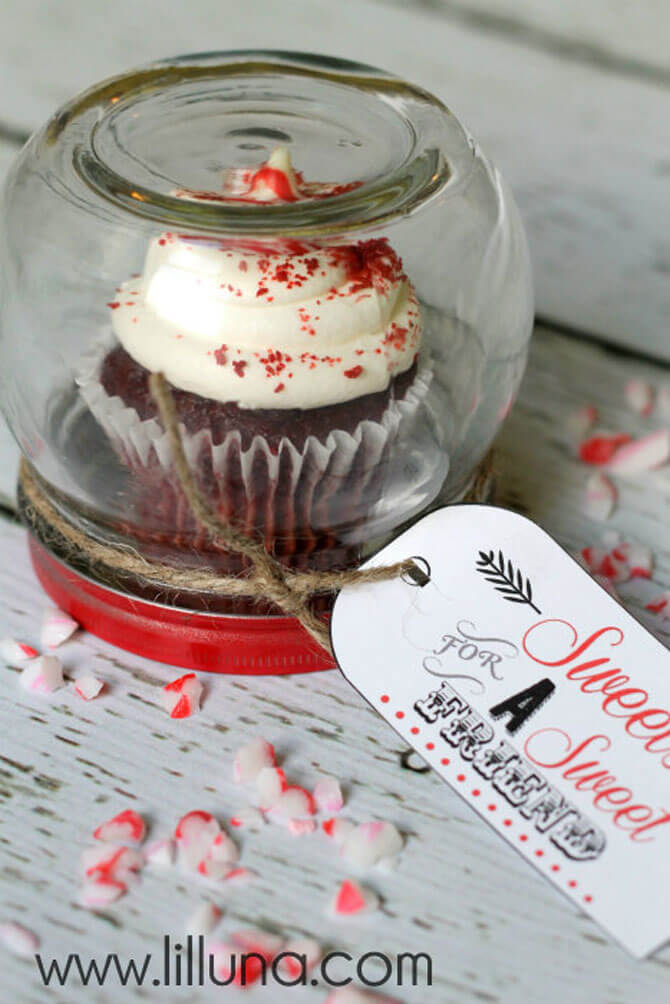 Presentation makes all the difference in these creative handmade wedding shower favors. Simply by flipping a round jar upside-down, you amplify the cupcake's intrigue. As well as looking great, using a glass jar instead of a cellophane wrapper is kinder to the environment. While this technique is fantastic for wintertime wedding showers, it can be used in any season. To cultivate a fairytale feel, include a rose inside the glass jar. Of course, cupcakes are only one filling option. For a lush terrarium, place a succulent inside each jar. Anything roughly cupcake-sized can be used to create the perfect ambiance.
13. Glittering Diamond Tags for Nail Polish Favors
Special tags are one way to transform a simple idea into an exceptional wedding shower favor. Glitter-printed diamonds catch the eye. Meanwhile, swirling words thank the guests for attending the wedding shower. With 35 color options, you can coordinate the wedding favor tags to the nail polish favors you have chosen. A glittering diamond hue that harmonizes with the nail polish color is a lot less stressful than matching the two colors. Because no two guests are alike, one clever strategy is to provide multiple colors of nail polish with complementary diamond tags like the example shown in this image.
14. A Bridal Shower Gift for the Bridesmaids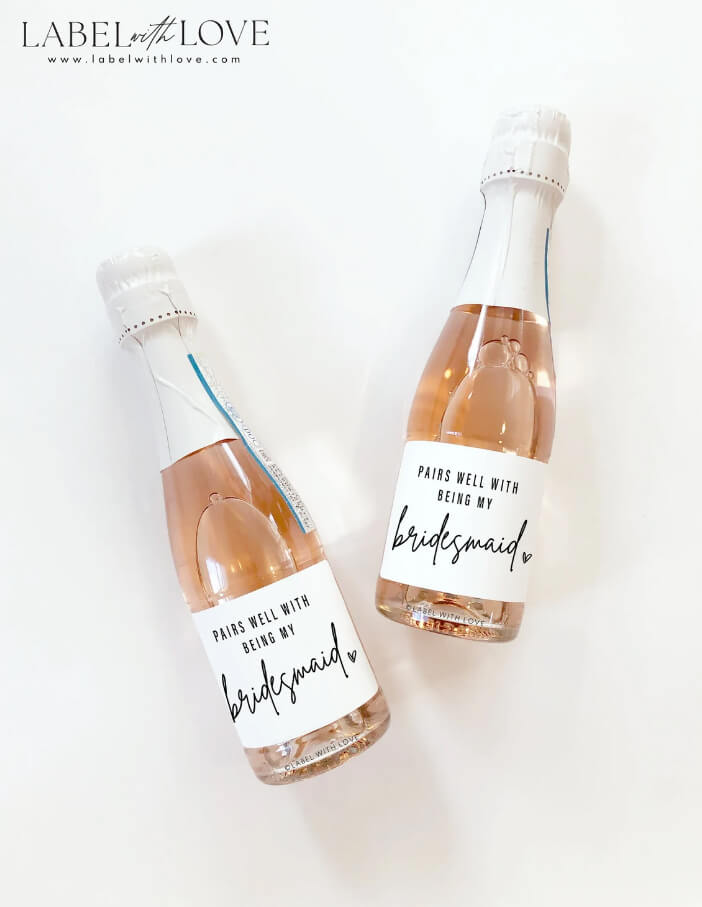 Bottles of bubbly are the perfect way to thank your bridesmaids for a successful bridal shower. Besides the "bridesmaid" shown here, you can customize the label to reflect the role of the people you hope to thank. If you would like to use these labels for all your wedding shower favors, try switching up the text to "pairs well with celebrating" and then including your wedding date. Of course, if your crew prefers a beverage besides champagne, these classy labels pair with any miniature bottle that allows for at least 2.1 inches of space for a label.
15. Cute Nail Files in Personalized Cases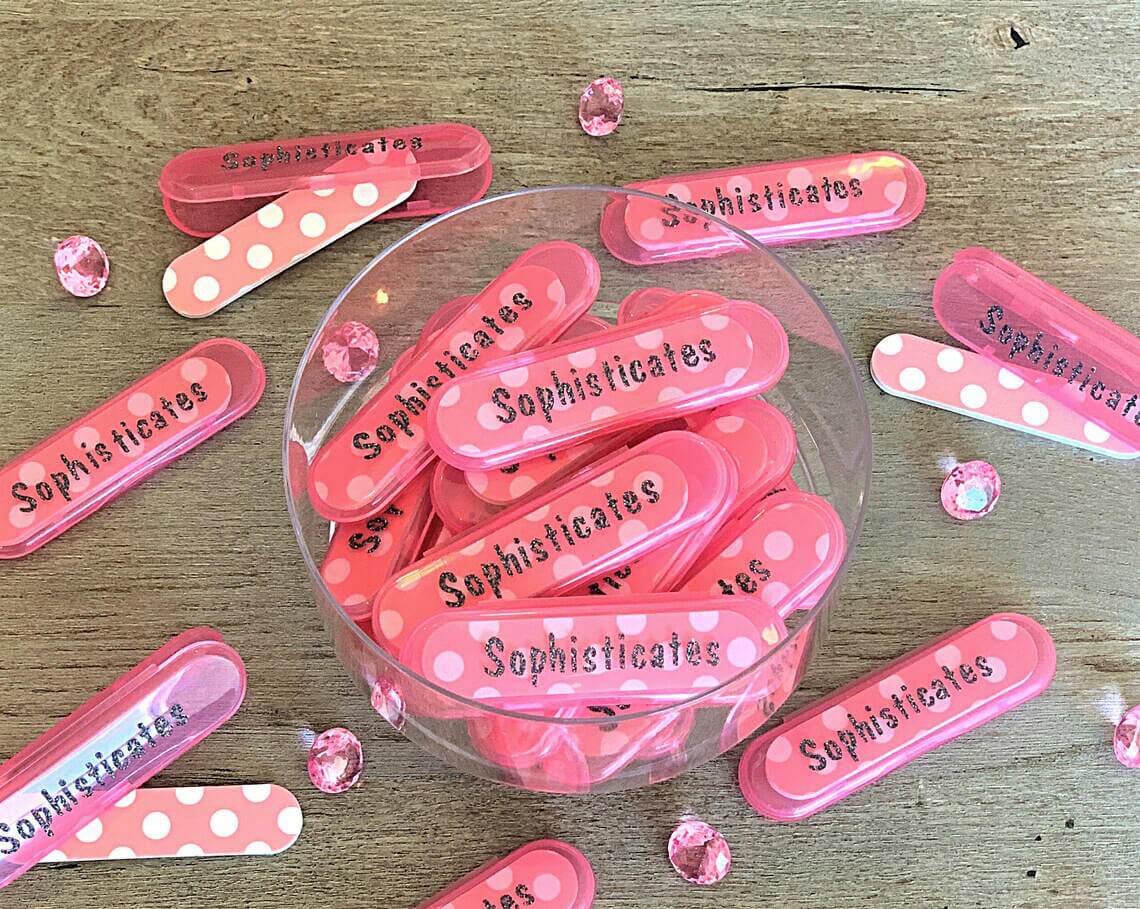 Whether you plan on giving these as individual favors or using them as part of a larger manicure-themed kit, these nail files bring energy to the party. White polka dots on a vivacious pink background are only one color option – you can also choose feisty pink leopard, whimsical avocados, cool blue flowers, fun watermelon, and even vivacious pineapples. When it comes to the text, you can choose any 15-character message in any one of 17 colors. Because there is text across the top, you do not need to stress about adding individual labels to each nail file case.
16. Candle Tins with Customized Labels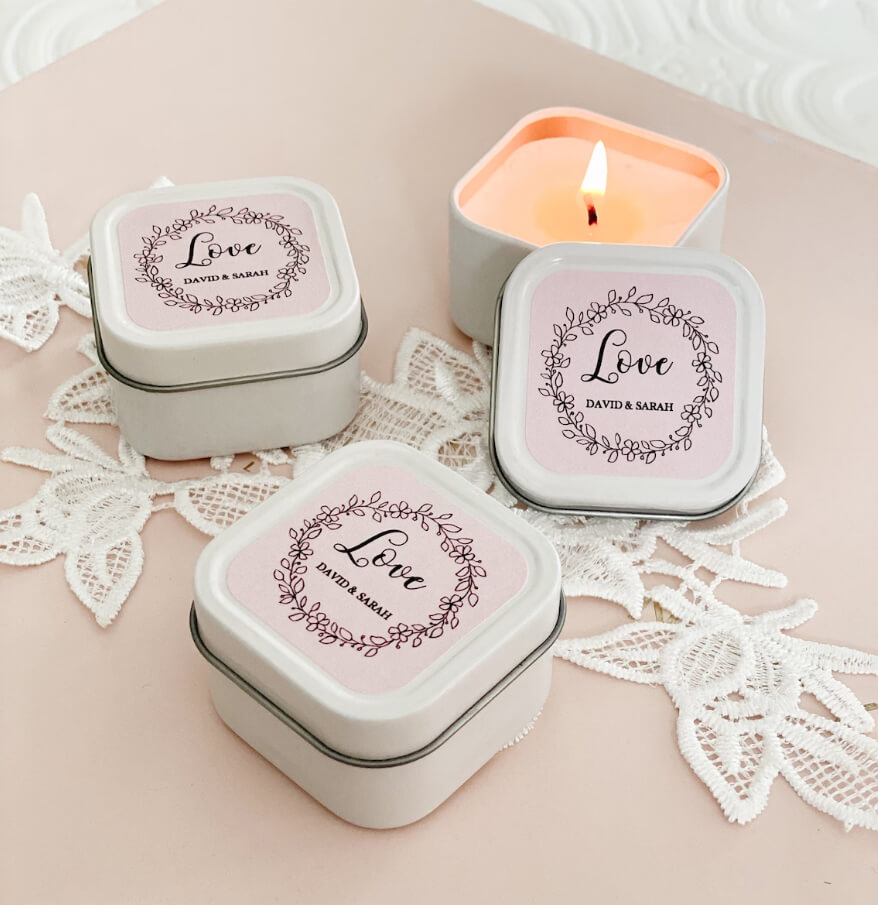 Each 2-ounce candle comes in a posh white tin that your guests will love. Because these candles offer a light, clean, neutral fragrance, you do not need to worry about them overwhelming guests who are sensitive to strong smells. With seven gorgeous backgrounds and five enchanting designs, the labels are the stars of this show. The combination shown here is blush with a wreath silhouette and exudes an elegant vintage ambiance. Wood plank and chalkboard backgrounds are a great choice for more rustic wedding shower themes. To take these favors to the next level, embellish with a twine bow or silky ribbon.
17. Miniature Scandinavian Vases Filled with Dried Flowers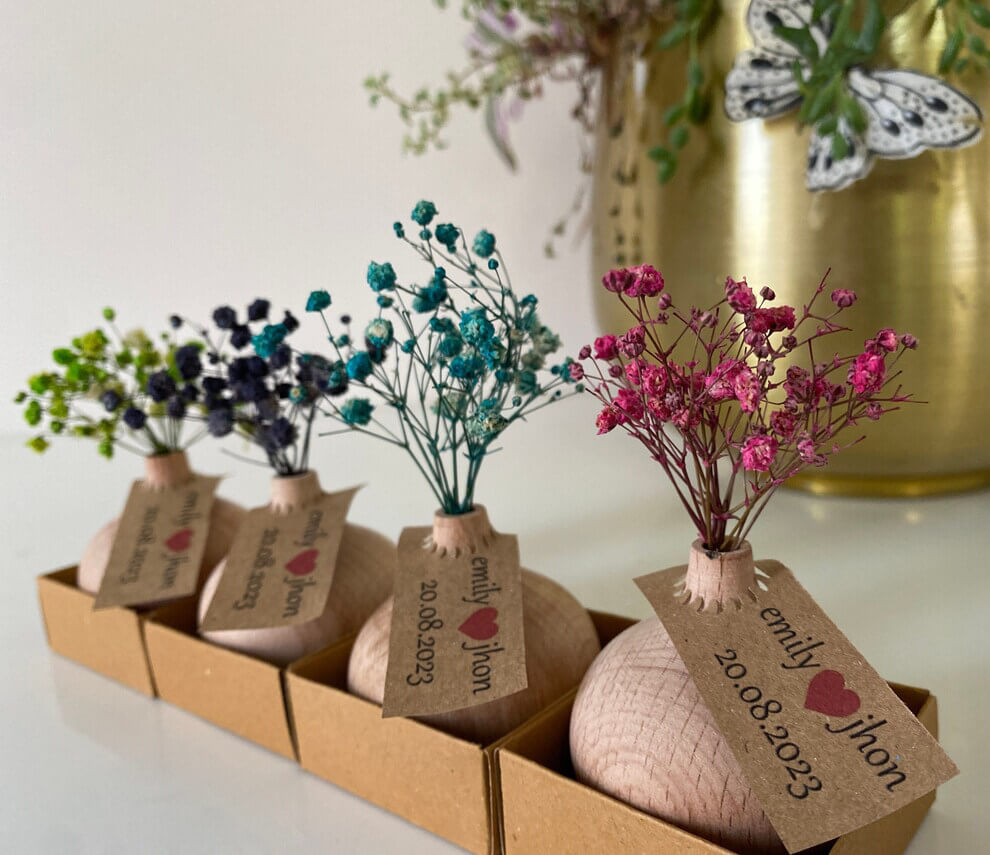 Showcasing a sleekly modern silhouette, these wooden vases are some of the best DIY bridal shower favors for making an impression. To tailor these favors for your bridal shower, you have seven captivating flower color options to choose from. Vases made from natural wood mean these are a perfect match for a party with a rustic vibe. However, the spirited bouquet color options mean that they would work equally as well with more modern aesthetics. If the bright colors are too much, there is a "natural" color option. Personalized tags with your name and wedding date are the coup de grâce.
The 17 Best DIY Bridal Shower Favors to Get You Excited about Wedding Planning
Now that you have seen some of the best ideas for handmade wedding shower favors, it is time to get to work. Before making the final favor decision, consider how scalable your idea is. Because large bridal showers mean more favors, you may want to choose a simpler concept that can be assembled in big batches. Smaller, micro-showers mean that you might be able to design custom favors for each guest. Of course, there is nothing wrong with getting a crew together and throwing a shower favor party to have some fun knocking out this wedding task. Then, you can kick back and enjoy your bridal shower.