As well as drying delicate items, DIY drying racks make it possible to implement an environmentally-friendly laundry process. Instead of running a dryer cycle, you can enjoy dry clothes without using any electricity. Within these 19 ideas are a few different types of DIY clothes drying racks. Which is right for your space depends on how your laundry room is configured. Like most articles of furniture, clothes drying racks are limited to the space you have available. Depending on where you have available space, a drying rack can be freestanding, mounted on the ceiling, or mounted on a wall. Each has benefits and drawbacks. Freestanding drying racks do not require any architecture around them, and can usually be folded into a much smaller size for storage. While they often take up more space, these kinds of drying racks have a large laundry capacity. They also do not require installation. Due to their ability to collapse into a smaller shape, freestanding clothes drying racks are perfect for those who travel frequently.
19 Ingenious DIY Drying Racks that Every Eco-Friendly Laundry Room Needs

Suspended from the ceiling, hanging drying racks save precious wall space. Ceiling-mounted drying racks require the most labor-intensive installation but offer a unique approach. Some are hung via a pulley which will allow you to load the rack easily and ergonomically before lifting it above eye level. Others are optimized for hangers and do not require a pulley installation. Generally, the easiest DIY clothes drying rack to build is a wall-mounted design. These often consist of a rack or two that use a hinge to fold into itself when not in use. Often, a chain helps support the weight. Although the plans might be more straightforward, wall-mounted drying racks offer an incredible amount of aesthetic flexibility. Materials, silhouettes, and embellishments are all ways you can customize your wall-mounted drying rack.
1. Double-Decker Drying Rack Mounted to a Door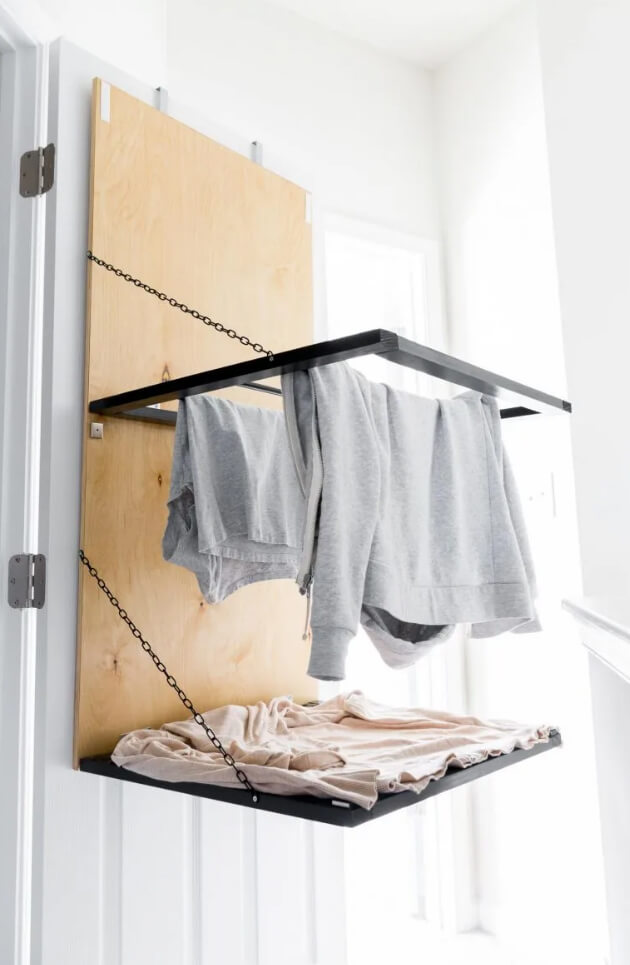 A chic pine and black color scheme makes this drying rack a gorgeous addition to any interior. Because it is mounted via over-the-door hooks, it is perfect for laundry rooms with limited wall space. To maximize the drying surface area, this rack includes two tiers. On top, dowels offer space for all-purpose drying. The bottom features a wooden frame with a tulle shelf to optimize airflow for items like sweaters. Without distracting from the overall aesthetic, fine-link chains offer additional support. Magnets hold the frames up when not in use.
2. Contemporary European Airer-Style DIY Clothes Drying Rack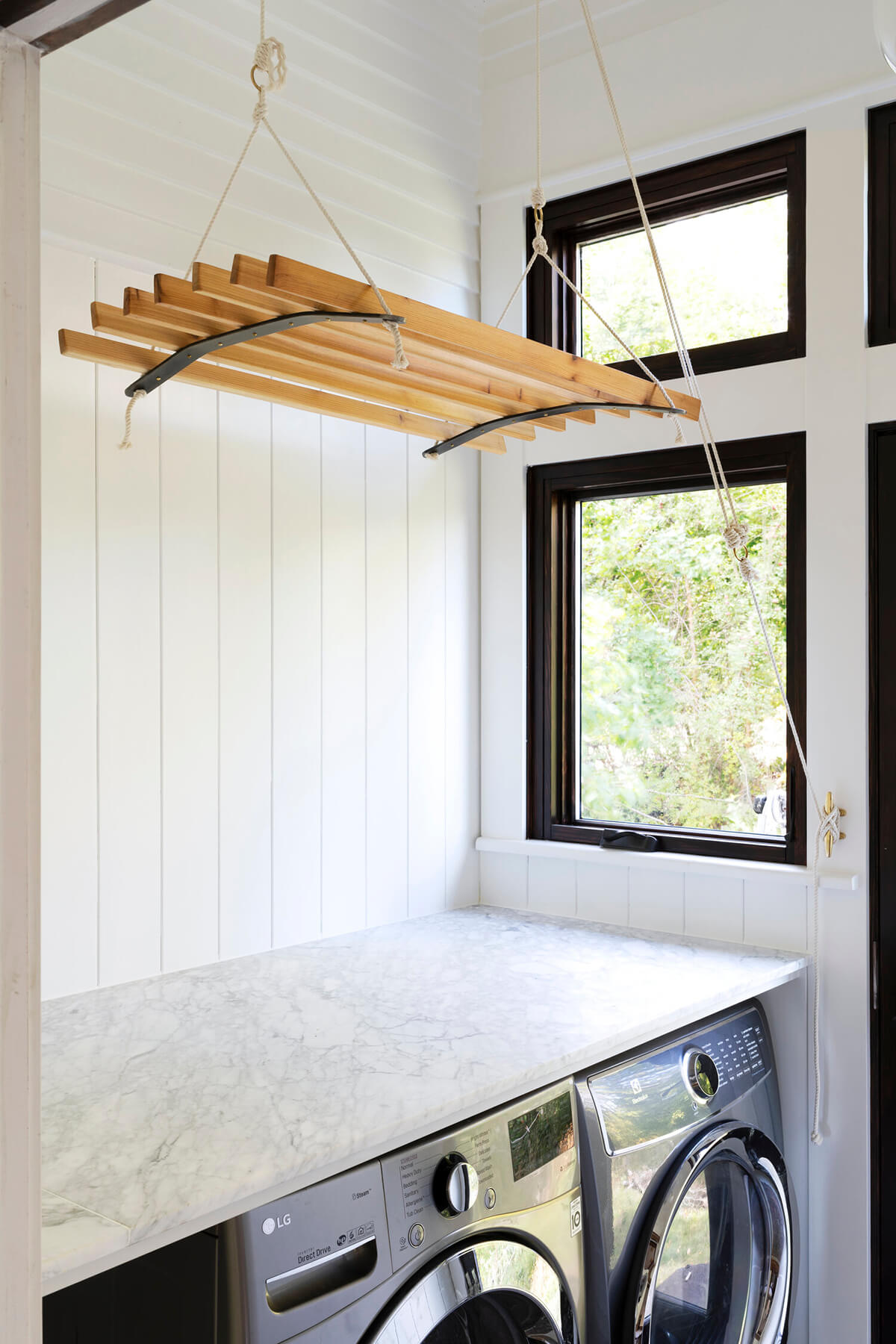 Wood slats and steel might be the most visible parts of this hanging drying rack, but the magic lies in the pulley. To load it with clothes, lower the drying rack. Then, when lifted, the clothes dry above eye level in the higher, warmer air. When not in use, it looks like a hanging sculpture. The only drawback to this design is that it works best in tall-ceilinged rooms. Although this concept hails from Europe, you can modify your airer-style drying rack to fit your aesthetic by changing up the materials.
3. Clothes Drying Rack with a Bonus Shelf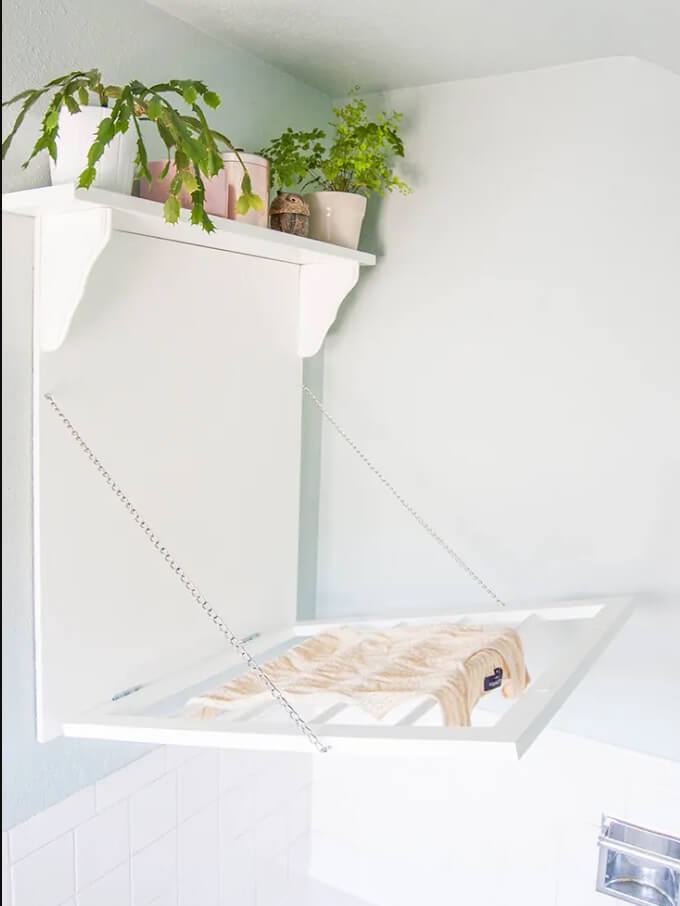 Designs for DIY clothes drying racks often only include storage for drying wet clothes, but this tutorial shows how to build one that includes a shelf. Although the shelf is too narrow to store large items, it is wide enough for laundry room decor, miscellaneous laundry accessories, or the houseplant collection shown here. This shelf features supports with a decorative silhouette well-suited to farmhouse and French country spaces. Using chains with a cool silver finish keeps the feeling bright and airy, but you could choose any chain finish you desire.
4. Unique Upcycled Farmhouse Ladder Drying Rack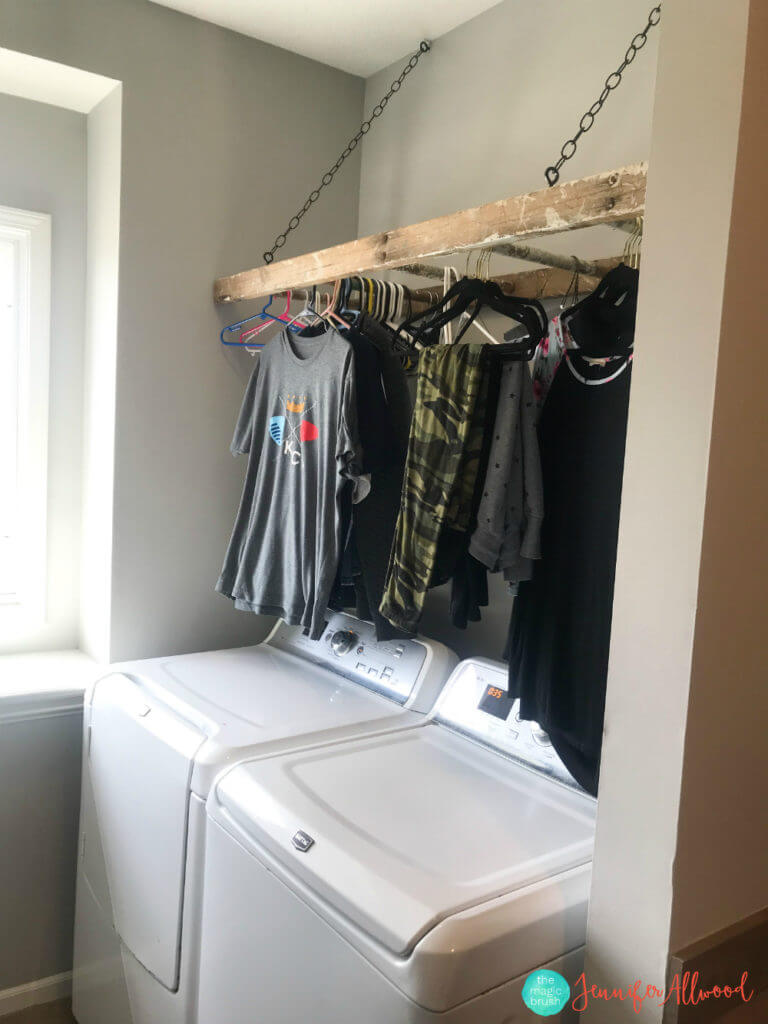 Cutting a wooden ladder to fit in your laundry room is a sensible way to hang drying clothes. Two lengths of black chain complete the look and provide a little visual interest. You can even choose whether to hang clothes on the rungs or the rails. This ladder is weathered for a farmhouse feel, but you could apply whichever finish best suits your style. Painting it black or white would give it a sleek modern feel. A driftwood ladder drying rack would be a great addition to a coastal space.
5. Building a Beautiful Beadboard Clothes Drying Rack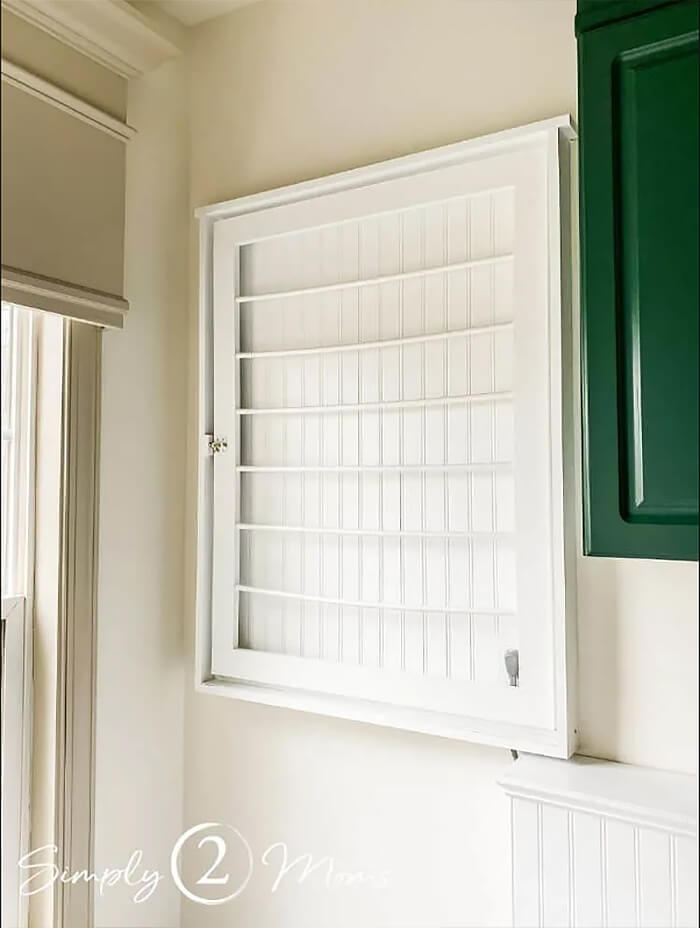 White beadboard infuses this laundry room with an aura of graceful elegance. When closed, the slender horizontal dowels and vertically grooved beadboard crisscross to create a piece of wall art. To amplify this effect, paint the beadboard and dowels different colors. Unlatching and opening the drying rack reveals a practical way to hang your clothes. For worry-free hanging, an urbane black chain in the top corner provides extra support when the drying rack is open. As you can see, it is imperceptible when this drying rack is not in use.
6. Sturdy Drying Rack Bursting with Industrial Flair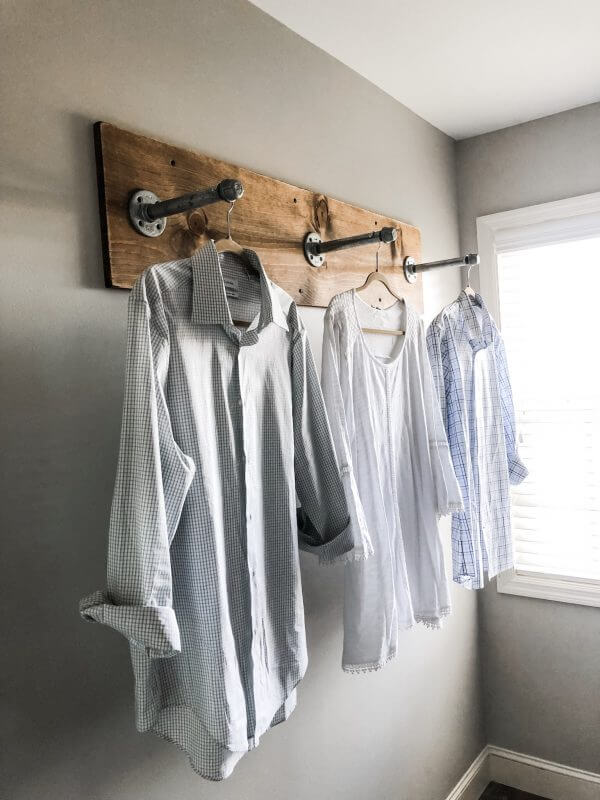 With this technique, durable DIY drying racks are easy and fun to craft. Wet clothes go onto hangers straight from the washer. The beauty behind this design is how versatile it is. If you need a longer drying rack, use a longer board and more pipes. To fit it in a smaller space, use a shorter board. The wood shown here features a wood stain, but you could paint it if that look fits better in your home. Imagine creating some drama by pairing a black-painted board with shiny copper pipes.
7. Crib Spring DIY Outdoor Clothes Drying Rack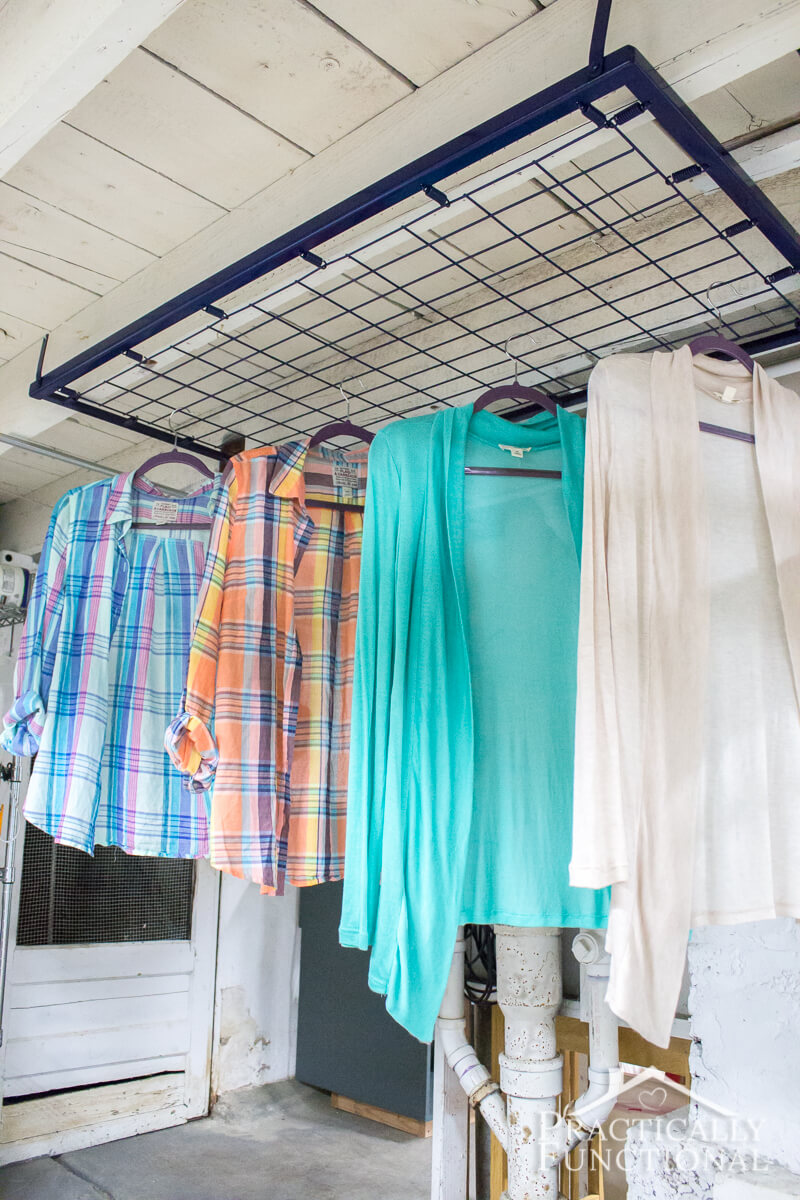 If your laundry room is on the smaller side, hanging a drying rack from your porch is a great approach to expand your available space. With this technique, you can harness wind and solar energy to dry your clothes. Made from an upcycled crib spring, this drying rack provides a grid ideal for hangers. Surprisingly, this drying rack is hung by securing heavy-duty zip ties to hooks screwed into the joists. If your porch is exposed to the elements, be sure to use a paint rated for outdoor use.
8. Fold-Away Drying Rack for Small Laundry Rooms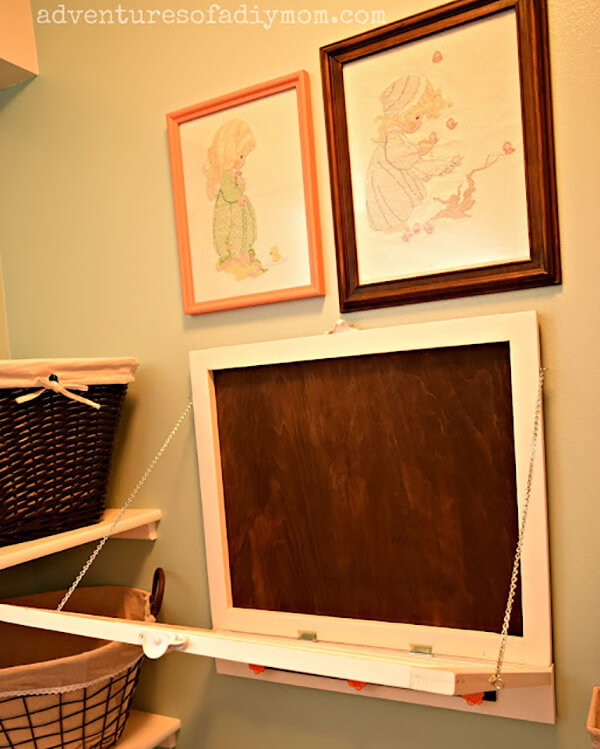 Because this drying rack expands less than the full 90 degrees, it is ideal for laundry rooms with limited space. The smaller angle makes it possible to dry clothes while still being able to navigate your laundry room. To contain the shelf when not in use, a sash lock keeps everything secure. Below the fold-out shelf, flower-shaped knobs provide a dash of sweetness. A walnut-stained base, white frame, and fine silver chain create a little drama in this space. Of course, you can finish your drying rack to suit your style.
9. Using Ropes to Hang a Drying Rack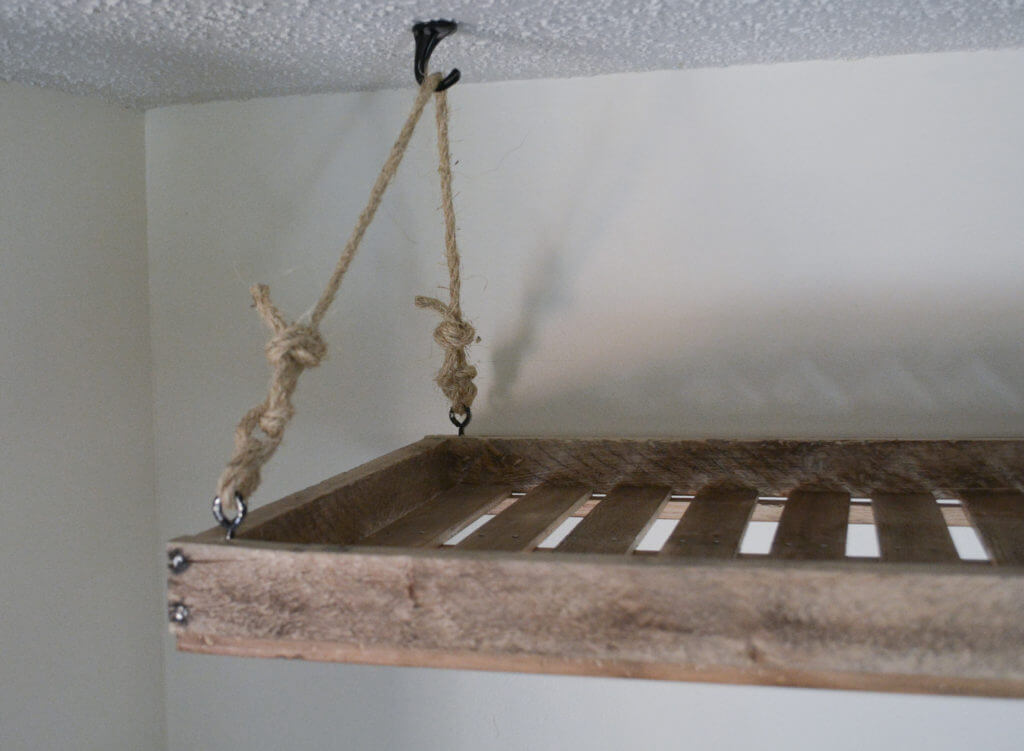 With the warmth and rustic aura rope provides, this technique adds an inviting dimension to your space. You might need to brush up on weight-bearing knots, but the result is simply stunning. Depending on how confident you are in your knotting ability, you may want to relegate this clothes-drying rack to lightweight items. Then, all you need to do is hang the drying rack on a hook screwed into a stud. Experimenting with different types of rope and drying rack finishes can be fun and achieve wildly varying effects.
10. Using Leather Straps as a Drying Rack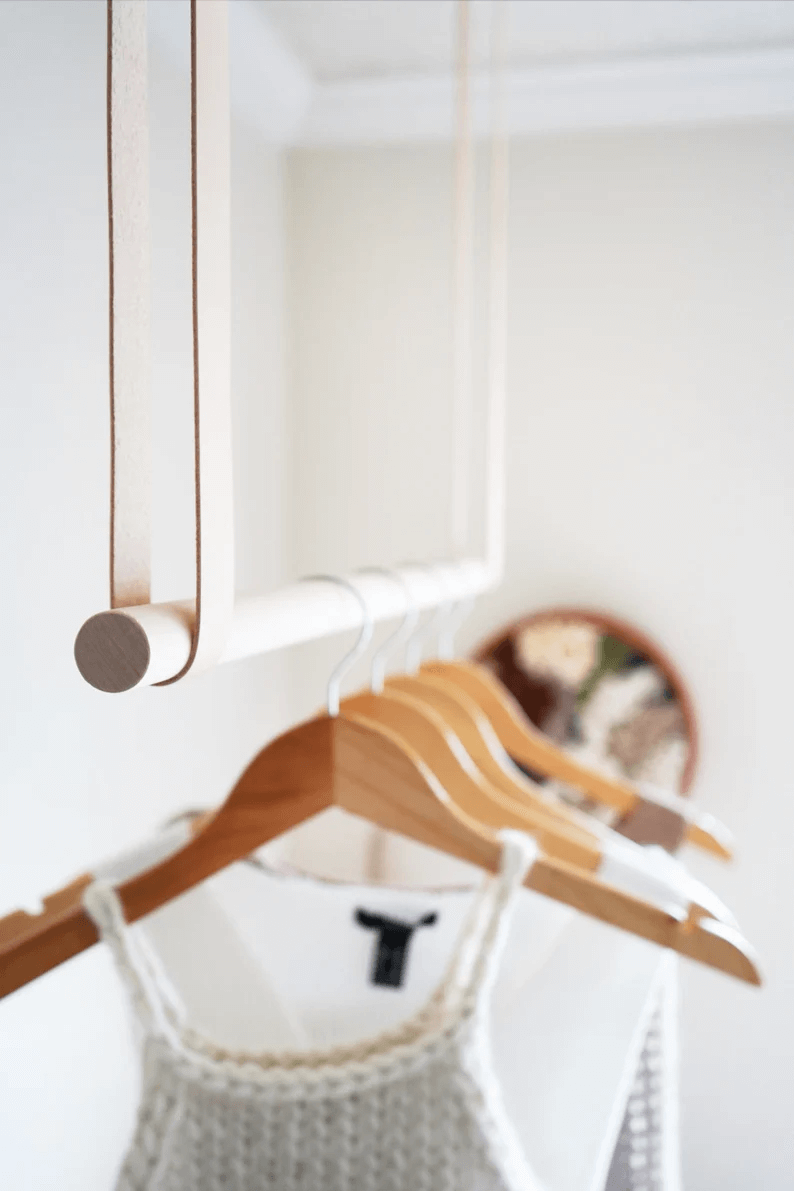 Suspending a wooden hanging bar from leather loops feels minimalist and modern. If installed correctly, these leather loops can support up to 150 pounds of wet laundry. However, this design is limited to drying laundry on hangers. Because the wooden hanging bar shown here is not included with this drying rack kit, you can use a hanging bar that harmonizes with your laundry room. With seven available color options and leather lengths from 2 inches to 30 inches, you can customize this look to fit seamlessly within your laundry room.
11. Collapsible Star-Shaped Clothing Rack Extravaganza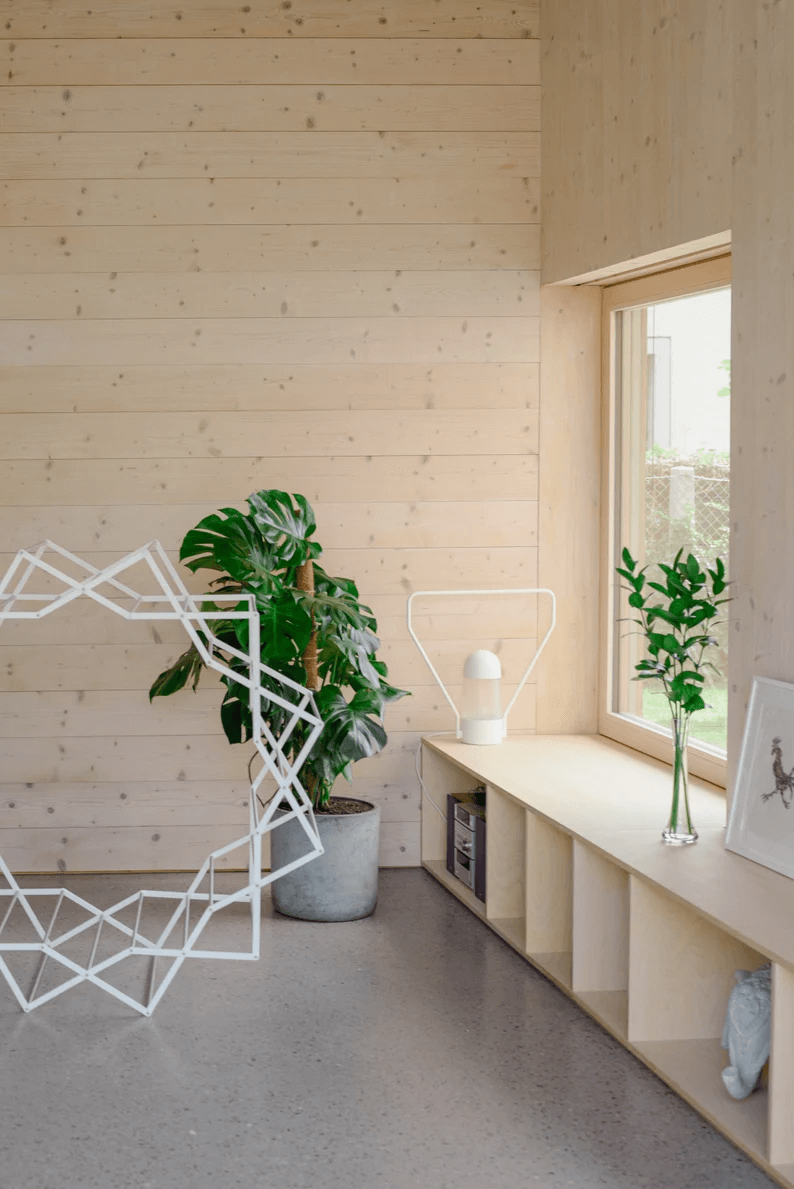 With a classic white color and stunning star shape, this clothes drying rack takes the accordion-style drying rack design to the next level. With an unfolded diameter of 47 inches, it does require some floor space. When folded up, it is small enough to easily stow in a cabinet. Of course, if you have space, you may want to leave it up all the time to enjoy the striking silhouette. Because it is rated for both indoor and outdoor use, this is a great option to take to the beach.
12. Folding Aluminum Clothes Drying Rack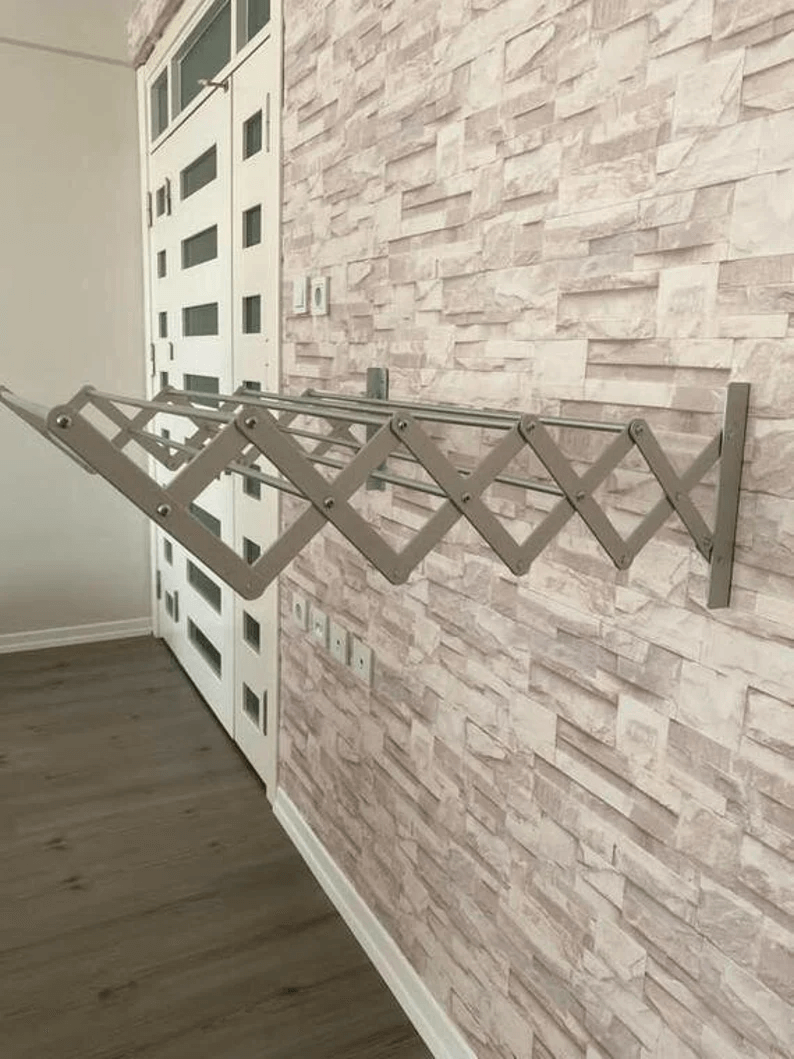 Because it is mounted to the wall, this aluminum drying rack is an ergonomic way to dry your wet laundry. Install it at a height comfortable for you, and hanging wet clothes will be easier on your body. To best fit your needs, there are eight size options including varying widths. Made from rust-free aluminum, this is also a great option for anyone looking for a DIY outdoor clothes drying rack. A matte finish gives this rack a sophisticated feeling and ensures it will not draw too much attention.
13. Modern Metal and Wood Hanging Drying Rack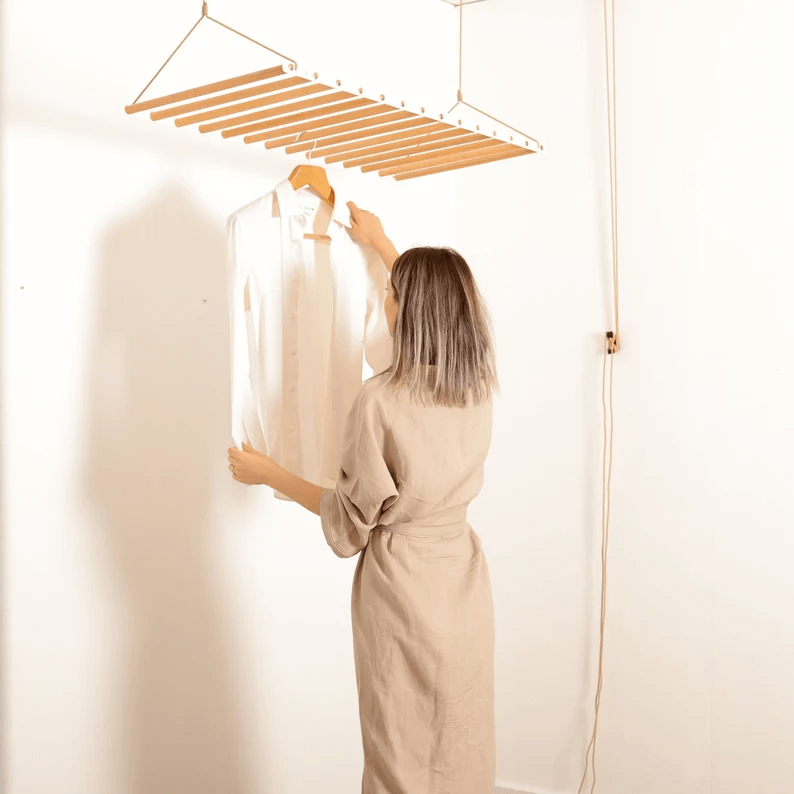 Wooden slats mounted in a metal frame offer the perfect balance between materials. With this pleasing combination, these clothes drying racks will look cohesive in modern, Scandinavian, or minimalist homes. Depending on your other laundry room decor, you can choose a frame in either classic black or rejuvenating white. A pulley makes it possible to effortlessly lift your clothes out of eyesight. This system works best when you can balance your wet clothing between the two ends. To make it eco-friendly, the shop owner will plant a tree for every purchase.
14. Extra-Long Hanging Drying Rack Powered by Pulleys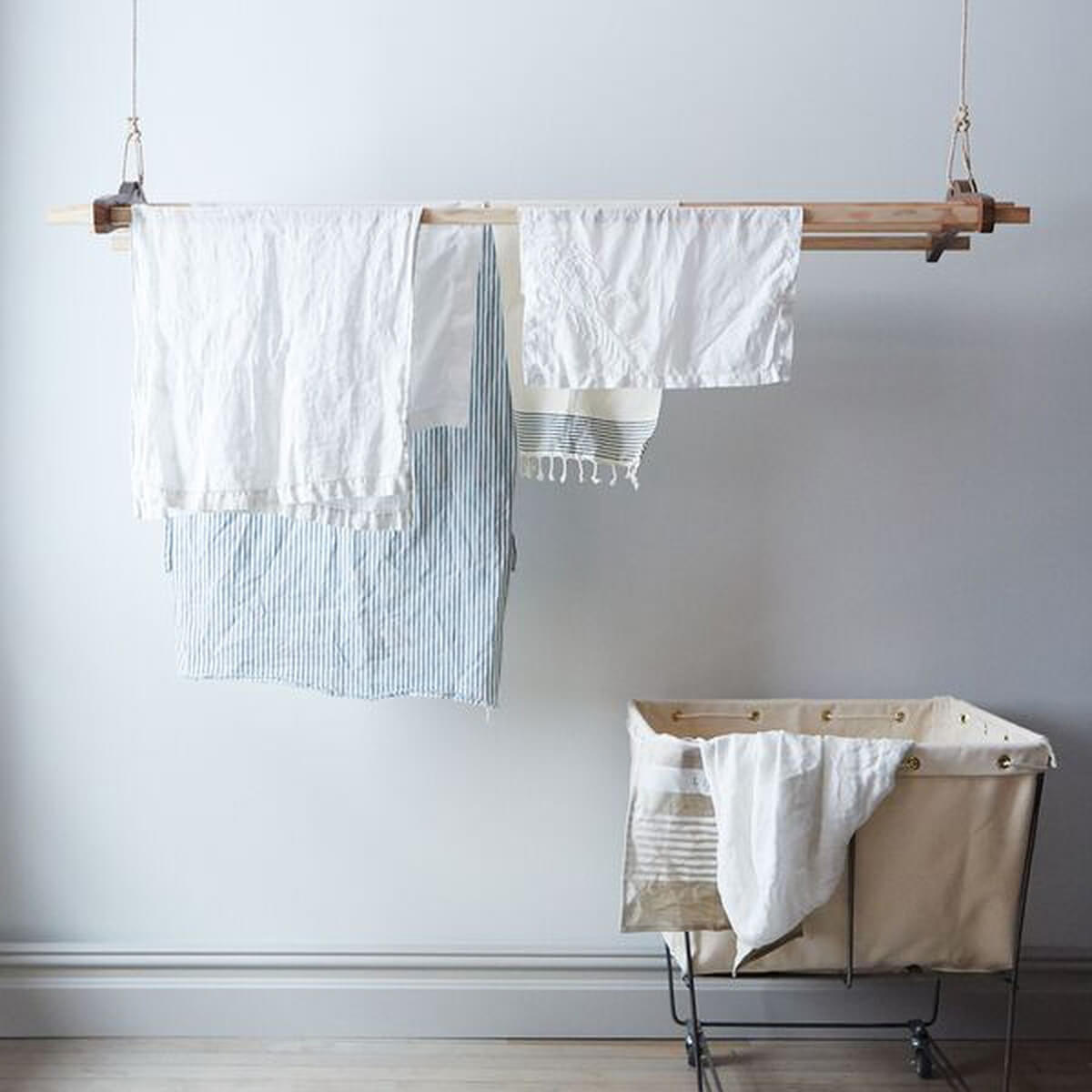 A long drying rack means ample space for all your wet clothes to dry at once. However, this hanging drying rack does require a larger laundry room. Because it operates with a pulley, it can be lowered to load clothes ergonomically. Hitch it up higher to make the best use of your vertical space. A traditional wood construction contributes a touch of gravitas and means it will look great in most spaces. To accentuate its French country lines, try applying a coat of either stylish white or cool powder blue paint.
15. Clothes Drying Rack that Features Artwork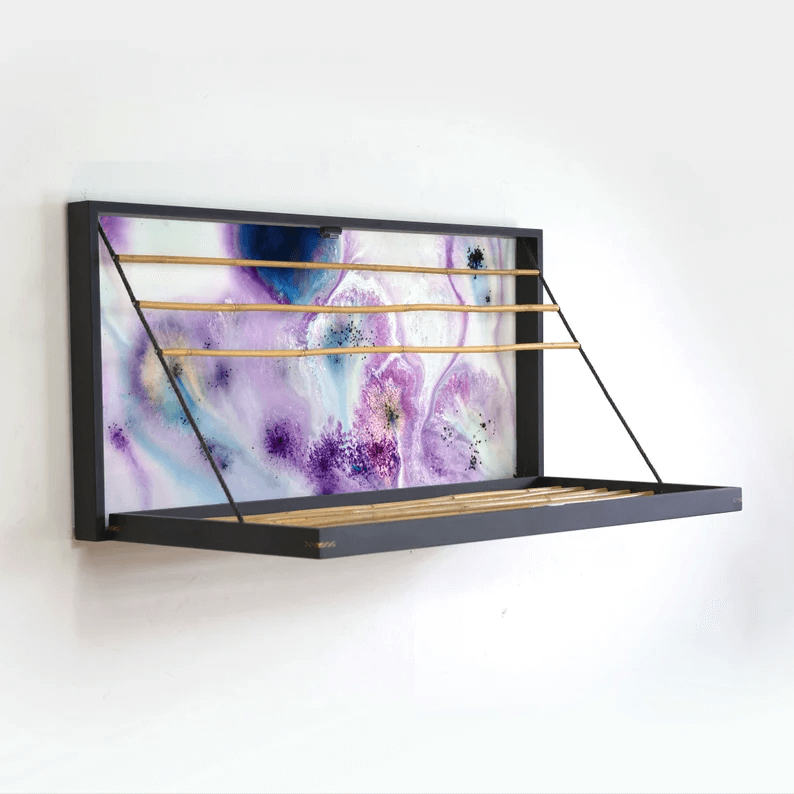 Although this drying rack folds up into a black rectangle, you may want to leave it open to enjoy the artwork. The piece displayed here is from Ron Geipel's "Organic Images" series which depicts microbes from locations like São Paulo and Berlin. Purple, blue, and green swirls add personality while the bamboo-style rods provide texture to this unique clothes drying rack. Hanging this artistic drying rack in your laundry room is guaranteed to start a few conversations if left open. When closed, it looks like a modern decorative element.
16. Handmade Wooden Drying Rack that Folds Flat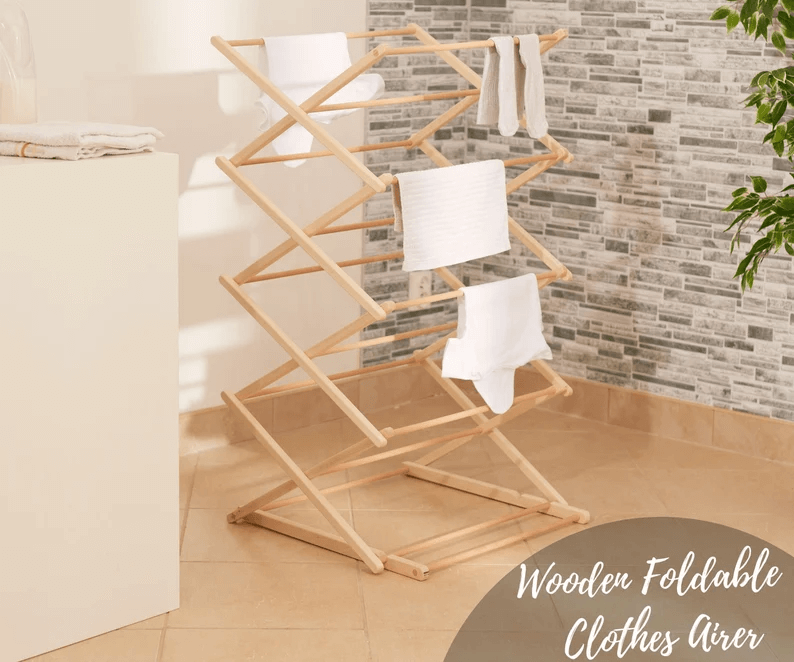 Depending on your space constraints and clothes-drying needs, you can configure this wooden drying rack in two configurations. The one shown in this image has a slightly larger footprint but keeps clothes further apart. The other takes up less space but dries clothes closer together. If you plan to leave it up when not in use, the natural wood look is compatible with most aesthetics. However, it does fold flat for easy storage in case it does not vibe with your space. This rack arrives with no assembly needed.
17. Portable Drying Rack with Matching Laundry Hamper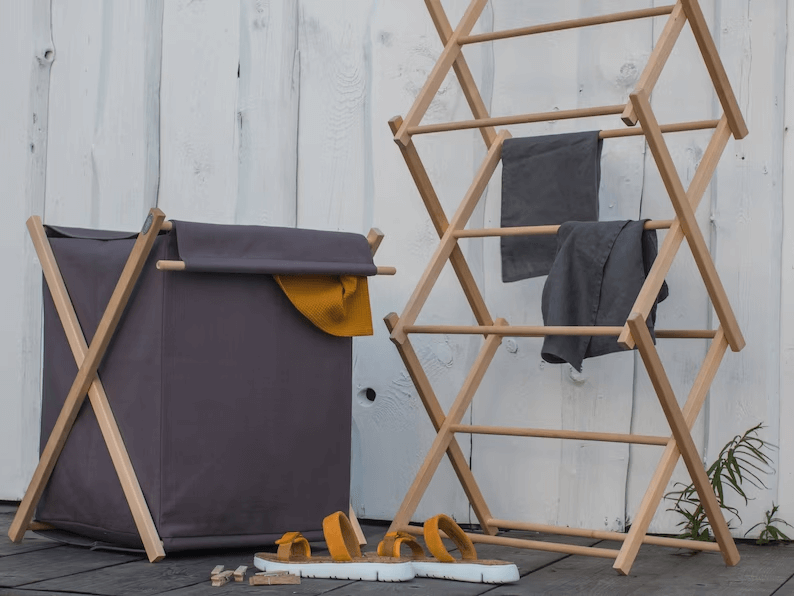 If you do not have time or the carpentry know-how to build a DIY outdoor clothes drying rack, this set has you covered. For easy laundering, the cloth hamper can be detached from the wooden frame via hook-and-loop fabric fasteners. Made from sleek birch wood and earth-toned cotton, these laundry accessories exude Scandinavian vibes. Of course, they would look great within modern or farmhouse aesthetics as well. The clever folding design means that they are well-suited for an on-the-go lifestyle, beach vacations, and laundry rooms with limited storage space.
18. Dual-Tiered Laundry Frame Handmade in Germany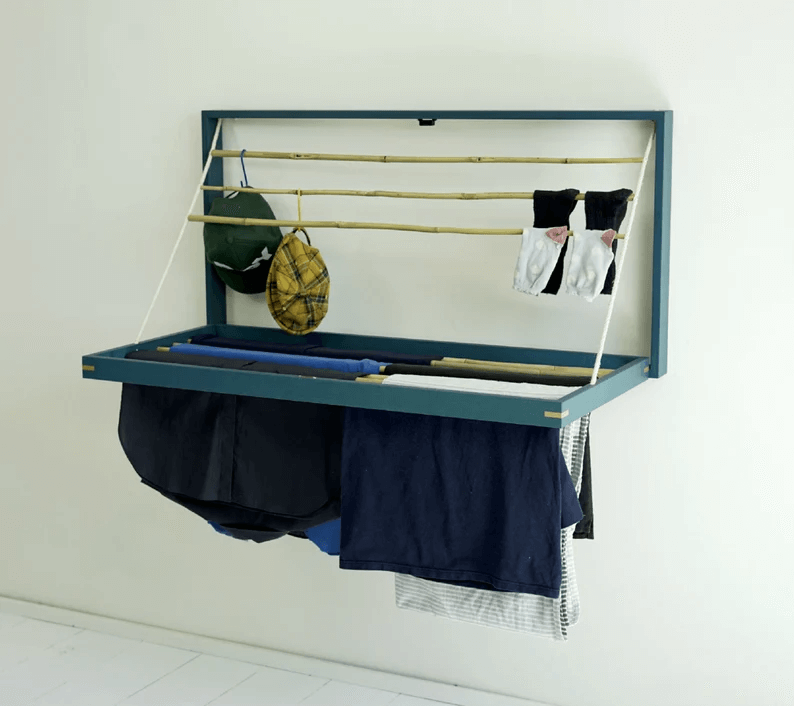 Supporting polished bamboo rods, a wooden frame and sisal rope work together to provide a sturdy drying rack capable of drying queen-sized bed linens. To increase airflow, two layers of bamboo supports offer ample space between drying clothes. Because there is no backdrop, you can see past the frame and bamboo bars right to your wall. This is a great strategy for a drying rack that blends into your decor. When the bottom shelf is folded up, this clothes drying rack looks like a bamboo-themed piece of artwork bursting with dimension.
19. Stainless Metal Drying Racks that Fold Away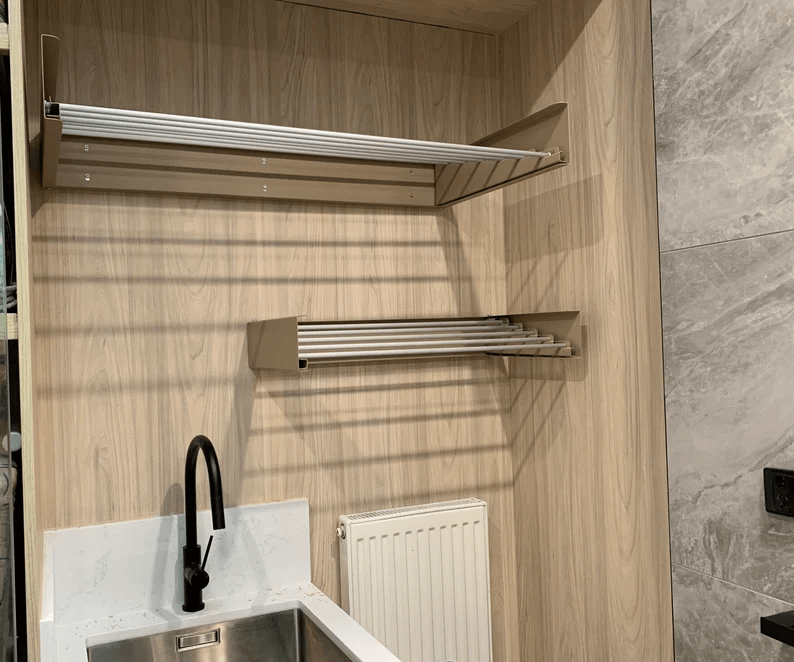 When this drying rack is not being used, the rack collapses into two sleek metal sleeves. These sleeves tastefully hide the collapsed drying rack. However, graceful lines and staggered aluminum rods are far from being an eyesore. To make it possible to blend into your decor, the sleeves are available in colors including cool white, warm beige, and dark anthracite. To make a statement, choose a color that contrasts with your wall color. With a 40-pound capacity, each drying rack can hold an average load of wet laundry.
19 Customizable DIY Drying Racks to Combine Function and Form in Your Laundry Room
Regularly loading wet laundry onto an incorrectly-positioned drying rack will strain your body. For this reason, it is important to consider how ergonomic each option would be within your space. After all, if your new laundry rack is uncomfortable or awkward to load, you are less likely to use it. Analyze your space to figure out where the optimal drying rack position is. For laundry rooms that are too small to host a drying rack, do not be afraid to take it to your porch or opt for a freestanding option. When figuring out where to locate your clothes drying rack, you may also want to consider airflow.
Besides fulfilling its practical clothes-drying purpose, a successful drying rack should also be a pleasant visual element within your laundry room. You deserve a clothes drying rack that is a cohesive part of your laundry room both when it is being used and when it is folded away. Whether you prefer a captivating conversation piece or a drying rack that folds into the wall, there is a DIY clothes drying rack to fit your space. Typically, the easiest ways to tailor a drying rack design to fit your aesthetic are to choose a material and silhouette that are consistent with your vision.