With a DIY hall tree bench, you unlock a posh way to organize your entryway. Hall trees often include elements like a small seating area, hooks for hanging outerwear and bags, overhead storage, cubbies, drawers, lockers, totes, or shelves. Which works best for you depends on your household, your lifestyle, and the space you have available. How many people and pets live in your space determines how large your hall tree needs to be. Weather conditions and your lifestyle impact how much outerwear needs to be hung on your hall tree. Often, the limiting factor in choosing DIY hall tree plans is how much space you have available.
The 15 Classiest DIY Hall Tree Benches to Take Your Storage Ideas to the Next Level

These versatile articles of furniture can be built in a wide range of styles and materials to match your aesthetic. Whether you love bold blasts of color or prefer soft splashes of neutral tones, a hall tree is the perfect place to showcase your style. Illustrate a minimalist aesthetic by choosing a design with simple lines and either a floating or a frameless bench. Farmhouse flair can be displayed via a white-on-white color scheme and decorative elements like shiplap.
As exciting as the style possibilities are, there are a few practical considerations to evaluate. Because hall trees will see constant use, they should be finished with durability in mind. While this eliminates many kinds of paint and different finishes, it offers a challenge for your crafting creativity. If you care for small children, you will need to ensure that your hall tree can be anchored to the wall or otherwise secured. Another approach might be to install a board with hooks above a bench. Because there are so many different ways to craft a hall tree bench, you will be able to find the perfect strategy to organize your entryway.
1. Bench Tree with a Geometric Wood Feature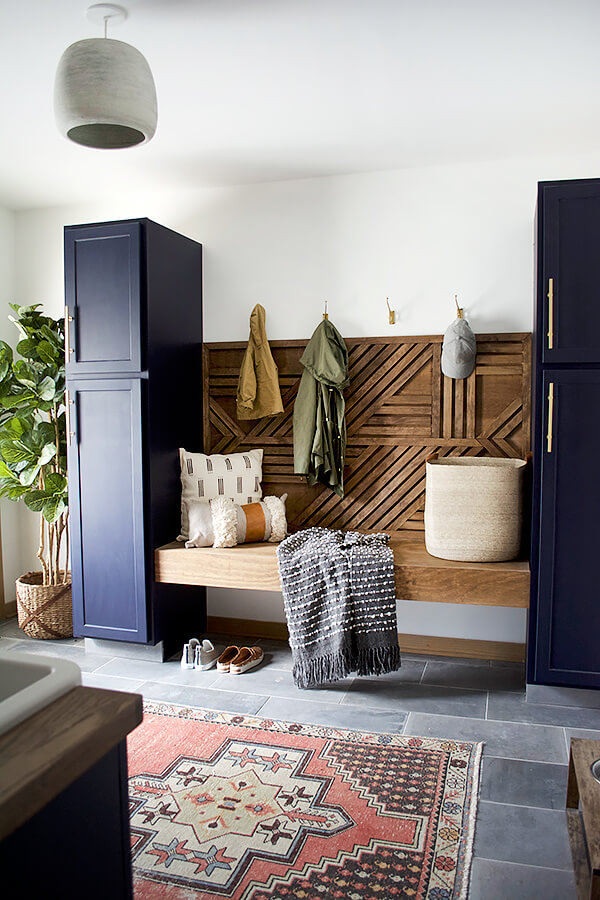 By installing a floating bench in your entryway, you can achieve an effortlessly modern aesthetic and still have plenty of storage. The key is to mount the bench between two towering storage cabinets. Meanwhile, the geometric wood back draws attention and becomes the room's focal point. While the wood-on-wood look shown here is ideal for a natural feel, you can achieve greater dimension by painting the wood backboard a dark color. This pattern is organic and delightfully asymmetrical, but you could opt for symmetry if that suits your space better.
2. Crisp White Mudroom Bench Tree Tutorial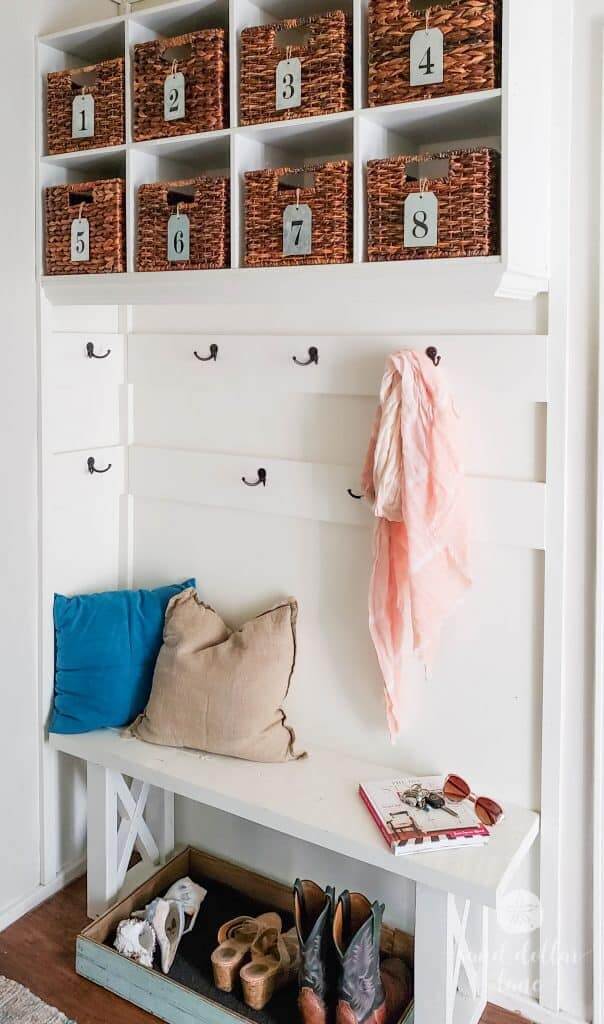 Your DIY hall tree plans should harmonize with the rest of your home, and this strategy is easy to customize to fit your space. The wooden elements in this image are all painted white, but you could stain the wood for a more natural ambiance or choose contrasting colors that coordinate with your interior. However, going with white-on-white is a great way to keep your hallway feeling spacious without compromising any storage space. A few colorful pillows, woven storage baskets, and a reclaimed wood shoe tray add pops of personality.
3. L-Shaped DIY Hall Tree Plans with Lockers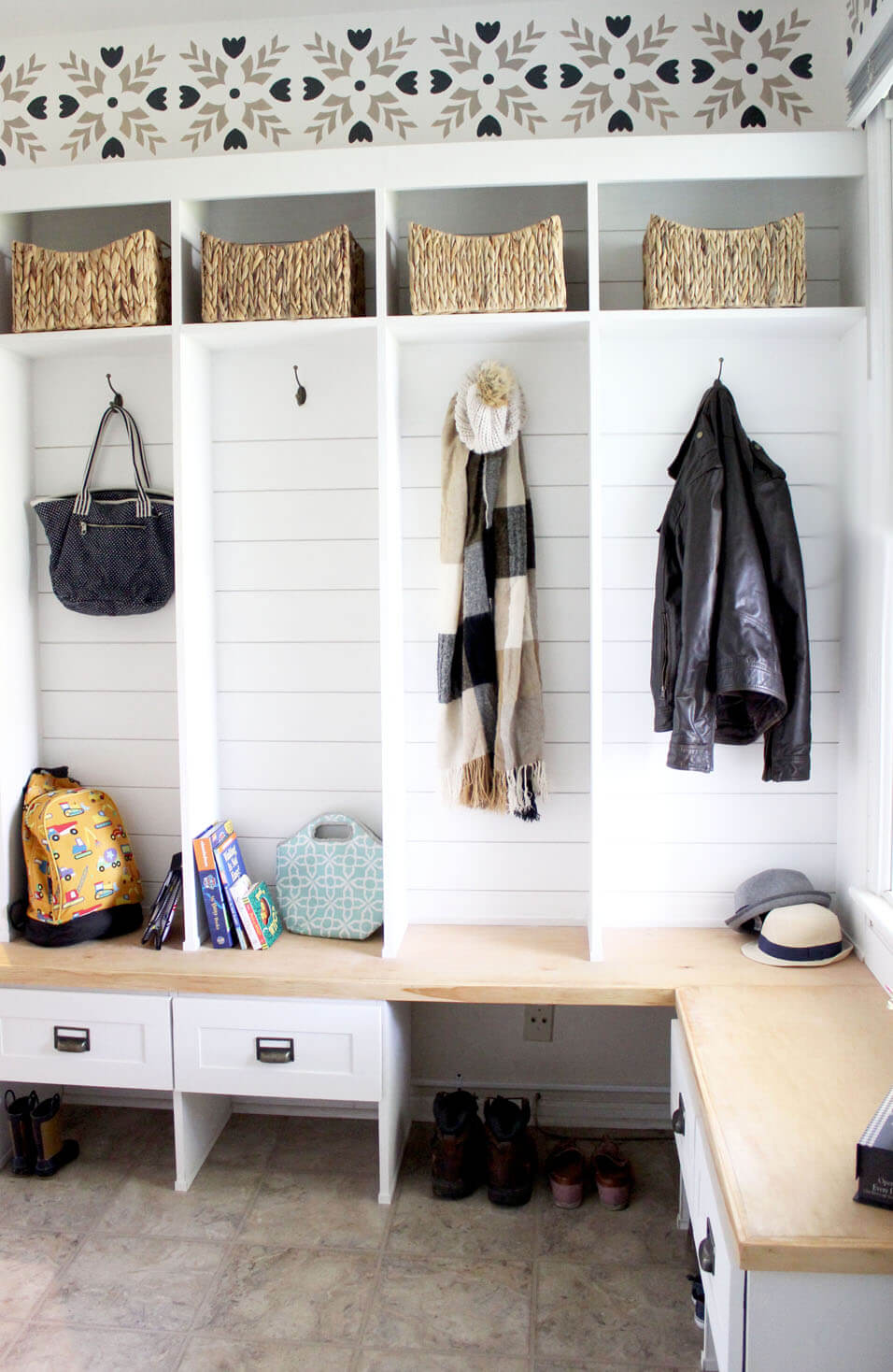 This corner hall tree has it all: space for shoes, drawers, individual lockers, a bench seating space, hooks for hanging, and overhead storage cubbies. Features like shiplap and wall stenciling give this space a farmhouse vibe, but these elements could be customized to coordinate with your unique vision. With an Americana pattern in neutral black and gray, the wall stencils are a fun way to integrate a little visual interest. You can customize the number of lockers to fit the space available and the number of individuals in your household.
4. Easy DIY Hall Tree Decorating Ideas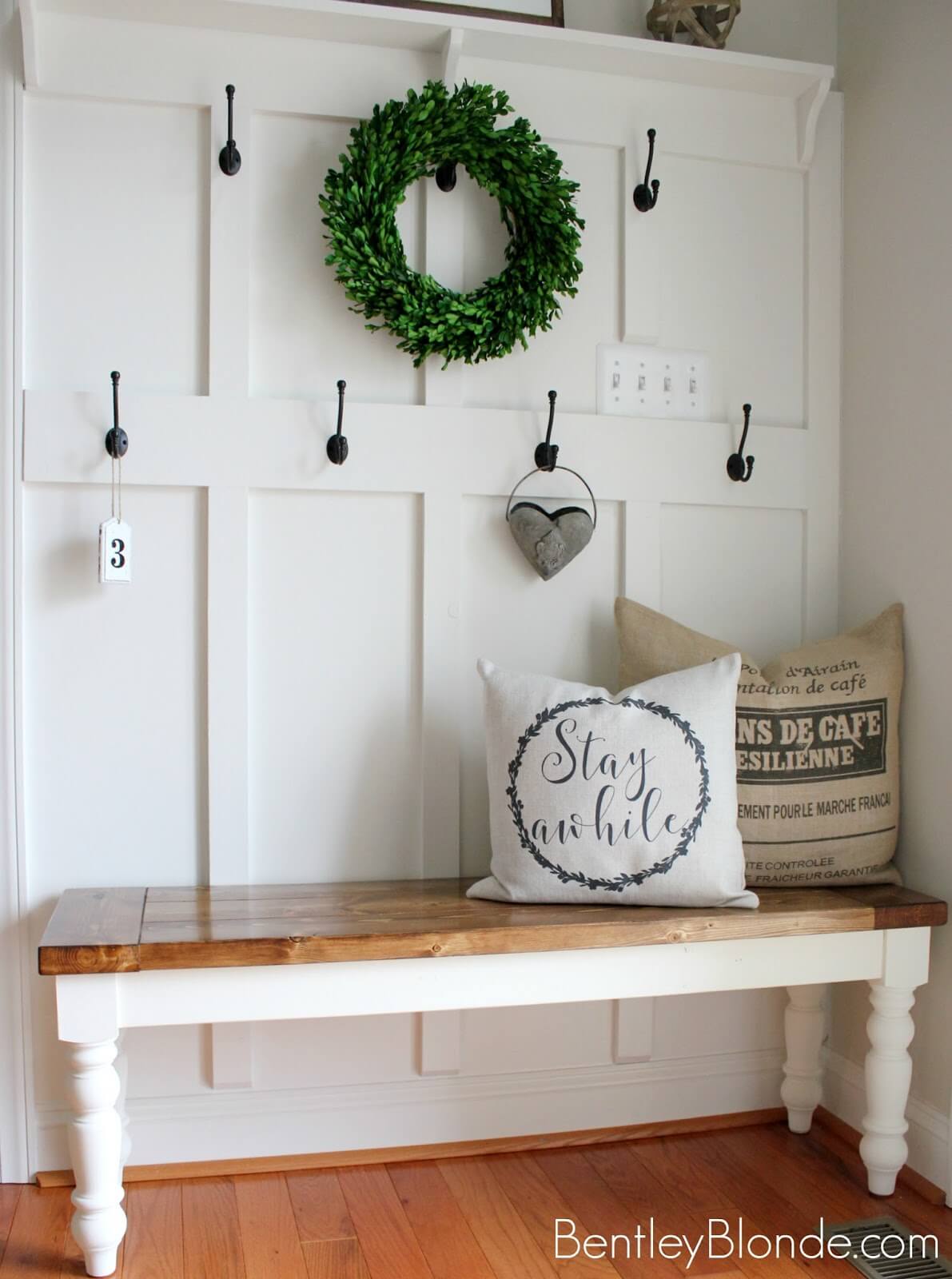 Choosing a palette filled with cool whites and warm wood tones means that your seasonal decorations will really pop. Interesting bench legs and antique-inspired black metal hooks give this entryway a touch of farmhouse style, but you could customize it to your tastes. All those hooks set the stage for endless hanging decor possibilities. With this setup, if you can find a way to hang a decoration, it can enhance your entryway. Imagine the possibilities. In addition, the bench is the perfect place for a few pillows that showcase your style.
5. Bench with Lots of Shoe Storage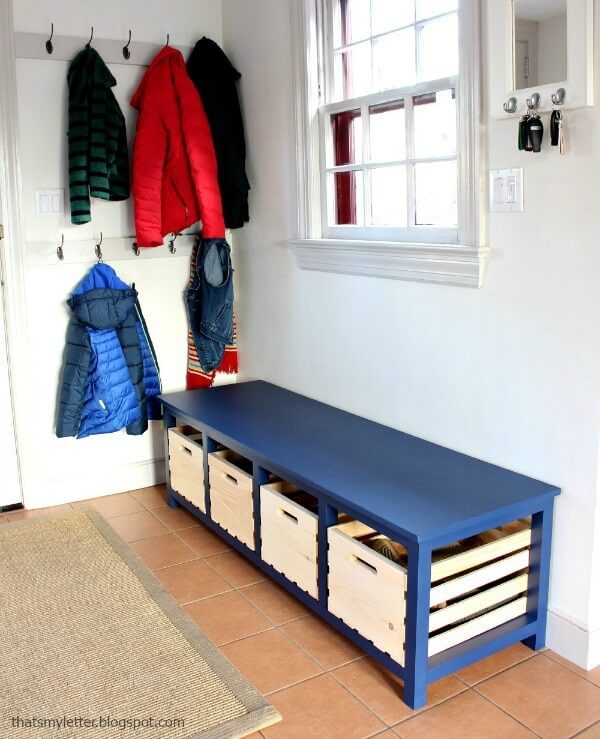 Building a bench with an abundance of storage will tidy up the stacks of shoes that live next to your door. With a straightforward design, this bench is an appealing addition to any aesthetic. Removable crates are an attractive way to keep shoes orderly. While this project features two-tone interest with cool navy and unfinished crates, you could use whichever colors or finish make your heart smile. By mounting hooks on a nearby wall, you do not have to worry about outerwear interfering with the ability to sit on the bench.
6. Recessed Alcove Entryway Bench with Storage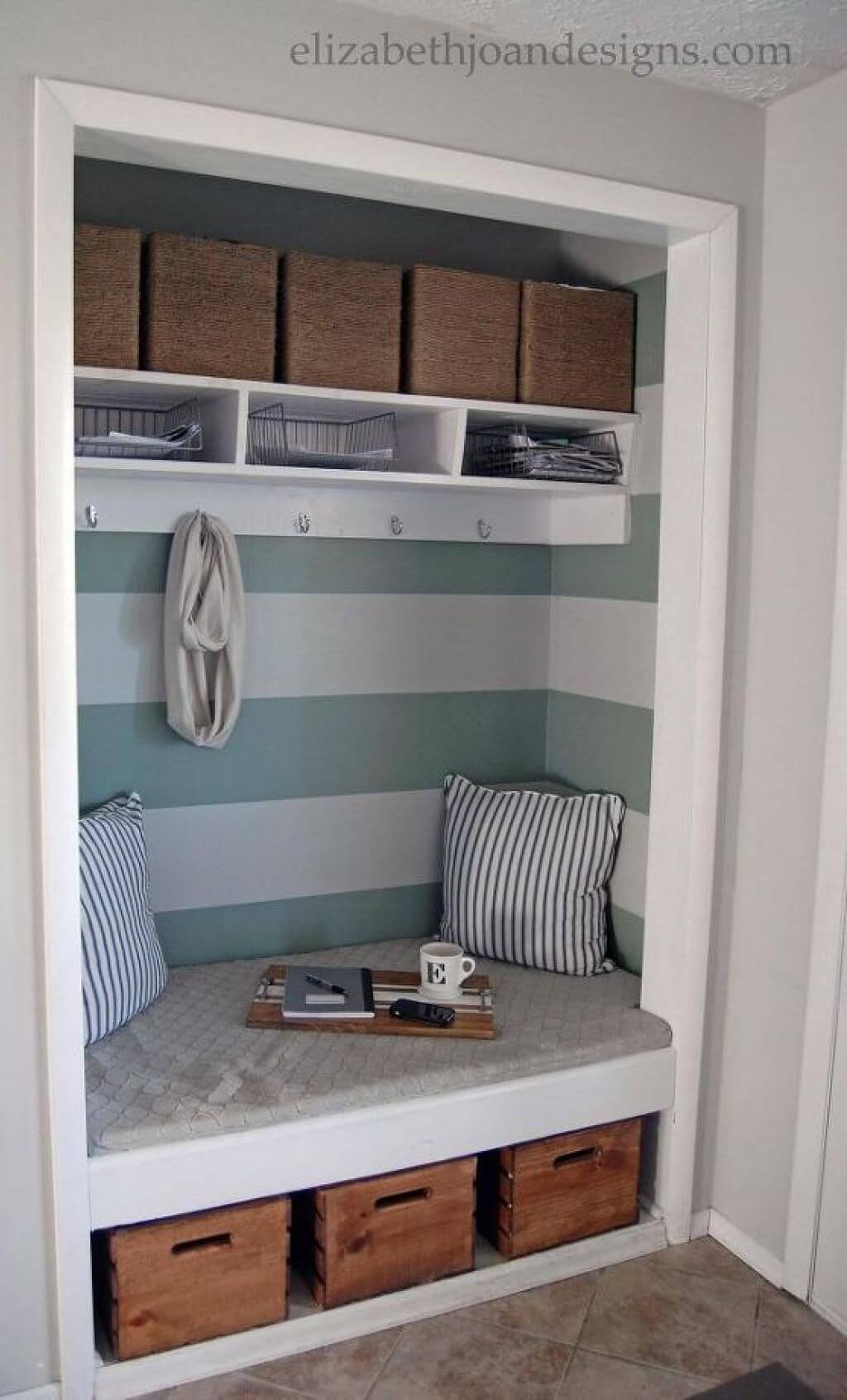 Transforming your coat closet into a cozy seating nook is as simple as adding a DIY hall tree bench. Padded seating and striped throw pillows provide a comfortable place to land. Broad horizontal stripes within the closet coordinate with the pillows. This helps the space feel larger than the closet it is. Stripes also add personality. With wooden crates below and totes above, this closet still offers plenty of attractive storage space. Sorting mail into the black wire racks shown here is an excellent strategy to keep your countertops uncluttered.
7. Customizing a DIY Hall Tree Bench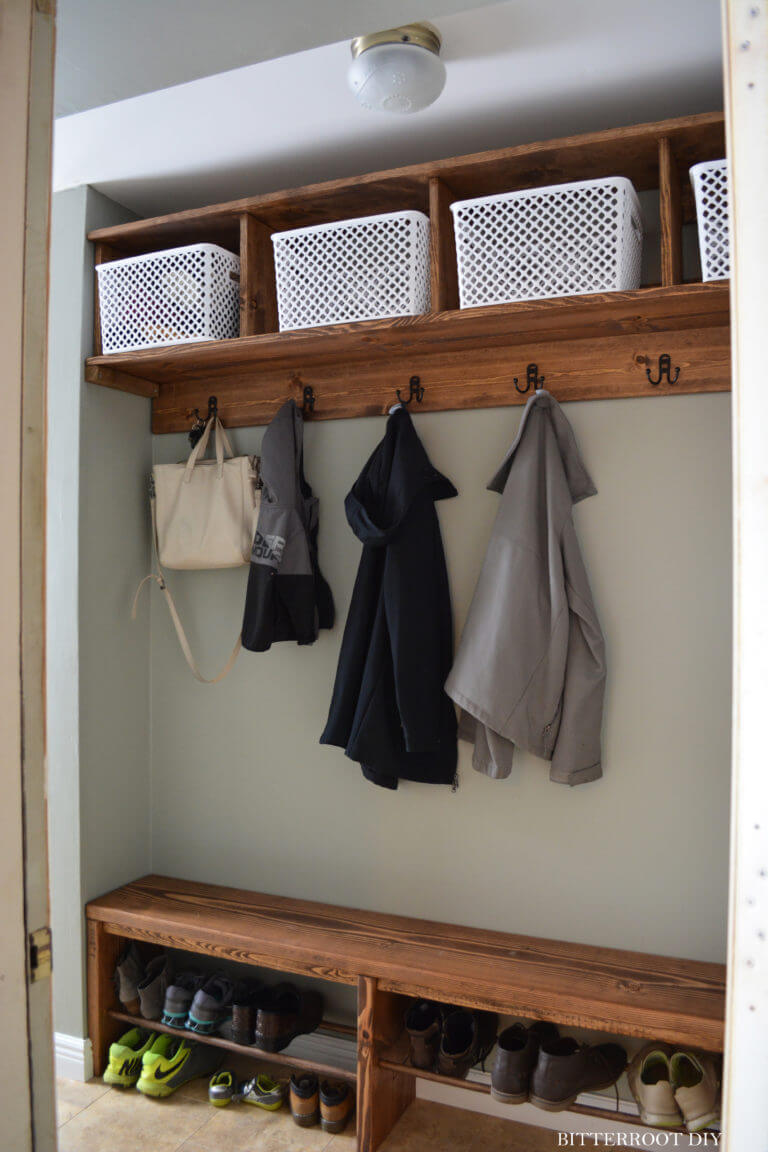 A functioning wall tree bench does not need to be a floor-to-ceiling project. By breaking the project down into two segments, you can customize your project to fit your needs. The lower portion features a bench and open storage for shoes. Above, basket cubbies and hooks allow for tidy storage. While this project used a sepia-toned stain and startlingly white woven baskets, you could use any color combination that appeals to you. To infuse the space with extra hygge, style with a few throw pillows and a cozy blanket.
8. Solid Wood Round Hooks for Hall Trees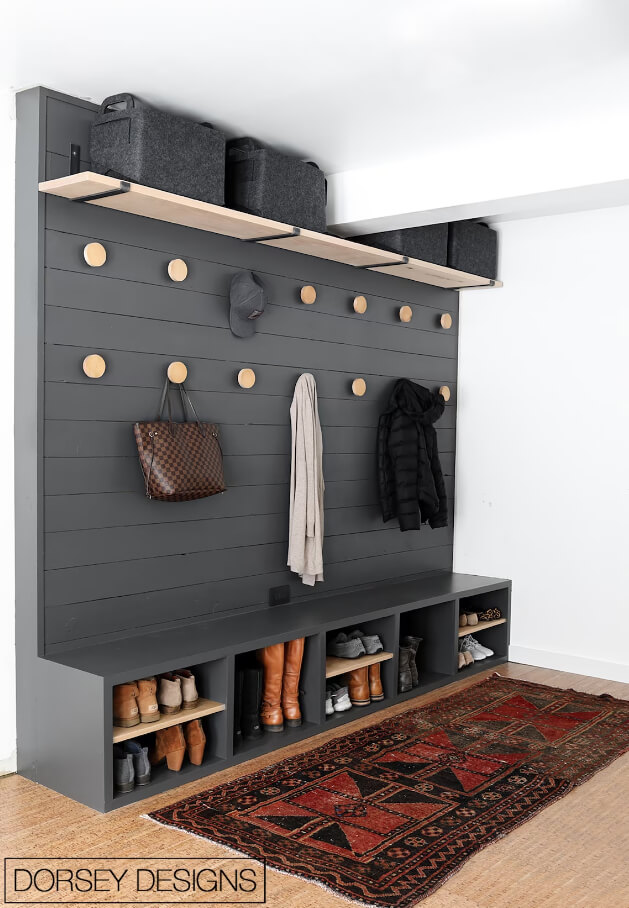 Made from solid pine, ash, or white oak, these round knobs are the perfect addition to your easy DIY hall tree project. To best fit your needs, these hooks are available either with or without a drywall anchor and each can hold 75 pounds. Leave them unfinished for a modern, zen, Scandinavian, or coastal ambiance. If you have something else in mind, treat the pine or white oak to your favorite stain. The ash arrives pre-finished in black. When not in use, these circular hooks look like wall art.
9. Freestanding Hall Tree Bench in Pale Green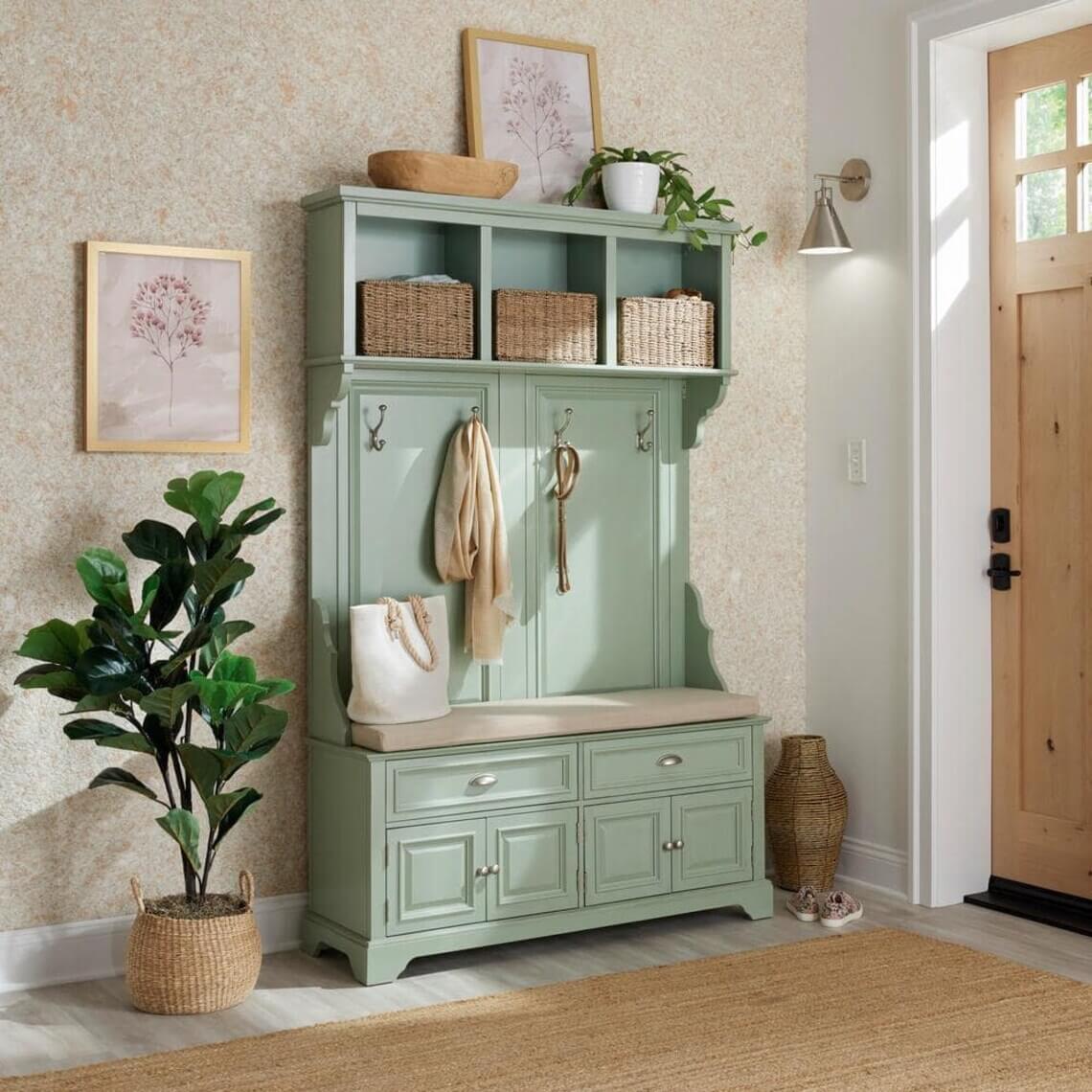 If light green is welcome in your interior, choosing a colorful hall tree is an extraordinary way to introduce some color to your DIY hall tree plans. Choosing a bold color over subtle neutrals might make a bigger statement, but you can always repaint your hall tree when you feel like switching up your style. A cream-colored cushion and silver hardware are elegant touches that elevate this piece of furniture. Bevels in the cabinets and the decorative corner pieces give this sophisticated hall tree an exquisite level of polish.
10. Two-Tone Solid Pine Hall Tree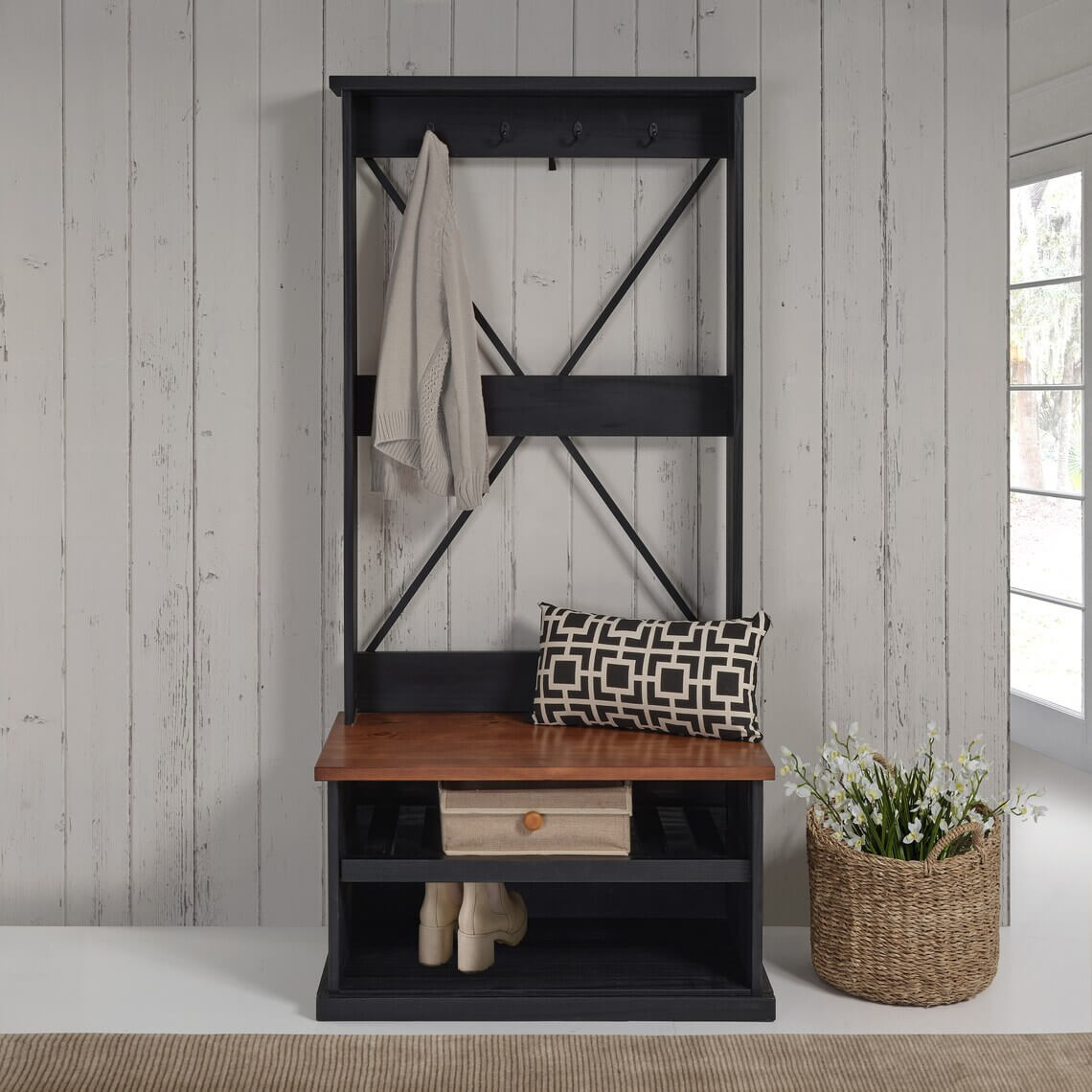 Instead of cubbies, this hall tree showcases tasteful open shelves. This less restrictive approach means that longer items can be stowed below the bench. With a decorative X-shaped back, the hall tree's back allows you to see behind it. This helps the hall tree coordinate with your space and adds an extra layer of texture. Blending into the shelf, black hooks provide functionality without distracting from the overall elegance of this hall tree. Place it against a dark wall for moody coziness or against a lighter-colored wall to enjoy crisp contrast.
11. Hall Tree That is Made to Order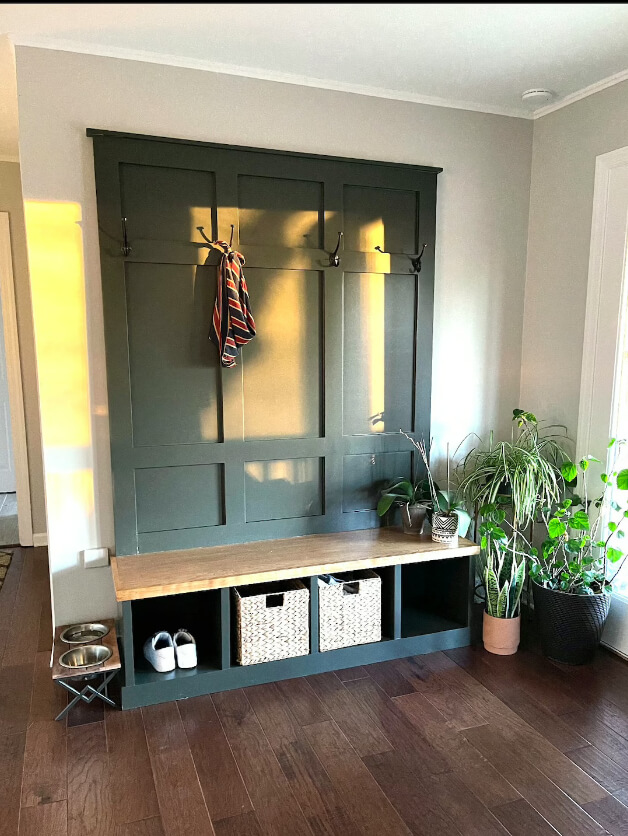 Choosing pre-selected options for large pieces of furniture can make it challenging to find the perfect storage ideas for your space. If you have a specific vision in mind, a made-to-order hall tree is a great way to bring your dreams to life. This image is an example – an unframed bench lends versatility and keeps the hallway feeling open. While this looks fantastic in the larger space shown here, a frameless hall tree is an excellent strategy for small entryways. The only downside is the 8-10 week wait time.
12. Hall Tree Featuring Beadboard Detailing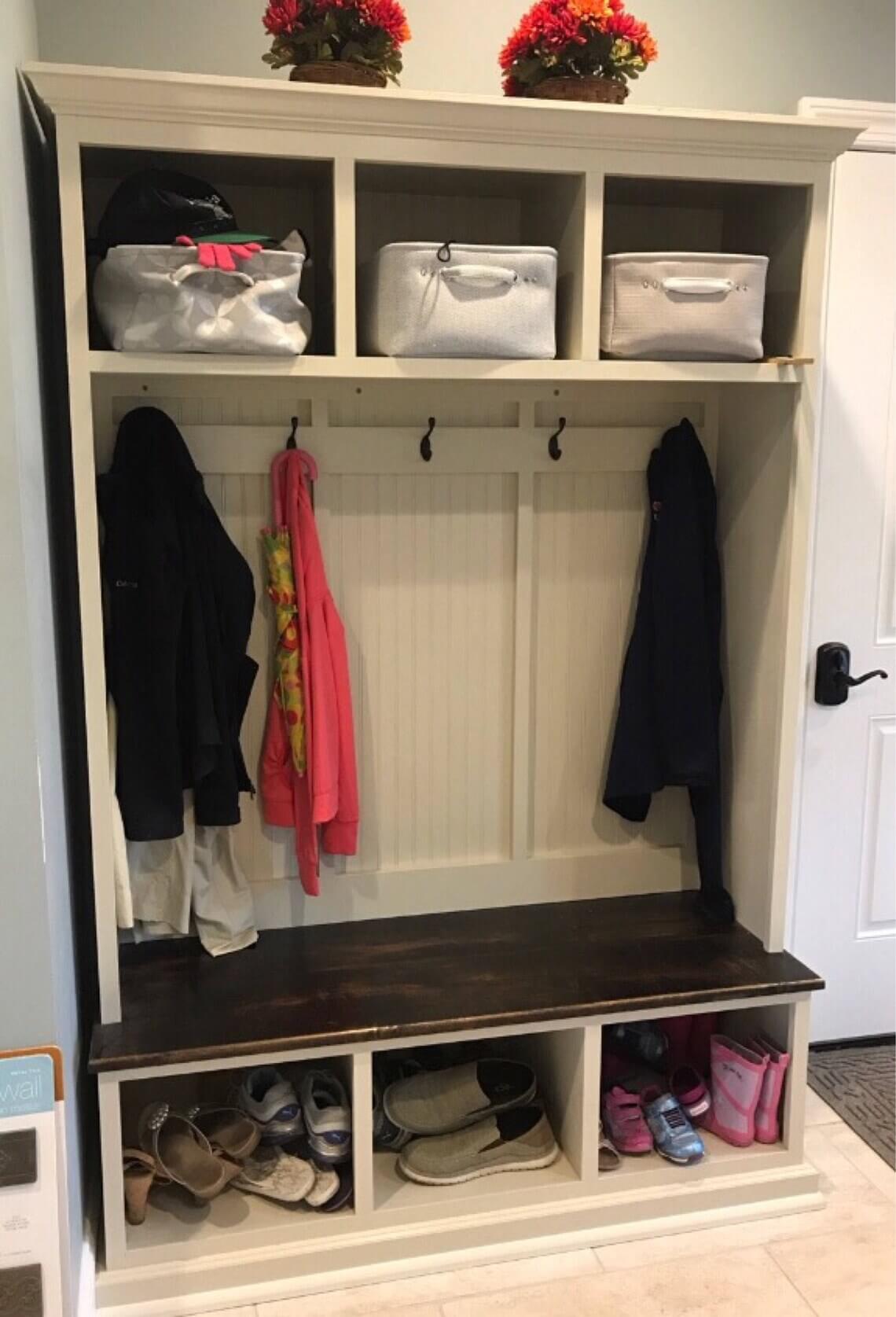 Even on large pieces of furniture, the small details make a big impact. Because each hall tree is handcrafted in Georgia, any of those small details can be modified to match your dream entryway. This example shows a white cabinet with an espresso bench, but you are limited only by your imagination. You can also specify how many hooks and cubbies you require. Regardless of color, the beadboard's subtle vertical lines ensure an elegant accent within your space. With stylish panache, crown molding along the cabinet top finishes the look.
13. Handmade Hall Tree with Drawers and Cubbies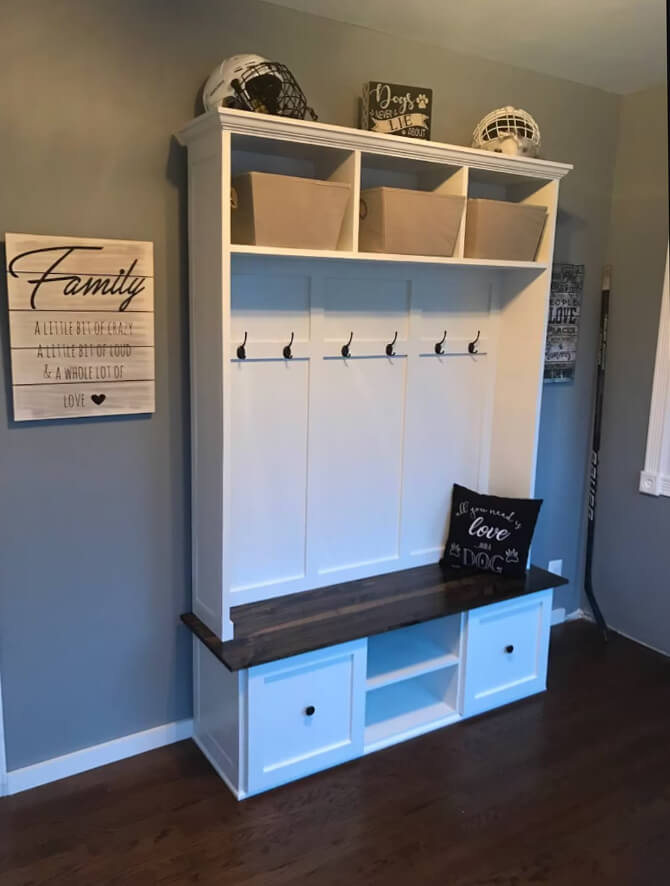 Sometimes, it is nice to have the option to store items where they are not visible at all times. The hybrid configuration shown here features both closed drawers and open cubbies to give you that option. Beyond the functionality possible with multiple modes of storage, this hall tree comes with unlimited decorating potential. To change it up for the seasons, place decorations on top, tie a garland to the hooks, and switch out the throw pillows. Alternatively, if you prefer lower maintenance, style it with decor that looks good all year.
14. Personalized Farmhouse Mudroom Locker Hall Tree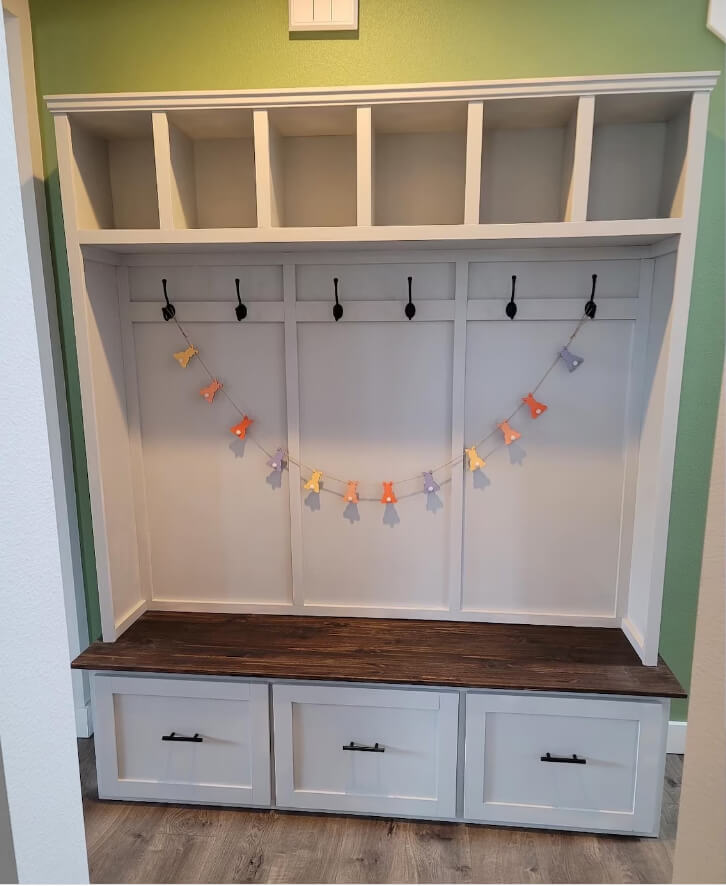 From the number of soft-close drawers to the bench finish, nearly every detail of this hall tree can be customized. You can even upgrade the pine bench to one built from birch or oak. Although this piece features straightforward farmhouse charm, the board-and-batten back suffuses it with subtle dimension. Black hooks, onyx-colored hardware, and a dark-stained wooden bench seat offer magnificent contrast against the clean white paint. For a more modern ambiance, opt for a lighter stain color on the bench seat and explore paint options with bolder colors.
15. Oak Throne Hall Tree with Hidden Storage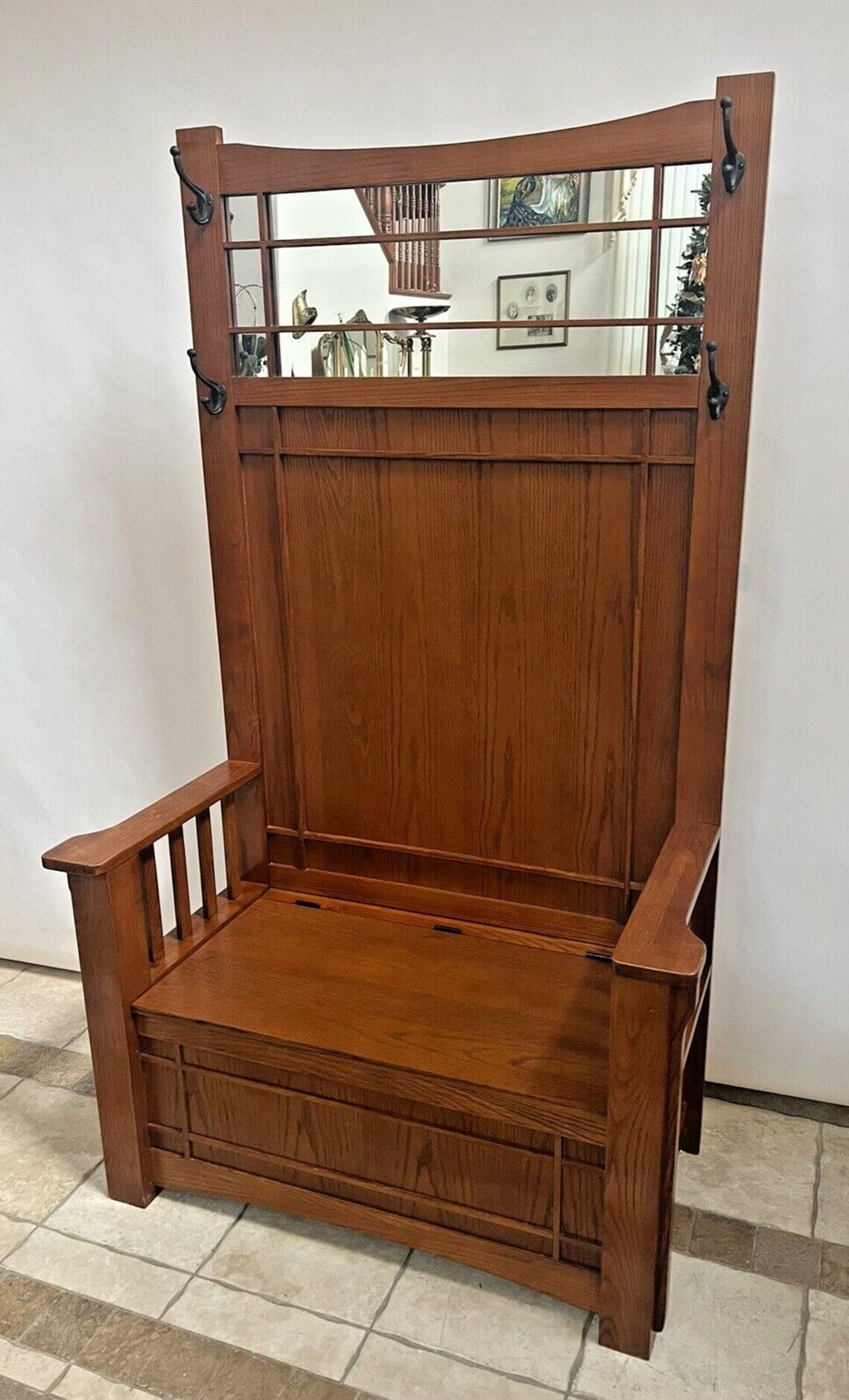 Lots of straight lines mean this interpretation of a hall tree will energize your space. Those straight lines also make it easy to pair with other decorative elements and wall art. Because the seat lifts up, this throne provides storage that does not look like storage. By displaying a mirror on the throne's back, this hall tree boosts the natural light in your entryway. Next to the mirror, hooks provide unobtrusive outerwear storage. If four hooks are not enough for your household, you could always hang an entryway hook board nearby.
15 Unique DIY Hall Tree Bench Ideas to Organize Your Entryway with Style
Although they seem like intimidating projects, there are so many easy DIY hall tree designs to bring your entryway dreams to life. The first step to figuring out the right approach for you is to assess your available space. This will determine the maximum dimensions. Whether you are working with a recessed closet or a straight corridor, you will need to know how far from the wall your hall tree bench can stand. You will also need to know how long you would like your storage to extend.
Beyond the dimensions, you also get to decide how private your storage spaces should be. Cabinets and drawers offer privacy and provide an uncluttered appearance for your entryway. These are the best ways to stow items that might not vibe with your seasonal decor. However, if you prefer a more open look, stick to shelves and cubbies. While these might require more daily upkeep, they can lead to a more organized lifestyle. To strike a balance between these, choose hall tree bench designs that are compatible with cloth totes or baskets. These are easier to switch out as your needs and aesthetic changes.