Because the garage is often home to everything you do not need in the house, DIY overhead garage storage is essential in keeping your space organized. Which ideas match your space depends on your layout, the items you need to store, and, of course, your garage goals. These ideas can keep your seasonal decor tidy, sports equipment off the floor, and boosts your garage's storage capacity.
13 Innovative DIY Overhead Garage Storage Ideas to Free Up Floor Space

Your garage configuration is one of the biggest determiners of which storage strategies will work best for you. One of the first dimensions to consider is how much clearance you have to play with. If you park a vehicle in your garage, the clearance changes depending on how tall that vehicle is. To avoid having to later uninstall your overhead garage storage, you should consider not only the height of your current vehicle but also the height of any future automobiles as well. Beyond vehicles, overall layout matters too. Some overhead shelving works best when mounted on walls while other strategies are suspended solely from the ceiling. Whichever methods appeal to you, DIY overhead garage storage should not interfere with the functionality of any doors, windows, workspaces, or vehicles.
Beyond how your garage is designed, what you need to store will impact the final designs. Kayaks and plastic totes might both live in your garage but will need different types of storage. Pulley systems tend to work best with large, long, oddly-shaped items like kayaks while shelving is most efficient for bin storage. In addition, consider how frequently you will need to access each item. Holiday decorations might only come out once every year, but you might need to get into your sporting equipment more often. To achieve success in your quest for overhead garage storage, be sure to design your strategies around your needs.
1. Implementing Two-Tiered Garage Storage Strategies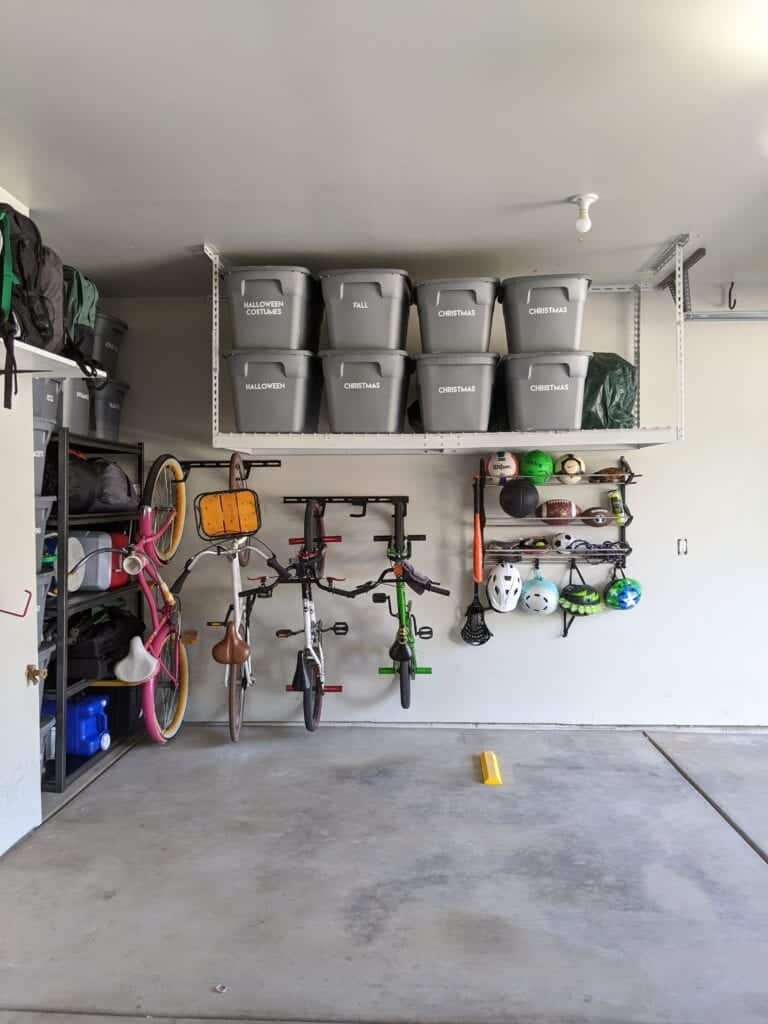 While stacking two layers of storage bins is not possible in every garage, this is a quick way to free up floor space. Because these bins are suspended from the ceiling instead of on the floor, this wall can be used more efficiently for bulky items like bikes, helmets, and sports equipment. To keep this system as safe as possible, remember never to stack a full container on top of an empty tote. Also, try to keep similar items stacked together. For instance, stack a container filled with Halloween costumes above one with fall decor. If you have two bins for each season of decorations, this storage system might be the perfect solution.
2. Overhead Storage Kit with 600-Pound Capacity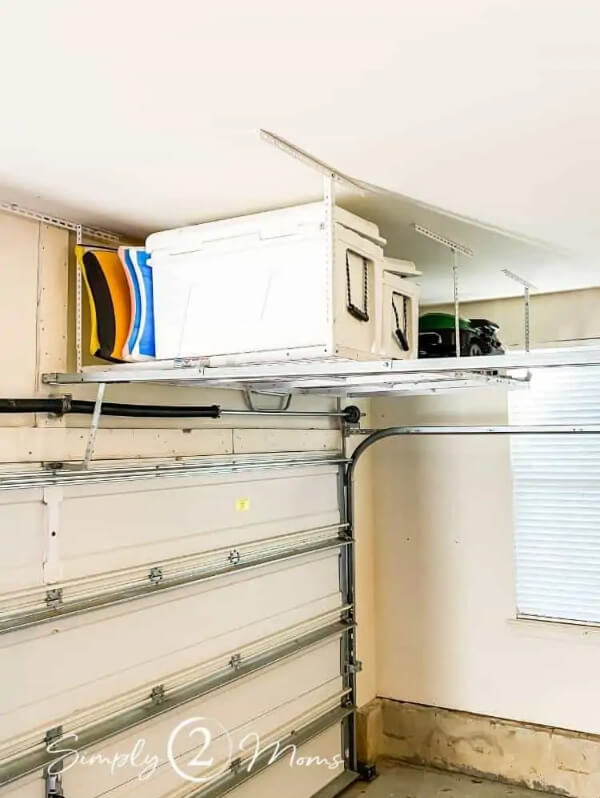 Perfect for your heaviest possessions, this kit makes worry-free storage easy. Open sides make it possible to access items from any direction. Combined with the wire grid shelf bottom, this means that this storage solution does not obstruct any light. Free-flowing light keeps your garage feeling spacious even though the excess space near the ceiling is being used for storage. While you could use this shelf for labeled plastic containers, it also works as a home for bulky coolers, colorful paddleboards, or anything else that does not see daily use. Although this example showcases the kit installed above the garage door tracks, it can be used in nearly any area of your garage.
3. The Power of Color in Garage Storage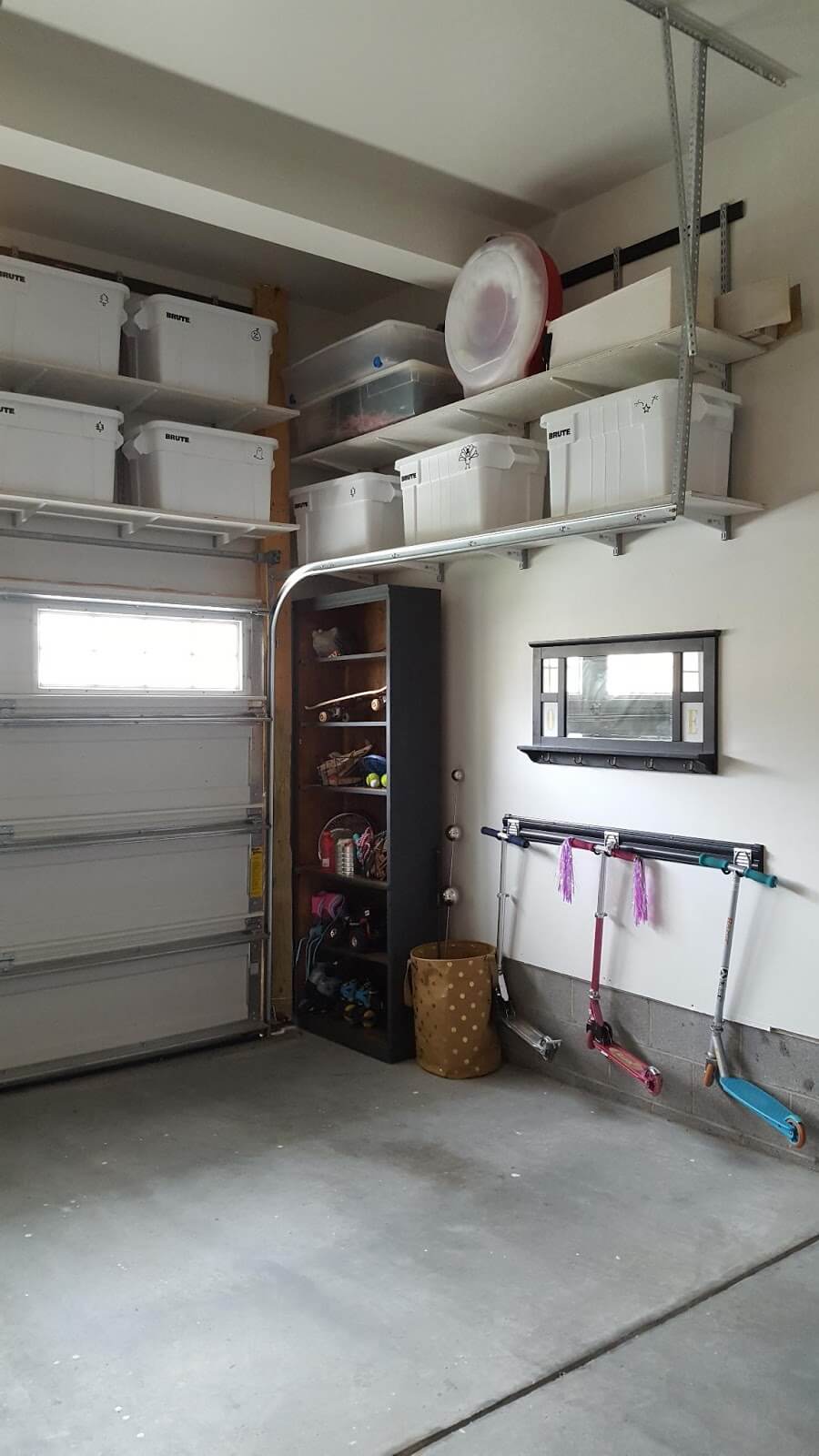 By choosing solid white plastic bins, the overhead storage remains discreet and the garage feels incredibly spacious. Black containers may not reflect as much light but do fade into shadows better. Because they allow you to see inside, clear totes are another popular choice. Whichever you choose, using the same color throughout your overhead garage storage system guarantees a tidy appearance. If your garage is large enough to host two-tiered shelving as shown here, lining totes up is a great way to maintain that well-manicured aesthetic. What you place under your overhead storage can make an impact as well. In this example, a dark-colored bookshelf, scooter rack, and wall frame draw attention away from the storage.
4. Sturdy Wooden Overhead Bin Shelves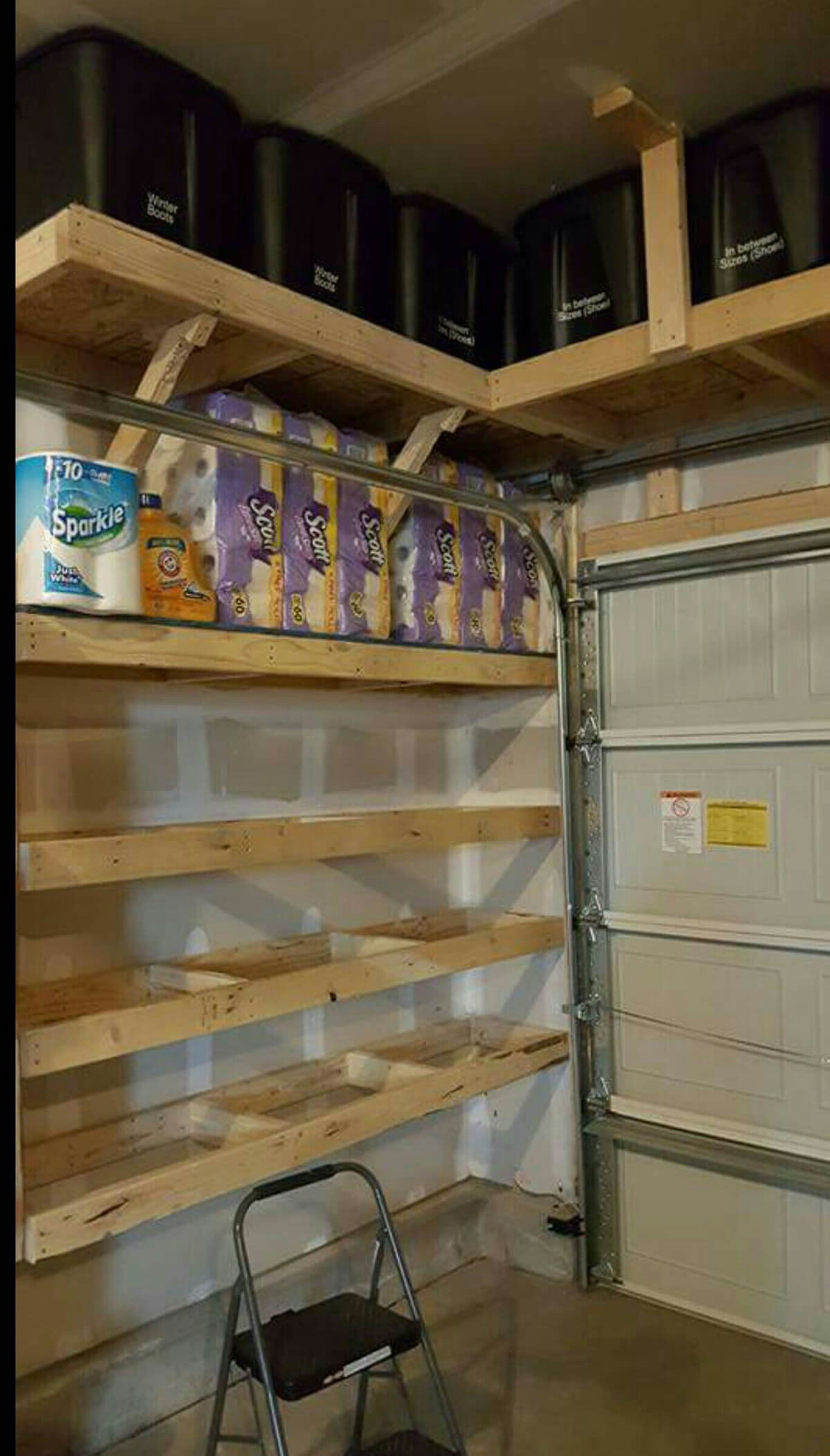 To maximize your vertical storage potential, overhead storage bins are a necessity. The shelves shown in this image coordinate with the other shelving but extend further from the wall to make the most of the unused ceiling space. To increase the weight capacity, wooden supports reinforce the shelves either by screwing into the wall or, near the garage door, the ceiling. Solid plywood shelves might obscure the shelf contents but do offer more flexibility to what you can store on them. While you could store nearly anything on these shelves, this look works best with the identical bins shown here. Black bins seem to disappear into the ceiling, but you could use any color to achieve a cohesive look.
5. Unique Overhead Storage Rack with Canning Jars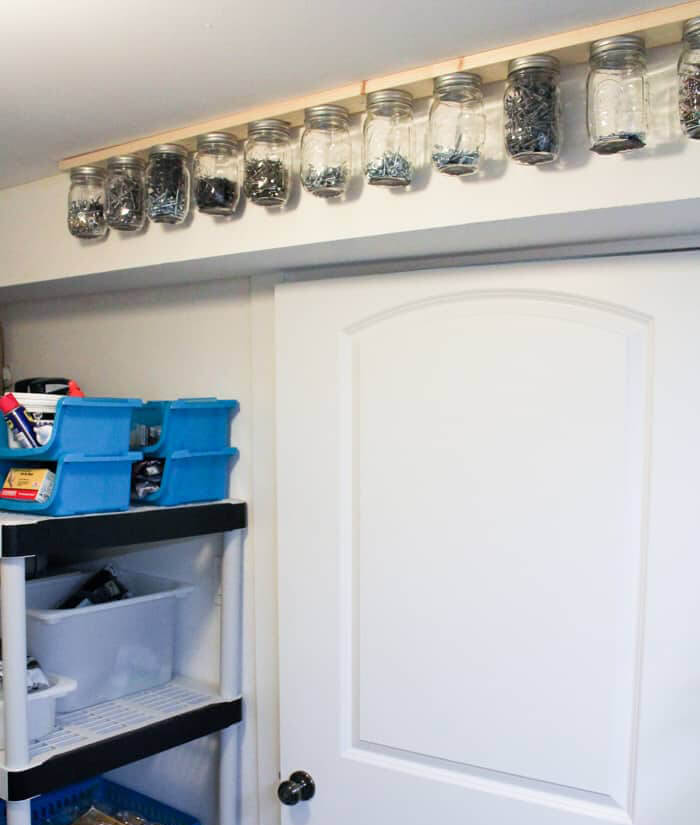 Storing each type of screw, nail, bolt, nut, and washer in its own container on a more traditional shelf takes up a great deal of space. By mounting canning jar lids on a wooden board, you can enjoy easier access as well as more space on your shelves. You will also be able to check your fastener inventory levels at a glance. Of course, this technique is not restricted to nuts and bolts. Be sure to apply labels to the bottoms of the jars so that you will be able to determine which jar is which while standing directly below them. From a design standpoint, the combination of cool glass and warm wood tones is a pleasing textural contrast.
6. Brackets and Mesh Overhead Garage Storage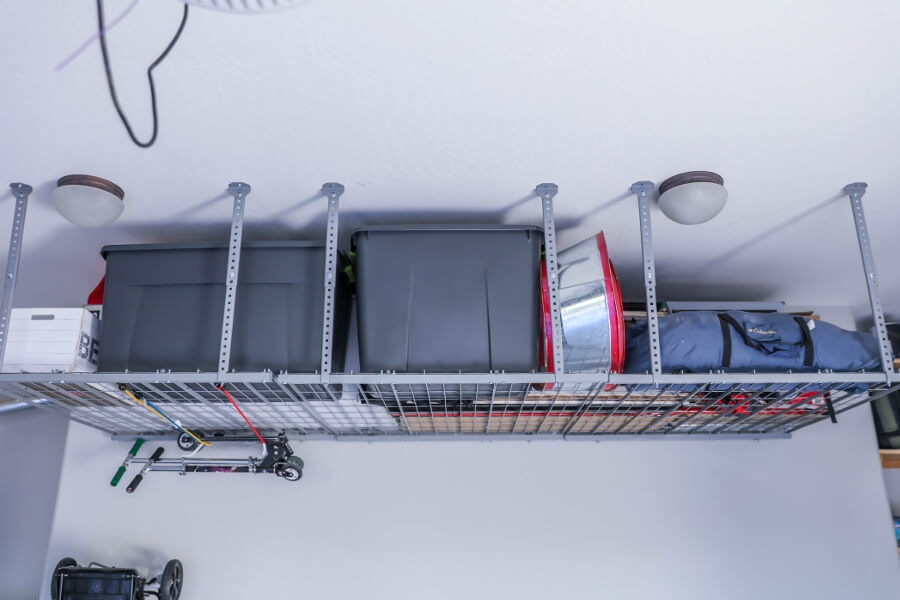 Not all overhead storage options offer visibility from below. With a wire grid design, the clear line of sight up to the ceiling keeps your garage free from feeling claustrophobic. This design also means you can see exactly what you are storing from anywhere in your space. However, this strategy may double the amount of necessary labels. The mesh underside also opens the possibility to use a bungee cord to secure awkwardly-shaped items as shown here. To install this overhead garage storage solution in your home, all you need to do is locate the joists, install brackets, and decide what to store. With its potential for customization, this strategy is perfect for non-uniform spaces.
7. Creating Storage Above Your Garage Door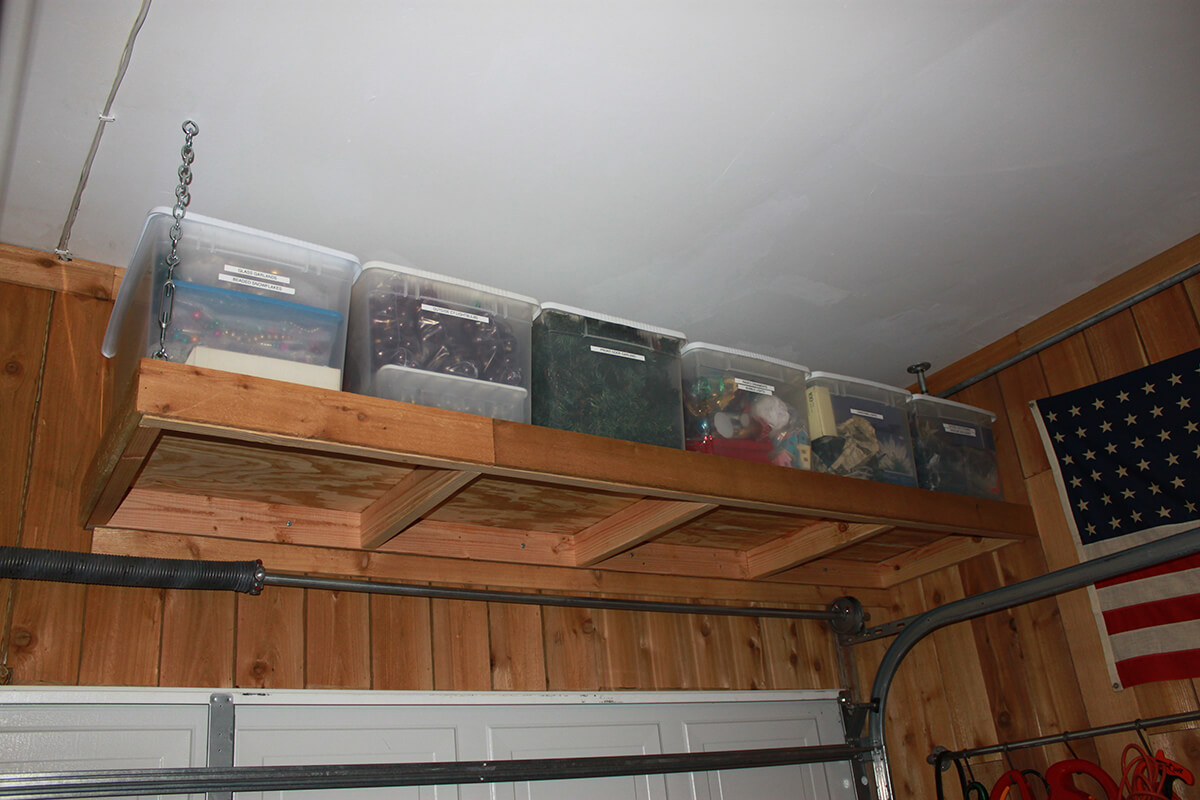 If you have enough clearance between the ceiling and your garage door tracks, this storage solution makes excellent use of unoccupied space. Because moving a vehicle to access this shelf can be a hassle, it is best when used to store infrequently-used items like seasonal decor. To solve the problem of providing adequate support, this tutorial explains how to install chain supports via eye hooks and ceiling joists. A plywood platform offers plenty of space for storage without being an eyesore. The clear totes shown here not only allow light to pass through but also mean you can see what is inside the totes without needing to be close enough to read the labels.
8. Installing Shelves above a Pegboard Workbench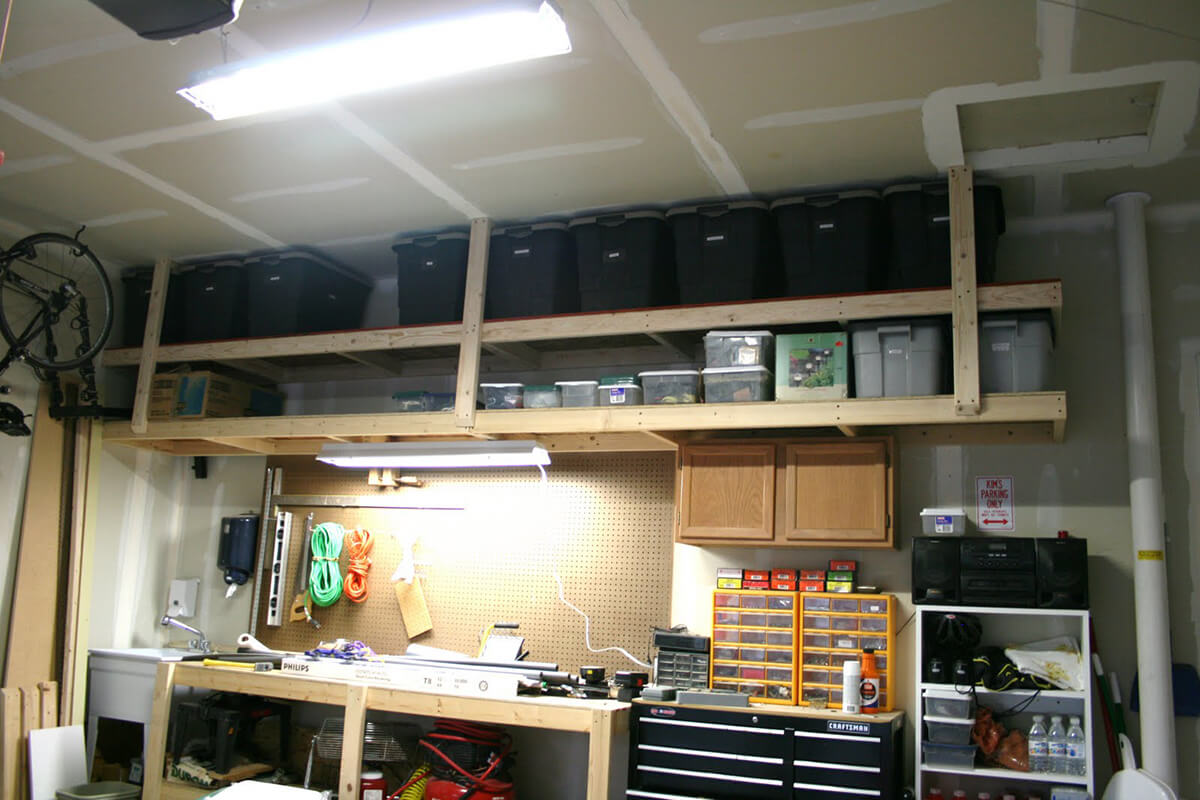 Because it is impractical to store tools on a pegboard up too high, the space between the workspace and the ceiling is an ideal place to insert a little extra storage. This example features a bi-level approach which gives you the freedom to store infrequently-accessed totes above and smaller containers below. To keep the area functional as a workbench, a light is installed under the lowest overhead shelf platform. Note how that light provides a focal point while the black bins above keep the space looking tidily cohesive. Meanwhile, the clear plastic containers offer visibility to their contents. The unfinished wood shelving looks great for garage chic, but painting it would provide a more polished ambiance.
9. Attic Lift for Heavy-Duty Storage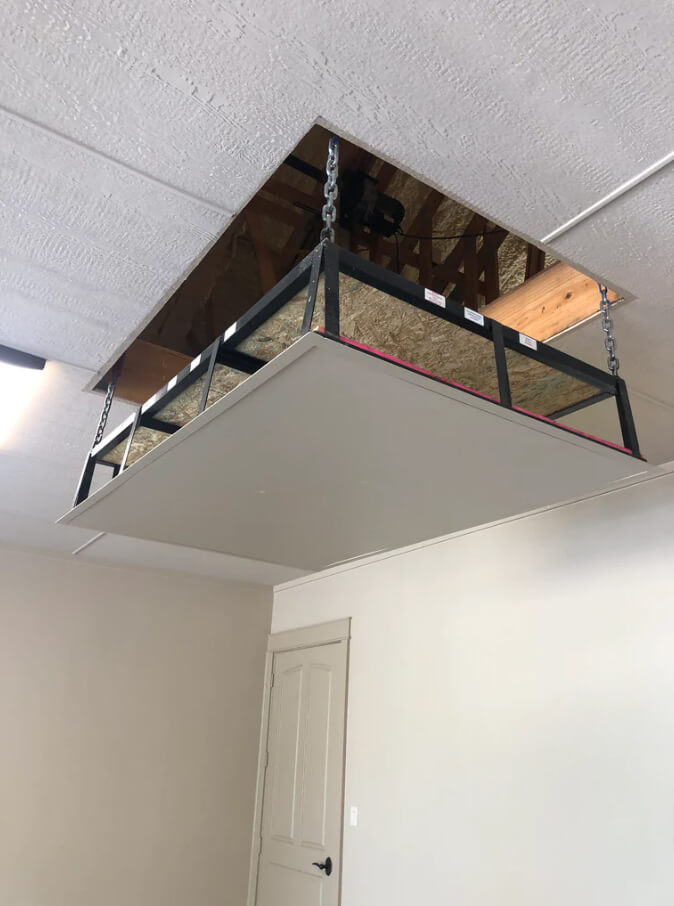 Hauling bins up a ladder into an attic space can be exhausting. Getting them down again is even worse. If this is a chore you face, an attic lift minimizes the amount of work necessary to redecorate seasonally. It also drastically reduces the risk of injury. Because this attic lift is motorized, all you need to do is load your storage containers or decorations onto the platform and press a button. The lift shown in this image features a 700-pound capacity, but other weight capacities are available to fit your needs. Although an attic lift means you will need to cut an opening in your ceiling, the lift's bottom panel will blend right into your ceiling.
10. Steel Ceiling Storage Rack with Adjustable Height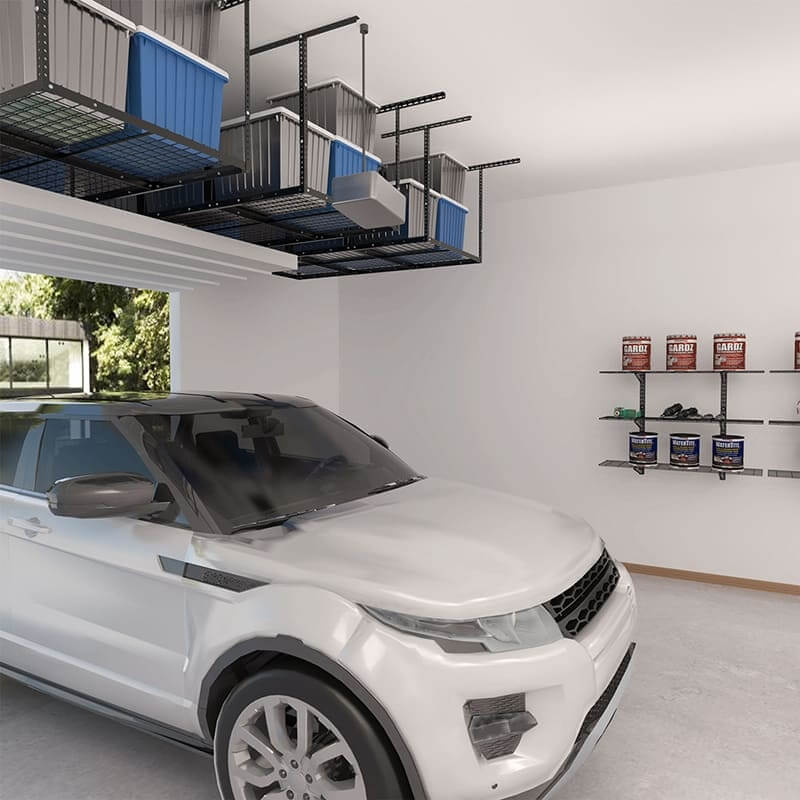 Every detail of this ceiling-mounted rack is designed to make your storage as stress-free as possible. Available in unobtrusive white or chic black, this kit puts the power in your hands and is compatible with most garage spaces. To fit in any garage, the rack height can be adjusted anywhere from 22 to 40 inches. Cold-rolled steel construction and a grid welded directly onto the frame ensures peace of mind for even your heaviest items. Although multiple people are needed to install this ceiling rack, the straightforward design keeps this part of the process as painless as possible. Depending on your garage size and layout, you can maximize your storage by hanging multiple kits.
11. Overhead Garage Storage Racks with Accessory Hooks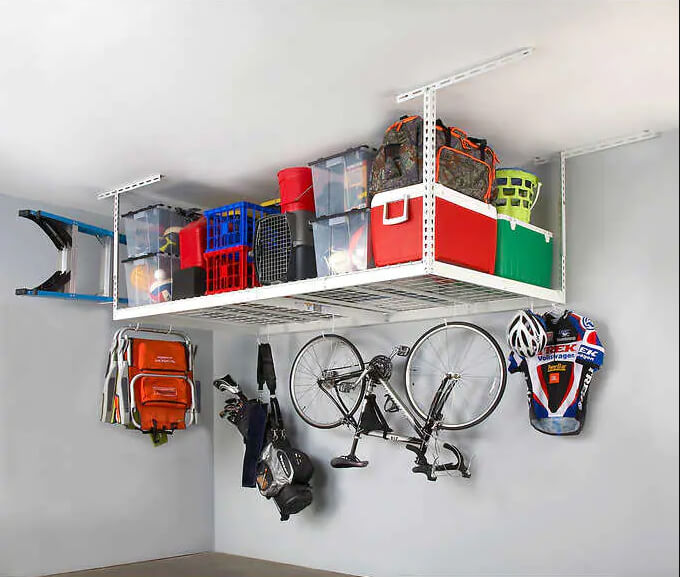 With 120 cubic feet of space, this overhead storage rack is a great way to augment your garage's storage capacity. Each rack can hold 600 pounds, and each kit comes with two racks. Of course, overhead storage is only one piece of the puzzle. Because this system comes with 18 accessory hooks, you can store items below the rack as well. This additional functionality doubles the possible storage space in your garage. While a white powder coating will fit most aesthetics, these racks are also available in a cool "hammertone" finish that infuses a black background and sparkling silver for storage racks that develop your space's dimension. Both finishes interact with light in all the best ways.
12. Overhead Storage System on the Garage Ceiling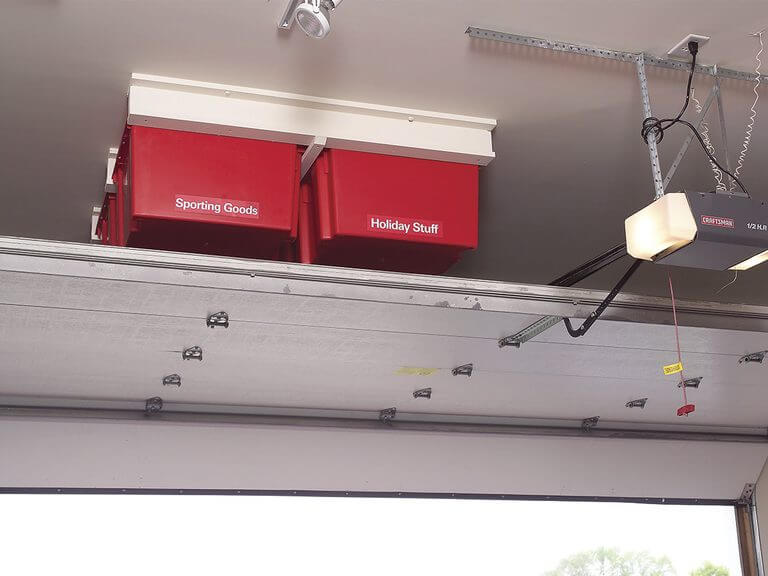 Although it requires specialized totes, this storage strategy achieves a clean storage solution that does not require shelves. To blend into the ceiling, the wooden supports are painted white which helps them cultivate an uncluttered appearance. Because this configuration relies only on ceiling joists, it offers a great deal of flexibility. You can install your storage system with as many or as few bays for bins as you need. The key to making this solution as practical as possible is to use large labels. Because the text size is large, the font is legible, and there is contrast with the background, you can effortlessly see the contents of each tote without having to be right next to them.
13. Pulley Hoist to Store Bulky Items Overhead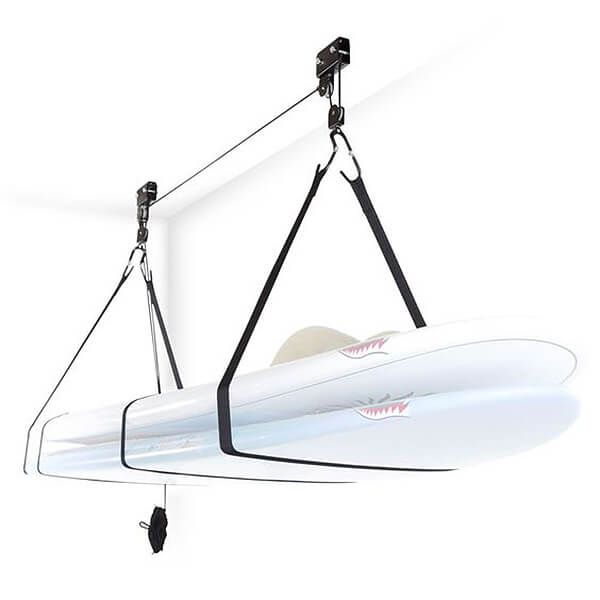 Sometimes, items are too bulky for a more traditional shelf-style storage option to make sense. Where a metal shelf might even scratch or damage certain items, this pulley's straps are soft enough to cushion paddleboards, kayaks, and canoes. Best suited for long items, a pulley might be the right storage solution if you have an abundance of bicycles, ladders, paddleboards, or lightweight boats. It comes with 6-foot straps and is compatible with any item that is 100 pounds or less. A pulley's easy-to-operate design makes it an excellent choice if you use the item being stored frequently. When not in use, the black straps are inconspicuous and will not disrupt your garage's aesthetic.
13 Ingenious DIY Overhead Garage Storage Ideas to Harness Every Inch of Space
Imagine everything packed into your garage stored tidily in rows instead of taking up precious floor space. Successful DIY overhead garage storage is secure, accessible, and looks fantastic. To keep your storage as safe as possible, be sure to select systems compatible with your garage's ceiling joist or wall stud locations. Choosing an overhead storage location where it is safe to use a ladder is also important. How often you need the stored items determines how accessible they need to be. Decorations used once per year can be less accessible than outerwear that is needed all season long.
Although garages are often considered separate from living spaces, they are a continuation of your home. With these DIY overhead garage storage ideas, you can continue your home's aesthetic inside your garage by keeping cumbersome storage totes above eye level. To maximize your storage while minimizing its visual impact, leverage the psychology of color. Black storage may melt into the background while white storage systems keep a space looking bright and open. Pursue additional colors to achieve specific looks that harmonize with your home's aesthetic. Whichever color you choose, using totes that are all the same hue achieves an ambiance of calming order.