The best DIY rustic wedding centerpieces capture the heart of the theme while giving you a personal aesthetic that everyone will appreciate. When you think about rustic décor, a cozy, comforting vibe comes to mind. There is something that is so warm and inviting about it that it is no surprise many use the style when it comes to decorating for a wedding. It is a good way to bring a piece of home to the celebration, more so if you opt for handmade decorative rustic items. This is easiest done with a centerpiece.
Unique Rustic Wedding Centerpiece that your Guests are Sure to Love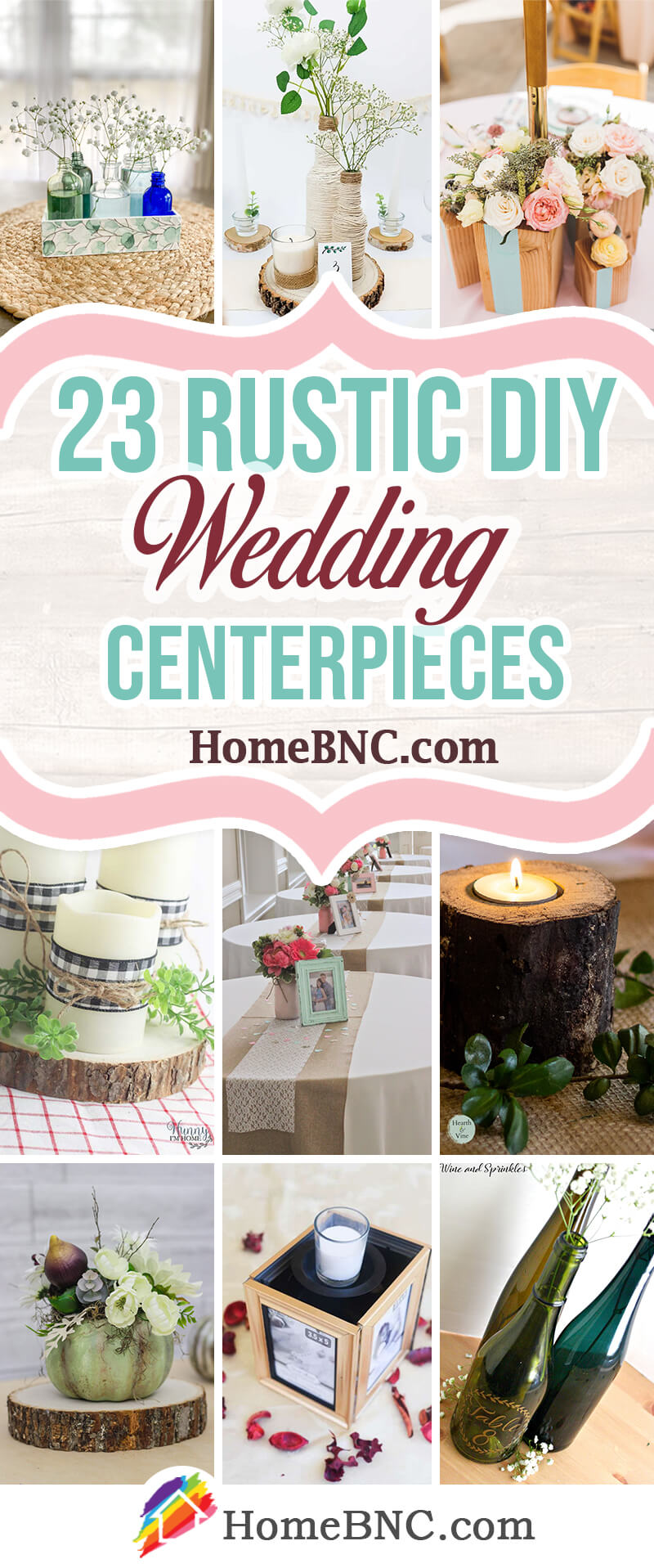 Centerpieces capture the eye, holding it throughout the reception whether you use it on every table or the couple's table. A homemade centerpiece for weddings can further emphasize the personal touch that rustic décor brings. What is so fun about this approach is that there is incredible versatility. If you want to capture that country-style look, you can go the traditional route of mason jars, burlap, and neutral coloring. At the same time, you can elevate things so that the centerpiece works in a wedding environment. This can be done by adding some greenery and flowers, a perfect route when it comes to centerpieces.
Design choices such as those work well at maintaining the heart of the rustic aesthetic while adding pops of color to make it a touch chicer and wedding-ready. You can always take another approach and opt for lighting. Candles and lanterns are ideal in this case. They won't overpower the rustic theme, instead complementing it and elevating it further. So, are you ready to get hands-on and explore some DIY projects? We'll give you our favorite handmade rustic wedding centerpiece ideas so that you can add a beautiful decorative piece to your tables.
1. Upcycled DIY Rustic Centerpiece Designs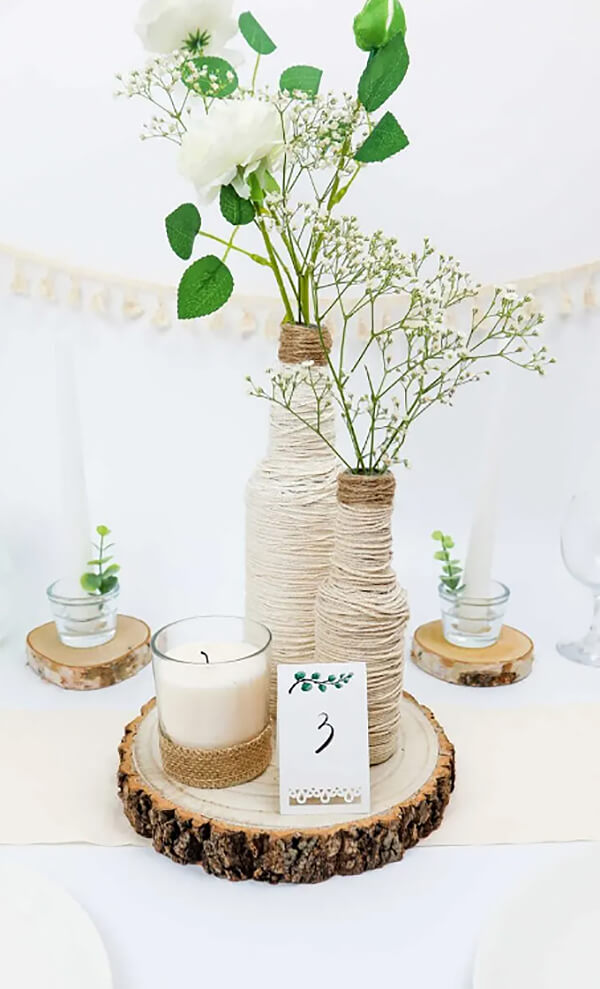 You can create stunning centerpieces with items you may already have at home. There are many aspects you can use to transform simple bottles into rustic masterpieces. From the beige tones, you can always add some greenery. The wood plaque cutout serves as a gorgeous, fitting platform for your creations.
2. DIY Painted Wooden Block Centerpiece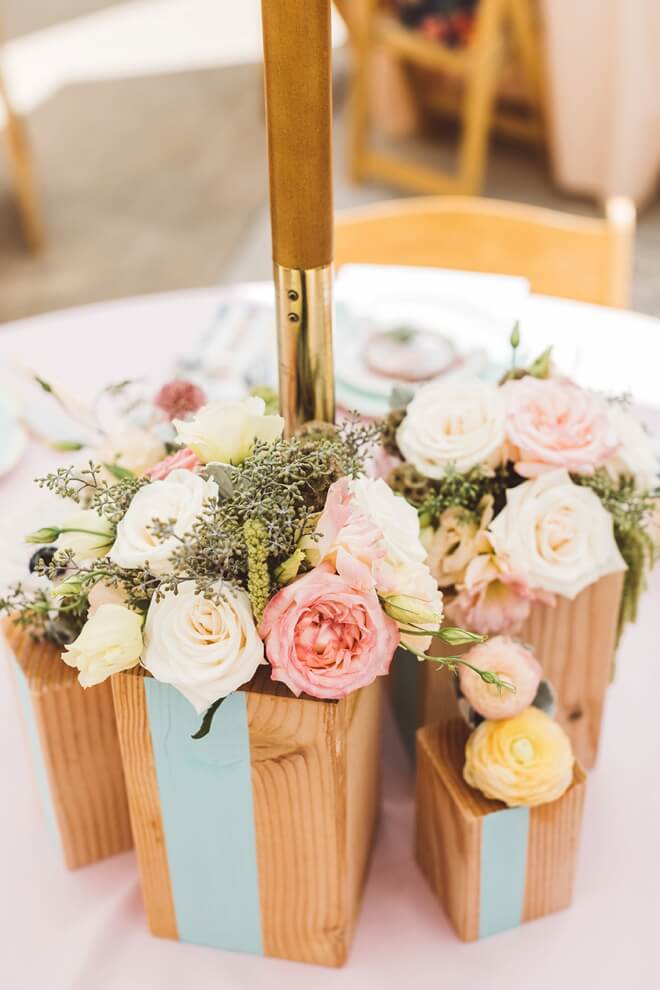 If you want a handmade rustic wedding centerpiece that blends chic with country style, then try out these painted wooden blocks. The block itself adheres to the theme, while the simple painted addition complements it while adding a hint of sophistication needed in a wedding. From there, any floral pieces will work.
3. Simple and Crafty Rustic Centerpiece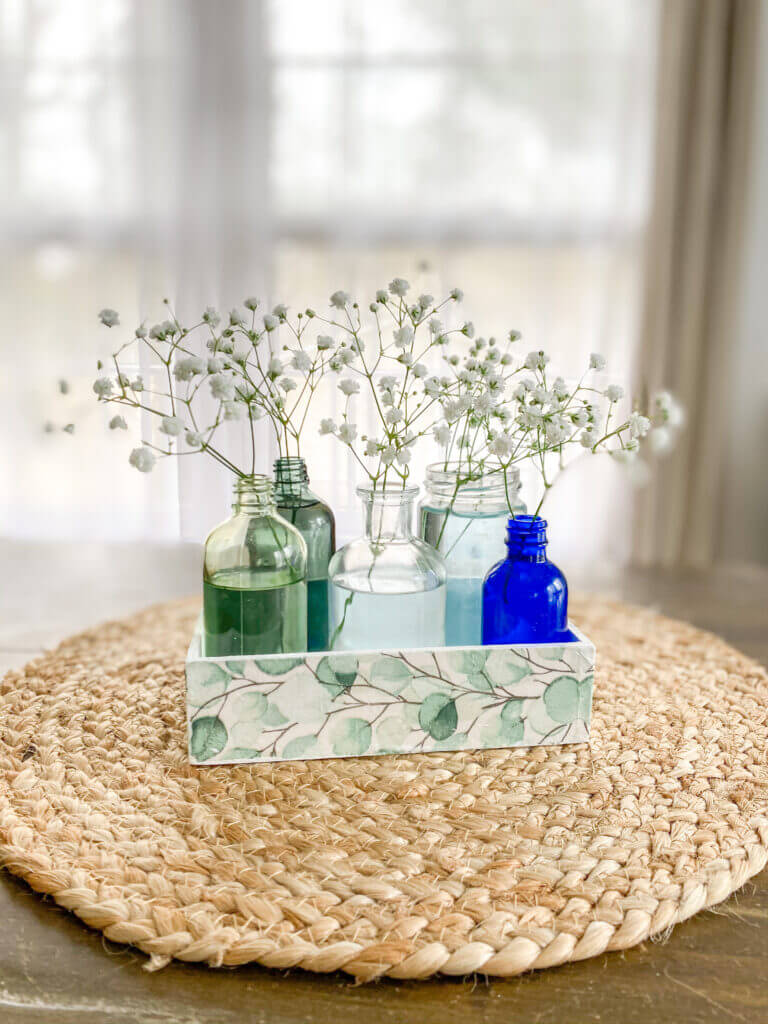 If you're on a budget, you can craft this centerpiece without worrying about breaking the bank. You can play around with the rural vibe by making it a bit more modern. The paint job does that well enough, while you can also utilize some bottles to create simple, yet chic, vases.
4. Simple DIY Farmhouse Candle Centerpiece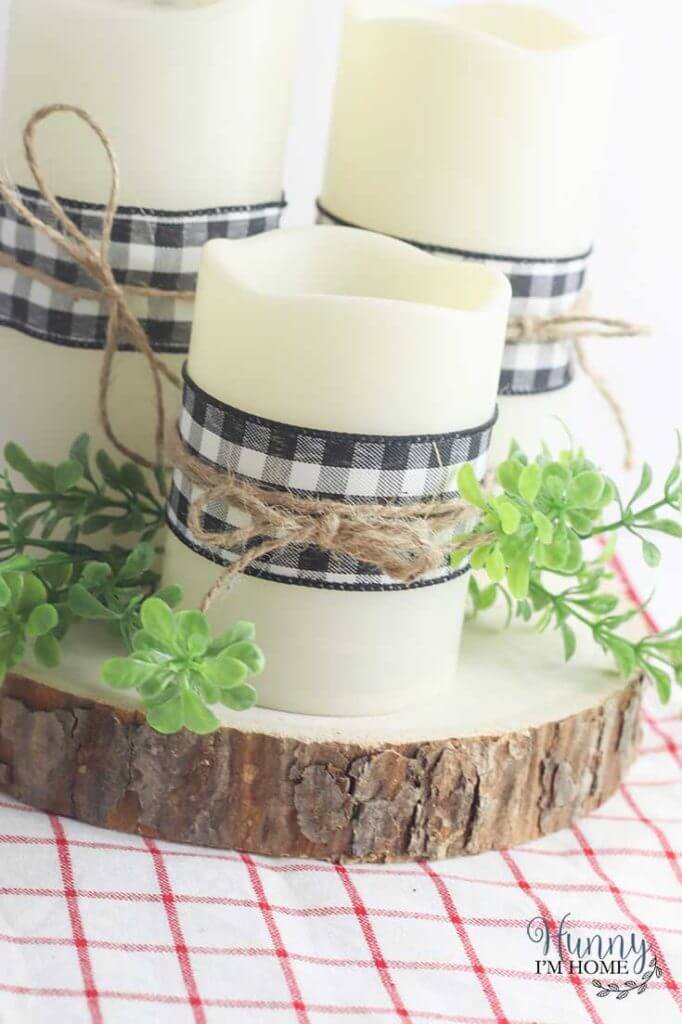 For the more low-key approach, all you need is some twine, ribbon, and a candle to craft your rural masterpiece. This is a good way to add some nice additions to your wedding décor without creating something that is too loud or over the top. The ribbon and twine effortlessly capture the theme at hand, while the candle gives it a hint of elegance.
5. Handmade Floral Pumpkin Centerpiece Arrangement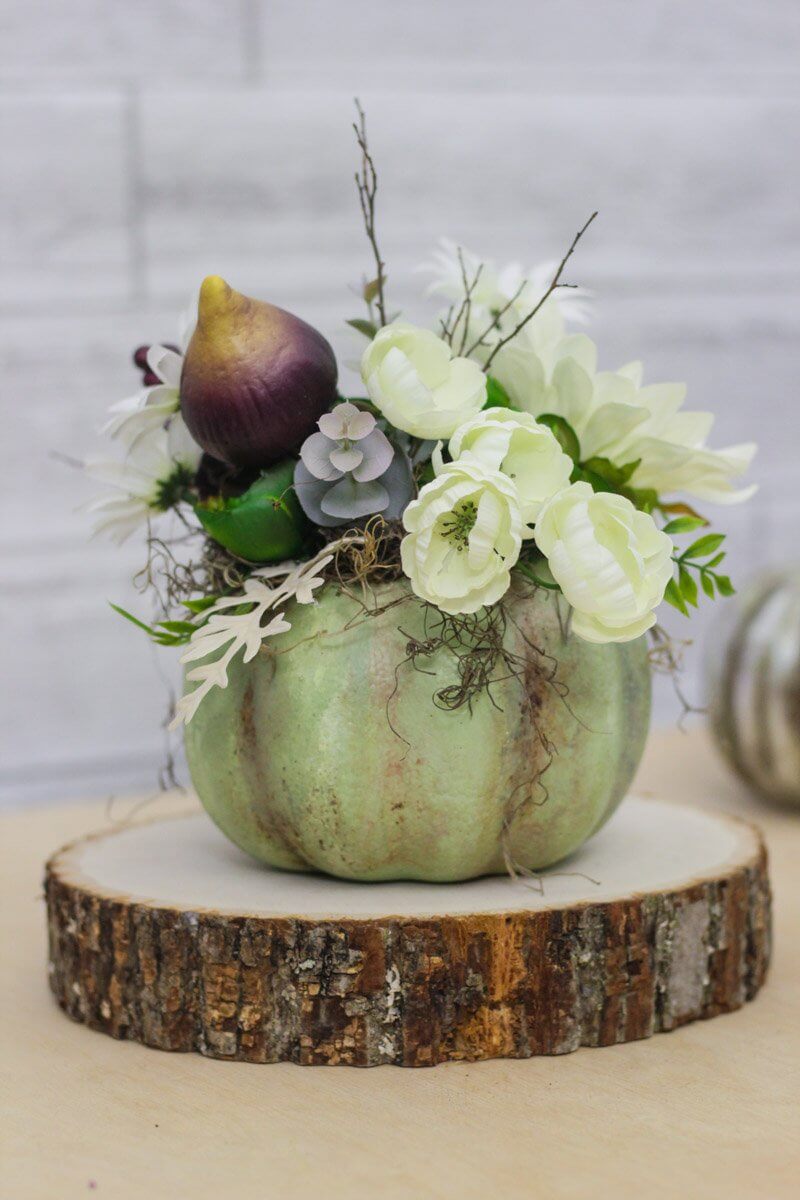 Pumpkins are fitting for an autumn and rustic setup, but you don't have to keep them in the traditional colors. You can aim for more neutral coloring options like dark greens if you want to play more into the outdoor vibe. It pairs well with the wood slice that supports it. Adding in some extra floral arrangements really sells the shabby chic style too.
6. Picture Frame Centerpiece Candle Holder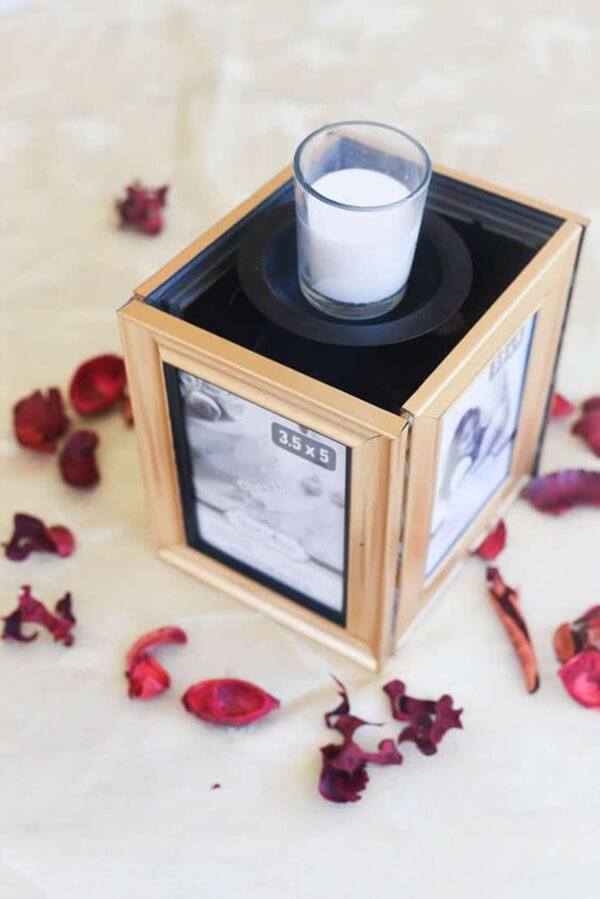 This handy DIY project is a more affordable solution to grabbing that rustic aesthetic with a modern flair. The picture frames work well as a base for a candle holder. At the same time, you can further elevate such a centerpiece by actually adding pictures to the frames, creating a beautiful homage to the happy couple that is perfect for the wedding. For more inspo click here!
7. Burlap Wrapped Mason Jar Centerpieces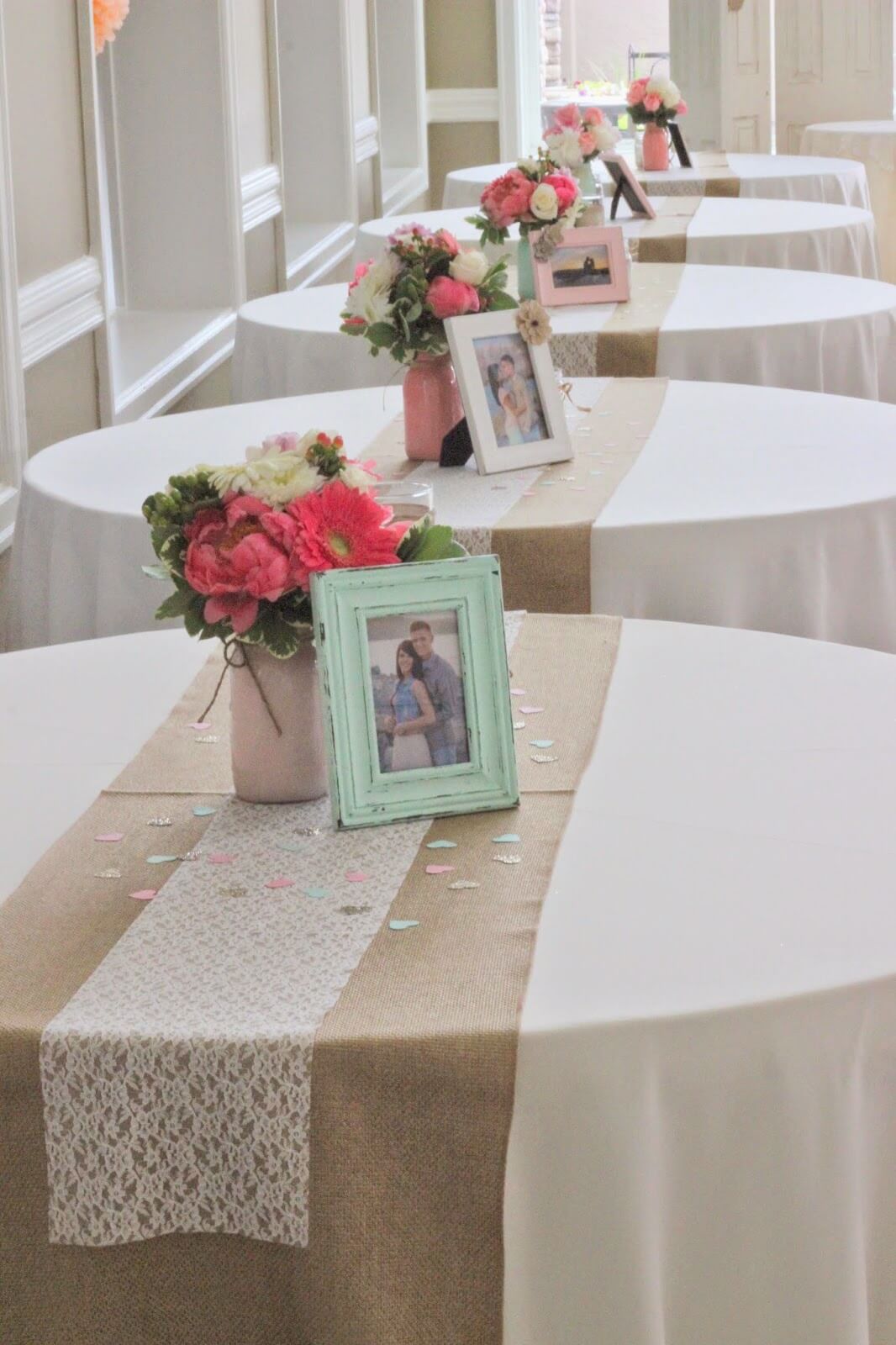 Combining mason jars and burlaps are really all you need if you want a farmhouse or rustic style décor. The jars are perfectly suited to housing floral arrangements of any kind, while the burlap gives it that nice texture and plays into the neutral tones this theme needs to work so well.
8. Wine Bottle Table Number Floral Centerpiece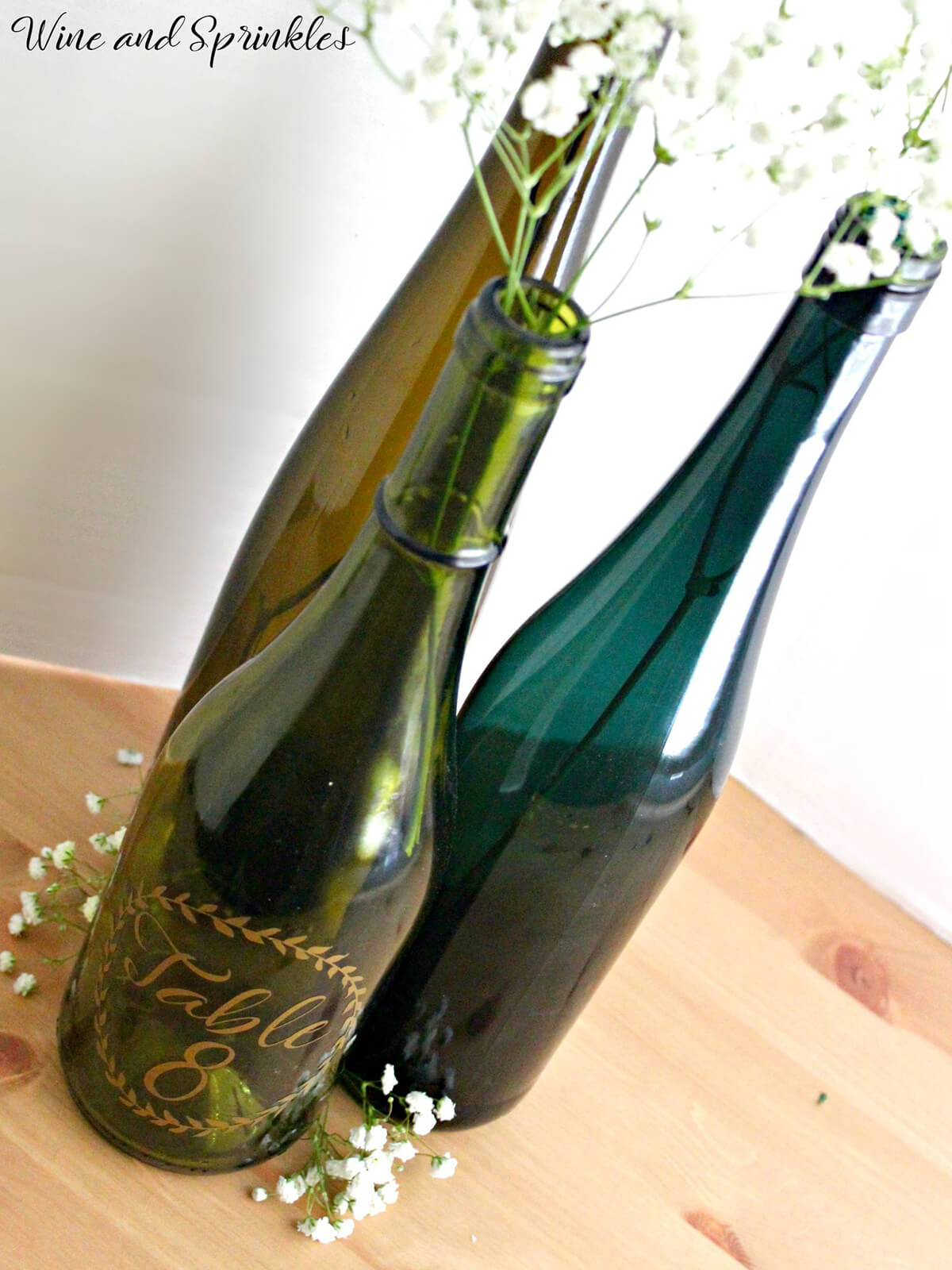 Keep things simple as possible with these awesome wine bottle table number centerpieces. You can direct your guests in style with these designs. It doesn't take much, so it is ideal for those of you who are perhaps not used to DIY projects. Regardless, you can always add some light floral pieces to give it more style.
9. DIY Rustic Floral Hoop Centerpiece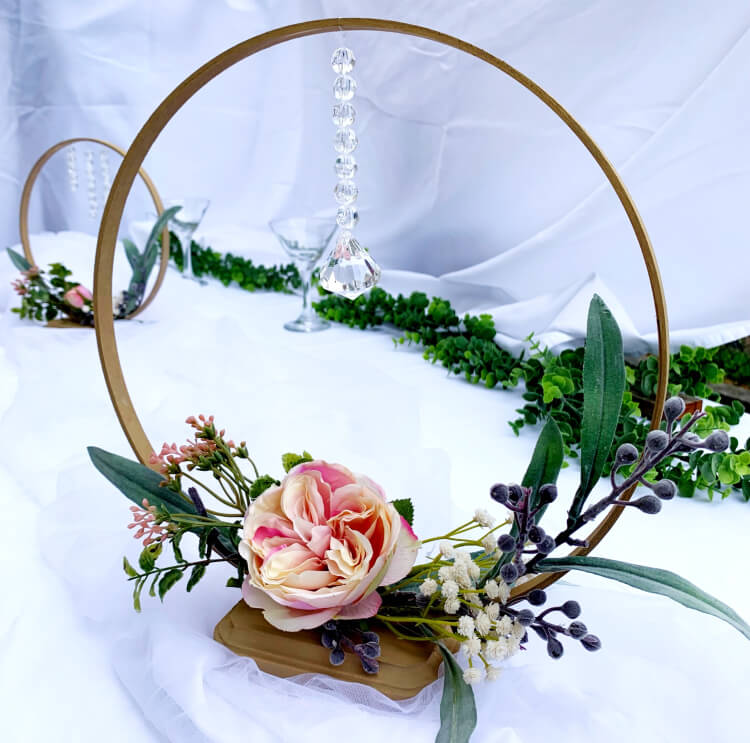 Using hoops is a cool way to craft a centerpiece that pays homage to the rural and chic styles a wedding with this theme requires. It offers neutral, warm coloring while also adding bits of life and brightness via the floral elements. There is a nice minimalistic vibe to this too that makes it so appealing.
10. Beautiful Log Candle Holder Centerpieces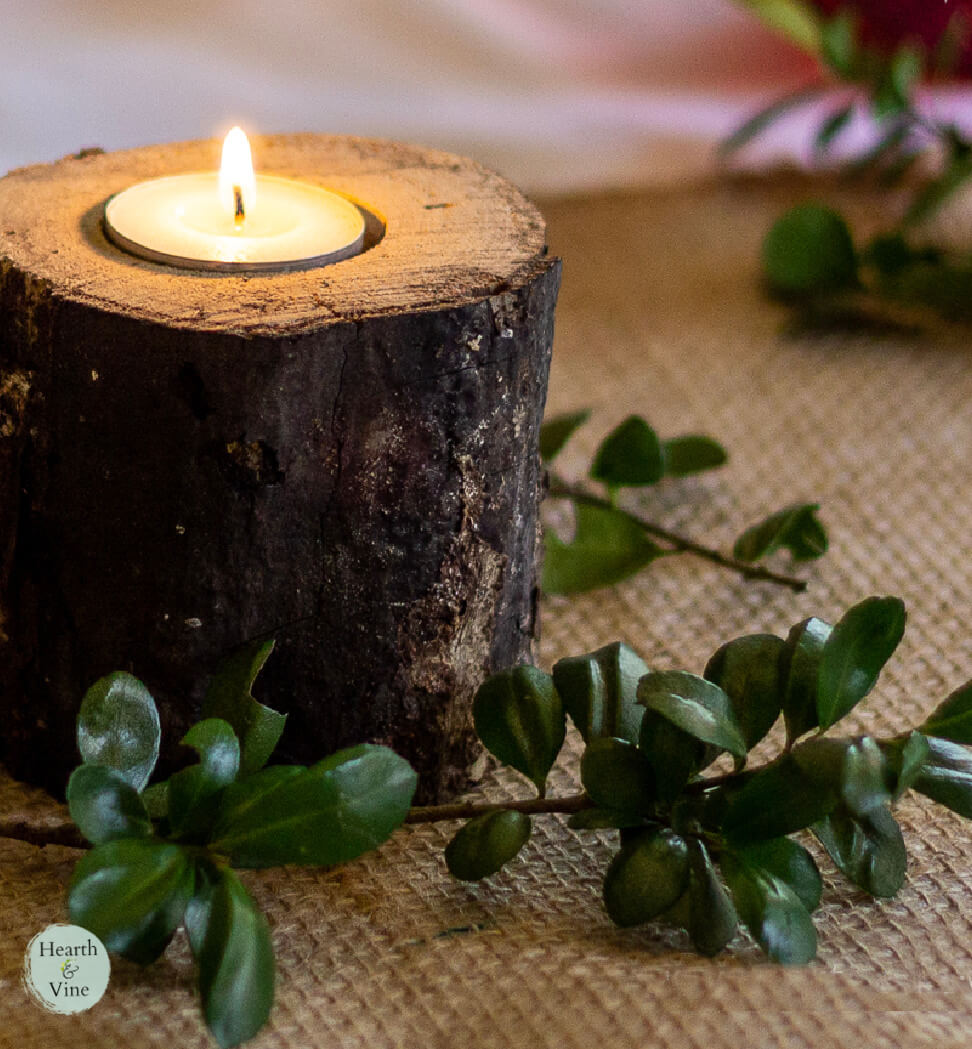 Nothing says "rustic" like wood and logs. But what if you still want those chic traces that come with a wedding? Well, you can have the best of both worlds with this easy log candle holder design. You can make several of these to add to every table, the compact design working well for you in this case.
11. DIY Wooden Lantern Centerpiece Idea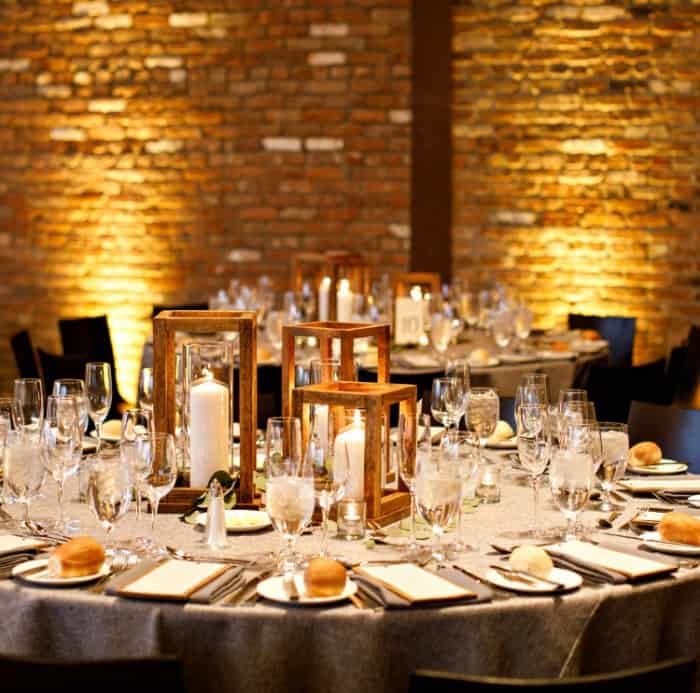 Lanterns are such fun when used as centerpieces. They are decorative and functional, and they work as wonderful DIY projects when aiming for a rustic vibe. There is simplicity found in this centerpiece too for those of you who don't want anything that will overpower all the rest of your décor.
12. Candle and Wood Slice Centerpiece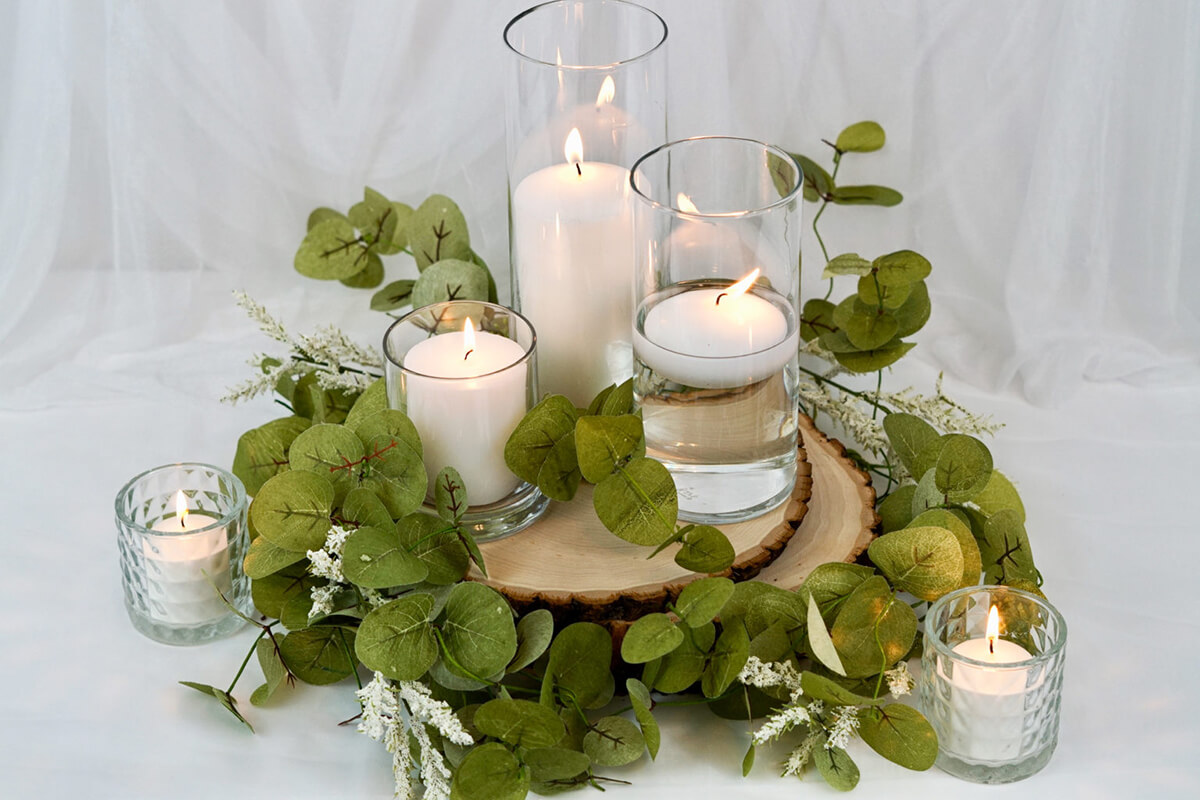 Wood slices can always come in handy when you want to craft a centerpiece at home for use in a wedding. They don't need much work, giving you the freedom to focus on what will sit atop them. Candles work out great here since they are simple and don't detract from the overall mood.
13. Wood Slice Candle Centerpiece Design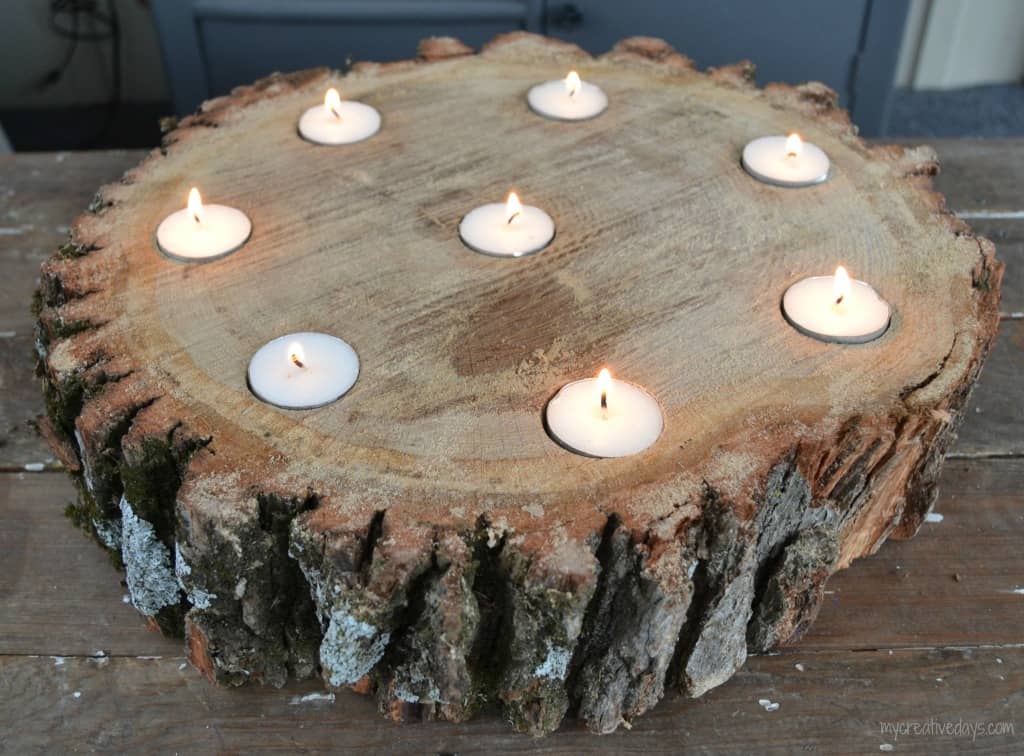 When you think about a great way to sell your rustic theme, wood slices are more than ideal. They offer your décor more of a country style, especially when it comes to outdoor ceremonies. This is an excellent low-key approach too since all that is needed to go with this are cutouts to hold the candles.
14. DIY Floral Succulent Grapewood Centerpiece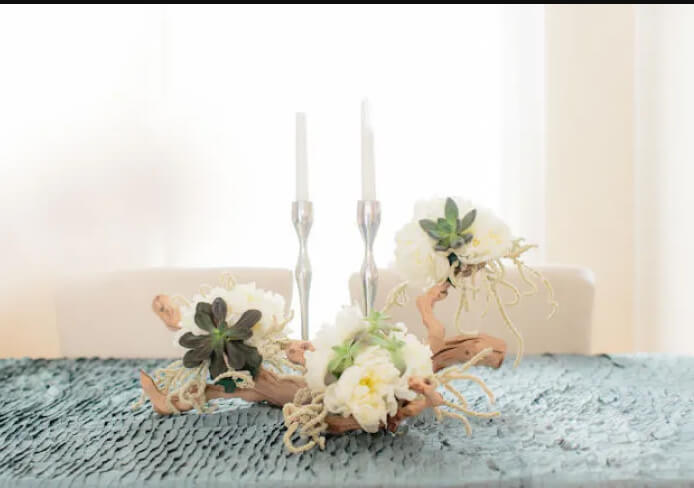 If you are in the market for a unique DIY project for your rustic-themed wedding, then consider this gorgeous grape wood centerpiece design. The wood provides it that rural sensation and an artistic appearance thanks to its shape, while you also take advantage of some excellent coloring via the succulents and other floral touches.
15. Homemade Autumn Theme Floral Centerpiece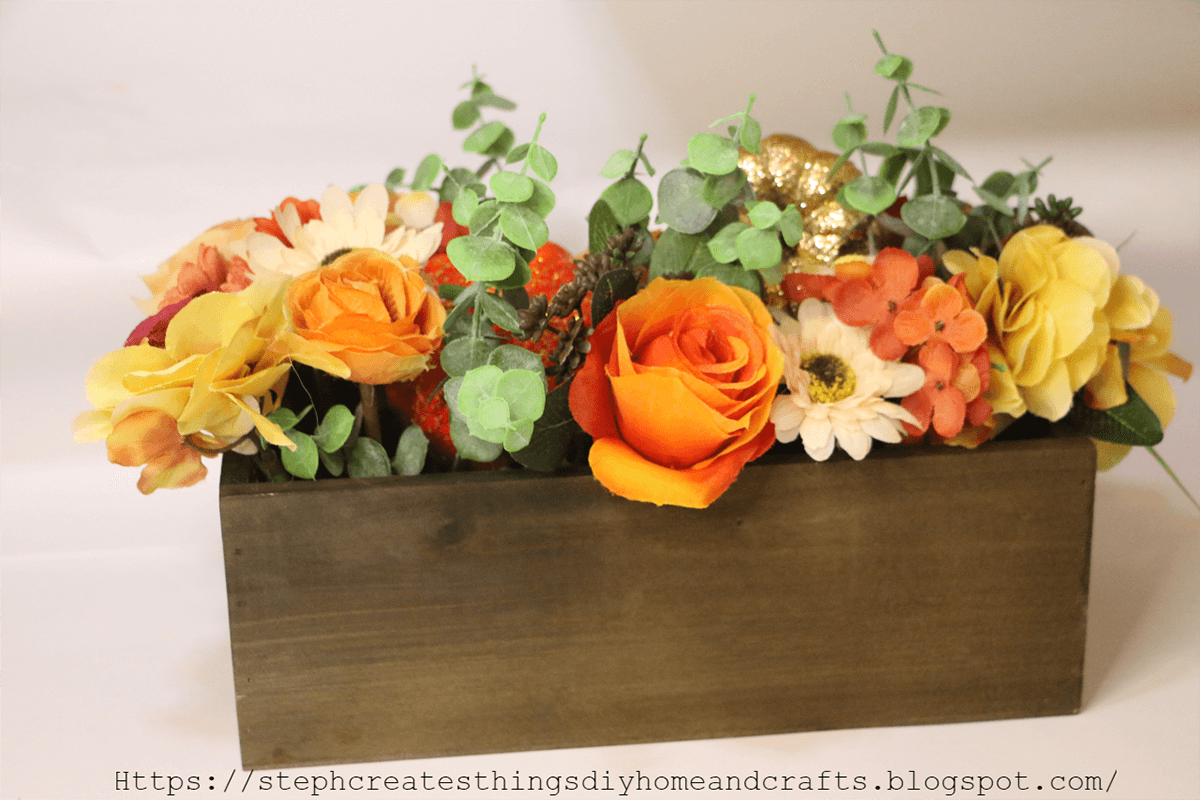 Those of you working with an autumn theme may find it easier than ever to apply that rural style. The coloring works with ease. Meanwhile, you can lean more into the aesthetic with a floral arrangement centerpiece box. Use traditional autumn coloring that blends with the rustic idea, keeping things neutral with hints of vibrancy.
16. Elegant Birch Log Centerpiece Design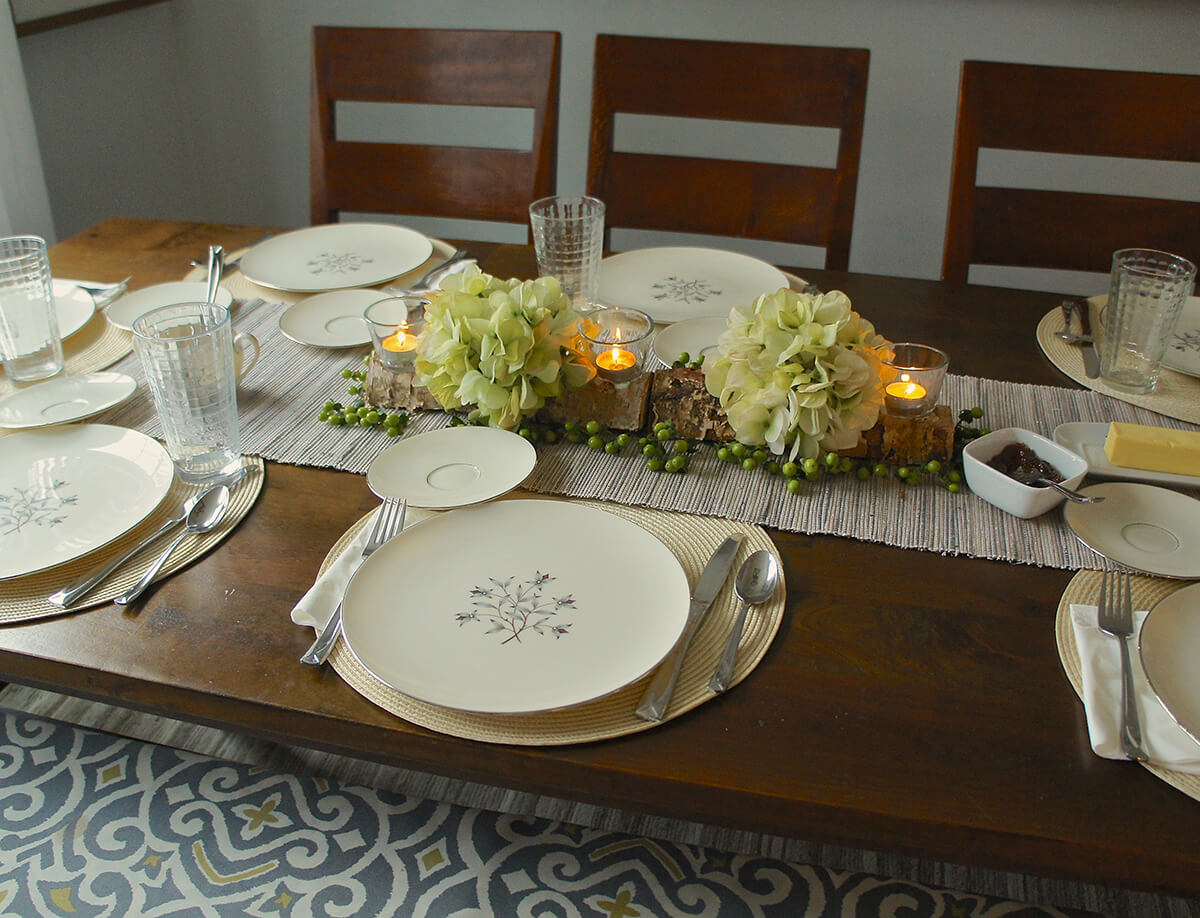 Elevate the traditional rustic centerpiece with a handmade gem. Using a birch log, you can craft such a lovely base for your floral arrangement that allows this centerpiece to easily blend with the theme in question. The candles are a wonderful addition to blend with the overall aesthetic while helping to create that classy vibe.
17. Rustic Mason Jar Wedding Centerpiece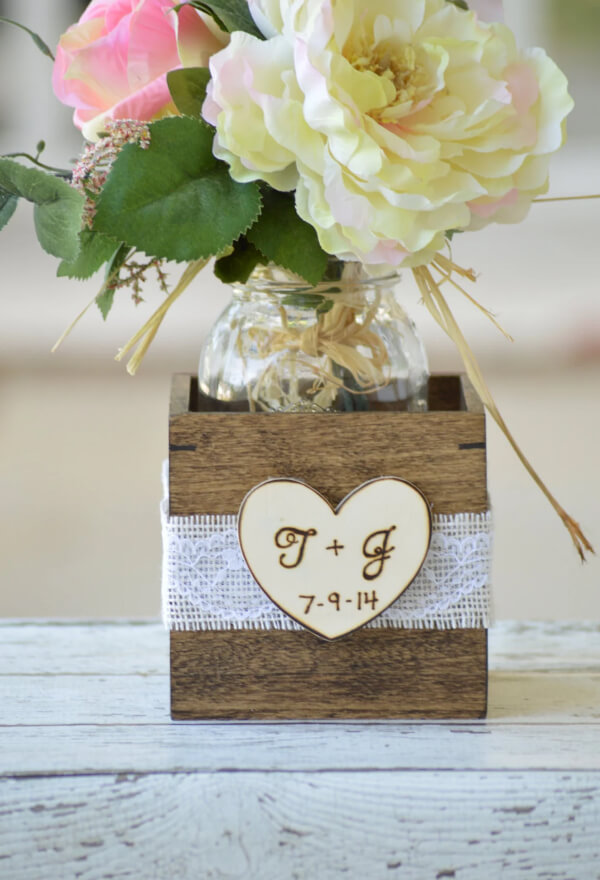 This handmade planter box is a lovely choice for your rustic wedding. Since it is only the box, you can add in any flowers you wish that best suits your color scheme. However, you do get to customize this via the lettering. Also, the lace around the box is a nice way to give it more color and contrast.
18. Homemade Floating Candles Centerpiece Design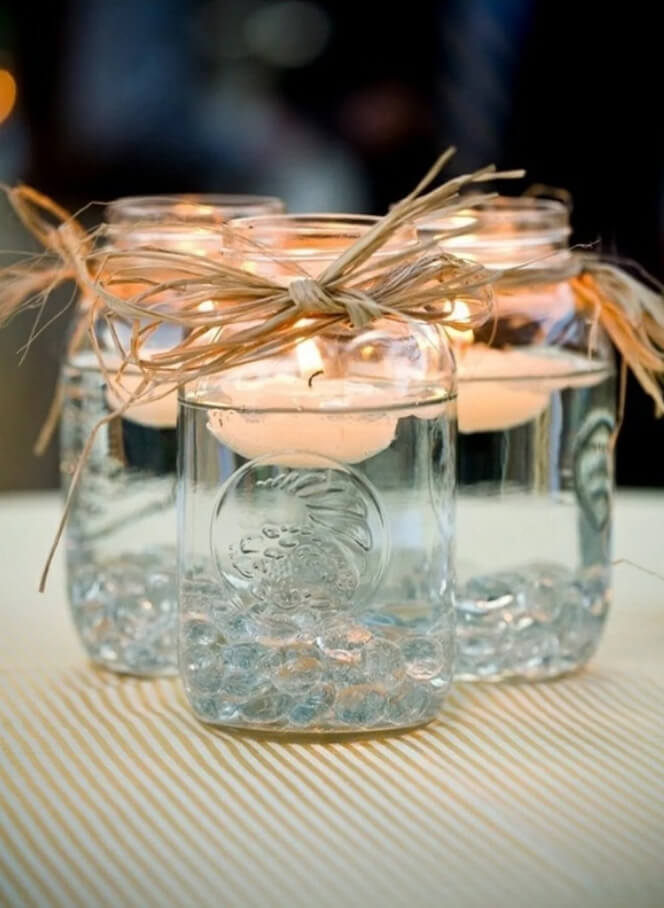 Keep things sophisticated with this stunning floating candle centerpiece. Although you will only get the floating candles, you have the freedom to set them up in anything that suits your wedding. Consider see-through jars as these can work out well to highlight the floating candles.
19. Handmade Dark Wooden Table Lantern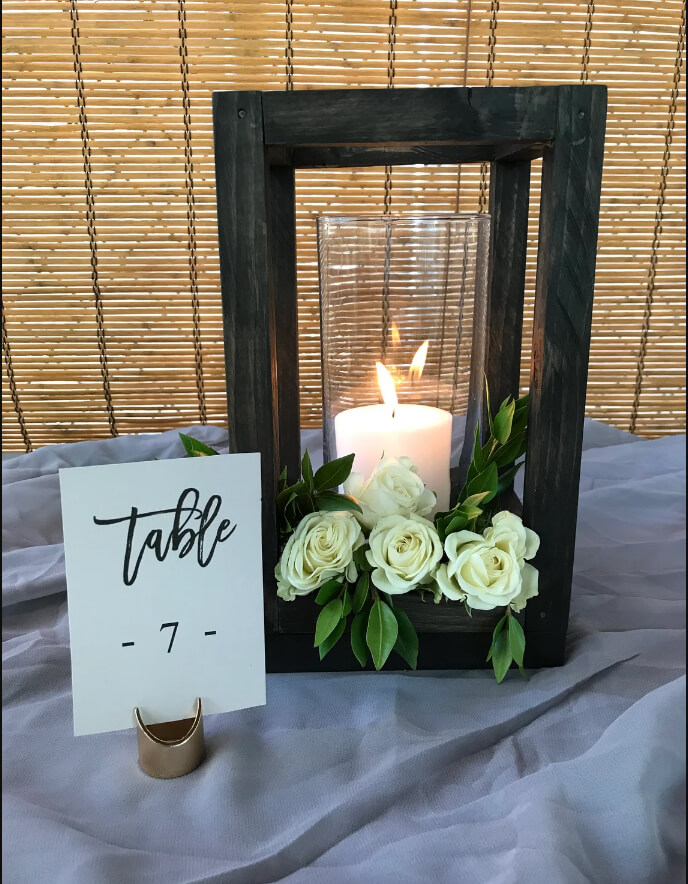 A table lantern is such a suitable centerpiece for your rustic wedding. It offers that earthy and countryside appearance that the style embraces. Plus, if you set this up with candles inside, it offers more warmth and lighting to your event that guests will appreciate.
20. Lovely Wooden Hexagon Terrarium Frame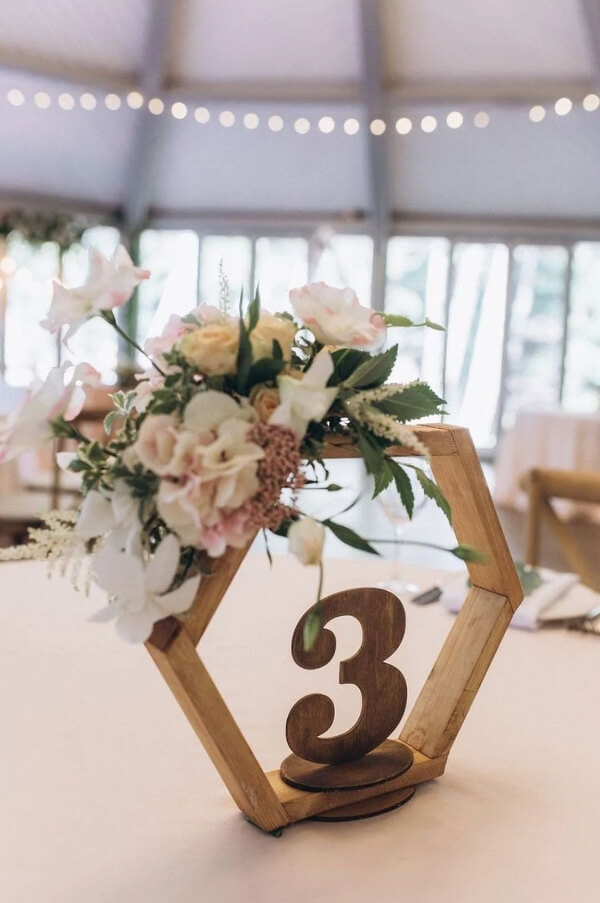 Put a unique spin on your farmhouse-styled décor with this pretty hexagon terrarium frame. It is available in multiple colors, which is a nice touch as it allows you to pair this with more specific décor. You can do plenty with the frame too such as add on some floral pieces to give it more pops of color throughout.
21. Birch Wood Succulent Planter Centerpiece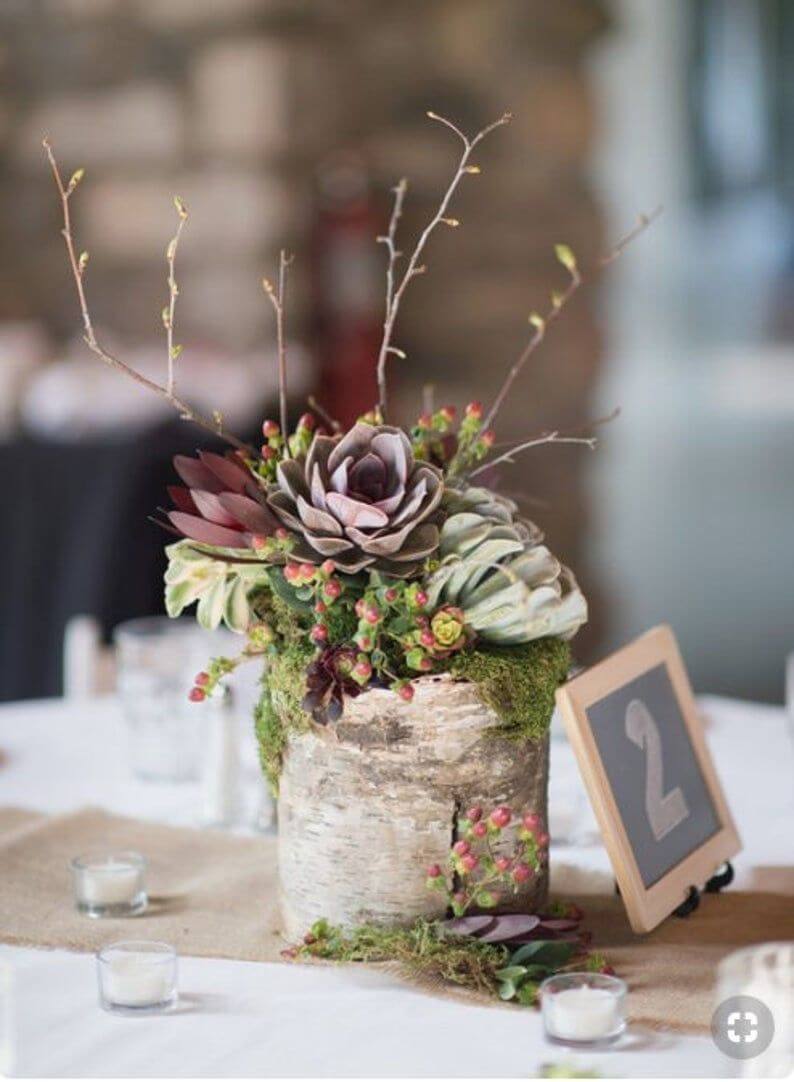 Get more in touch with nature with this attractive birch succulent planter. There is not much done to the wood, and rightfully so as it is allowed to shine in all of its natural glory. The use of a succulent provides it with traces of color otherwise not found with the wood itself.
22. Painted Mason Jar Rustic Centerpiece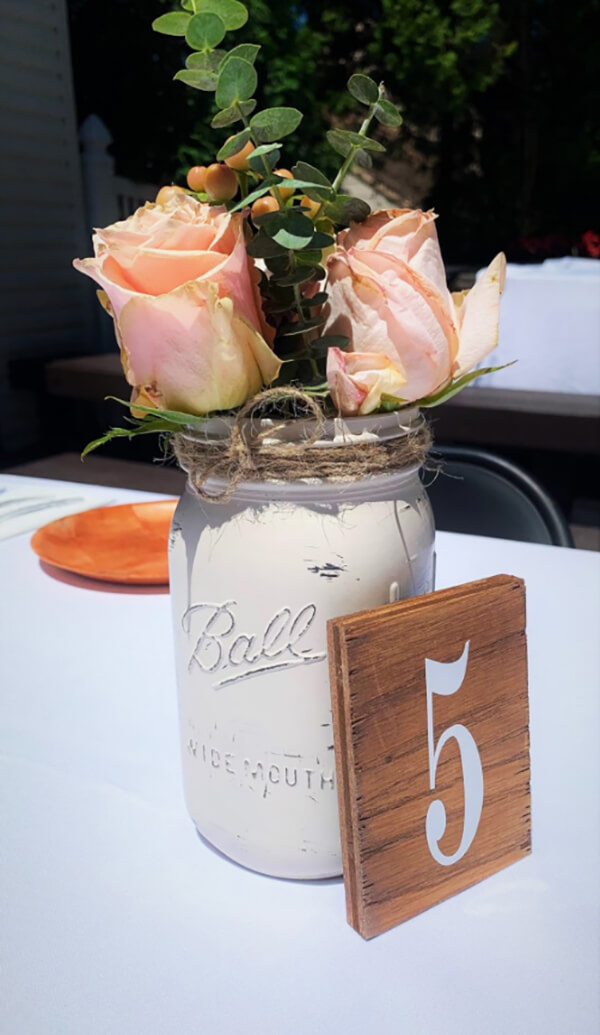 Chalk paint goes hand in hand when it comes to countryside décor. It gives it more texture and a roughness suitable for such a style. So, it pairs greatly with the mason jars in this handmade design. You can select from different colors, and you can toss in numerous items inside like floral arrangements.
23. Acrylic Wedding Table Number Centerpiece Design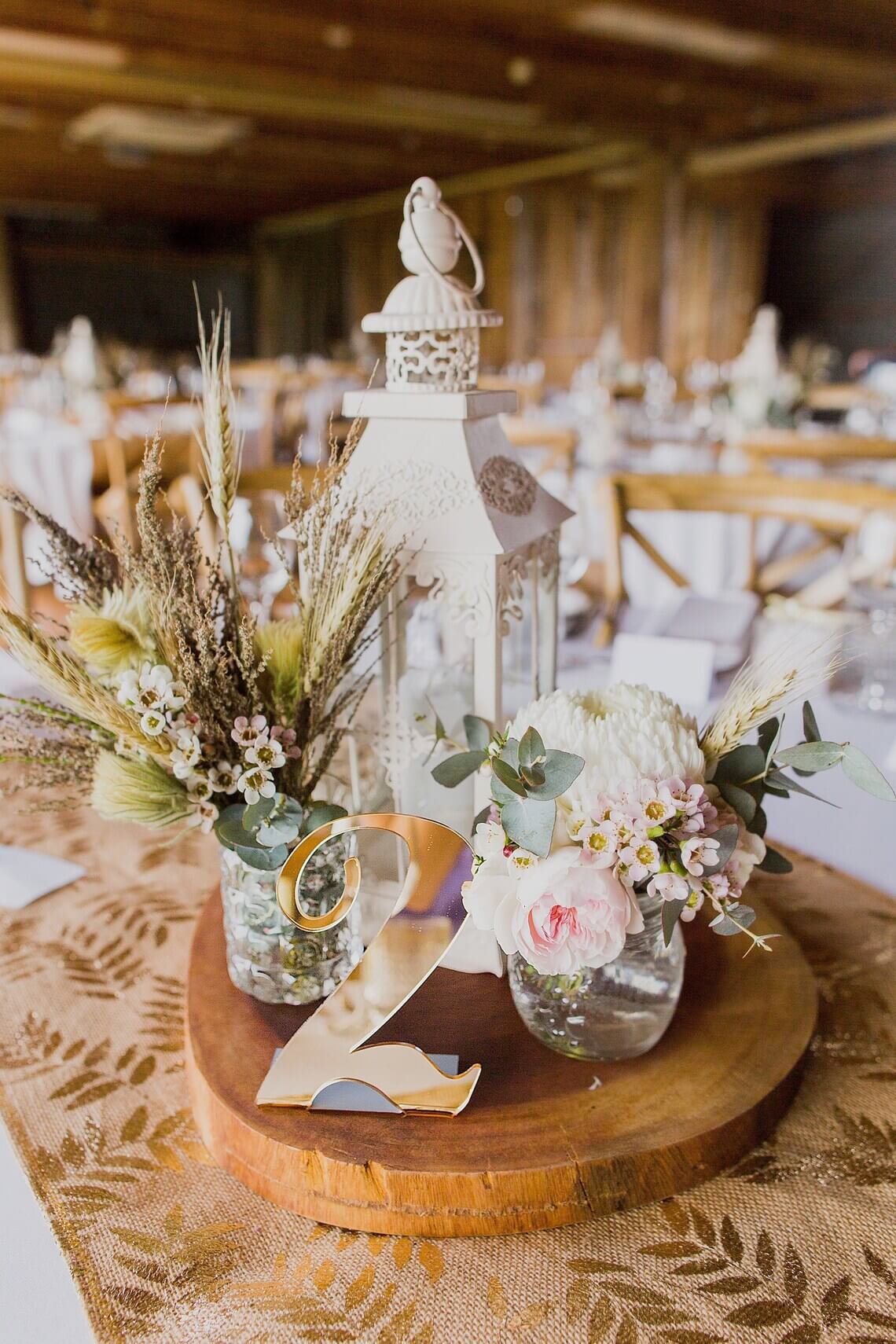 Do you need an extra embellishment to go along with your centerpiece? Then you can't go wrong with this fun, handmade table number. It comes in different colors and font choices, and it is suitable to provide your centerpiece with some flair.
Elegant and Budget-friendly DIY Rustic Wedding Centerpieces to Craft a Chic and Warm Ceremony
Nothing quite feels as relaxed, comforting, and warm as a rustic aesthetic. It is a great way to share that feeling with guests through your wedding décor, and a centerpiece handles the job well. Everyone's eye is drawn to it throughout the reception, so it is certainly an important feature that shouldn't be forgotten. Whether you opt for a DIY project or discover someone else's, a homemade centerpiece for weddings perfectly leans into that rustic theme.
You can light things up for your tables, creating lanterns or candle-based centerpieces that are a lovely blend of rural and sophisticated. Floral arrangements are always a pleasant go-to as well when it comes to homemade centerpieces. There are simply numerous ways you can approach it, giving you near-endless options to craft décor that is equal parts country-themed and chic. If you ever find yourself at a loss for how to approach this style for your wedding, you can always check back in with our list. With it, you will discover the best DIY rustic wedding centerpieces to suit your style.