When you need distinct decor, the best DIY wedding pallet ideas will help you create a breathtaking atmosphere. Perhaps a lot of us get more excited about decorating for the wedding than anything else, and why not? It's a chance for you to showcase not just the love but your personal style, leaving a lasting impact on yourself and your guests. A cool way to do that is to have interesting decor. Pallets come in handy here. What makes pallets such fun tools to decorate with is that you can come up with a few different things.
17 Adorable DIY Wedding Pallet Idea Creations for Rustic Decor

You can use pallets to design unique signs for the wedding. Pallets are also interesting to use to create an artistic arch to wed under. Perhaps you want to use the wood for a stand to hold other decorative items? You have plenty of freedom here, more so if you are using pallet decorations for outdoor weddings as they just blend so effortlessly with them.
Are you lacking a particular homemade pallet wedding decor idea? That's where our list comes in. We've compiled a list of our favorite wedding pallet decorations so that you can have as many options as possible. Any of these projects can help you design a stunning and attention-grabbing wedding style that no one would soon forget.
1. Charming Vintage Wooden Wedding Sign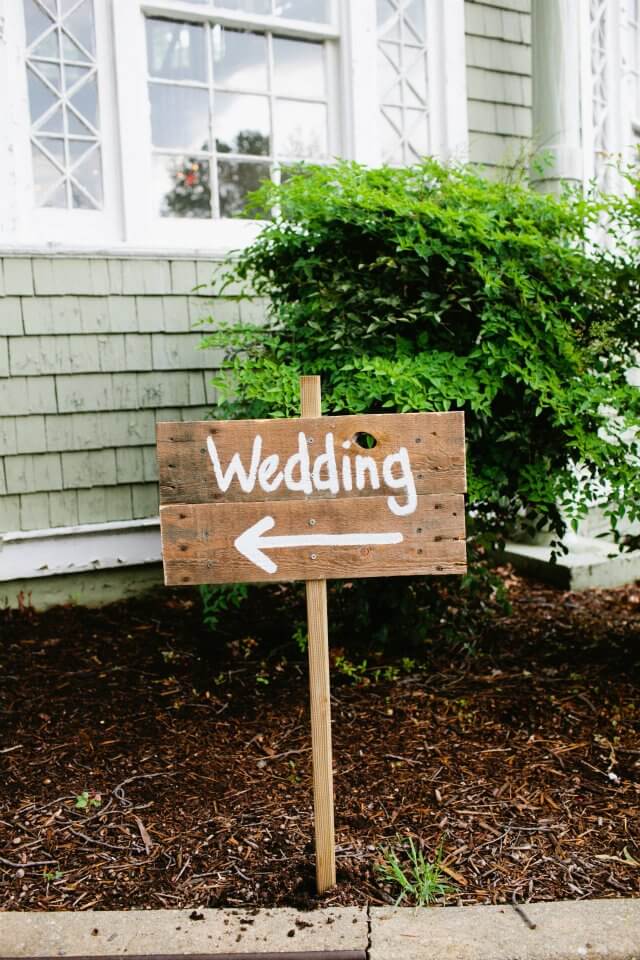 Sometimes keeping things low-key is the best approach. This sign is as simple as they come, perfect for those of you who don't want anything complicated or outlandish. It gets the job done, leaving you with a sweet little sign directing guests where to go.
2. Chic Pallet Wood Bar Design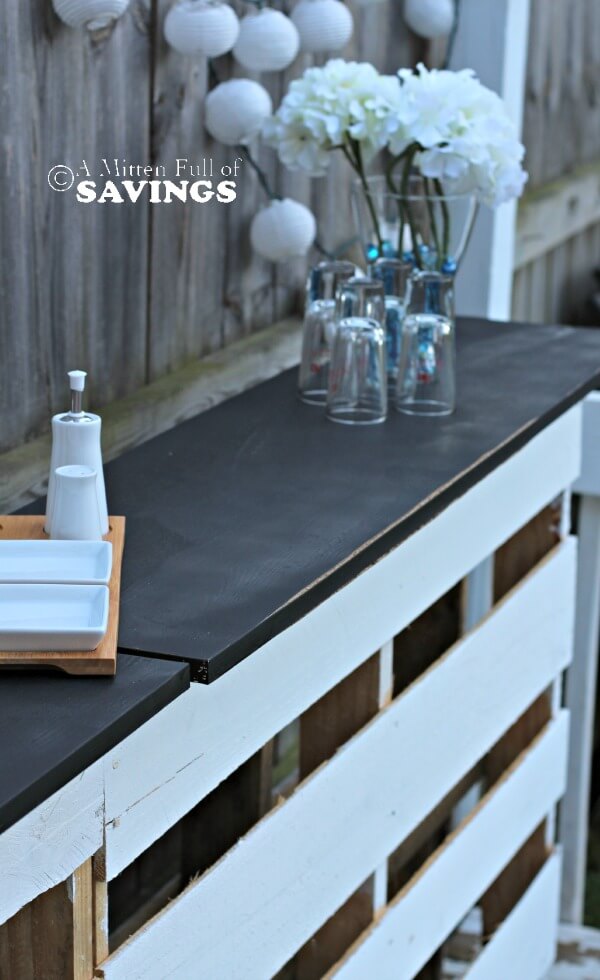 Make something that is shabby chic with this handmade pallet wood bar. It is a charming touch to a backyard wedding, leaving you with something that is personal and artistic, a lovely place for guests to mingle and enjoy.
3. Creative DIY Pallet Wood Table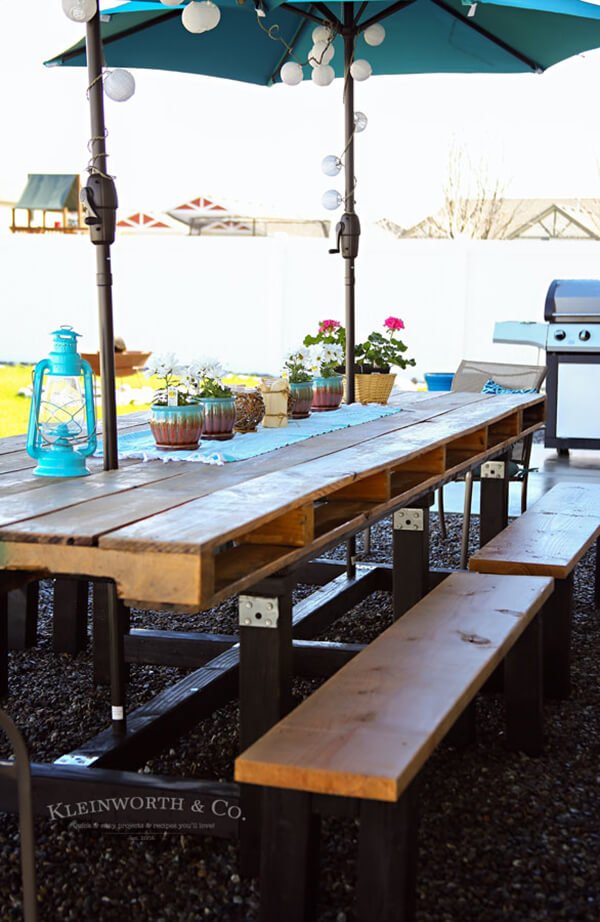 If you're aiming for a farmhouse theme, you can't go wrong with this pallet wood table design. It is a wonderful way to add a rural, vintage flair to the wedding decoration. You can leave it bare or add some embellishments for more style.
4. Handmade Floral Rustic Pallet Sign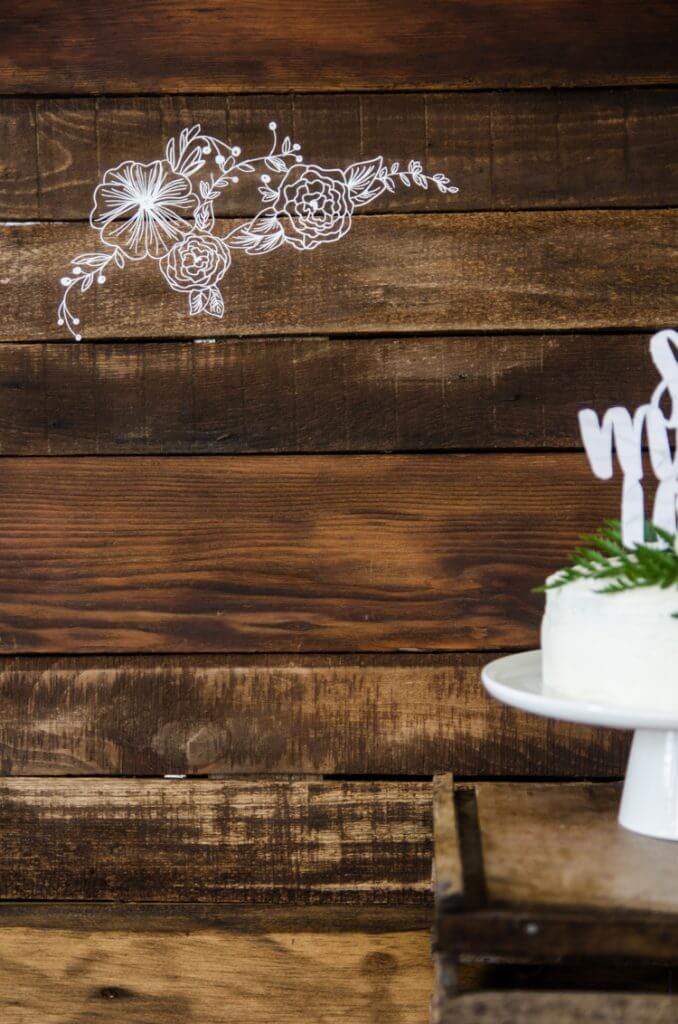 Add some elegance to a rustic style with this delightful pallet wood sign. The darkness of the wood pairs well with the lightly colored floral design, adding in much needed contrast. This can serve as a gorgeous backdrop to your ceremony.
5. DIY Pallet Wood Outdoor Bar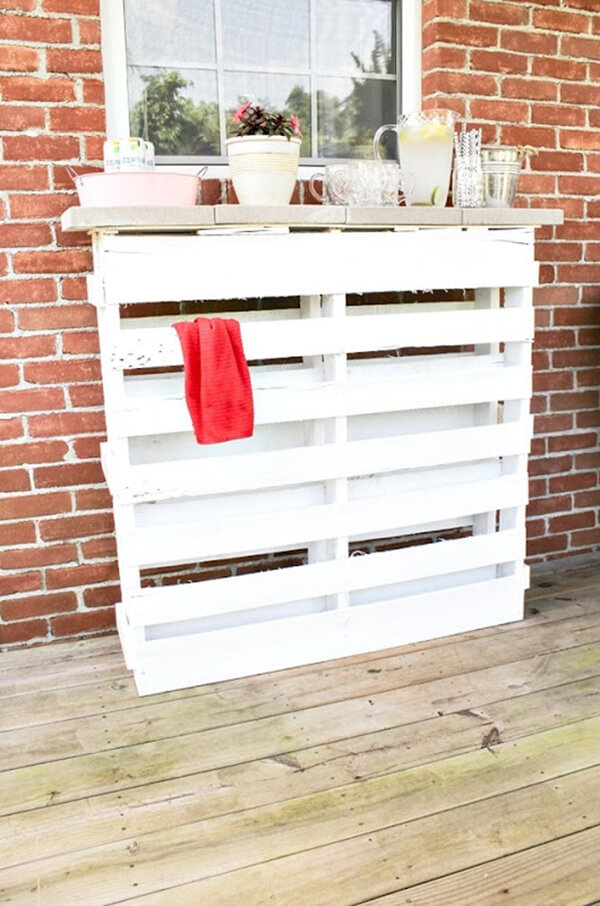 For those of you having a backyard or outdoor wedding, this handmade bar fits with ease. You can paint the pallet wood as you see fit to best fit in with the style of your ceremony. This is also a cute way to add a personal rustic touch to the celebration.
6. DIY Pallet Wood Centerpiece Design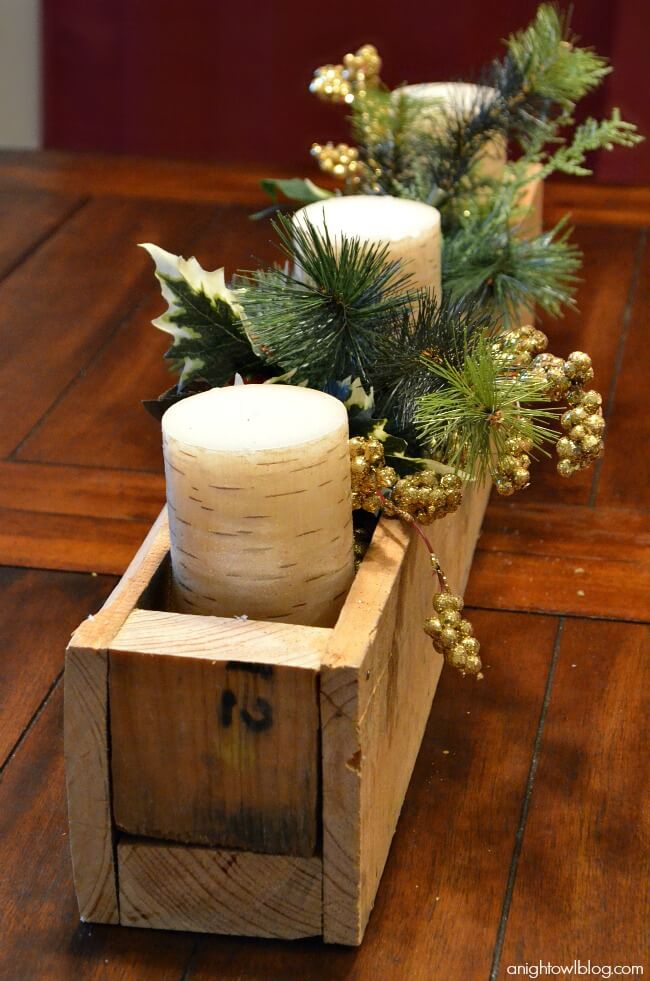 When decorating your wedding, a great way to utilize pallet wood is in the centerpiece. The wood works well when creating a straightforward box design. It's what you place inside the box that will sell it. It is a beautiful piece to hold candles and any other decorative items.
7. Rustic DIY Pallet Wood Arbor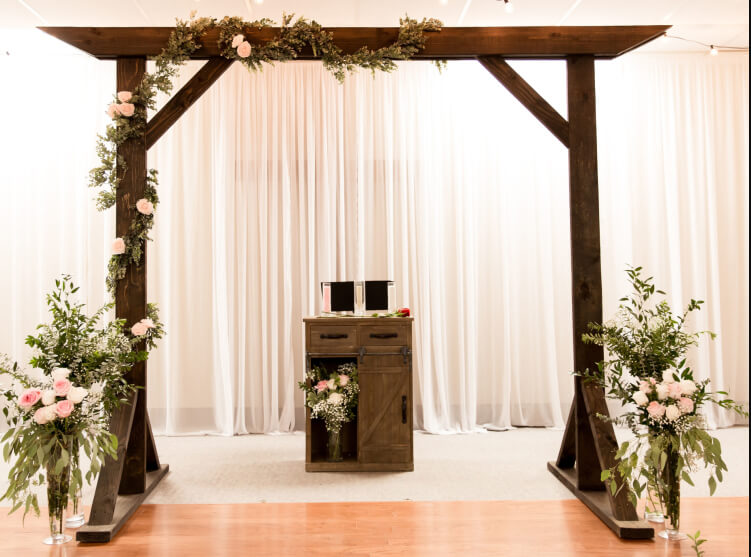 Recite your vows underneath a bold and attractive arbor made from pallet wood. The design is effective as it is not over the top. This gives you space to decorate the arbor as you see fit, adding in extra embellishments like some greenery for that pop of color.
8. Custom Wedding Welcome Pallet Sign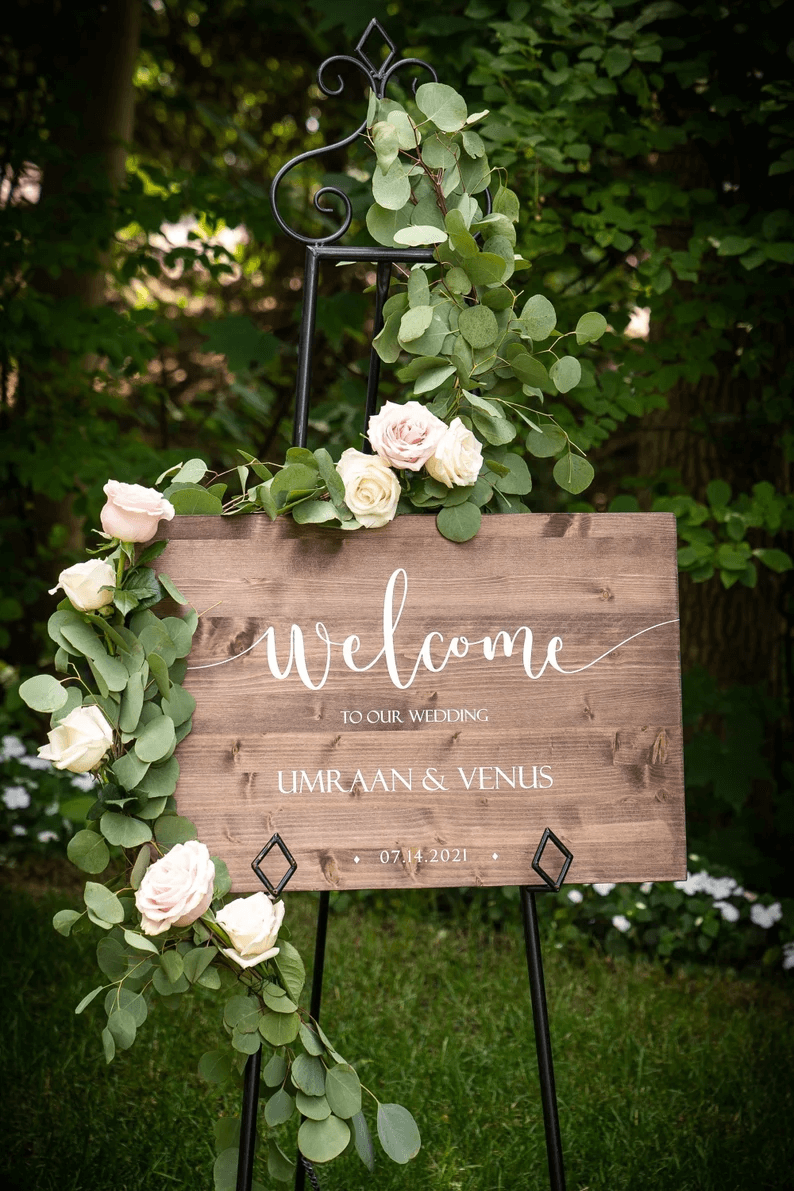 Available in numerous sizes, this wedding sign is effortless and perfect for a minimalistic-styled ceremony. The font has a hint of elegance, freeing this sign to fit into ceremonies with different themes. It is a lovely way to greet your guests.
9. White Washed Photo Pallet Design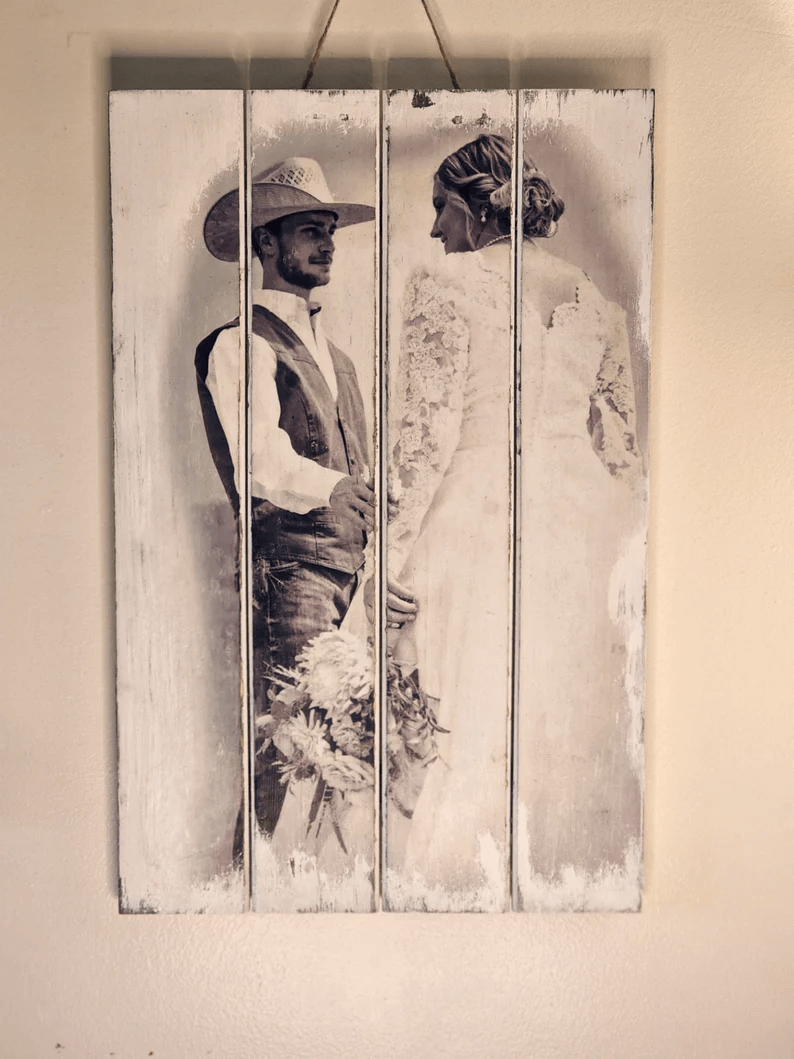 Some of the best DIY wedding pallet ideas stem from something creative and full of love much like this photo pallet layout. Available in two sizes, this is an incredible way for you to show off a favorite picture in a distinctive fashion. You can even get this with or without lettering.
10. Personalized Pallet Wood Wedding Sign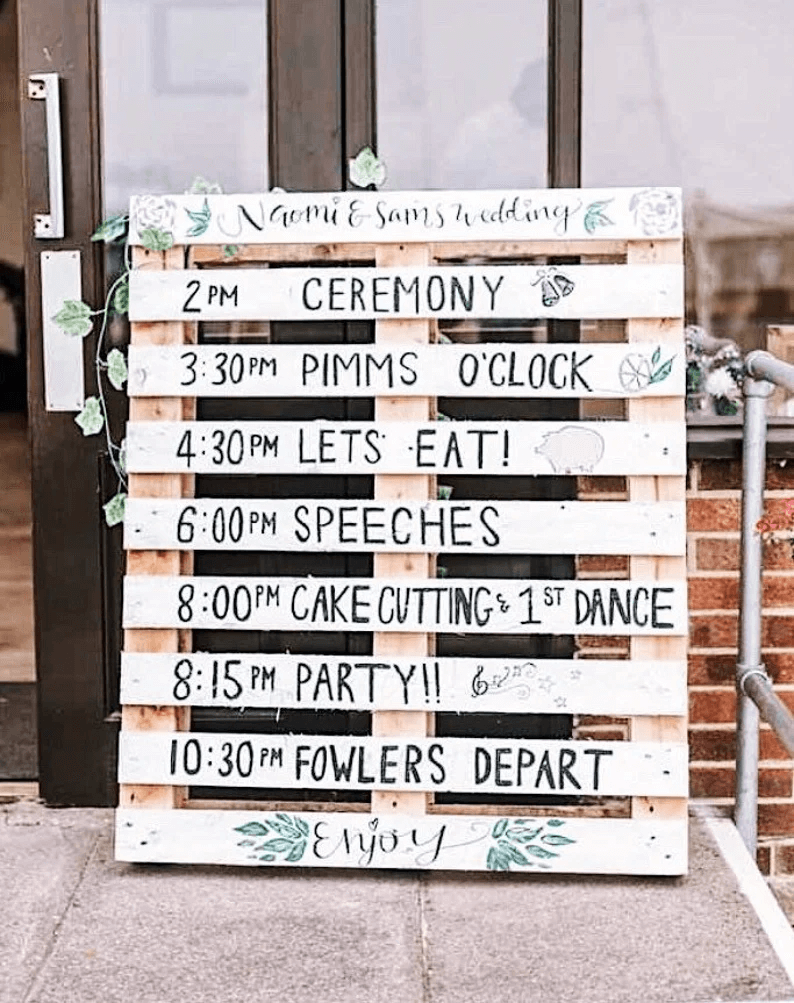 An order of the day sign is a great way to make use of pallet wood. You have ample room to highlight every important time throughout the day, keeping your guests aware and prepared. The writing works out well if you have a rustic or vintage wedding, adding some extra flair to the decor.
11. Pallet Wood Hexagon Arbor Plans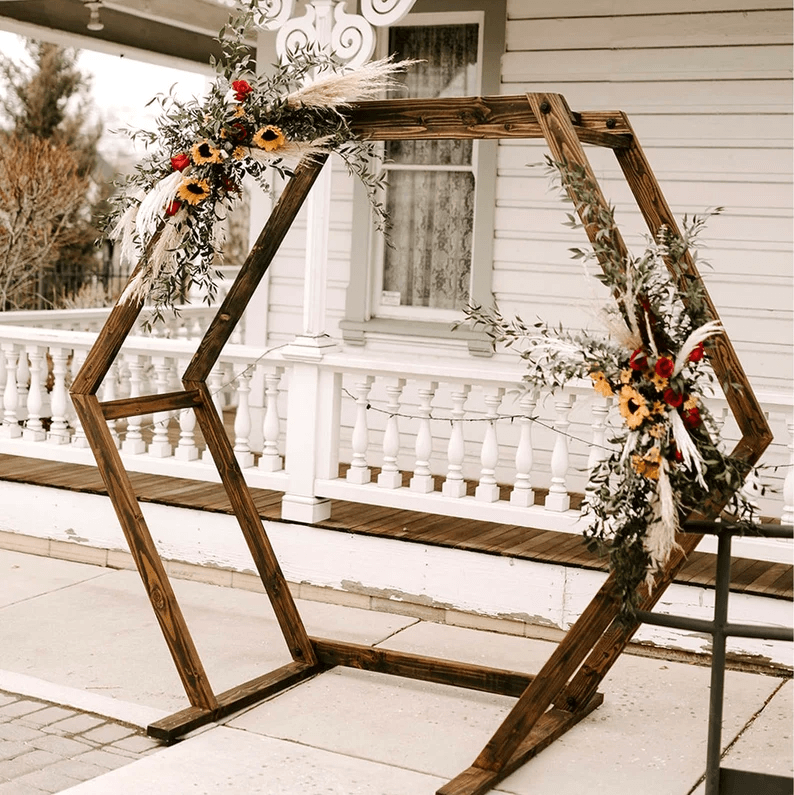 If you want to get hands-on with your decor, this homemade pallet wedding decor idea is the right choice. The design is eye-catching, leaving you with an arbor that stands out thanks to its bold appearance. It blends effortlessly with a whimsical, country-styled wedding.
12. Creative Wedding Pallet Stencil Kit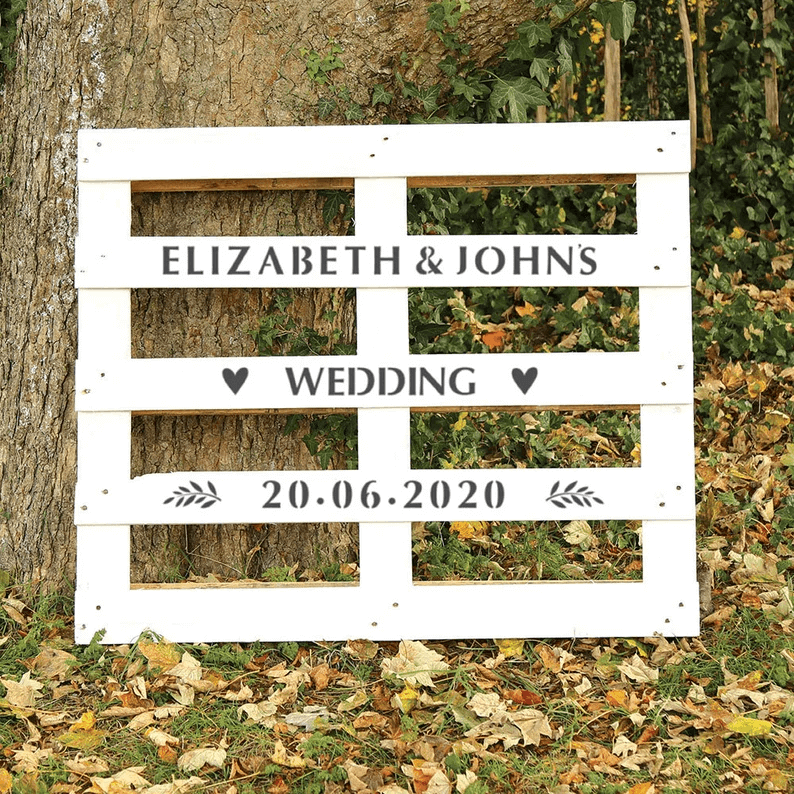 This homemade pallet wedding decor idea is fitting for those of you who have your pallet, but don't quite know what to do with it. The stencil kit has elegant writing so that you can create beautiful signage that fits perfectly for the ceremony.
13. Wooden "Welcome" Wedding Pallet Sign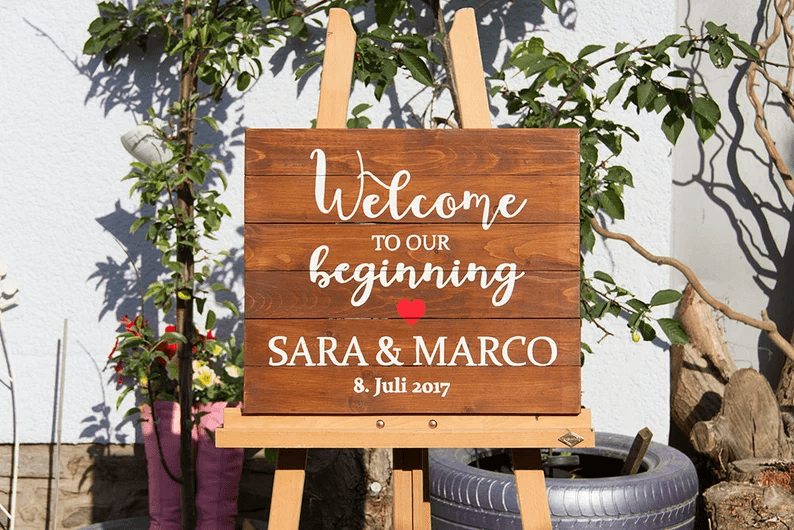 Welcome guests to the wedding in style with this creative pallet sign. It blends modern and rustic together for a beautiful finish. You can select from a host of different fonts so that you can find something that best fits your wedding style.
14. Customized Wooden Pallet Wedding Sign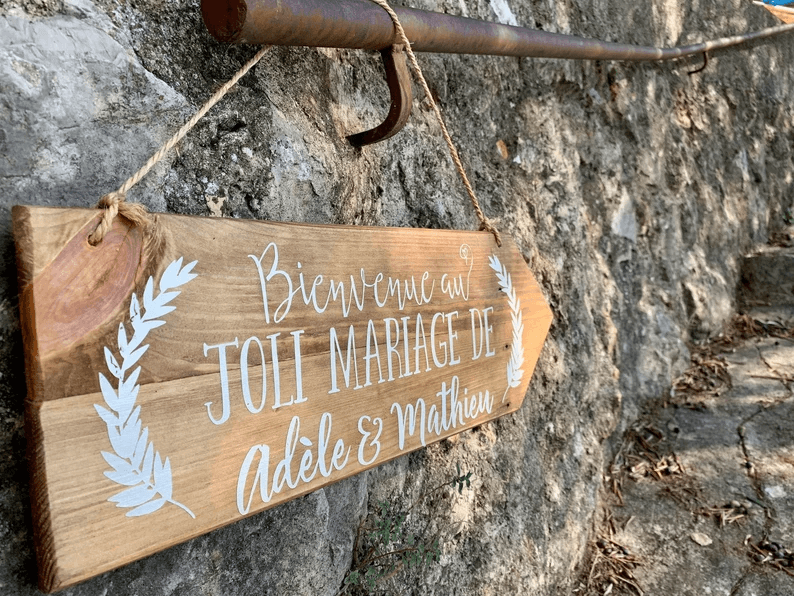 This sign is a cool way to utilize pallet wood in a distinctive manner. You can customize it to suit the happy couple, but no matter what you have written, the writing is beautifully elegant as are the extra embellishments.
15. Personalized Family Name Pallet Wood Sign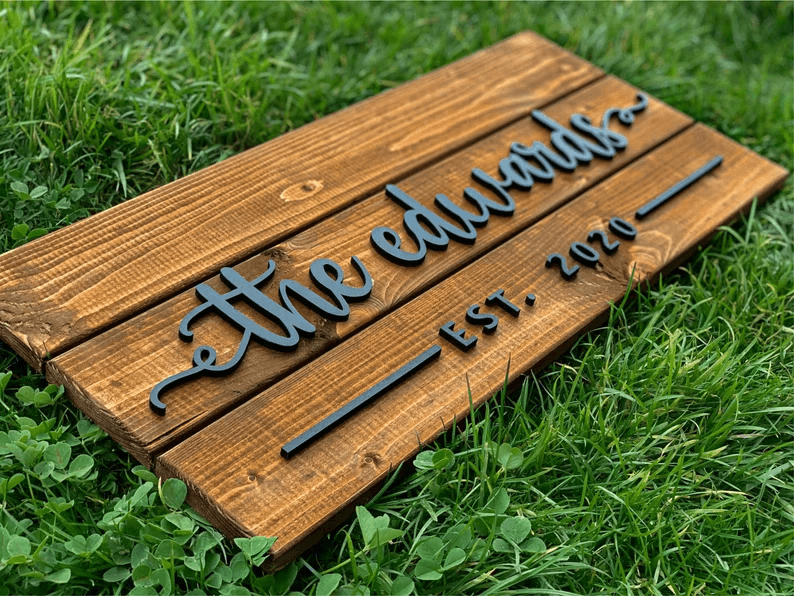 This wedding sign is a gorgeous option when you want to personalize your new family name. The wooden background is more minimalistic yet serves as an excellent base to highlight the lettering that comes in either black or white.
16. Farmhouse Styled Pallet Wooden Wedding Decor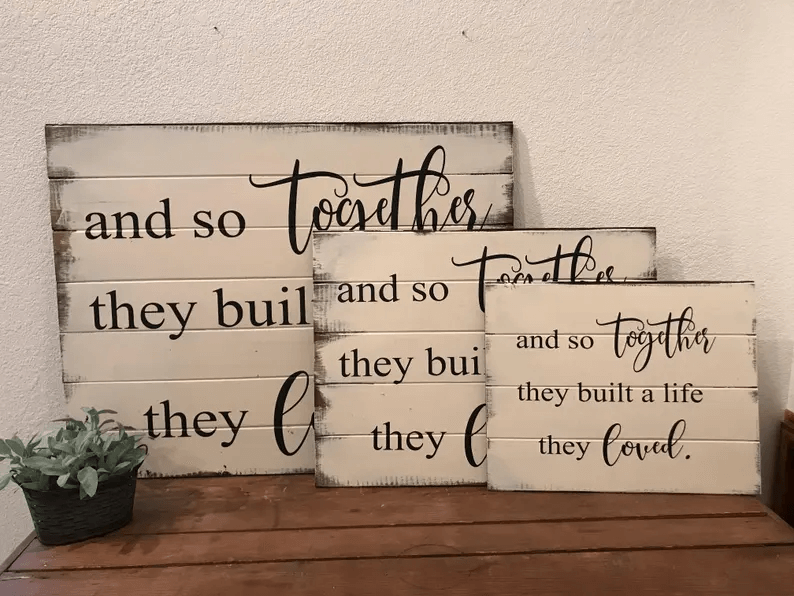 Mark your wedding with a sweet saying that you can cherish long after the celebration. This wooden sign is perfect if you want decor that works in your home as well it does during the ceremony. You can even have it made in a host of different colors.
17. Wooden Pallet Flower Design Idea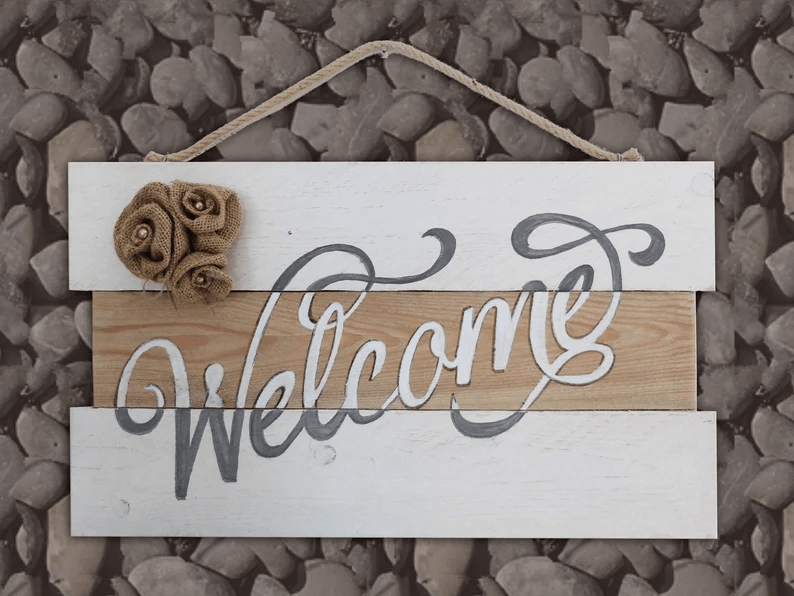 Some pallet signs require simplicity to work, and this design is no different. It boasts a lovely two-tone color scheme with simple, yet compelling lettering. What sets this off is the lovely burlap flower that gives it some extra texture and an artistic flair.
17 DIY Wedding Pallet Ideas for a One-of-a-kind Ceremony
Pallets are an absolute delight to use when decorating for a wedding. They work with a host of themes and styles. You can use them in a farmhouse-styled wedding, a ceremony with a rustic or vintage theme, or even a celebration with a whimsical vibe. Even better is that pallets can become a variety of decorative pieces. They work as signs, as tables, and even stands. So, if you're ready, you can use our list to discover a gorgeous handmade wedding pallet idea to place your decorations on another level. Whether you make it yourself or find it from someone else, anyone can find a pallet design suitable for their ceremony.