With the holidays fast approaching, you will want the best Easter craft ideas to go all-out with some spirited decorating around the house. Easter time offers a great opportunity to decorate with bold colors, pastels, and have fun with egg and bunny-themed decor. The only trouble you may ever find yourself in is deciding what kind of decorations you want in your home. And it doesn't just stop there. You can come up with some awesome Easter crafts for a party, a dinner, or even the Easter baskets.
28 Amazing Easter Craft Ideas for an Exciting Celebration

When it comes to DIY Easter decor, a wreath is always a nice way to go. You can hang it up on the front door, instantly greeting everyone who visits with a blast of Easter spirit. Or maybe you want something for the Easter baskets instead. You can fill them up with more unique handmade items that will leave kids in awe. A wonderful thing about the Easter season is that you can go as big or as small as you'd like for baskets, settling on a specific theme for the kids in your life.
Or perhaps you are just interested in adding some life to your empty walls. Easter art is ideal for this since it can easily help you create a festive vibe throughout your home. There is an immense number of possibilities here too as you can lean more into decorative eggs or bunnies when it comes to the decor. Craft some homemade garland to string up or get your hands on some beautiful, framed artwork.
So, are you ready to get your crafting on but still aren't sure what you want to create? Well, you can always check out the list of our favorite Easter crafts to get a jump on your holiday decorations this year.
1. Springtime Grapevine Easter Wreath Design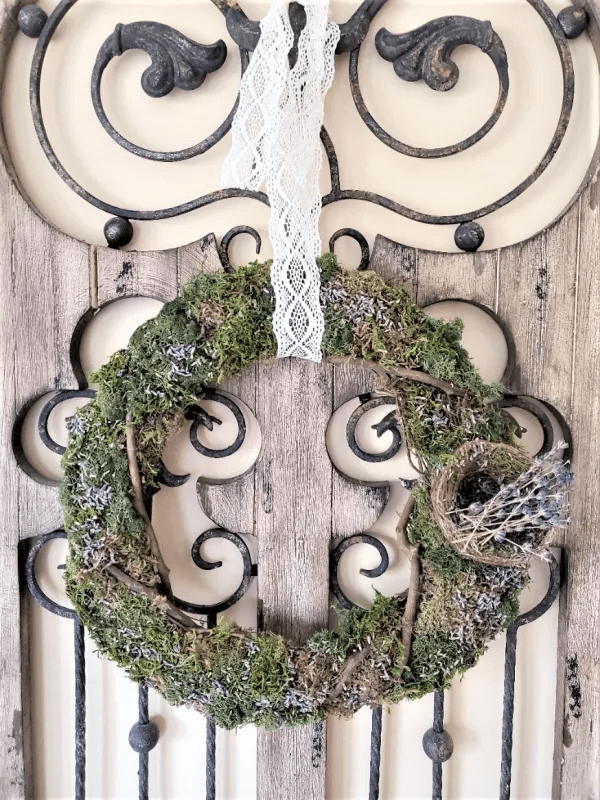 If you want to craft a handmade wreath, a grapevine is a helpful base to start with. It allows you more than enough room to play around with adding Easter and springtime items. This particular wreath looks more rustic in nature. There are still some highlights of color throughout that keep up with the springtime look. Otherwise, it has a more earthy quality to it.
2. Affordable Silver Tray Easter Bunny Decor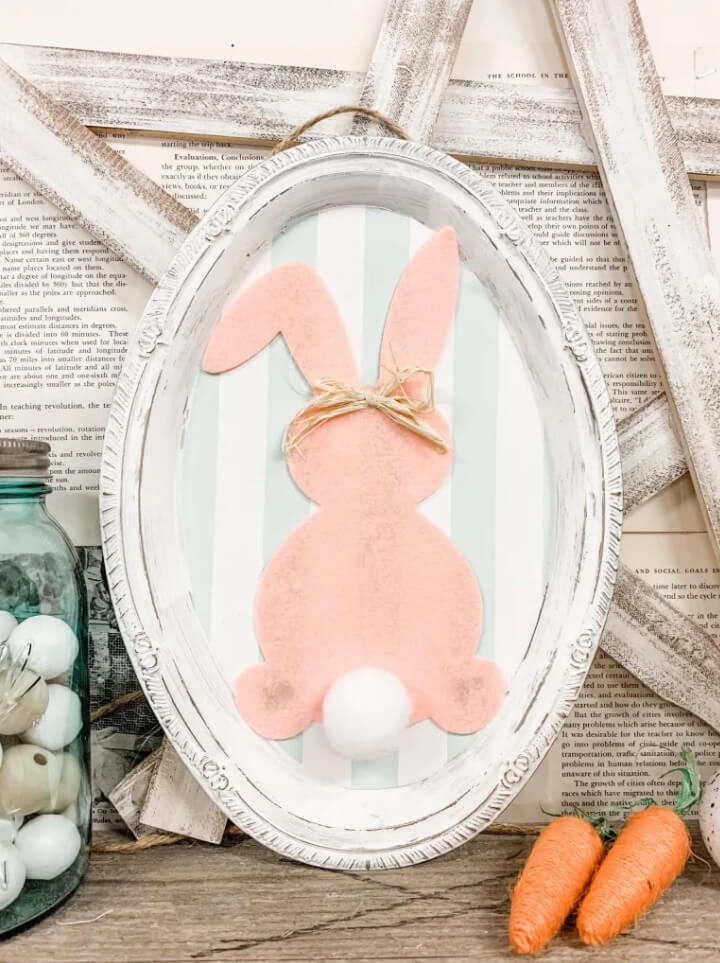 A fun way to decorate this Easter season and keep things more affordable is with this cool silver tray. There is a nice vintage feel to this thanks to the weathered-like hints along the tray. From there, you don't need much to elevate it. The Easter bunny in the center is charming and cute, and it is as simple as they come. It's the simplicity that makes this silver tray so appealing. Adding in that soft, fluffy tail is a good way to add some texture.
3. Mason Jar Easter Candy Baskets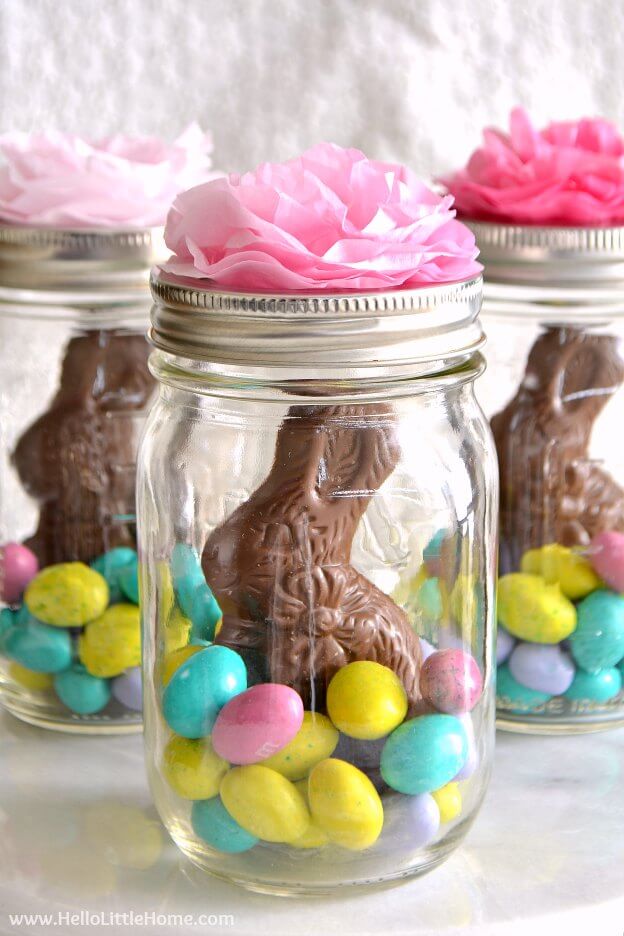 Looking for a different way to add candy to the Easter basket? Or maybe you want this to serve as the "basket" instead of a traditional one? Either way, this mason jar Easter design is amazing. The colorful candies serve as a nice little "grass-like" area for the chocolate bunny to rest in. There is not much else needed to make this stand out beyond what the candy already does. You can add some decorative pieces to the lid if you wish.
4. Chic Golden Easter Egg Decor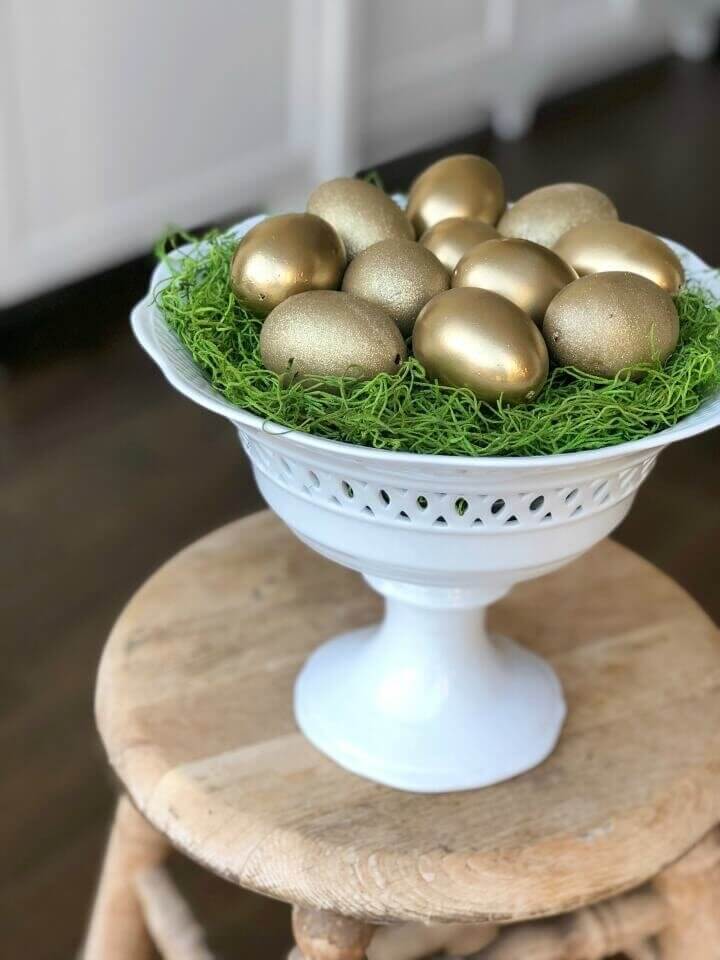 Add some sophistication and style this Easter with these stunning, golden Easter eggs. The golden color is bold and full of life, bringing out your personality in your decor. You can contrast them well with the use of some greenery for the eggs to rest in. Elevate everything on a rising platform to get the most out of your hard work. This can work out great for use as a centerpiece, adding some flair to your dining room table.
5. Sweet Three-Tiered Easter Centerpiece Design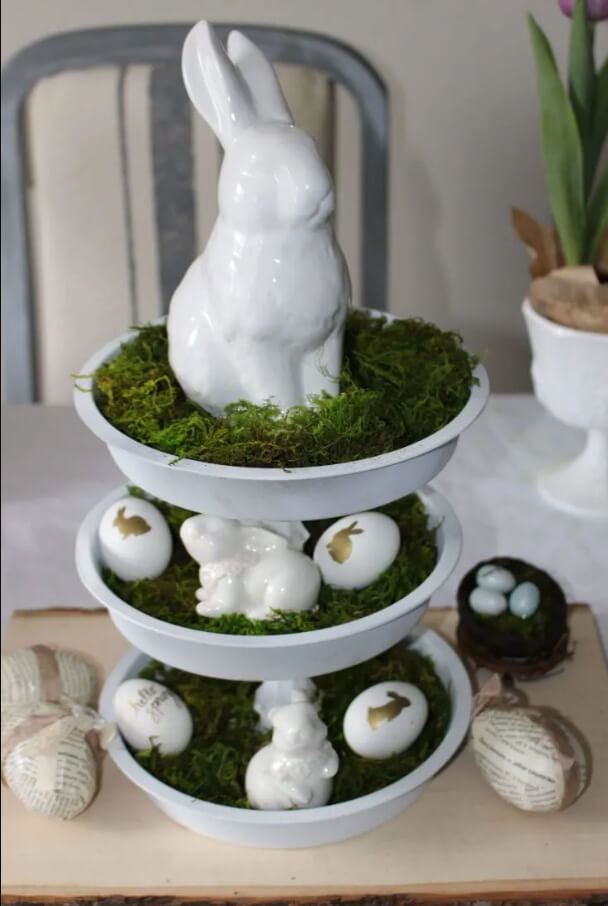 Show off your creative skills with this incredible three-tiered Easter setup. It is the perfect way to elevate any table, especially the dining room table just in time for Easter dinner. Using a tiered design gives this a sense of movement that can help keep attention. When it comes to the items within, the use of white eggs and bunny figurines against the greenery is more than fitting. There is plenty of pleasant contrast throughout.
6. Drop Cloth Farmhouse Themed Bunny Decor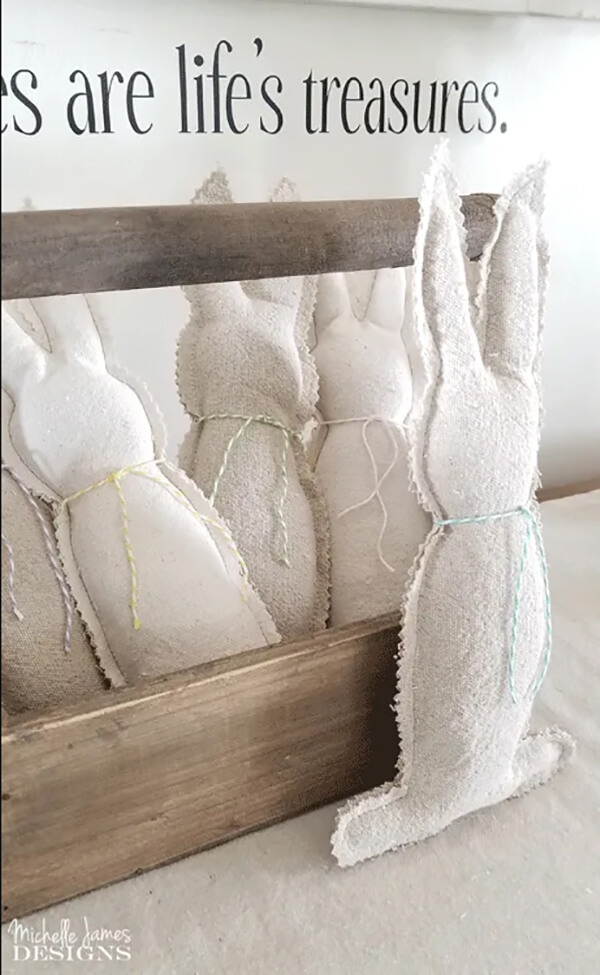 If you want to decorate for Easter while still leaning into your home's style, then consider these drop cloth designed bunnies. No bright colors are used with this decor. Instead, everything is neutral. It all works effortlessly, however. It blends with that farmhouse style well enough that it still fits in with a springtime theme. You can make a handful of these cute little bunnies too, adding them all together for a cohesive piece.
7. Creative Cabbage Greenery Centerpiece Idea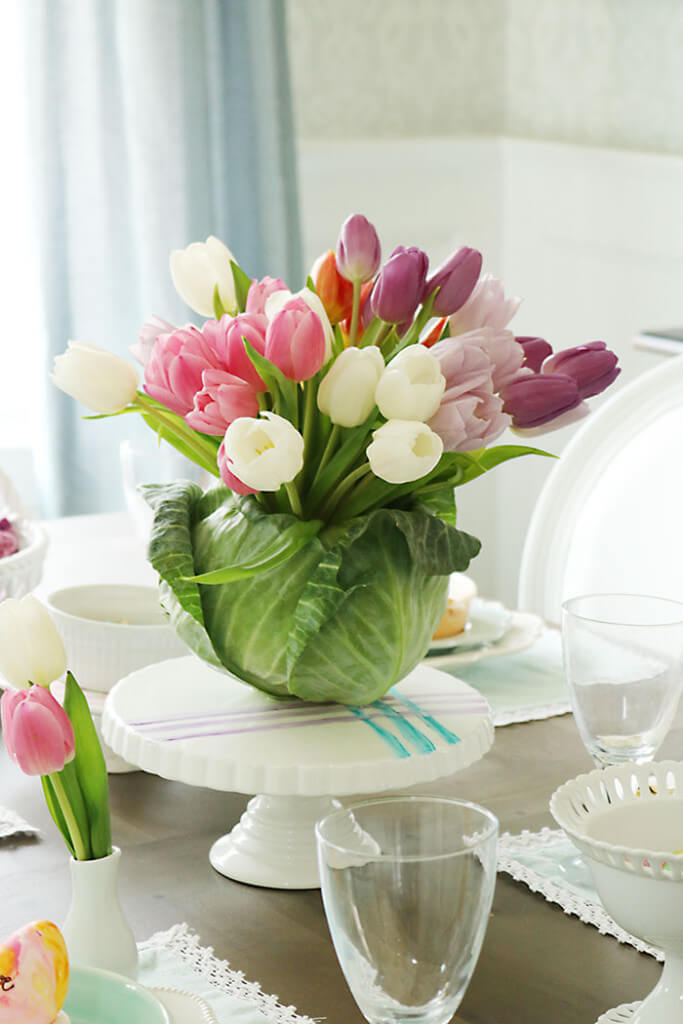 Bring springtime fully in your Easter crafts with this remarkable centerpiece idea. It is perfect when you are in need of something completely different and distinct. Opting for a more rural vase for your floral arrangement will always steal the show. The cabbage is a strong choice here as it adds to the colorful setup. It pairs expertly with the vivid, multi-colored tulips. It is a nice way to spice things up with your springtime Easter decor.
8. Budget-Friendly Colorful Easter Egg Wreath
Easter-themed wreaths are always pleasing to the eye. They are vibrant, colorful, and bring such a feeling of happiness when you look at them. However, you can make one at half the price with some plastic Easter eggs and paint. In fact, once you are done painting them, no one would believe they were plastic to begin with. You can let your imagination run wild with this one, opting for any paint colors that you'd like to create a wreath as loud and impactful as possible.
9. Rustic and Affordable Egg Topiary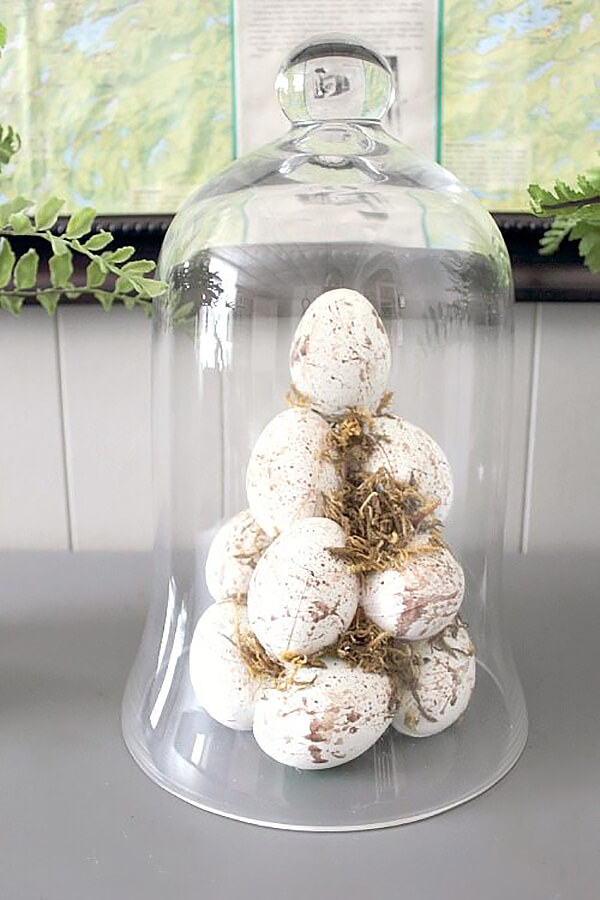 A topiary is an excellent idea when you need DIY Easter decor. Topiaries are charming on their own, and they are easy to manipulate when you want to create something festive. With this design, we lean more into eggs as the traditional Easter theme, but without the vivid coloring usually applied to them. Instead, we keep them neutral, relying on a lovely countryside, farmhouse theme that doesn't need such loud coloring to make an impact.
10. Easy and Quick Easter Egg Decor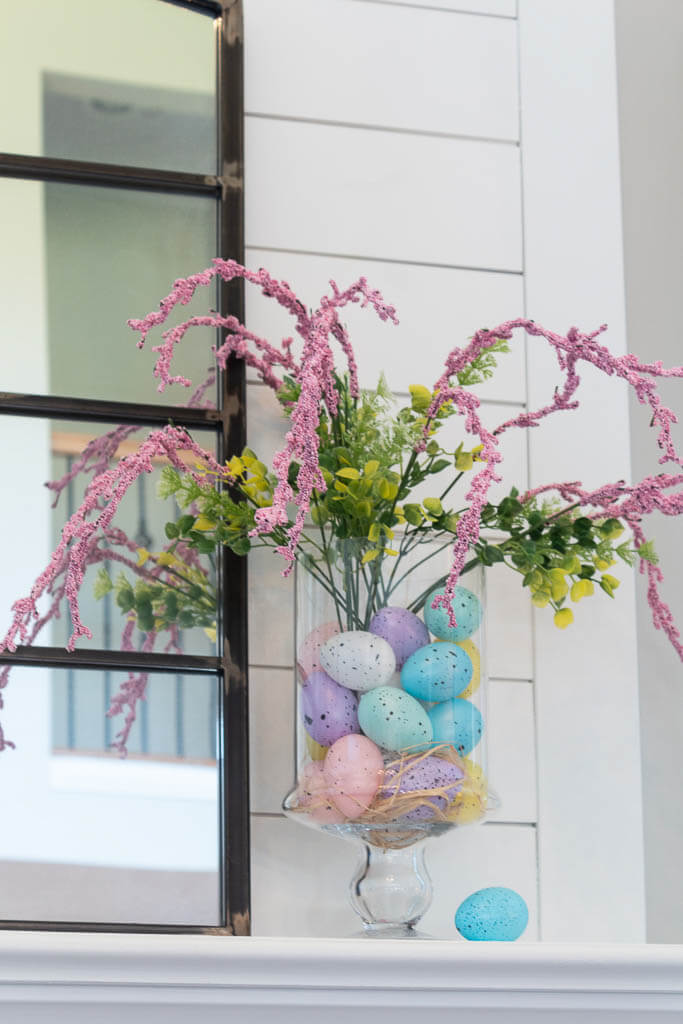 Decorating for Easter with some homemade crafts doesn't have to be a time-consuming or difficult process. Instead, you can handle this crafting project in mere minutes. Hit up your local dollar stores to find these cute, speckled Easter eggs. This way, it saves you the time so that you don't have to paint anything yourself. Setting up the eggs along with the faux greenery just pulls this entire decorative piece together into something interesting and appealing.
11. DIY Pom Pom Easter Theme Tree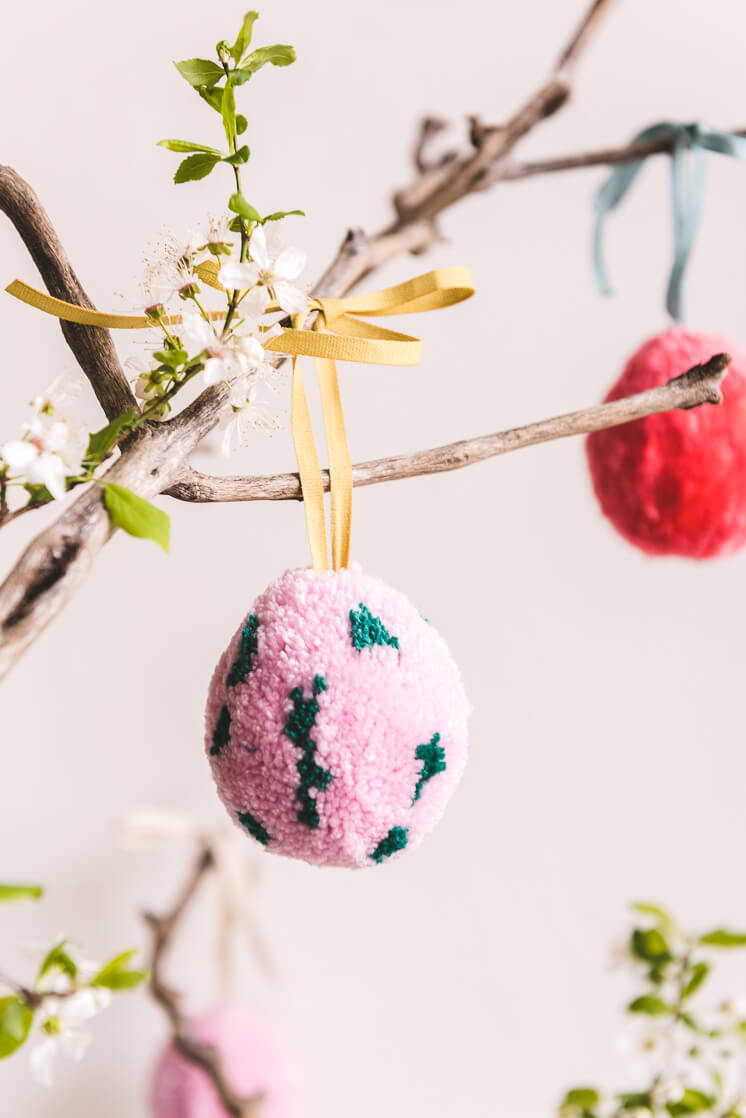 Pom poms are fun to decorate with because they come in so many colors that you have an immense deal of freedom to play around with them. They are nice to use for this Easter tree too. You can have a more natural, rustic piece of decor to use in your home. At the same time, the pom poms and the hint of greenery throughout the tree provide some compelling pops of color without detracting from the rural look. Set this all up inside of an aged vase to complete the style.
12. Easter Bunny Silhouette Wreath Decor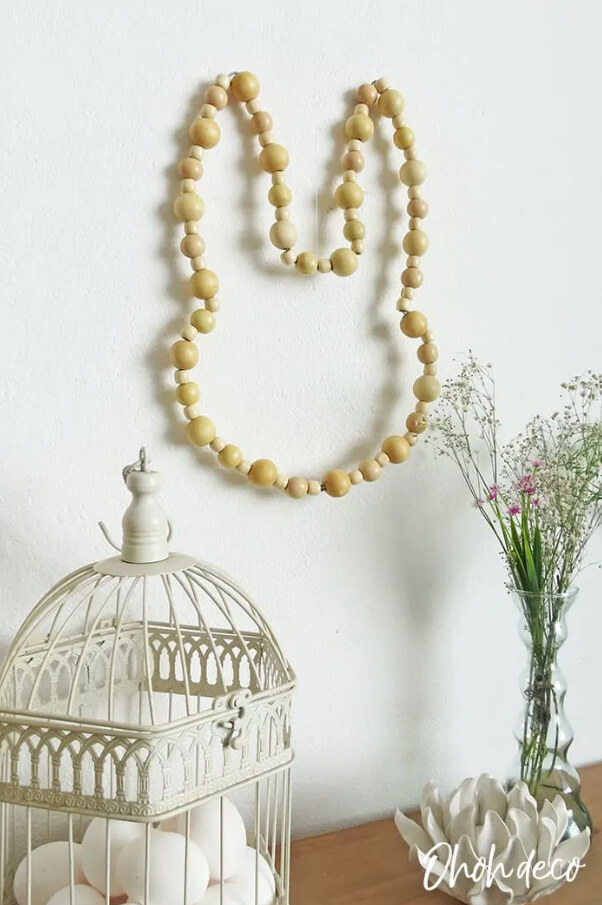 Not all wreaths must be shaped like circular wreaths. Instead, you can create a handmade wreath that fits in with Easter as much as possible. This is because it uses the silhouette of a bunny for its design. The use of beads of different sizes allows this to have far more freedom of movement too, giving it a layout that is equal parts complex and straightforward.
13. DIY Easter Bunny Utensil Holder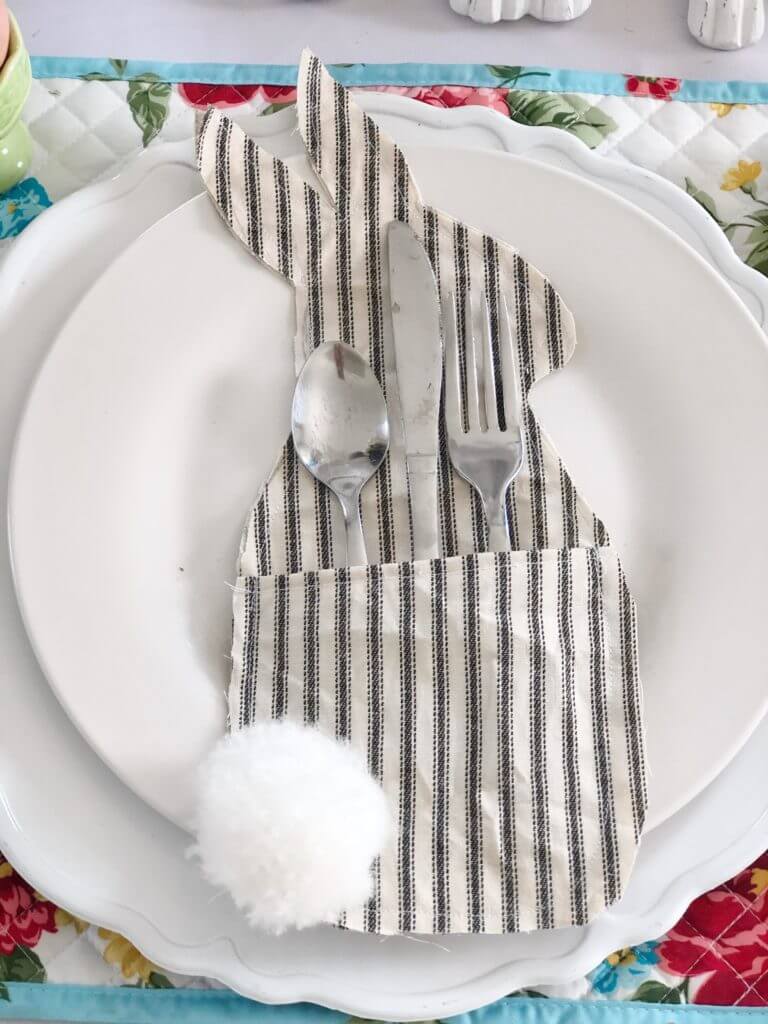 For Easter parties and dinners, it is nice for guests to see just how far you can go with your holiday spirit. Decorating the table with a centerpiece is one thing. Some forget just how impactful the place settings are too. If you want to go small-scale or are simply looking for something to add to your current setup, you can't go wrong with this bunny-shaped utensil holder. It's cute and on-theme.
14. Curious Bunny Flower Pot Easter Decorations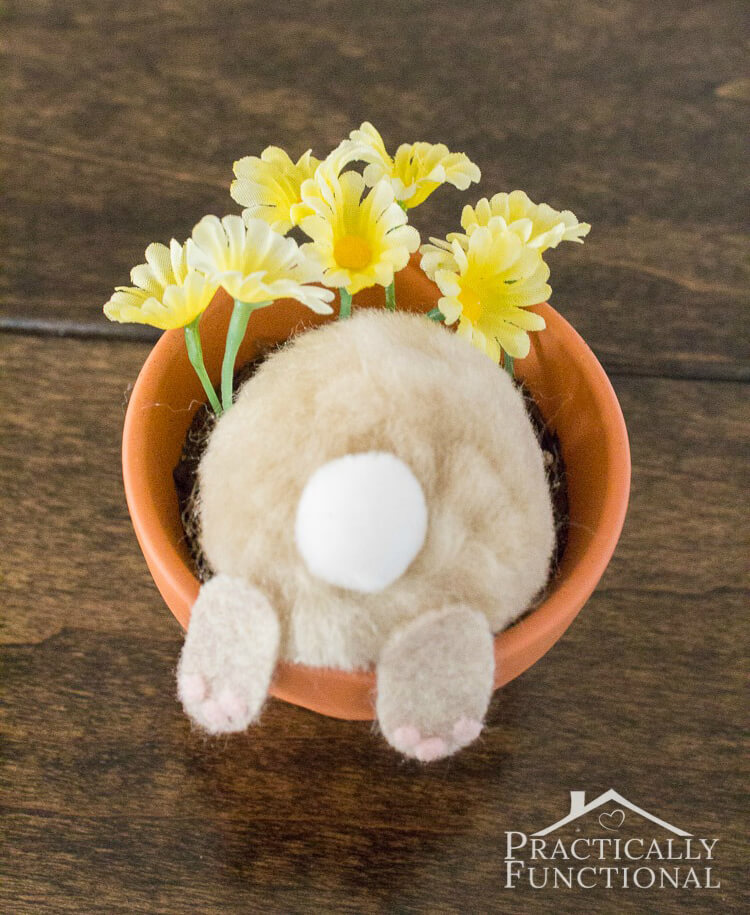 The curious bunny will always be a charming and funny decoration when it comes to springtime and Easter. It is something that anyone will adore from adults to children. You can make them with relative ease, making for an exciting Easter craft project at home. There is also an excellent deal of texture found in this design too that makes anyone want to reach out and take a closer look. You can set up these compact designs all around the house too.
15. DIY Wooden Easter Bunny Sign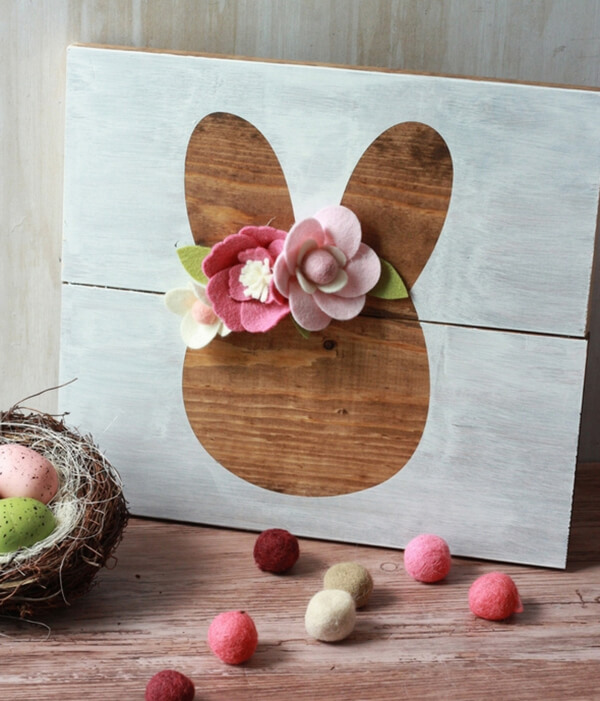 Wooden signs are simple and effective when you want to add some texture and style to your home decor. There is a nice silhouette of a bunny head on the sign, and this maintains the natural wooden appearance. Meanwhile, everything else has an appealing white color that helps the bunny silhouette stand out even more. There are some cute fabric flowers added to it all too, giving it a hint of coloring that makes it more rooted in springtime.
16. Charming and Simple Easter Topiaries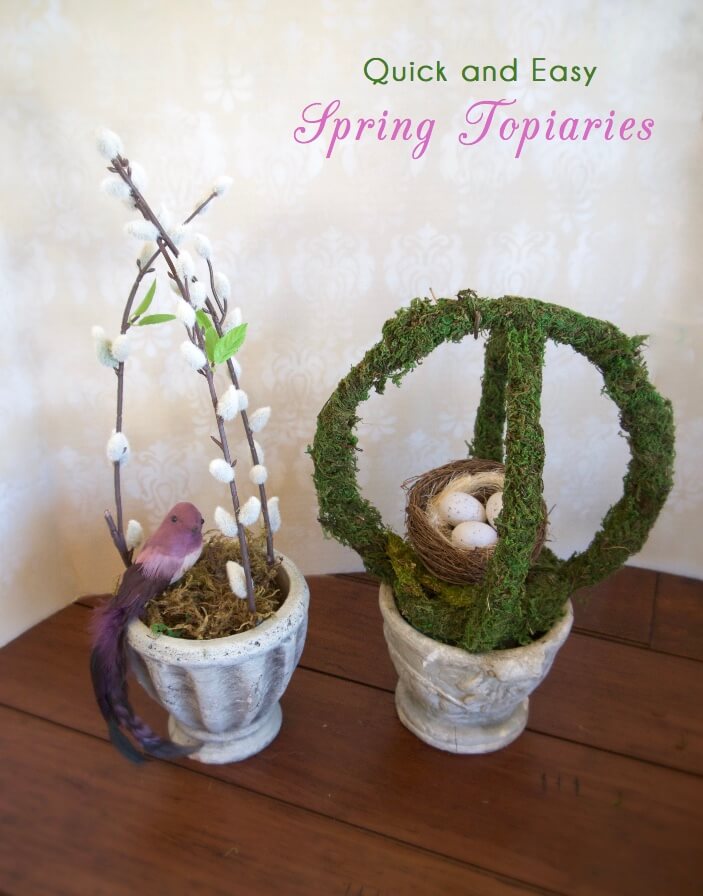 Decorate this Easter holiday with some easy homemade topiaries. As far as Easter art goes, these topiaries are truly delightful. They feature some common elements found in the holiday such as eggs. Meanwhile, they also have a pleasing outdoor-like vibe going on. This gives it a rural, almost rustic, appearance that is paired well with springtime. There is still a good deal of color to further lean into the seasonal theme. It's balanced too so that you can set this up with other decorative items.
17. Marshmallow Peeps Floral Centerpiece Idea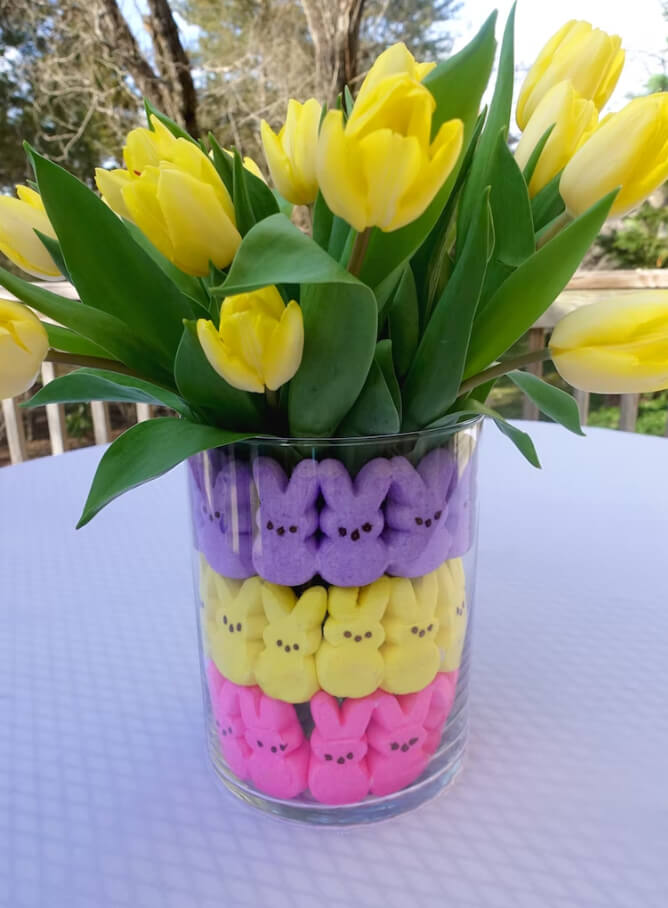 When it comes to Easter, we all know it's time to bring out the peeps. Some people hate them, others love them. But you don't have to do either to make good use of them with this artistic DIY project. Going for multiple colors of peeps to line up the vase is fitting. Anyone will take a double look at such a vibrant piece. They all work well with the colorful tulip flowers that help center this design in a springtime vibe.
18. Easter Bunny Greenery Decorative Piece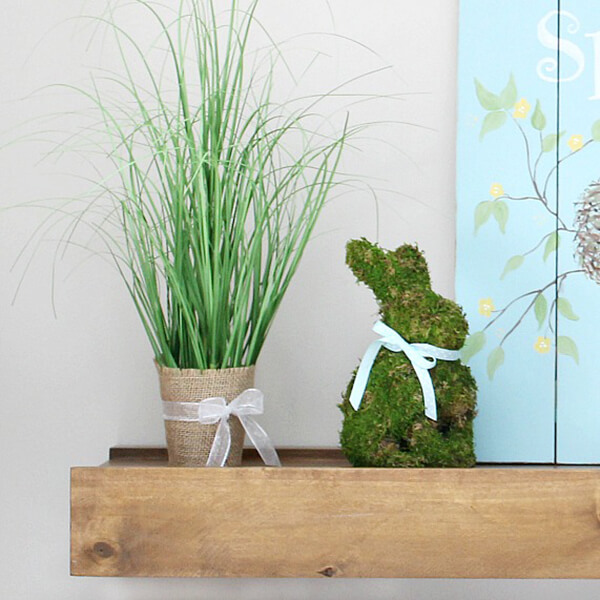 Bring in the traditional Easter and springtime theme of bunnies into your home with a pleasant twist. Rather than making something that is bold and colorful, you can go a different, more natural route. The bunny is covered in moss with the green offering all the color you need. Of course, you can add a splash of color thanks to a bow or two. You can even add in another plant to keep up with the greenery theme.
19. Creative DIY Eggshell Candle Idea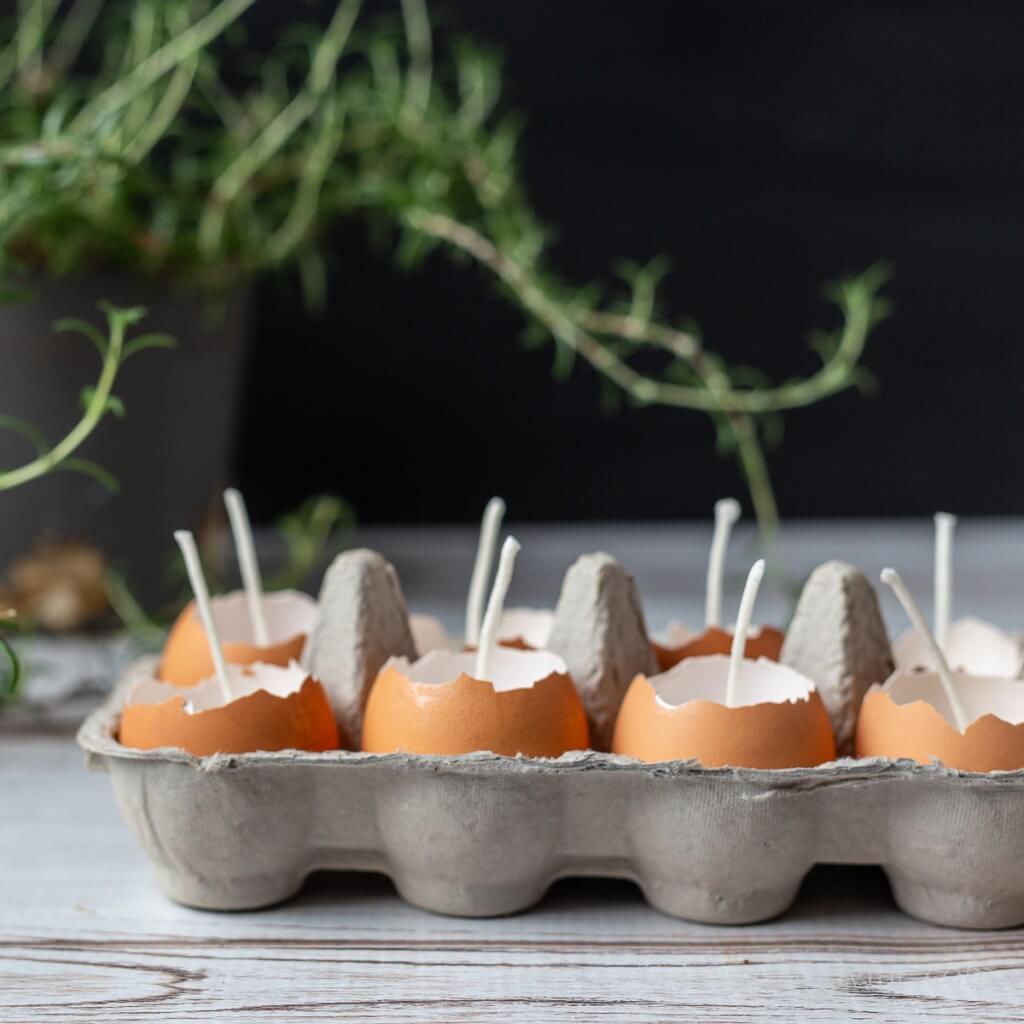 For a simplistic approach to decorating with an Easter theme, you can focus on the eggs. More specifically, eggshells. Eggshells can serve as the ideal hosts for candles. They are a good size so that you can make numerous homemade candles. You can even use the egg carton to support them, saving even more time and money in the process to make this the ultimate affordable and creative Easter art project. Otherwise, you can set up individual eggs in different nooks like a flower planter.
20. Unique Clay Stamped Easter Egg Tree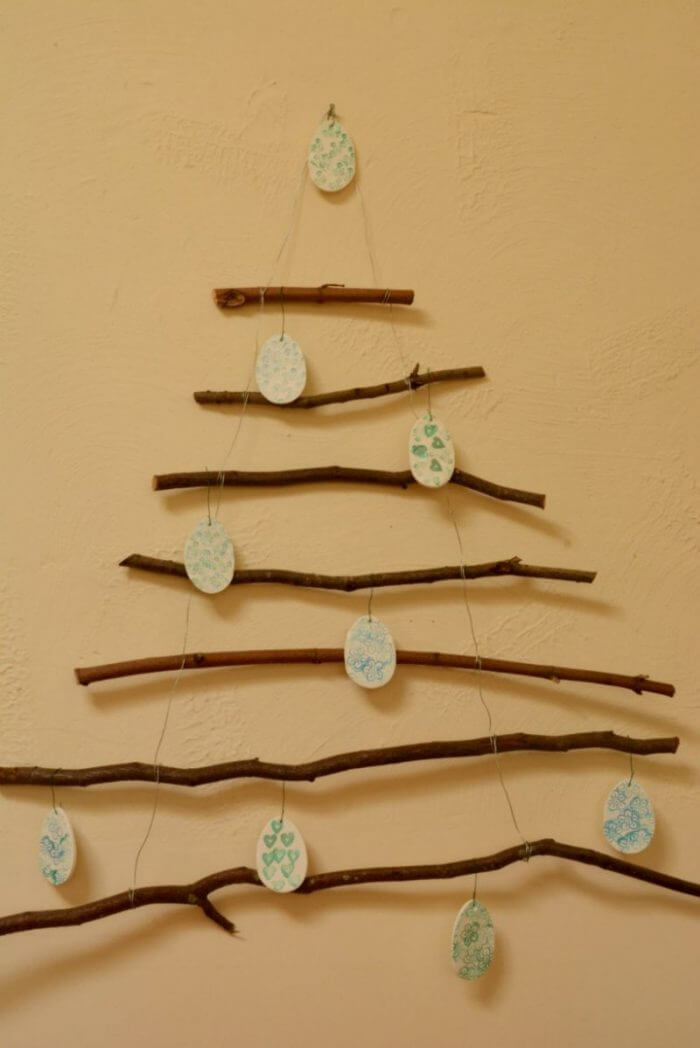 This Easter egg tree is certainly a distinct choice when you want eye-catching decor. It has a charming minimalistic look that leans into rustic, fitting for the spring season. This is also a crafting project you can easily do with the kids to have them more involved in decorating the home. With the stamps, you can create a host of cute, little designs on each individual egg, giving everyone a chance to add their personality to the tree.
21. Watercolor Pastel Bunny Banner Design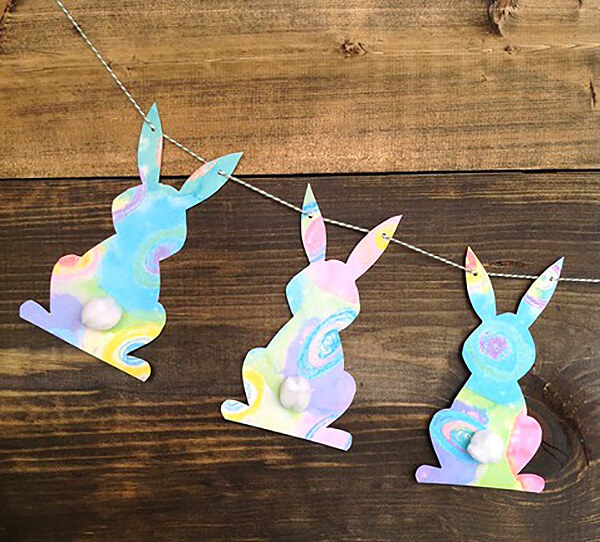 A modern way to decorate the home for Easter is with this DIY bunny banner. This is a fun holiday project for the kids to enjoy as well seeing how straightforward and simple the banner is to create. Opting for watercolor allows this banner to stand out even more. Also, there are multiple colors in each of these printout bunnies. This gives it a nice modern look full of artistic and creative style.
22. Chic Faux Geode Easter Eggs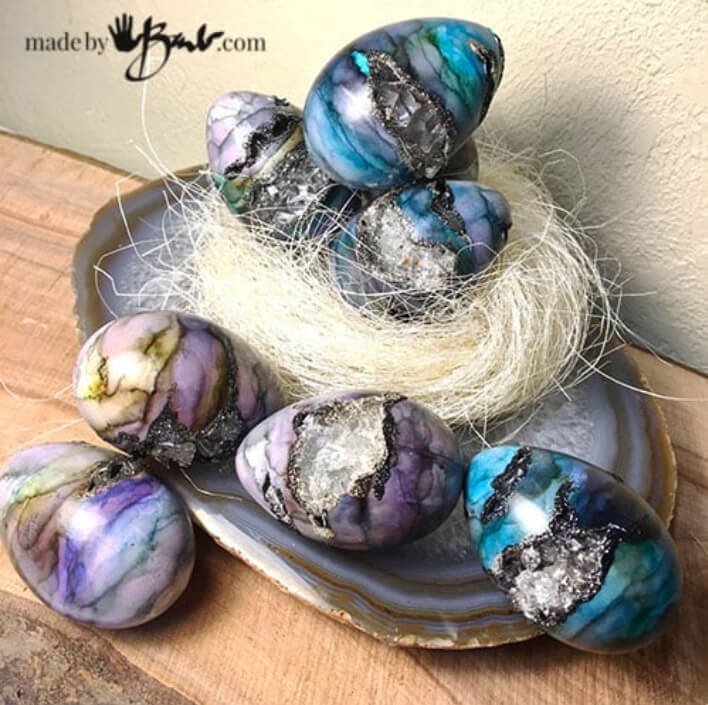 The geode look is so incredible and breathtaking that you wouldn't believe you can create yourself with some simple supplies at home. This project can transform a fake egg into something unreal. It is certainly a different way to approach Easter craft ideas. The colors are still as bold as ever with the geode effect adding far more emphasis to it all. With the fake diamonds within, these are easily mistaken for the real thing at a passing glance.
23. Colorful Bunny Silhouette Fabric Wall Art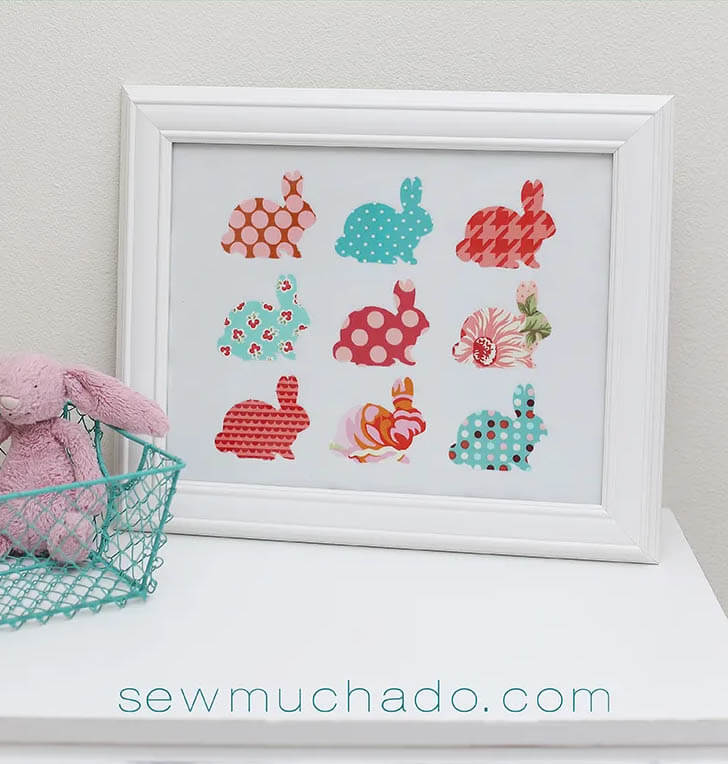 Brighten up your walls with this cute Easter art design. The use of bunny silhouettes is an excellent idea in this case. It allows for the colors and designs to truly stand out. You can go for a number of different patterns too. This keeps this artwork from getting static. Also, it is done in a way that it doesn't look too crowded. Instead, with the silhouettes spaced out in such a way, the artwork looks professional-level and something that you may just want to keep up when the holiday is over.
24. Artistic Easter Egg Book Page Banner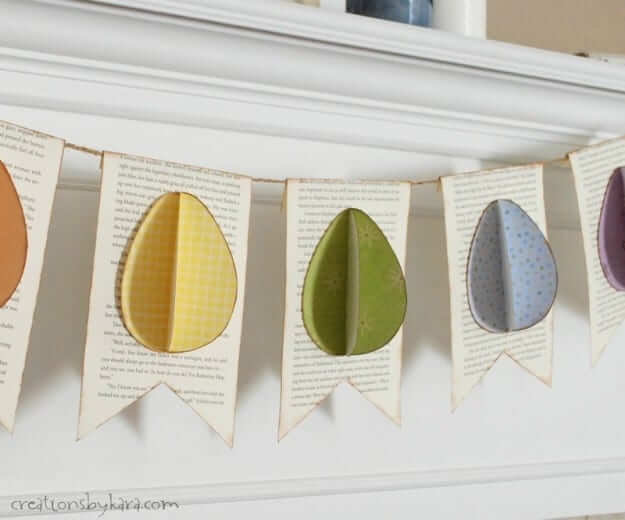 If you have an old book you are not quite willing to part with, you can upcycle it and transform it into a beautiful banner. You can take the pages out and create the outline of an egg, giving you a way to have those traditional decorative eggs without all the paint and mess that can come with making them. This is such a creative way to decorate for the holiday too, leaving you with something more personal with that lovely artistic flair we can all appreciate.
25. Adorable Easter Bunny Pot Place Cards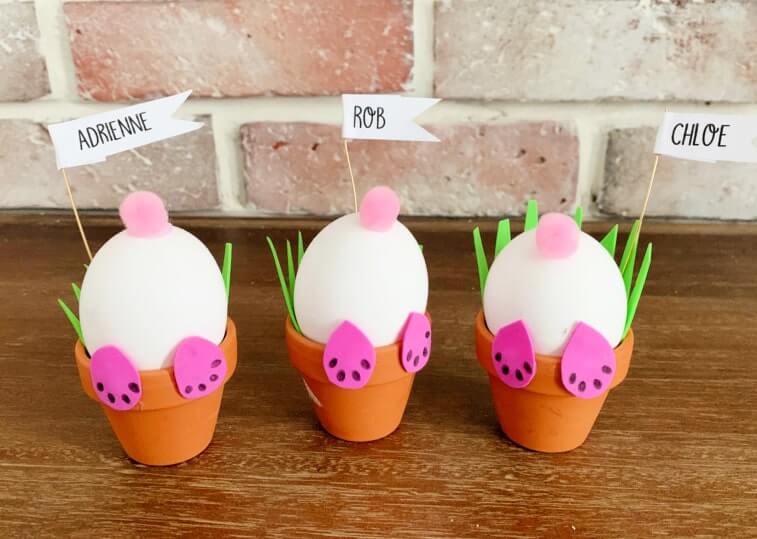 Are you having a party this Easter holiday? Well, you can direct your guests in style with these cute bunny pot place cards. The design of the bunny burrowing its way inside the pot can immediately grab anyone's attention in the best way. This may be especially charming for a child's party this holiday season. With their compact size, you can make plenty of these and set up around various tables. It can even be a nice gift for guests to take home with them.
26. Buttons and Lace Easter Egg Design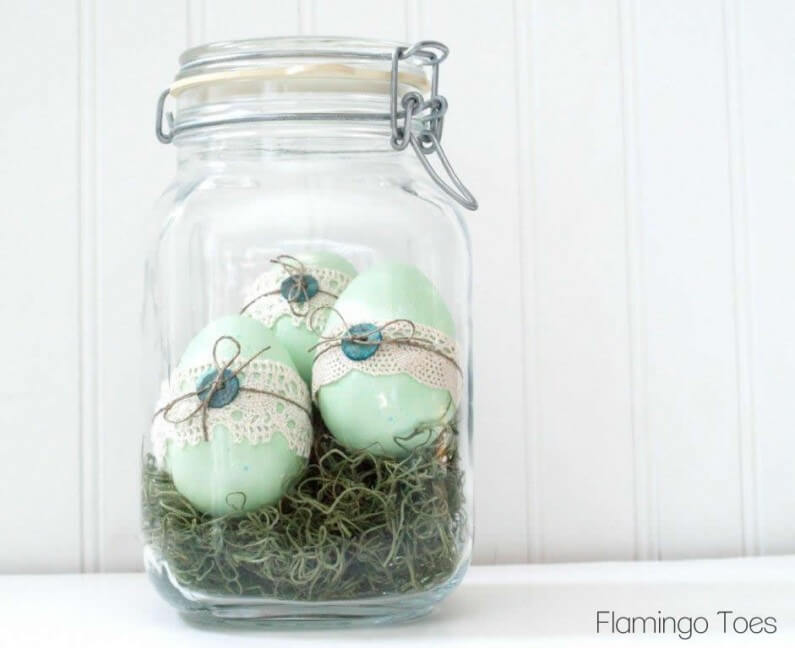 It's nice to find a more unique way to decorate with Easter eggs. Although these eggs are painted, there are further decorative touches added that help them stand out. The lace and buttons give it a shabby chic appearance. This also maintains a natural, green-themed color style that fits so well with the season. The use of faux greenery inside further emphasizes it all too, and the use of a clear jar allows you to show off your creativity with ease.
27. Cute Baking Soda Decorative Easter Eggs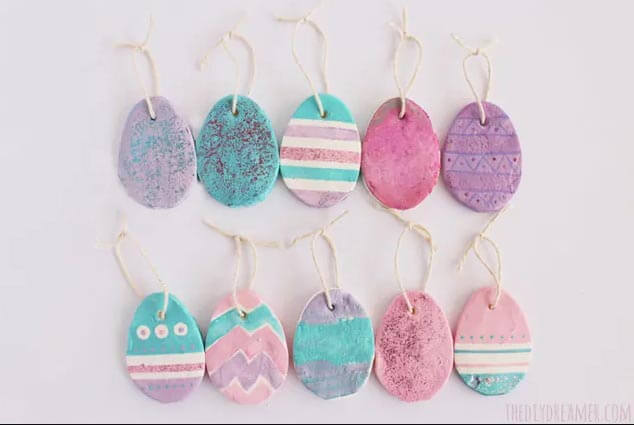 Ready to do something a little different this holiday season for decorating eggs? Well, you can do so with this fun baking soda crafting project. With it, you can create these charming little Easter eggs. This is yet another family-friendly project to enjoy. It does not take very long to create either. This way, kids will see the rewards of their efforts sooner rather than later, a must-have for those impatient little ones in our lives.
28. Upcycled Easter Egg Platter Designs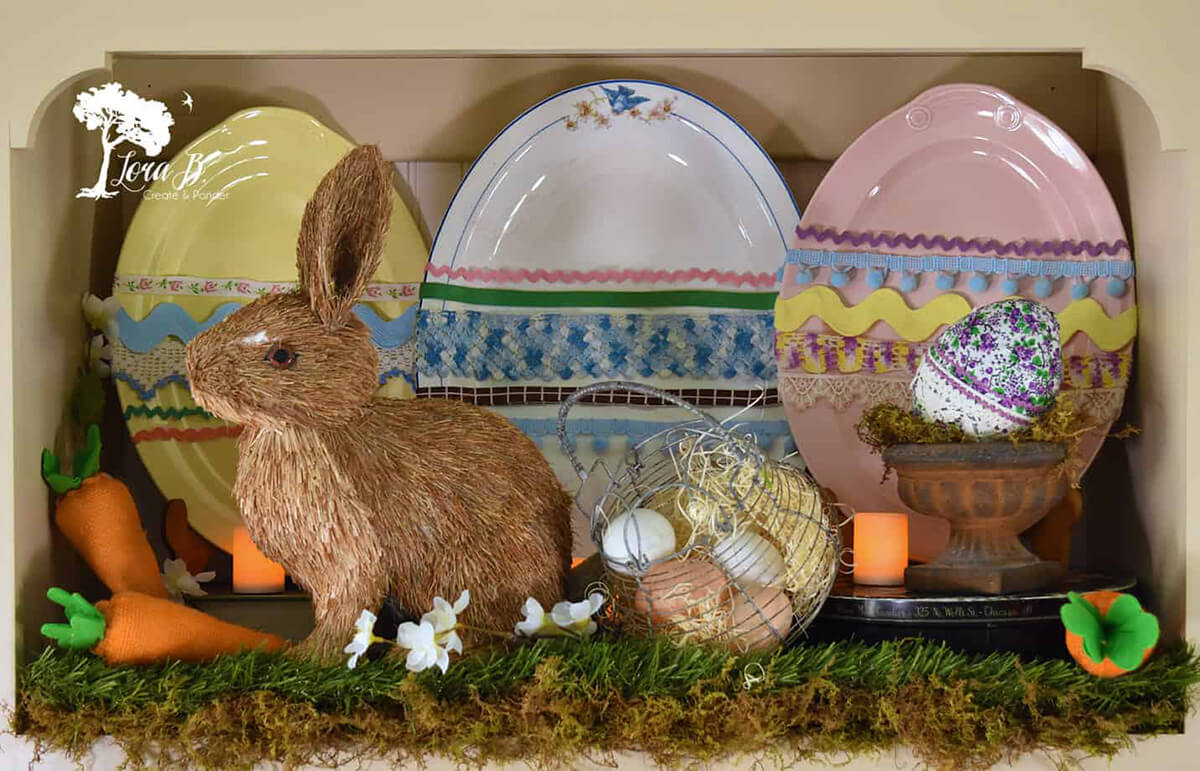 Sometimes a simple upcycling project is all you need to bring Easter into your house. You can decorate any table with these cool platters designed to look like decorative Easter eggs. It is a far less messy method of getting the traditional holiday look. Also, you can make an even grander show of things, setting the platters up inside of a basket surrounded by other Easter-themed items. This leaves you with a well-rounded piece that will instantly snatch everyone's attention.
Beautiful Easter Art and Crafts to Decorate your Home for the Season
The perfect way to get into Easter is to dive into some delightful Easter craft projects. This gives you a wonderful chance to stretch your artistic skills. It is also an absolutely warm and sweet time to spend with the whole family, especially if you are creating homemade decor that everyone who visits will admire. Some Easter crafts can even be an exciting way for you to upcycle some items around your home, transforming what would otherwise be thrown away into something long-lasting and beautiful.
You can craft artwork to hang on the walls that will last the entire season and beyond. Or maybe you want some interesting garland to string up on the fireplace mantle? There are craft projects for that too. In the end, you may very well create a cherished family craft that you will use every year. Easter crafts are also a cool way to add something more distinctive to a kid's basket. This can make revealing that Easter basket all the more exciting and special. If you ever run out of ideas, you can always use some of our favorite picks to make the best Easter crafts to celebrate the holiday season.