This holiday, wow your guests with stunning Easter table decorations that emphasize all the beauty and vibrant coloring that comes with it. Easter is a joyous time for many people. We all know just how serious egg hunts and baskets full of treats are. However, there is one area that may get a touch neglected: the table. Coming together with family and friends is another major part of the holidays, so why not have everyone gather around a table with some incredible decor?
25 Easy Easter Table Decor Ideas to Celebrate the Holiday in Style and Grace

Before you can start your decorating journey, you need to consider exactly how you want your Easter table setting to look. Do you need a jaw-dropping centerpiece? Or perhaps your table will benefit from some livelier place settings? Another consideration is the size of your table. Some decorative pieces are perfect with larger tables, while others are more suitable for smaller ones.
A great thing about decorating the table for the Easter holiday is that there are not many limitations. Do you want something that is more traditional? Well, you can create some beautiful centerpieces with flowers fitting for spring. This is perhaps the easiest way to add some color to your set up too, giving your table vibrancy that all your guests will appreciate. Or maybe a more natural approach to the centerpiece is more up your alley? You can add more natural decorative items with greens and browns, giving the design an earthy appearance.
There is plenty you can do with your place settings as well. Rather than just laying down plates and silverware, add in some festive napkins or perhaps a miniature wreath for that hint of texture. With numerous routes to take, we understand if you feel conflicted about what to add. So, we have come up with our favorite Easter table decor ideas to get you started.
1. Chic and Stylish Springtime Table Decor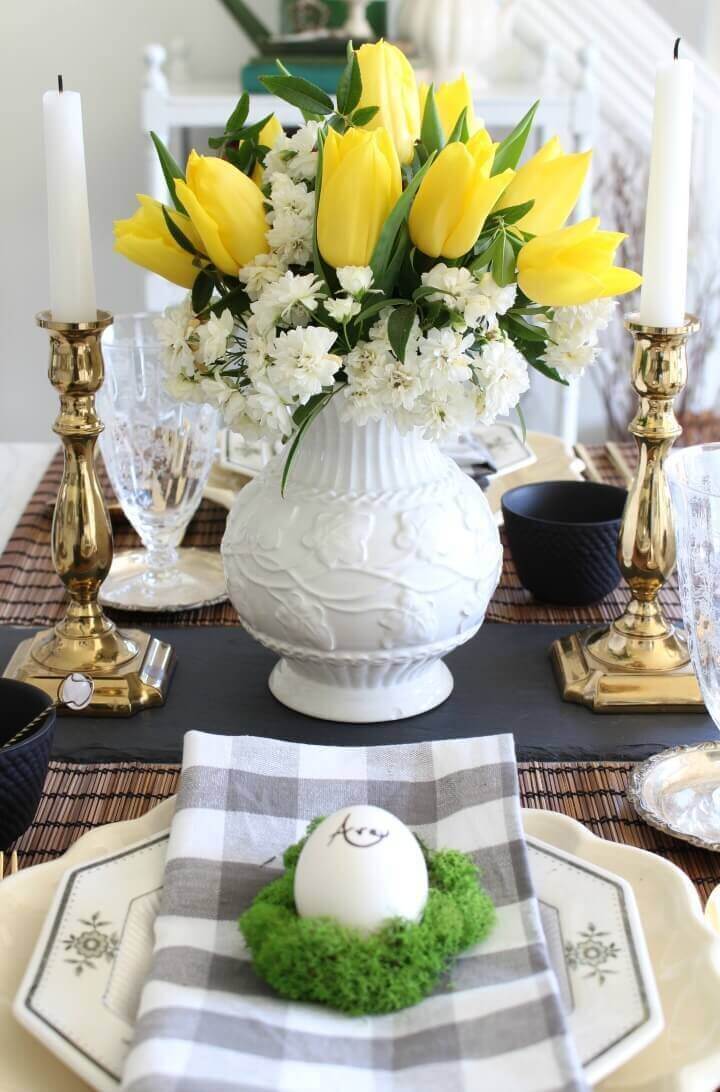 Bright yellow tulips are truly impeccable when it comes to leaving a statement. They can give your table arrangement all the color it needs to highlight your adoration of the season as well as celebration for the Easter holidays. With this floral setup, feel free to break apart the tones of yellow with additional colors for variance.
2. Whimsical Easter Centric Tablescape Idea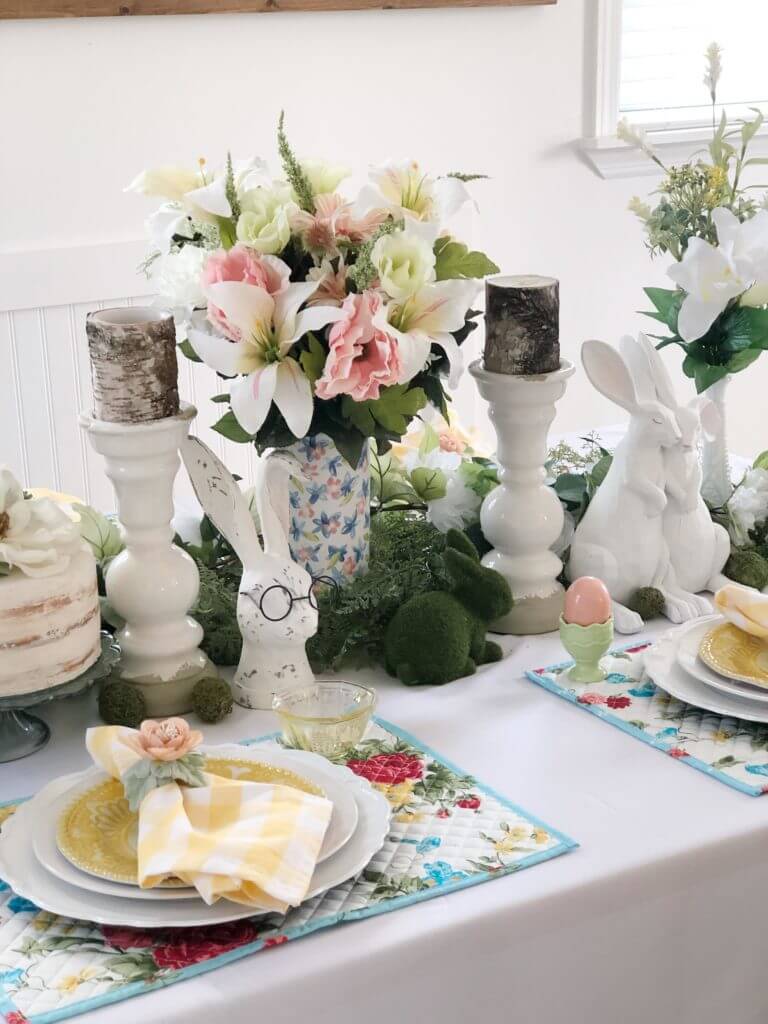 Create an Easter dinner that will be remembered for years with this gorgeous tablescape. Using a variety of bunnies can help bring more life to this design. The greenery around it draws the eye as well, giving the overall design a sense of movement that makes it even more compelling.
3. Gorgeous Easter Table Decorating Idea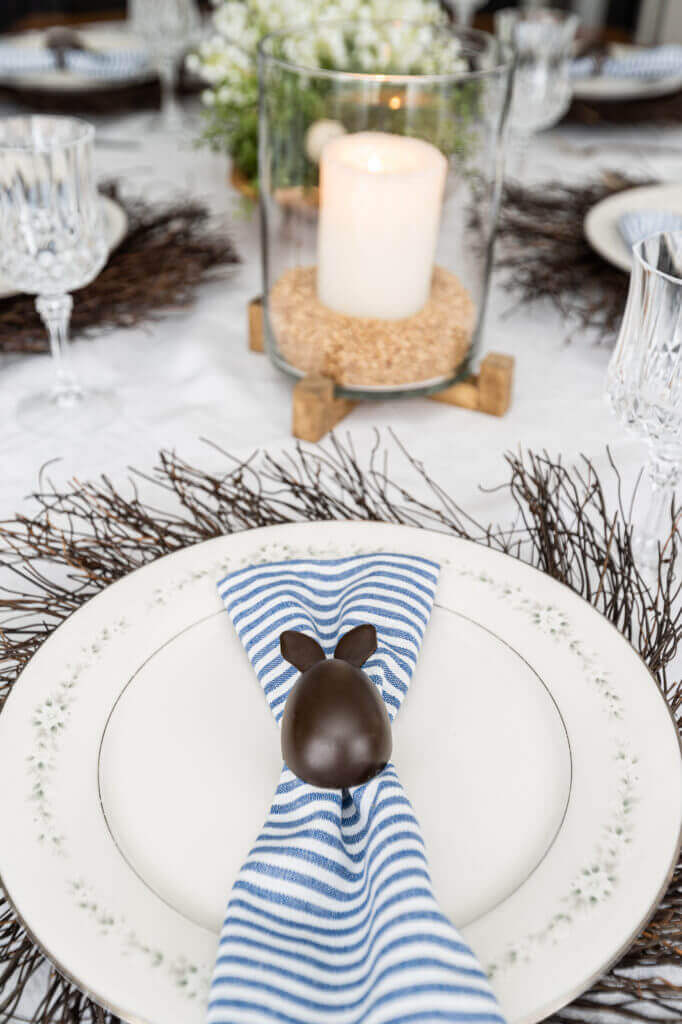 This table setting is an excellent way to add some texture to your Easter table. The wreath fits well, giving your decor an outdoor flair that goes hand in hand with the season. This is also a distinct departure from the traditional placemats. The faux chocolate bunny serving as a napkin ring ties it all together.
4. Spring Colored Easter Table Decor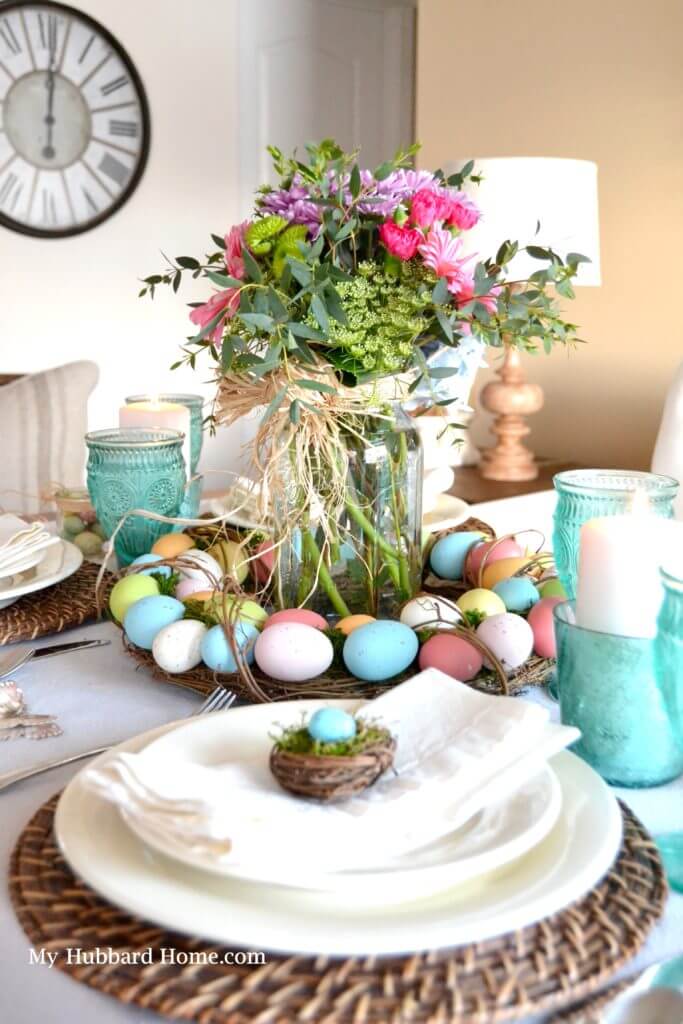 Spring is all about bold and bright coloring. Why not use that to showcase your decorative skills with your Easter table? The eggs are perhaps the most useful here. Using multiple colors further enhances the springtime theme while combining with the holiday. Add in a colorful bouquet of flowers in the center to enhance the style even more.
5. Cheerful Easter Spring Centerpiece Design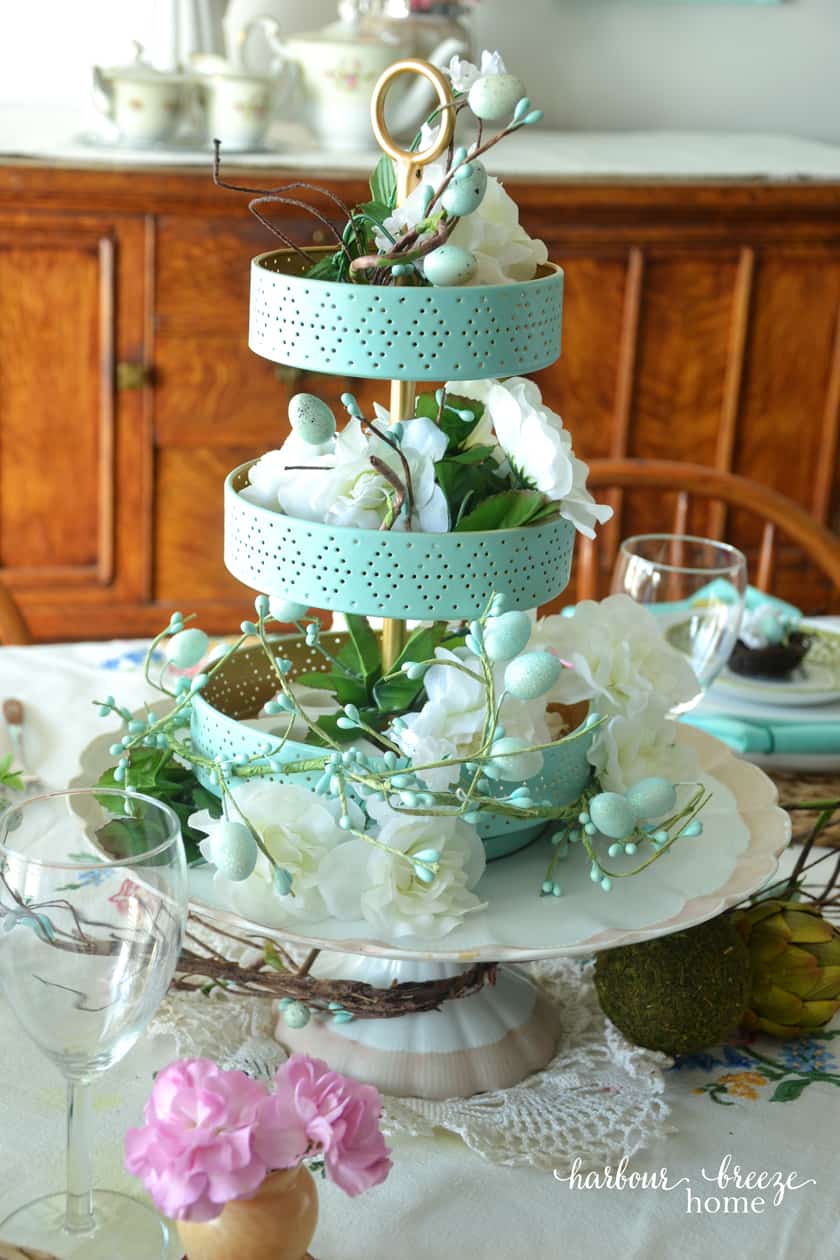 Help your centerpiece stand out with this breathtaking design. It is an upcycle project as well as you are transforming a tiered item and a cake stand into your perfect Easter table decorative piece. The blue on the tiered tray blends well with light blue eggs, capturing both spring and Easter all in one.
6. Fashionable and Vibrant Easter Table Design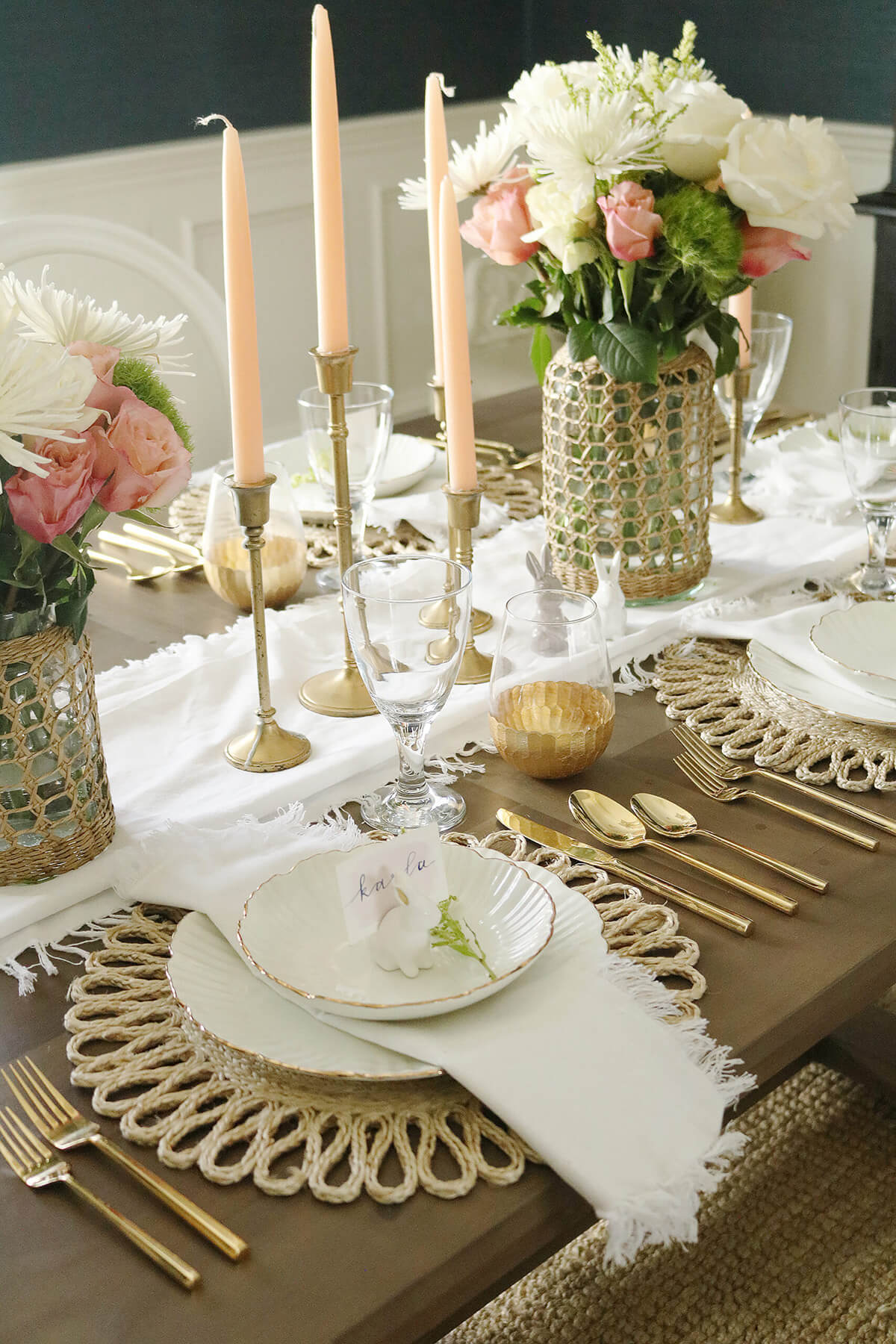 Bring some fashion into your Easter dinner celebration with this chic table setup. It features golden items from the silverware to the candlesticks. Even the vase for the flowers has that elegant touch. It is a nice way to put a modern spin on the classic springtime decor to allow your table design to truly stand out.
7. Woodsy Easter Springtime Table Decor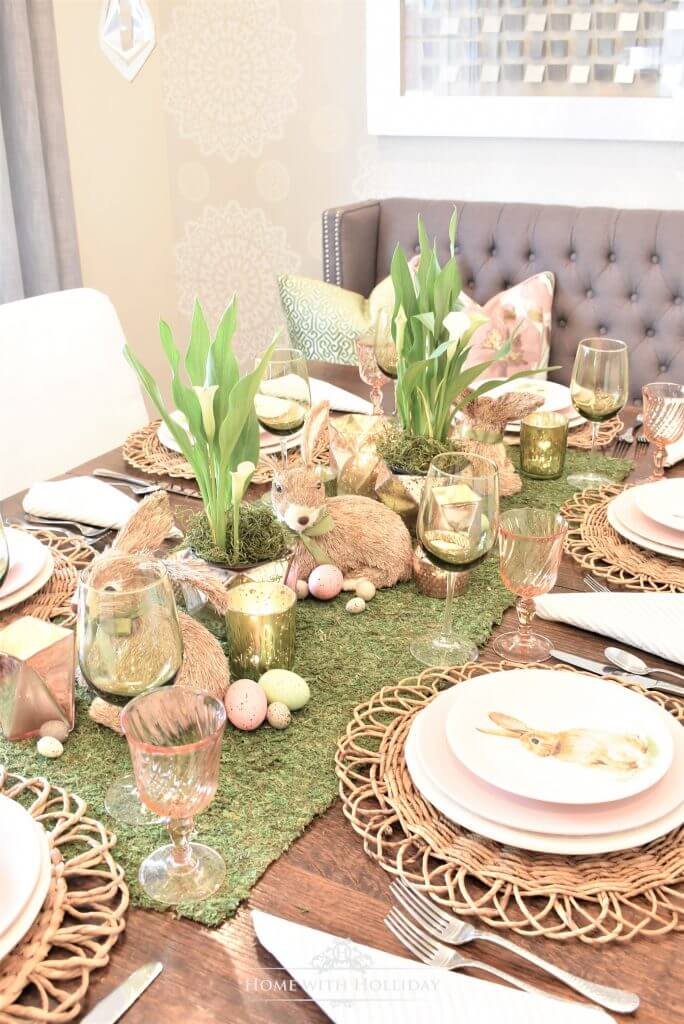 Perhaps what you need is an Easter table setting that would not look out of place if you designed it for an outdoor dinner table. This setting is ideal as it features some earthy color tones throughout to stick with the more rustic side of spring colors. The bunnies and eggs add a pleasant touch to it all, giving more coloring and texture.
8. Gorgeous Easter Themed Flower Arrangement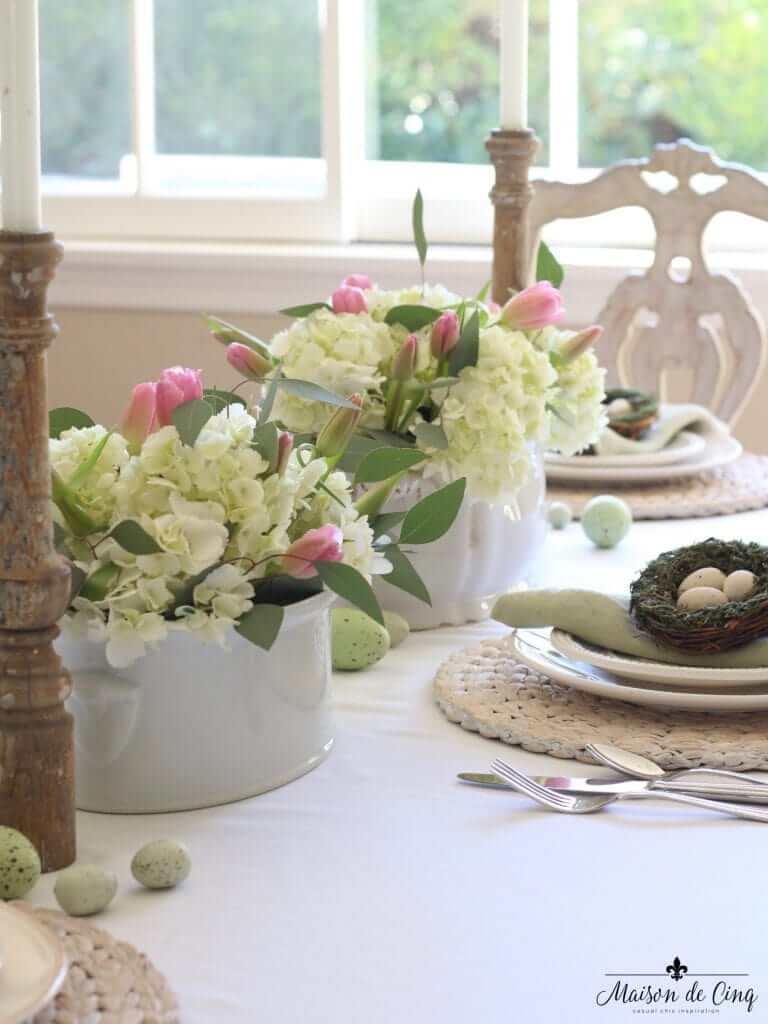 Arrange your flowers in a bold and attention-grabbing manner with this Easter table decor idea. The flowers are not exactly tall, which is fitting if you are focusing your design using more compact items. There is a healthy variety of coloring with this too so that things remain more free-flowing rather than static.
9. Pretty Springtime Easter Dinner Table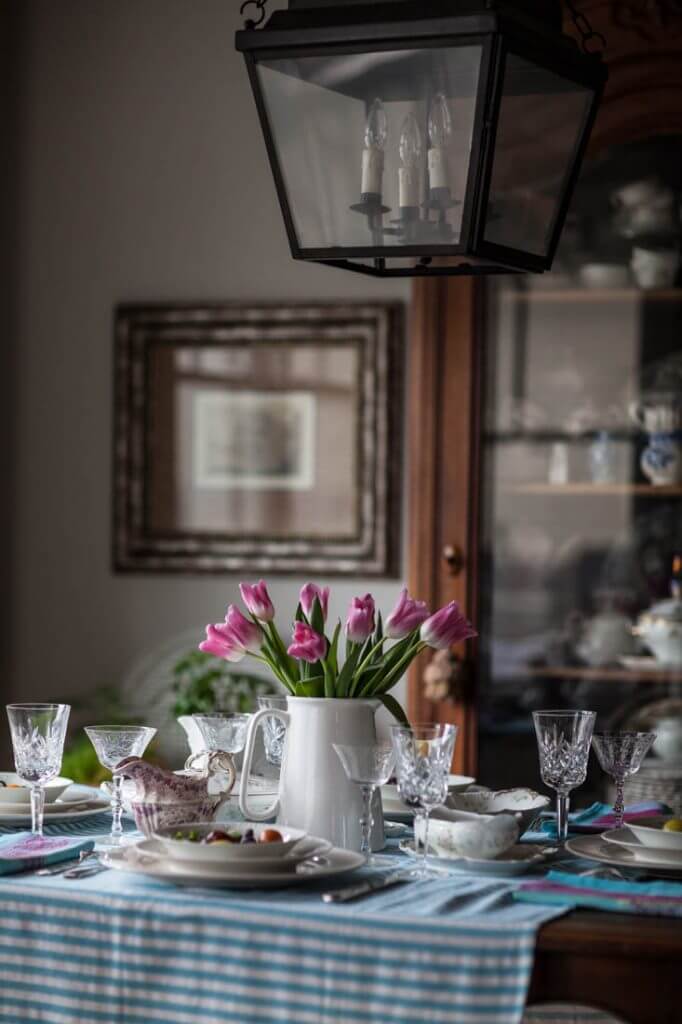 Liven up Easter dinner with this attractive springtime themed design. The tablecloth featuring a typical seasonal color like light blue is perfect here. You can make it even better when it comes to the centerpiece. Aim for traditional flowers that fit in with the season such as tulips. This way, you can stay on theme and keep Easter dinner a bright and cheerful affair.
10. Vibrant and Colorful Easter Dinner Table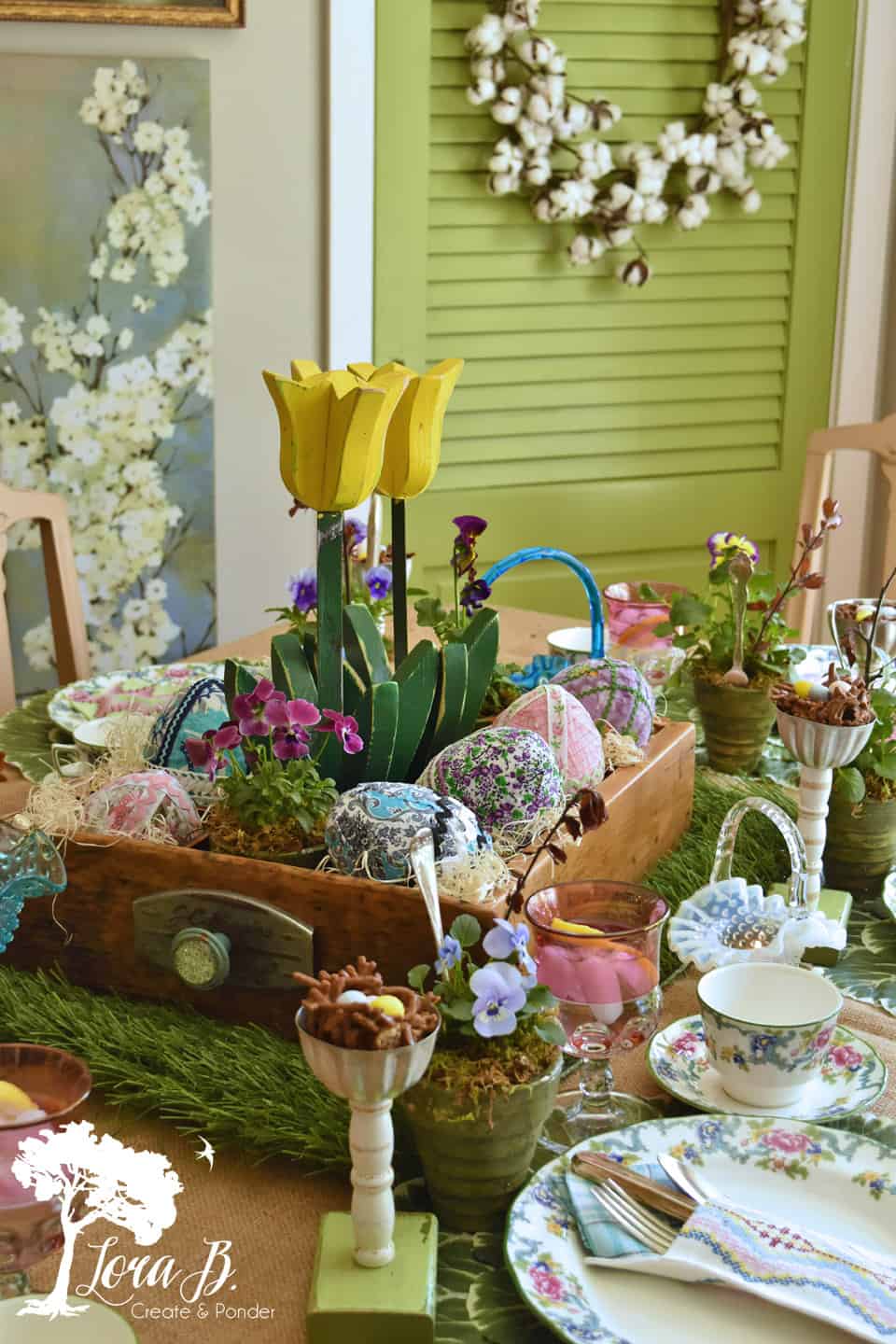 As Easter coincides with the spring season, it is just ideal that the decorations can utilize a seasonal theme. In this case, you can bring a host of different colors rooted in nature into your table decor. This includes splashes of greenery to brighten up the space. Don't forget the decorative eggs as it cannot be an Easter celebration without the eggs.
11. Beautifully Rustic Easter Table Design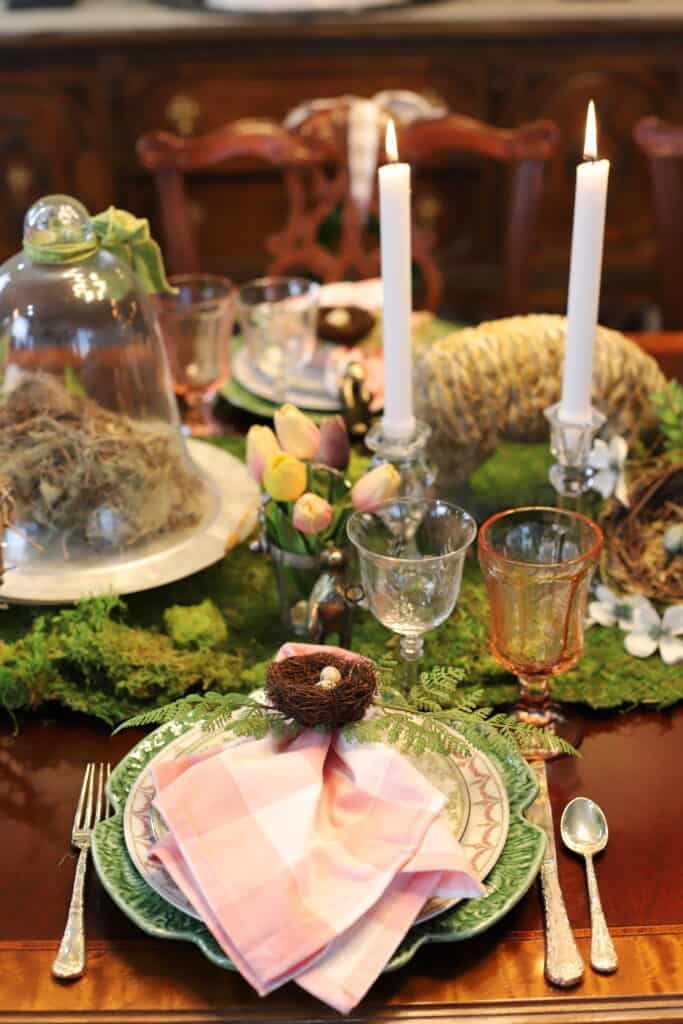 With this design, you will have your Easter dinner table looking as though it came right out of a majestic forest. There is greenery found just about everywhere with additional springtime coloring lightly breaking it up in between. The adorable nest on the napkin sells the piece though. It's a pleasant, unique spin on the average place-setting look.
12. Easter Farmhouse Table Centerpiece Layout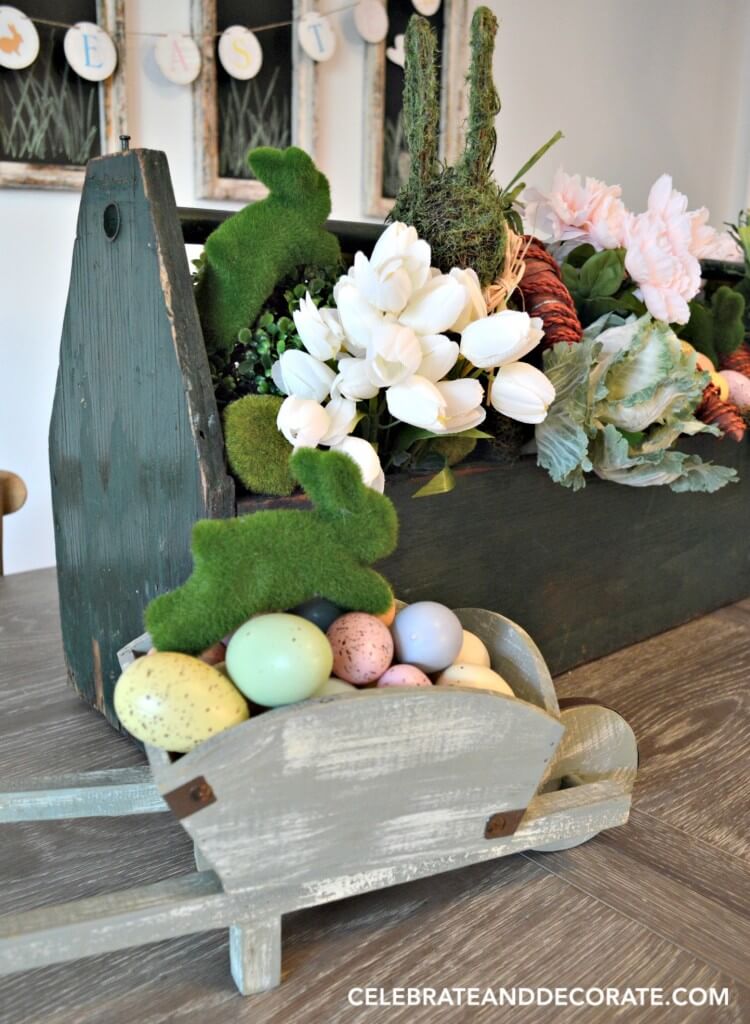 Nothing quite captures the traditional Easter vibe more than a farmhouse layout. This centerpiece does not disappoint in that avenue. It features all the healthy outdoor coloring style from earthy greens to vivid oranges and yellows. The moss bunnies are an extra touch that makes it cute and stylish.
13. Pretty Pink Themed Table Setting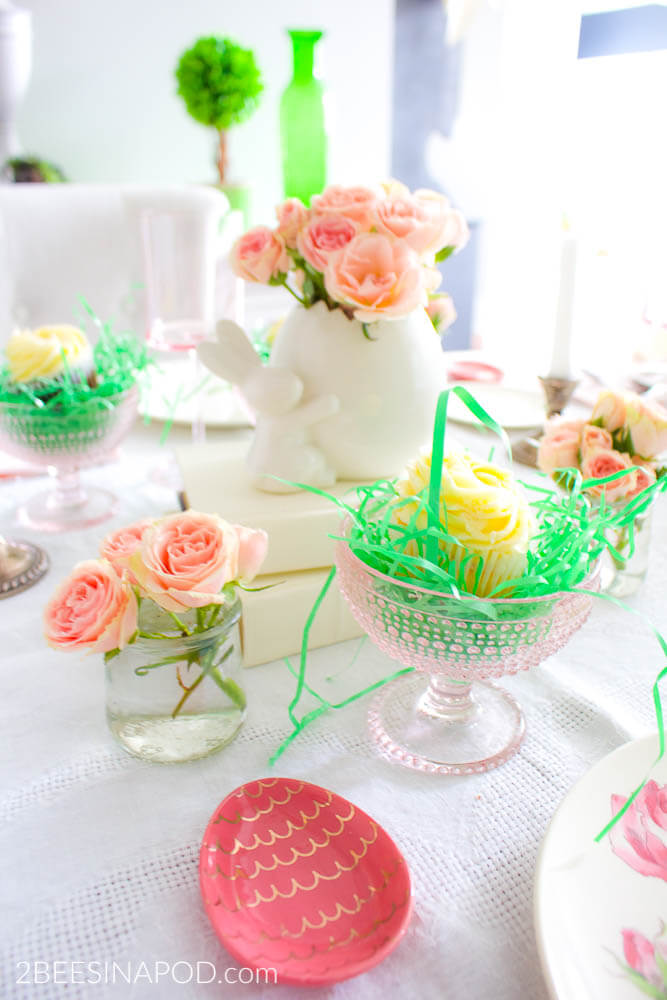 A wonderful way to bring springtime into your Easter table decorations is with a pink theme. It is such a light and pretty color that it creates an airy, almost whimsical feeling. The pink roses are an excellent touch too, faux or real. You can create an Easter dinner surrounded by gentle and captivating things.
14. Classic Easter Themed Dinner Table Setup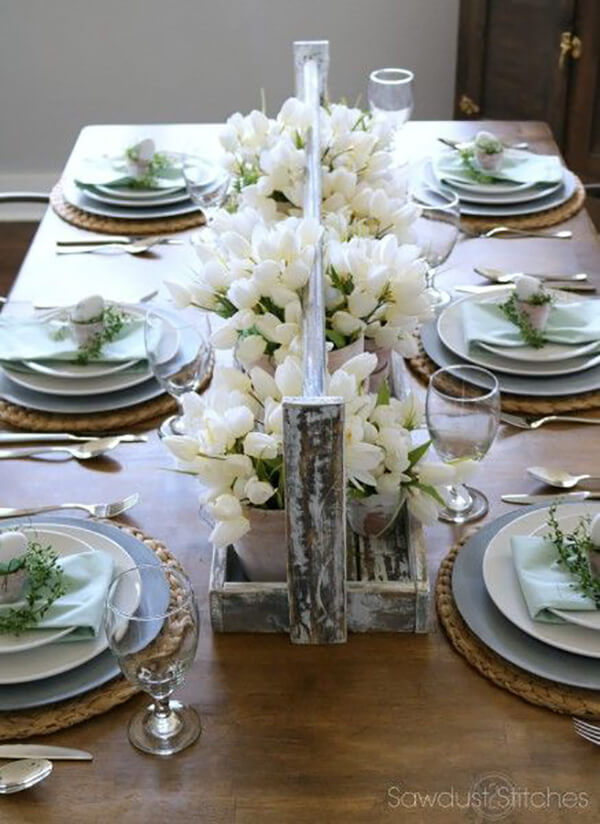 Keep a vintage touch with your Easter table decorations and opt for this gorgeous tablescape. The use of just white flowers in the centerpiece adds such a powerful layer of brightness that anyone would appreciate them. They are offset well with the other darker items. Round things off with some light-colored place settings, and you have a bold Easter design on your hands.
15. Easter Bunny Dinner Table Decor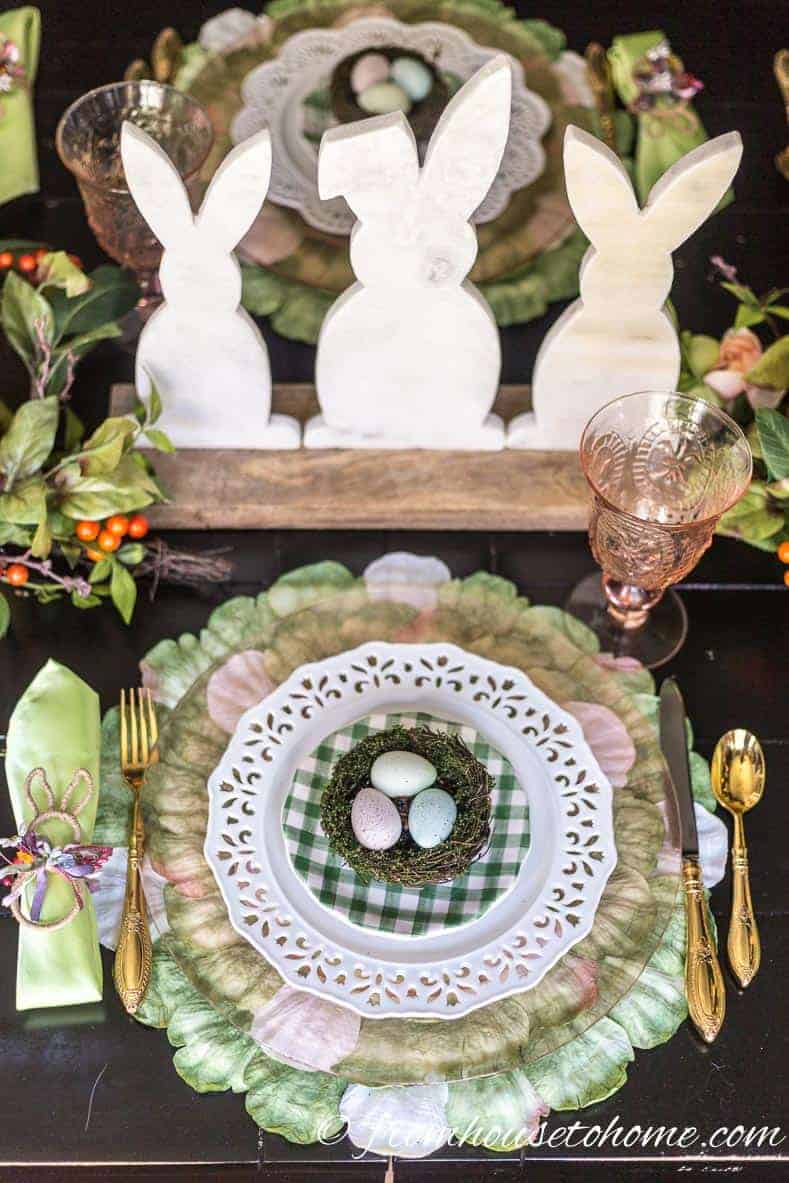 As far as Easter table decor ideas go, this one takes full advantage of the Easter bunny theme. The bunny figures are cute to serve as a centerpiece. Their white style stands out in contrast to the greenery that otherwise takes over the rest of the setup in the best of ways. You can even round things out and use Easter eggs in the decor.
16. Charming White Rabbit Flower Vase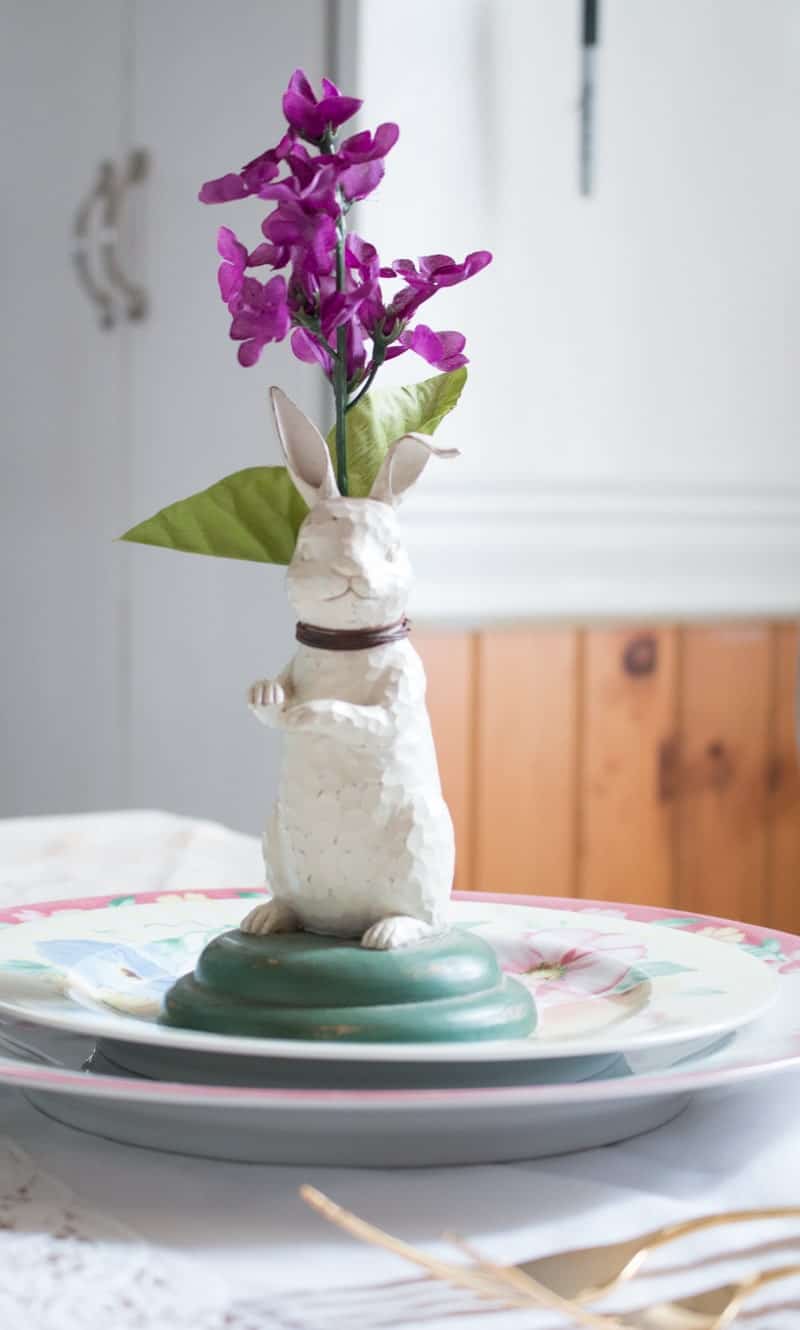 Perhaps your table just needs something simple to make an impact. If that is true, then you cannot do wrong with this cute rabbit vase. This setup as a whole is as simple as it comes, but the detailing on the rabbit can snatch attention with ease. From there, the use of a single flower is enough to give this centerpiece some cool contrast.
17. Handmade Paint Stick Flower Basket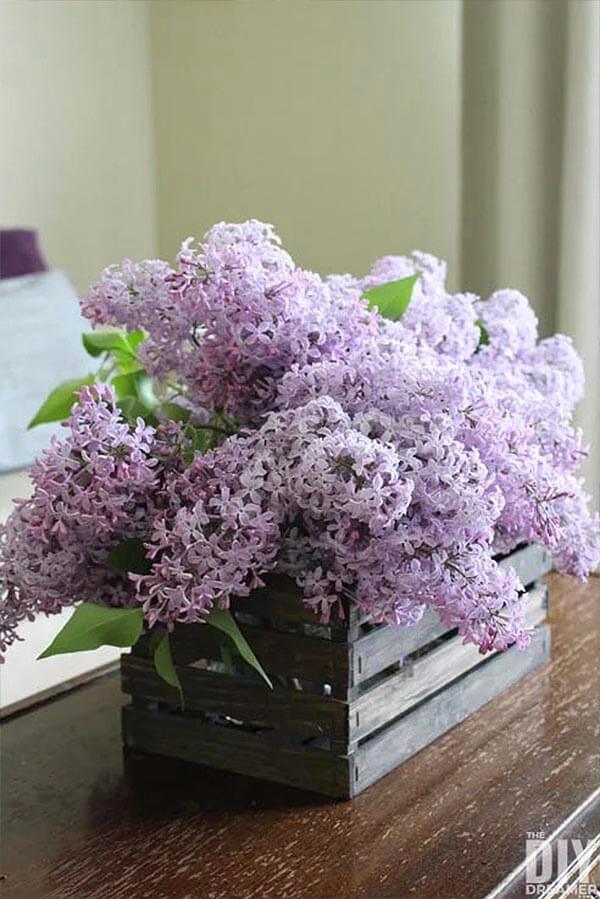 Take your artistic skills to new levels with this handmade paint stick basket. Giving the sticks a paint job is fitting as it adds contrast to the centerpiece, the dark wood appearing rustic even. Meanwhile, the bold and bright flowers will breathe life into your Easter table, leaving guests impressed as you all gather around.
18. Rustic Egg Shell Easter Table Decoration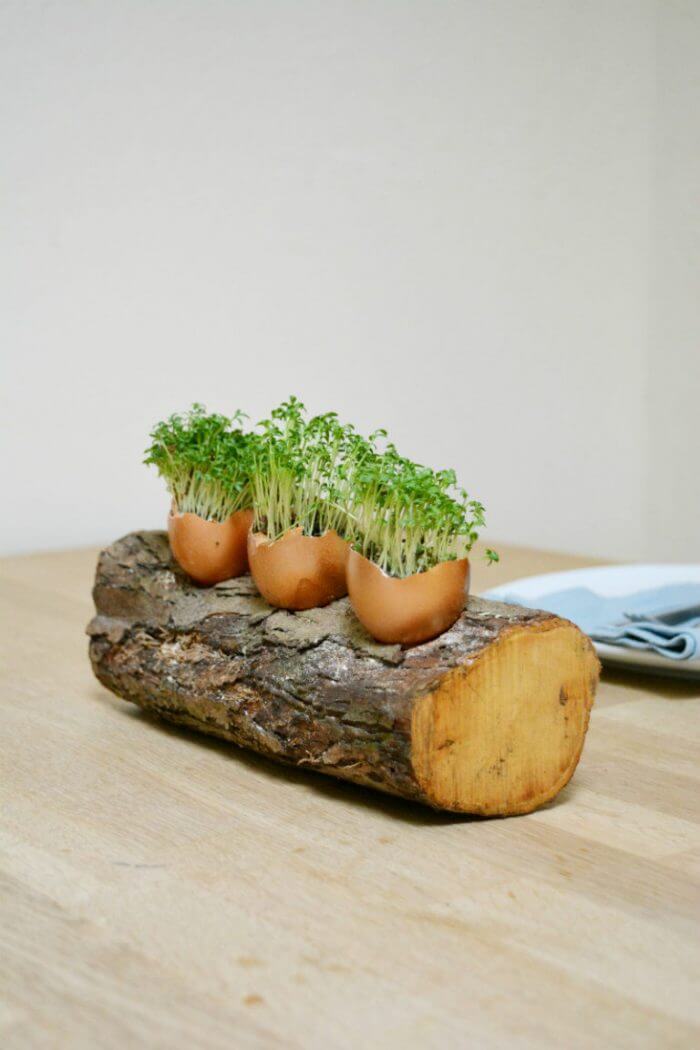 A unique way to decorate the table for Easter is with this incredible egg shell centerpiece. As these will grow cress inside, it is important that you start the project days in advance so that they are ready in time. Add in the log, and this is a wonderful way to bring more natural-themed decor to the table.
19. Easter Egg and Grass Centerpiece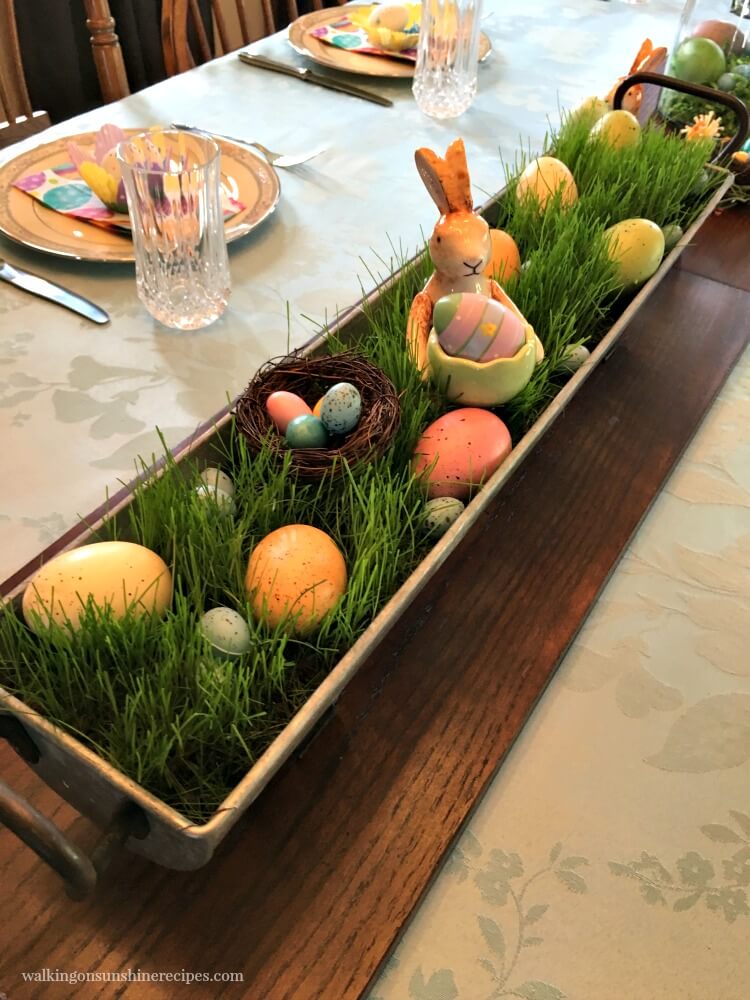 Eager to celebrate the joyous side of Easter filled with colorful eggs and bunnies? Then try out this awesome centerpiece design. The faux tall grass with scattered eggs can make guests feel as though they are right outside embarking on the Easter egg hunt. Top it all off with some bunny figurines and you have yourself a gorgeous table setup.
20. Elegant Wooden Box Centerpiece Idea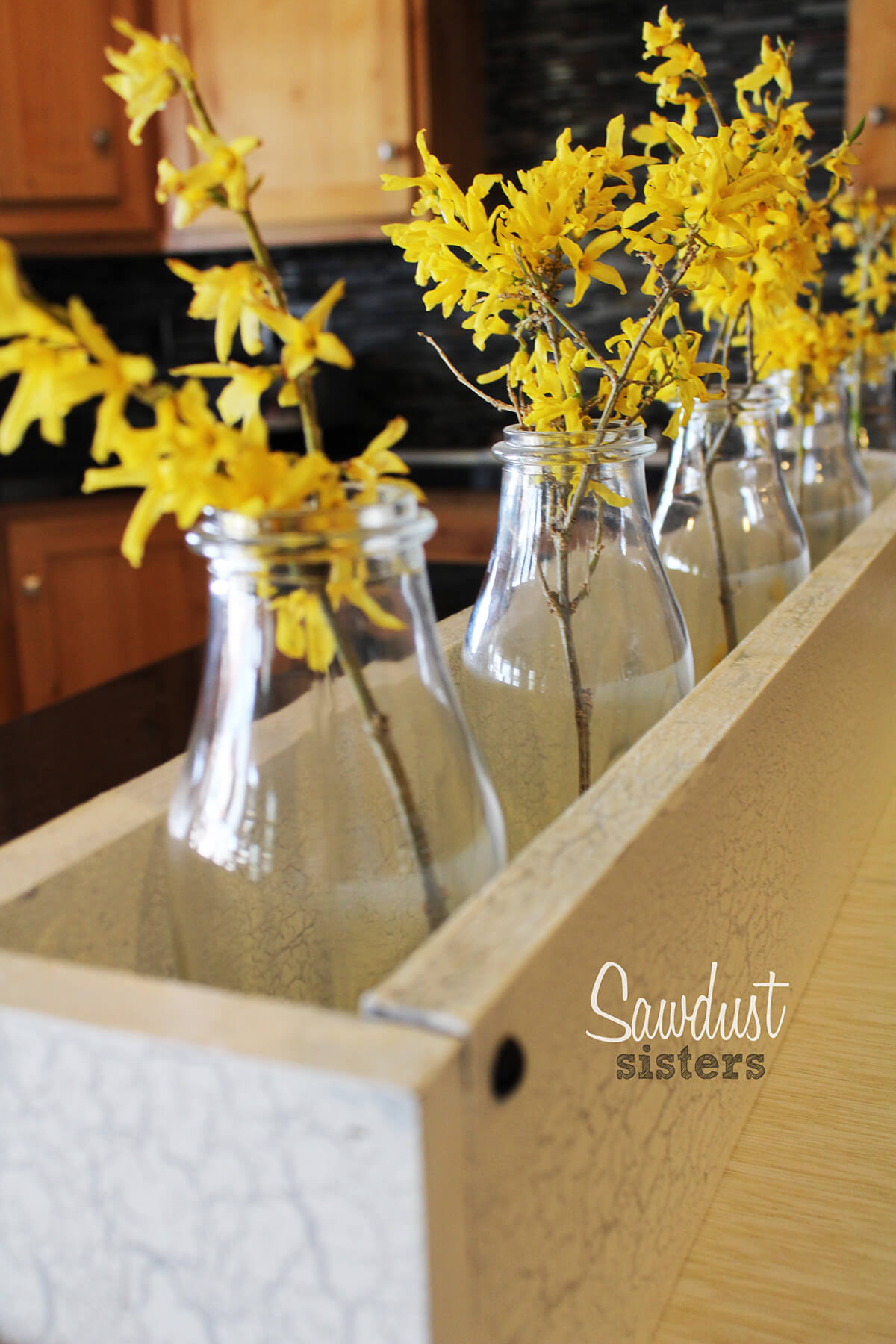 If you want a decorative piece to stretch most of the Easter table, then try out this gorgeous handmade wooden box. The box itself holds a lighter color that works well with the springtime vibe. What truly keeps attention though are the flowers. Utilize clear glasses so that the vases don't detract from the decorative touch the flowers bring.
21. Vintage Farmhouse Style Easter Dinner Table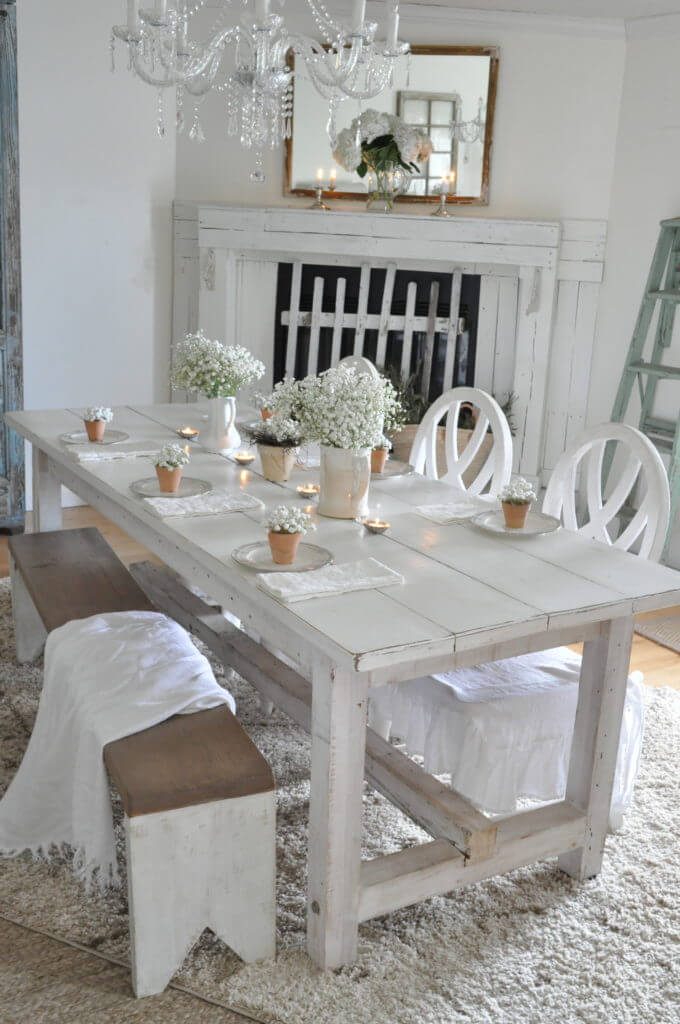 Farmhouse is such a wonderful way to design your Easter table. It has a classic look about it that makes it so appealing. This design uses white as a focal point, but in a manner that features distressed wood so it comes across as vintage. The flowers elevate it to a slightly chic level. It is a simple approach, one fitting for the minimalistic layout.
23. Farmhouse Style Easter Table Setting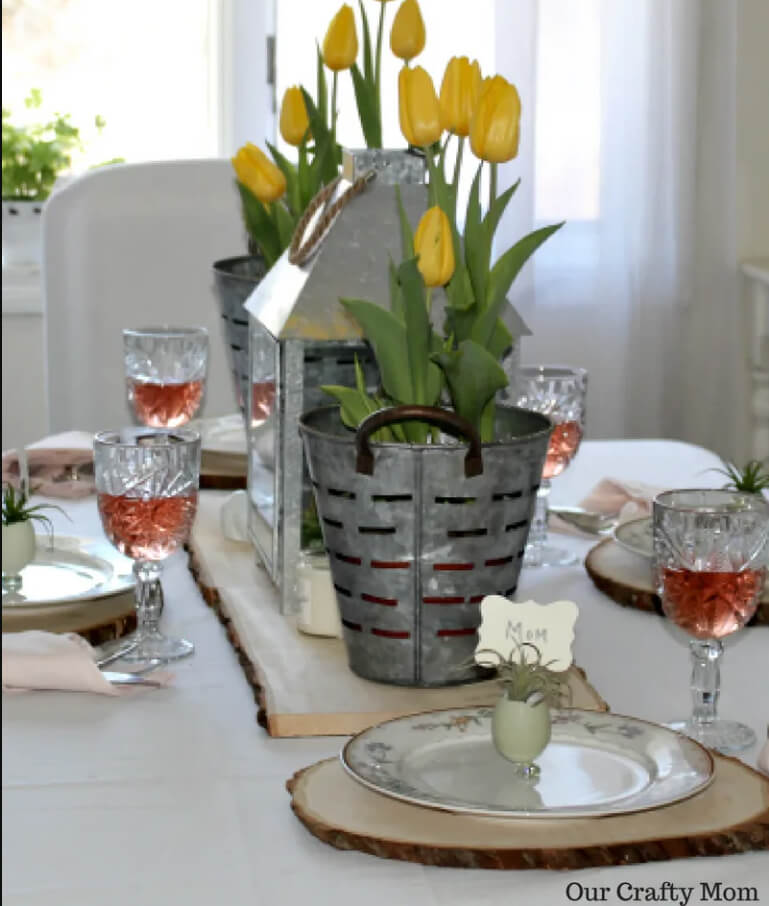 Keep things simple with your table decor with this fresh take on farmhouse style. The metal buckets are a cool touch to bring contrast to the design that is otherwise bright and lively thanks to the flowers and greenery. Not much else is needed as this serves as the focal point of your table.
24. Warm Easter Egg Centerpiece Design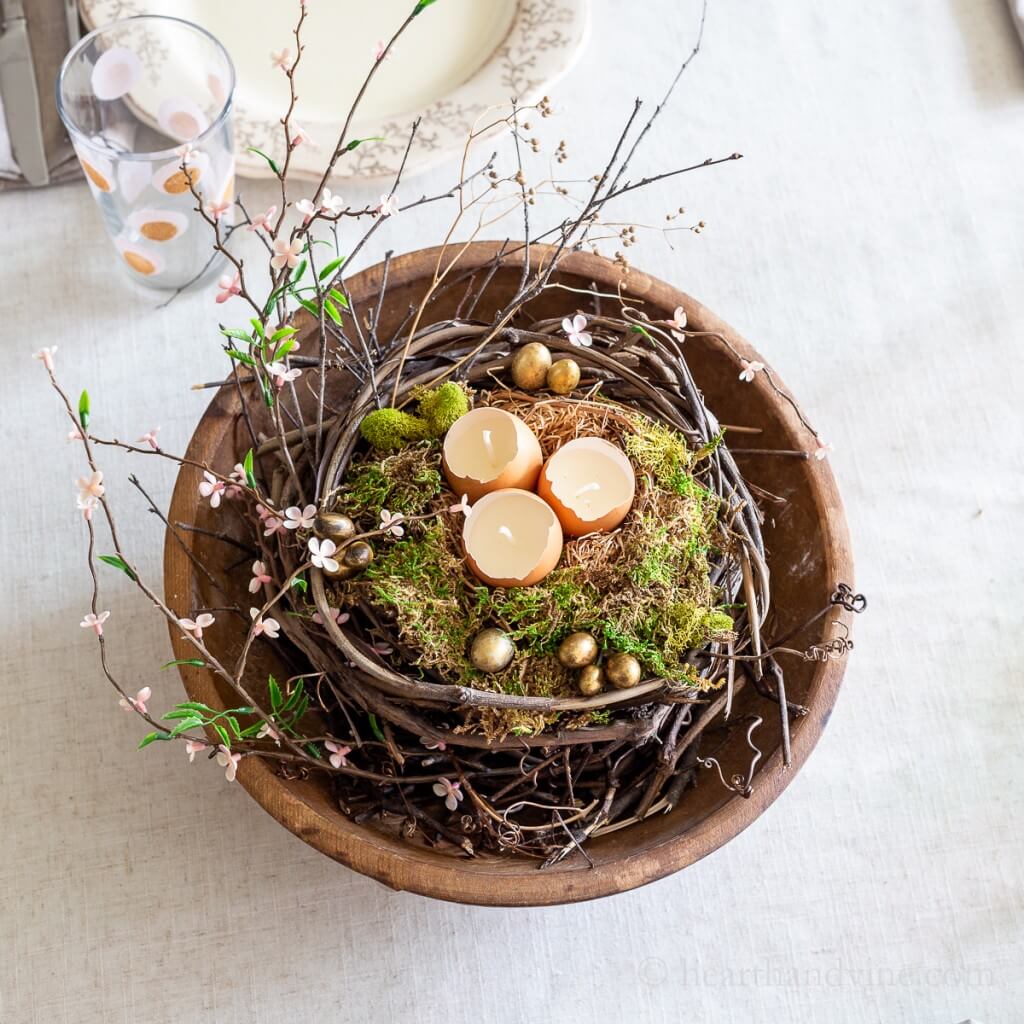 Bring nature right into your home with this incredible handmade centerpiece design. It looks like an egg nest of sorts, but in a more elevated, modern way. There are hints of additional color beyond the greenery thanks to the little flowers on the branches. Meanwhile, the eggs serve perfectly as candleholders, giving your table set up a unique and warm flair.
25. Terra Cotta Easter Theme Centerpiece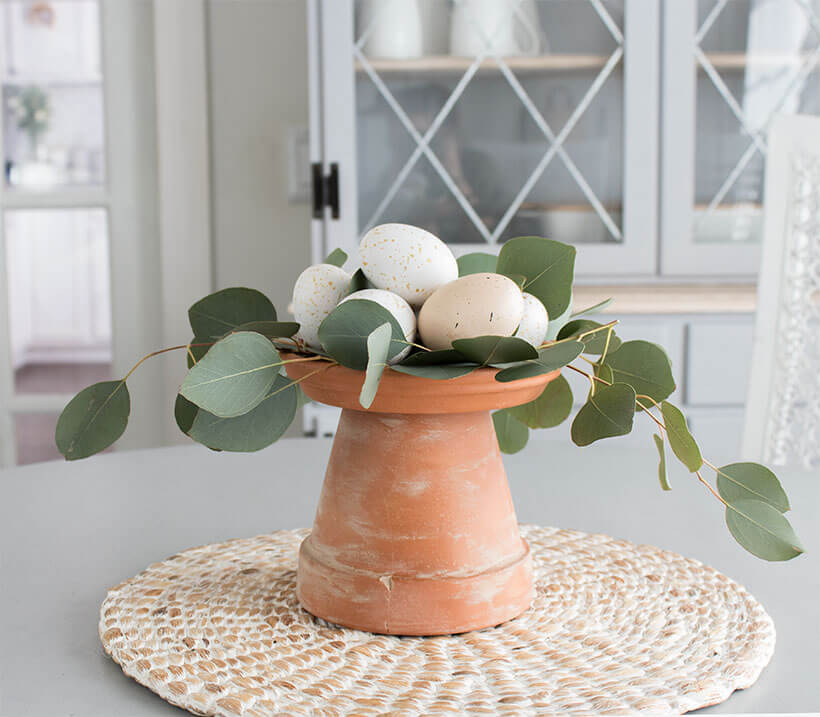 A centerpiece does not always call for much when you want to highlight your creativity and style. Instead, you can keep things light with this upside-down terra cotta planter. It serves as a wonderful solution to hold the main part of your centerpiece in a more distinctive manner. The greenery and eggs add color and contribute to the Easter theme.
25 Stunning Easter Table Setting Ideas for a Creative Spin on Decorating for the Season
When you want to bring the family together for Easter, it helps to do so at a dinner table brimming with the holiday season. The table is a great way to add more decorations to your home, or perhaps it is the main area that features decorative flair. It is the one place that everyone will see when it comes time for dinner. So, it is only fitting that they sit down to a loving feast and a gorgeous display.
You can go big for this area, decorating with large and bold centerpieces and unique table settings. Or you can opt for the minimalistic approach, adding an Easter themed table runner or some colorful tablecloths that suit the season. No matter which way you want to go, you have plenty of options at your disposal. A wonderful thing about decorating the table is that you can do just about anything and give it more life. You dress up in your Sunday best for Easter, so it stands to reason that your table should too. So, keep our top picks for our favorite Easter table decorations in mind as you prepare your home for the celebration.