Easy DIY Halloween craft ideas are the perfect way to get you into the spooky spirit. Because of the lovable cast of familiar Halloween characters and motifs, this is one of the most fun decorating events of the year. Do you want your Halloween décor to be playful or terrifying? For fun décor, lean into grinning jack-o-lanterns, cartoon-style ghosts, and black cats. However, if you feel that Halloween décor should be as macabre as possible, do not be scared to mix in skulls, zombies, bones, vampires, witches, and anything that flourishes in the dark.
The Top 21 Easy DIY Halloween Craft Ideas for Crafters of All Ages

Beyond the overall aesthetic, you also need to consider how much time you have to get your home ready for this year's spooky season. Compared to other holidays, seasonal Halloween décor is only on display for a short time. While this makes it more special, it also means that you have less time to prepare and enjoy your handiwork. Although many of these ideas are very easy to make, there are ways to make them easier should you desire. For example, you can always purchase a dollar-store witch's hat instead of making one yourself. As you read these tutorials, think about ways that you can save time and effort for yourself or the children making the projects with you.
Chances are, your Halloween décor will be going up along with other fall décor items. Before beginning a project that will be on display inside or outside your home, think about how it will fit with your existing décor. Color scheme and palette are the primary decisions you will need to make. If your home is decorated in gentle pastels, you may want to skip the intense reds and forceful oranges in these crafts so that yours harmonize with the rest of your home. Of course, some Halloween decorations like scarecrows and pumpkins can remain on display until your winter decorations come out.
1. A Frightening Murder of Crows Wreath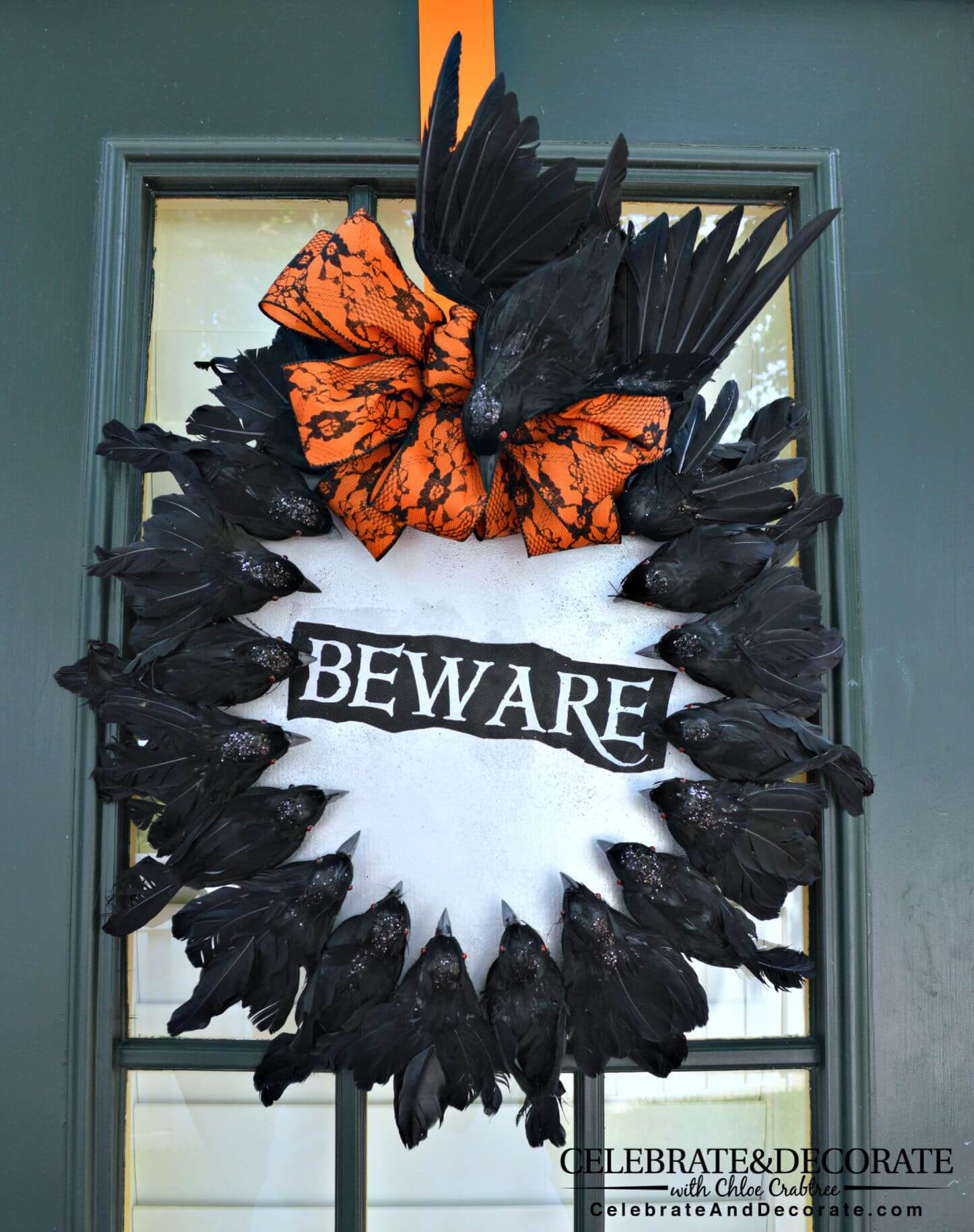 Those who enjoy a little more trick than treat will enjoy this creative wreath idea. Every aspect of this wreath is designed to send a chill down the spine. In this project, the small touches like sinister scarlet eyes and bewitching silver glitter make a big impact. A raven at the wreath's apex rules over its crow brethren with the assistance of a black lace and orange bow. Meanwhile, a cautionary "Beware" cut from a cloth bag adds another texture as well as an ominous tone. This wreath is everything you could desire in a creepy Halloween decoration.
2. Chic Pumpkin Centerpiece Perfect for Halloween Parties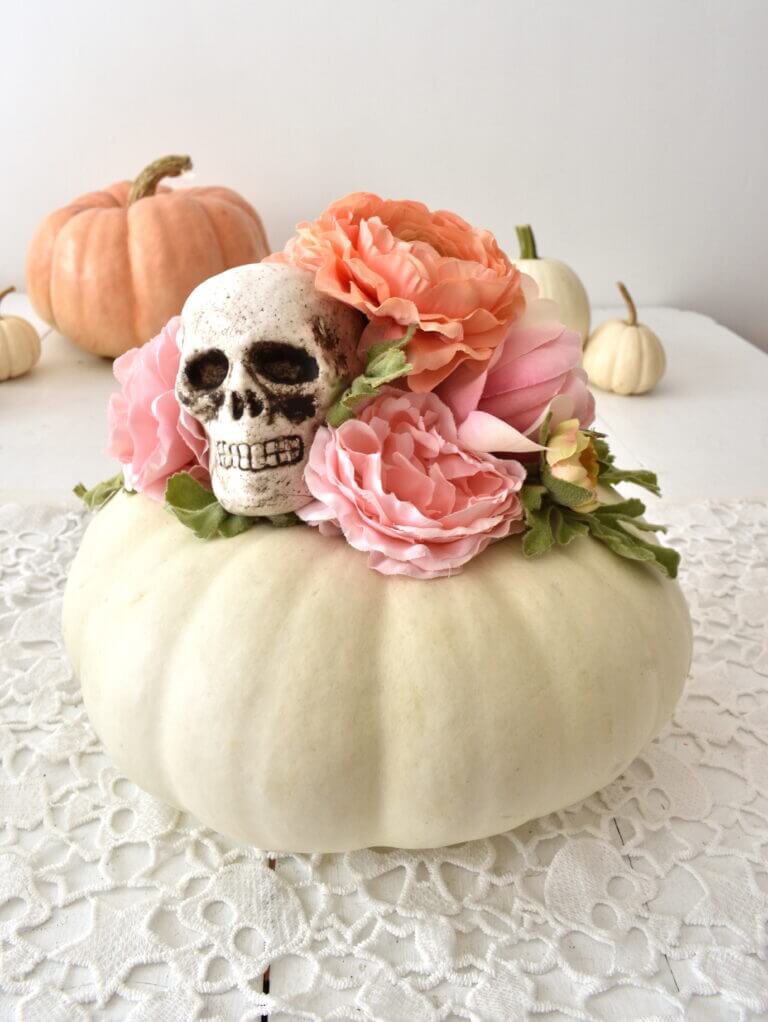 Even if your tastes usually tend to pastels and blush, you can create Halloween décor that will fit your style. Shades of blush and peach soften this centerpiece to give the entire effect a sophisticated ambiance. The beauty of this idea is that you can personalize it in any number of ways. If you love jewel tones and macabre Halloween decorations, opt for blood-red or black florals. Pair your centerpiece with dripping wax candles to fill your space with eerie energy. For a centerpiece with an abundance of texture, swap the pumpkin out for a gourd.
3. Faux Chain: Small Details with Big Impact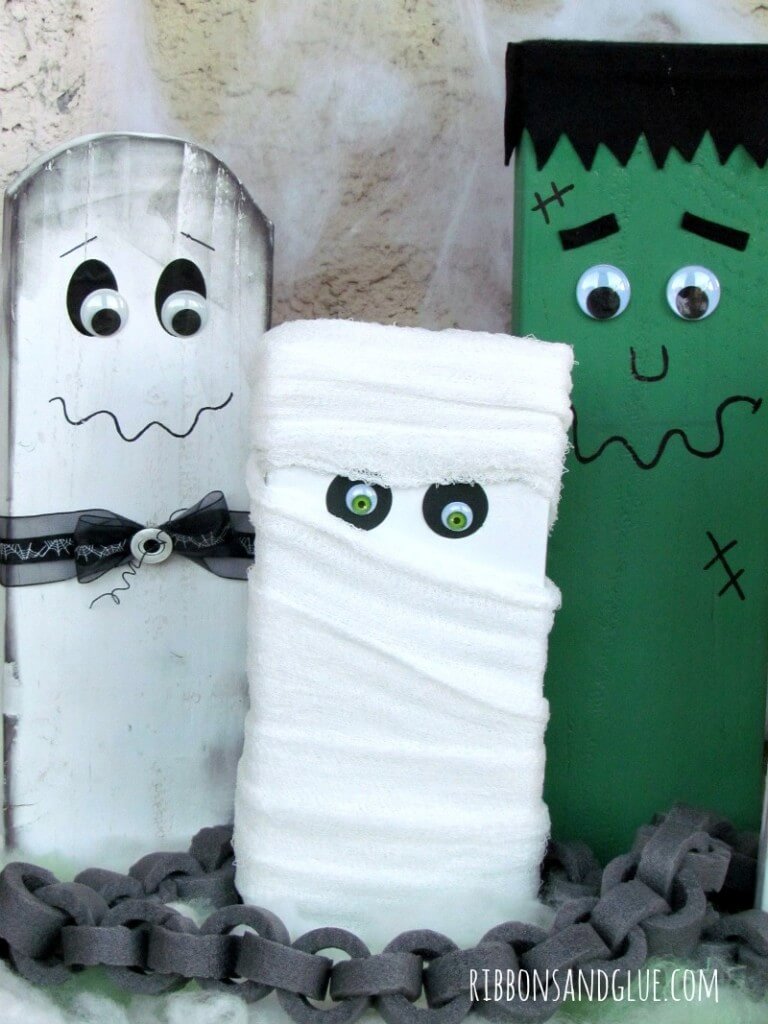 While your Halloween focal points shine in the spotlight, it is important to remember to include small details. This helps to develop a nuanced ambiance. Faux chains like the ones shown in this tutorial are an easy way to achieve a ghastly atmosphere without stealing the show from the main event. The true beauty of using faux chains as Halloween decorations is how versatile they are. Style a tabletop scene like the one shown here or drape them along a wall as a spooky garland. Depending on what material you use, they can even be used outdoors with windsocks.
4. Easy Origami-Inspired Vampire Bat Bookmarks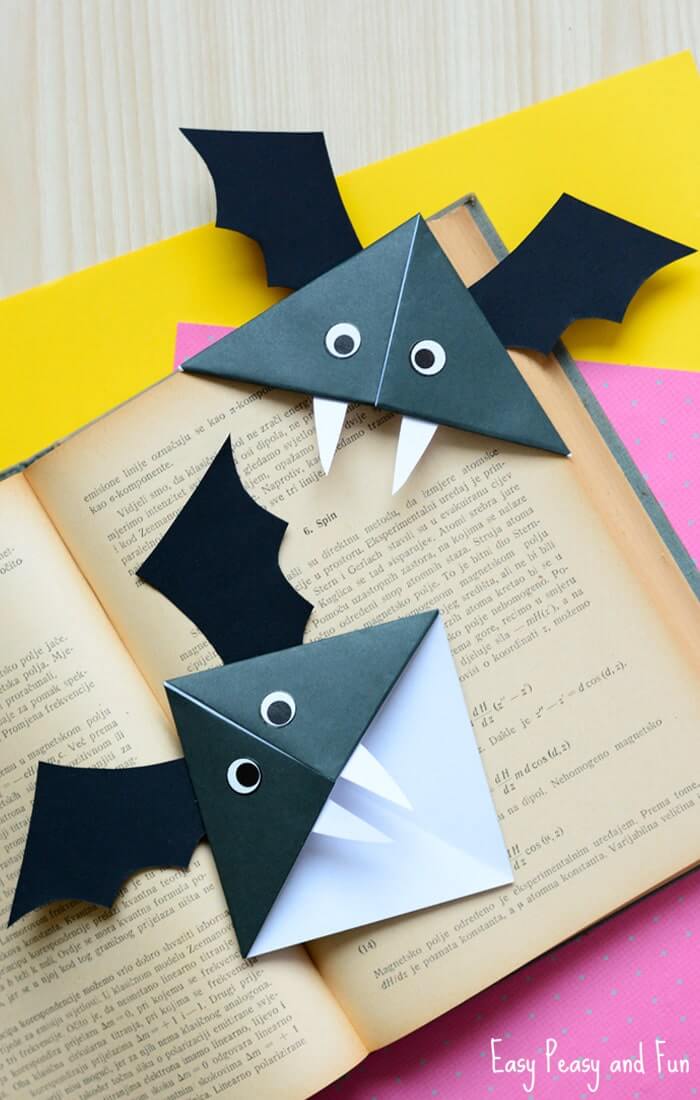 Whether you need party favors or a project to keep kids occupied for an afternoon, vampire bat bookmarks are fun to make. After folding an origami base for the bat, a few dabs of glue transform a humble square of paper into a cartoonish bat. If you are making these with kids, consider going beyond traditional black bats and providing multiple bat wing colors. While these bookmarks look playful when the book is open, the real magic happens when the book is closed. From the outside, only bat wings are visible.
5. Handmade Halloween Crafts Made From Canning Jars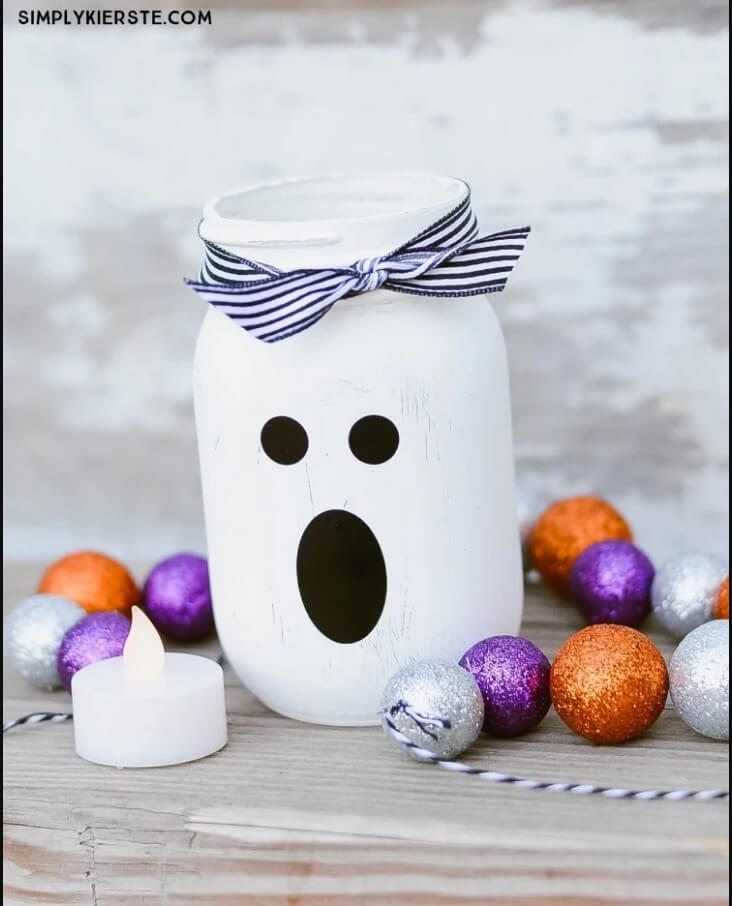 Anyone with an excess of canning jars and a shortage of Halloween decorations can make this easy ghost candle holder. Simply paint the jar, distress it to your satisfaction, and apply your desired face. For a candle holder that illuminates the room better, be a little more generous with the sandpaper. While this image shows a surprised ghost, you could use orange to turn your jar into a pumpkin, green for a zombie, or even a combination of colors to create the candle holder of your dreams. Your creative genius will make your candle holder shine.
6. Kid-Friendly Clothespin Bats with Cool Galaxy Wings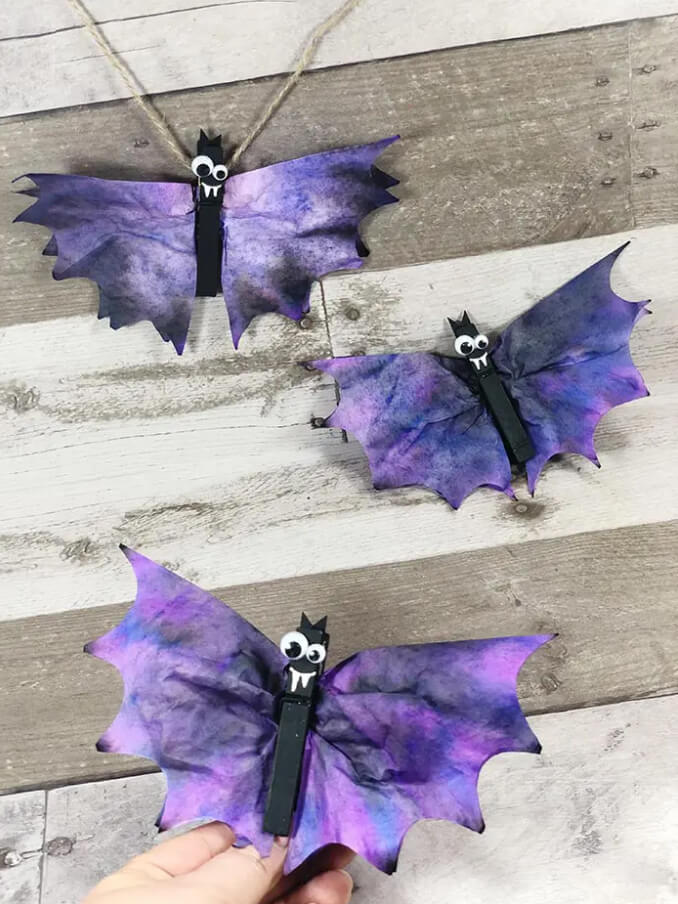 Because of their versatility, clothespin crafts are a great option for kids and adults alike. Adhere magnets on the back for a refrigerator decoration or string them on a garland for a spookily festive embellishment. Surprisingly, these vivacious bats feature wings fashioned from coffee filters stained with washable markers. Experiment with the colors in the wings for the perfect creepy color palette. Choosing differently-sized googly eyes is a whimsical touch that gives these bats a goofy personality. If you prefer your Halloween decorations to be on the sinister side, skip the googly eyes for a minimalist effect.
7. Last-Minute Tissue Paper Ghost Handmade Halloween Crafts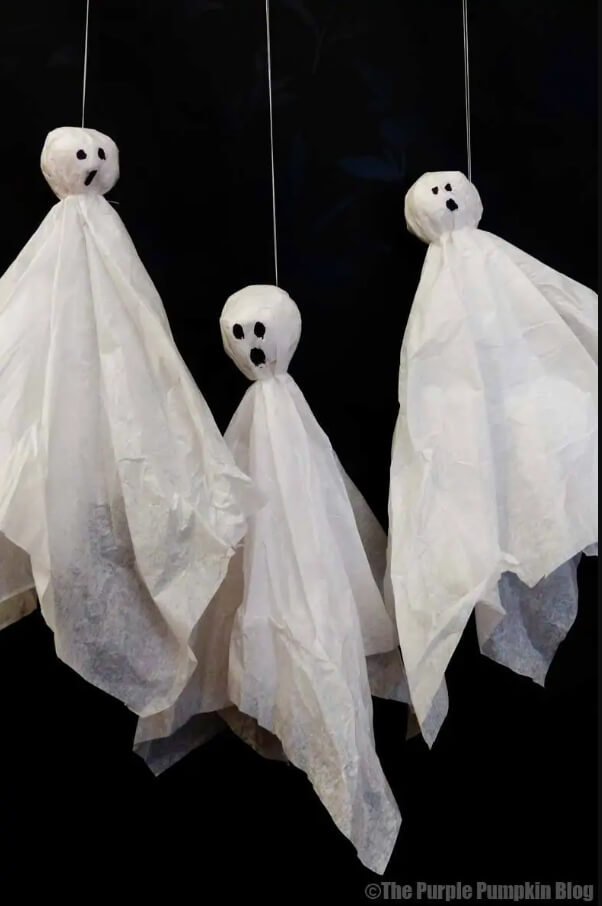 With only tissue paper, a black marker, and white string, you can whip some Halloween decorations to life. Because of their simplicity, this is an easy project to prepare with children as well. Although the tutorial and resulting ghosts offer a pleasant simplicity, there are many ways to customize these specters to fit your décor. Celebrate the spooky holiday in festive style by choosing colorful or patterned tissue paper. For ghosts that exude farmhouse energy, experiment with brown craft paper, lace, and pearl trim. White silky cloth instead of tissue paper might add shimmering magic.
8. Easy DIY Halloween Craft Ideas: No-Sew Banner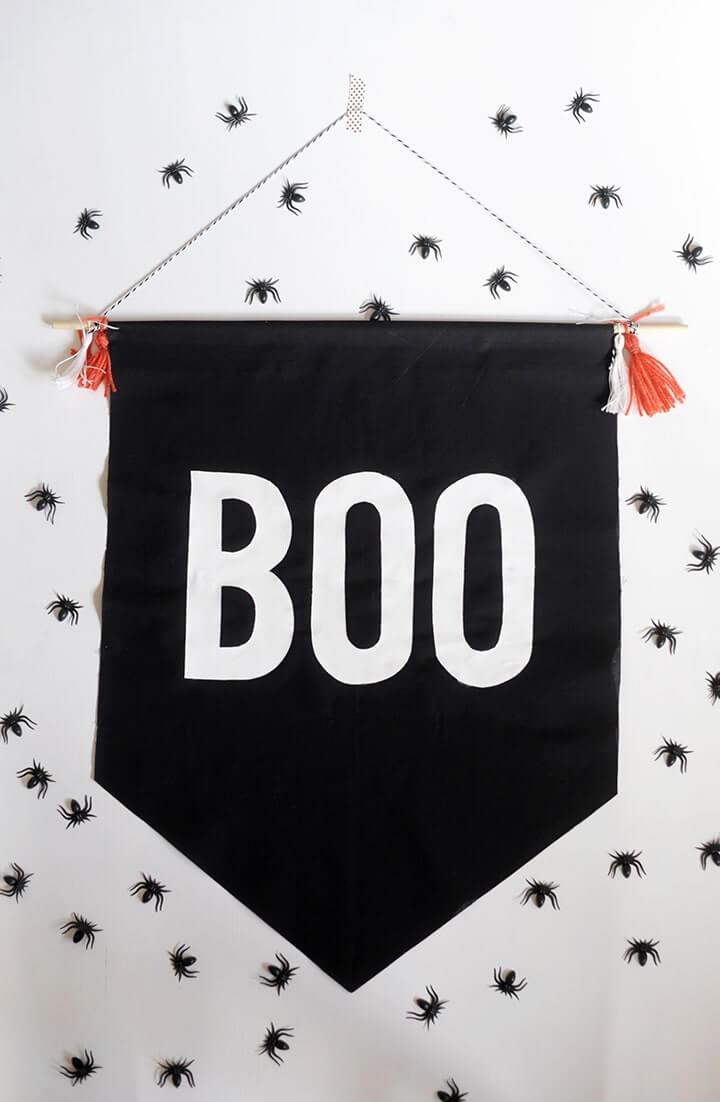 Nearly anything is possible with this quick-felt banner tutorial that is so easy it is scary. While this example showcases a simple "Boo," you could use any simple design. If you have a little patience, you could apply a more complex design like a jack-o-lantern, skeleton, or ghost. From front doors to wall décor, banners are versatile decorations that add another layer to your home's Halloween ambiance. Add glitter, pom-poms, sequins, and tassels to match the banner to your style. To take this idea to the next level, imagine making them into a Halloween garland.
9. Channeling Halloween in Black and White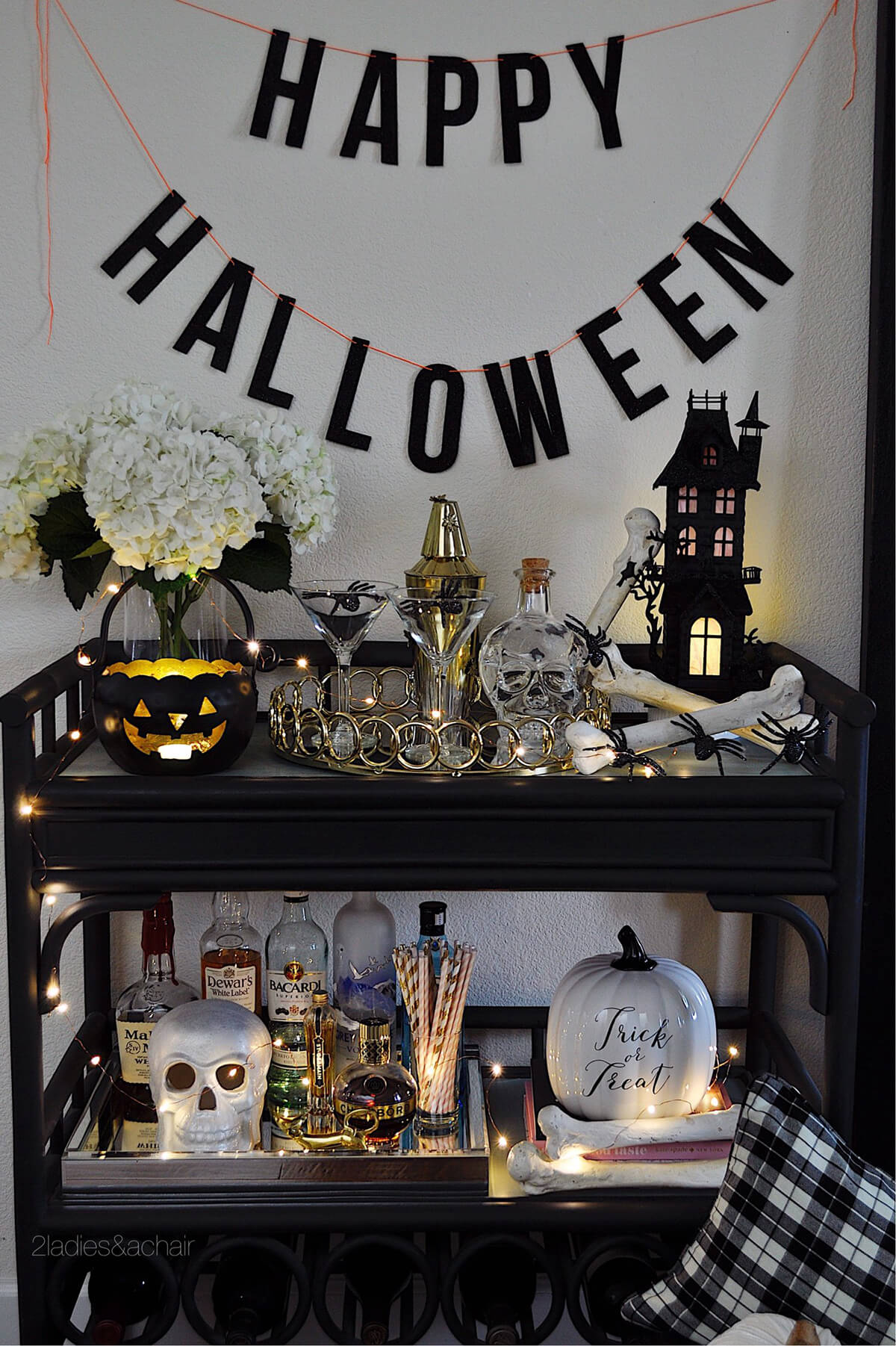 Because there are so many possibilities, decorating to entertain during Halloween can be a lot of fun. If vivid Halloween décor is not your style, try using a restrained palette as showcased in this image. Black and white work together to cultivate a sophisticated ambiance. Meanwhile, pops of warm gold are balanced by cool crystal to build an atmosphere that is at once inviting and slightly sinister. You do not need a bar cart to harness the ideas in this example. The key is to incorporate plenty of light to keep the black from overwhelming the other colors.
10. Double, Double Toil & Trouble Outdoor Décor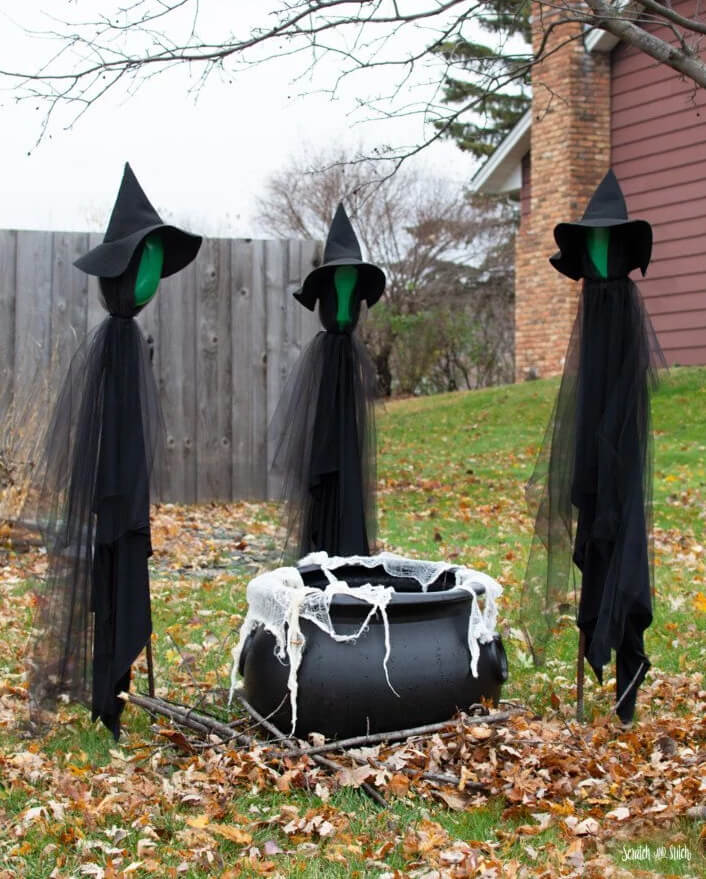 Depending on how you approach your rendition of these homemade Halloween decorations, your witches could either be whimsical or petrifying. Because the witches are mounted on garden stakes, they will flutter mysteriously in the breeze. While this example showcases faceless specters, you could paint or draw faces to achieve different effects. If black-robed witches are too somber for your landscape, add bursts of multicolored tulle. Customizing the pointed hats is another way to give each a distinctive personality. A bubbling cauldron is a perfect way to finish the scene. You might even consider filling it with fall-blooming flowers.
11. Shrieking Ghost Tin Can Windsock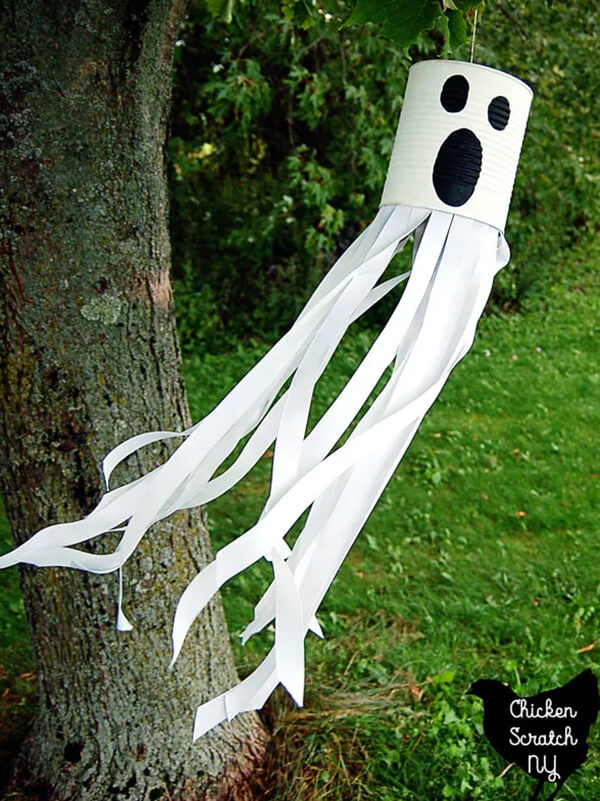 In these easy DIY Halloween craft ideas, trailing ribbons catch the breeze to produce a windsock that is at once spooky and adorable. Because it features a reclaimed tin can, it is a great project for teaching kids about sustainability. For a group of ghosts, mix and match can sizes. Using fewer coats of white paint will allow the can to shine through and create a craft that looks weathered. For a doe-eyed decoration that feels cute, skip the howling mouth. With a little creativity and a few more colors, you can create all your favorite Halloween characters.
12. Upgrading Fairy Lights with Origami Pumpkins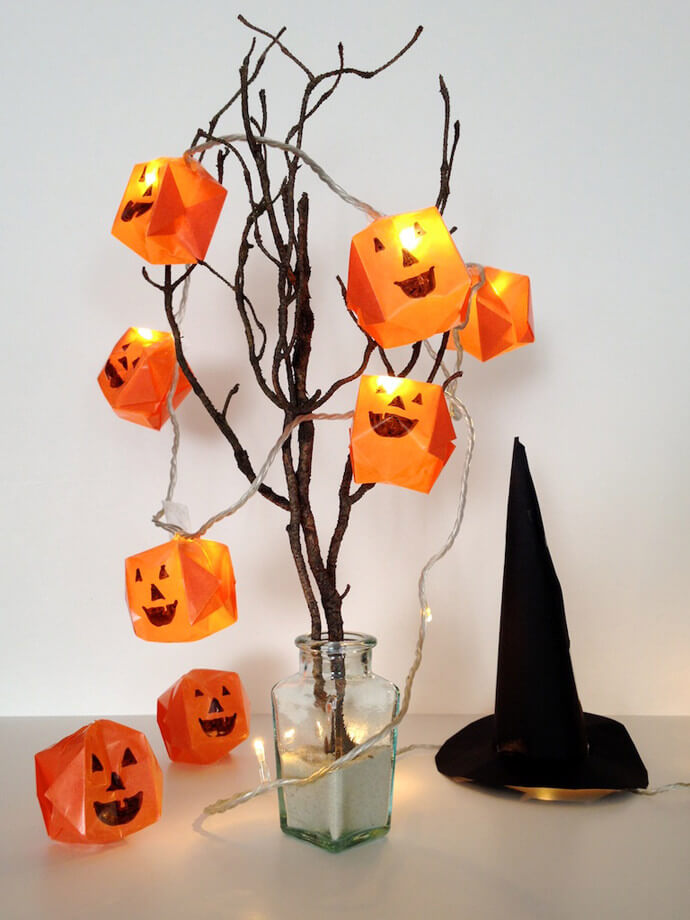 Even if you are not very confident in your origami skills, these homemade Halloween decorations are a breeze to make. This tutorial's clear step-by-step directions make it possible to easily create the cheerful pumpkins shown in the image. Freehanding a jack-o-lantern face gives each orange pumpkin balloon a unique energy. If you prefer a more sophisticated feel for your Halloween décor, skip the faces and leave each orange balloon a minimalist suggestion of a pumpkin. With or without faces, these orange lights will add a layer of Halloween nuance anywhere they are displayed.
13. His and Hers Canning Jar Scarecrows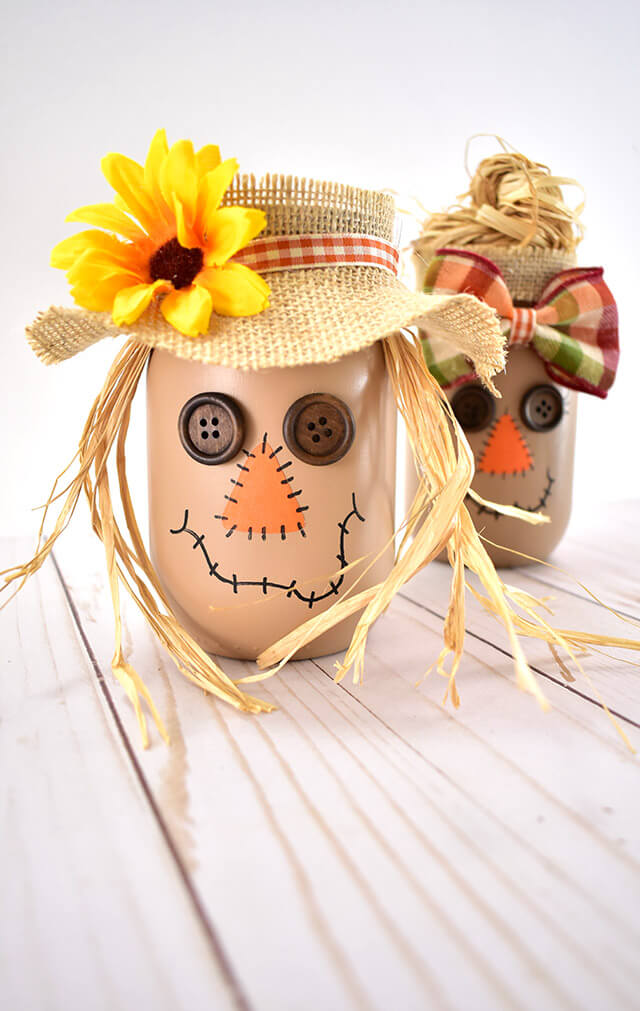 Displaying seasonal décor is a lot of fun but can be a hassle. After making these cute canning jar scarecrows, you can enjoy showcasing them all autumn long. A matte finish gives the scarecrows a pristine look, but you apply sandpaper for a more distressed effect. Rich brown buttons are a great way to integrate fall colors into your home, but you could also use any button color that coordinates with the rest of your home. Like any craft that features burlap, these scarecrows would look right at home in a farmhouse setting.
14. Minimalist Cheesecloth Ghost Homemade Halloween Decorations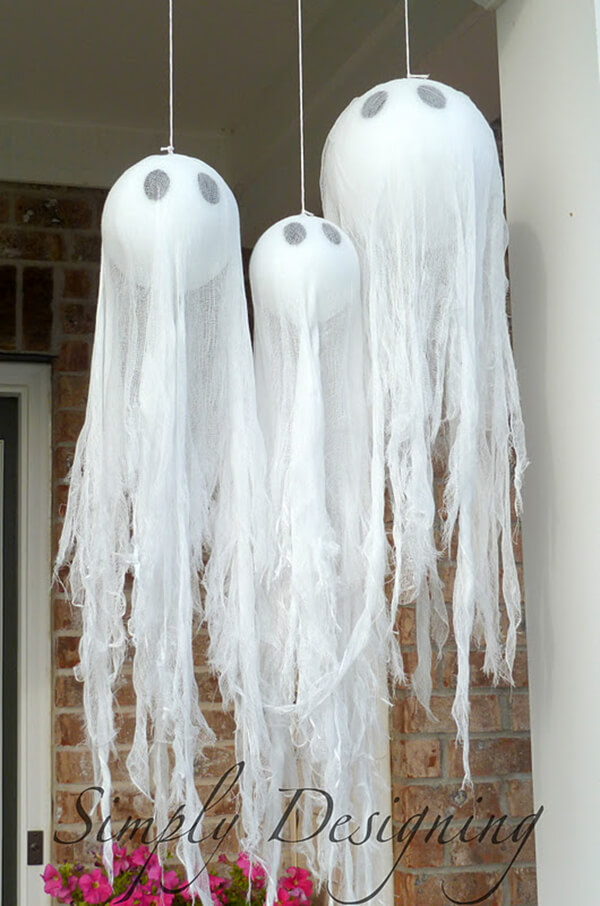 Tattered cheesecloth and large cartoon-style eyes set a tone that walks the fine line between spooky and playful. Because ragged cheesecloth only adds to the effect, these ghosts can live outside all season long. For an eerie effect, suspend your spirits using a clear fishing line. Because of their classic black and white color scheme, these ghosts integrate cohesively with most existing décor. Alternatively, give your ghosts a more colorful Día De Los Muertos (Day of the Dead) spin by adding colorful sequins to the cheesecloth. Get creative with your lighting for an unforgettable Halloween display.
15. Canning Jar Jack-O-Lantern Candle Holder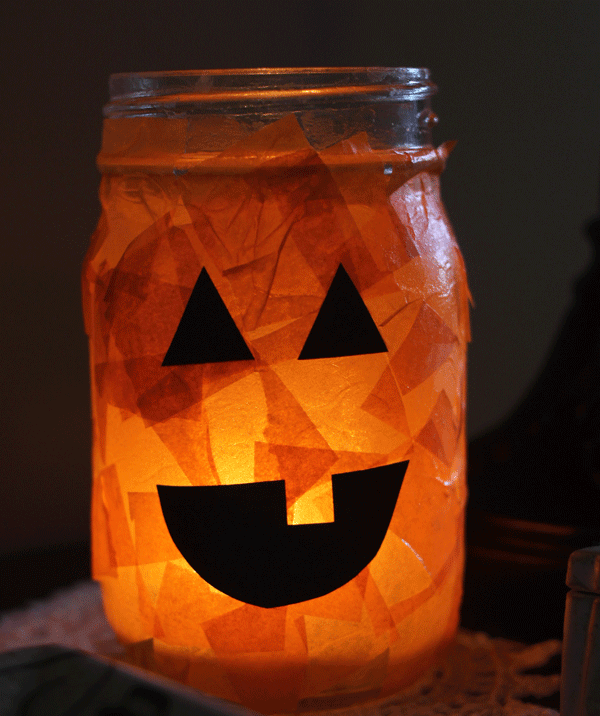 Unlike traditional jack-o-lanterns, this craft does not make a goopy mess. While nothing can replace the fun of cutting a pumpkin into a character, this candle holder gives you the freedom to create your own grinning (or grimacing) face. Orange construction paper shapes create a stained glass window effect. Because the paper adheres to the jar's exterior, this craft gives your décor the perfect touch of texture. To give your jack-o-lantern some depth, try using varying hues of orange paper. Do not be afraid to break out the glitter to give your jack-o-lantern a little extra glamor.
16. Haunted House Canning Jar Lantern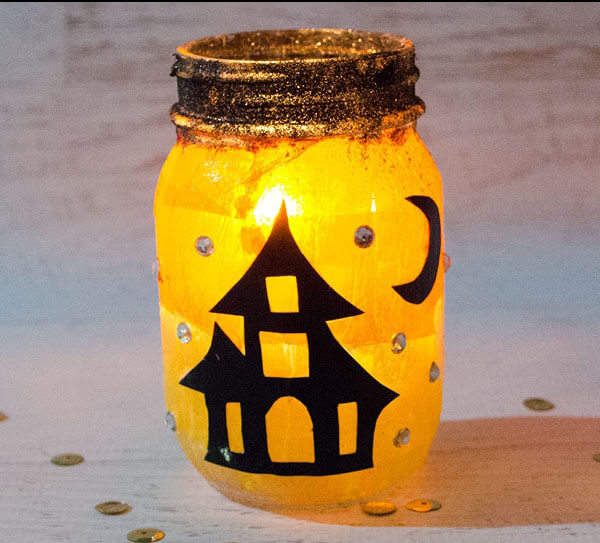 Part of what makes handmade Halloween crafts so much fun is the ability to customize each project to coordinate with your aesthetic. The haunted house on this lantern exudes carefree energy while the candlelight radiates inviting warmth. Silver glitter along the rim contributes an air of mystery. With a little more time and precision, your haunted house could eschew the playfulness for a more ominous ambiance. This tutorial uses yellow and orange tissue paper to achieve the otherworldly glow, but you could mimic a sunset's palette with yellow, orange, and red that fade to blue towards the top.
17. Eerie Haunted House Shadow Box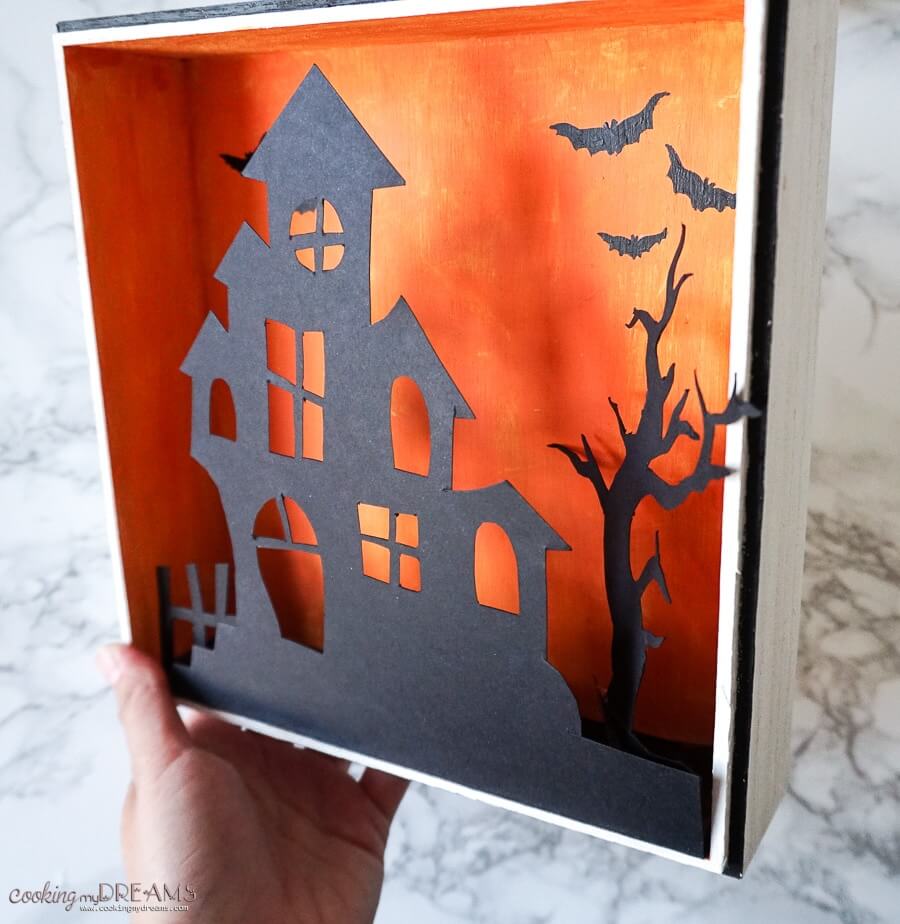 Shadow boxes are a surprisingly easy way to add dimension to your space. This tutorial features three layers in addition to the back, but your shadow box can be as intricate or as simple as you desire. The black house on an orange background gives the illusion of a menacing haunted house silhouetted against a sinister orange sunset. To maximize the spooky ambiance while minimizing the fire risk, place a battery-operated votive candle behind the haunted house. If you add streaks of metallic gold or copper paint to the orange, your shadow box will appear to radiate an unearthly glow.
18. Creating a Wreath Bursting with Treats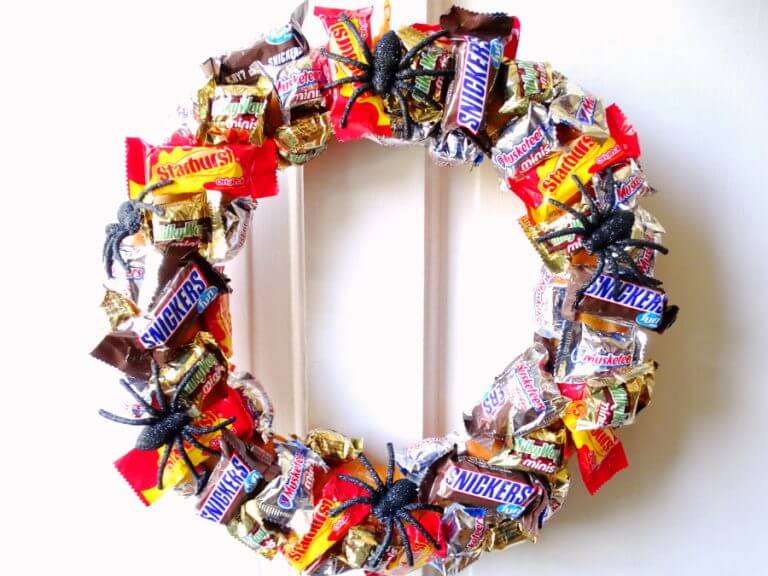 While Halloween is filled with characters that go bump in the night, this wreath recognizes many peoples' favorite part of the holiday: candy. This approach lets the candy's colorful packaging do all the decorating for you. There is no drawing, no cutting out templates, and no sewing. All this wreath requires is a glue gun, a bulk bag of your favorite candy, a wreath form, and a ribbon. Because the candy can still be consumed, this wreath makes a great gift. However, if you live in a hot climate, you may want to skip the chocolate.
19. Creating Your Own Bat Colony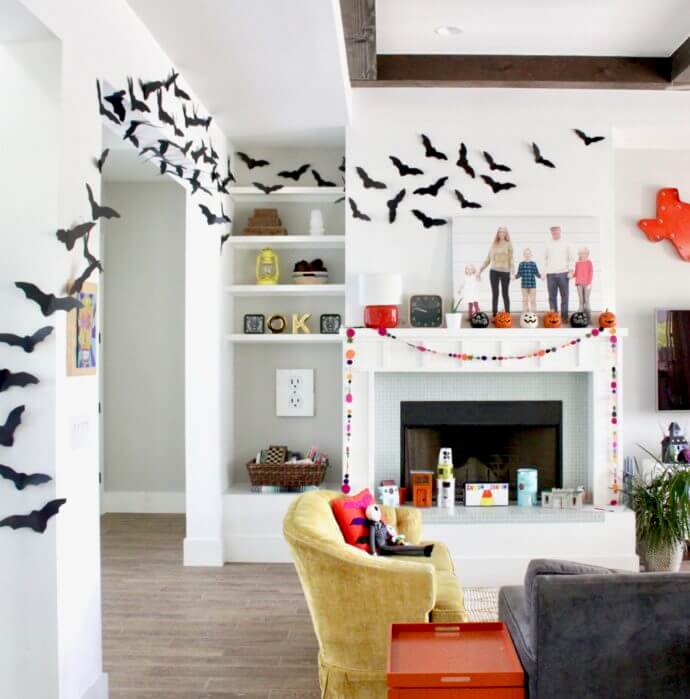 Without switching out your other décor, a flock of black bats can transform your interior into a spooky sensation. These paper bats are attached to the wall via tape, so they are even apartment-friendly. Although this tutorial takes a minimal approach to explosive effect, you could use silver or gold markers to give each a unique personality. For a bat colony that holds up year after year, upgrade from paper to craft foam or felt. However, you decide to make your bats, remember to mount them in a chaotic column for full impact.
20. Cardstock and Crepe Paper Windsock Craft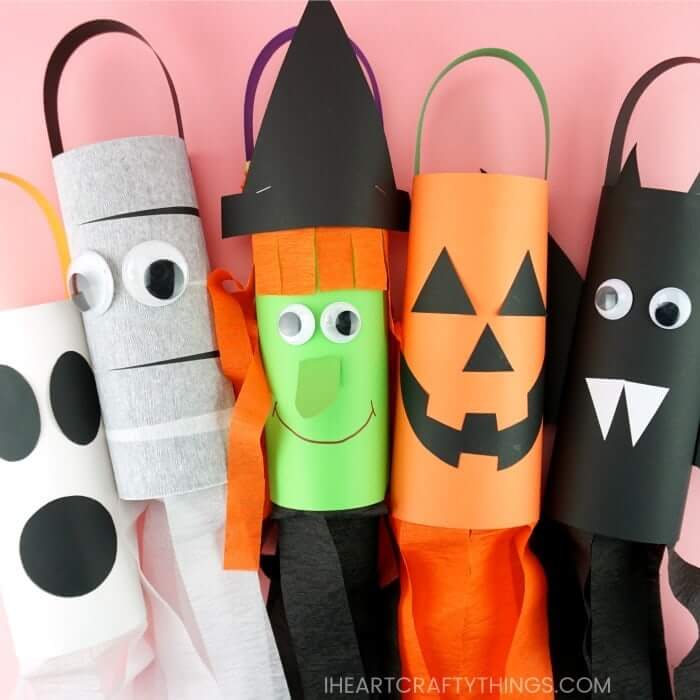 Made from craft room staples, these playful windsocks are bewitchingly easy to make. You can even craft them with a classroom of kids. Templates included in the tutorial make it easy to get perfect results every time. Alternatively, you can harness kids' natural creativity by switching up the colors and making cardstock and crepe paper monsters instead of the examples shown here. Googly eyes give each windsock a unique personality. With a few modifications and some extra effort, you could make your windsocks frightening instead of playful. For a fun Halloween treat, hang them either inside or outside.
21. Cheerful Candy Corn Halloween Wreath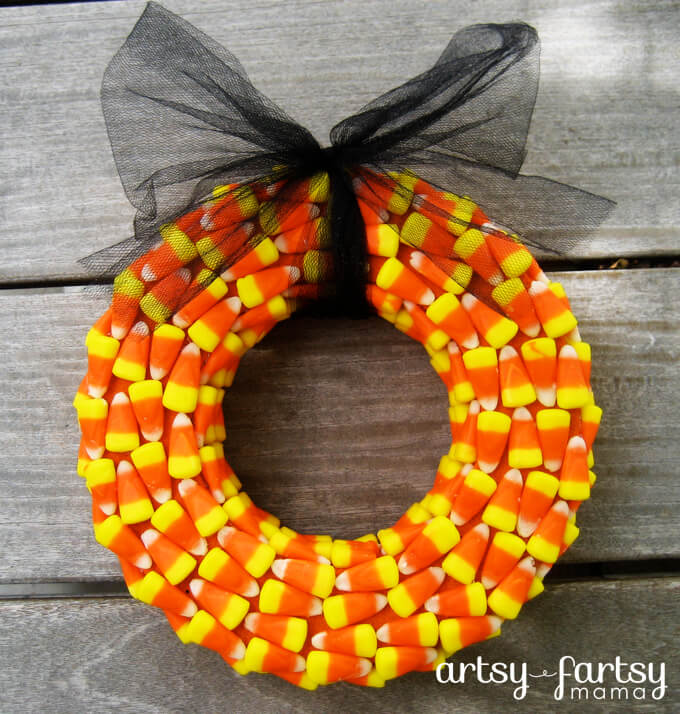 Radiant yellows and dazzling oranges are balanced by an elegant black bow in this rapturous wreath. The key to achieving success in this project is to place the candies in alternate directions. To give your wreath a longer lifespan, consider adhering a cardboard layer between the wreath form and candy corn. Although this wreath might be too fragile to display outdoors, it will brighten any indoor space. Whether you hang it on a wall, prop it on the mantel, or display it as a table centerpiece, this candy-themed wreath captures the magic of trick-or-treating without having to venture outdoors.
21 of the Best Easy DIY Halloween Craft Ideas to Get Your Home Ready for Trick-or-Treaters
Although orange and black are often seen as the harbingers of Halloween, you can use these ideas with different palettes to develop vastly different ambiances. For a kid-friendly Halloween, use bright orange, green, purple, black, and white. To develop a gothic Halloween aesthetic, incorporate blood red, cool silver, rich black, and ornate details. Alternatively, pink blush and soft orange work together for a more gentle atmosphere. Beyond color, Halloween motifs usually include ghosts, crows, bats, jack-o-lanterns, skulls, witches, and, of course, candy. Pick a few of your favorites to establish a cohesive Halloween theme throughout your home. Many of these ideas would make fantastic gifts – especially those that include candy. After all, if you plan on making any of these homemade Halloween decorations for someone special in your life, adding a little candy seldom goes amiss.
Because many of the handmade Halloween crafts included in this list are highly customizable, you can develop décor for a house you would want to haunt. From the facial expressions to the colors used, you can make your Halloween projects as spirited as you desire while staying true to your style. To create your own monster mash, do not be afraid to mix and match the individual crafts on this list. These ideas are springboards to inspire your imagination to great feats of creativity.