Anticipating spring's arrival is more exciting when you include elegant Easter decorations throughout your home. After the long winter weather begins to break, all eyes look to the emergence of spring and the rebirth and beauty it brings. Begin the process in the comfort of your home and you'll be ready to embrace the anticipated joy that accompanies spring.
24 Elegant Inspirations for Springtime Decorating

Begin with some simple decorating ideas. Think centerpiece displays for your upcoming Easter meal. No matter if you enjoy a hearty brunch or a scrumptious dinner, your meal will only be complete with gorgeous and elegant Easter decorations as part of your centerpiece vignette. Feature some of the season's favorite creatures and colors. Of course bunnies and eggs immediately come to mind and they offer a cute charm that's nearly unmatched. In terms of colors, white is always a top choice as it symbolizes innocence and a fresh start. Using white as the dominating foundation sets the tone for an amazing and elegant look for spring decoration ideas.
Other colors to consider as accents to your white spring decor are hues of pink, chartreuse, sea blue, and gold. These colors repeat in their frequency of appearance in many marvelous spring inspirations for interior decorating. Just look out your window and it's easy to see why these accent colors dominate designs. Highlight a table or bring a wall or mantel into the season with some of the great spring decoration ideas found here. No need to splurge as many of these looks are easy DIY projects and budget-friendly updates that are just as time-friendly too.
1. Cozy Cottage Neutral Entryway Decorating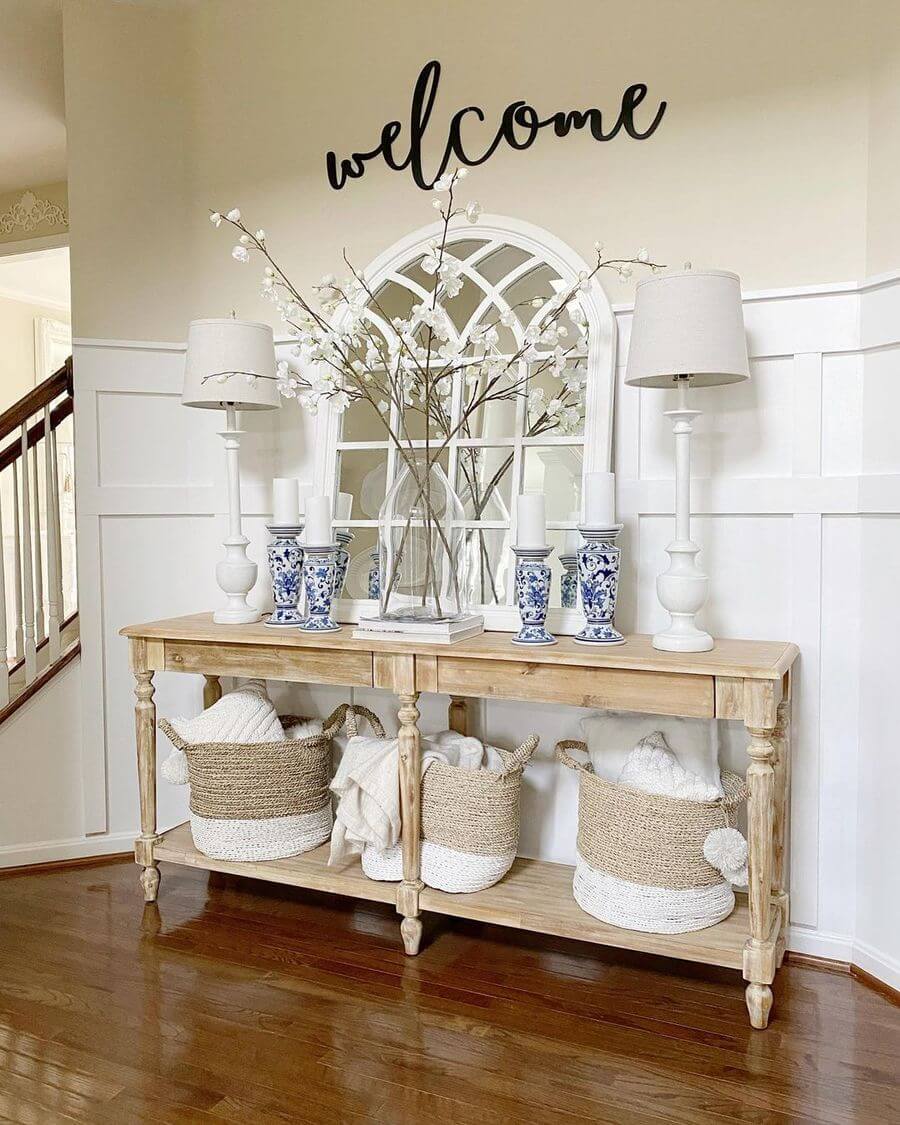 Greet each and every guest who enters your home with a cozy cottage entryway. The look of consistency in this monochromatic color palette establishes a solid foundation for a decorating look that rivals any designer's finished touch. A natural wood side table grounds the entire look as it provides a key texture and color base. Placing natural fiber baskets under the tabletop adds both style and storage space simultaneously. On top, candles and tall lamps provide extra lighting for added ambiance. All the decorative items remain in the white color family to encourage a more elegant and pulled-together look for a cozy cottage design.
2. Sprigs of Spring and Bunny Decor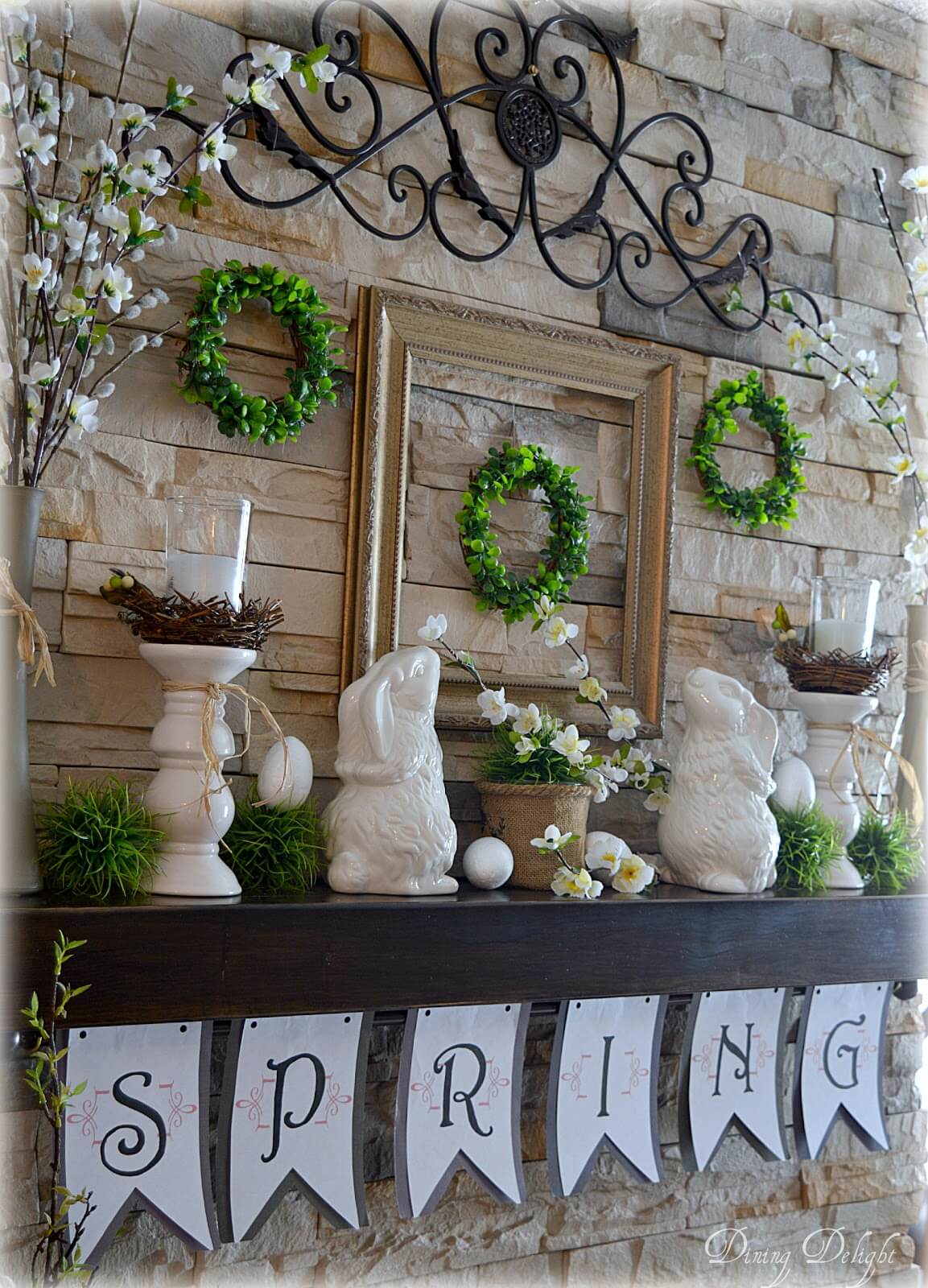 Enhance your mantel with the signs of spring. From bunnies to blossoms, you'll notice these cuties popping up everywhere once spring arrives. A trio of boxwood wreaths adds the perfect touch of greenery to your display while the metal wall fixtures texturally contrast quite nicely. Incorporating some mini twinkle lights provides great ambiance in creating a cozy welcome for the new season. Large sprigs are a cool touch for bringing some of the blossoming beauty outside right into your home.
3. Charming Happy Easter Garland Dining Buffet Decor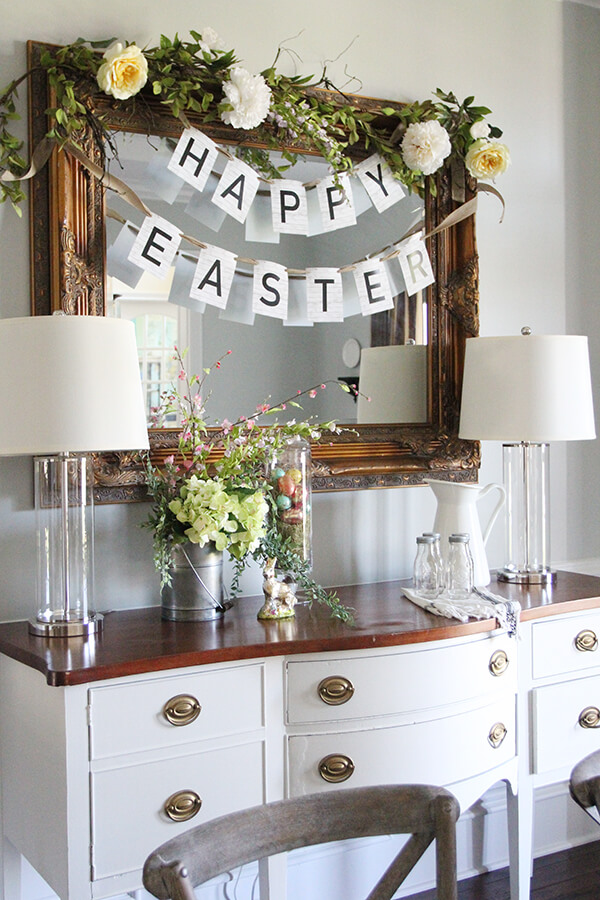 Gathering for a family meal is a special time for everyone. Show your guests some Southern hospitality by creating a beautifully executed dining room. Fill up your buffet with sprigs of spring flowers and a hurricane vase of speckled eggs. Placing a chocolate bunny is a fun and whimsical touch that is sure to get the younger crowd talking. Overhead, the mirror comes to life as it boasts a "Happy Easter" banner of garland to kick off this special springtime celebration.
4. Decorating with Greens and Bunnies for Easter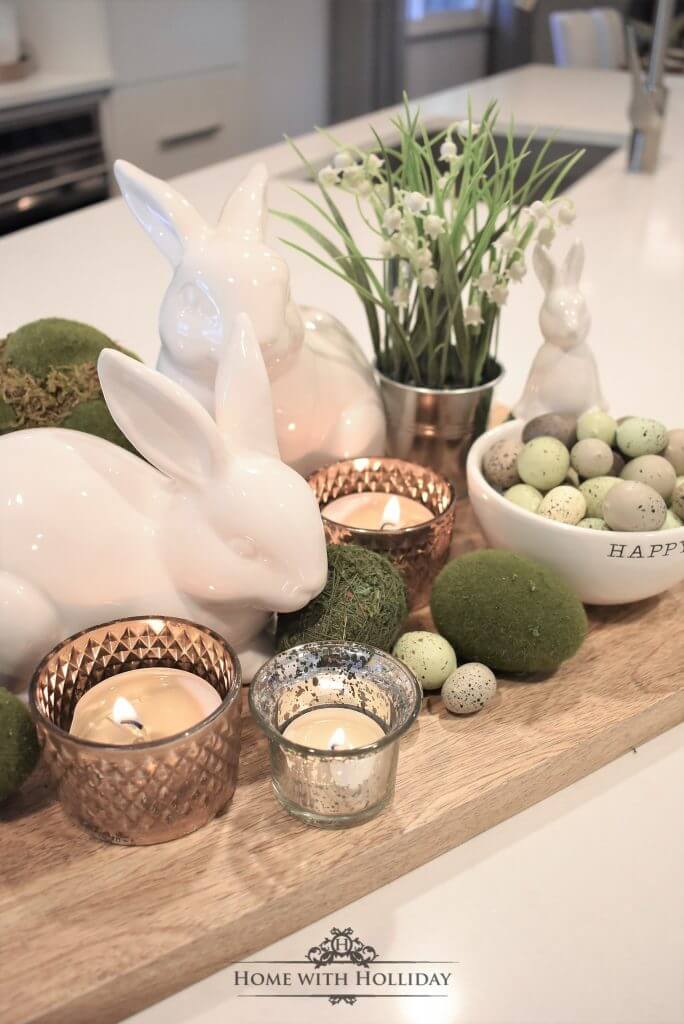 Transition your kitchen from winter to spring with the help of some cherished ceramic bunnies in white set amid a lush and lively sea of greens. From grass to moss, the spectrum of greens showcased in this display allows the emergence of spring to come to life in the comfort of your home. The cute bunnies are the focal points as their stark contrast of white really brightens up your kitchen. Incorporate some accents of gold with a decorative tray that houses all of these bunnies with their greenery. Line them up in a cozy formation on your kitchen island and allow everyone to enjoy them as you finish the final preparations for your Easter feast.
5. Whisper of the Sea Spring Tablescape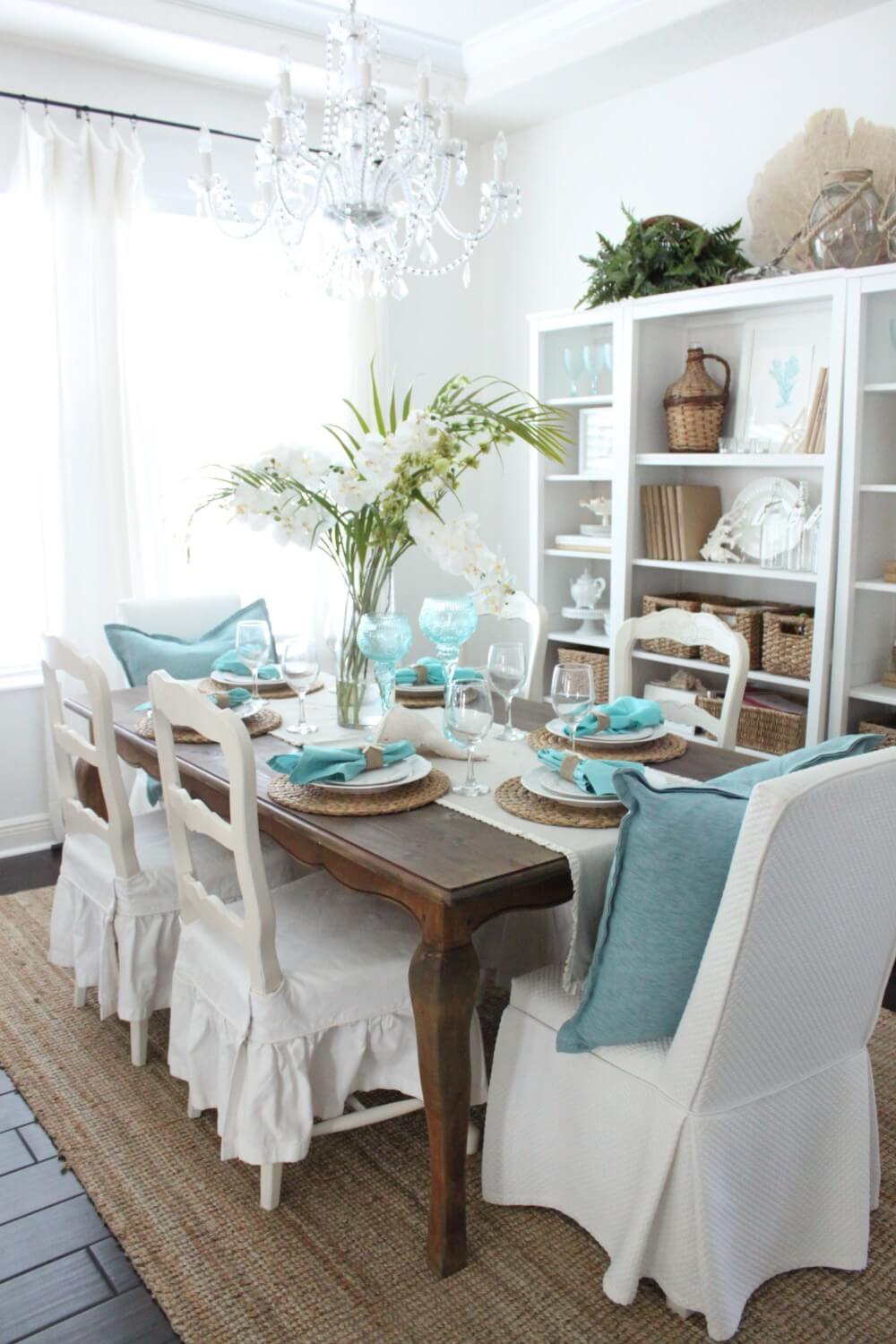 Fine linens and creamy neutrals are freshened up for spring with a touch of beautiful sea blue accents. From the fabric napkins to the crystal glasses, the stunning sophistication of this timeless color of the sea sparks beauty in any setting. For the table, the charger crafted from seagrass adds so much texture and coastal charm while the glass stemware provides the polish! Continue the accent color on the other furniture pieces in the room like the hutch, buffet, or bookshelf. A decorative pillow is always a nice touch and maintaining the coastal elements from shells to nautical ropes keeps consistency in your home's design.
6. Elegant French Farmhouse Easter Tablescape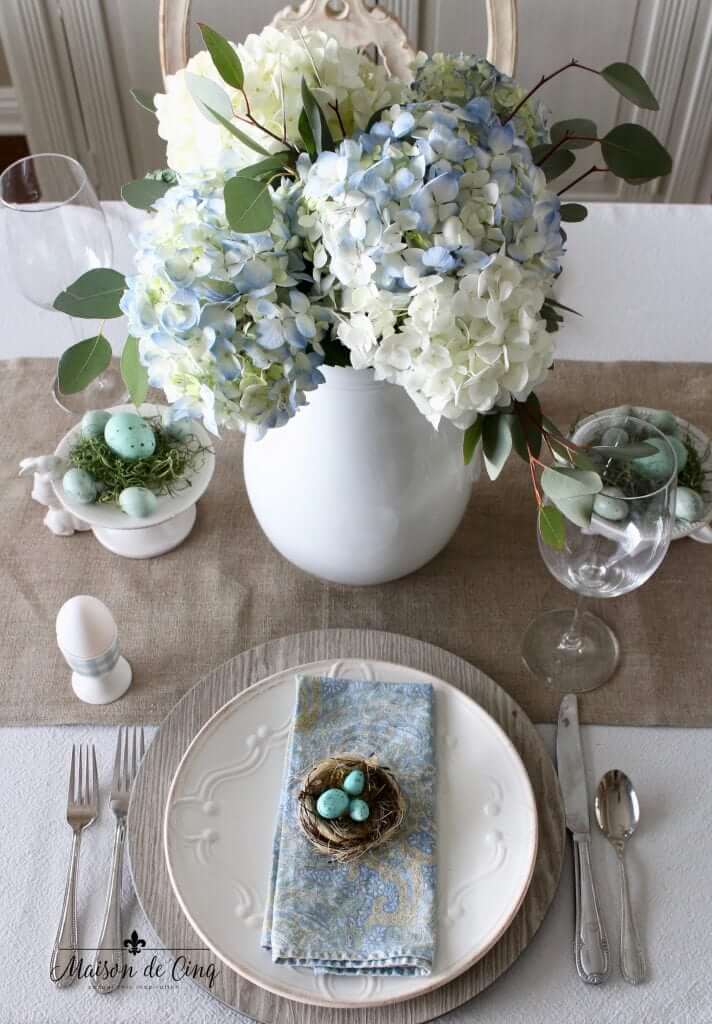 Keep your Easter entertaining elegant with these spring decoration ideas filled with style and class. Decorating with seasonal decor doesn't have to be over-the-top to stun your guests. Instead, keep your color palette fresh and sophisticated in hues that coordinate with the season and/or holiday. Emphasize the gorgeous hue of a robin's egg along with a creamy neutral off-white color scheme to add an elegant spin to your Easter decor. Using pretty pottery allows each place setting to be a decorative element all on its own. In the center of the table, small ceramic stands are the perfect place to adorn your display with a bird's nest complete with a cluster of eggs. Continue this look by adding a small nest to each napkin at every place setting for a full-out elegant and glamorous look this Easter.
7. Green Birds and Eggs Easter Decor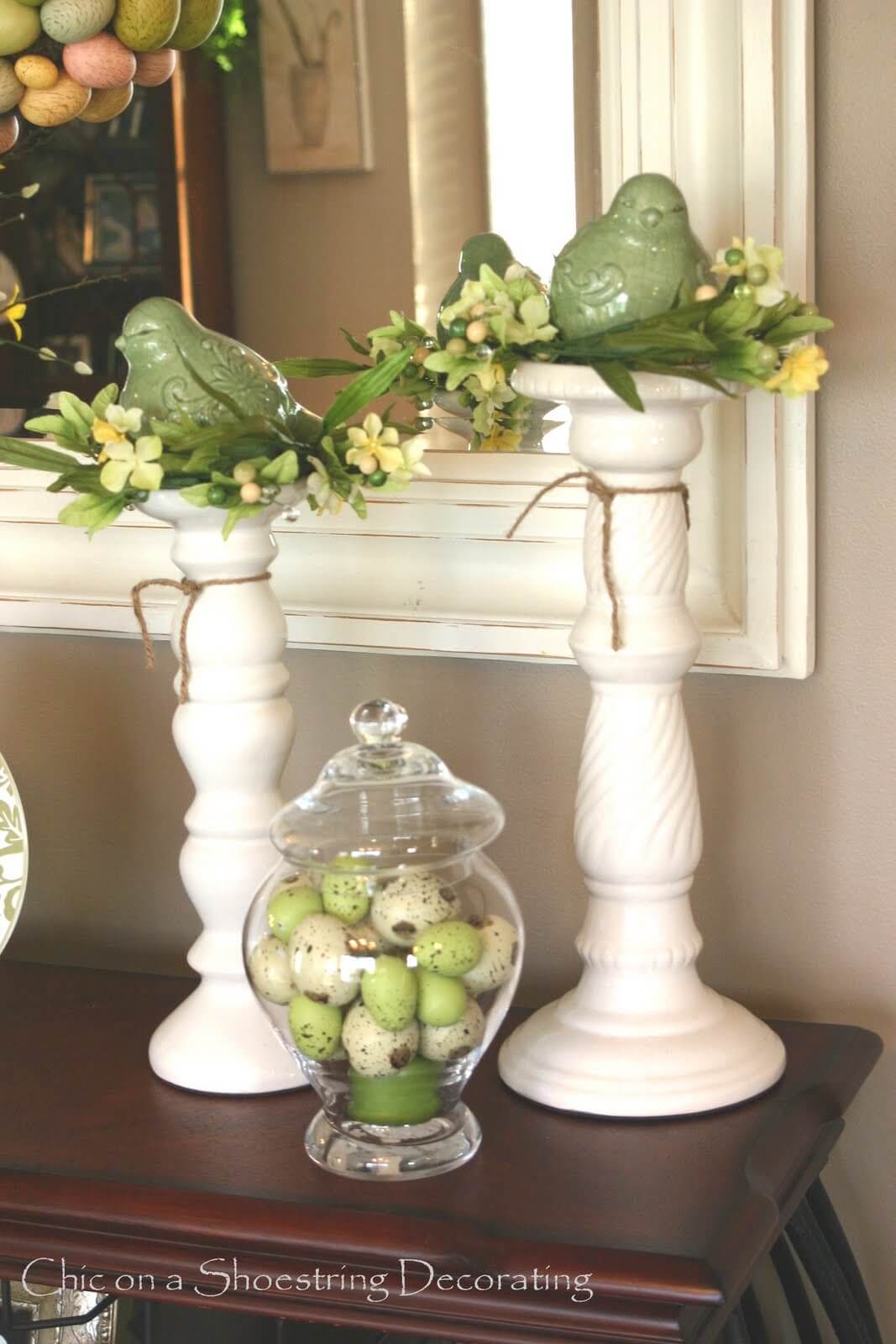 Add some charming elegance to your home this spring with some bird-inspired decor. Perch some of your favorite feathered friends in their ceramic glory on pedestals to show off these fair-weather pals. Echo their gorgeous green in the eggs nestled below them on the tabletop. Tieing in the same colors throughout your design makes an elegant statement. Keeping your color palette low-key and simple is what often sets it apart from overdone designs that appear too busy.
8. Simply Spring Blush and Bunny Table Decor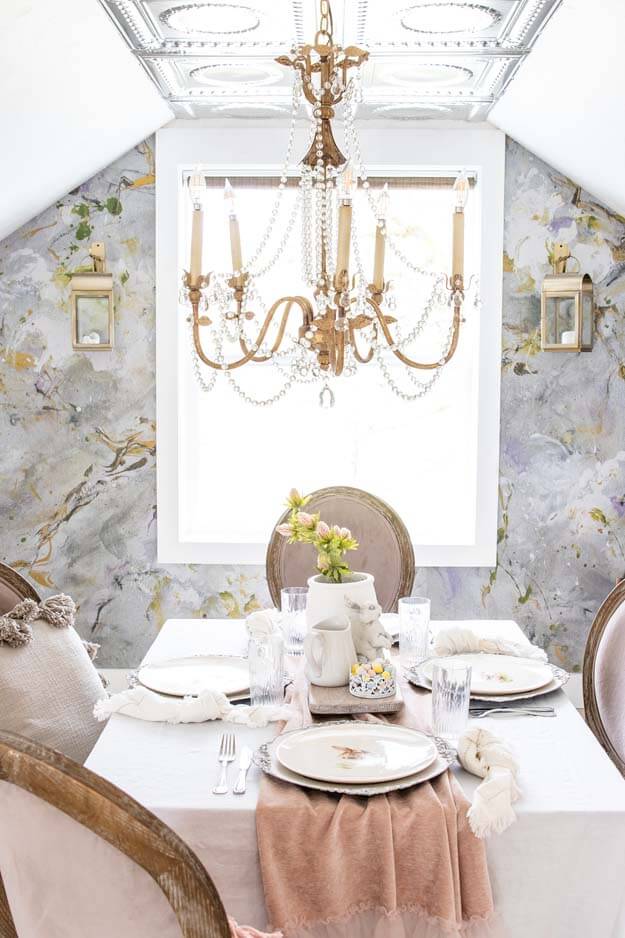 There's so much elegance that emanates from a simply under-stated springtime table design. On top of a classic white tablecloth, nice neutrals blend into the perfect balance with a soft blush color. The plush and thick fabrics used in the napkins, table runner, and tablecloth set the stage for style. Each plate has a vintage appeal with a painted bunny and this friendly creature is echoed in the centerpiece decor. A single sprig of spring floral jets from a simple piece of pottery while an intricate small basket serves as a charming candy dish.
9. Decorating Your Coffee Table with Tray Displays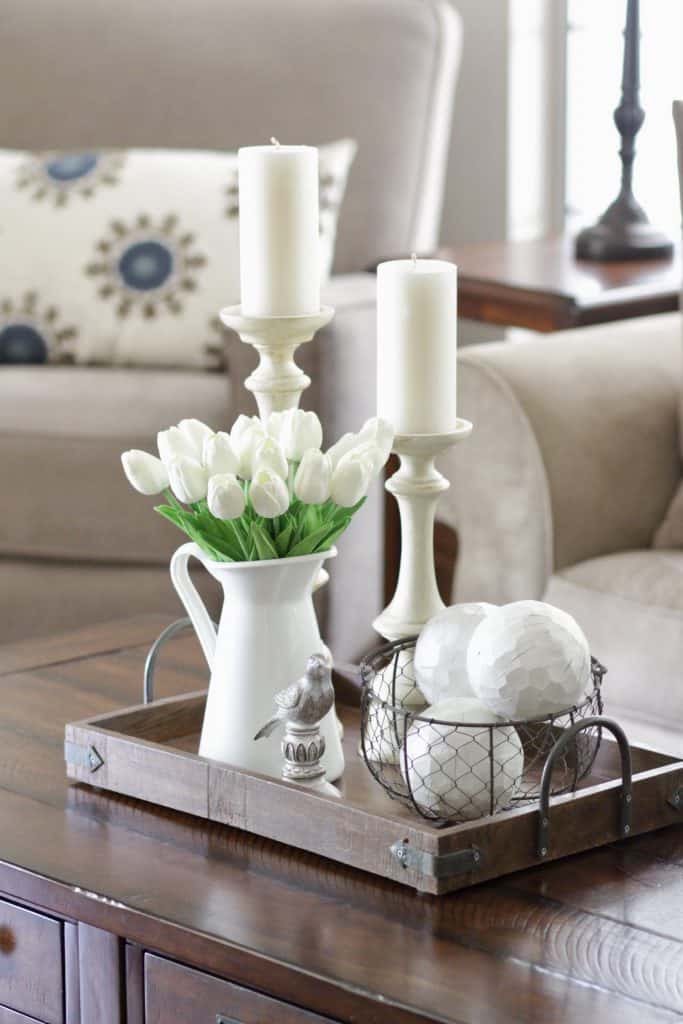 Collectively grouping objects into an attractive display may seem overwhelming and challenging. This doesn't have to be the case. Choose a decorative tray to serve as your home base in grouping all of your items. When you organize a collection into one display it makes the task at hand much easier to conquer. After you have a nice tray, consider pieces of different heights and textures. Candle holders are great for tall accents and baskets are great texture choices as they can be wicker or wire. Keep the color scheme fairly simple and you'll become a fan of decorating with trays. This white spring display features tulips and a sweet bird that are symbolic of this season of rebirth.
10. Elegant Pastel Pink Springtime Tablescape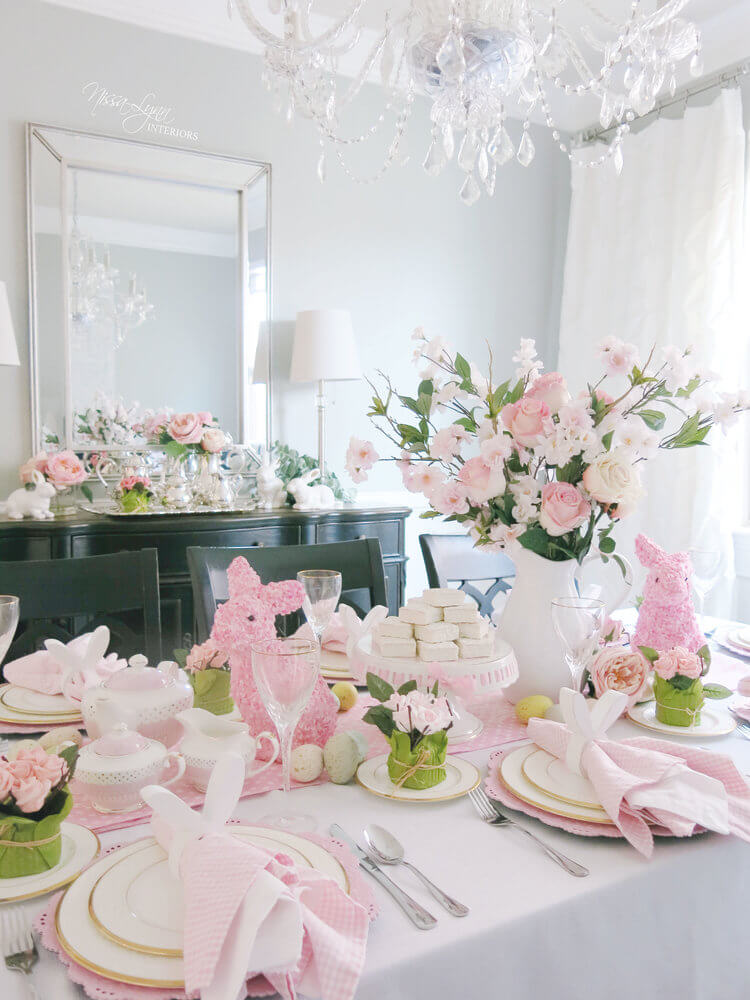 Pink is always a pretty choice for decorating at springtime and the inclusion of timeless patterns like polka dots and gingham adds a classic and lived-in elegance that's hard to match! Set out your Easter feast in style with a tablescape that's focused on white and pink to achieve this elegant and graceful look. Each place setting welcomes each guest with a bunny napkin ring holding a set of gorgeous fabric napkins. The dainty pink chargers underneath continue to tie the pretty pink look together. Down the center of the table, a pink runner grounds the look that features delicate pink bunny decorations as well as pottery pieces that show off delicious treats and fresh flowers.
11. Rustic Farmhouse Elegant Tulip Spring Centerpiece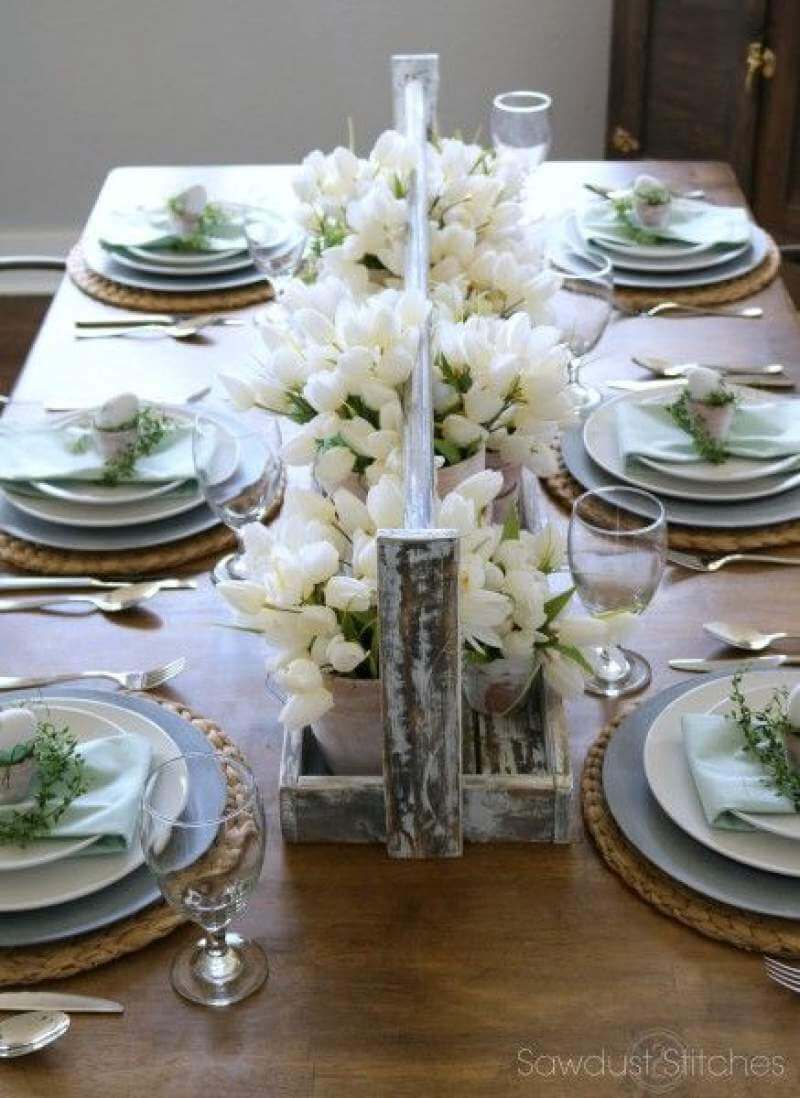 Jazz up your table this spring as you host a fabulous family meal for Easter. Whether you are planning a brunch or dinner, this tablescape will look amazing! In lieu of a traditional table runner of fabric, this centerpiece begins with a distressed and rustic wooden basin. The next trick to its terrific look is the distressed finished terracotta pots that really give it some character. Stacking these pots further adds to the overall beauty of this designer centerpiece creation. Finish the look off in a manner that's ideal for spring by adding a generous helping of white tulips in the pots. Fill in the extra space between the pots with lush green moss for a total look that's a wonderful way to welcome spring!
12. Lovely Lavender Home Decor for Spring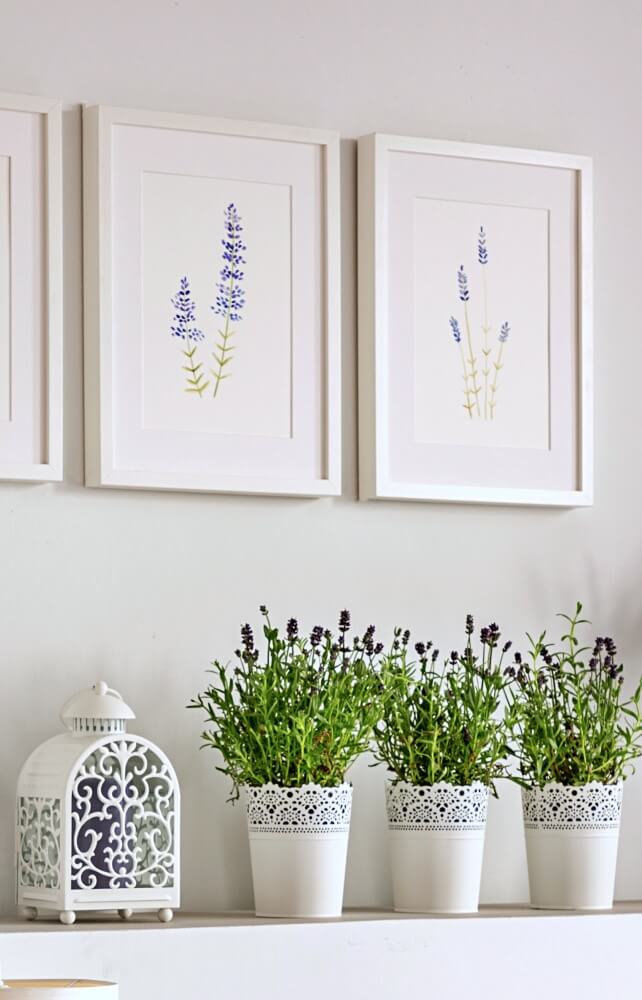 Enjoy the beauty and calming serenity of lavender as part of home decor this spring. Not only will a few fresh sprigs captivate your senses and thrill your nose, but their natural beauty will be treasured as well. Style your home with some prints of these wild-growing flowers on the wall and include some potted versions to display on tabletops. Adding both ties the entire room together offering a more elegant decorating touch. A soft shade of purple would provide a nice infusion of color for bedding, window treatments, or a decorative rug.
13. Early Spring Plain Hoop Succulent Wreath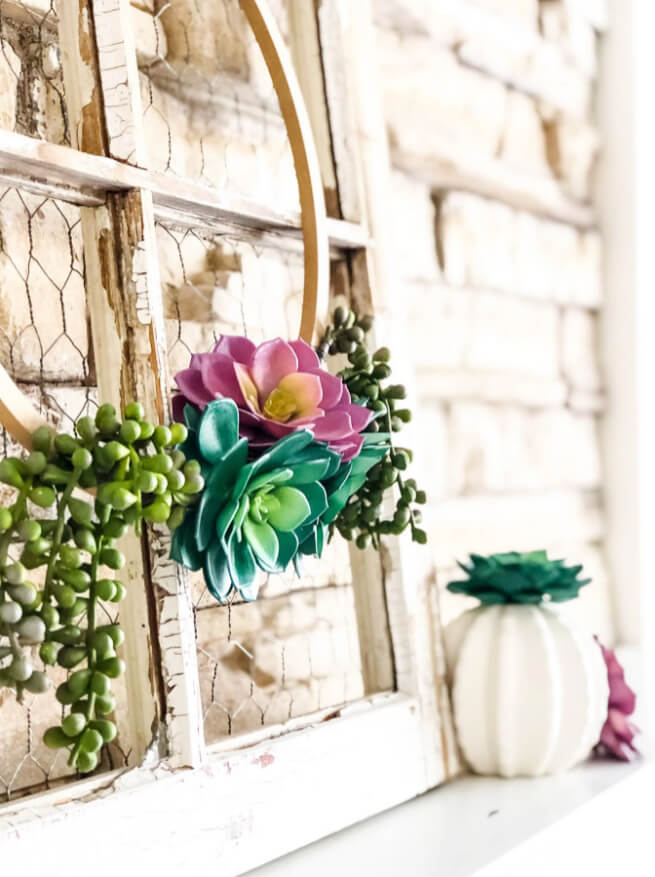 Transitioning from one season to the next often poses a decorating problem. Just as we tend to jump back and forth from sweaters to t-shirts, our interior decor takes time to adjust to the changing seasons as well. Make this transition as seamless as possible by slowing down the process of updating your decor. Begin with a small look and gradually add more to it as the new season comes into full swing. This plain wood hoop makes the perfect wreath base for a transitional spring wreath. Apply some plastic faux succulents to bring some green and a pop of color into your home as you enter that period between winter and spring.
14. Welcome Spring with a Splash of Green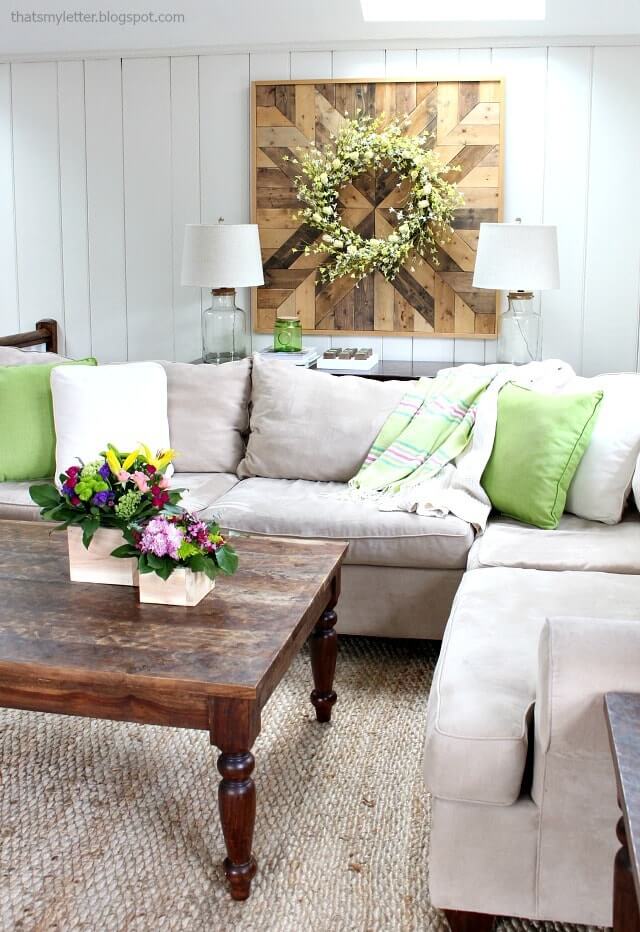 Breaking away from the winter blues or blahs is a whole lot easier when you liven up the interior of your home. Get ready to welcome spring by infusing some lively and bright colors into your decor. From accent pillows and throws on the sofa to flowers everywhere, the magic of spring comes to life once again. Start by adding a ring of flowers on the wall for a bright and colorful update. Choosing chartreuse or some similar shade is a great way to bring spring into the room.
15. Modern Farmhouse Hanging Vase Trio Centerpiece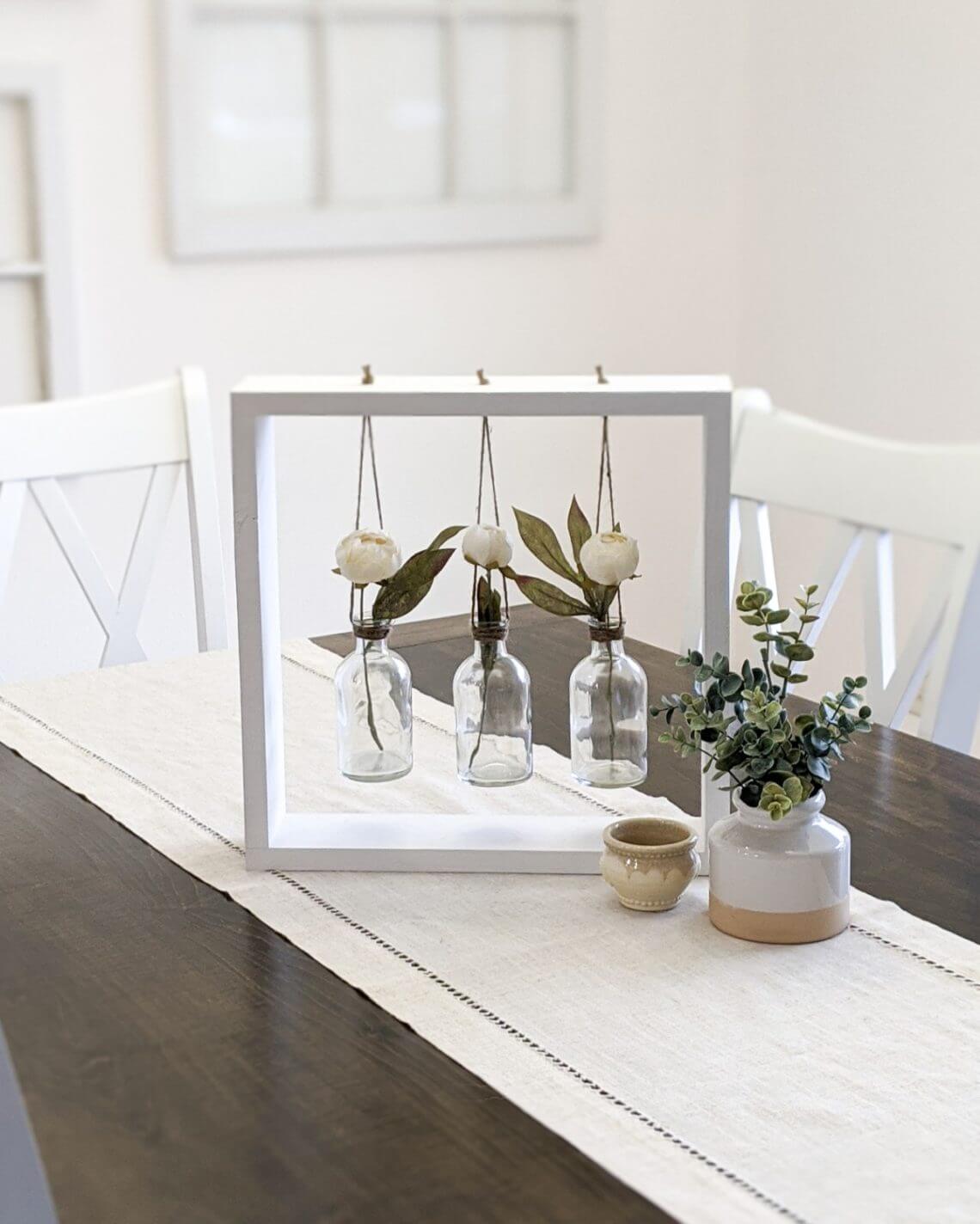 Decorate your dining room with some fresh flowers as you show off this one-of-kind flower vase trio. The glass bottle vases are suspended from this white wooden frame giving a romantic and modern farmhouse vibe that is sure to look amazing in your home. Feature a single white flower in each vase for a look of simplistic beauty and elegance. This makes a great choice as a centerpiece for any family dinner and offers versatility as the flowers used can coordinate with the changing seasons.
16. Festive Chocolate Bunny in Glass Jar Decoration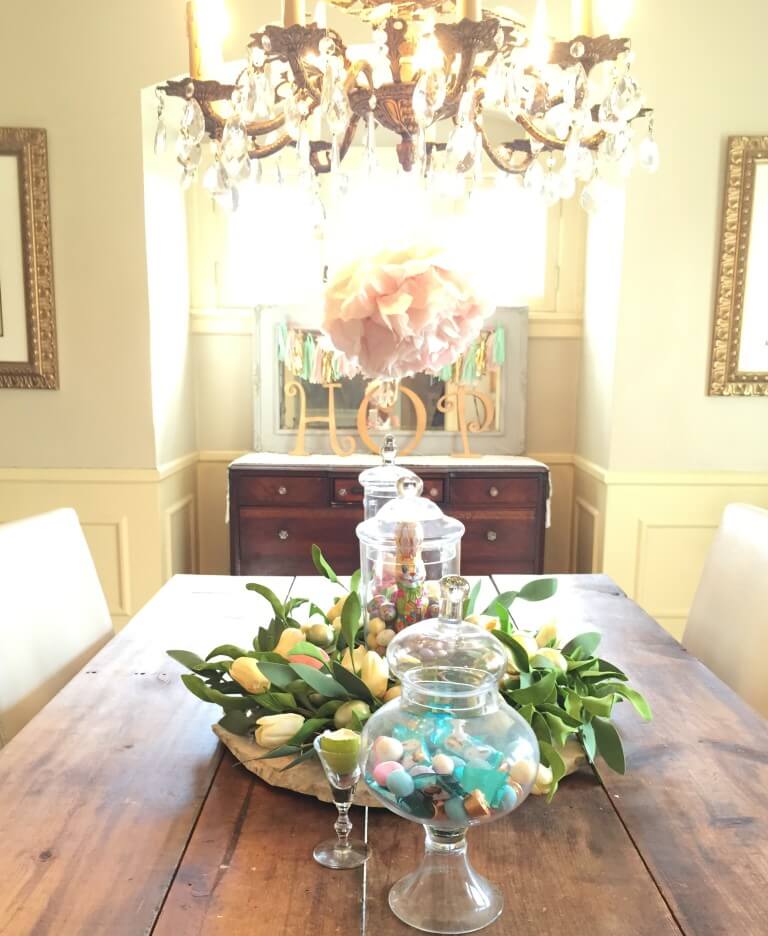 Sometimes re-purposing is your long-lost friend when it comes to decorating your home. A set of apothecary jars are ideal decorating pieces with their versatility in easily changing with the seasons. This collection is set off by a spring wreath that's been placed on the table as an accent. Inside the jar, the chocolate bunny becomes the main attraction and the other jars are filled with chocolate eggs in a myriad of metallic pastel wrappers. What a fantastic way to set out some candy for your guests while working double duty as your dining room's centerpiece!
17. Pretty Pink Flower Filled Spring Pitchers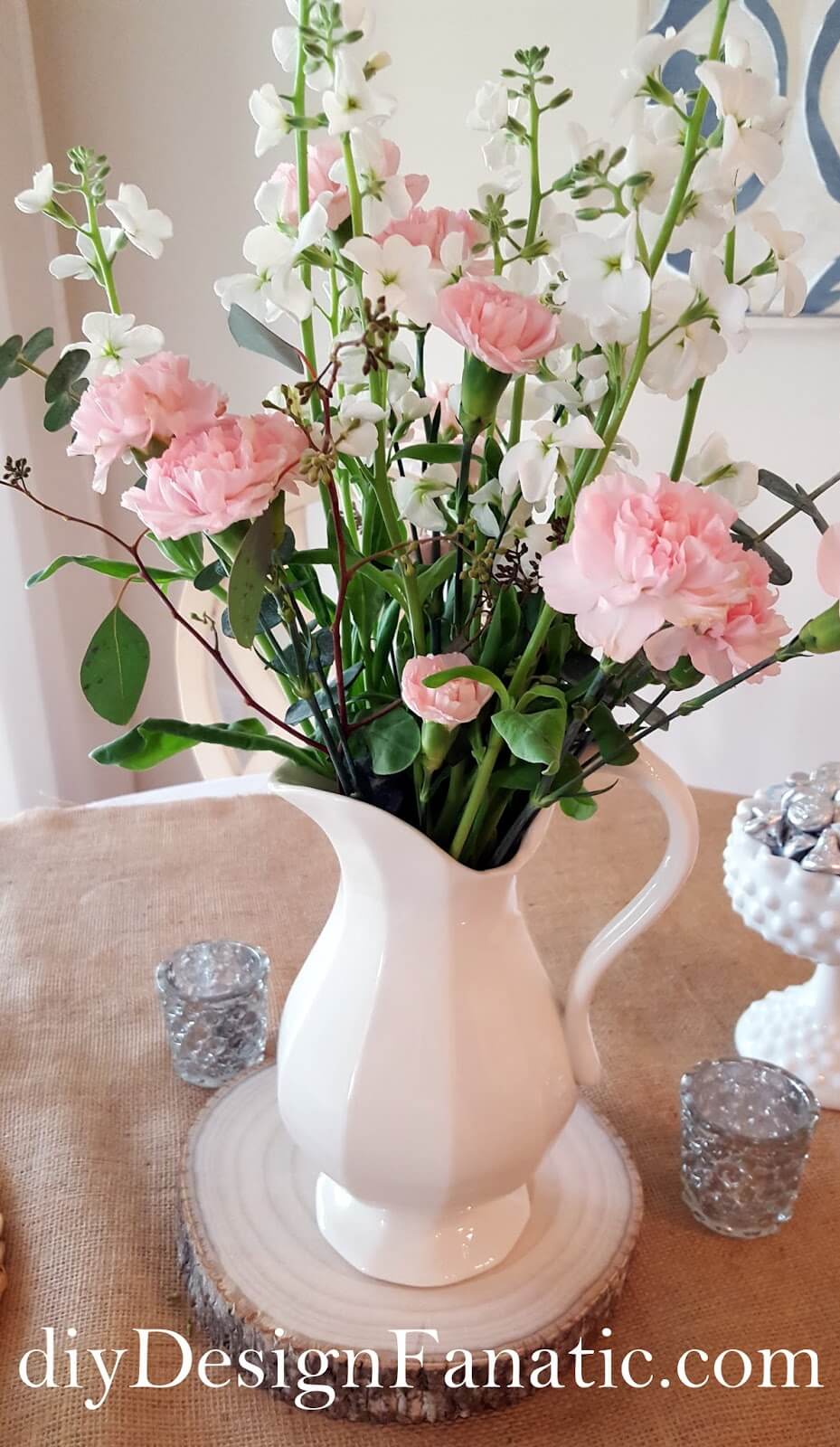 It's incredible what a plain white pitcher can accomplish with the right flowers. For spring, a combination of flower varieties all in similar shades makes for a breathtaking centerpiece display. Tiny rosebuds and carnations provide the pop of pink while the eucalyptus adds the essential greenery for completing this springtime look. Additionally, sprigs of white-flowered branches coordinate with the white of the ceramic pitcher to give a graceful design to the display.
18. Budding Beauty Flowering Branches Vase Filler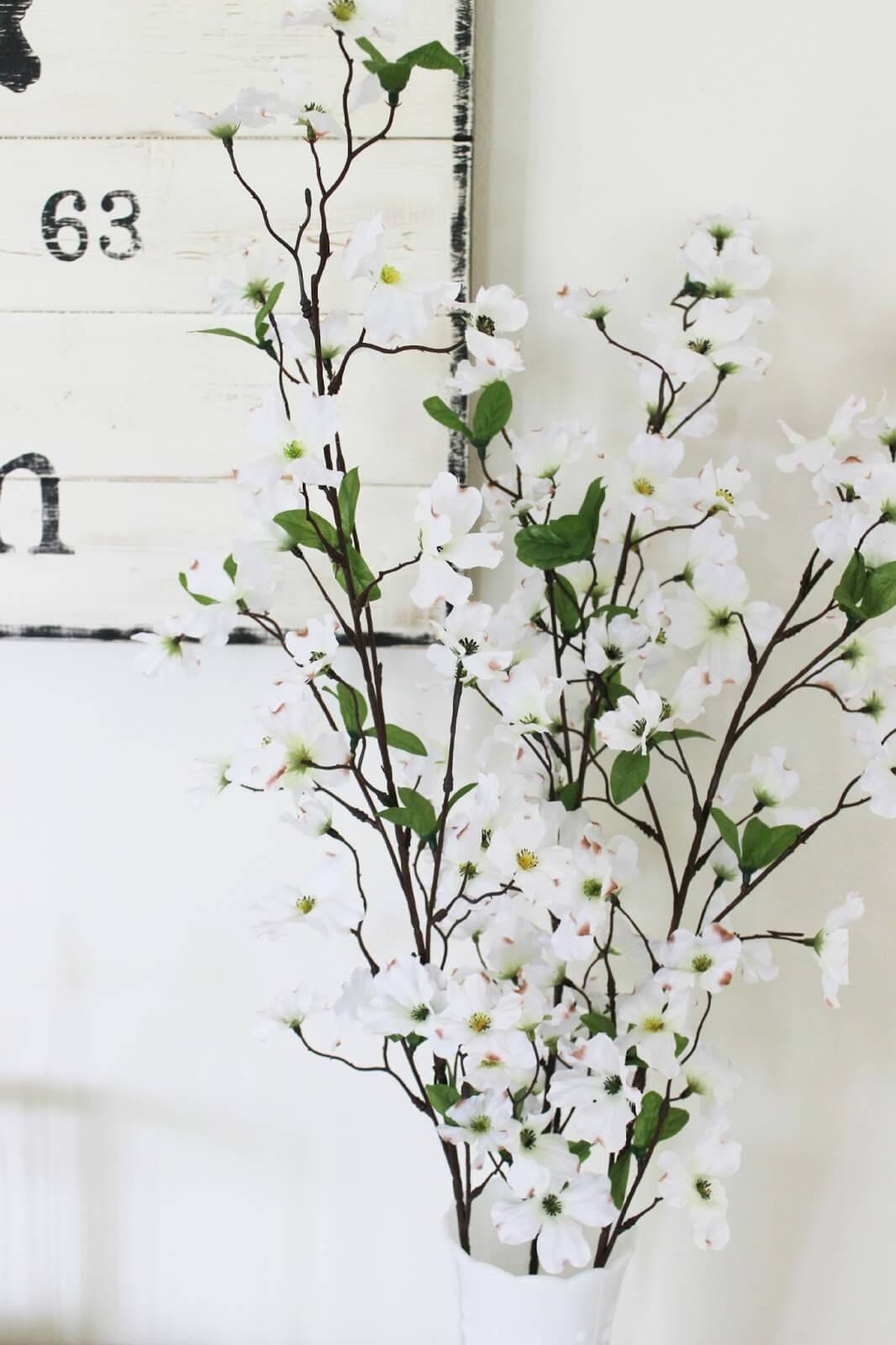 Swapping out the flowers in your home decor is one way to transition from season to season. As each season ends, welcome the upcoming one with some favorite floral friends. The flower power in your home will rise as you enjoy the lush and lively burst of life they bring to your decor. For spring, consider budding branches that are blossoming with the soft colors of the season. Place several bunches within an oversized vase to add drama and height to your spring decorating scene.
19. Glistening Gold Tiny Spring Animals and Insects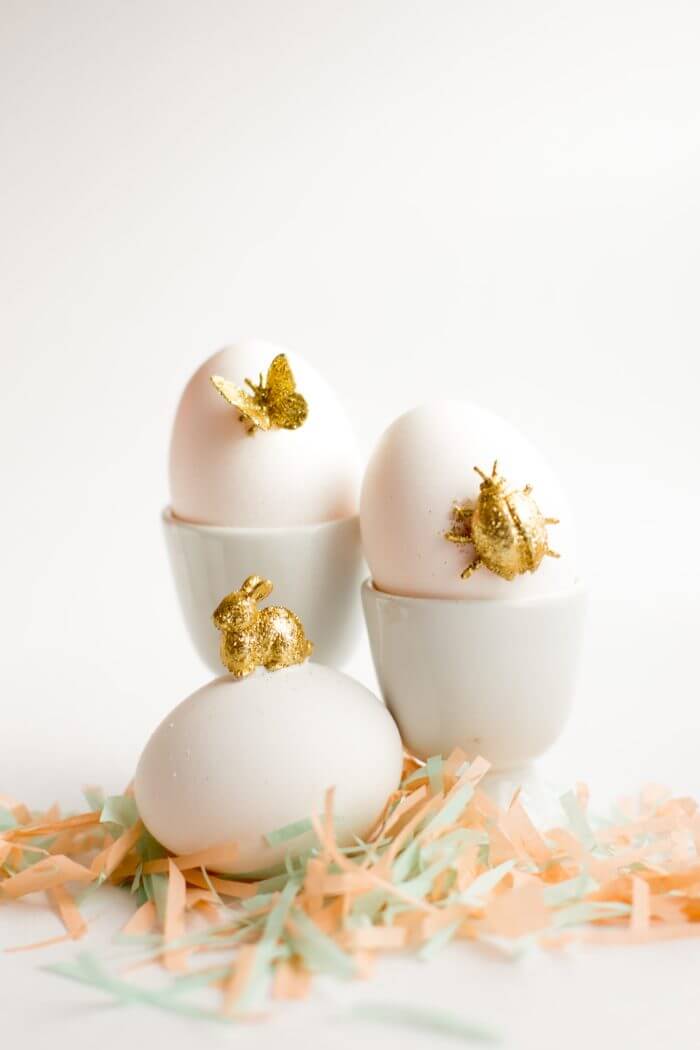 Accenting with gold is always a cool idea and including glitter just becomes the icing on the cake! To take your Easter decor to the next level with an easy DIY, consider this gold and glitter spring collection of animals and insects. From butterflies to bunnies, your applied gold paint and finish of glitter will make them sparkle just in time for spring! They become a great accessory for nearly every decorating corner in your home and even dress up the inside of your Easter basket goodies too!
20. Neutral Spring Grapevine and Egg Wreath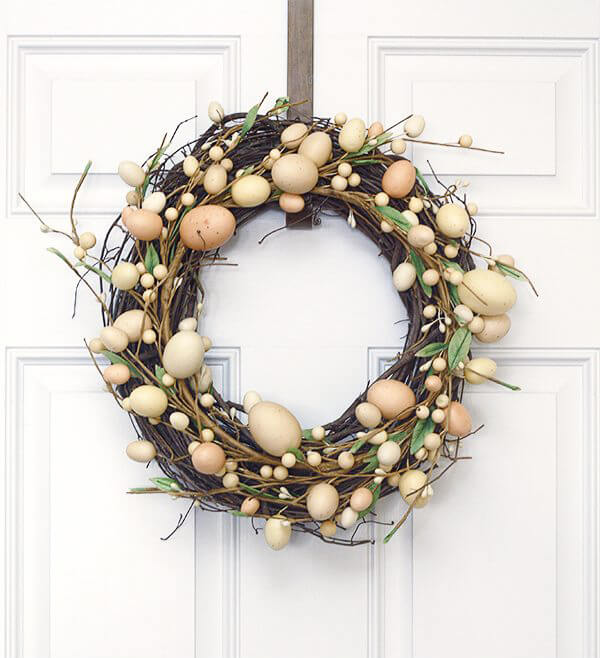 Hang a fresh wreath on your front door to welcome spring! It's the best way to give your home a quick and easy update for the new season. This neutral grapevine wreath features a natural look that complements almost any style of decor. You'll feel like a professional has taken over as you place this stylish and simple wreath on your door. Egg garland in a variety of creamy neutral hues wraps around the grapevine base to add the festive aspect to this spring wreath.
21. Glass Cloche and Wooden Base Spring Decoration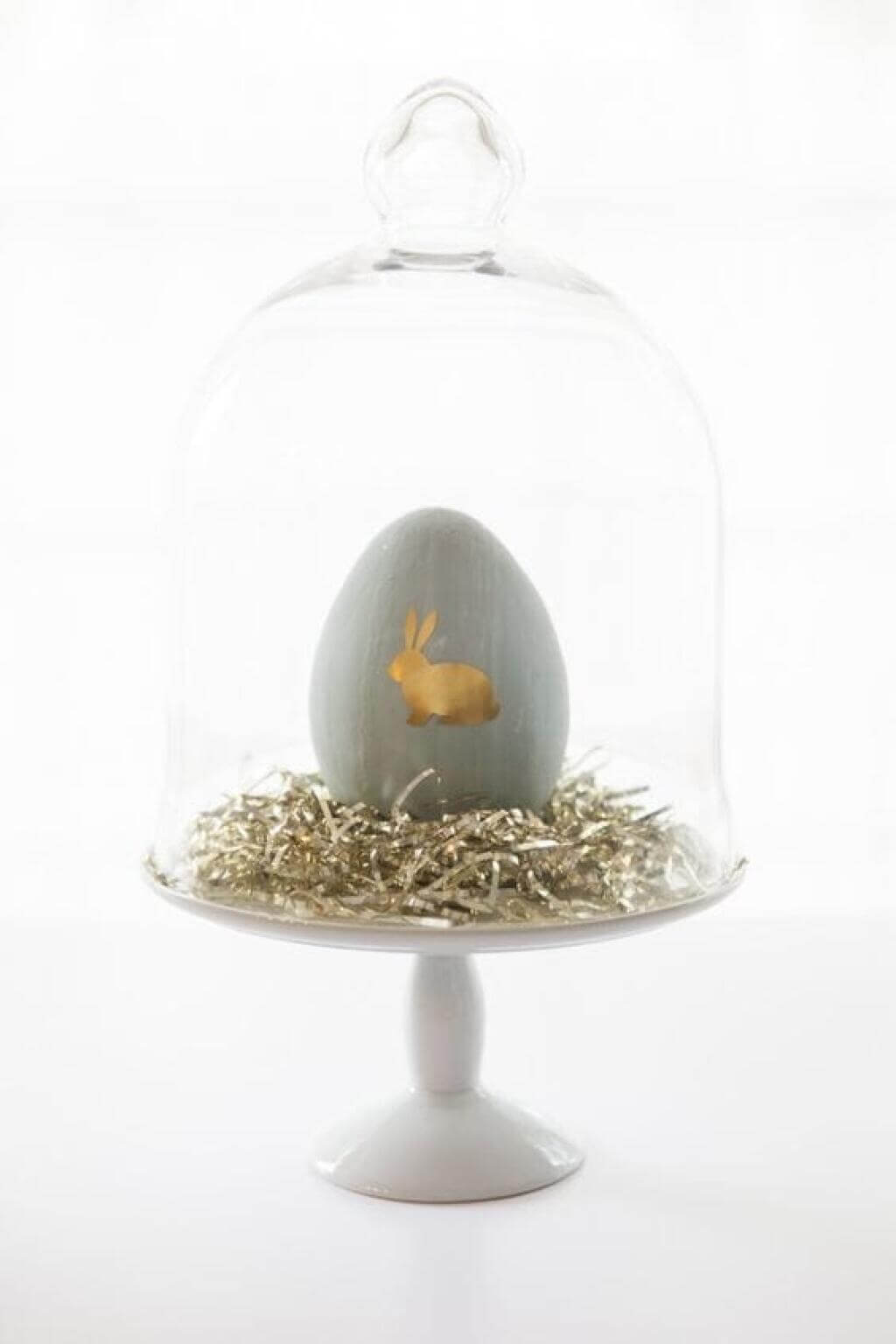 Including a glass cloche in your decorating adds both style and interest to your home. Within this cloche globe, you can choose your favorite focal point to show off. The size makes it ideal for decorating nearly any space of your home. From a bedside table to an entryway arrangement, adding a glass cloche enhances the elegance in your everyday decor. Deciding what filler to include makes this decoration a custom addition. Choose a seasonal item to highlight like a garden gnome for summer or a snowman for winter. For more versatility, showcase your love of classic fiction works year-round. A silhouette of Jane Austin in classic black and white is always a nice touch and confetti strands of old book pages liven up the space at the bottom for a personalized touch.
22. Signs of Spring Rebirth Wreath Decoration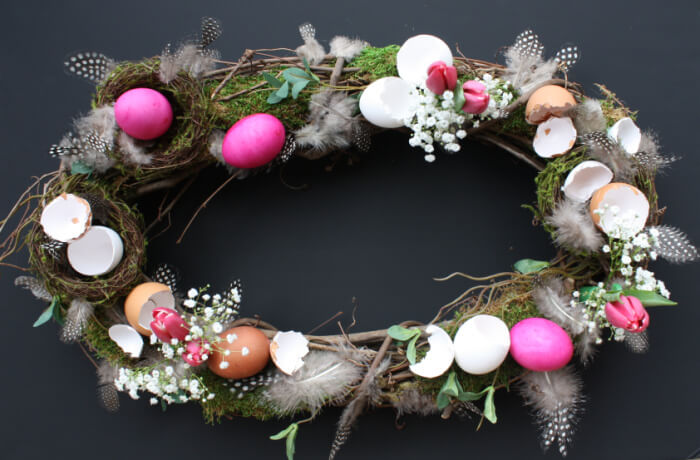 Wreaths are being spotted on top of tables nearly as often as they are noticed hanging on doors. Capitalize on this trend for spring with a festive wreath to greet this season of rebirth. Focus on natural elements to find the magic ever-present in this style of wreath. Starting with a grapevine base, the embellishments consist mostly of fresh flowers, lush moss, billowy feathers, and broken eggshells. Some sprigs of baby's breath add a nice touch to complement the look of the fresh tulip petals. Place this unique and visually interesting natural beauty on your dining table this year as you celebrate Easter with family and friends.
23. Elegant White Ceramic Bird Flower Holder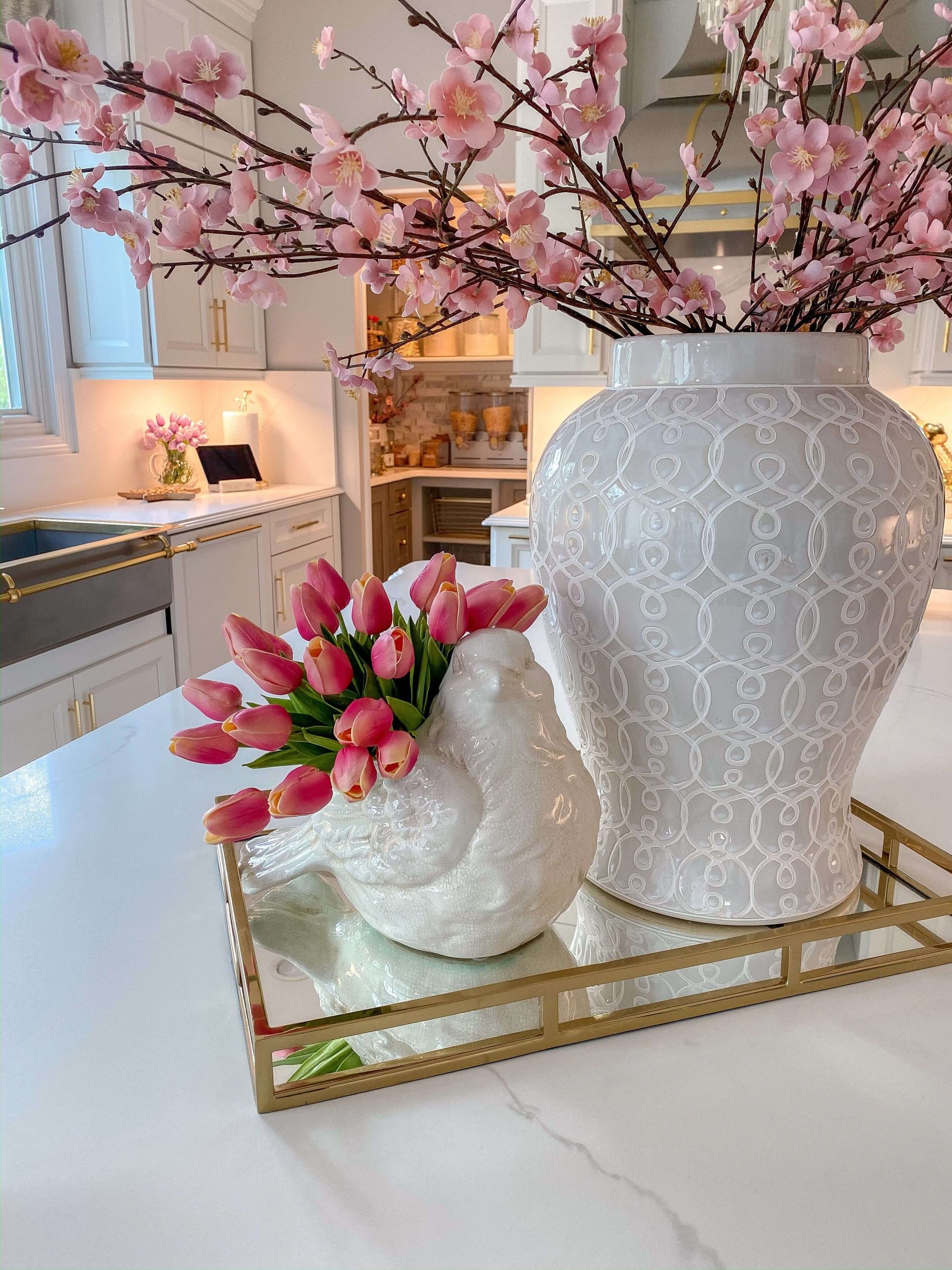 Birds of a feather flock together; however, this charming ceramic fellow has veered from the flock to be a featured decoration in your home this spring. His plump and perfect body sets on your kitchen island as a focal point for your pretty pink tulips to stand out. Nestle him within a seasonal display that includes a larger vase or place him on a trendy tiered tray. His ceramic facade adds a sleek and elegant textural element to your spring decor.
24. Muted Pastel Easter Eggs on Spools Decoration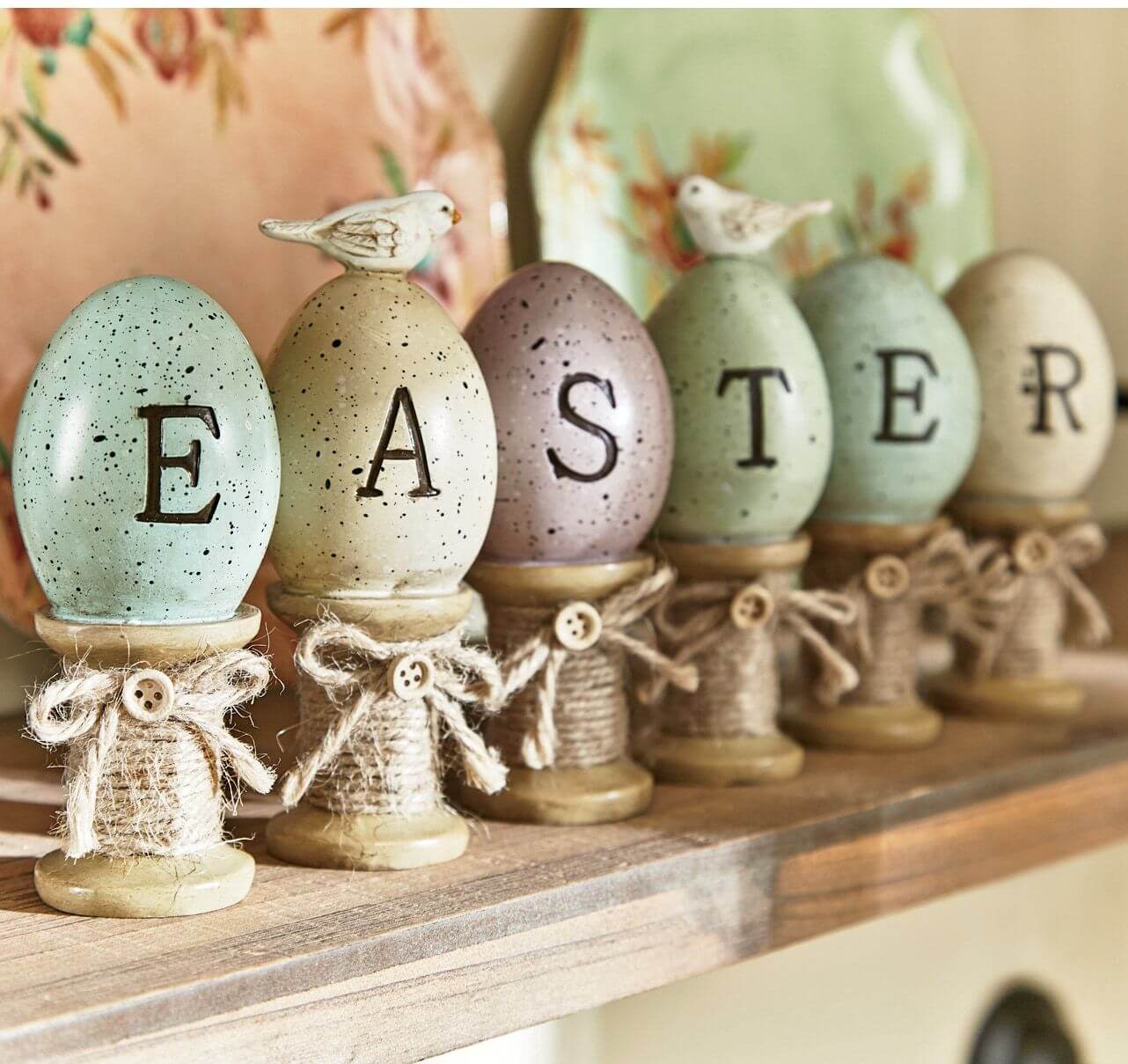 Spell out the focus of spring with these charming muted pastel Easter eggs. Perfectly perched upon a spool that's wrapped with twine, these eggs make a great springtime decoration. Line them up on the mantel, arrange them within a large tabletop display, or rest them on a windowsill. Their size allows them to be placed in almost any room of the home. Attention to detail is a bonus with this set of eggs as each egg has unique speckling and the twine-wrapped spool features a cute bow with a dainty wooden button center.
Emerge from Hibernation with 24 Elegant Easter Decorations
Show off your favorite flower arrangement for spring with a ceramic bunny or hanging vase trio. Both give an unexpected vase design that's sure to stand out. They also make decorating with tulips, carnations, or budding branches more fun. Wreaths used as tabletop accents are another great idea in the design world. Create a central centerpiece and finish it off by placing a wreath around the bottom to frame it all together. Or choose to create a very simple wreath with small succulents to start the greeting of spring early and add to it as the countdown to the season continues.
Accents of gold offer a metallic attribute that's hard to beat. Designing a vignette that's equally elegant and everyday is easy with gold-dipped plastic eggs. The sheen of the gold-sided egg makes the countering black or white side seem ultra-modern giving your display the look you love. Banners broadcasting "Happy Easter" are always a fun addition to a side table display that heightens the entire arrangement. Including a collection of seasonal favorites from ceramics to candies is always in good taste and becomes amazing buffet decor in your dining room. When decorating your home for spring, consider incorporating some elegant Easter decorations to give your home a more polished and less plastic appearance as you celebrate this season.