Bring a fun and stunning touch to spring with these gorgeous farmhouse Easter decor ideas. When it comes to springtime, it seems to always call for vivid, bright colors. If not that, then pastels are the way to go. Such a theme tends to work with various decorative styles. Thankfully, farmhouse is one of those styles. Going the rural route gives you such versatility to work with that you can add those traditional bold spring colors or decide to lean more toward nature with slightly darker, yet no less exciting, natural color options.
24 Incredible Farmhouse Easter Decor Ideas Your Guests will Adore this Season

With Easter farmhouse decorations, you can address just about any area of your home. Create a charming centerpiece that will welcome everyone to the dinner table. Or perhaps you simply want to spruce up various rooms in the house. You can create something to hang up on the wall, the fireplace mantle, or add some texture and color to side tables and the living room table. Another great thing about farmhouse-themed decor for Easter is that they work both indoors and outdoors. So, you can set these up for the season or use them for a party. If you are ever unsure of what to do, check out our list of the best Easter farmhouse decoration ideas.
1. Bold Homemade Easter Mantel Design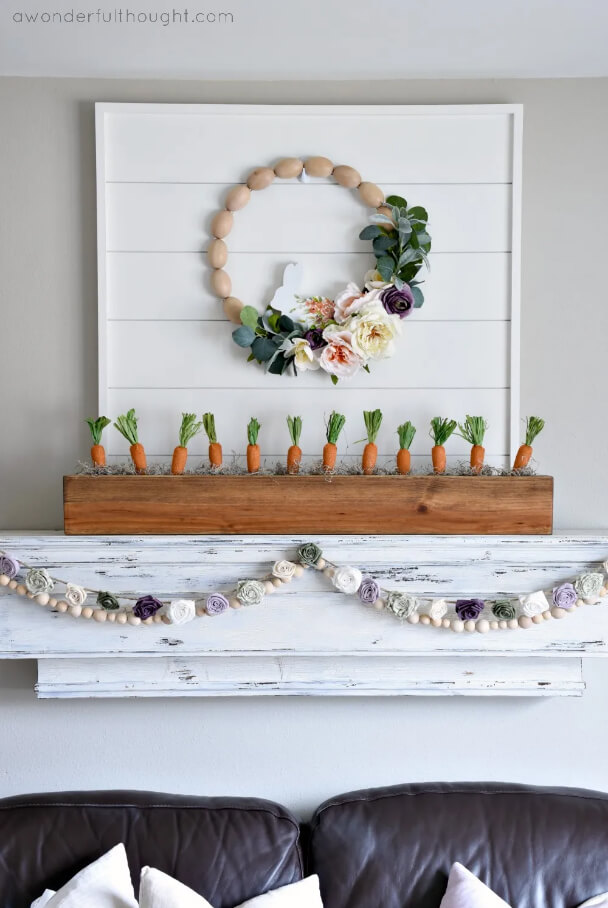 This mantle design could not be more spectacular. It uses flowers of various colors when it comes to the wreath display, and opting to only be a half wreath is a good choice as it helps everything stand out. The interesting carrot display is another nice touch to give it more of a connection to Easter.
2. Vintage Easter Mantle Spring Display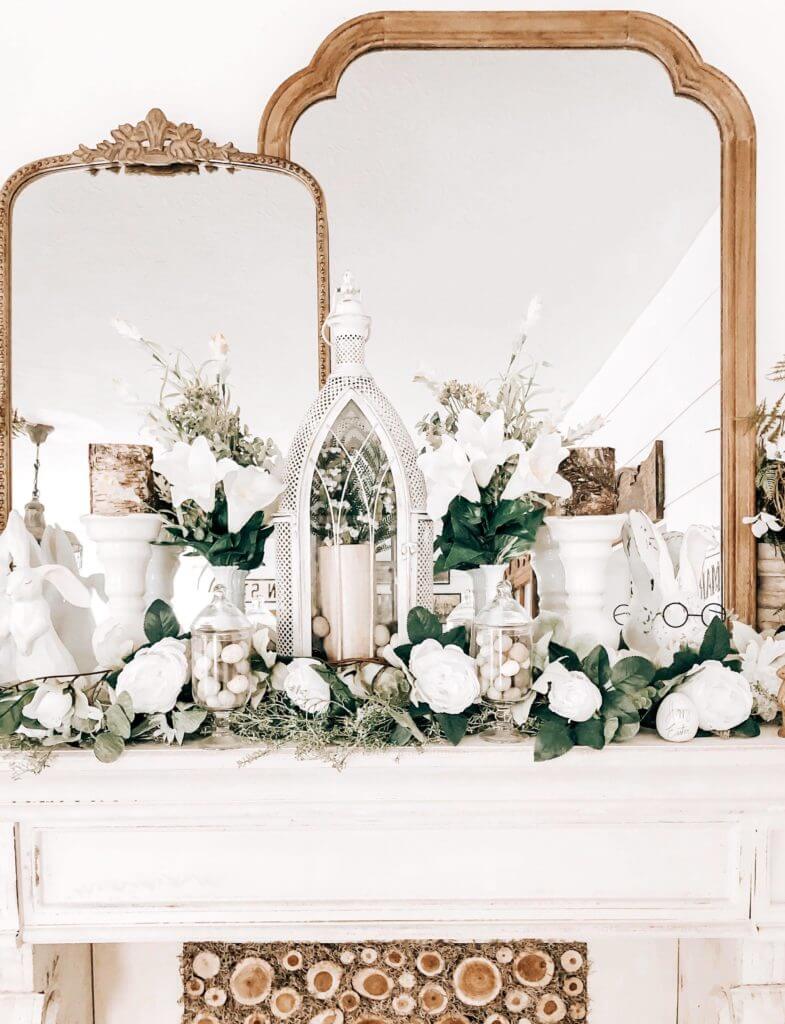 Balance out vintage with Easter charm through this beautiful display. The mirrors help add some brightness both to the setup and to the rest of the room. Then there is the awesome contrast between the greenery and the whiteness of the flowers and the bunny figurines.
3. Styled Rural Easter Table Decorations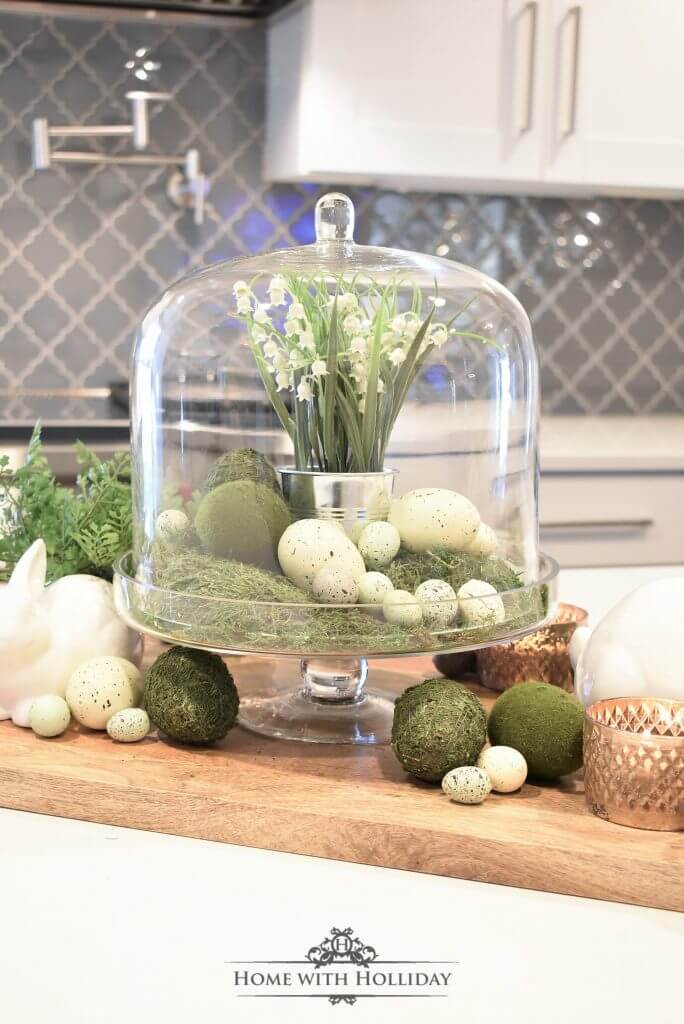 Sell your farmhouse Easter table with some elevated style thanks to this cool design. Green is the focal color here, connecting the design with both the season and the rural style. Easter comes into play well too thanks to the white bunnies and the moss eggs.
4. Charming Farmhouse Springtime Table Decor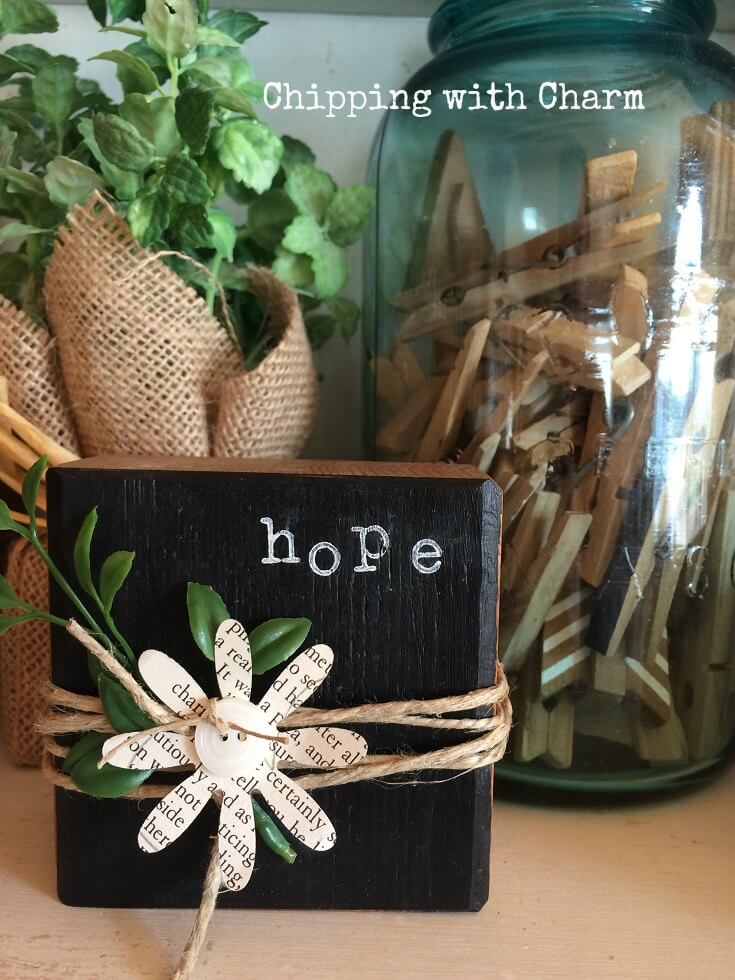 For a table or a stand, this display can work all season long. There are darker colors in this case, leaning wonderfully into the farmhouse style. But there are also hints of spring that pop through from the faux flower design to the greenery from the plant.
5. Vintage Cottage Style Easter Basket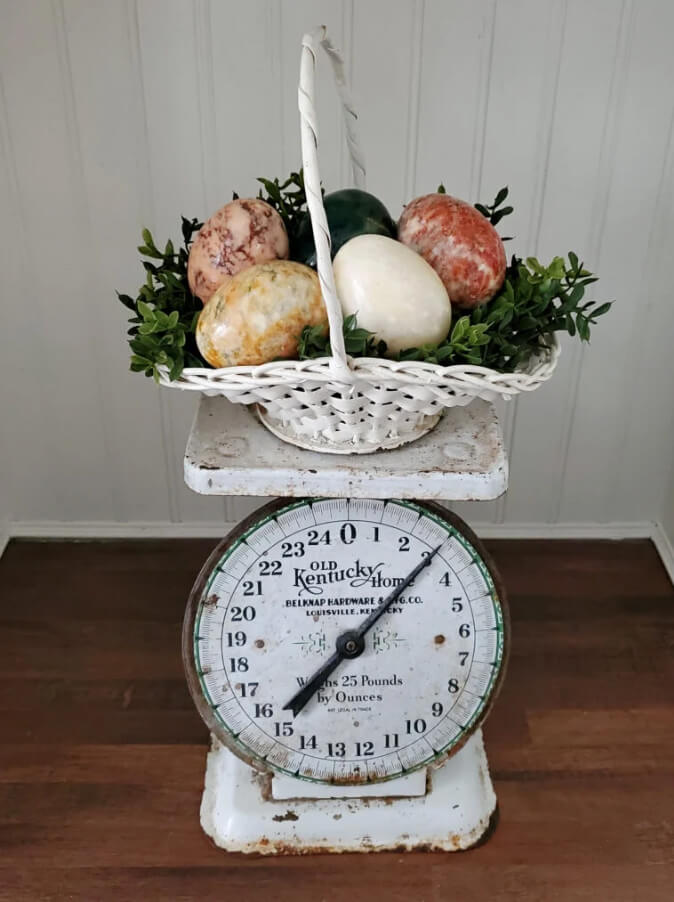 An Easter basket is a great way to decorate your home for the holiday. With this design, you won't detract from your farmhouse or cottage-styled setup. Instead, you will elevate it thanks to the vintage scale that serves as a base for the basket.
6. Naturally Dyed Easter Egg Decor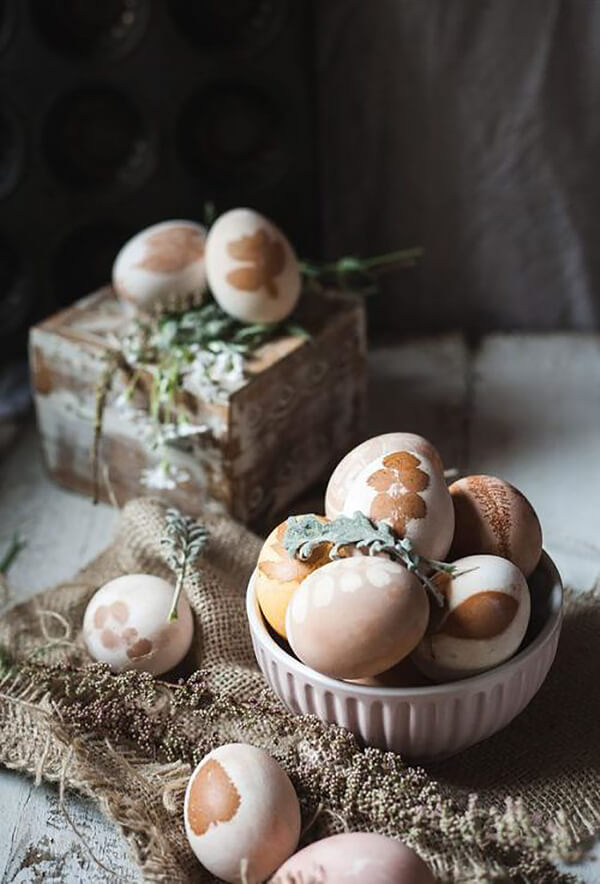 If you're looking for a way to decorate your farmhouse home with Easter items, then you can go a more straightforward route and simply use naturally dyed Easter eggs. Of course, you can dye them using more natural and rustic-like colors to give off that fun vintage style.
7. Lovely Springtime Tulip Vignette Display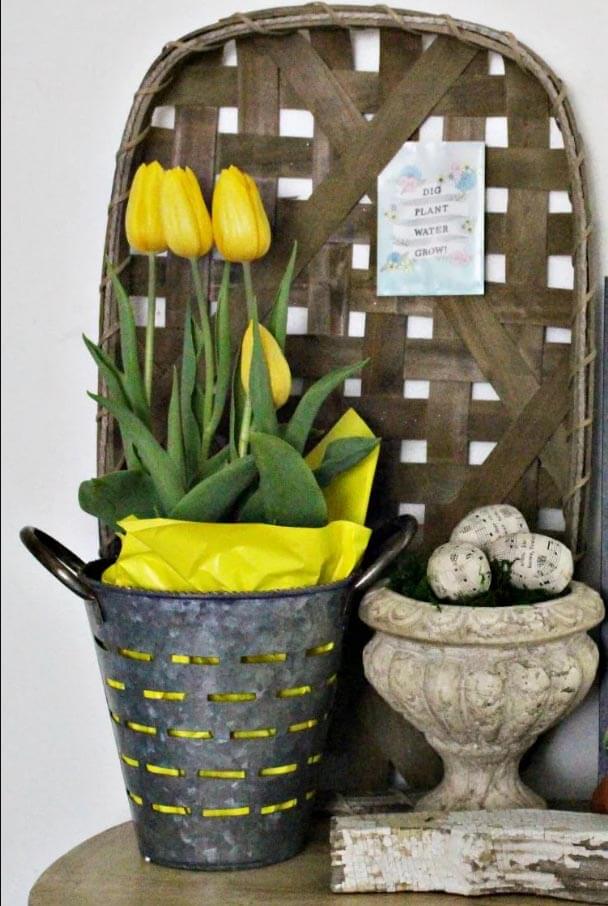 Tulips and springtime go hand in hand. These gorgeous flowers, faux or otherwise, can add the perfect pop of color. If you want to stick with the farmhouse theme as well, you can set them up in a metal bucket. This gives it that slightly rustic touch that works with the rural style.
8. Rustic Bird Nest Table Decoration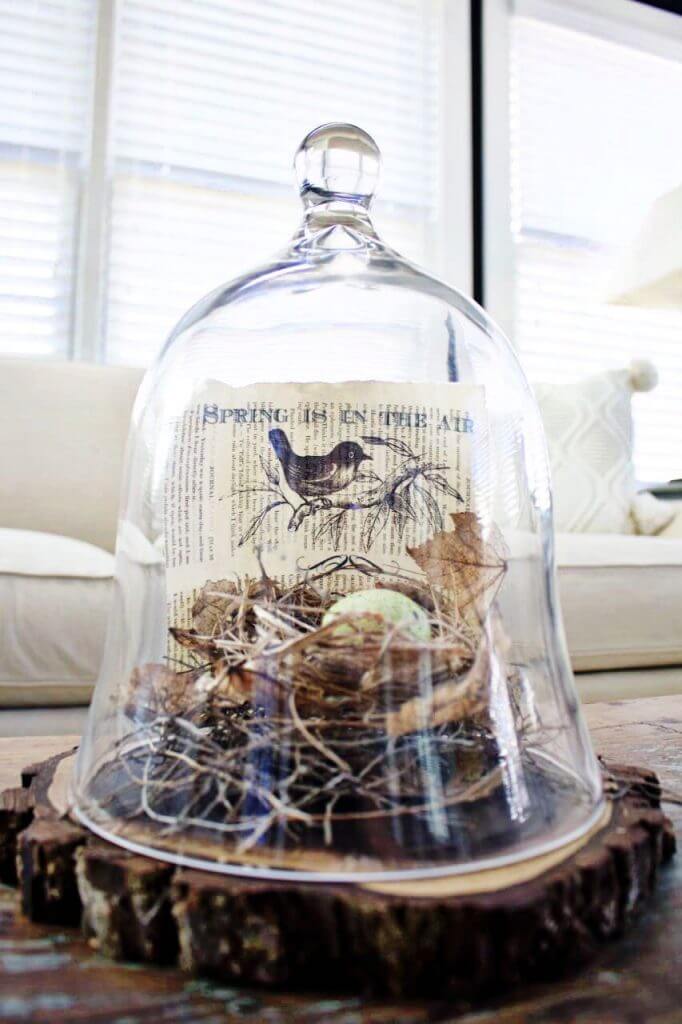 Bring the outdoors inside with this beautiful farmhouse Easter table decor. The use of the wood slice as a base really calls for the theme, while the design of the bird nest with an egg puts a spin on traditional Easter decorations. In fact, this is something you can keep up all season long.
9. Farmhouse Twine Styled Easter Eggs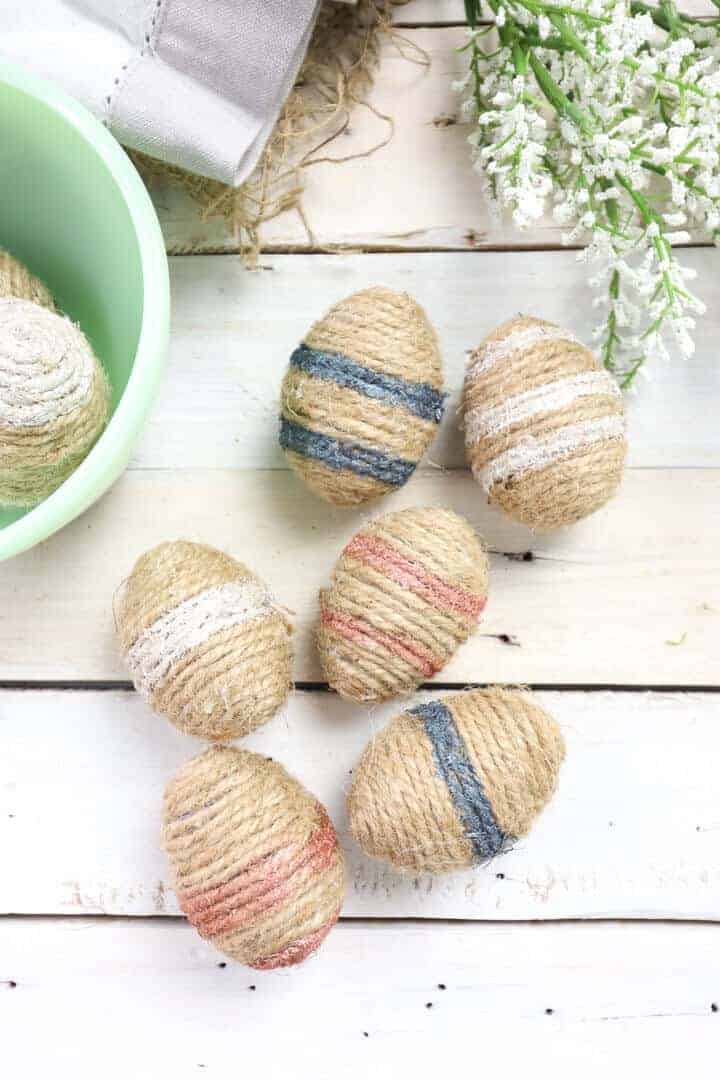 Some of the best farmhouse Easter decor ideas keep things simple as in the case of these twine eggs. Rather than dying your eggs, you can wrap them up in twine, leaving some hints of color, but otherwise sticking to the more natural appearance from the material.
10. Rustic Easter Riser Table Decor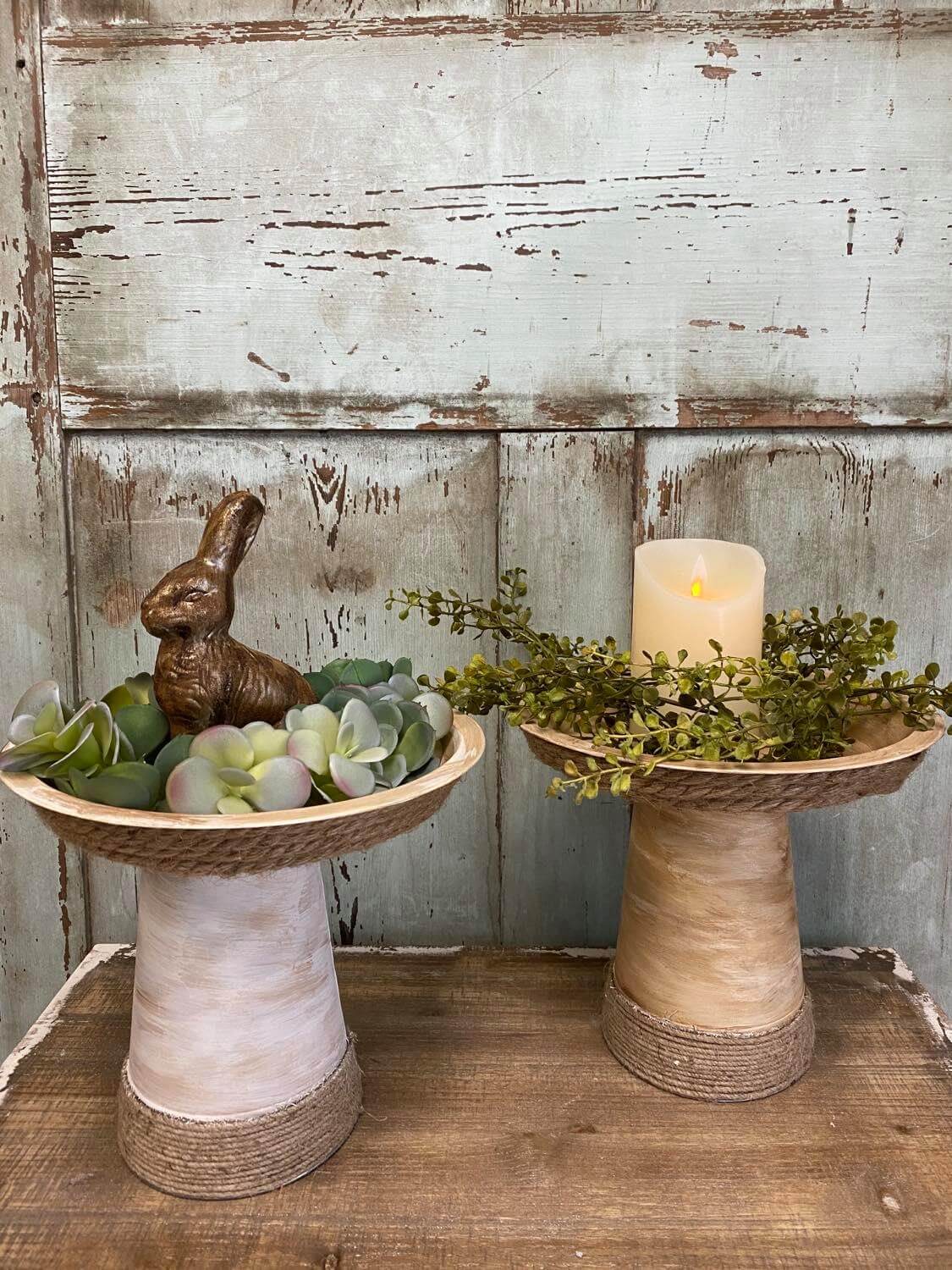 Elevating decorations tend to make them even more attention-grabbing, and these risers don't disappoint. They place more emphasis on the displays, giving the warmth from the candle and the style from the dark bunny the importance they deserve. These are excellent ways to mix in your classic farmhouse style with Easter.
11. Spring Flowers with Moss Pots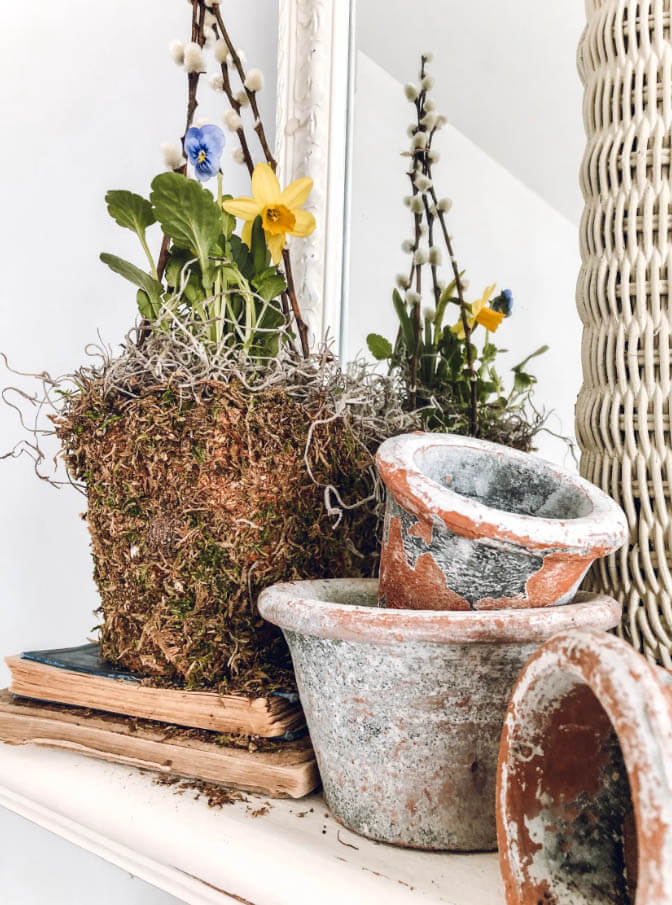 Moss-covered pots seem like such unique choices when it comes to setting up your springtime flower arrangements. They not only offer that natural look, but they provide wonderful contrast for your flowers. It is a nice way to add some color for Easter and still use a style that is fitting for classic farmhouse.
12. Flowers and Nest Easter Centerpiece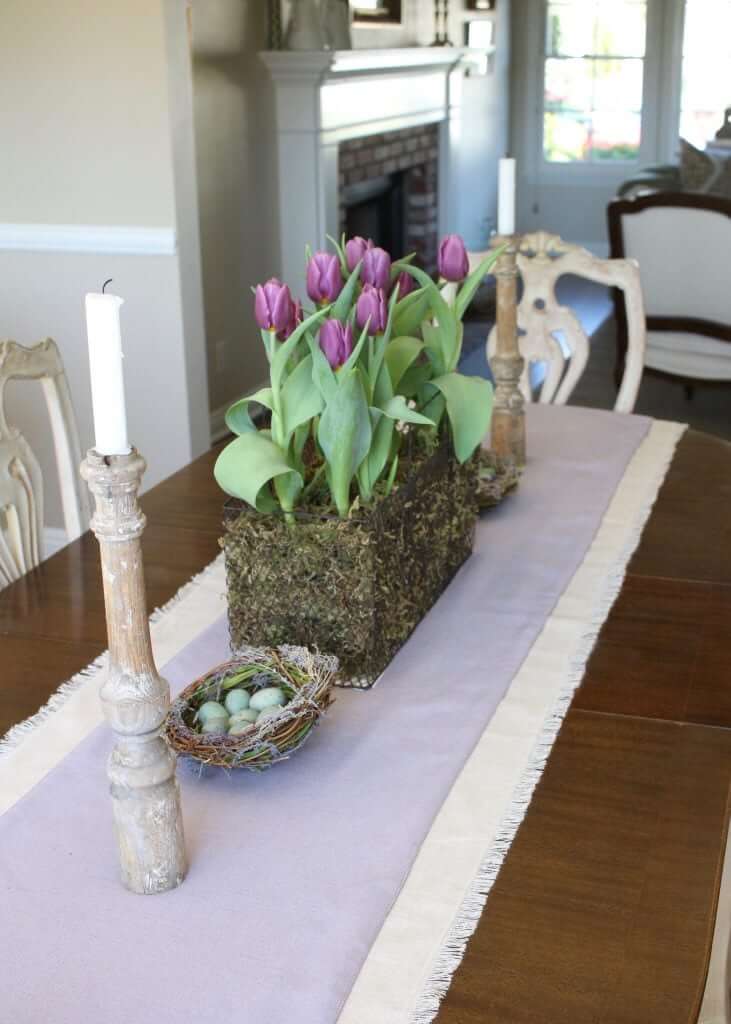 Combine a springtime tradition with classic Easter decorations with this incredible centerpiece setup. The tulips are bold and provide just what the table needs for that hint of color. Them being used inside of a moss-styled planter sells the farmhouse theme, while the eggs tucked comfortably in a decorative nest leaves traces of Easter.
13. Vintage Styled Pink Blossom Arrangement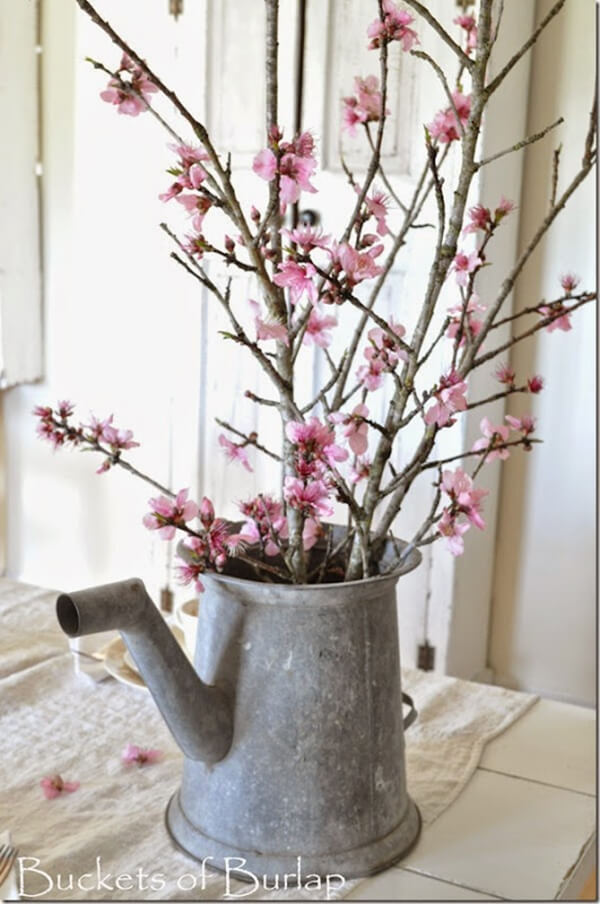 Keep things natural and ready for Easter with this beautiful pink blossom arrangement. You can use real pink blossoms to truly make this piece have that farmhouse feel. The use of a vintage watering can further helps. The blossoms themselves add that perfect touch of spring.
14. Sweet Bunny Themed Towel Wall Hanging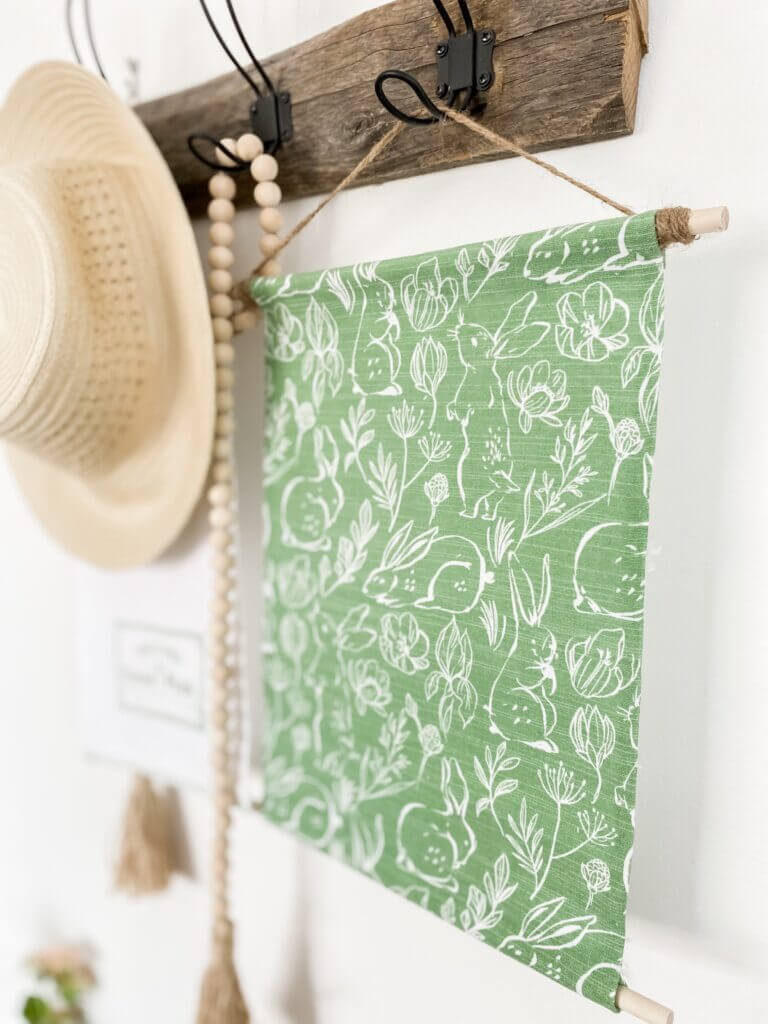 This wall hanging is a cool way for you to decorate some of that empty wall space without overwhelming your farmhouse decor with too many bright colors. The green lends itself both toward spring and styling more rooted in nature. Meanwhile, the bunny and flower patterns capture the essence of springtime.
15. Shabby Chic Easter Table Decor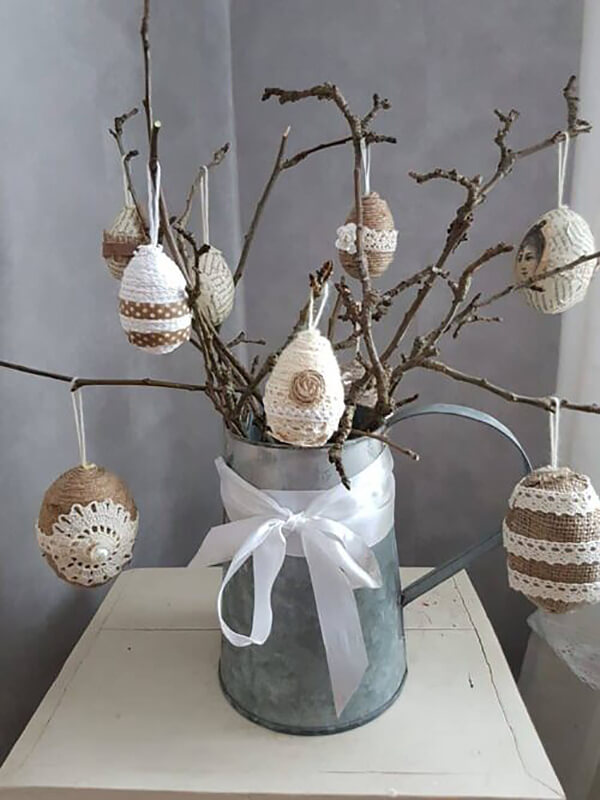 A metal flower can never fails to impress when it comes to a countryside style. You can add an Easter spin to it without losing such a traditional farmhouse touch with this remarkable design. The handmade eggs are far more unique and scream springtime despite this setup not having the usual vivid coloring.
16. Springtime Galvanized Tiered Tray Design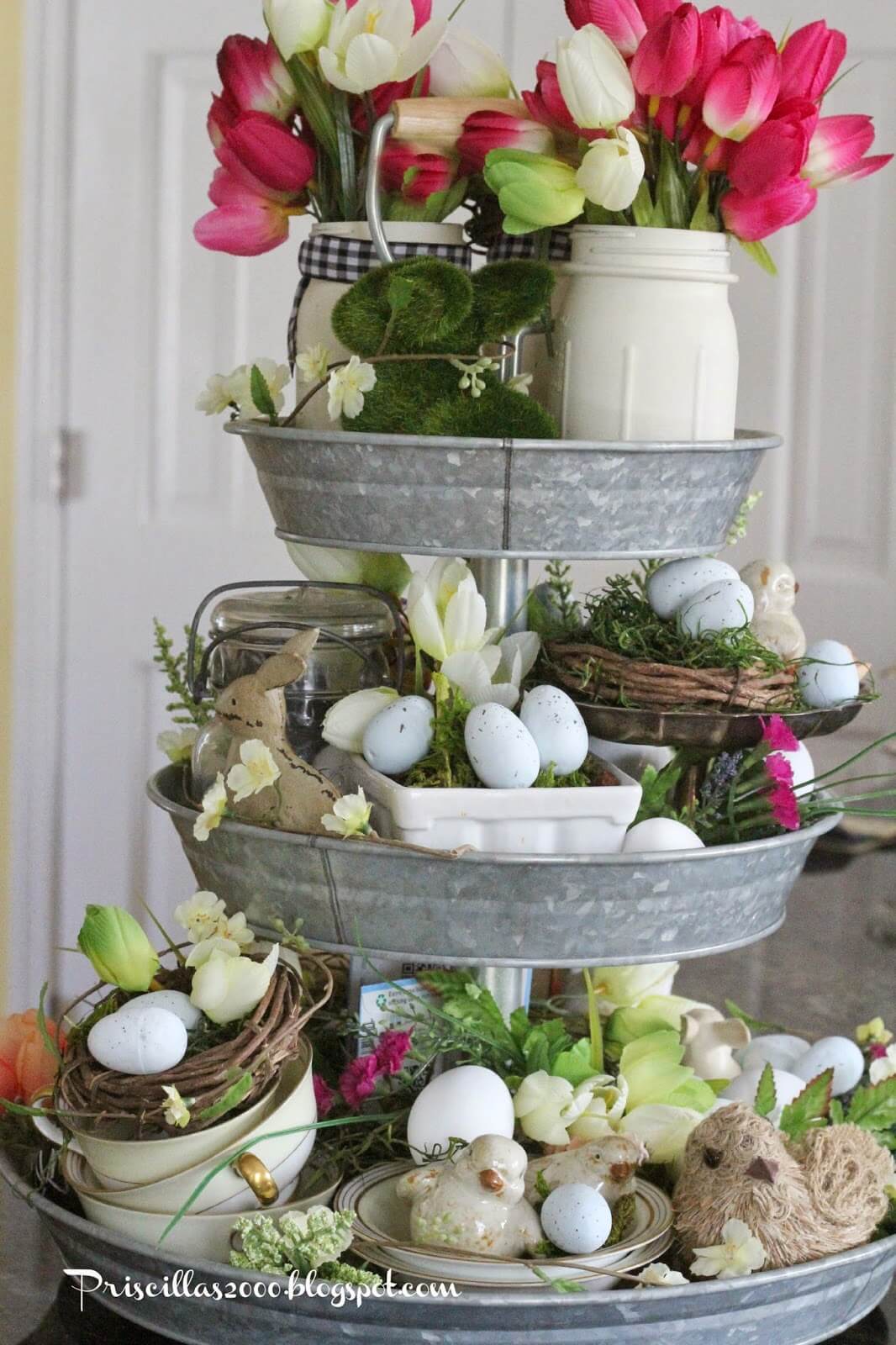 Adorn your table with this epic springtime centerpiece. There is just enough going on to give the design some enjoyable movement, leaving guests to admire every inch of the rustic, Easter decor. It perfectly balances out some color with the flowers and some countryside flair with the galvanized tray.
17. Charming Easter Fireplace Mantel Decor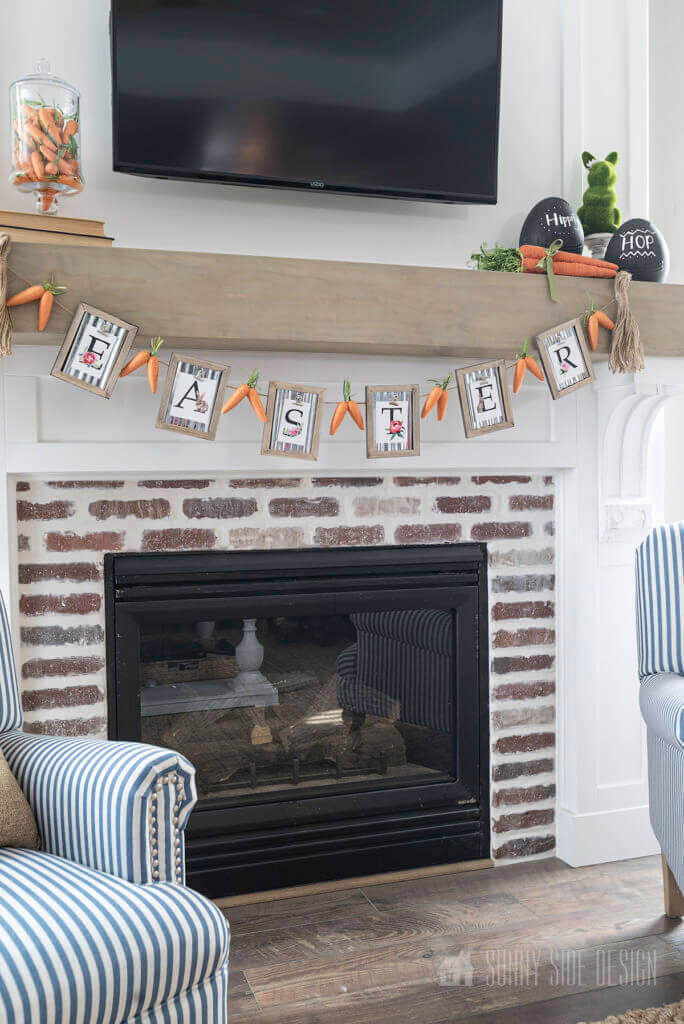 This Easter decoration can quickly enhance the traditional garland that people hang up. Completely handmade, you can show off your artistic skills and have a little fun making something personal for your decor. The faux carrots do a wonderful job at giving the piece a hint of vibrancy, while the more muted tones lean to that rural vibe.
18. Easter Moss Egg Decor Idea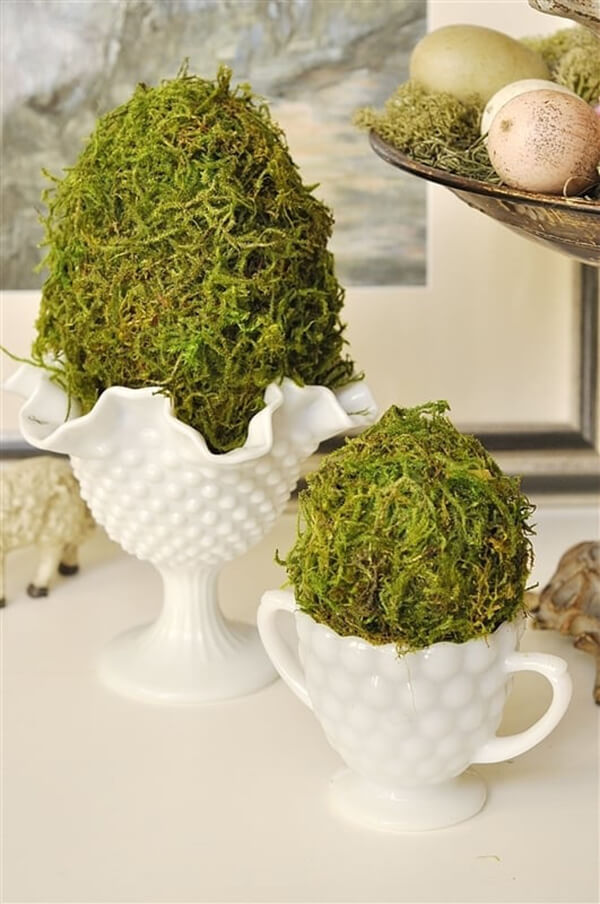 Using moss is an exciting way for you to decorate a farmhouse-styled Easter home. You don't have to go far with these eggs either since the moss adds personality and texture to it all. Of course, you can set them up in some appropriate containers to give them more pop.
19. Bird Themed Springtime Table Centerpiece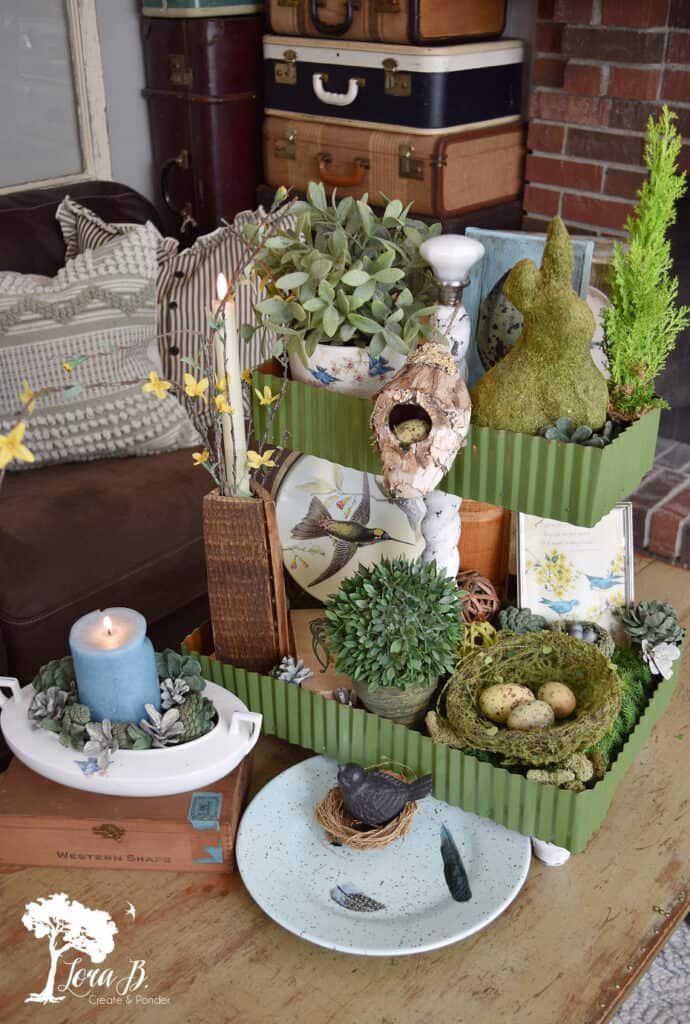 This tiered centerpiece is ideal if you need farmhouse Easter table decor. The various shades of green work well with the theme while also emphasizing the holiday. With it being tiered, you have room to add plenty of decorations throughout, stretching your creativity as far as it can go.
20. Burlap Easter Flag with Bow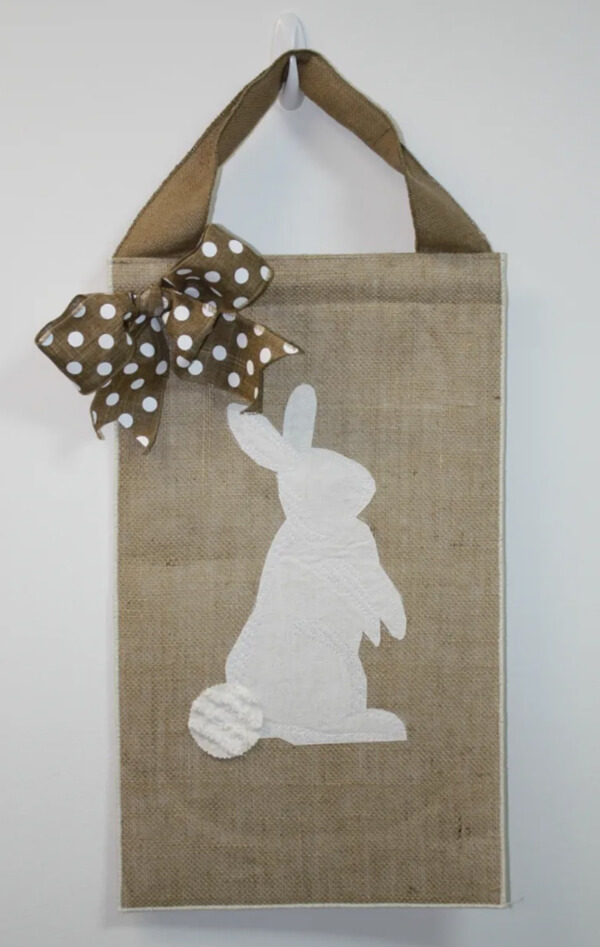 A nice way to decorate the walls or even the door is with a stunning Easter flag. This is perhaps ideal for those of you who seek a minimalistic approach to decorating. There is a simple outline of a bunny with respect to the holiday. The fabric itself and the coloring makes it work well for farmhouse style.
21. Decorative Farmhouse Easter Tray Display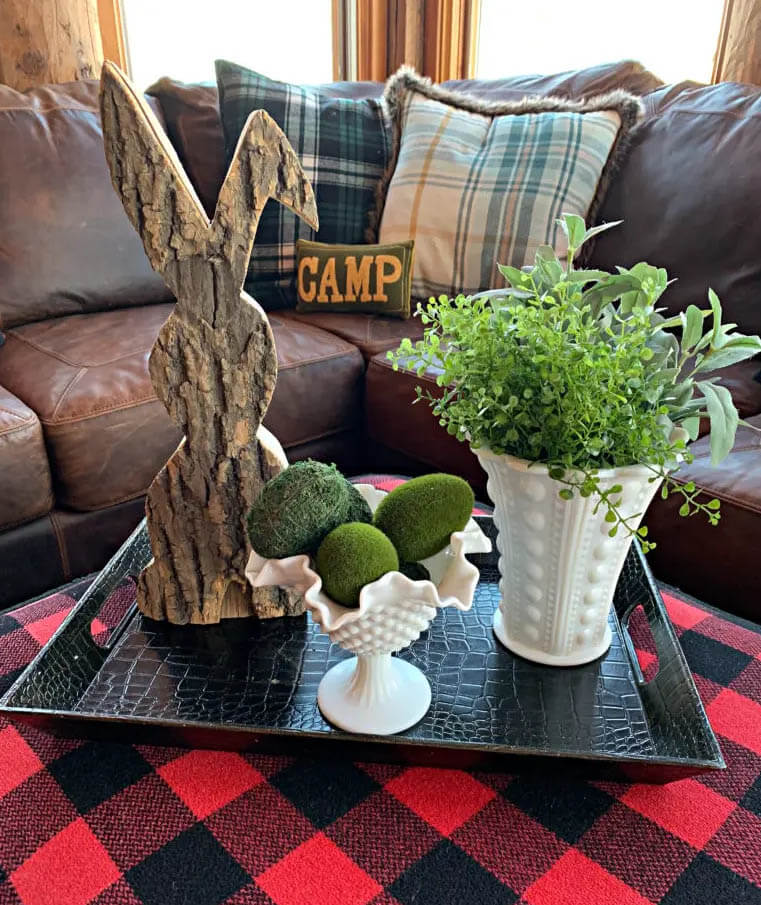 A tray is sometimes all you need to act as a base for your epic Easter display. Going for a wooden bunny is perfect as it effortlessly blends rural with the holiday in question. Even the moss eggs accomplish that goal, leaving you with decor that is far more distinct and creative.
22. Handmade Farmhouse Faux Carrot Basket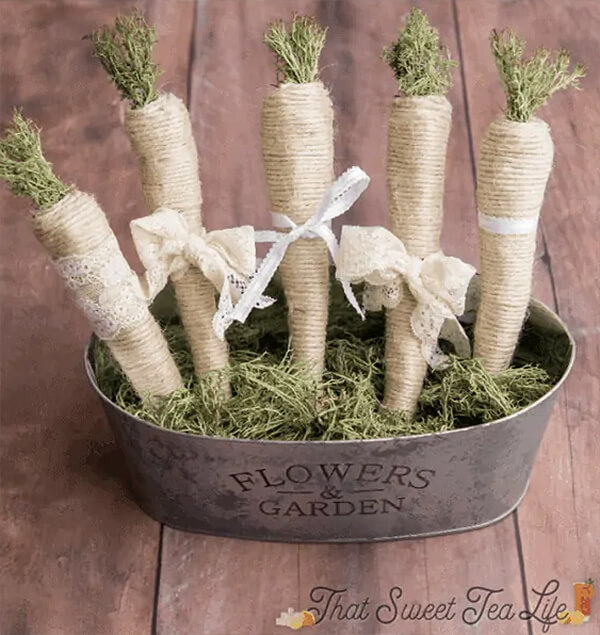 Bring carrots for the Easter Bunny in a more artistic manner with these faux carrots. The twine truly helps to sell this design, leaving the impression of a style that blends rural with classic. What helps to round it all out is the awesome vintage bucket that they rest in.
23. Farmhouse Styled Easter Centerpiece Idea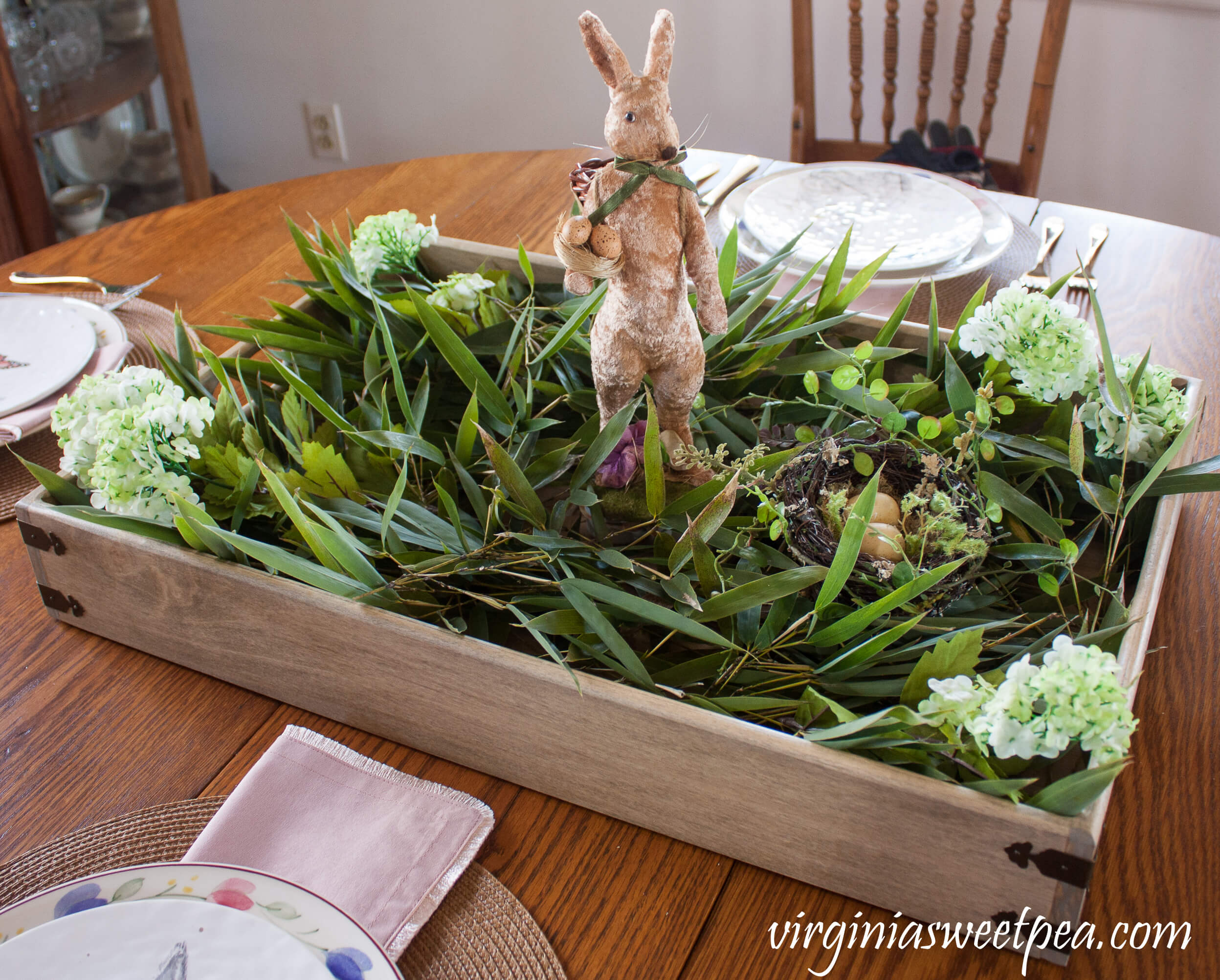 Transform your farmhouse table into an Easter celebration with this amazing centerpiece. There is plenty of greenery to go around with this design, making it stand out with ease. At the same time, the pastel-painted eggs offer wonderful contrast that isn't overwhelming and instead pulls everything together.
24. Handmade Farmhouse Styled Egg Wreath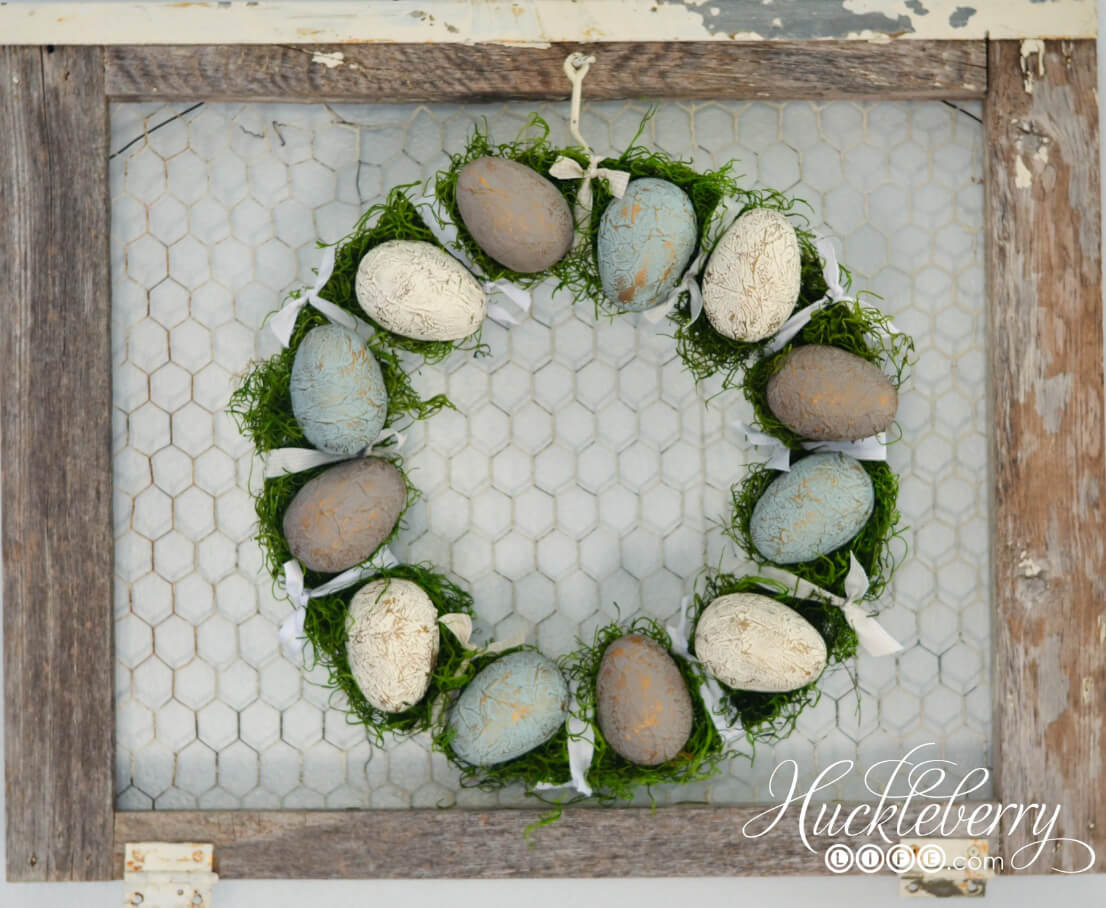 Whether hanging on your door or on the wall, this homemade egg-themed wreath is a creative way to welcome spring and Easter. With the texture and paint added to the eggs, no one would ever believe that they started out as simple plastic eggs used to hide away treats.
24 Unique Ideas for Easter Farmhouse Decorations to have a Memorable Holiday
Before the holiday comes around the corner, you can prepare your home to celebrate with some awesome Easter decorations that have a lovely farmhouse twist. Whether you opt for some wall art or create lovely farmhouse Easter table decor, our list is sure to have an idea that you will love.