The best flower pot painting ideas transform a generic pot into a decoration that expresses your style. Some ideas are full of big, bold patterns while others feature subtly sophisticated designs. Which techniques are right for you depend on your space, your skills, and how you plan to use your freshly-painted plant pots. Because clay flowerpots are relatively inexpensive, decorating them is a great guilt-free way to give your space a quick facelift. These projects also happen to be a lot of fun.
23 Stunning Flower Pot Painting Ideas that Will Turn Heads and Start Conversations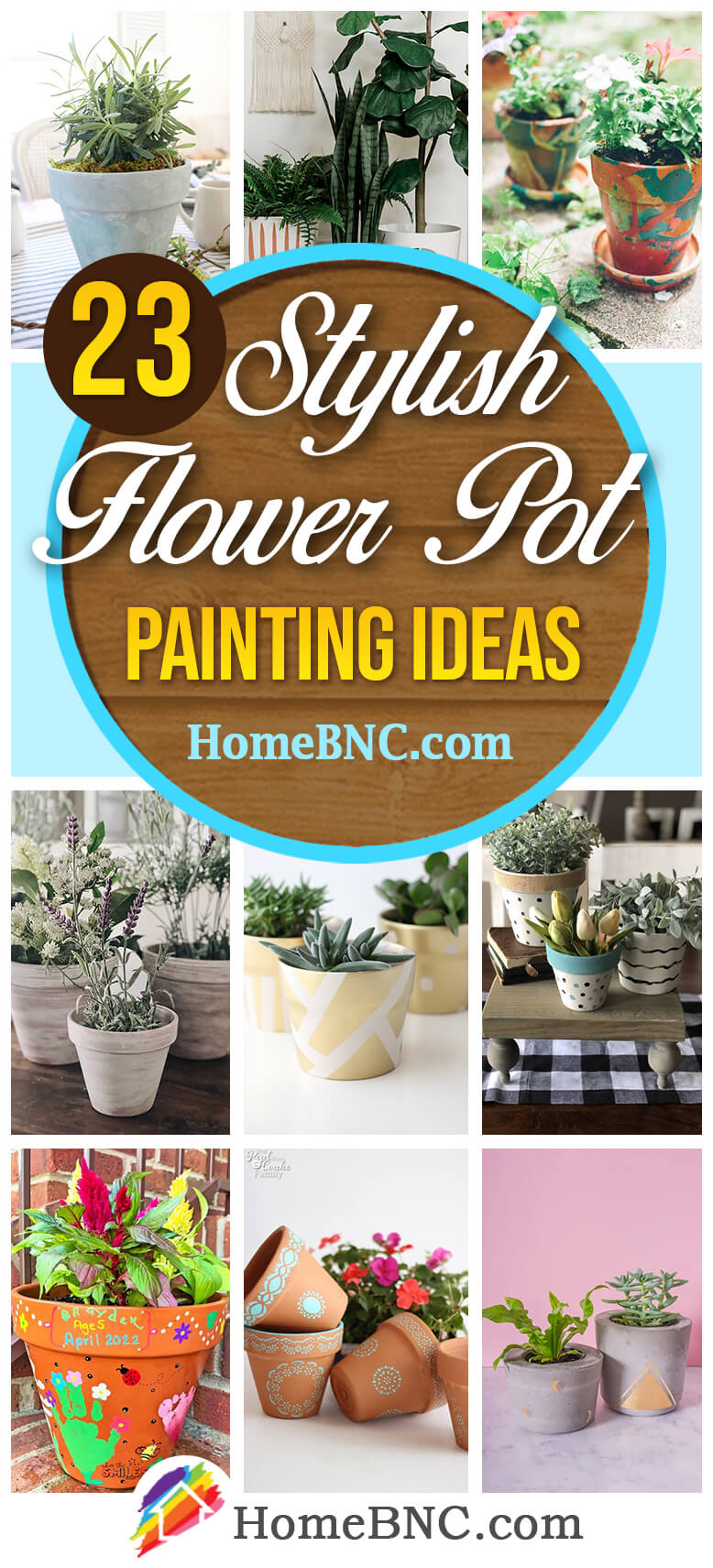 As a quick and cute project, decorated plant pots make thoughtful gifts. From faux ice cream cones to handprint keepsakes, there are so many ways to personalize a clay pot for someone special in your life. These are great presents for housewarmings, Mother's Day, Grandparents Day, and even Teacher Appreciation Week. After you have the pot decorated to perfection, all you need to do is find a way to fill it. If living plants do not seem right for the recipient, try filling the pot with artificial succulents or silk flowers. With this project, the gifting potential is endless.
What material your planter is made of might change what painting approach you need to take. Plastic flowerpots are compatible with most of these ideas, but earthenware pots might require a little extra preparation. Unglazed terra-cotta clay is porous which means that it soaks up moisture. For living plants, this is an excellent quality. However, this porous nature makes painting them more difficult. Many of the techniques below include priming or sealing the pot before you begin painting. Of course, a base layer of white paint is a great way to make colors pop. Do not be afraid to mix and match the ideas below to create a technique that works for you.
1. Whitewashed Terra-Cotta Pots for a Farmhouse Feel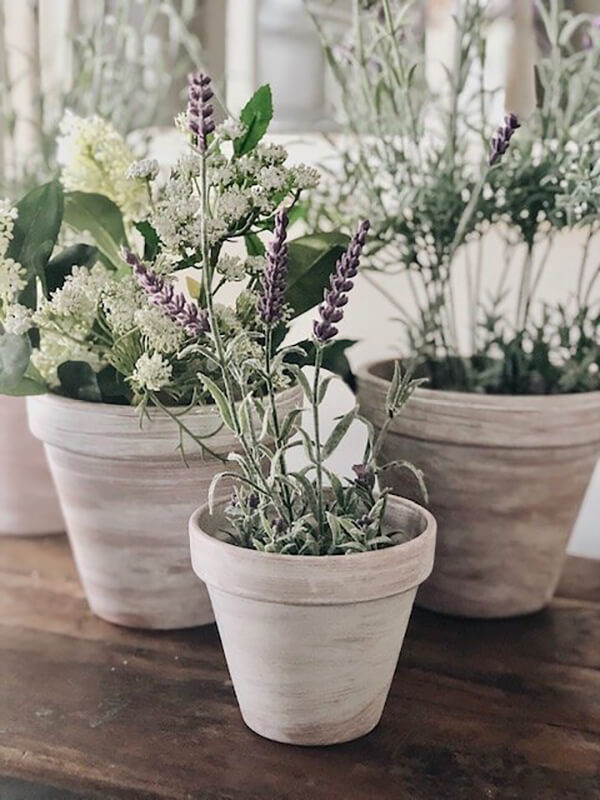 If terra-cotta's orange hue is too warm for your space, you can cool it down with this whitewashing technique. The darker orange still shows through, but only enough to generate dimension by contrasting with the white paint. For continuity, be sure to paint along the inside rim as well.
2. Creating Stencils out of Tape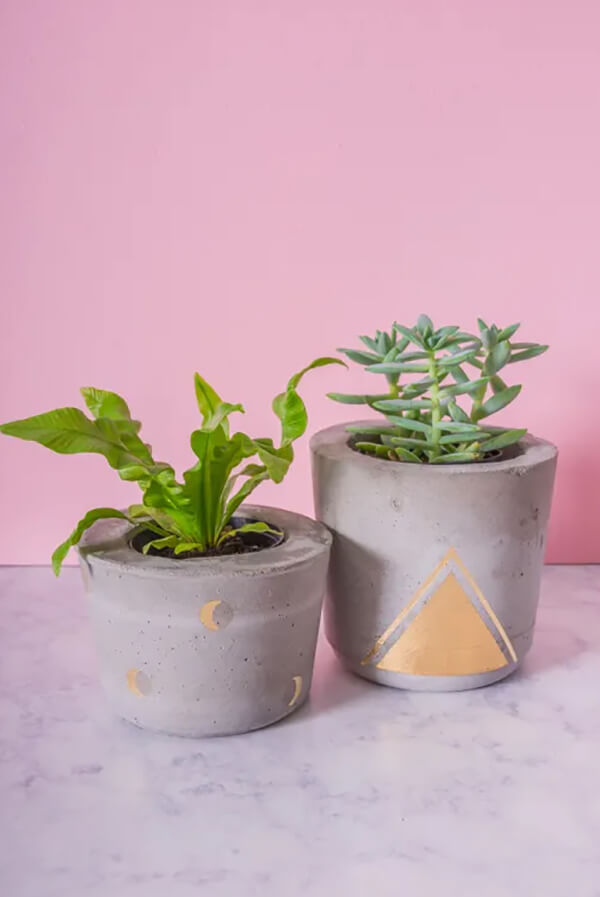 With this tutorial, your tape stencils are not limited to basic shapes. As you can see in this image, you can use ape and gold leaf to create fanciful crescent moons and whimsical triangles embellished with slender lines. Reflective gold leaf looks particularly striking on the utilitarian gray concrete pots.
3. Bohemian Chic Flower Pot Painting Ideas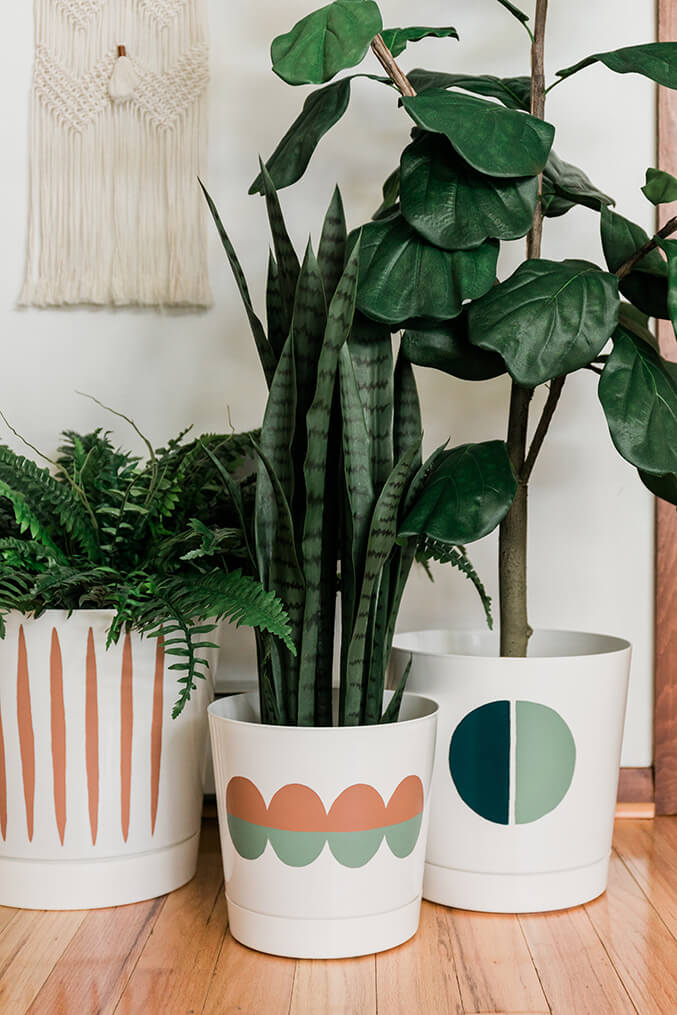 A paper template makes it possible to freehand these geometric designs onto your indoor pots. As shown here, simple geometric shapes and a limited color palette can have a big impact. This approach looks most dramatic on white planter pots, but can also be used on terra-cotta clay pots.
4. Elegant Gold Flower Pot Painting Ideas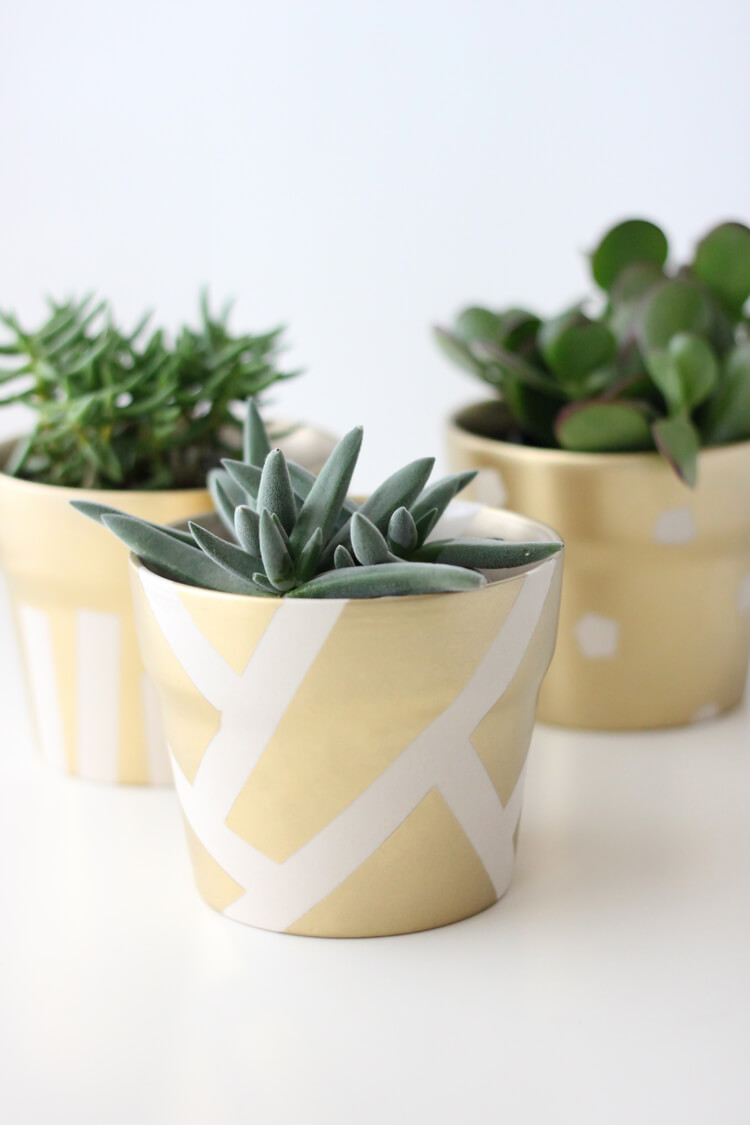 While this technique would look intriguing on terra-cotta pots, it achieves maximum magnificence when applied to white-glazed ceramics. On these pots, white and metallic gold work together to cultivate an airy ambiance. To make these pots fit your aesthetic, switch up the designs. These shapes happen to be modern tending Scandinavian.
5. Fun Nail Polish Marbling Technique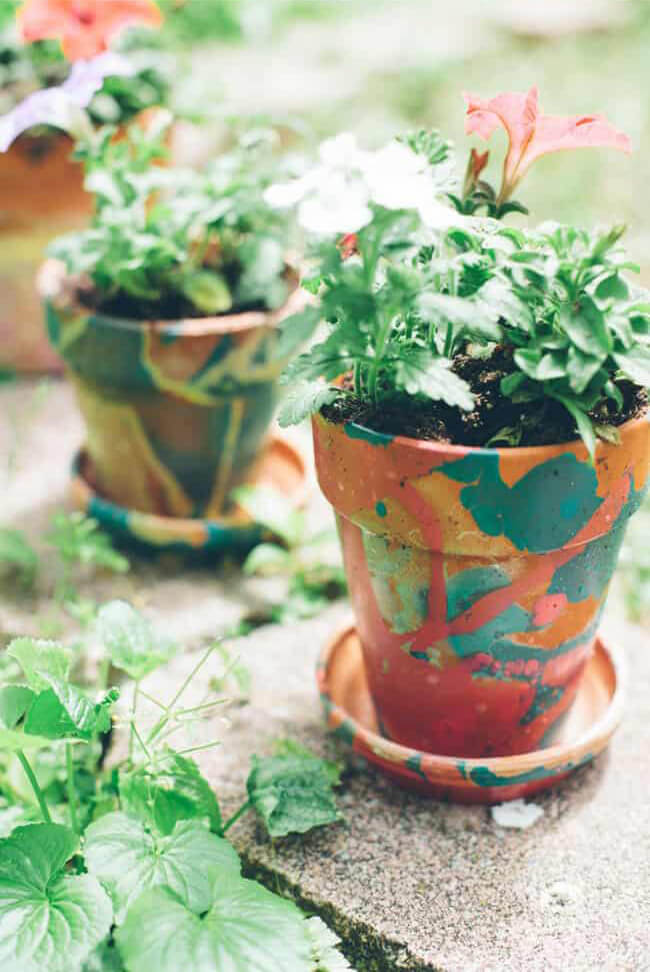 Using only water and nail polish, create expressive artwork on your clay planter pots. While each pot decorated with this method is unique, they will look harmonious when displayed together. Break out a few contrasting colors like the turquoise and pink shown here and experiment until you have pots you love.
6. Using Paint to Age Earthenware Plant Pots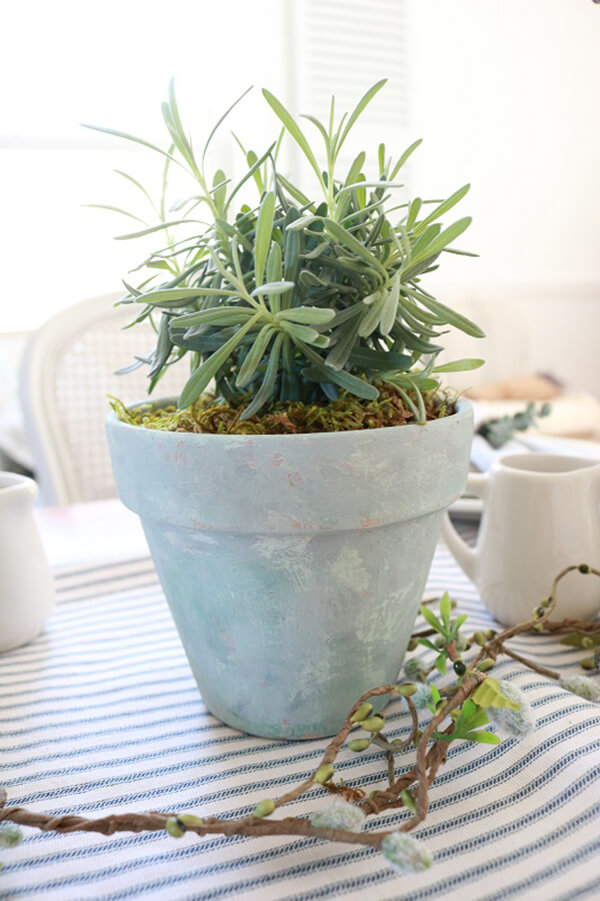 There are many ways to fabricate an aged patina, but this easy method is one of the most fun. You might even get to revisit your youth with a fingerpainting overlay. By layering shades of green and gray, you can harness the same earthy serenity showcased in this image.
7. Painting with Stencils on Terra-Cotta Pots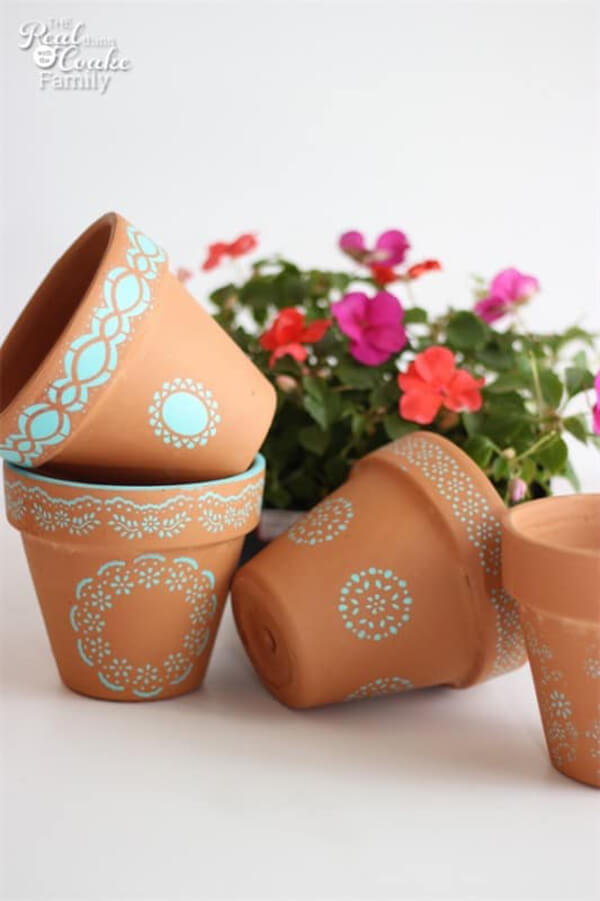 Harnessing the soothing power of perfect symmetry is one advantage of using stencils. These elaborate designs elevate humble pots into ornate decorations. For maximum effect, choose a paint color like aqua that contrasts with the muted orange terra-cotta. To create an area for writing, include chalkboard paint in your design.
8. Curating and Displaying Your Clay Pot Collection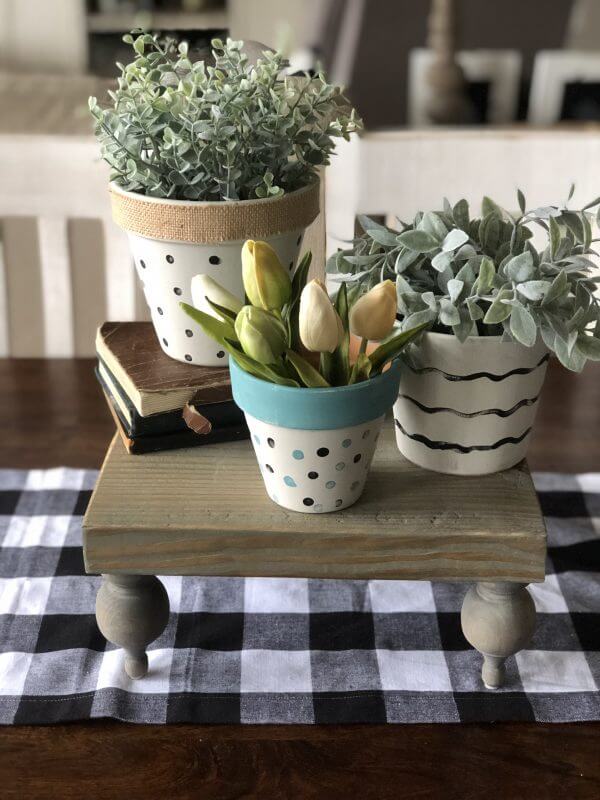 A muted color scheme and coordinating patterns define this set of coordinating flower pots. Because each pot is a different shape or size, they deliver visual interest when displayed together. A burlap ribbon glued to the largest pot illustrates that you can get creative with texture as well as color.
9. Decorating a Flowerpot with Colorful Brushstrokes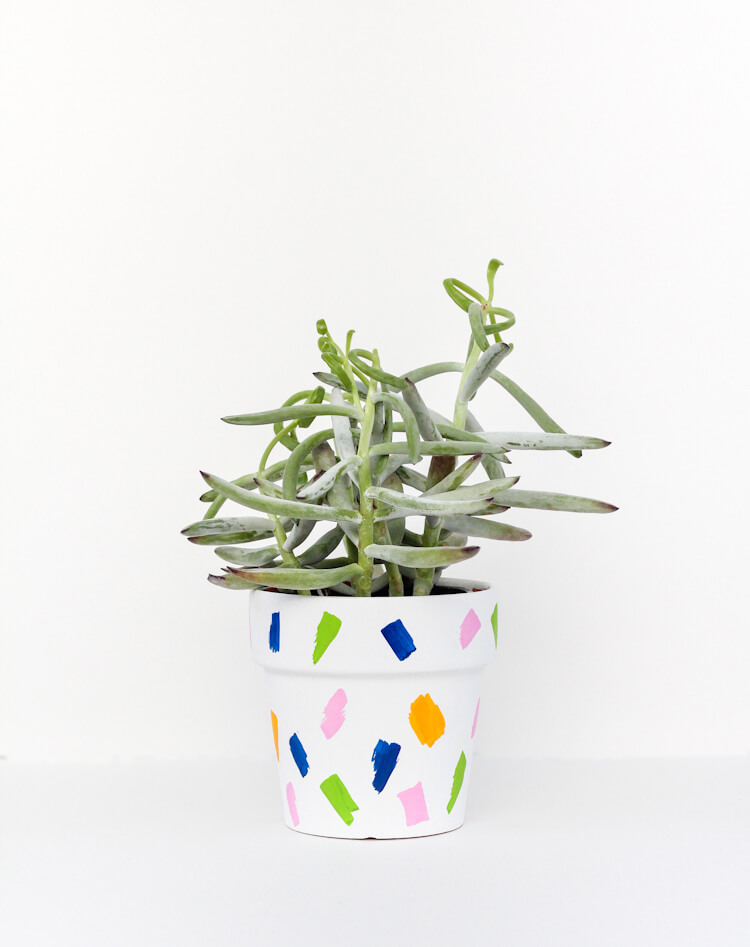 A quick brushstroke is the perfect way to add artistic energy to your decor. As shown here, numerous brushstrokes in various colors will electrify your space. Using white as a base maximizes the color. For a more subtle, muted effect, skip the base coat and paint directly on the pot.
10. Farmhouse-Friendly Flowerpots Decorated with Cursive Handwriting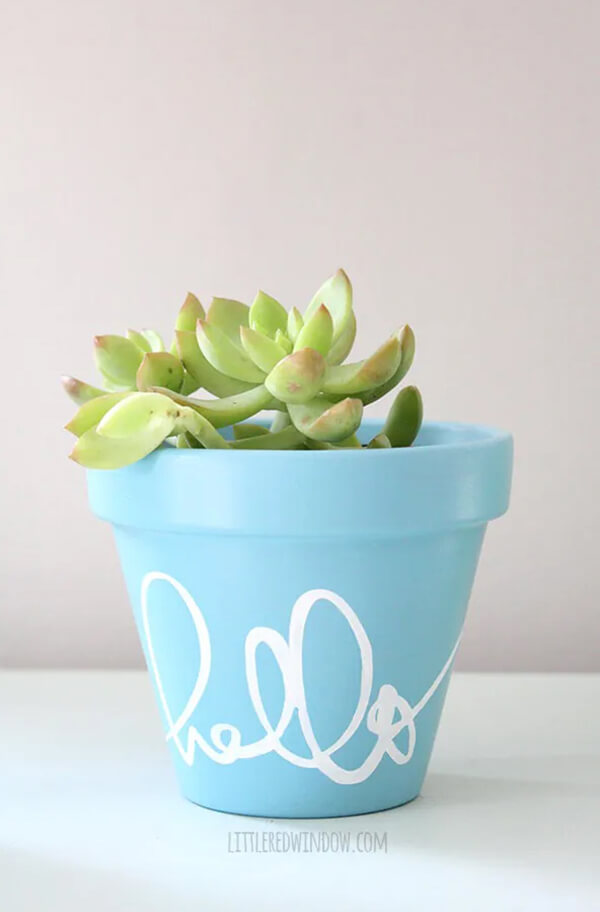 While many clay pot painting ideas are compatible with farmhouse decor, this tutorial will show you how to take your earthenware pots to the next level. To personalize this pot, use colors that work in your space. For a little extra flair, try using the plant's common name instead of "hello."
11. Turning Your Flowerpot into a Waffle Cone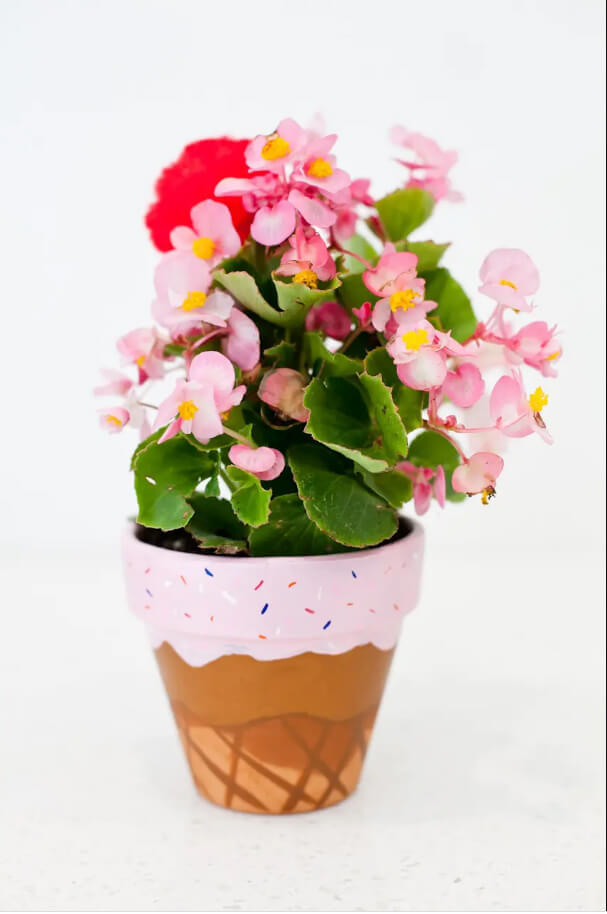 Painting your terra-cotta flowerpot to resemble an ice cream cone is fun, unique, and a great craft to make with older kids. Have fun freehanding the dripping ice cream, distinctive waffle cone pattern, and colorful sprinkles. Experiment with ice cream colors until you reach a look that suits your tastes.
12. Black and White Pattern Inspired by Mudcloth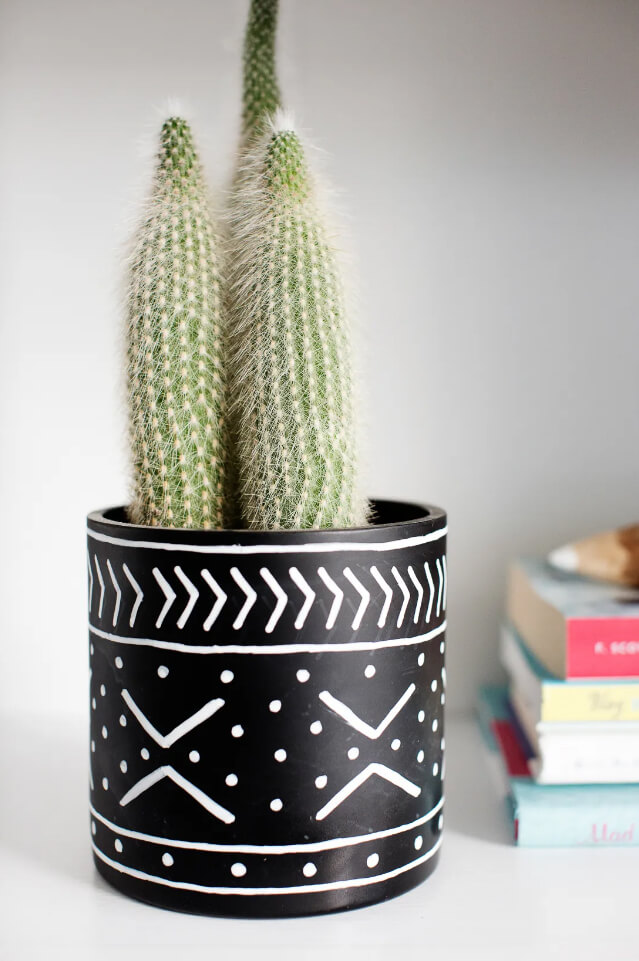 By using white accents on a black background, this mudcloth-inspired planter is the perfect way to rejuvenate a tired interior. A little asymmetry gives this piece a handmade vibe that feels like freedom. You could pair this pot with a farmhouse space, Bohemian abode, Scandinavian dwelling, or coastal home.
13. Keepsake Clay Pot Painting Ideas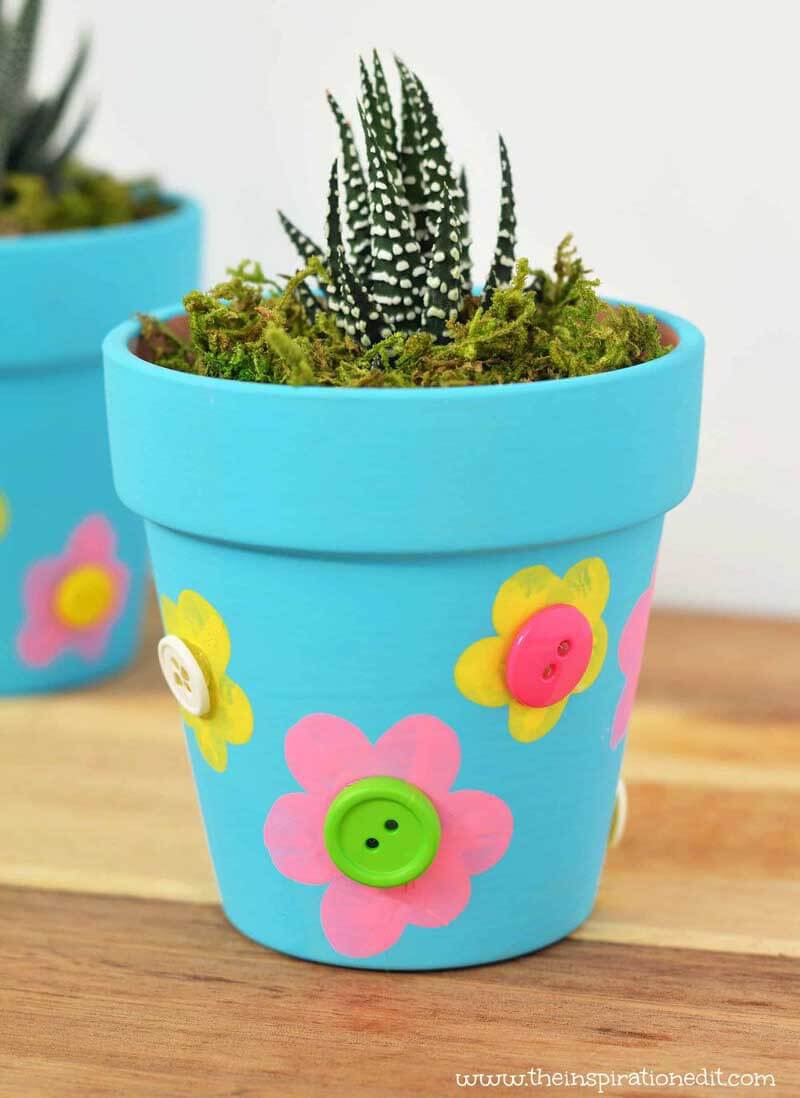 A picturesque blue background complements cheerful pink and joyful yellow flowers in this easy fingerprint craft. Buttons provide texture and dimension as well as an excellent opportunity for personalization. If the colors shown here are too bright, imagine a flowerpot with a white background, earth-toned flowers, and wooden buttons.
14. Neon Pink Vinyl Polka Dots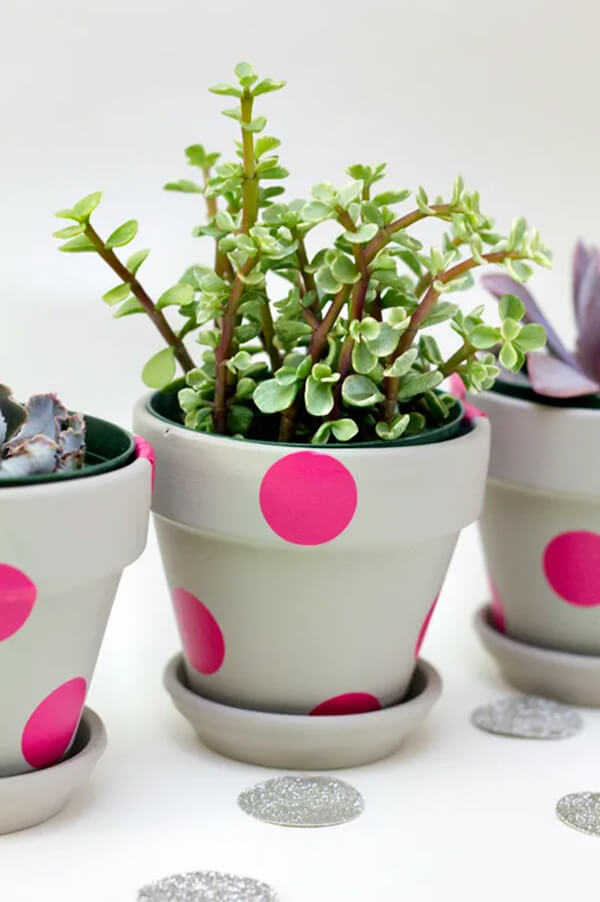 Striking the perfect balance, this sophisticated gray foundation layer mellows the vivid pink dots. Although pink dots were used in this project, your flower pots could incorporate any design or color compatible with your cutting machine. Of course, you could mimic this effect with stencils and glossy pink paint.
15. Best Practices for Using Clear Sealant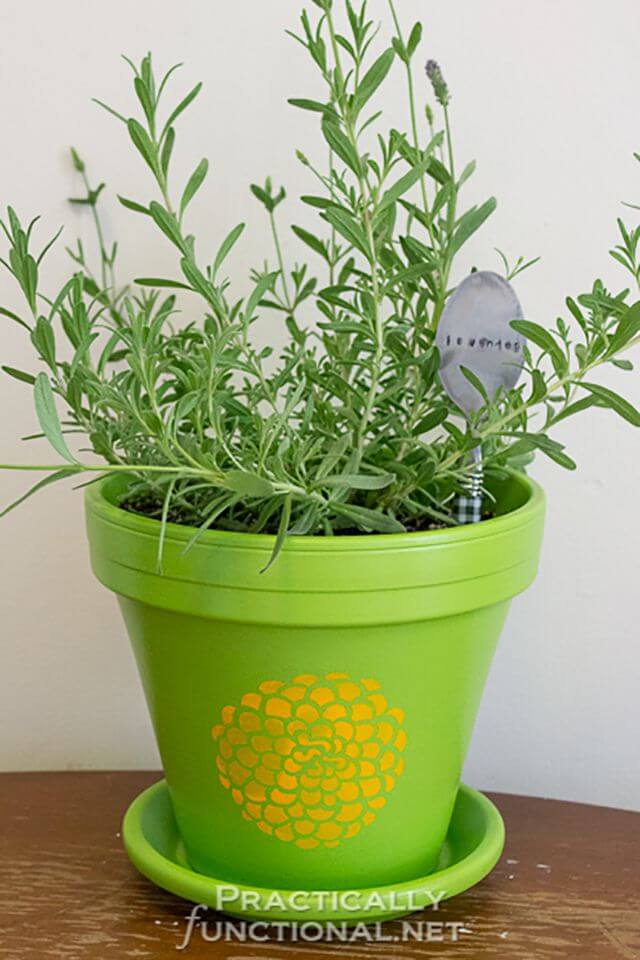 Unfortunately, constant exposure to moisture tends to quickly degrade paint. Live plants require moisture. To protect your pot's paint, apply a clear sealant over the paint both inside and outside the pot. By applying a sealant, you will be able to enjoy colorfully painted plant pots for years to come.
16. Dramatic Two-Toned Metallic Paint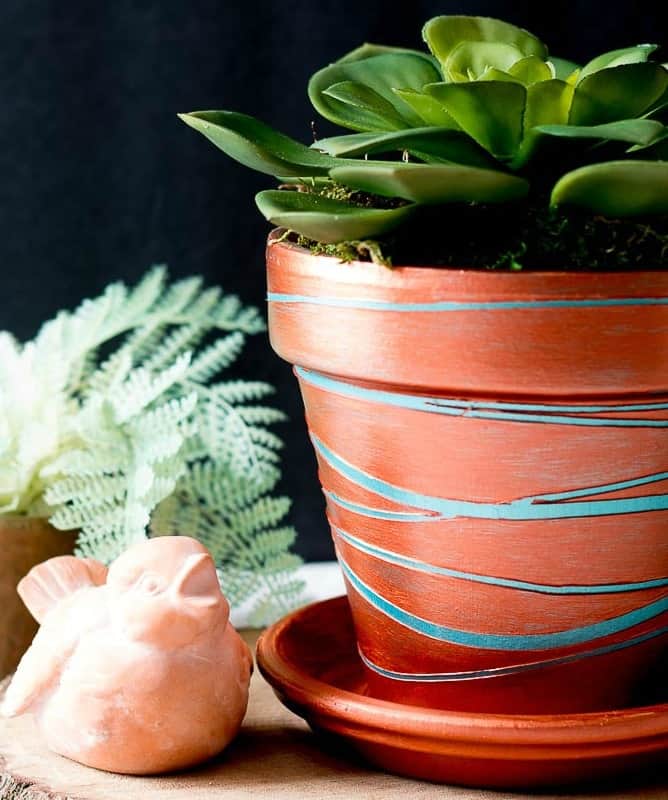 Slim bands of blue imbue this planter pot with expressive energy. Surprisingly, this pattern is achieved via rubber bands. The metallic finish flaunted by both the blue and the copper paint fills this vessel with a glamorous aura. For a cohesive look, use colors that coordinate with your decor.
17. Indoor Plant Pot Painting Ideas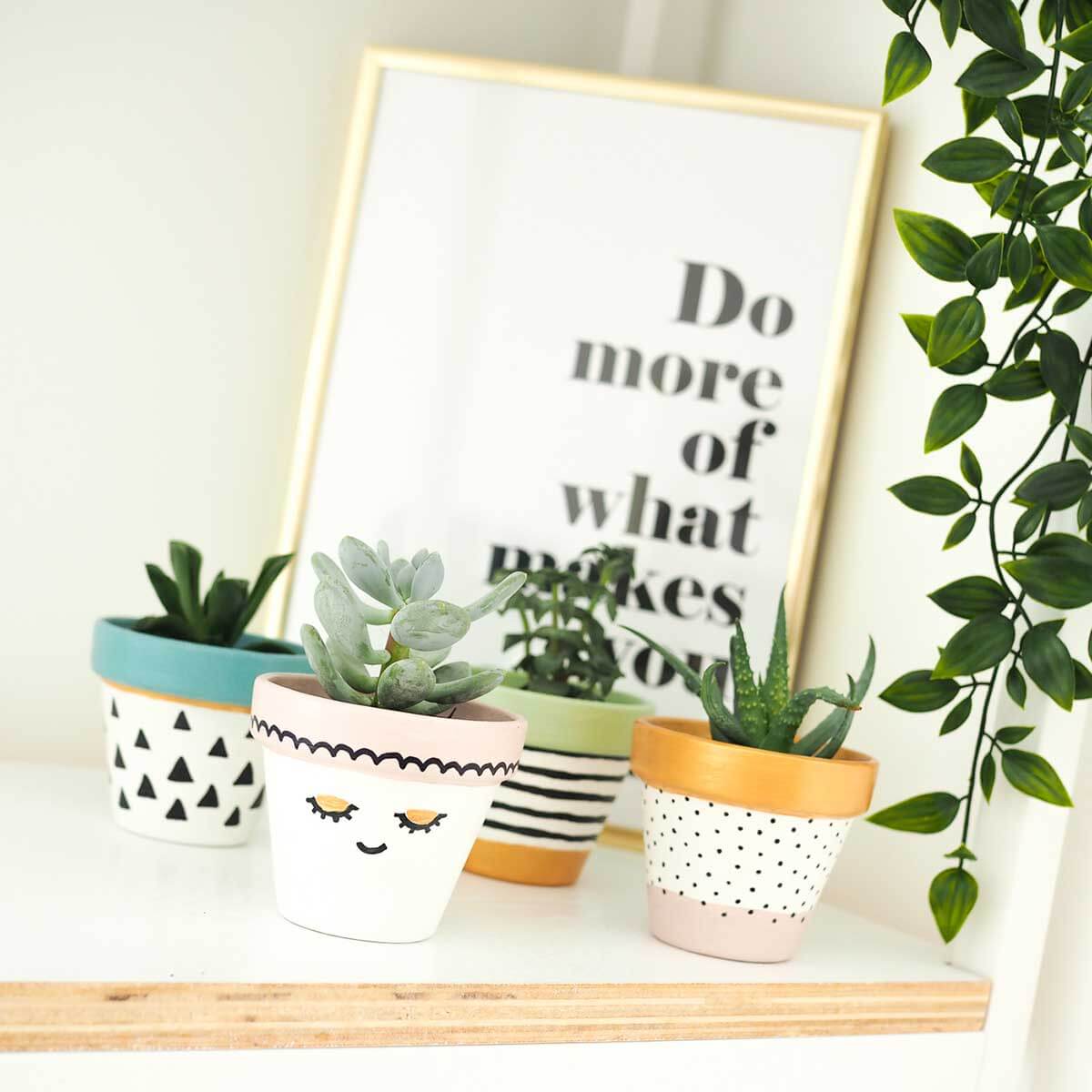 Designs including dots, triangles, stripes, and a face are a brilliant way to make a statement within your space. By linking these four unique pots with gold, they appear as a cohesive set. Because this collection was crafted using paint rated for indoor use, these pots are perfect for houseplants.
18. Luxurious Marbled Clay Pot Painting Ideas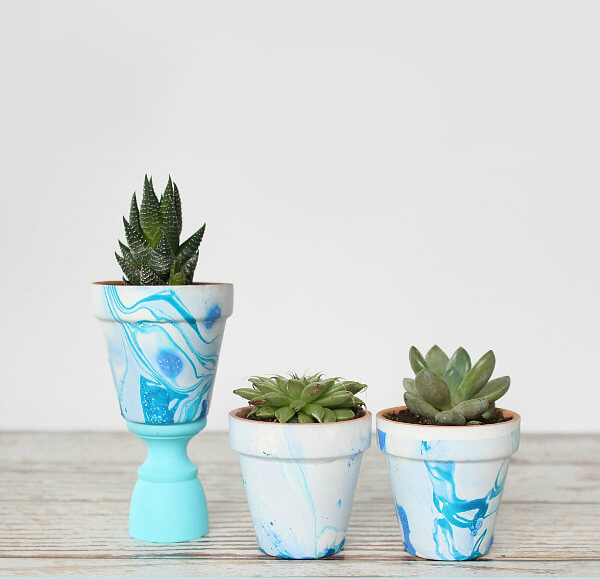 With its distinct shade of orange, terra-cotta might not vibe with every space. To enjoy opulently marbled plant pots that harmonize with your decor, use a white primer before a nail polish color of your choice. The pots shown here feature swirls of cool blue that cultivate a tranquil ambiance.
19. Creating a Set of Coordinating Plant Pots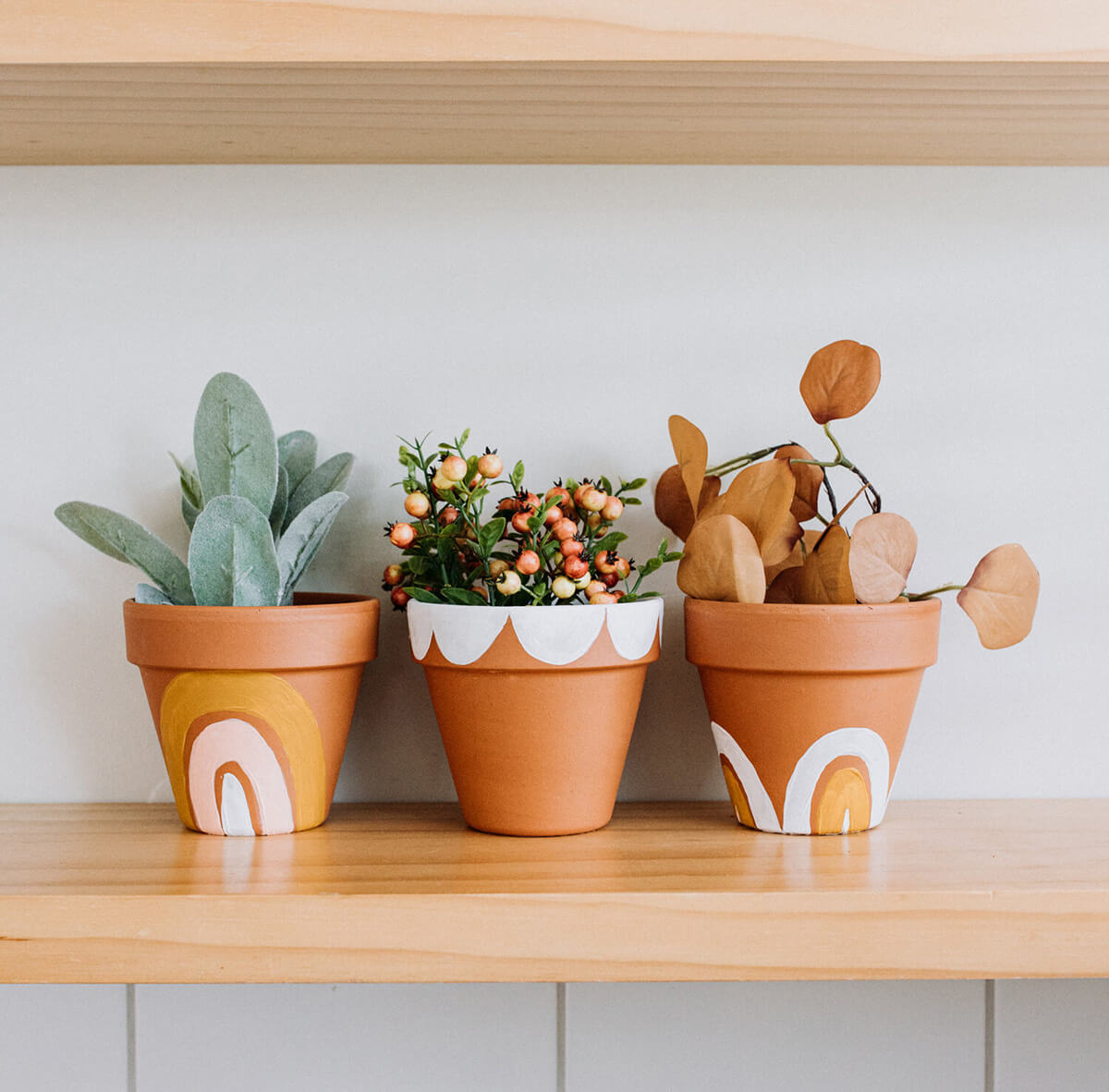 Because each of these three pots is decorated with a unique but complementary pattern, they look great when displayed together. Embrace your creativity to design patterns that look good to you. If you plan on using a color besides black or white, a base layer of white paint is highly recommended.
20. Easy Ways to Refinish Old Flower Pots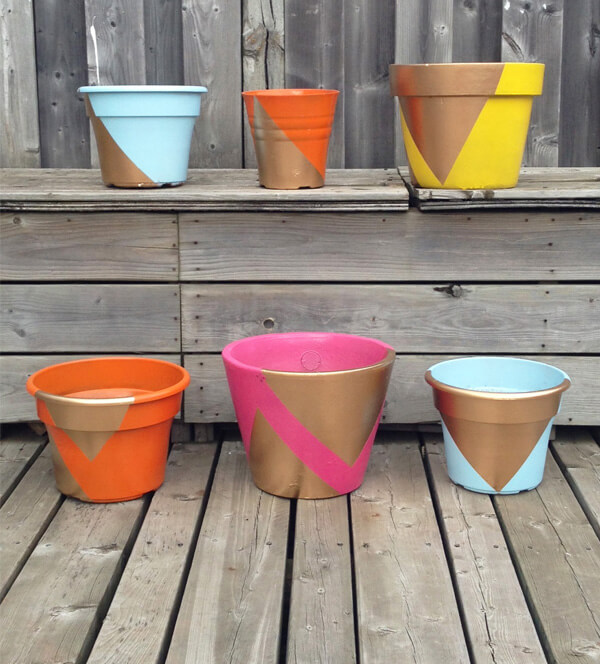 Revitalizing your mismatched plant pot collection might be easier than you imagine. It starts with spray paint and ends with harmonizing decorative accents. Because the shapes are simple, the vivid colors shine. Bright hues will enliven your space while the lustrous gold provides a sense of glamor.
21. How to Make Galaxy-Style Marbled Flowerpots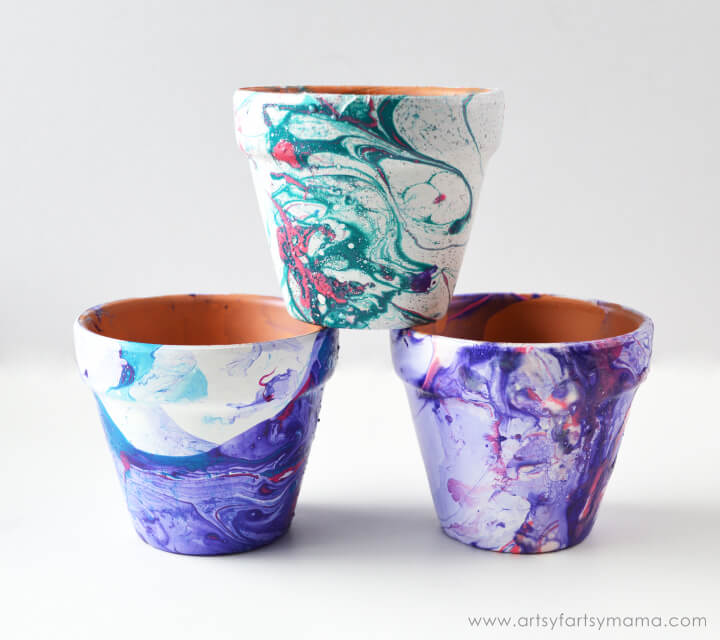 Pairing purple, blue, turquoise, and pink results in a finish inspired by outer space. This fanciful dappled effect is created by layering marbled nail polish over a coat of white paint. If galaxies are not your style, try using several shades of blue clay pots that look like the ocean.
22. Capturing Memories on a Flower Pot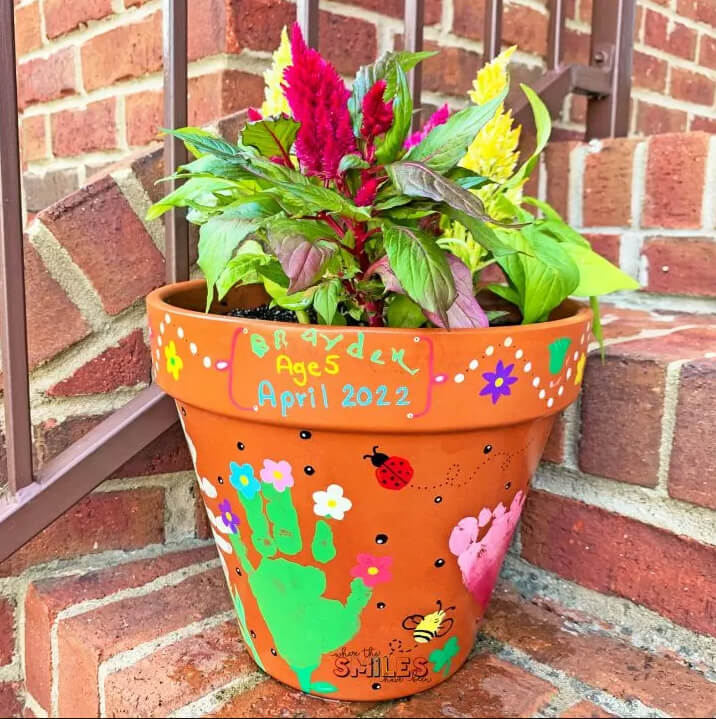 Immortalize your little one's hands and feet forever with these creative plant pot painting ideas. This pot features a garden motif complete with handprint cacti, thumbprint ladybugs, and footprint butterflies. However, you could choose any design that fits the occasion. Imagine making these as gifts for Mother's Day or Grandparents Day.
23. Ways to Disguise a Terra-Cotta Pot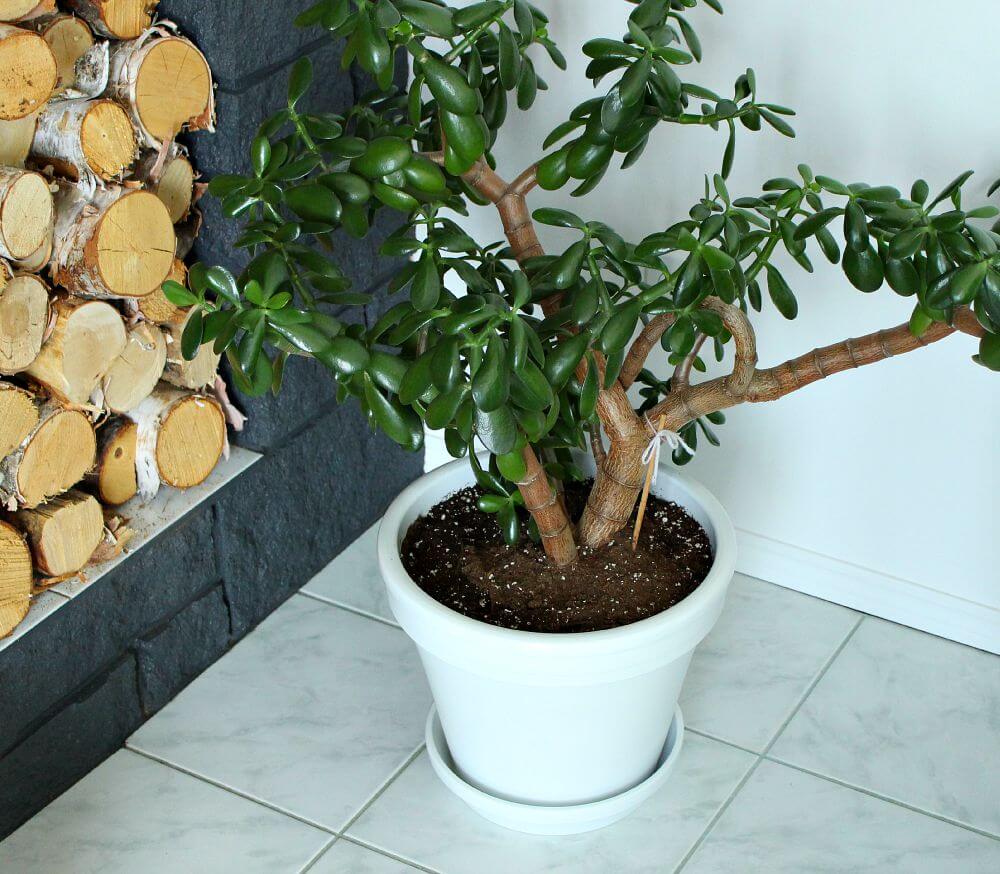 Although an unobtrusive planter pot might seem dull, it emphasizes the plant. Because orange draws the eye, painting your planter pot is an effective way to shift attention to other elements in your decor. Any color that looks good in your space works with this method.
23 Imaginative Flower Pot Painting Ideas that Make Great Gifts for Those You Love
With so many ingenious ideas, it can be difficult to choose just one to try out. However, many of these techniques can be combined to create the ultimate plant pot for your needs. If you do not like it the first time, you can always paint over it. To take these ideas one step further, try embellishing your pots with extras from your craft supplies. Ribbons, buttons, artificial gems, and glitter are just a few material ideas. Look around your craft room to see what else you can add to your flowerpot to achieve maximum dimension.
With a gorgeous flower pot successfully painted, only one question remains. How are you going to fill your pot? While they require some maintenance, live plants offer health benefits as well as a sense of satisfaction. However, you might need to add sealant to your pot to help protect your artwork from moisture. Artificial plants are a no-fuss option that provides all the visual impact of living plants without the work or the risk of moisture. Either way results in a delightful decorative element in your decor. The most important aspect of choosing how to fill your flowerpot is selecting an option that fits both your aesthetic and your lifestyle.