If you are in need for something to spice up your home's curb appeal, consider the use of front porch plants. Your entrance is the first thing that anyone sees when they visit your home. So, why not greet everyone with something beautiful? A porch plant is that perfect addition. You can utilize one (or several) in various ways too. If you have the space for it, you can always use a suspended planter. Hanging planters are ideal when you don't quite have room on the ground to support extra décor.
14 Beautiful Front Door Planters to Instantly Improve Your Home's Curb Appeal

Speaking of, there are also plenty of wonderful ways you can decorate with front door planters if you have the space for it. Consider traditional, standing planters both big and small. These are great ways to express yourself that align with just about any type of decorative style.
No matter what approach you decide to take with your planter setup, note that they serve as an easy way to add some extra color to your home's outdoor theme. They are still rather neutral too, making them beneficial for use throughout various seasons and holidays. For those of you running short on front porch planter ideas, we discovered some incredible porch planter styles worth trying out.
1. Faux Concrete Pot Front Porch Planters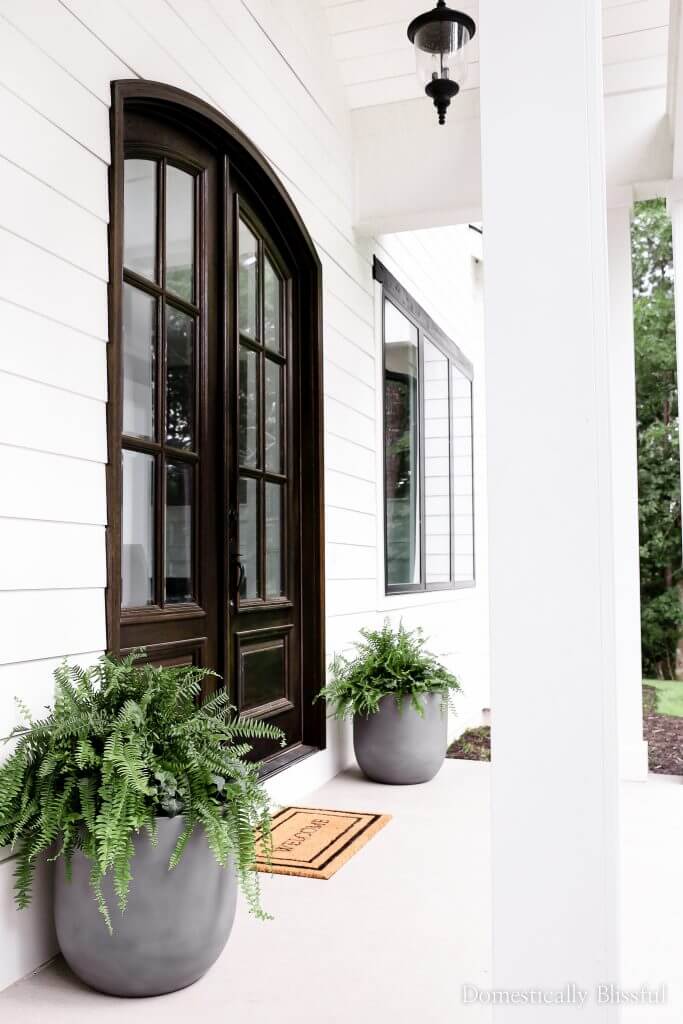 Looking for something unique and modern to decorate your front porch with? Then consider these gorgeous concrete pots. They offer a bold look fitting for those darker décor styles. Best of all, you don't have to break the bank because these are faux concrete pots. All it takes is the right material and some spray paint for you to come away with planters that are chic and full of personality.
2. Gorgeous Winter Gem Boxwood Porch Plants
Winter Gem Boxwood are wonderful when it comes to front porch plants. They can serve as a stand-in for traditional hedges when you don't have the space for them. These also have the added bonus of looking even better once you have them inside of containers. Square or circular, either shape will manage to elevate the appearance of the plants with relative ease. You can set these up together or on either side of your front door.
3. Towering Gentle Front Porch Planters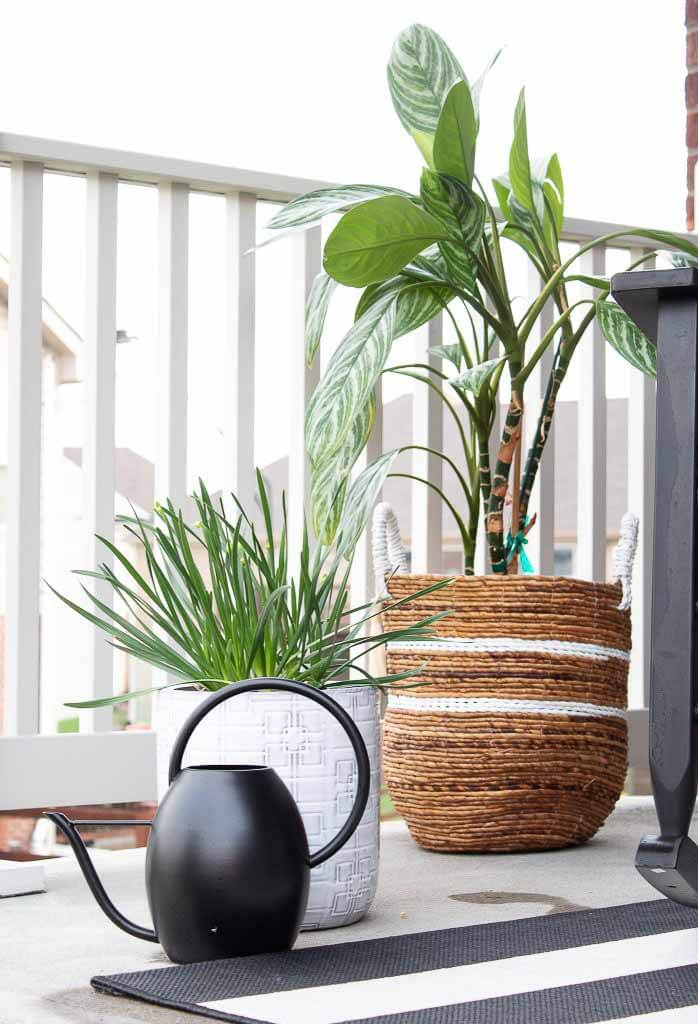 If you want to create a relaxing vibe, consider these porch planter ideas. In fact, this goes for different planters. The mix and matching creates a look that flows rather well with one another. Also, it pays to have the planters and greenery sit at different heights, further fulfilling how well they come together in the end.
4. Festive Galvanized Front Porch Planter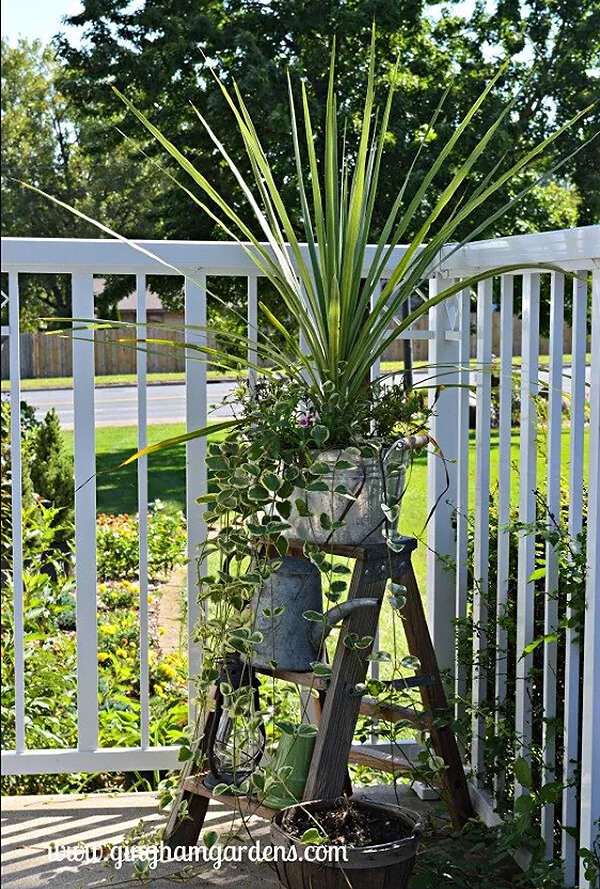 A galvanized container is always a nice touch when you want a planter that has a rustic, yet charming, feel. It is one that can readily work with different seasons too. This way, you can decorate your front porch to suit every holiday and change of seasons with ease, switching out the flowers and greenery used to suit the theme at hand. The use of a ladder is an extra unique touch.
5. Simple Potted Greenery Front Porch Design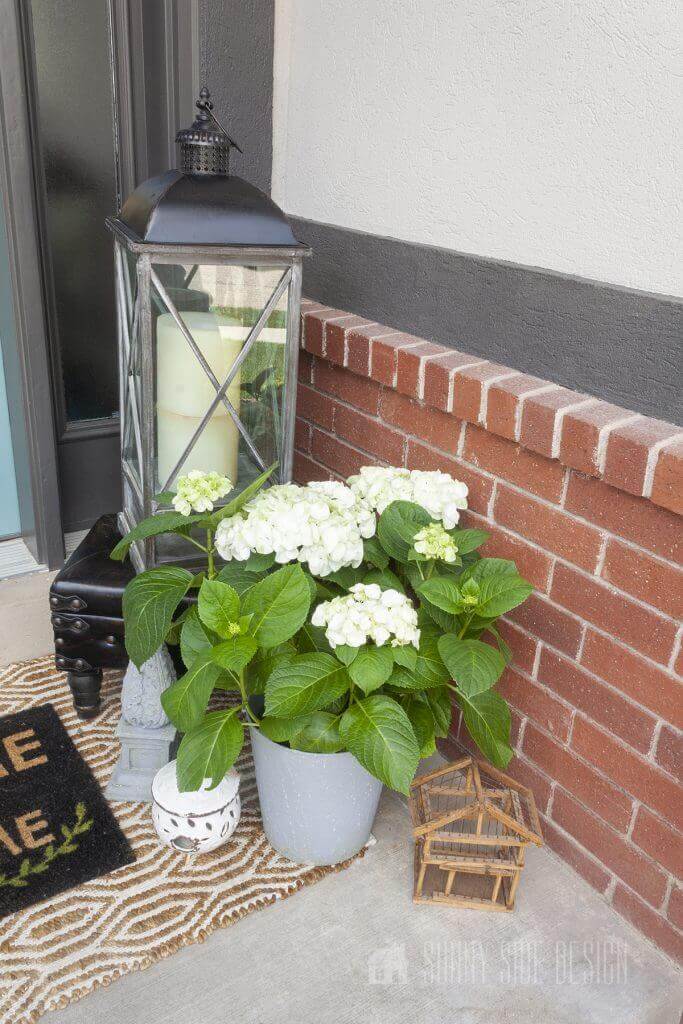 Keep things understated with this pretty potted greenery. The plant itself is a good size, complementing the gray planter effortlessly. With the use of flowers, you can add more contrast to the greenery, giving the planter greater vibrancy in the process. At the same time, nothing is too over the top or loud. Instead, everything works together along with any additional porch décor you may have. Alongside that, the planter is compact so it works with smaller porches.
6. Beautiful Vase Porch Planter Setup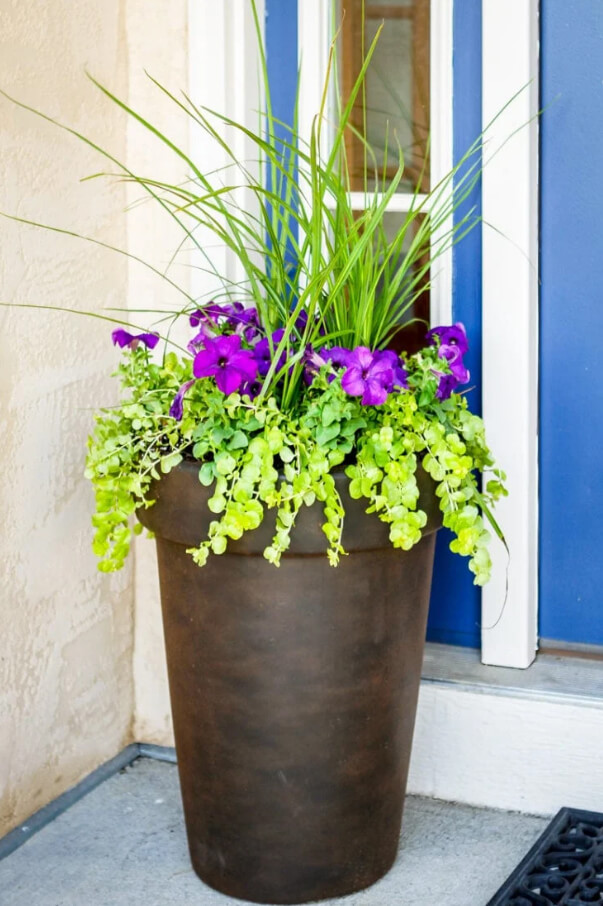 This dark, resin garden vase is the perfect solution for your bare front porch. The planter immediately catches the eye, drawing attention to the greenery that sits inside of it. Opting for different color shades is a worthwhile investment too. It ensures that this planter is not one-note. The bright tones are vivid and manage to hold just as much attention as the planter itself. Since this is a garden vase, it's incredibly easy to use real plants too.
7. Tall Front Door Twin Planters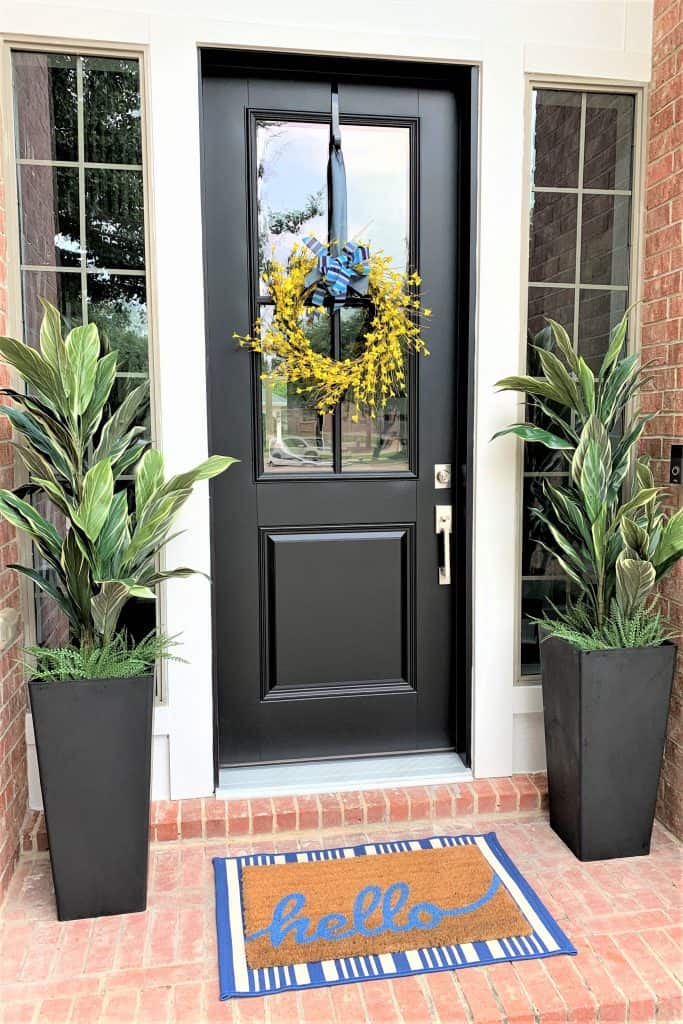 A pair of twin planters is just what your front door may need to look more stunning. These tall planters are chic in terms of design, befitting a more contemporary home décor. They are simple too, and thanks to their design, they should fit with ease on smaller porches. These are such a pretty way for you to frame your front door, providing a taste of what's to come inside.
8. Charming Compact Herb Garden Design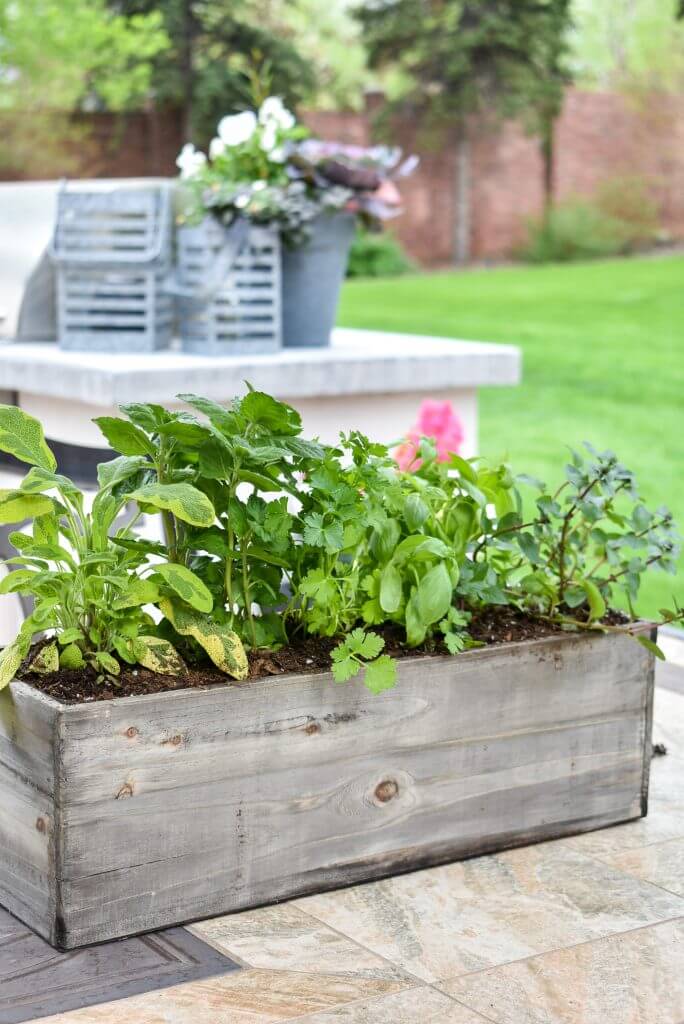 If you want a sweet front porch planter that is also functional in more than one way, then you may want to think about using this pretty herb garden. It is compact so it fits with ease on any porch, big or small. Give it enough light and water, and you can even get yourself some useful and pleasing herbs out of the process while still having that decorative element.
9. Beautiful Oversized White Porch Planter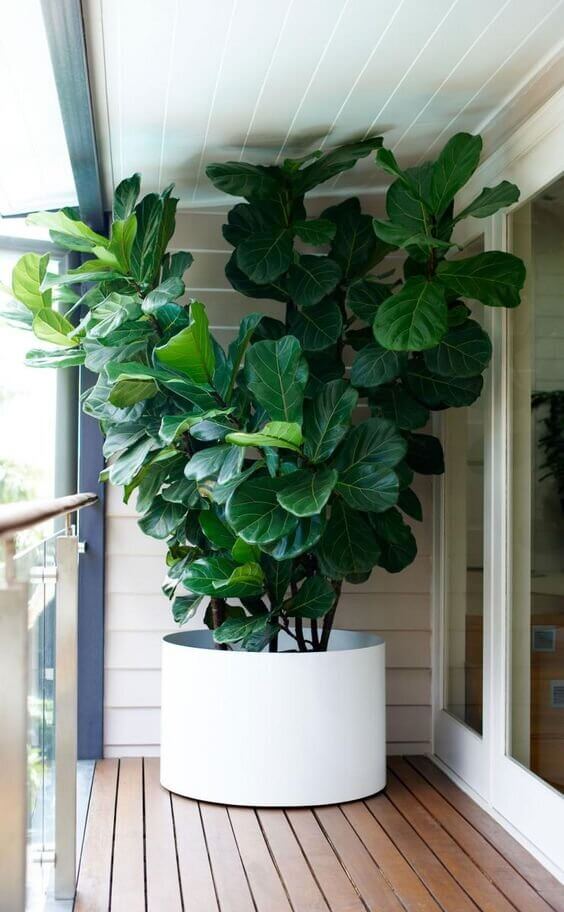 A spacious porch needs a planter that is worthy of it. One that can benefit from such roominess and excel at making the area seem more stylish. An oversized planter will handle the job just fine. It can support an even larger plant, further emphasizing the planter itself. What makes this such an awesome idea is that it doesn't just work in a home setting. It can work for other areas like a townhome, condo, etc. that has the space for it.
10. Lively and Plentiful Greenery Filled Planters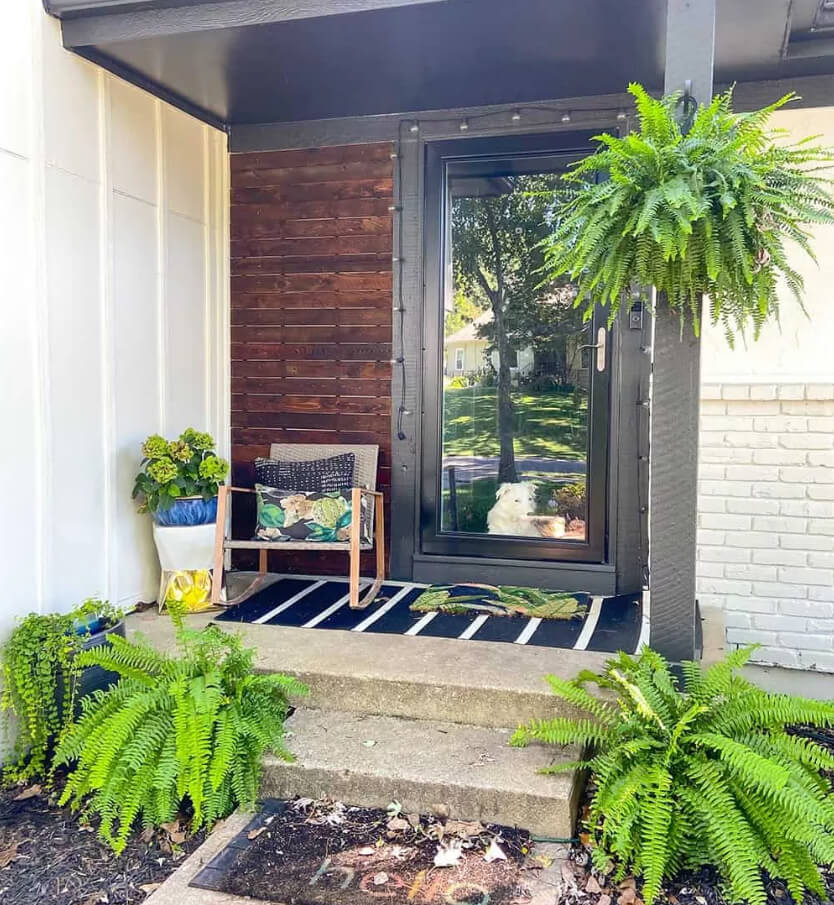 For those of you with the room to do it, a cool way to decorate your front porch is to simply fill it up with planters. They can even be the same type of plant as this design can lean toward beautiful unity. Set some of them up on the ground around the front door and steps (if you have them). From there, you can work on hanging some of them up as suspended planters.
11. Trash Can Front Porch Planter Hack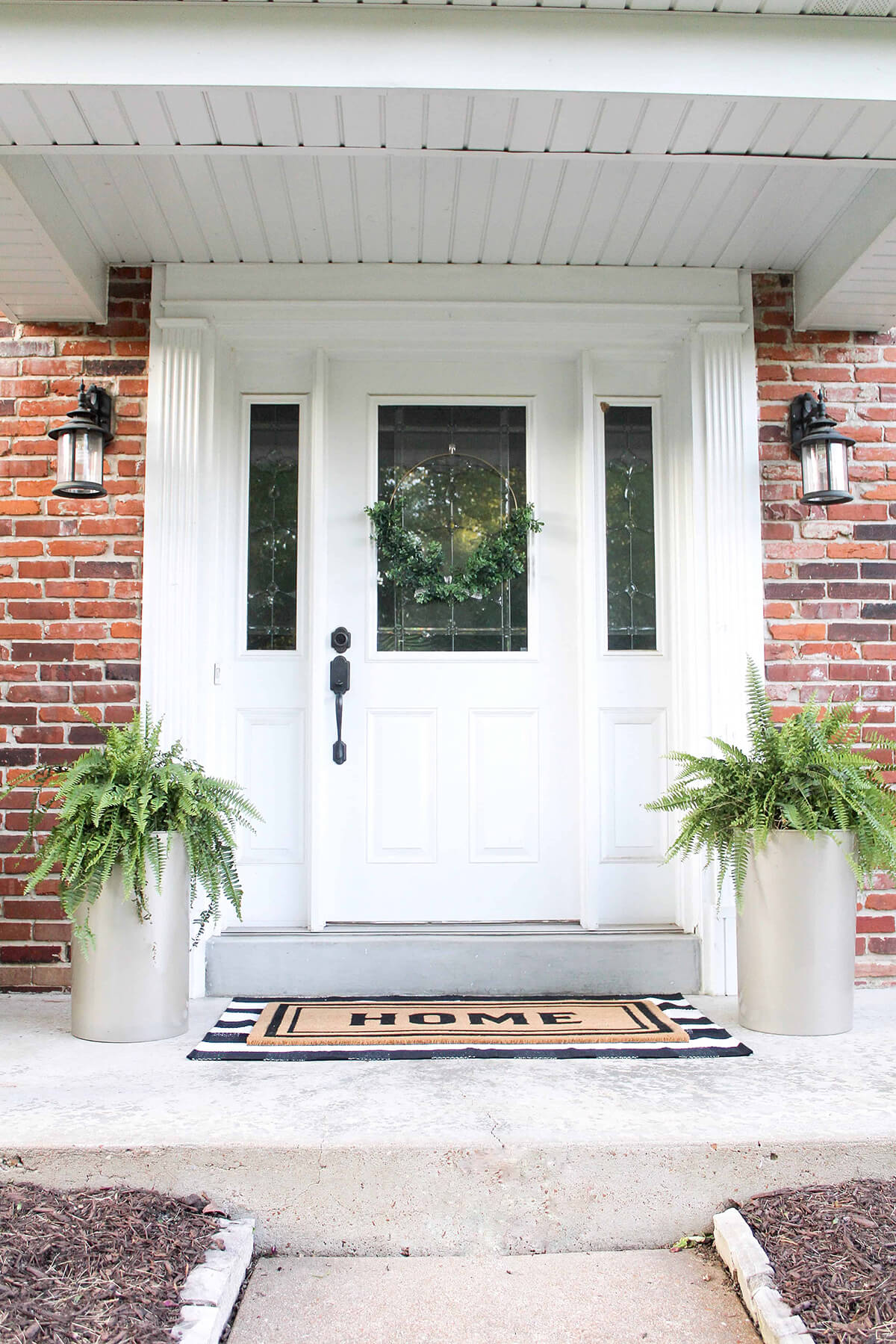 For a truly budget-friendly design, you can try out this trash can planter hack. It is an efficient way for you to decorate your front porch with things you may already have or items you can get at a low cost. Depending on the cans you get, you may not even have to spray paint them or anything to match your home's style. Simply add in some dirt if you want to use real greenery.
12. Basket Themed Front Porch Planters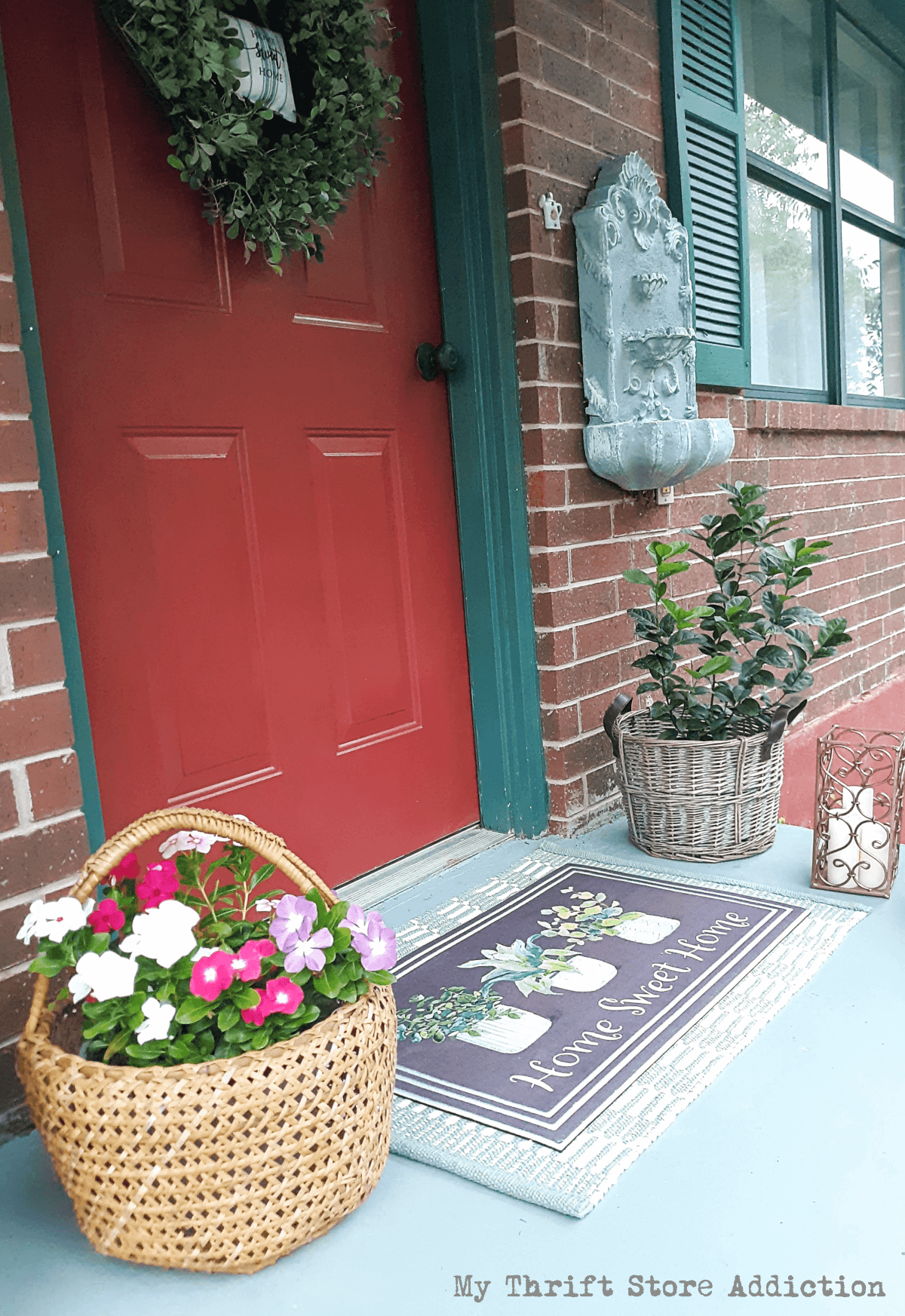 Basket planters are such a gorgeous way to decorate your front door with greenery. The basket offers a lovely color contrast with the plants themselves. Meanwhile, they also provide a hint of a rural feel, making them fitting for farmhouse styled homes. It's also refreshing to go for different types of plants. This gives your porch design far more contrast, allowing each individual planter to stand out.
13. Massive Front Porch Planter Design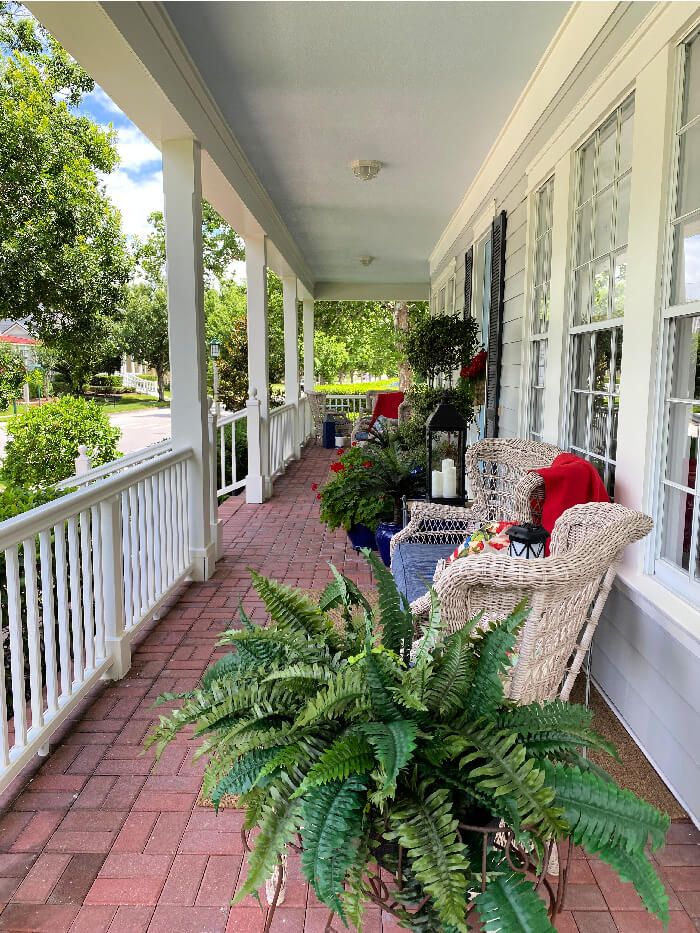 Large front porches deserve epic planters as decorations. They can complement everything else you have gracing the front porch, allowing you to build this remarkable and breathtaking design. Perhaps the planters can work alongside the seating on the porch. This way, you and your guests can lounge and appreciate the aesthetic. Taller planters can work out great with this type of set up too so that they stand out a bit more.
14. Cool Towering Fence Picket Planter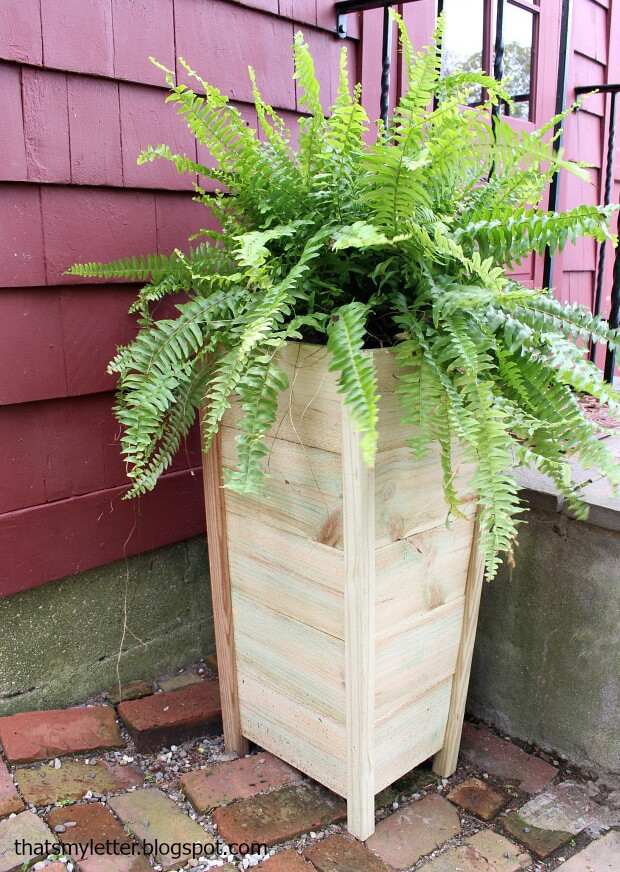 If you don't want to add several planters around your front porch, then a single tall one should do the trick. This fence picket planter is simple in appearance, but it's the minimalistic design that gives it all its style. For the hands-on folks, this is a fun project you can do right at home too, giving you the freedom to have a decorative planter that is distinct and creative.
Incredible Front Porch Planter Ideas for a Vibrant Home Design
Your front porch can speak loudly about your style far before anyone ever enters your home. With that said, it pays to put such care into its appearance as you do everything else. That is why front door planters are so appealing. They are simple, in a way, yet can still provide that touch of elegance depending on the type of planters you use.
So, if you have a green thumb, consider some real plants to liven up the atmosphere on your front porch. Otherwise, faux plants can serve that aesthetic purpose just fine. With our favorite front porch planter ideas, you will add a lovely flair to the outside of your home.