42. Monster Buffet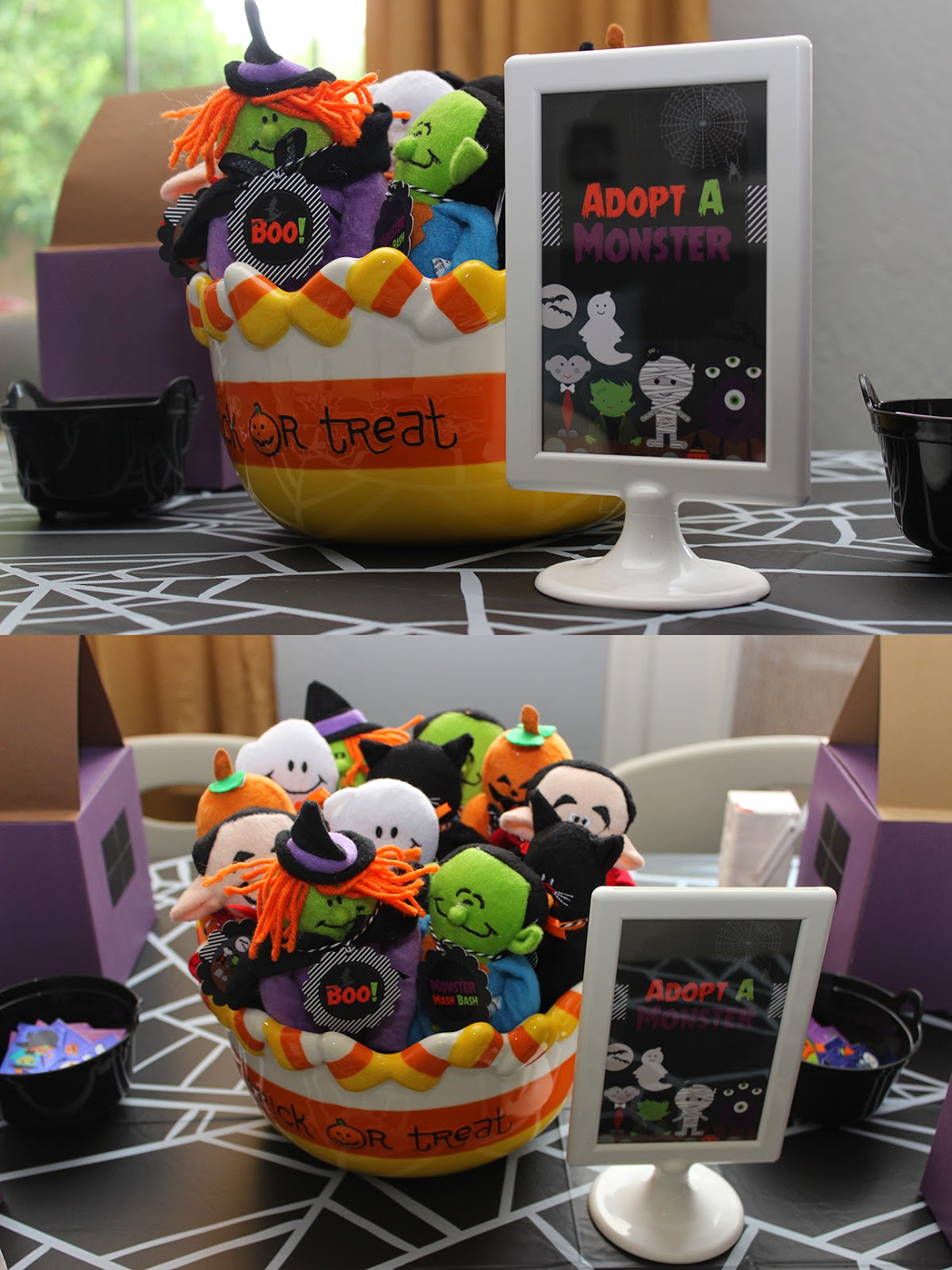 Treat bowls aren't just for monsters. Fill one with little stuffed monsters and leave it right in the center of the table. When the kids come in, they can adopt a monster to keep them company throughout the night. Be ready for the monster wheeling and dealing that's bound to happen, and you may want to have some extras on hand to refill the bowl. This adorable centerpiece will be such a hit that you may decide to keep it out all season long. You can also use the stuffed monsters as door prizes or in place of treat bags at the end of the night.
43. Arachnophobia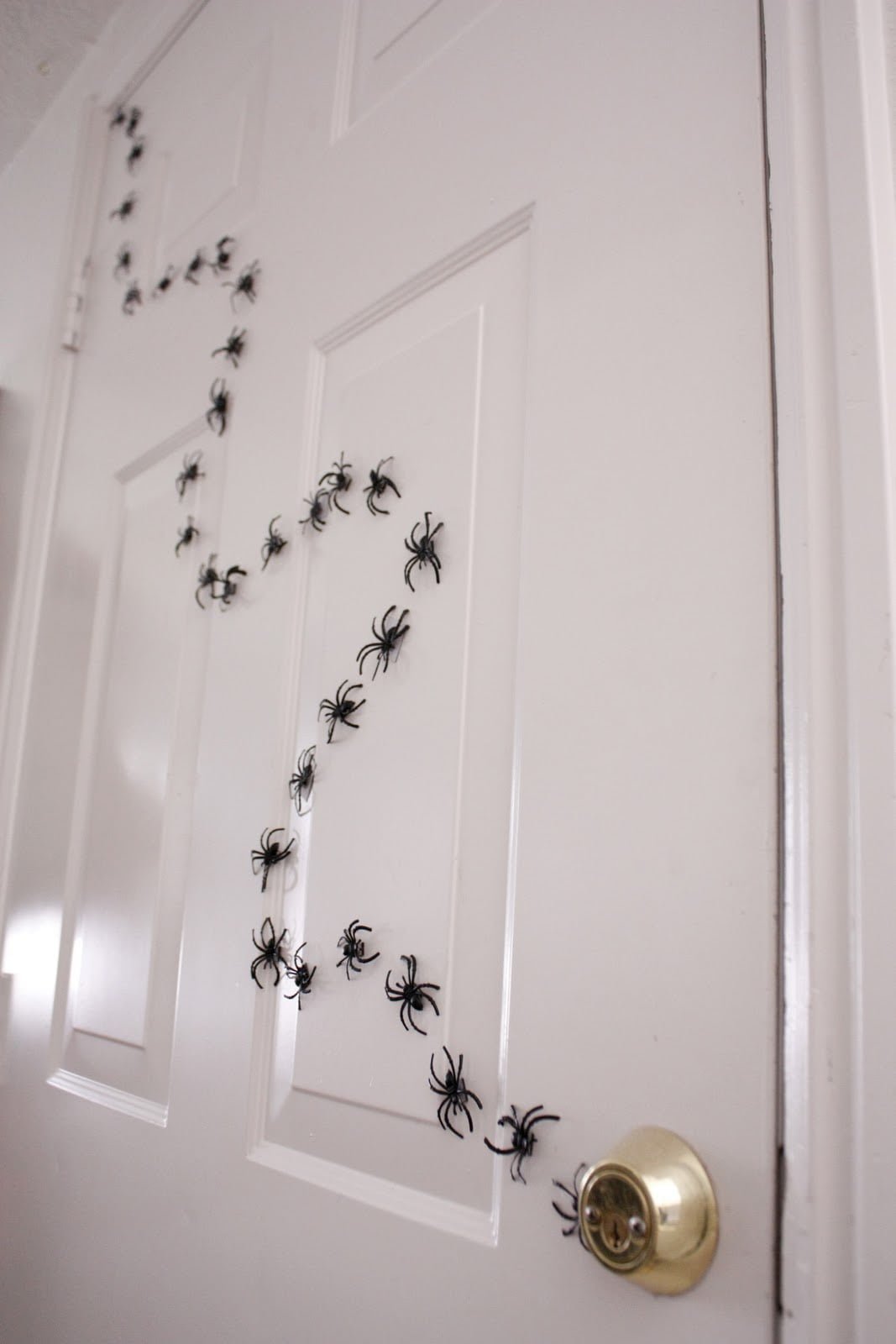 Friends who have arachnophobia may decide to skip to the back door when they see this collection of spiders at your entryway. Magnetic spiders can easily be stuck to your steel front door or even some garage doors, so this is one of the most versatile party ideas. Put them on the kitchen appliances, or have them play a game of follow-the-leader on your car. They're easy to make, and you can use them to add a little creepy factor to any event. Your guests may have fun rearranging them throughout the night, and that can provide everyone with another level of entertainment.
44. Lighting Up the Night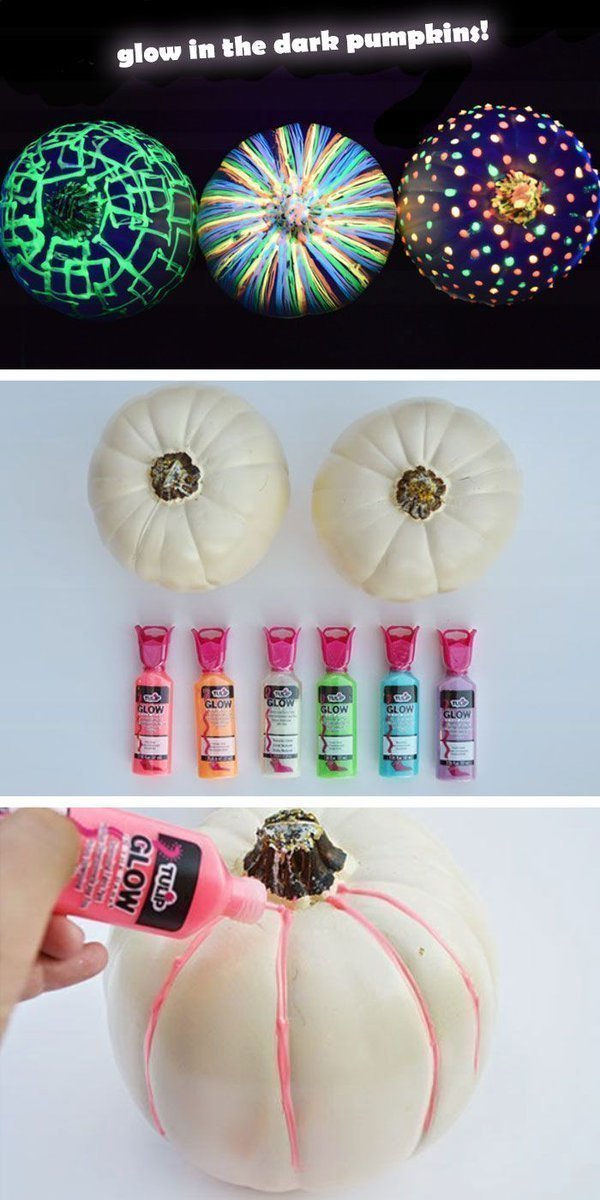 Glow in the dark accessories are great for any party, and these pumpkins are no exception. Small enough to tuck into a corner, you can display your pumpkins on the table, in a window, or even in the front yard. Create about a dozen and line your driveway with them to help your friends find your home in the dark. They have a funky feel to them, so you can let that set the theme for this year's spooky bash. Use planter shelves on the front porch to display several pumpkins in one area and make your home stand out after the sun sets.
45. Sticky Spiders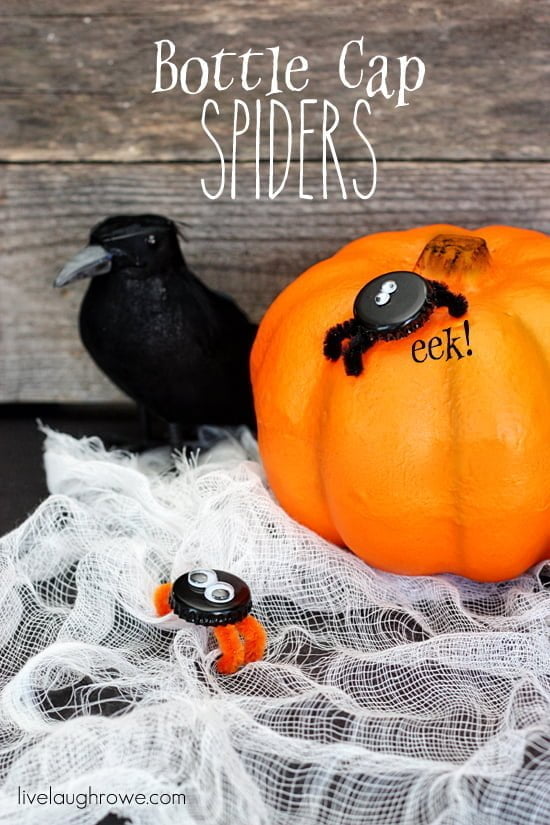 Give your spiders just a little bite by making them out of bottle caps and pipe cleaners. The cool thing about this Halloween party decoration idea is that you can press down on them lightly to ensure that they stick to your pumpkins and other decorations. If you don't want them to stick, then just bend the legs down so that the bottle cap edges will be up off the surface. Black paint is a great choice, but you can use any color combination that will work with your theme and existing décor.
46. Keep it Healthy yet Spooky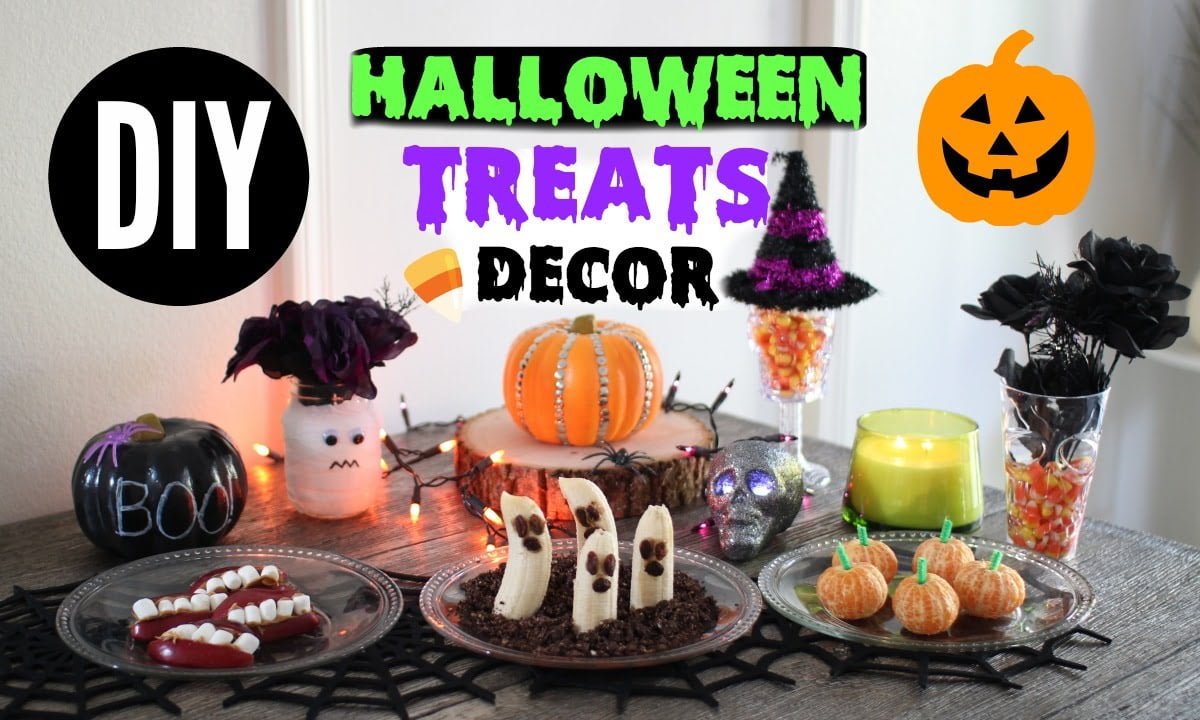 If you feel like the kids are already overloaded with sugar at Halloween, then bring in some healthy treats that are still a hit. Serve up mandarin oranges that look like pumpkins, and hand out ghostly bananas that are sure to be a hit. There's no added sugar, but you're still going to delight kids of all ages with the healthy options. Set up the spread on your table ahead of time, but have some in reserve because these clever treats will sell out fast.
47. Gold is Always in Style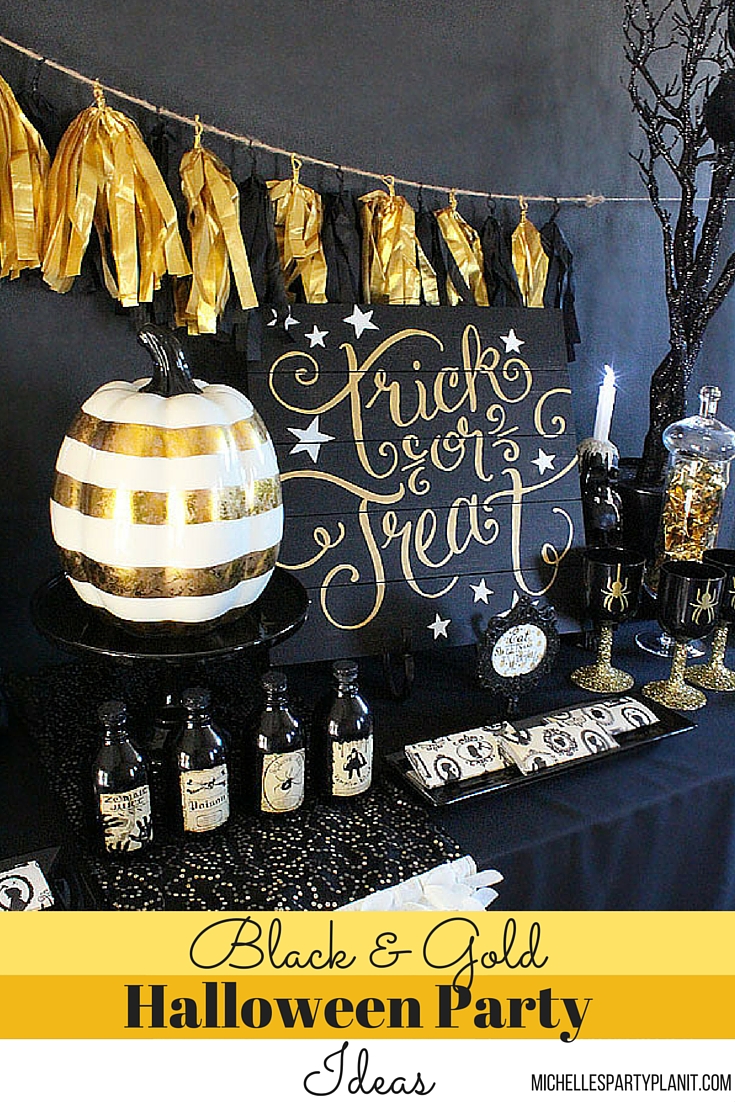 Black and orange may dominate this time of year, but you can go with gold for more sophisticated Halloween party decor. The addition of gold lame takes any tricked out area and give it an elegant touch. Set up a buffet table along one wall in your living room for this clever display if the spider cups and potion bottles are just for decoration. If you want people to pick up the glittery mugs and make use of them, then turn one area of your kitchen counter into a serving station that's sure to impress.
48. Halloween Candy Trees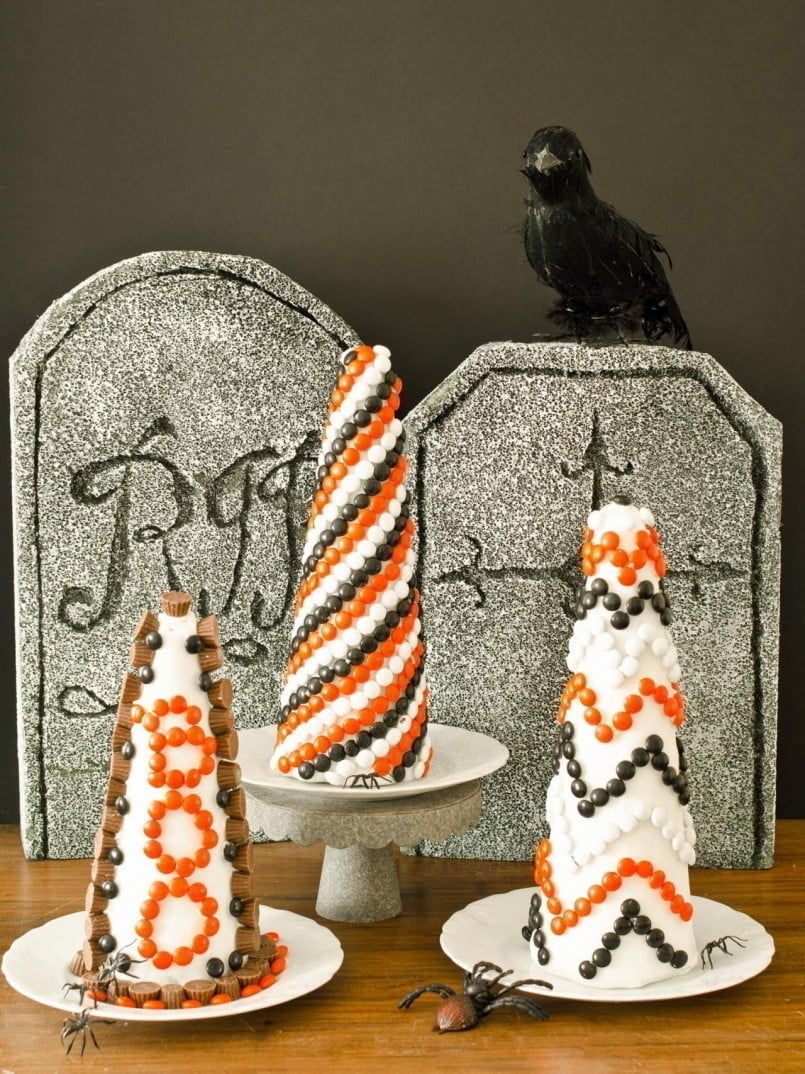 Turn your favorite little candies into beautiful topiaries and proudly display them in your home. These colorful vertical creations add much-needed height to coffee tables and other low surfaces. With a few tombstones in the background, you can turn them into an impressive centerpiece for a buffet table or the entertainment center. The white backgrounds are unexpected, but you can also spray paint the Styrofoam bases black to make the atmosphere a little darker.
49. Banners, Banners, Everywhere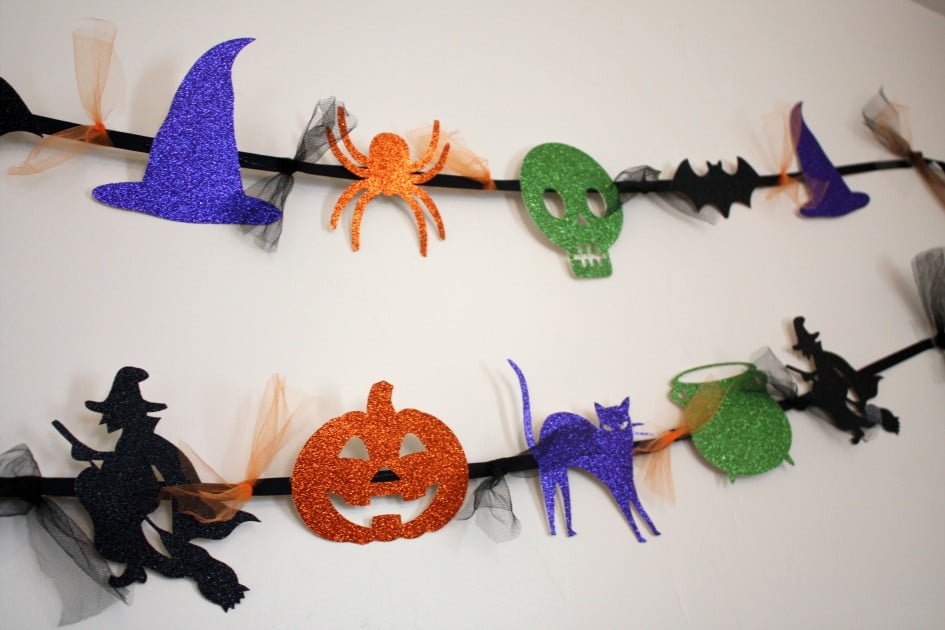 The best Halloween party decoration ideas are quick and easy like this colorful collection. The banner is so simple to make that you use it throughout your home. Drape some hats, spiders, skulls and witches on your banister. Hang them in front of your entertainment center or the kitchen island. Drape them in front of mirrors and even pictures to carry the fun theme throughout your home. If you have potted plants, then use smaller banners to decorate those surfaces without spending too much time or money.
50. Create a Pumpkin Cat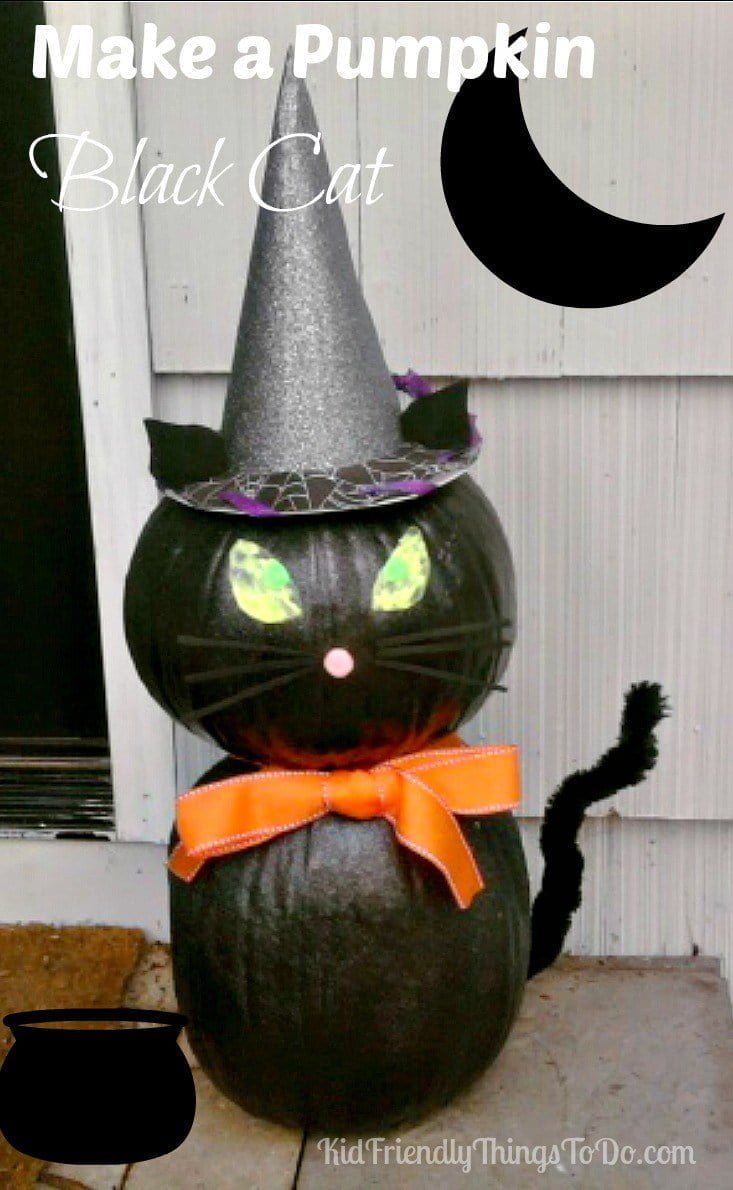 Stack your pumpkins together to build a cat that's sure to impress. This weather-resistant decoration can safely go on the corner of your porch, or you can set it on a front step to greet your friends and family as they arrive. Change the color the ribbon to match your décor and you can take this little kitty from friendly to frightful. Since the pumpkins aren't cut, you can make this cat well ahead of time and enjoy it throughout the season.
Use these smart Halloween party decoration ideas to make your house a little creepy while ensuring that everything looks great. Before you start buying supplies, ask yourself if you want the party to be scary or friendly, elegant or more relaxed. When you choose a general theme ahead of time, you can better focus your efforts and ensure that everything looks incredible. Some of these party ideas are suitable for all ages, and others are sure to delight the youngest kids in your group. When you put careful thought into your design plans, then you can please the little kids and the bigger ones who are still young at heart. Planning out the decor ahead of time will also ensure that everything ties in together and that your entire home looks amazing from the mailbox to the patio.
Whether you go with cute and cuddly or something that will leave your guests shivering, your party will be more enjoyable when the house is decked out. With these Halloween party décor tips, you can make your space more luxurious, give it the haunted house feel, or surprise your guests with spooky hidden monsters. Remember to dress up the front porch and powder room as well as the main living room. Rather than forgetting your kitchen, tie it in by adding some cute or crazy decorations to your island or breakfast bar. You'll set the tone for the party, create an incredible backdrop for pictures, and ensure that you throw an affair to remember. The best part is that this Halloween party decor will stand above the standard boring items you can pick up at the store, so you just may want to leave it in place from the end of September until the first of November.