By introducing an artistic element to your decorations, large floor vase decoration ideas can inspire your space to become more than it is. Height, vase material, and how you choose to decorate it are all opportunities to embrace your creativity. Because floor vases are large, it is a good idea to plan ahead. By choosing where your oversized vase will live before you have it, you can choose a vase tailored to your space instead of having to change up your home to accommodate a new acquisition.
20 of the Most Creative Large Floor Vase Decoration Ideas

The first step to finding the perfect oversized floor vase for your space is to figure out what height is right for you. Smaller floor vases stand about 20 inches tall, and can also make a statement on mantles, hearths, and low tables. Larger vases can be found at heights exceeding 30 inches and often look best when anchored against walls or other furniture. Of course, a vase's height can be extended by filling it with towering decorations.
Material has an enormous impact in determining your vase's overall feel. A few popular material choices include ceramic, wood, and glass, but there are plenty of other possibilities. Oversized ceramic vases are often sculptures in their own right and can range from matte clay to glossy glazes with sophisticated crackling effects. Glass allows visibility inside the vase, but is also breakable. Wood is durable and can be painted or stained to suit any interior.
Interplay between your vase and its decorations will define what kind of aura it exudes. One strategy is to decorate your vessel seasonally. Spring and summer provide flowering branches perfect for a decoration that is filled with life. Celebrate autumn with dried grasses and rich-hued floral arrangements. Wintertime oversized large floor vase ideas include bare branches that sparkle, curly ting ting, and silver feathers. Some materials like artificial greenery work well all year round.
1. Bouquet in an Oversized Glass Jar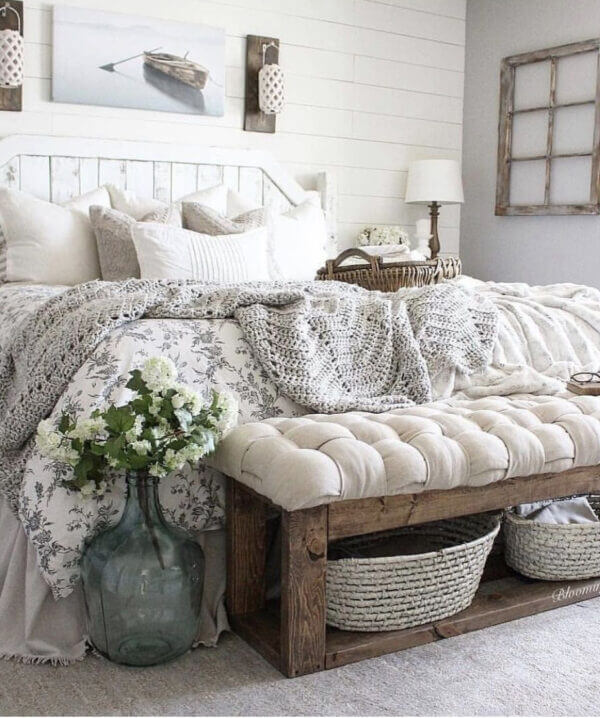 Because glass flows with so many types of décor, it is an excellent choice to complement your space. The blue-tinted glass exudes healing vibes perfect for this bedroom, but you can choose glass that will fit any color scheme. Shape, too, plays an important role in determining how a glass jar feels in your space. When fresh flowers are not in season, a large glass jar can contain nearly anything.
2. Breathtaking Vase Trio in Pristine White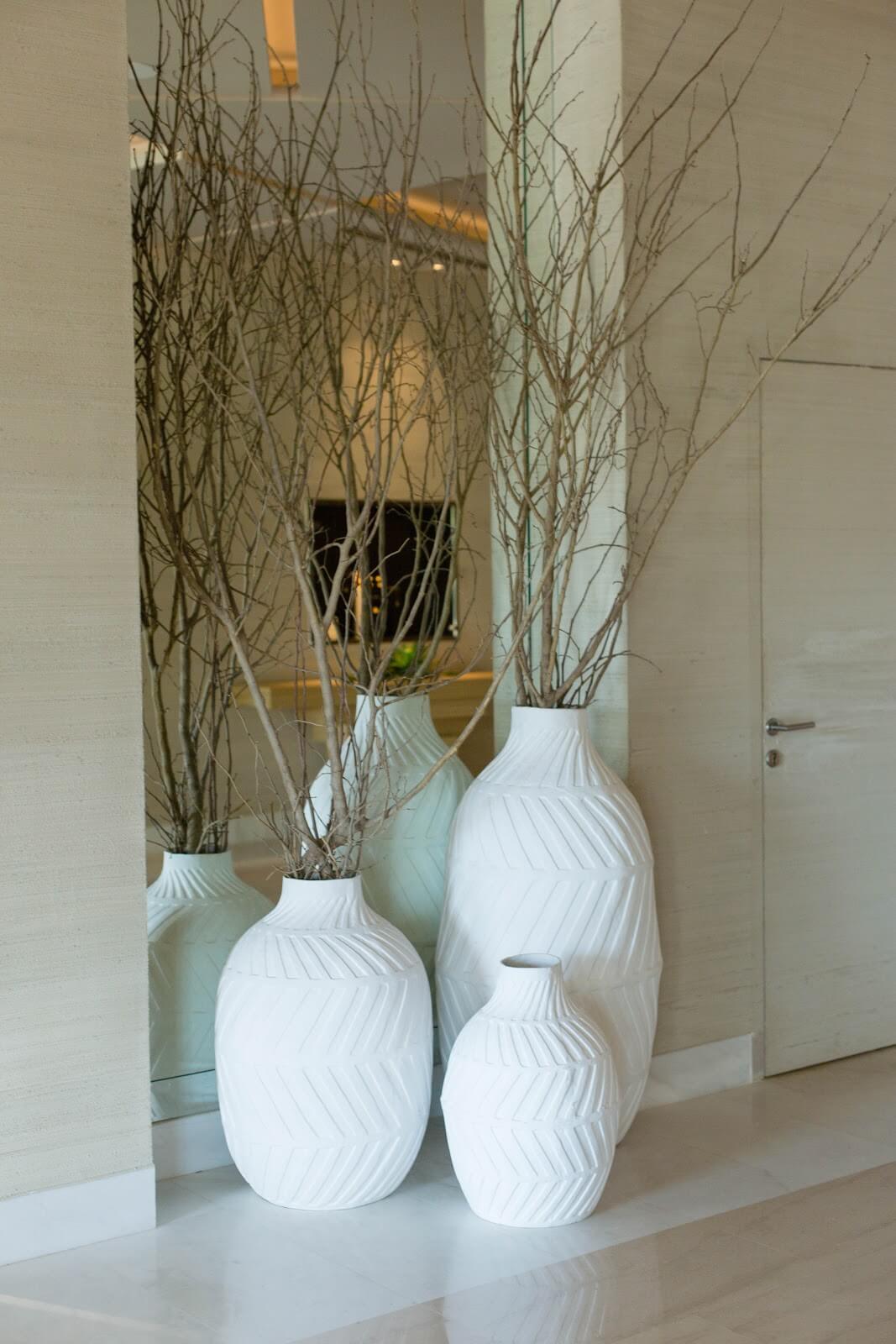 These captivating vases show that you do not need color to make a statement. The matte white finish seems to radiate natural light and works to emphasize the ebullient texture. To achieve this effect, find bright white vases and place them anywhere flooded with natural light. For a more classical elegance, choose pots with a smooth, glossy finish. To begin exploring color, find jars with a crackled raku finish.
3. How to Pair Wine with Décor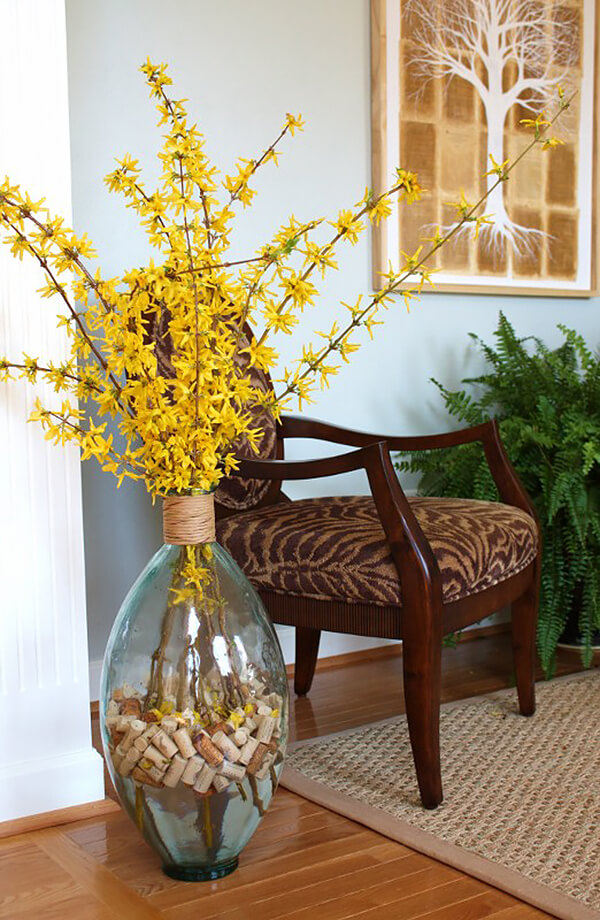 Yes, wine corks can be used to create a textural element inside clear glass vases. Although this vase features a cool blue tint, the warm brown corks furnish a sense of warmth and an additional layer of interest. Twine contributes a rustic ambiance to this stunning forsythia bouquet. The arrangement shown in this image shows corks floating in the water, but you could also use this technique with a dry flower arrangement.
4. Balanced Large Vase Ideas for Living Rooms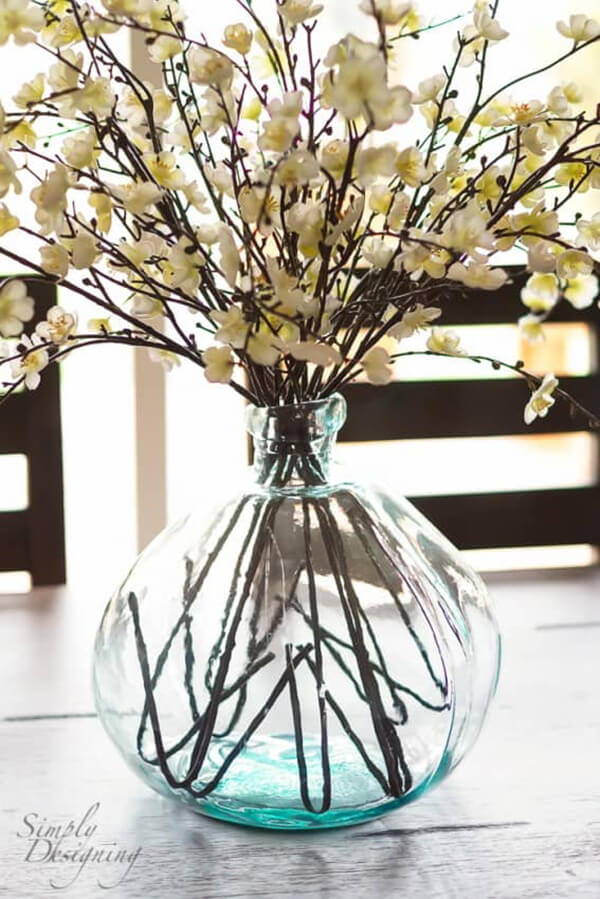 If treated improperly, large-bellied vases can overwhelm a space. One way to achieve equilibrium is to fill them with an unrestrained spray of white-blossomed twigs. However, any item that extends beyond the pot's silhouette will cultivate balance. Other expressive filler possibilities include bare branches, curly ting, artificial greenery, pampas grass, and extra-large feathers. To further soften a commanding pot's presence, experiment with artificial vines or decorations that trail down the pot.
5. Dressing Up a Twigs in a Vase Arrangement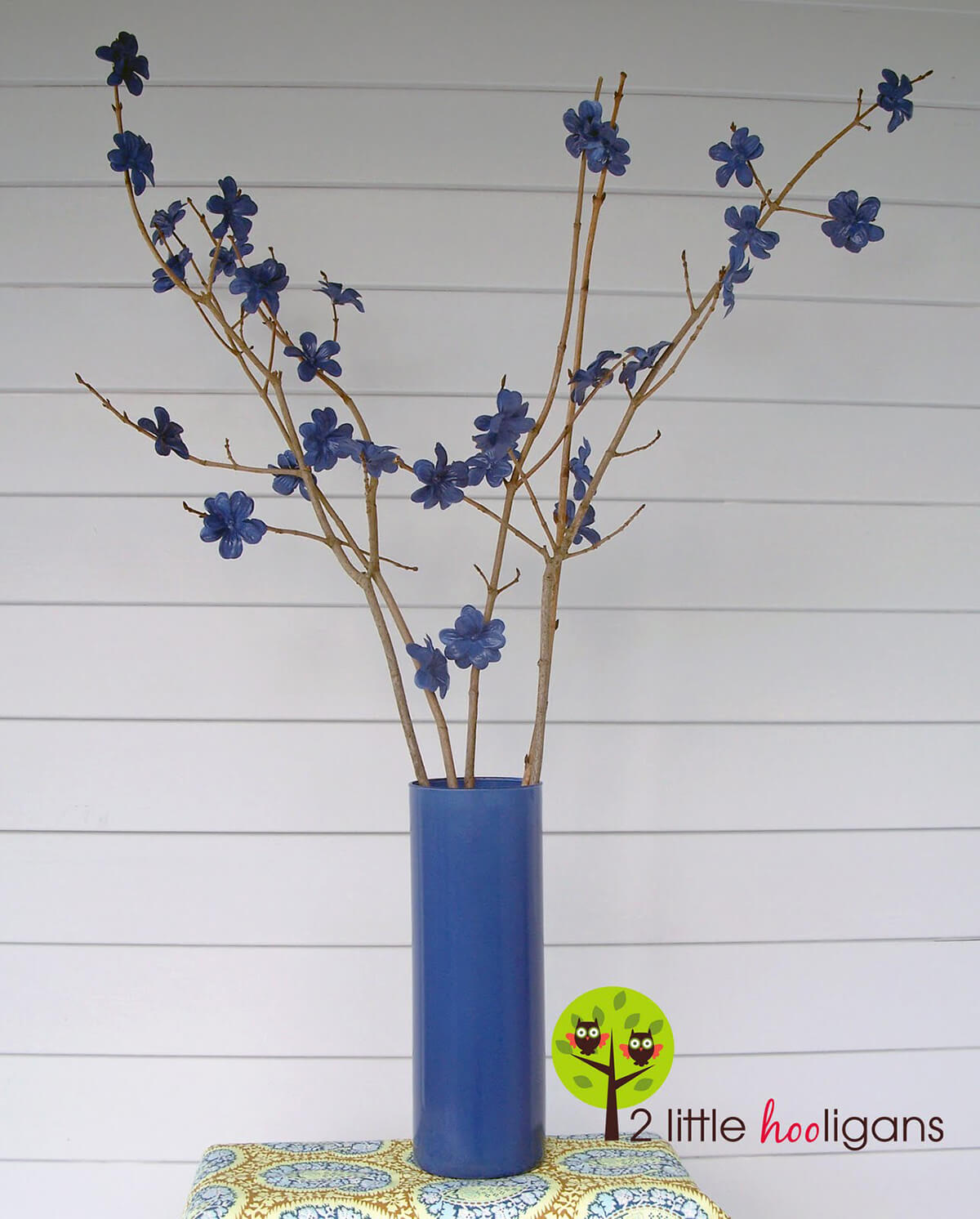 Half the fun of displaying an oversized vessel is finding ways to fill it. Bare twigs are a mainstay but can come across as somewhat desolate. Silk flowers are a low-maintenance way to add a little life. Unlike cuttings or living plants, these flowering branches will still look impeccable with minimal upkeep. If you cannot find silk flowers in the right color, feel free to paint them to complement your vase.
6. Styling Oversized Large Floor Vase Ideas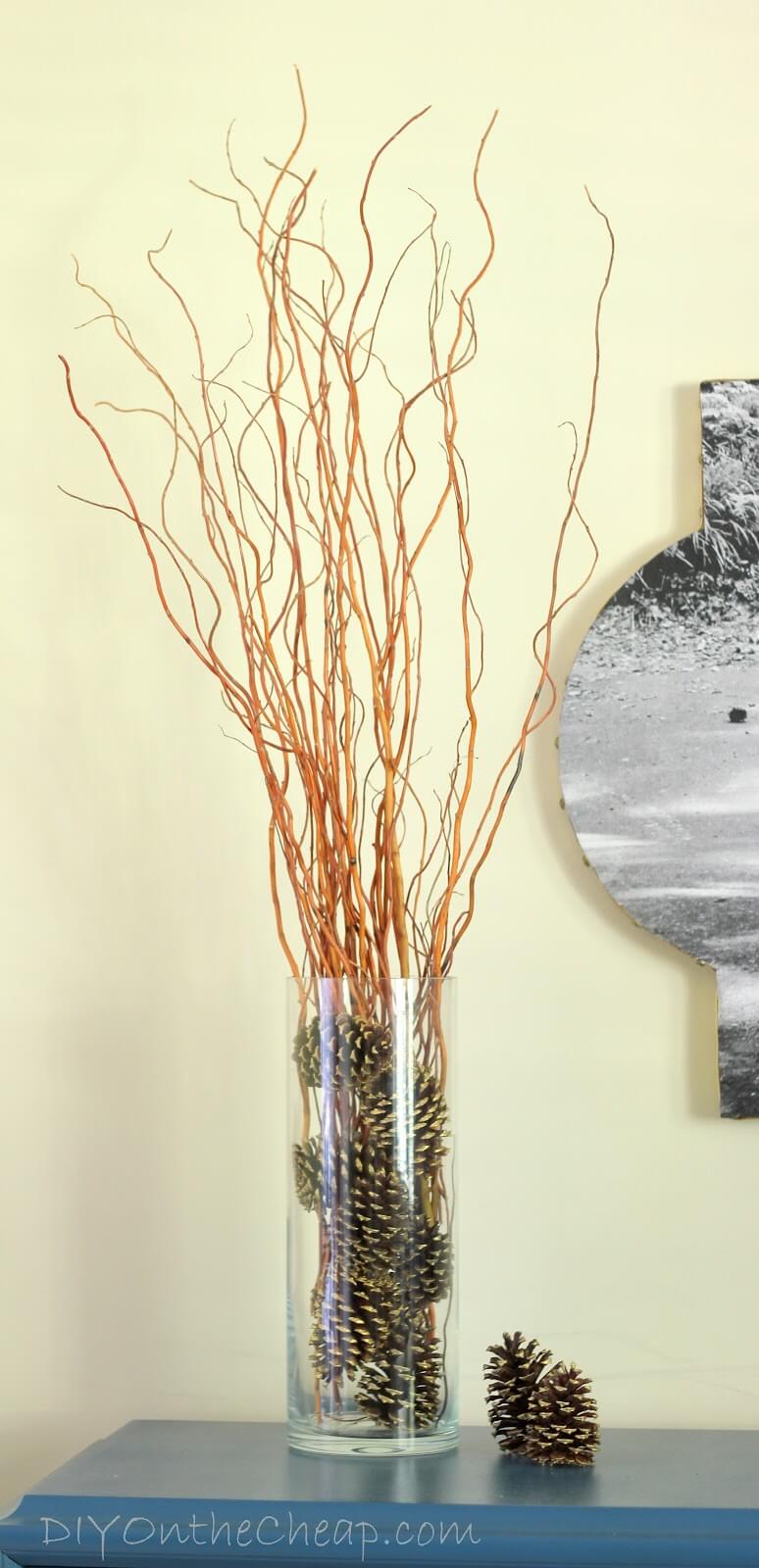 As cut-flower season ends, finding fillers for a clear vase that holds interest all winter long can be a challenge. Gold-tinged pine cones and curly ting ting are one answer. Pine cones provide both an anchor and a seasonal highlight. Curly ting ting – or any bare branches – offer an ethereal element and break up the restrained silhouette. If your oversized vase is not clear, bare-branch decoration like this is an excellent option.
7. Refinishing Vases for a Marbled Finish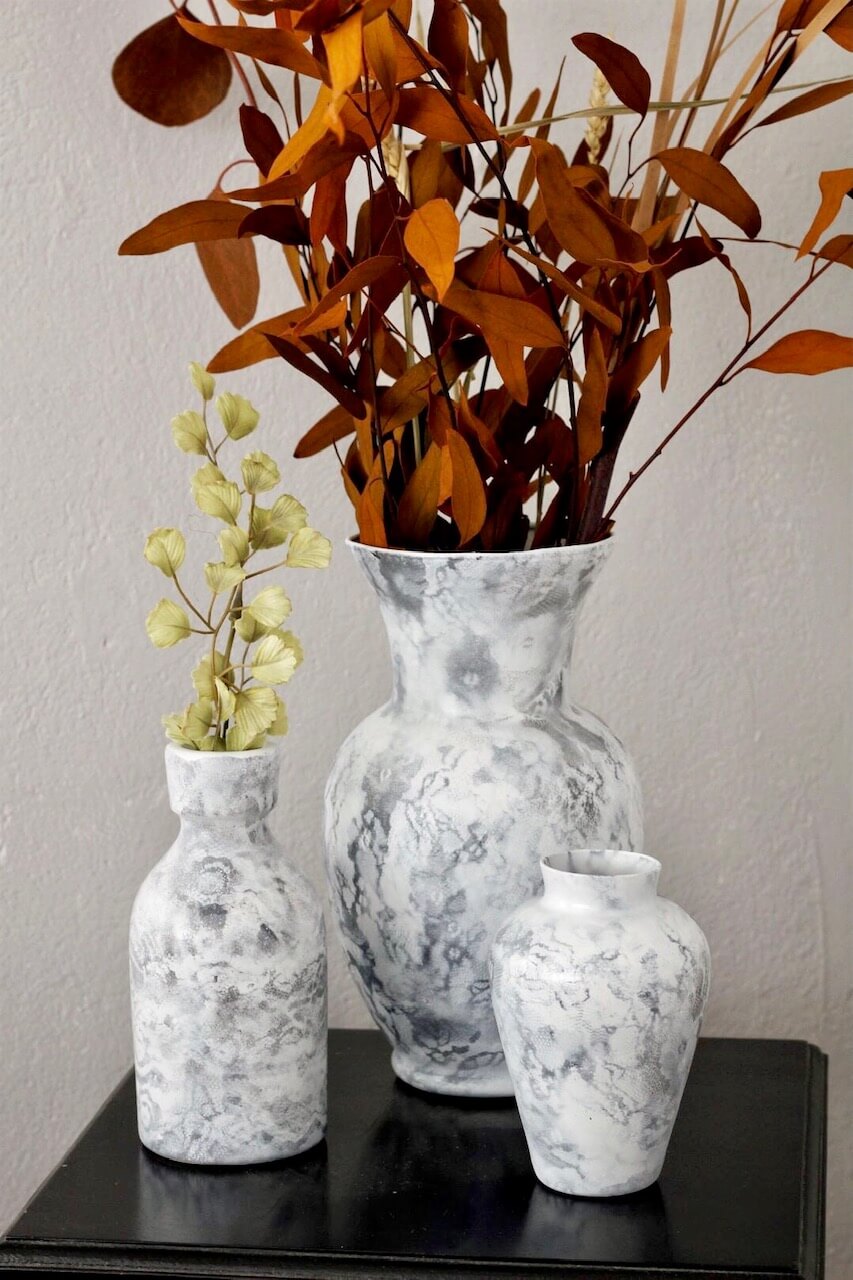 Refresh your space in the best way possible by giving outdated vases a budget-friendly facelift. Surprisingly, this sophisticated effect is achieved via lace and spray paint. Like any project, you can have fun experimenting with different paint colors and materials. For a crisper lace image, press the lace closer against the vase as you spray. Chicken wire or stencils are another way to achieve a tantalizing surface.
8. Creating a Low-Maintenance Tree to Live Inside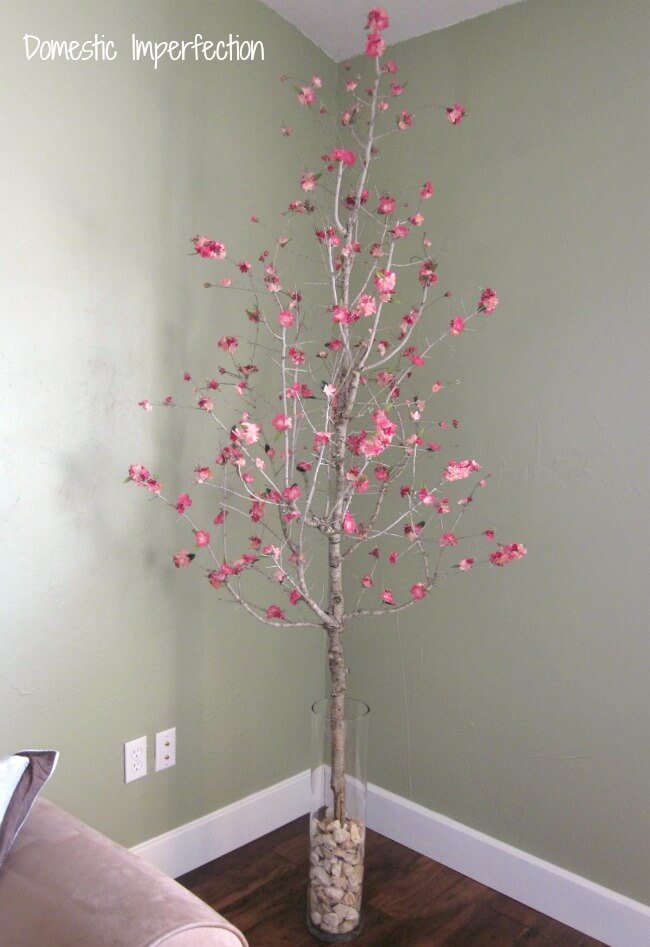 Constructed from a dead tree and artificial flowers, this tutorial illustrates how to bring spring's bounty indoors. Pink blooms are used here, but you could adjust your project to include any color or type of silk flower. Because every tree (or branch) is unique, no indoor tree will turn out exactly like another. To keep this tree upright, be sure to include plenty of weight in your oversized floor vase.
9. Set of Two Whitewashed Wood Towers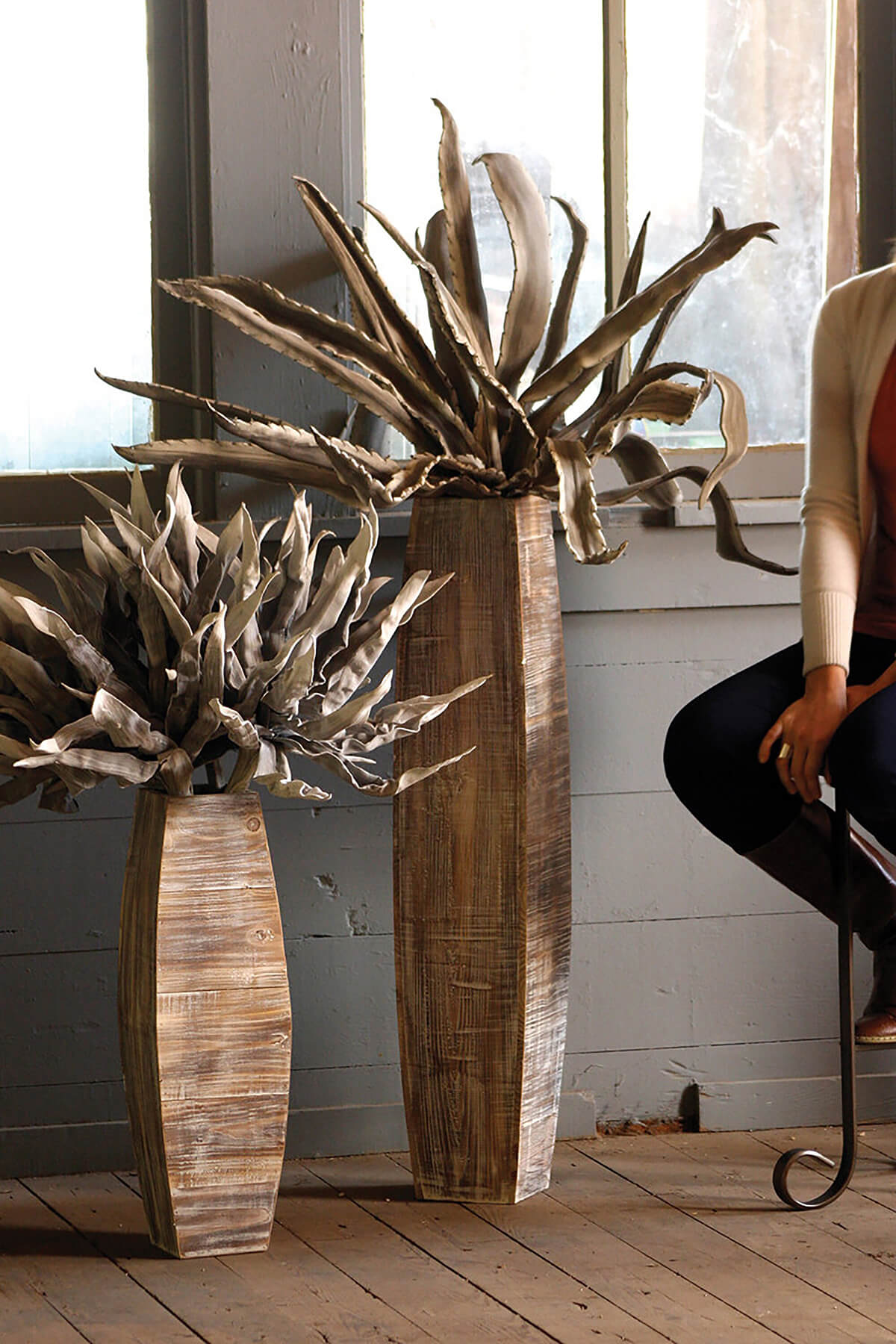 A slim profile and intriguing texture combine for oversized vases that will shine in many different interiors. If your space is anywhere in the range of farmhouse, Bohemian, modern, coastal, or Scandinavian, this pair of vases will add earthy elegance to your space. Display them empty to showcase the wood or fill them with an interesting botanical to make a statement. With a 4.5-inch opening, you have plenty of options.
10. Bright White Kurinuki-Inspired Planter Pots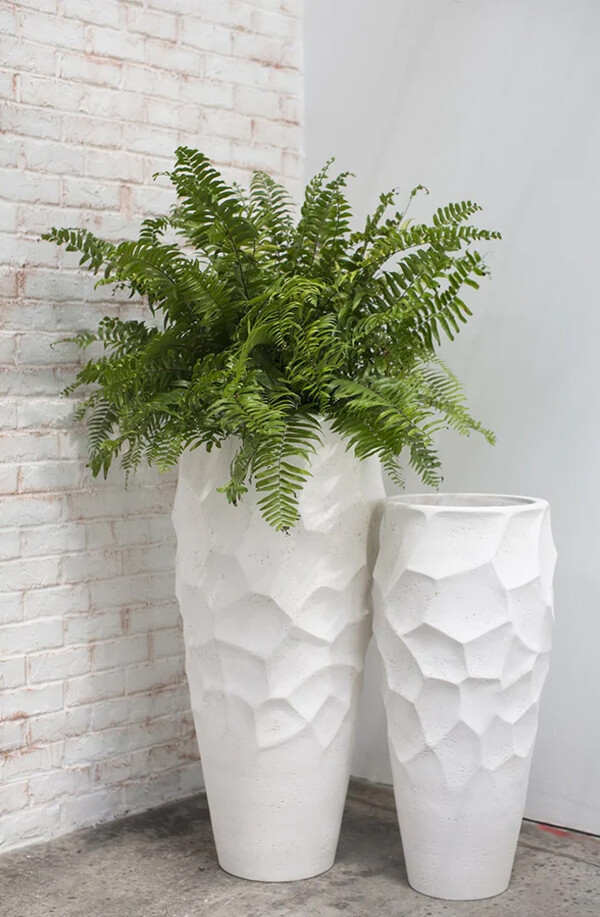 Featuring the distinctive carved kurinuki texture, these large vases are ideas for living rooms that need a little extra energy. The fern's feathery foliage and vivacious green color are the perfect contrast to the fresh white vases. Of course, you do not need to limit yourself to ferns. These could house any plants suited to indoor life. Because they are resin, they are easier to move than solid ceramic pots.
11. Filling a Vase with Fluffy Pampas Grass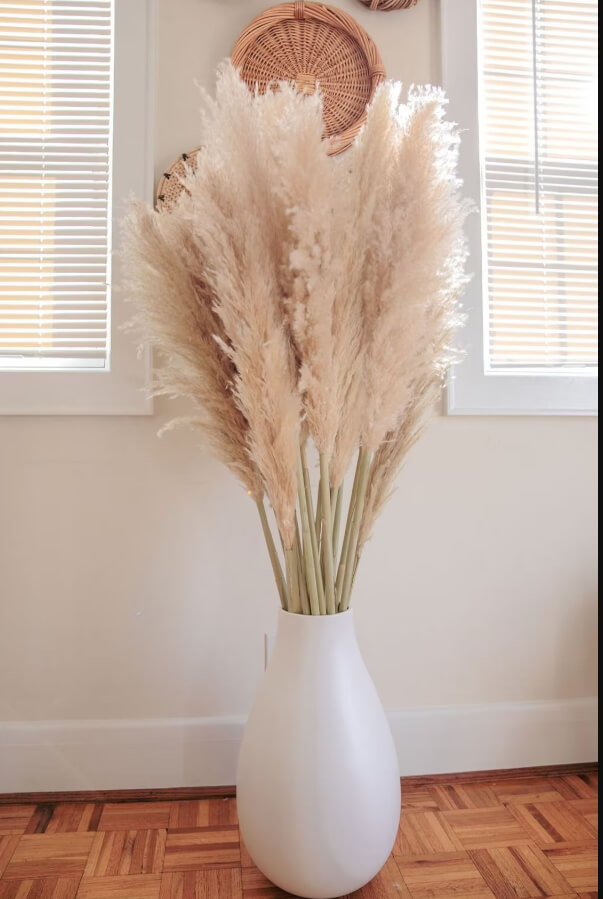 Soft, feathery sprays make it easy to see why pampas grass is a popular way to fill an oversized vase. One of its best features is how versatile it is. A dark-colored vase will spotlight the grass's warm, golden tones. Within white vessels, this grass's honeyed hues and airy ambiance are emphasized. It is simple enough to let intricate pots shine, but interesting enough to provide visual interest even in plain vases.
12. Woven Floor Vase with Coastal Vibes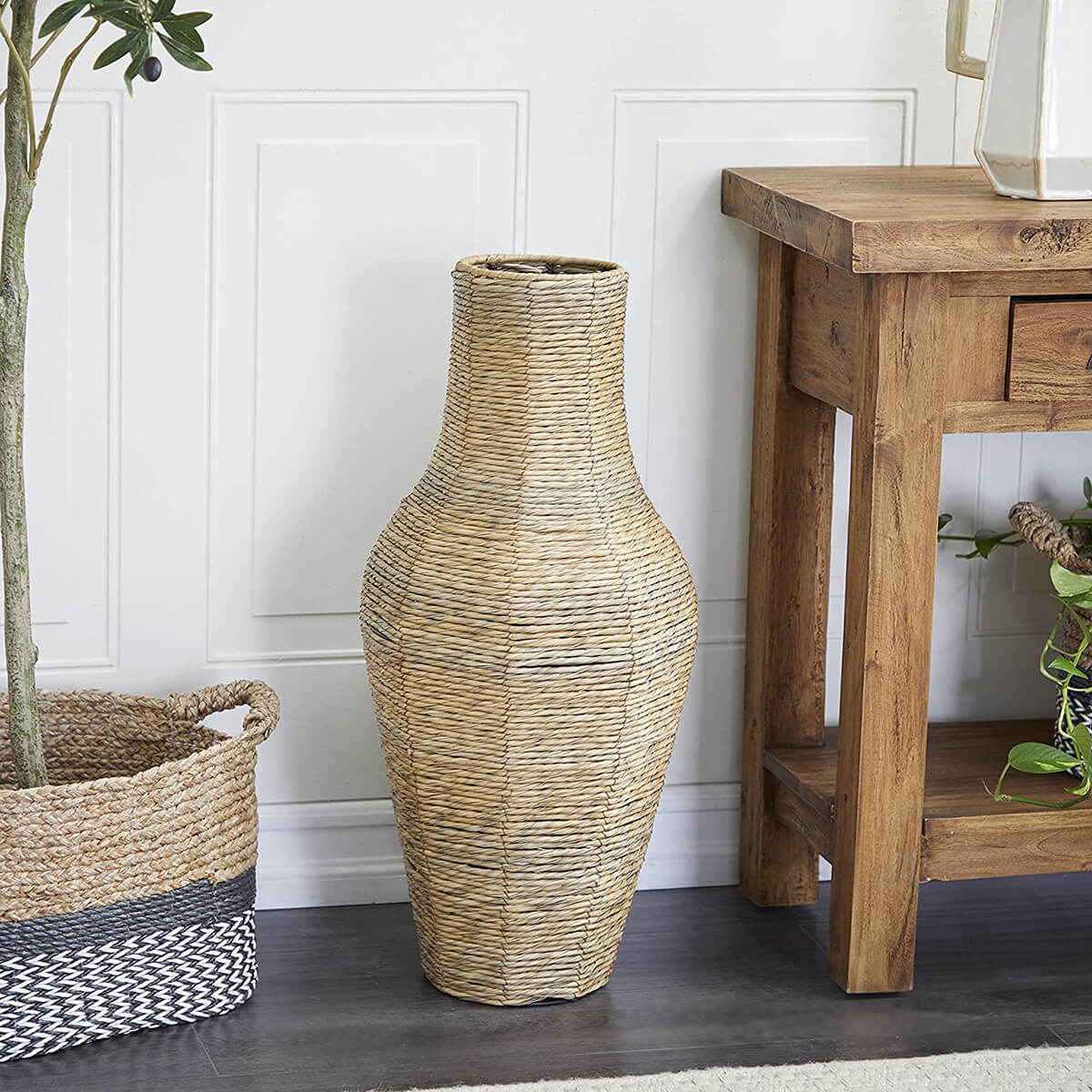 One way to set your space apart is to choose an oversized vase with a highly-textured surface. The neutral color and classic silhouette will look great in coastal interiors and beyond. Because this vase is made from natural fibers woven around an iron frame, it might not be able to contain heavy items like bulky branches. However, it can display lightweight decorations like dried grasses. Even when displayed unfilled, it looks sculptural.
13. Modern Floor Vase Accented with Black Lines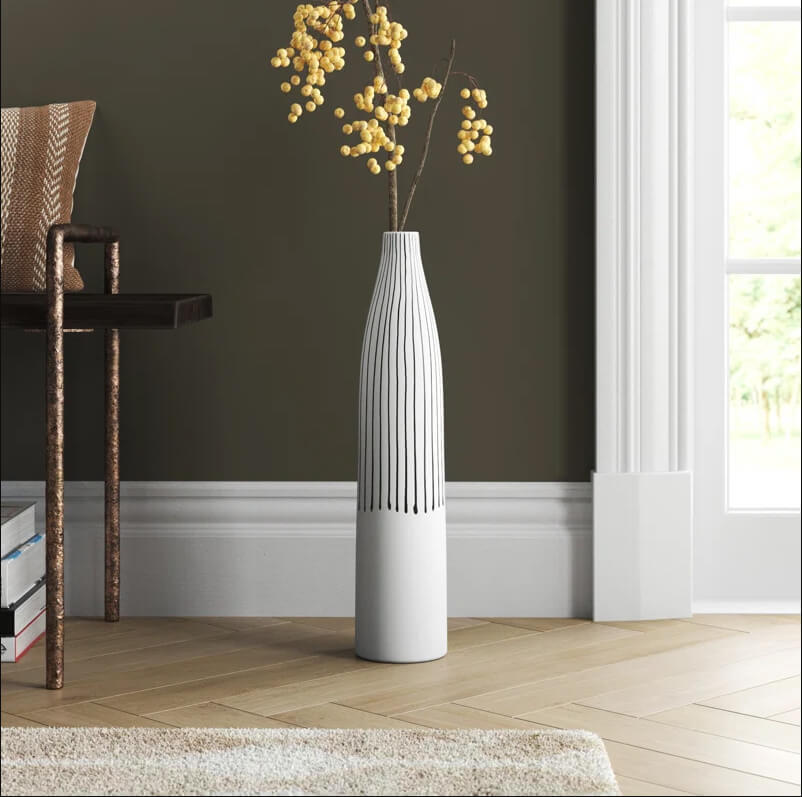 A sleek modern shape defines this exquisite oversized vase. The white base color offers pairing potential while the black parallel lines draw interest. Along with sparking drama, those vertical lines emphasize this vase's height. One of the joys of exploring handmade large floor vase decoration ideas is that each is unique. Like any ceramic artwork, this vase is a charismatic conversation starter. Fill it with long, vertical decorations to accentuate its slender stature.
14. Geometric Oversized Large Floor Vase Ideas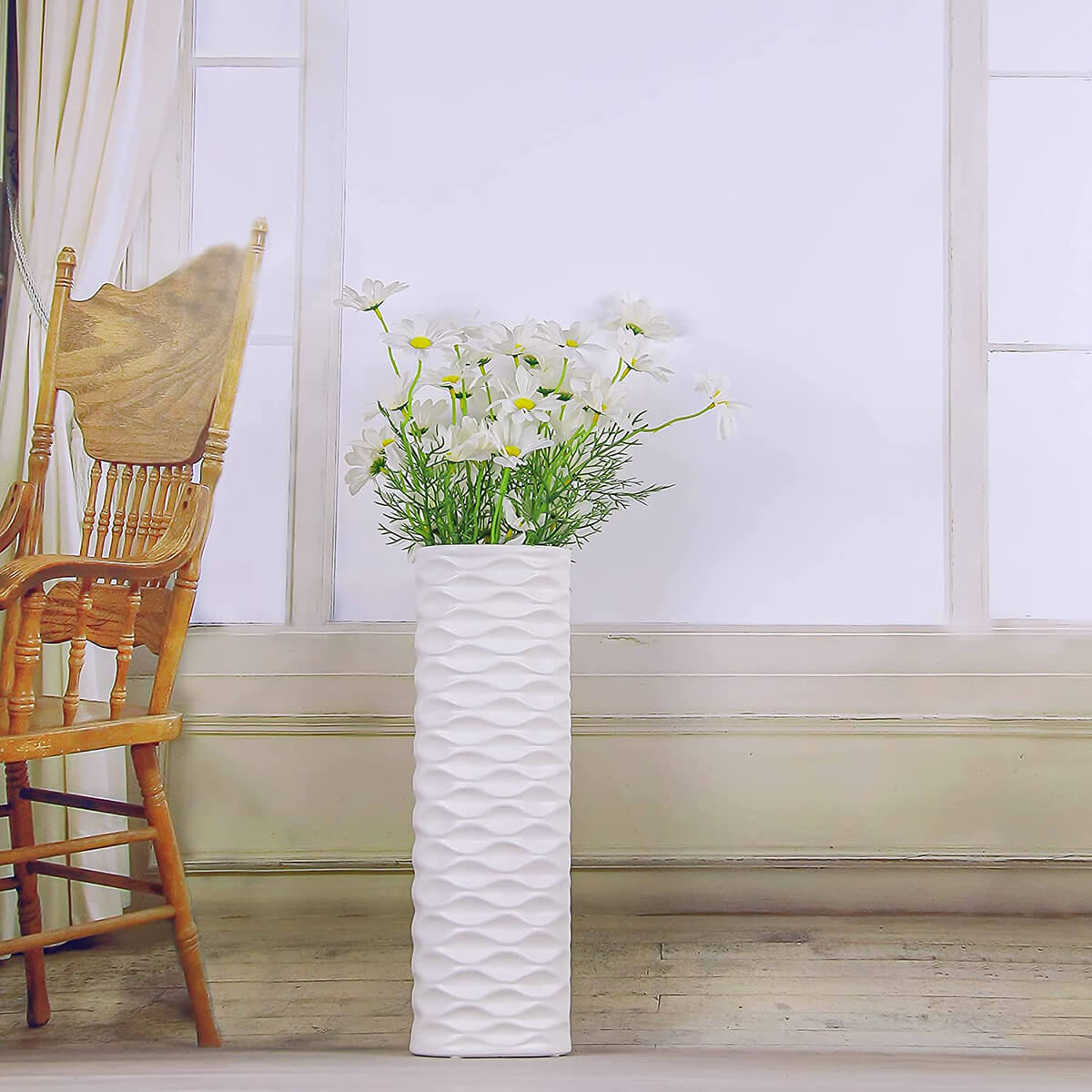 Geometric patterns are an impressive way to lend energy and character to a space. The vase shown here features a swooping texture that softens the space. Displayed empty, a geometric floor vase still acts as a work of art. When filled with plants or pampas grass, your oversized vase will elevate your space. Beyond the fascinating surface, this vase features a unique oval shape that can be rotated to achieve different effects.
15. White-Painted Wooden Post Farmhouse Vase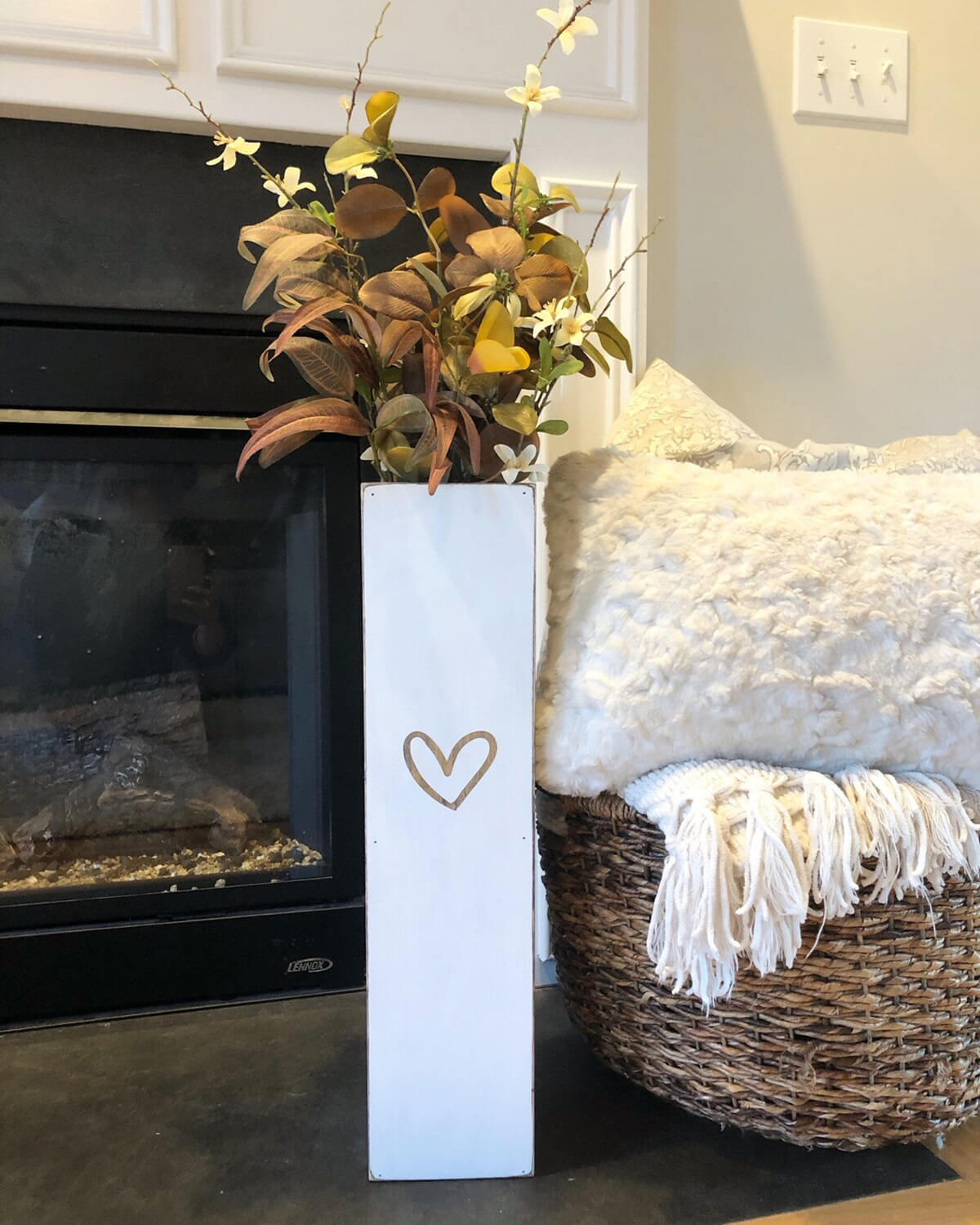 Instead of featuring flawless white paint, this floor vase arrives with the perfect amount of weathering. By allowing the wood to shine through, this vase coordinates with your other natural accents. The vase shown here features a hand-drawn heart, but other options that might fit your space better include words like "blessed" and "home." As a sturdy wooden vase, it is ready to share space with boisterous animals or rambunctious children.
16. Carved Wood Large Floor Vase Decoration Ideas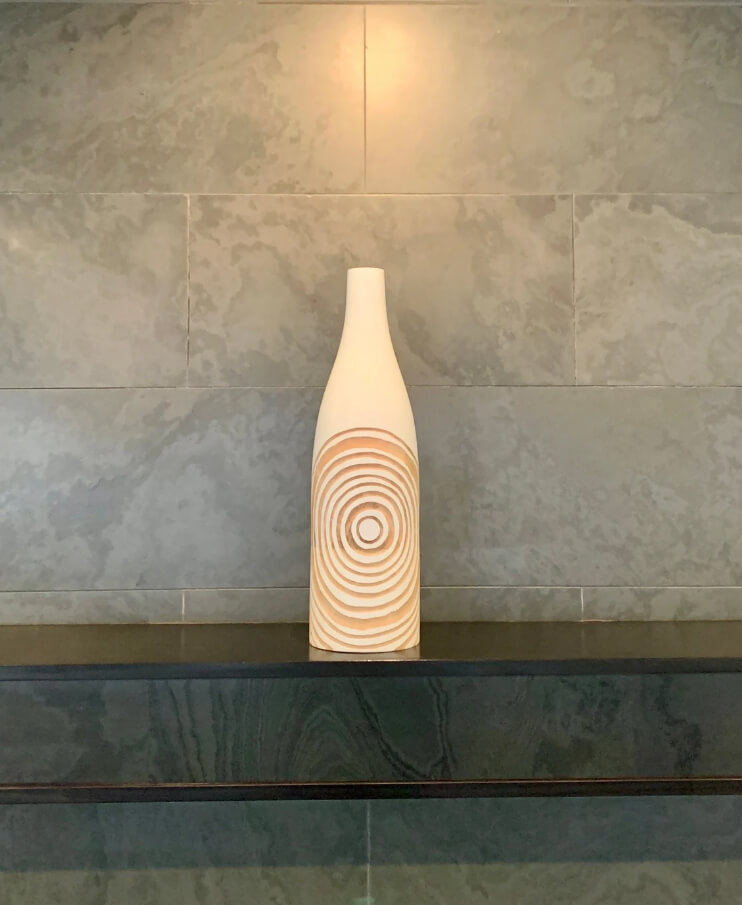 Although this vase shares the same silhouette as most bottles, it stands over 20 inches tall. Hand-carved concentric circles imbue it with an energy that could, depending on its surroundings, be translated as Bohemian, Scandinavian, coastal, or simply rustic. A narrow neck might restrict how much fits inside, but also adds emphasis to what is on display. Imagine how much impact a single long-stemmed flower would have when placed inside this vessel.
17. Handmade Floor Vase with Removable Shelf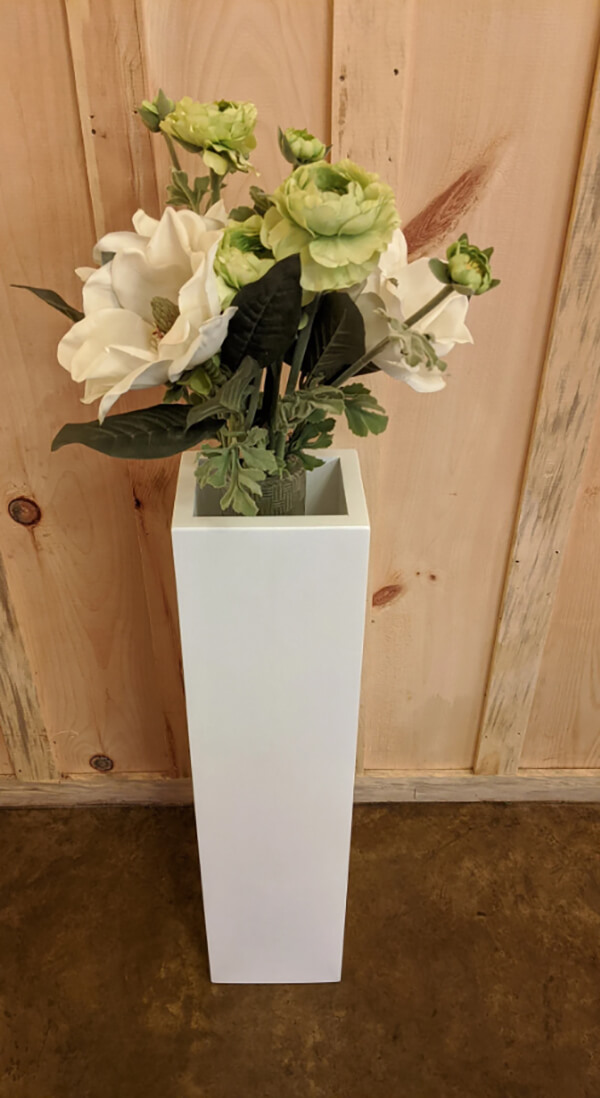 From the outside, this rectangular floor vase features sleek, simple lines. However, because it includes a removable shelf, you can use it to display standard-sized decorations. This is a practical feature for anyone who loves seasonal décor but is running out of places to display it. After all, a vase offers a smaller profile than an end table. A cool white finish means this vase will fit seamlessly anywhere in your home.
18. How to Style a Vase Trio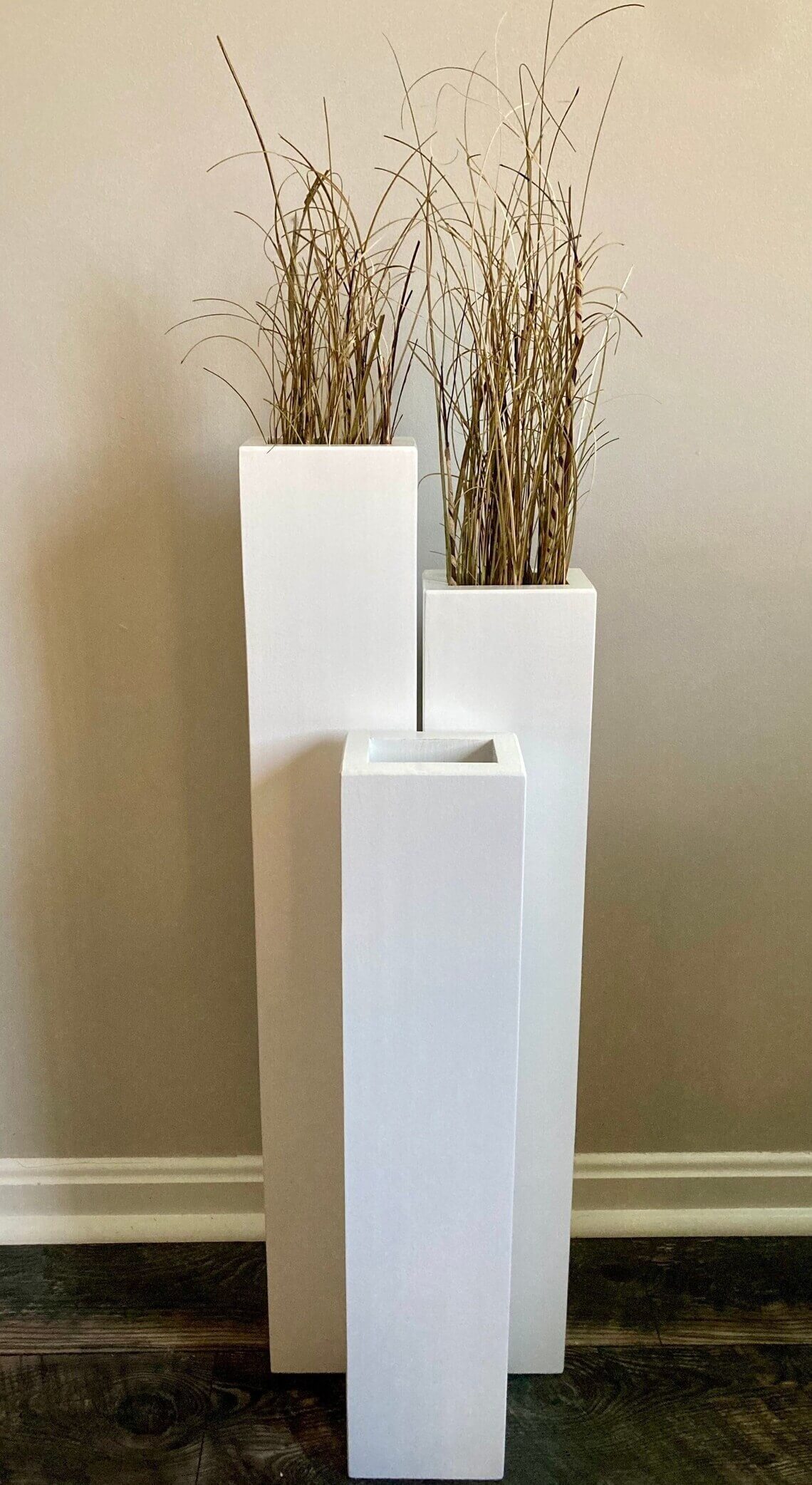 While matched sets offer perfect symmetry, spotlighting similar vases in different sizes can cultivate dimension. To emphasize the differing heights, place all three together. This can be done in a line or, as shown here, with the shortest vase in front. Even though they are different heights, the two rear vases in this display feature dried grass arrangements that reach about the same height. This configuration creates delicious contrast.
19. Silver Bamboo Vase Filled with Feathers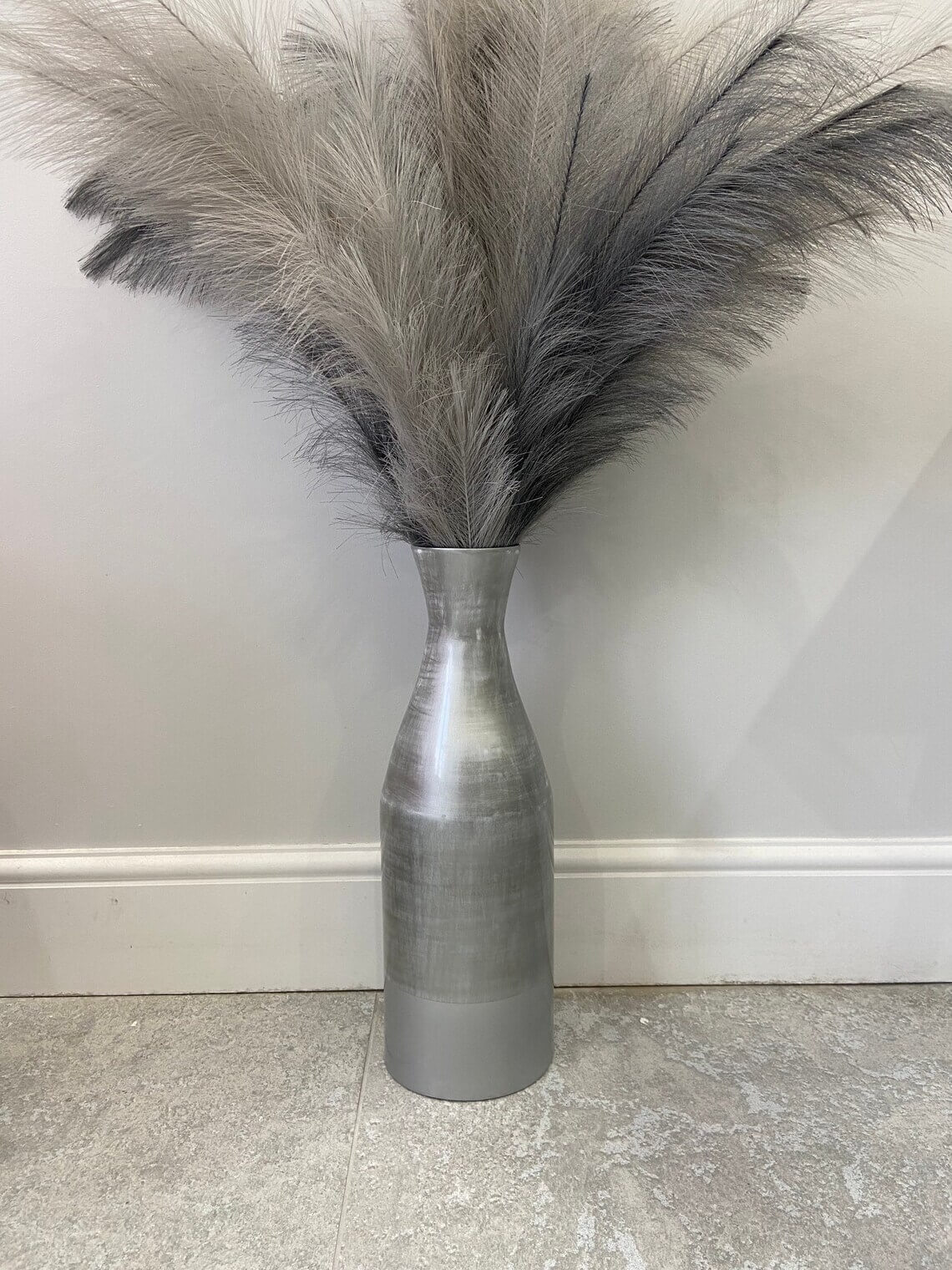 One of the most popular oversized large floor vase ideas is to pair gray-toned decorations with a silver vase. This develops a contemporary focal point for spaces decorated in cool-based neutrals. Because of their wispiness and expansive silhouette, feathers are a great juxtaposition against smooth vases like the one shown here. Including dark feathers in the back of this arrangement gives this piece depth. This energy is mirrored in the silver vase.
20. Wooden Large Vase Ideas for Living Rooms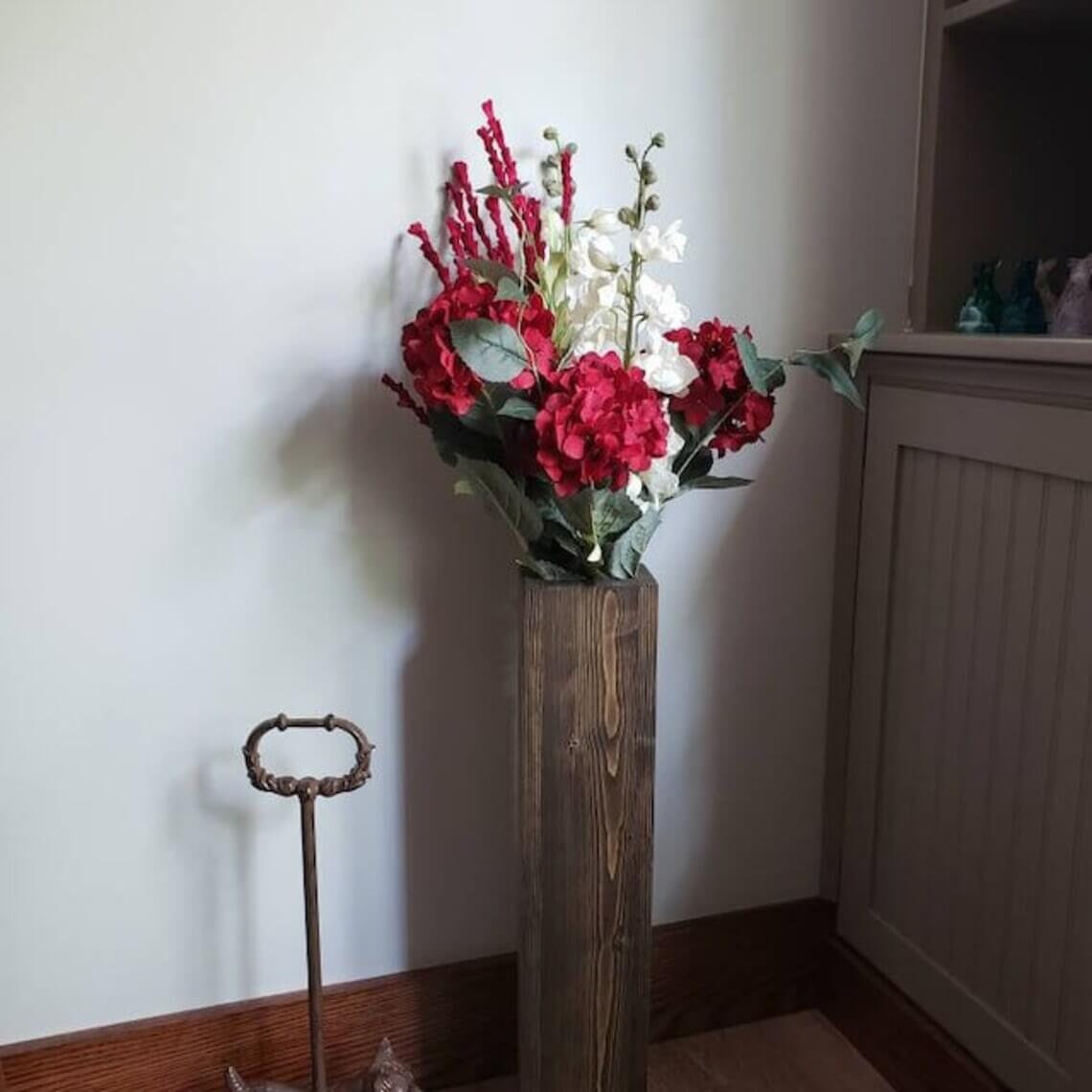 Because of its natural durability, wood is an excellent material choice for large floor vases. Cosmetically, it features a pleasing pattern and can be stained or painted to coordinate with any space. The dark wooden vase shown here accentuates whatever you place inside it. Notice how the red and white blossoms pop against the rich dark walnut stain. To best fit your space, this vase is available in two sizes.
The Top 20 Large Floor Vase Decoration Ideas to Integrate Artwork into Your Home
Although large vases can be intimidating, they are easy to integrate within your already-existing décor. All you need to do is select a vase material, silhouette, and finish. Then, you can either display it as it is or find something fun to fill it. The right combination of these often depends on where you plan to place your oversized vase. If it will be somewhere with lots of traffic, consider a wooden vase to prevent accidental breakage. Other popular places to place oversized vases include on mantels, next to fireplaces, near couches, against walls, and anywhere that could use a little vertical love.
Oversized vases are only half the fun – what you display inside them matters too. Because the fillers are often at eye level, they might even get noticed first. This makes it easy to jazz up your style – all you need to do is change up your fillers. Switching from energizing bare branches to fluffy pampas grass might completely change how your room feels. If you tend to get bored with the status quo, change your floor vase filler up often. To find the right look for your space right now, all you need to do is have a little fun unleashing your creativity.