A rectangle decorative tray is a popular and trendy option when you want an exciting centerpiece to tie your table together. From dining tables to hallway console tables, sometimes these pieces of furniture need a little extra help in the decor department. A great way to fill that empty space is to use a rectangle tray. The tray manages to help your decorative elements look more cohesive and less cluttered. Best of all, this works with any theme you'd like from farmhouse to contemporary.
23 Beautiful Rectangular Tray Ideas for a Less Cluttered Table

What you put on it is wonderfully versatile. You can aim for simple flowers, or you can lean toward the holiday you're in, decorating accordingly. Trays are just begging for a handmade vignette, and you can provide that with the right tools. With how well a decorative rectangular tray works, deciding on exactly what you want to create can be daunting though. So, we have compiled some of our favorite rectangular decorative tray ideas to help you start down your decorating path.
1. Shabby Chic Coffee Table Vignette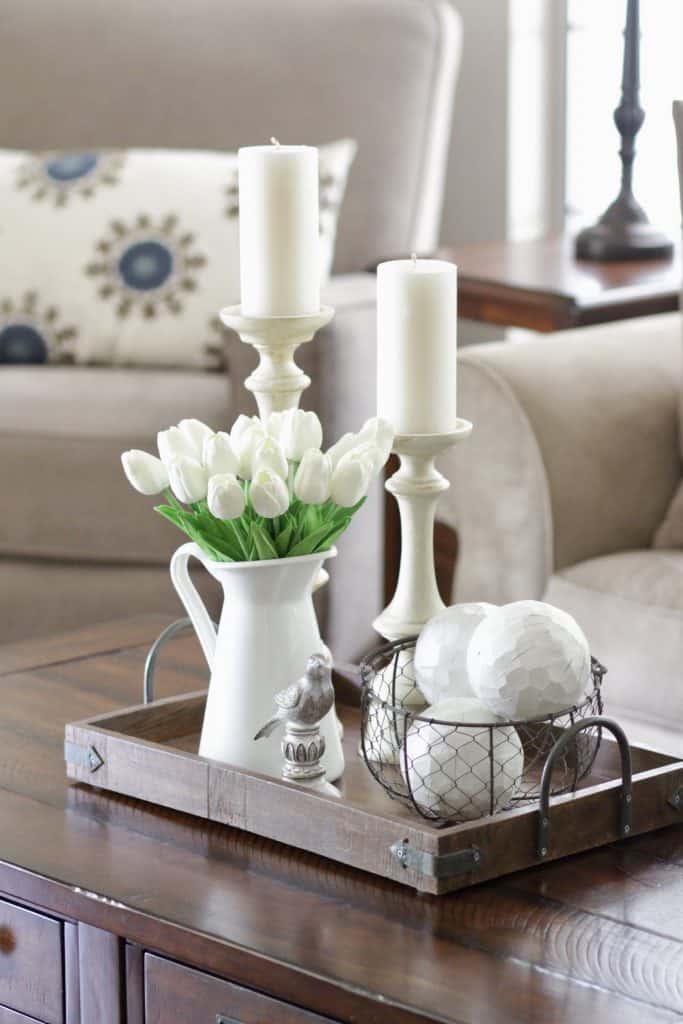 Balance rustic with chic with this pretty vignette fitting for that empty coffee table. It combines similar colored items like a white tulips and white candles to create a unique and appreciative decorative piece. The darkness of the farmhouse-like tray elevates the vignette.
2. Simple Bathroom Tank Wooden Tray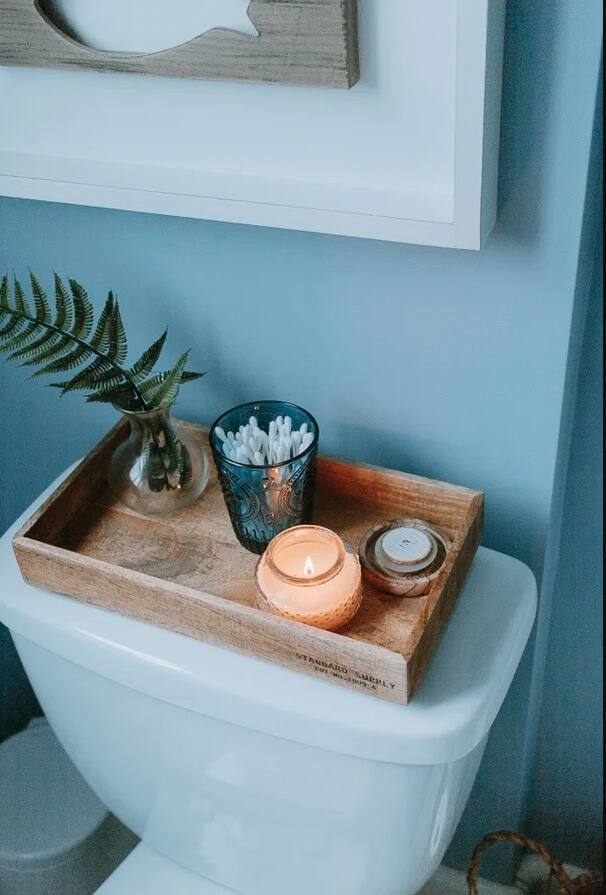 Our bathroom is a great place to set up a simple, decorative wooden tray. Not only does this add to the style of the bathroom, but it also serves as functional decor. It keeps everything you need right within reach in a neat and appealing way.
3. Handmade Rustic Picture Frame Tray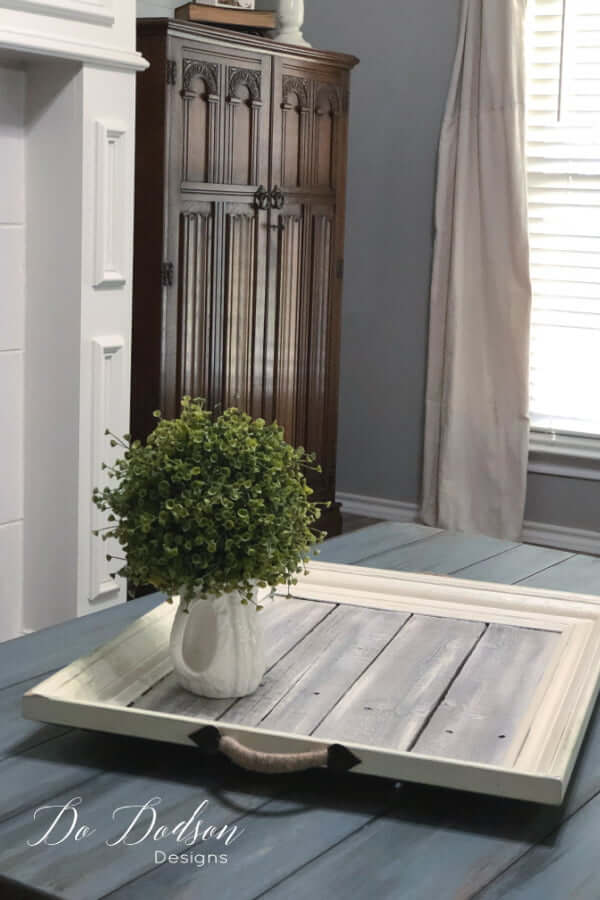 If you are ready to test your creative skills, you can build your own unique wooden tray using a picture frame. This is a nice way to upcycle things around your home. Additionally, it gives you something that is more personal and distinct to use as decor.
4. Large Rectangular Wooden Dining Table Tray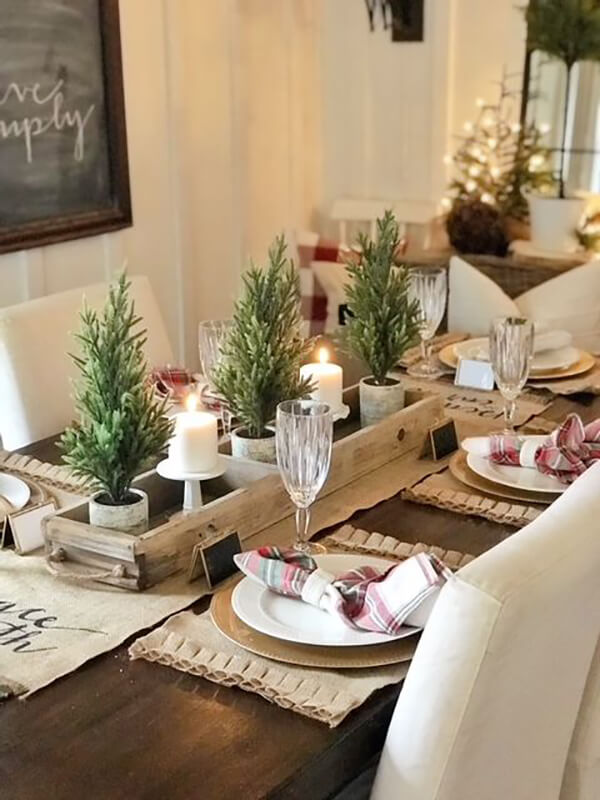 A dining room table is a wonderful place to set up your rectangle decorative tray. Longer ones are especially useful for bigger tables. It gives you plenty of room to add items on it like charming candles and greenery to set the atmosphere.
5. Contemporary Fall Themed Wooden Tray Design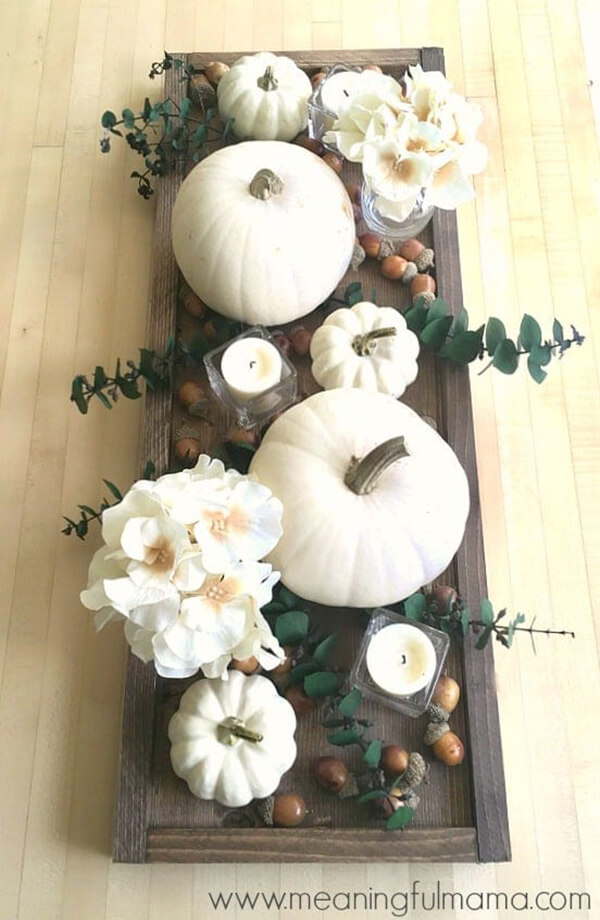 When you want the vignette to stand out, you can opt for a more simplistic wooden rectangular tray. With that as a solid base, you can add some lovely fall-themed items. Going for lighter or white-colored items works well against the dark wooden tray.
6. Modern Greenery Christmas Theme Tray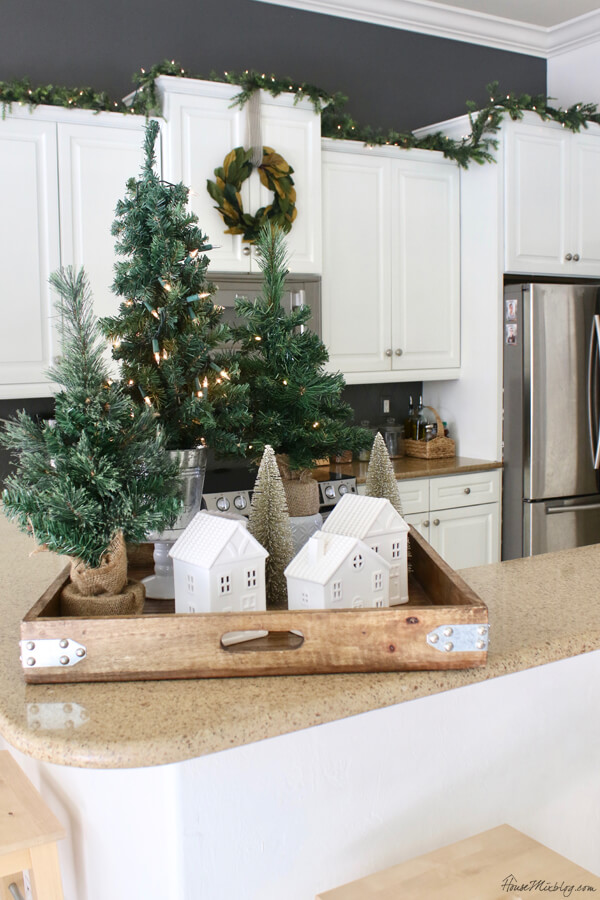 For Christmas decor, a wooden tray is a great idea to support your designs. This is a fun way to add some smaller trees to your home along with other holiday-themed decor. You can even add on some fairy lights to truly transform this tray into something magical.
7. Farmhouse Style Upcycled Wooden Tray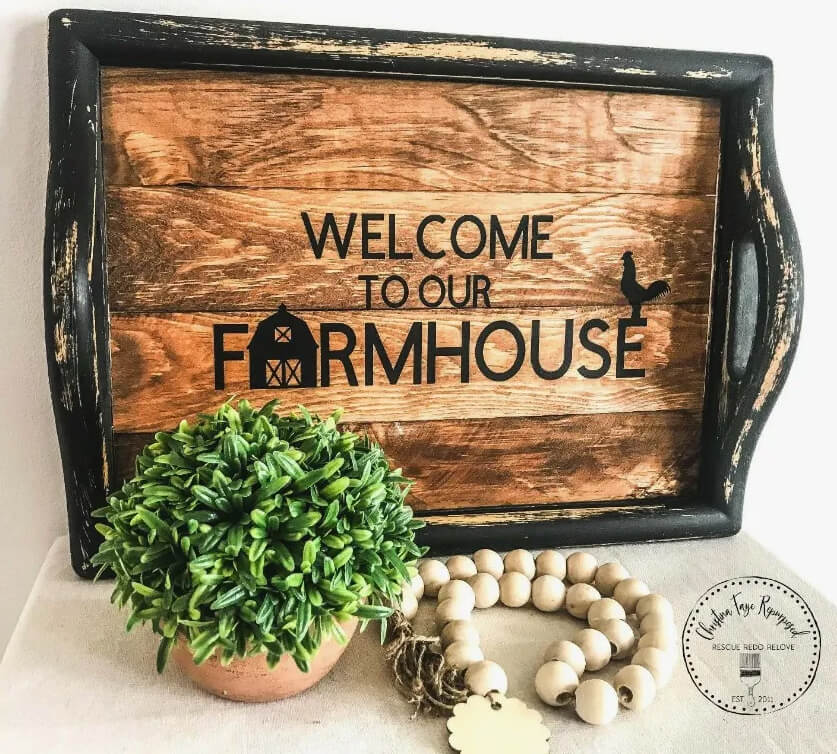 Sometimes, a rectangular tray doesn't need to be used for vignettes or other items. Instead, the tray can be decorative all on its own. You can even upcycle an old wooden serving tray, creating something that fits better with your home's style and set it up alongside other decorative items.
8. Stunning Handmade Rectangle Marble Tray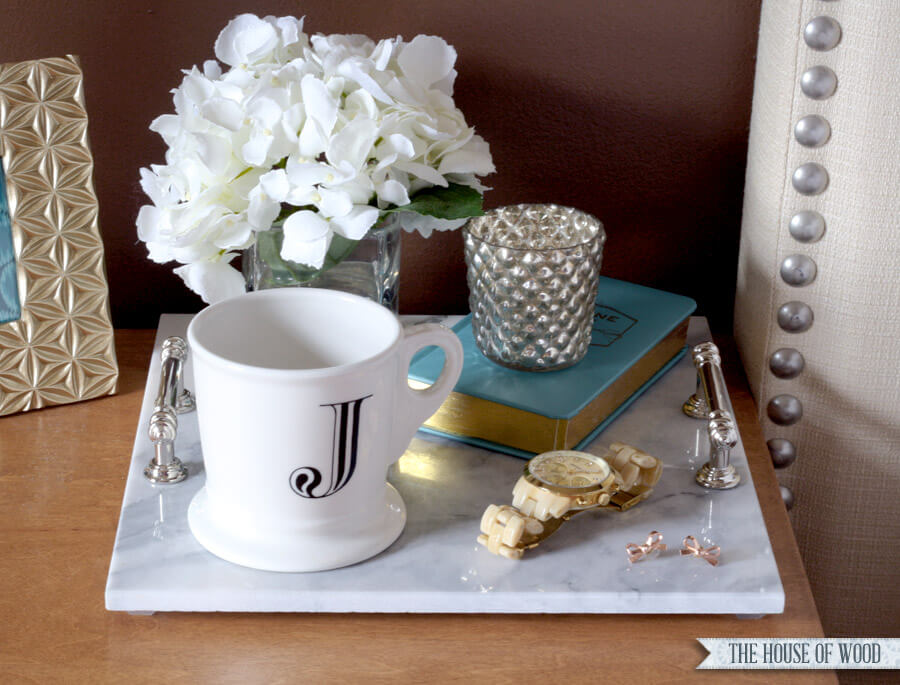 You don't need to break the bank to have a chic marble tray. Instead, with the right materials, you can make one yourself. This leaves you with something space-saving that you can set up on a dresser or console table, organizing your small items in style.
9. Nautical Themed Wooden Rectangle Tray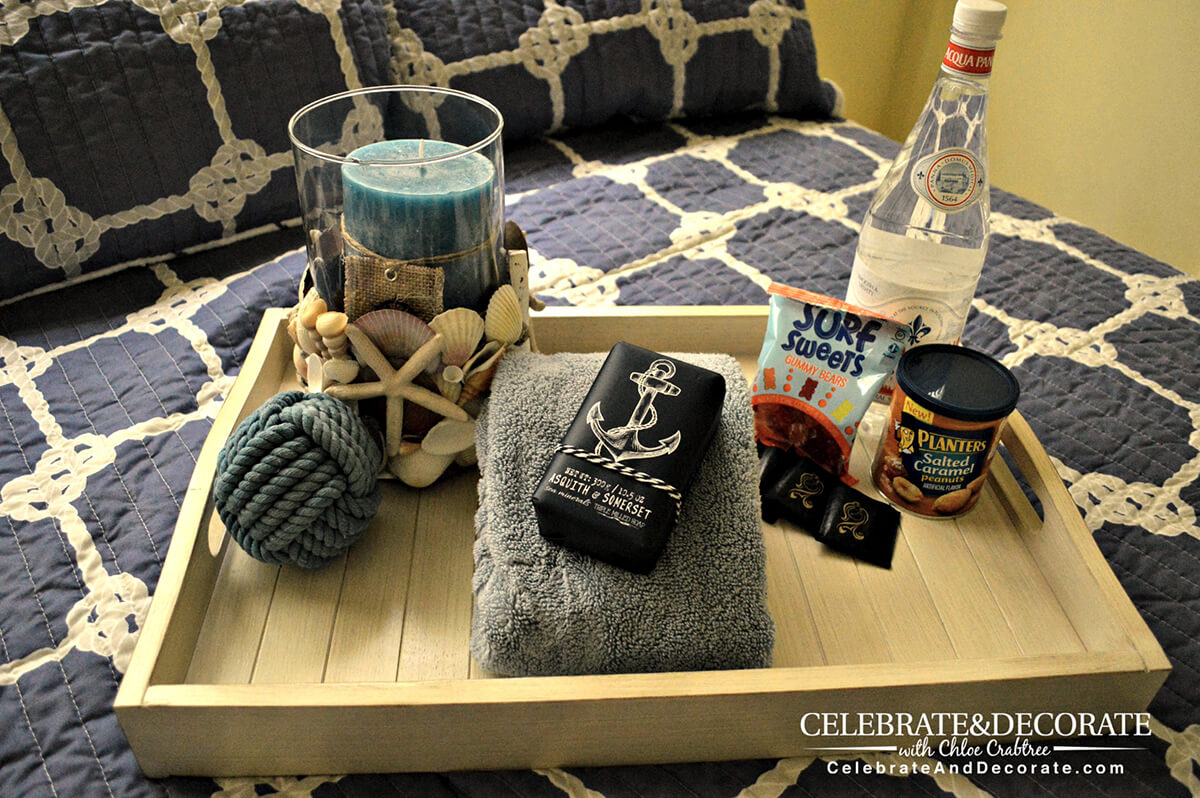 This wooden tray can instantly transport you back to the coast. It is a beautiful piece of decor in a main room or a guest room. Best of all, this tray even works as a serving tray for some nice breakfast in bed.
10. Vintage Floral Styled Wooden Riser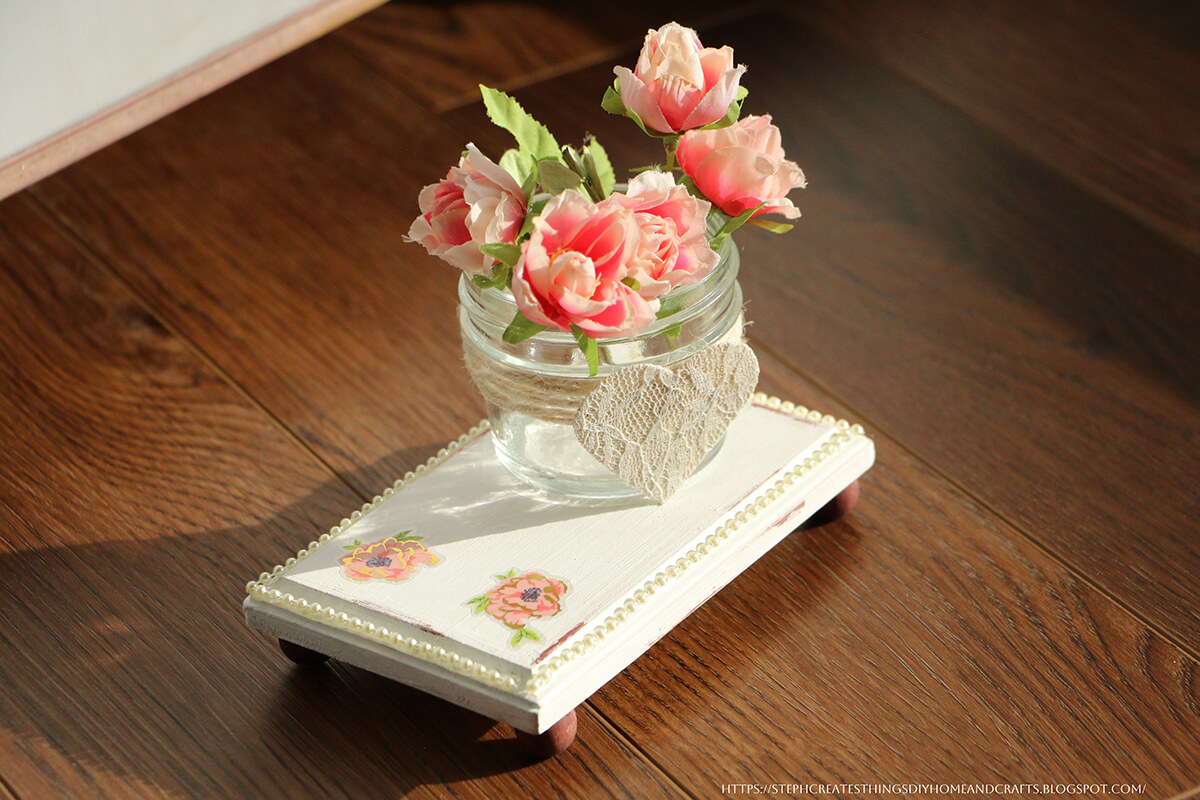 With this decorative rectangular tray, you will instantly get a vibe of classic sophistication. The floral print is simple enough, but it pairs well with the compact, matching floral arrangement on top. The size of this makes it work well on a side table or coffee table.
11. Affordable Christmas Floral Tray Display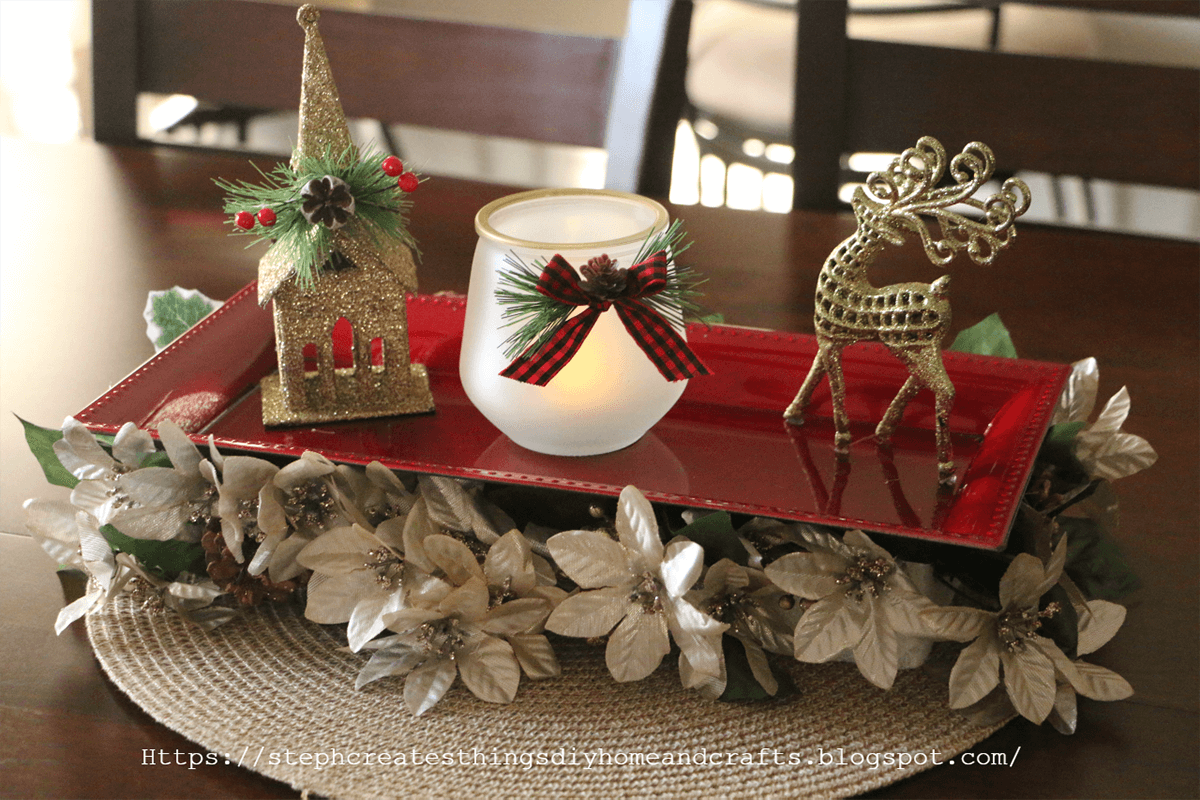 A rectangular tray is perfect when you need to decorate for the holidays. When Christmas comes around, consider this red colored gem. It acts as a wonderful base for the holiday-themed figurines, the sparkling faux floral underneath, and the warm candle in the center.
12. Rustic Rural Wooden Tray Riser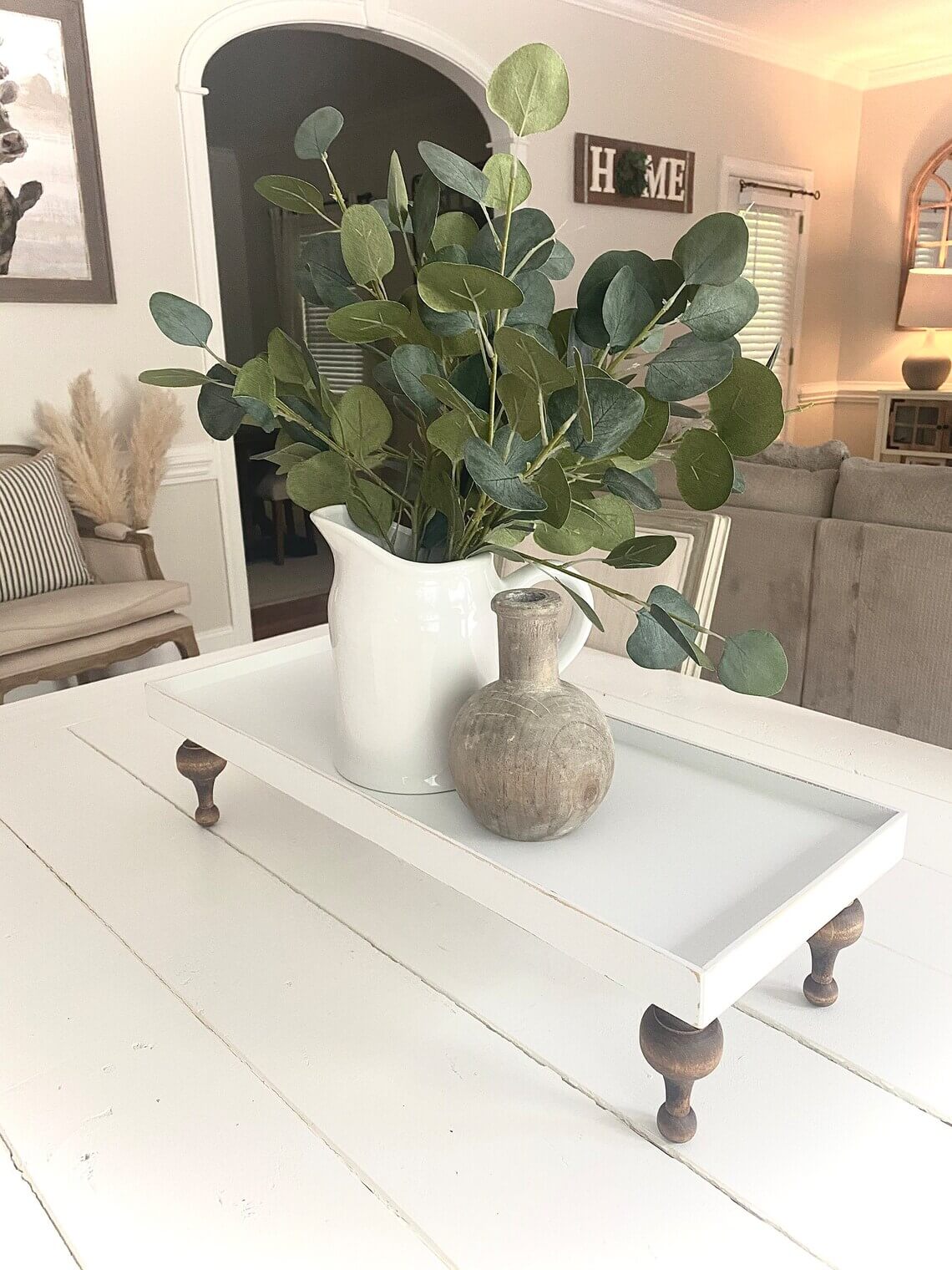 Elevate your decorative tray style with this charming wooden riser. It has a classic-like appearance, and with its length, it can easily work as a centerpiece. You can get this with or without the destressing on the edges too.
13. Golden Metal Rectangle Tray Organizer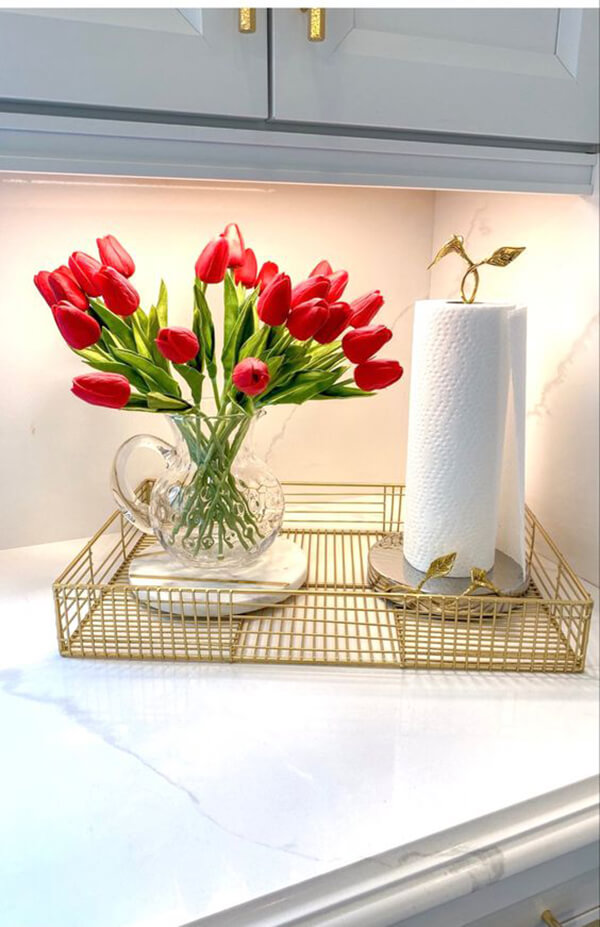 This organizer is a nice way to have a decorative tray in your home that also serves as something more functional. The metal is not just reliable, but with it painted gold, it has an elevated, chic look that won't seem out of place in a contemporary designed home.
14. Handmade Farmhouse Styled Serving Tray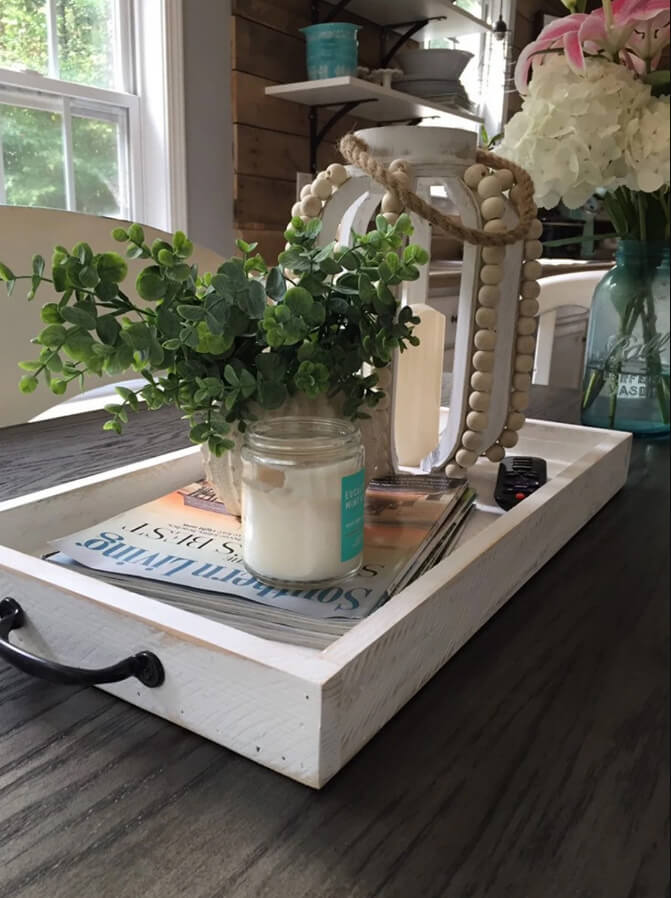 A serving tray or a decorative tray, this design can be both at the same time. It is a remarkable size too, allowing it to serve as a centerpiece if you'd like to your dinner table. The handles make it easier to carry if you opt to use it as a serving tray.
15. Vintage Styled Wooden Serving Tray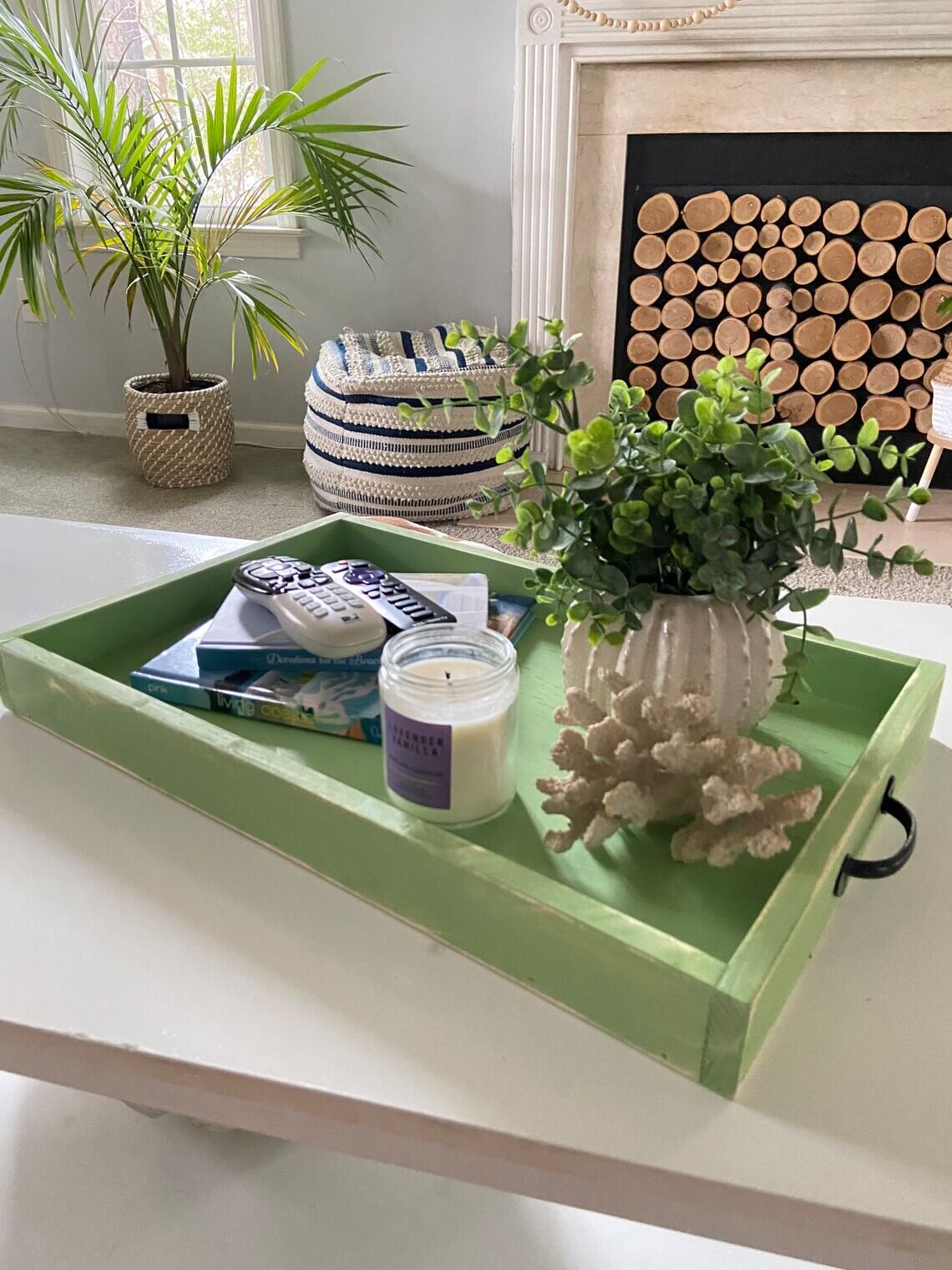 Available in a host of different colors, this serving tray features reliable handles and a weathered, distressed look. It comes across as classic, which serves well for those of you who long for more vintage-slanted decorative items. The tray isn't too large or too small either so it can fit in various rooms.
16. Cool Oversized Wooden Rectangular Tray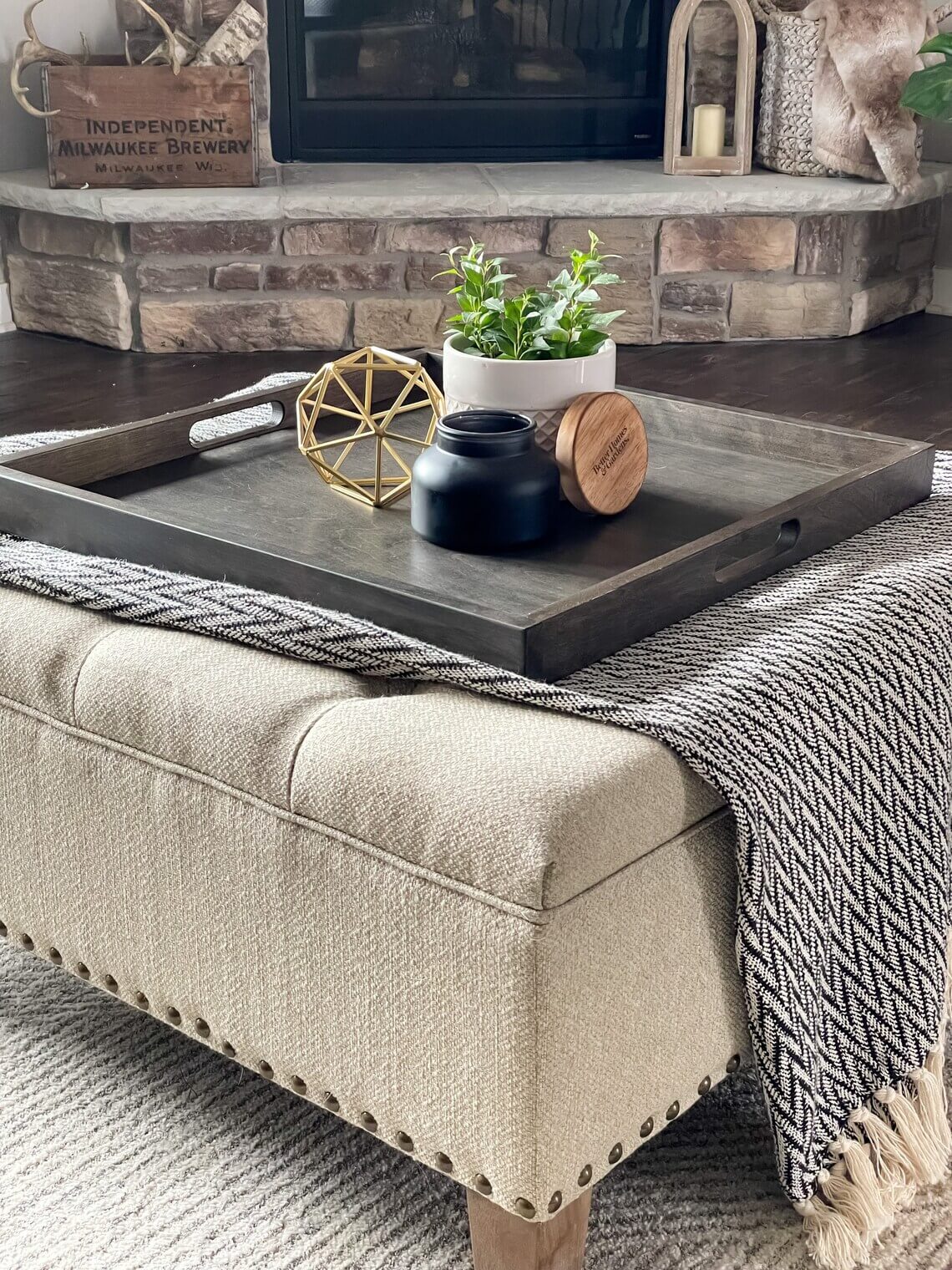 Leave something in your living room that will instantly grab attention with this oversized tray. It sits well on an ottoman or a larger coffee table. The tray can hold plenty of decorative pieces so you can create a beautiful vignette. Otherwise, you can use it to serve up some snacks.
17. Weathered White Wooden Rectangle Tray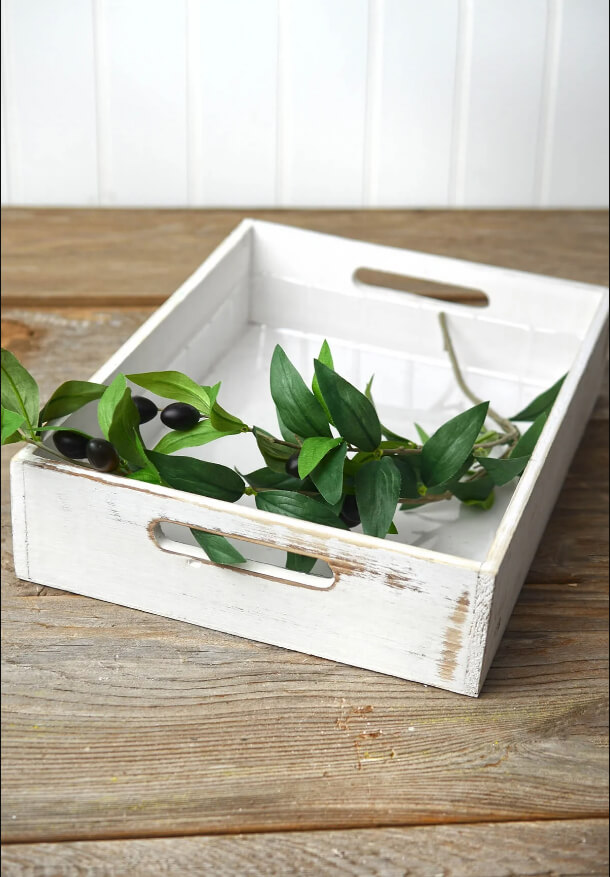 A solid way to get that vintage or rustic look is with this white wood rectangle tray. It is simple with a lovely, distressed look that makes it come across as cool and fun. With its small size, you can set this up in various places around your home too.
18. Farmhouse Styled Serving Tray with Handles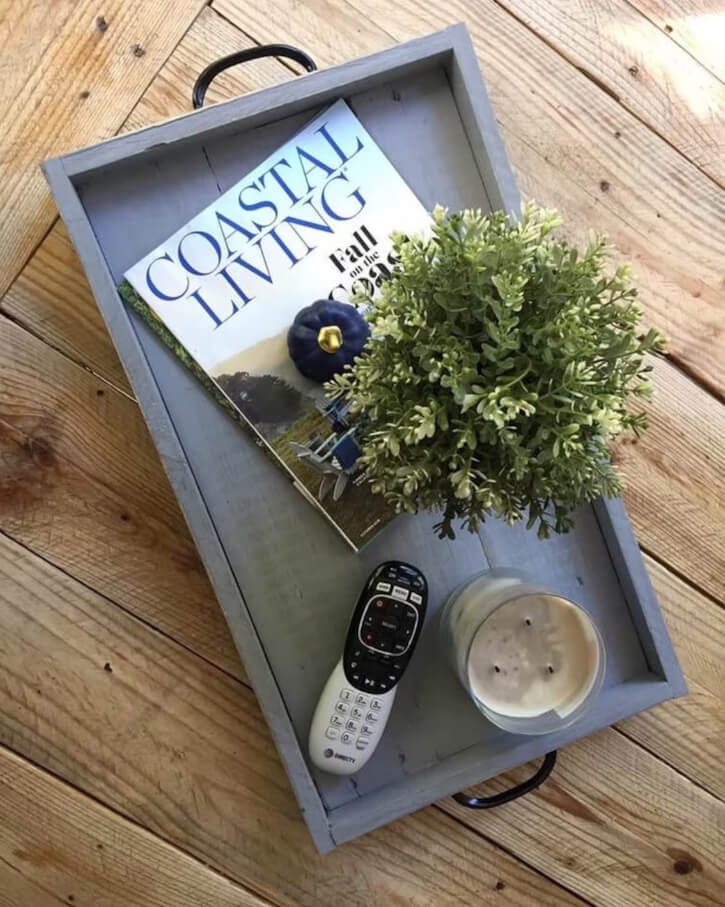 This decorative rectangular tray is suited for the rural or farmhouse styled home. It comes in several different colors which each color still maintaining that vintage appearance. The tray is a simple size to also fit in with a minimalistic room.
19. Wooden Oversized Ottoman Rectangular Tray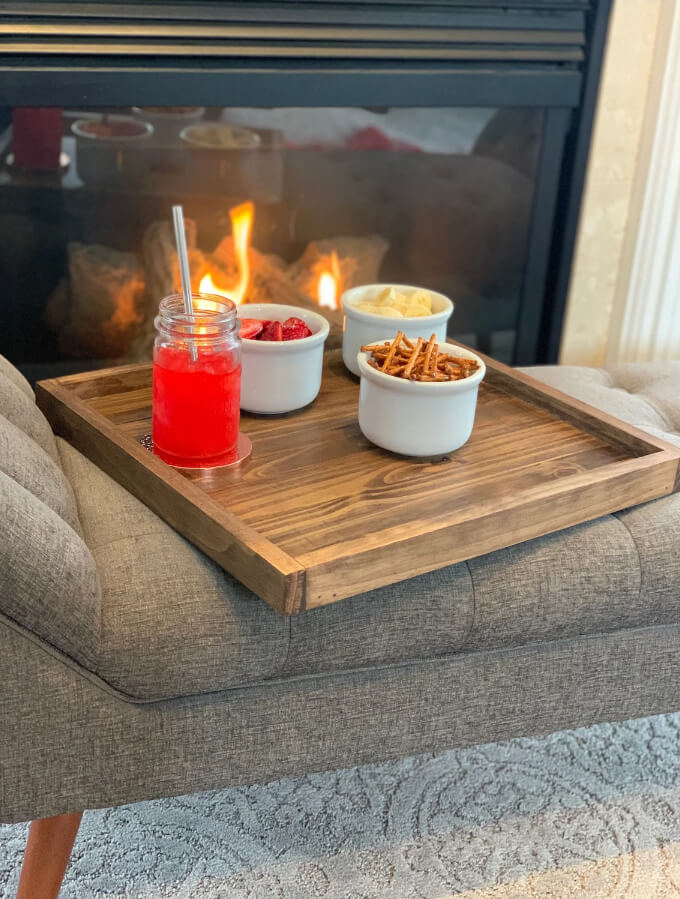 This oversized wooden rectangular tray comes in numerous sizes as well as multiple finishes. It's an easy way for you to get something that best works for your home needs. This is spacious enough to display decor while also working as a tray for food for entertainment.
20. Compact Decorative Rectangular Wooden Riser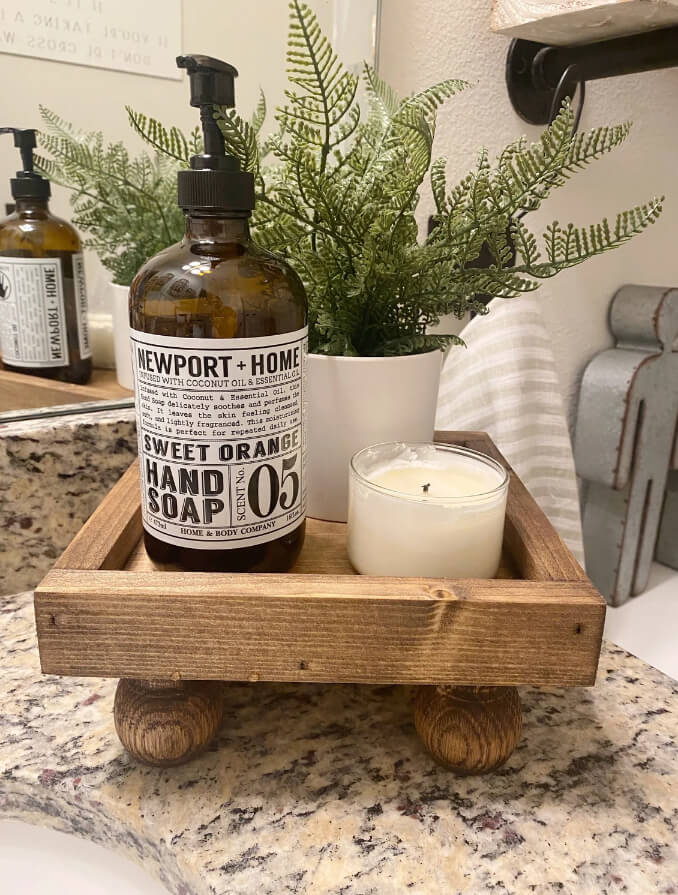 For those of you who lack much room, you can still enjoy decorating with rectangular trays if you get this wooden riser. It is space-saving in design, but the wood is beautiful with a lovely finish applied. It can provide the necessary room for smaller items.
21. Rustic Wooden Rectangular Tray Riser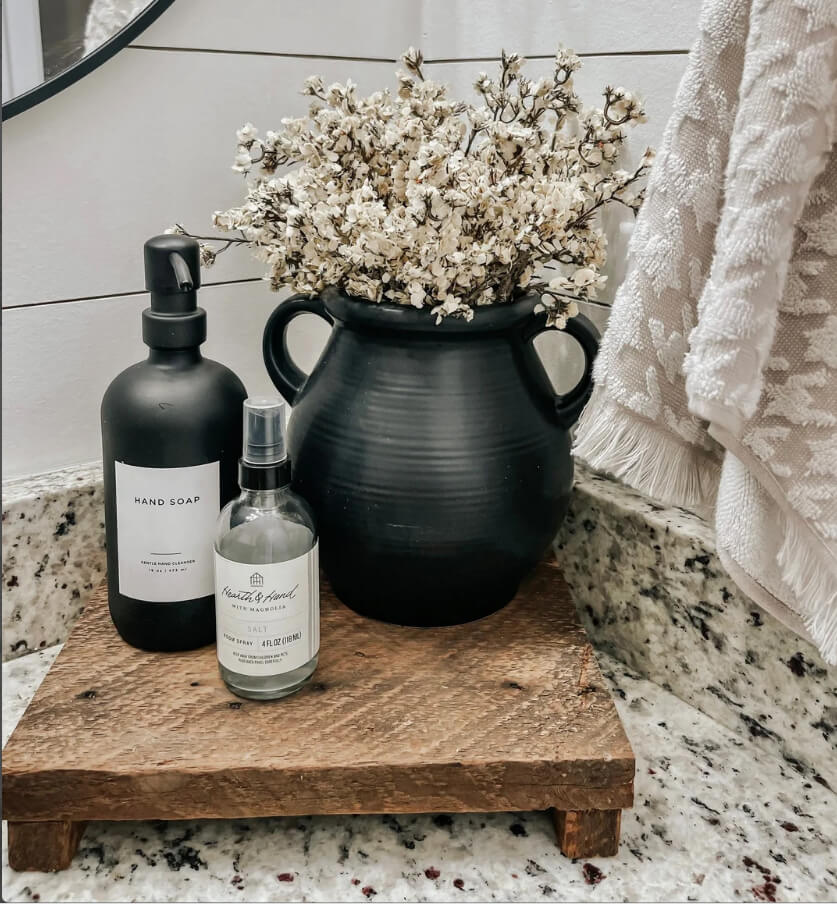 If you are in need of a tray that you can tuck to the corner, then consider this gorgeous wooden riser. It is elevated just enough to help with its stylish nature. Meanwhile, the size makes it fitting for use in the bathroom or kitchen.
22. Rectangular Black Concrete Reca Tray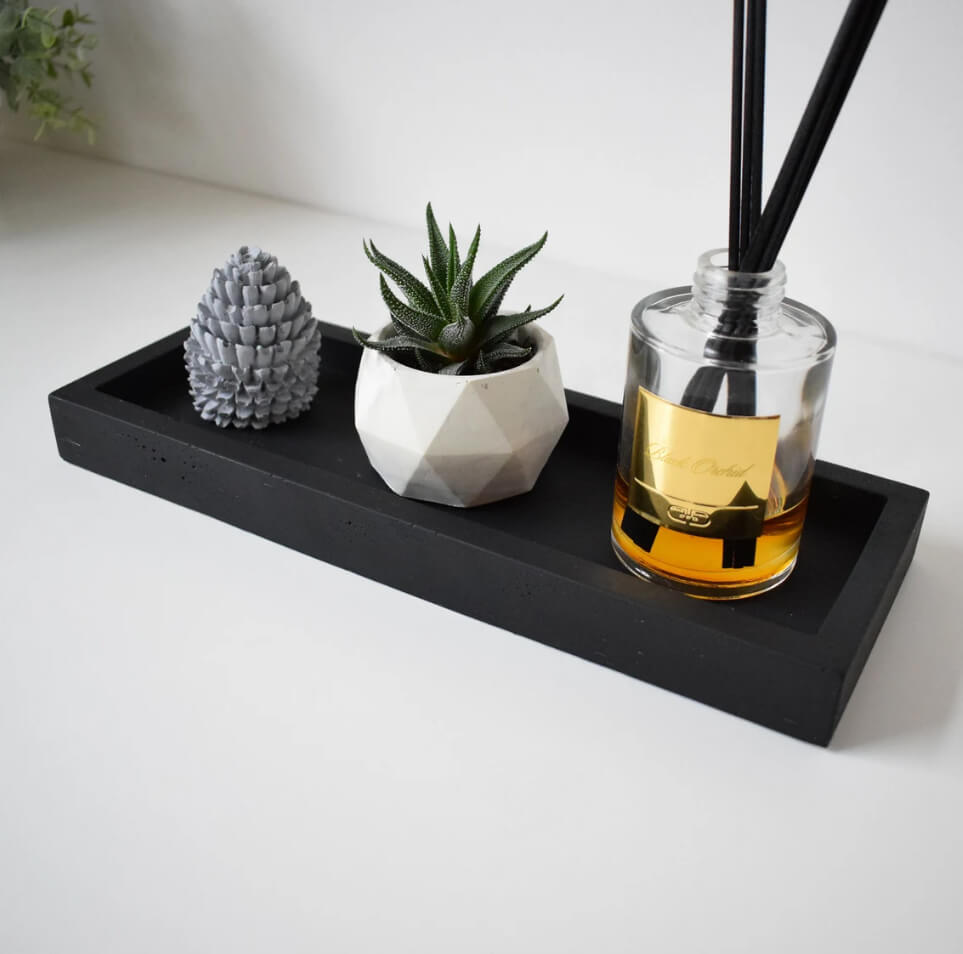 For modern or chic styling, consider this stunning rectangle tray decor piece. It features a beautiful, solid black matt paint. The tray is versatile too in that you can set this up in just about any room without it detracting from the space. There is just enough room to set up a multitude of decorative items on it.
23. Rustic Wooden Vanity Tray Design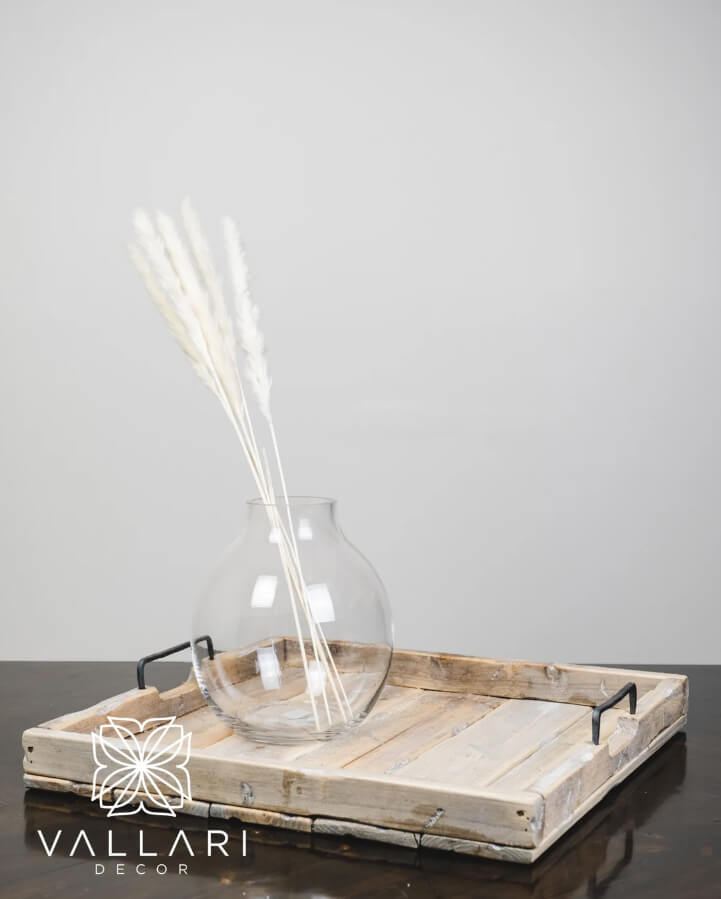 This wooden tray is fitting for use in a bathroom or even a bedroom. It can serve as a lovely vanity tray, offering plenty of room for decorative and functional items alike. The tray is whitewashed too, giving it an interesting and attractive rustic look.
Exciting Rectangle Tray Decor to Breathe Life into your Tables
Rectangle tray decor is a fun way to build a creative piece to spruce up a table or mantle. You can add a host of items to the tray too, allowing you to craft the perfect scene. Add a lovely floral centerpiece to the dining table or perhaps some candles to light up the room. There's no real limit when it comes to this, so keep our favorite picks in mind and you'll come up with a rectangular tray to impress your guests.