There are many ways you can liven up a room in time for the season at hand, and with these awesome spring kitchen decor ideas, you can promptly brighten up your home. Springtime is a chance for people to explore their decorating in a more vivid way. Filled with pastels, greenery, and eggs (for Easter purposes), spring is a delightful time to decorate for anyone who enjoys such vibrant themes. All that matters then is what way do you want to approach transforming your kitchen into a spring paradise.
29 Creative Spring Kitchen Ideas for a Unique and Attention-Grabbing Setup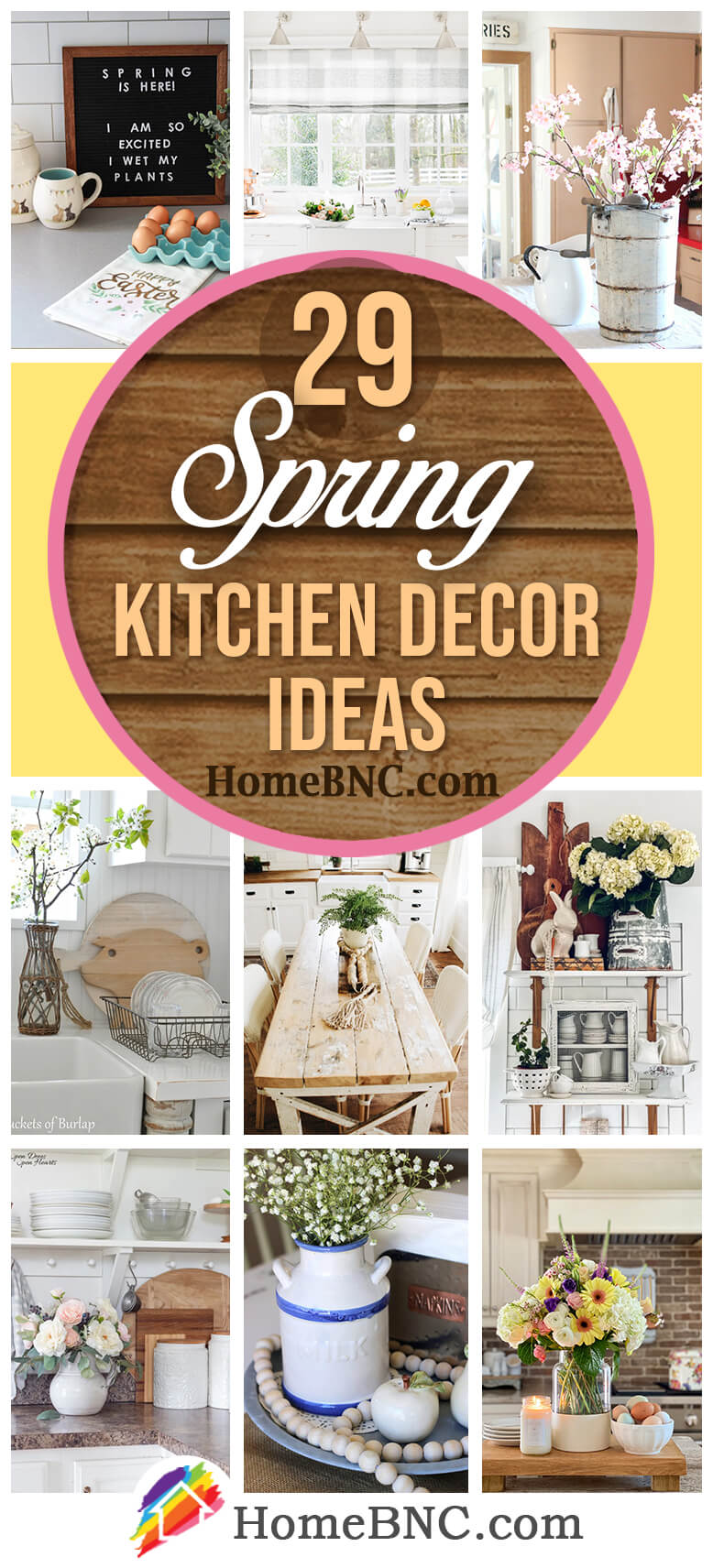 Well, you can head to the table, creating cozy and delightful centerpieces to spruce up all your family meals. Or maybe you have a wall in need of some coverage? Items like wreaths and other art are perfect when it comes to more casual ways to decorate with the spring theme. Then, of course, it comes down to whether you want this setup to just feature a seasonal theme or do you want to add elements of the Easter holiday too.
Regardless of how you want to go on your decorating journey, we have some amazing kitchen spring decor ideas that will get you on the right track so you can have a room that is ready to celebrate the entire season.
1. Cool Moss-Covered Egg-Shaped Succulents Display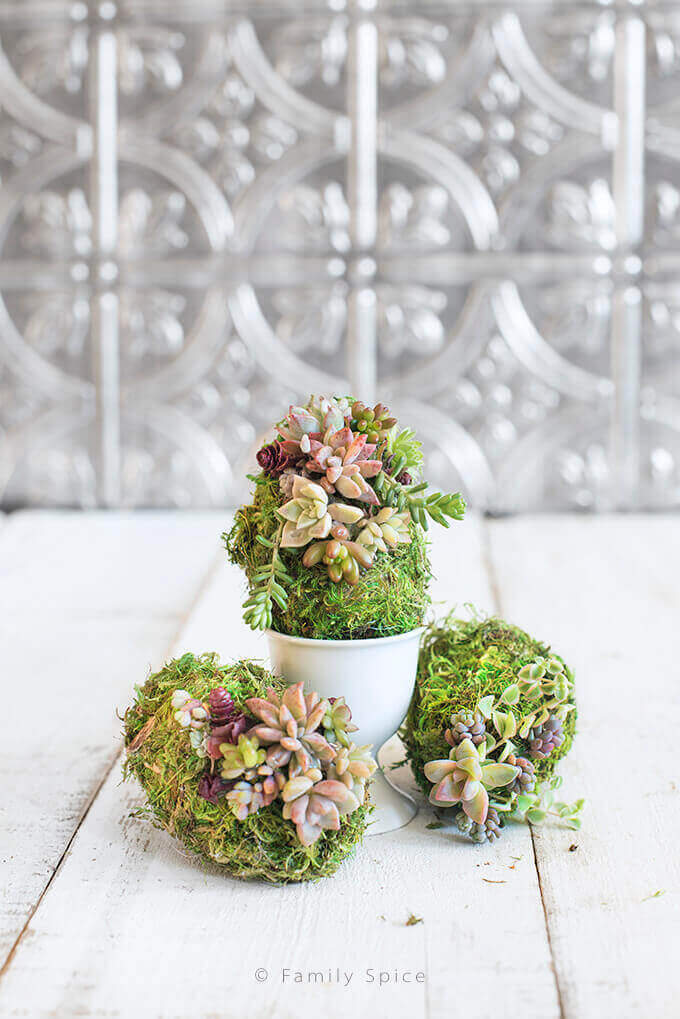 Eggs are a classic springtime favorite when it comes to decorating, but you can take that to new levels with the succulents. The shape of the egg is represented well here, while the moss not only provides texture, but also room for the vibrant succulents to rest in. This puts a new spin on decorative eggs.
2. Charming Spring Countertop Decorative Items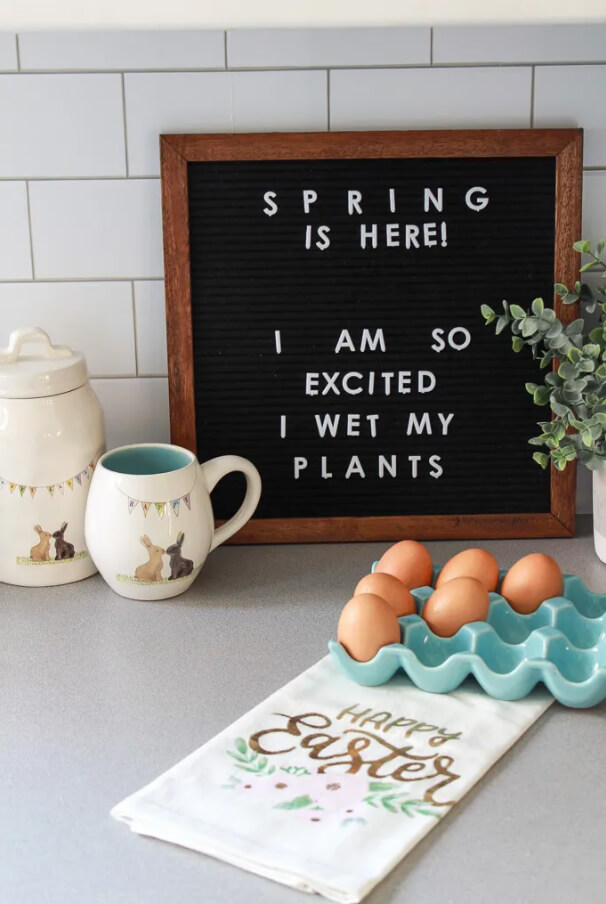 When you seek a way to decorate your kitchen for spring, you can always come up with a host of items to create a cohesive and charming decorative nook right on the counter. The letterboard is a fun touch as you can add any exciting spring-themed sayings. This gives you room to decorate around it with traditional themes like bunnies.
3. Simple Blooming Flower Arrangement Decor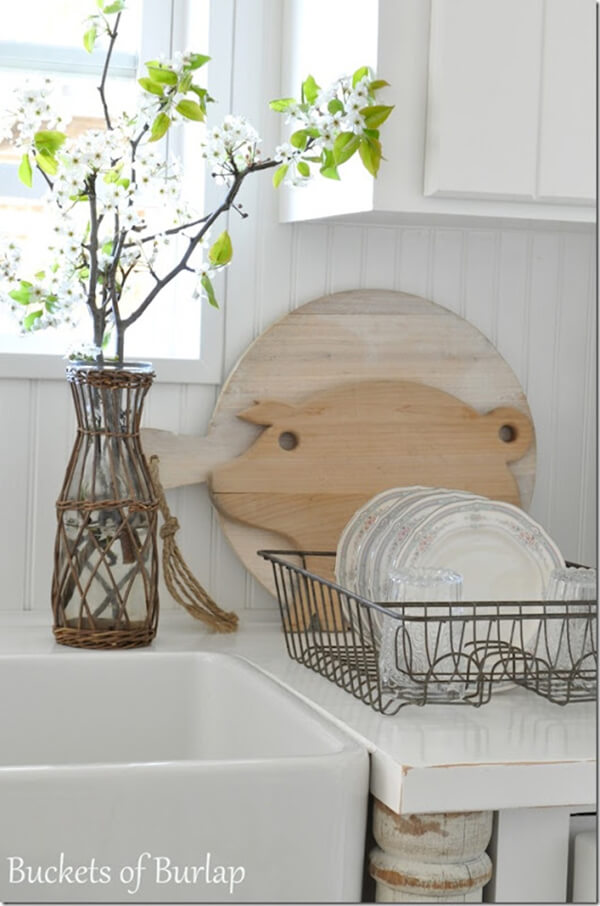 When it comes to spring kitchen ideas, don't neglect the area around your sink or the window. This is a wonderful place to set up a flower arrangement, especially if you are using real flowers and need the natural sunlight. It offers some handy pops of color, while the vine-like look around the vase gives it texture.
4. Vibrant Flower-Themed Spring Kitchen Ideas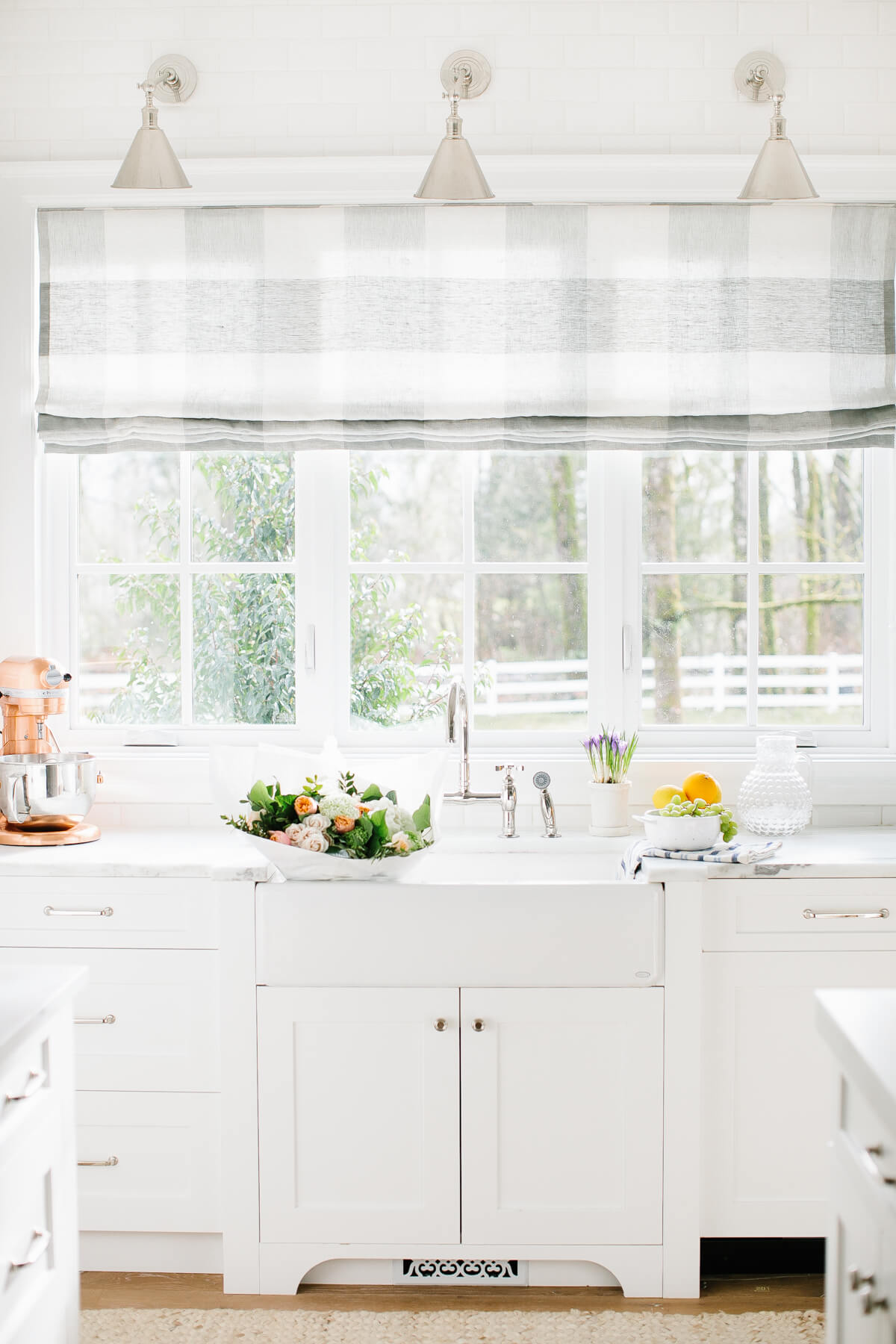 If you are short on ideas on how to liven up your kitchen for the season, it's tough to make any wrong decisions with flowers. They are such a springtime staple that it only makes sense to decorate with them in the kitchen. They add lovely vibrancy to any room, and always manage to capture the right attention from guests.
5. Rural Floral Arrangement Spring Display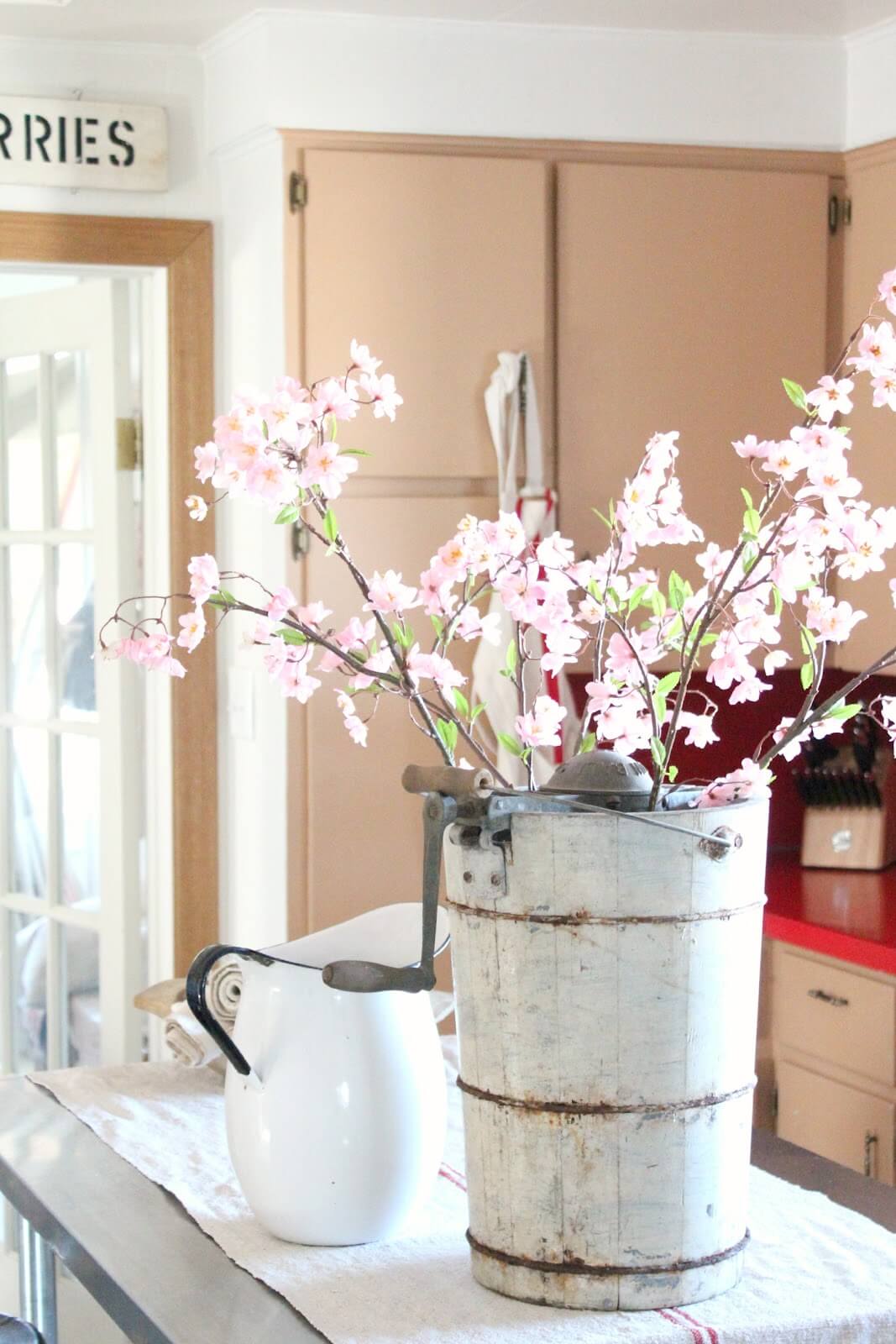 If you can get your hands on a vintage ice cream maker, then you can create an amazing and unique springtime display for your kitchen. It blends well with those of you who wish for a countryside flair in your decor. This bucket fits with the floral arrangement since the flowers are what give your display that springtime vibrancy.
6. Open Shelf Spring Kitchen Display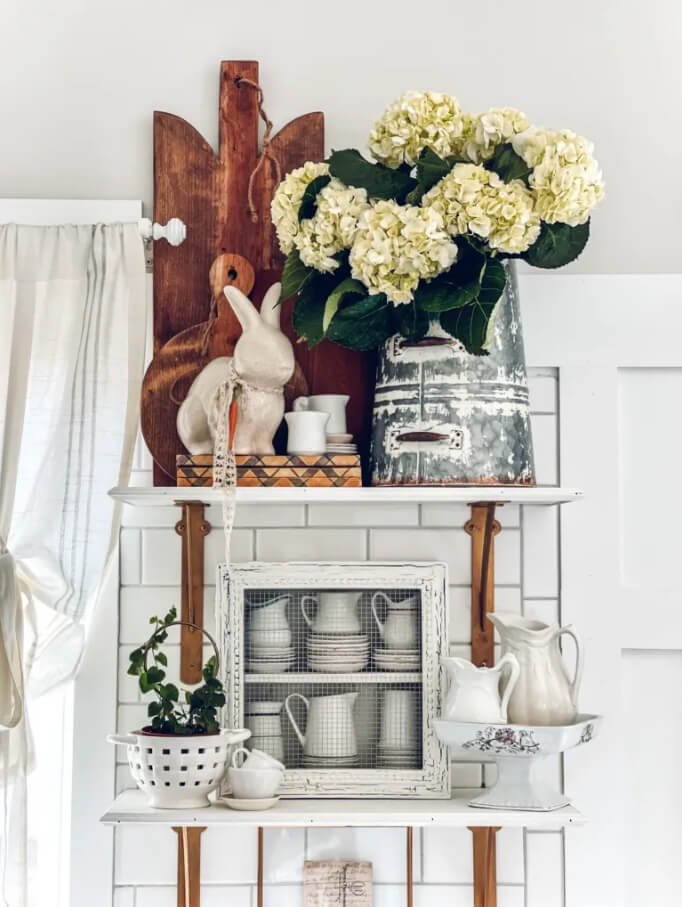 A tiered open shelf is a beautiful thing to work with when you want to create a display with real dimensions. This display shows that there are easy ways for you to bring spring into the kitchen as in the case of the cute bunny figurine and the flower pot full of large, spring-themed greenery.
7. Farmhouse Spring Themed Decorative Tray Display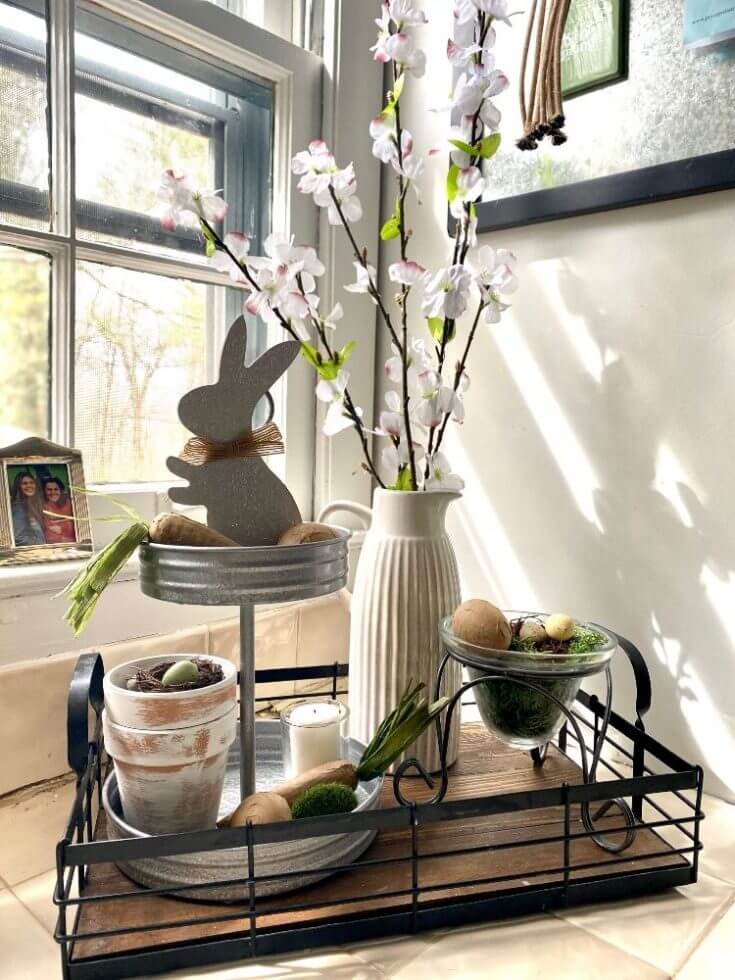 If you have an oversized tray, you can use it as a centerpiece or general display base for your spring kitchen decor. Flowers are always a nice touch, but you can address some of the other decorative themes that come with the season like the bunny and eggs.
8. Charming Galvanized Farmhouse Spring Centerpiece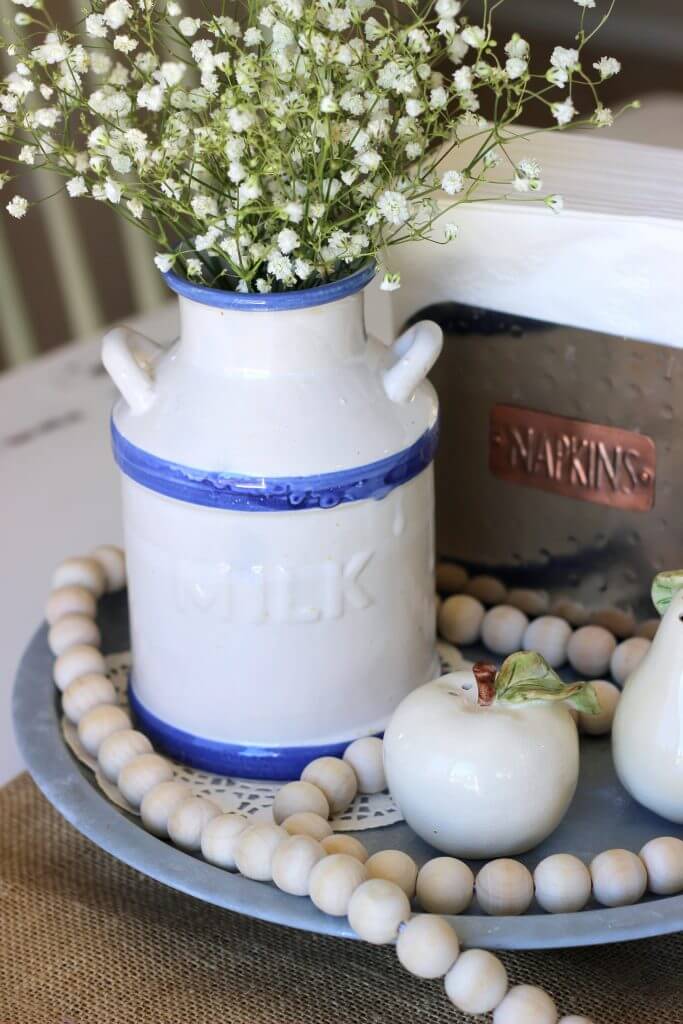 Create a classic centerpiece with an understated spring vibe. The vintage milk jug is a cool way to hold the flower display. It pairs well with the napkin holder, all of it fitting perfectly on a weathered lazy Susan. You can always add on some extra items like the oversized beads to add more texture and contrast to the design.
9. Chic Spring Flower Arrangement Centerpiece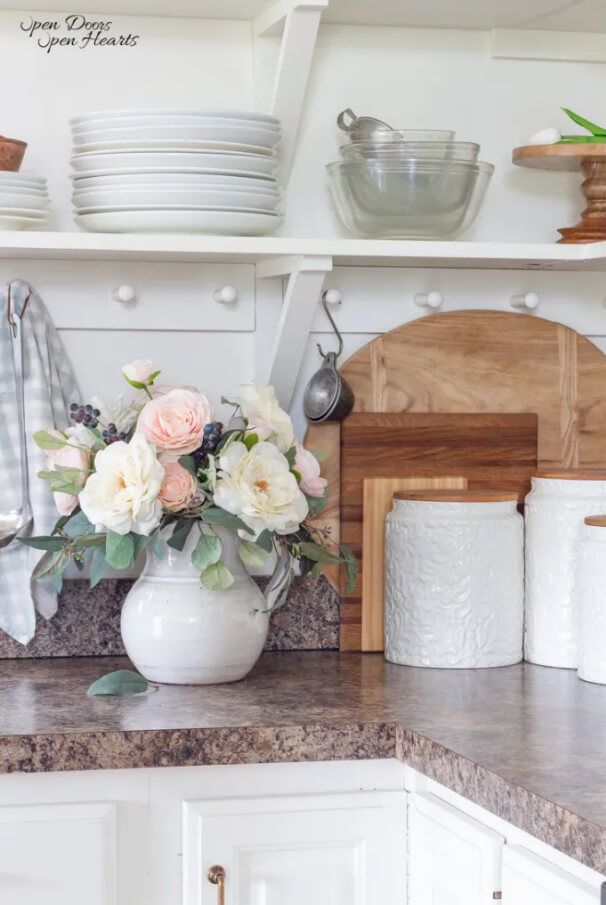 Keep things chic with a classic spin with this lovely flower arrangement. It can serve as a centerpiece, or it can rest well on your countertop or island. The pot has a vintage feel that makes it appealing. It gives the display more of a shabby chic appearance thanks to the modern look of the flower arrangement.
10. Cottage-Styled Springtime Kitchen Decor Idea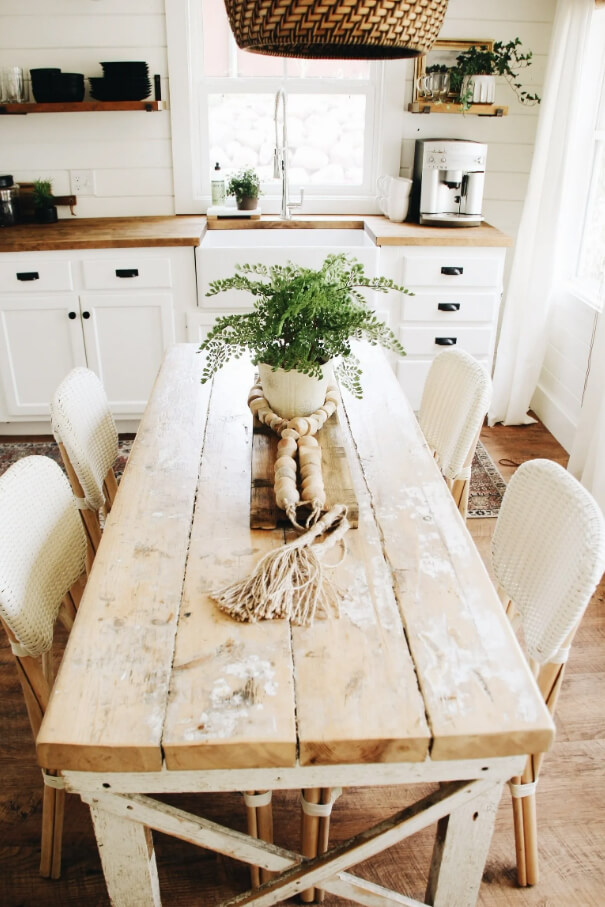 Balance out your spring decor with a cottage style thanks to this lovely kitchen design. There is a taste of springtime coloring from the greenery that serves as the centerpiece. Meanwhile, the use of rope is a creative way to capture that farmhouse feel. As far as more simple designs go, this shows that you can have a minimalistic approach and still create something stunning.
11. Natural Farmhouse Style Spring Table Decor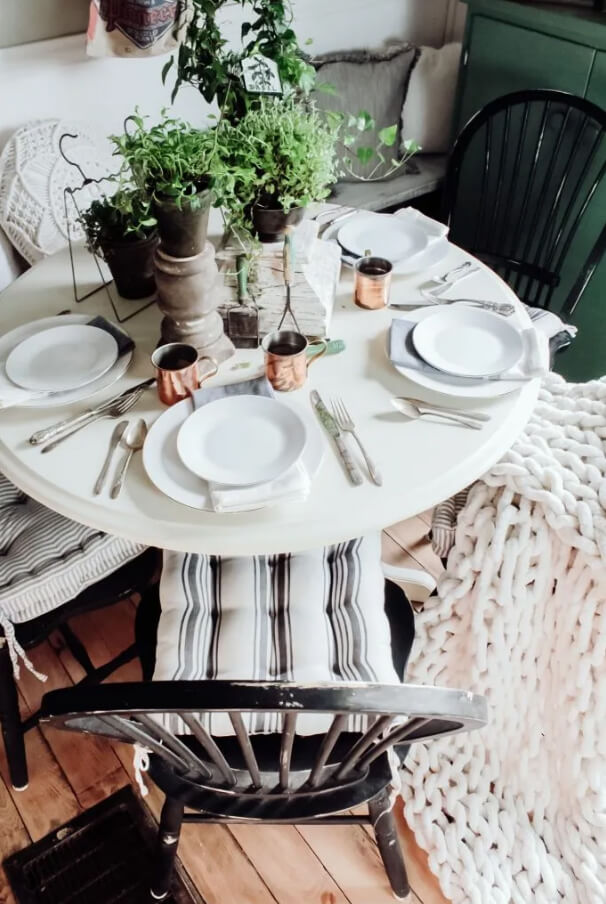 Sometimes green is the only color you need to sell that perfect springtime theme in your kitchen. This setup features multiple arrangements, the greenery instantly stealing the show. They all pair well with the darker pots that provide that helpful contrast to make every inch of this stand out among traditional spring decor.
12. Warm See-Through Flower Vase Arrangement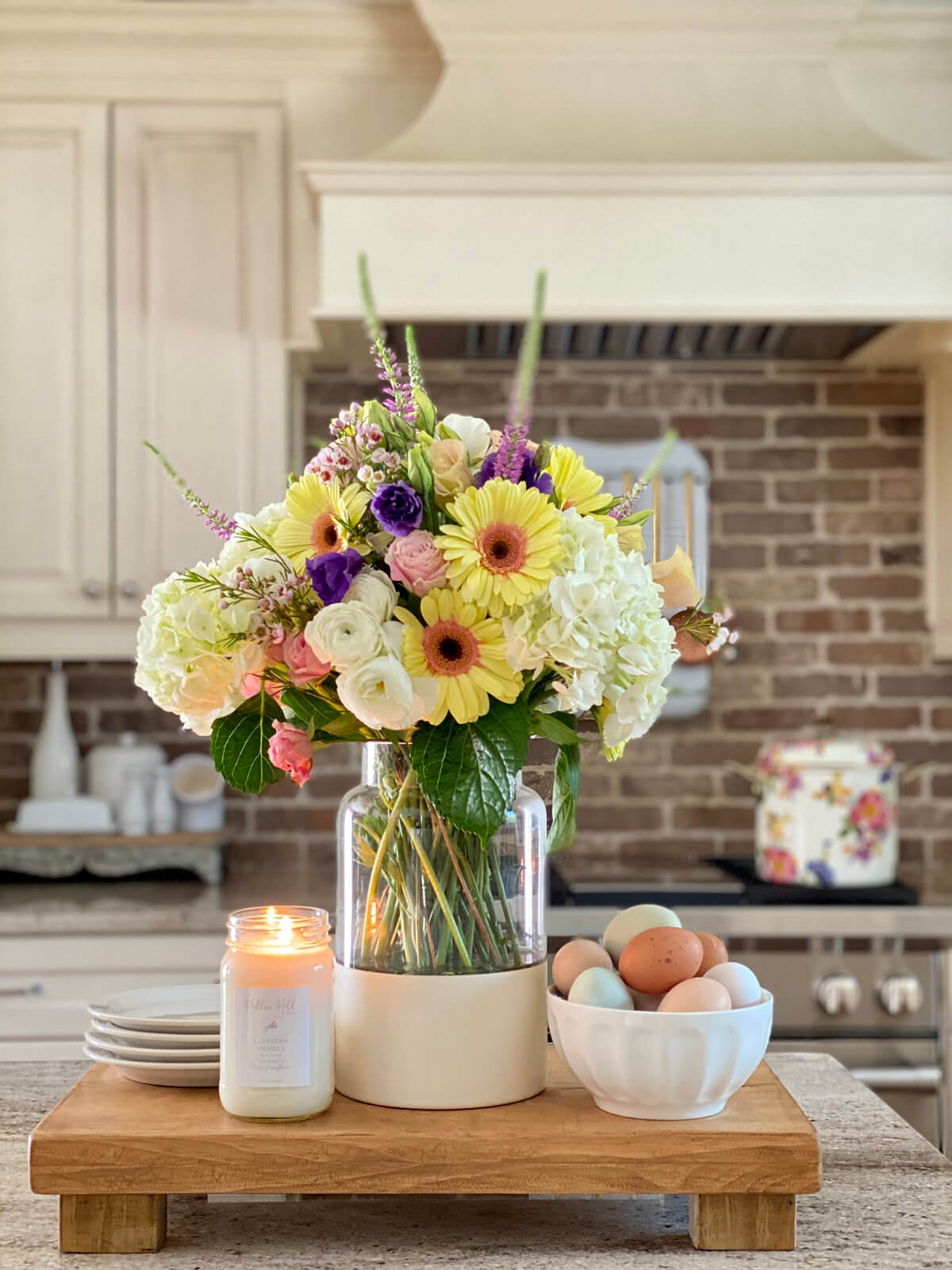 Bring some warmth to your spring kitchen displays with this pretty floral arrangement. The see-through vase is stunning in its own right. Meanwhile, you can set up other springtime items to enhance the decor. This can be things like painted eggs to give your display an Easter twist.
13. Vibrant Springtime Floral Centerpiece Display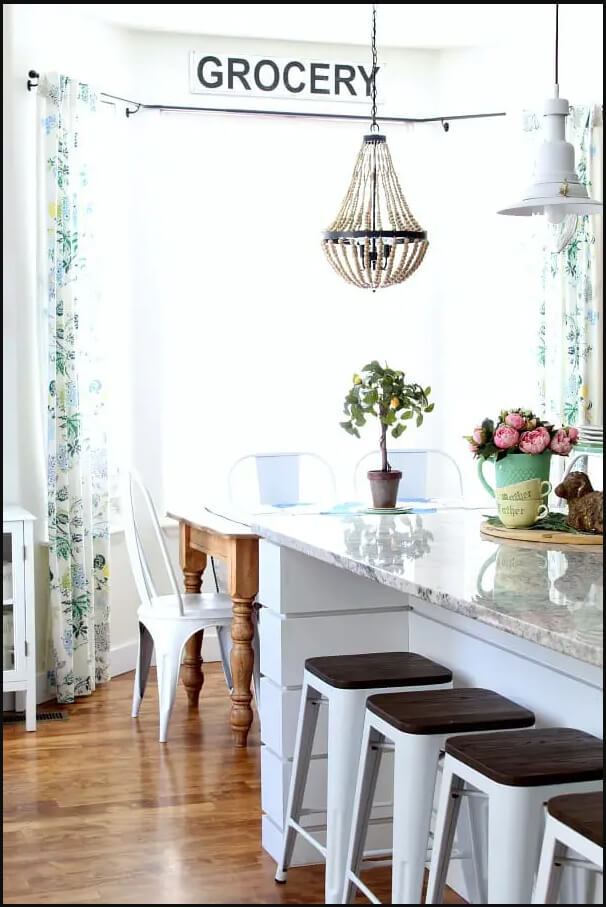 A great way to decorate your kitchen in time for spring is with this fun centerpiece design. The flowers add some much-appreciated color to the layout. This pairs well with a colorful vase or jug. If you want more contrast, consider adding in some additional decorative items that are shades lighter or darker than your arrangement.
14. Incredible Rustic Springtime Kitchen Centerpiece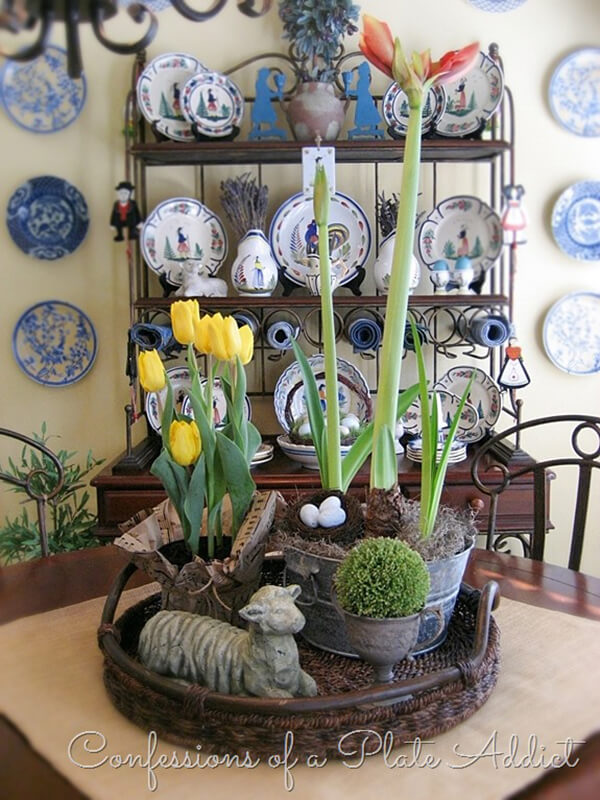 Go country-style with your spring kitchen decorations with an artistic centerpiece. This features a handful of different seasonal theme items from the gorgeous and colorful tulips to the nest full of eggs. The centerpiece manages to be vibrant without having outrageous coloring, providing only just what it needs to leave an impact.
15. Greenery Themed Spring Kitchen Decor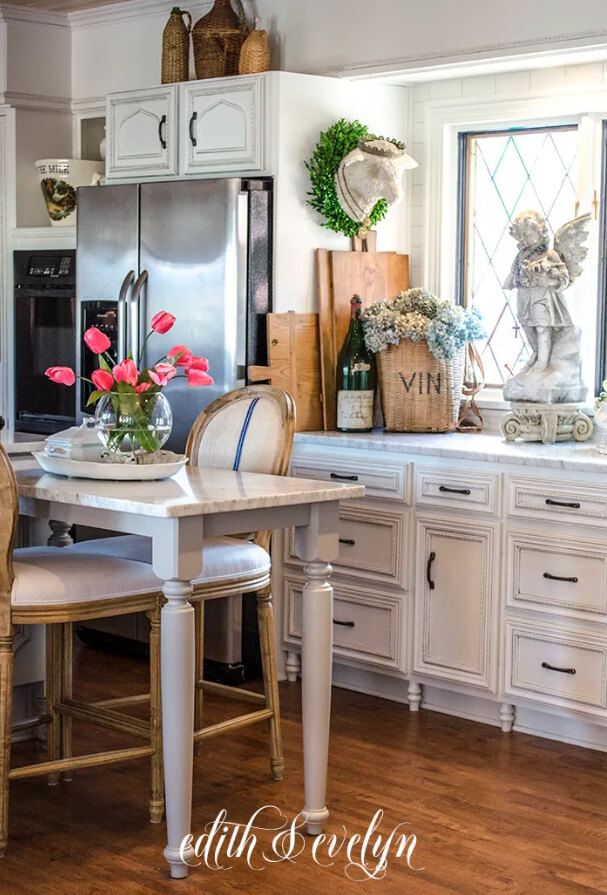 Some of the best spring kitchen decor ideas keep things rooted in greenery. Whether your kitchen is large or small, it can benefit from having a simple arrangement of tulips on the island, dining table, countertop, etc. In a clear, fish-like bowl, the arrangement stands out even more, giving a modern take on springtime decor.
16. Elegant Cherry Blossom Spring Vignette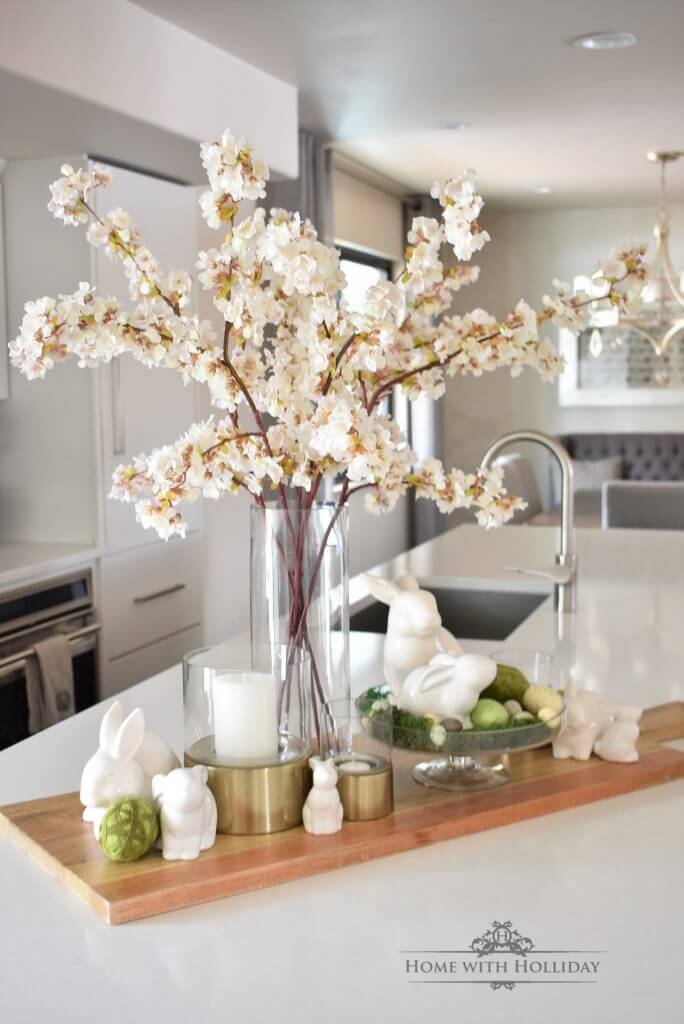 For tables or an oversized island, this spring vignette can fill the empty space in a captivating manner. Blossoms are always a nice touch for a spring theme whether you use real ones or faux ones. This display has the added benefit of featuring some other themed items like bunnies and charming eggs.
17. Yellow Bloom Themed Spring Centerpiece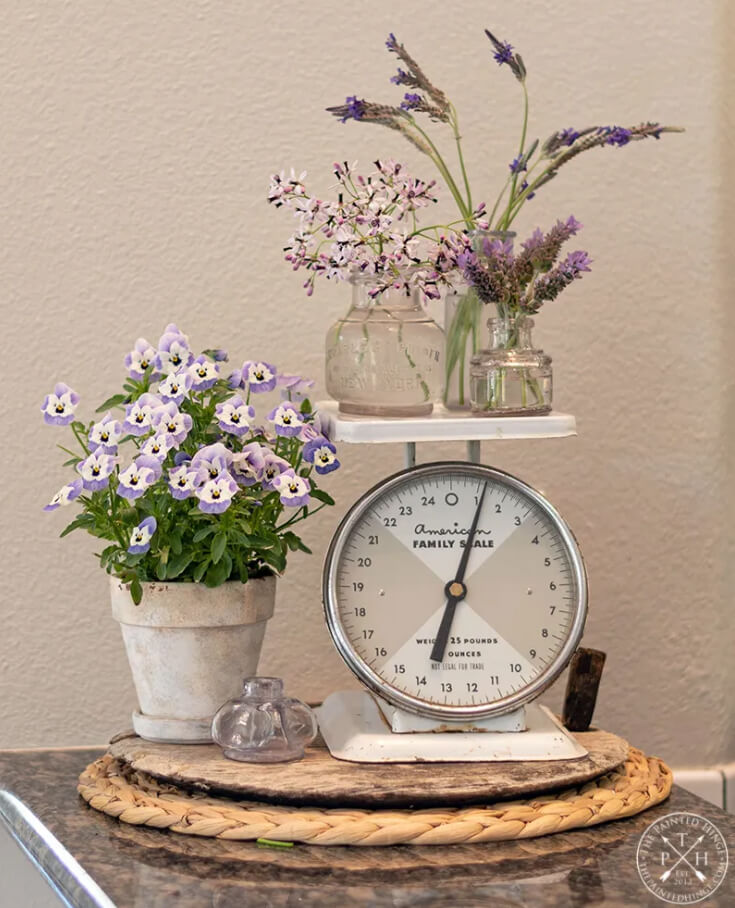 Loud and vibrant colors fit seamlessly with a spring theme, and that can't be truer than with this stunning yellow bloom centerpiece. It further stands out thanks to the use of the white vase. Feel free to set this up with other items like a classic scale or different smaller plants.
18. Modern Greenery Kitchen Shelf Decor Idea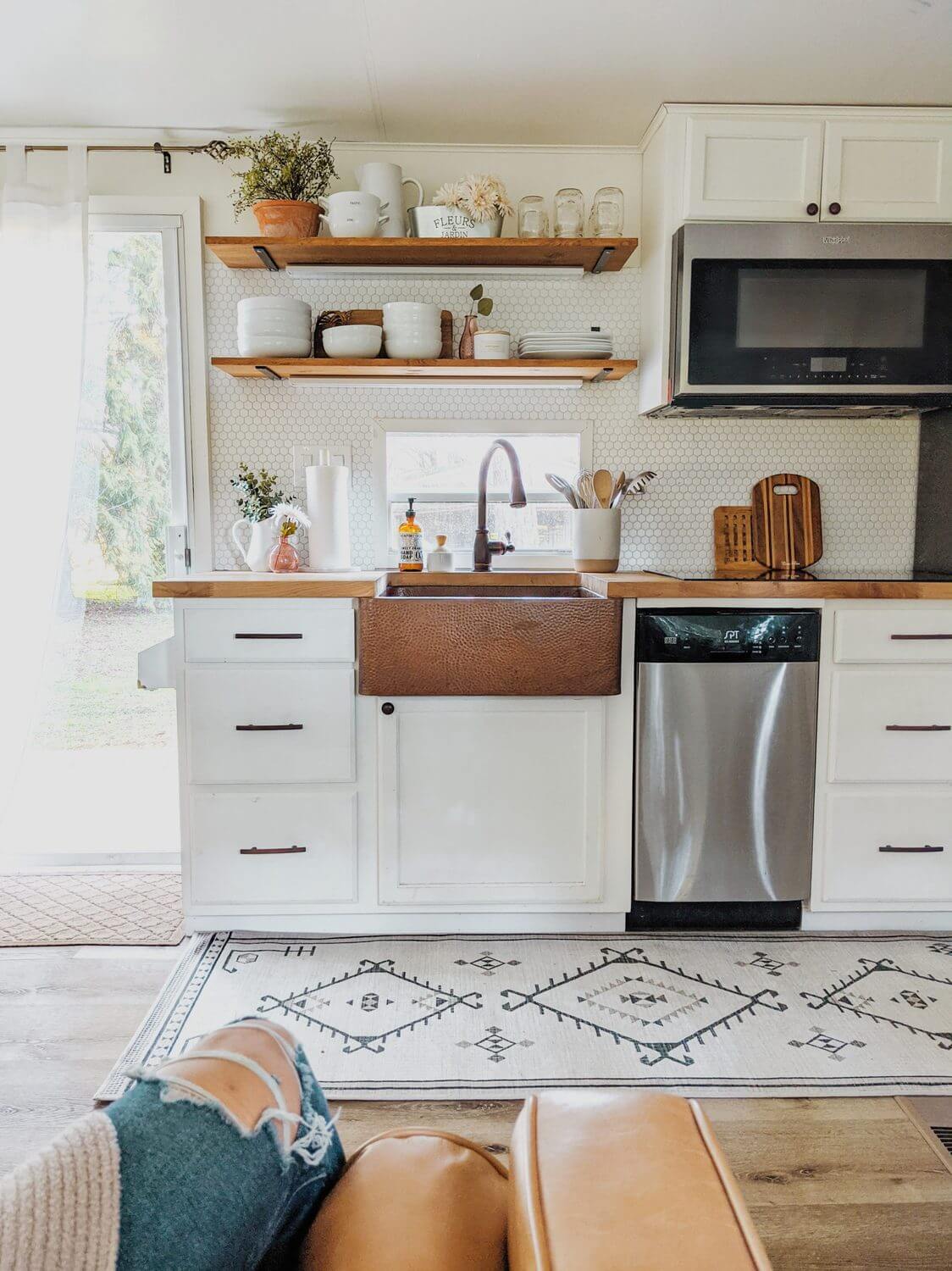 For those of you who wish to lean more into the greenery aspect of springtime, consider this shelf idea. It works perfect with floating shelves since your decorative items are on full display. All you need is some small plants on each shelf, providing the area with all the colors to make a splash.
19. Stunning Rural Flower Pot Arrangement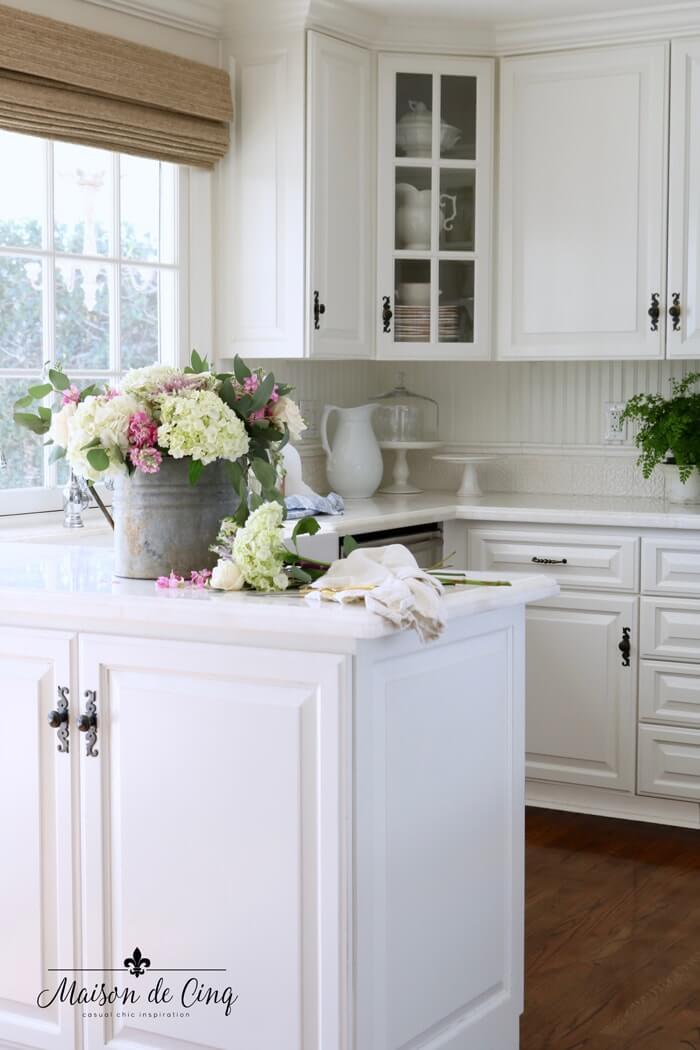 A large, vintage container is a wonderful choice when you want to add a rustic spring theme to your kitchen. It is large enough to grab attention right away, making it more suitable for spacious areas. The aged container is offset well by the elegant flower arrangement that gives it a slightly more airy look.
20. Vibrant Flower Display Springtime Tablescape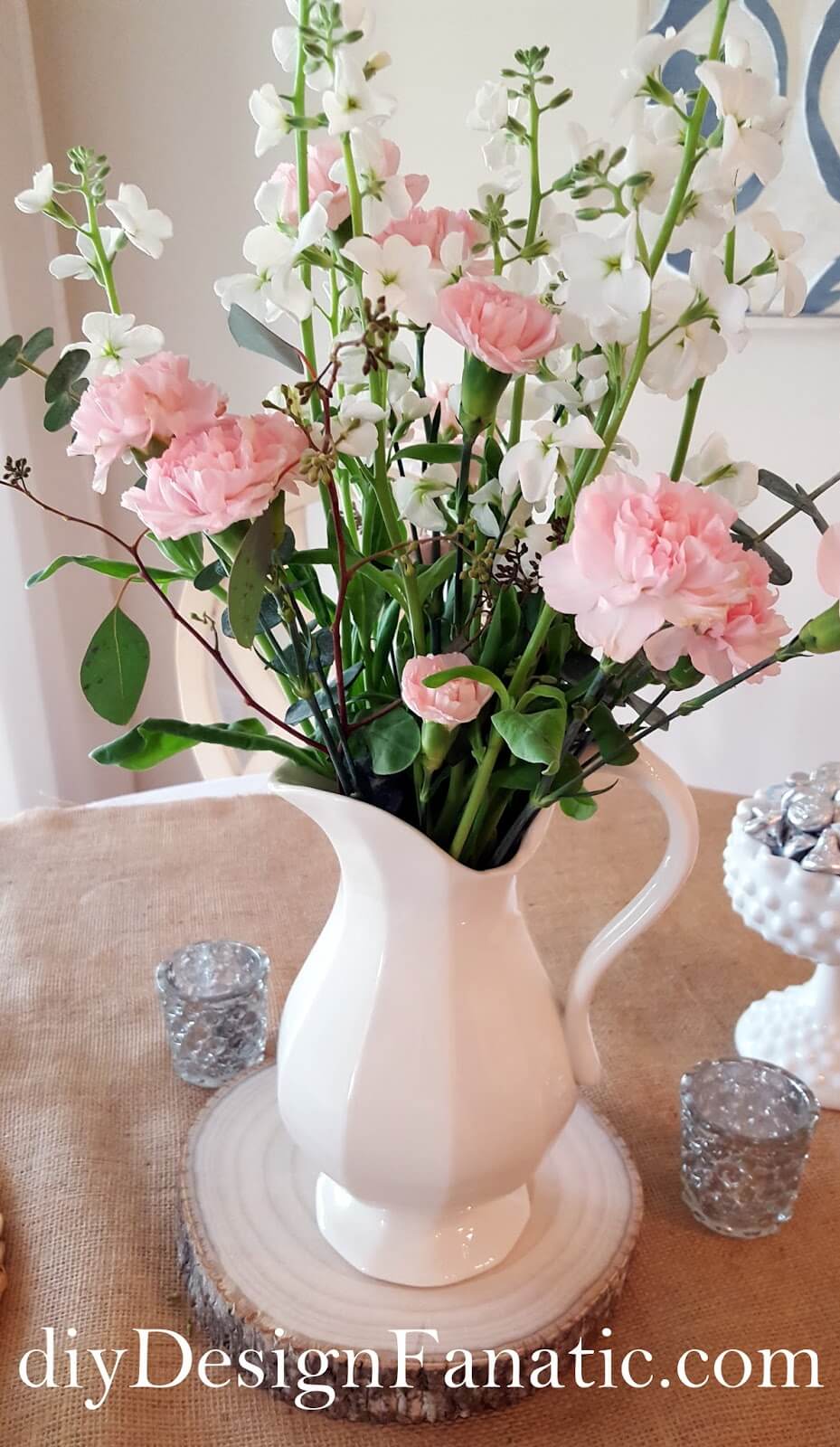 Create a simple, yet effective, tablescape with this stunning flower display. There are multiple flowers with this arrangement, leaving behind a look that is attractive with lovely contrast so that every inch of this gets to shine. The white jug it resides in has a classic look while the wood slice offers a hint of rustic.
21. Kitchen Sink Springtime Plant Decor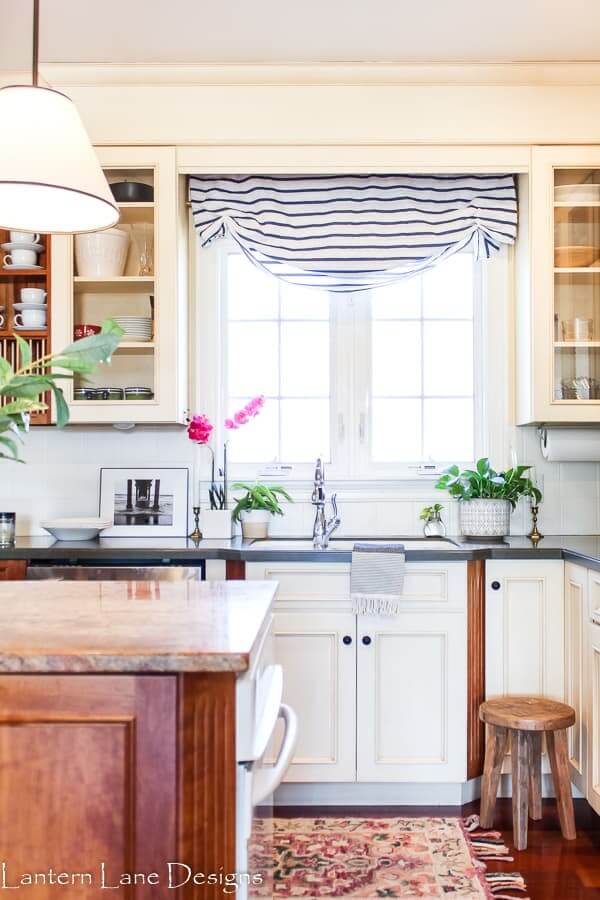 Sometimes the kitchen sink deserves more love than what people give it. The area around is ideal for decorative touches like with plants. You can bring springtime into the room by adding little touches of life around the sink area. Consider some green plants or even a bold, colorful flower.
22. Countryside Styled Springtime Table Decor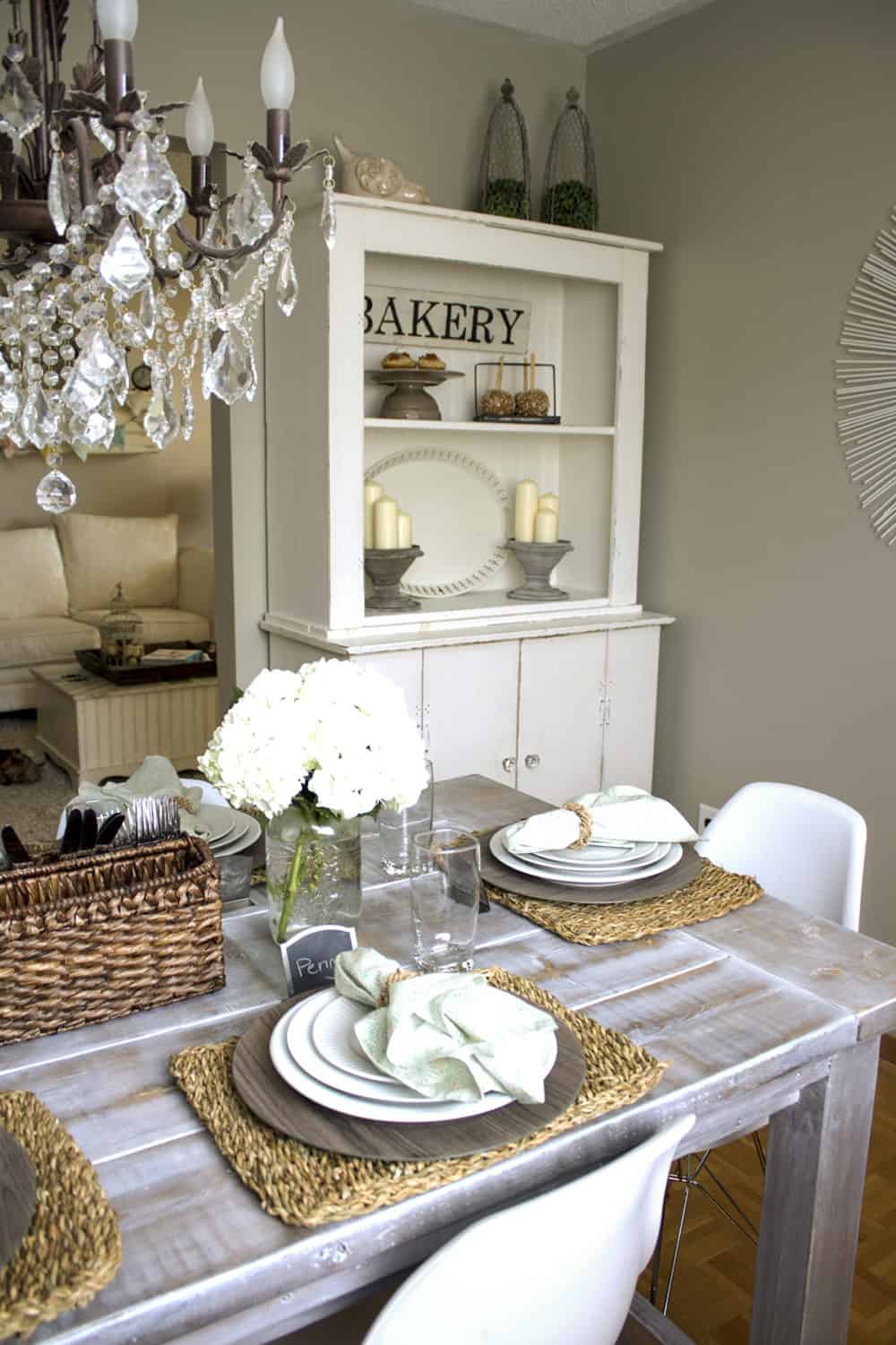 If it's rural you want, then you can get it with ease with this minimalistic setup. The most color is from the simple floral arrangement. Going for white is a nice way to stand out in a farmhouse styled room, more so if the furniture is darker. The see-through glass container enhances the vibe too.
23. Vintage Kitchen Scale Fruit Display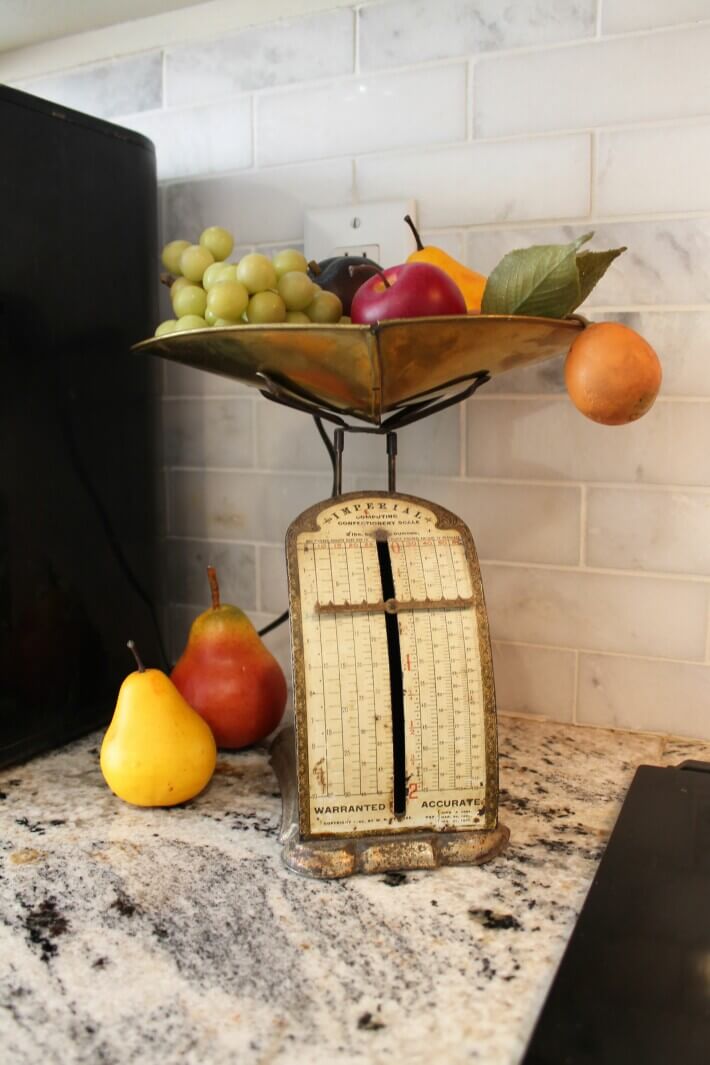 An incredible and unique way to add more color to your kitchen for spring is to use something that belongs in the room: fruit. Faux or real, a fruit display will give you an excellent amount of color to work with. Pile them onto a more distinct item to hold them up such as a vintage food scale.
24. Handmade Spring Carrot Door Hanging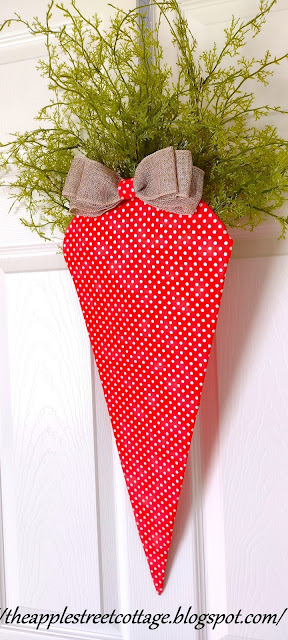 Hang a decorative piece that is not a traditional wreath with this cool handmade carrot display. It upcycles another item, transforming it into a compelling springtime door decor that has a rural flair to it. This is charming enough to even hang on the wall if you wish.
25. Springtime Bold Yellow Tulip Wreath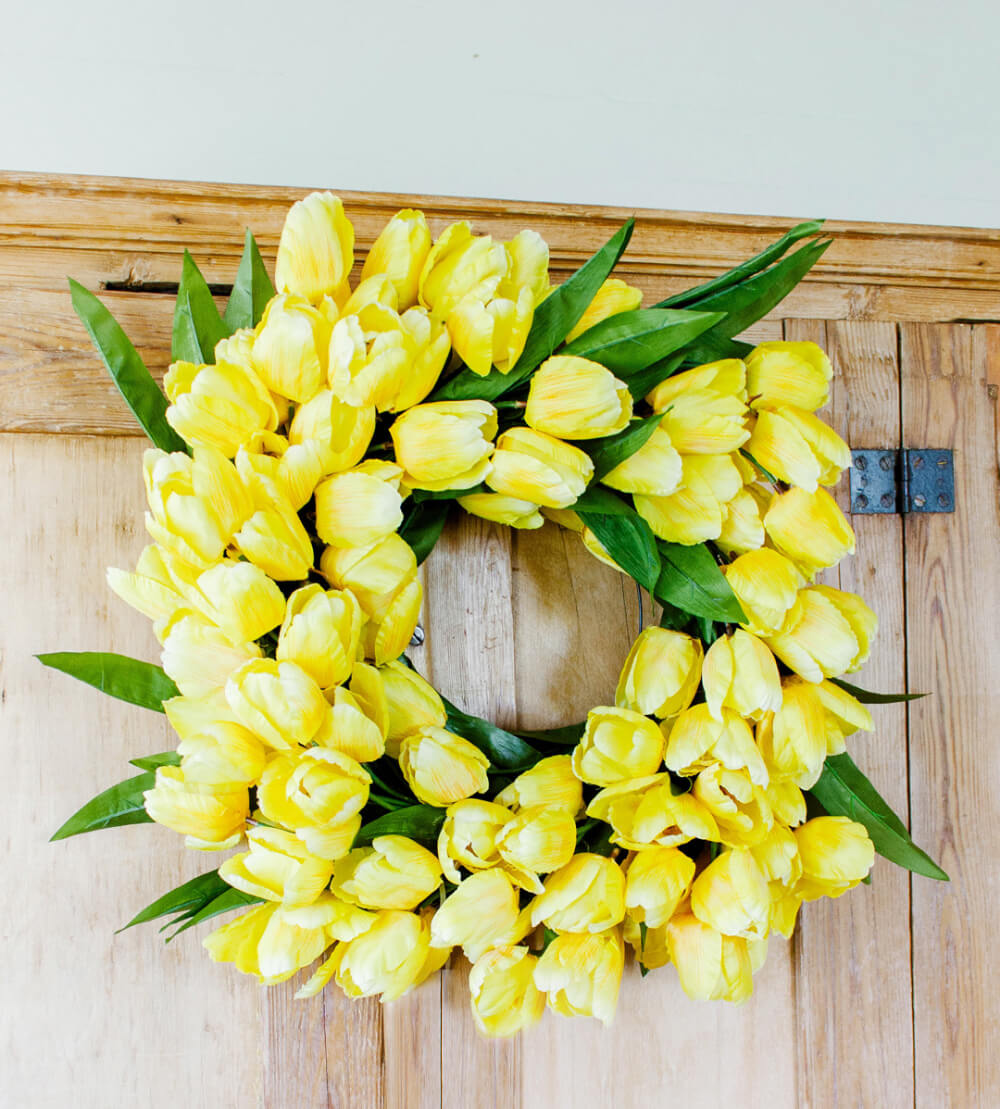 Nothing says spring as much as tulips, and you can fully embrace the theme with this gorgeous yellow tulip wreath. The way the tulips are laid out allows them to have movement, making them more mesmerizing no matter where you hang this up inside your kitchen.
26. Vintage Springtime Plant Themed Mantel Decor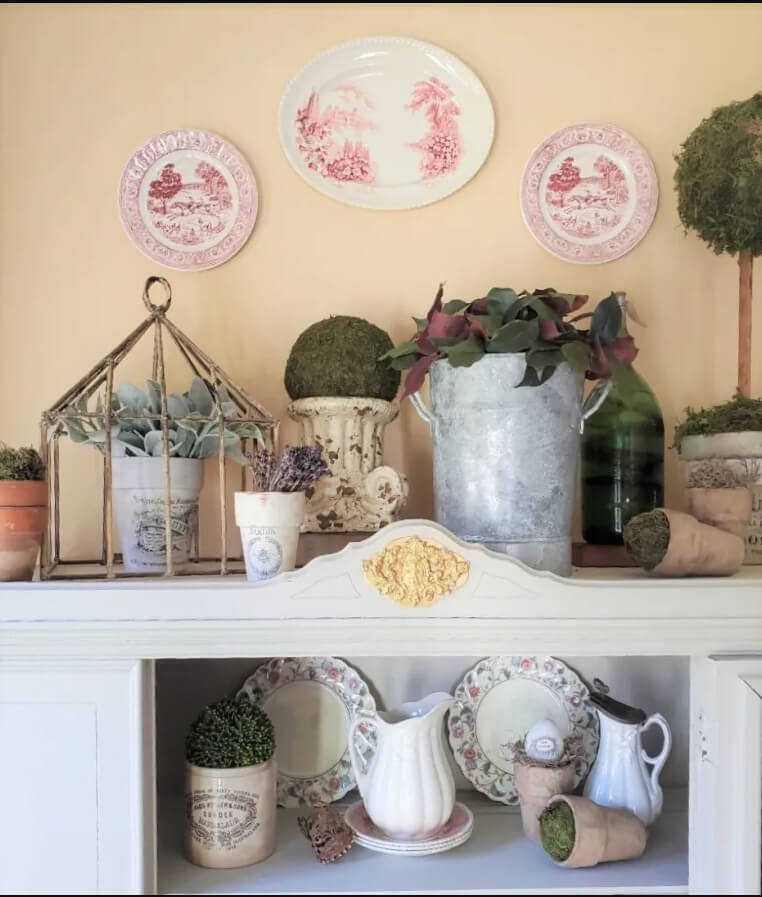 If you have the space for it in your kitchen, then you can take a mantle or the top of a cabinet and use it as your spring display. Greenery like succulents and moss are fitting for the season as well as for that farmhouse theme that seems to blend so well with spring.
27. Simple Small-Scale Springtime Greenery Design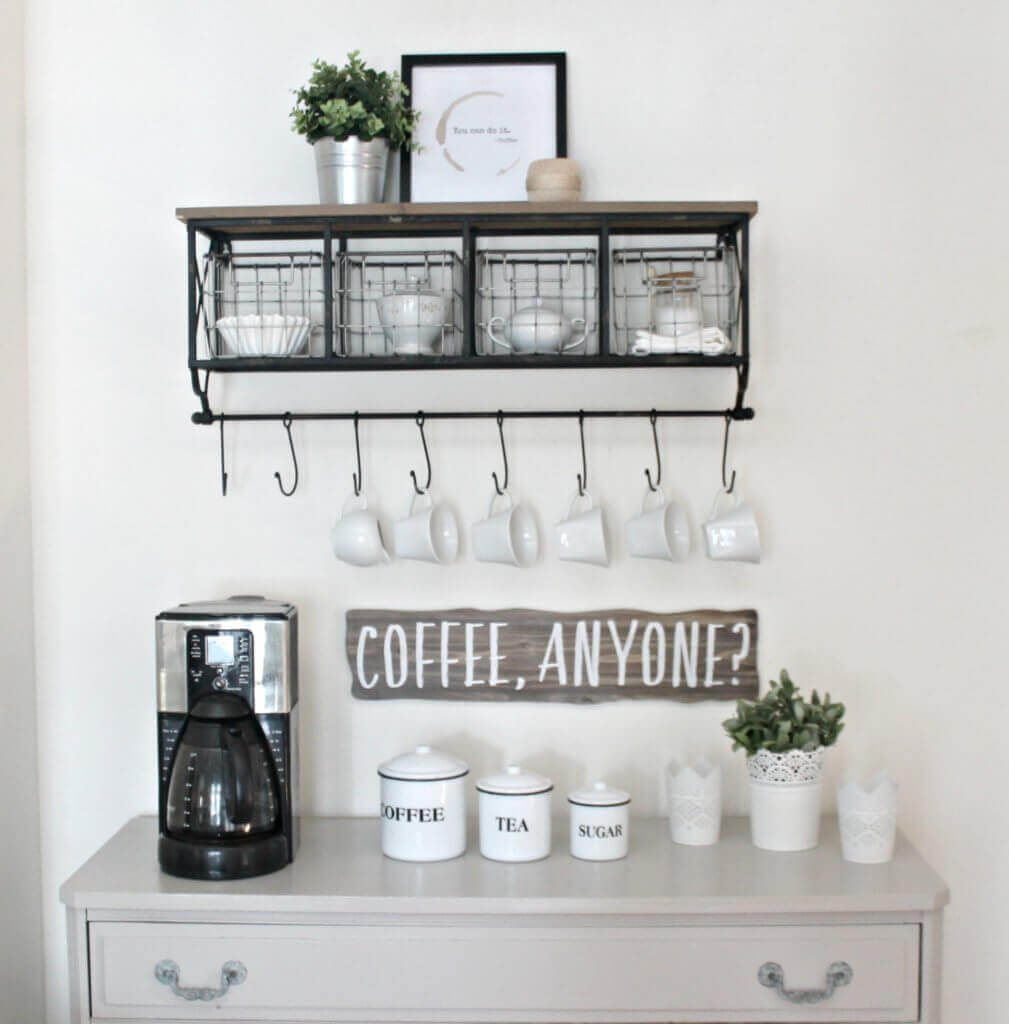 Don't feel like overwhelming your kitchen with spring? Then you can take a more moderate approach and decorate with something as simple as a green plant in a small bucket container. It is a nice way to add that pop of color, especially in a kitchen that boasts a more low-key theme in terms of colors.
28. Farmhouse Styled Springtime Centerpiece Decoration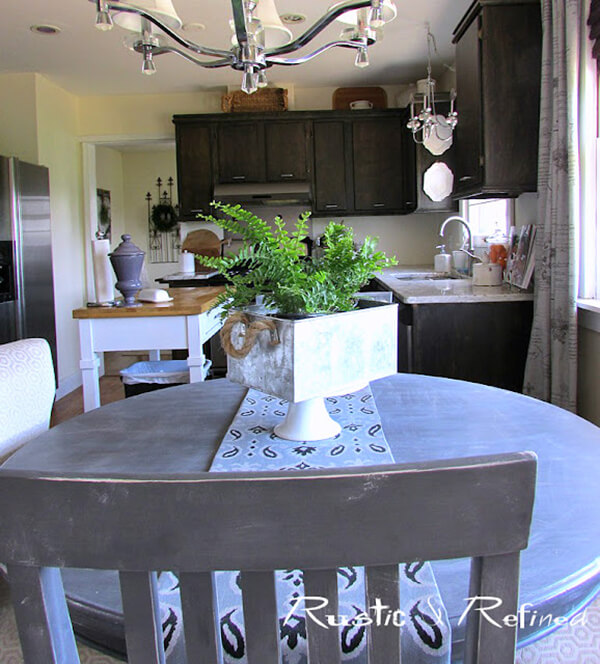 If you don't have a lot of room to decorate for springtime in the kitchen, then a simple centerpiece is a great way to add a splash of color without overwhelming anything else. This one features some beautiful greenery in a farmhouse-styled box that won't look out of place in a more rustic setting.
29. Simple Yellow Tulip Arrangement Decor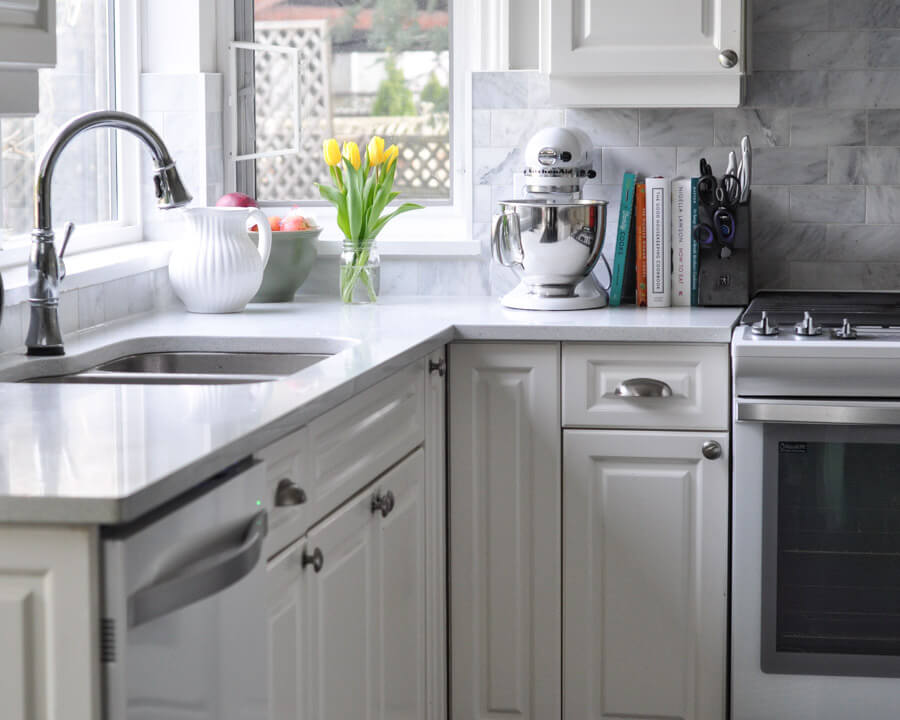 Keep things low-key with this beautiful yellow tulip arrangement. It is fitting for those who maybe lack the space to use bigger items or just want something that is more minimalistic. The tulips do more than enough to enhance the space on their own.
29 Fun Kitchen Spring Decor Ideas to Add Color to the Room
Show off just how much you appreciate the season with these fantastic kitchen displays. From tablescapes to wall hangings, the only limit to what you can do to transform the room into a whimsical springtime appearance is your imagination and creativity. So, keep our list in mind the next time you decide to spruce things up with some charming kitchen spring decor.