Cultivating a home that is one-of-a-kind takes time and featuring unique glass decorating ideas is one way to get started. The medium of glass incorporates an element from nature that offers a pristine elegance or a delicate daintiness to a modern living space. It can be used throughout the home in every room and in numerous ways.
23 Ways to Liven Up Your Home with Unique Glass Decorating Ideas

To begin, light fixtures are an essential home furnishing but can always be taken to the next level when they are selected with design in mind. While light fixtures obviously provide the needed light throughout the room, they can quickly become the focal point when created in artistic designs and patterns. Whether they are freestanding on the floor in the corner of the room or hanging above as a pendant or chandelier, colorful stained glass lighting adds a polished look to a lived-in space.
Another way to use stained glass in your decorating is with window accents. This can be as simple as a suncatcher or as intricate as a decorative corner design to add a burst of color to an existing window. Suncatchers are far more stylish than the plastic versions of your childhood too. These modern suncatchers showcase natural designs from animals to landscapes and are low-key in their simple color choices to maintain the focus on the design.
Stained glass brings to mind old window panes found in ancient churches, but stained glass has come a long way since this period of time. Now, this gorgeous glass can be featured in lanterns, vases, wine glasses, and hand-sculpted works of art. A stained glass art sculpture is a masterpiece all of its own without requiring any hardware to hang it from a wall or window.
Using stained glass, as opposed to ceramics or wooden decorations, bestows a more modern edge to a home's design and offers an abstract artistic atmosphere that is appealing to a specific crowd. Venture away from the modern farmhouse trend and follow your inner artist's heart to discover pieces of stained glass that stand out as designer pieces in your home's design.
1. Decorative Stained Glass Owl Suncatcher Ornament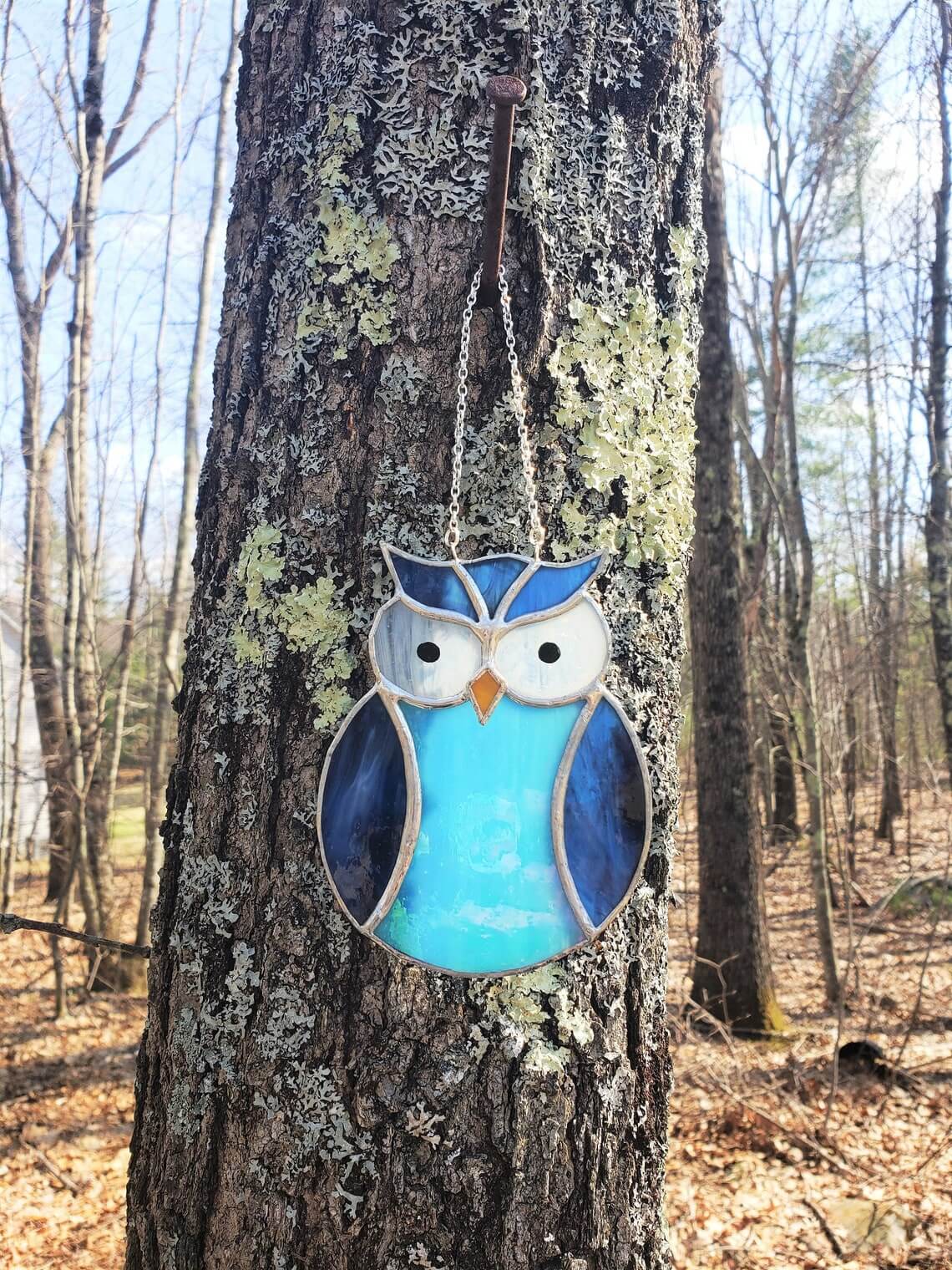 Hanging on a chain, this cute forest critter finds a new place to call home with your family. Position him on a window or tree for an unexpected pop of color and a happy atmosphere. His serious eyes are focused as he rests keeping a watchful eye on your family's home. Any owl-lover will appreciate the beauty of this feathered friend. A child would love looking at this fun creature hanging in his/her window as the sun shines through as well.
2. Kitchen Island Suspended Glass Art Light Fixture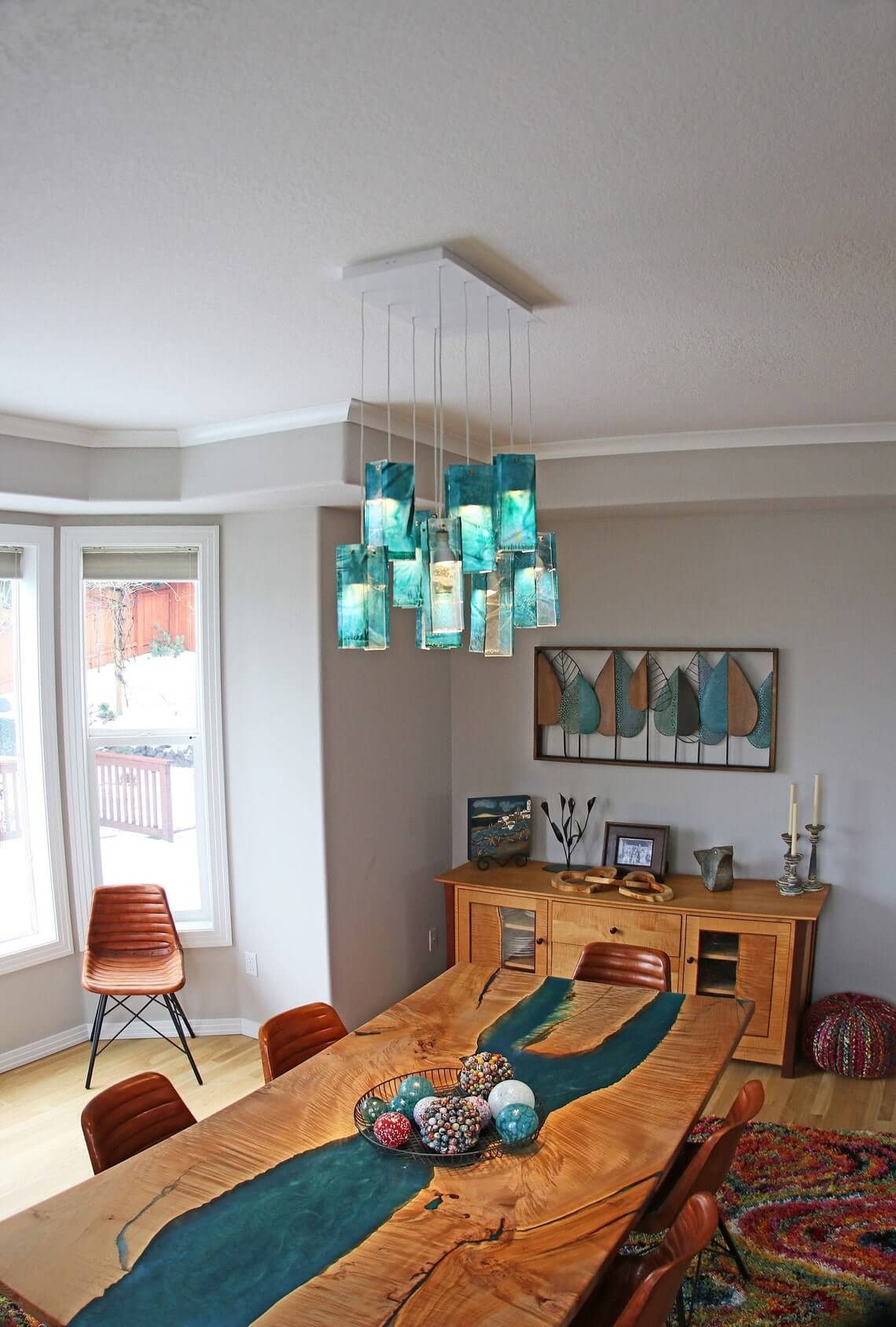 Make a bold statement in your home decor with a beautiful work of glass art as your wow factor lighting fixture. Suspended above your kitchen island, this beauty is certain to be the focal point of the room and perhaps the entire home. With squared globes extended at varying heights, the gorgeous shades of turquoise look even more magnificent filtering the light into the room. Accent throughout the rest of the room with similar shades of turquoise for a true one-of-a-kind exquisite taste that appears to be put together by none other than a professional designer. This would be a good choice for a basement bar area as well, where it could bring a bright and serene atmosphere underground.
3. Moroccan Mosaic Colorful Floor Lamp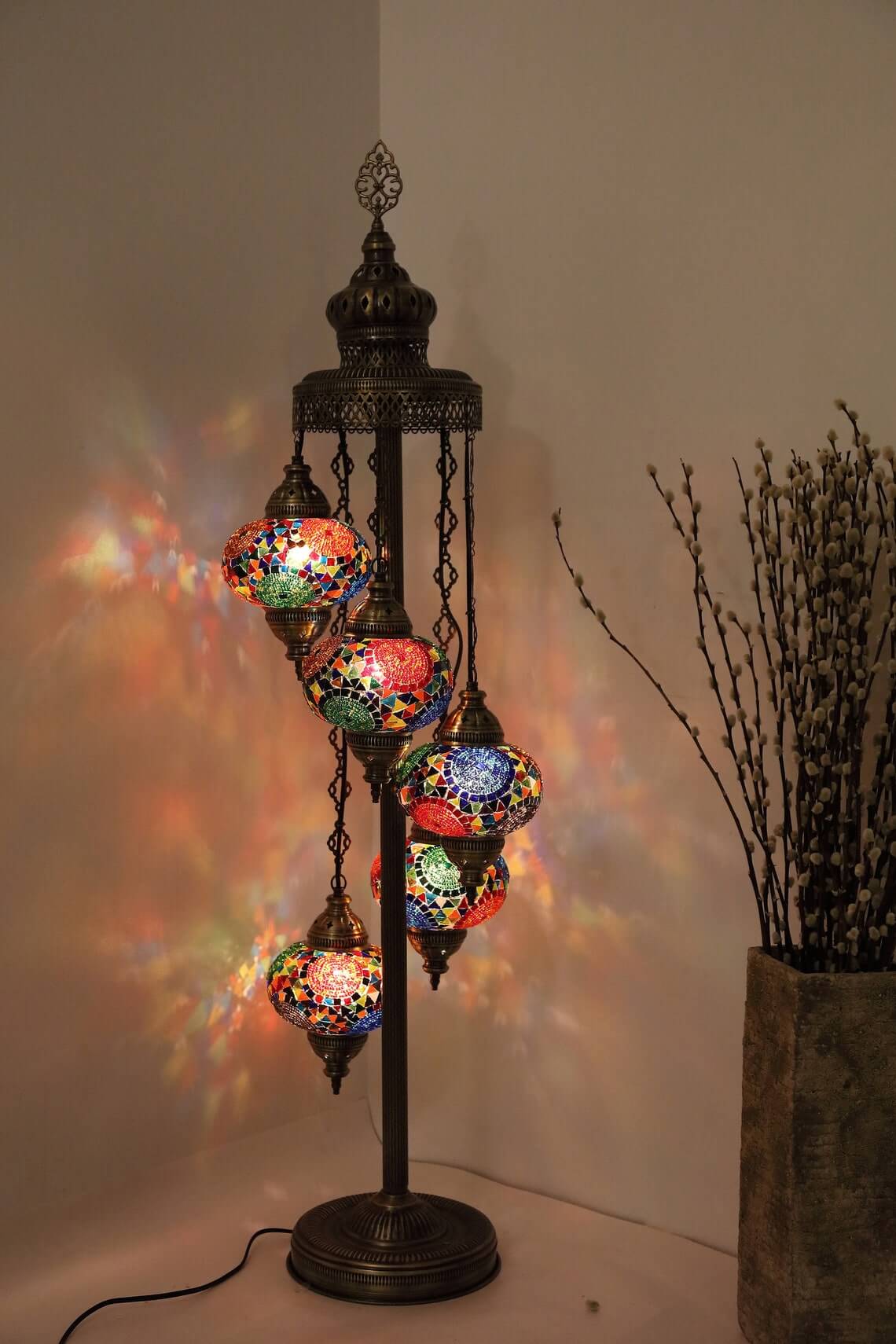 Freestanding and ready to bring a bold burst of color into your home, this Moroccan mosaic floor lamp adds style and light to any room of the home. Feature it in the corner of a bedroom to cozy up a corner and cast a soft glow before going to bed. In a hallway or entryway, it makes a statement with its interesting and hand-crafted mosaic work that's showcased on five globes that wrap around and down the metal stand. The varying lengths of the hanging globes add even more intrigue to this masterpiece's overall design.
4. Hand-Painted Bluebirds and Blossoms Lantern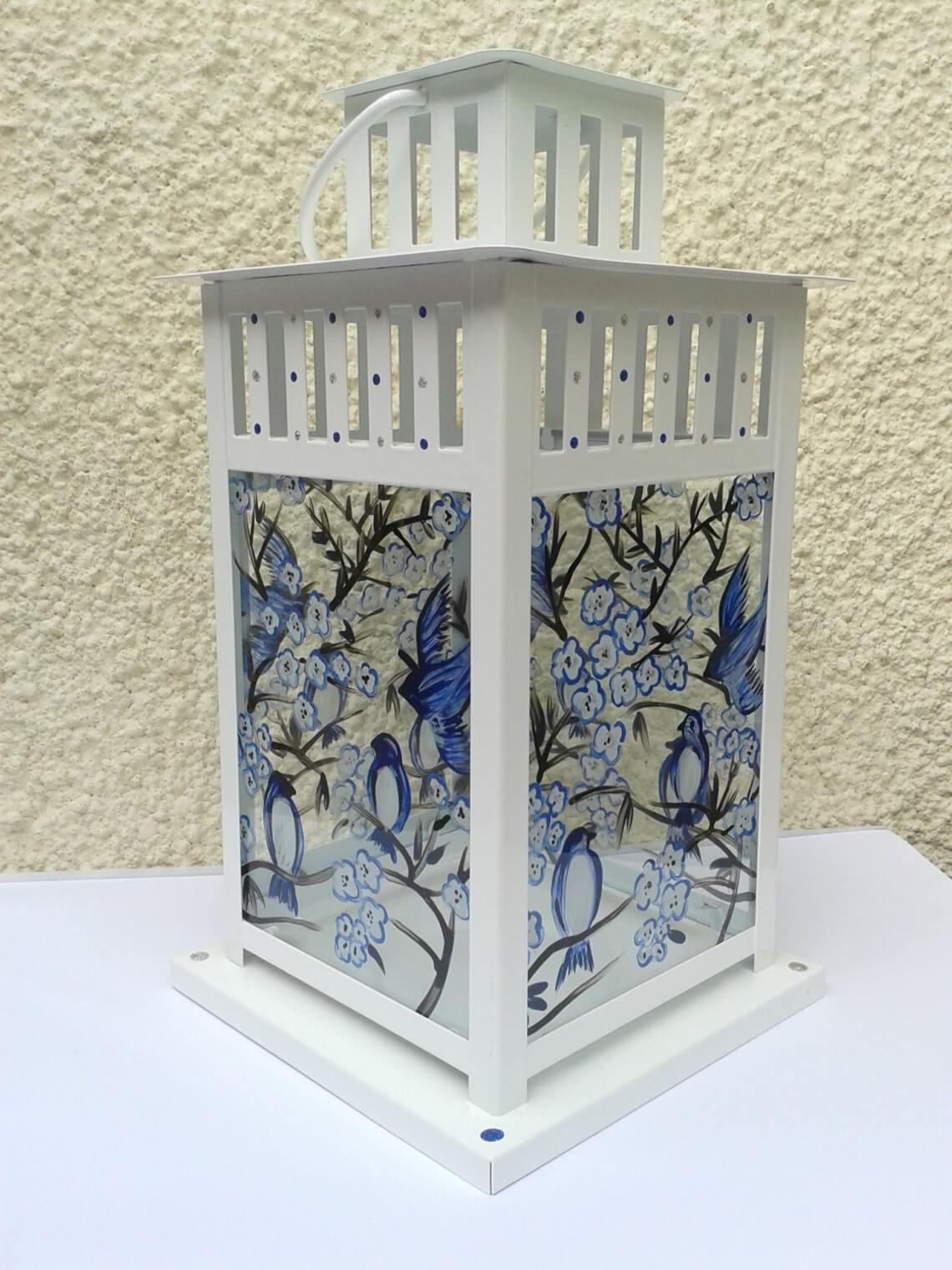 While lanterns have been appearing in home decorating for some time now, this hand-painted version offers some originality in its custom design. The glass panels are brought to life with some paint to reveal a charming collection of bluebirds perched on branches of blue and white flowers. Keep this hand-painted lantern on your outdoor dining table for added beauty for al fresco dining. Feature a collection of these lanterns together in a corner display for more interest.
5. Creative Corner Window Stained Glass Accent Piece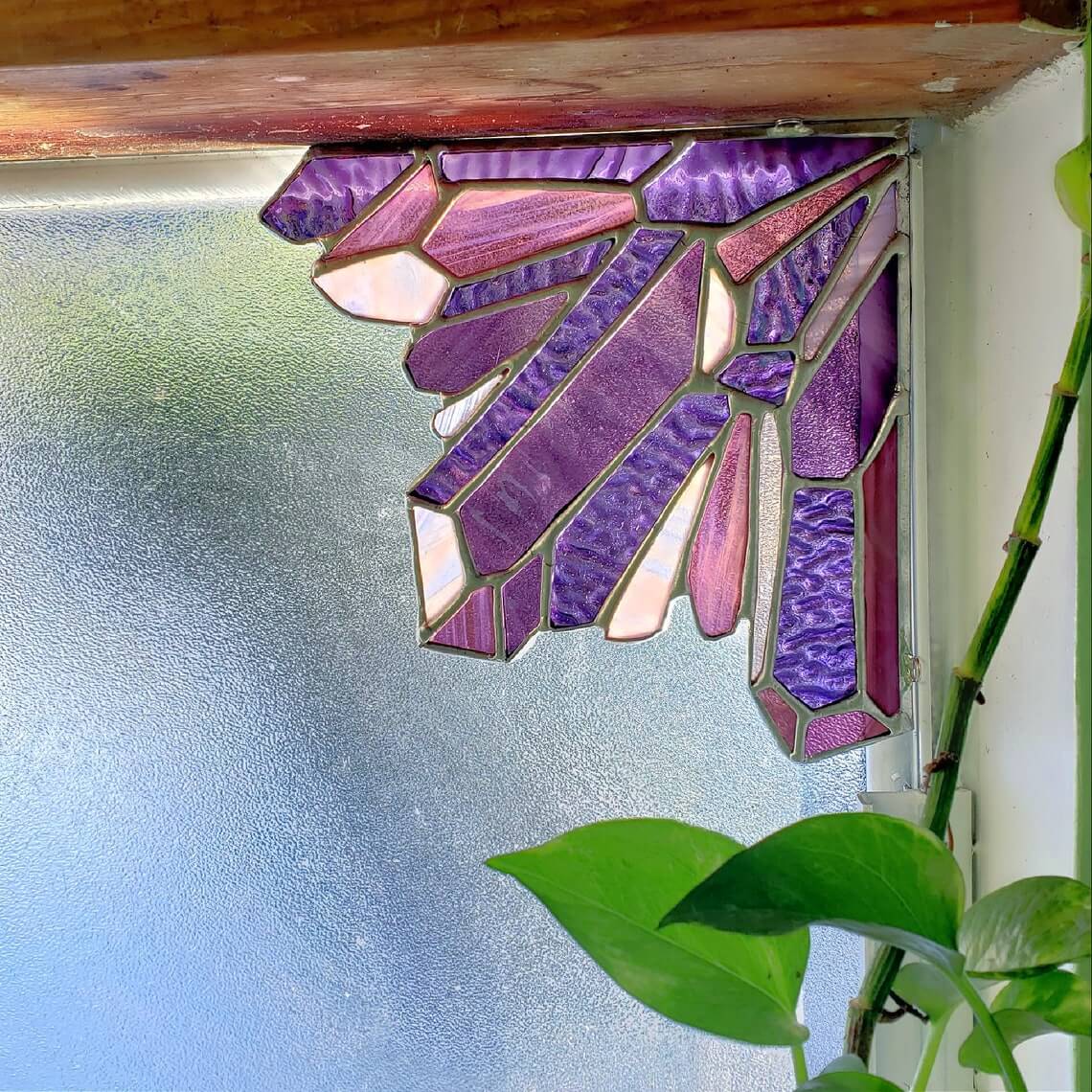 You don't need to have an entire windowpane of stained glass to enjoy the beauty of such a work of art. Embellish a small corner for a vivid color extravaganza as you incorporate the treasured look of timeless stained glass beauty into your personal space. How to decorate with glass may seem difficult, but it can be quite simple when all you need is a little planning. An existing window gets a new facelift when you stick one of these corner stained glass accent pieces into one or more nooks. Choose a color to highlight and allow it to channel the sun through its artistic beauty.
6. Frozen Solid Glass Art Vase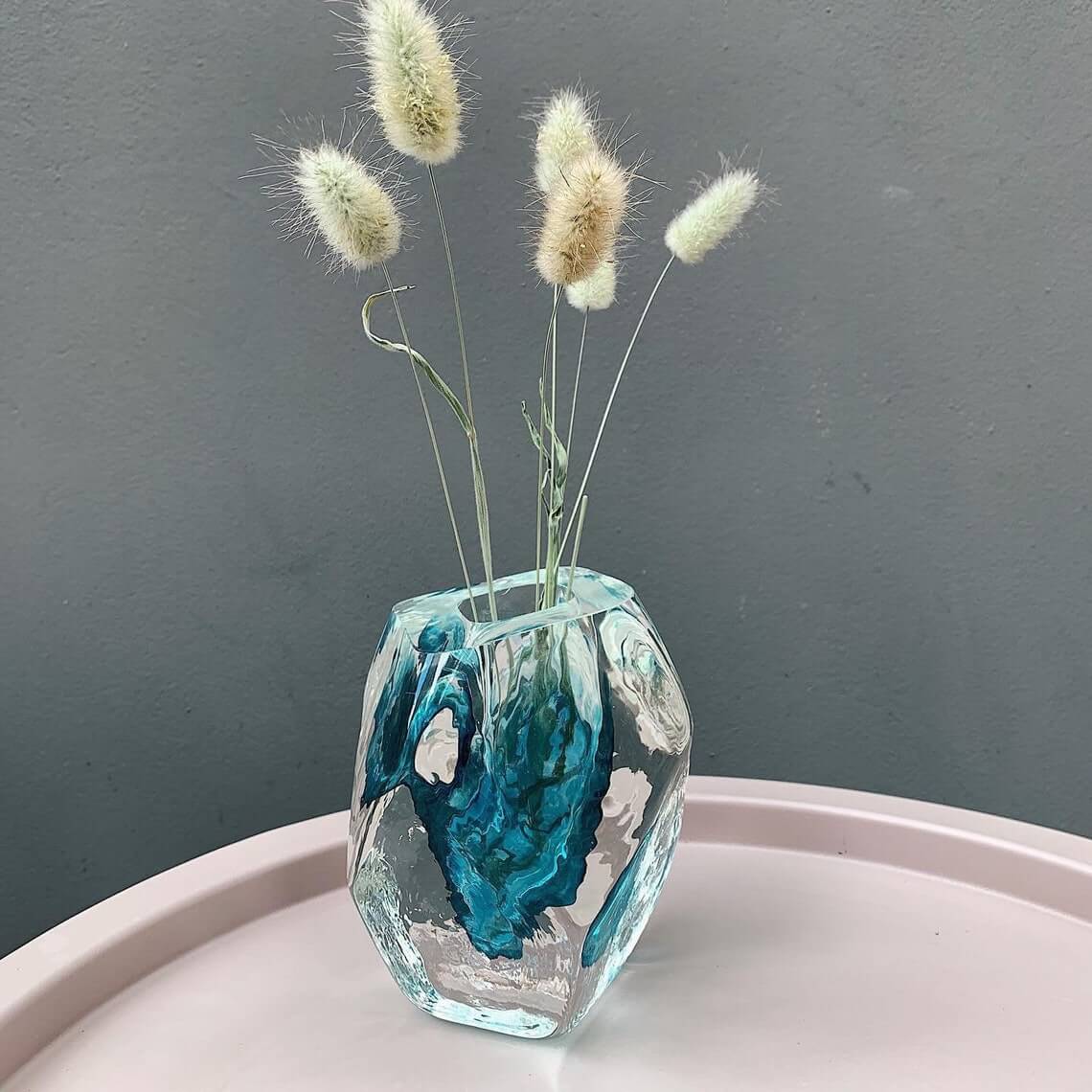 Whether you desire a pen holder for your home office or an interesting flower vase, this intriguing frozen glass vase will fit the bill. Appearing to hold a colorful crystal or rock in the center, the surrounding glass oozes an ice frozen body around this colorful piece. Sturdy enough to resist tipping over on the table, this solid vase adds a distinct decorative design to your home. Fill it with all of your necessary writing utensils or place a modern-styled floral bouquet in it for a nice decorative element in your workspace.
7. Custom Colored and Gold Flecked Wine Glass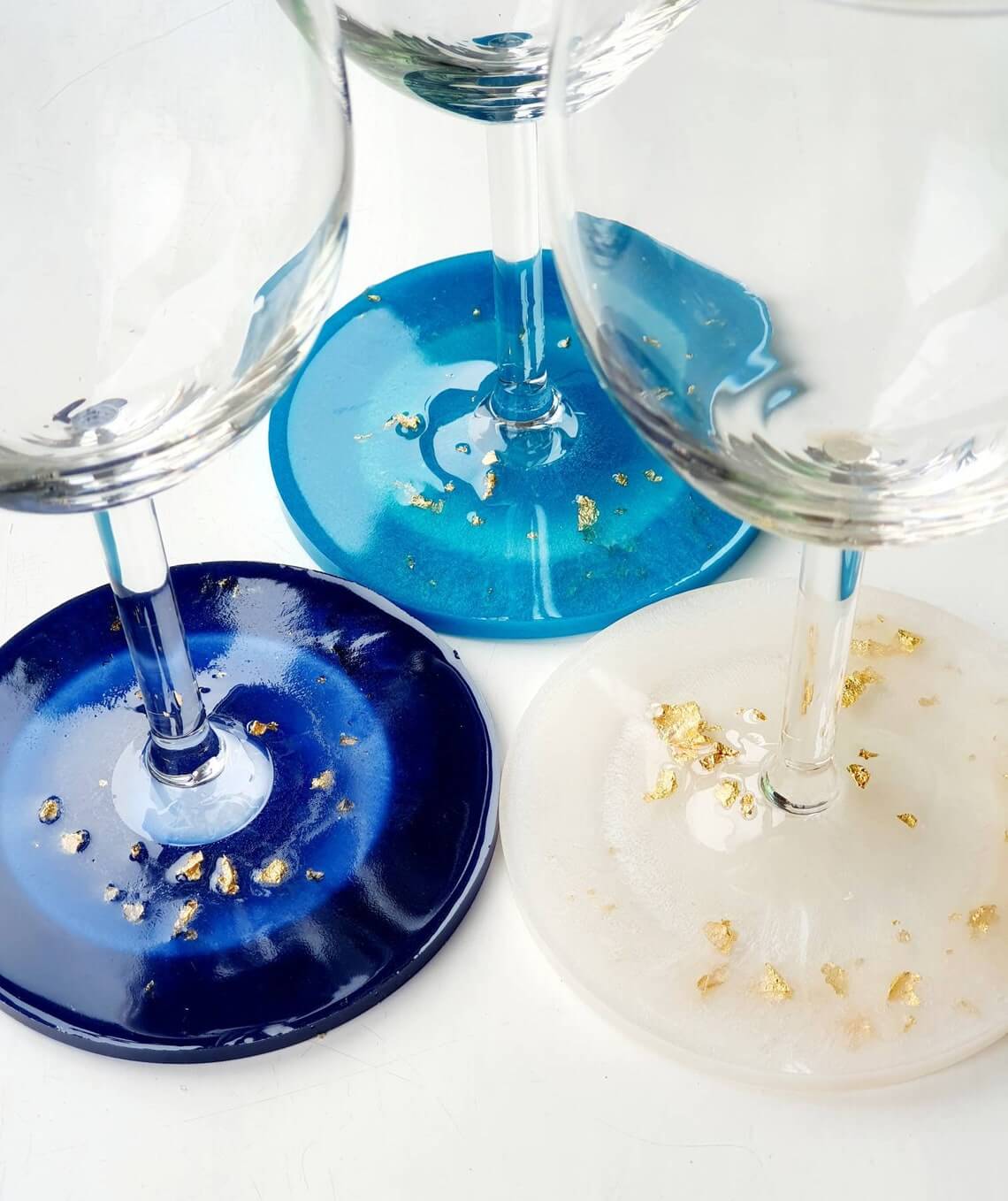 Stop all of the confusion about which glass is yours by sipping your favorite wine from your custom-colored glass-bottom wine glass. No two will be the same so finding your personal beverage will be easy. Choose a light or bold blue that includes some speckles of gold for an elegant touch. Host an unforgettable wine tasting party with your favorite ladies and feature this fun DIY wine glass activity for extra entertainment! Everyone will enjoy their cheese and wine along with taking home a new wine glass or set of wine glasses that have been created with friends and love.
8. Asian Begonia Patterned Glass Decorative Serving Tray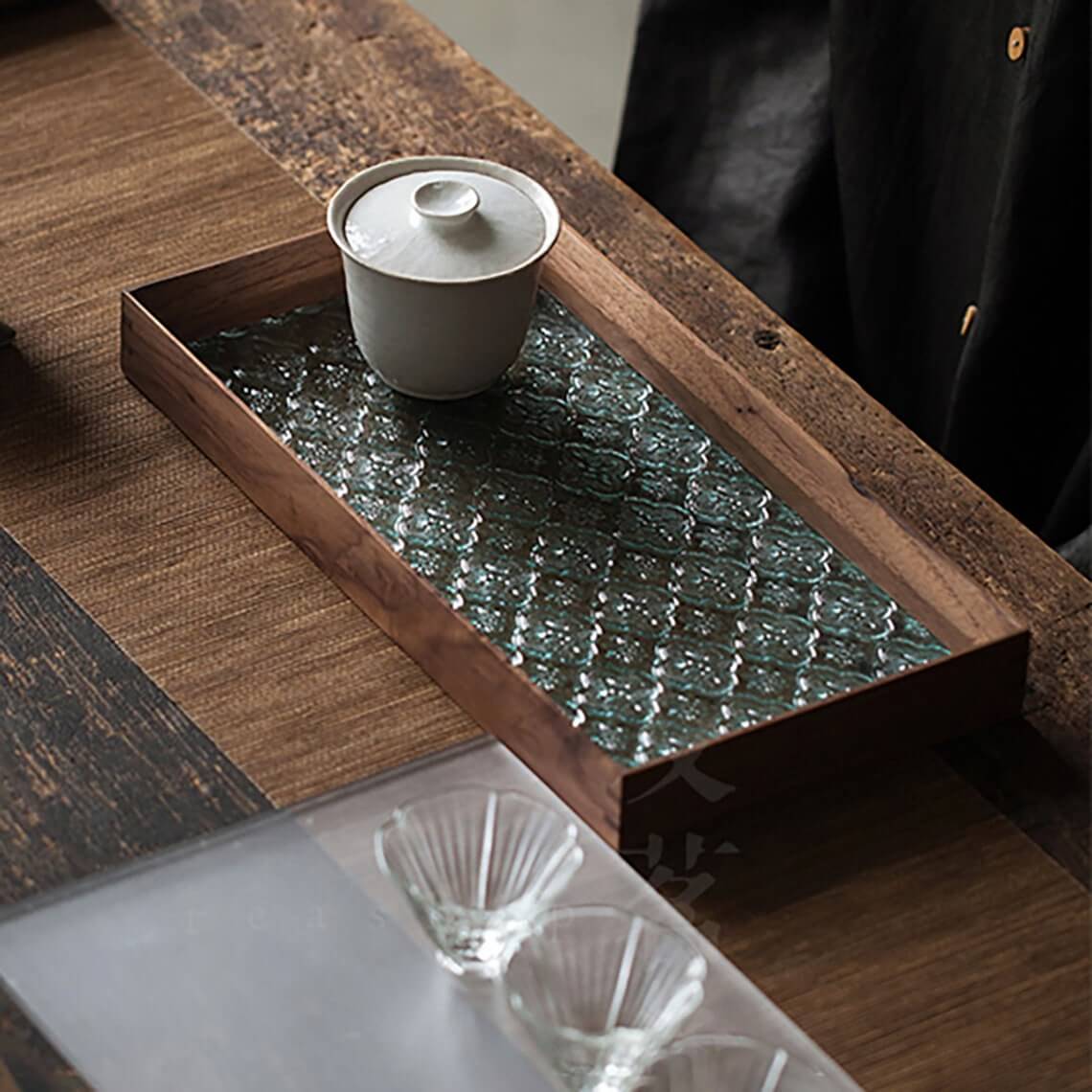 A wooden box serving tray takes an unexpected twist with a delicate glass insert in the bottom. Featuring a pattern of Asian begonias, this decorative glass and wood serving tray looks incredible on your kitchen island, living room ottoman, or master bedside table. The luxurious look of the patterned glass adds a touch of elegance to this original serving tray creation. Fill it up with some special items and serve it up as a fabulous gift idea. It would make a nice cocktail tray to serve a cozy conversation between you and your best friend in the privacy of your own home.
9. Magnificent Moroccan Mosaic Decorative Lamp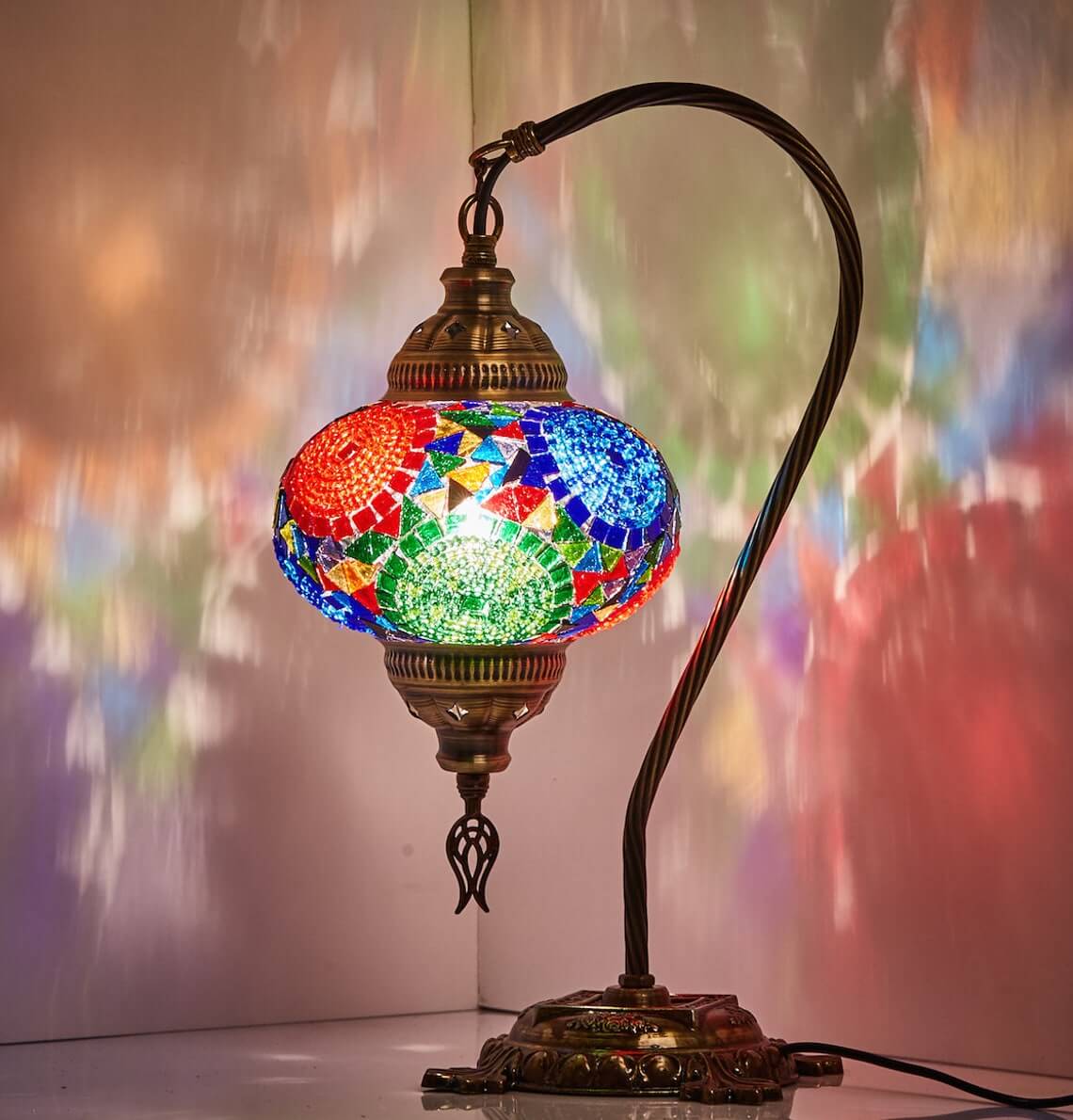 Now you can have a lamp in your home office that's just as unique as you! Handcrafted in Turkey, these gorgeous mosaic lamps will be a beautiful addition to your home. They would also make a great retirement gift for a close colleague. Each lamp has a sturdy metal finish that holds the delicate globe in place. There's even a metal tassel decoration dangling off the bottom of the light to add even more character and charm to the design. Choose your favorite colors for a unique lamp that speaks to your soul and blends into your existing home decor.
10. Hand-Blown Stained Glass Ball Vase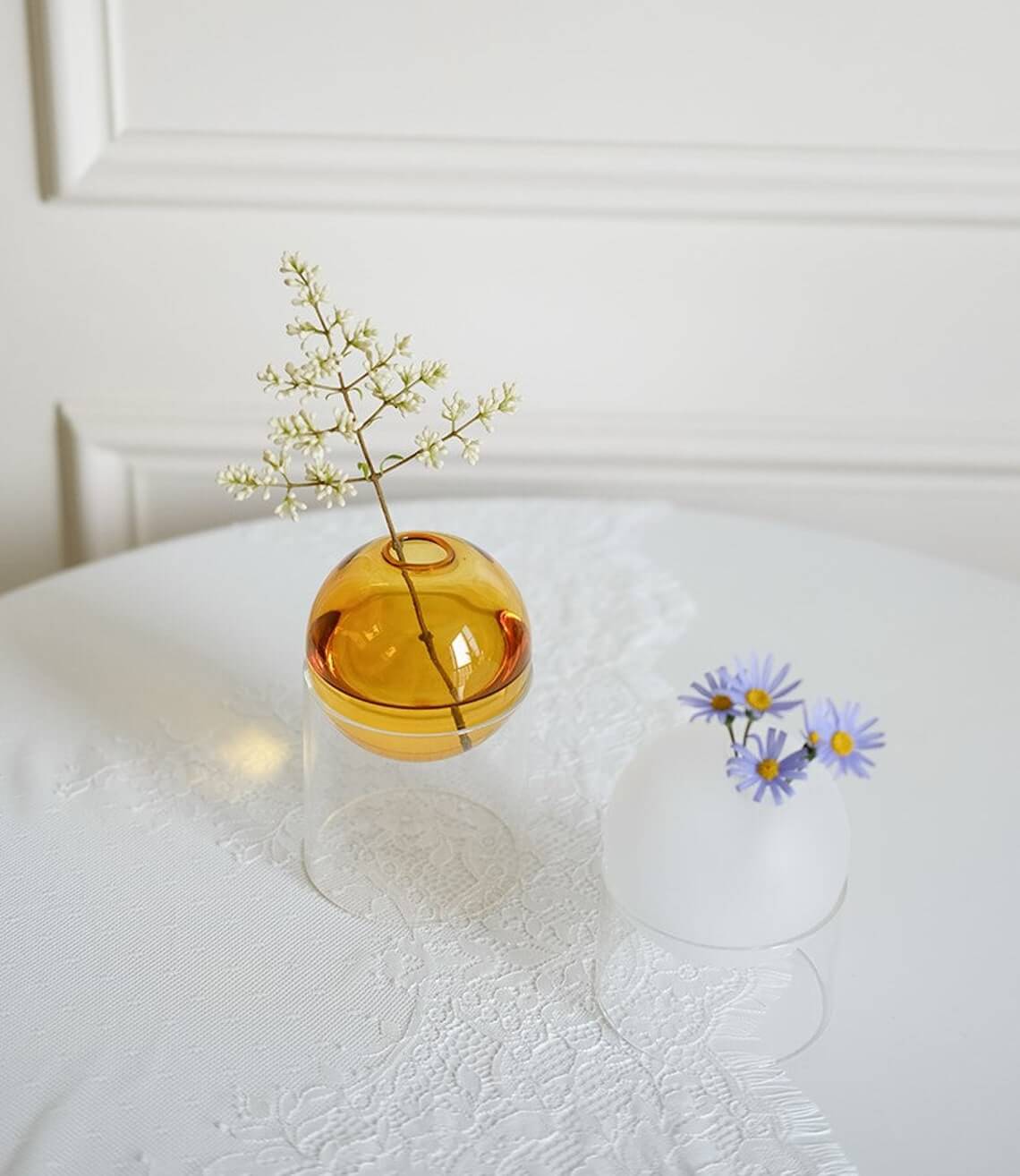 Think outside the silhouette of traditional vases and feature this sphere-shaped hand-blown stained glass ball for your next vase. Featured resting on a clear glass cup, these colorful globes are unique ways to present your beautiful flowers on the table or as a gift for a friend. No centerpiece or bouquet is able to compete with the unique style of this hand-blown beauty. Arrange a row of these down the center of the table for an original centerpiece idea that doubles as an easy and practical party favor. Let each guest enjoy a choice of one of these cool ball vases as they exit your party and reminisce about a wonderful night with friends.
11. Dainty Cobalt Bird Stained Glass Suncatcher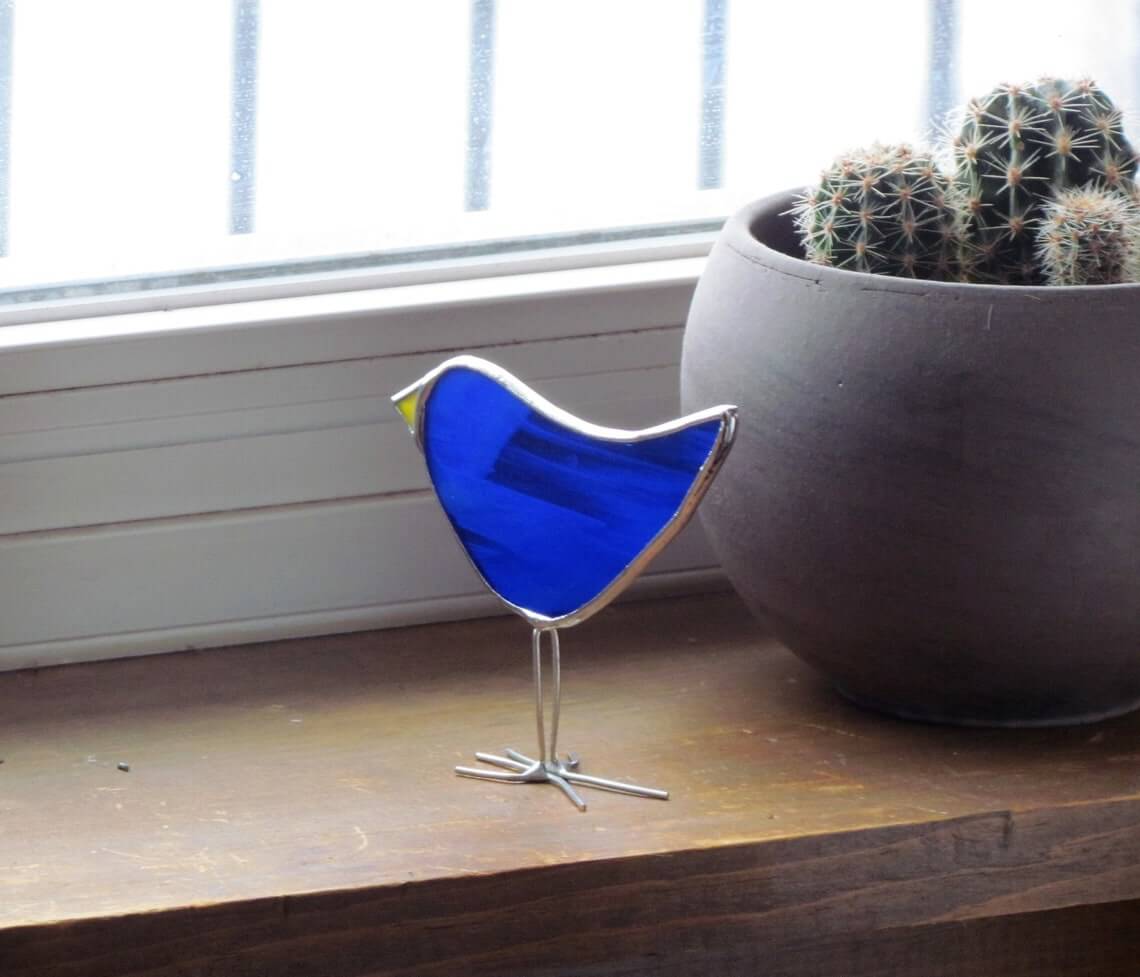 Perch this perfect bird creation on your windowsill for some fun glass decoration ideas. It's a great way to add a bold burst of color, on a smaller scale, to any room of your home. This chirpy fellow would be a lovely gift for a co-worker as it would be quite charming perched on a desk. The tiny yellow beak is an ideal contrast to the bold cobalt blue body. It would be a creative gift for your favorite songbird as well.
12. Crescent Glass Moon Feather Bohemian Art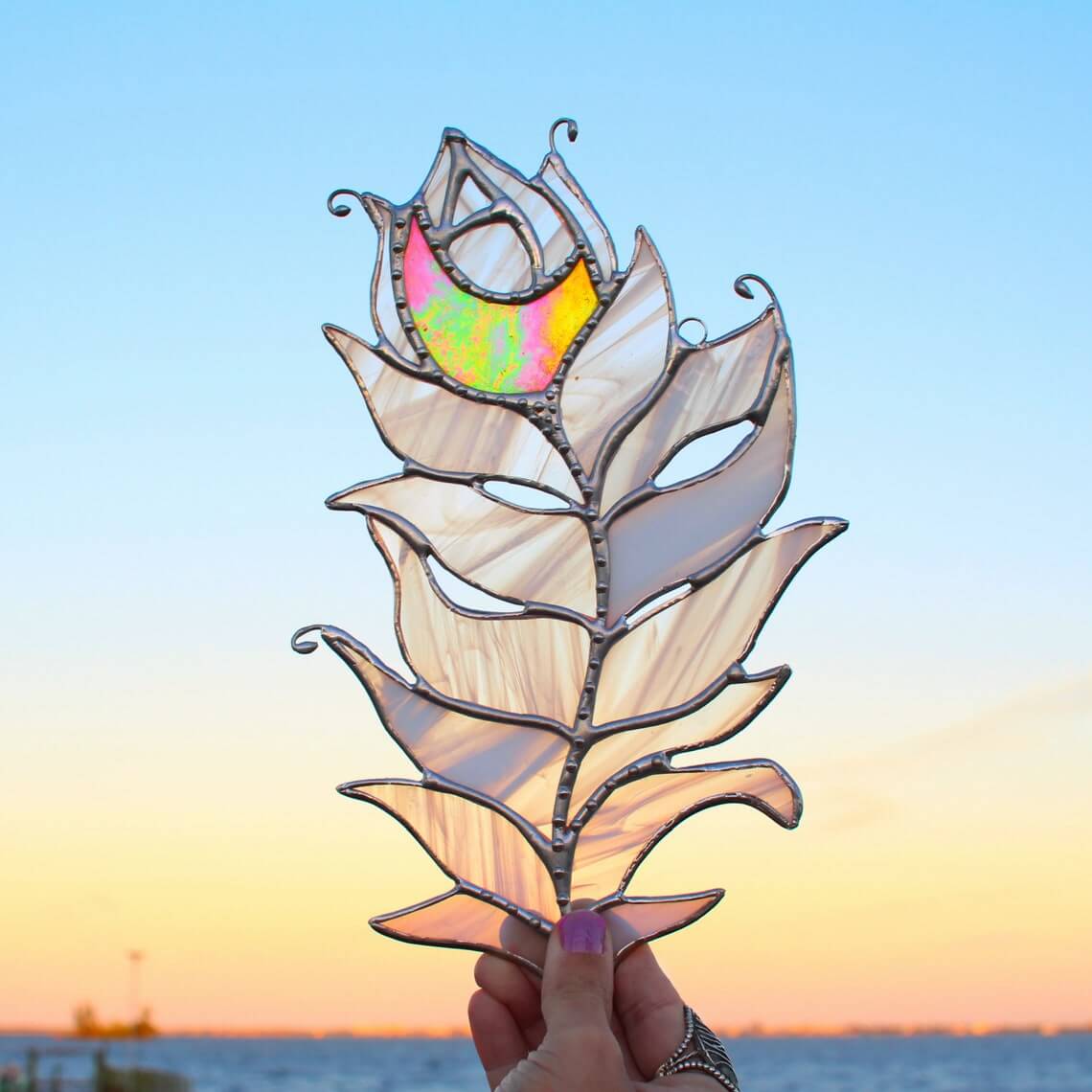 Show off your inner wild child with this hippie-loving crescent moon stained glass feather. The iridescent nature of the crescent moon piece really stands out with the pretty pinks and yellows bursting from within it. Keeping all of the remaining glass fronds clear further adds to the interest of the moon as the focal feature. Any teenage girl would adore hanging this bohemian stained glass feather in her room. It would brighten up a large mirror above the dresser or filter light in from a window quite beautifully.
13. Tempered Glass Large Wall Art Decor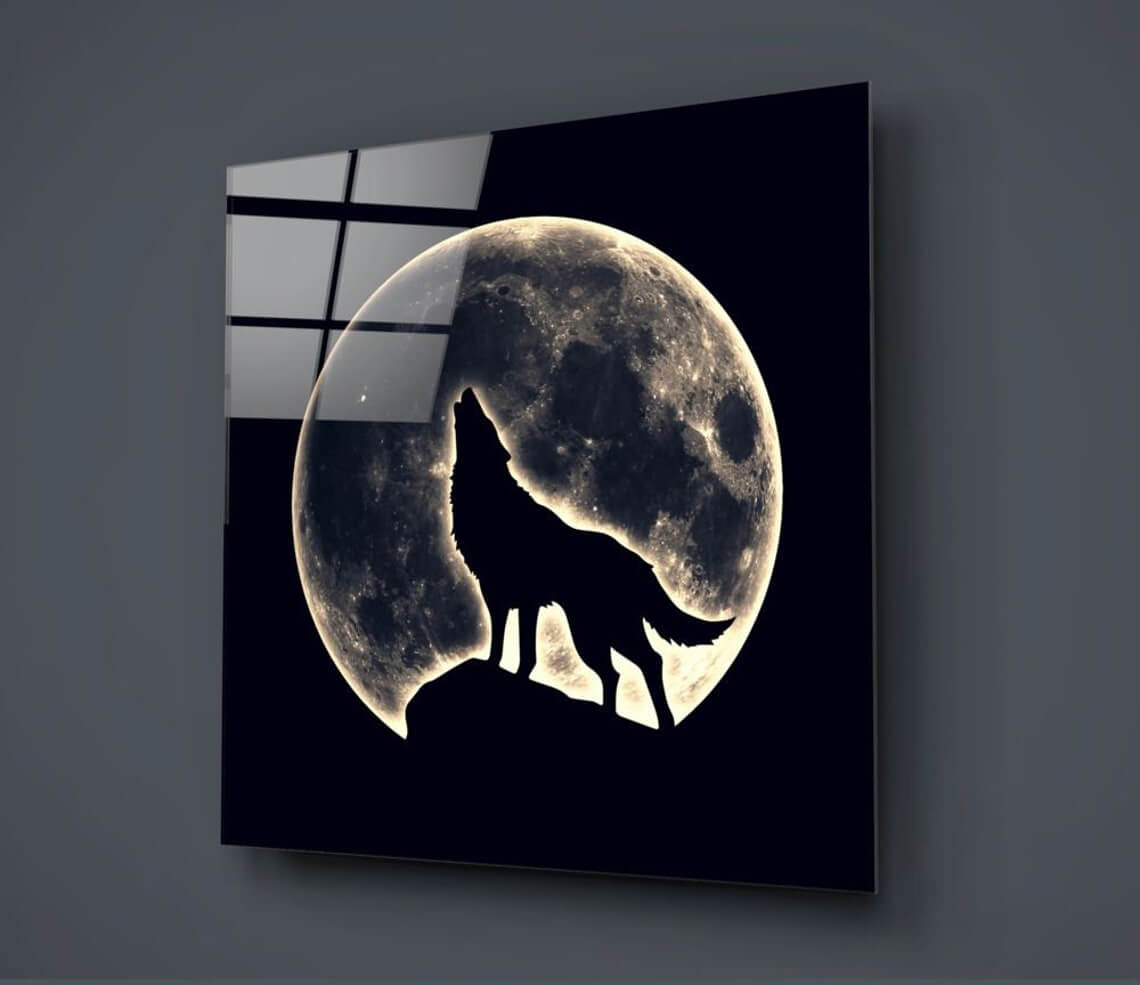 In case you're wondering how to decorate with glass, this is a perfect answer. Instead of traditional paper prints or canvas paintings, consider a tempered glass version of your chosen picture. The finished product is as precisely personal as your heart desires. Take a cherished picture from a special life event or choose a snapshot of everyday life from your social media feed. No matter what picture you choose, the sleek and modern look of a tempered glass art piece will look beyond amazing hanging on your wall! Give your home a fresh and modern vibe by incorporating this new medium into your interior decor. It would also be a wonderful way to celebrate as a gift for a special friend or family member with its uniqueness and sophisticated design.
14. Murano Glass Sun Face Sculpture Figurine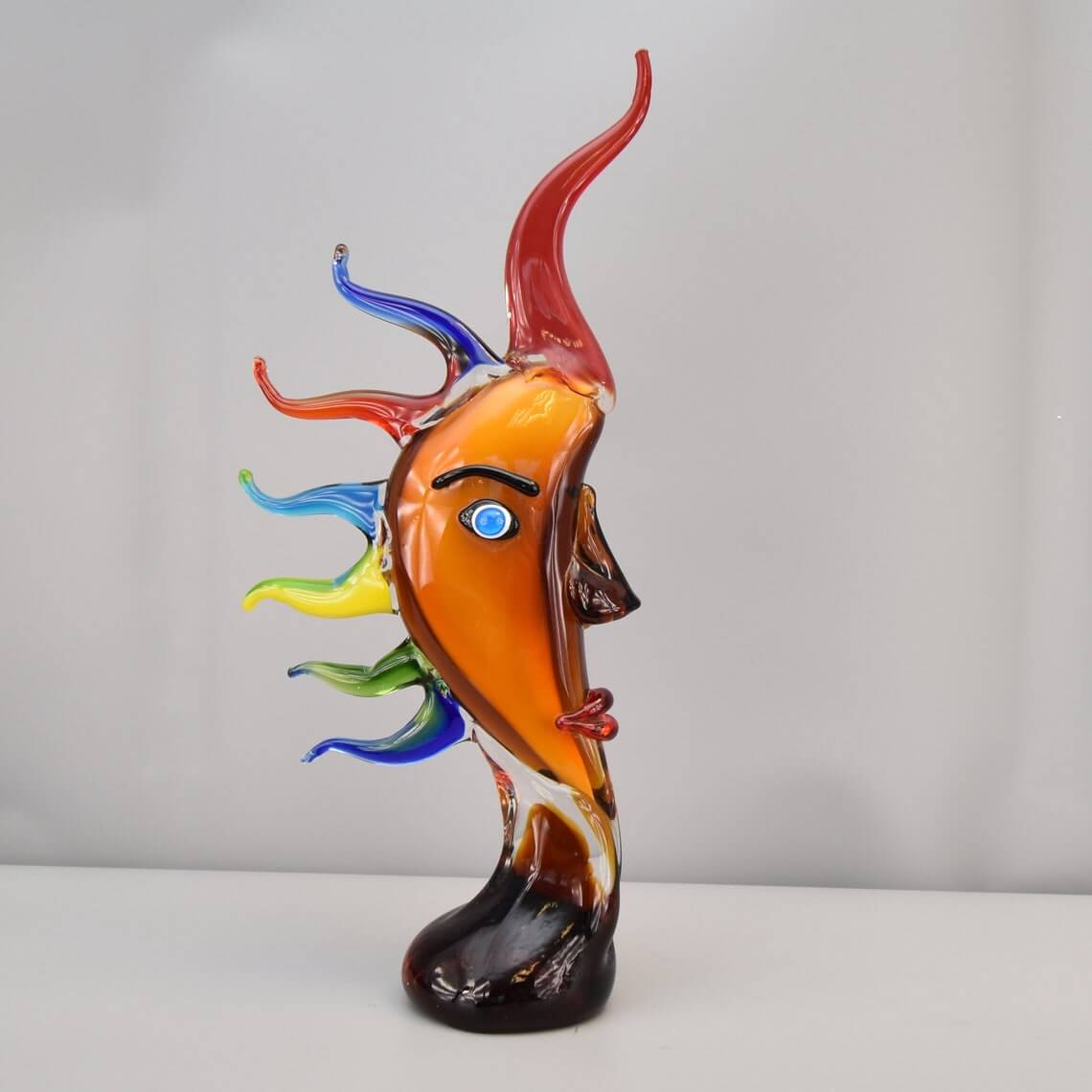 All the beauty of Murano glass is captured in this striking sun sculpture. Complete with a face, this sun figurine is constructed of bold primary colors and signature swirl-end bursts protruding from within its body. From the cool blue to the fiery red, the warmth of this orange-bodied sun god will be a hot addition to your personal glass art collection. It would also be a wonderful gift idea for an art teacher or crafter to commemorate a special achievement.
15. Frozen Moon and Mountain Stained Glass Art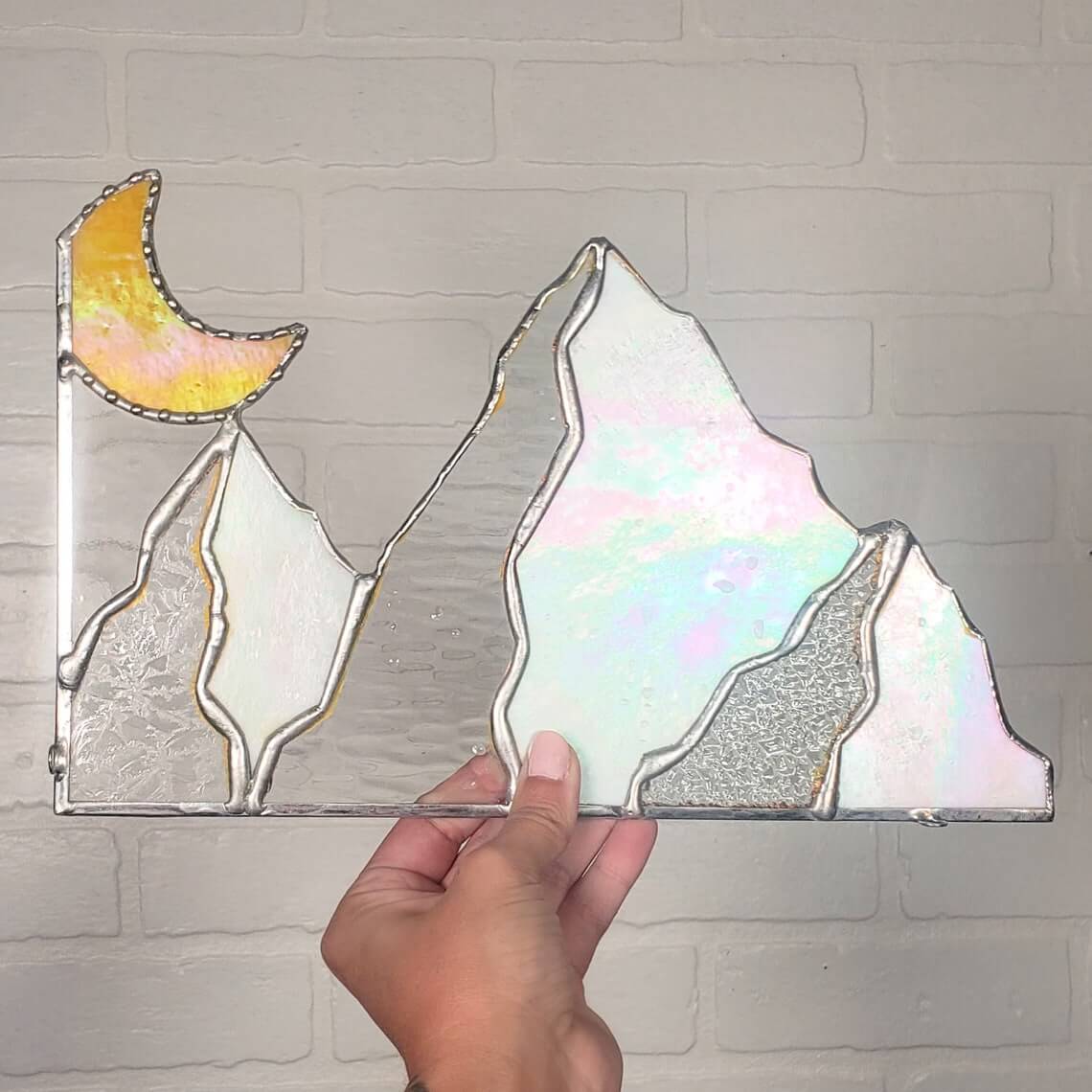 Keep a piece of winter with you all year by featuring this frozen winter mountain and moon stained glass art. The iridescent and icy slopes glide under the beauty of the crescent moon above. Any lover of nature, winter, or art would appreciate this spectacular creation as an awesome gift. For glass decoration ideas that are easy to feature, this winter mountain and moon are a great choice. Prop it up against the window of the kitchen sink as you enjoy the sun setting after your evening meal.
16. Stained Glass Feather Suncatchers Unique Decor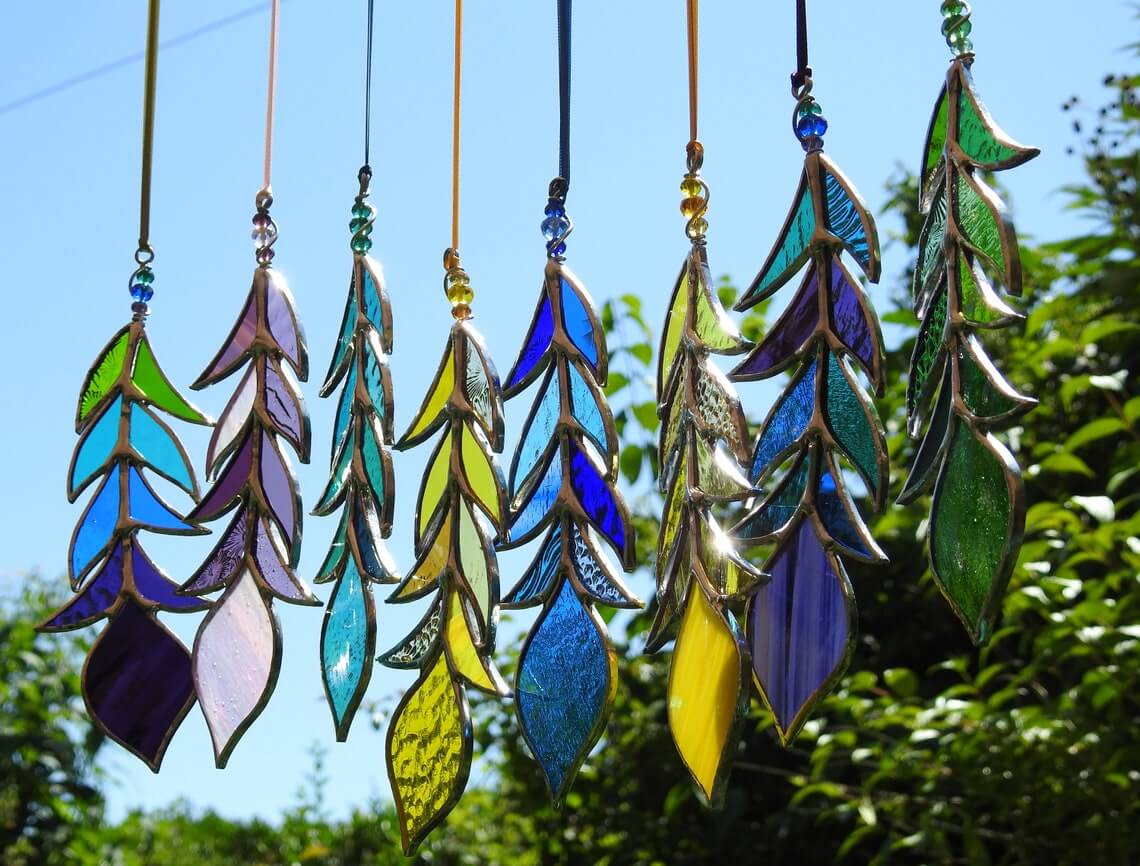 All of the beauty of stained glass is captured in this interesting and cool feather suncatcher. As the sun shines through, the gorgeous colors in the glass emerge into a one-of-a-kind feather decoration. Feature it alone or in a group surrounded by other beauties for a stunning display. Each hangs on a sleek and shiny ribbon that further adds to its splendor and is accented by a few glass beads to tie into the stained glass design. Highlight a special accomplishment with this cool and beautiful handmade decoration that becomes one of many unique glass decorating ideas regardless of your design style.
17. Sea of Blue Cool Chandelier Light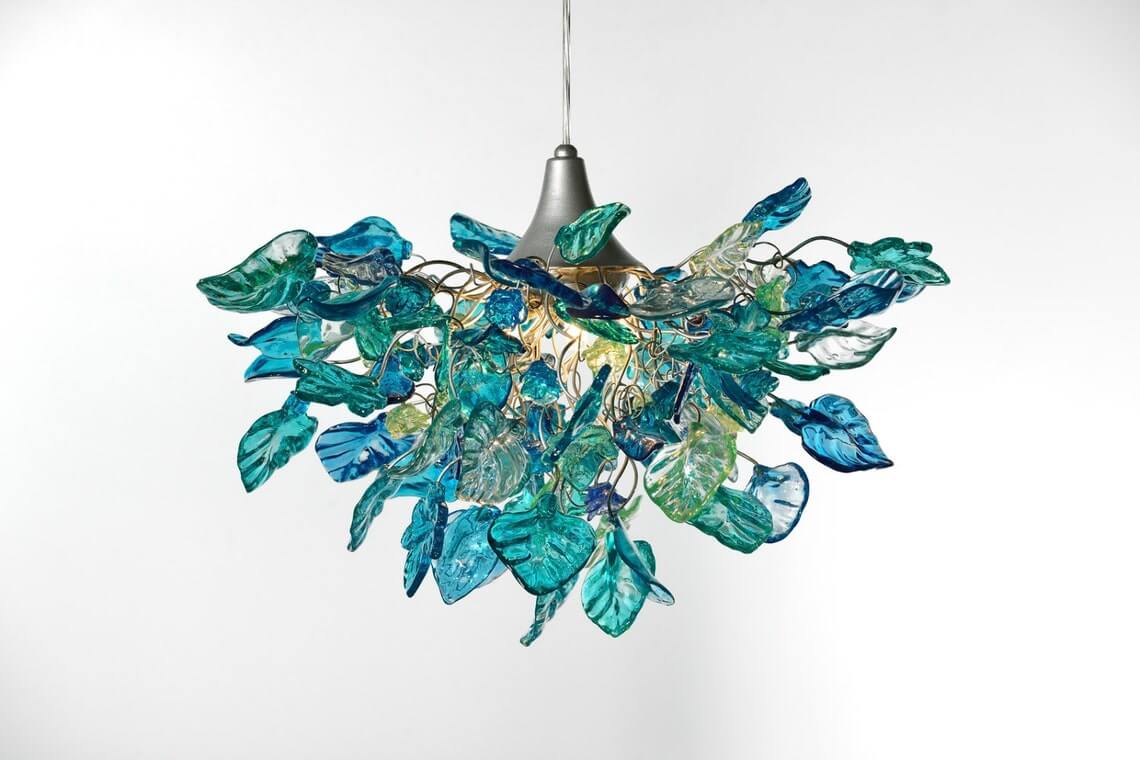 For an artistic spin on a chandelier light, consider this glass leaf design. All of the leaves cluster together to form a tangled piece of art that's transformed into a unique chandelier. The leaves are brought to life in a myriad of shades of the sea from light greens to cool blues. As the light illuminates their beauty, each leaf comes alive and creates a gorgeous atmosphere to fill the room. This would be pretty for a dining room, hallway, or kid's room.
18. Blue Sea Glass Ball and Driftwood Stand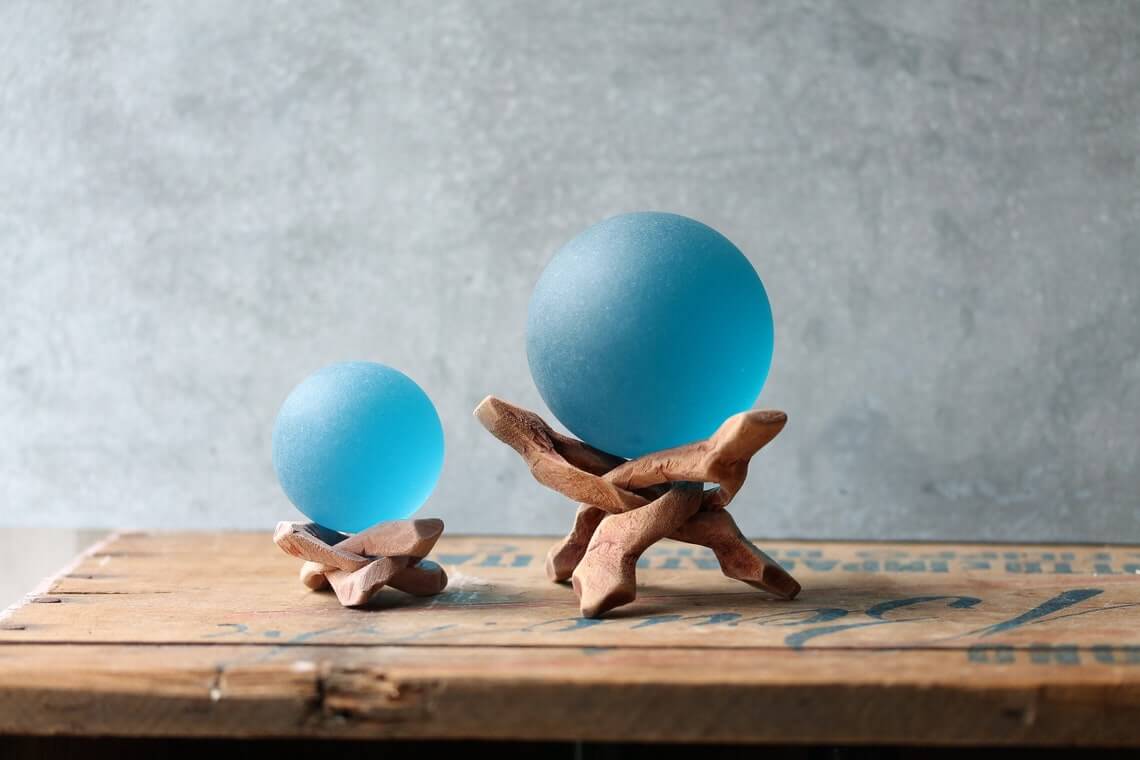 The ocean is calling and until you can answer it, try bringing some of its beauty into your home's interior design with glass decoration ideas. With all the natural beauty and originality of beach-loved driftwood, this gorgeous stand provides a contrast of texture and color for the stunning sea glass ball. The sphere of sea glass shows the beauty of the blue waters in its crystal ball design. Featuring this ode to the ocean on your desk might make the daily grind a little more tolerable as you can allow it to remind you of an upcoming vacation or simply soothe your stress away with its serene beauty.
19. Phosphorescent Glowing Aquarius and Uranus Wall Clock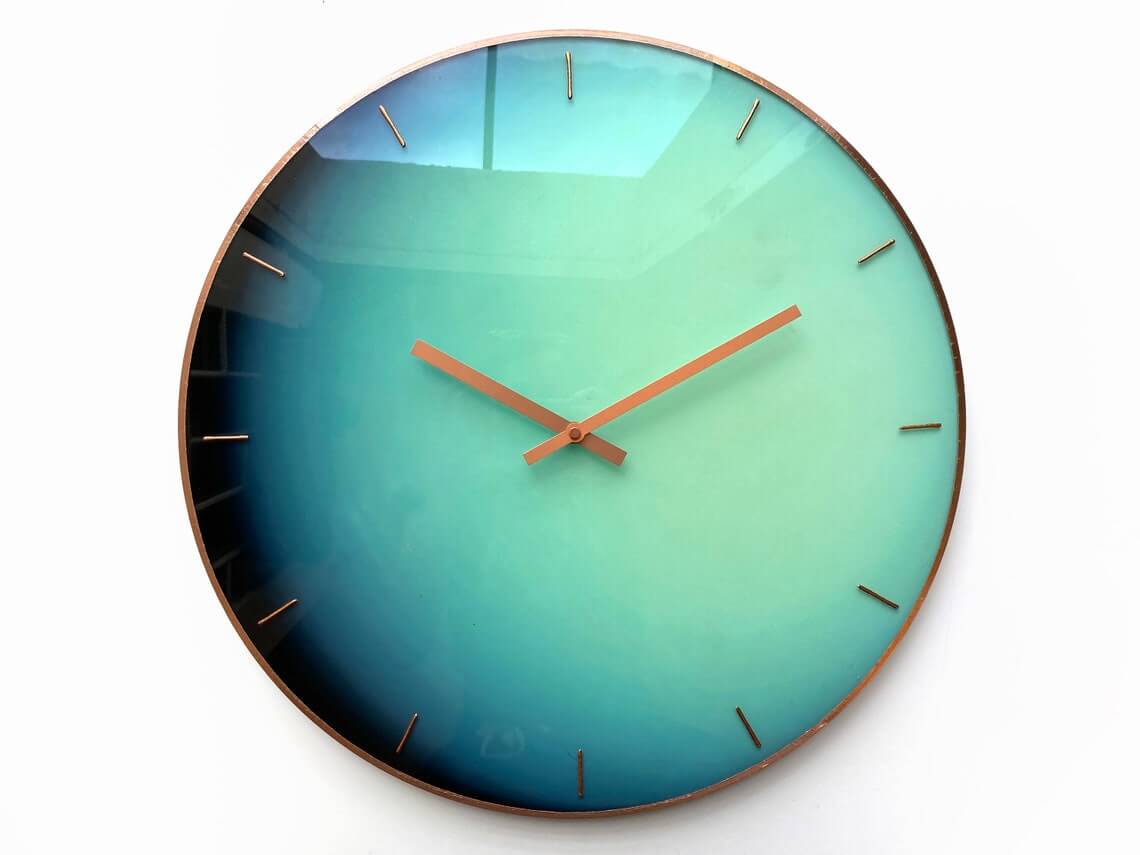 After the lights go out, this clock's magic ignites. With a five-layer coating of phosphorescent paint, you'll love the soft, aqua glow as your eyes adjust to the darkness of the room. As the night goes on, the soft glow gently fades and by daylight the gorgeous green of the air element-infused clock is alive. Hanging on your wall, this clock is a work of art and looks incredible with its modern gold hands. It nearly looks like it has been hand-picked from the sky and set within your home. Enjoy the unique appearance that makes it the perfect timepiece for any home.
20. Catch a Wave Votive Glass Candle Holder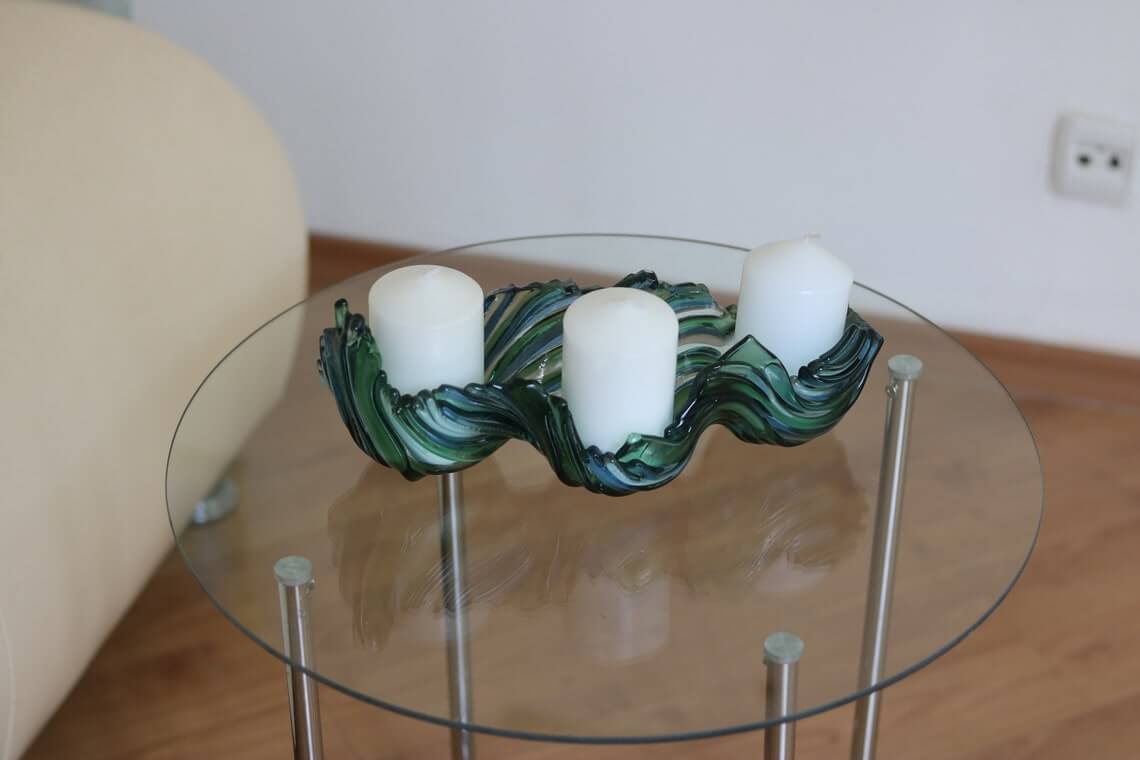 Make a splash on your coffee table with this stunning glass creation. Looking as if it was hand-selected from the sea, this small cascading wave of blue and green glass is an artistic design for a votive candle holder. Its size enables it to be featured in a number of places throughout your home. It would filter the sun's rays beautifully from the kitchen windowsill or it would even be a nice touch beside the bathroom sink. And if votive candles aren't your cup of tea, use it to hold a bar of sweetly scented soap or a collection of favorite candies. Any way you choose to use it, it will be a welcomed work of art in your home.
21. Colorful Wood Plank Tempered Glass Wall Art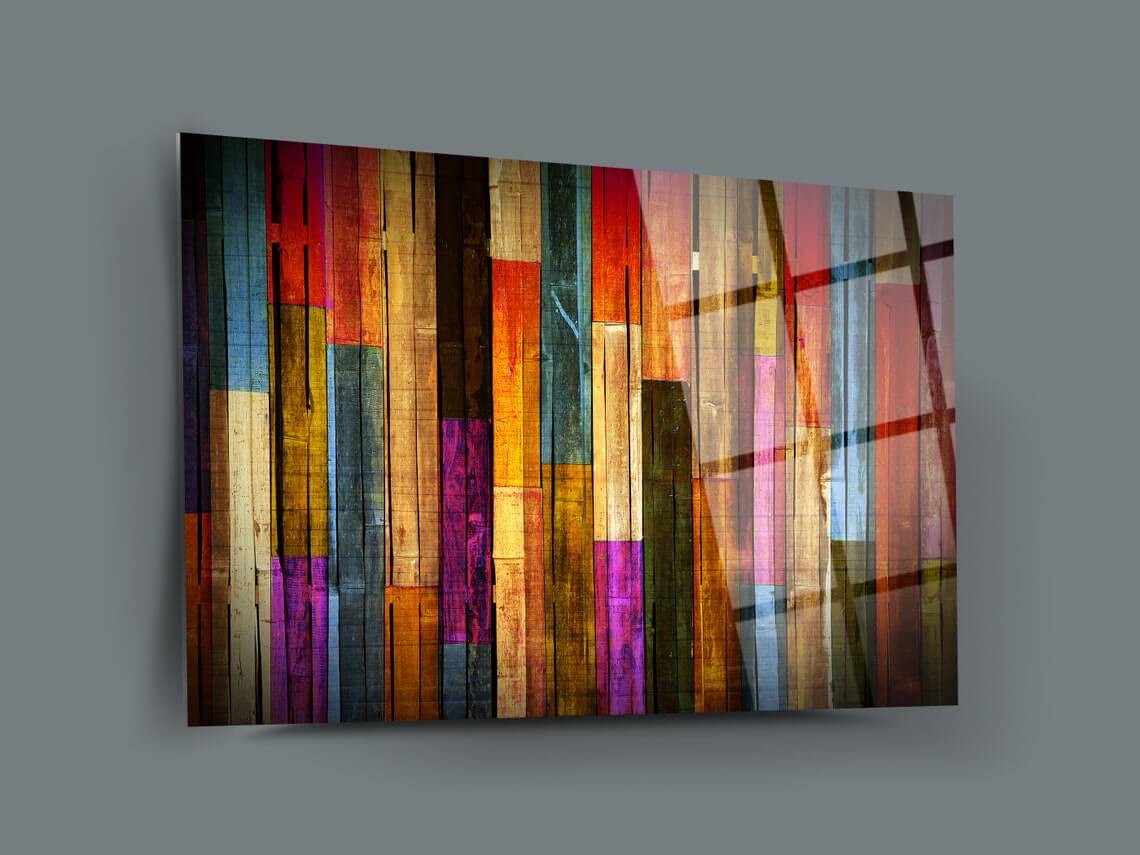 Hang this stunning and colorful tempered glass wall art in your home for a vivid boost of color and pizazz to your interior design. It's one of the most colorful and unique glass decorating ideas you can add to your home. The image beckons a hardwood plank floor featuring a variety of colored planks that are locked together forming a united base. Since the artwork is crafted in tempered glass, it exudes a glossy and smooth surface that's a perfect contrast to traditional wood flooring. Hang this in your home office for an unexpected pop of color or use it in the main living space of your home as part of your personally curated art collection.
22. Creative Crackled Glass Ceramic Decorative Bowl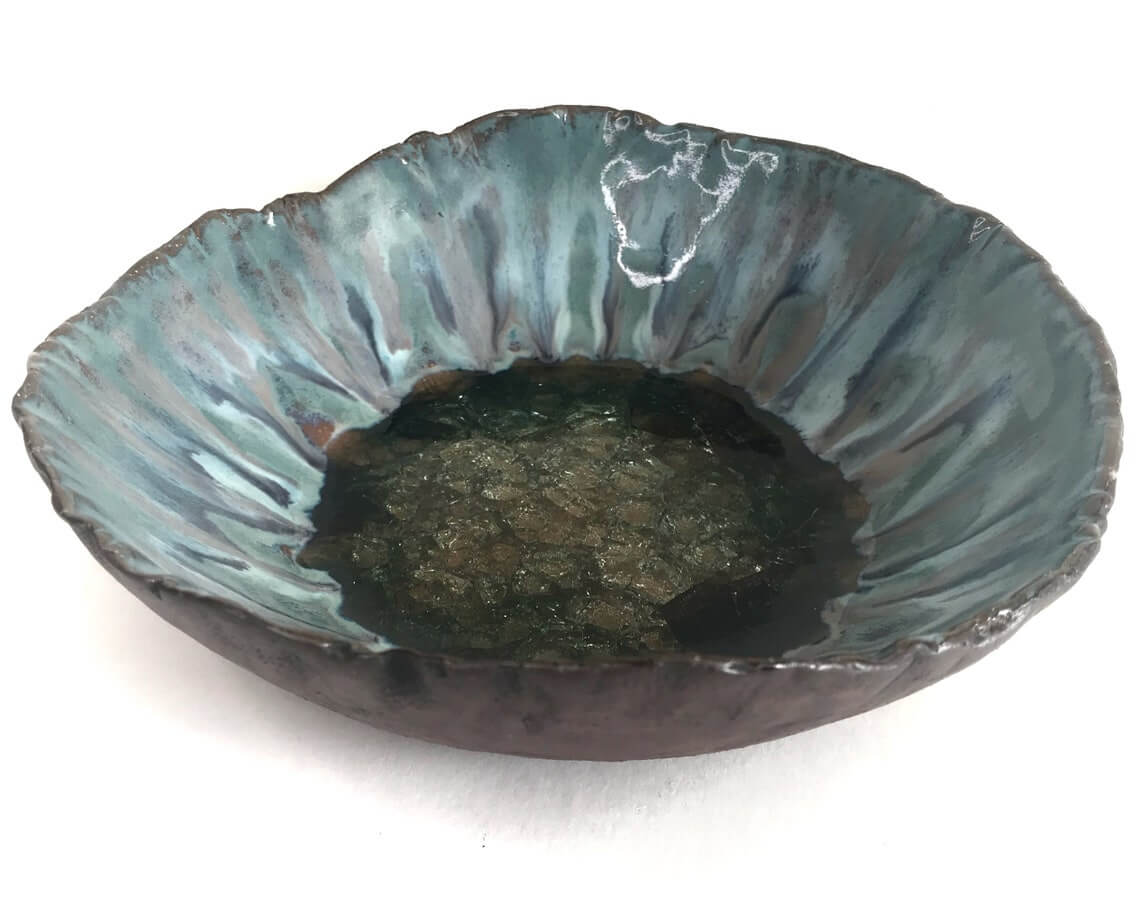 Adorning your coffee table, this hand-crafted original ceramic crackled glass bowl brings so much style into your home. Fill it up with favorite candies that friends and family will enjoy upon each and every visit. Choose it as your new go-to hostess gift when traveling to a new home for a dinner party. Each bowl is one-of-a-kind which makes adding to your personal collection even more fun! Arrange them together on an entryway table for a bold statement design or spread them throughout your home as candy or soap dishes in every room.
23. Glass Tumbler with Handmade Glass Balloon Dog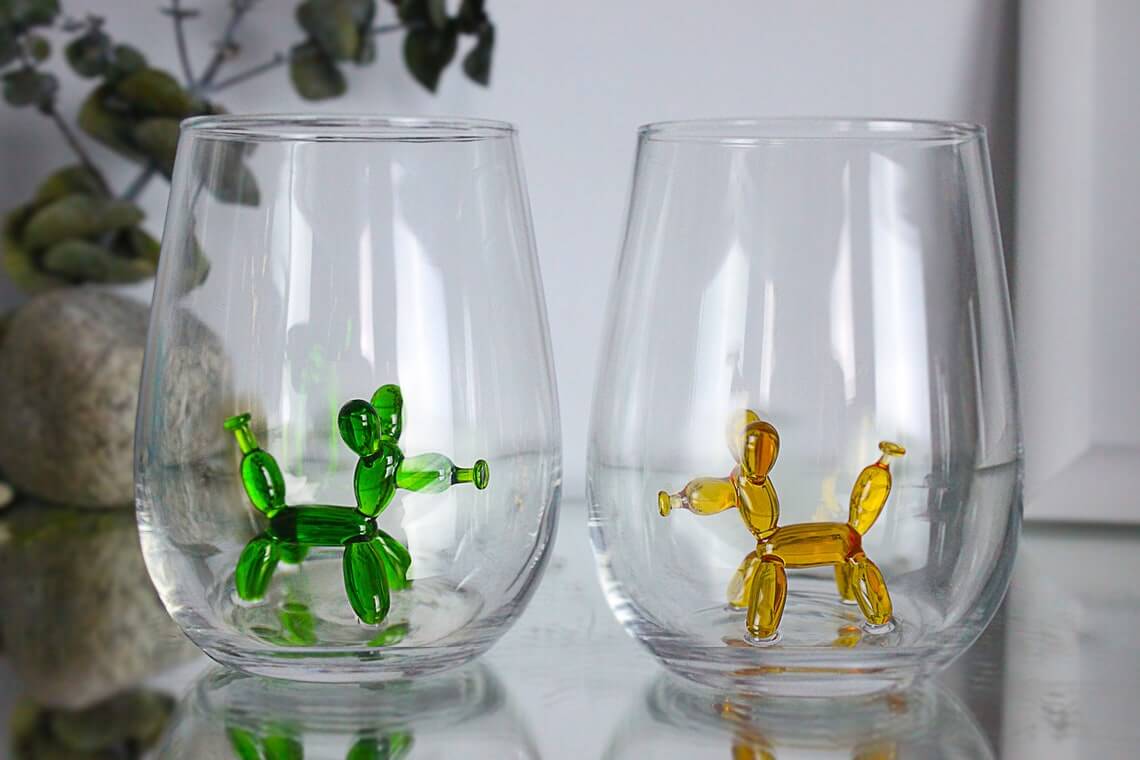 What a fun and unexpected surprise you'll find inside this glass tumbler. Inside, there is a cute and friendly balloon dog attached to the bottom that makes enjoying your favorite cold beverage a little extra fun! Dog lovers of all ages will love receiving this creatively-crafted cup as a gift for any occasion. Highlight it as part of a themed gift basket complete with wine and cheese or dog accessories like a leash, collar, and treats.
23 Gorgeous Glass Creations to Add Beauty and Style to Your Home
Hand selecting items to decorate your home is a task not to be taken too lightly. Just like fine wine, amazing interior design takes time when you are curating a home that you will adore for years to come. Begin with some window accents that are off the beaten path. From suncatchers of icy mountains to hanging colorful feathers, you'll enjoy their beauty and style each time the sun shines.
Serve up your next party in style with a patterned glass serving tray. To increase the style, feature custom wine glasses to personalize each guest's drink so there's no mix-up with gorgeous colorful swirls and specks of gold. Keep a balloon dog tumbler on hand for extra fun! You can always add a sculpture of a sun god or a hand-painted lantern for extra charm and style. Both will bring a pop of color and a sense of style to the room. And everyone can always use a unique vase that's a frozen work of art that never melts.
Of course, a simple way to make a bold statement is with a focal piece and that's easy to achieve with a new lighting fixture or large piece of wall art. Choose a Moroccan-inspired globe light for a soft glow and loud style. Or you can hang a tempered glass piece that dazzles with its sleek and shiny finish. No matter what your design preference happens to be, including stained glass is a great idea. You'll have an additional element of texture in the room with its smooth and pristine finish and you'll love the interesting designs that will captivate all of your family and friends.