16. Relax While You Cook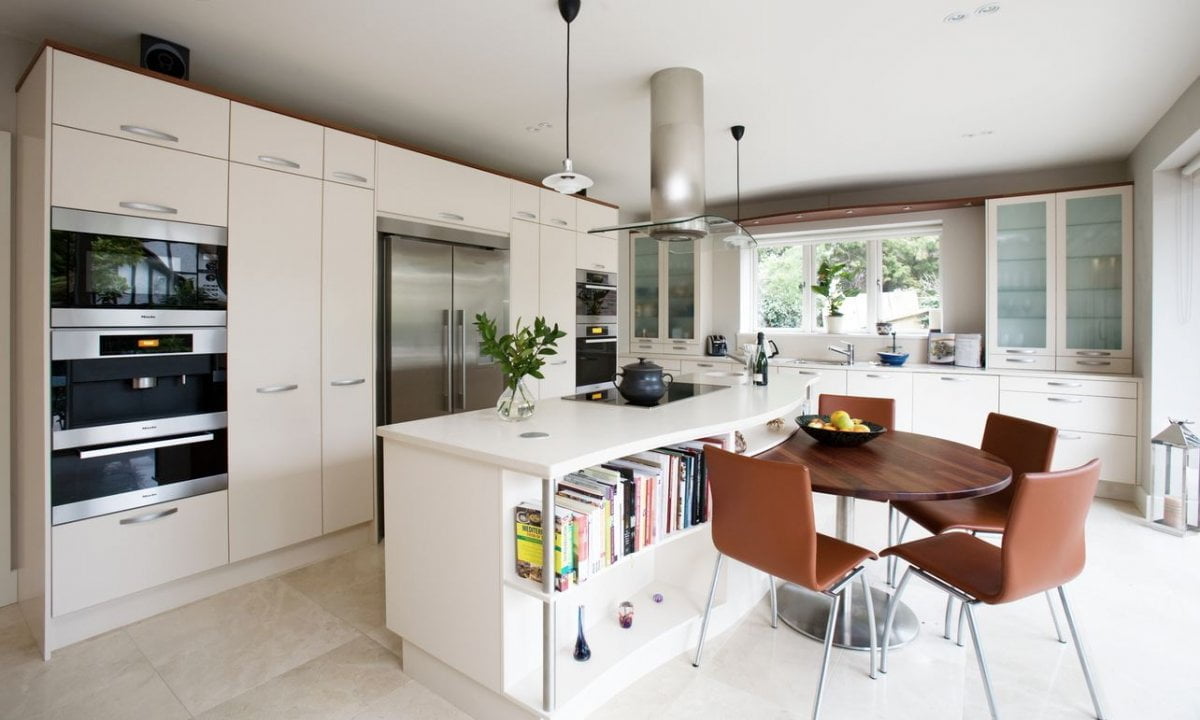 This kitchen breathes relaxation. While cooking for your family or guests can turn into a stressful experience at times, this is one of those kitchens with white cabinets that offers a relaxing environment. From the books on the book shelf to the neutrality of the cabinets, this is a kitchen that would fit in in almost any home.
Not every kitchen needs fancy tile or eye-catching decor. This kitchen boasts simplicity and functionality which is perfect for people who like their spaces clean and spacious. The plus to this plain yet highly functional kitchen is that it is an easily sellable kitchen, should you ever want to sell your home.
17. Color Your World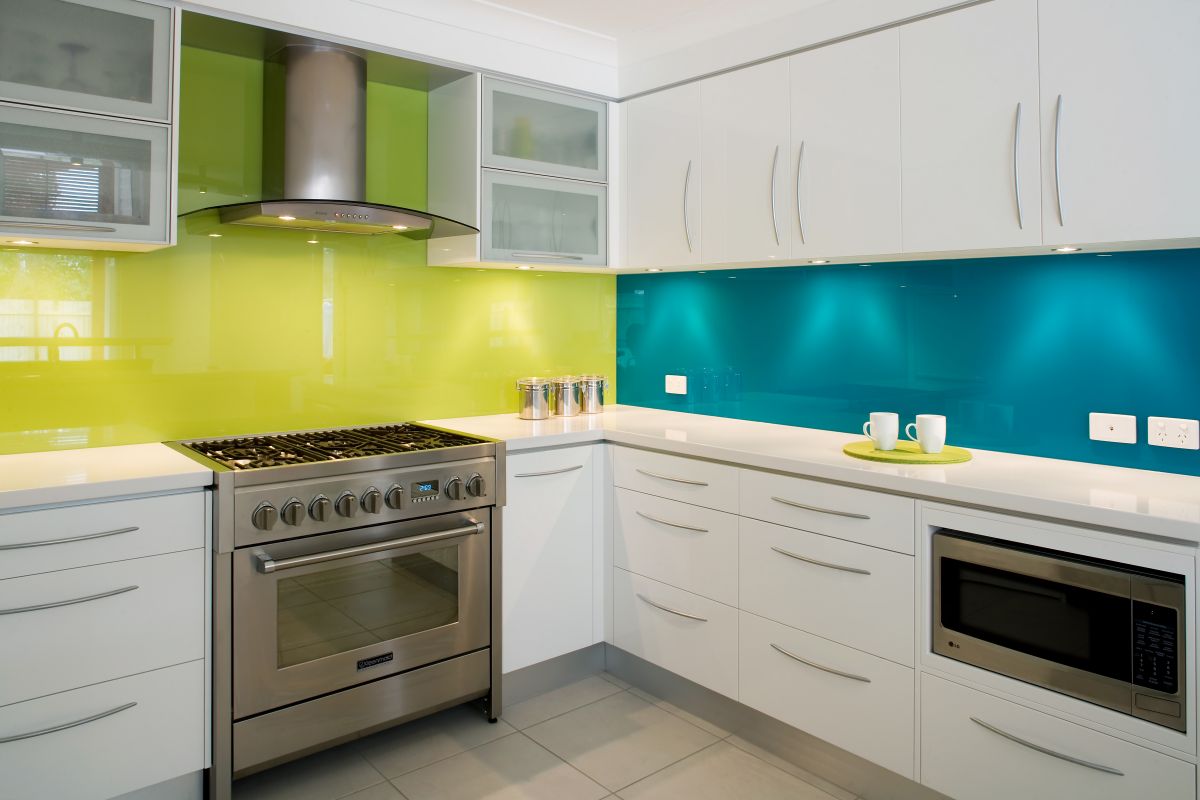 This kitchen inspires creativity in the kitchen. The smooth and contrasting colors in the background with accenting lights combine perfectly with the white making this an aesthetically pleasing kitchen to be in. From the long handles on the kitchen storage cabinets to the color combinations and metallic oven and microwave, this is one of those kitchens that makes you admire the ingenuity of people who come up with kitchen design ideas.
If you have a kitchen with white storage cabinets, consider adding color back splash walls to liven up and add style to your home. This is one of those pictures of kitchen cabinets that makes you want to always use white in your kitchen.
18. Dress Me in Light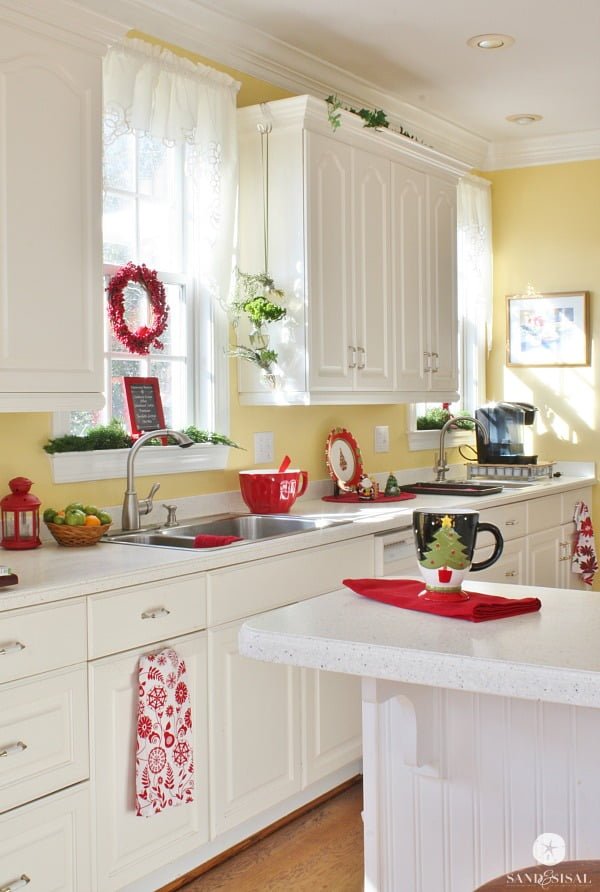 This kitchen proves that cozy can be stylish. It's the type of kitchen that you can imagine spending hours in preparing holiday meals or baking cookies with the family. The kitchen cabinets with the light yellow background allow the natural light coming through the windows to enhance the bright feel to this kitchen.
While the decor in this picture is Holiday related, the pops of color add life and a cheer to this kitchen and is an excellent portrayal of quality kitchen ideas. This kitchen proves that cozy and warm can still be stylish and inviting.
19. A Walk in the Clouds White Kitchen Cabinet Idea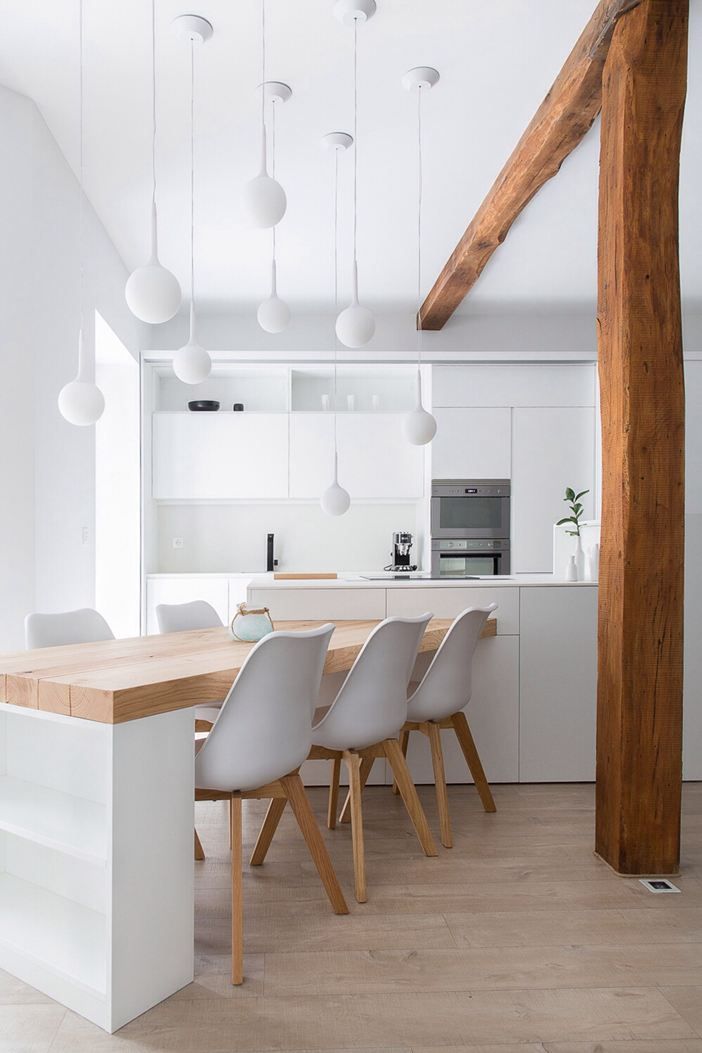 If you love the idea of fresh and breezy, you would love a kitchen like this one. This kitchen offers authenticity and style while keeping it cool. The white bubble hanging lights, the kitchen cabinets, the wooden beams, and the beautiful attached table combine to make an unique yet gorgeous space in this home. It's an excellent use of space and the white allows the kitchen to appear more spacious than it really is.
This kitchen design is the ideal kitchen idea for anyone who wants to do something outside of the box, its functional yet quirky with style and class, making it an other worldly look.
20. Follow the Rabbit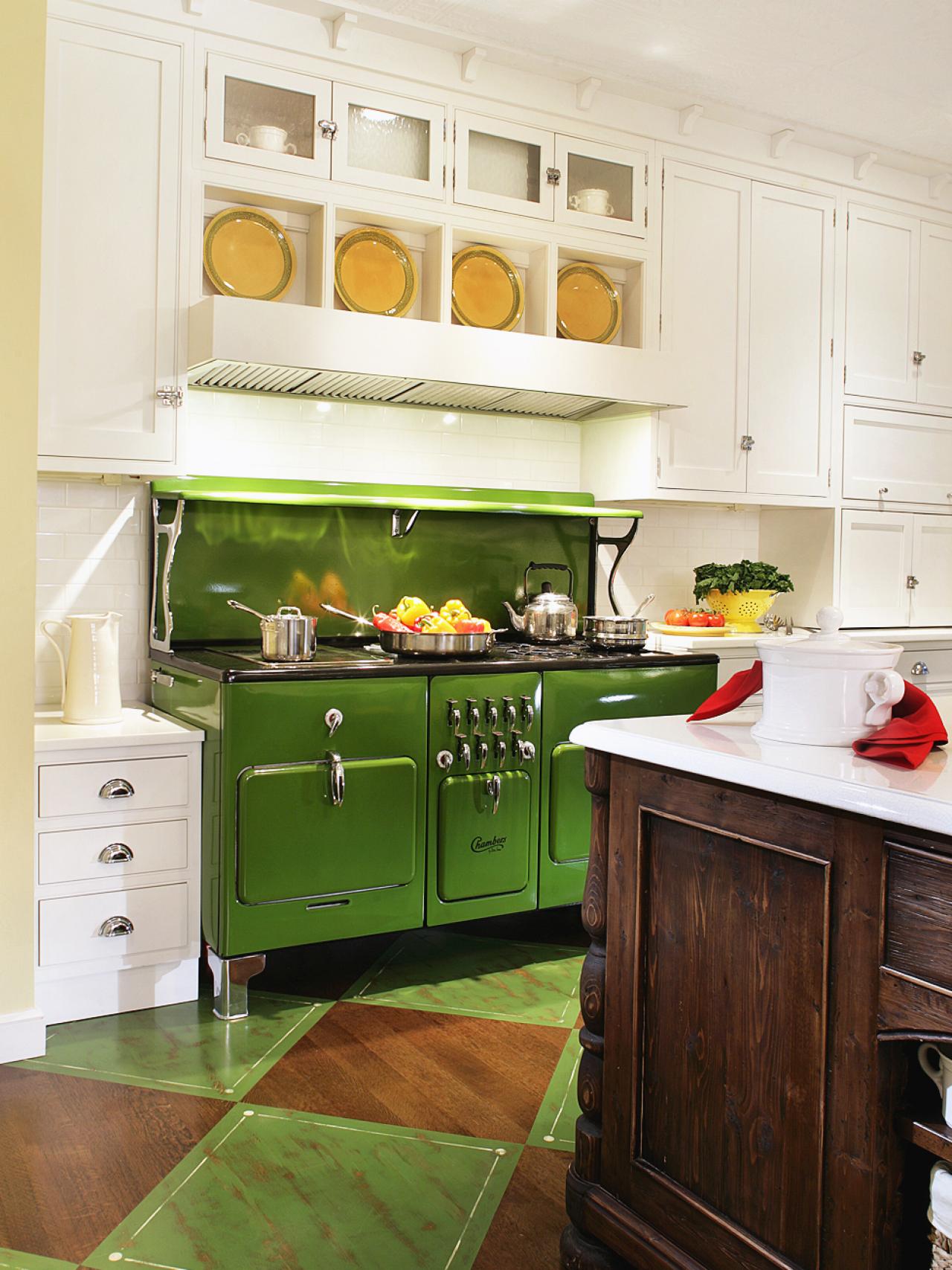 What first comes into mind when looking at this kitchen is "where is Alice?" This original kitchen brings a touch of 1800 flair to a modern home. The green vintage stove, the yellow plates, and the tiled floors pair perfectly with the white to make it a stylishly transitional kitchen with the focus on the beautifully unique stove.
Adding a vintage stove to your modern kitchen can add style to your home. If you like vintage styles or have some quirky styles to work with, adding a touch like this can go far in turning your home from outdated to cool and trendy.
21. Classically Rustic white Kitchen Cabinet Design
There is just something about cooking in rustic kitchens. Whether you are building your home or renovating your kitchen, a kitchen idea like this one offers both space and class. The combination of the dark stained floors and ceiling beams with the white cabinetry give this kitchen an elegant appearance. The white helps open up the room and gives it a spacious feel even with the large island in the middle.
This kitchen idea is evidence that classic and rustic kitchens are still in style in the interior design and home decoration world. The hanging lights add extra detail that only enhance the beauty of this classic kitchen.
22. Doing Black and White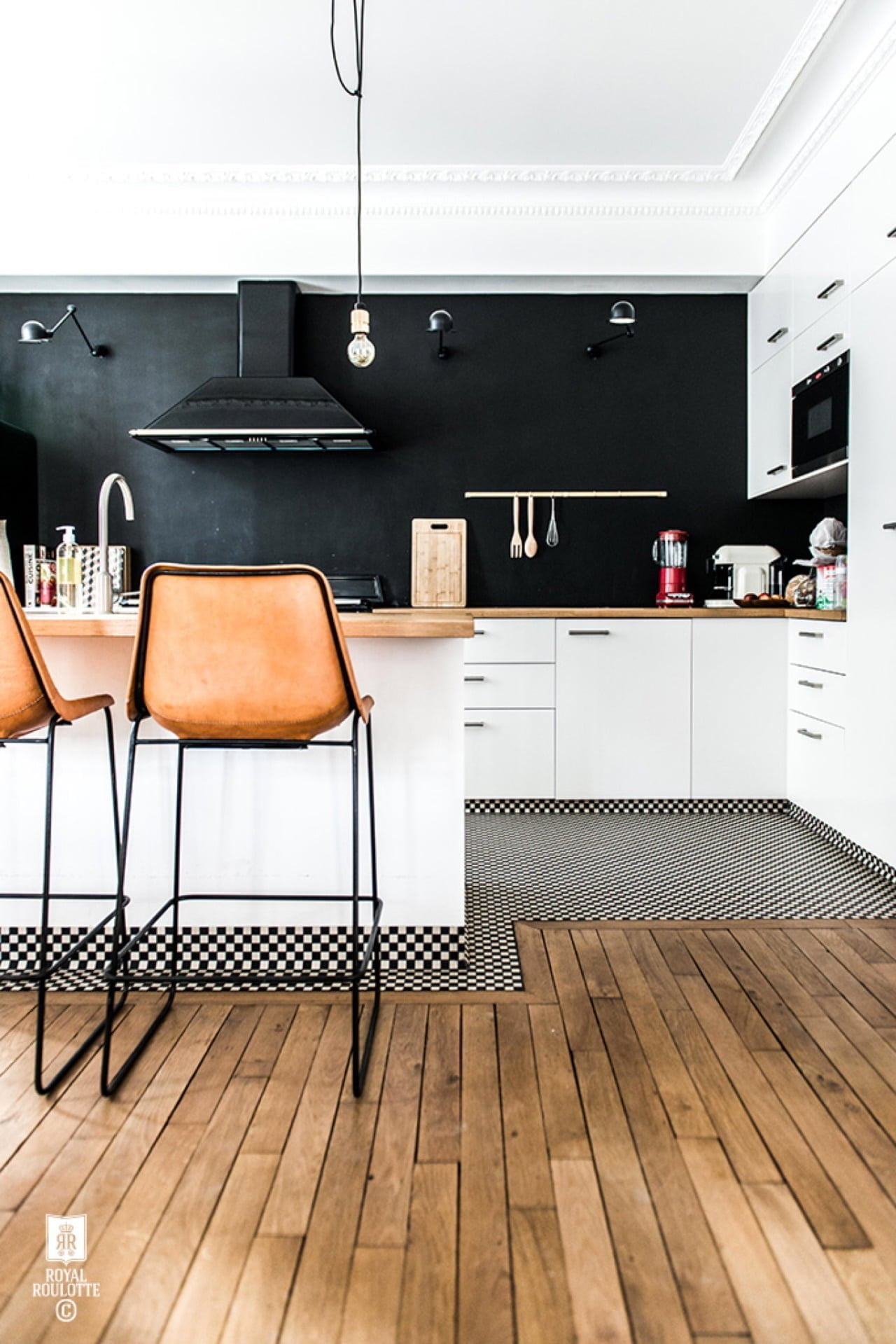 The use of kitchen cabinets in this kitchen is proof on how kitchen ideas don't have to be cut and dry. This excellently designed kitchen brings in a number of components to create an attractive and stylish space. The checkered floor tile combines expertly with the black back splash with the white cabinetry pulling the whole look together. The tall bar stools add a contrast that enhances the kitchen's unique style.
If you want a trendy kitchen in your home that offers you the illusion of space and functionality, a kitchen like this may suit your style. Who knew black walls could be so much fun in a kitchen? The conveniently placed hanging lights against the back splash and the white ceiling keep this kitchen from appearing too dark.
23. Brick By Brick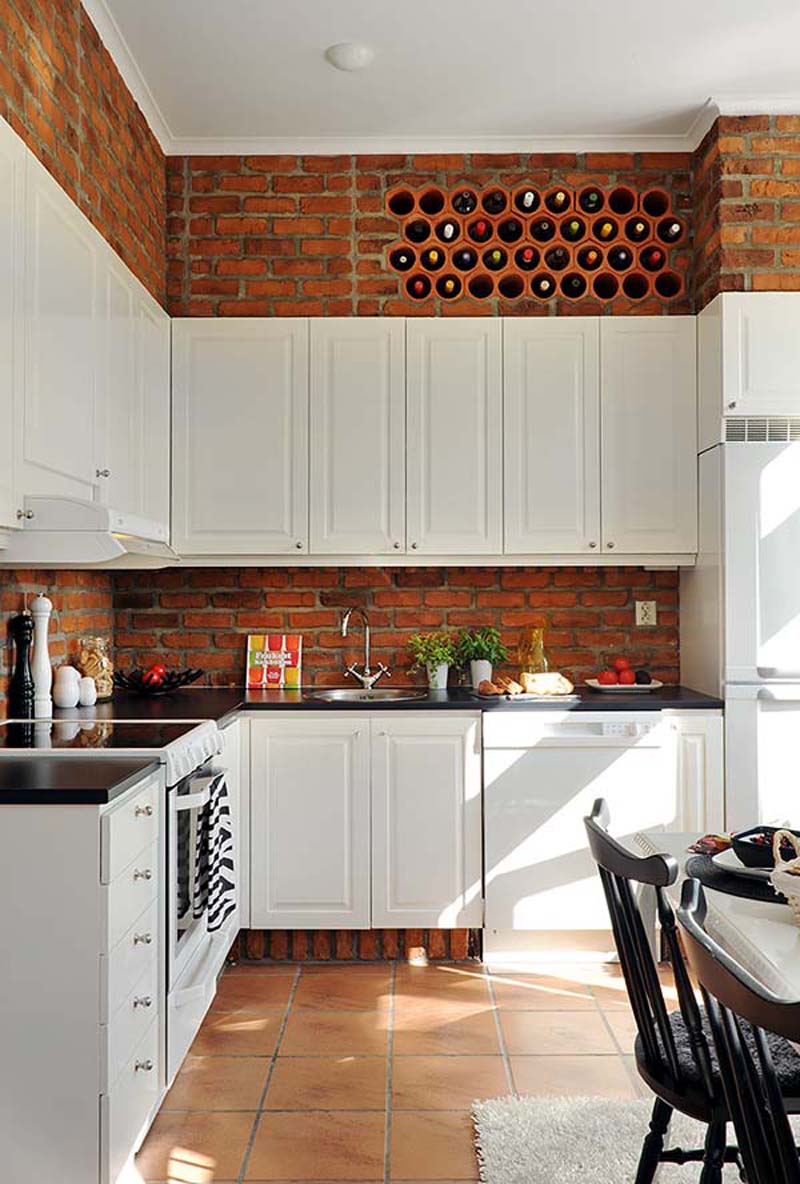 This kitchen shows that brick can be an excellent choice for kitchen designing. The contrast of the kitchen storage cabinets against the red brick only enhance the beauty of this design. This design is both homey and modern.
The built-in wine rack is a creative idea that can work in many types of kitchens. This design is an excellent idea for people who want the illusion of more room in their kitchen while maintaining classy storage space.
24. White, White, White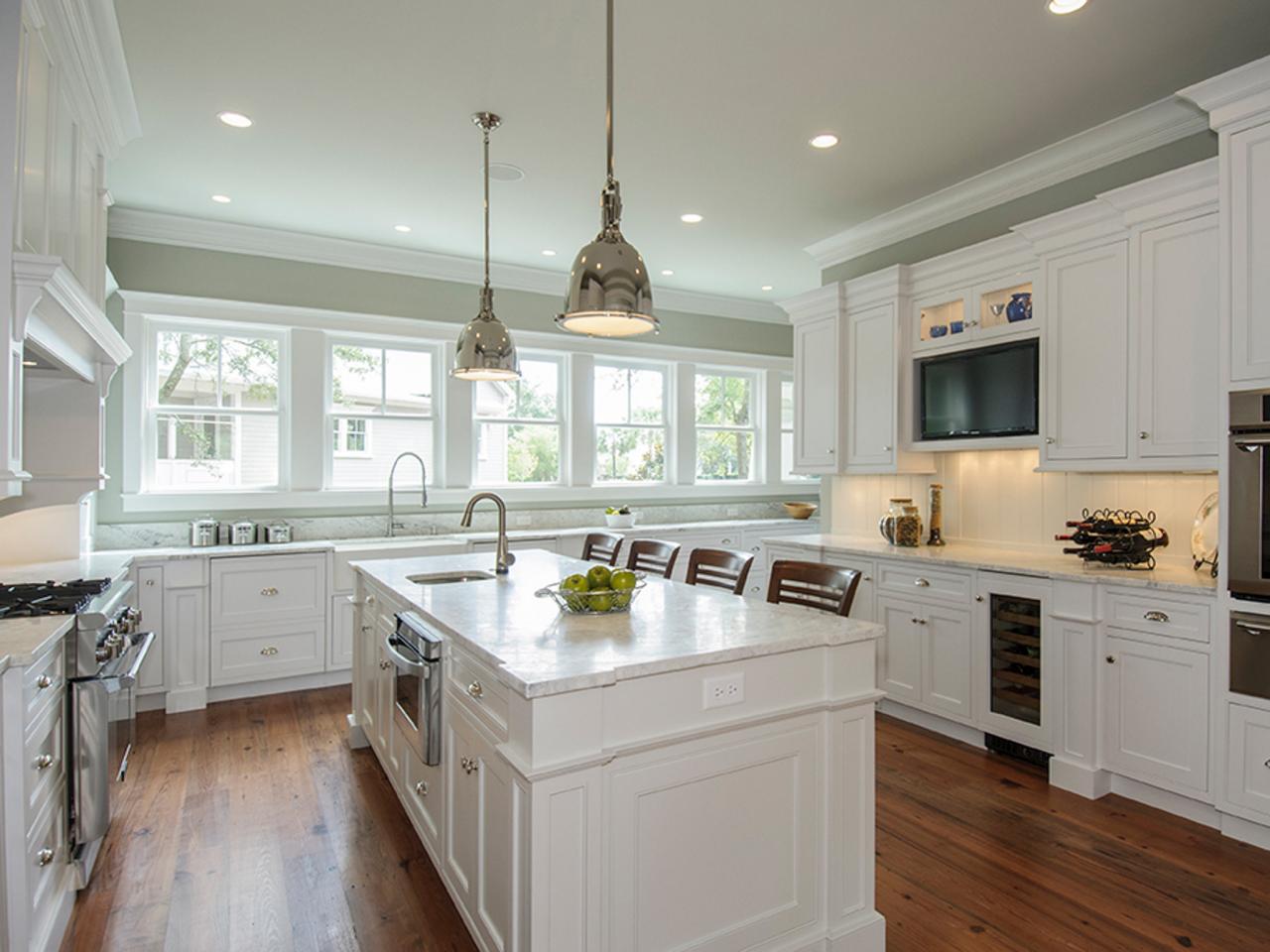 While wearing white pants may be a big fashion no-no in the clothing world, when it comes to interior decor, white definitely goes. This kitchen is evidence that kitchen cabinet ideas can include using white. This already spacious kitchen is enhanced by the pure white cabinetry making it a heavenly paradise for moms with a lot to do in the kitchen.
There is enough space for little helpers and plenty of cabinet space for all the many dishes, ingredients, and necessary appliances that are involved in running a large household. This is every big family's dream kitchen, with plenty of counter space and a fabulous island to enjoy a meal at.
25. A Work of Art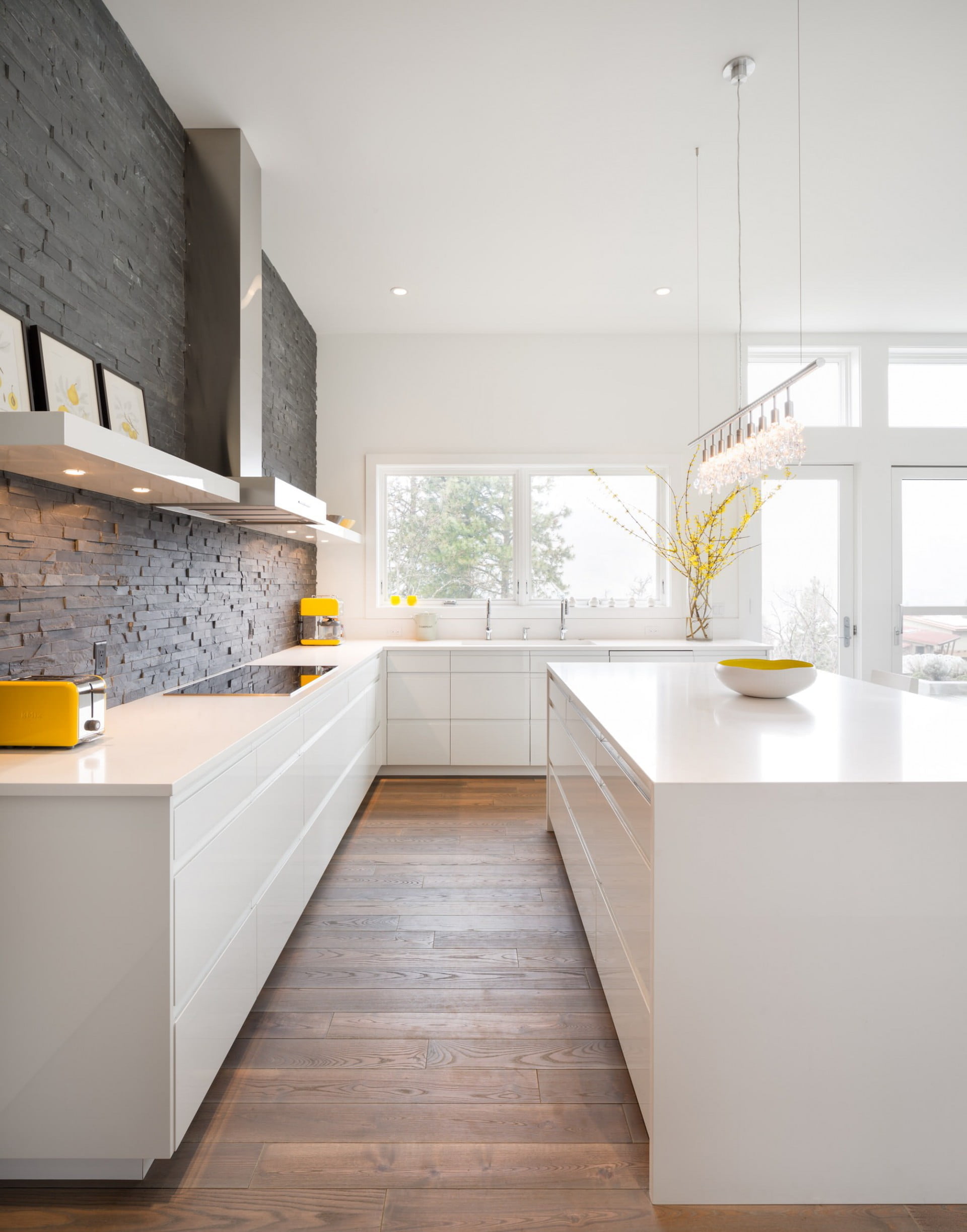 If you have been looking at pictures of cabinet ideas to come up with a design for your kitchen, this picture is one great example of how white cabinetry should always remain a staple in kitchen design. White allows home kitchens to be bright and look spacious. The white cabinetry and installations in this kitchen enhance the grey stone wall giving the home a modern and clean feel.
If you like bright and elegant kitchens, consider white cabinetry paired with dark back splashes or counter tops. The result is alluring and trendy. The yellow decor and appliances add a special pop of color that makes this kitchen come alive.
26. All in the Cabinets Detail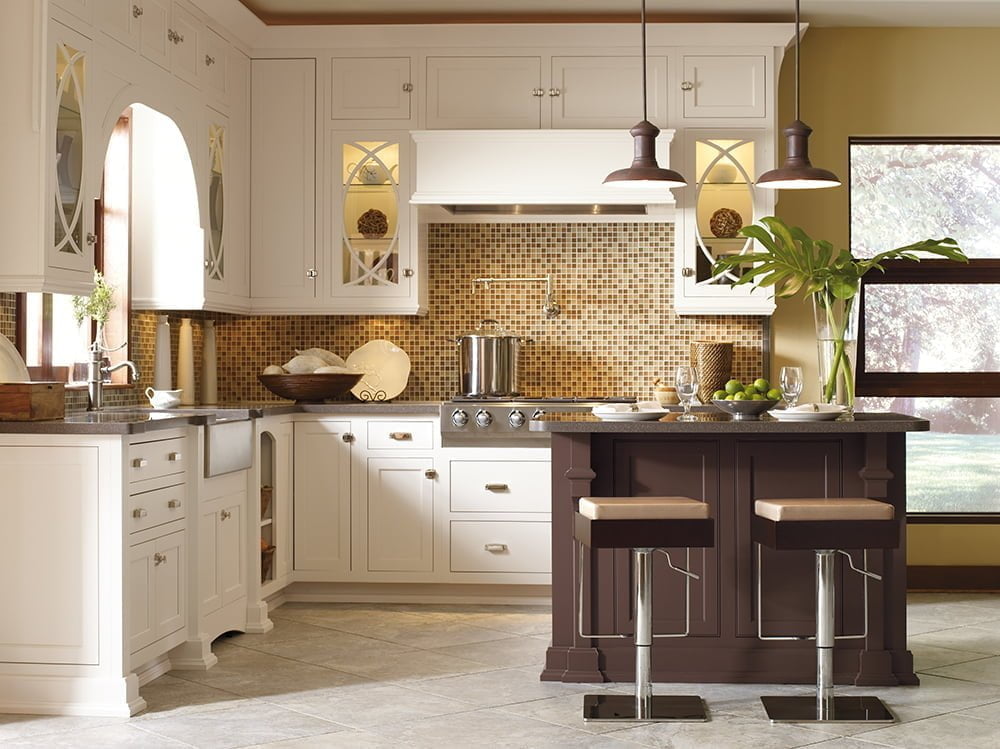 The white cabinetry with crafty designs on the glass windows in contrast with the unique lighting and tiled back splash is a fantastic example of expert kitchen designing. If you are searching for kitchen cabinet ideas for your home, consider white as your cabinet color with details and designs to make them stand out.
The color theme in this kitchen also keeps it looking elegant and well-organized, which is how a kitchen should feel. The dark brown island contrasts with the white cabinetry but ties together with the cabinet window decor and hanging lamps.
27. White Kitchen Cabinets Are So Cool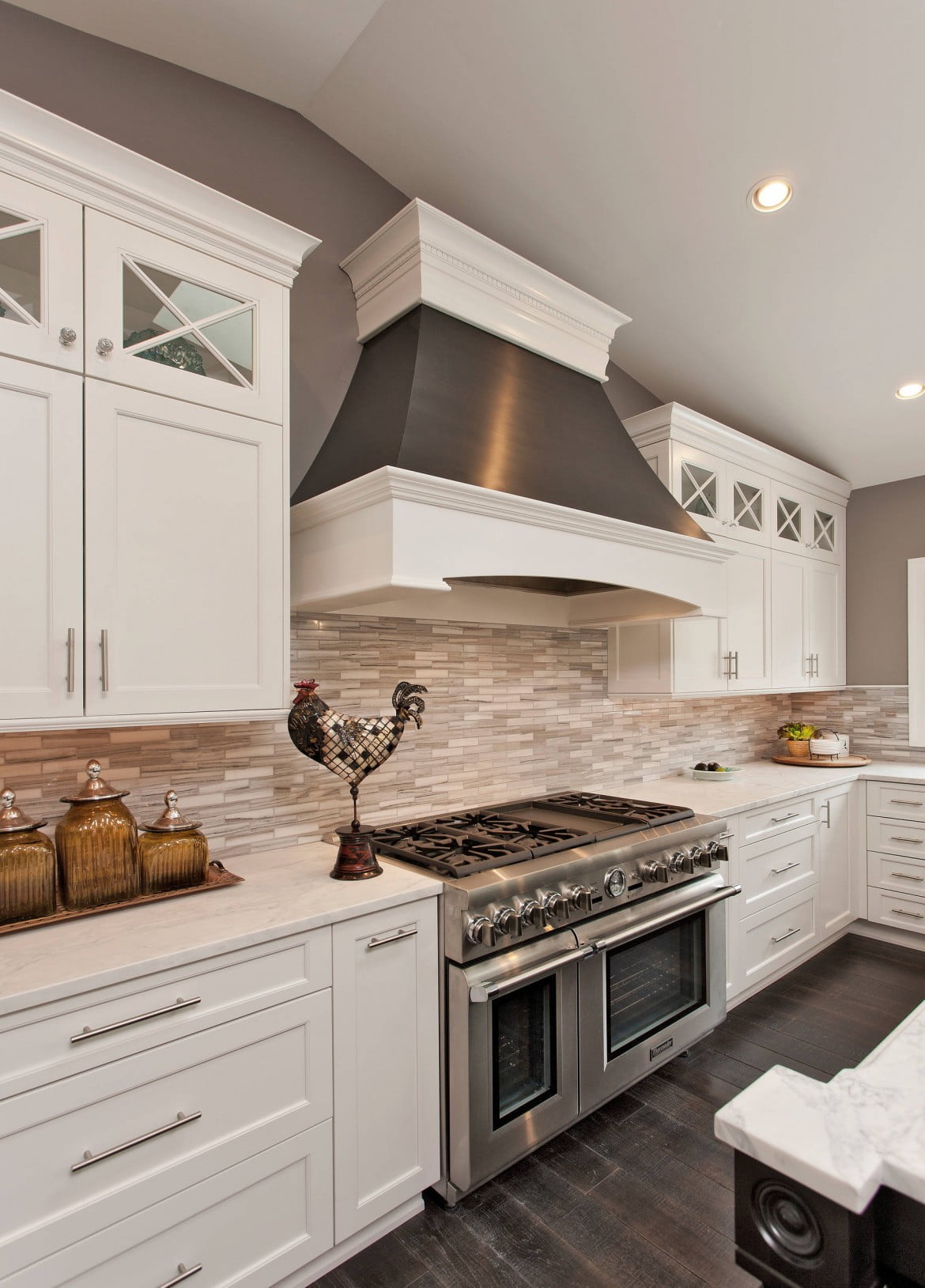 One of the most attractive facts about using white in your kitchen is that you can do so much more with other colors and designs. As is evident in this kitchen, dark walls and an intricately designed back splash don't take away from the brightness of a kitchen. With white being a main color in this kitchen, other designs can come into play making it a classy design and perfect for your home.
A special feature to this kitchen is the range hood with its thick white rim that subtly combines with the kitchen cabinets. When designing your kitchen, consider white fixtures and cabinets.
28. Designer's Love Affair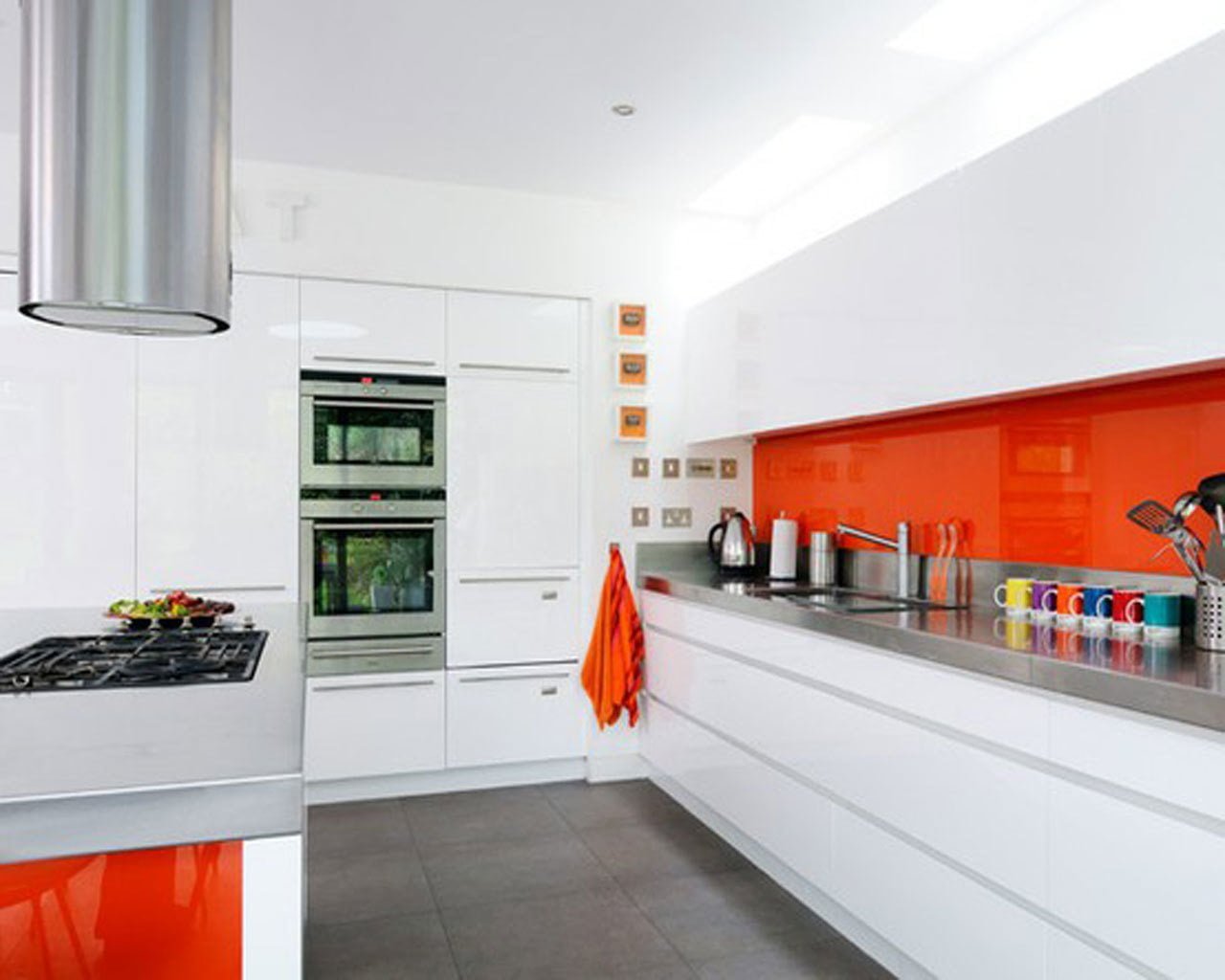 If you have yet to be convinced about white in your kitchen, take a look at pictures of kitchen cabinets and you may change your mind. White can make almost any kitchen design come to life and look good doing it. This kitchen is proof that anything goes when you have white involved.
Would you have thought a bright orange would look good in kitchen? Off bat it may seem somewhat of a Halloween themed idea, but the combination of the glossy orange back splash and island base against the white cabinetry not only pairs perfectly but looks trendy and chic. For your own home, you can pick any color you love and run with it.
More white kitchen cabinet decoration ideas on the next page…