29. Expert Remodel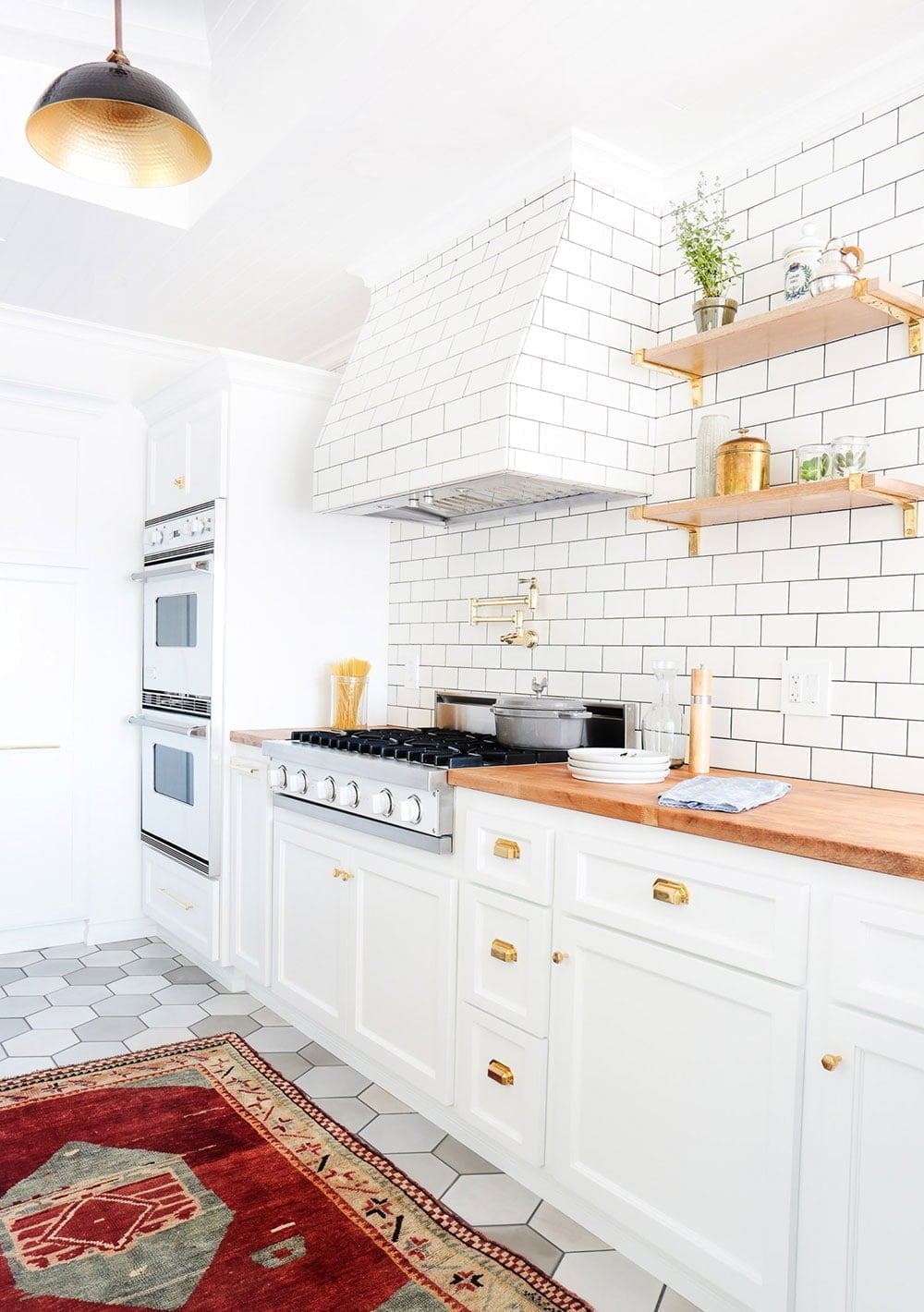 If you are thinking of remodeling your kitchen to provide it with a classic yet updated look, this kitchen shows that anything goes. The gorgeous white brick range hood and back splash combined with the salmon-colored counter-top and brass handles provides it with a uniquely elegant touch while keeping it a homey and inviting kitchen.
The African decorative rug helps to tie in the whole look while providing an artistic contrast in this unique space. The white in this kitchen is just another example of how white keeps things bright and everyone wants light while cooking. Keep white in mind the next time that you plan a kitchen update.
30. Design Beauty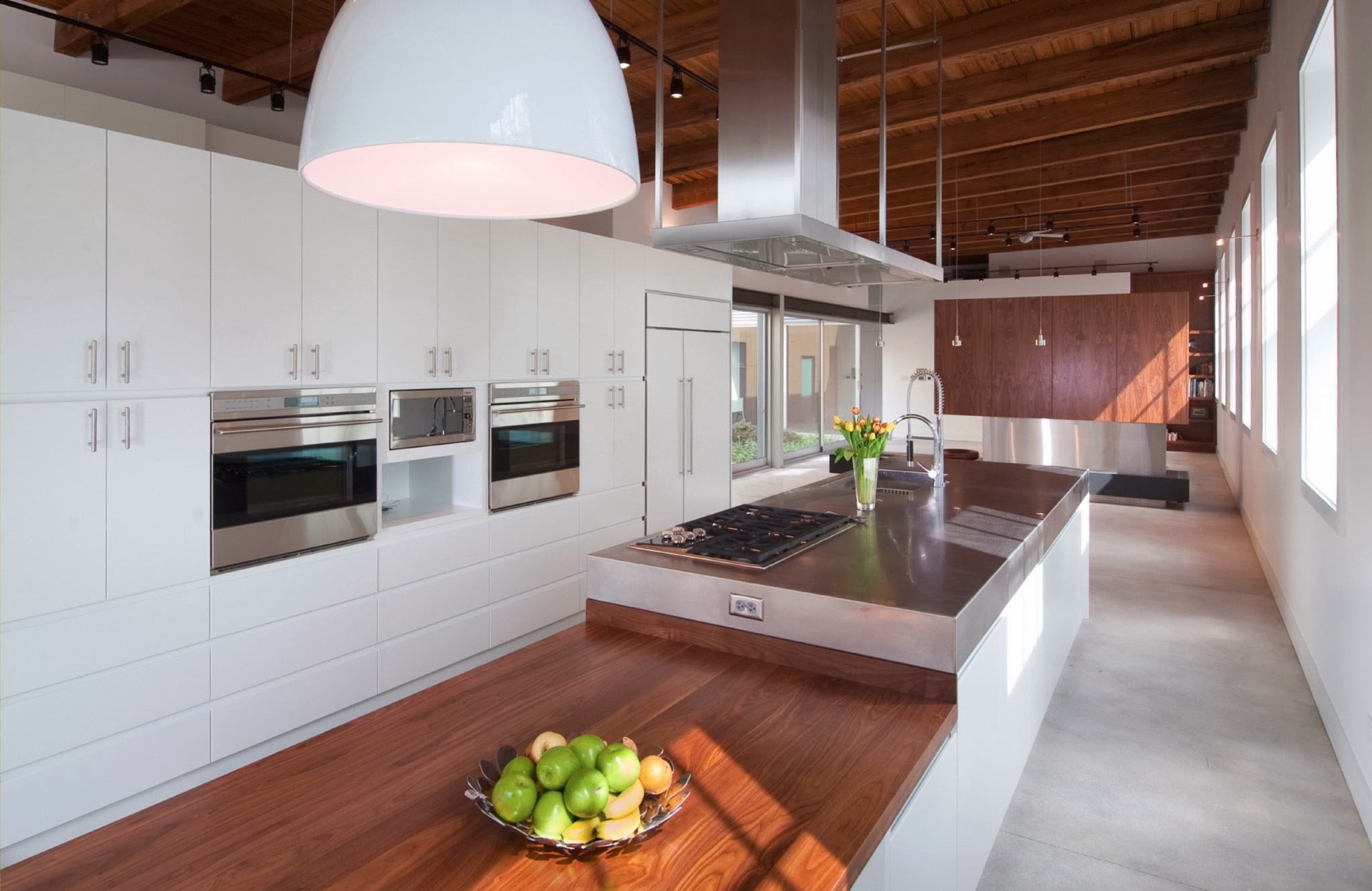 The tall cabinets, the wooden ceilings and counter tops, and the large windows not only create a spacious feel to this kitchen but also make it look classy and elegant. While somewhat of an industrial design, the wood helps to provide a cozier ambiance in this spacious kitchen.
If you like hardwood in your home and the kitchen is no exception, a design like this will provide you with an attractive yet highly functioning space. The placement of the island, lights, and cabinets is a fabulous use of space.
31. Pretty in Floral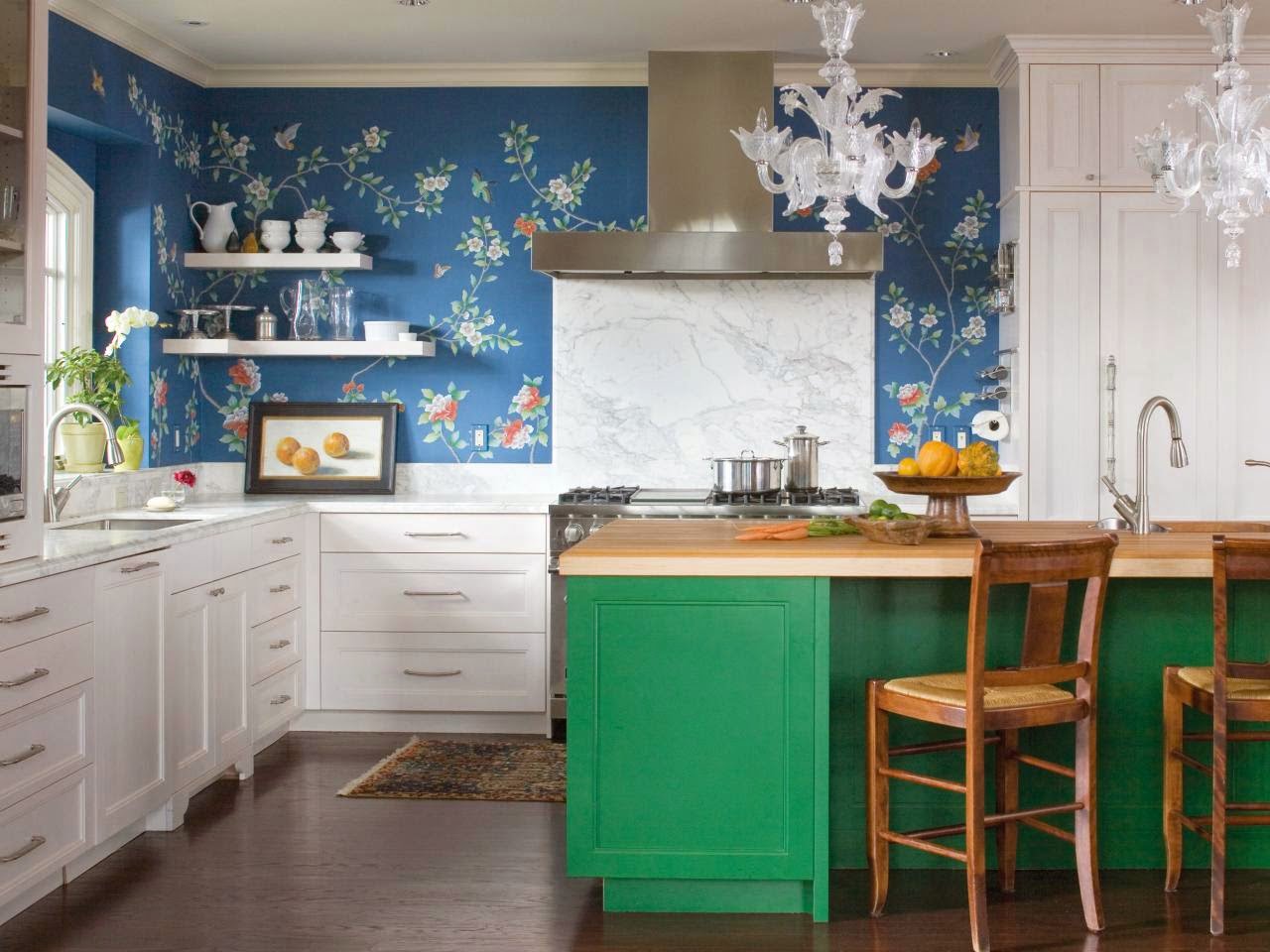 Custom built kitchens can be a great idea for people who like a little more flair. This cottage kitchen ties together white cabinetry with detailed floral wallpaper to create a darling effect. The green island combines perfectly with the background while remaining a show-stopping attraction all on its own. The intricate chandeliers fit right in this fanciful kitchen that is not only beautiful, but most likely enjoyable to work in.
While there seems to be "too much" going on in this kitchen, every component was placed perfectly to provide the customer with a delightful result. The white keeps it from looking too clutter-y and keeps it bright and fresh.
32. Elfish Beauty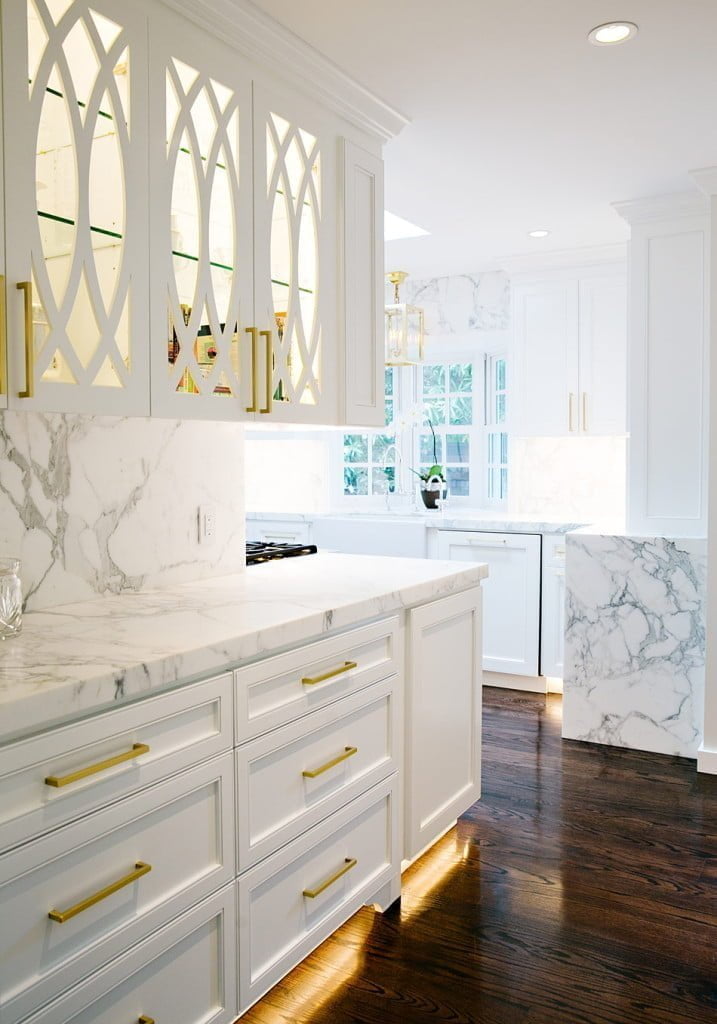 There is something so elegant about marble and this image only proves that white is a color that deserves to be used in your kitchen. The white marble counter tops and back splash are gorgeous all on their own, but the addition of the white detail on the cabinets and the gold covered handles makes this kitchen one that looks like it came out of a fairy tale.
If you are all about elegance in your home, consider the use of marble in your kitchen. It not only looks classy, its easy to clean and will enhance the beauty of your kitchen, whether combined with similar cabinets or other styles.
33. Naturally Illuminated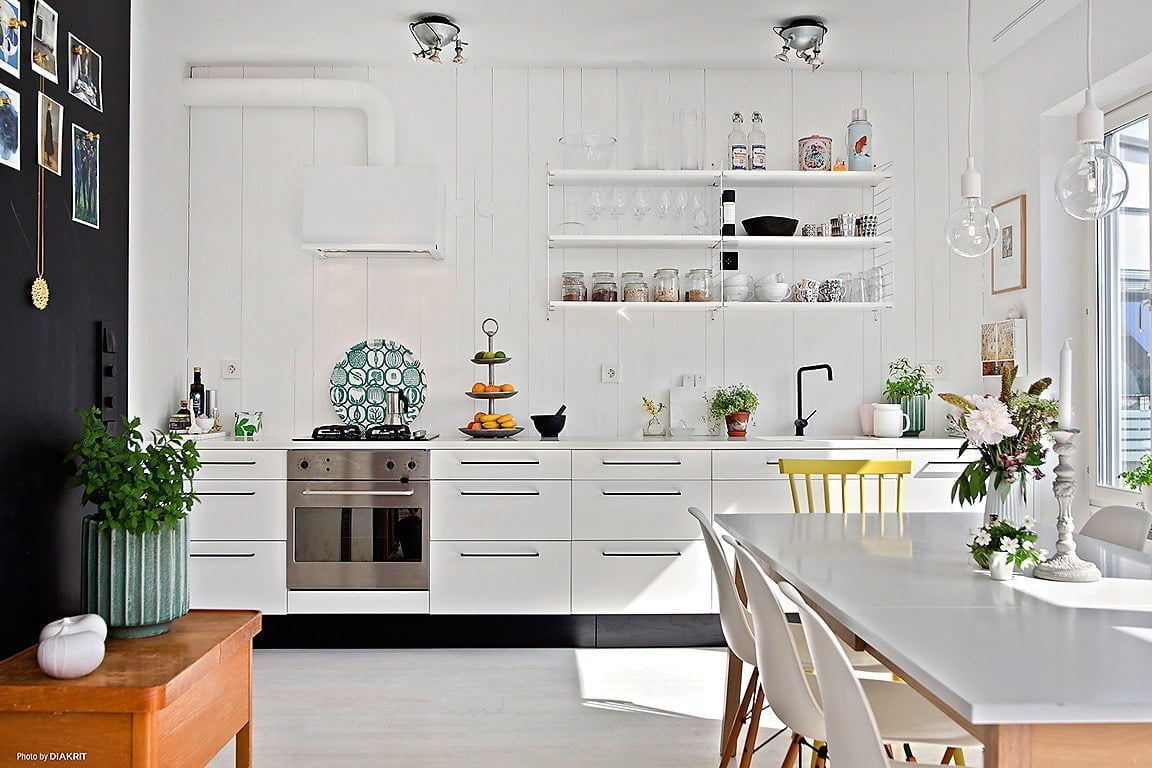 White installations in a home with an abundance of natural light coming in can be an attractive design. Most people appreciate light in the kitchen. For anyone who spends hours cooking, this kitchen is a paradise. The abundance of white opens up this space in a magnificent way, making it an inspiring area to spend time in.
If you think white walls, white counter tops, and cabinets is over doing it, reconsider after looking at this image. The absence of colors allows the home owner to play with decor and add abstract furniture without having to worry about clashing with already installed pieces.
34. Elegance Redefined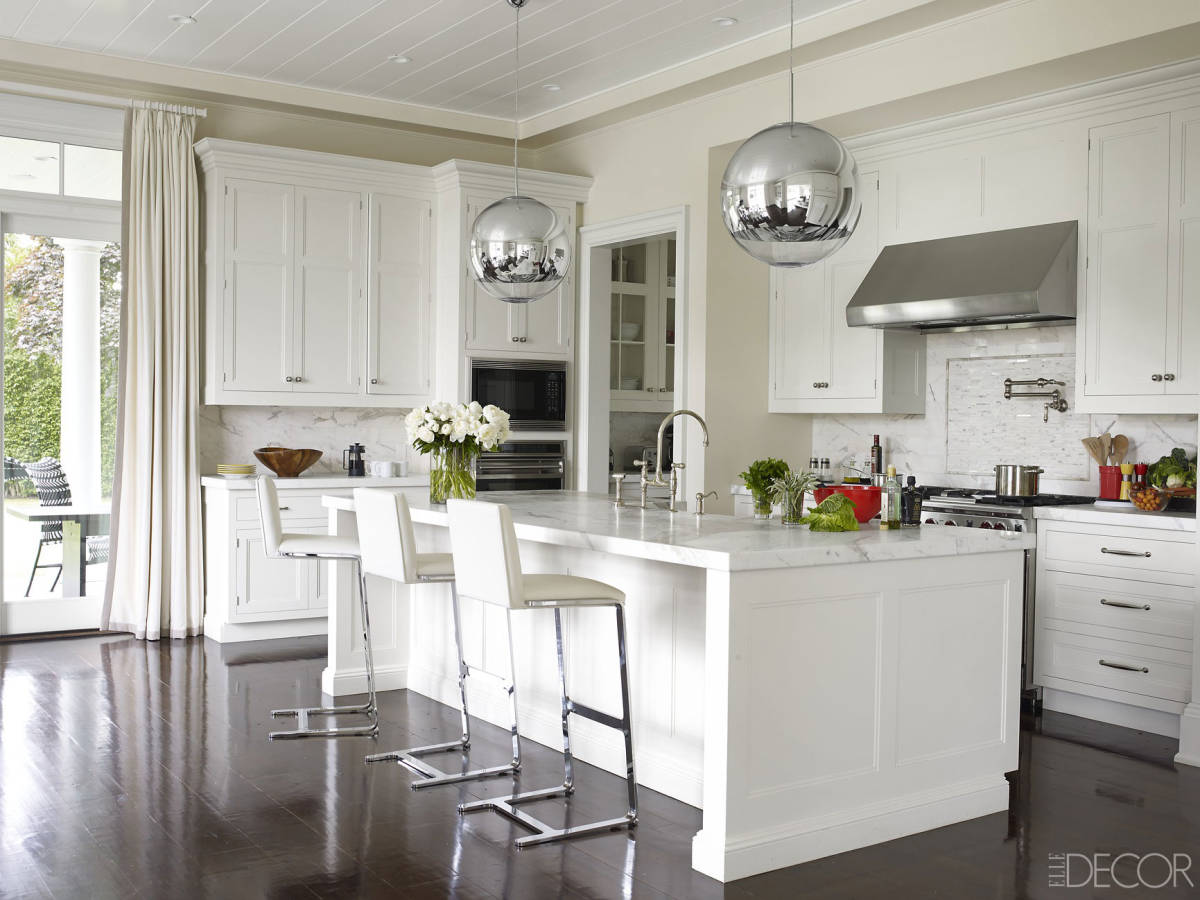 If you have never thought of hanging metal spheres in your kitchen, you may want to give it a try. In this kitchen the effect is tantalizing as it adds style to this Hampton home. The white cabinetry is enhanced by the metallic touches spread throughout the space while providing the room with plenty of light and brightness.
This is one of those classically beautiful kitchens you expect to see in the Hamptons and while there is an element of modern design in the kitchen, its an excellent portrayal of classic and modern coming together to create a pleasing effect.
35. Bright Open Spaces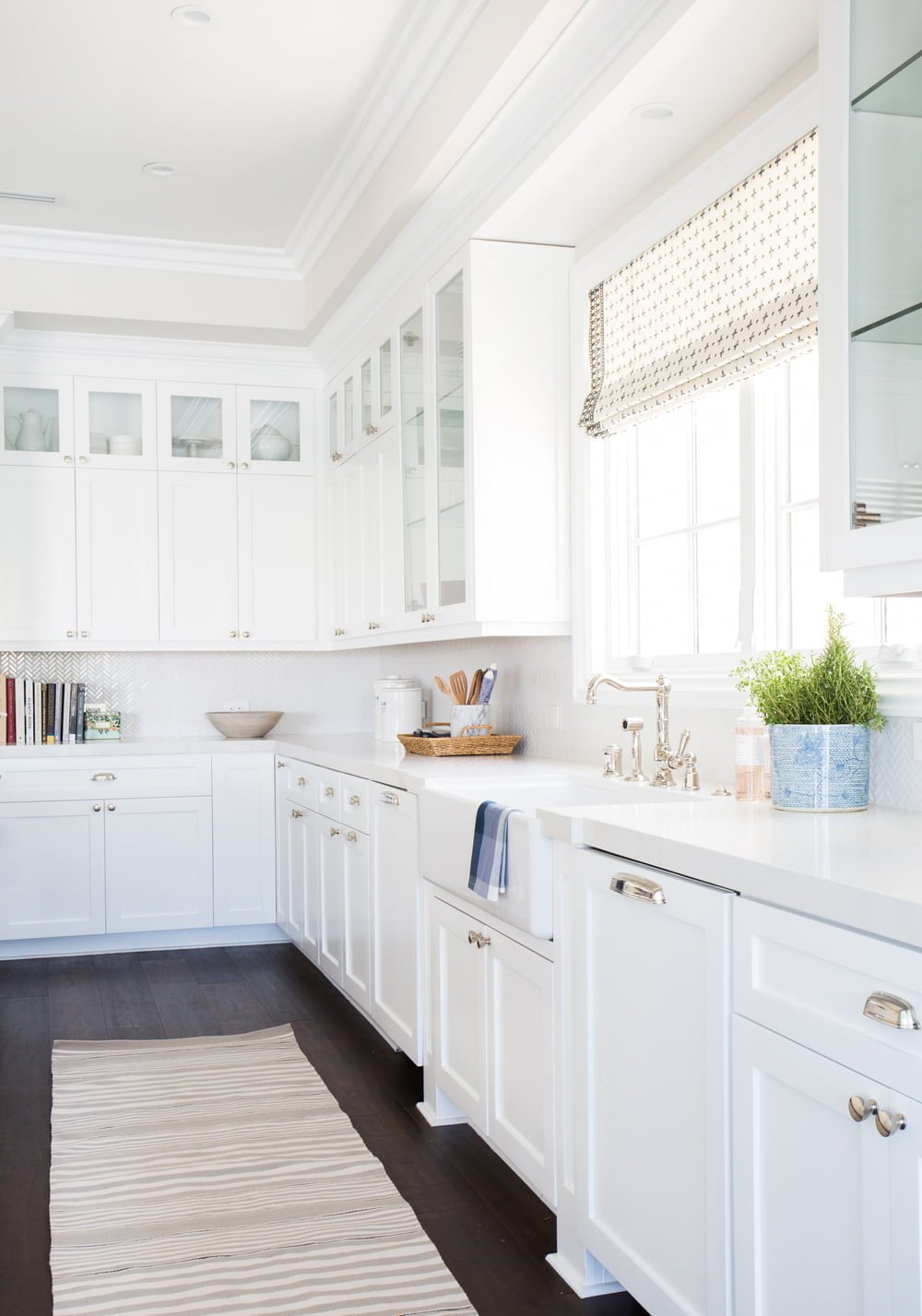 This is the type of kitchen where you can simply focus on the task at hand in a bright environment. This kitchen is ideal for moms without any need for thrills and frills. Its spacious and full of light, which is what most home owners look for in their kitchens.
If simplicity and elegance are what you appreciate in your home, a kitchen like this one will fit right in with your lifestyle and home. The basic style of this kitchen allows the home-maker to add touches of style and personal decor.
36. A Kitchen Romance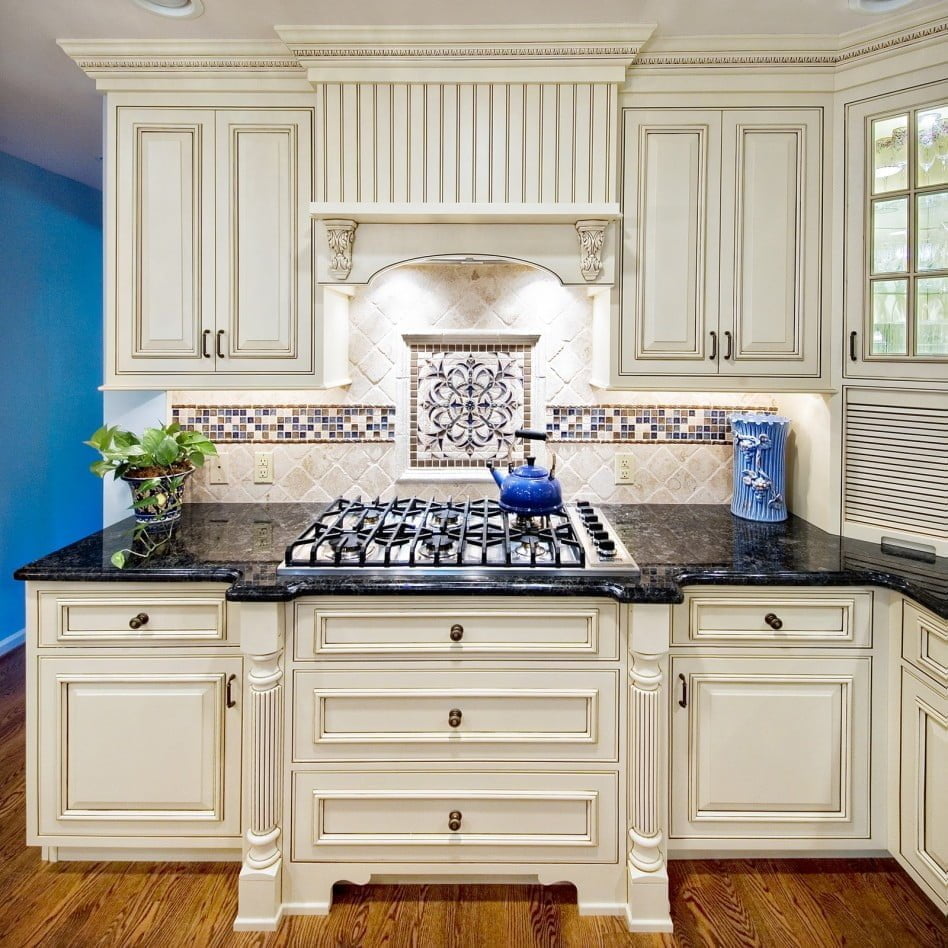 This kitchen makes you think of romance with its European style decor and detail and the beautiful design on the back splash. The off-white color of the cabinets blends attractively with the beauty of the dark counter tops. The craftsmanship and detail from the pillars of the stove cabinets to the range hood above the stove show that kitchens don't always have to be basic.
This space is both inviting and functional and if you are looking for artistic touches to add to your kitchen, consider some detail like this gorgeous craft work to enhance your home.
37. Keeping it Real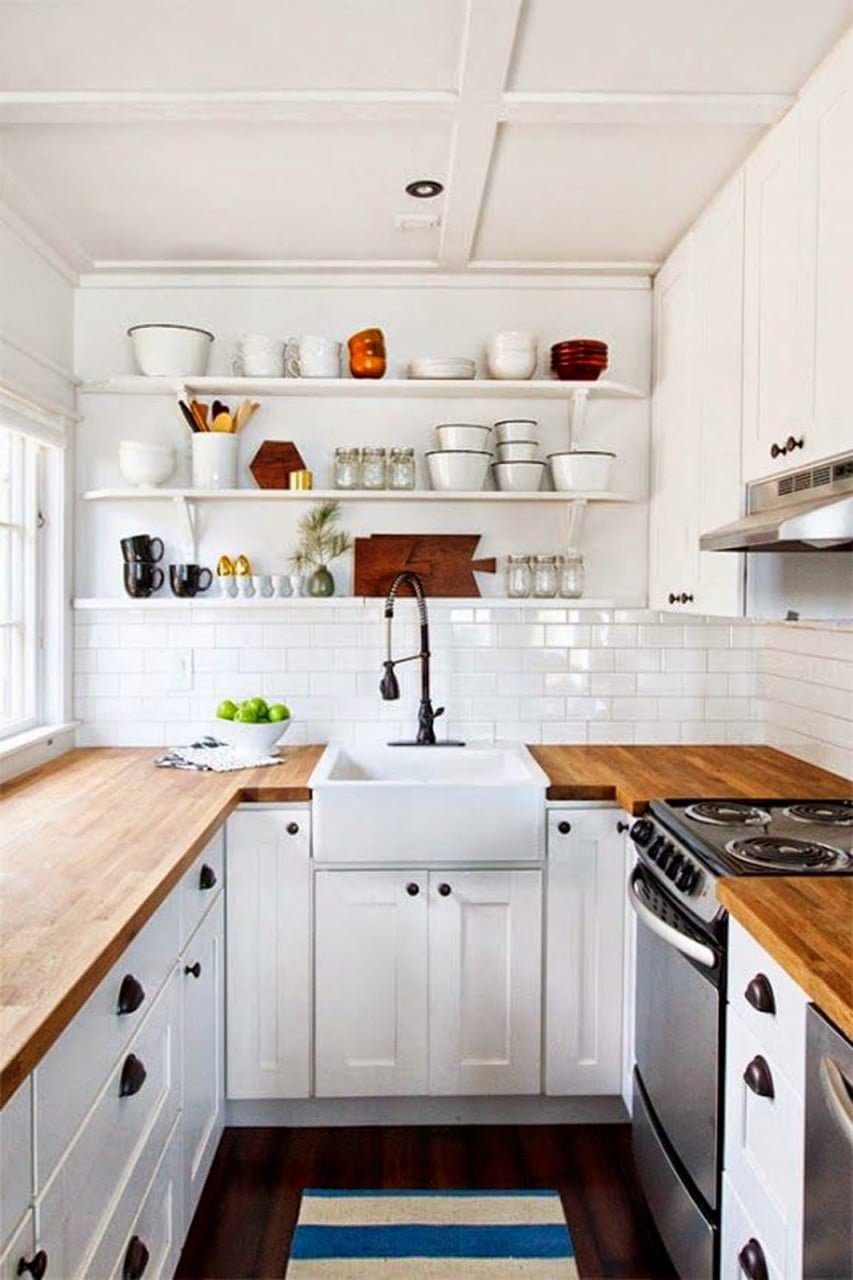 Updating your kitchen doesn't always mean changing the original style or modernizing a kitchen that belongs in an early 1900 home. This kitchen's owner wanted to keep the original feel while remodeling. The result is a gorgeous space that is both inviting and functional. With beautiful butcher block wood as counter tops pairing perfectly with white cabinetry, this look is both homey and inviting.
The white shelves above the kitchen sink are also a unique touch and excellent idea for small kitchens that need a bit of extra storage space. This kitchen is evidence that classic can still be beautiful.
38. Break the Rules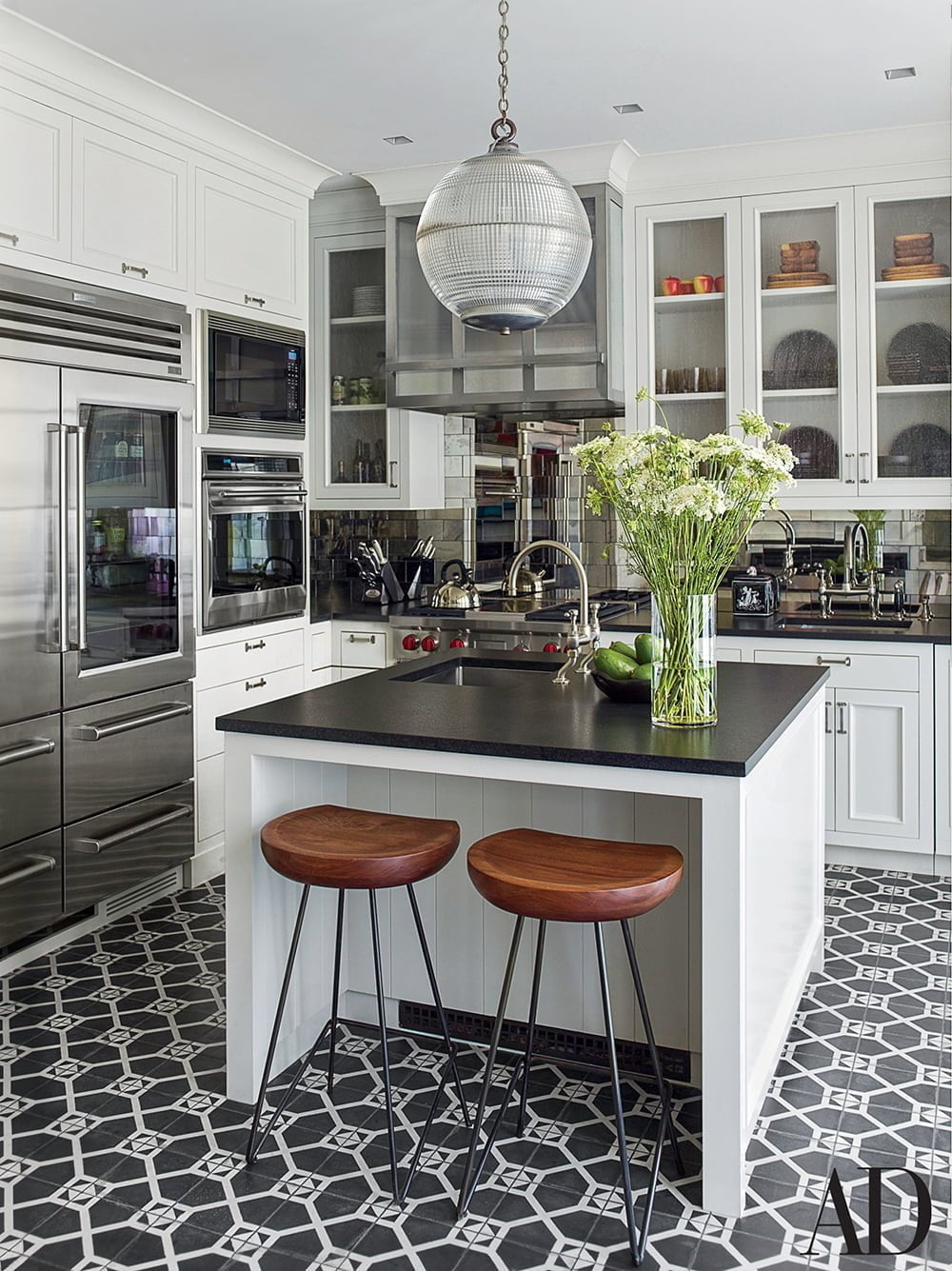 Who says that black and white tile floors can't look good in a kitchen? When combined to perfection as in this image, elegance is the word that comes to mind. This kitchen has a number of details that could be clashing in another setting, but the placement of key designs and materials works perfectly in this setting.
From the disco ball light to the mirror back splash and the black counter top, this kitchen is an attractive example of contemporary kitchen design. If you want to do something unique in your home, contemporary with white cabinetry is an excellent choice.
More white kitchen cabinet decorations on the next page…