15. Go With Your Favorites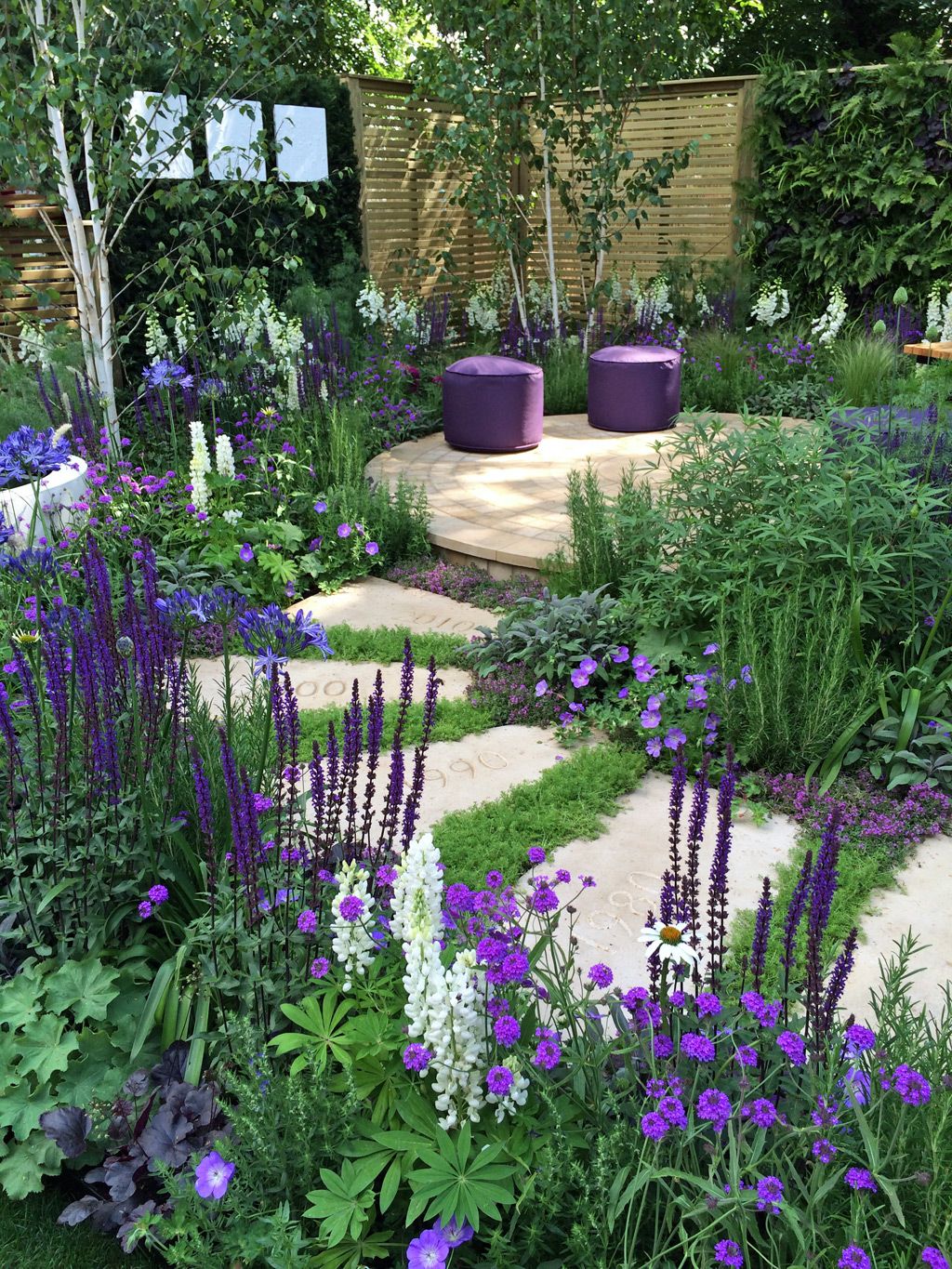 Flowers come in every color of the rainbow, and a lot of backyard landscaping ideas make use of this variety to create an incredibly joyful space. However, this backyard design just goes to show that sticking with a single favorite color or type of flower can work very nicely in your garden space. Here, purple flowers dominate the lush, green space, with a few white flowers for variety. Two purple stools on the patio area tie in with the rest of the design and offer a unique garden seating choice.
16. Built for Nighttime Bonding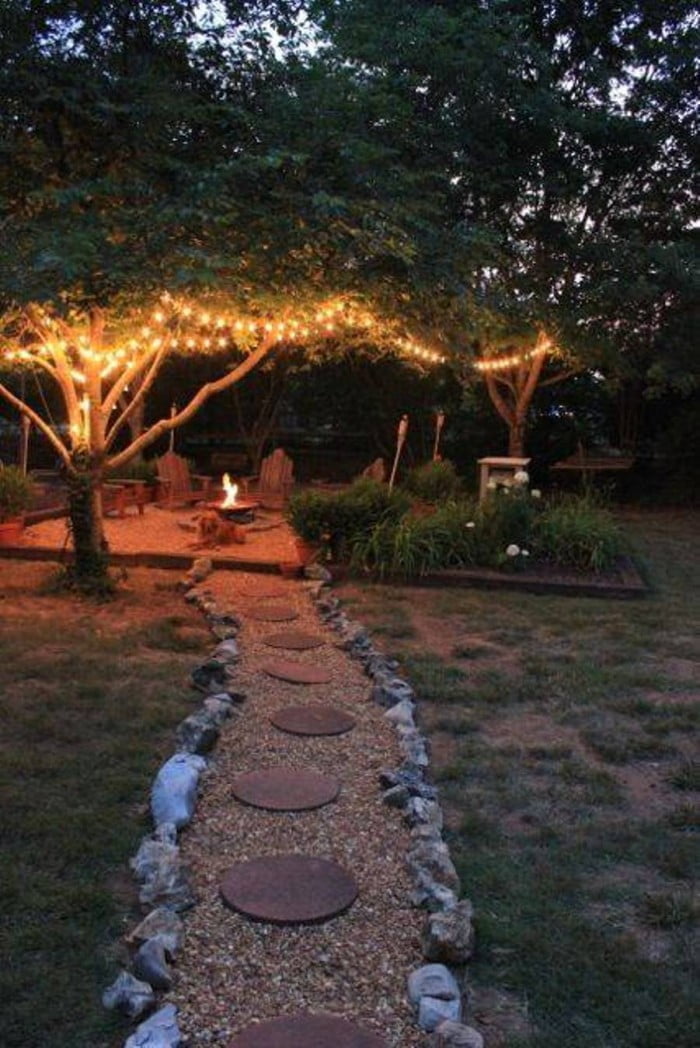 When you think about what type of backyard design ideas are right for you, you have to think about how you plan to use the space. This space is all about good friends hanging out late into the night. The rocks lining the path aren't uniform, giving the design a great DIY feel, while the stones and circular pavers help it feel put-together. By stringing lights into the trees, you'll have convenient lighting into the night and shade in the daytime. While there are small landscaped areas, the focus is really on the fire and the chairs surrounding the fire. Sit back and relax while you chat with your friends.
17. Bridging the Gap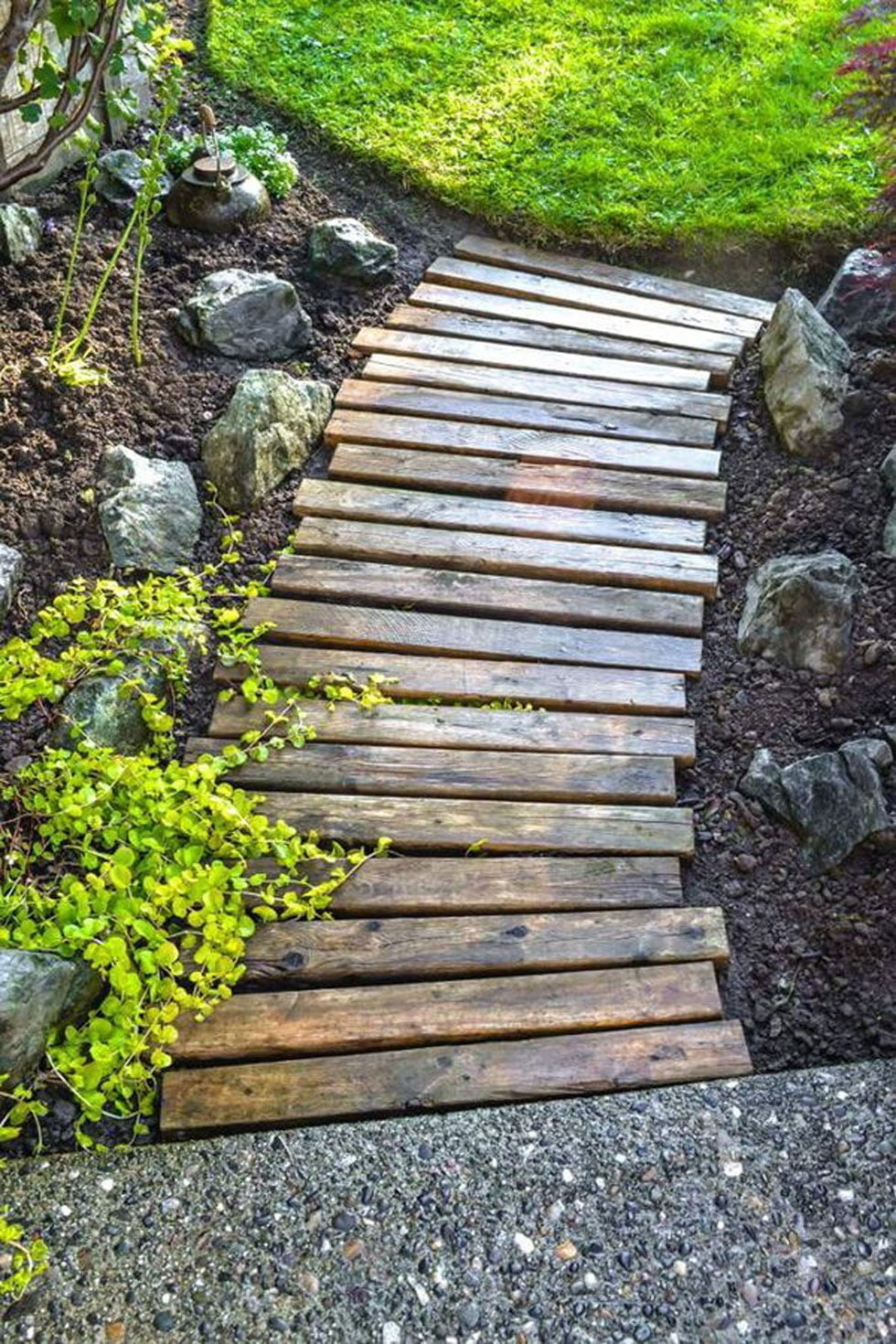 Sometimes, an extensive landscape design means that you can have trouble going from one side to the other. This is a cute way to make a small path without feeling like you have to clearly define and separate the landscaped areas with bricks. It looks like a bridge crossing a "river" of beautifully landscaped areas. Save money by creating this wooden bridge with scraps leftover from a project, or take the idea and change it up a little by using logs or stones to make a bridge.
18. Flowing Flowers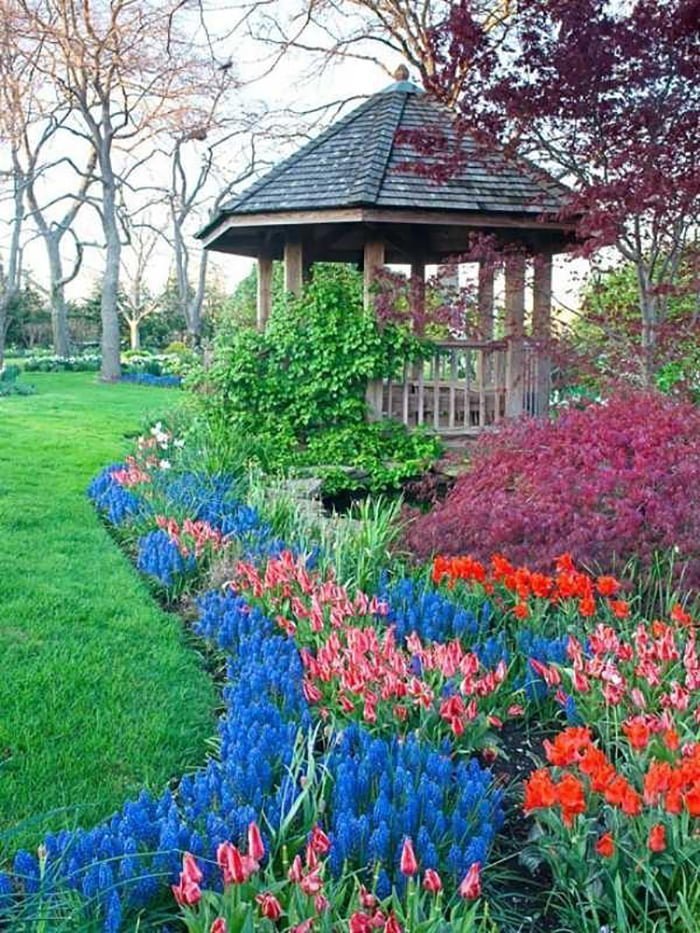 A typical garden design might include rows of flowers. This photo takes this basic idea and makes a few changes by having the rows of flowers take wandering paths. The bright blue flowers contrast nicely with the pink and red flowers, while the bushes and trees in the background add some extra height. These lead up to a gazebo to provide some shade while outside. You can also see that the homeowner has chosen to use similar flowers in each of the landscaped areas dotted throughout the backyard.
19. The Sound of a Fountain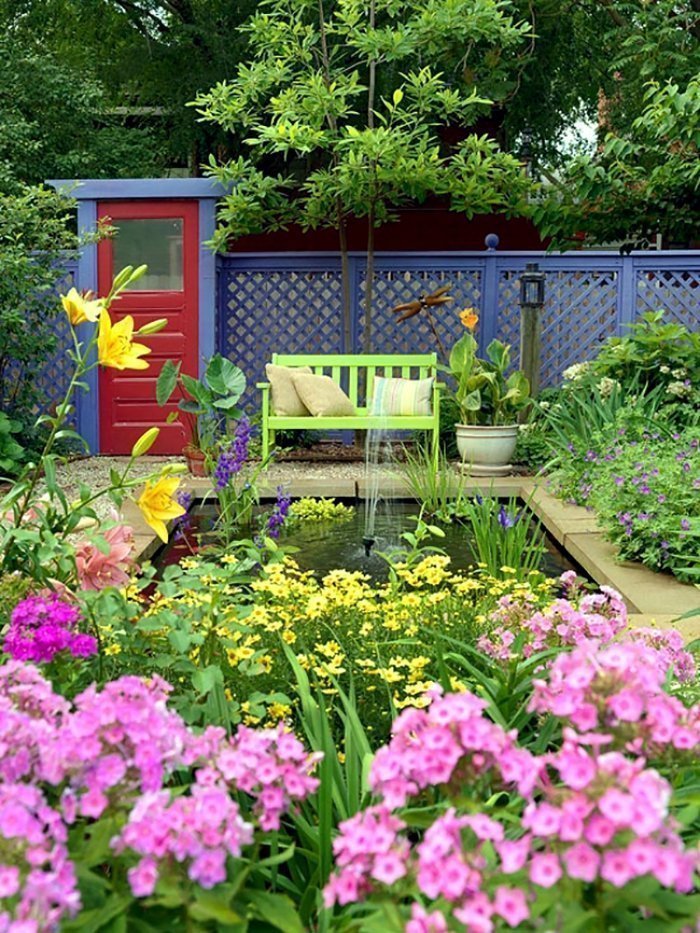 Any great backyard landscaping idea incorporates all of your senses. While it's normal to hear the sounds of tweeting birds, there's nothing quite as relaxing as the sound of running water that you'll get from a fountain like this one. The fountain dominates this small backyard while the areas along the perimeter of the yard are bursting with colorful flowers. The blue trellis offers an interesting way to section off the backyard while still giving a sense of openness. With an actual door, you'll really feel like you're stepping in to another world.
20. Yin Yang Garden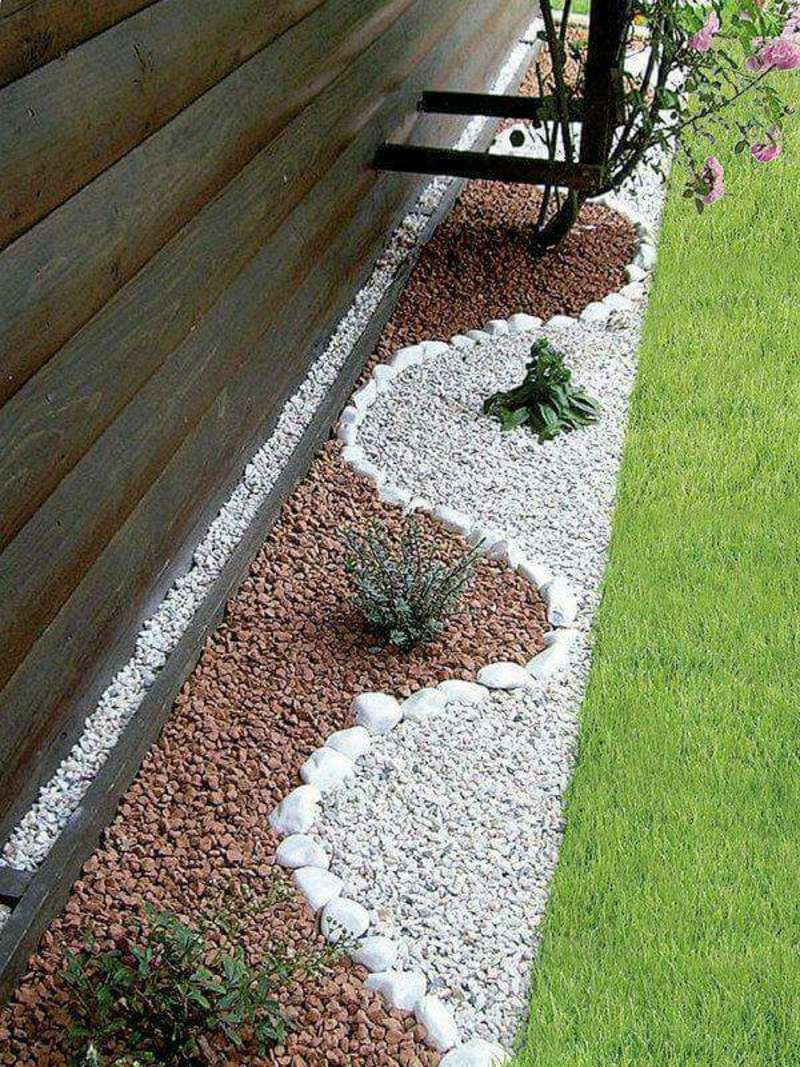 Consider this creative landscape design if you want something that's easy to take care of and a little bit different from the rows of flowers you typically see in front of the house. The contrasting colors of the rocks, along with the curved line made from the white rocks and the small plants dotting each area have the feel of a yin yang symbol that's been stretched out. An idea like this won't require a lot of water, and the rocks should prevent the weeds from creeping in.
21. All You Want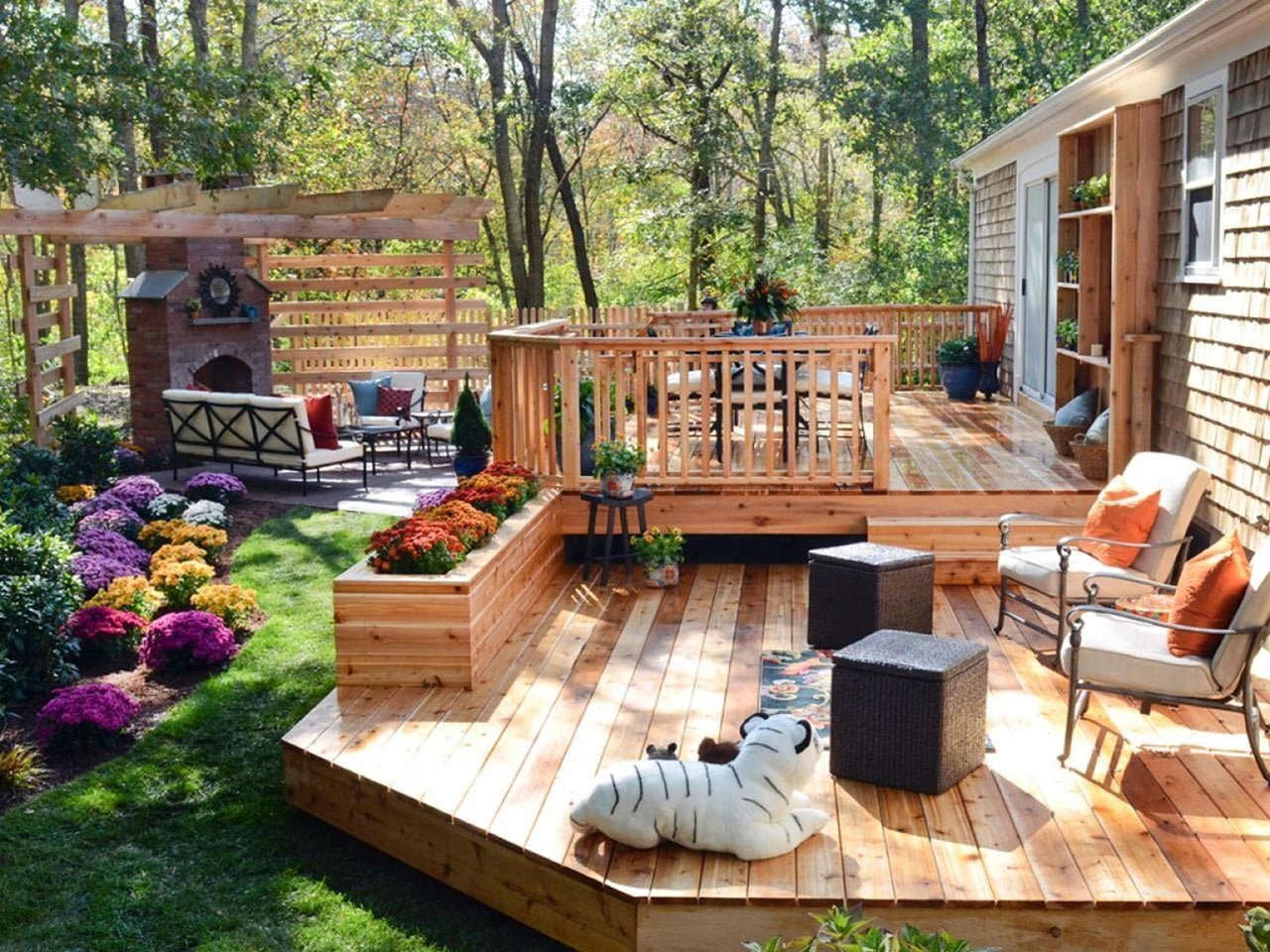 When you have a small backyard, it can feel like most backyard landscaping ideas are out of your reach, especially if you dream of creating a fabulous place for hanging out. This picture shows that you really can have it all. Though the backyard is small, there are three separate areas for eating or hanging out with your friends. There's a small bit of grass, some beautiful flowers and even a large outdoor fireplace. Another interesting element of this backyard design is the tall shelf against the house. This is a great way to grow herbs for use in your cooking. Just walk out on the deck and take what you need.
22. Fireplace Patio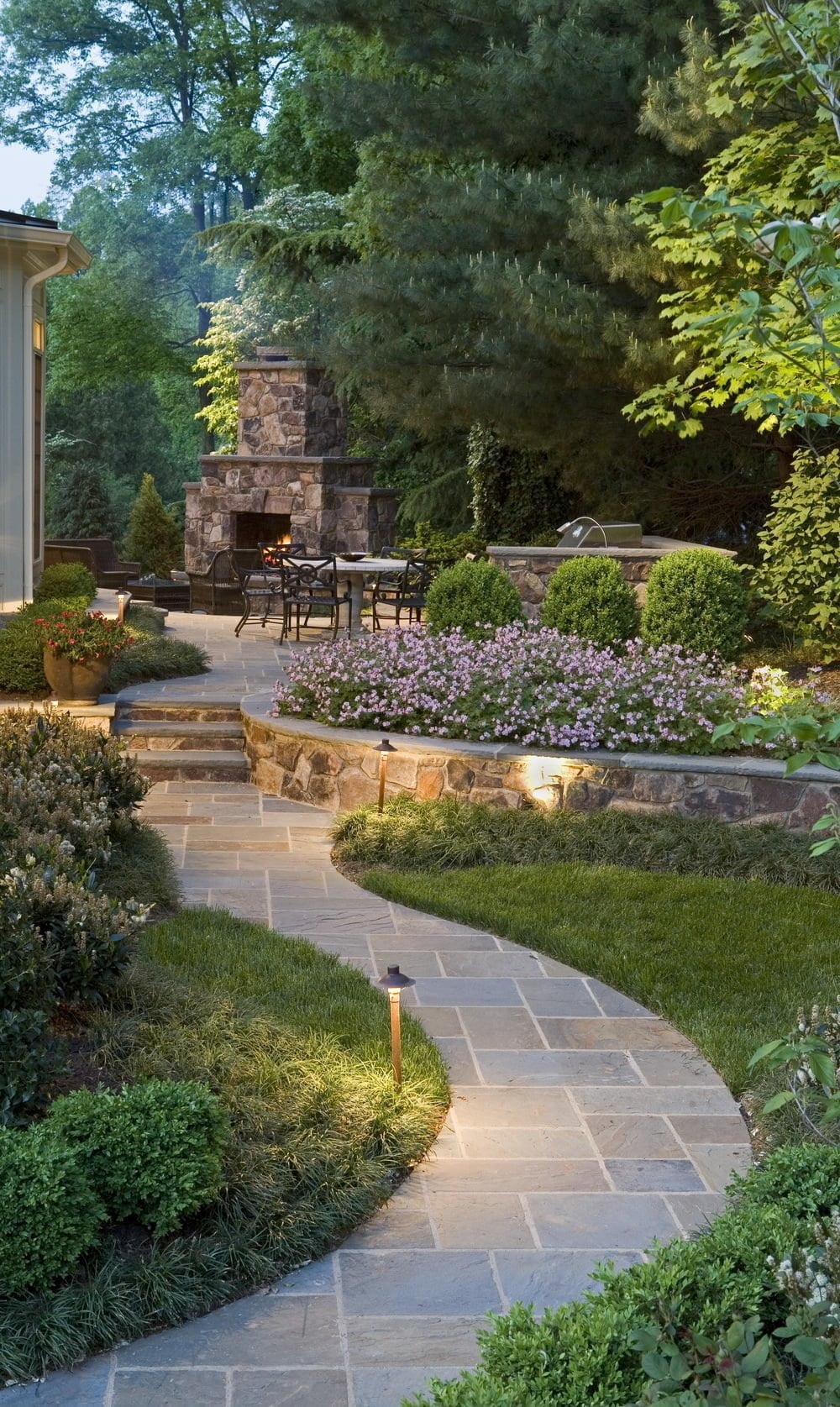 Following the winding stone pathway and taking a few steps up will bring you to a sprawling patio area. A grand outdoor fireplace dominates the space, encouraging you and your guests to sit back and relax. Having a fireplace like this one rather than an open fire or a fire pit makes it a bit safer if you have little ones running about. A mound of purple flowers sits in the ledge that surrounds the patio, adding a small pop of color to the space.
23. Plenty of Yard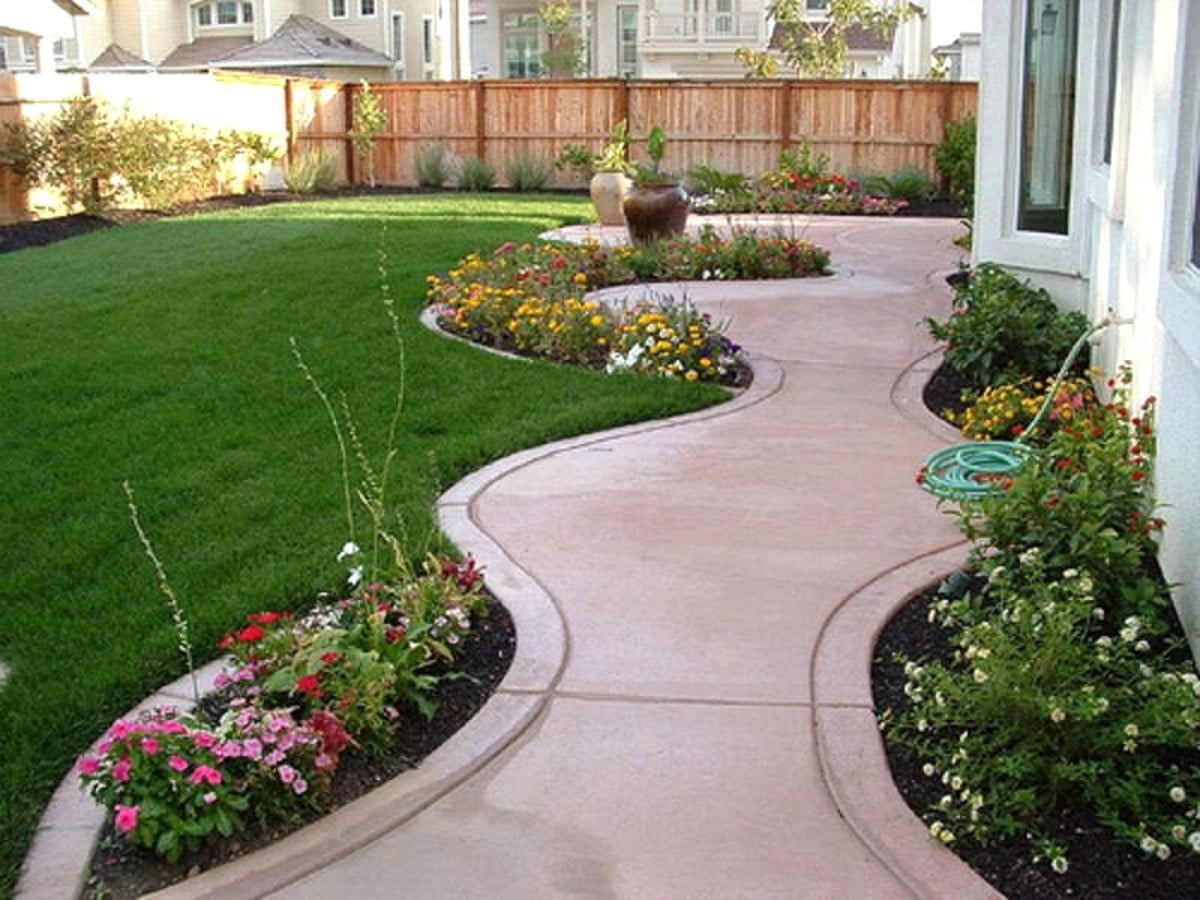 This interesting patio winds its way alongside the house. Unlike a patio with straight edges, this look allows you to have small little pockets of beautiful flowers while still providing plenty of lawn for playing. Your family could use the open grassy area for casual picnics or kicking a ball around. A tall fence surrounds the backyard for privacy, but adding plants just in front of the fence softens the look. This is the perfect plan for anyone looking for garden ideas that incorporate flowers into a family-friendly design.
More backyard landscaping designs on the next page…