When the days become longer and start to warm up, it's time to consider revamping your backyard living areas for the summer. An easy way to make your yard more inviting is to add lighting so that you can eat, relax, and reconnect with family and friends long after the sun goes down.
27 Awesome Lighting Ideas to Beautify Your Backyard
Backyard lighting ideas run the gamut from simple candle holders or battery operated fairy lights to high-powered spot lighting which can add a touch of grandeur to an elegant garden. The style of lighting you pick will largely depend on the size of your outdoor space and whether or not you'll have access to power. Smaller yards or intimate seating areas located well away from power outlets can make use of simple solutions such as solar lights or small home made torches which do not require electricity. Outdoor living areas that are adjacent to your house such as porches, patios, and pergolas can incorporate more powerful lighting options like electric powered string lights and lanterns.
No matter what size outdoor space you have, the strategic addition of lighting can turn your backyard into a cozy outdoor sanctuary with minimal effort and cost. The ideas below will provide examples of simple DIY options which can allow you to enjoy your backyard more fully this summer.
2. Natural Illuminated Log Pathway Lights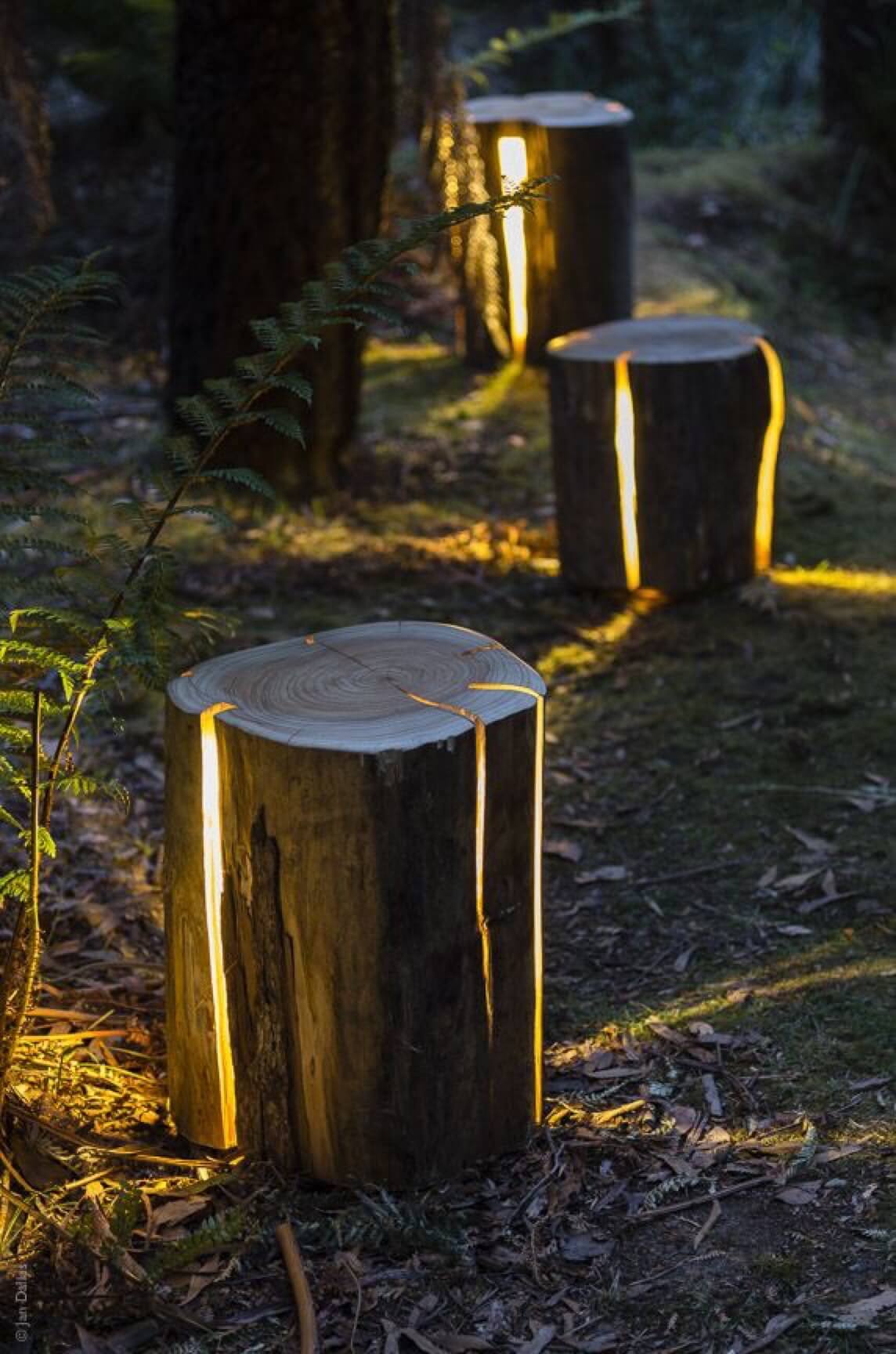 Illuminated logs — we're in love with the way the light shines through the cracks. These natural logs will be the highlight of your backyard scene. During the day, they simply look like garden stools, but at dusk the glow of golden light makes your garden path a fairyland filled with radiating light. Because they're natural logs, each one is unique.
3. Outdoor Hanging Tealight Candle Chandelier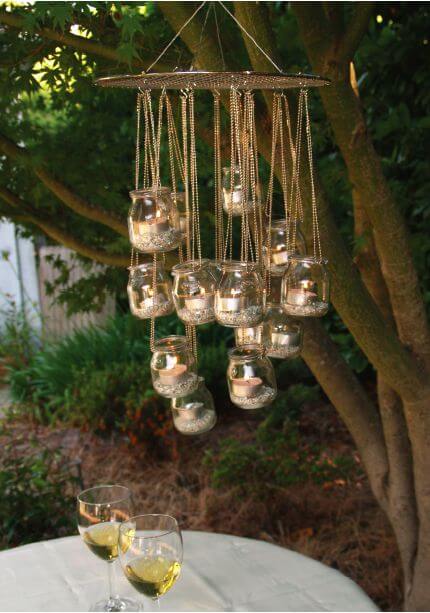 The perfect chandelier for the garden is this simple creation suspended by chains from an overhanging bough. Because it requires no wiring, you can place it anywhere. Small glass jars with a layer of sand hold tea lights that burn just long enough to light up the evening for a romantic interlude with a couple of glasses of wine.
4. Moroccan Inspired Lantern Step Lighting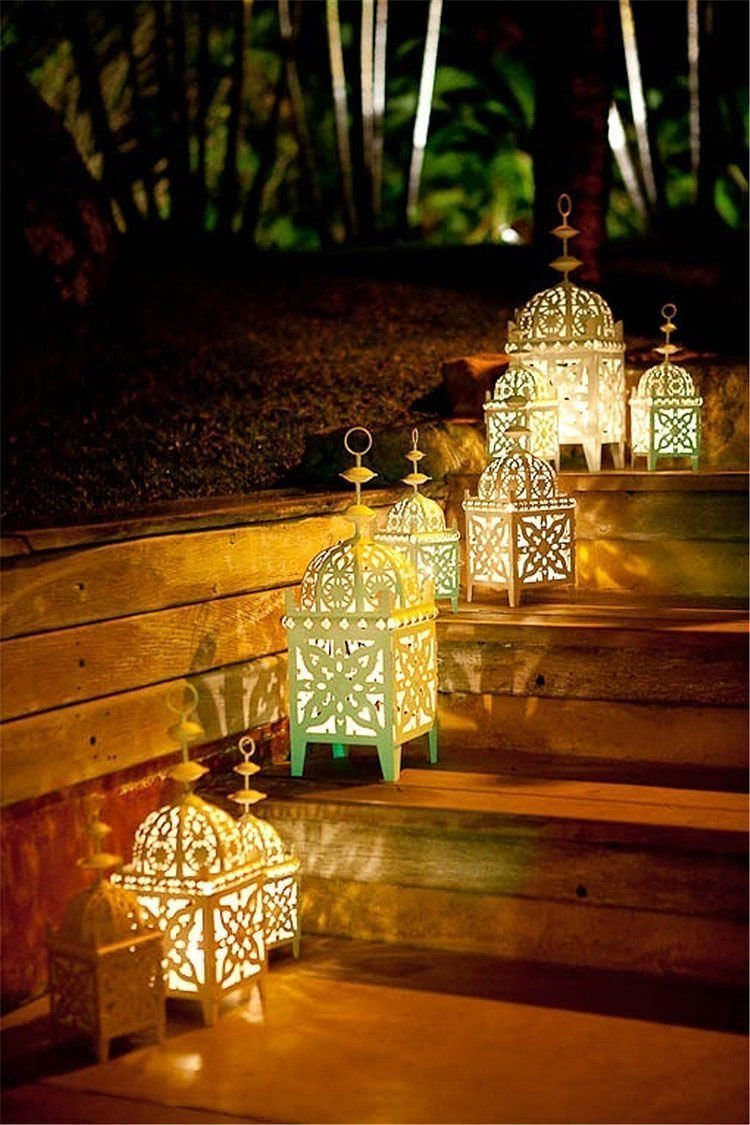 If you dream of faraway places and exotic lifestyles, you can bring them home to your own back yard in an instant by filling the stairs of your deck with grillework lanterns in various sizes and colors. Inspired by the mysteries of Morocco, these lights will inspire you to spend your leisure time outdoors with family and friends.
5. Outdoor Seating Under Tree String Lights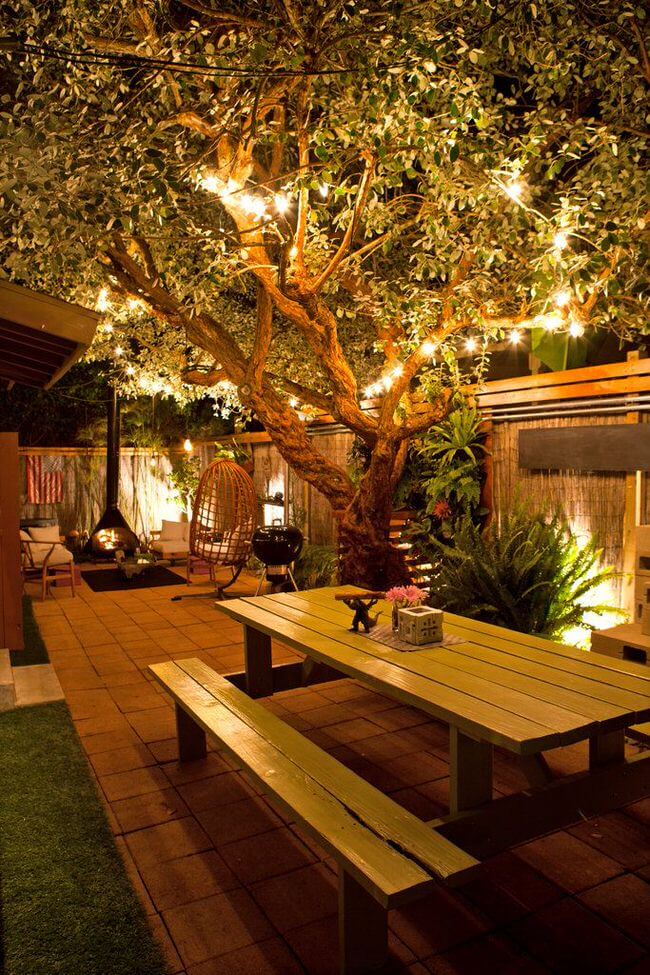 A variety of outdoor seating spaces encourages different activities. Serve a meal at the picnic table; talk with friends in a quiet corner. Lounge with a good book in a swinging chair filled with cushions. When the sun sets, light up the scene with string lighting in the trees. You have created an outdoor living room that you'll love.
6. Battery Powered Fairy Lights in Glass Lanterns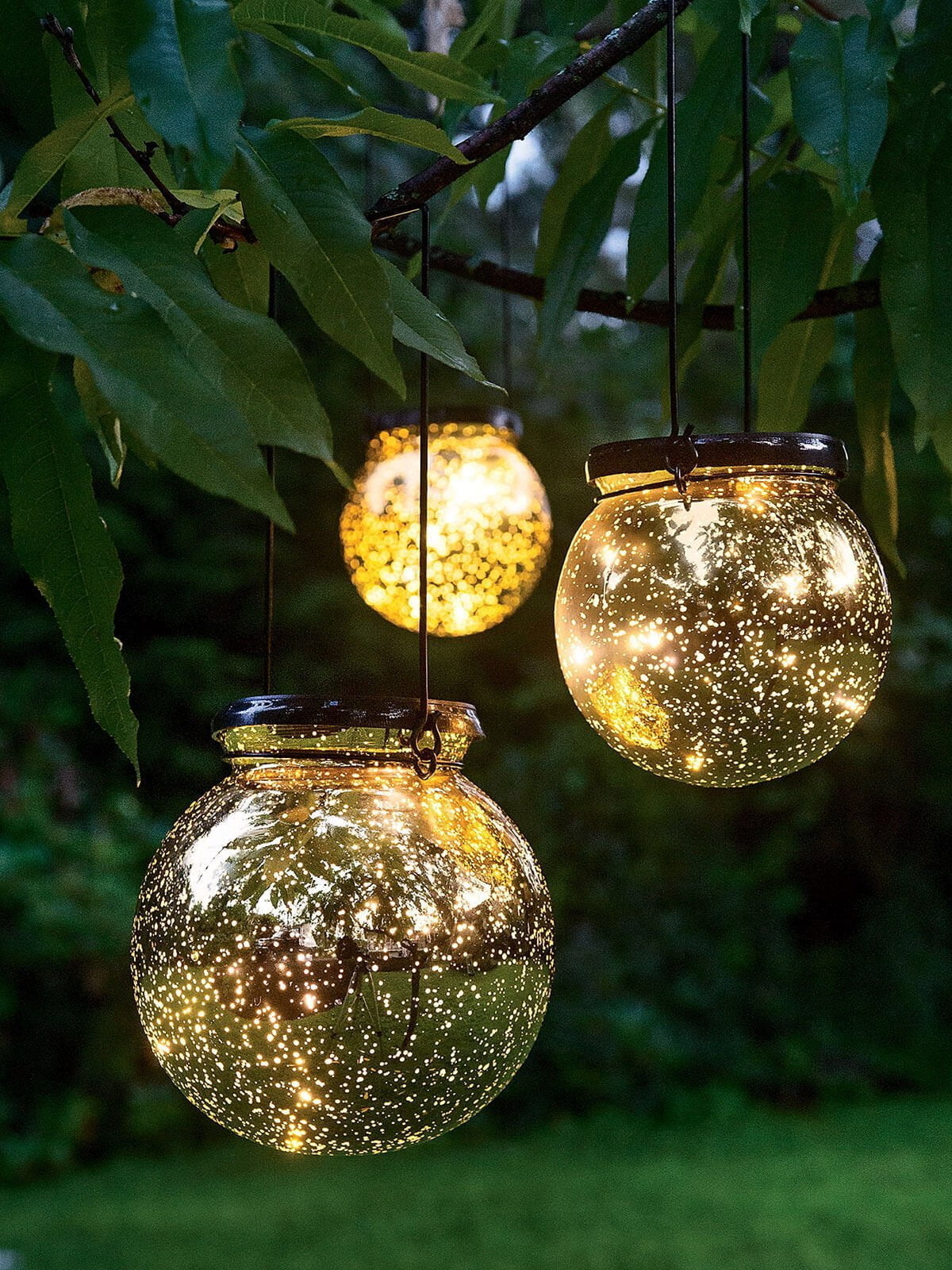 Suspend battery-powered fairy lights in glass orbs for an effect that's as simple as it is magical. Requiring no wiring, these lights can be suspended from tree branches or hung under the eaves of your house. They're lightweight, whimsical, captivating and as easy as can be to install.
7. Backyard Lantern Post Candle Holders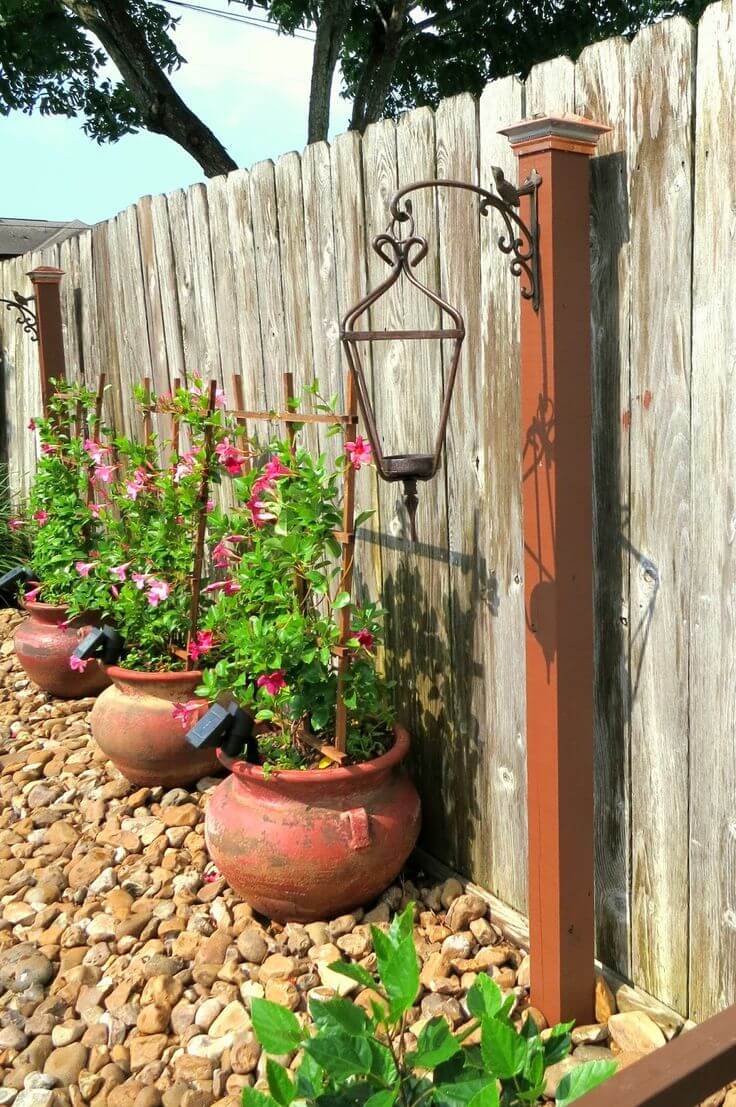 Lantern posts are traditional, elegant and functional. What's not traditional is that the lantern holds a candle, and the post is simply decorative. But this is a wonderful solution to getting light to the right part of the garden. Paint or stain the post to complement your home and garden, top it with a metal cap, and add a tall pillar candle to the decorative metal lantern.
8. Simple Fenceline Christmas Light Illumination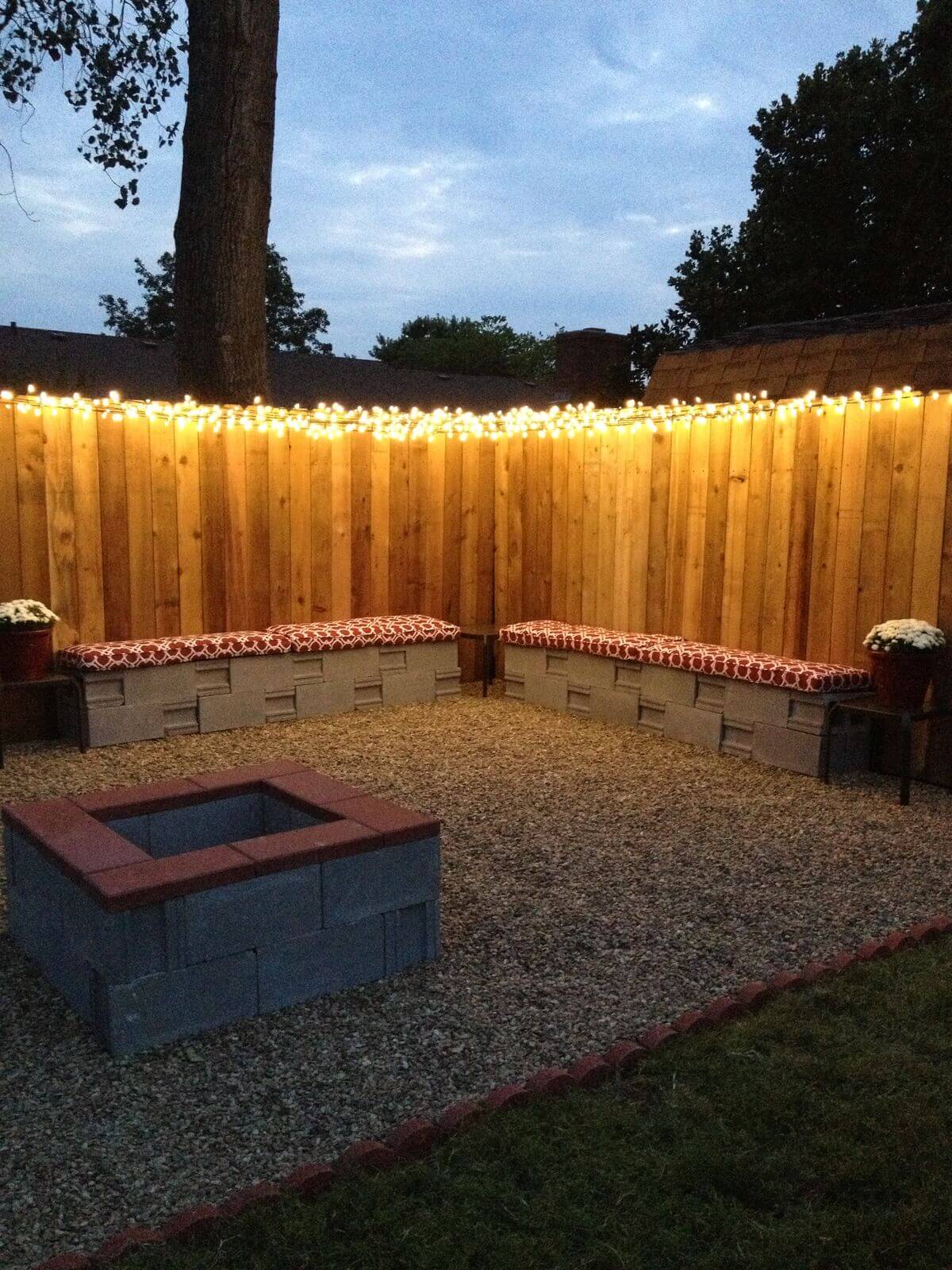 Oh, we love this idea. We can almost hear the sounds of caroling and sleigh bells, but if you leave these Christmas lights atop your fence year-round, they'll light up a pair of upholstered benches in great style! They're so easy, we don't understand why everyone isn't doing it!
9. Magical Glowing Flower Garden Planters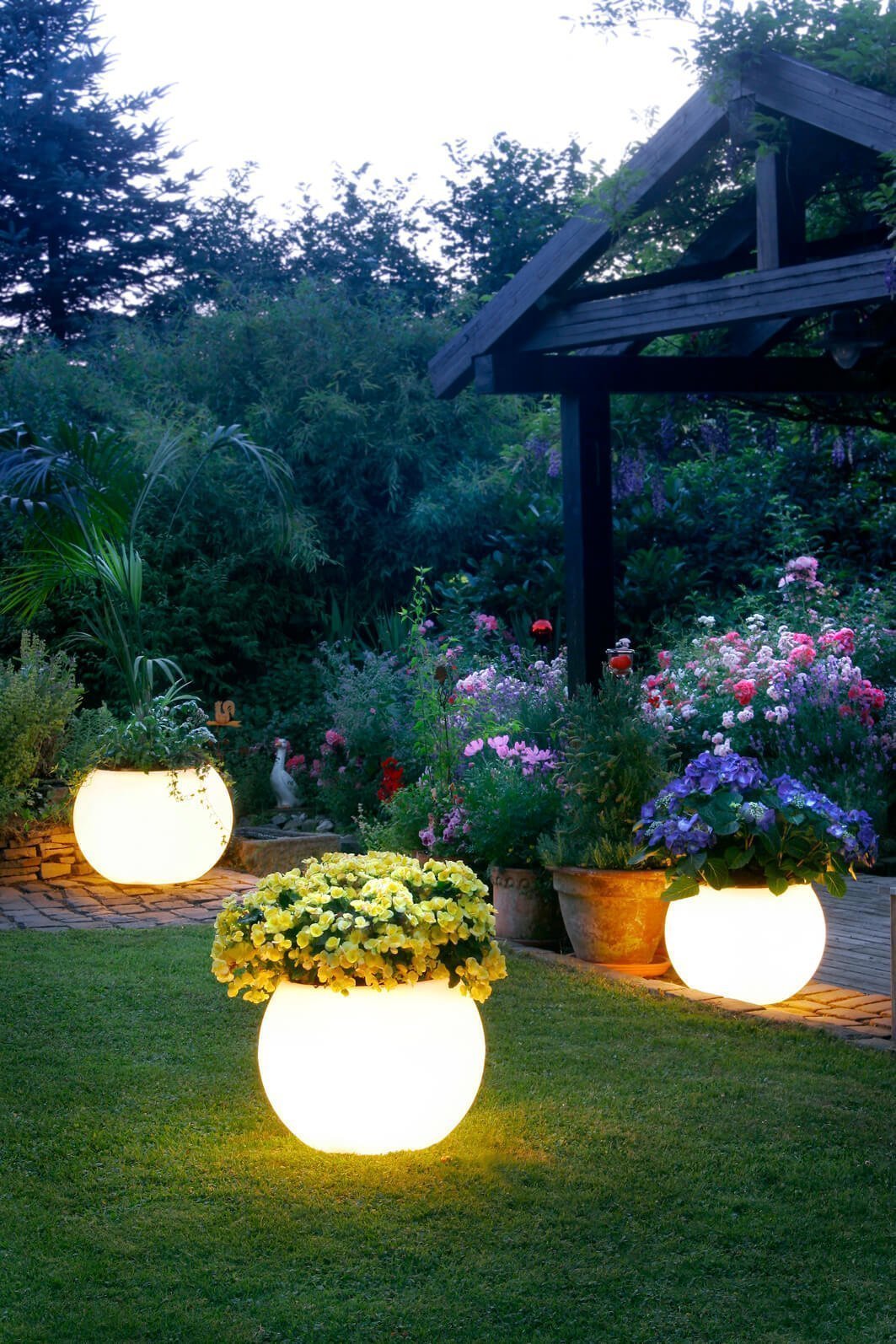 What — are they lights or planters? Or were they brought by alien visitors? These glowing pots are among the most unique choices we've found for back yard lighting. And it's hard to imagine anything prettier! Mix them with pots of other materials for a stunning effect. They're beautiful even in daylight, but they add extra drama to the garden at night.
10. Rustic Hanging Mason Jar Candle Holders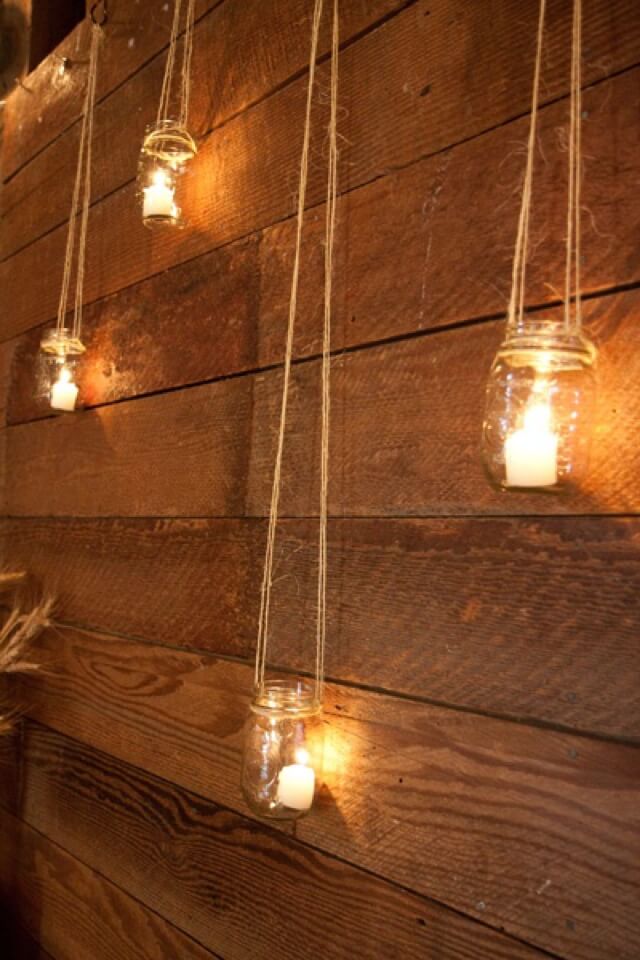 Mason jars couldn't be more versatile, around the home or in the garden. Here, tied with simple string, they become rustic hanging candle holders along a wooden fence line. They're so easy to make that you'll want to keep a bunch on hand for those back yard gatherings throughout the season.
11. Recycled DIY Glass Bottle Torches

Unique and serviceable torches made of recycled wine bottles are a DIY project that may require a bit more time than some of the other lighting options. But the dramatic effect is well worth the effort! A few inexpensive fittings, a properly-sized wick and some lamp oil are all that's necessary. Use a single kind of bottle or collect a variety — it's your choice.
12. Elegant Well-Lit Backyard Dinner Party Pergola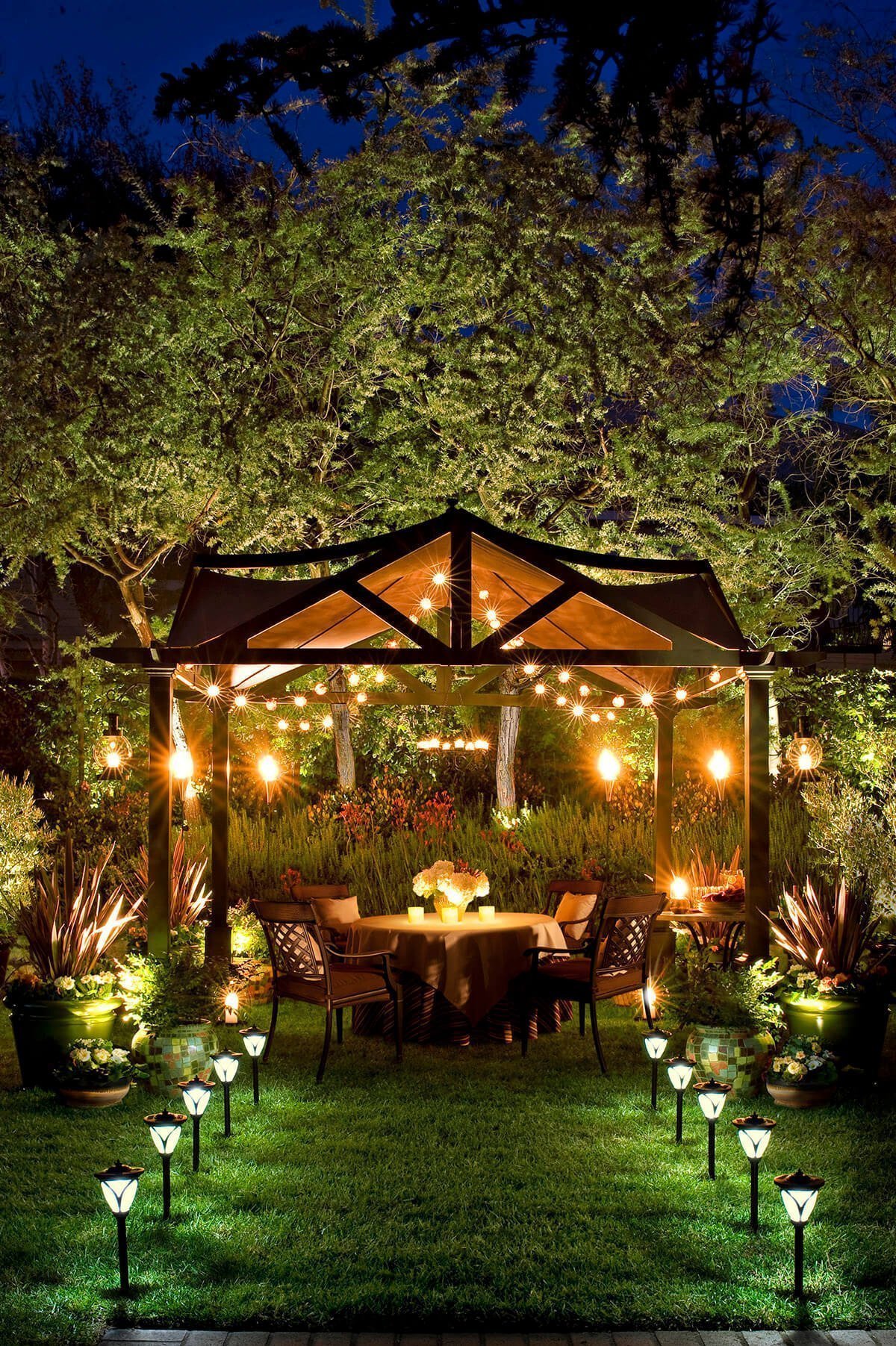 A party pergola is special on its own. But any garden structure becomes more attractive — and more useful when you add lighting. This one is gorgeous, with string lighting overhead, a circlet of lights suspended over the table, pendants in each corner, and path lighting to direct the way to the party. It's picture perfect and party ready.
13. Simple Mason Jar Backyard Lighting Ideas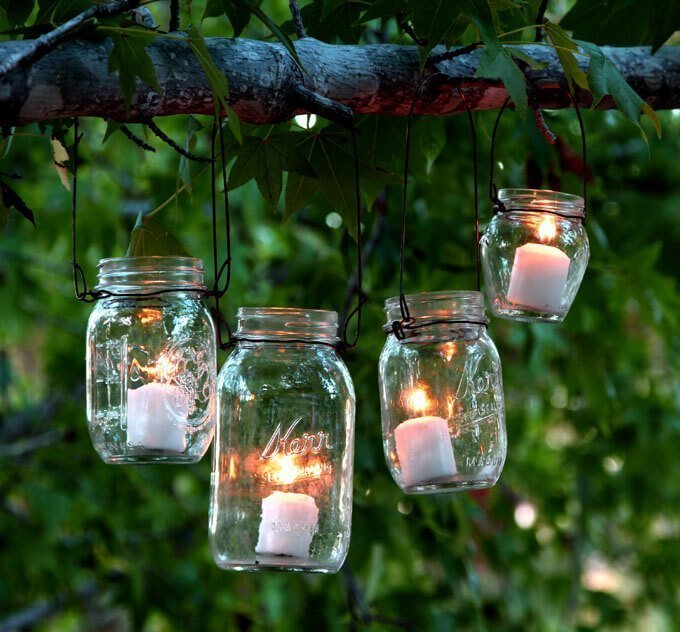 Mason jars again: Craft these votive holders easily from wire hangers for sturdy lights that can be suspended from tree branches or almost anything else: a covered patio, a fence, a post located near the barbecue or metal brackets attached to your home's siding. You'll find dozens of ways to use them.
14. Charmingly Rustic Minimalistic String Lights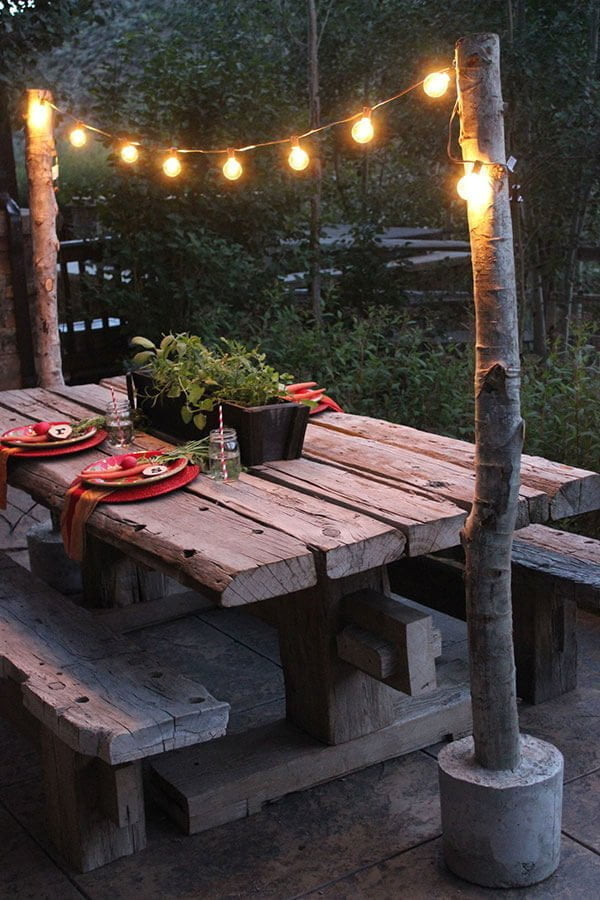 Less is often more, and a minimalist single string of open bulbs centered over a picnic table is a charmingly rustic solution to lighting up an outdoor dinner. Here the lights are quickly and easily strung between two slim tree trucks anchored in solid non-tip bases at each end of the table. It's functional and funky.
15. Pretty Purple Hanging Moroccan Lanterns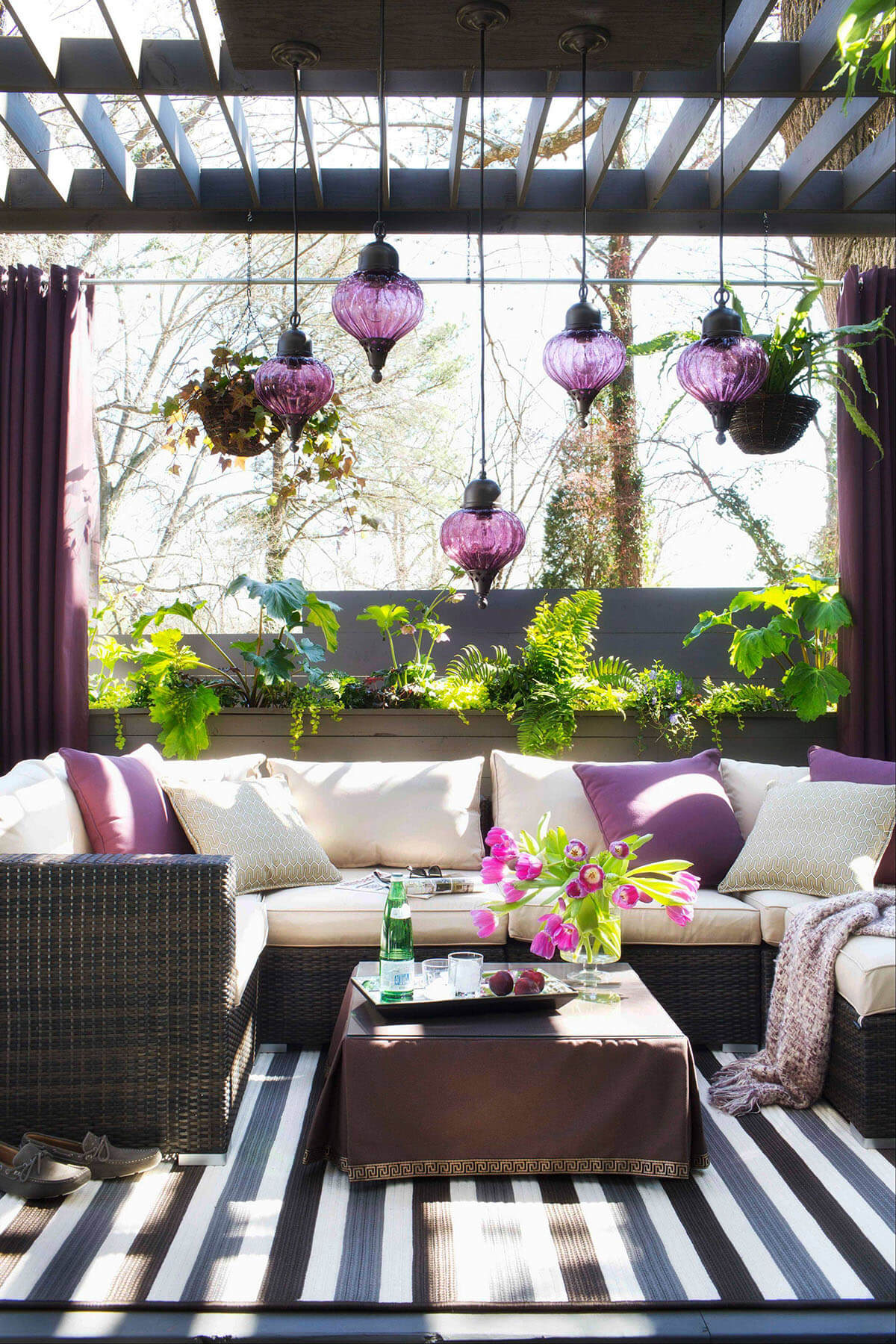 At the other end of the decor spectrum, this fully-furnished outdoor room uses color and high style to great effect. Elegant purple glass Moroccan lanterns hang from the beams, reflecting the color of accent cushions on the upholstered seating. Privacy drapes that echo the same color can be pulled as needed, and more creature comfort comes from the rug underfoot. Only the massed green plants make it obvious that this "room" is indeed out of doors.
16. Rope Light Gravel Pathway Illumination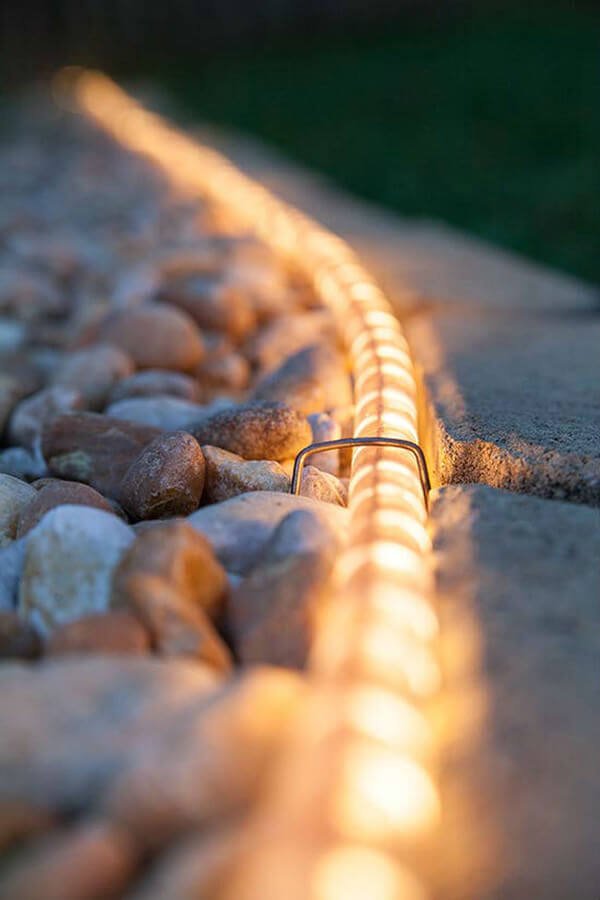 Snake an oversize rope light along a curving pathway to light the way! It's dazzling in its simplicity, but extraordinary in its effect. Actually, it's one of our favorite ideas for all-purpose, all-weather lighting in the backyard. How many ways can you think of to use this rope lighting?
17. Upscale Outdoor Seating Bench Lit by Candles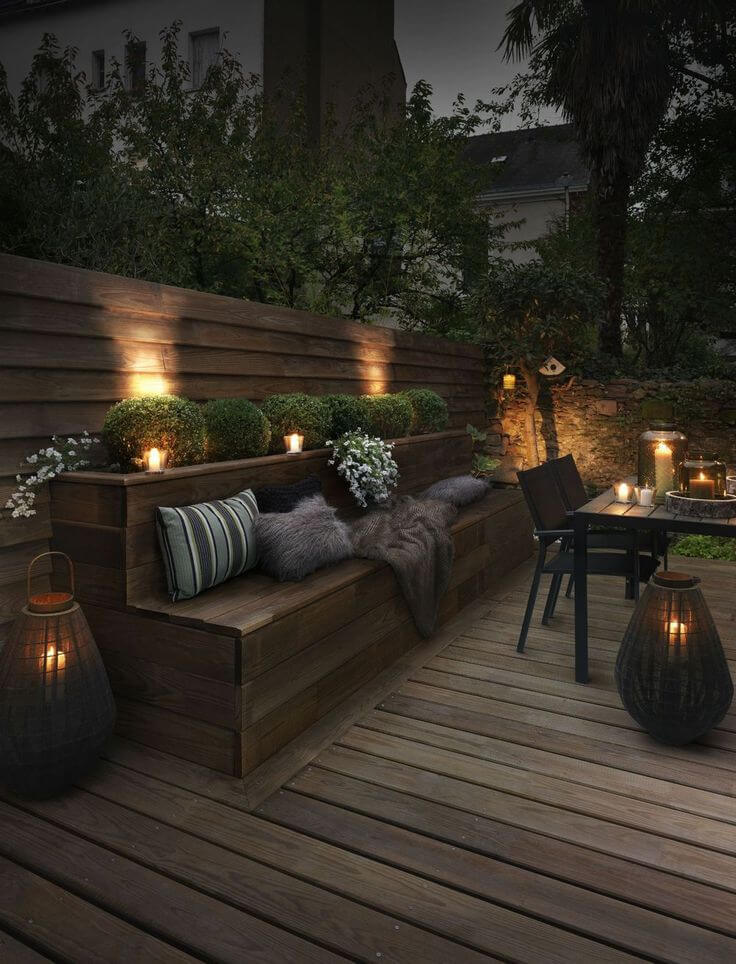 Patio seating takes a lot of different forms. Here a built-in bench provides upscale seating right next to a gorgeous planting area. Add soft cushions, cozy throws and a line of convenient candle holders along the back to extend its usefulness. With the adjacent dining table and chairs, you can invite crowds and still have comfortable space for all.
18. Simple Solar Brick Pathway Lights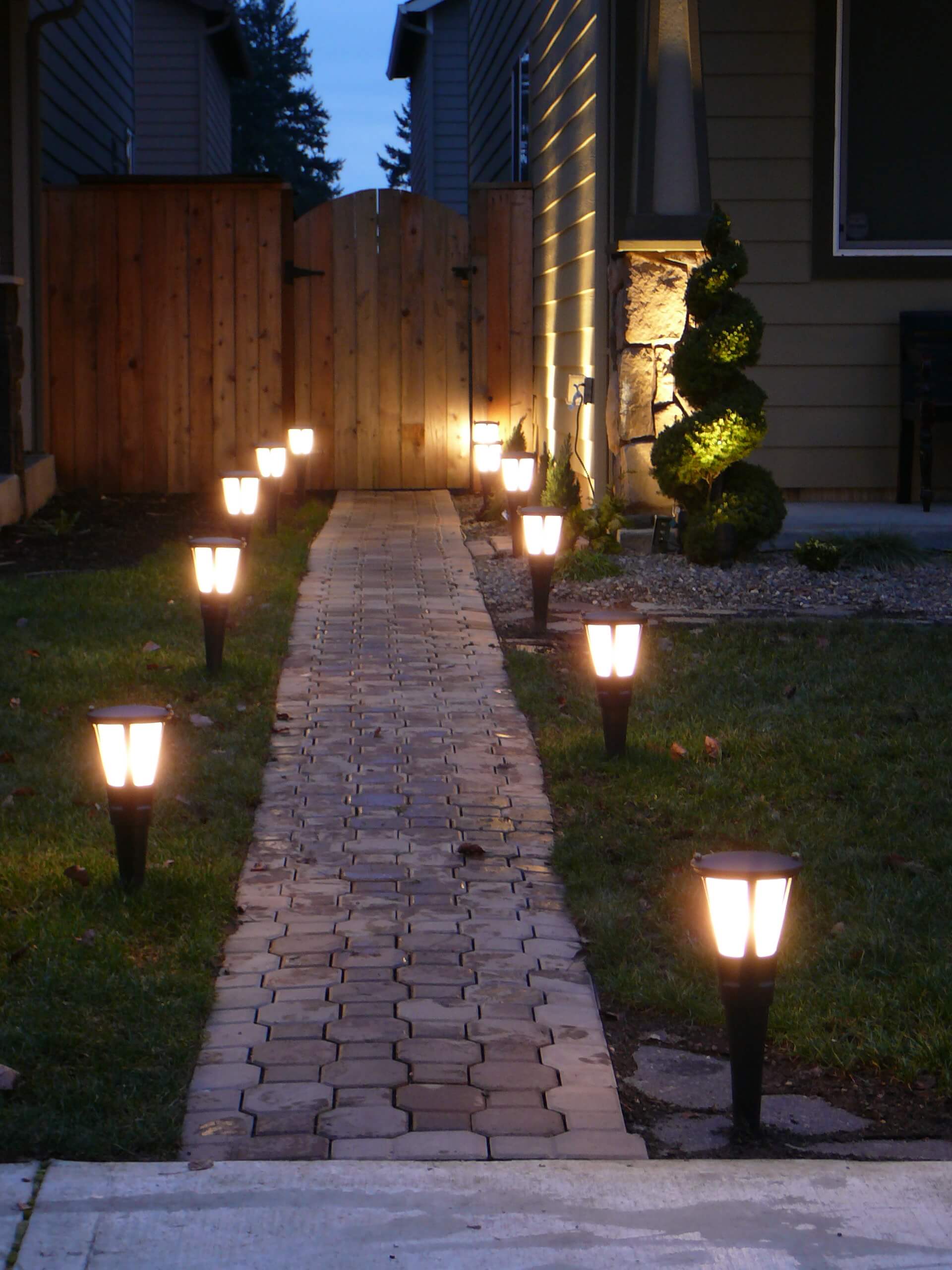 Solar is the way to go in the garden. Plant a double line of solar lights along a brick pathway and you'll add both safety and beauty to your backyard. There are so many kinds of solar lights available, you're sure to find options that suit your style and your budget. Because they operate on renewable energy, they're good for the environment too.
19. Whimsical Garden Grotto with String Lights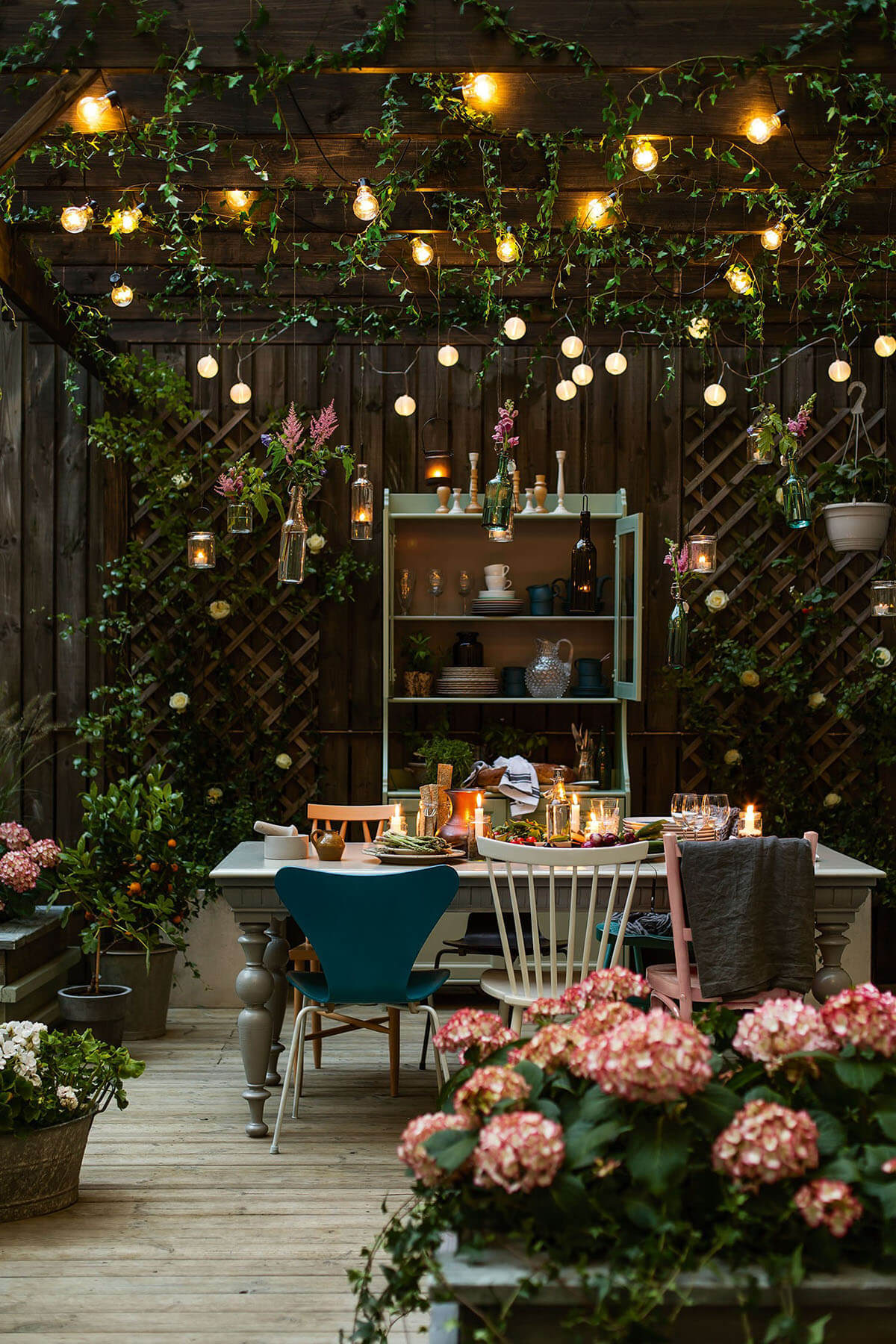 Have we conveyed the idea that we love string lights? Is it obvious that creativity and originality find ample expression in the garden? We hope so! Here, the homeowner uses several different kinds of lighting in tandem with string lights nestled among the vines and overhead beams. This is a case when more is more. Hanging candles in mason jars, bottle lights and tabletop candles are all perfectly wonderful in this garden grotto.
20. DIY Solar Powered Chandelier Lights

Why not hang a chandelier outside? Especially when it's powered by the sun! This substantial multi-arm solar chandelier deserves a place of honor outdoors, and instructions for making it are easy to follow. With a round table and chairs large enough for a family dinner, it becomes a dramatic focal point, as eco-friendly and efficient as it is dramatic.
21. Flameless Fire Pit Fairy Lights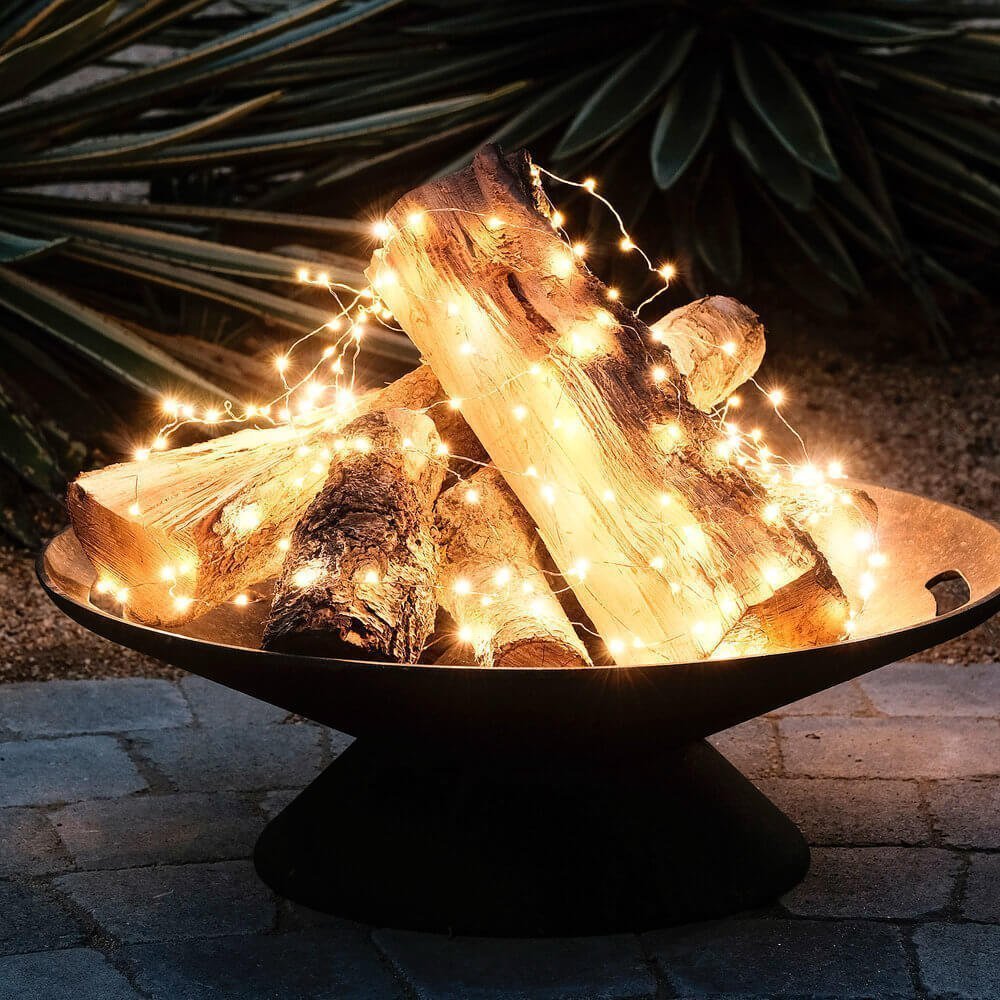 Sometimes, simulating firelight is better than having a real fire pit. Fairy lights create a flameless centerpiece when nestled among real wood logs. This simulated fire pit is a dramatic centerpiece of a nighttime patio seating area. It's a safe, ingenious way to enjoy the ambience of a glowing fire. Unfortunately, you can't make s'mores!
22. Easy DIY Mason Jar Lanterns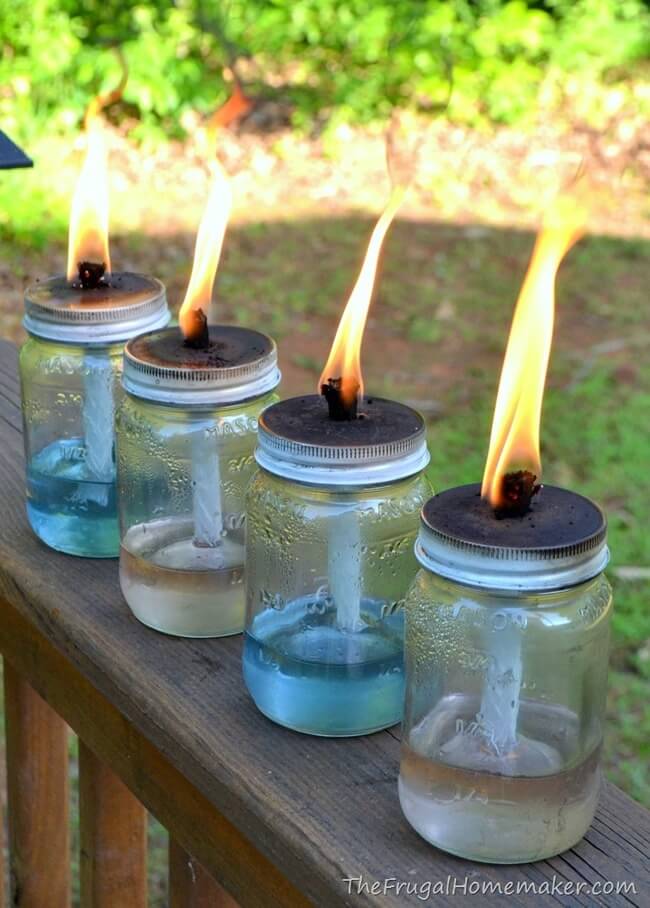 Easily create long-burning Mason jar lanterns in lieu of canning jar candleholders. It's another DIY project that requires minimal effort and materials, but yields big decorative effect. They do, however, produce an open flame, so use them with caution, and always turn them off when no adult is present.
23. Backlit Garden Planter Beds and Spotlights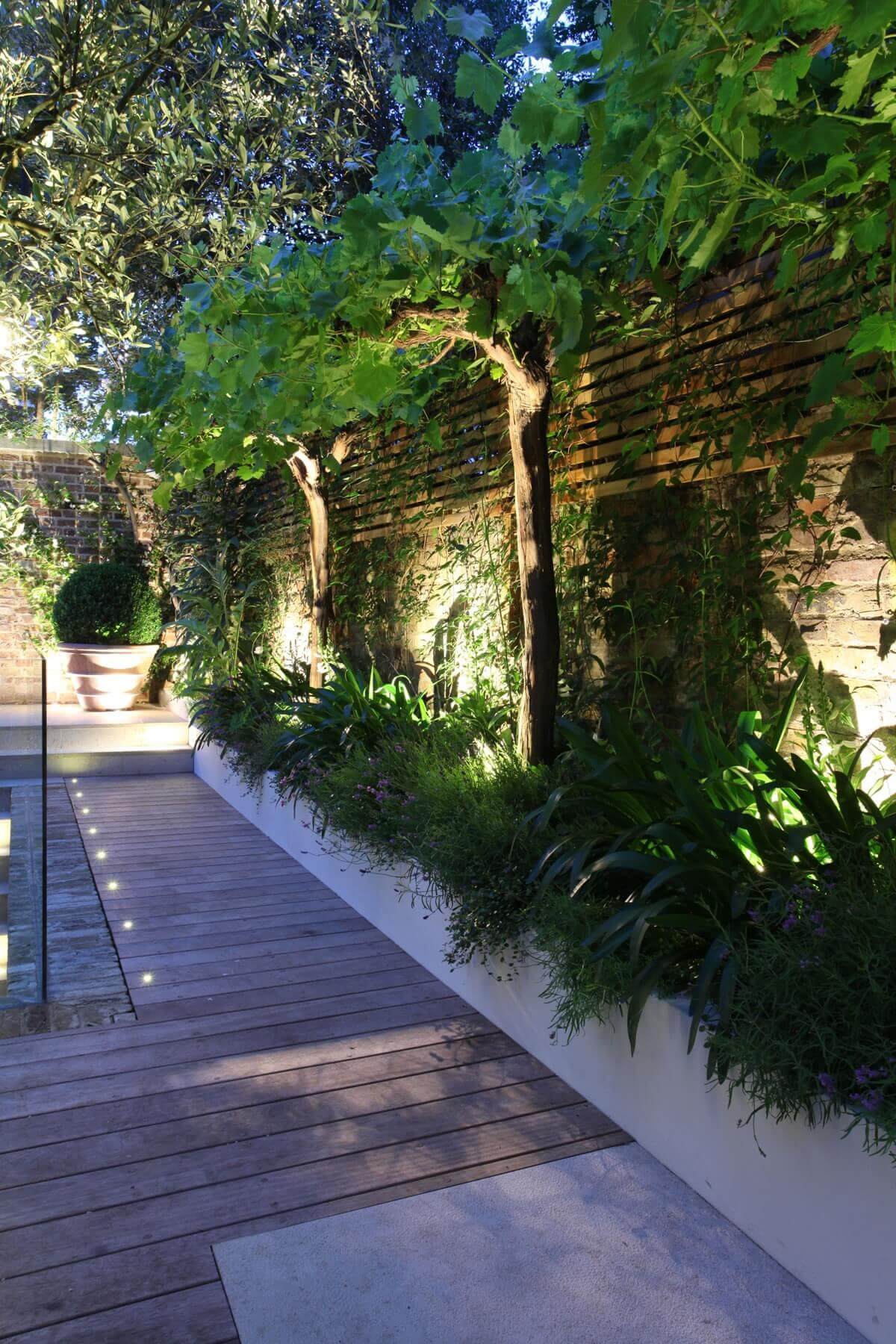 Not all garden lighting should be visible. Uplighting showcases a fence or wall as well as the greenery. It is especially effective when nestled among shrubbery or at the rear of a planting area. The effect is dramatic: Think about installing a dimmer, or be careful that you don't overly light up the night sky. You wouldn't want to block out the view of starry skies above, and some areas have restrictions on uplighting and spot lights.
24. Fun and Simple Hanging Chinese Lanterns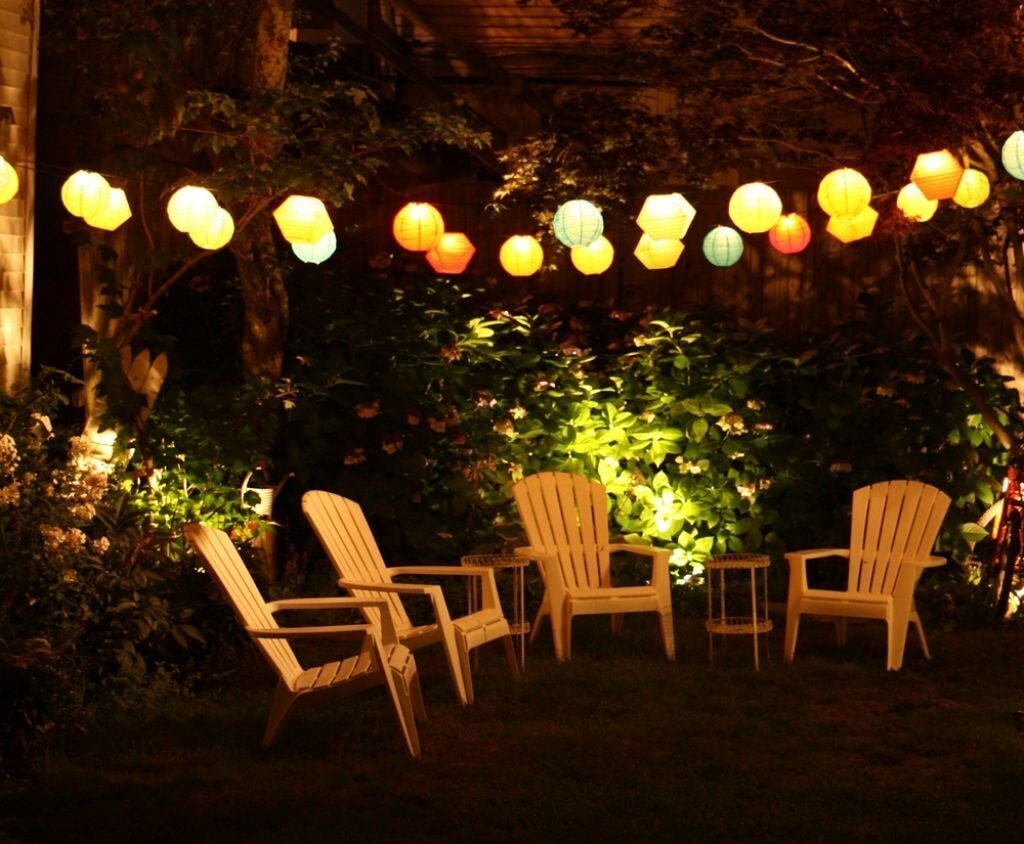 Another tradition; another culture. Hang Chinese lanterns in your backyard to lend a festive atmosphere to the outdoor scene, and add color and design interest at the same time. It's hard not to smile at the playful look of these glowing geometric shapes hanging above the outdoor seating area. Leave them up for the season, or bring them out only for special occasions. Use them any way that works for your setting.
25. Tree Trunks Wrapped in String Lights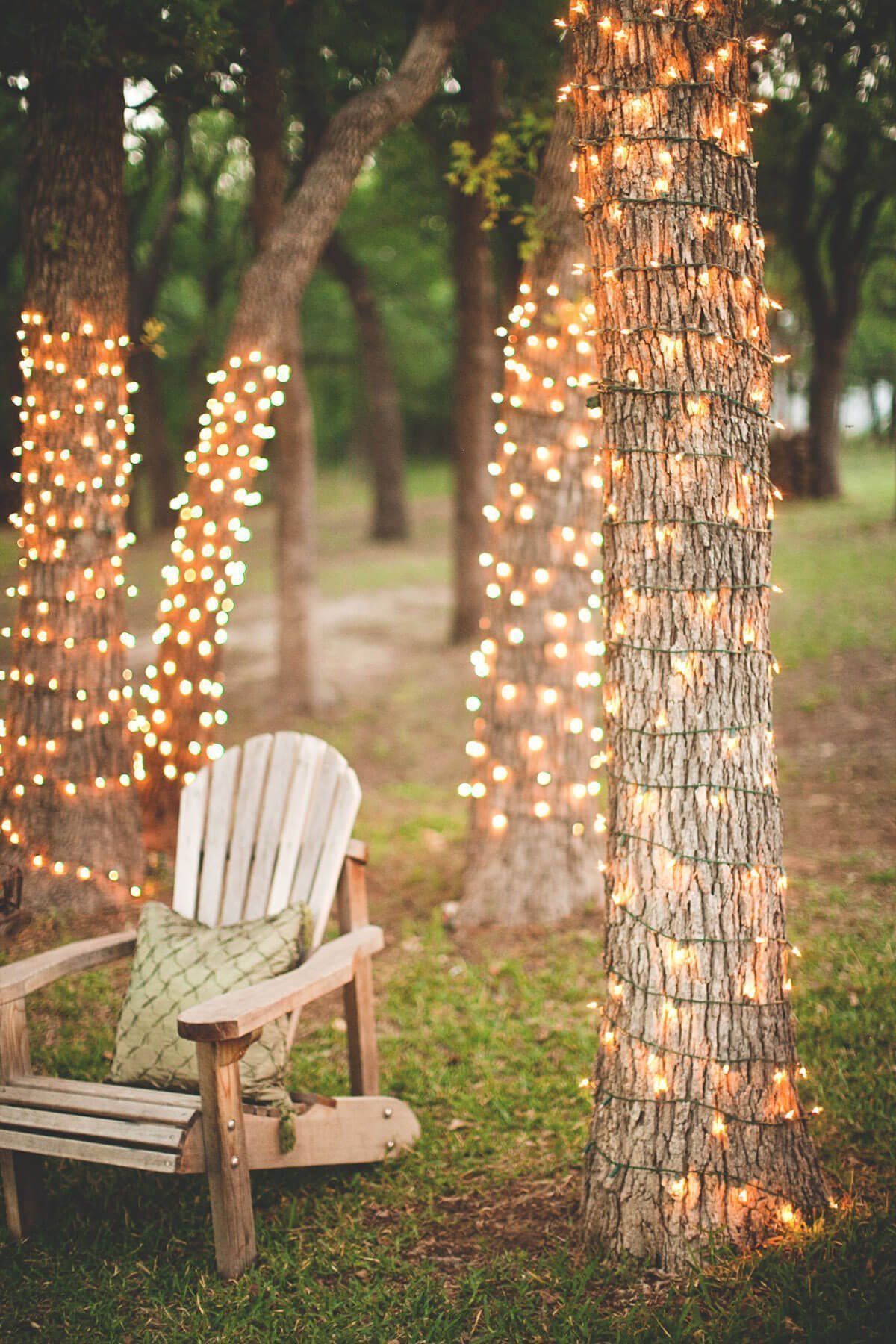 Wrapping selected tree trunks in miniature white string lights is a wonderfully decorative way to illuminate your back yard. Placing light at or slightly below eye level magnifies the effect, and creates a kind of protected bower feeling. For special holidays like the Fourth of July or Halloween, add a string or two of colored lights!
26. Year-Round Backyard Deck String Lights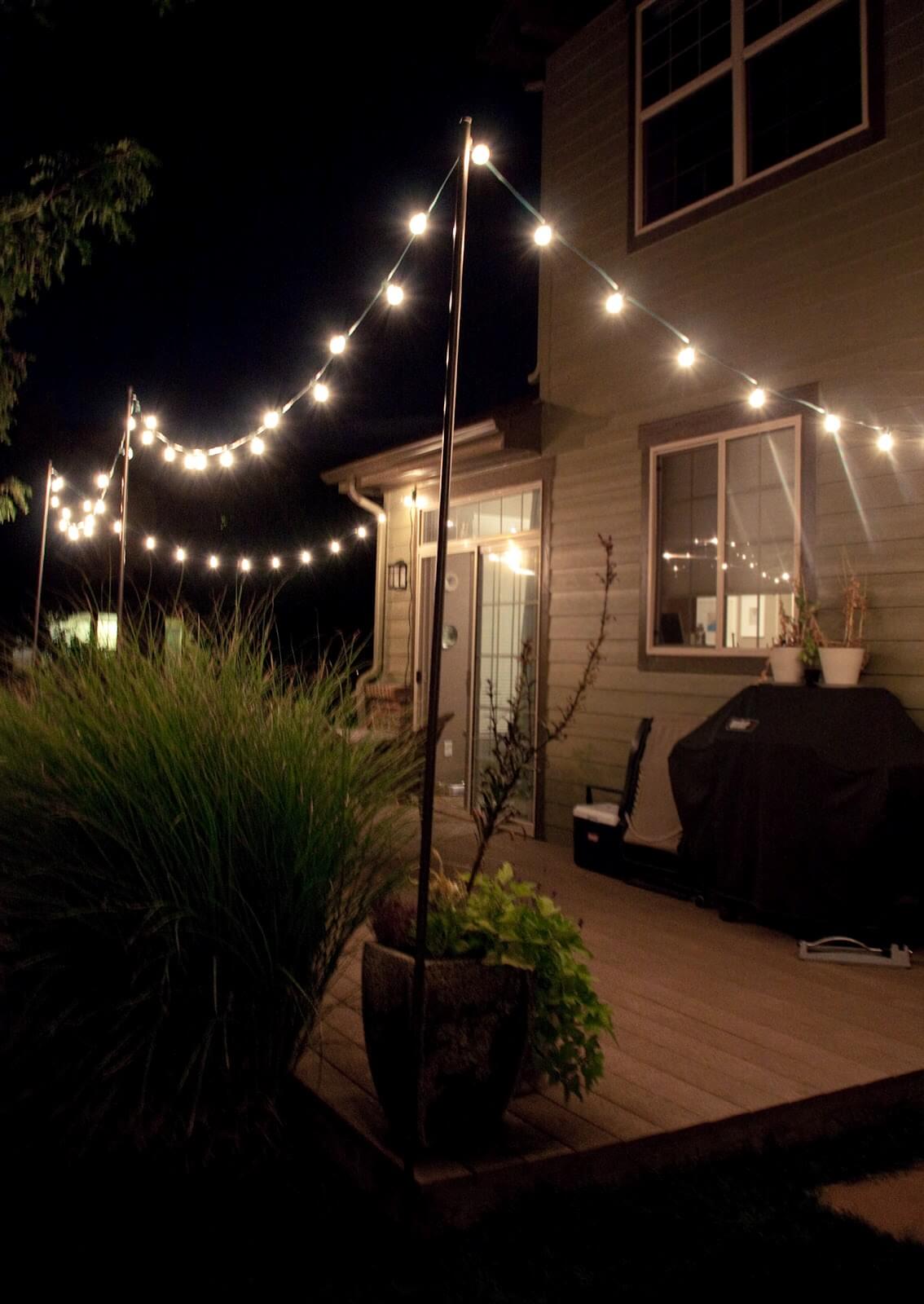 Define the boundaries of your outdoor room by draping string lights from poles stationed at the perimeter of a deck or patio. It's a minimalist approach to outdoor lighting that is quite effective. The casual loops keep the feeling light and informal.
27. Rustic Grapevine and Chinese Lantern Garland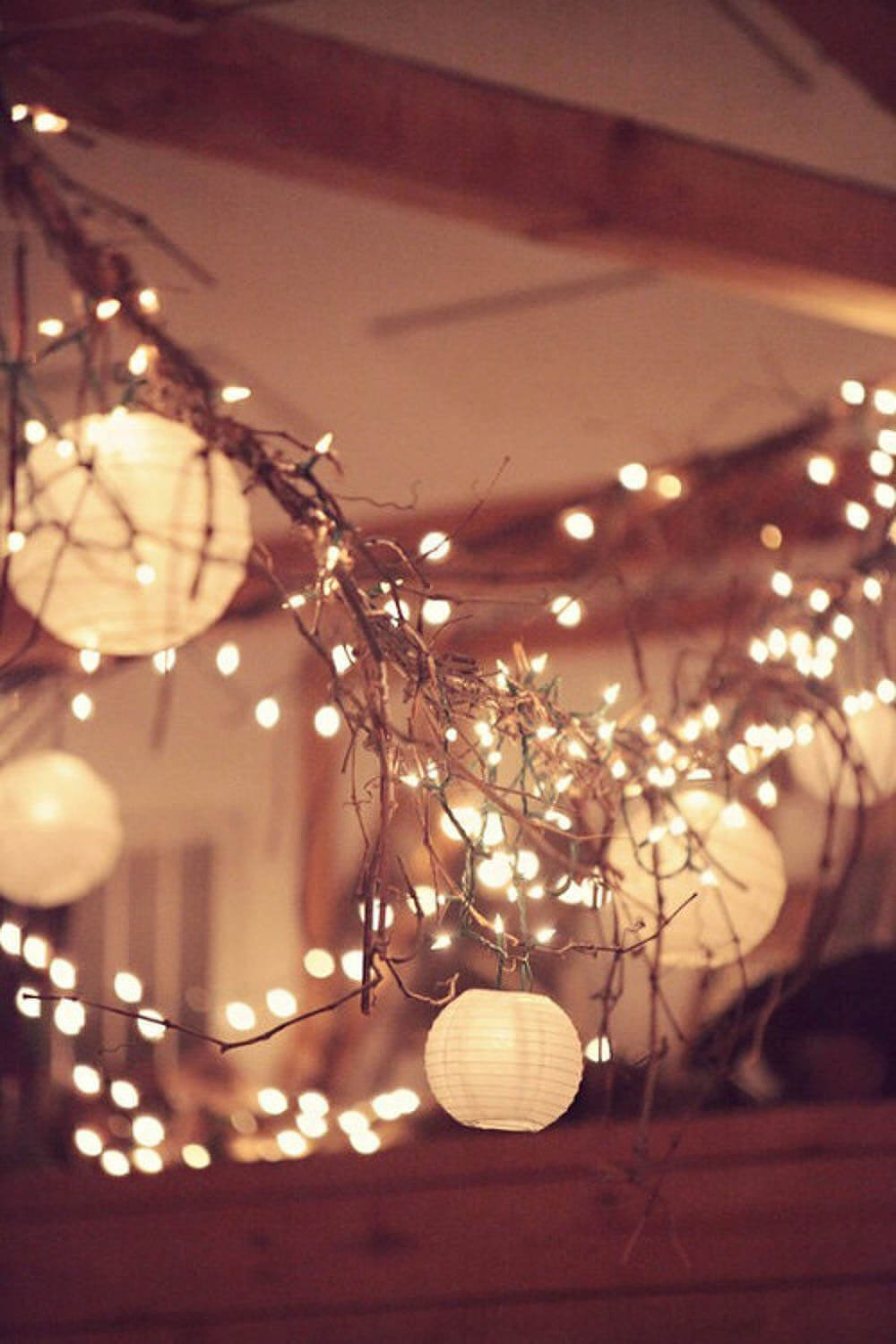 As illustrated in previous photos, there's no reason you have to confine your outdoor lighting choices to one, or even two. Here Chinese lanterns blend beautiful with simple string lighting woven into and around rustic grapevines. The effect is simple, but stunning. What other ideas might you think of to add light to your outdoor scene?
Our Favorite Outdoor Decor Lighting to buy on Amazon