33. Peacock Christmas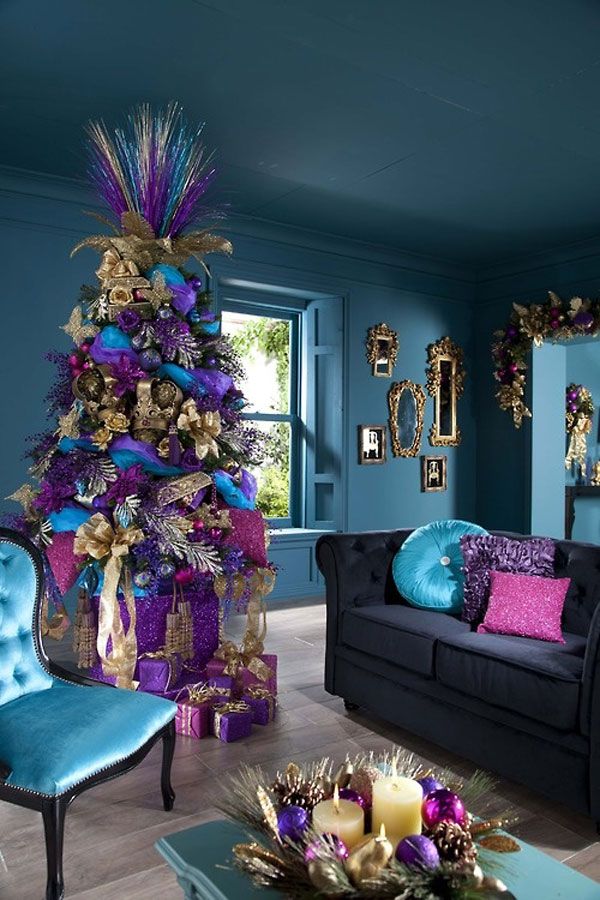 Source: Pinterest
The magnificent colors of a peacock's tail are a fabulous inspiration for a unique, colorful Christmas. Turquoise and other variants of blue, magenta, purple and gold can be applied to decor throughout the home A tree can be festooned with gold ribbons and beads, and topped with an eccentric display of feathers. Faux foliage spray-painted gold can be fashioned into door-framing garlands and centerpiece wreathes to hold candles. To finish off the look, swap out your standard pillows for bright alternatives in various shapes, sizes and textures. If there is one that is sequined or sparkled, even better. This is a colorful and enticing theme for all the decorators who are wild at heart.
34. Country Christmas Decorations for Everyone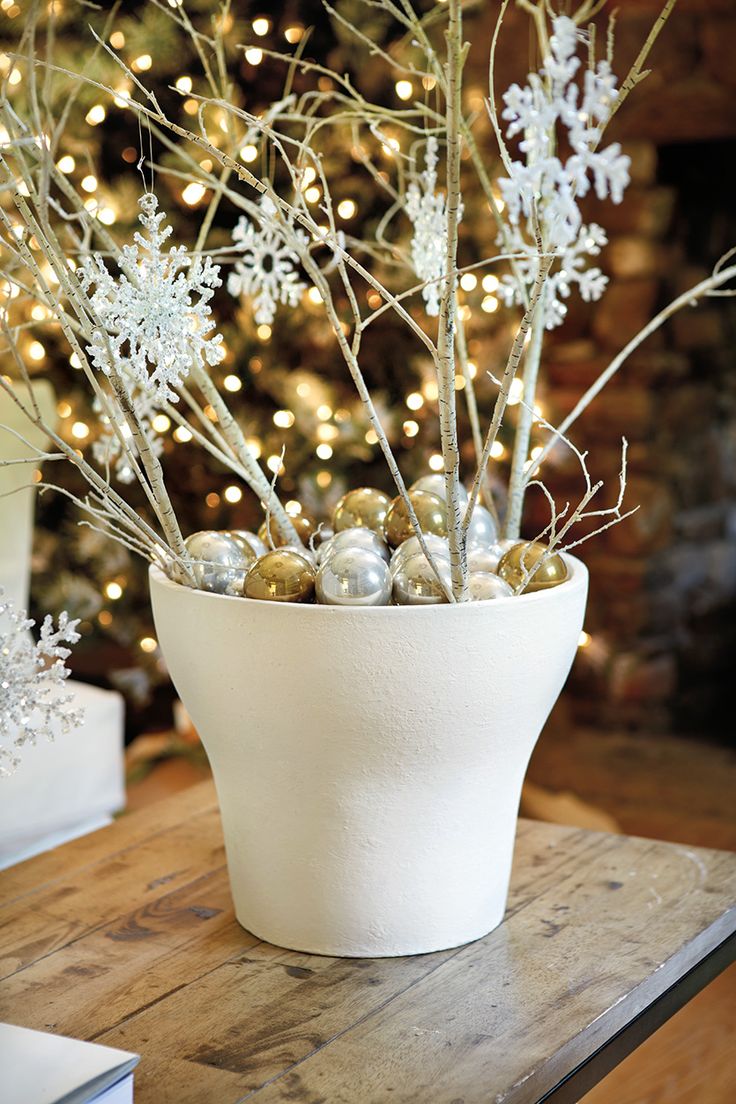 While bold displays of plaid and wood furniture may not be your style, the idyllic simplicity of a country Christmas can be captured with a few simple pieces that can be tied into any home this holiday season. Birch branches, for example, are thin and function well as either small decorative pieces or adorned with ribbons and ornaments and placed at the center of the room. Oatmeal-colored bears with tartan plaid ribbons can line windowsills and shelves, and the petite size of most holiday-themed decorative bears make them all the more endearing. Snowflake chains are quaint and cozy, and for some extra pizzazz, you can swap out paper or cloth cutouts for ones coated in glistening silver and white glitter.
35. Cheerful Christmas Entryways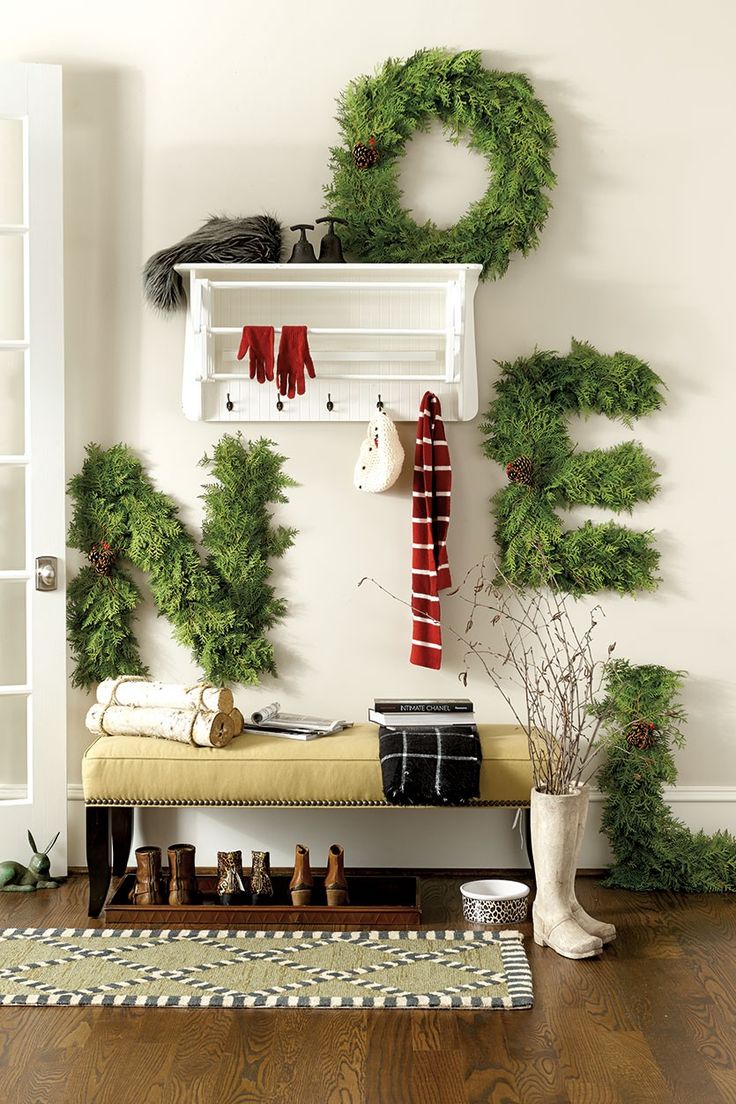 Christmas decorations ideas don't need to be fixed to one part of the house. Although the area near the tree is where the most decor is found, your entire house can be dolled up for the winter, including your entryway. This is a particularly fun area to design as it can be done in so many different styles and will be one of the first things everyone notices when they visit during the holidays. A spirited doormat is a great way to start, and inside, gold metallic coat hangers and side tables add a festive touch and can be used all year. A festive indoor/outdoor rug, drying rack for scarves and boot tray will add some finishing touches that also enhance the area's functionality.
36. Oranges and Cloves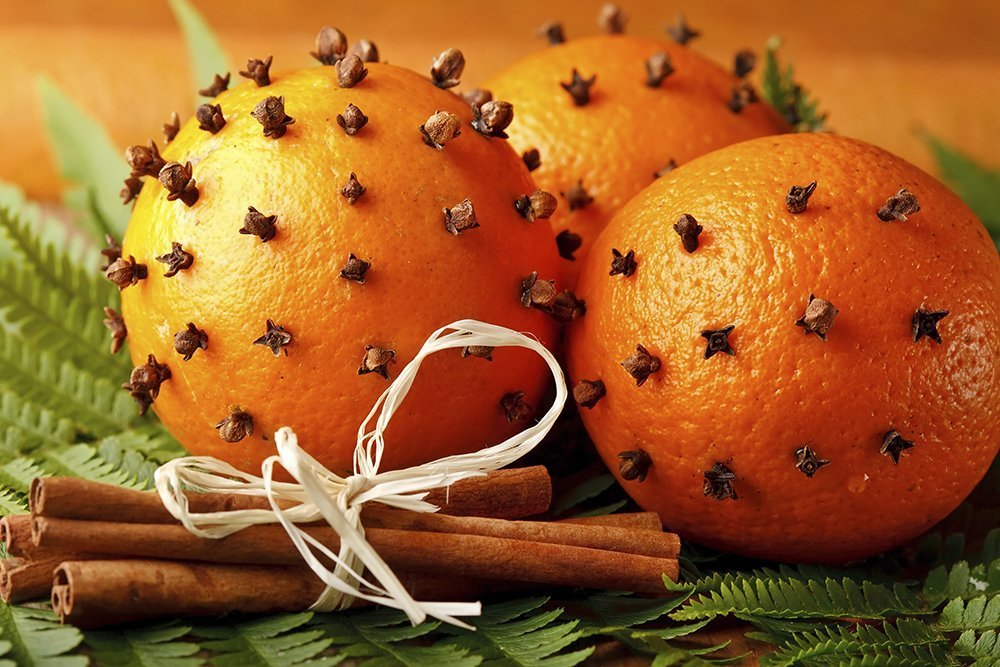 Source: Pinterest
Christmas oranges and cloves decorations, also known as Pomanders, are an old tradition that dates back to the Middle Ages, but didn't take on its holiday significance until the 1830s. These Pomanders are easy to make and smell fantastic, evoking powerful holiday memories and creating an atmosphere that is undeniably "Christmas." All it takes is a trip to the supermarket to stock up on supplies, and you can craft dozens of these classic holiday items in a variety of different patterns and designs for you and your loved ones to fill their home with the scents of the season.
37. Lost and Found Christmas Tree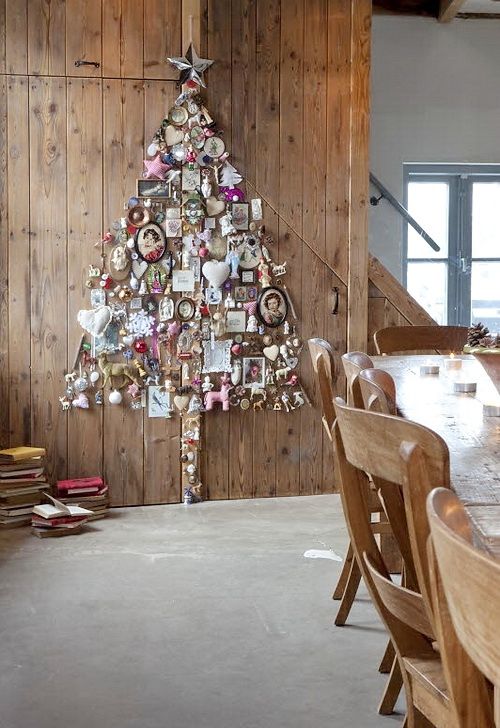 If you are someone who wants to design their own Christmas tree and also has an affinity for unique vintage finds and plenty of trinkets lying about, this may be the idea for you. A found objects Christmas tree involves assembling a collection of knickknacks, preferably related to the season in some fashion, and adhering them to the wall in a way that's easy to remove. For this reason, you'll want to go for lightweight objects that can be hung with a thumbtack of even one thin nail. This is a pieces that looks art-gallery worthy and is especially appealing on wood-paneled walls or surfaces. You can top it off with a large star or bow you craft yourself, and swap out pieces throughout the year to correspond with the season.
38. Modern Holiday Mantle Decor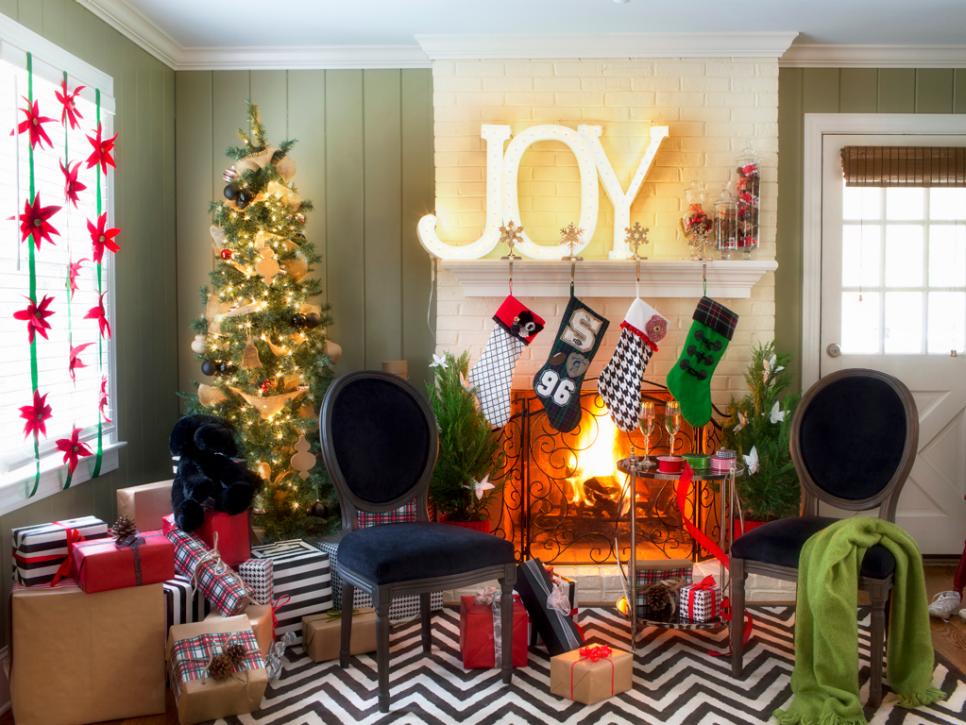 If your home has a traditional fireplace, you can still spice things up with some modern decor and take it into this century. Instead of selecting a modern motif and figuring out ways to distract from the mantle, use it as the focal point of the design and top it with a large accent such as glowing Christmas letters, and compliment it with stockings or a thin garland. Handmade stockings or glasses of Christmas bulbs are a great way to add a burst of color to a classic piece and make it stand out.
39. Scandinavian Style Christmas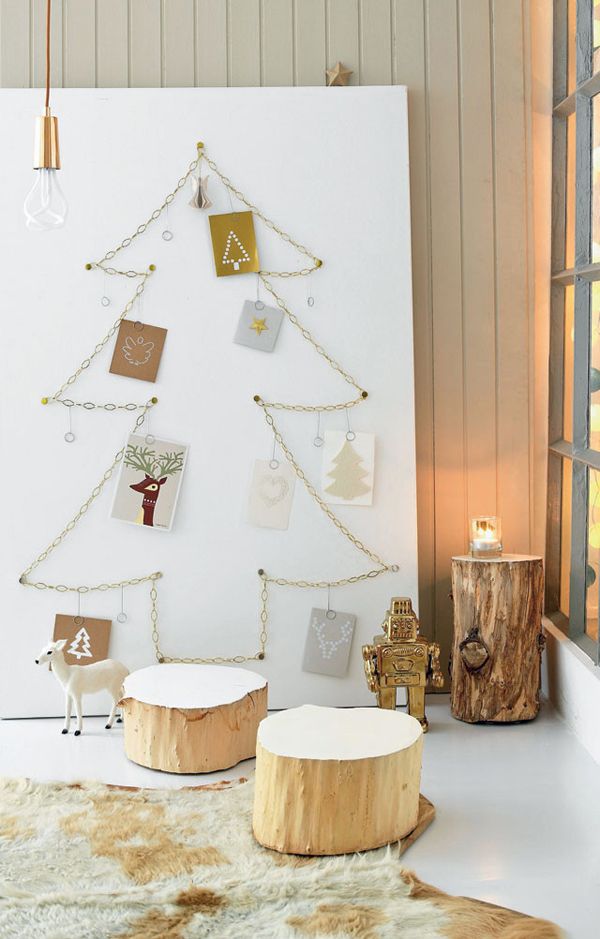 Even if you've never been to Europe, chances are you've encountered some Scandinavian-inspired decorations, and possibly already use some yourself. This style of holiday decor is simple and chic, with minimal patterns and instead large focal pieces such as reindeer and snowman figurines, tree log centerpieces fashioned into candle holders and brightly wrapped gifts piled under a tree. More modern renditions involve alternative trees that play up the minimalist side of the design, with trees being crafted from birch branches in large vases, wire coil trees and lights arranged on a wall in the shape of a pine.
40. Christmas Candle Centerpieces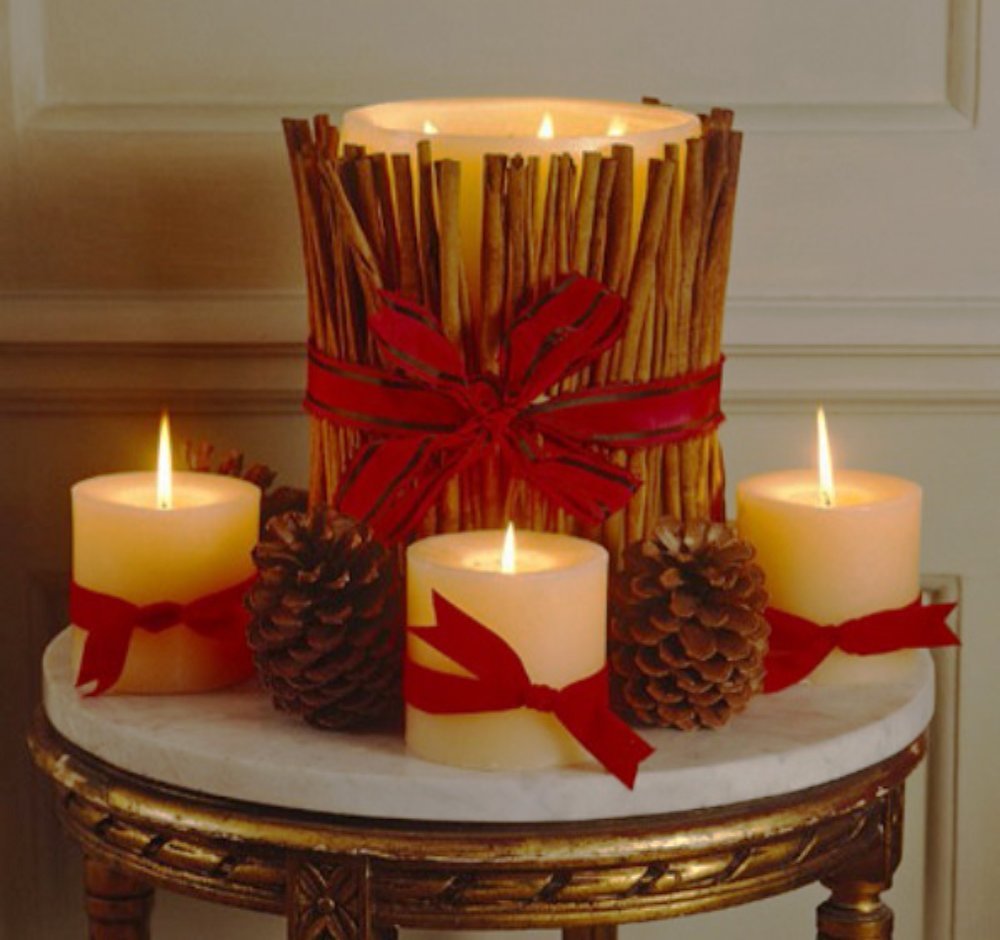 Candlelight is warm and inviting, so it's no surprise that people flock to pick up as many as they can when winter rolls around. If you have extras at home or are planning a trip to the store, why not turn some holiday candles into your Christmas centerpiece this year? Cinnamon sticks attached to a large candle and secured with a bow is the focal piece, while the display is finished by adding several smaller candles of the same size decorated with simple red bows. You can change the color of the ribbons to match your own palette, but don't forget the pinecones to place in between the candles!
41. Creating a Timeless Christmas Tablescape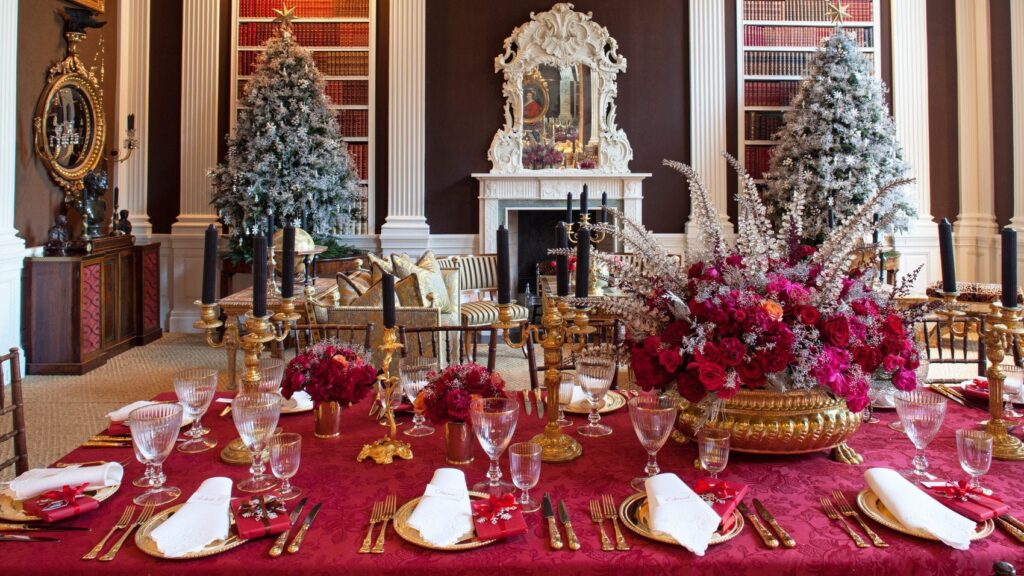 So many memories are shared around a good meal during the holidays, so why not make your table just as special and intricately decorated as the Christmas tree itself? A good holiday tablescape is best done in deep jewel tones or season colors to create a sense of tranquility and comfort. Traditional holiday tableware with a modern twist like white porcelain plates with a tartan plaid trim or thick glasses accented by a red jewel at the neck are great starters, and will match any accents you add. Some recommendations include bounty garlands with evergreen and pine, three flame candelabra, rich red fabric napkins and gold dining utensils.
More Christmas décor ideas on the next page…