42. DIY White Christmas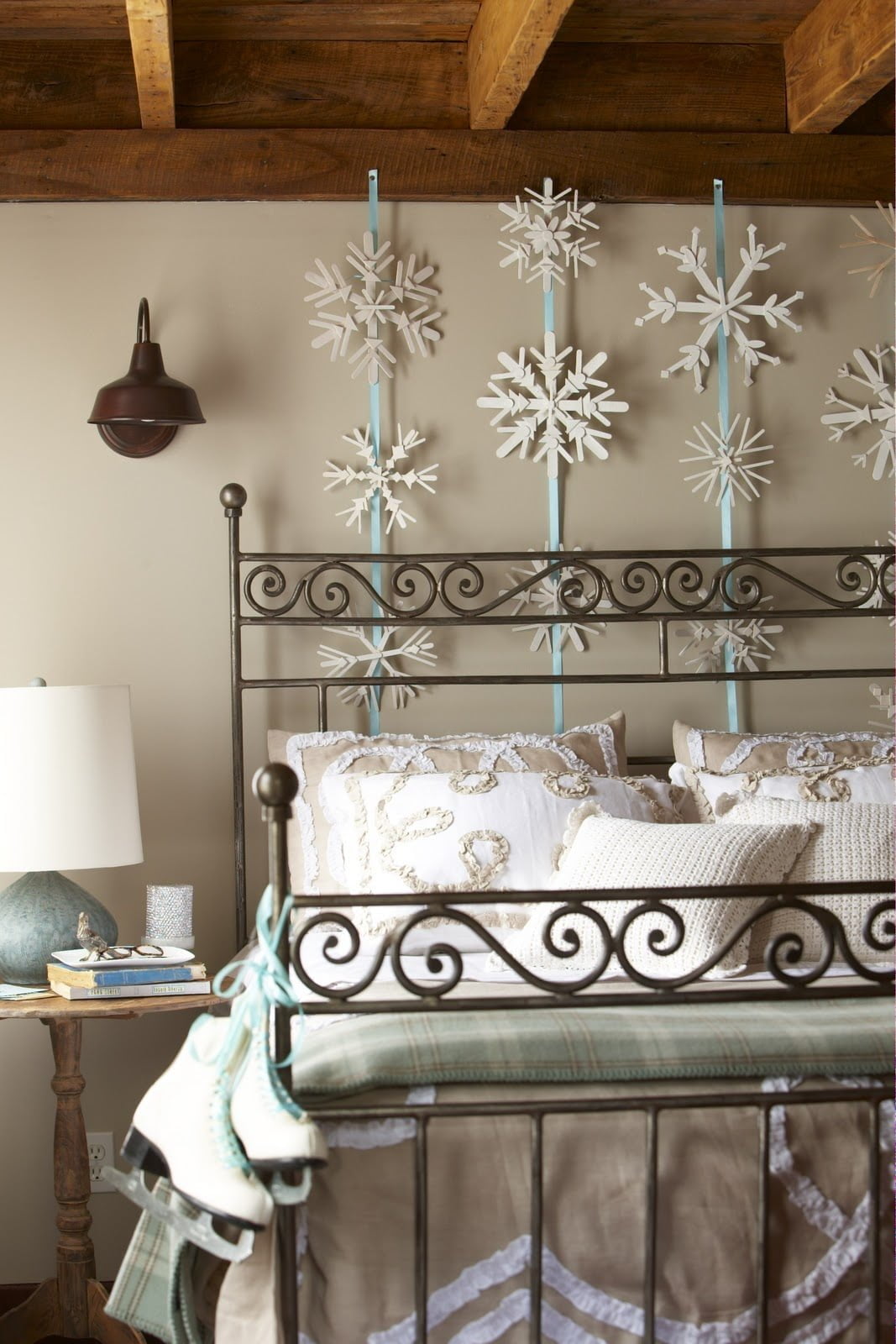 Snowflake themes are classic, and you can create your own to decorate the house for the holidays with just a few simple items. Snowflakes can be applied to doors and banisters, but also look lovely when hung above a headboard. The snowflakes can be hung from a thin string or a more festive ribbon to suit your taste. This style is soothing and unimposing with just enough pizzazz to brighten up your space. The snowflakes above your bed can serve as a winter dream catcher of sorts, serving as a gentle reminder of the season's tranquility and timeless beauty.
43. Christmas Lanterns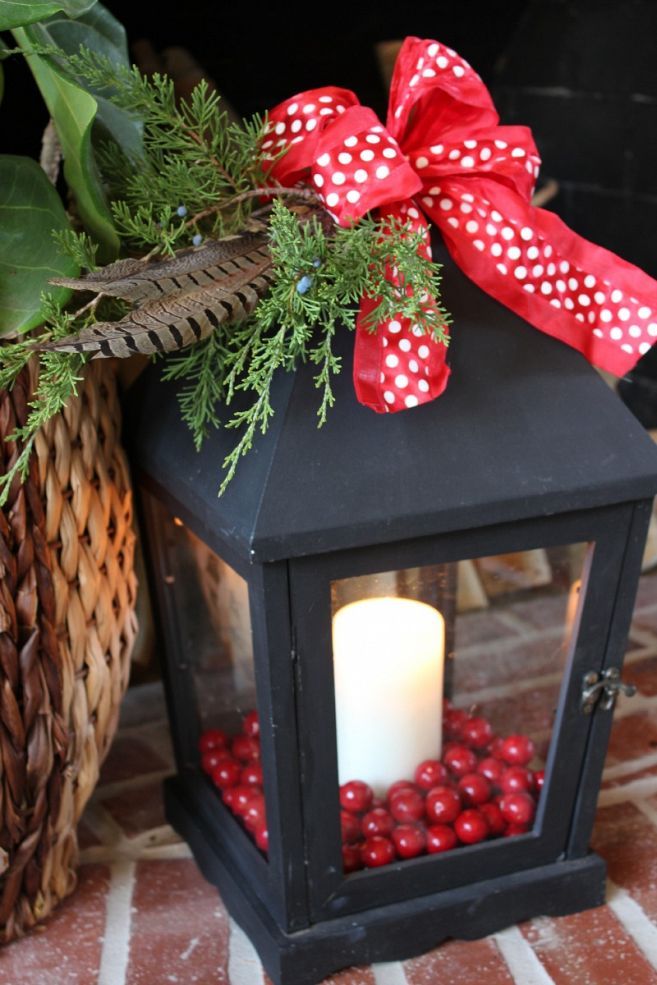 These lights can be placed indoors or outdoors and scaled to size to suit your needs. There are many ways to fill them too, but all are fun and Christmas-inspired! You can take a classic approach and add in some faux berries and a candle (electronic candles are even better since you don't have to worry about fire hazards). Embellish with a red ribbon and some greenery for a finishing touch. You can also decide to go a more whimsical route with colorful ornaments arranged inside with a string of Christmas lights woven in to add extra sparkle and shine! Lanterns with a side door are best, since they can be turned upside down and easily filled or have their contents swapped out as you get more ideas throughout the season!
44. Jul Star Ornaments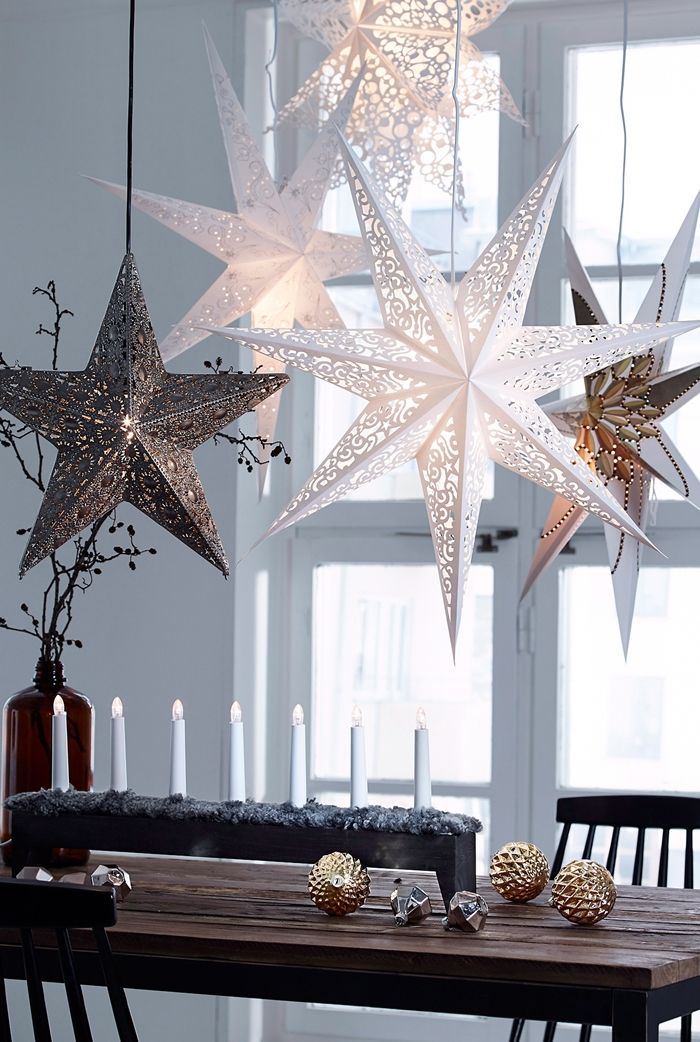 Classic hanging stars make great additions to any holiday display. Some are easy to make at home, but other hanging star lamps can actually be purchased and used throughout the year. Whichever route you decide, these stars can be hung above a dining room table at varying lengths, creating a focal point that you can accent with a simple centerpiece and muted tableware. If you're just wanting to add a simple star to your space, settling for one or two smaller ornaments and hanging them above the bed or framing the fireplace are two options worth considering.
45. Make Your Mantle Glow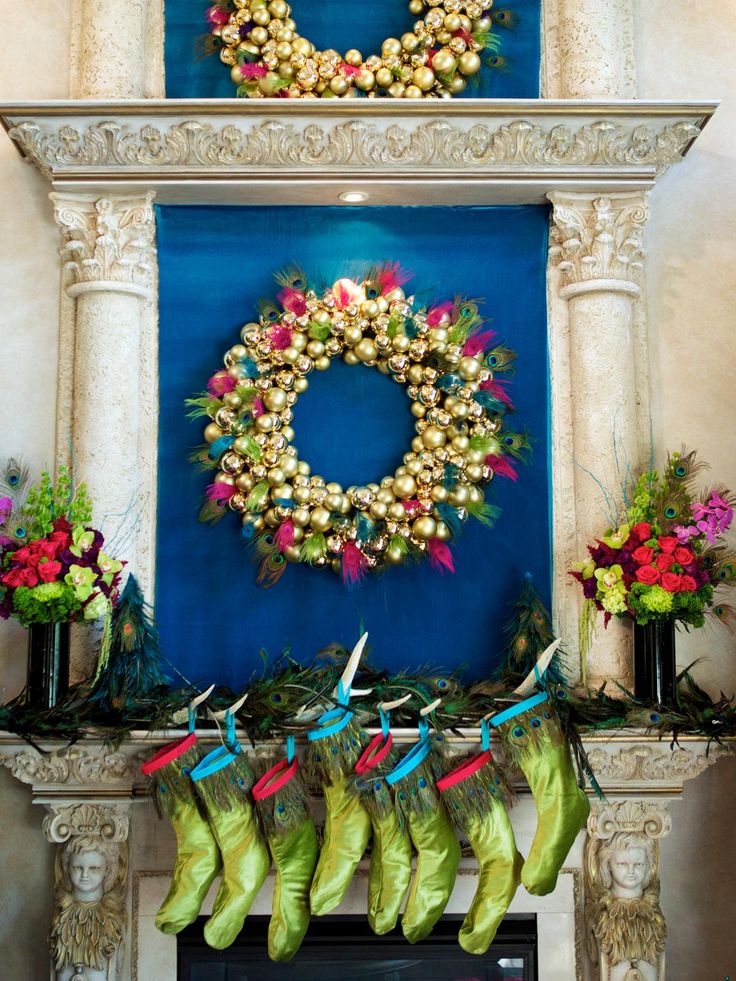 Since the mantle has been associated with Christmas for centuries, it's a great spot to focus on during your decorating. No longer used to keep warm and hang stockings, a mantle is now a blank canvas for decorators to capture the essence of the holidays and draw family and friends close to laugh, chat and stay cozy. Wreaths and garlands are go-to toppers, but you can also choose to top your mantle with gleaming candle displays, tiny toys and vintage pieces or a black-and-white snow scene mounted above and complete with a rich garland and lights for a rustic-chic design.
46. Happy Holiday Luminaries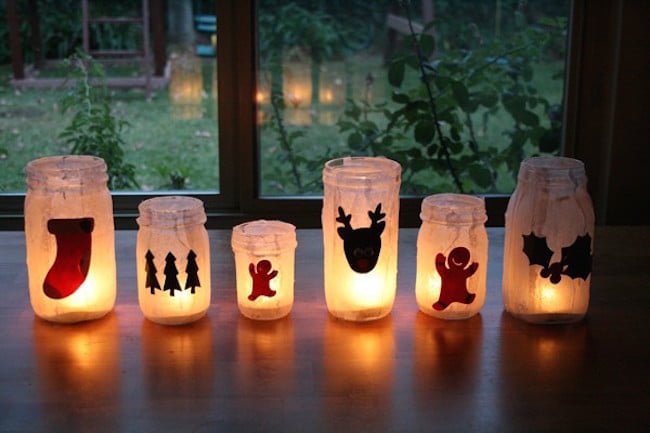 If you want to have a spirited Christmas design but also want to avoid too many open candles due to children and pets, then these festive Christmas jars will be perfect. Mason jars of varying sizes are wrapped in a tissue paper, as its thin texture allows the candlelight within to shine through. Children can help make their own, cutting out holiday designs from felt or standard construction paper and sticking them to the front with a mod podge. The color scheme is totally up to you, but don't forget to finish each jar off with a tin ribbon across the top before you display them for all to see.
47. Tasteful Cluttered Christmas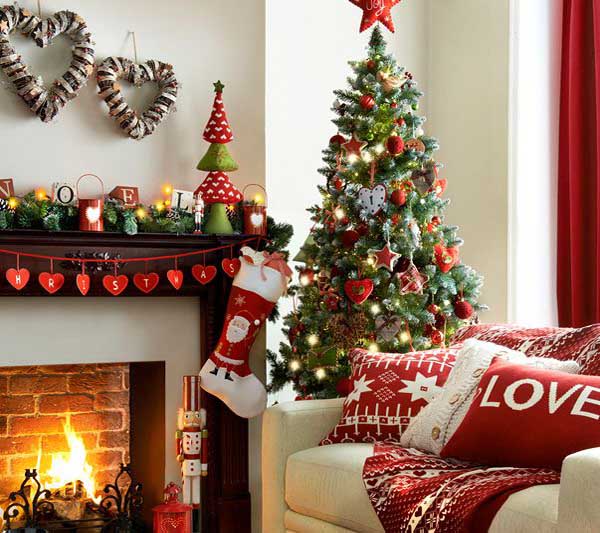 This vintage style is great because it's easy to pull off and can really only improve as more is added to it. You'll want to start off with some holiday handstitched pillows, either ones you make yourself or buy at the store. Red and oatmeal colored with season's greetings pop the most. Then you'll want to add a throw blanket in knit or wool. This will make your couch plush and inviting; the perfect place to snuggle up next to the tree. Stick to tones of red and white, with variants of green and gold dispersed throughout for embellishment. Cute and cuddly work well with this theme, so break out the mitten ornaments, plush bears and any other soft decorative piece you have to create a comfortable and kid-friendly Christmas.
48. Nature-Inspired Holiday Dining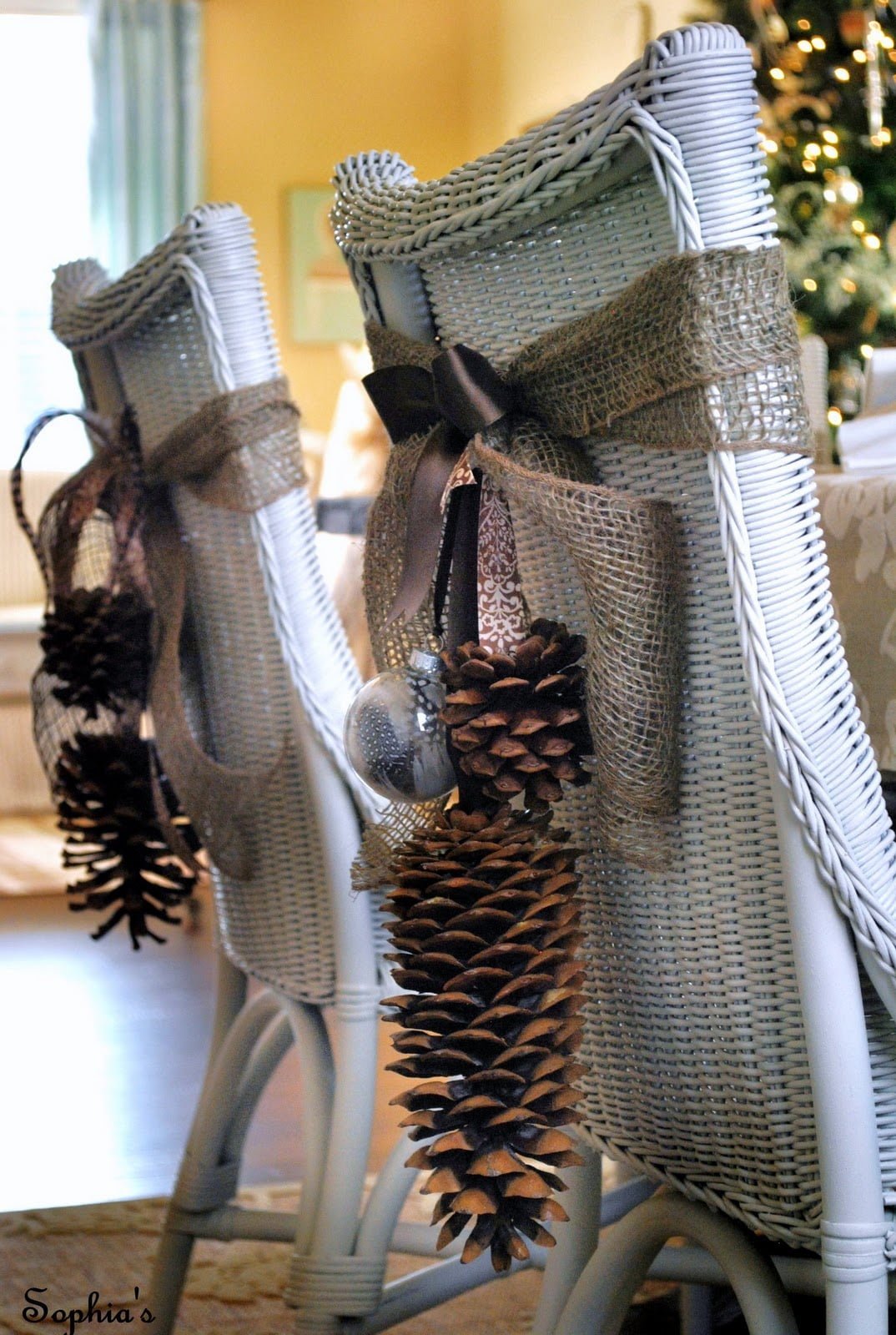 You can add some small but noteworthy touches to your dining area this Christmas season by turning to nature for inspiration. Snow, pine and greenery all make wonderful starting points for design. Start candle sticks in either a rustic metallic or actual wood. Thick dishes with rounded corners or some type of nature design work well, in addition to adding a simple plastic ornament with a tag attached as a placeholder. Feathers, a light sprinkling of silvery glitter and chair covers secured with sheer brown ribbon and pinecones will tie everything together.
49. DIY Christmas Window Decorations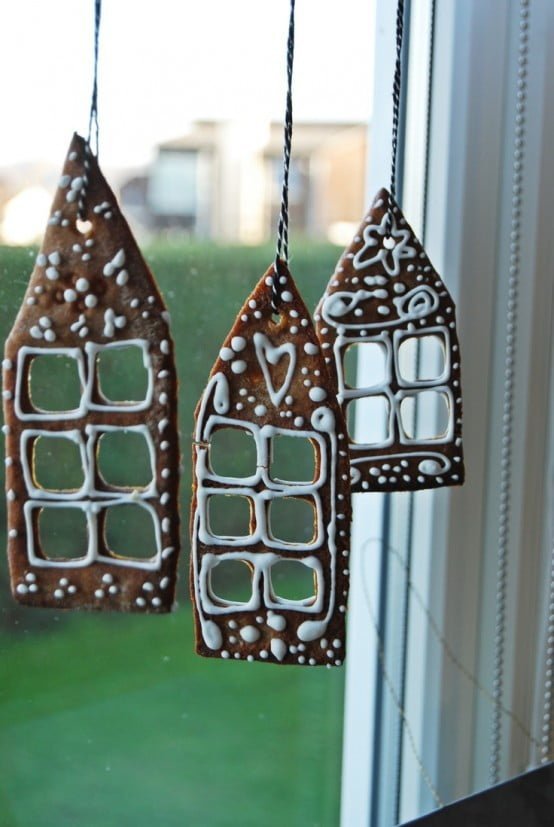 The plastic adhesive stickers you can buy at the supermarket might be fun, but there are plenty of other creative ways to deck out your windows for Christmas. Ornaments suspended by multicolored ribbons, handmade garlands from string and paper cutouts, branches covered in lights, decorative icicles or wooden decorations in the shape of hearts or gingerbread houses add so much light and personality to a space, even if the window you're working with is a small one. If you're on a tight budget, you can simply recycle extra Christmas decorations you have around the house; Hanging a few strings of lights vertically is flashy, simple and doesn't cost you any extra money.
50. Modern Christmas 2018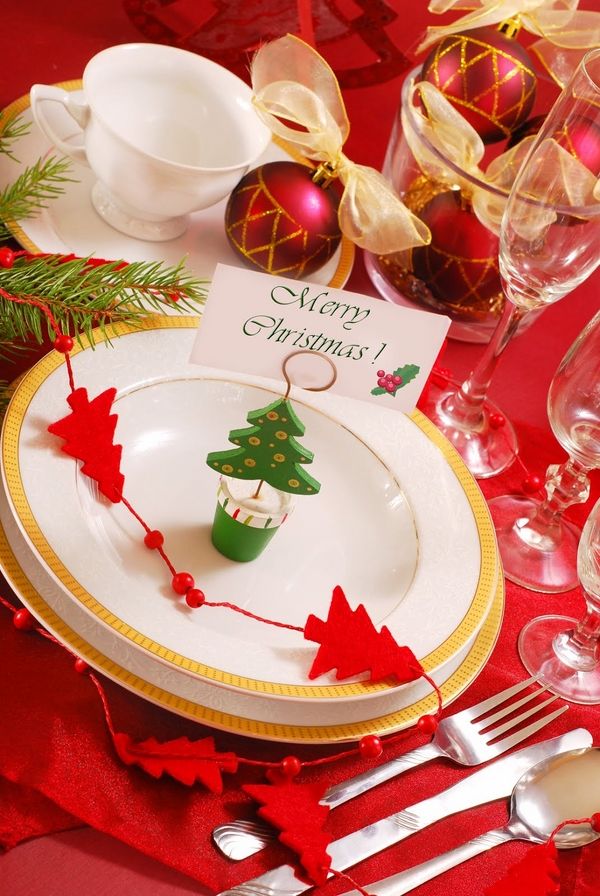 As the millennium approaches its sixteenth year, there's no denying that styles have changed. The latest trends revolve around complex simplicity, i.e. minimalist design without sparing any of the attention to detail that traditional decorating styles emphasized. The majority of modern Christmas styles in 2015 still incorporate the classic traditional colors of red and green with accents of gold, though the execution is less cluttered. Instead of a large tree, for example, many have tried out alternative trees from branches or lights. Glass containers filled with ornaments and stringed lights, beads and white ornaments on the tree and simple pops of color.