When it comes to the holiday season, there's no better way to show your neighbors and visiting friends and family that you're enjoying the spirit of the season than by creating a beautiful decoration scheme on your front door. Christmas front door decors are a festive surprise that makes those who visit your home feel truly welcomed. There's something magical about driving down a street on a wintery night that is filled with beautifully decorated homes.
🎄 Find The Spirit Of The Season With These Beautiful Christmas Front Door Decorations for the Year

Many of us have been following the same old formula for years when it comes to decorating our front doors. We purchase a pre-decorated wreath, hang it from our door knocker and call the project completed. However, there's a lot more you can do to decorate your door than just the same old wreath. If you want to create a front door Christmas display that will truly wow everyone on your street, then try one of these fifty christmas door decorations.
1. Gift Wrapped With Garland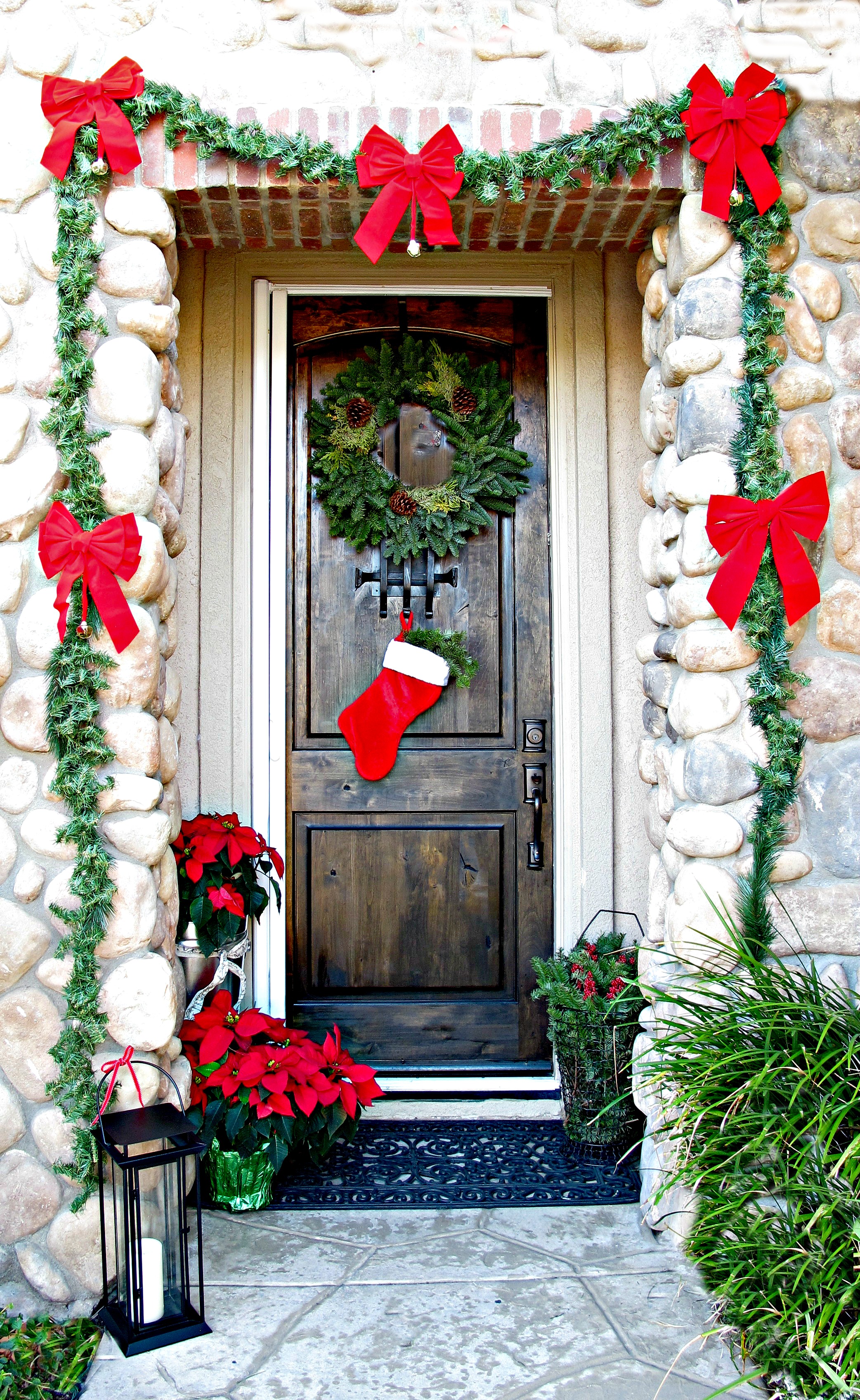 This gorgeous design aesthetic is inspired by the beauty of a wrapped gift sitting under the Christmas tree. Christmas wreaths are a beautiful centerpiece for any door design scheme. This look takes it to the next level by hanging a traditional Christmas stocking on the wreath. To create the appearance of a wrapped gift, string garland around the perimeter of your entryway. This homeowner accentuated the garland with colorful red bows, but you could also add ornaments, tinsel or string lights. Accentuate the look by adding some colorful red poinsettias, a staple of the Christmas season.
2. Dramatic, Old-Fashioned Garland Decor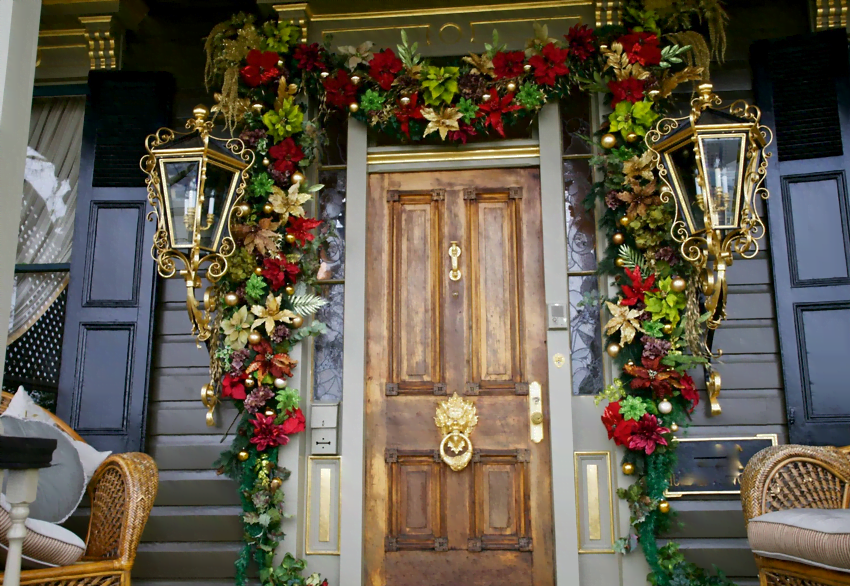 While silly, modern and cool Christmas decorations are all well and good, some of us want to eschew anything cartoonish or childish, preferring the look of old-fashioned, Victorian era Christmas house decorations. Skip that usual wreath and instead go with an oversize garland, stringing it around the top half of the perimeter of your door. Avoid tinsel or brightly colored decorations, instead opting for ribbons, bulbs and stars in romantic colors like burgundy and gold. The finished look is utterly classical and timeless, perfect for those who prefer their holiday decorations to be on the sophisticated side.
3. A Frostbitten Winter Wonderland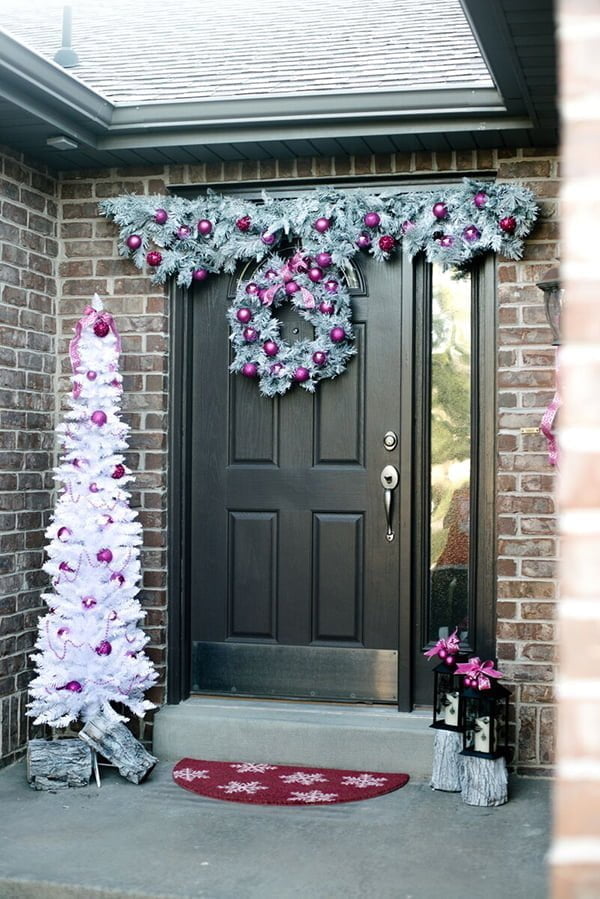 The absolute best Christmas door decorations are the ones that truly capture the sprit of the season. Christmas isn't just about enjoying the company of your friends and family by the fireplace; it's also about waking up each day to a snowy winter wonderland. The recreate this look on your own door, use a white faux snow spray to lightly cover a wreath and a garland. The dark purple ornaments beautifully compliment the look of the fake snow on the greenery. Add a few white Christmas trees nearby to really finish off this beautiful, winter-inspired decor scheme.
4. A Candy-Coated Dream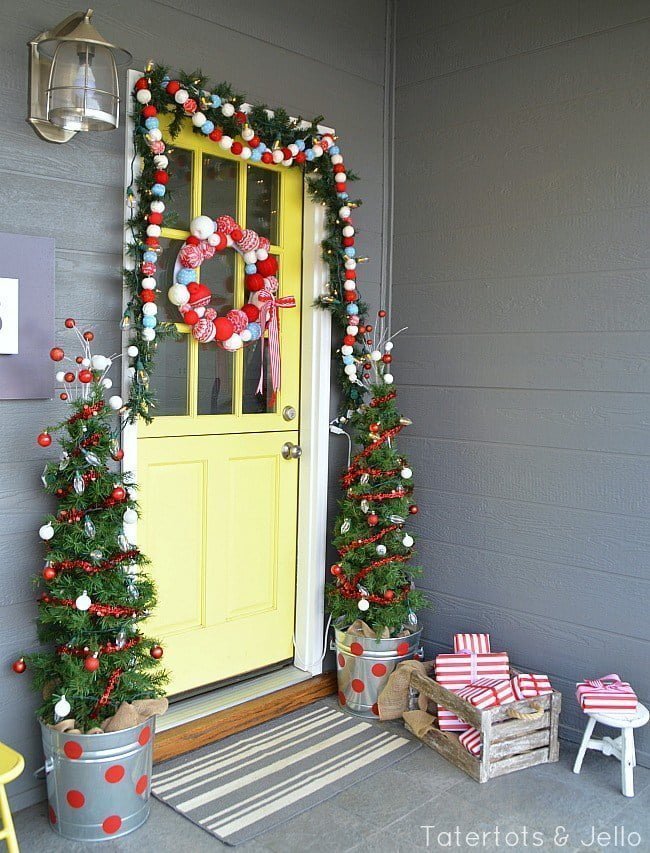 What would Christmas be without some tasty sweets? This Christmas decoration idea is inspired by all things sweet and delicious that make the Christmas season so great. To create the candy garland, just paint ping-pong or small Styrofoam balls in various bright candy colors, then string them together with a needle and thread. To create the candy cane-inspired polka-dot planters, just cut out circles from a sheet of red vinyl material and hot glue them to a tin planter. Finish the look by scattering some faux gifts wrapped in candy cane-print gift wrap nearby your entryway.
5. A Touch Of Starlight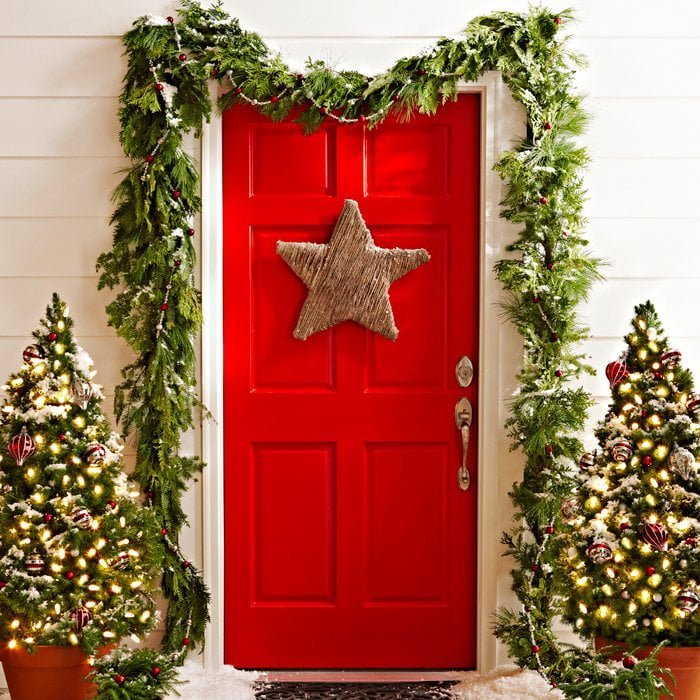 Decorating your door is the perfect excuse to take on a fun Christmas craft project. To create your own door star decoration, pick up an unpainted wooden star from the craft store. Spray paint it gold or any color of your choice. For a more rustic look, wrap the star in twine until every surface is completely colored. This simple door decoration is a unique and unexpected twist on the classic wreath. Complete the look with a beautiful string of garland, ornamented with gold string lights or bulbs to compliment your gorgeous (and completely DIY!) star centerpiece.
6. Welcome To Candy Cane Lane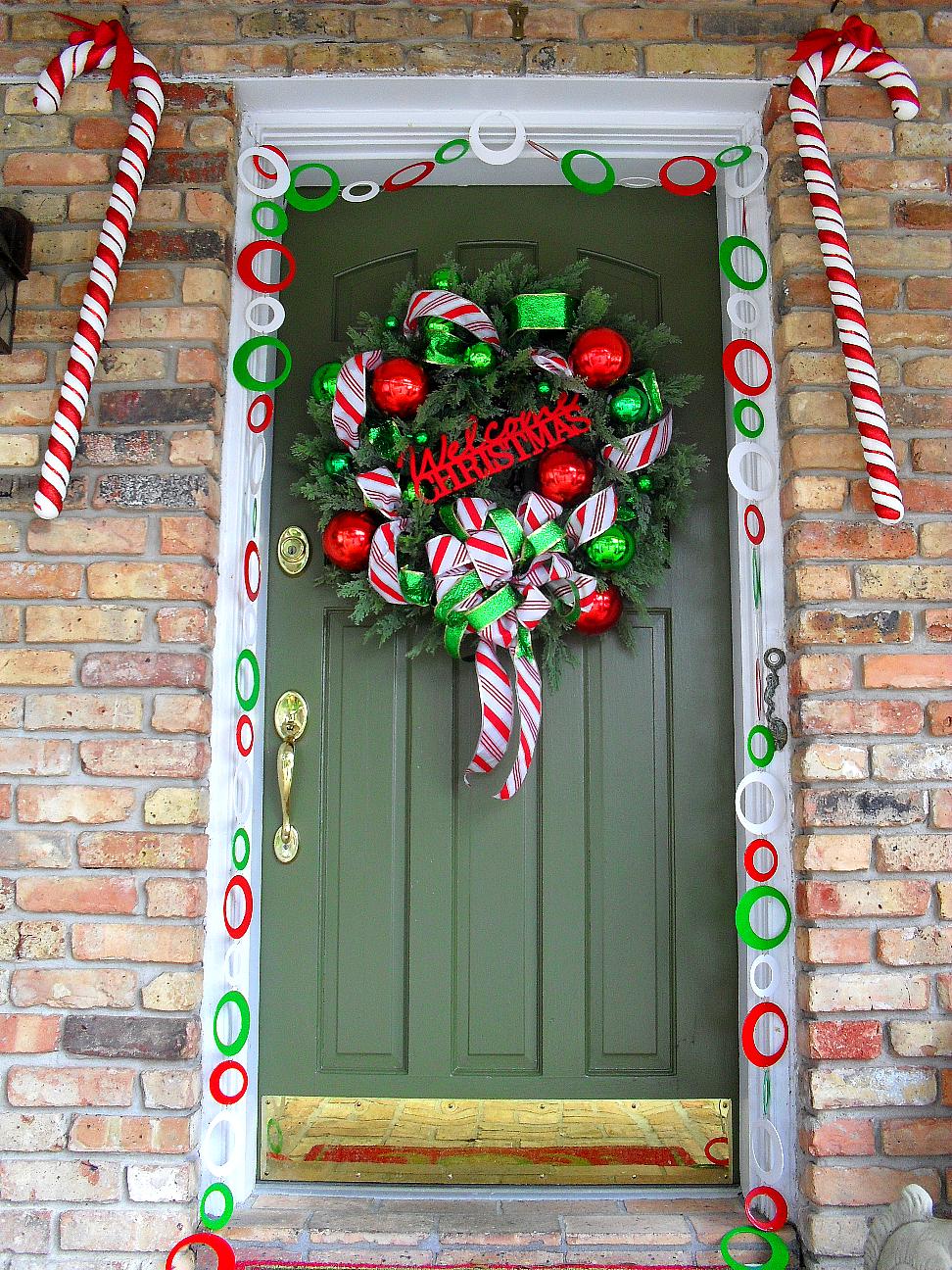 If your favorite part of Christmas is the abundance of candy canes, then this Christmas front door decoration is right up your alley. Hang two large outdoor candy canes on either side of your door, the hooked parts facing in opposite directions. If the candy canes you pick up don't have enough sparkle for your liking, then add some glitter spray, which can easily be found at any craft store. To really give this look some pizazz, loop some candy cane print ribbon around a wreath, finishing off your unique DIY christmas decoration with some metallic green and red bulbs.
7. A Rustic Paradise Christmas Door Decor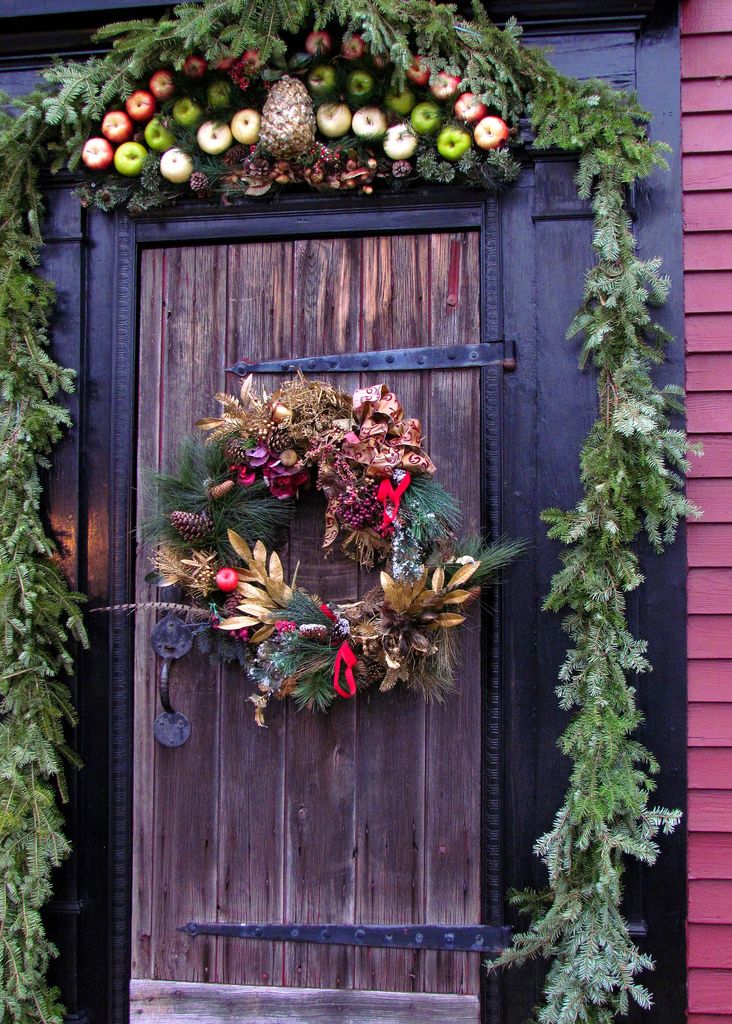 Not all Christmas door decorations have to be bright and sparkly. This gorgeous design idea is completely inspired by the beauty of nature. It's a perfect opportunity to embark on a fun Christmas craft project with some found objects from nature. Add real pine-cones, leaves and crabapples to a wreath using a hot glue gun. These natural items accentuate a wreath or a garland beautifully. If your favorite part of the Christmas season is exploring the beauty and splendor of a forrest before the snow has really begun to fall, this is without a doubt one of the absolute best homemade Christmas decorations you could make.
8. A Splash Of Subtle Snowflakes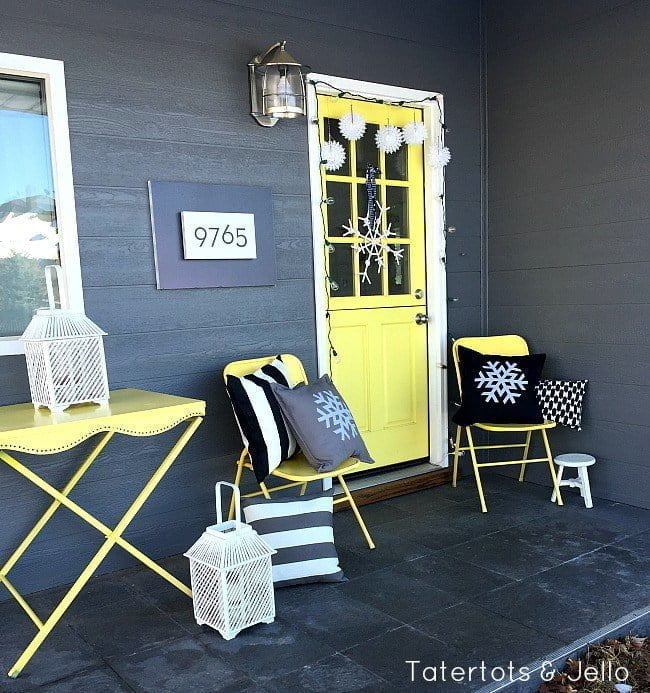 For people who live in hot or desert climates, the idea of decorating with garland and balsam can feel a bit out of place. Just because you don't live in a snowy climate doesn't mean that you can't enjoy Christmas door decorations, however. Give your beach house or desert abode a little touch of winter by creating a simple string of hanging white snowflakes to place above your front door. This DIY christmas decoration can be made quite easily – just use the old trick of folding a few sheets of white paper and making small random cuts. Finish with a spray of white glitter from the craft store to really give this look some sparkle.
9. Three Wreaths For The Price Of One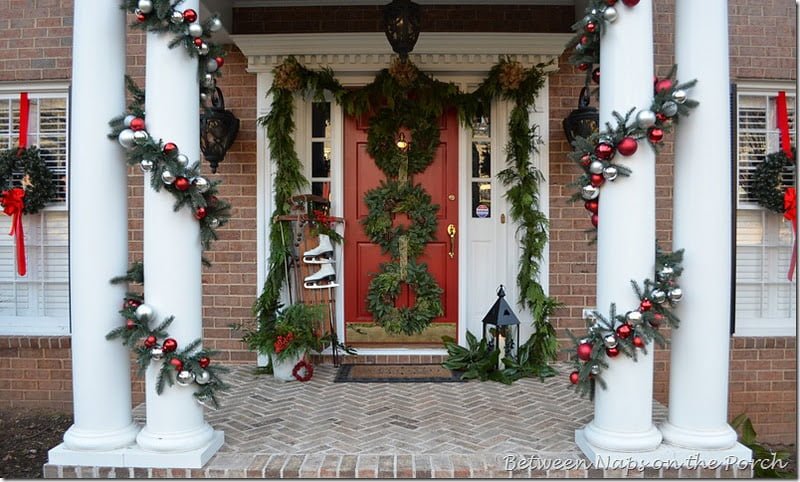 By now, we're all pretty used to a single wreath hanging on a door as a festive holiday decoration. However, if you want a unique but simple way to spice up this expected look, try hanging three Christmas wreaths, one atop another so that they cover the door from top to bottom. This homeowner chose to leave the wreaths undecorated, but you can easily add string lights or ornaments to give the wreaths a little extra something. This design scheme also demonstrates how easy it is to decorate if you have pillars outside your front door by simply wrapping garland around them.
10. Winter Garments As Holiday Decor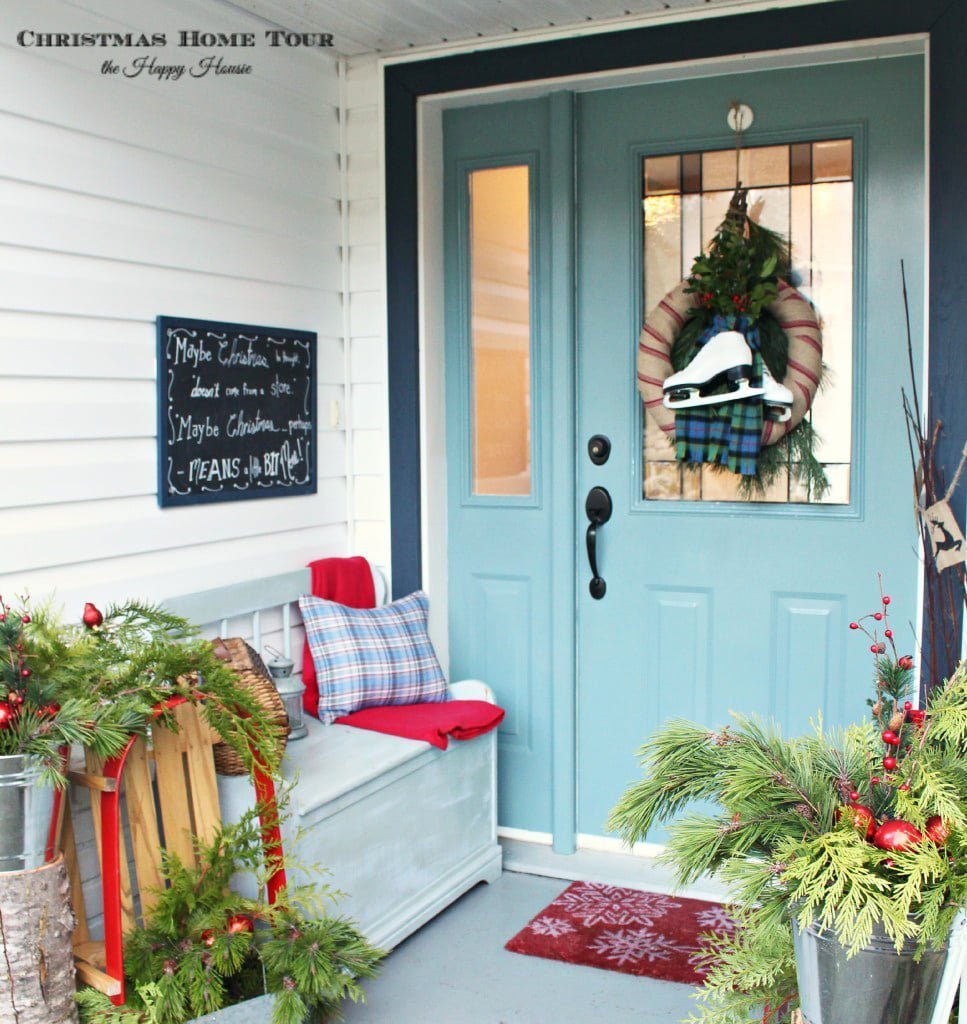 This beautiful look is one of those Christmas door decorating ideas that is so simple, yet so unexpected. To create this festive, wintery wreath, the homeowner simply started with a simple red and white wreath and hung a pair of clean white ice skates in the middle. To really evoke the image of skating on a frozen lake on a cold Christmas afternoon, they added a dark blue patchwork winter scarf and some sprigs of balsam. This holiday door look captures exactly what a unique Christmas decoration should be: Brilliant in its simplicity.
11. A Grinch inspired Holiday Door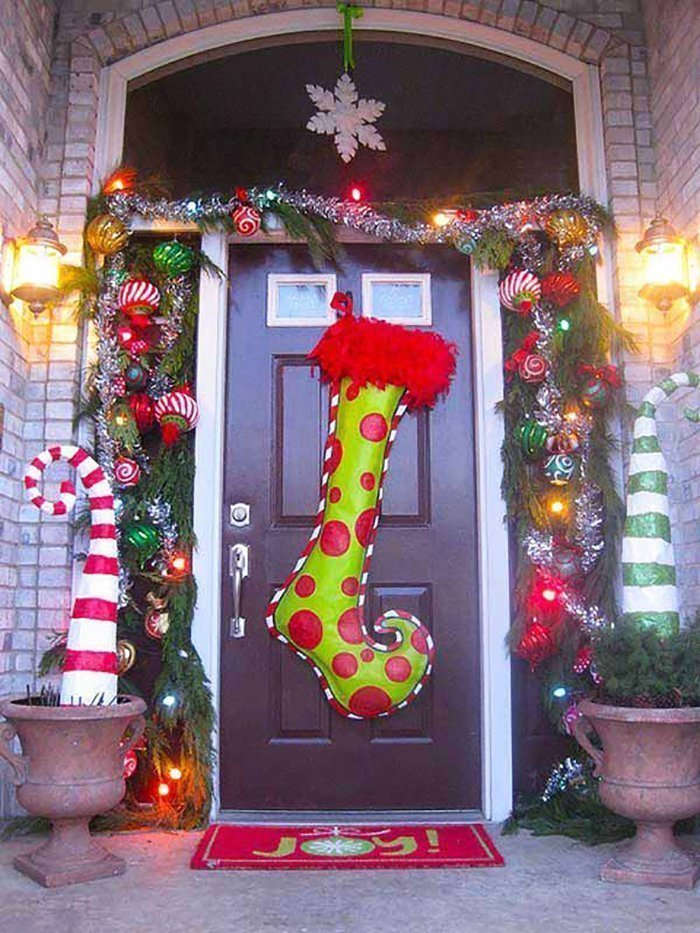 How The Grinch Stole Christmas is one of the most iconic holiday stories of all time. This Grinch-inspired Christmas decor will impress everyone in your neighborhood. The door hanging can be created easily. Using green fabric, hand stitch a large stocking with a pointed toe. Fill it with pillow stuffing and close it at the top. Add a red fur trim and red fabric polka dots using fabric glue and finish with a candy cane trim. The upside-down stockings can easily be created using white Styrofoam cones and red and green ribbon.
12. Shimmery and Chic Metallics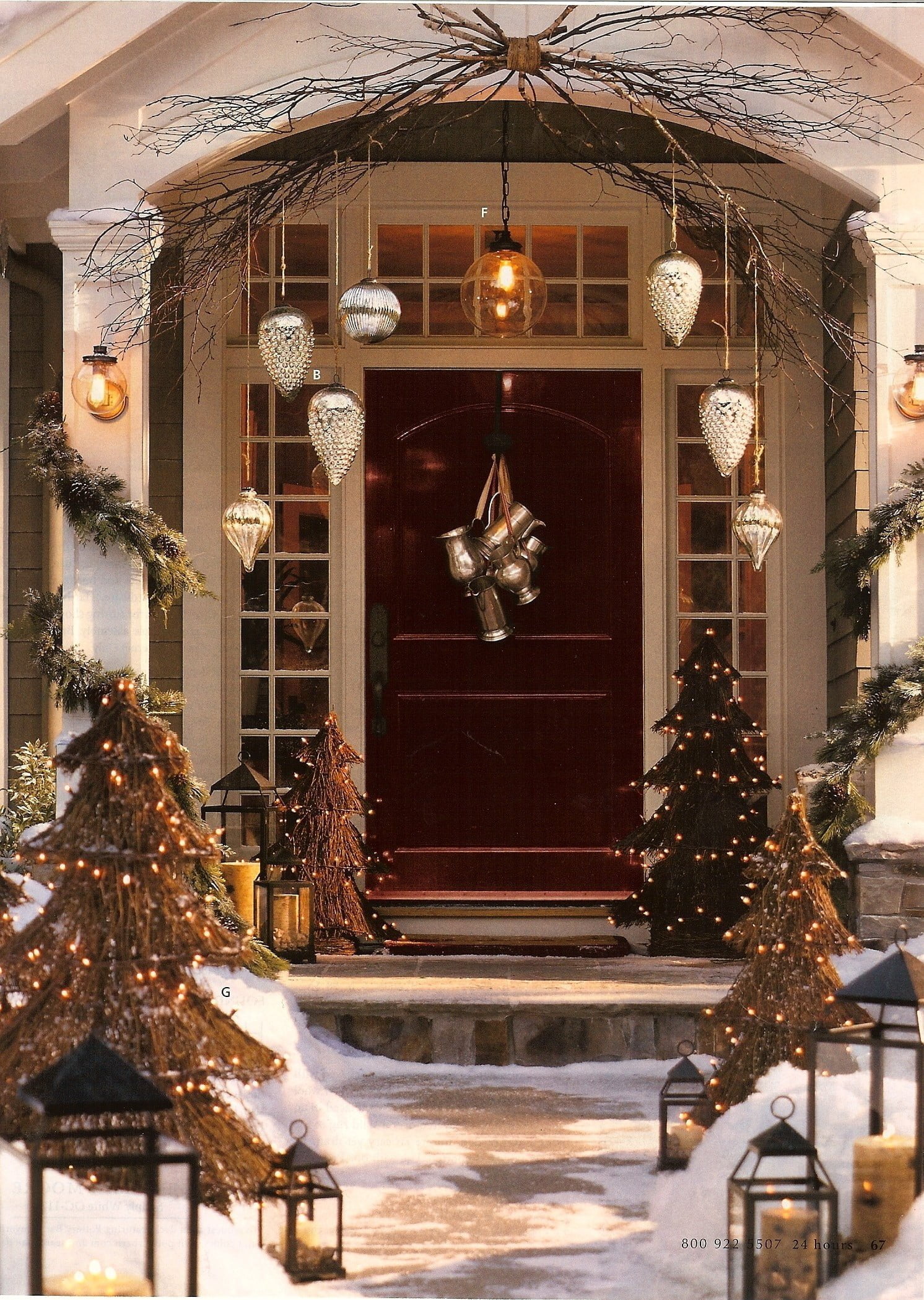 Source: Pinterest
Metallics are one of the most fun hues to play with when you're doing your holiday decorating. Not only are they classic and perfect for Christmas, but they look absolutely breathtaking when you place white floodlights on them at night. This look can be replicated easily by hanging large gold or silver ornaments from the roof of your front porch using clear fishing wire. To create the unique door hanger, look for small and medium-size old tin pitchers at the thrift store. Using red ribbon, hang them as a bundle from your door knocker. Add string lights to nearby bushes and fir trees to really give this gorgeous Christmas front door decoration some sparkle.
13. From Old Window Frame To Quirky Holiday Decor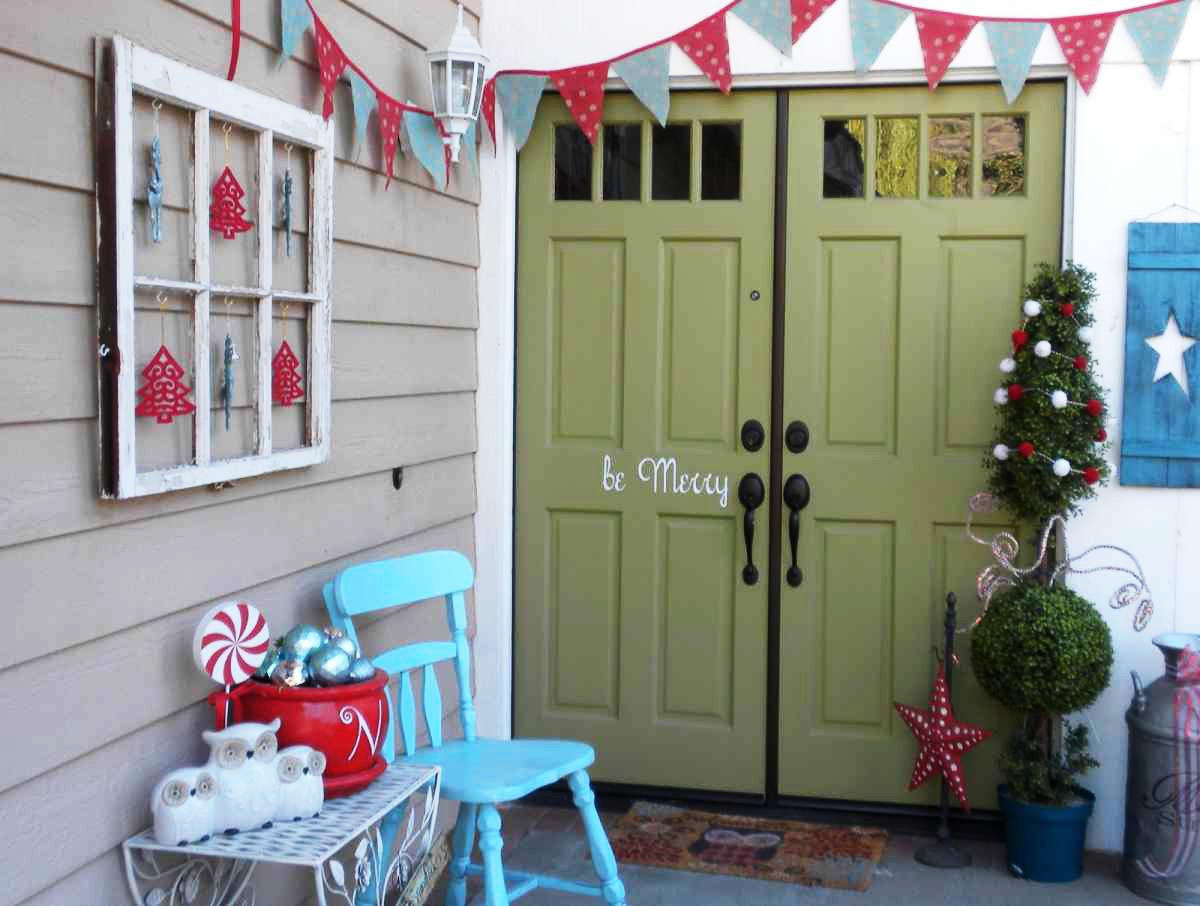 You'd be surprised what the "old construction scraps" lying in your garage can be used for if you have a little creativity and a whole lot of Christmas cheer. This brilliant homeowner turned an old window frame into a wall hanging by simply spray-painting it white and handing it on the exterior of her home. Paper cutouts of Christmas trees hang in each individual cell, alternating colors. This quirky decor idea is proof that the most interesting materials for cool Christmas decorations can be found just about anywhere and don't have to cost an arm and a leg.
14. Holiday Fun With Fabrics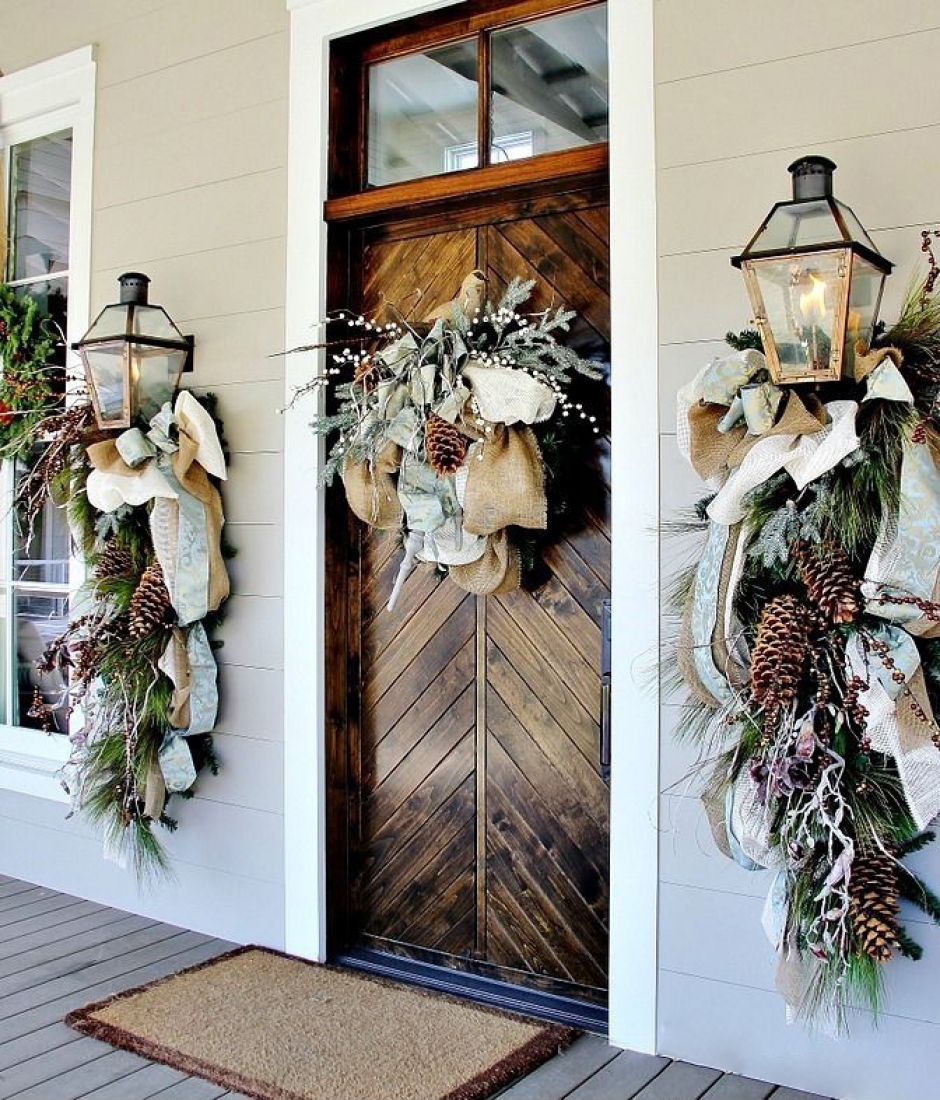 This elegant and understated look is perfect for the homeowner who's looking for unique Christmas decoration ideas that are as simple to achieve as they are lovely. This look can be achieved by adding fabric details to wreaths and garland, using a variety of colors and textures. When decorating your door with fabrics or oversize bows, take a cue from this look and mix materials like taupe burlaps with shimmery white satins to create a multidimensional finish. The addition of the pine-cones gives this door design a beautiful finishing touch. If you don't have lantern fixtures like the homeowner in this photo, add freestanding solar powered lamps or string lights to illuminate your design scheme at night.
More Christmas door design ideas on the next page…