42. A Stunning Garland Made Of Ribbon And Bulbs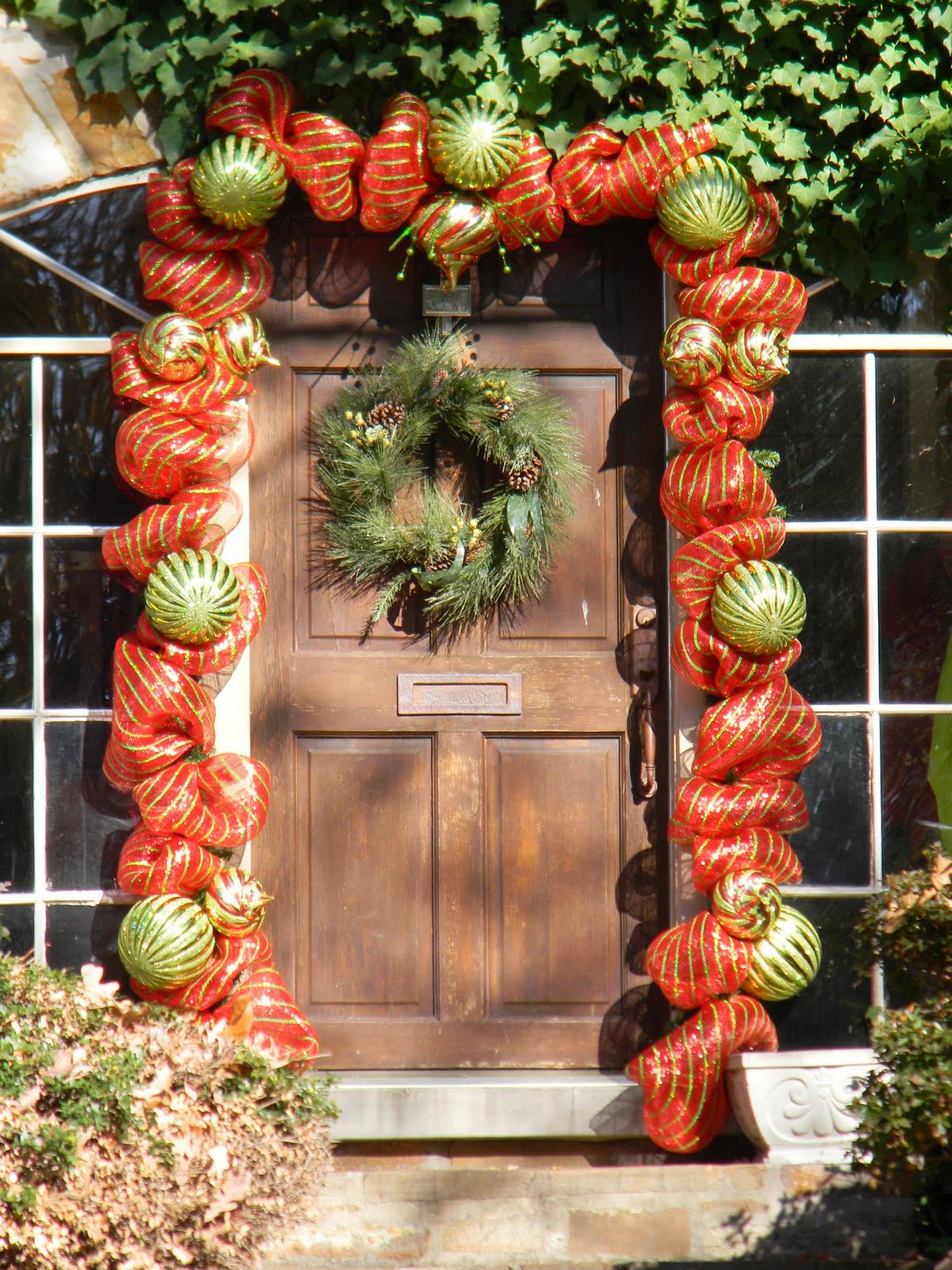 Source: Pinterest
This striking garland, used to outline the perimeter of this homeowner's door, is an unexpected yet delightful twist on traditional garlands. To duplicate this look, look for oversize ribbons made of a sturdy yet sheer material. Tie sections into bows, connecting many bows together with hot glue until you have one long string. Glue large ornaments or bulbs to your garland to give it an extra festive finish. You can also use string lights if you want your stunning garland to glow.
43. Adorn Hedges With Shimmery Wreaths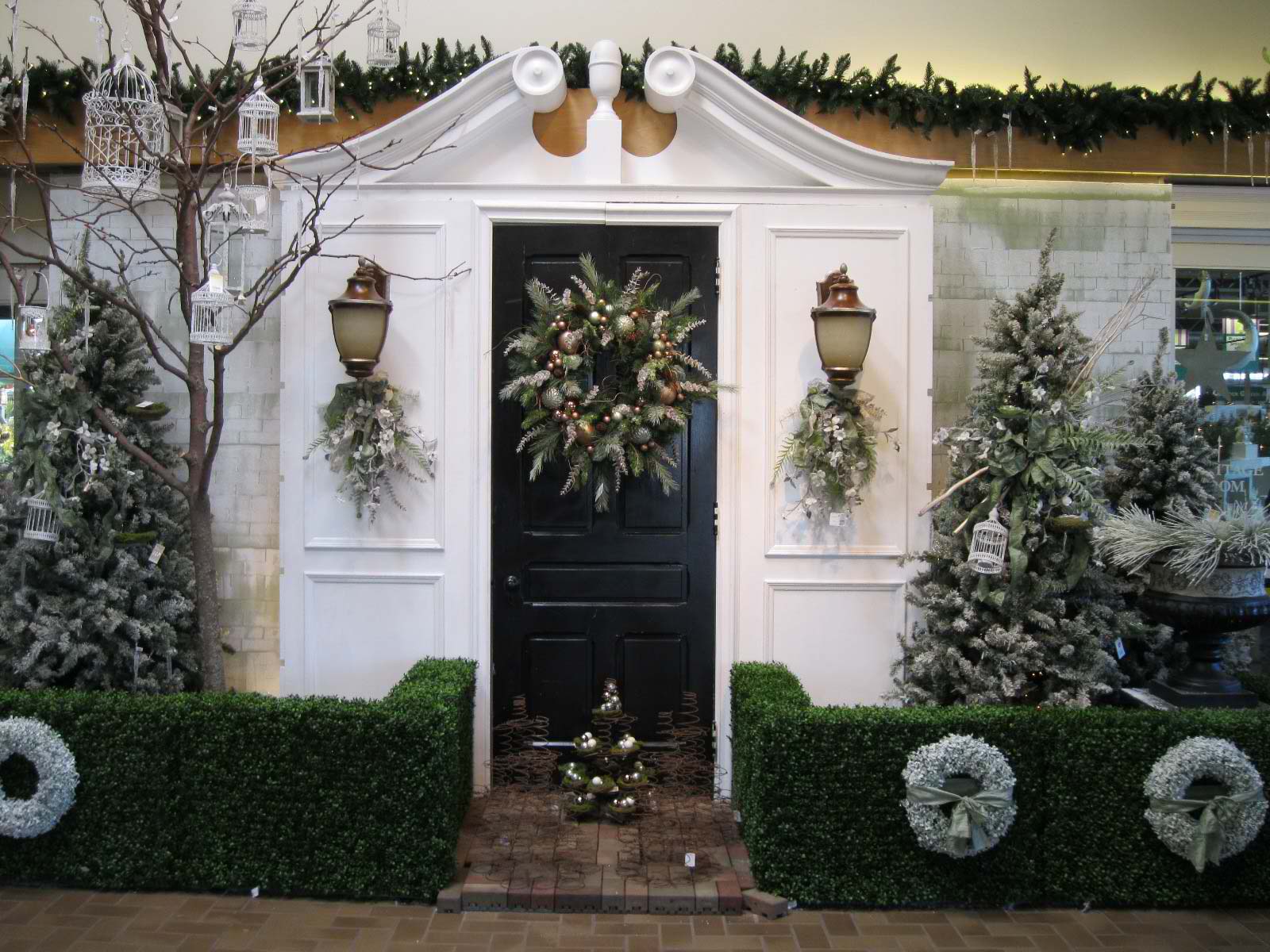 If you have beautifully landscaped hedges like this homeowner, you should absolutely include them in your holiday decorating scheme. It's simple to hang wreaths, such as the stunning silver ones seen here, to hedges using a few Christmas tree hooks. This homeowner followed the simple silver theme throughout the exterior of their home, creating a phenomenally elegant finished product. The wreath on the door, with its hues of dark green, burgundy and the aforementioned silver, compliment the black of the door stunningly. The hanging clear glass lanterns on the nearby tree are also striking and would look beautiful when filled with LED candles.
44. A Stunning Dark Red Door, Guarded By Nutcrackers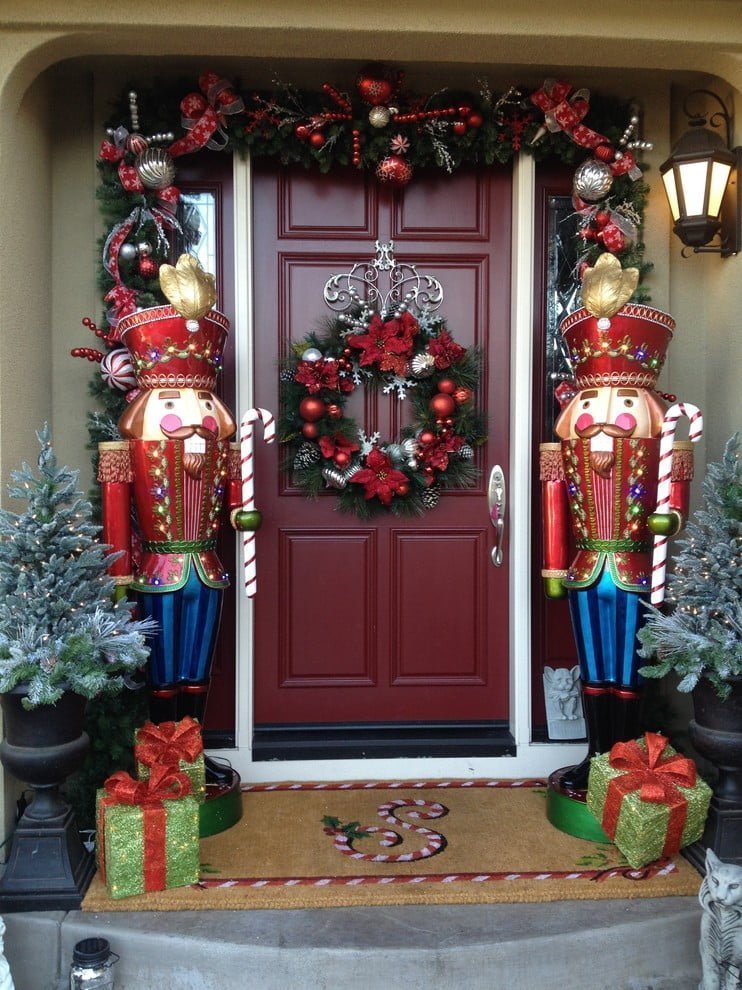 Nutcrackers are one of the most beautiful and classically iconic images of the Christmas season. This homeowner created an eye-catching design by placing two practically life-sized nutcrackers on either side of their door. The rest of this look is cheerful and classic as well. The deep red and bright silver accents on the wreath and surrounding garland juxtapose stunningly with the nutcrackers. The faux wrapped gifts at the nutcrackers' feet are a positively beautiful finishing touch to this phenomenal front door holiday look.
45. Light Up The Night With Lanterns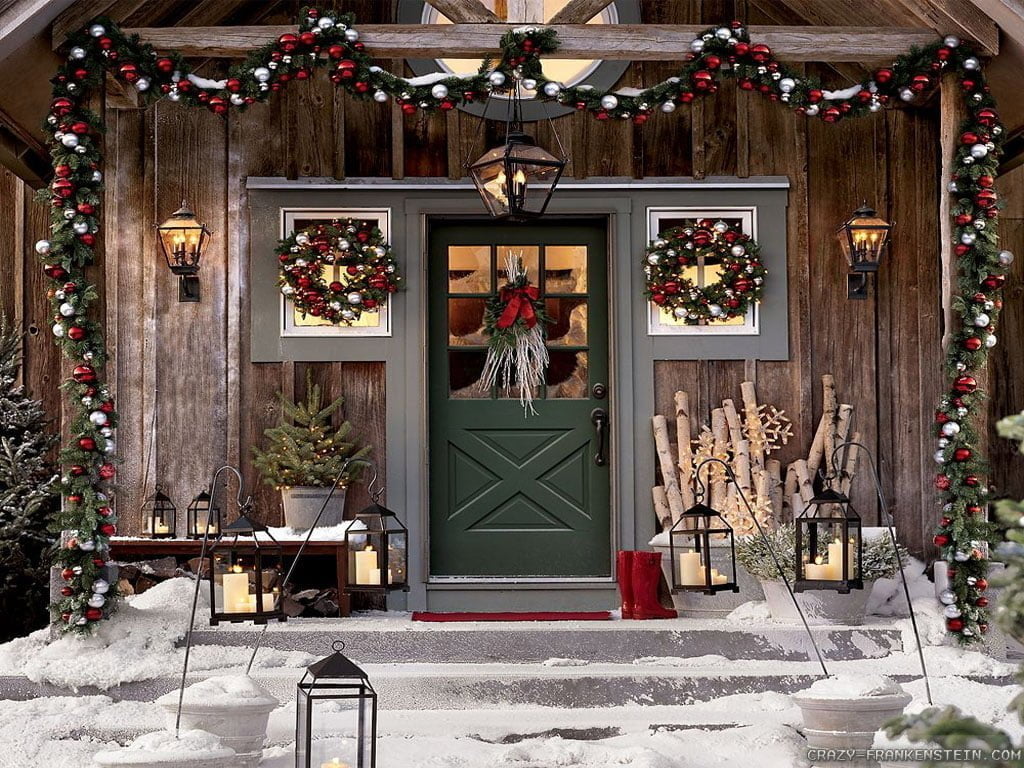 Lanterns are a stunning way to decorate your front porch for the holiday season. Fill these glass lanterns with LED candles that are operated via a remote to make turning them on and off a breeze. This is an outdoor decorating technique that looks as beautiful during the day as it does at night. This homeowner decorated their somewhat unconventional windows on both sides of their front door with two matching wreaths, which gives a beautiful symmetry to the front entrance of their home.
46. Sprucing Up Plants With Shimmery Branches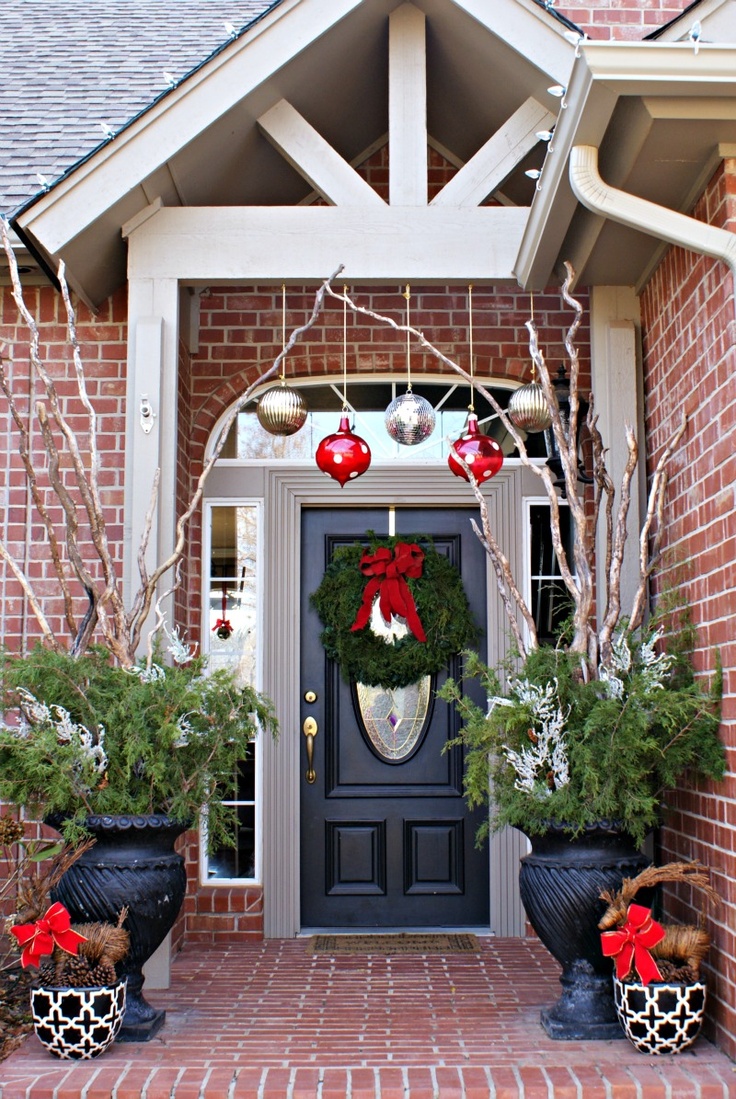 This homeowner decided to give the two large plants on either side of their front door a fun twist for the holiday season. To replicate this look, collect some fallen branches and spray paint them a rose gold hue. You can simply place the branches into the plant, scattering them so they evoke the image of naturally growing from the soil. As with any homemade Christmas decorations, feel free to give this look a personalized twist. You can illuminate the display with string lights or give your branches a little extra sparkle by spraying them with glitter or shimmer.
47. A Simple Yet Spectacular Fabric Banner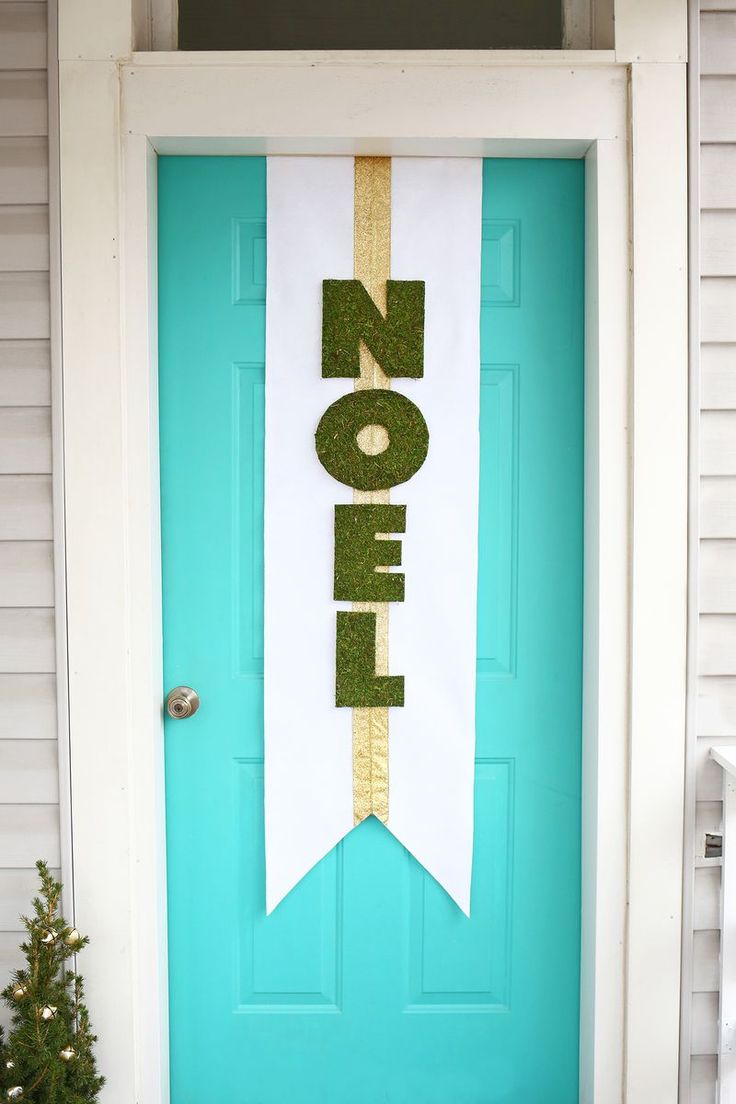 Source: Pinterest
This beautiful fabric banner is the perfect DIY project for an early December afternoon. Simply cut the large ribbon shape from a large sheet of sturdy white felt. Run a wide ribbon in gold or any color of your choosing down the center. To create the "Noel" letters, either use pre-made fabric letters from the craft store or print large letters off of your computer to use as a stencil to cut them out yourself. Use fabric glue to secure all of the pieces into place. This banner is simple, yet so elegant, chic and cheery.
48. A Fruity And Festive Surprise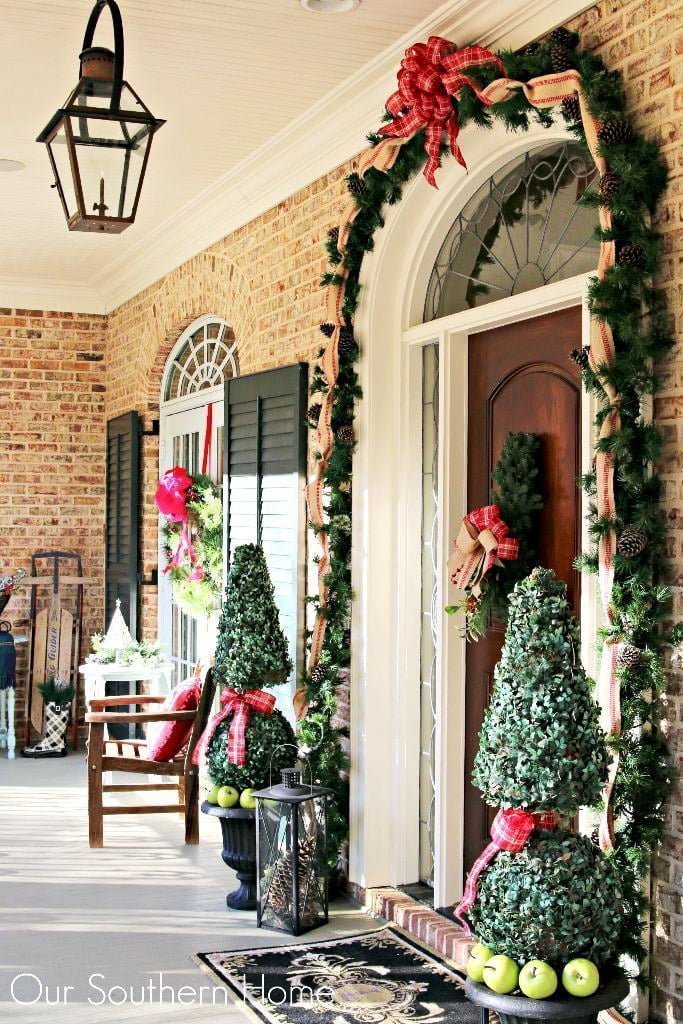 It's the little details that make this front door look so beautiful. This homeowner added a festive touch to the two shaped hedges on either side of their door by not only decorating them with red ribbon, but by placing faux pears at the base of the plants. They gave their large lantern a fun twist by filling it with pine-cones instead of the classic candles. The garland that hangs above their tall entryway is simple but lovely, decorated with a wide red and white striped ribbon.
49. Two-Dimensional Green Garland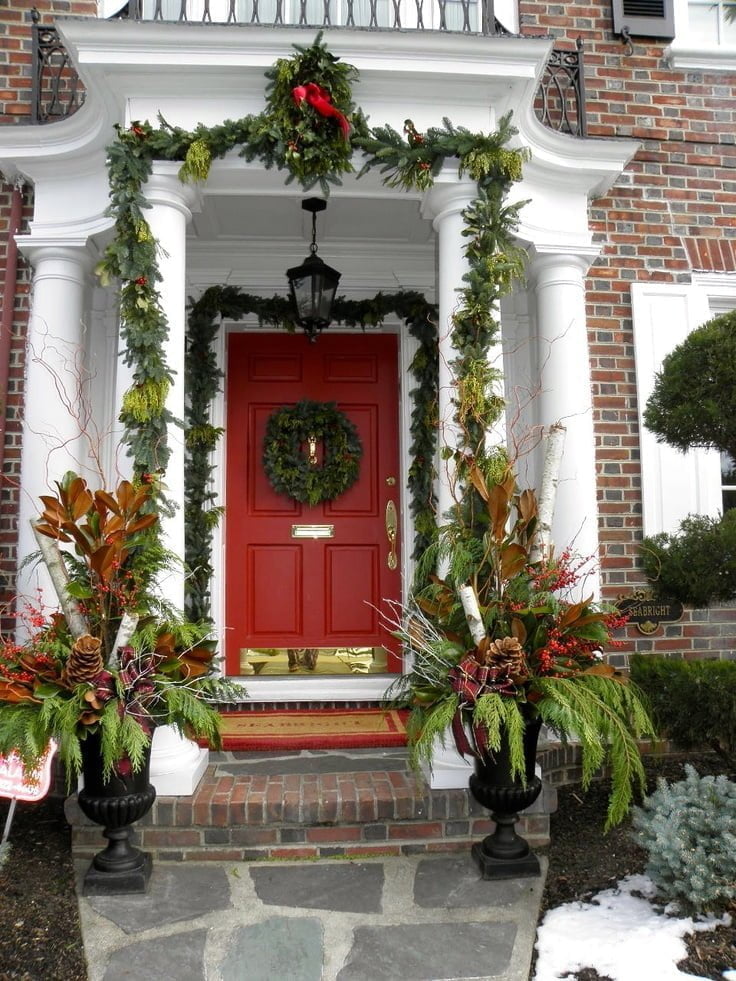 If your front entrance is proceeded by an archway, as is this homeowner's, follow their lead and use two garlands on each arch to create an exciting two-dimensional look. This homeowner kept everything relatively simple, adorning their door with but a simple green wreath. This is one of those holiday decorating schemes that practically begs for the use of white flood lights. By day, the look is minimalist and simple, but at night beneath the glow of flood lights, it's radiant and sophisticated.
50. A Sea Of Snowflakes Front Door Christmas Decoration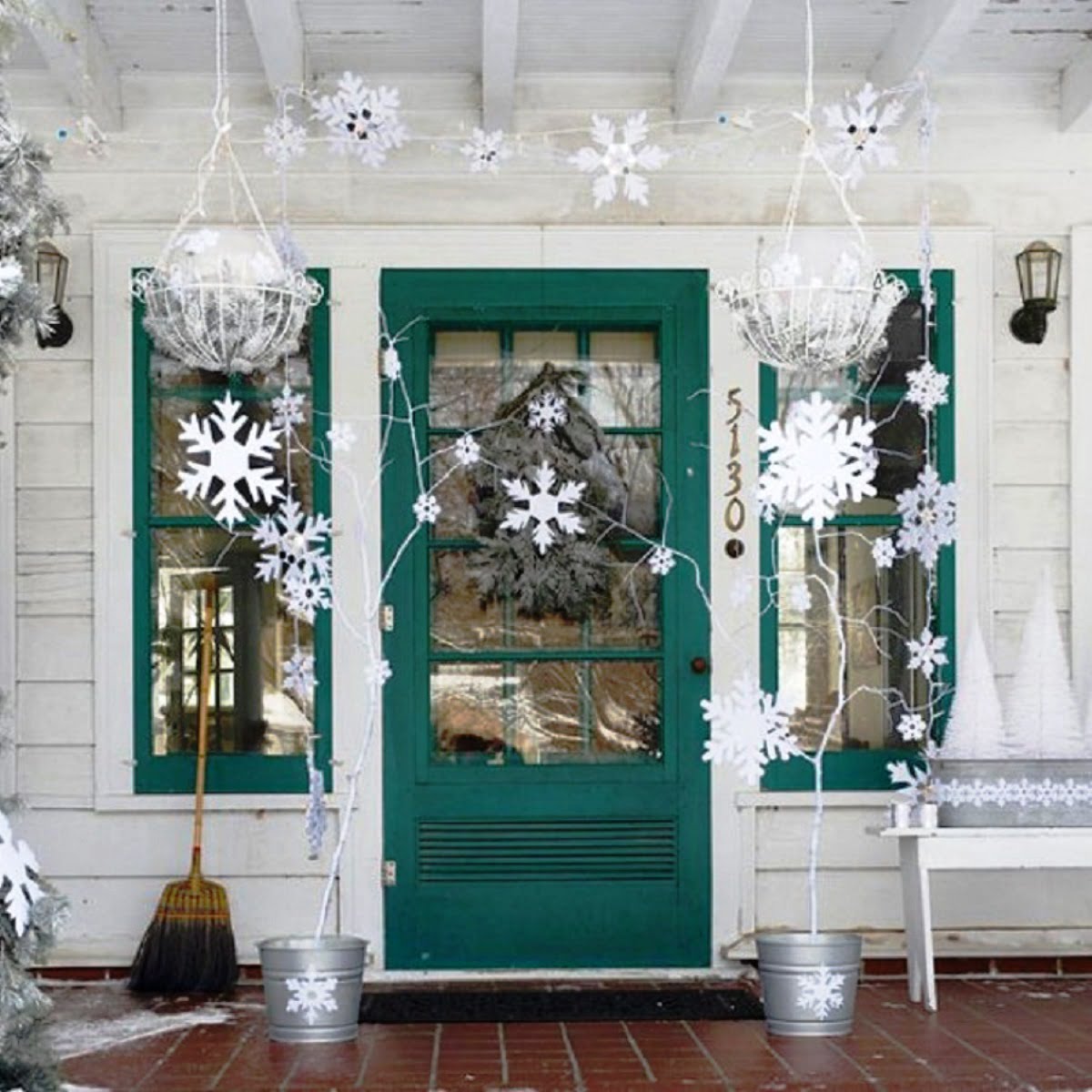 This homeowner's use of snowflakes throughout the area around their front door is positively beautiful. Replicate this look by hanging snowflakes of varying sizes with transparent fishing line to create the illusion that they are floating. One of the more stunning accents in this look are the two silver pails, both adorned with a single snowflake decal, which house bundles of beautiful white branches. This is yet another front entrance look that shows the beauty of an all-white Christmas decorating scheme. You don't need red, green or the traditional holiday garlands in order to bring some Christmas cheer to your home.
A Myriad Of Options, Each More Beautiful Than The Next
When it comes to decorating our front doors for the holidays, the sky truly is the limit. While the traditional combination of a wreath and garland can be absolutely gorgeous, as demonstrated by some of the homes on this very list, don't feel limited by what's considered "classic." From snowflakes to nutcrackers to handmade branch chandeliers, there is no right or wrong way to decorate your front door for Christmas. The most important thing is that you find a front door look that expresses your personality and taste and perhaps allows you to embark on a fun DIY project.