The holidays are fast approaching and with winter on the way, it's time to start discarding your pumpkins and thinking about Christmas decorations. Your porch is the first area of your home that visitors see and as such it provides the perfect palette to create a welcoming and festive Christmas display. If you tend to reach for the same string of Christmas lights and a trusty door wreath every holiday season, consider shaking things up this year. Whether you prefer a sleek modern look or antique and rustic touches, these 50 Christmas porch decorating ideas are sure to inspire you.
50+ Christmas Decoration Ideas for Your Entryway

1. Cozy Joyful Greenery Sitting Area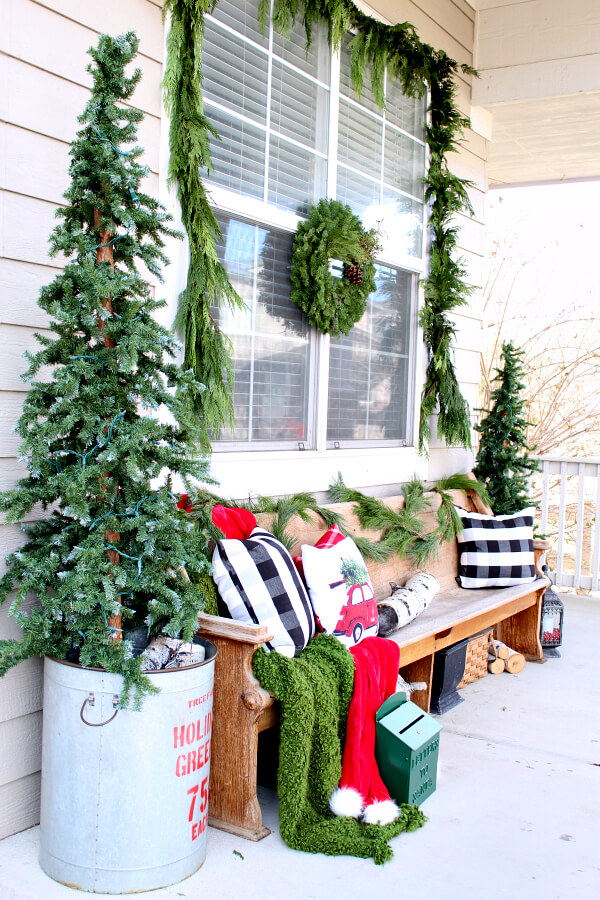 A great way to bring in the holiday spirit is by taking advantage of the sitting area on your porch. There's plenty of room to work with from adding seasonally colored throw pillows to a bench setting up some small Christmas trees on either side of the bench. If you really want to add more life to the area, greenery adds a wonderful touch. You can readily hang some garland all around or even throw up a wreath if the sitting spot is near a window. Combined with the pillows and bench, you can greet guests with a welcoming, cozy atmosphere before they ever enter your home.
2. Beautiful Simple Winter Wonderland Décor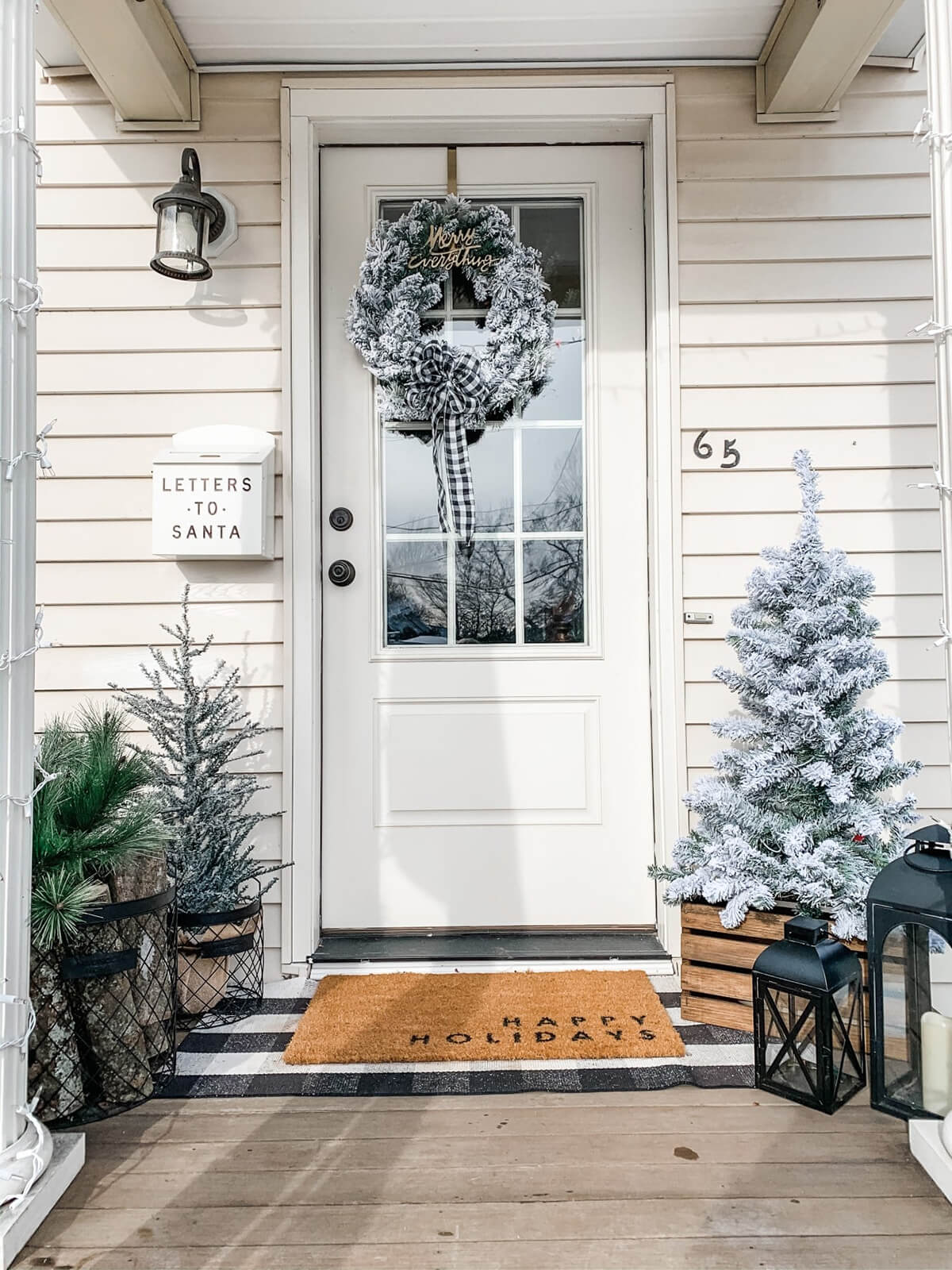 You can create a stunning winter wonderland scene on your front porch whether the area you live in has snow or not. With flocked trees and a flocked wreath, the snow-tipped greenery can help it feel like the holidays all season long. A nice thing about this décor is that it leans toward a particular farmhouse-like style, which is beneficial if your home already has rural decorating as it can blend better. Toss in a matching mat or a welcoming holiday mat to bring it all together.
3. Rustic Festive Winter Light-Up Porch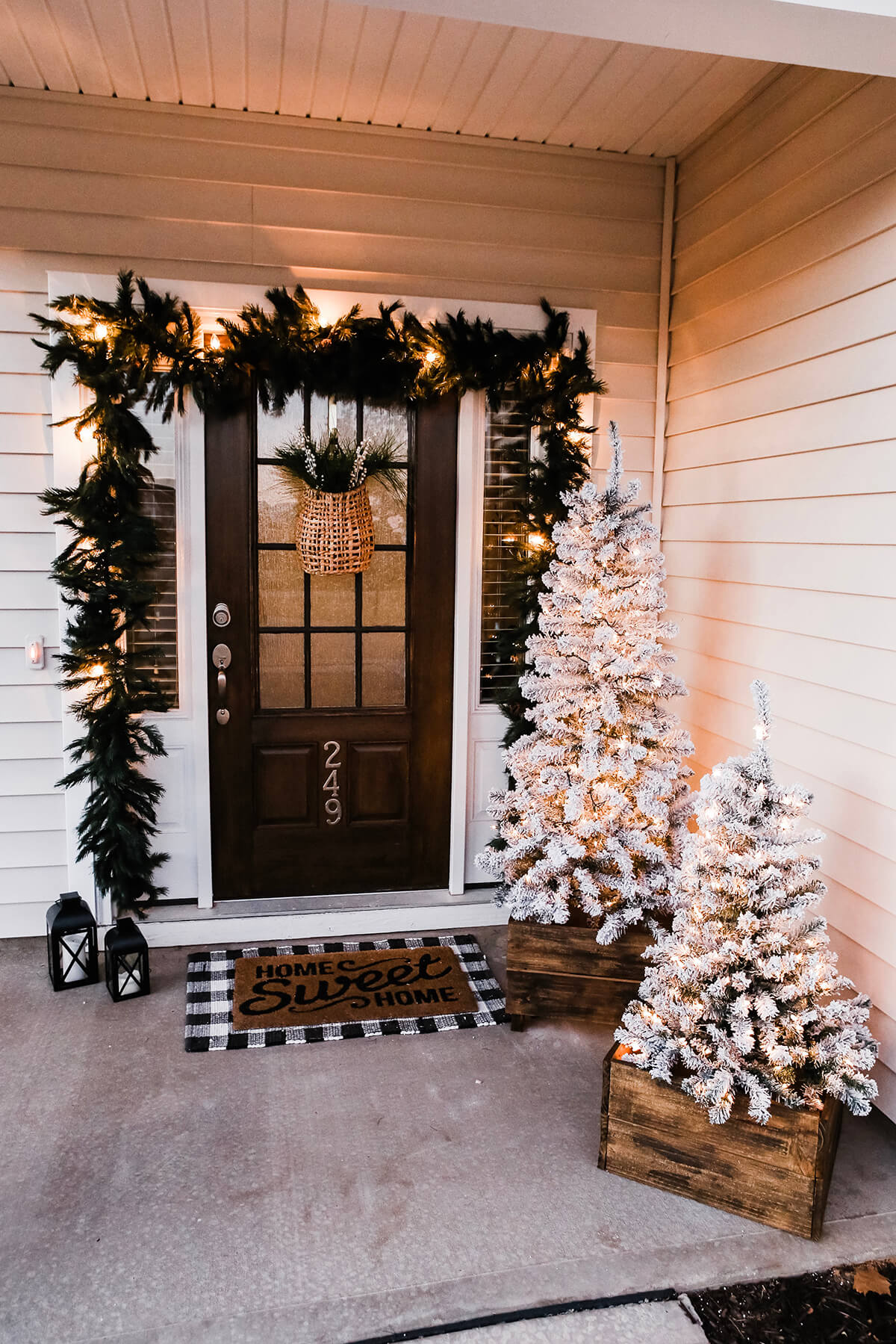 Stringing up Christmas lights all around your home isn't the only way to brighten things up this holiday season. Consider focusing some lights around your front porch. You can set up mini trees that either have lights already or you can put them on yourself. More cheerful brightness can come from placing lights inside garland. These decorations look beautiful during the day, but at night, they truly shine. When selecting your greenery, try going for the snow-tipped Christmas trees as they can help add a wonderful contrast to the rest of your porch.
4. Garland Covered Plant-Themed Winter Porch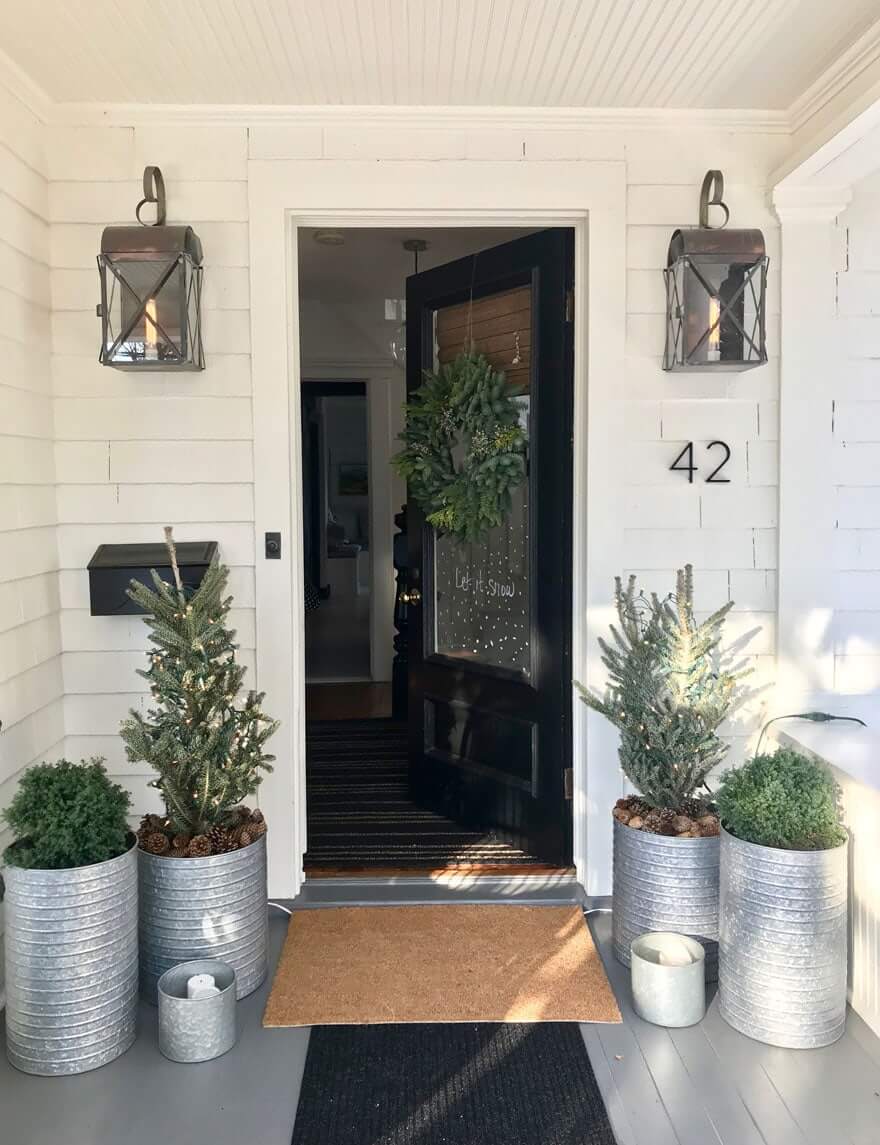 There are so many fun ways you can incorporate greenery for Christmas decorations, and this one balances garland and additional shrubbery rather well. If you have the space for it, hang up a good deal of garland around your porch as it sets the scene of the holiday immediately. From there, it flows into the potted plants or trees you can place around the door. Don't be afraid to put some twinkle lights on the trees to help them stand out. A simple wreath can help seal the deal, so to speak, and blend effortlessly with the rest of the greenery.
5. Warm Farmhouse Style Outdoor Christmas Bench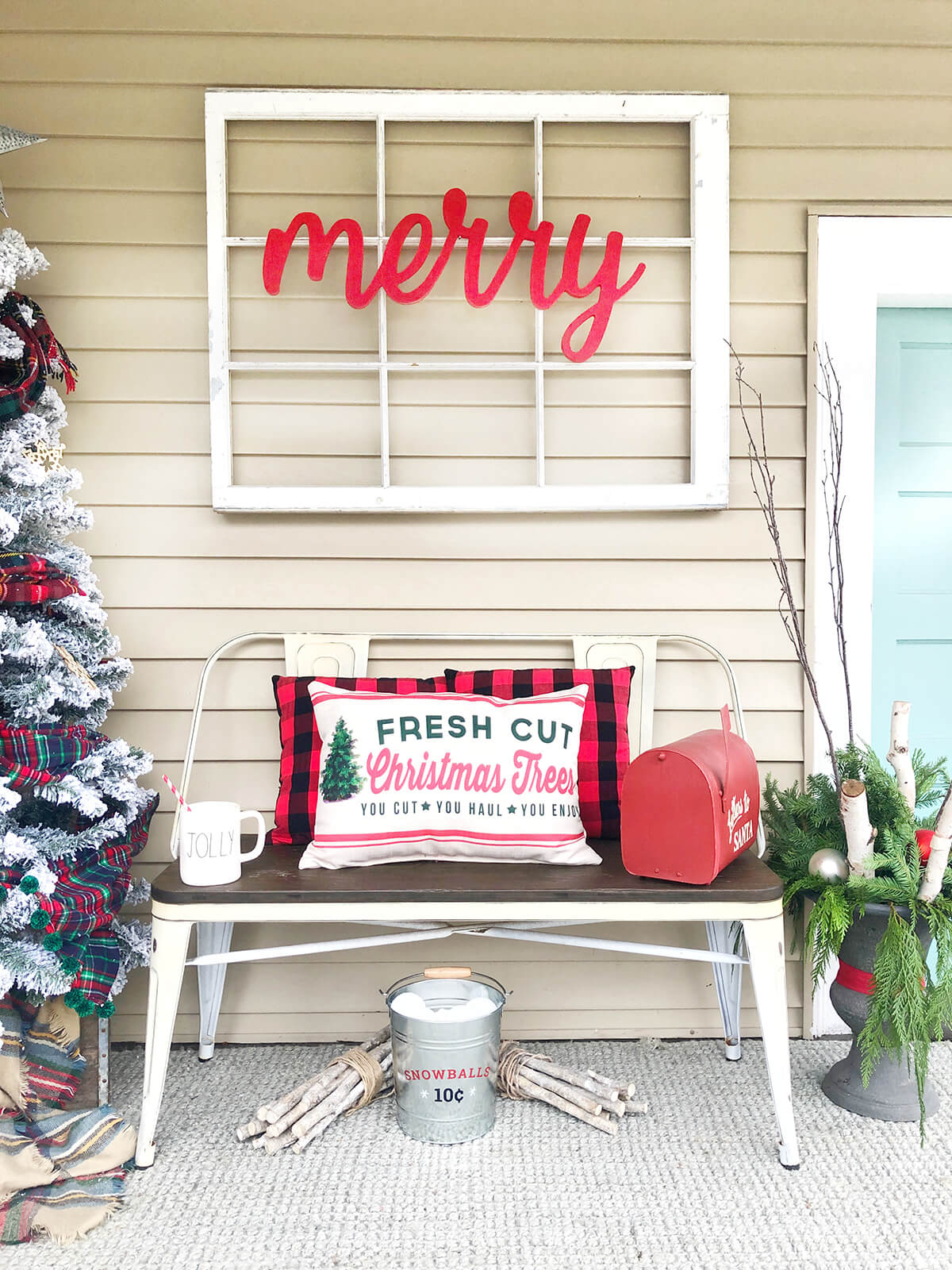 Bring the farm-style outdoors with this lovely Christmas bench decoration. It doesn't even take much to liven up your porch. A couple of holiday throw pillows are more than enough but don't be shy about completely covering the bench with other decorative items if there are no plans for anyone to actually sit on it. The area surrounding the seat gives you room to cement the style as well by adding some greenery to it. It's always fun to hang things on a window, but if you don't have one, hanging up a faux window should help more than enough.
6. Gorgeous Red and Green Holiday Entry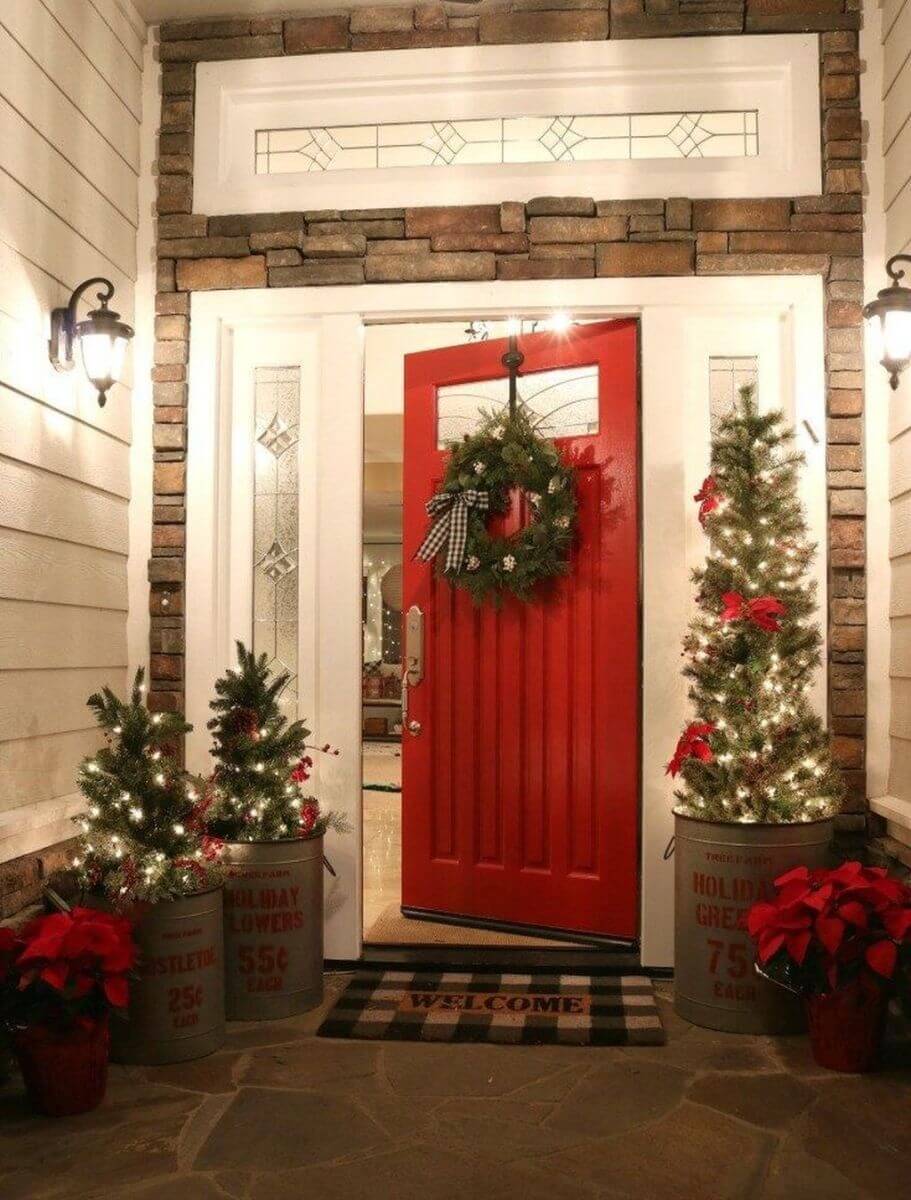 Oftentimes, the classic holiday color combination of red and green is the perfect choice when it comes to decorating for the season. A scene like this can radiate joy and warmth, giving guests a good indicator of what's to come before they walk inside. Various sized, lit-up Christmas trees are a great frame for your porch. Based on the space you're working with, you can add several of these leading up to the door. Poinsettias are another excellent plant to utilize for your porch décor as it both fits with the red and green theme while working as a classic Christmas staple.
7. Eclectic Colorful Mini Christmas Décor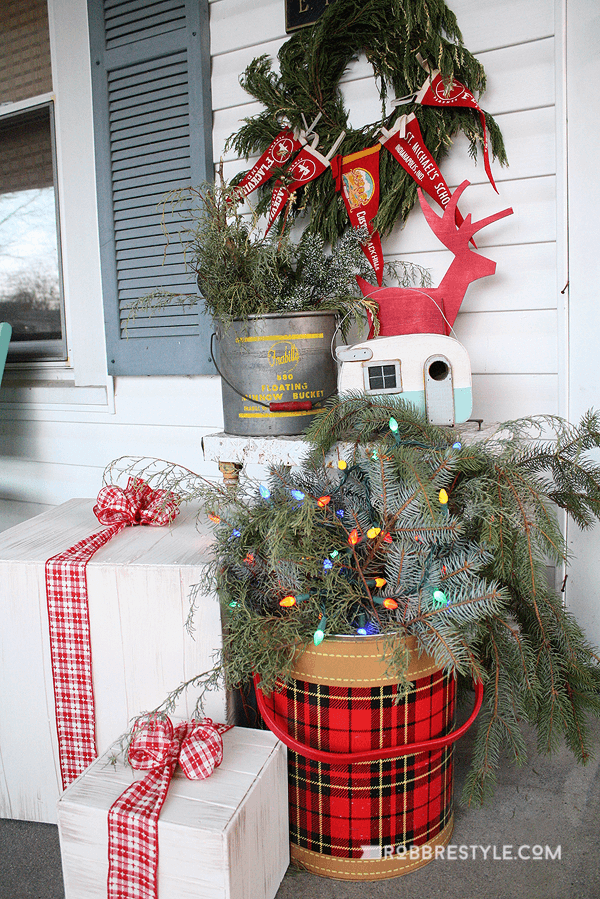 If you are looking for a more contained way to decorate your front porch, check out this simplistic setup. Stacking a few items together is also an awesome idea when space is limited as you can take advantage of a little area with a handful of different items. Boxes and other containers are great to use as centerpieces or as stands for your other decorative pieces. Any style will do here, but eclectic seems to work wonderfully as it tends to stand out more. Of course, you can combine that with the standard Christmas décor using different plants or a wreath strung up.
8. Contemporary Green and Red Decorative Ornaments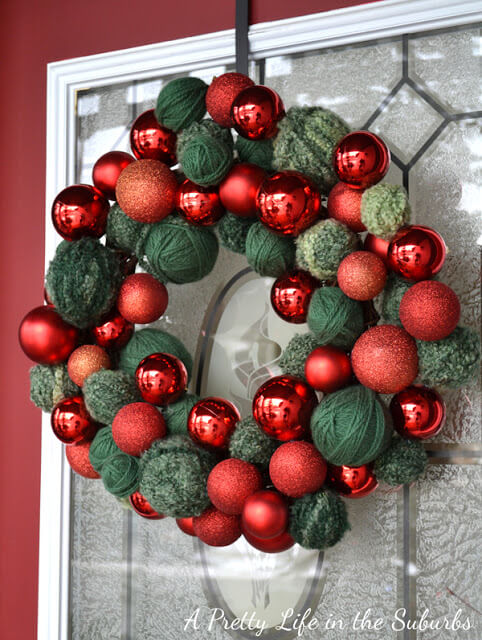 Some of the best Christmas decorations utilize ornaments in a unique way. Combining yarn balls colored for the season with ornaments can create a captivating, distinctive wreath that will have all your visitors talking. Think about size variations when crafting such a piece as a healthy blend of differences can allow each individual part to stand out while also making for a more natural, wreath-like look. This use of ornaments can blend into the rest of your porch décor if you'd like, so you can keep up with a similar theme.
9. Welcoming Outdoor Holiday Sitting Arrangement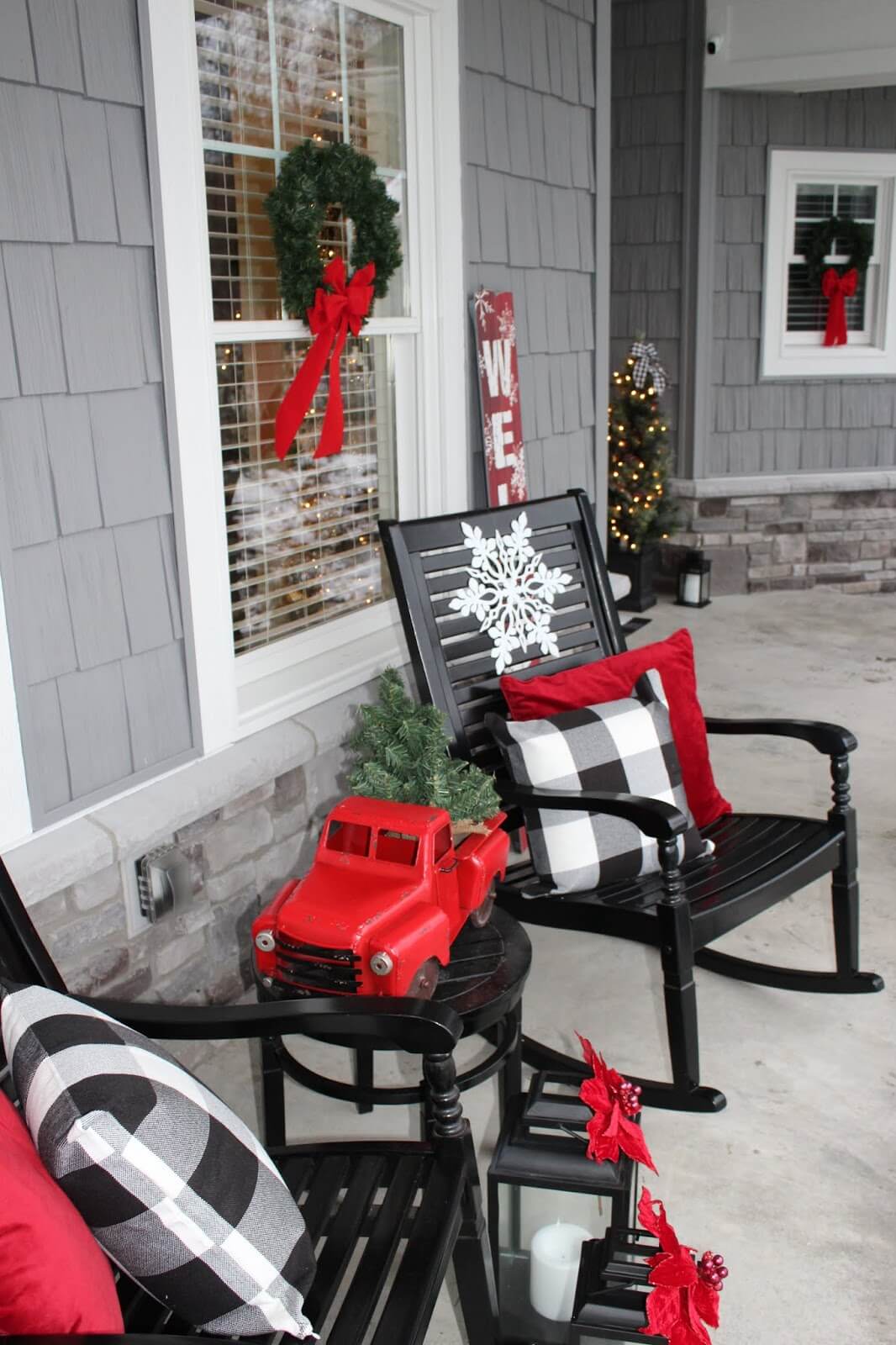 There are many ways to bring joy to your home this holiday season, and a festive sitting arrangement serves as an incredible welcoming area for visiting friends and family. The cool thing about this is that you can use whatever seats you already have on your porch and merely upgrade them to follow a Christmas theme. A few colorful pillows and some crafted snowflakes can easily set the mood. If space permits, you can always put in some greenery around from decorated mini trees to wreaths on the windows. Thankfully, this setup doesn't need too much in order to be festive.
10. Upcycled Colorful Holiday Light Fixtures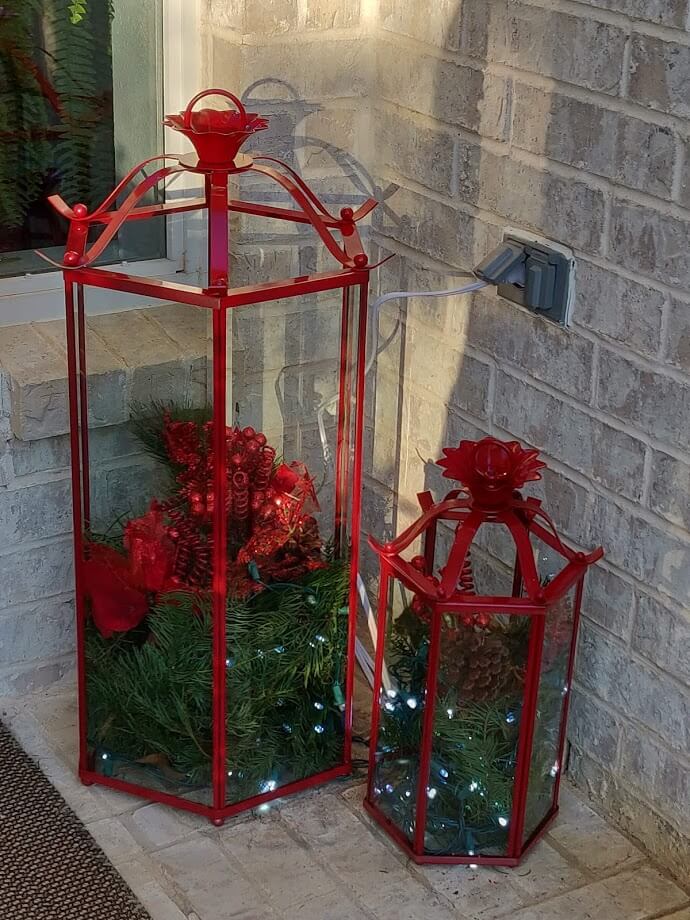 For those of you who love to craft, this fun project can help you create more personal décor for the holidays. Recycled light fixtures are perfect as they give you so many opportunities to create something beautiful. Consider using varied sizes too as this may flow better when set up outside. These types of fixtures readily transform into holding lanterns for different holiday decorative items. It's true that you can add whatever you'd like, but artificial Christmas tree branches or garland seems ideal. This also gives you the chance to throw in some lights if you place this near an electric outlet so these upcycled light fixtures can still shine.
11. Unique Decorative Picture Frame Wreath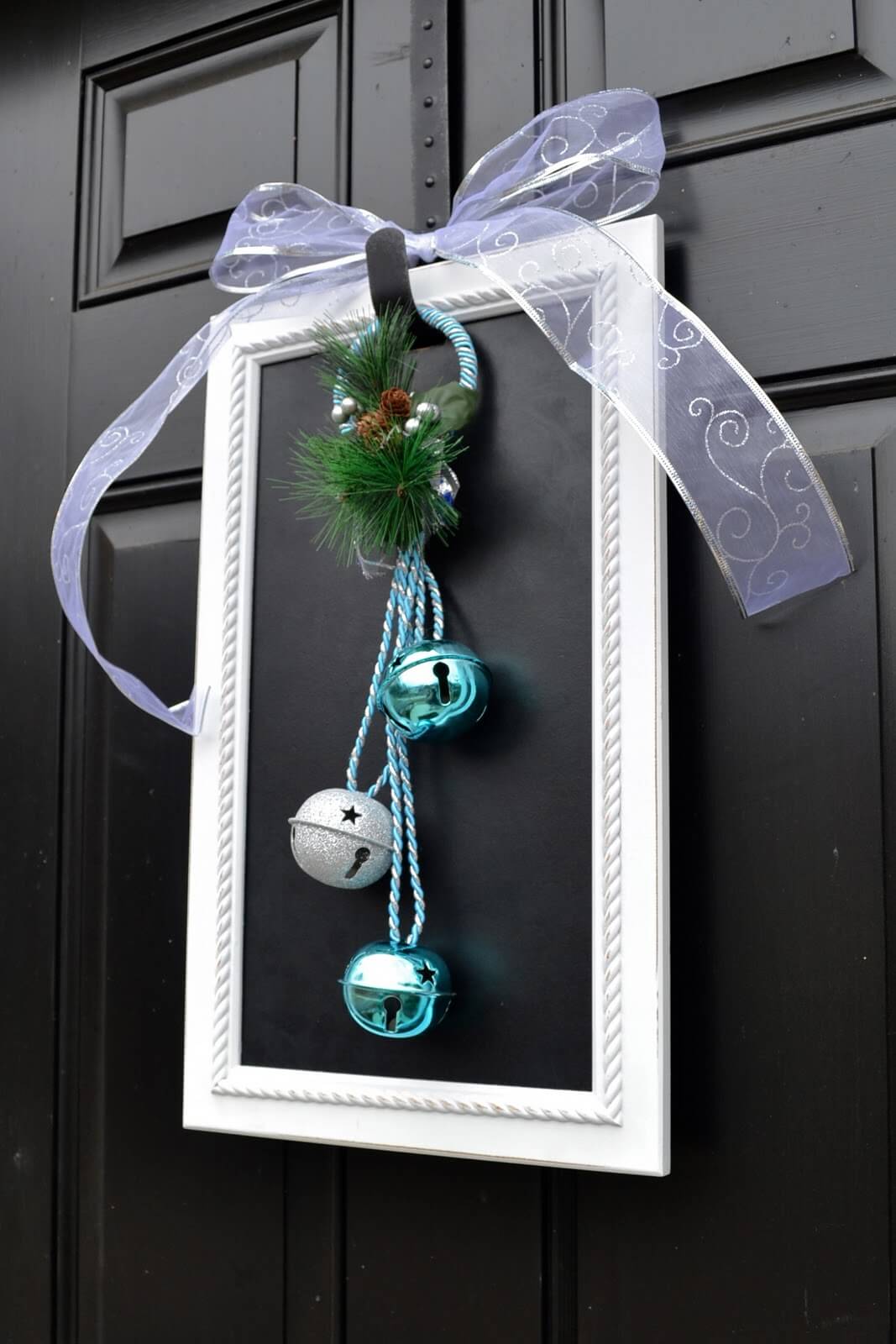 When it comes to decorating, sometimes less is more. If you don't have the means (or simply aren't interested) in a complete porch overhaul for the holidays, you can direct your focus just to the front door. It's enough to still make an impact, and this minimalistic project creates a unique, customized piece of décor that will help your home stand out. Rather than a traditional wreath, you can create one using a picture frame, bells, and a bow. Choose whatever color scheme you'd like that's fitting for the holiday season as everything is limited by your own imagination.
12. Embellished Welcoming North Pole Porch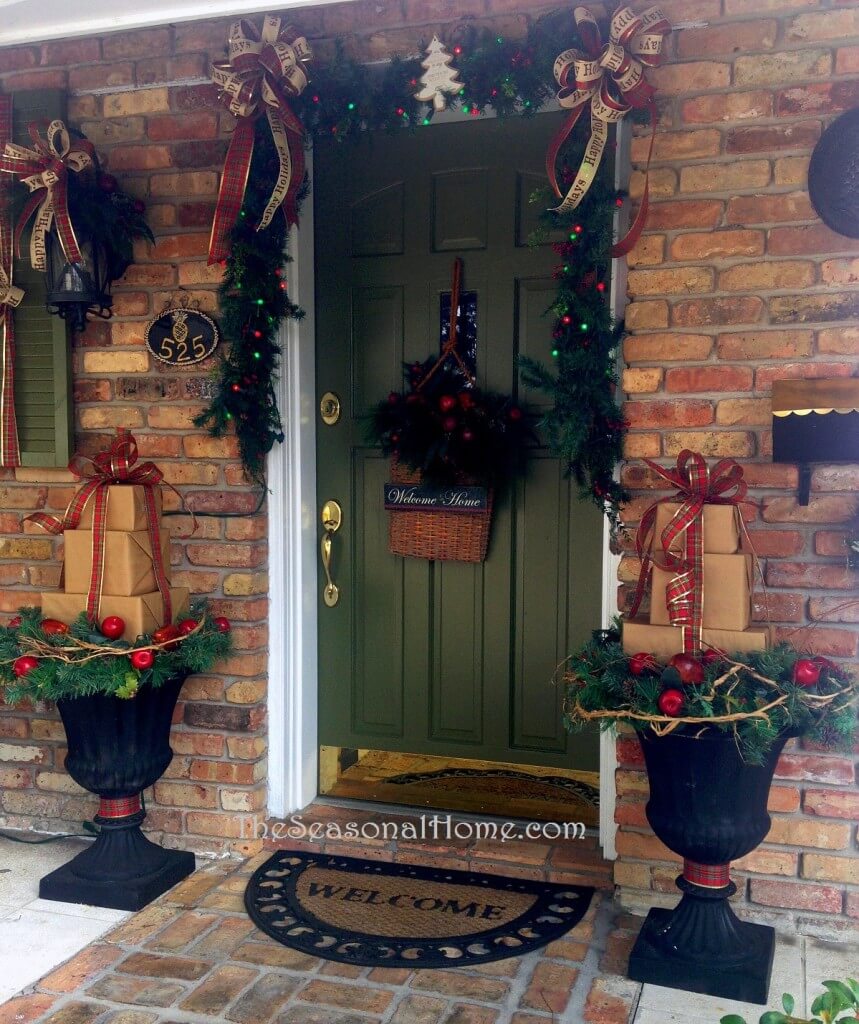 Nothing quite says "Christmas" like a journey to the North Pole. You can transform your front porch into a welcoming path to the magical area with a number of decorative items. This style utilizes dark tones of red and green to nail down the holiday spirit. Garland and potted greenery make up the bulk of this setup. These spaces grant you the room to add further seasonal-themed decorations to it from lights to bows and artificial apples. A great idea to utilize is the "faux gift" as it can drive home the point of visiting the North Pole. It's stunning to see as an adult, but even more exciting if there are children in the home or visiting.
13. Classic Decorative Greenery Christmas Urns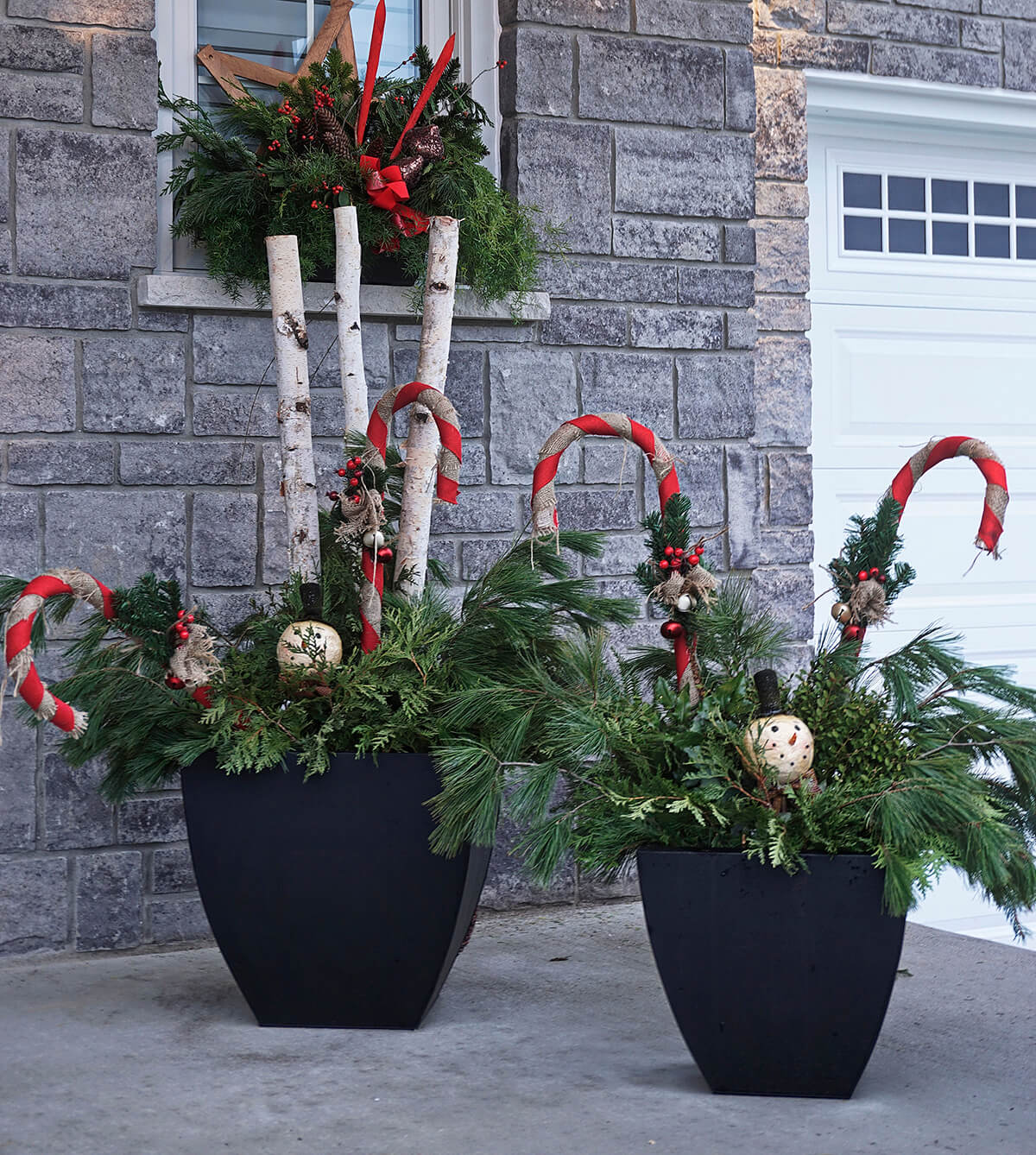 Oversized urns make for the perfect plant set up for the holidays. You can fill them up with a variety of greenery fitting for the season. On top of that, you still have space to toss in some other classic Christmas decorations. You can stick to the outdoor theme or utilize items like snowman and candy canes. If you want your candy canes to stand out more rather than appear traditional, you can always spice them up a bit using some colored ribbons or burlap as it still fits with the rustic theme without taking away from the overall holiday vibe.
14. Simple Merry Christmas Greeting Setup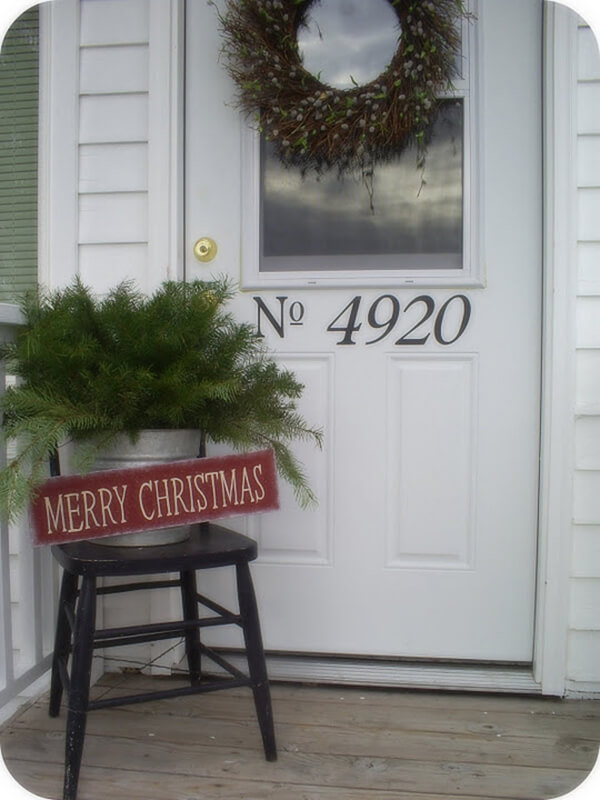 For smaller porches or to fit a minimalistic style, you can make great use of these traditional decorations. All it takes is a wreath and a potted plant to bring some of the holiday spirits to your home. You can spruce up the wreath any way you'd like or leave it bare to maintain that simplistic theme throughout. Feel free to add in a "Merry Christmas" or any other similar welcoming sign to the arrangement.
15. Rustic Joyful Holiday Small Porch Décor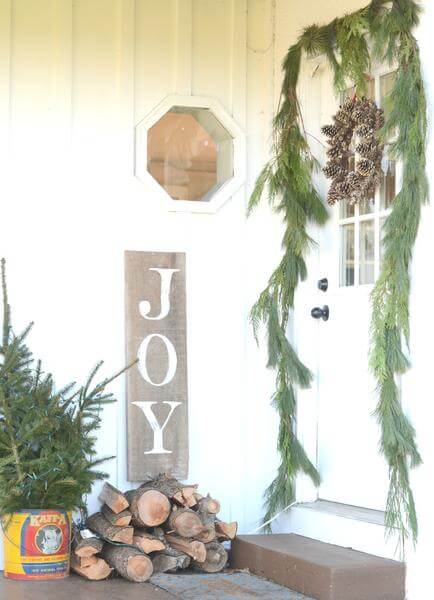 It's relatively easy to bring life and joy to a smaller front porch just as you would in a more spacious area. A natural look is a fun route to go down. Meaning, you can stick heavily to an outdoor theme from using a pile of wood to various greenery. A mini Christmas tree, artificial or not, is a nice choice. Garland always works out well too, and you can hang it up anywhere you can from the door or around any banisters or rails you may have on your porch. Instead of using the usual green or colorful wreaths, you can focus on a pinecone wreath as they fit with the rustic theme better.
16. Christmas Urns and Hanging Stockings Décor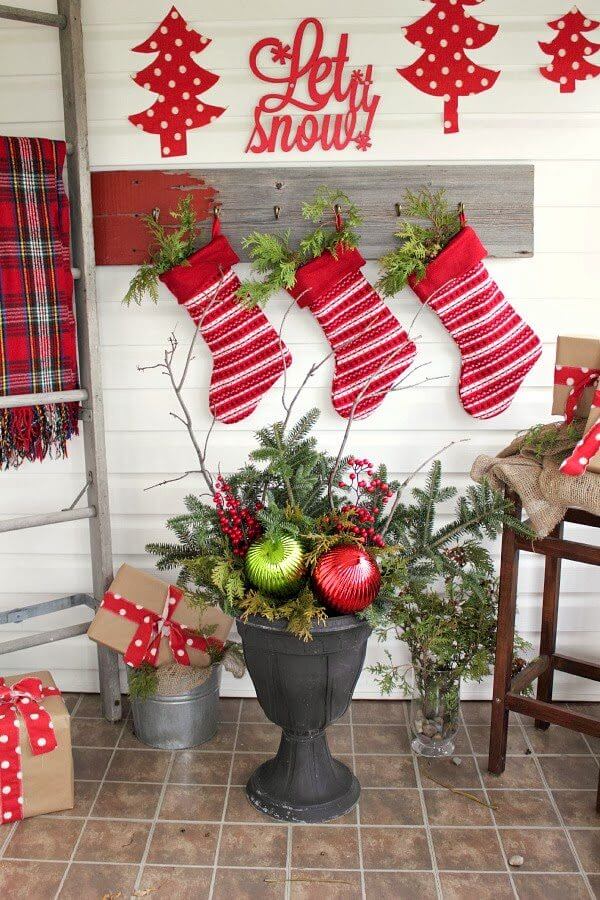 Who said gifts and stockings only belonged indoors around fireplaces? You can bring some typical Christmas decorations outdoors with this cool setup. An oversized urn is ideal for utilizing greenery in a good way that won't overtake the rest of the decorations. You can even add them to some large hanging stockings too. Both areas give the option to throw in other items from colorful ornaments to any other traditional holiday items. Also consider using some faux gifts to fill up space around the urn, if you have the room.
17. Snowflake Welcoming Vertical Christmas Sign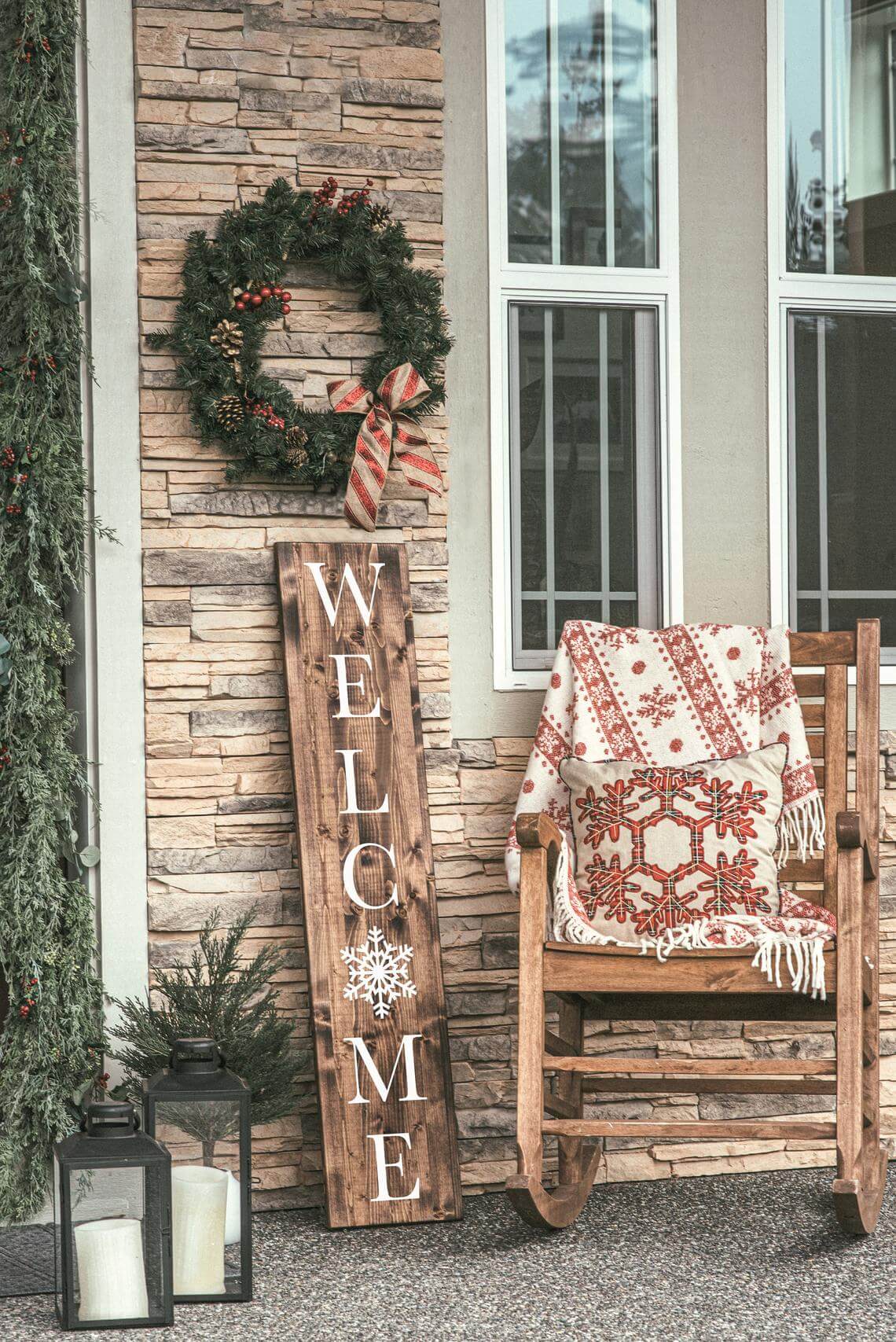 A nice addition to your holiday porch is this beautiful vertical sign. Handmade using quality wooden material, you have the option of getting a sign that says "Welcome" with a snowflake used for the "o", or you can choose one that will say "Let it Snow". Either option is a great way to add an accent of winter to your porch style. Another fun thing about this sign is that it can fit in with whatever decoration you already have so you don't have to worry about adding it in.
18. Red Christmas Truck Welcome Sign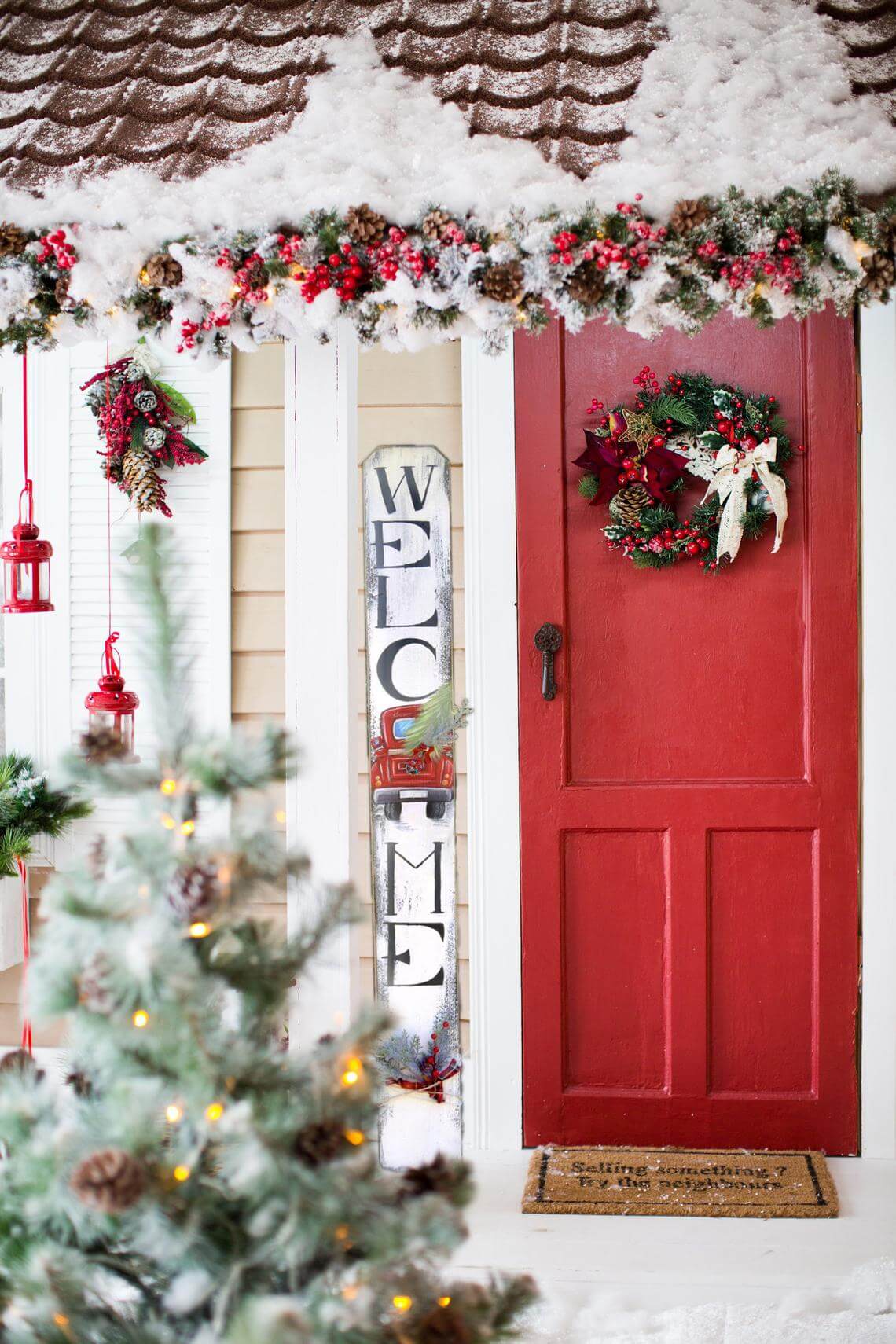 A unique spin on the classic vertical welcoming signs, this handcrafted piece can look perfect in any porch setup. The aspect that allows this to stand out among the others is the use of a wonderfully drawn red truck. You can choose the sign that has the truck with a Christmas tree in the back or the one that is filled with presents ready to be delivered. The sign is available in a 4ft style or a 5ft style so you can choose the one that best suits your space.
19. Oversized Personalized Decorated Wooden Sled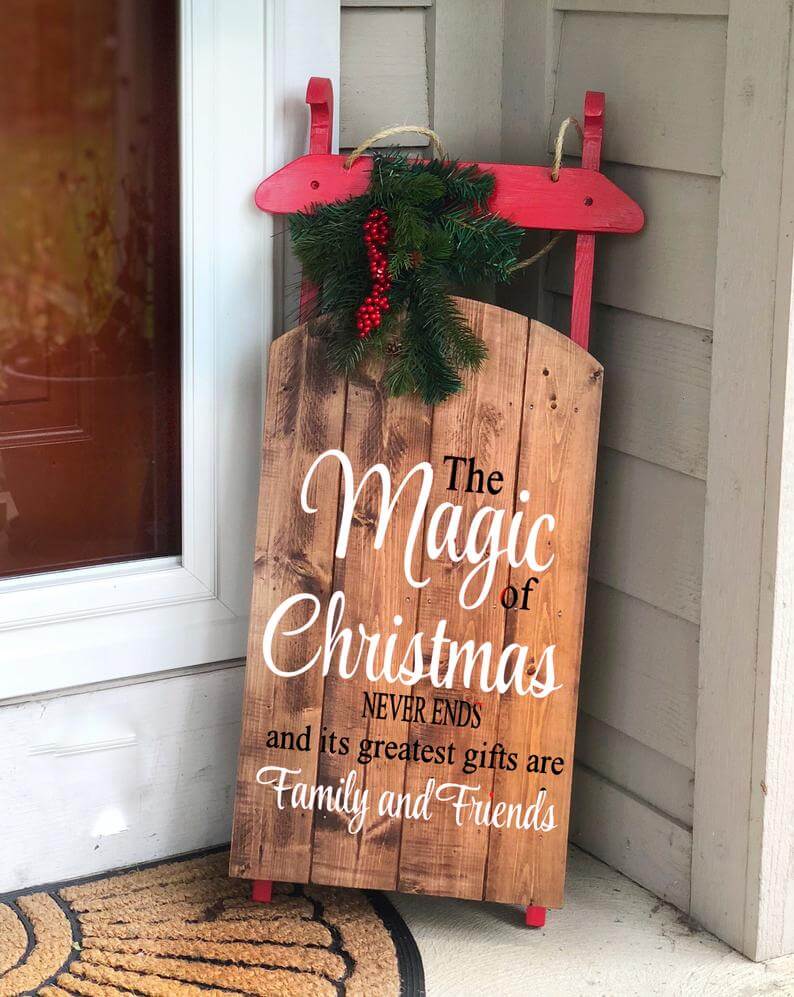 This customized wooden sled is such an exciting way to bring the vibe of the holiday season to your front porch. It features gorgeous holiday garland, and you can select from two different stains: natural pine or walnut. You have the option of getting it as-is with the written magical saying, or you can personalize the sled so that it says something that is more fitting for your family. Add your family name, your favorite holiday quote, or anything else that you feel will bring happiness to your porch setup.
20. Magical Pre-Lit Faux Holiday Garland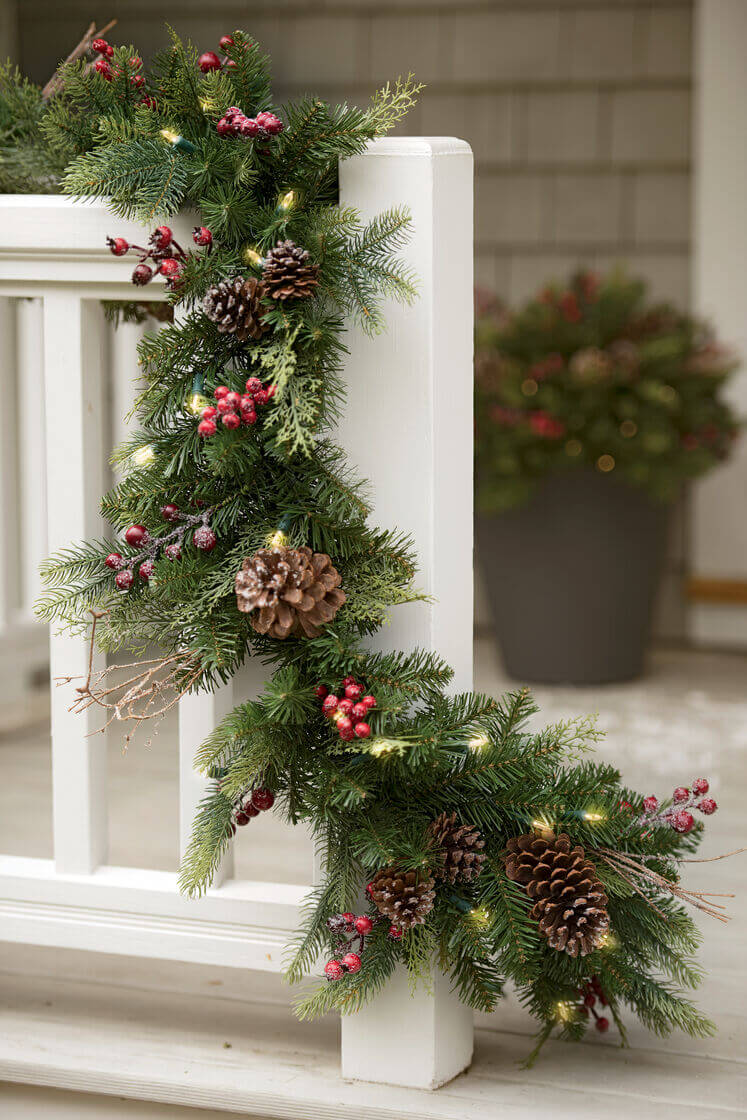 There is something that's pure and festive about holiday garland. This pre-lit greenery is perfect for your porch as you can place it just about anywhere, and it will also flow well with any other decorative items you may have around your porch already. Although the garland itself is artificial, it features varied items that give it a more realistic appearance such as faux berries and real pinecones. There are 50 warm white LED lights that you can set up on an automatic timer so they can pop on even when you aren't home. All of it is battery-powered too so that you can truly place the garland wherever you'd like.
21. Red Christmas Truck Floral Centerpiece Design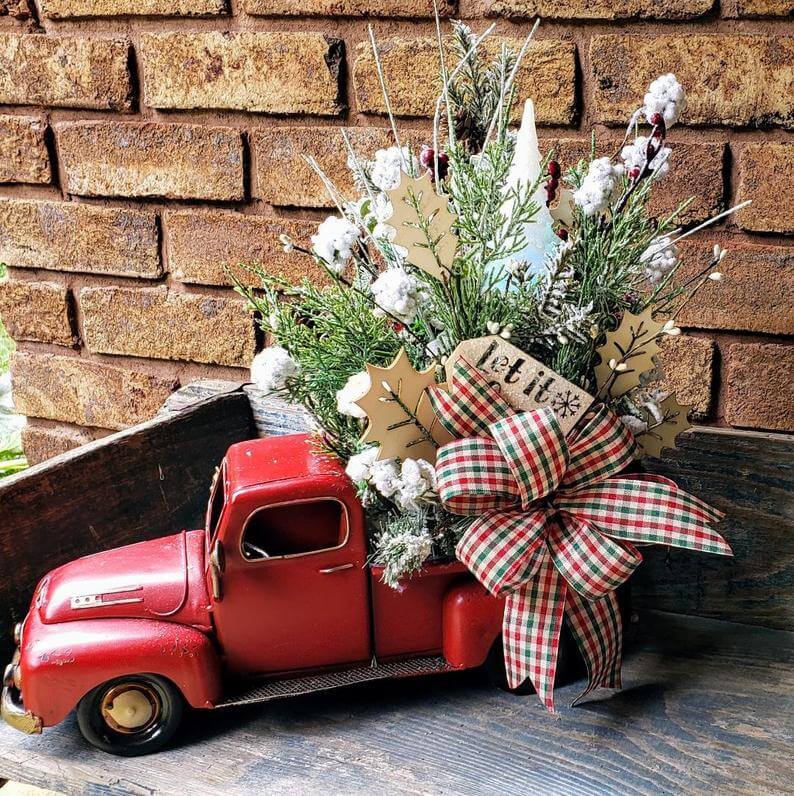 The red truck is such a classic staple in Christmas decorations, and you can easily have a fun centerpiece for your porch area with this floral arrangement. It is a straightforward, effective way to breathe the holiday spirit into your porch whether you have additional decorative items or not. This offers more than enough if you are aiming for more simplistic décor. The floral arrangement in the back of the truck is properly festive, especially with the snow-tipped greenery. You have the choice to pick a buffalo check ribbon or a gingham red green ribbon.
22. Rustic Vertical Snowflake Winter Porch Sign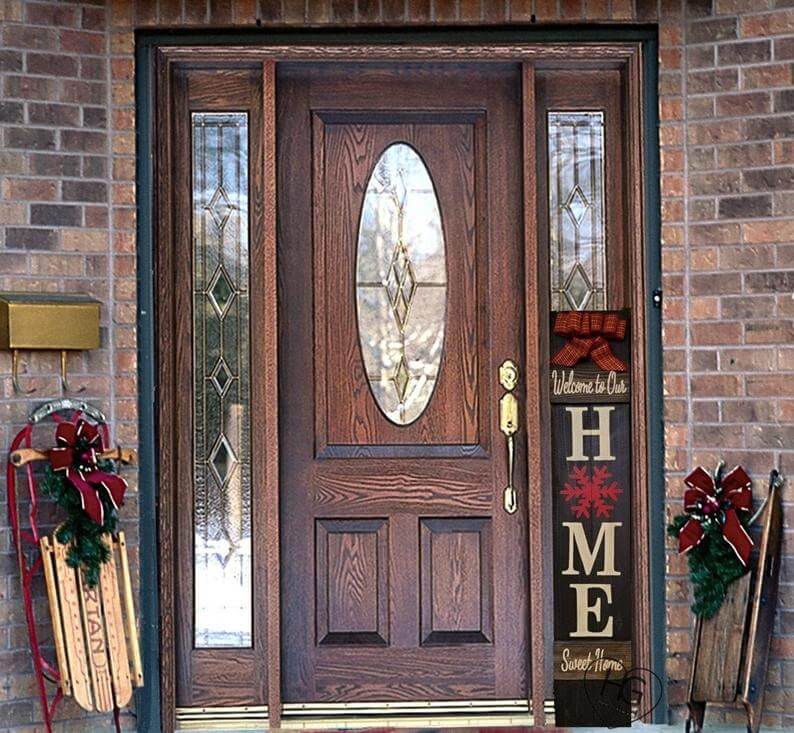 This large, 5ft painted wooden sign is one of the best, simplest ways to add Christmas décor to your front porch. It is rustic in its appearance too, so it can fit a vintage or rural theme you may already have. It largely and proudly welcomes family and friends to your home, and rather than just use the word "Welcome", it takes a more personal, warm approach. There is plenty going on with this sign from the friendly words to the large red snowflake and similarly colored ribbon that allows it to capture attention anytime anyone approaches your home.
23. Holiday Theme Buffalo Plaid Banners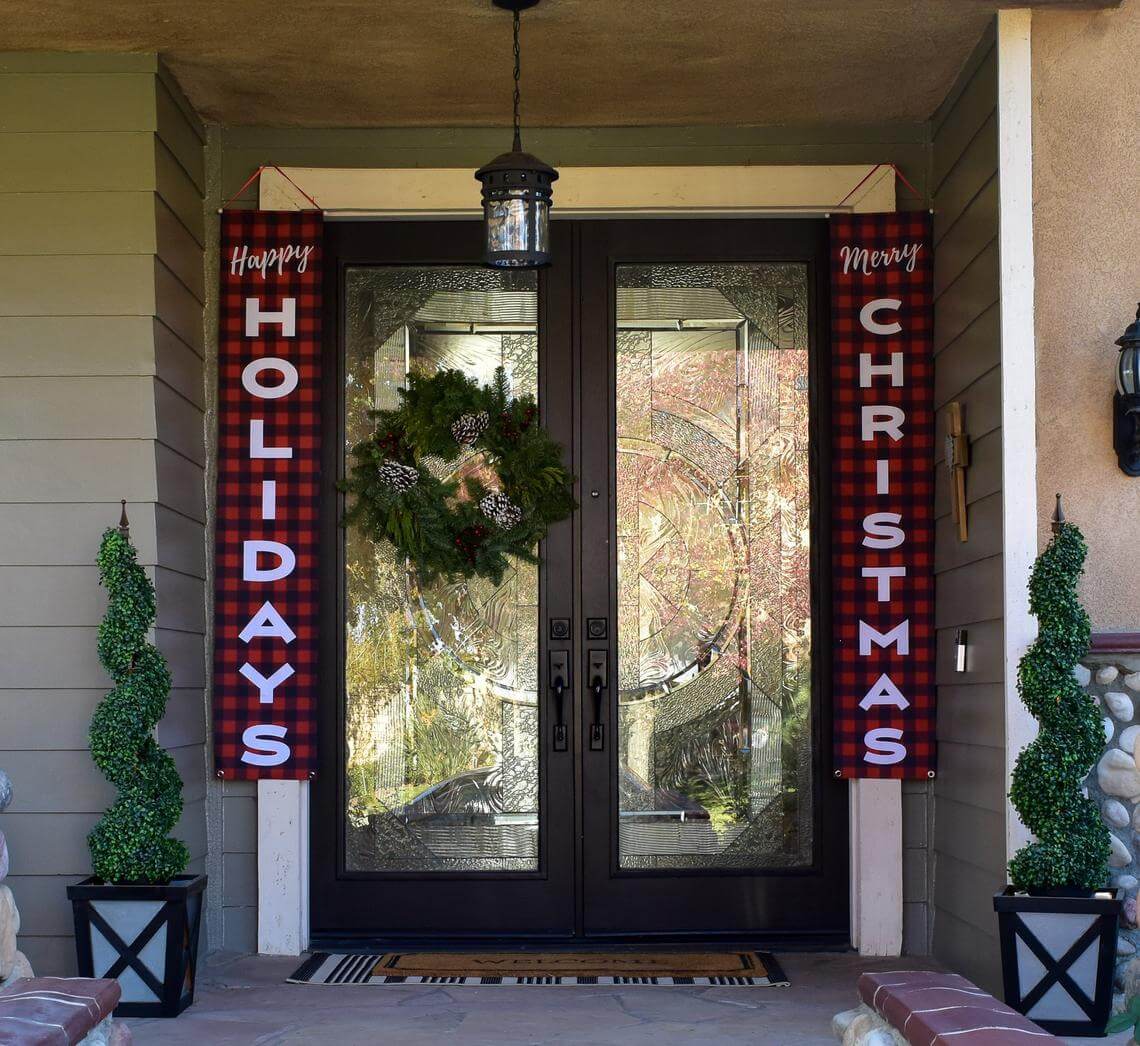 Buffalo plaid never seems to go out of style for the holiday season, and these red and black banners use it perfectly and combine the theme with festive holiday sayings. You will receive a pack of two banners with one boasting "Happy Holidays" and the other "Merry Christmas". It is the perfect way to celebrate the holidays in a way that is both stylish and traditional. These banners both sit at 74in. in height and only 14in. in width so that they can fit like a pair on your front porch without taking up too much room if you have other decorations.
24. Farmhouse Style Simple Wooden Snowman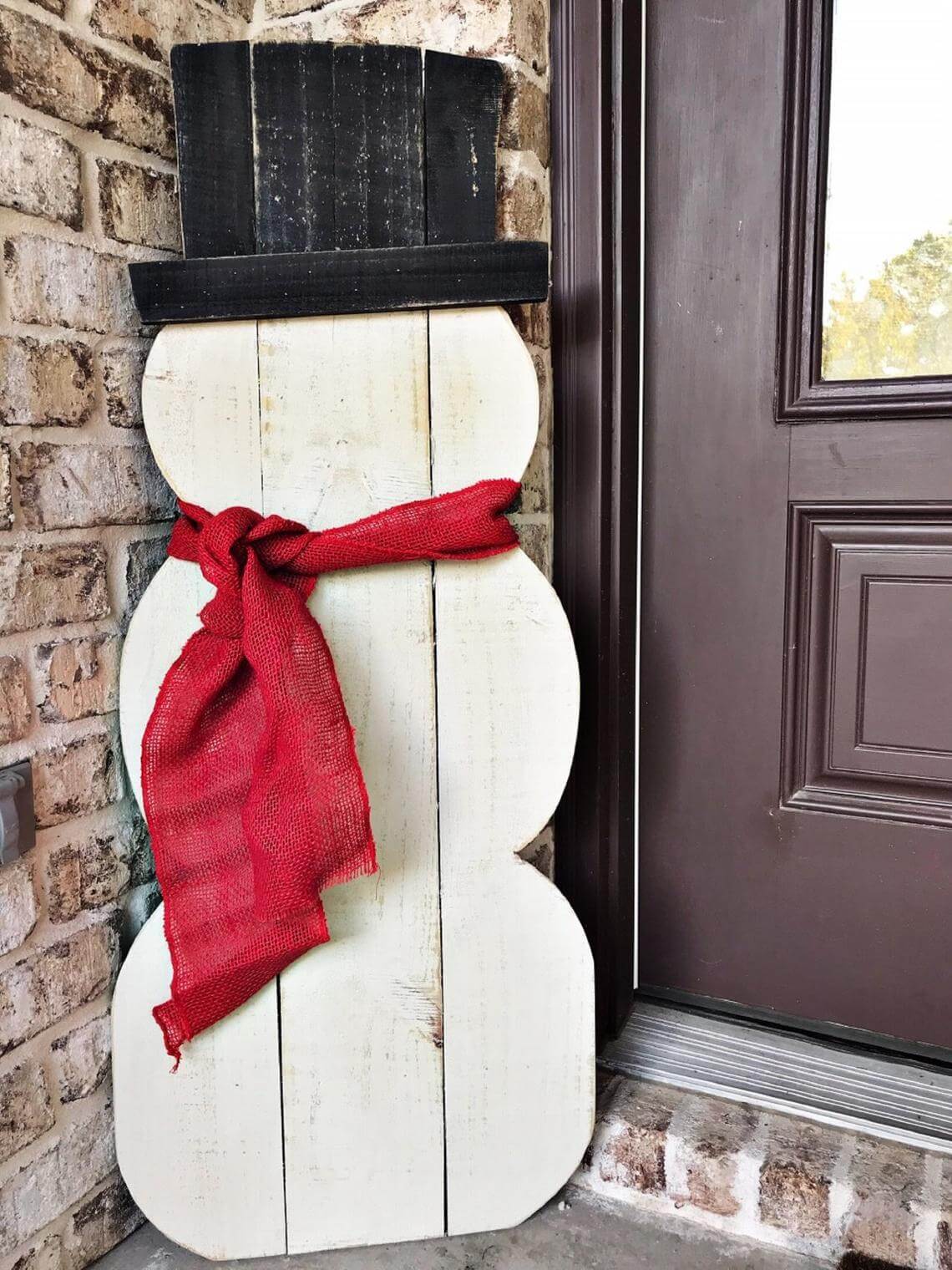 Is your porch missing that extra bit of something to nail down the fun feeling of the holiday? Then consider adding this perfect snowman to the mix. It is made out of reclaimed wood, and the way it is painted allows it to add a rustic, farmhouse feel to your decorations. This is an awesome idea if you are in the mood for something that is a touch simpler or you want something that won't overwhelm the rest of the decorations on your porch. There's no face, but the outline itself (and the added red scarf) is absolutely perfect as it nails down the holiday spirit.
25. Distressed Wooden Faux Gift Boxes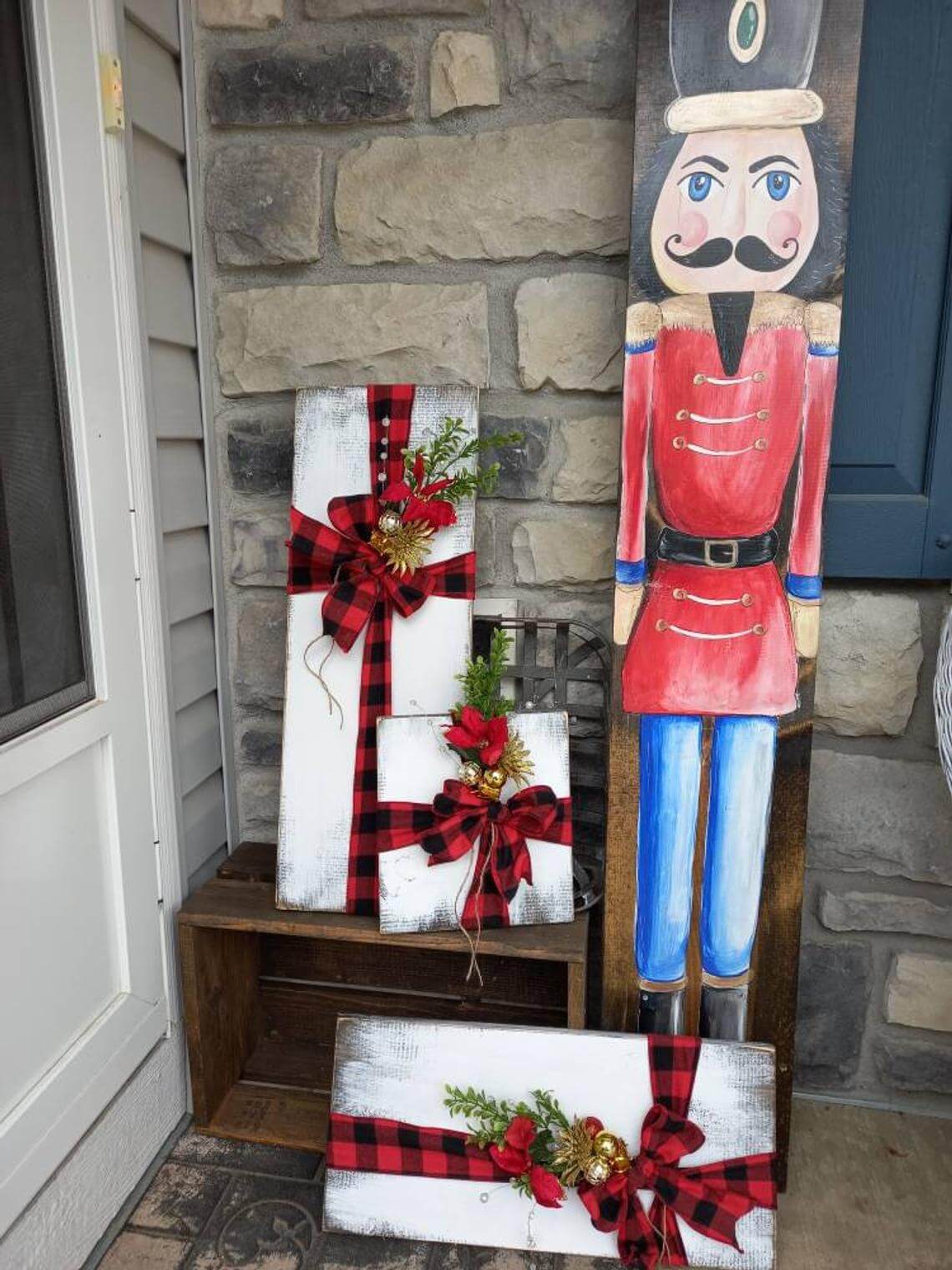 Faux Christmas presents are another stylish way to decorate your front porch, and this design takes things a step further by using wooden planks to create artificial gifts. They are unique in appearance, and they are given a cool distressed look to better give off the "present" vibe. Each plank features gorgeous holiday-colored ribbons as well as small Christmas ornaments that bring a wonderful dose of color that contrasts well with the rustic white paint on the wood. Each one is a different size too so that you can set them up in an interesting way to better resemble presents under the tree.
26. "Warm Winter Welcome" Snowman Sign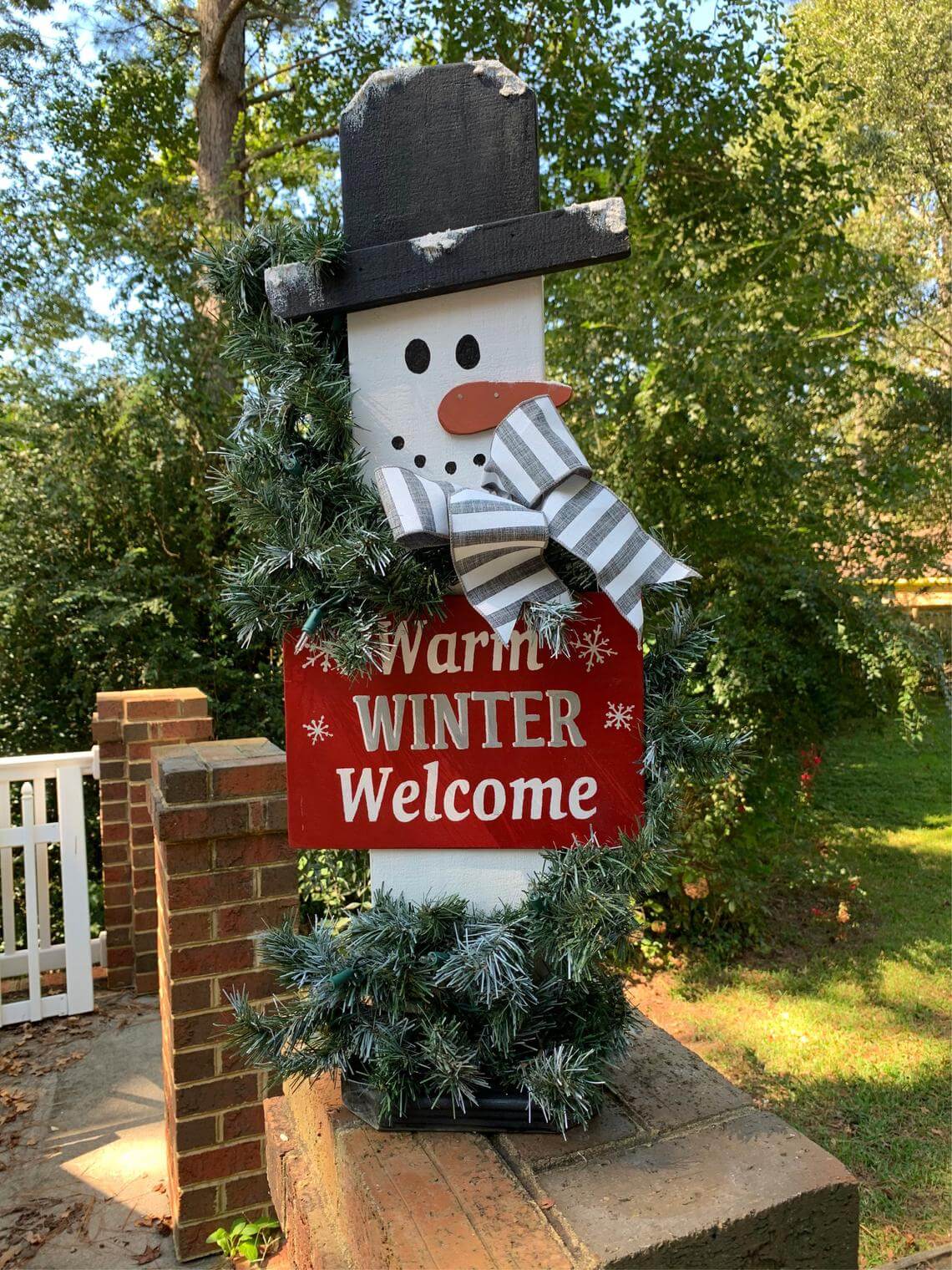 An adorably cute way to welcome friends and family to your winter-themed home is this fun snowman sign. The sign on the snowman is painted a vibrant red and features the "Warm Winter Welcome" saying with a few beautifully painted snowflakes. As for the snowman, it has a cute friendly face that will get anyone smiling when they see it. The piece is rounded out with a garland that features 20 Christmas lights. It looks great in the daytime hours, and when it starts to get darker outside, you can light it up so it can give off a welcoming glow. If you want a different bow color to match your specific theme, all you have to do is request one.
27. Cute Rustic Wooden Reindeer Pair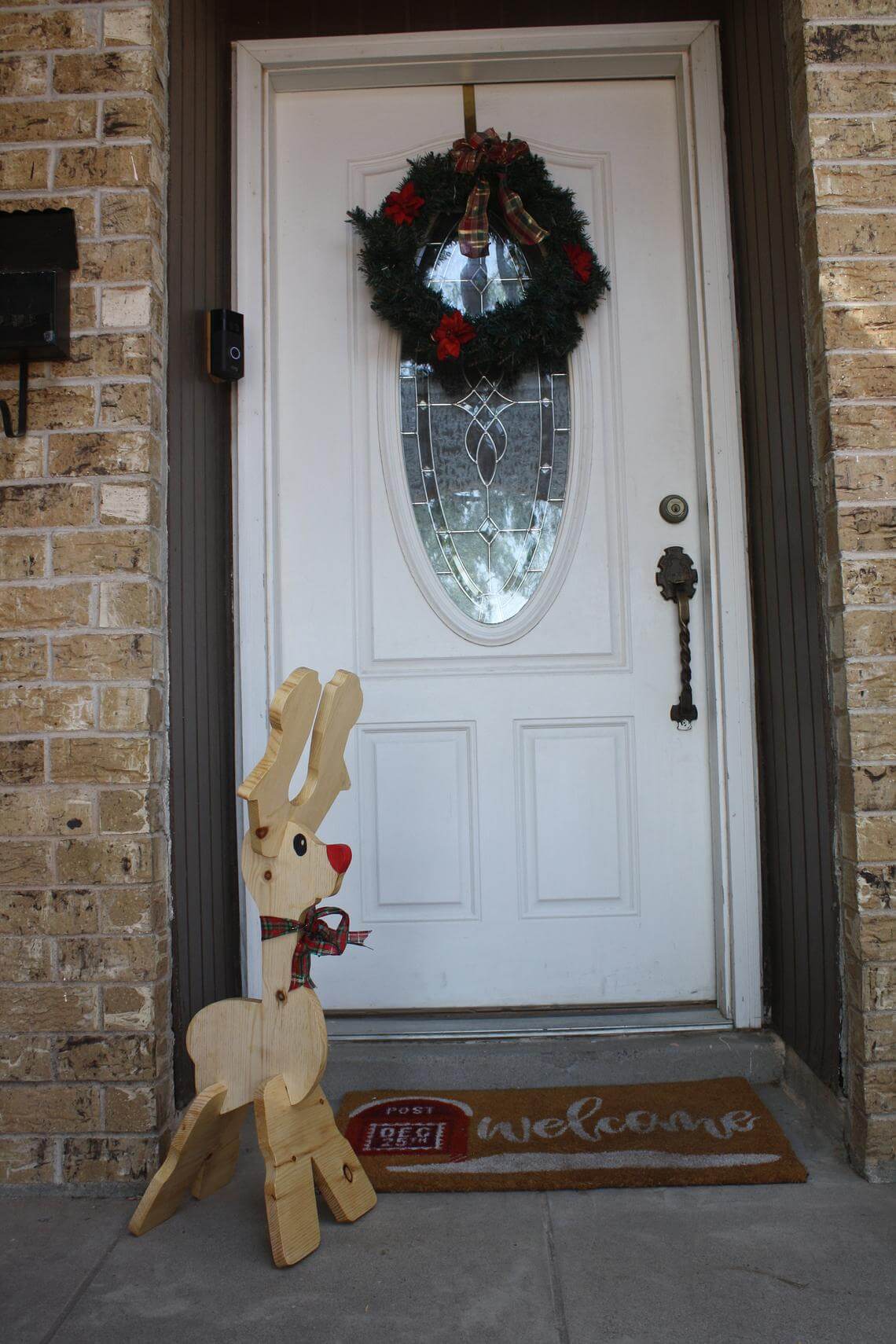 If you want distinctive decorative items to display on your front porch, then check out these beautifully carved wooden reindeer. They come as a pair, and they are 32in. in size so that they can make a great impact on your decorations. These even feature colorful red noses reminisce of the beloved Christmas reindeer "Rudolph". Each of them is also finished with a quality coat of shellac so that they can remain as beautiful as when you first purchased them year after year, allowing you to reuse this setup each holiday season.
28. Easy Christmas Ornament Obelisk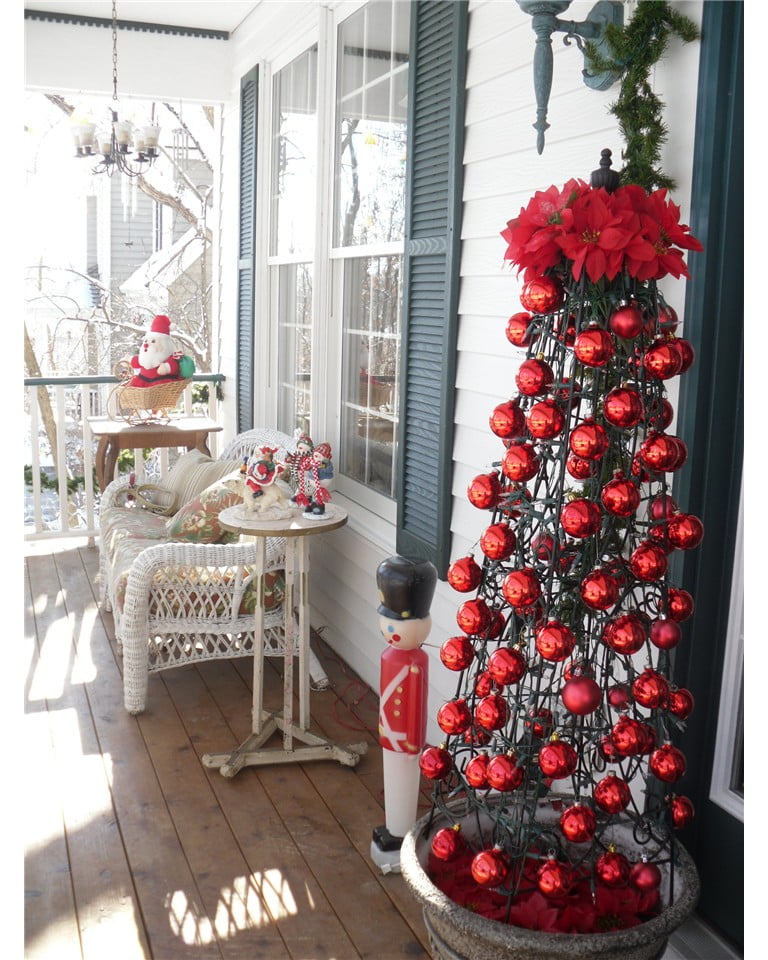 If you suffer from a brown thumb, or if you're too busy managing your December calendar to care for living greenery, this is a great DIY Christmas alternative to having a living plant on your porch. Made from a wire frame and decorated with lights and ornaments, this easy to make decoration has all of the glitz of a Christmas tree with none of the upkeep. If you want to achieve this look, you could buy a ready-made upright garden obelisk as the base. If you are crafty or on a budget, a similar result can be created by using an upside down tomato cage. Simply put your structure into a clean, empty flower pot, fill the base with silk poinsettia flowers, and wrap with lights before hanging colorful ornaments.
29. Rustic Wooden Holiday Sign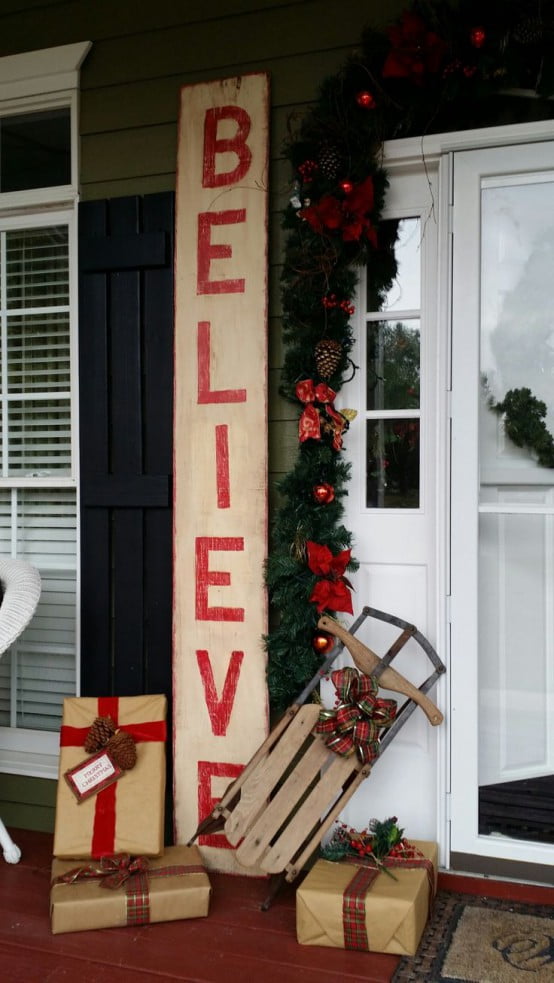 Rustic touches like this wooden sign can help you create a welcoming holiday vignette on your porch. If you're a fan of primitive holiday decor, a large sign with bold fonts can make the perfect focal point for your porch. A bright pop of red or green text on a whitewashed or naturally colored wooden sign makes a bold statement that easily pairs with other typical Christmas porch decoration such as garlands, sleds, and brown paper packages tied up with string. Phrases can be simple, such as 'Merry Christmas', or get creative and use a quote from your favorite holiday movie or song.
30. Galvanized Buckets with Chalk Pen Lettering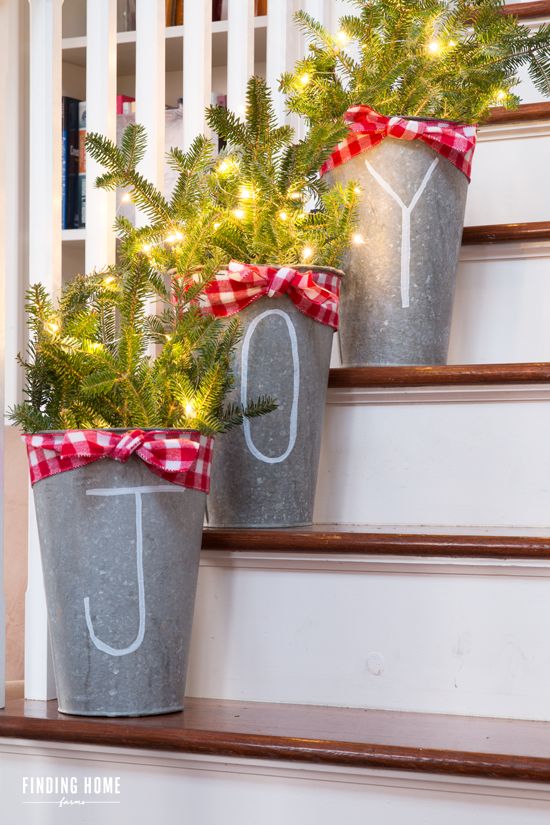 This creative project uses small galvanized buckets and a chalk pen to create a quick and easy to put together display for your porch steps. Simply fill the buckets with greenery, and tie them with a burlap or gingham ribbon, then use a chalk pen to write bold letters on each bucket. While this project will look great anywhere on your porch, it's especially pleasing when used on porch steps to create a whimsical and welcoming pathway to the door. Be sure to match the number of steps you have to the number of letters in the word you choose. For most people, this means a short word like 'joy', 'merry', or 'noel' will work best.
31. Wrapped Pillars with Lantern-Lit Steps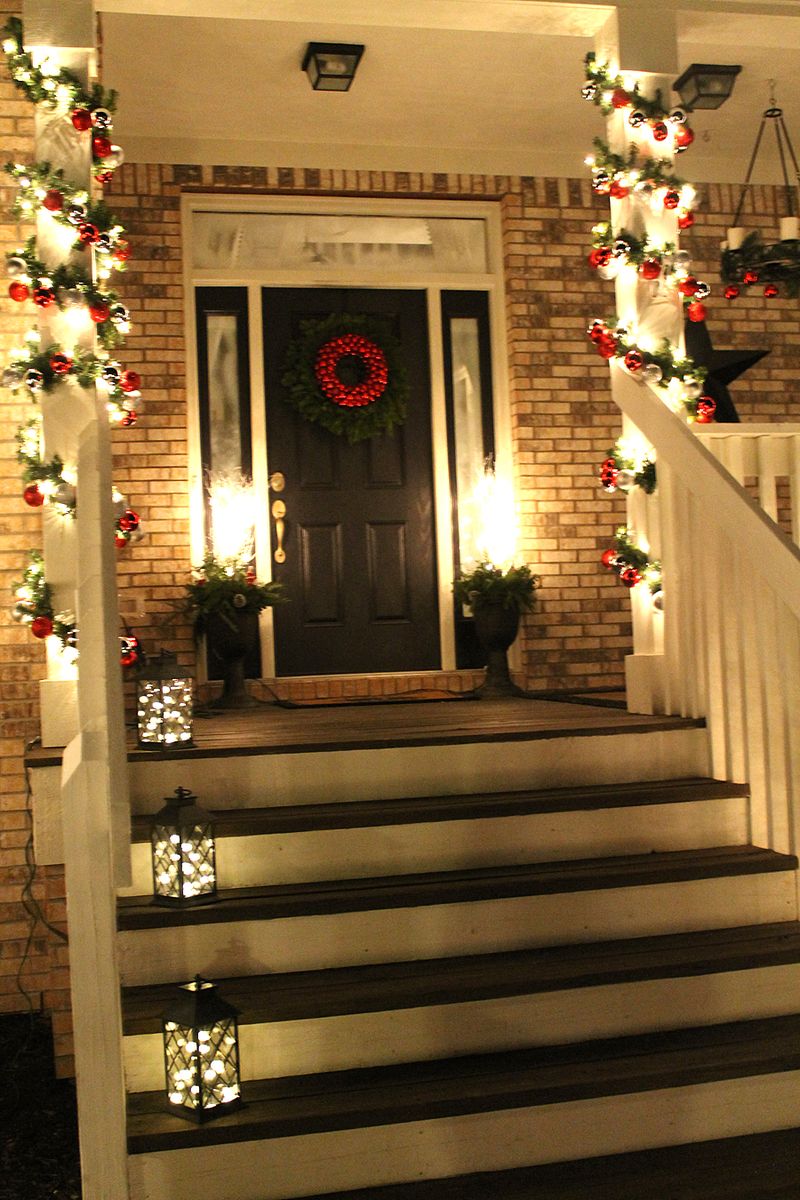 Looking for an elegant look for your entry? By wrapping garland around the columns of your porch and placing lanterns on the steps you can create a visually inviting entryway that leads your visitor's gaze to the front door where planters and a wreath complete the look. This classic approach looks beautiful on almost any porch, and you can personalize it to suit your needs. Use simple greenery and bare branch twigs for a natural, minimalist look, or jazz it up with bright ornaments and colored Christmas lights for a bolder look.
32. Large Christmas Lanterns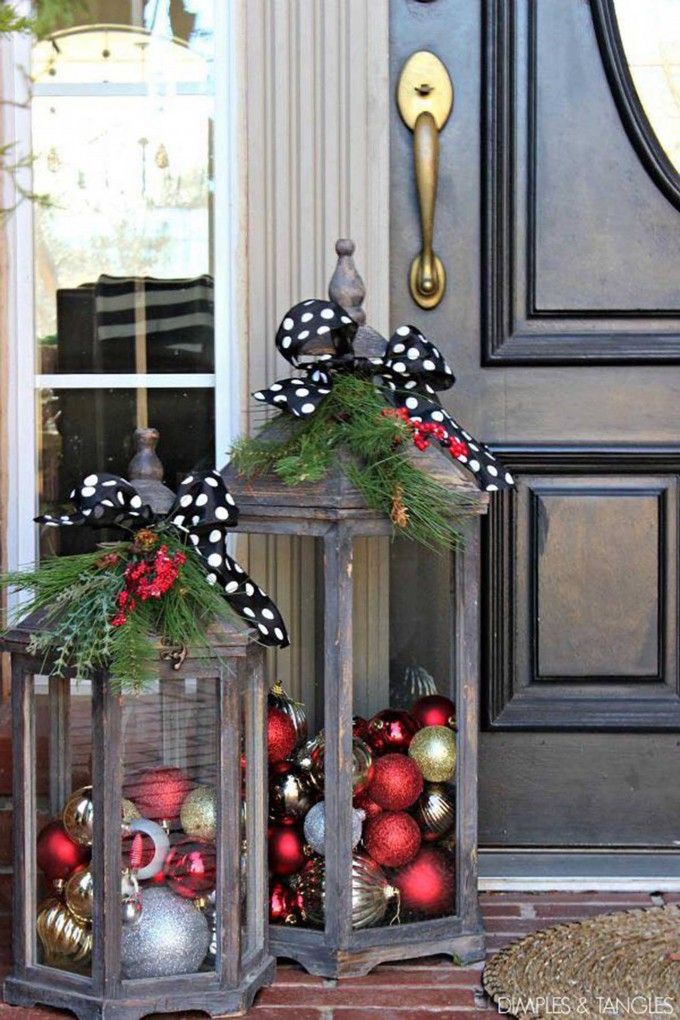 If you don't want to decorate the whole porch, a simple display by the door can bring a bit of holiday cheer to a plain porch. These lanterns can fit on even a small apartment stoop. The best thing about using these oversized lantern boxes for Christmas porch decorating is their versatility. Fill them with Christmas ornaments for an easy look, or stuff them with pinecones, greenery, or burlap and lights for a more rustic look. In fact, they are so versatile, you could use them for other holidays, too! Fill them with eggs for Easter, or squashes in the fall.
33. Wooden Sign and Wreath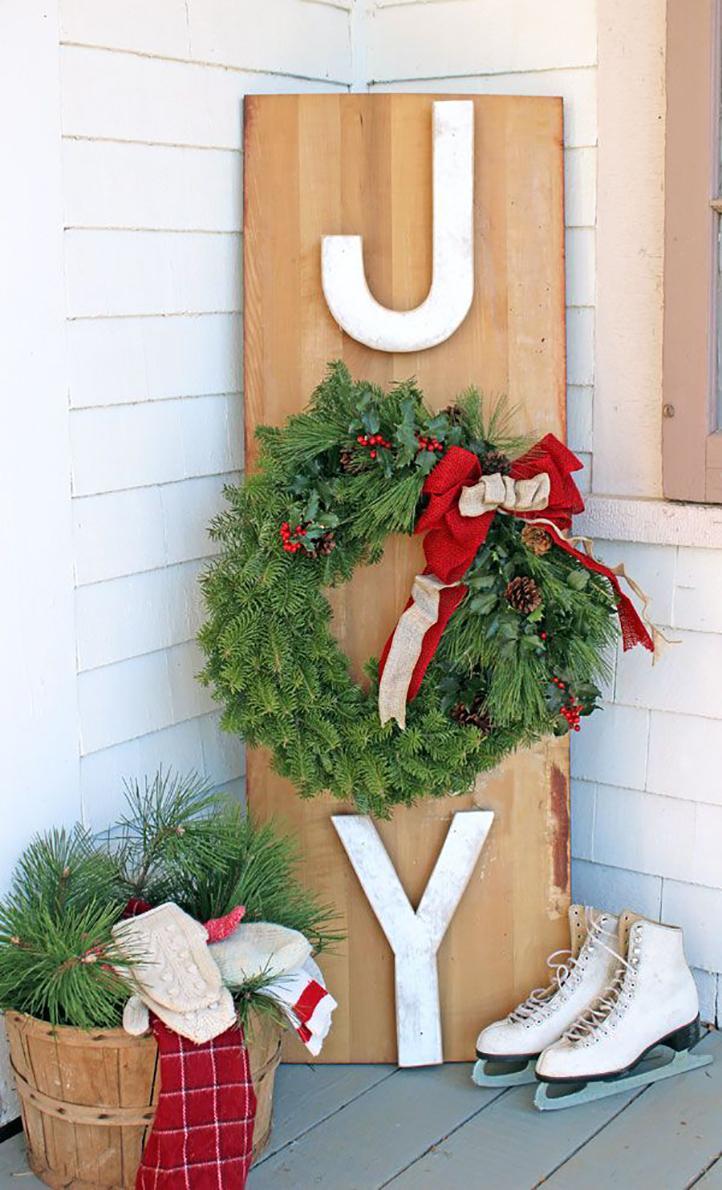 This playful grouping combines a wooden sign with large lettering and a wreath for a fun DIY Christmas look. You can buy pre-cut letters and paint them before attaching them to the board, or you can simply paint the letters directly on the surface. If you are in a home where you can't hang decorations on your door, this gives you the option to still display your wreath. Other words such as 'noel' or 'snow' work, too! Add an apple basket filled with greenery – or use it to store wet winter gear like scarves, gloves, and ice skates – for a rustic and practical touch.
34. Classic Garland and Red Bows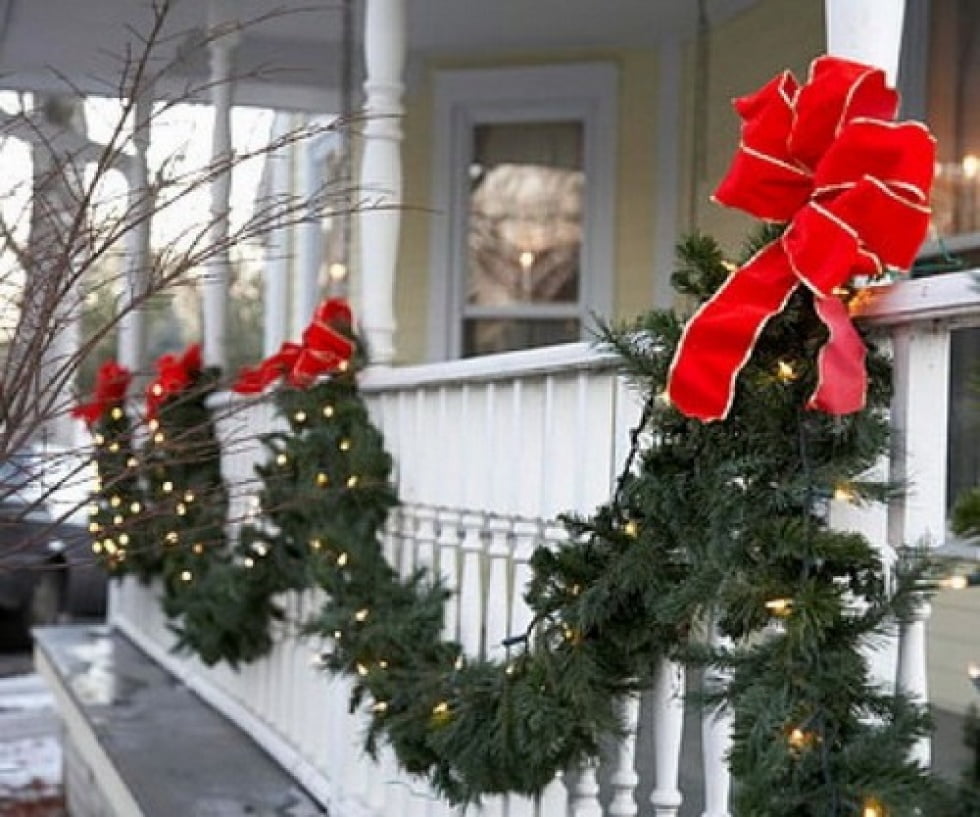 If you want time-tested decor ideas, then this simple, eye-catching, and ageless combination of green garland, white Christmas lights, and big red bows is hard to beat. The key to this display is its simplicity: don't be tempted to add extra ribbon or any additional touches. Best for porches with spacious railings, you can carry the look indoors by using the same garlanding above windows and up the stairs to tie together your indoor and outdoor home decor. This is also a great look for an apartment balcony or for a fence if you don't have a porch.
35. Neutral Yarn and Twine Ball Wreath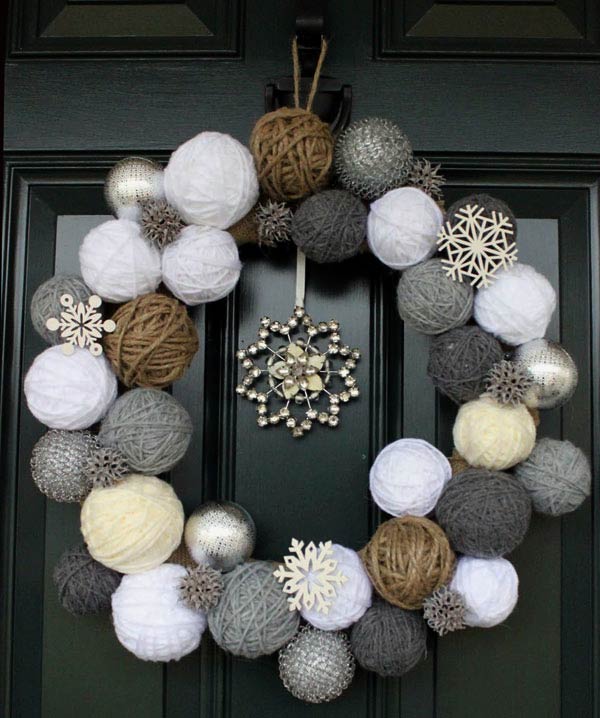 This wreath makes full use of re-purposed materials such as twine and yarn. There are a few ways you could achieve this look, but the simplest and most cost-effective version would incorporate recycled items from previous Christmases. Take old ornaments, and spray paint some of them silver, and wrap the rest of them with neutral twine, yarn, or rope. You could also use old ribbon from last year's presents if you'd like. Then, simply add some ornaments or wooden snowflakes. Alternately, use natural elements like prickly sweet gum balls, wicker balls, or preserved flowers for a more rustic yet still playful wreath.
36. Hanging Christmas Baskets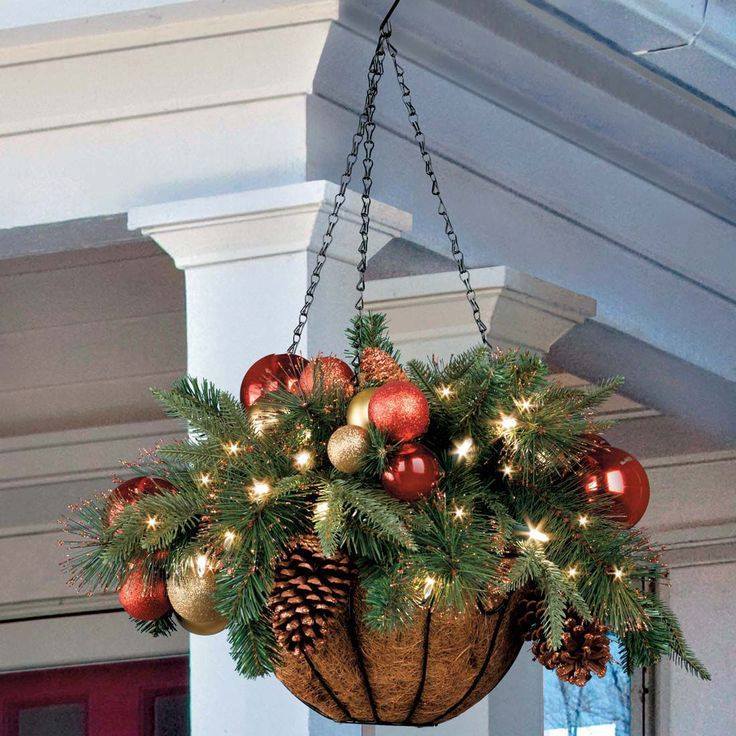 Hanging baskets help draw your eye upwards and are a sophisticated way to frame a porch entryway. Unfortunately, there aren't too many plants that thrive in them when winter weather sets in. Once the summer blooms fade and the first frost kills the plants in your hanging baskets, replace them with these creative Christmas displays. Because the basket can hide a water source, fresh evergreen branches last longer than they would as a wreath or in a garland. With a little greenery, some lights, and some ornaments, you can take your Christmas porch decorating to a new level! Treat these baskets like small Christmas trees and decorate them any way you'd like.
37. DIY Rustic Painted Logs

Simple enough for children to help with, this DIY Christmas project uses cut logs and paint to create an easy-to-make entryway display. You can cut the wood yourself if you have access to a wood pile, or can find birch logs in an arts and crafts store. Then, simply paint your design onto the cut surface of the wood. These Santas use white and red paint, but you can try your hand at snowmen or reindeer instead. Even if you're not an artist, this simple project will bring a rustic touch to your porch. Tie the logs with a festive ribbon to complete the look.
38. Christmas Firewood Bucket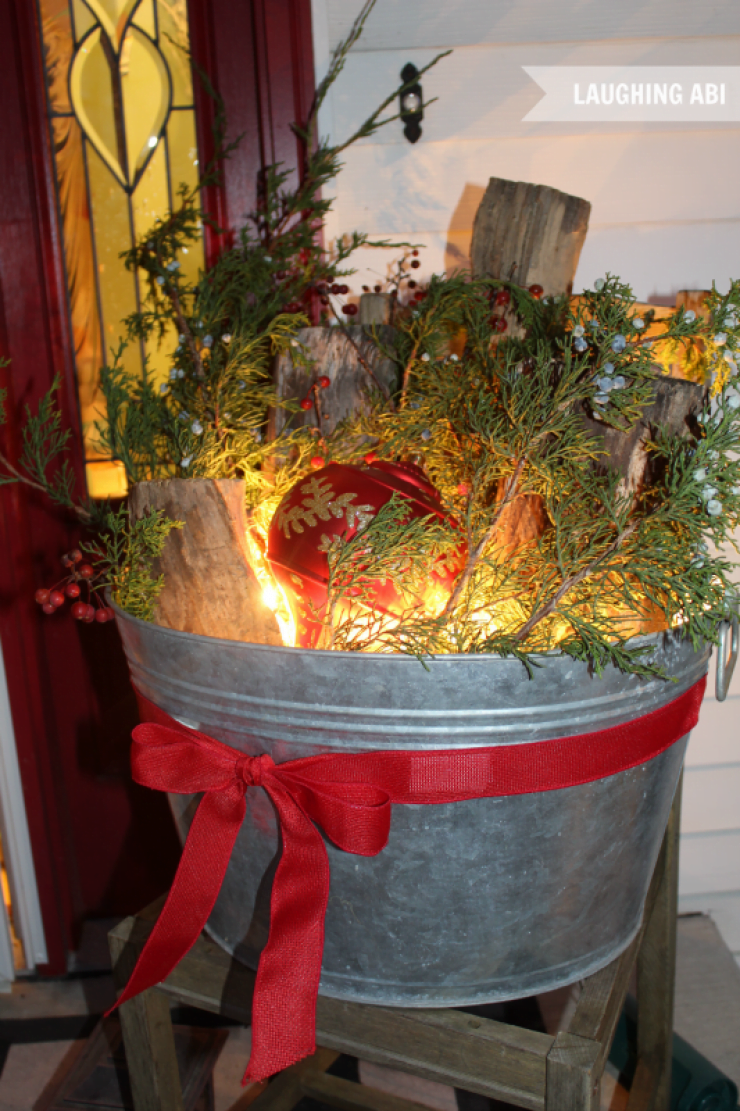 One of the key things to keep in mind when decorating your porch for Christmas is that your decorations should look good both during the day and at night. This uncomplicated project can be made for free if you have access to evergreen branches, some cut firewood, and a string of lights. Don't bother to string the lights among the branches, as this arrangement looks best when the lights shine up from the base of the bucket. The best part of this arrangement is that you can use whatever greenery you have available, such as pine, juniper, holly, ivy, or other evergreen branches.
39. Grand Birch Branch Display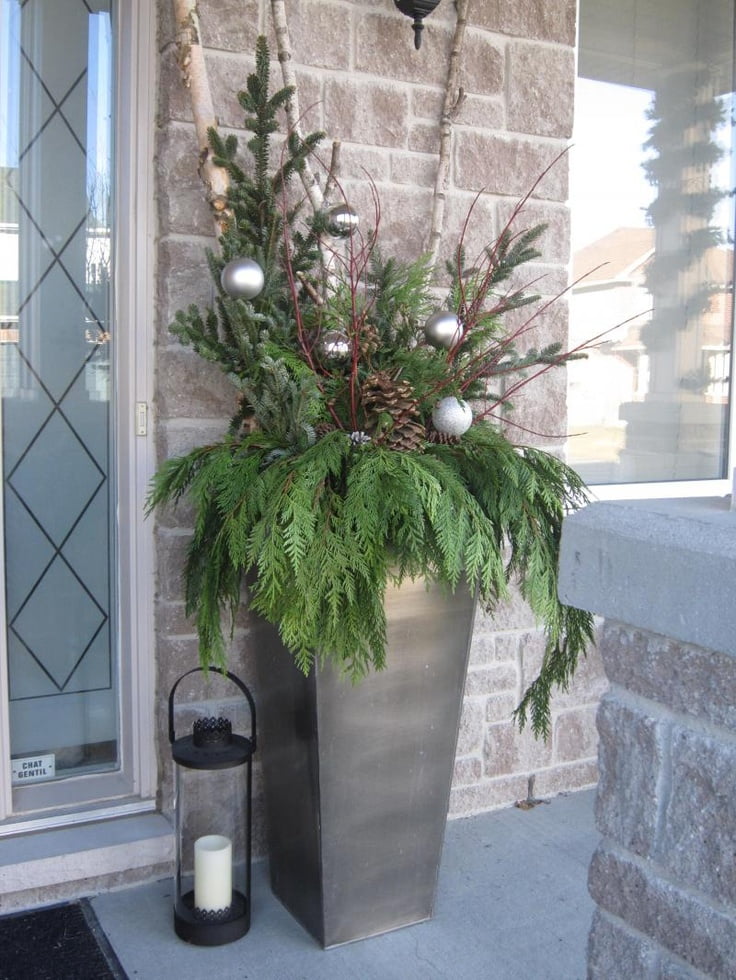 This Christmas porch decoration idea is beautiful and showy. Spacious porches need large displays, and this towering display will look stately on a sizeable stoop. In fact, for this style of display, the taller you can make the branches, the better it will look. The long birch branches make a bold contrast to the lush greenery, and along with some red ornaments, create a pleasant red, green, and white Christmas theme. Although it is attractive without lights, you could wrap Christmas lights around the branches to make the arrangement more visible at night. If you don't have a tall enough pot, consider using an umbrella stand for the base.
40. Bold Wreath Trio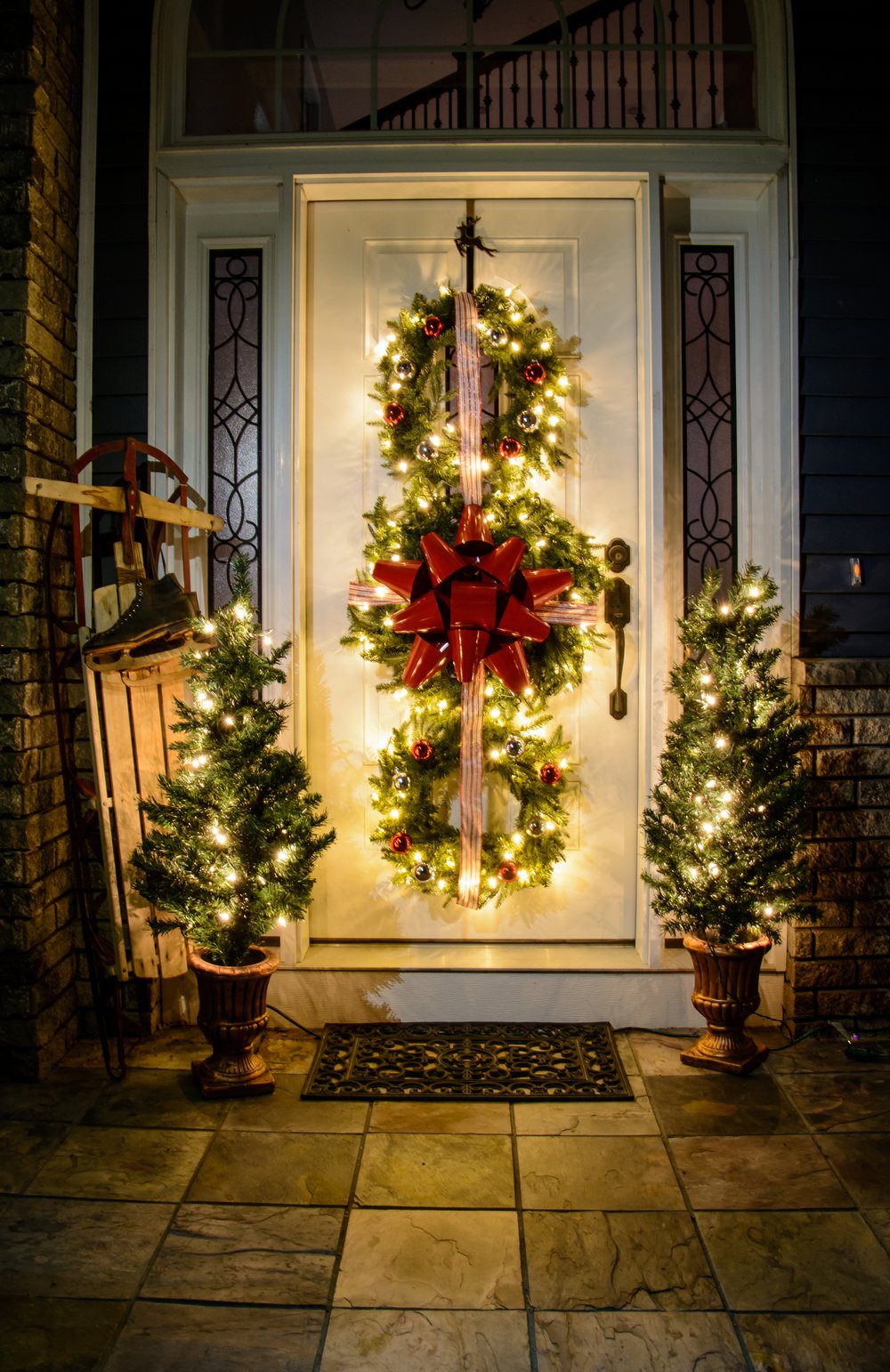 Three wreaths-a-hangin', two festive bushes, and a giant oversized bow! If you're planning on going all-out this holiday season, this arrangement is sure to garner compliments. Finding a suitably large bow is the key to perfecting this decor idea to give a cheery focus to the arrangement. Use large 24″ wreaths if you have a wide door, make a scaled down version if you have a smaller door, or if you have a truly grand entryway then consider flanking the entrance with similarly decorated Christmas trees to really make the neighbors jealous.
Our Favorite Christmas Decorations to Buy on Amazon

More Christmas porch design ideas on the next page…