41. Rustic Wooden Snowman
Not everyone has a white Christmas, and if December snow is somewhat sparse or non-existent where you live, then consider using this friendly and non-melting wooden snowman to decorate your porch. There are a number of retailers that sell large wooden snowmen, but if you have some tools and a little time, then you can easily create your own out of wooden posts or even out of recycled wooden pallets. Primitive touches such as a small birdhouse, a big burlap ribbon used as a scarf, and worn, distressed paint add a touch of whimsy.
42. Country Christmas Vignette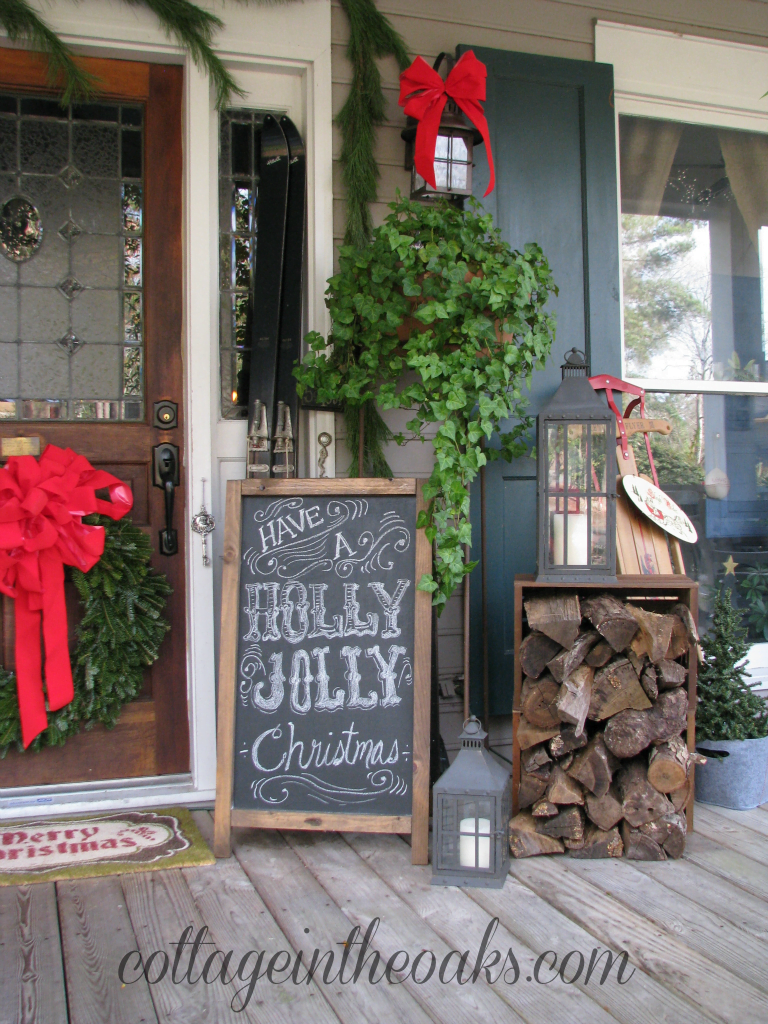 Sometimes you don't need a single, large focal point to create the perfect entryway. This look ties together many smaller Christmas porch decorating elements to make a display that fills the front of your house with rustic vintage charm. The tall ivy planter, the wreath, and evergreen sash above the door bring a welcome splash of green and liveliness to the grouping. The chalkboard, skis, and sled are fun and outdoorsy. The candle lanterns and the big red bows complete the look and add a touch of rustic elegance to this farmhouse layout.
43. Brown Paper Packages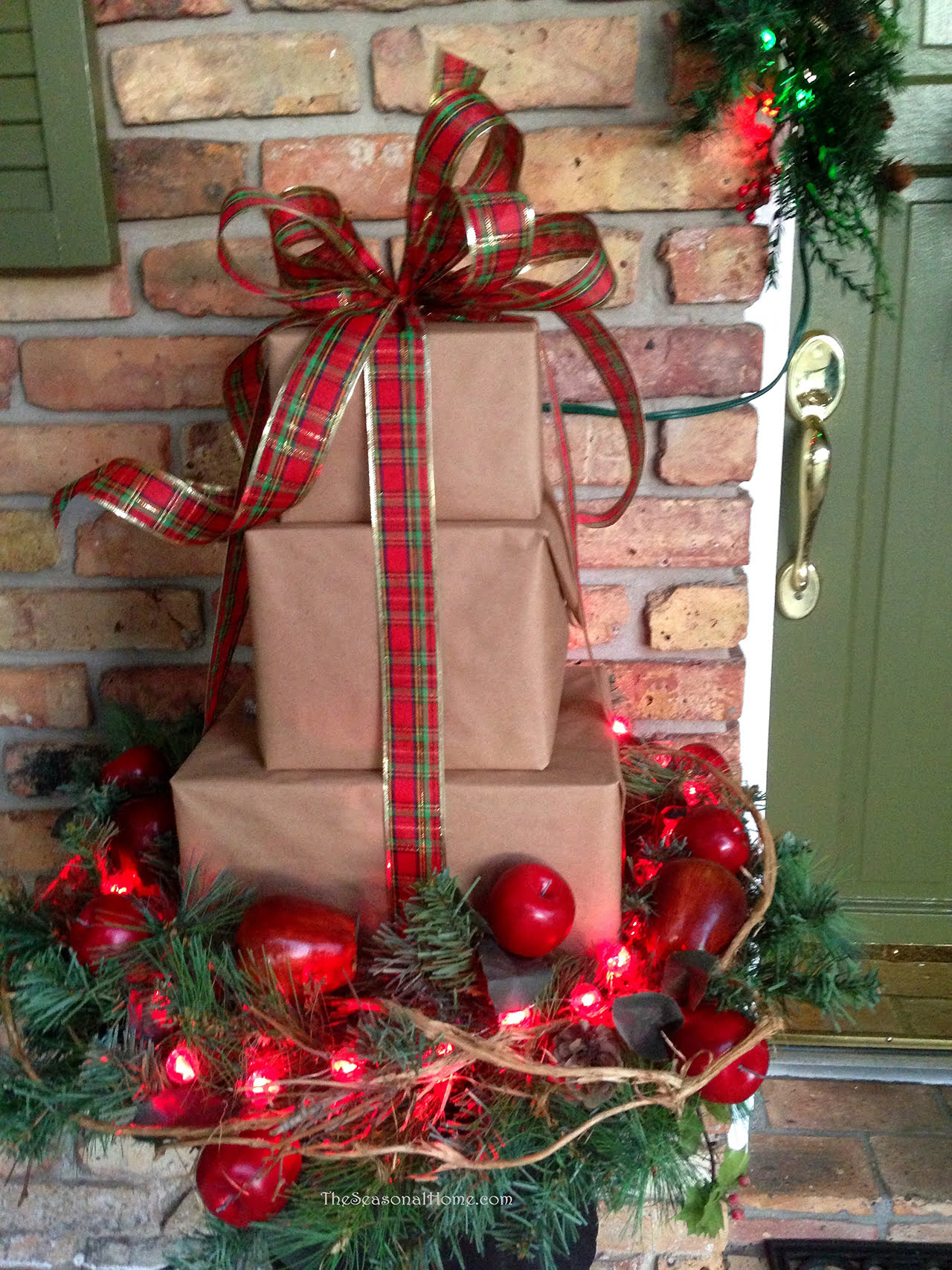 This low-cost DIY Christmas porch idea is as charming as it is simple. All that is needed is a stack of boxes wrapped in brown paper, some greenery, and a big jolly bow. The apple picks are a nice touch around the base, although you could replace them with ornaments or pinecones for a slightly different motif. It's easy to match this display to the rest of your holiday home decor by using color-coordinated ribbon for the bow or using some of the garland material you already have to decorate the base. Scaled down, this would make an excellent table top display if you have a side table or storage bench on your porch.
44. Paper Snowflake Strings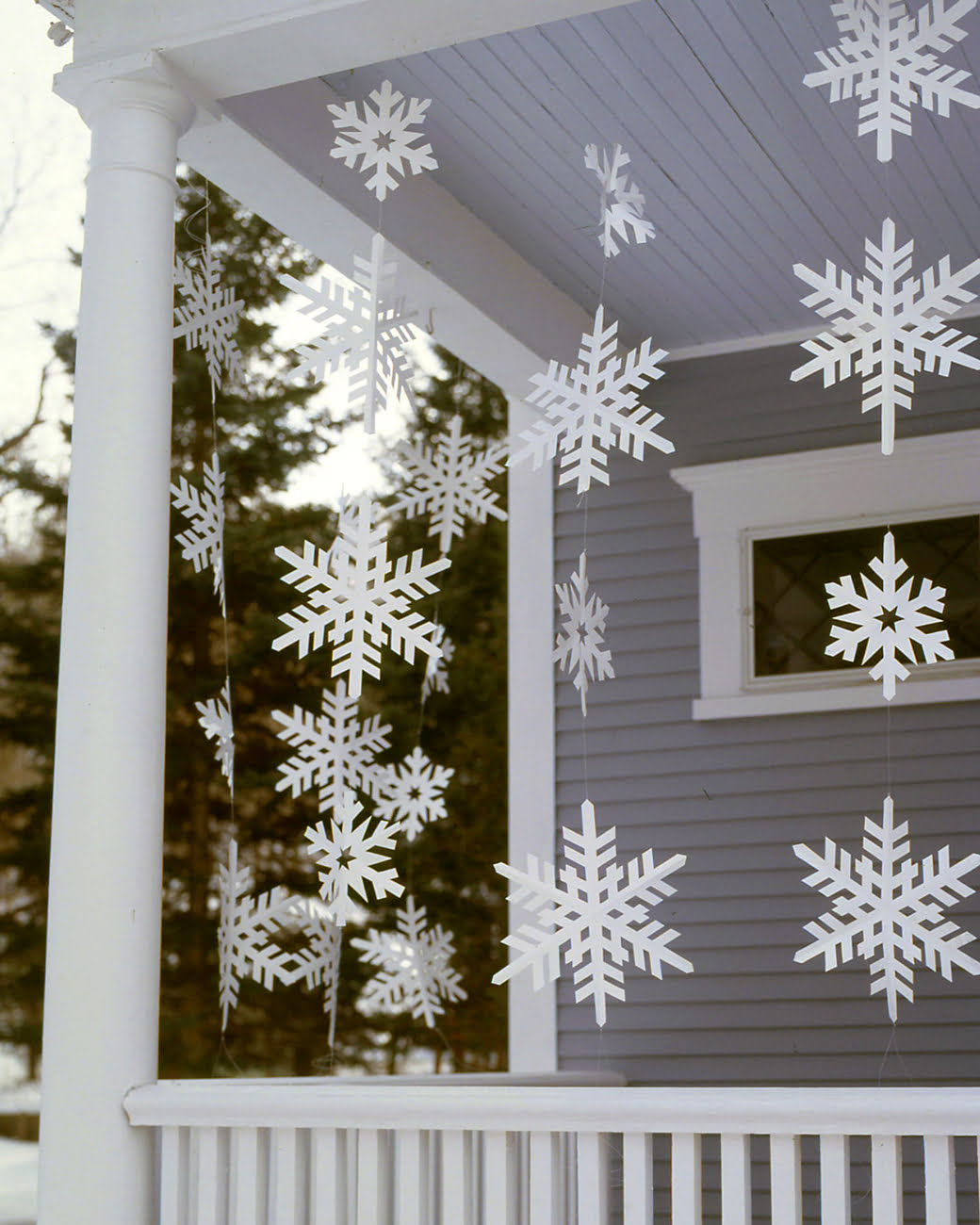 These paper snowflakes are a nostalgic reminder of childhood Christmases and are a minimalistic way to approach Christmas porch decoration. You can make them out of plain white paper to save some money, or you can use weather resistant paper if you plan on hanging them where they will be exposed to rain, wind, and snow. You can easily make these by folding and cutting random free-hand shapes, or you can use specialty stencils if you prefer a more uniform look. Children love helping to create Christmas decor, and this would be a perfect project for them.
45. Rustic Ladder Display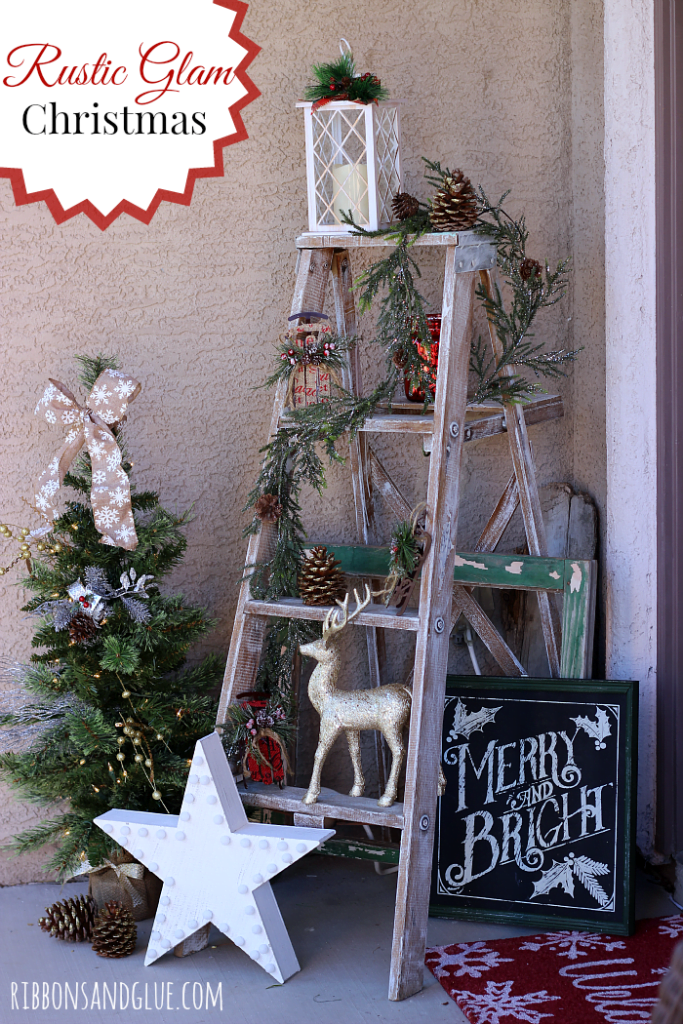 Using an old wooden ladder is a fun and funky way to display your Christmas decor. Obviously, you can't just use any old ladder. To achieve this look, you'll need a wooden ladder that has been whitewashed in order to get a rustic, textured appearance. Then, feel free to place whatever decorations you see fit on the steps. Lanterns, greenery, pinecones, or any other similar small ornaments can all be used to festoon the ladder. As part of a larger tableau that includes a small tree and a blackboard, this makes a simple but effective display.
46. Outdoor Stocking Display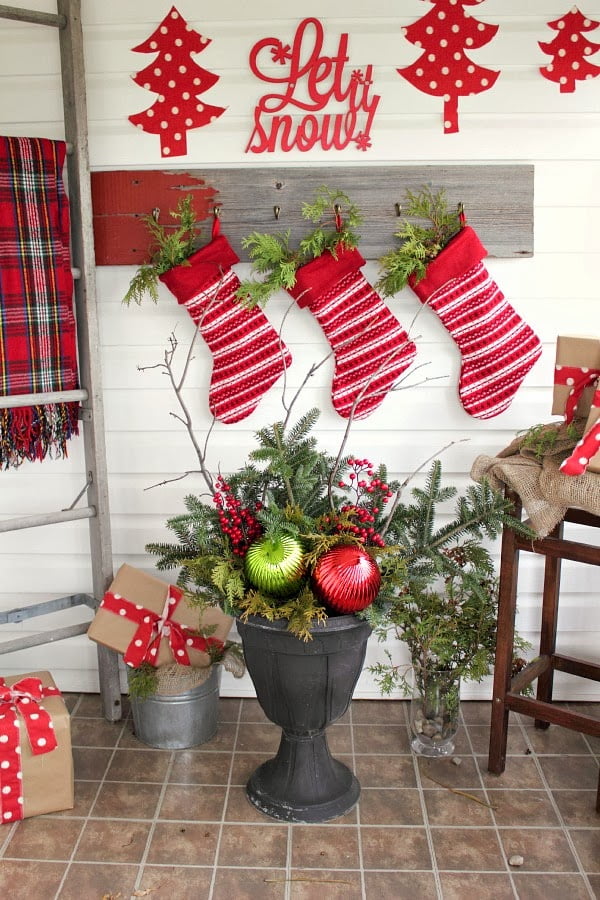 Homey touches like the roughly cut red polka dot Christmas tree silhouettes on the wall, and the flannel blanket hung over the wooden ladder in the background make this a fun and folksy way to decorate your porch. The red and white stockings stuffed with greenery are an unconventional twist on the traditional mantle display and the use of mix and match containers like the glass vase, galvanized bucket and repurposed planter urn make this look a practical and inexpensive way to approach Christmas porch decorating.
47. Recycled Wood Snowflakes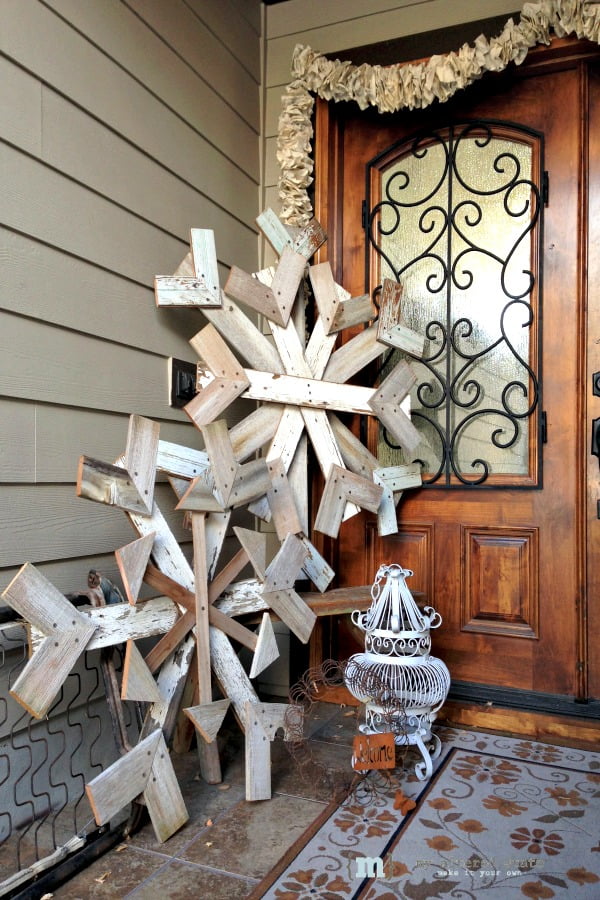 Big, bold, and beautiful! If you want a standout way to decorate your entryway, then these oversized DIY Christmas snowflakes are one way to make a break from traditional porch decor. If you have extra wood in your garage, or if you can find some free wooden pallets, then these snowflakes needn't cost much to make. Simply paint or whitewash each piece of wood while allowing some of the weathered wood grain to come through, then create hexagonal shapes that look like a snowflake. Depending on how minimalistic you want to be, you could display these giant snowflakes by themselves or as part of a grouping with other rustic Christmas decor such as the paper garland and wire lantern shown here.
48. Rustic Pallet Sign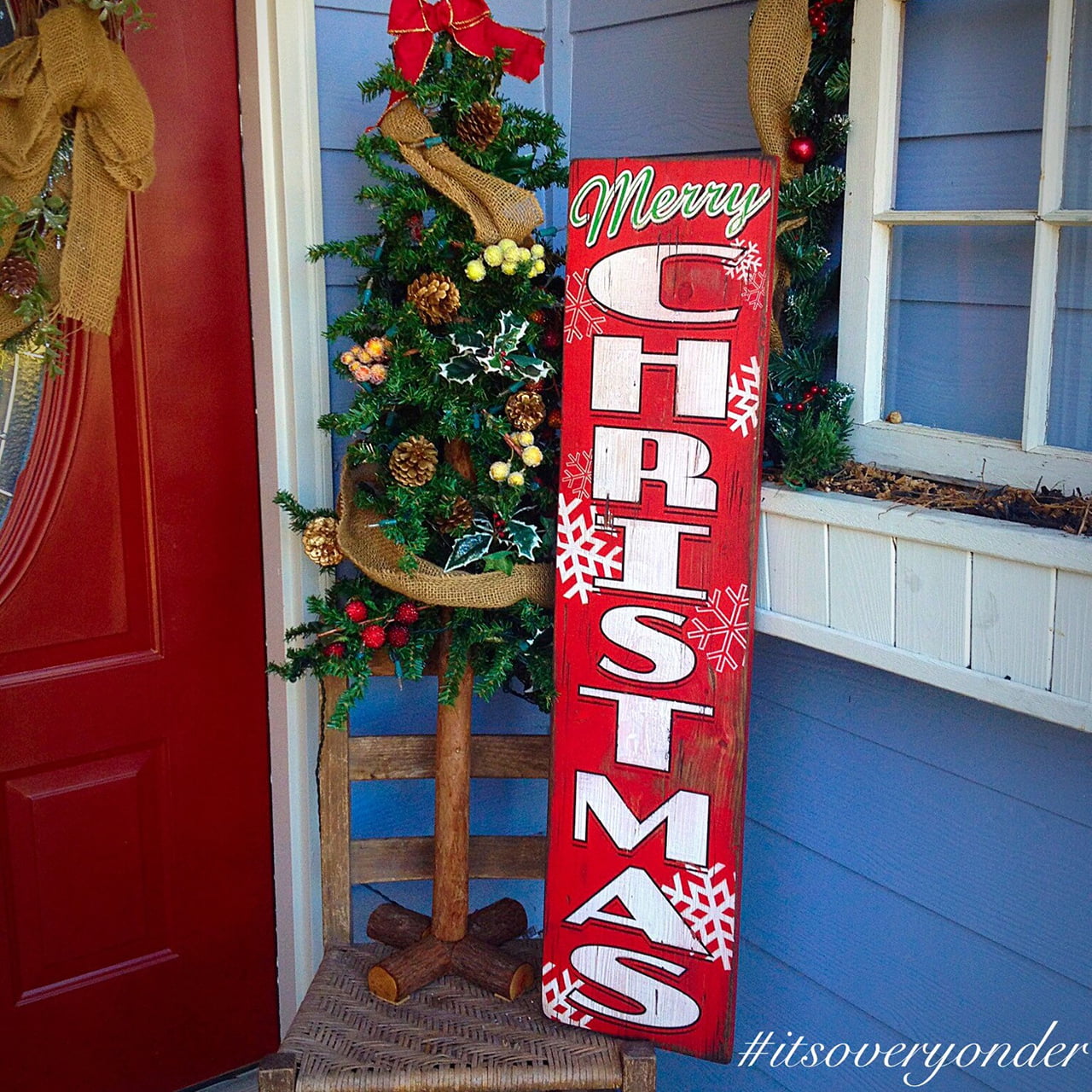 This saucy sign takes rustic Christmas decor in a colorful direction. Unlike a lot of wooden signs, this brash and cheerful 'Merry Christmas' sign is brightly painted instead of muted. Unlike a neutral barn wood finish, the red paint immediately draws the eye and makes this an instant focal point for you Christmas porch decoration. Despite its intense color, the vintage-looking font and rustic wear around the edges means that you can easily pair this sign with other rustic elements such as a miniature Christmas tree, burlap wreath, and a wooden chair.
More Christmas porch decoration ideas on the next page…