Country cottage style is informal but elegant. Hearkening back to the past, the country cottage bathroom provides a relaxing oasis away from the bustle of the home. These bathrooms show the best of country cottage style combined with fresh contemporary touches.
30 Lovely Cottage Style Bathroom Ideas to Bring Gracious Style to your Home

Often, mirrors are the focal point of these country cottage bathrooms. With just the right mirror, a modern bathroom can be transformed with country cottage style. Frequently, the mirrors have a distressed surface that complements the vanity. Other mirrors have wide gold or silver painted frames.
One of the most popular cottage style bathroom ideas is converting vintage furniture pieces into vanities. This is a way to bring the past into a modern bathroom without sacrificing convenience. These vanities are not as durable or water-resistant as new vanities, but with proper waterproofing and care, they can provide the centerpiece to your country cottage bathroom.
A few of these rooms have beautiful flowered wallpaper, another popular feature of the country cottage home. The wallpaper is used over wainscoting and on its own. Wallpaper brings color and visual interest into a small bathroom space.
Try some of these cottage style bathroom ideas to convert your boring bathroom into a country cottage showpiece. This style combines charming style with solid practicality.
2. Round Sinks and an Ornate Mirror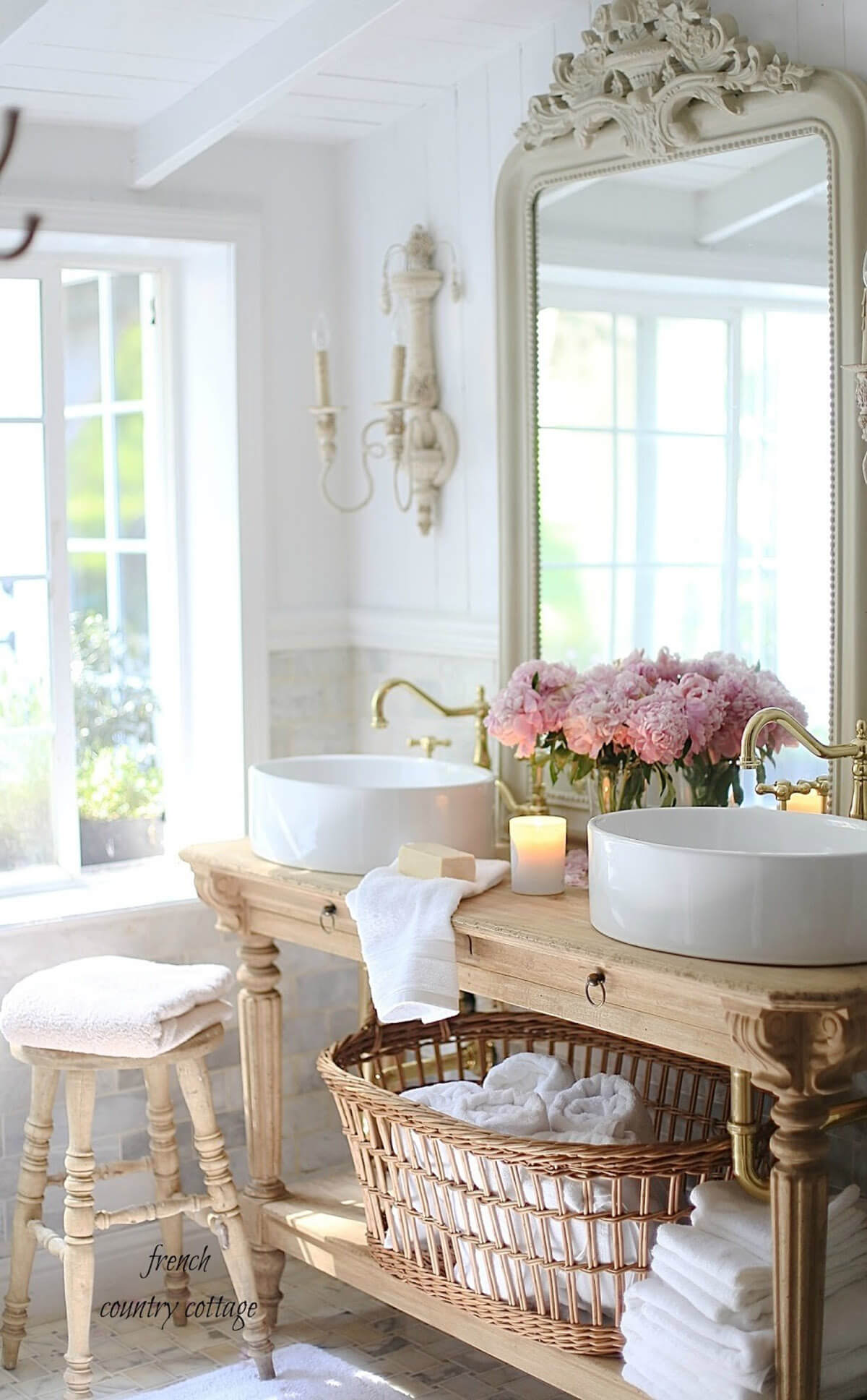 3. Country Style Vanity with Distressed Mirror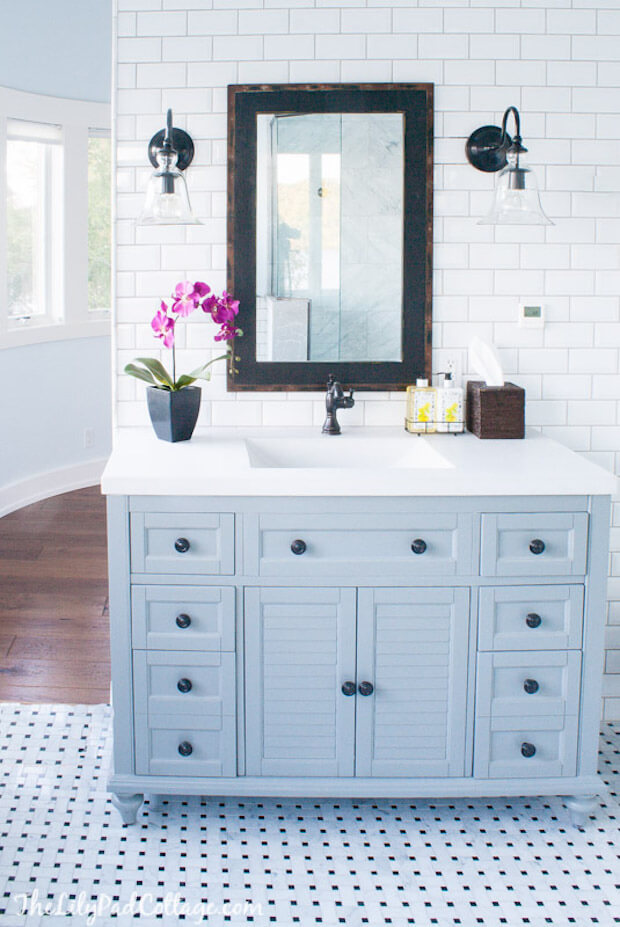 4. Double Width Sink and Wood Paneling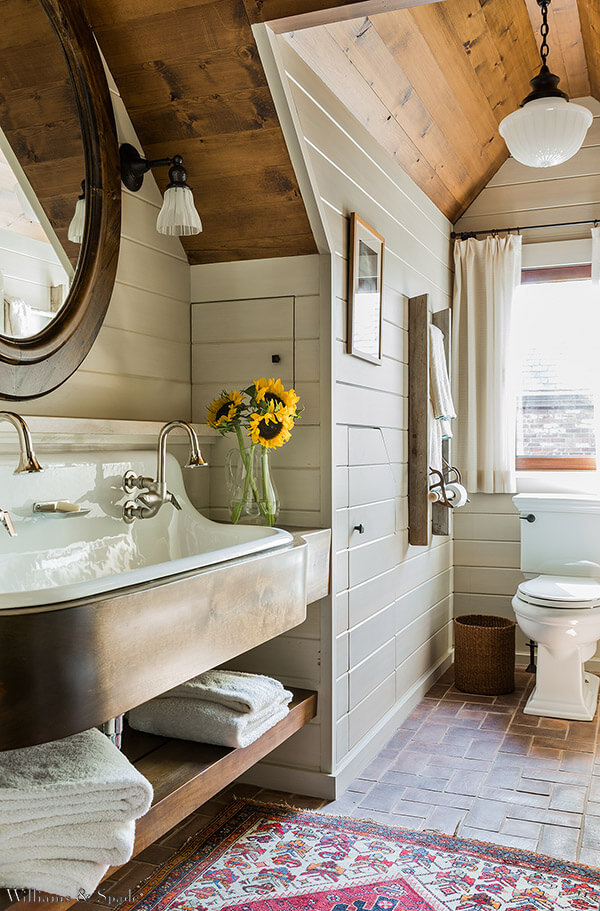 5. Weathered Green Vanity with Rectangular Sink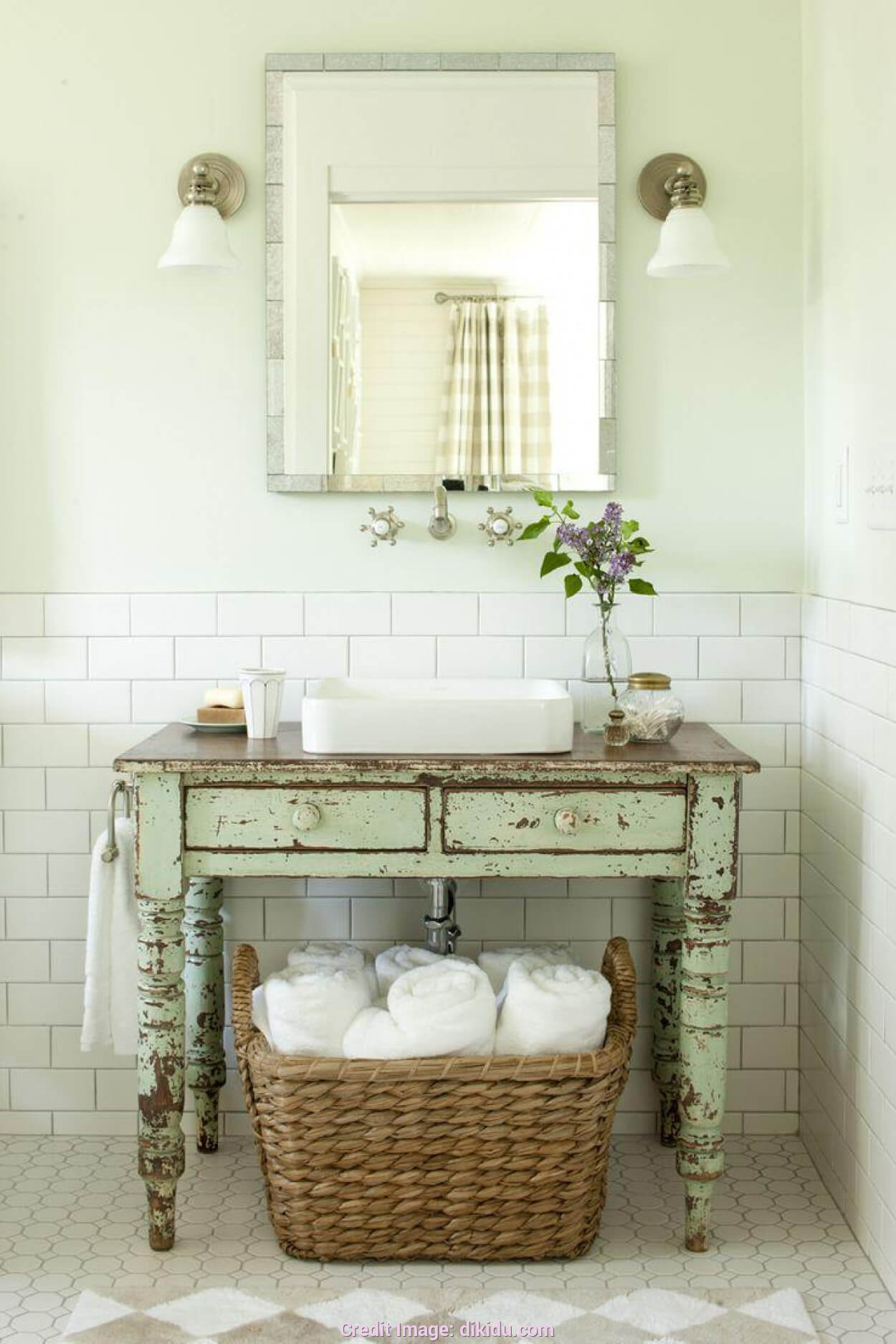 6. Contemporary Sinks with Farmhouse Curtains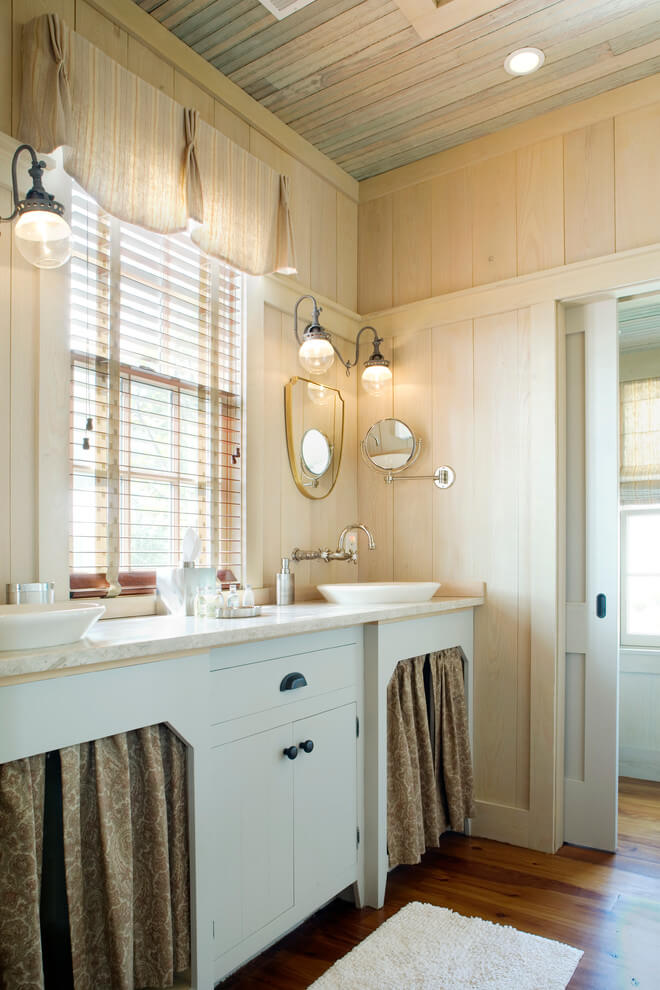 7. Clean Black and White Look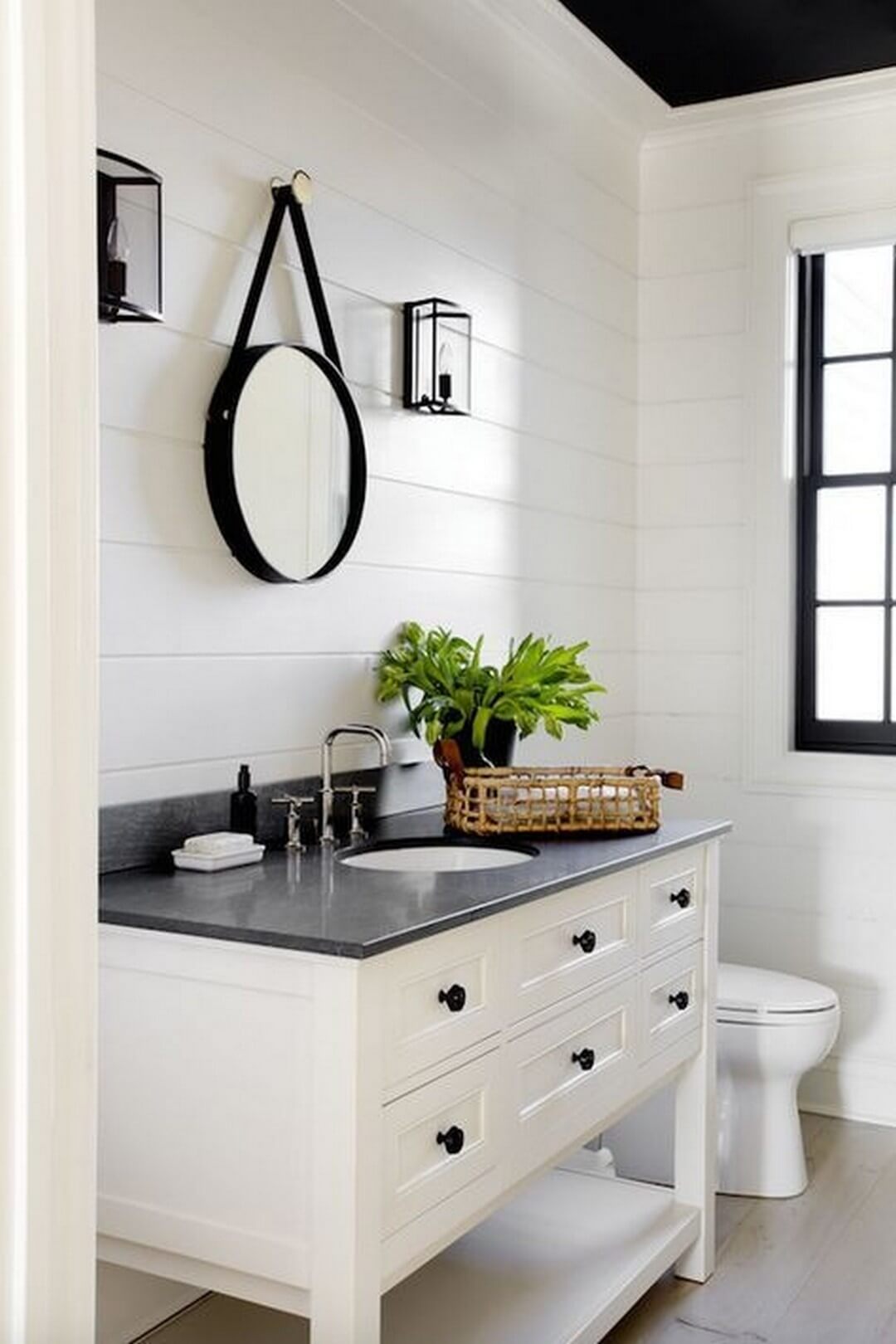 8. Charming Bathroom with Shiplap Paneling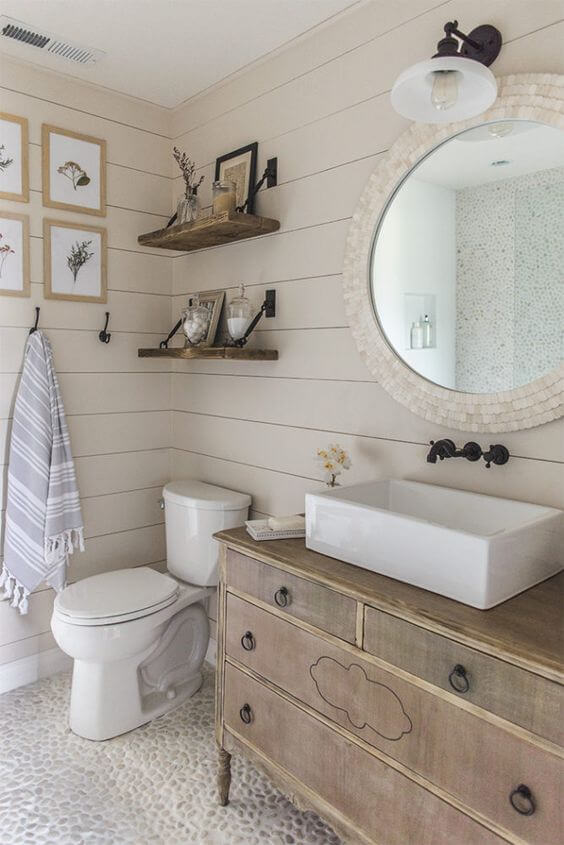 9. Wainscoting and Sweet Floral Wallpaper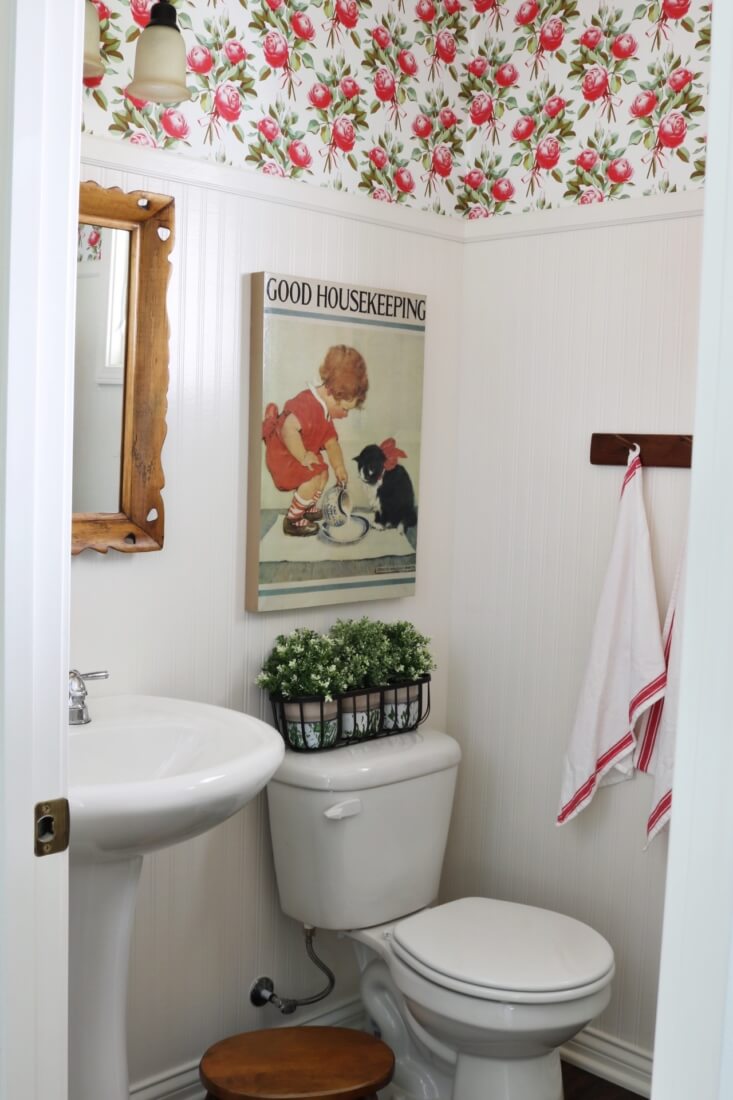 10. Wide Framed White Mirror with Lavender Flowers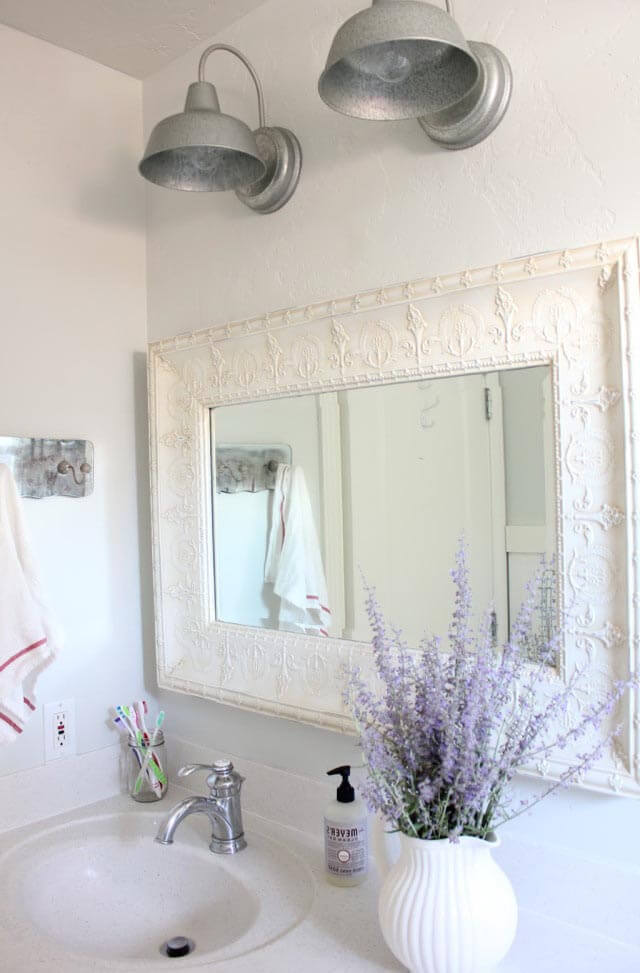 11. Dress Up Your Walls with Ornate Mirrors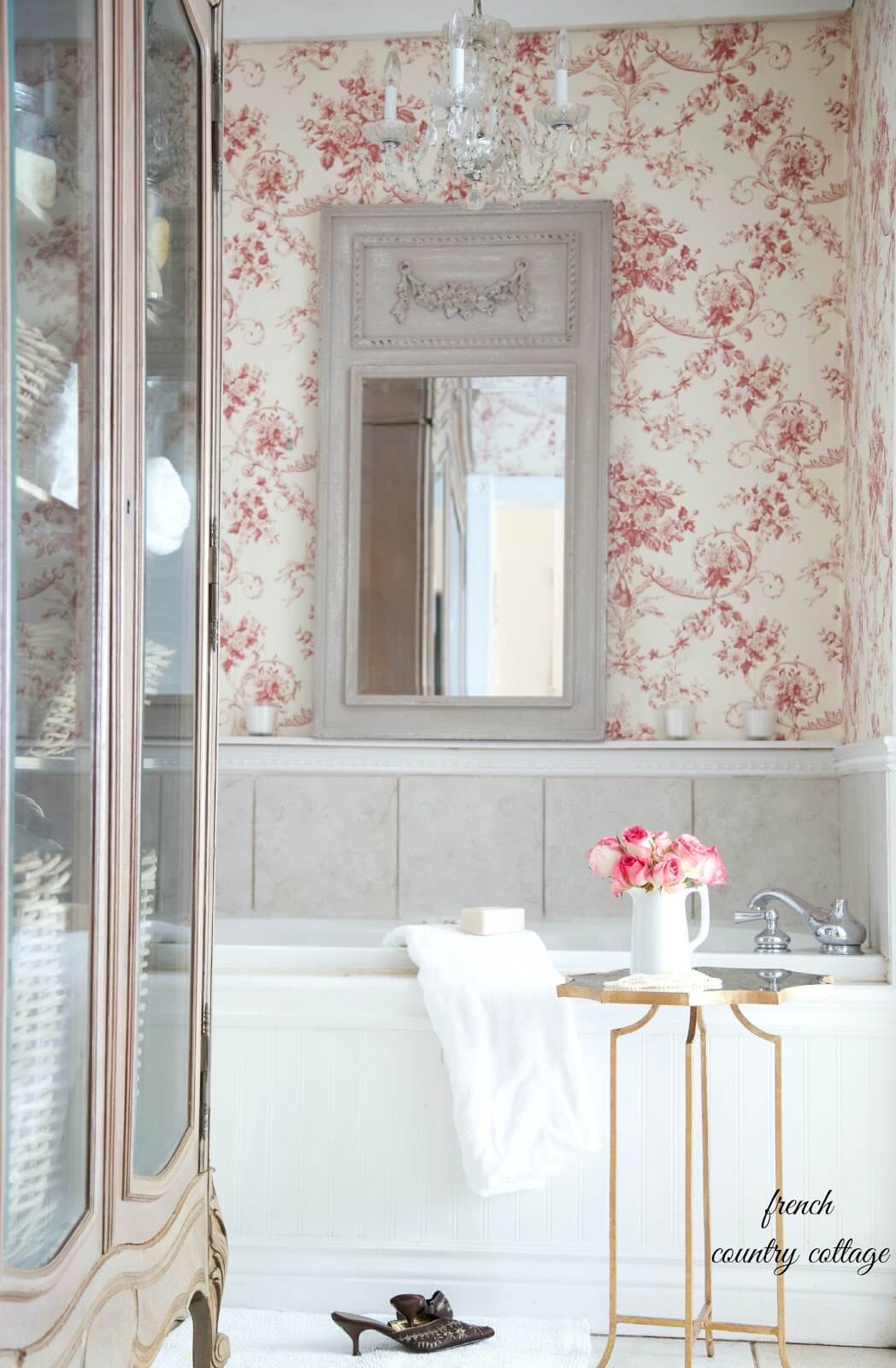 12. Stone Cottage Bathroom Wall with Distressed Wood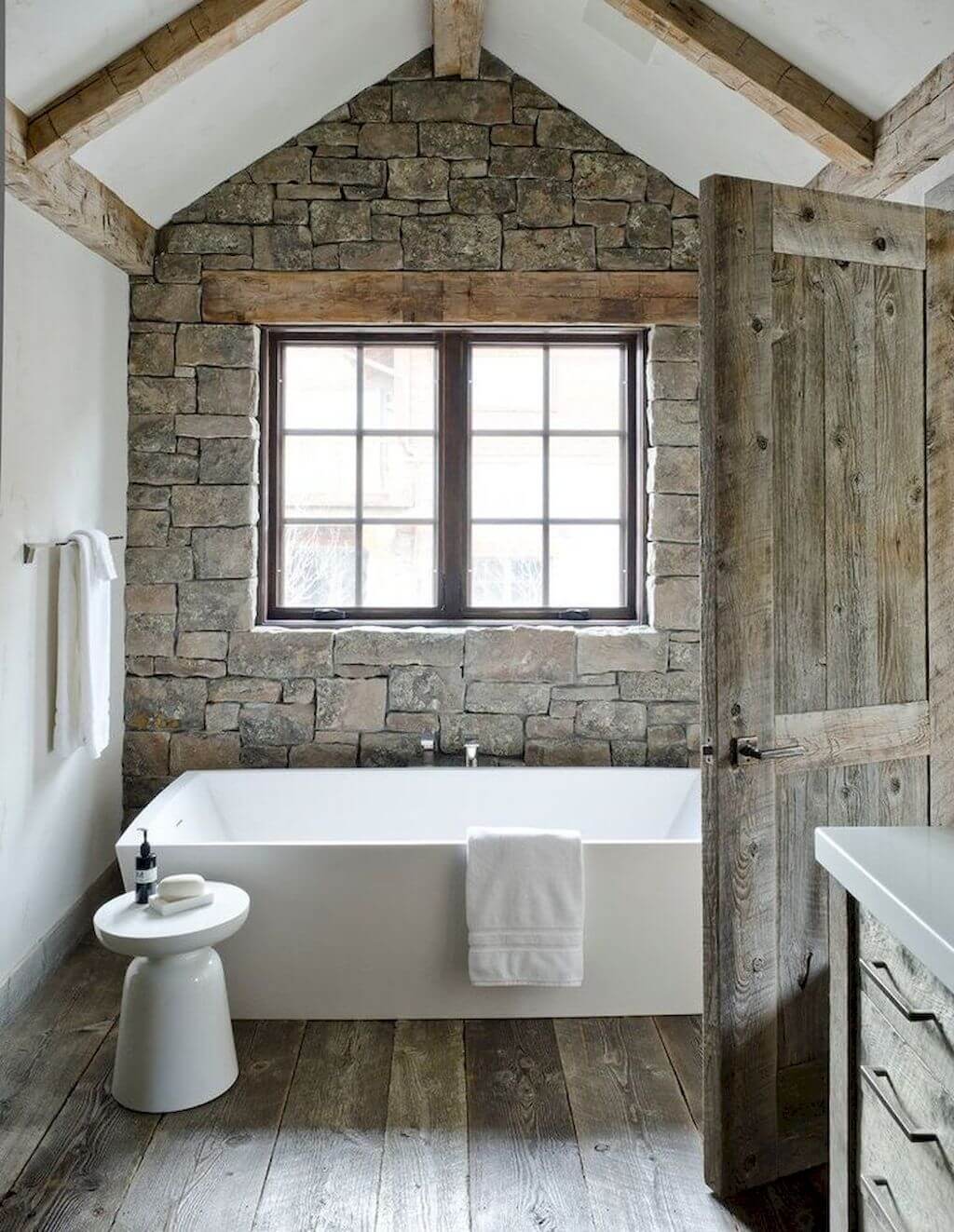 13. Side Table Converted to Bathroom Vanity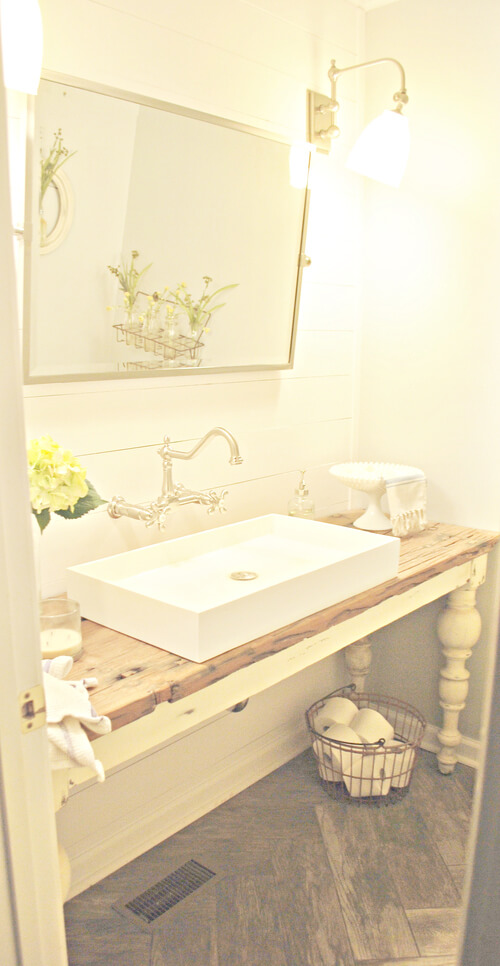 14. Vanity with Open Shelves Below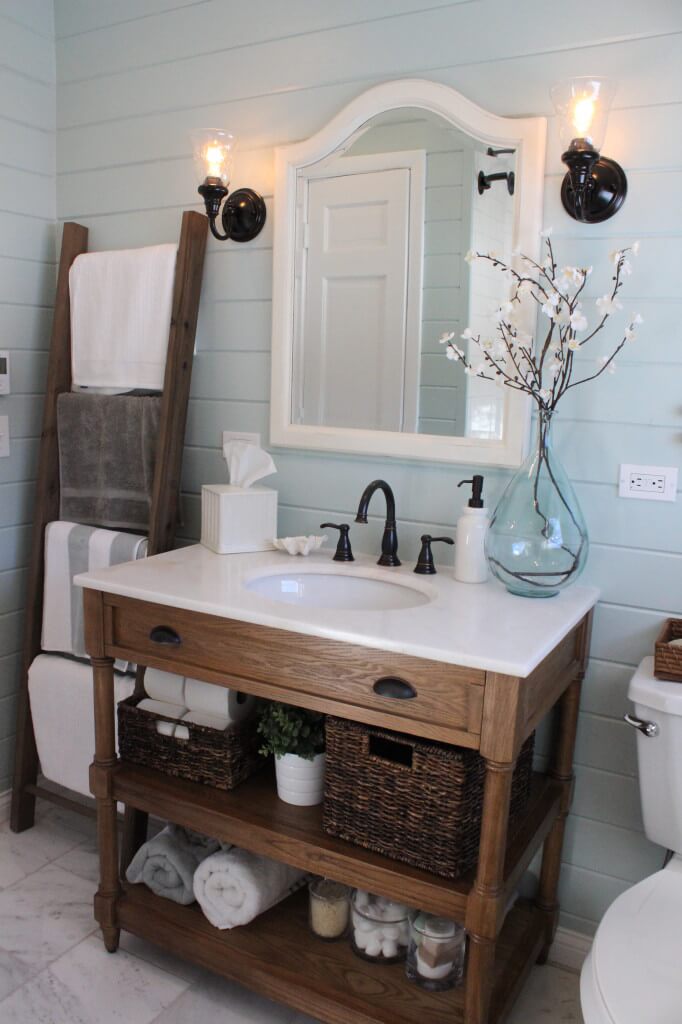 15. Wide Painted Vanity with Window Framed Mirror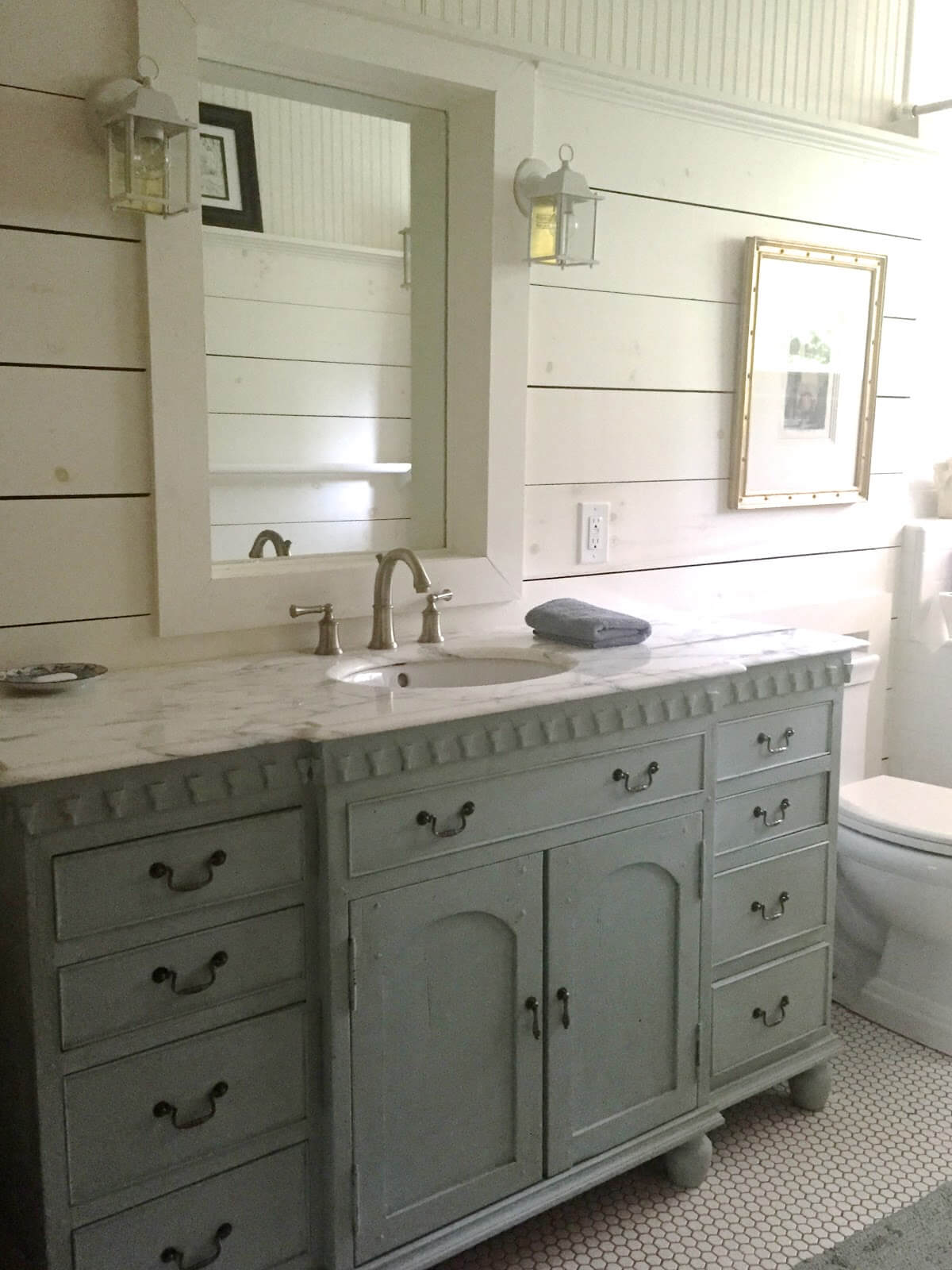 16. Make an Upcycled Dresser into a Vanity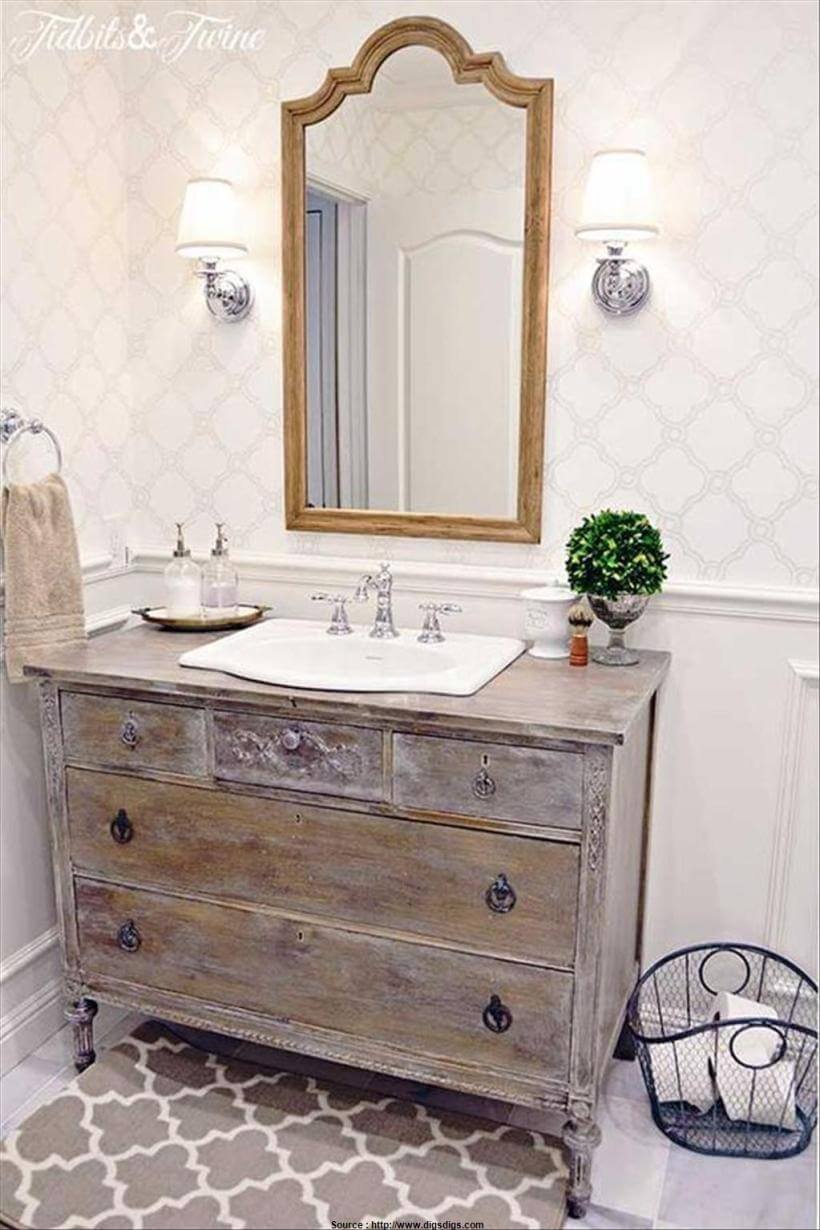 17. Large Windows and a Rustic Painted Vanity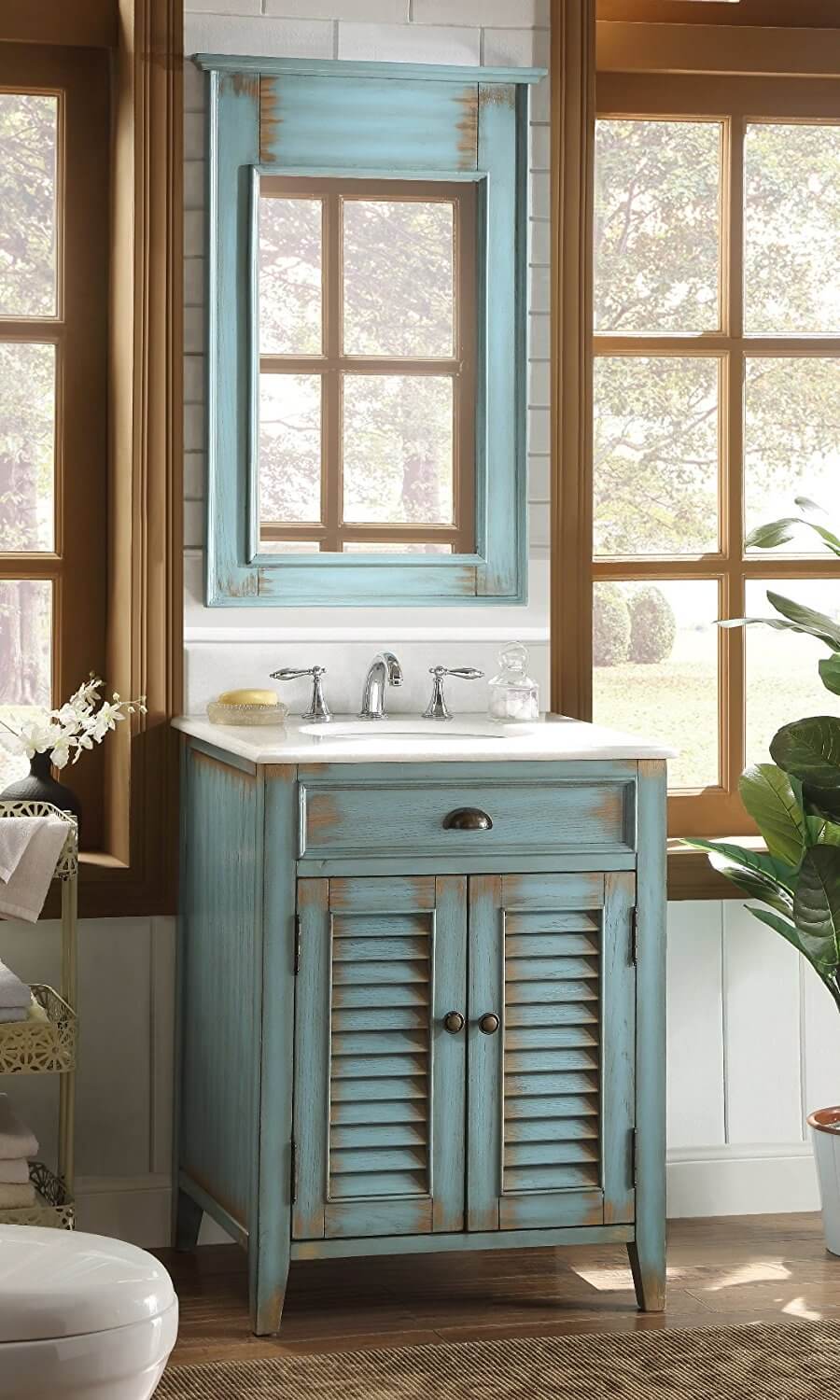 18. Exposed Beam Shower Curtain Rod Cover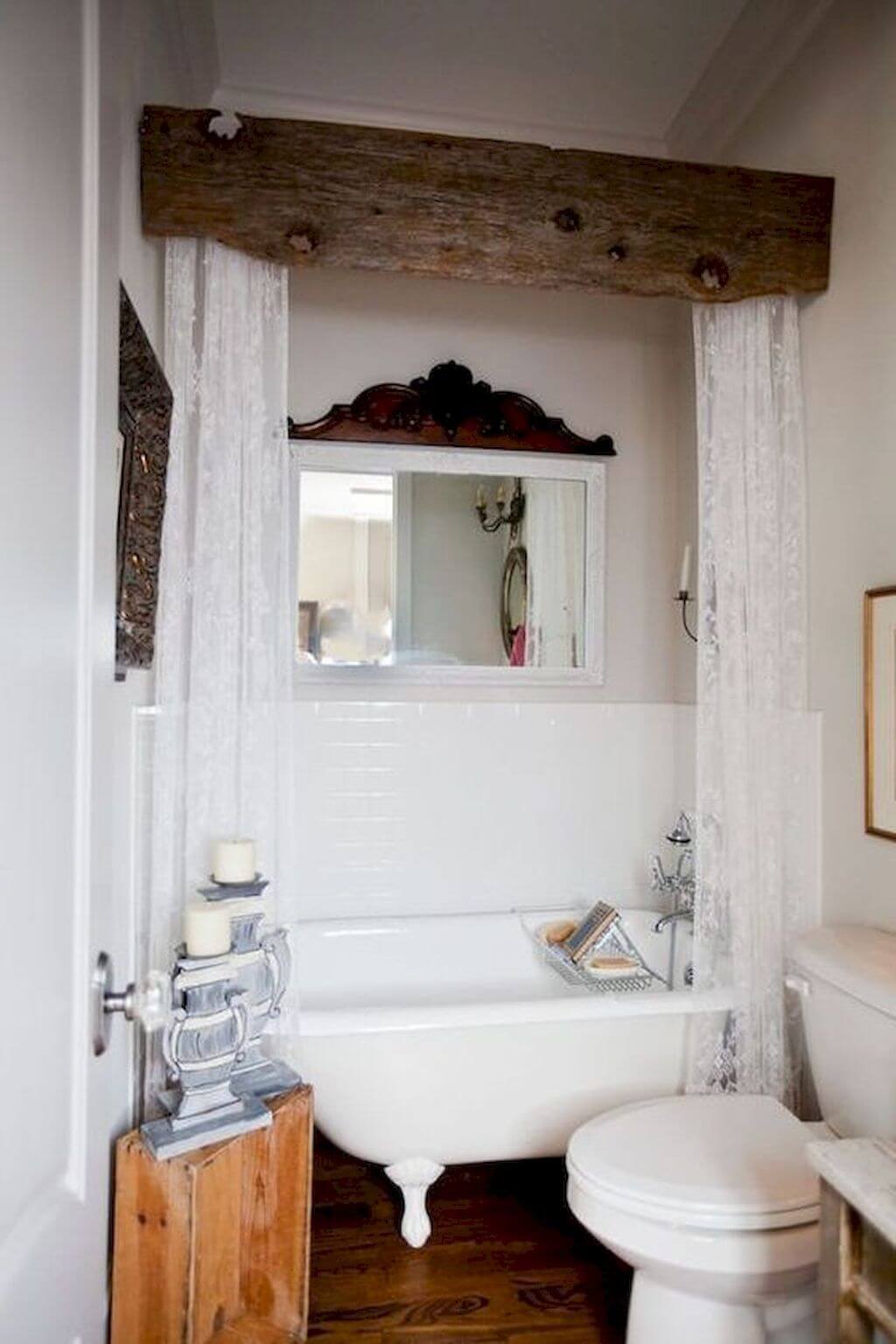 19. Cottage Style Bathroom Idea with Brick Floors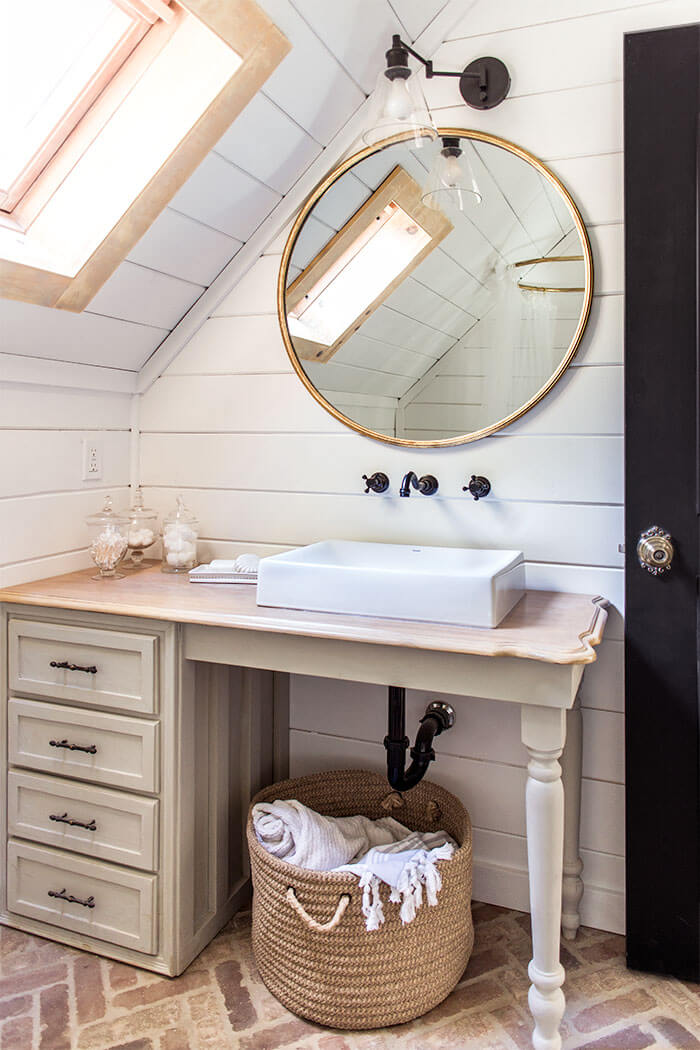 20. Oval Mirror with Pedestal Sink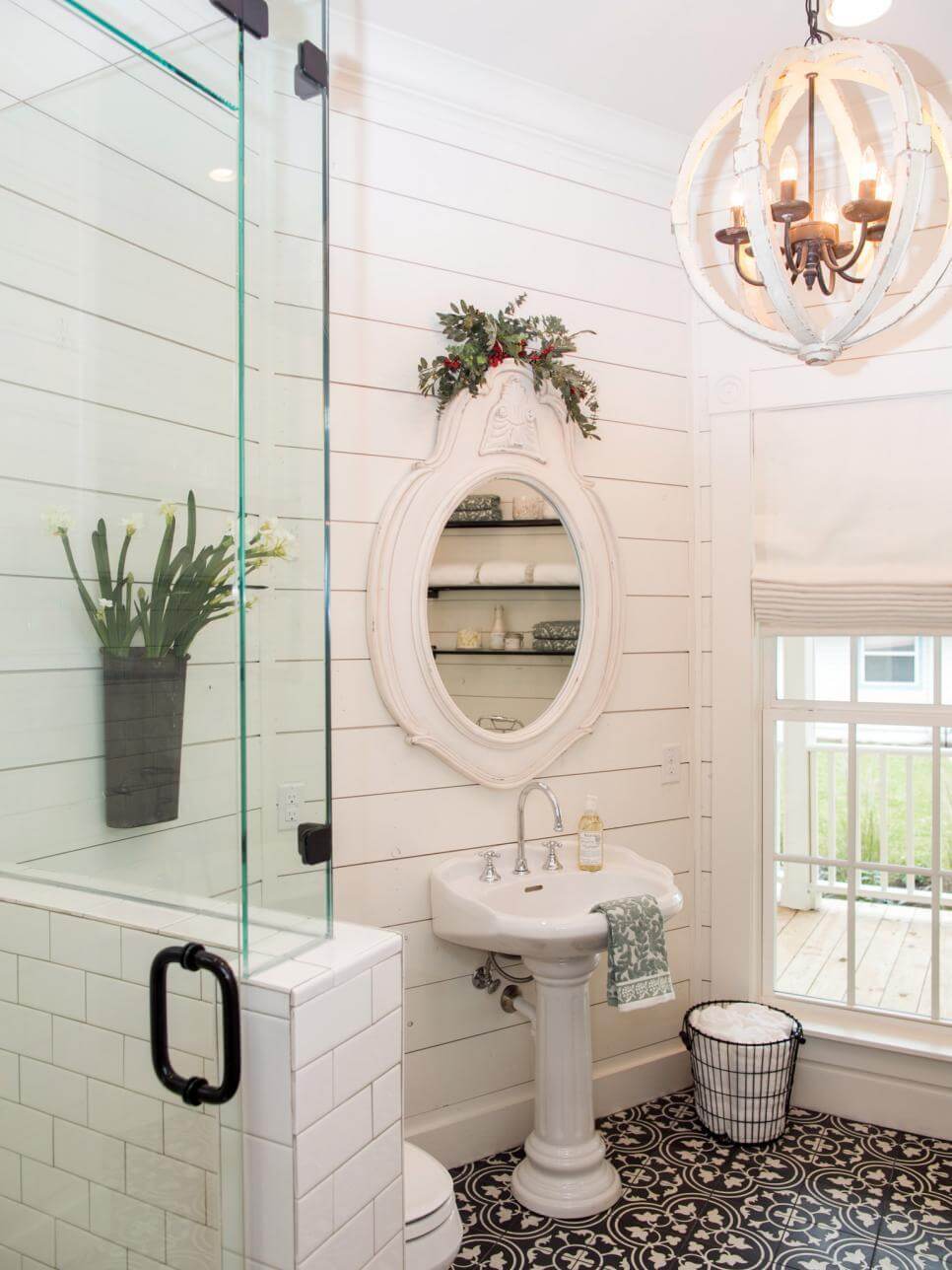 21. Sea Blue Bathroom with Practical Vanity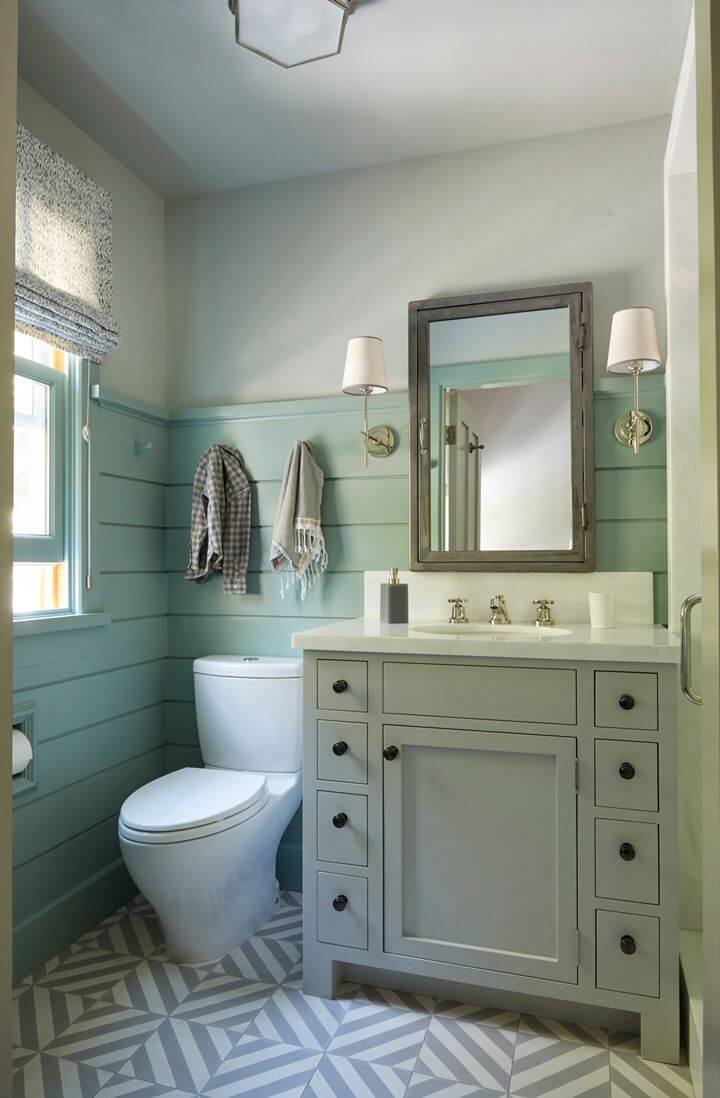 22. Marble Countertop and Wide Silver Mirror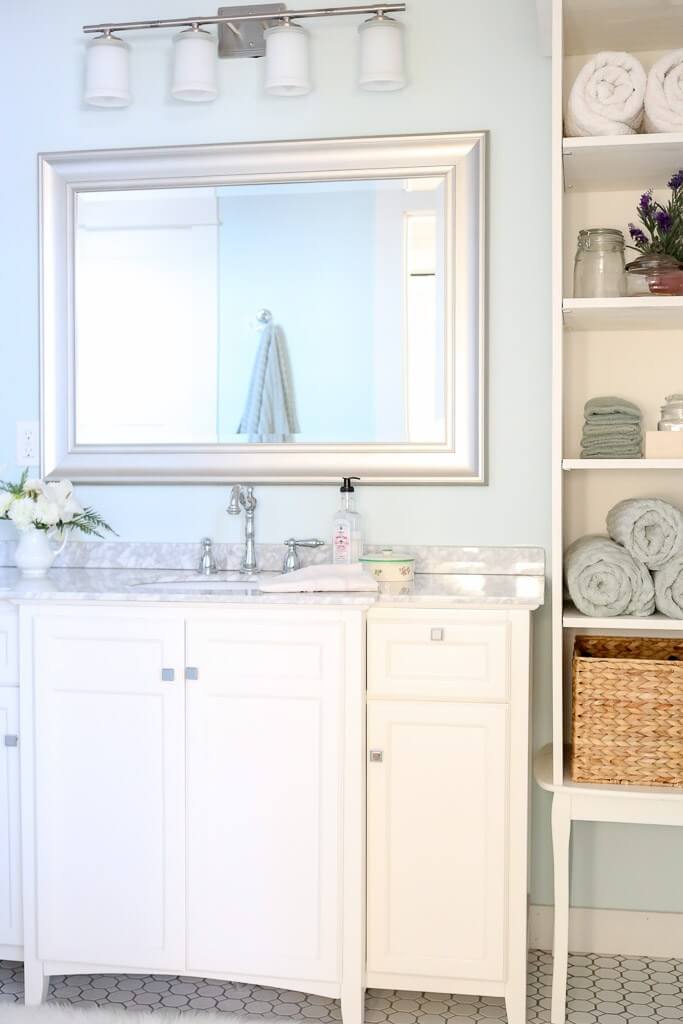 23. Beautiful White Cottage Style Vanity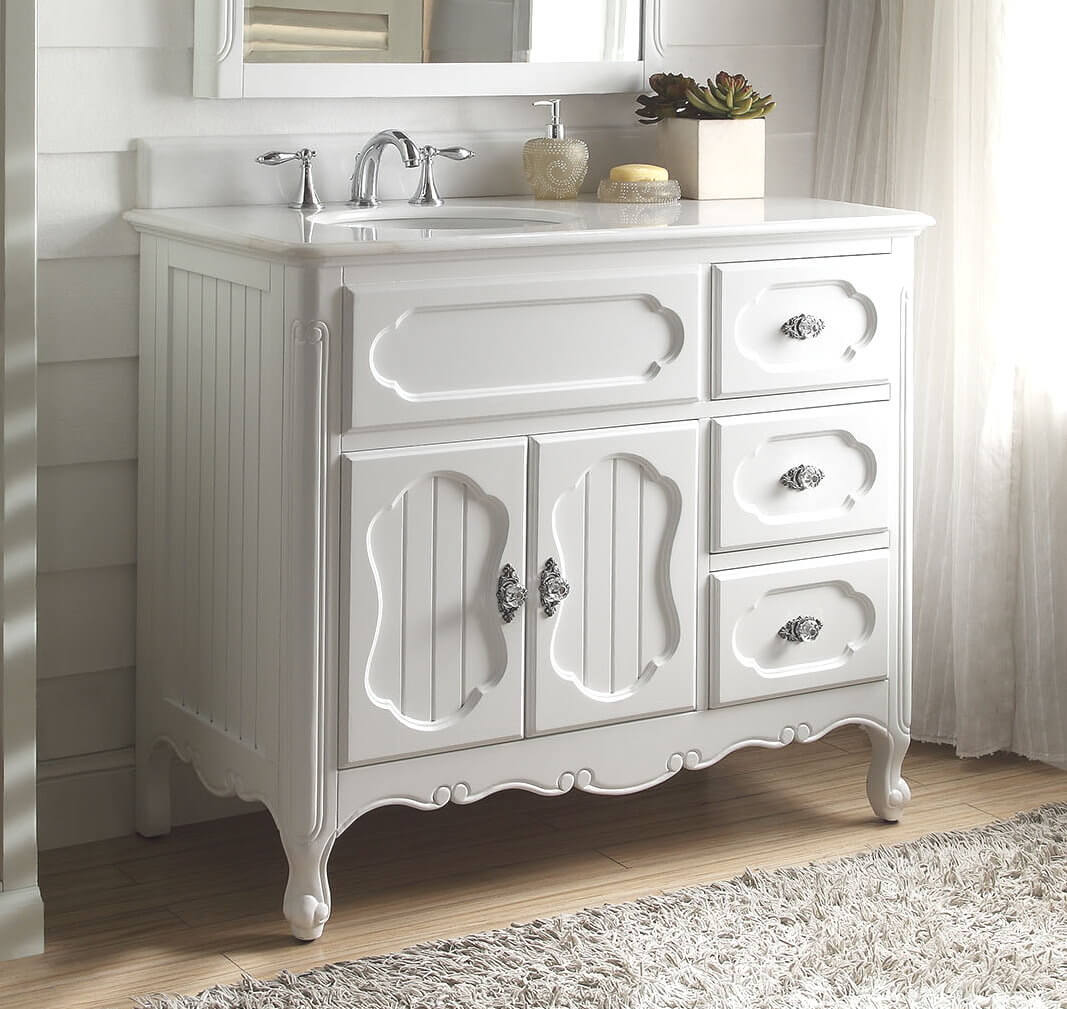 24. Double Converted Vanities and Tile Floor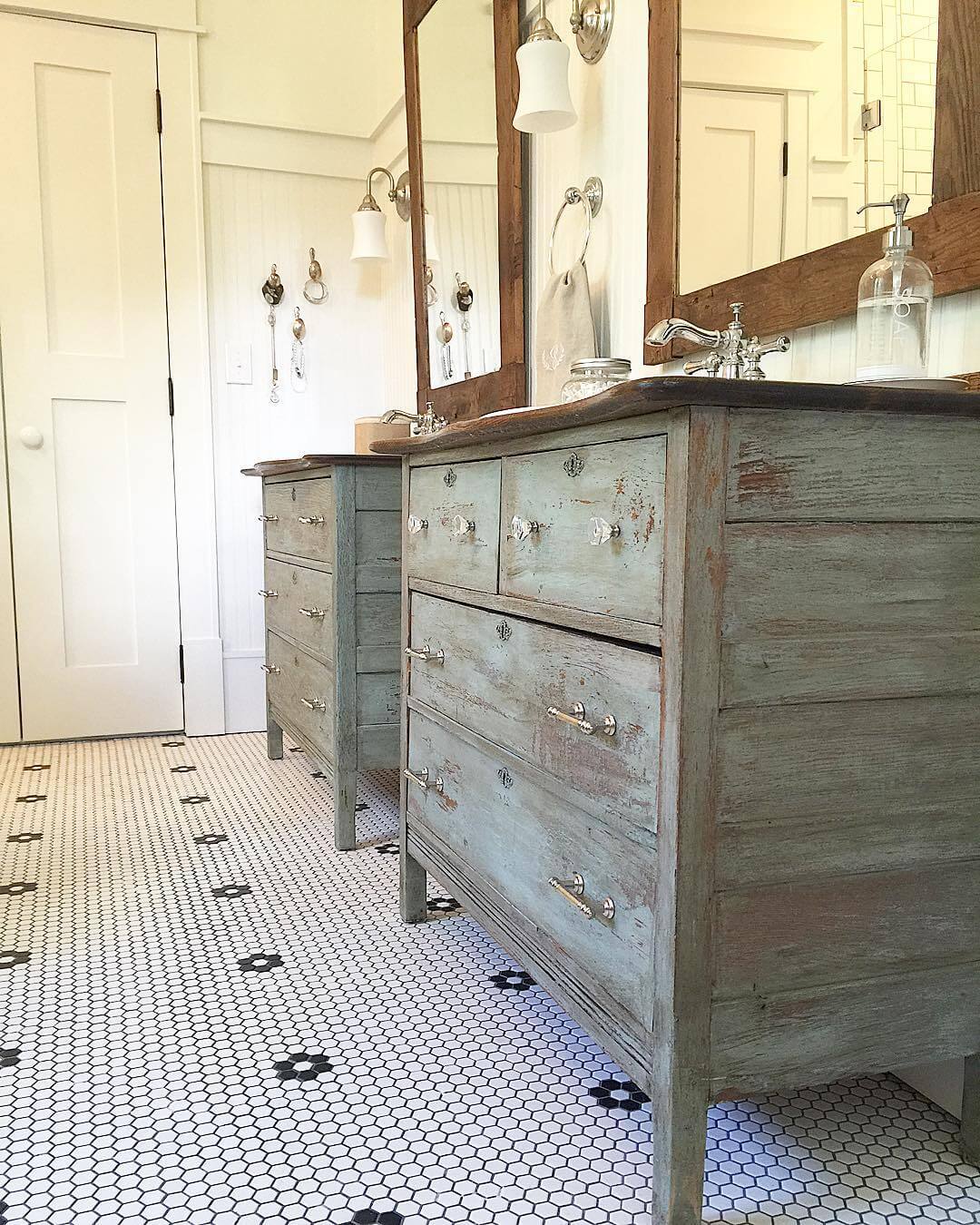 25. Cottage Style Bathroom Idea with Farmhouse Sinks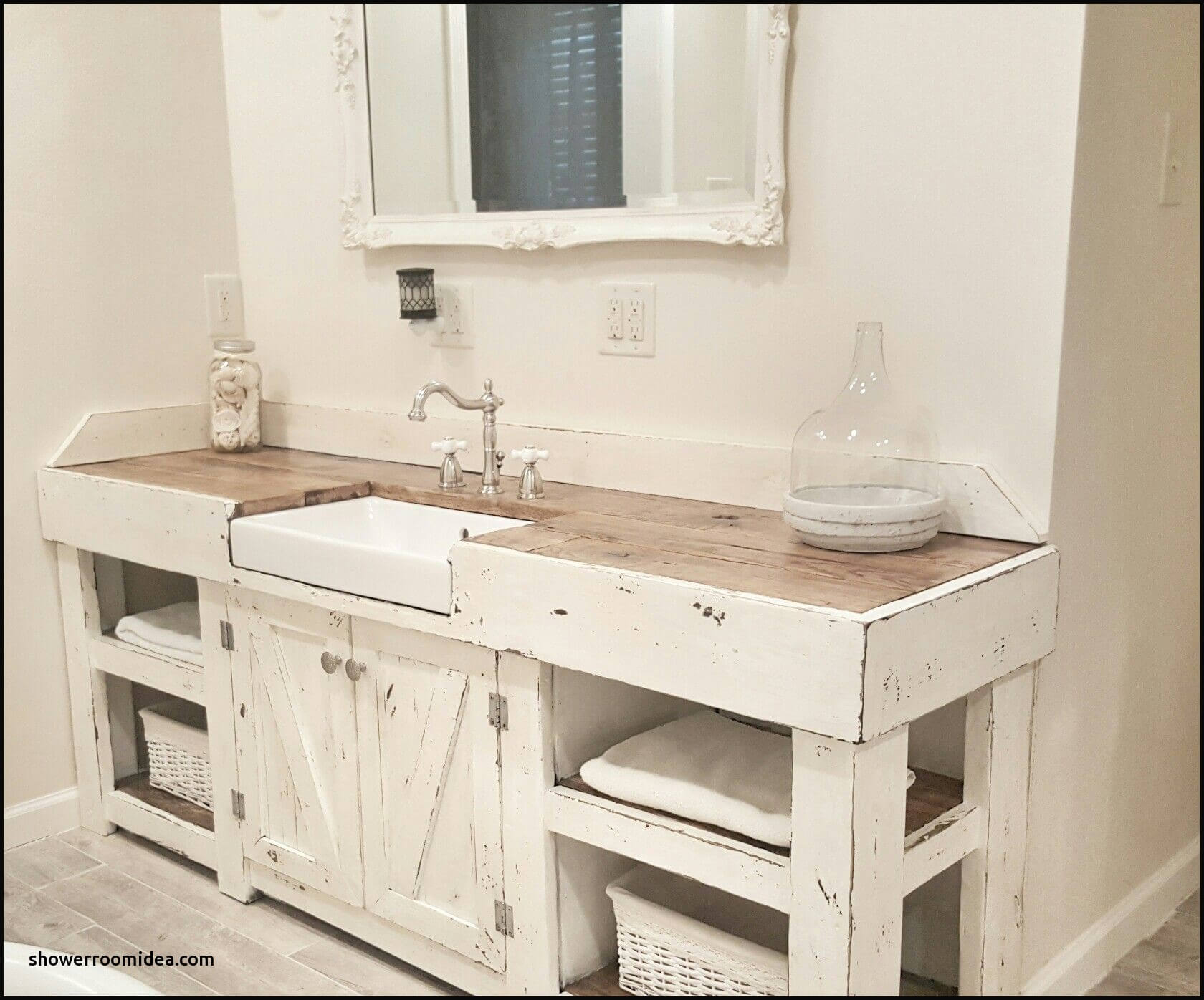 26. Pretty Cottage Style Bathroom with Rustic Wood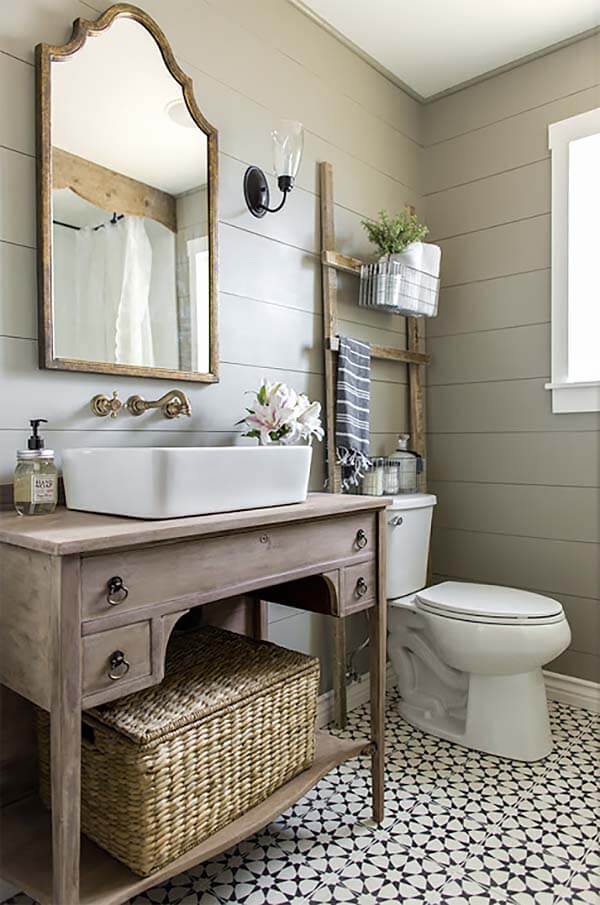 27. Cottage Window Style Mirror and Vintage Light Fixture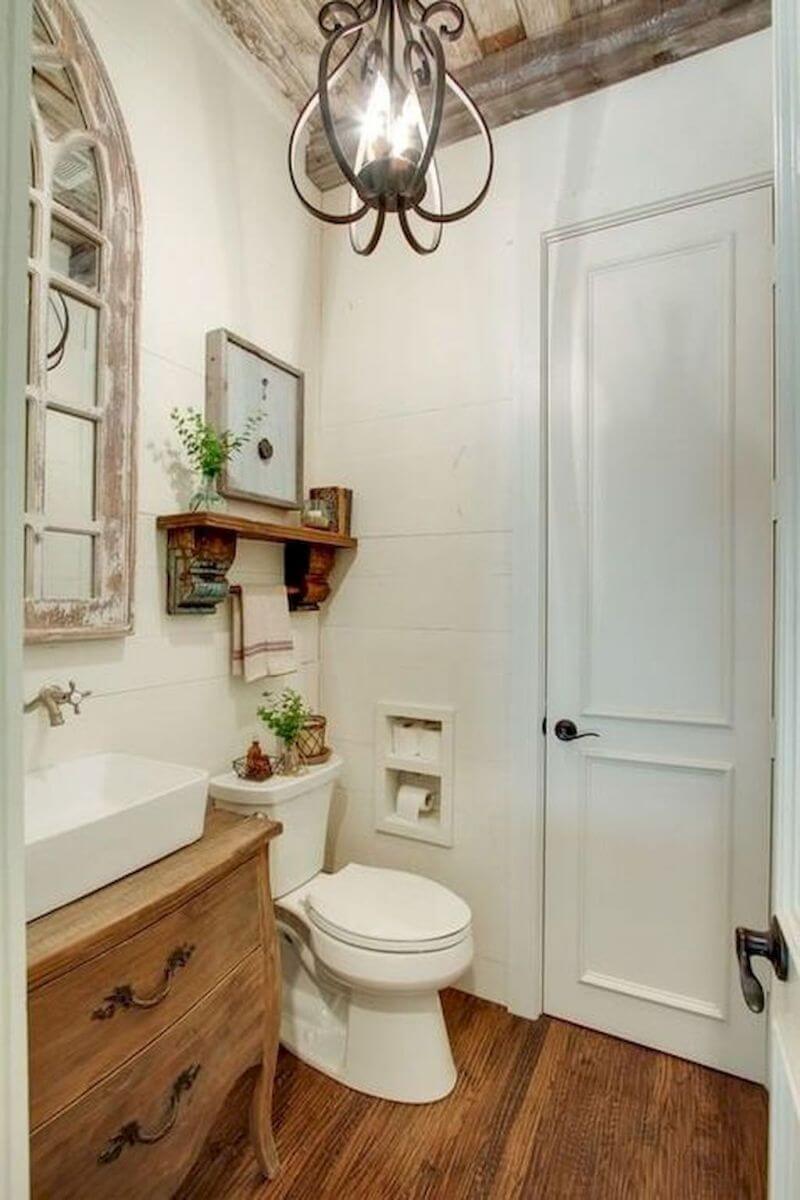 28. Intricate Tiled Backsplash with Old Fashioned Lights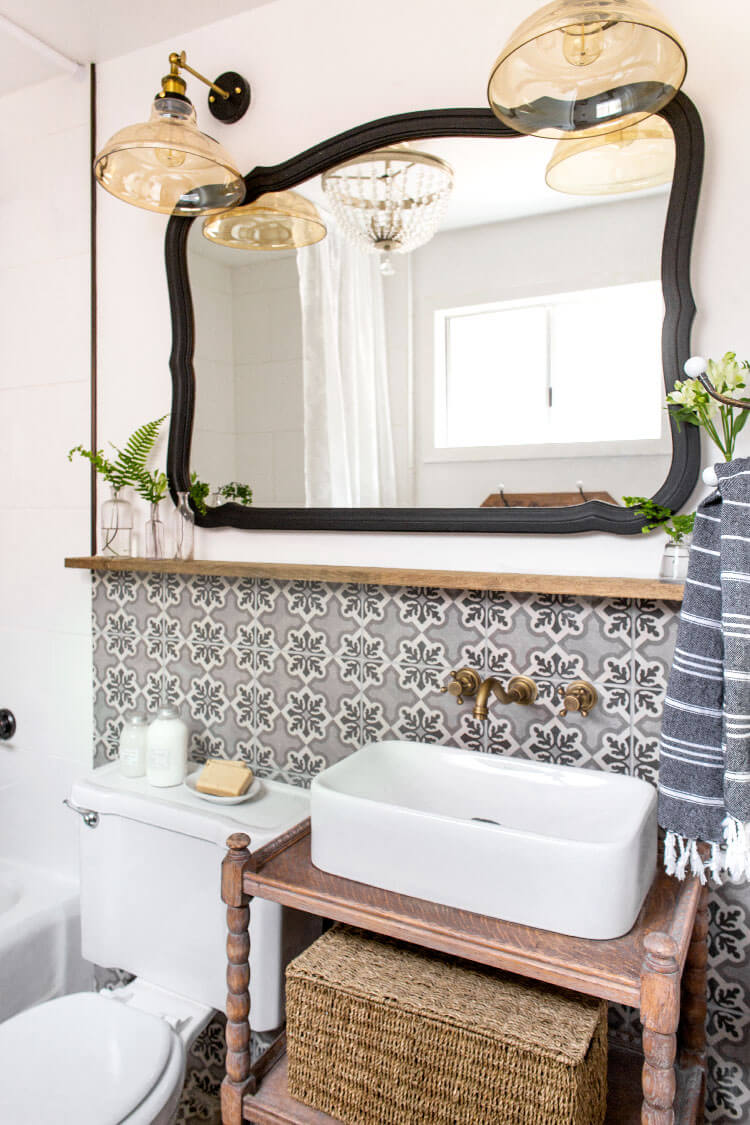 29. Distressed Wood Mirror with Clean White Vanity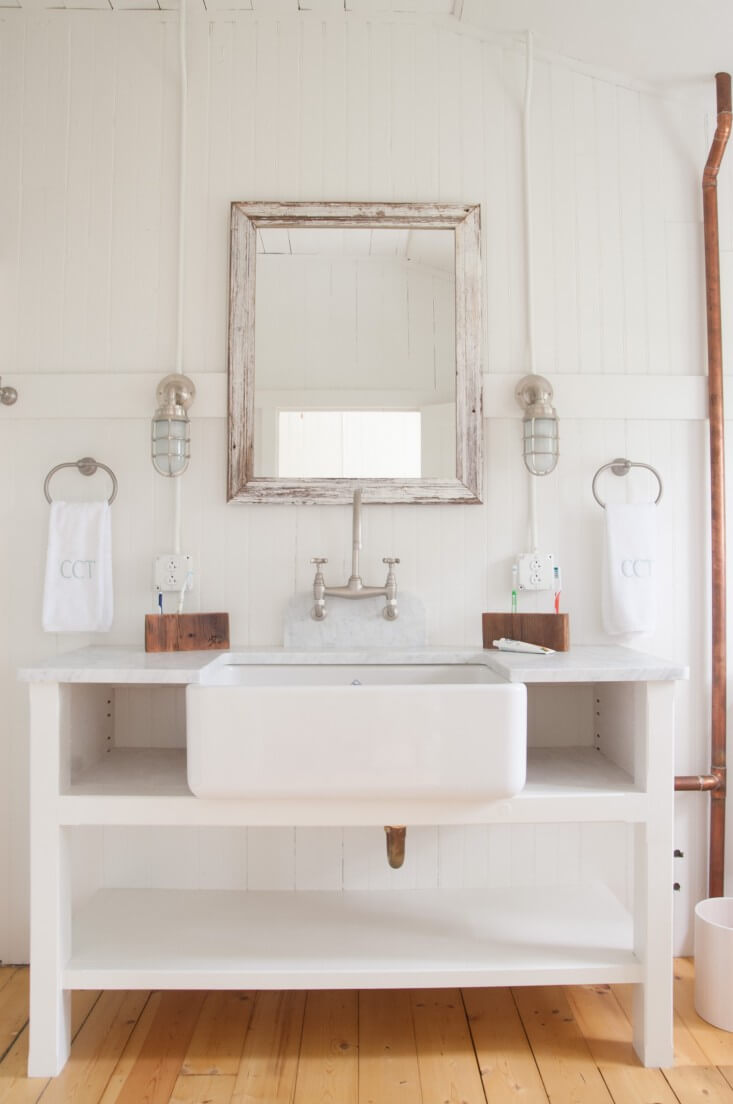 30. Subway Tiled Bath Surround with Monogrammed Curtain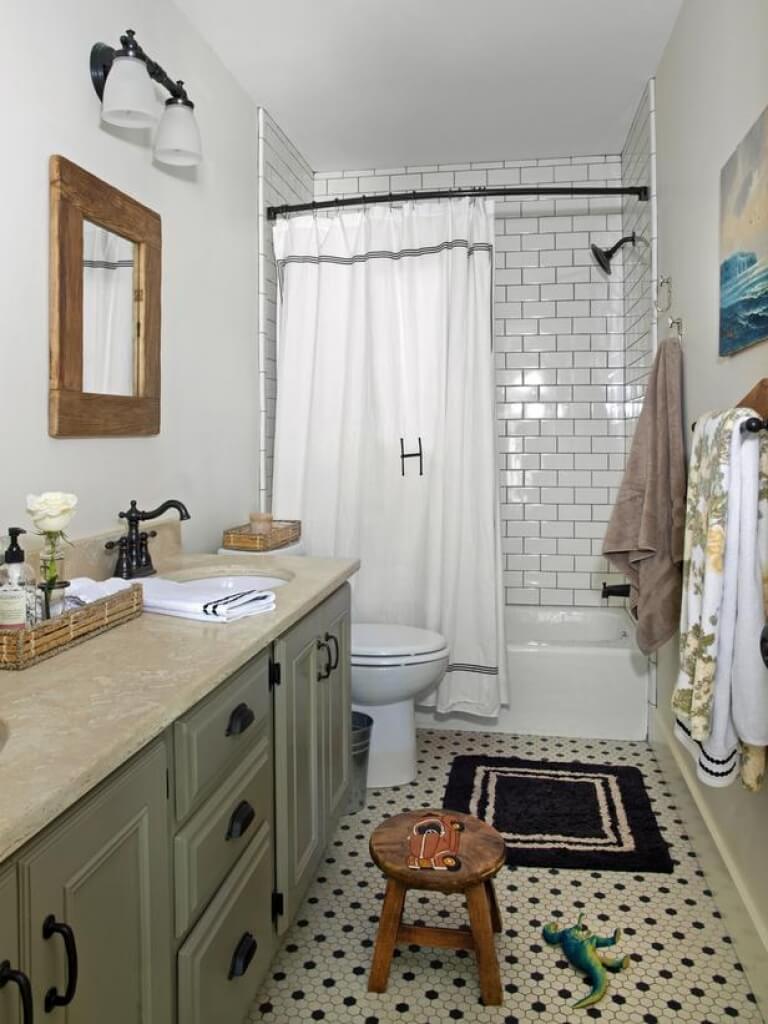 Our Favorite Farmhouse Storage Items to buy on Amazon