If you love soft, romantic, vintage-inspired decorating styles, you will love this list of shabby chic bathroom ideas. Each of these projects transforms your bathroom from plain to pretty with very little effort. Looking to add just a touch of the vintage vibe to your space? Try one of the shabby chic bathroom designs for a lace, ruffle, or rosette shower or bathtub curtain. It will transform the room instantly! For a larger project, try one of the shabby chic bathrooms that repurposes an old table or dresser into a beautiful sink vanity.
28 Wonderful Shabby Chic Bathroom Décor Ideas You Will Love

Storage is so important in bathrooms, which is why these designs has tons of easy storage projects! Wood shelves, baskets, and repurposed armoires all provide pretty and practical storage solutions. When decorating your new bathroom, don't forget the details! This list has inspiration and projects for pretty décor items like fancy accessories, DIY art pieces, and pretty faux plants that will always look amazing. Many of these shabby chic bathroom decorations feature an elegant chandelier, really putting the "chic" in "shabby chic."
1. Shabby Chic Dressing Table and Tub Shelving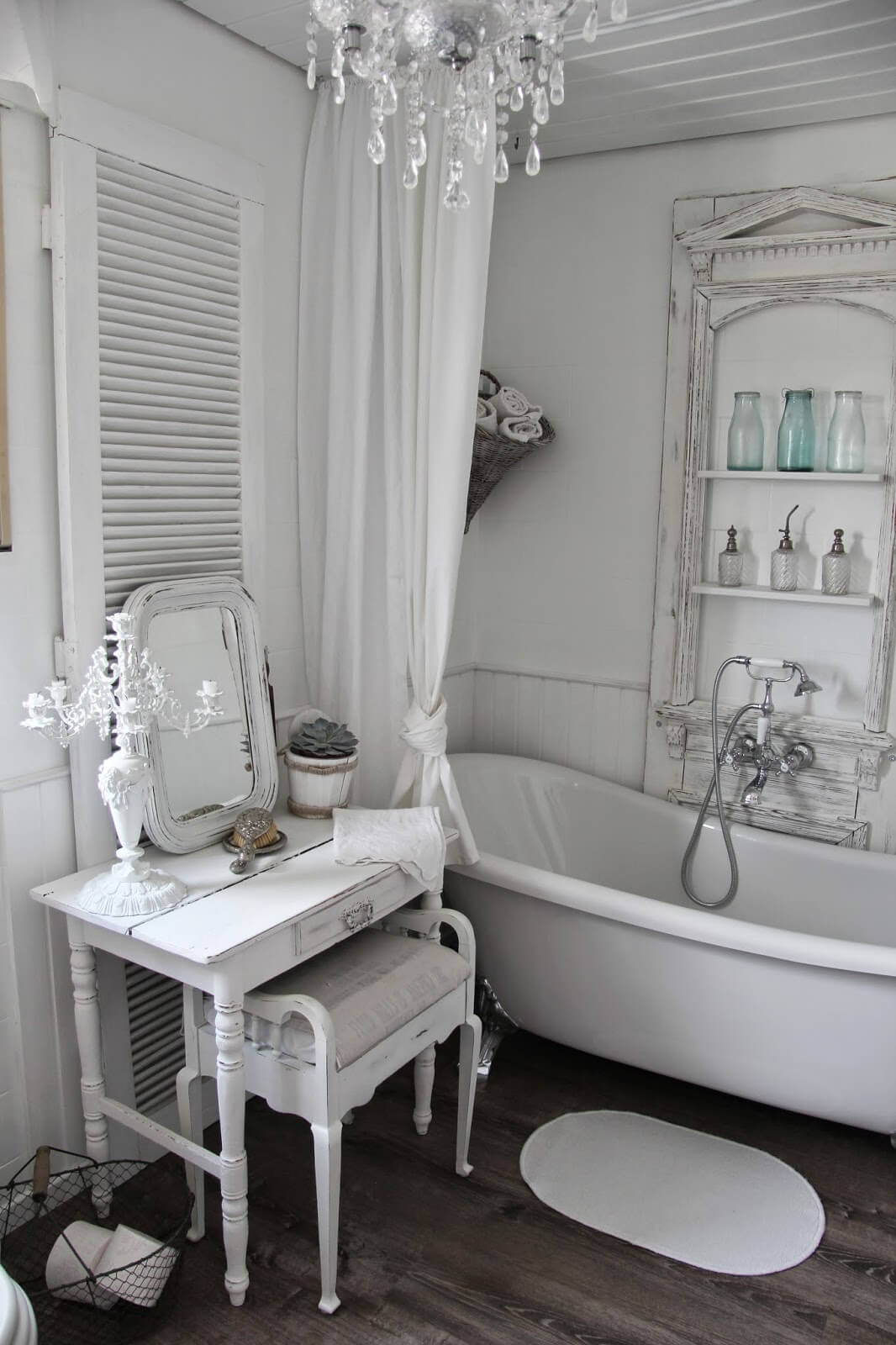 The slightly distressed wooden cabinets adjacent to the bathtub add a functionality and a chic style that juxtapose the crisp white bathtub quite tastefully. Couple that with a similarly distressed wood encased mirror and the whole room seems to pop as it becomes a contemporary blend between rustic and elegant.
2. Wood Ladder Basket Bathroom Storage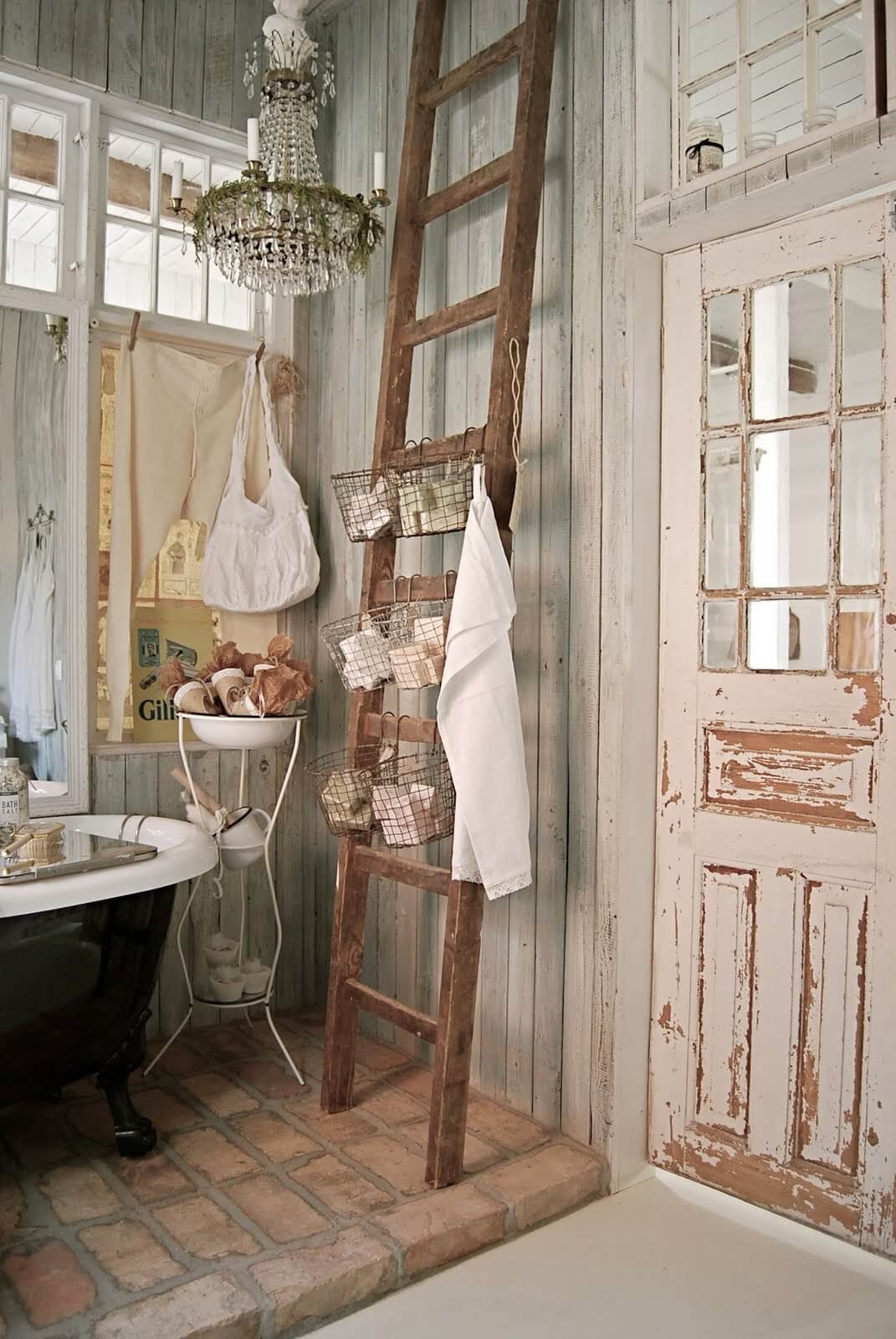 Using a wooden ladder as a form of bathroom storage is both creative and aesthetically appealing. Hanging baskets from the ladder can add functionality to form and make great use of the space. Not to mention, the wooden ladder artfully compliments a bathroom that already contains brick of some variety. This is a great fit for small bathroom ideas.
3. White Washed Wood Shelving Organizer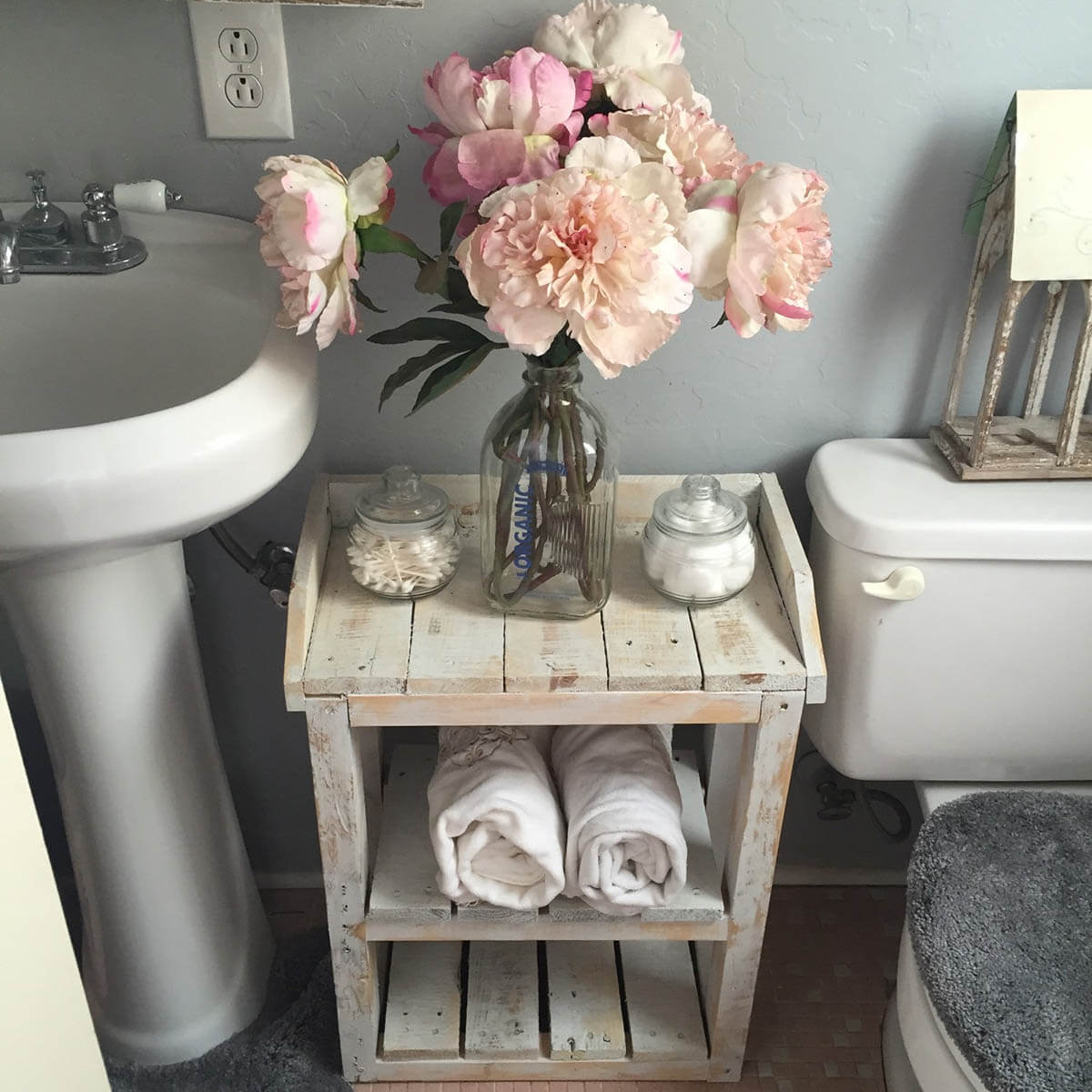 This whitewashed wood shelving organizer is quaint and utilitarian in its nature. It won't consume too much valuable bathroom real-estate, while simultaneously enhancing the space it occupies. The top shelves can be used for housing decorations while the bottom shelves can hold towels or a variety of other bathroom necessities.
4. Pretty Ruffled Shower and Sink Curtains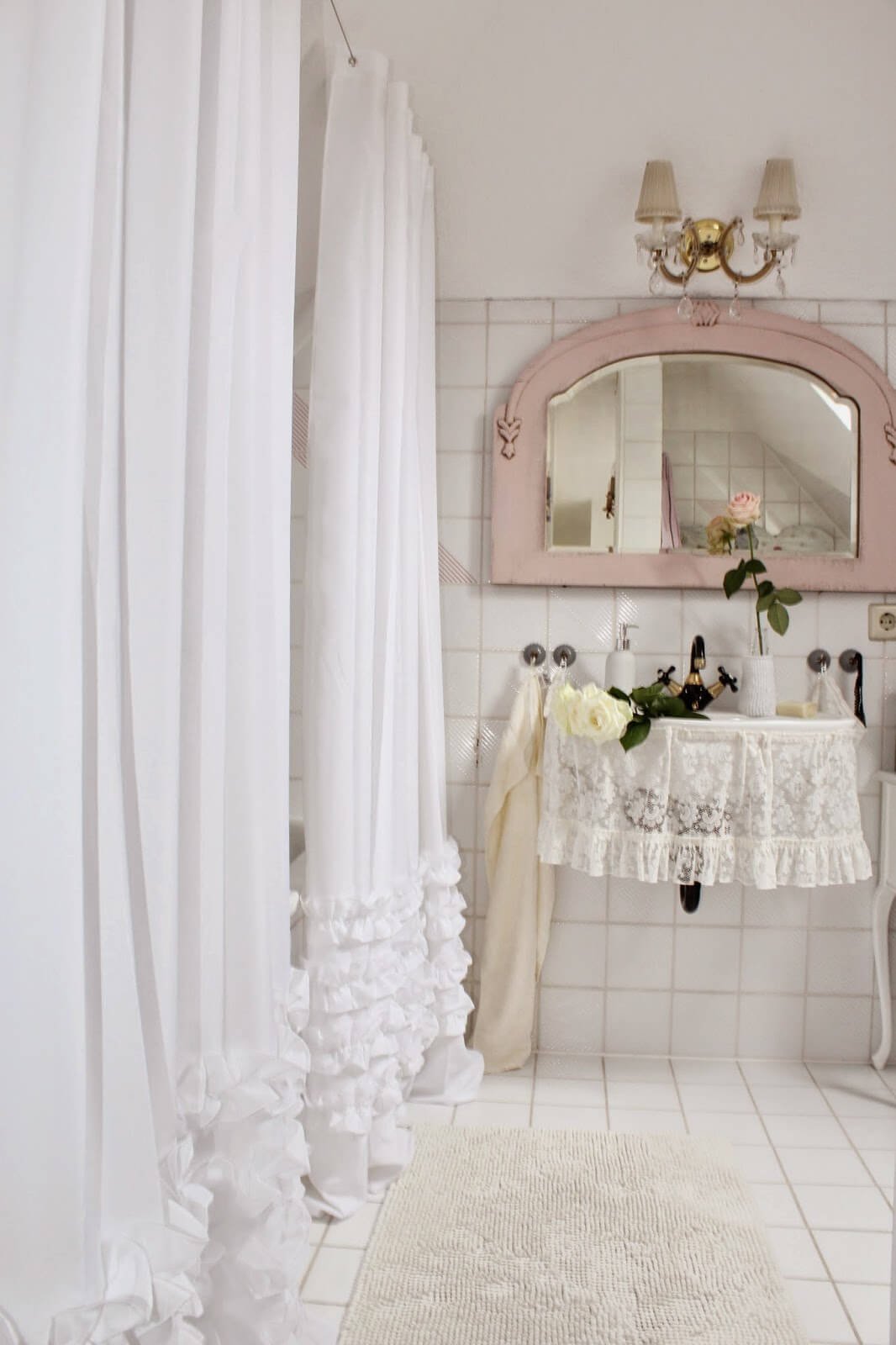 Curtains can be an excellent way to accentuate the preexisting beauty of one's bathroom. If done correctly, ruffled shower curtains can draw attention to themselves, while still remaining tasteful. Sink curtains, on the other hand, can be a real show stopper and add the "wow" factor that many people seek when divulging their creativity in interior design.
5. DIY Glass Chandelier Art with Ruffle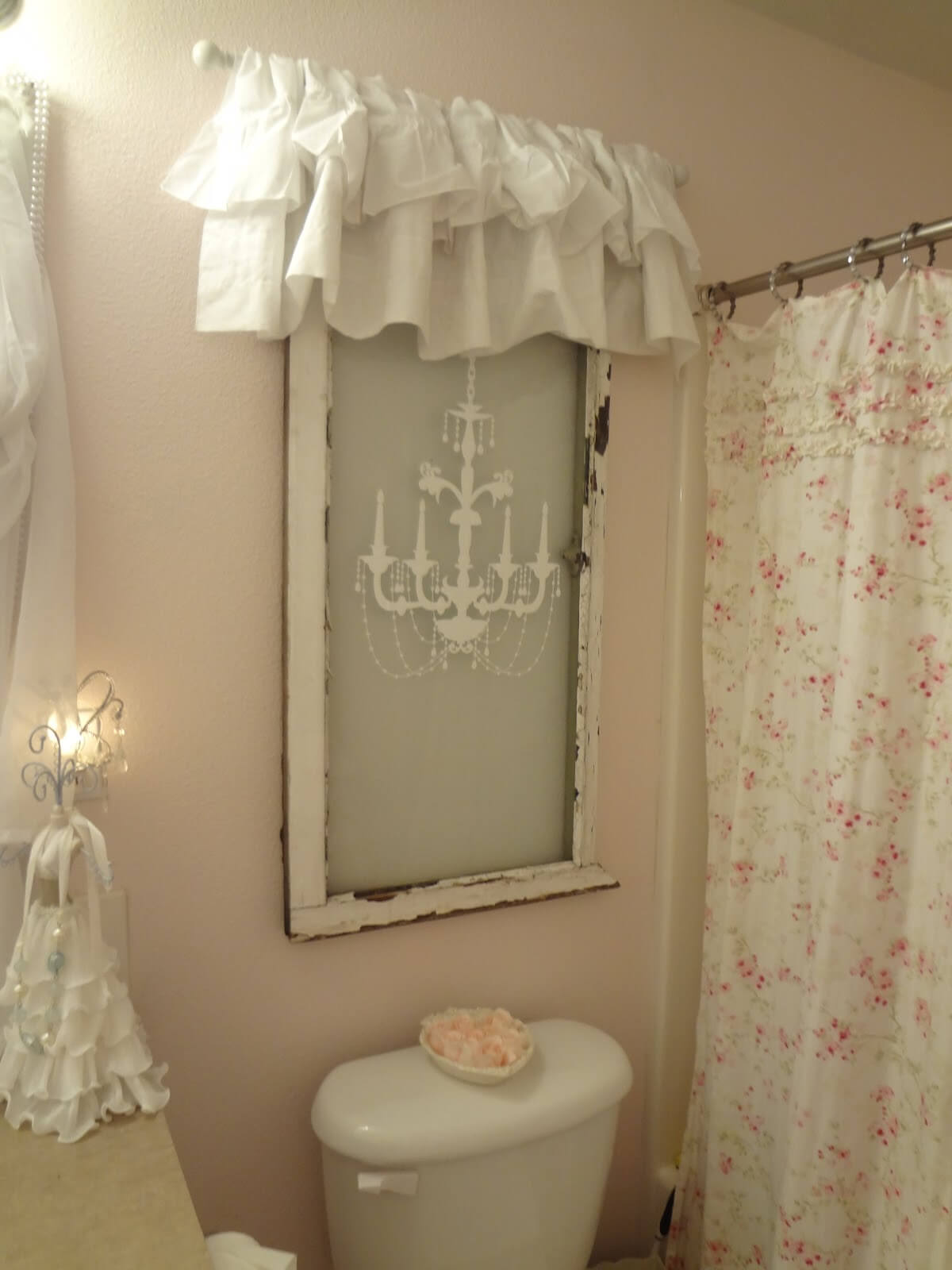 Glass chandelier art can be a great way to add the look of a chandelier into one's bathroom without having to install an actual hanging piece. The smokey glass backdrop to the art itself makes it a good choice for nearly any bathroom and the ruffles over the top add an additional flair, accenting the chandelier outline quite nicely.
6. Repurposed Sideboard Sink Vanity with Storage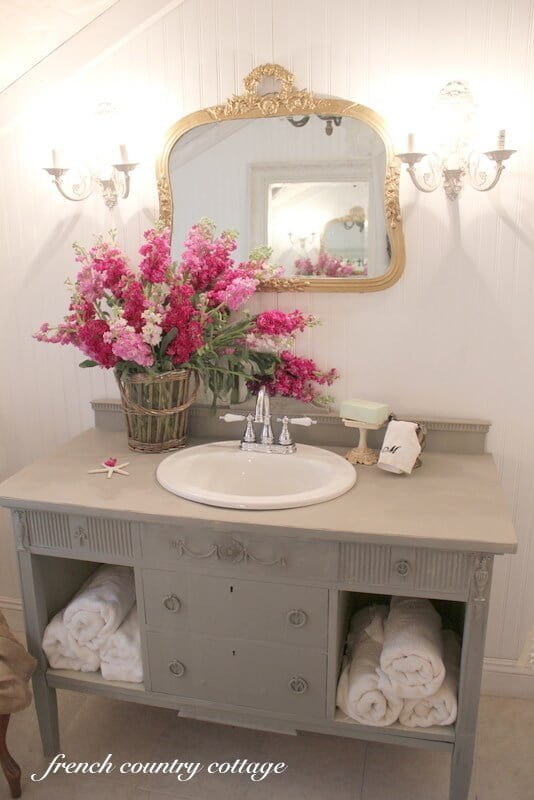 This repurposed piece can look immaculate in almost any bathroom. The functionality of the vanity is not lost, making it a great alternative to cabinets in terms of storage. Also since by nature the piece is repurposed, the color scheme of the vanity can be changed to match the particular plate of one's bathroom.
7. Antique Bathroom Table with Plant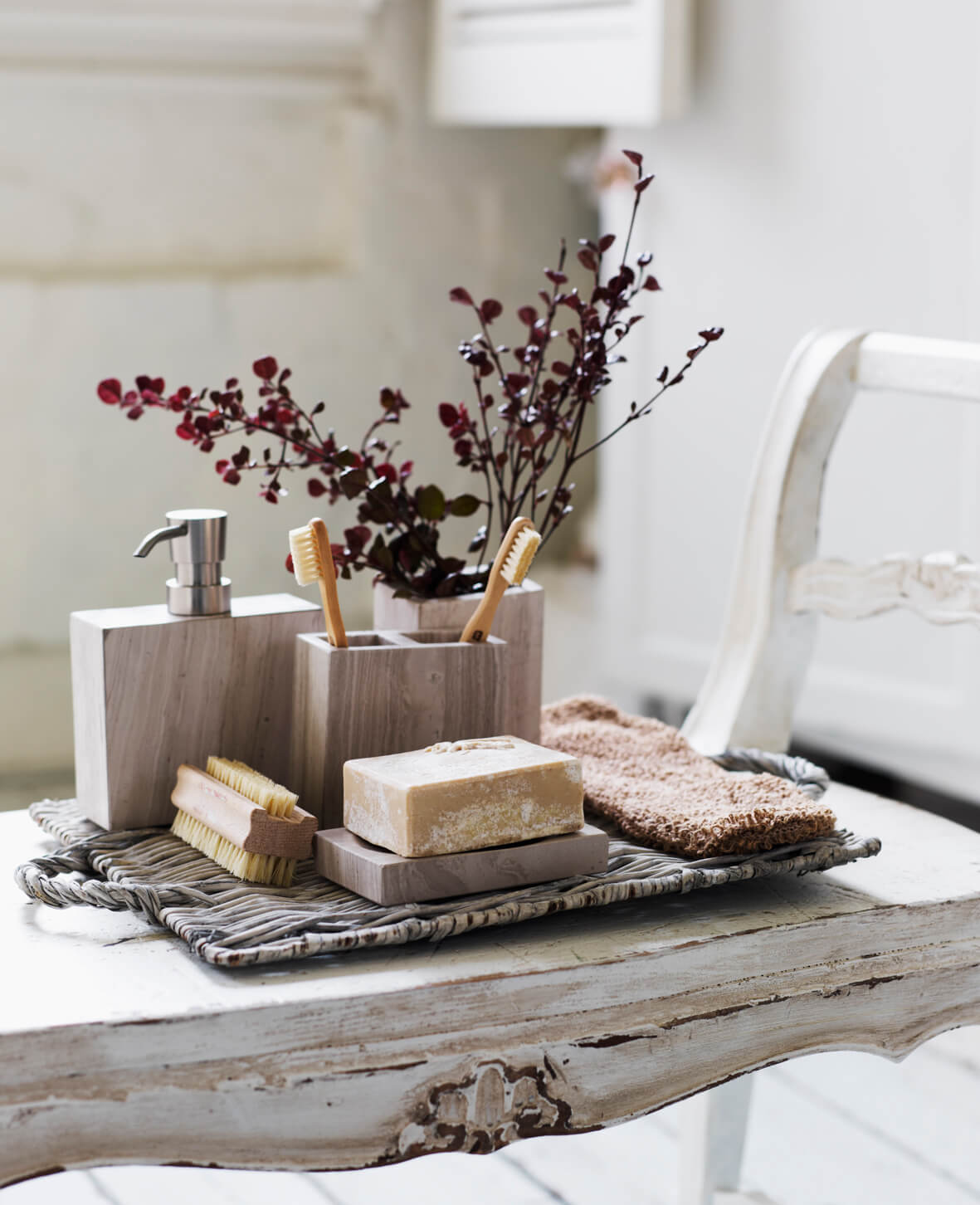 The antique bathroom table accompanied by a plant can be an excellent way to add a sophistication to one's bathroom. The plant adds a homey feeling to the bathroom, while the table can serve as either an efficient storage area or a simplistic yet sophisticated piece.
8. Pretty Vintage Above-Sink Mirror Frame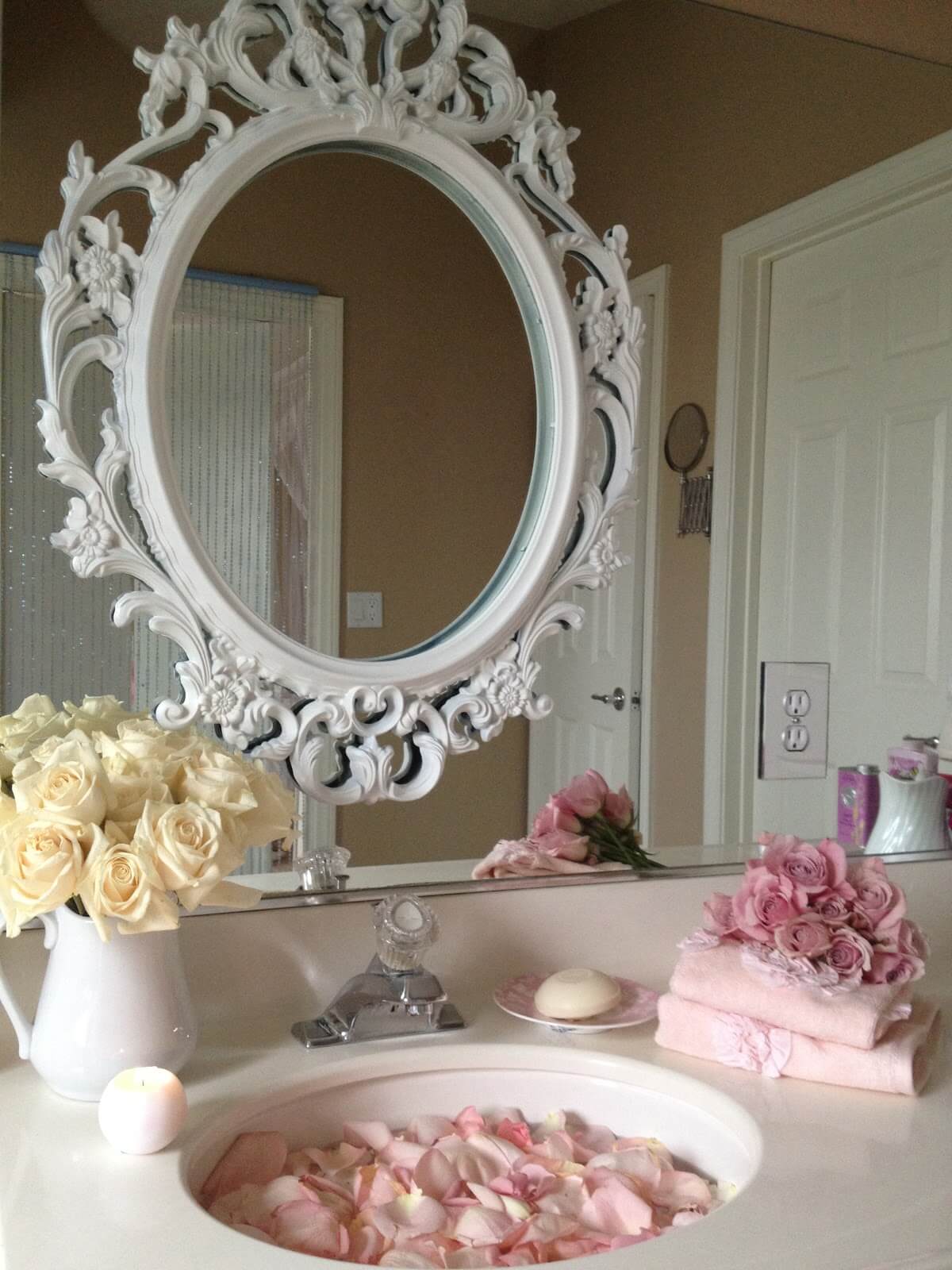 An above the sink vintage mirror frame can be an outstanding way to add some life to a bathroom. The mirror frame focuses one's attention back on oneself when either washing, brushing or otherwise looking into the mirror. In addition, the frame adds a chic touch that is tantalizing to the eye.
9. Shabby Chic Bathroom Vanity with Lace Features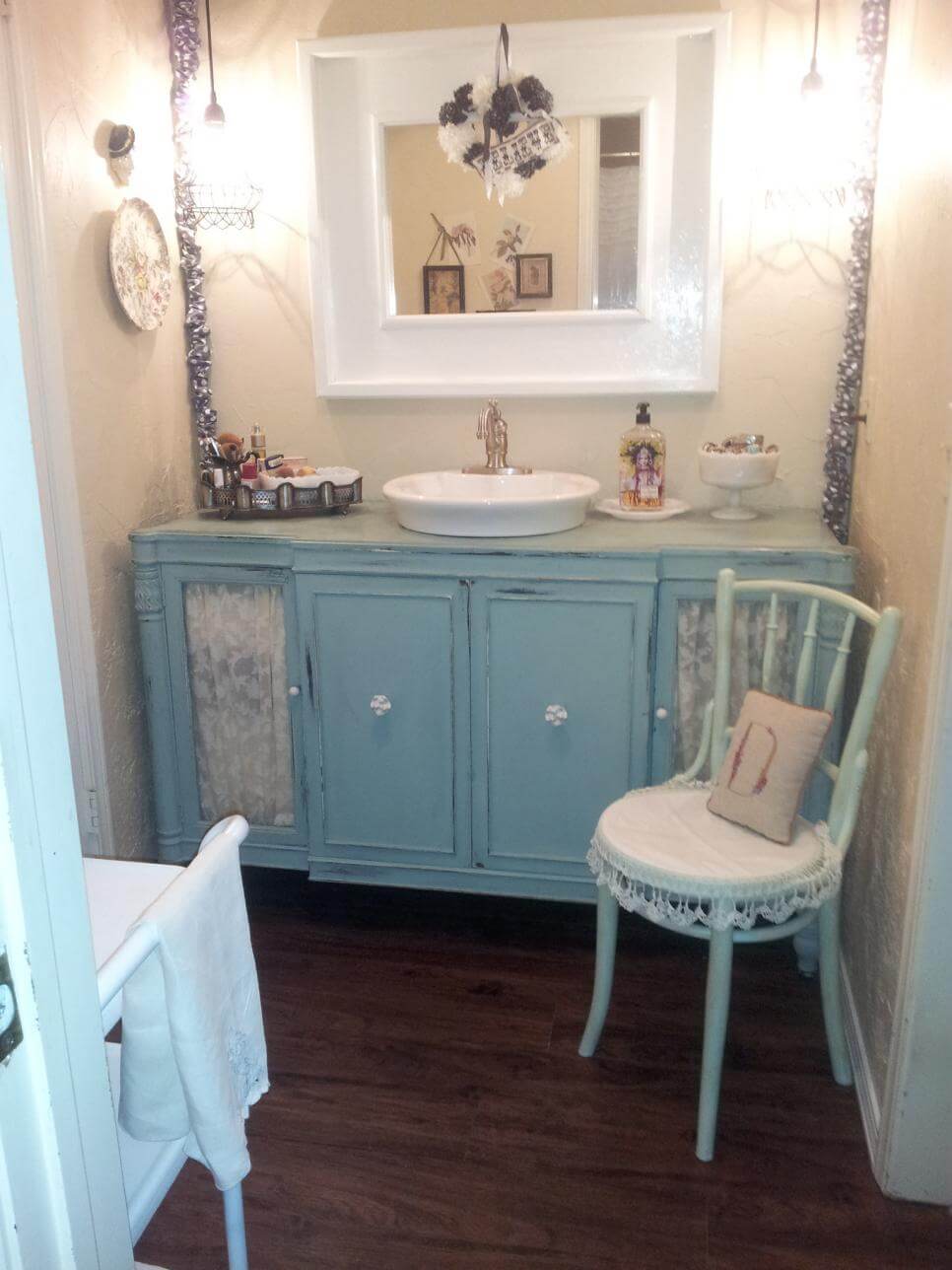 A slightly distressed bathroom vanity with lace features may perhaps be the definition of "shabby chic." Vanity's, in general, can enhance a bathroom both aesthetically and functionally and adding the additional lace features only accentuates the persisting positive qualities that a vanity brings.
10. Mounted Wire Basket Bathroom Storage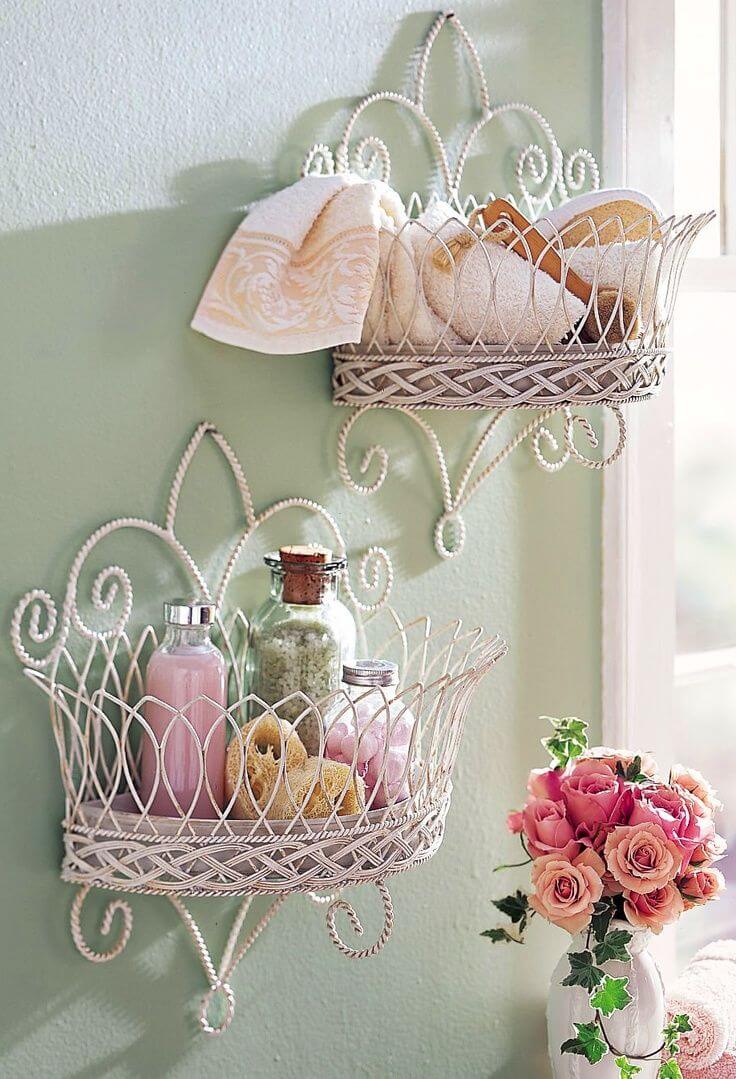 Mounted wire baskets are a creative way to store bathroom essentials. Mounting wire baskets to the walls of the bathroom proves to be space efficient and has the added benefit of adding unique designs and textures to one's bathroom walls. If searching for a space-efficient storage design, this may be the way to go.
11. DIY Eclectic Mirror Gallery Wall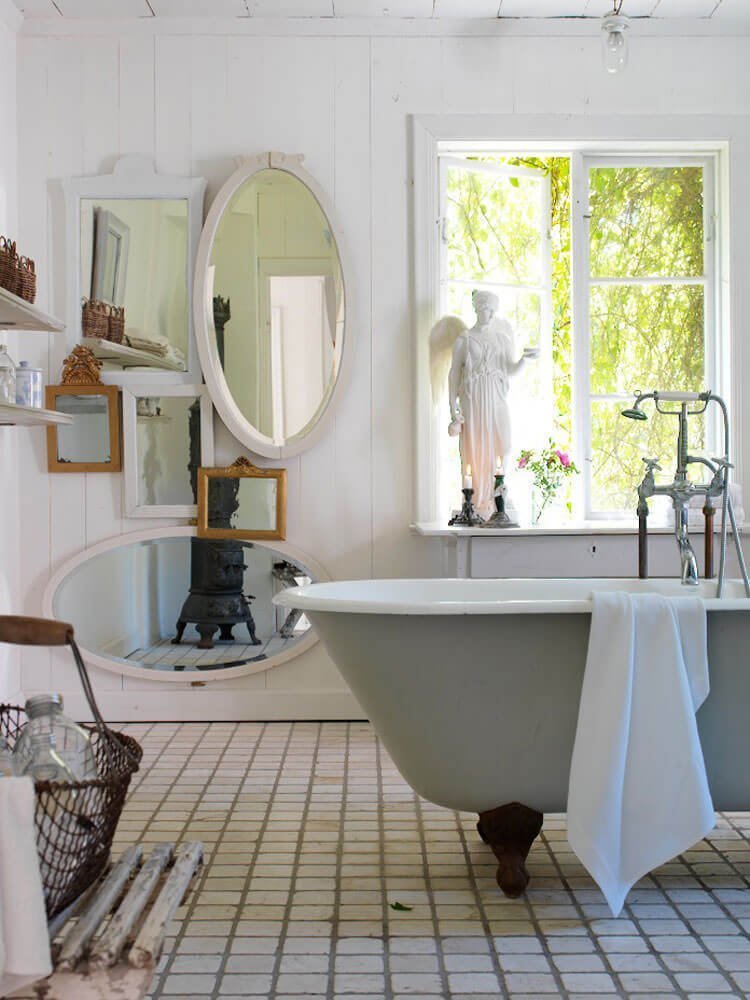 A mirror gallery wall can complete a bathroom's artistic and chic vibe. By choosing an array of different mirrors, one can heighten the aesthetics of the walls while simultaneously creating the illusion that the bathroom is larger than it actually is. Not to mention, there's the added functionality of multiple mirrors.
12. Shabby Chic Rosette Bath Tub Curtain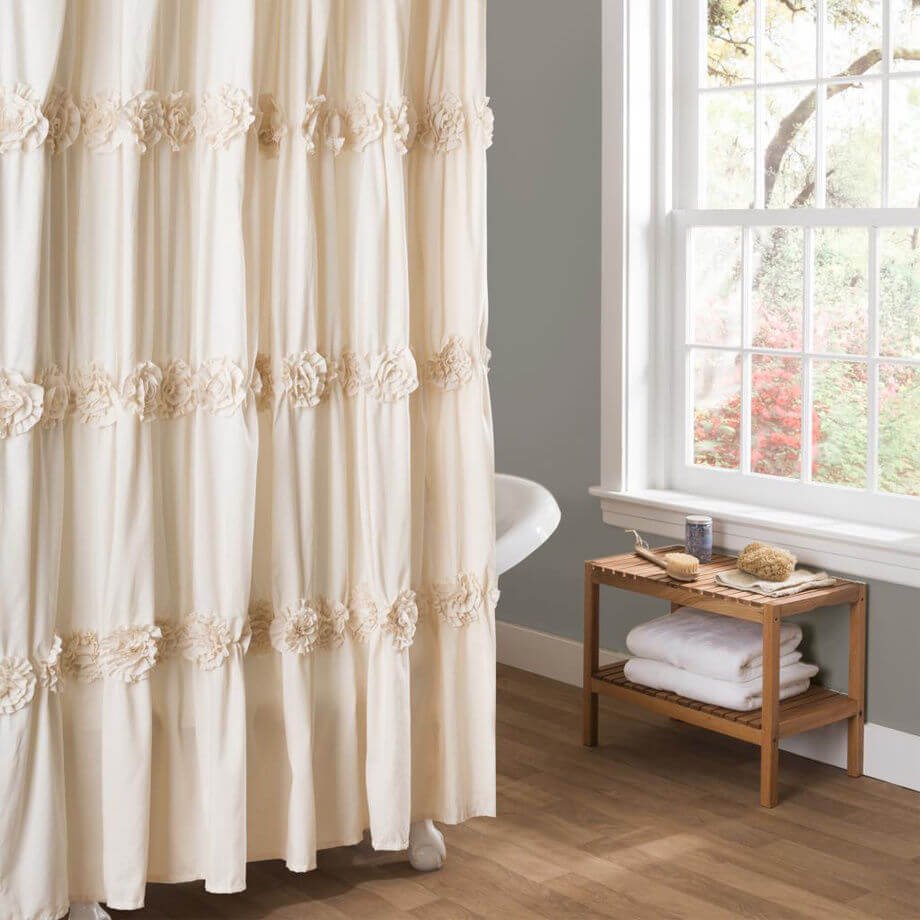 This rosette bathtub curtain has a beautiful pattern displayed throughout and amplifies the solid colors and wood flooring of the bathroom around it. Although pictured in a somewhat modern bathroom, a rosette curtain would add a bit of a vintage chic look to any bathroom.
13. Antique Window Bathroom Privacy Divider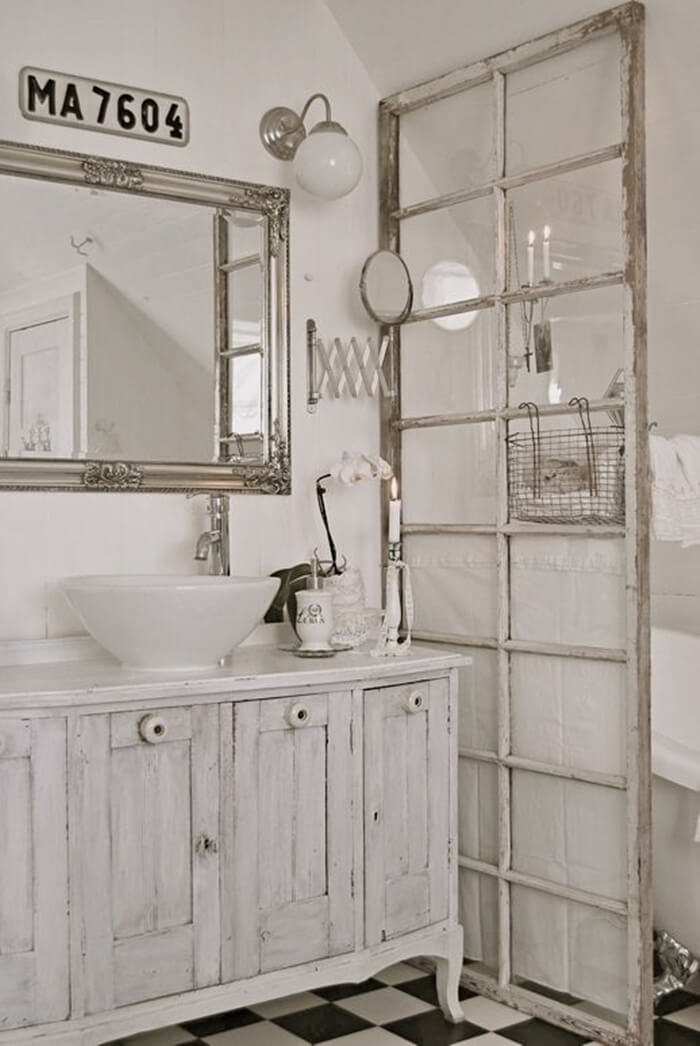 This antique window bathroom privacy divider is the definition of stylish. Its rustic look would excellently compliment a bathroom of similar color or general visual tone. It provides just the right amount of privacy while remaining visually appealing and spatially conscious.
14. Shabby Chic Bathroom Décor with Clawfoot Tub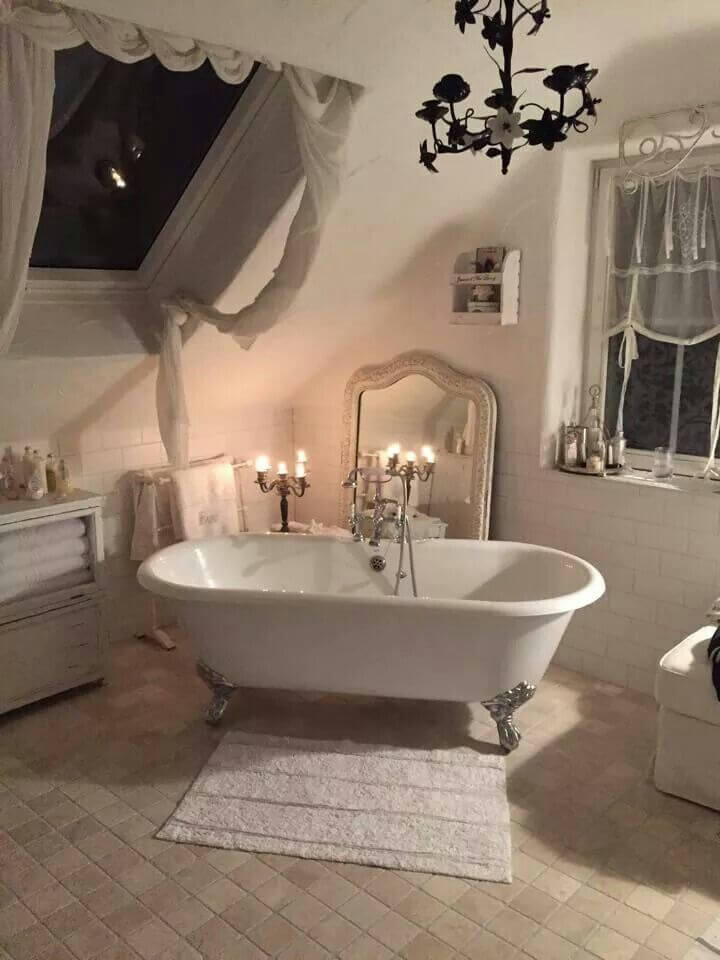 This bathroom decor screams chic. The decor paired with the Clawfoot tub weaves a tapestry of artistic vision and beauty. Every piece of decor is similarly stainless steel or uniformly colored, displaying a unique amount of forethought into the design. The candles surrounding the tub also allow for an overall rustic and which feel.
15. Dramatic Lace Bath Tub Privacy Curtain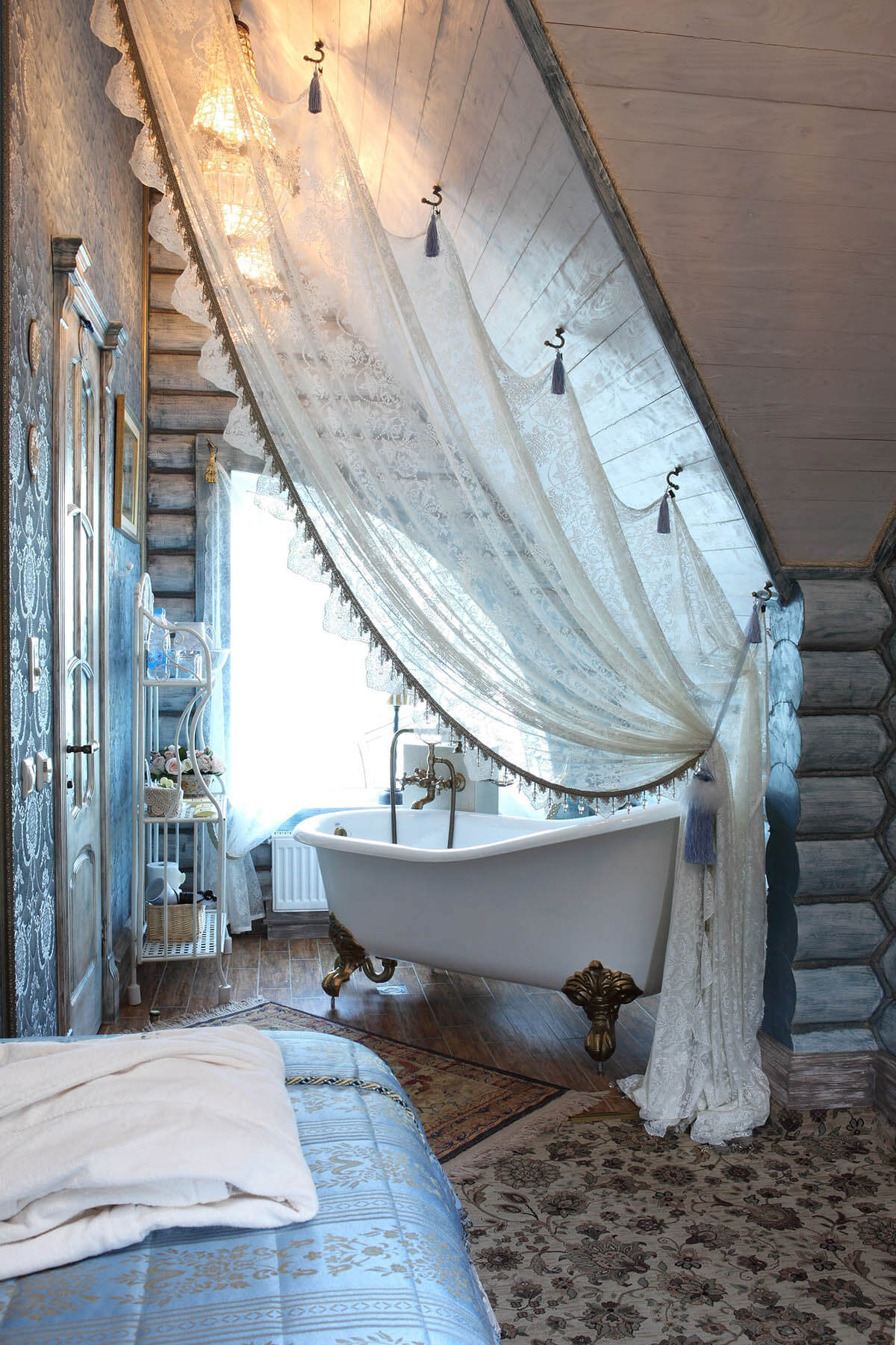 A lace bathtub privacy curtain is extravagant and classy at the same time. Draping it from the ceiling provides privacy and enhances the spatial dynamics of the room. The lace itself may not be entirely opaque, but it proves to add just the right amount of privacy and mystery.
16. DIY Mason Jar Rose Decorations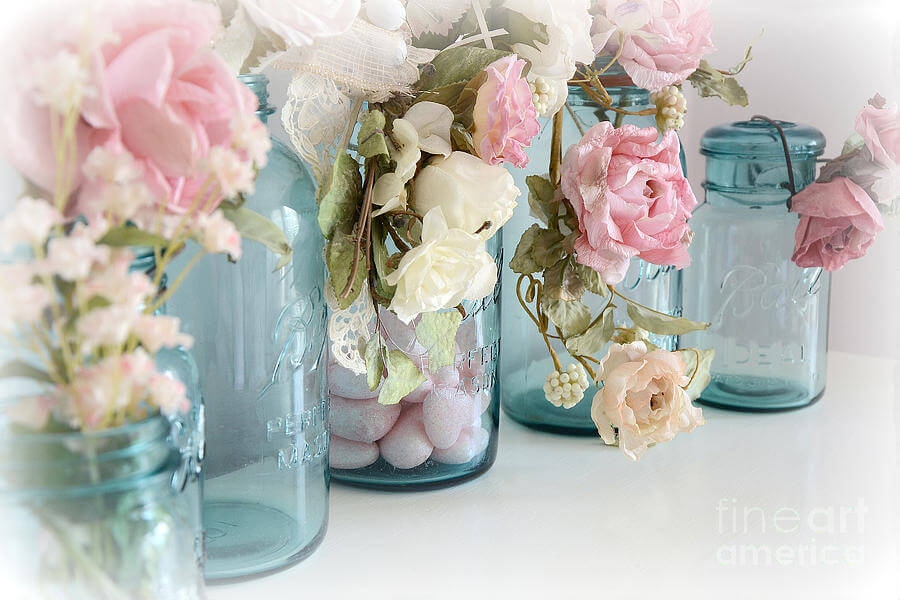 Mason jars have been a staple of shabby chic designs for many years. Spicing up a bathroom's decor with some mason jar rose decorations can be a great and affordable way to add color and pleasant fragrance to a bathroom. Additionally, the roses can be interchanged frequently to constantly have the bathroom looking fresh.
17. Repurposed Antique Table Bathroom Vanity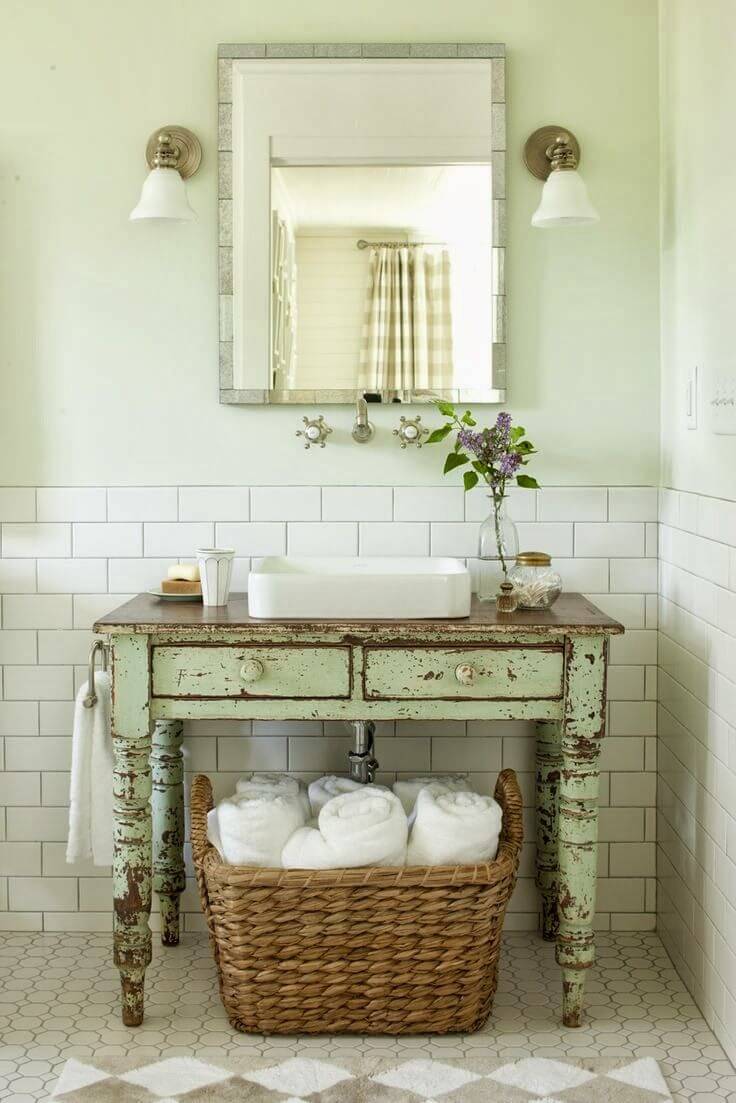 This repurposed table vanity serves a similar function as the lager repurposed vanities discussed previously, although this one is a bit more space effective. Since it doesn't occupy as much space, the repurposed table vanity can be used to make a bathroom appear larger than it really is, while still accenting the overall look of the room.
18. Tiled Bath Tub Nook with Window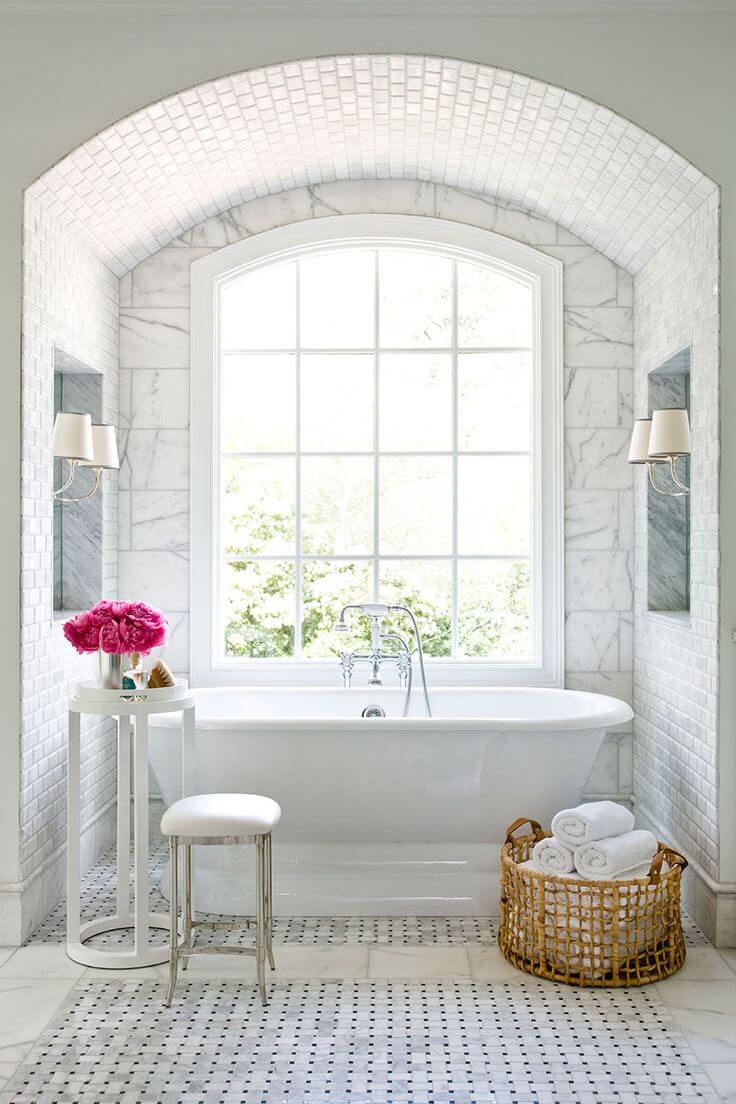 A bathtub nook is already a great idea for a bathroom. It gives the bathtub its own space, making the bathroom appear open and private at the same time. Adding tile to the bathroom nook idea is an overall improvement to the style and really nails the chic look that many are trying to achieve.
19. DIY Upcycled Dresser Bathroom Vanity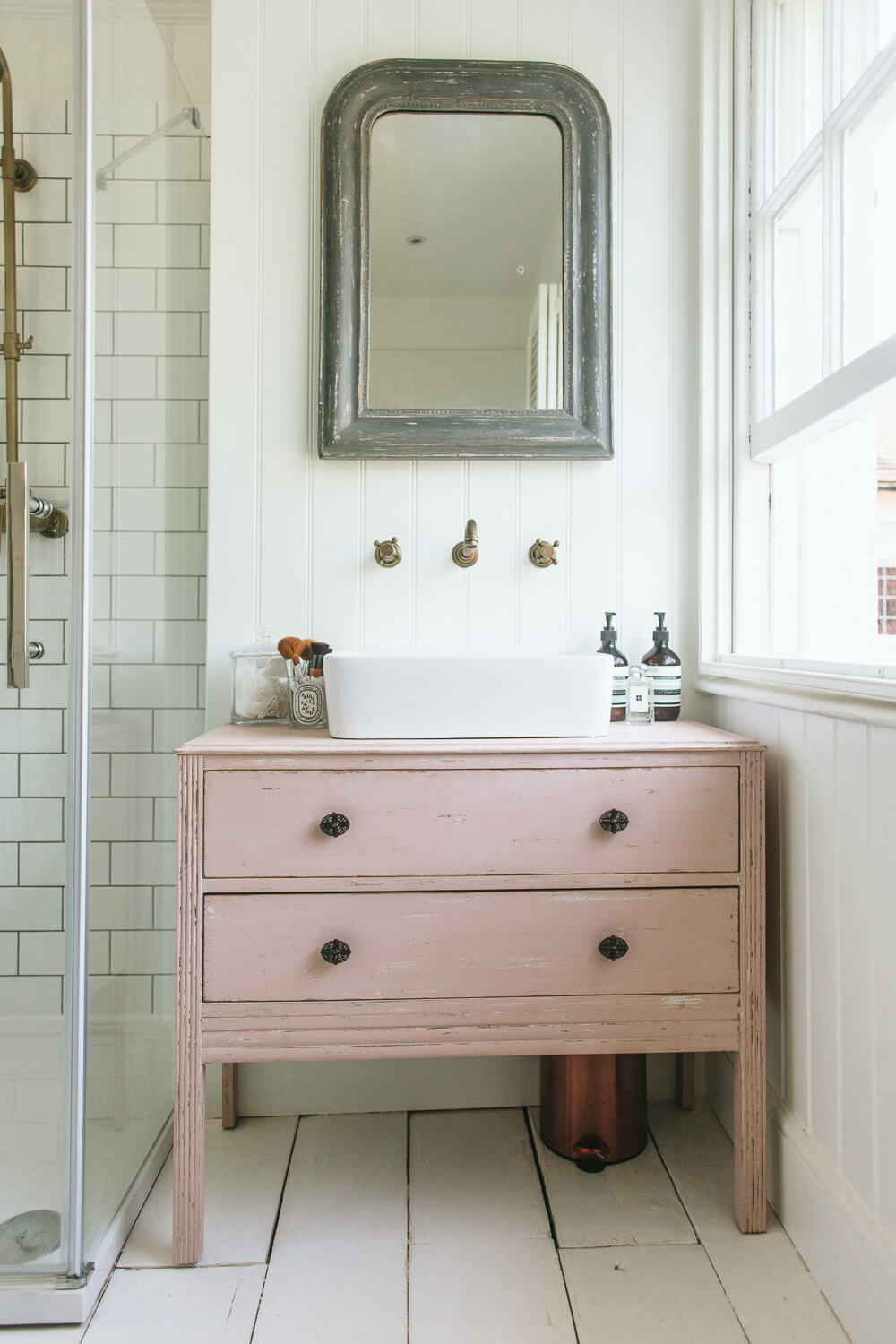 A dresser bathroom vanity is a very space conscious and quaint piece that can enhance the functionality of a bathroom tenfold. The sheer amount of storage space offered by a dresser bathroom vanity makes it great for storing all sorts of bathroom essentials. And, with a slightly distressed look to it, a dresser vanity looks to match its functionality.
20. Shabby Chic Bathroom Design with Ruffle Details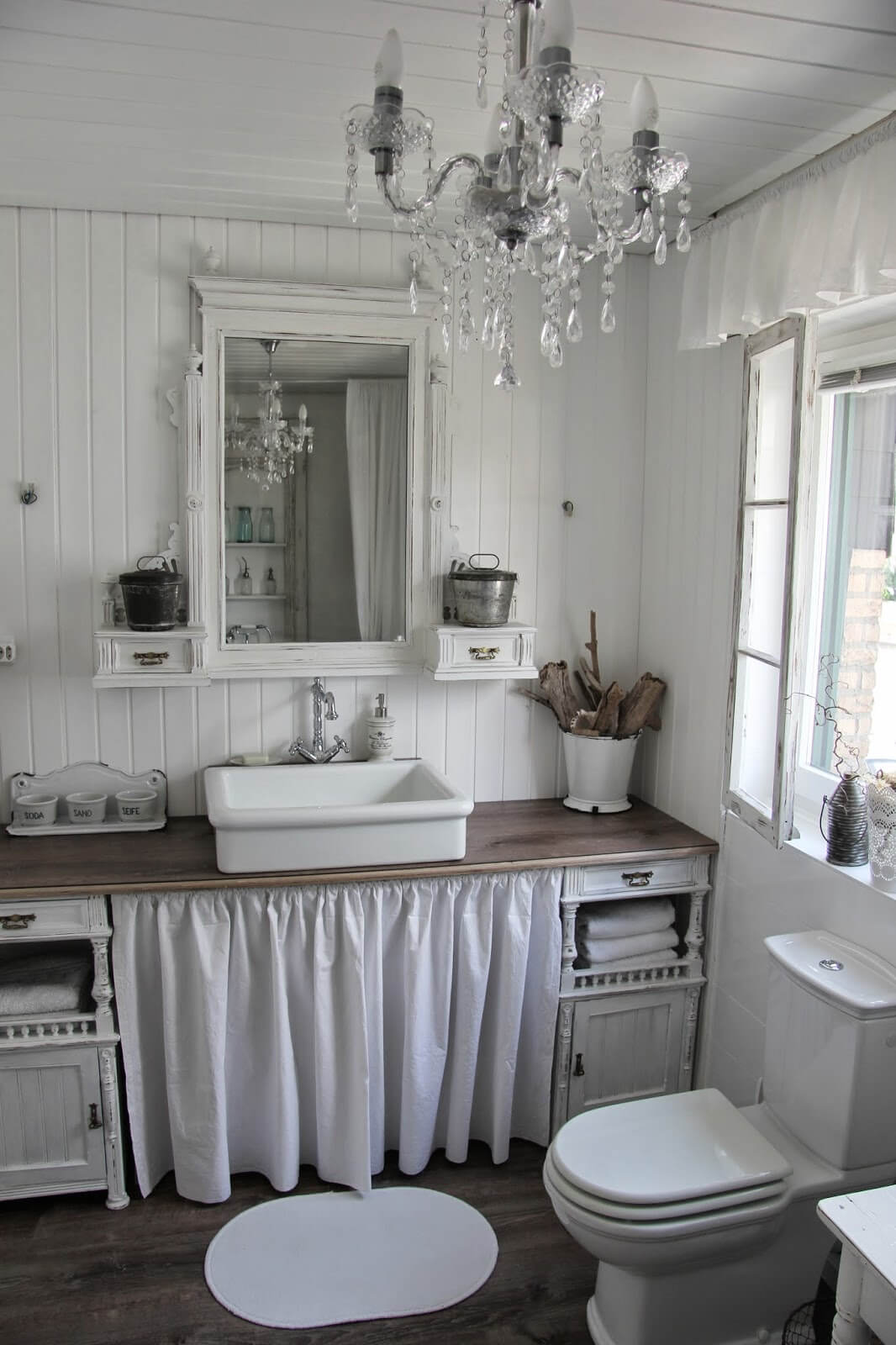 The shabby chic bathroom design can be accented in a variety of ways. Adding ruffles around the bathroom can prove to be a superb method of highlighting some of the key aesthetics of the bathroom while not drawing too much attention to themselves. Neutral colors tend to work best for the ruffles, making them an accent piece instead of in the foreground of the room.
21. Easy DIY Wood Bathroom Shelves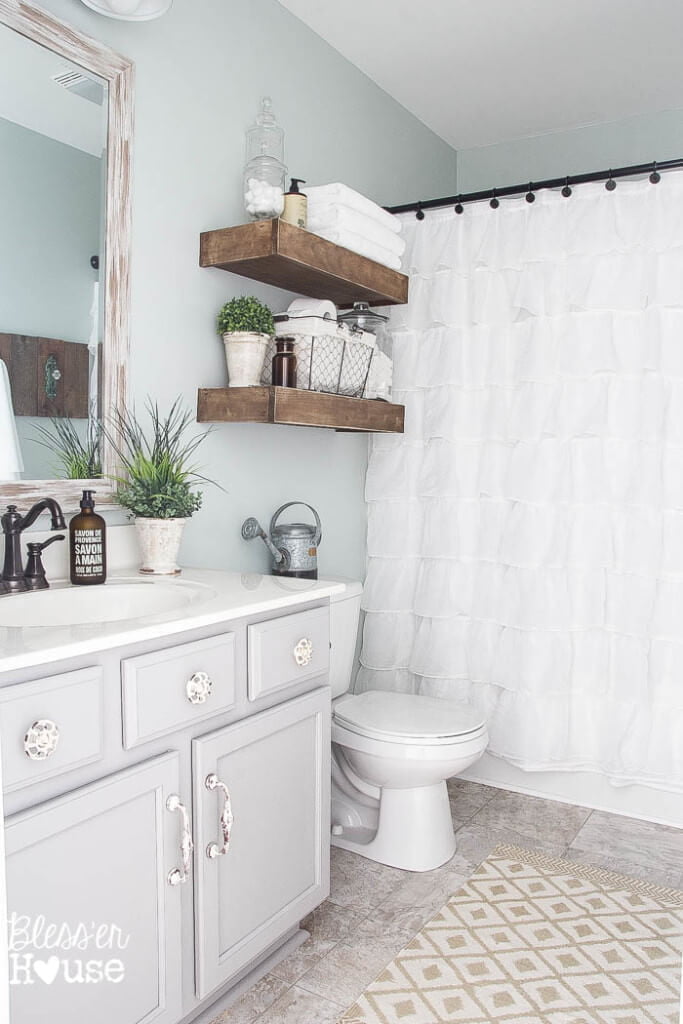 Wooden shelves are another chic design bathroom classic. These shelves are tasteful and easy to install, making it a great do-it-yourself project to supplement the look and function of one's bathroom. Any variety of woods can be used for these shelves, inspiring a creative look depending on which woods are chosen.
22. Vintage Bathroom with Quilt Rack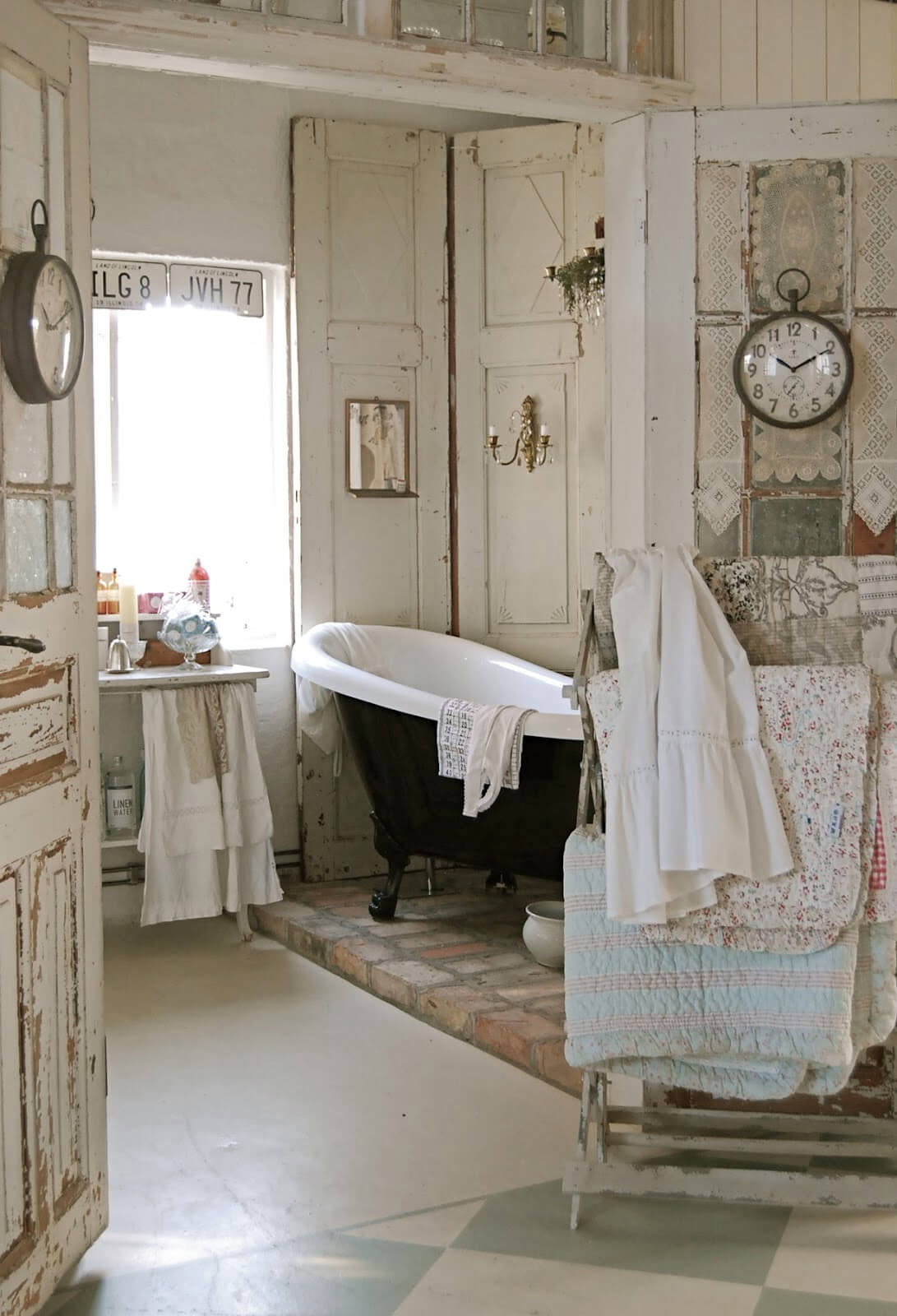 A quilt rack helps a bathroom scream "vintage"! This look is a bit of a throwback to a simpler time in bathroom design, but if one is attempting to attain a vintage look, a quilt rack is certainly the way to go. Humble yet aesthetically pleasing, a quilt rack is an old look for a new bathroom.
23. Pretty Floral Design Bathroom Accessories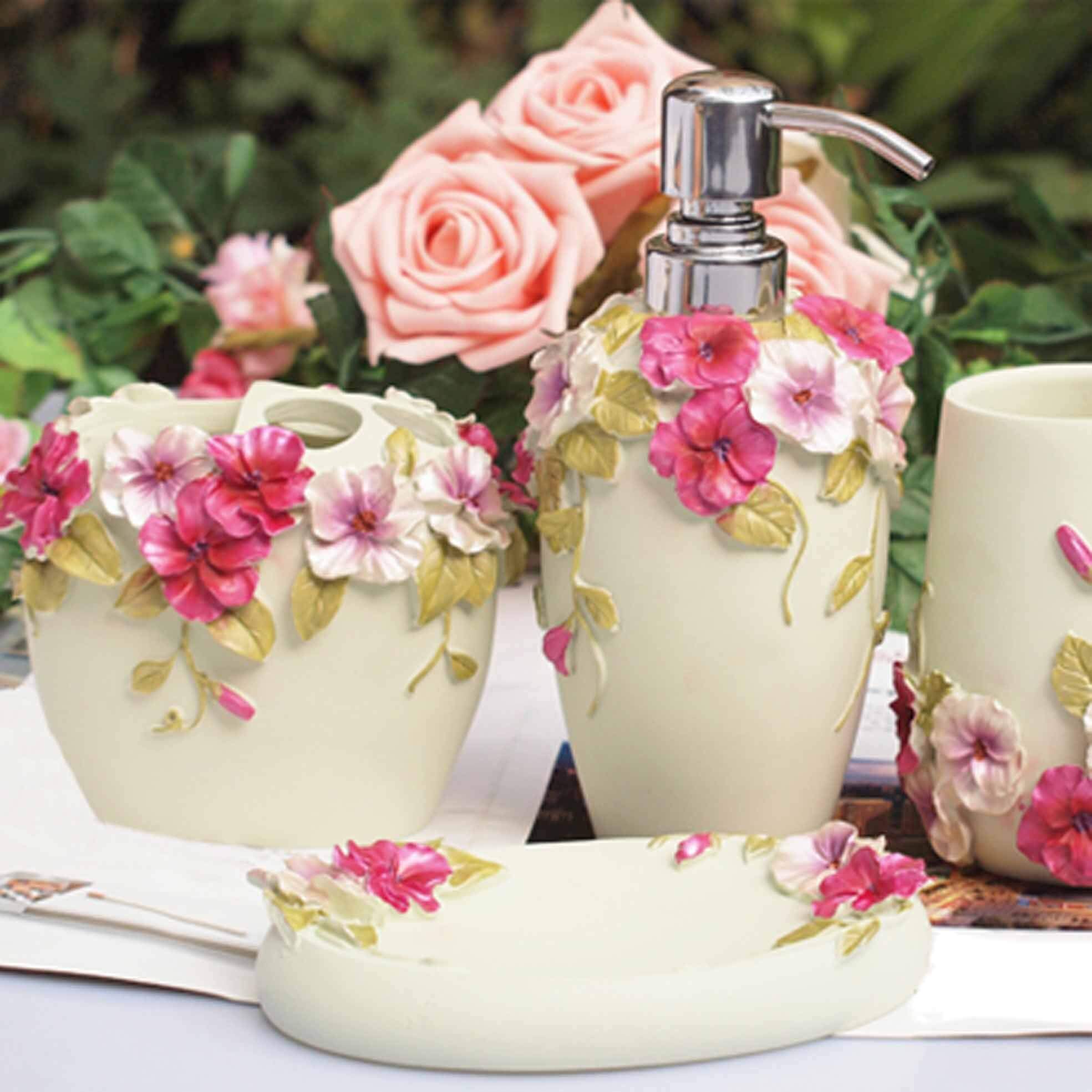 Floral designs have always been a great choice to add subtle beauty to a bathroom. By adding floral designed bathroom accessories, one can add a burst of color and beauty around one's bathroom that really make the room pop and enhance the color schemes already present on the room.
24. Repurposed Table Vanity with Dust Ruffle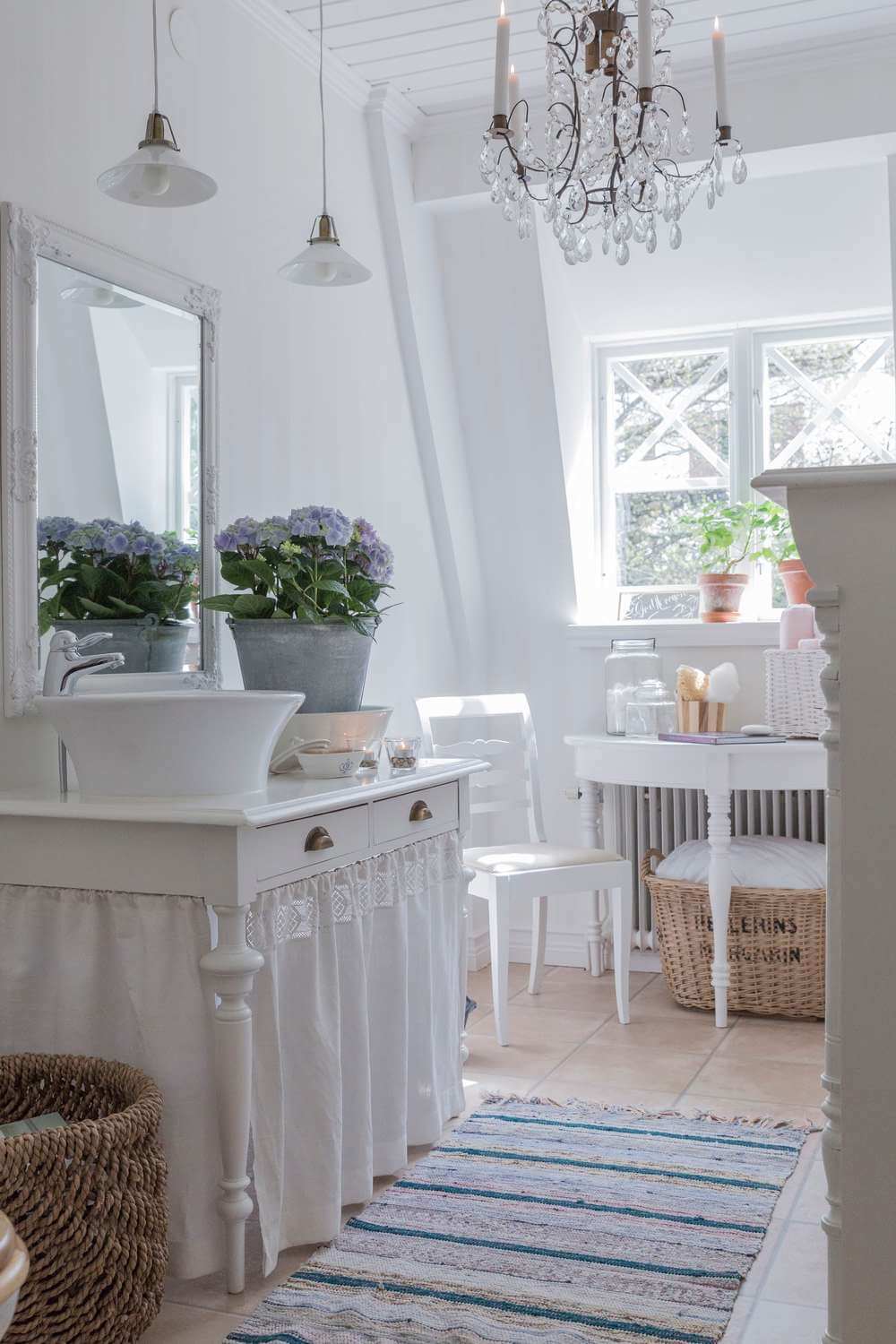 A non-distressed vanity table with dust ruffles can add a nice, breezy attitude to a bathroom. The table itself doesn't take up much space, but the dust ruffles fill it out in a way that makes it seem full and sure of itself. If there is a gentle breeze in the room, the dust ruffles will flow and lighten the mood of the room in a subtle but gratifying manner.
25. Linen Closet with Antique Doors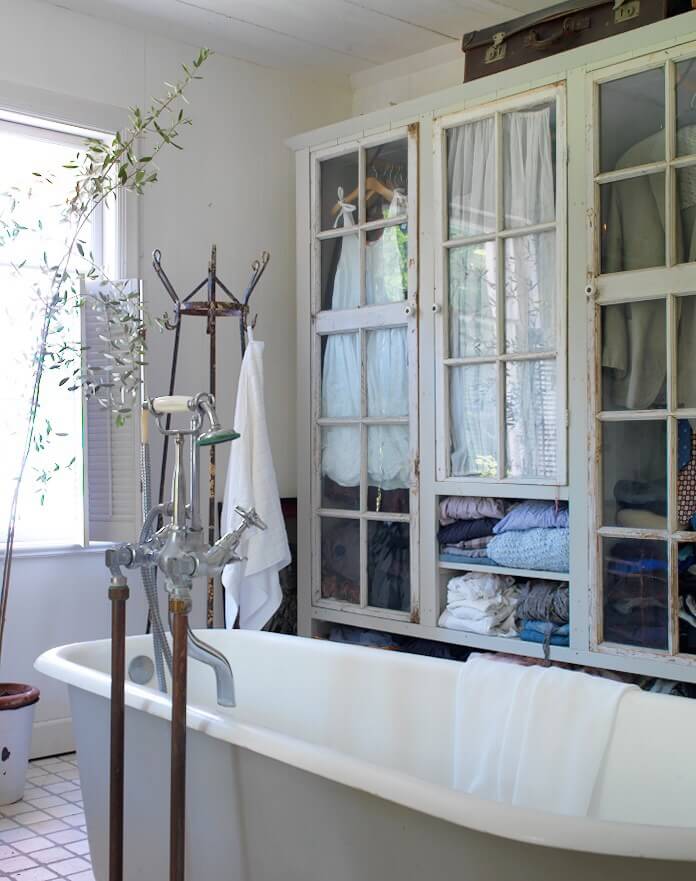 Linen closets are already a very popular choice to store clothes. Tack on antique glass doors and the whole closet comes to life and adds a clean and chic attitude to the entire bathroom. The antique doors on the closet serve as well to add a uniquely homey feel to the bathroom.
26. Upcycled Armoire Bathroom Linen Closet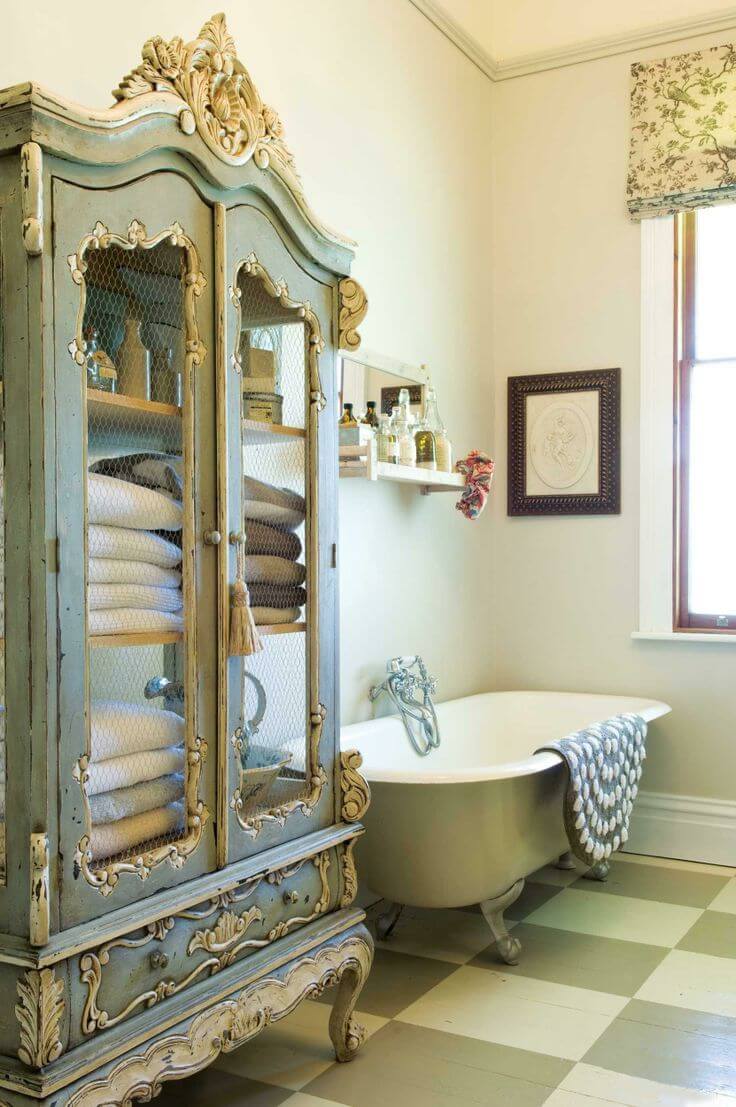 An upcycled armoire linen closet in a bathroom can add the same functionality as a traditional linen closet, but with a bit more of a refined attitude about it. The see-through mesh wiring allows one to gaze into the armoire while still retaining an overall cleanliness to the room.
27. French Country Style Bathroom Vanity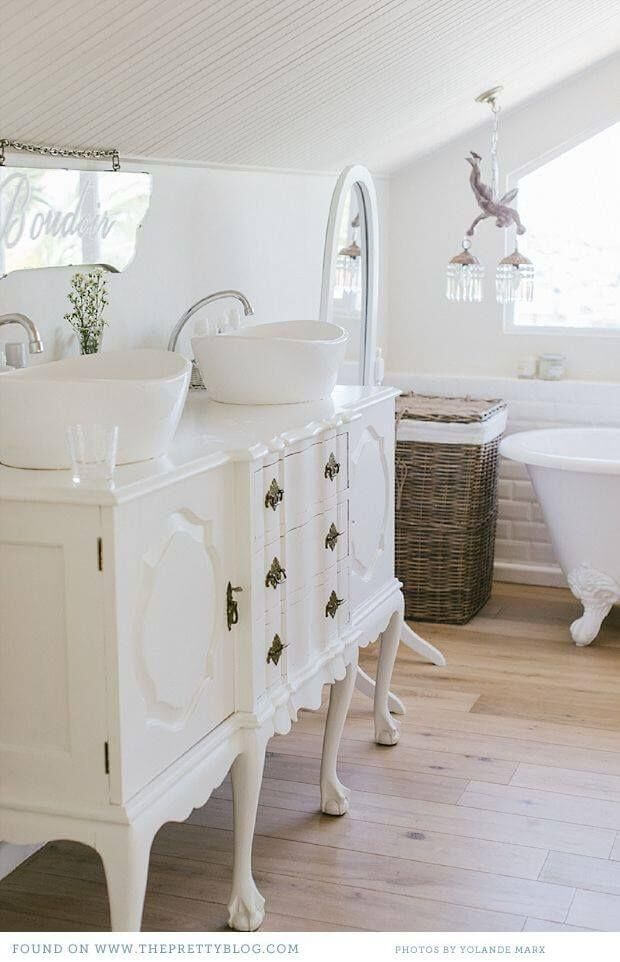 This French country style bathroom vanity is just the right amount of class. It is an elegant piece that can really compliment the natural space and design of a bathroom. While it is on the larger side as far as bathroom vanity are concerned, it uses the space it occupies to display elegance and function.
28. Vintage-Inspired Metal and Glass Bathroom Accessories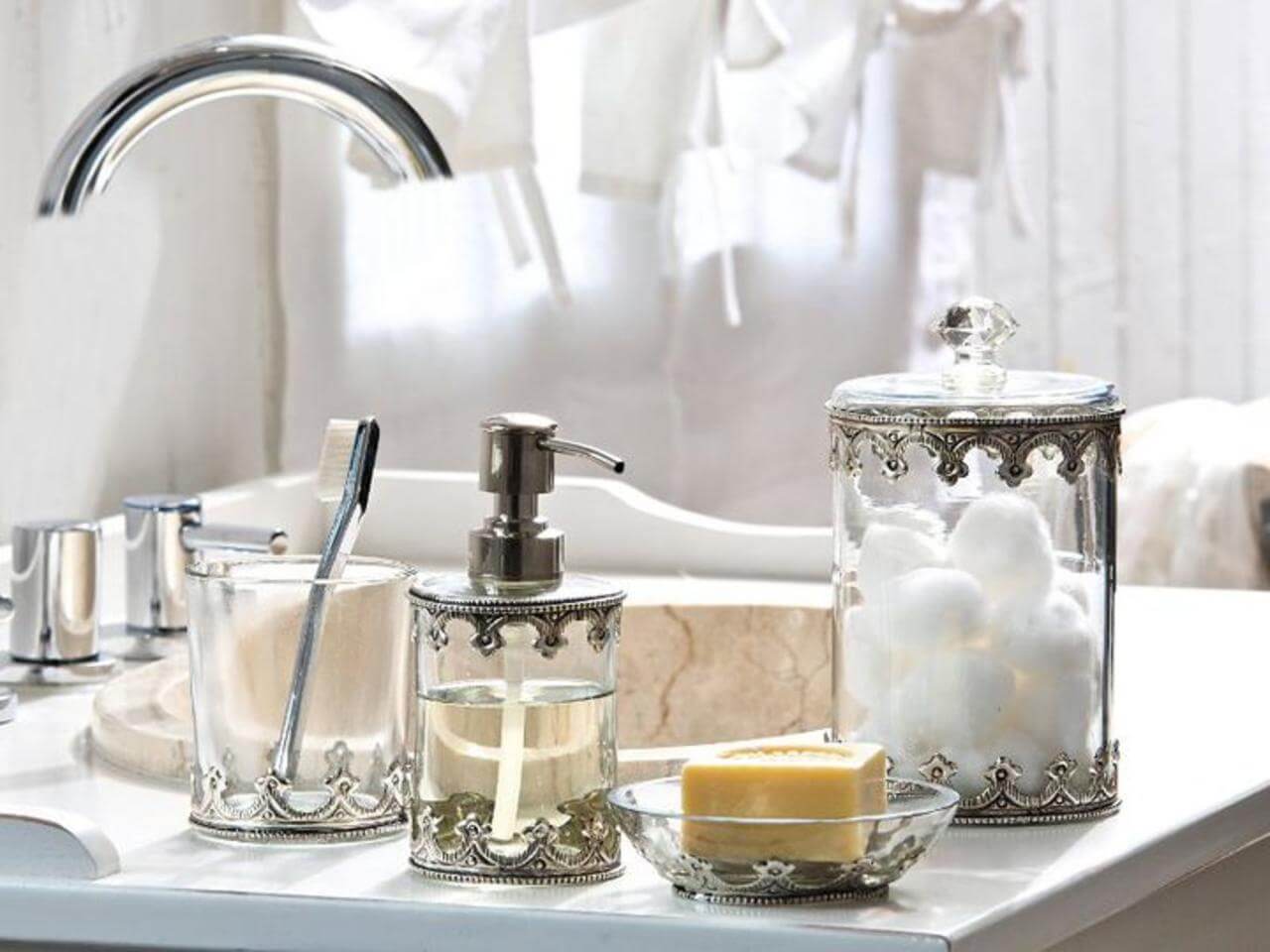 Vintage glass and metal bathroom accessories are a great addition to any bathroom seeking to be shabby chic. The metal aesthetics would match perfectly to any bathroom with preexisting stainless steel features. The glass on the accessories is opening, inviting, and helps bring out an air of cleanliness and openness in the room.