While many interior design blogs and magazines focus on houses, the demand for the best DIY apartment decor ideas increases every day. A full 20% of Americans live in apartments. That number is higher in cities and growing by the minute. In Europe, close to half the population live in flats. In all major Asian cities, the overwhelming majority of the population lives in apartments. In other words, home isn't always a house. For many people, apartments are home, and those people want fabulous living spaces, too.
20 of the Freshest DIY Apartment Decor Ideas for Neutral Palettes

The shift to apartment living is not just budget-oriented. Many people prefer the lower maintenance, convenient locations, and shared amenities of apartment living. Historically, New York City's most stylish and sophisticated residents have lived in apartments. Actress and lifestyle expert Gwyneth Paltrow, actress and fashion icon Sarah Jessica Parker, and the incomparably talented and cool Taylor Swift all have apartments in New York. On the other coast, everyone from old Hollywood legends to young, upcoming talent occupies historically significant apartment buildings. The exterior architecture of those buildings is stunning, so the challenge is creating indoor spaces that live up to their legacy.
Whether you crave the glamour of the Art Deco era, the sleekness of mid-century modern design, the free-spirited artistry of boho chic, or the comfort of farmhouse style, we have all the advice you need to accomplish handmade apartment decorating on a budget. Sometimes a great design idea creates a cohesive theme for an entire apartment. Sometimes it brings a fresh new look to an entire room. And sometimes it uses a single smart detail to transform a small area that might otherwise get overlooked. In the gallery that follows, you will find 20 of the best DIY apartment decor ideas for all styles, spaces, and budgets.
1. Mirror Mirror on the Wall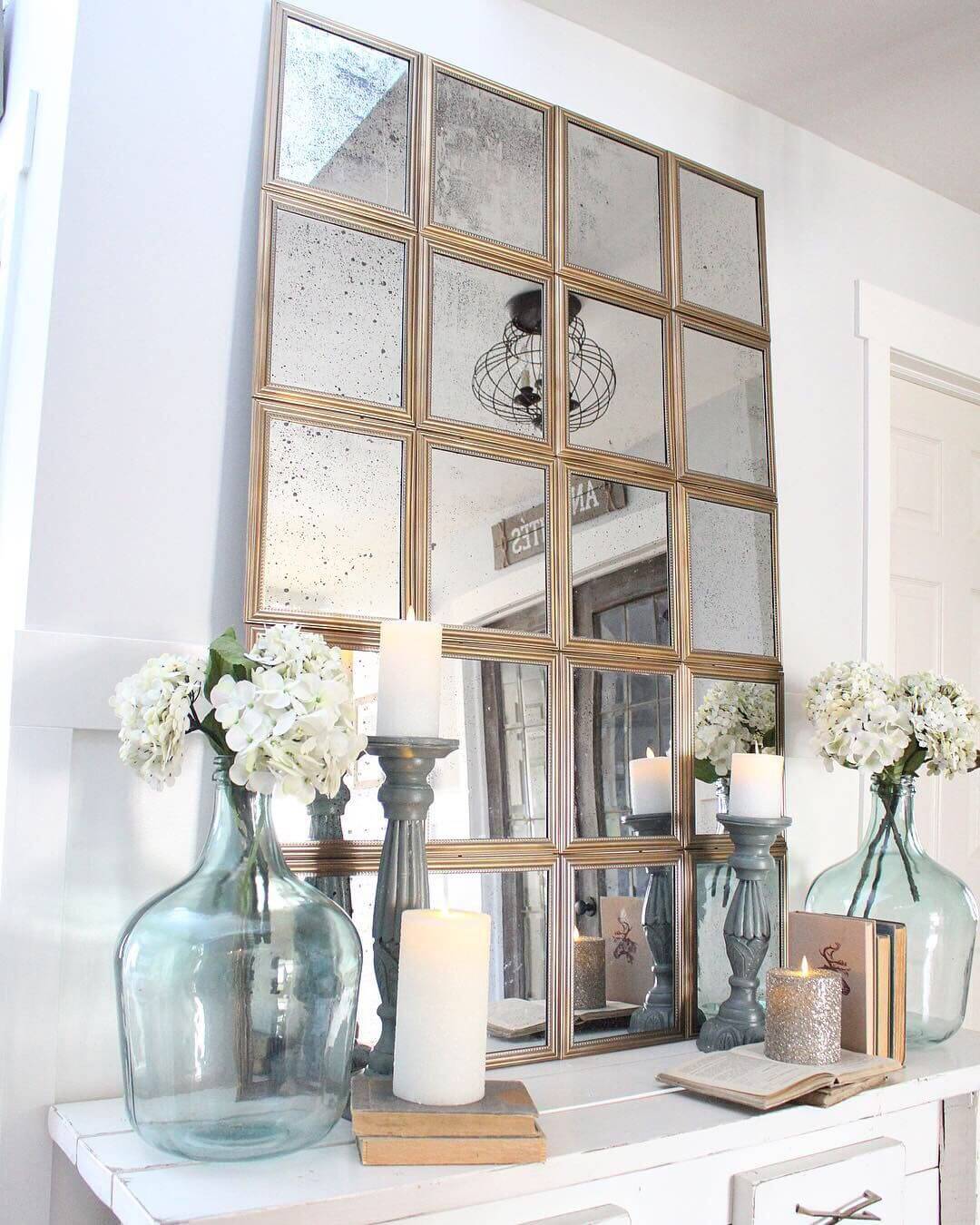 This perfectly faux aged mirror brings Hollywood Regency era glamour to any space. The brilliance of a good mirror is that it makes the room look larger while still serving a functional purpose. Gilded dividers add interest and glamour. The mirror isn't the only piece serving double duty. The cottage chic table doubles as a mantel with the added benefit of storage. Vintage aqua glass jugs bring soft color to a white room. The pillar candle boasts of elegant design but remains understated in matte gray paint. Creating an assemblage with accessories of different heights makes for a more sophisticated and less store-bought look.
2. Perfect Boho Chic Bedroom Comfort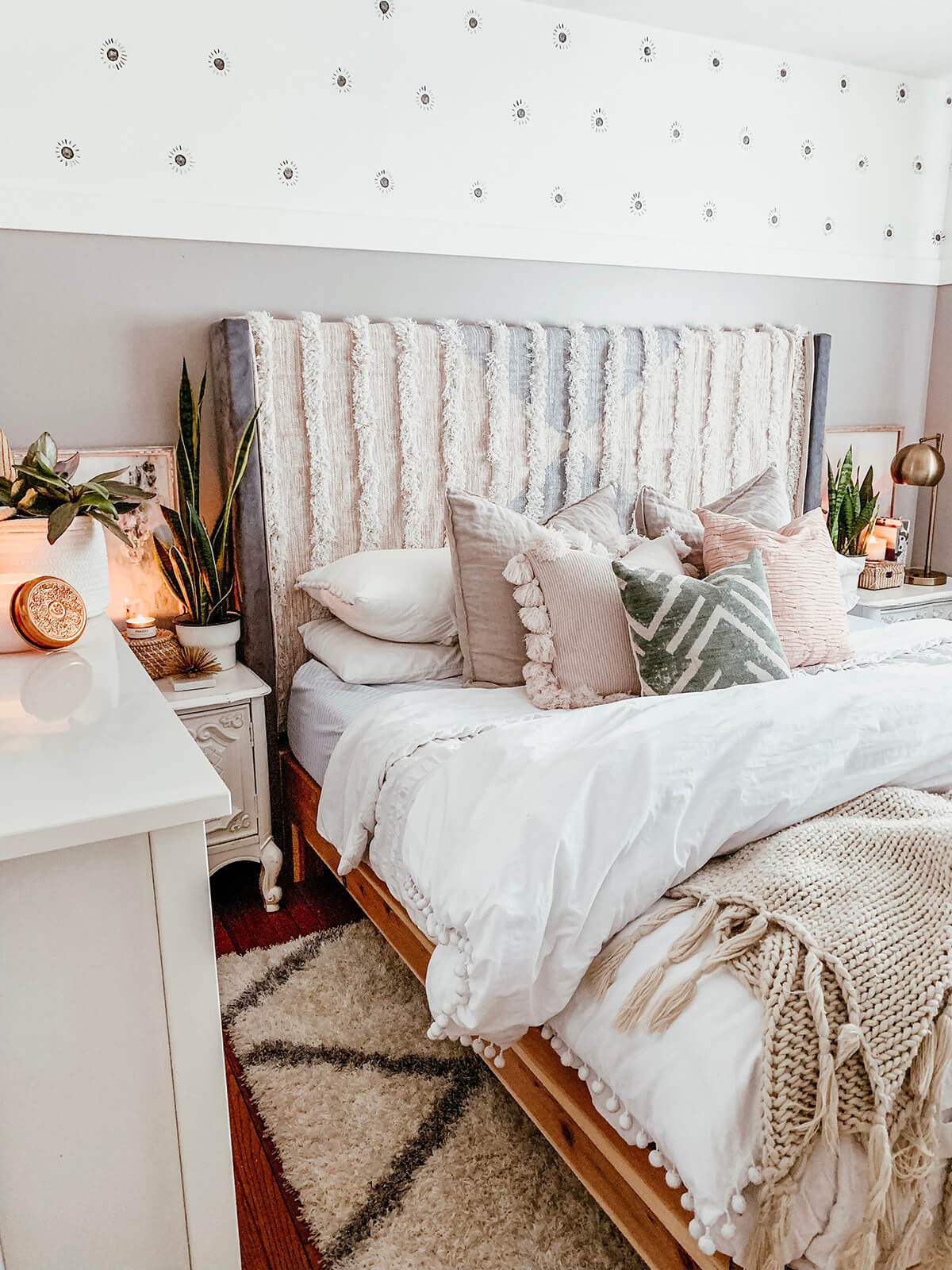 If you find monochromatic color schemes mundane, then this beautiful bedroom concept offers a unique solution. It embraces neutrals in a fresh new way by combining several shades from brightest white to deep charcoal. Mixing textures is also an awesome way to accomplish handmade apartment decorating on a budget. Weathered wood is paired with frayed, dimensional cotton to create an eye-catching headboard. A silver backdrop brings everything together neatly without looking bland. As always, the best way to bring life to space is by literally bringing life to it; in this case, a medley of potted plants brighten up white surfaces.
3. An Awesome Idea in Black and White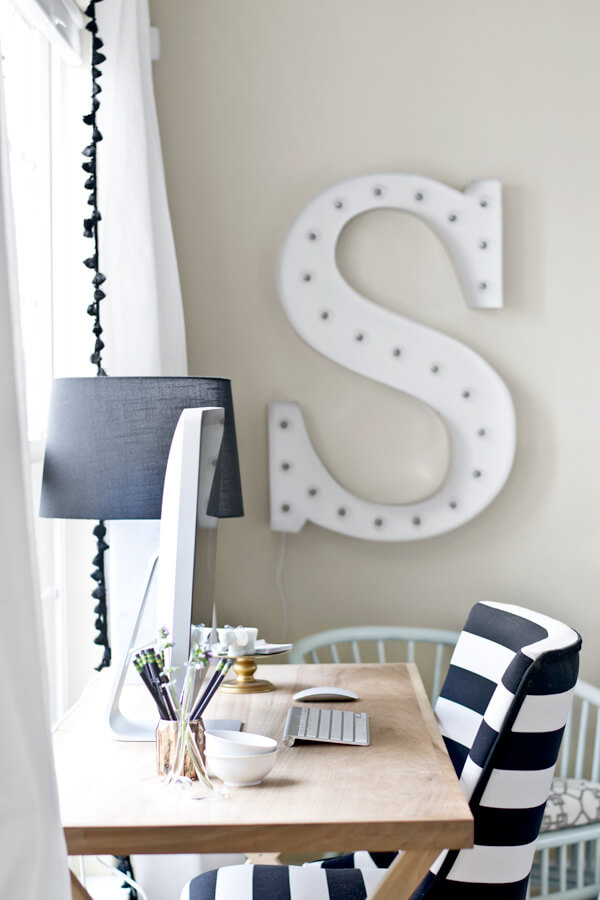 The appeal of black and white is undeniable. Fashion utilizes the sharp contrast of the two colors again and again. Pulling off black and white in a living space is a little more difficult, but this inspiring workspace proves it is not impossible. A single piece – the chair – represents the whole concept, which is also mirrored in the computer screen. White curtains create a clean backdrop while a black shade and a thin but textured line of black trim keep the darker half of this look balanced. Finally, a simple but warm wooden desk looks both utilitarian and sleek with its streamlined mid-century design. Best of all, the monochromatic color scheme means this transitional space still looks cohesive with the rest of your apartment.
4. The Cutest Cottage Chic Bathroom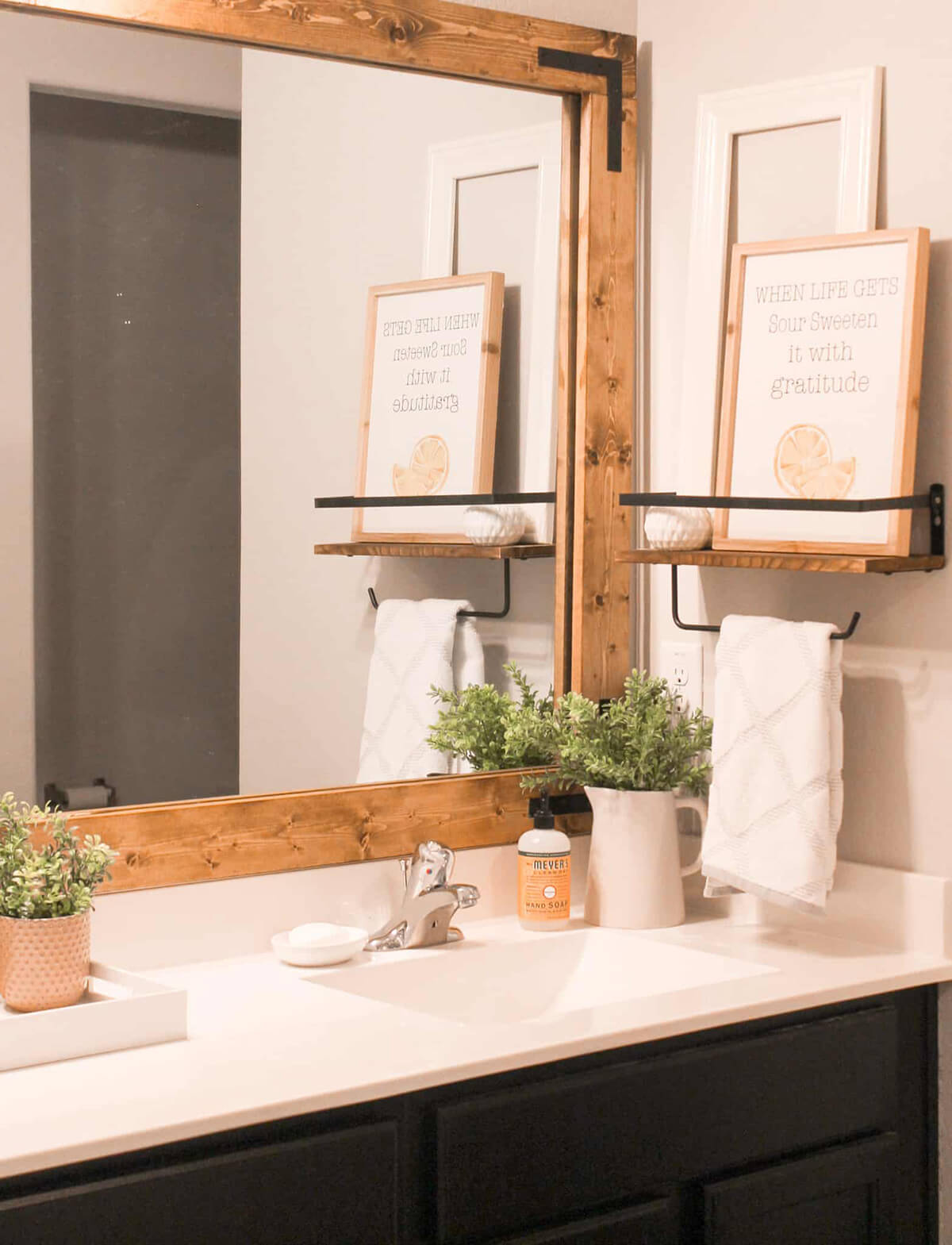 Because bathrooms tend to have more neutral colors and sparse surfaces than any other room in the apartment, they make a perfect canvas for cottage chic designs. This inviting washroom setup can be accomplished with just a few carefully curated pieces. Any neutral cabinet and countertop combination will do. The real star here is the barn wood mirror which both literally and figuratively frames the room. An iron towel rack complements the mirror's hardware while mix and match frames feature uplifting messages. Fluffy white towels look especially soft by contrast to the iron. Live greens and your choice of toiletries add the sole source of bright color.
5. How to Set a Coffee Table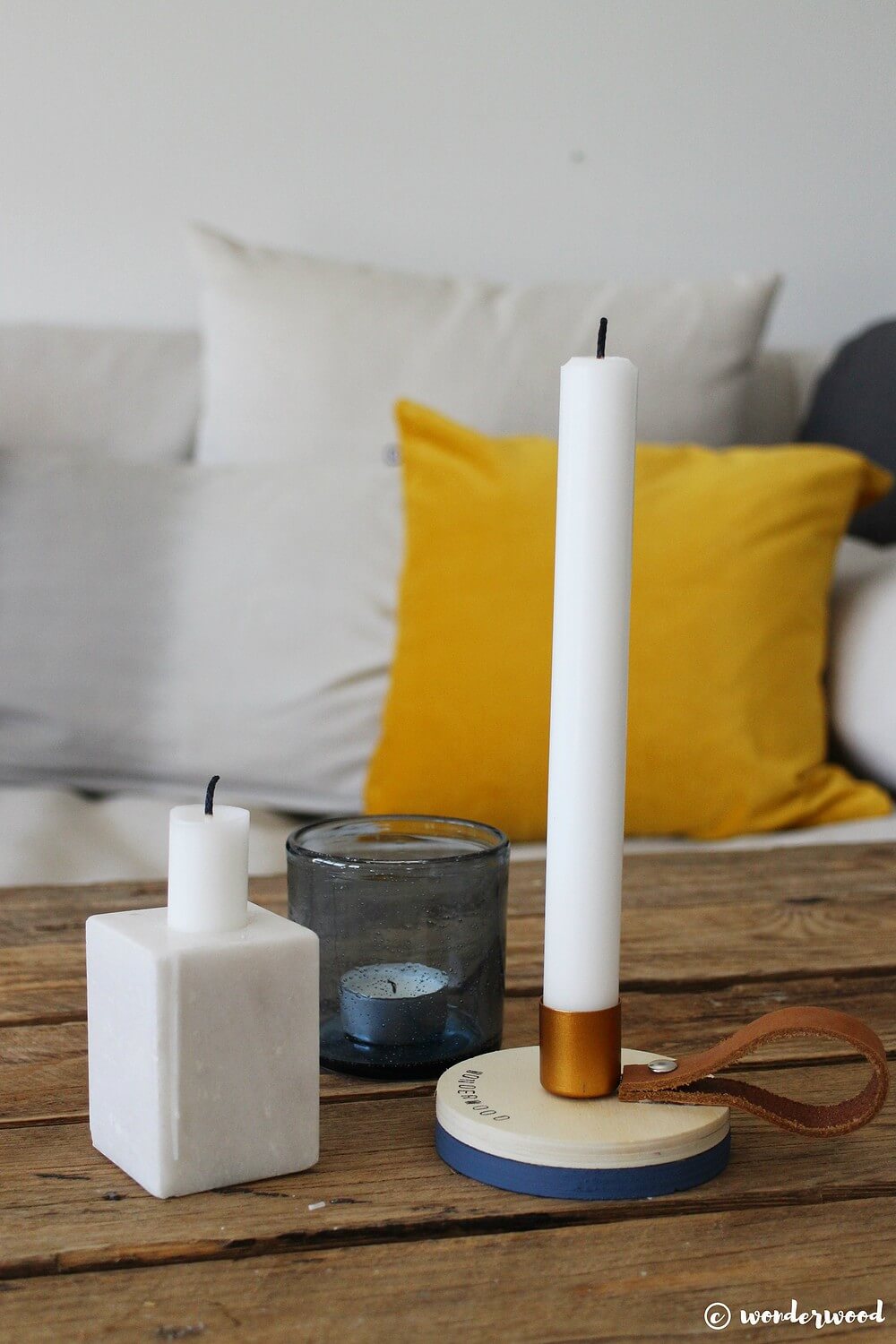 A lot of attention is given to setting a formal dining room table, but coffee tables need love too. This assemblage proves that even small spaces can have big impacts. This savvy decorator used three different sizes, shapes, and styles of candleholders to create one seriously cool look. By virtue of being the same thing, the candleholders still manage to look cohesive together. Likewise, white tapers and a white votive create a commonality between the distinctly different pieces. In the background, a colorful accent pillow really shines on an otherwise neutral couch. As always, a distressed wood table complements everything.
6. Graphic Black and White Meets Stainless Steel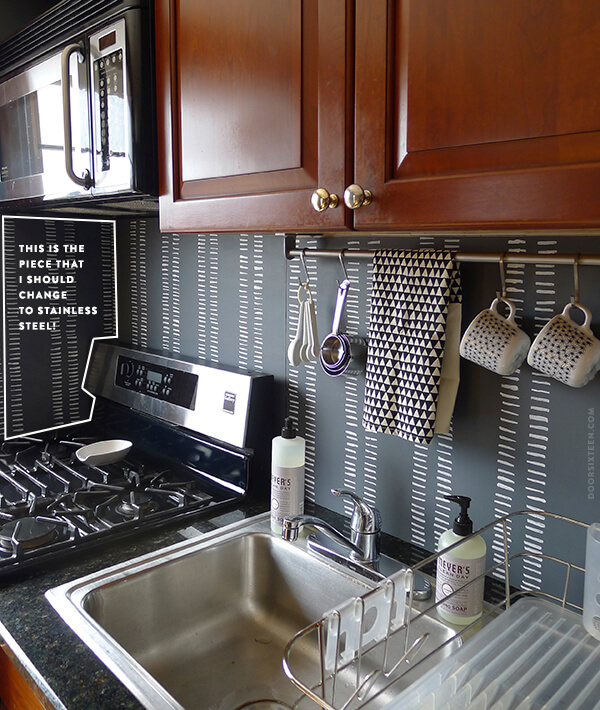 There's nothing cooler than black and white, except maybe black and white paired with stainless steel. This super chic kitchen design starts with a bold graphic backsplash. Finding mugs, towels, and kitchen utensils to coordinate without completely matching should be easy and fun since almost everything for the kitchen comes in black, white, or steel. The metallic pop of stainless steel keeps the black half of this color palette from feeling too heavy while also maintaining the clean and fresh feel of the white. A pair of cherry wood cabinets bring some much-needed warmth while their silver hardware is a small but sophisticated way to bring the whole look together.
7. Pink Bedrooms for Grown Women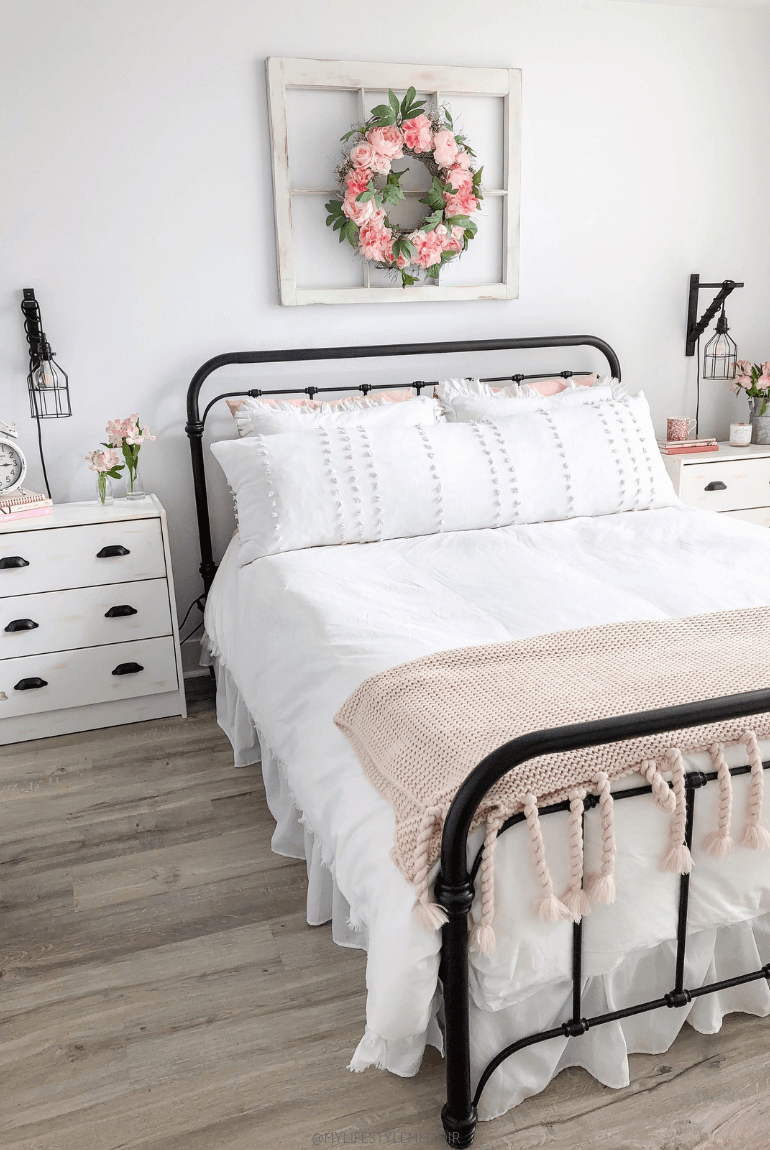 Lots of little girls dream of having an all-pink bedroom. Few grown women still want the princess look, but rosy pink hues retain their feminine appeal. This cozy cottage chic bedroom has just enough pink to be pleasing while incorporating some industrial lighting for a finished design that is all grown up and palatable to guests of any gender. If you love handmade apartment decorating on a budget, then this room is a great template for your next project. Plain white dressers, white bedding, a salvaged window frame, and a repainted vintage bed are all easy to find at both department stores and flea markets or to accomplish with limited crafting skills but look special when you bring them together.
8. A Beachy Mid-Century Inspired Dining Table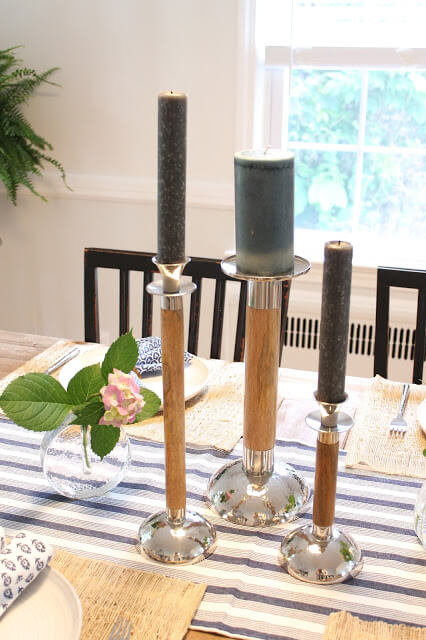 This awesome idea combines two seemingly disparate aesthetics to create a finished dining table setting that looks totally fresh and unique. The silver and wood candleholders are decidedly mid-century modern as is the icy minimalist vase. Natural textile placemats toe the line between vintage and maritime. A sweet, striped cotton runner in ocean blue makes the table feel more inviting with its total lack of pretension. A single, bold green floral stem and blossom softens the black sand candles. Mismatched napkin patterns in similar colors complete the comfy but cool vibe.
9. A Little Art Deco Goes a Long Way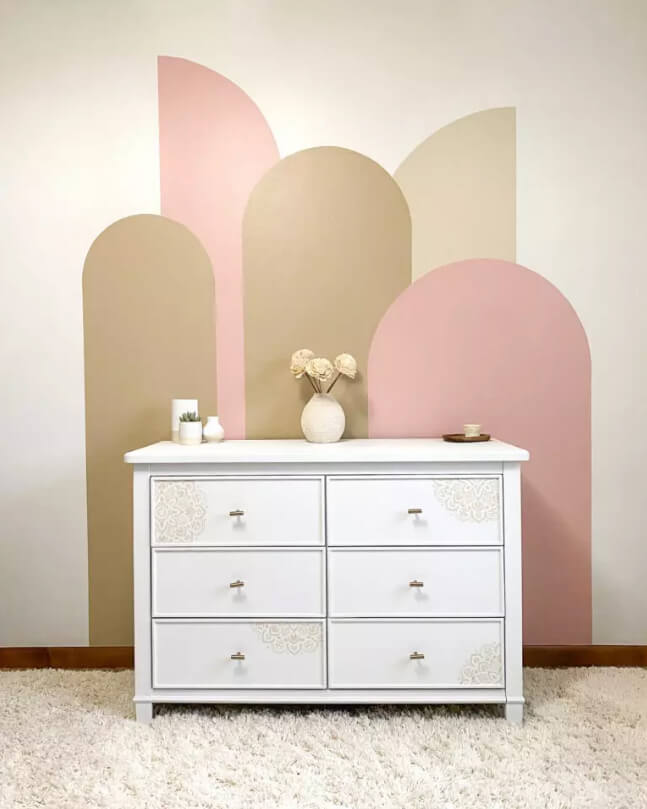 If you crave bold design statements but have limited space to work with, try this awesome Art Deco statement wall. The characteristic geometric shapes are softened by the gold, nude, and mauve color scheme. And while the design speaks for itself and looks good alone, it also makes a pretty backdrop for this French Provincial inspired dresser. The accessories are kept simple and small and are carefully arranged to prevent the overall impression from getting too busy. A luxurious shag carpet is appropriately vintage but also keeps the space looking like a chic living room and not a hotel lobby.
10. Make Your Bathroom a Sweet Escape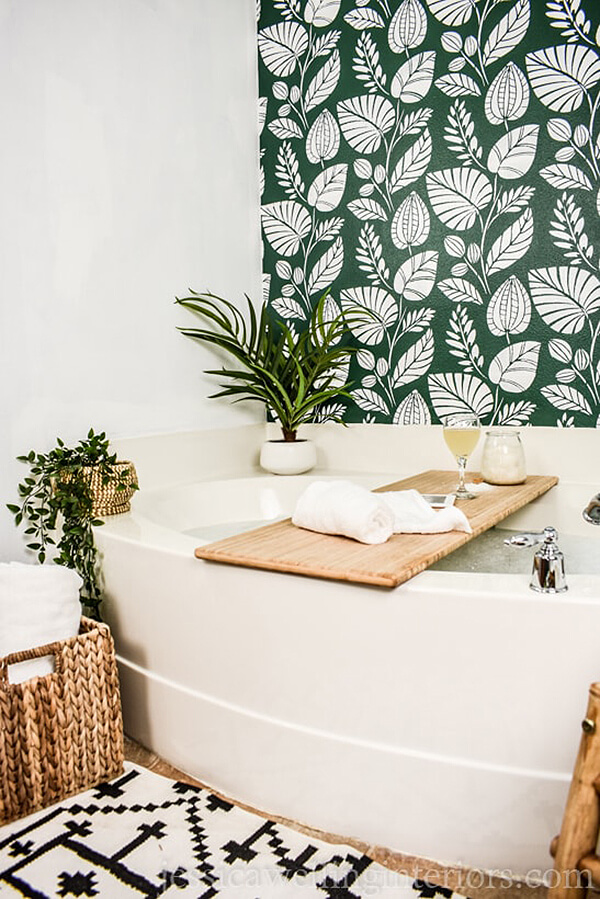 If a year of quarantine has taught us anything, it is the value of comfort in our own homes. This bright and inviting bathroom is the definition of staycation style. A statement wall in a tropical leaf pattern sets the tone, but its dark green color keeps it from feeling tacky or dated. Natural finishes via the straw hamper and wood lap board continue the oceanside vibe while also increasing the functionality of the space. Improve the room's color, air quality, and scent naturally and in one go by bringing in live plants. When it is time to leave your sanctuary, treat your toes to an easy walk across the soft, native-inspired rug.
11. Keep It Clean with Crate Shelving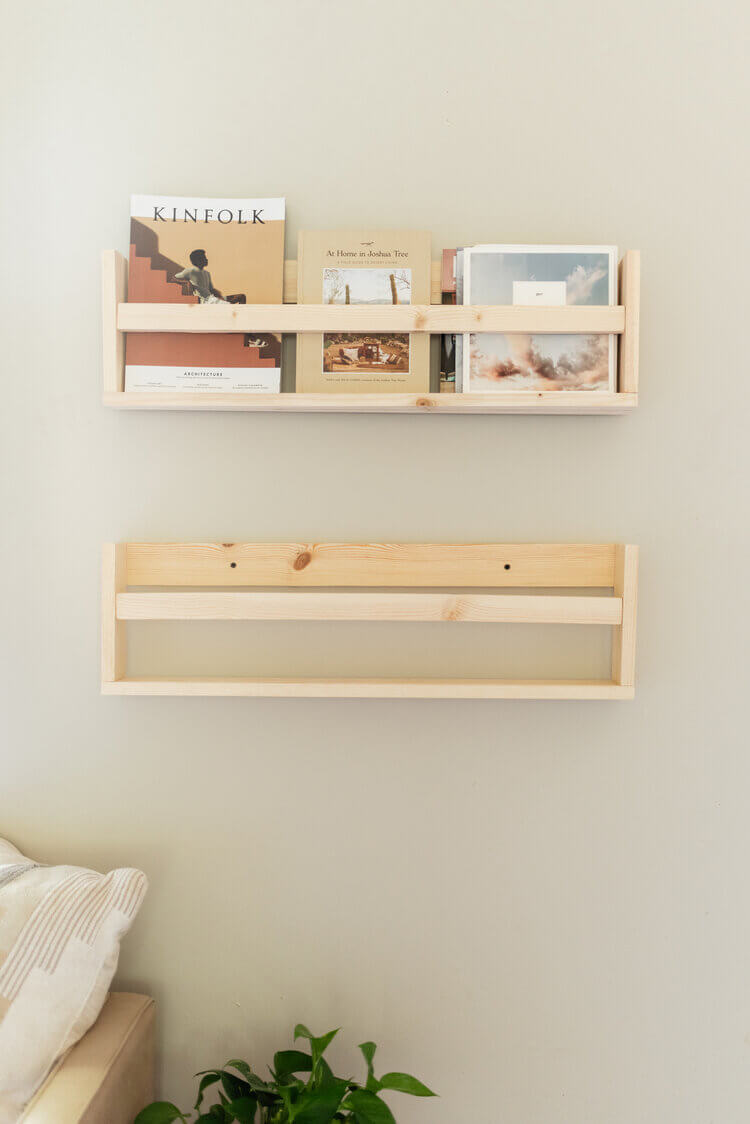 At first glance, these simple crate wood wall shelves may underwhelm. But it is their simplicity that makes them so beautifully versatile. Handmade apartment decorating on a budget is super easy with accessible pieces like these. Build them yourself with the cheapest of materials (like crates, reclaimed barn wood, or unfinished wood from a lumberyard) or find something similar at your closest department store. The unfinished wood blends with a variety of styles from farmhouse to mid-century modern. They double as easels when you fill them with your favorite books and magazines but also make a great display for everything from candles to plants.
12. Three Cheers for Tiered Shelving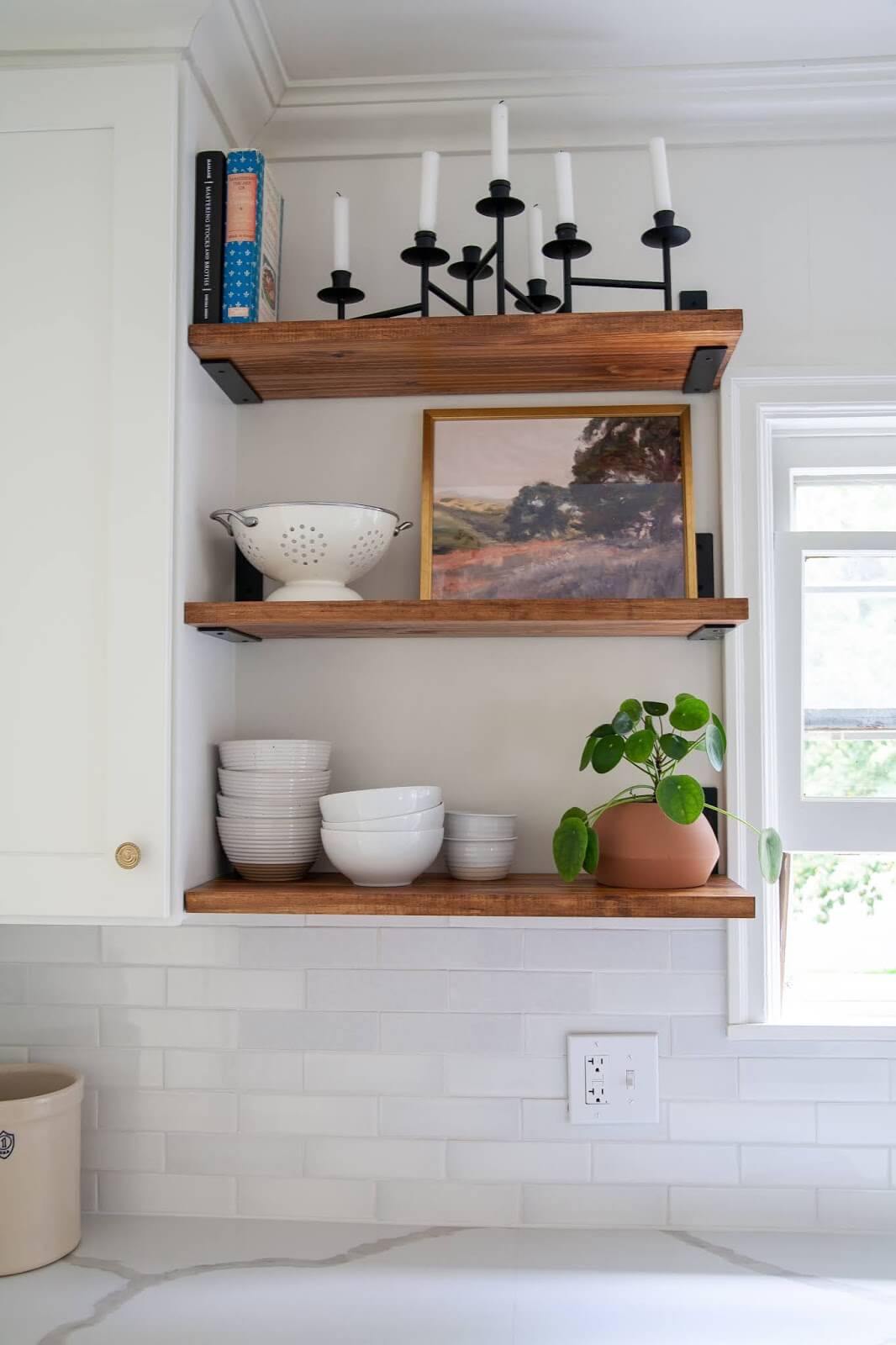 Every kitchen has some form of shelving. This beautiful three-tiered design proves that even the most utilitarian of spaces can look curated. The key to pulling off this look is logical ordering. Your everyday items like dishware go on the bottom shelf where they are easily within reach. A stylish kitchen accessory carries the theme on the second shelf while a bright print serves as a second window in this otherwise all-white space. Finally, a pair of vintage cookbooks keep the theme but add a pop of pattern. A dramatic candleholder draws the eye upward but doesn't take up table space until you need it for special occasions.
13. How Mid-Century Modern Accommodates Today's Technology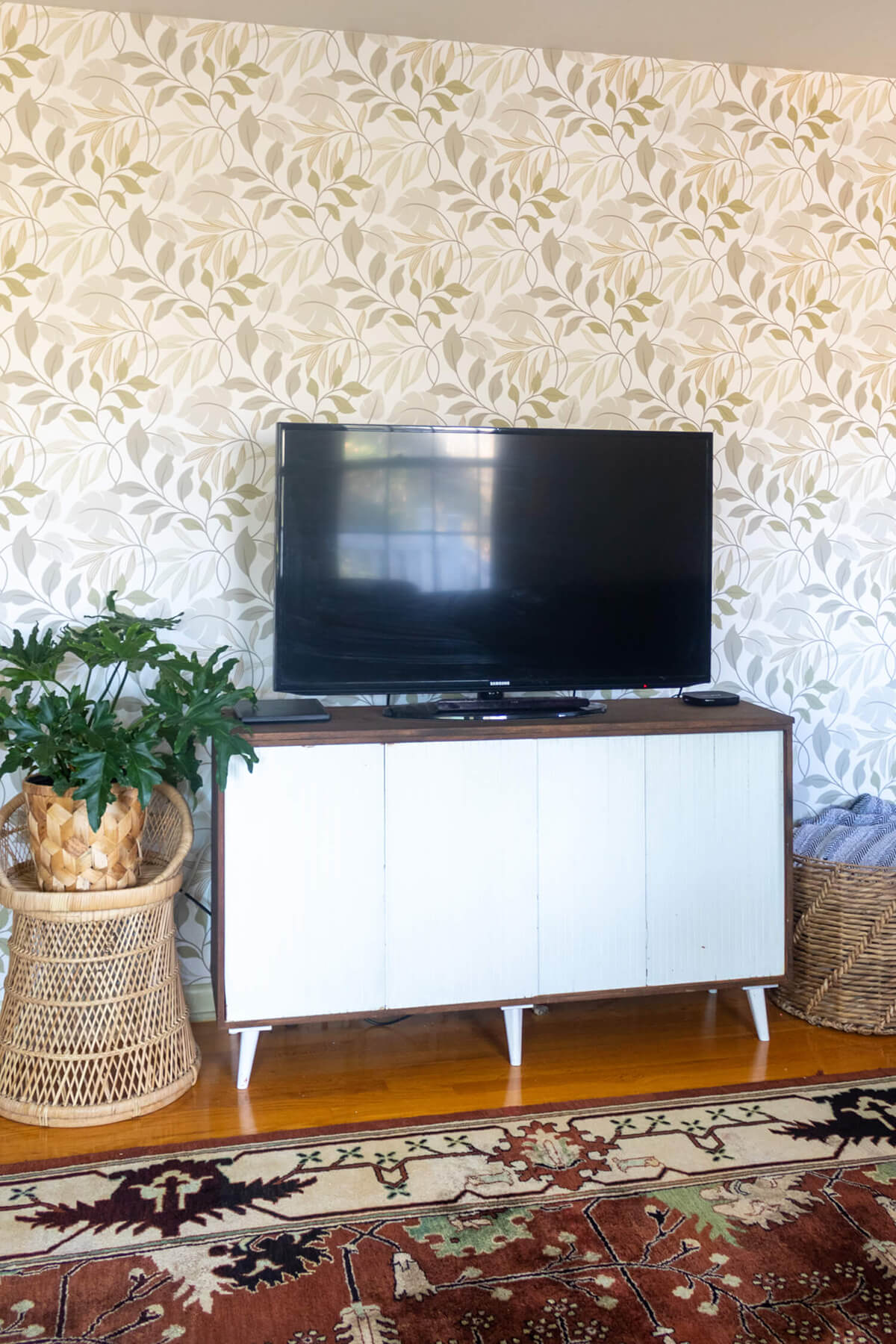 Today's TV stands tend to be overpriced and under-stylized, to say nothing of how poorly the cheap materials stand up to time and regular use. This fantastic mid-century modern inspired living room replaces a boring veneer TV stand with a revamped vintage buffet. These pieces are selling very cheaply at auctions and estate sales. A lot of people are even giving them away on classified sites. And giving them a facelift is as easy as applying a fresh coat of paint. A trio of baskets double down on the tiki lounge vibe of the wallpaper while an Oriental rug serves as a comfortable yet elegant counterpoint to all the neutrals.
14. Creating Mystery in a Studio Apartment
In some cities, living spaces are so in-demand that even studio apartments are widely coveted. Don't be discouraged by the small living space. Creating mystery in a studio is as simple as choosing the right room divider. In this example, the occupant has gone with a less expected animal print. Even when the room divider is not in use, they keep their sleeping space both private and romantic with a makeshift canopy made from sheer curtain panels. It has all the ambiance of a canopy bed at a fraction of the cost. To make the room look more open, keep other decors sparse but special, like this colorful and contoured floral arrangement.
15. A Totes Gorgeous Coffee Table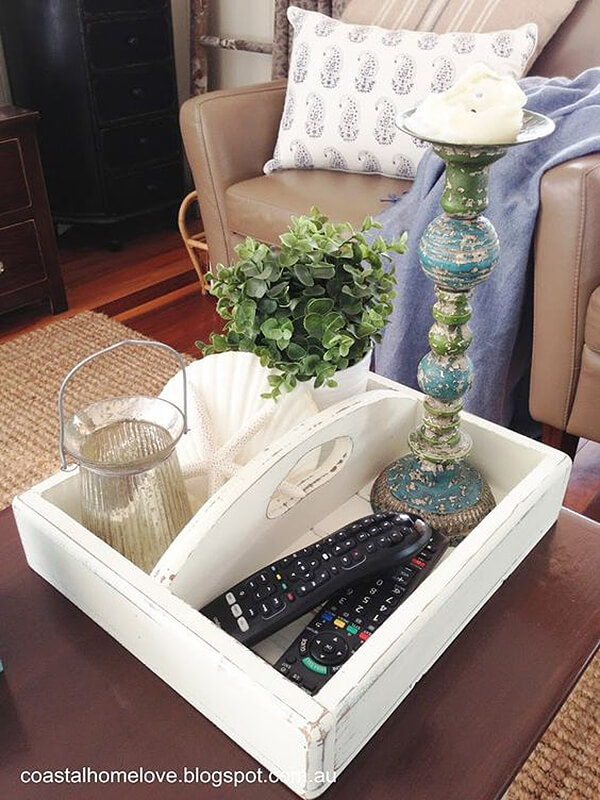 This pretty distressed tote looks like a cottage chic starter set while also doubling as convenient storage. Everything you need, from mood lighting to your remotes, is in one accessible place. With one oversized sand dollar and a sweet but hardy potted plant, it is the perfect amount of decor for a small coffee table. And when you need to clear that space for company, it's as easy as grabbing the handle.
16. Easy to Accessorize Hexagon Shelves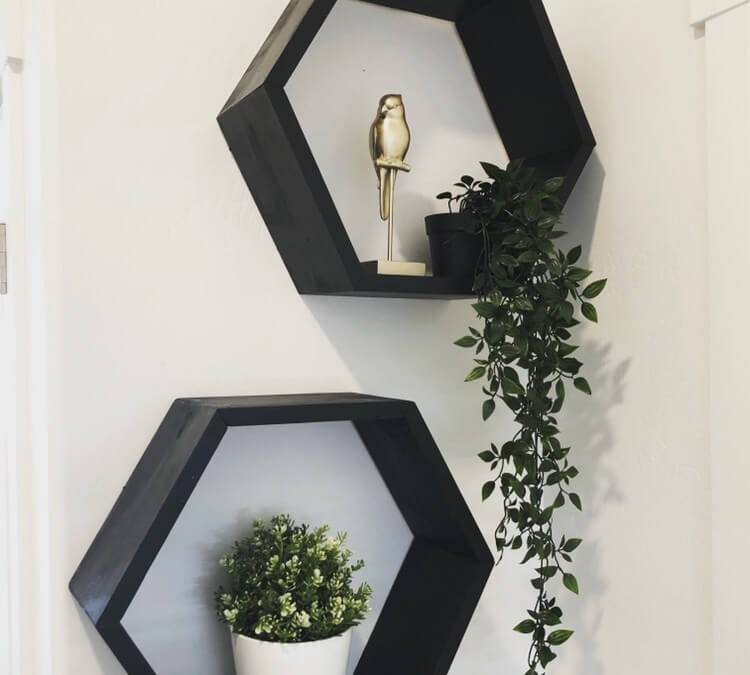 Nothing stretches a decorating buck like good shelving. These black hexagon shelves make a great graphic contrast to a white wall. You can fill them with anything you love, from pictures and books to inherited tchotchkes, but they look especially cool when you play with levels and textures. For example, these leafy plants really pop against the simple geographic design and a silver bird looks like modern art inside the shadowbox-like structure.
17. Vintage Art = Big Bang for Your Bucks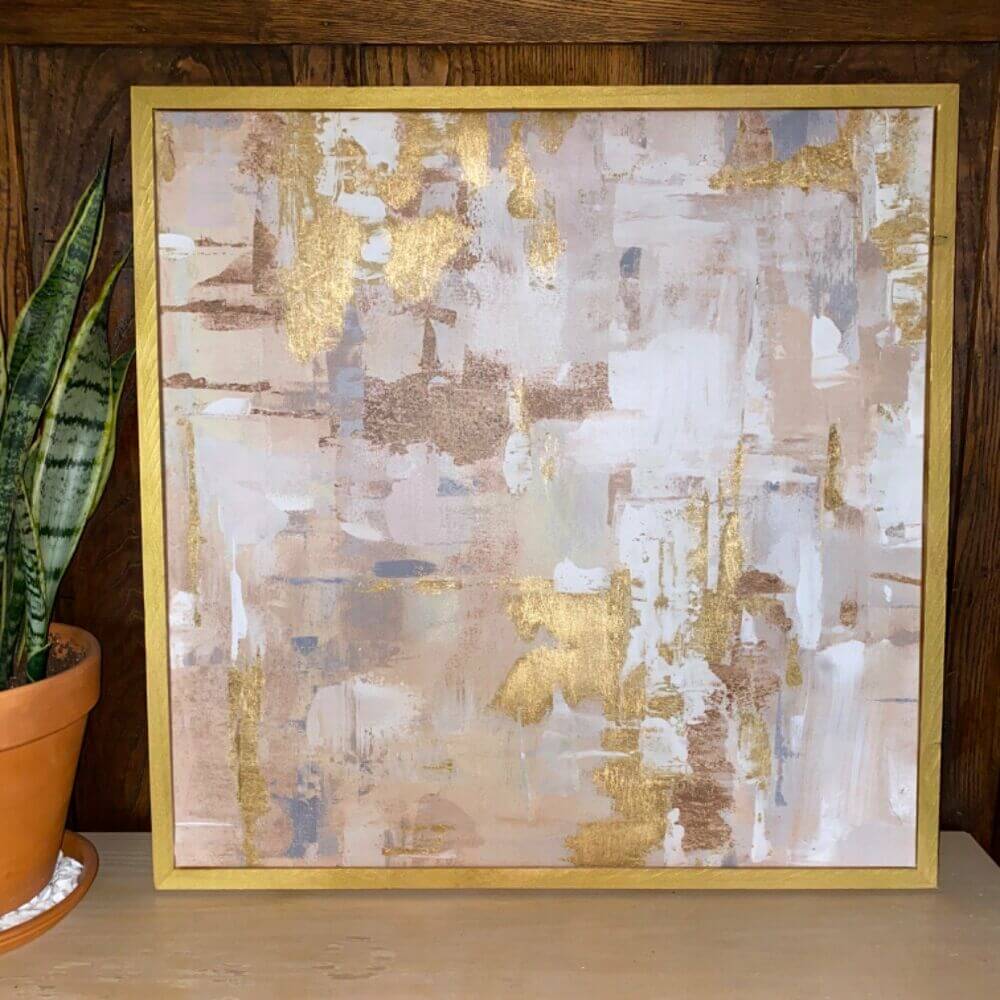 Oversized abstract canvases have been popular since the 1950s. While you can buy them in a decor store, why pay the extra money? Originals often sell cheap at resale shops or at the end of auctions and estate sales. There are even stories of savvy shoppers finding big-name art at Goodwill. Just look for a piece with colors that complement your existing decor. This piece is full of easy-to-match neutrals, but metallic splashes and a repainted gold frame make it look expensive and new.
18. This Little Light of Mine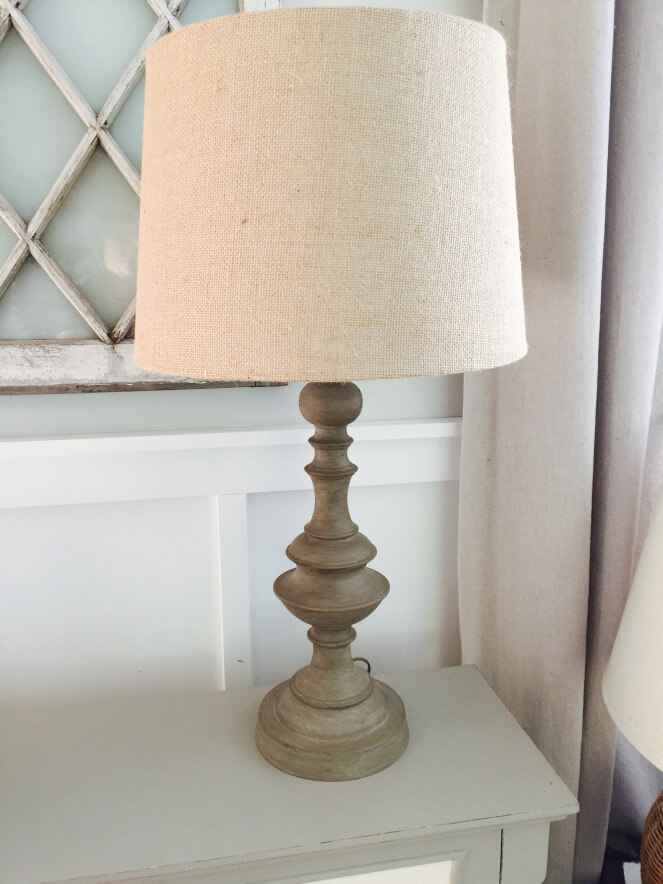 While the attention we give it is overwhelmingly subconscious, lighting can make or break a room. The good news for fans of handmade apartment decorating on a budget is that lamps can also be extremely affordable. Don't waste your money on the cheapest option at a department store. You can easily find lamps with interesting shapes and styles at second-hand stores, flea markets, and garage sales. All it takes to make them new again is a fresh coat of paint and a neutral shade with texture, like this one.
19. Breath of Fresh Air Kitchen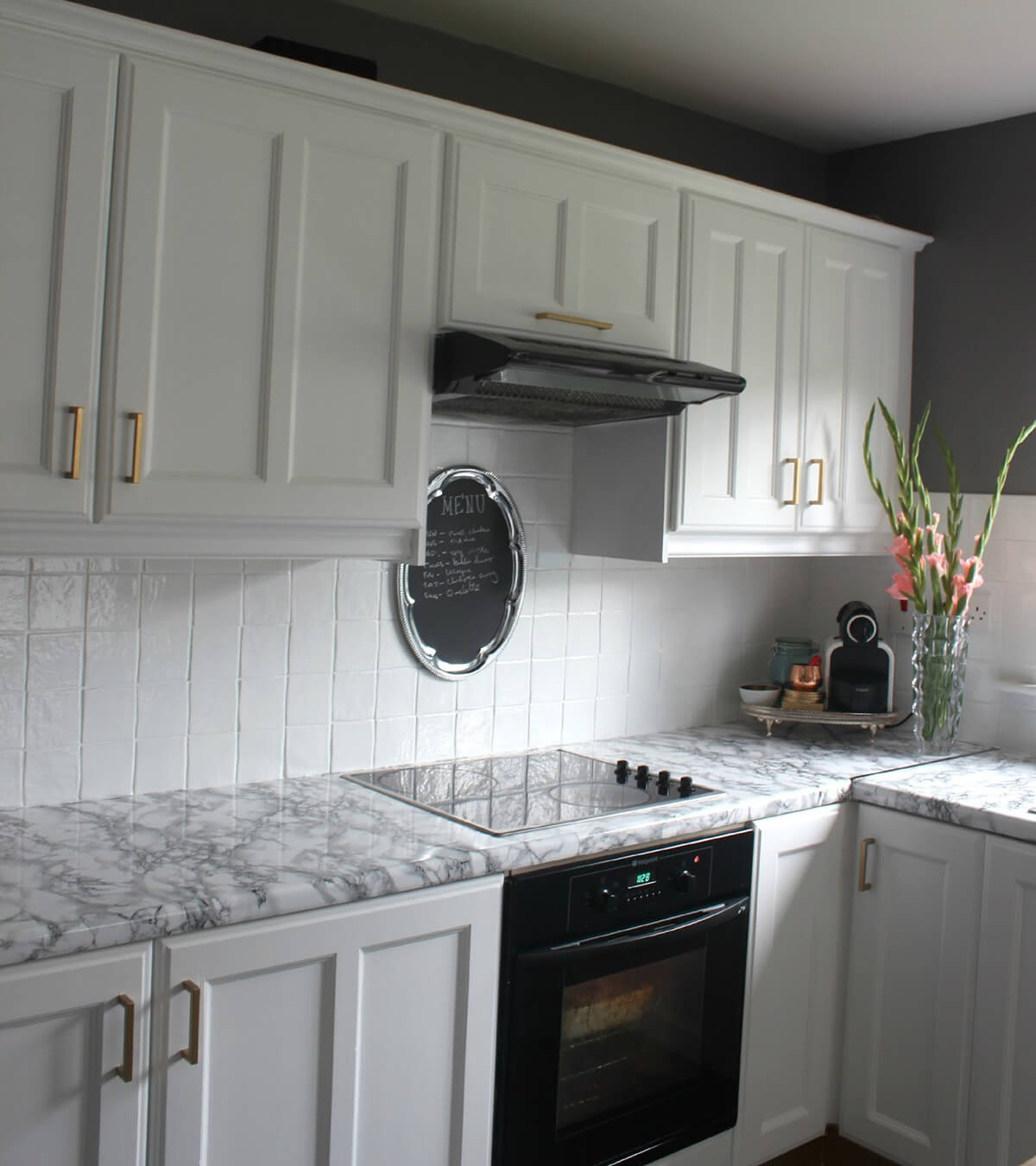 This kitchen looks straight out of a design magazine centerfold, but some of its best features are also some of our best DIY apartment decor ideas. While new cabinets are expensive, white paint is not. The crystal vase in the corner is a common mid-century design; what really makes it special are the fresh flowers. The most standout piece in this room is the platter chalkboard above the stove. You can find a similar silverplate platter for a buck or two at a charity store and refinish the center with chalkboard paint.
20. How a Single Piece Makes a Room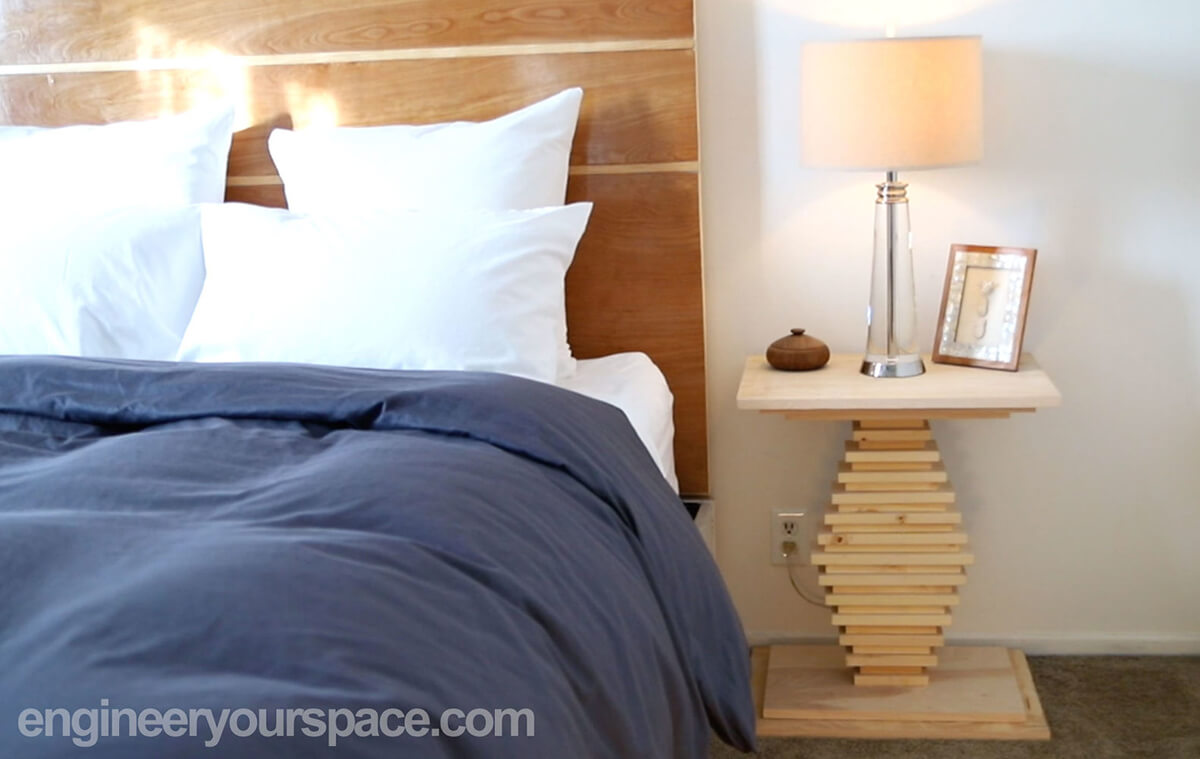 At the center of great mid-century modern design is simplicity. Neutral colors and clean, hardwood finishes are staples. Minimalism goes hand-in-hand with MCM. Here, you can see how a single, good statement piece – like this stepped, natural wood side table – elevates everything else in the room. A clear acrylic lamp mimics the same basic shape of the table while its linen shade is a near-match for the unfinished wood of the table and the natural inlays in the headboard.
The 20 Brightest and Best DIY Apartment Decor Ideas for the Year
If there's anything you should take from this group of the best DIY apartment decor ideas, it's that you can make any space beautiful, even on a budget. Neutral finishes have never gone out of style, which makes it easy to create a fresh canvas with nothing more than a coat of paint. Popular decor like aged frames, mirrors, and lamps with vintage flair can be found cheaply everywhere from flea markets to Facebook exchange. With some savvy shopping and creative restoration ideas, you might be surprised by how little you have to spend on an apartment makeover.
The most popular home decor ideas right now are surprisingly accessible. They aren't about stuffy furniture or priceless porcelains. They are about creating spaces that are bright, clean, and warm. Handmade apartment decorating on a budget is easy when you keep that goal in mind. One secret is to curate; choose your surfaces, lighting, and accents carefully. This gallery gives you an easy design template for every room. Ignore what doesn't resonate with you, and take what you love and make it your own in your apartment. In other words, embrace the interior design ideas that you love, and make your apartment a place that you love, too.
Our Favorite Rustic Chic Decorations to buy on Amazon