A small apartment presents a number of challenges for its occupants. Where do you put all your belongings? Where do you entertain your guests? How can you live without feeling overwhelmed? These small apartment design and decor ideas will show you how to do it with style.
15 Creative Small Apartment Design and Decor Ideas to Make It Your Own

If you have the option of painting the walls, a modern palette of greys and whites offer a way to freshen up the space. But, don't worry if you don't have the option of painting the walls. There are a ton of decorating ideas that will allow you to transform the space without the use of a paintbrush on a wall. A hint? Think large vinyl graphics which cling to the wall without glue.
Scale down your furniture to fit the space you have. Smaller couches and loveseats are great for living rooms. Petite bedside tables and storage baskets are both beautiful as well as practical in the bedroom. Using open shelving and headboards allow the eye to wander through the space, visually expanding it in the process.
Add storage wherever you can. A carefully placed hook on the wall, a small set of shelves, and multi-use furniture pieces are all important. Which idea gets you to thinking?
1. Mirrors Reflect the Light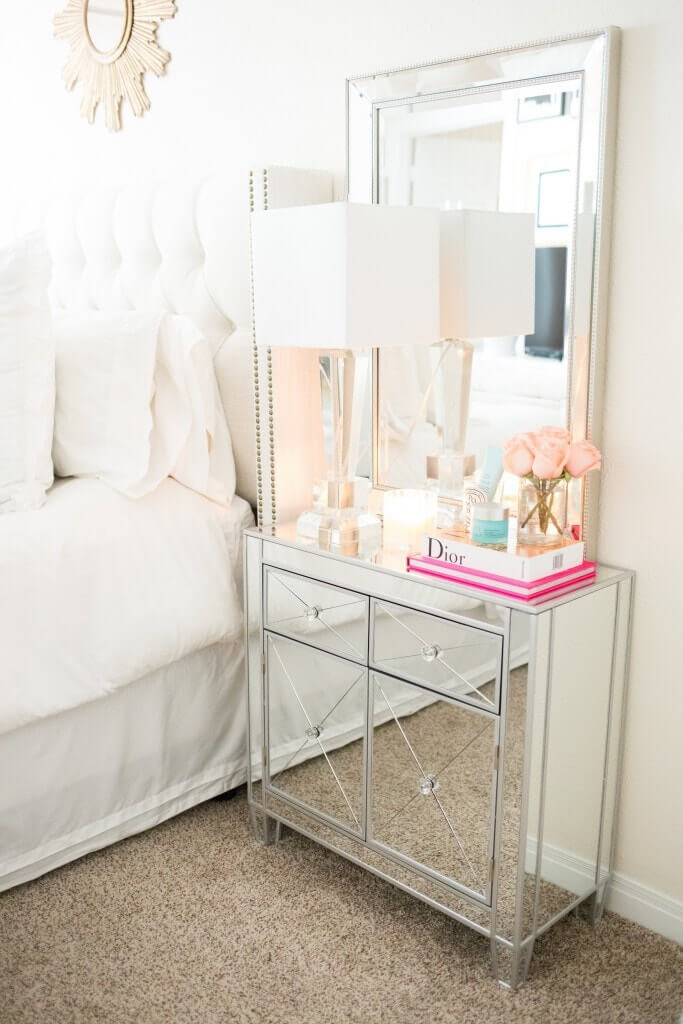 Mirrors reflect that which is in front of them. A lamp placed strategically in front of this mirror illuminates the whole room through reflected light. The mirrored bedside table helps expand the room visually while offering a practical view at how good a pair of shoes looks. The drawers and doors of the table offer practical storage.
2. A Simply Beautiful White Vanity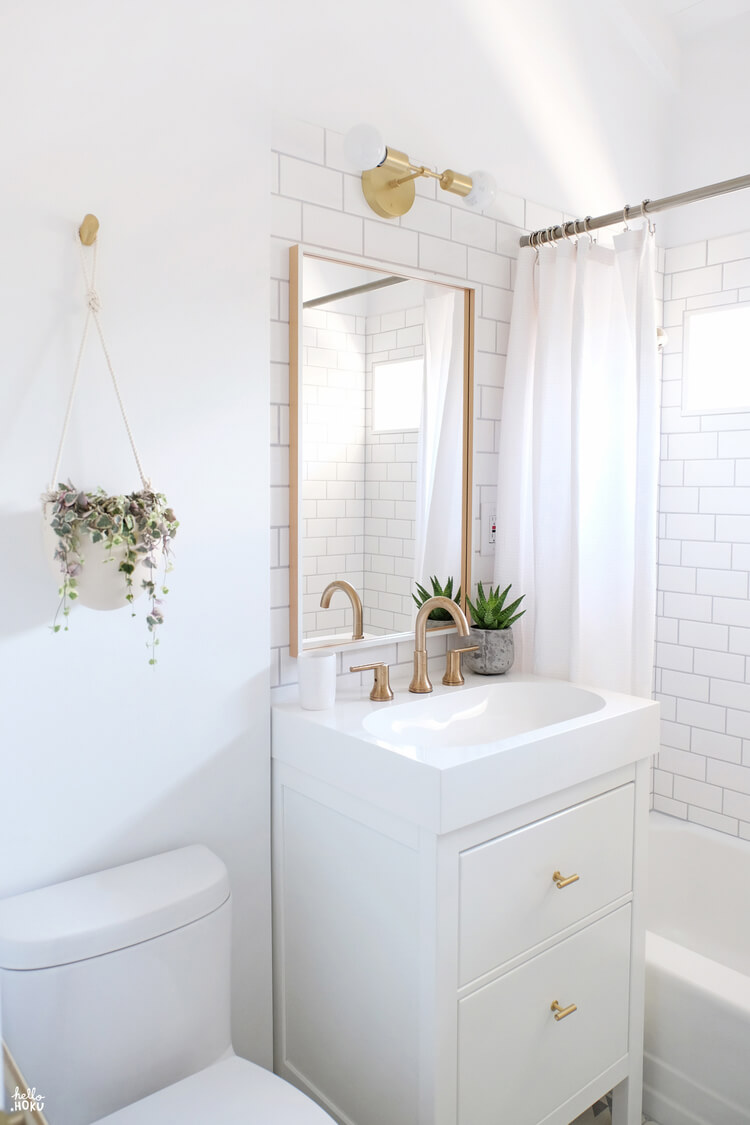 Small bathrooms require small vanities. It is just a matter of space. However, no one says a small vanity should be anything but gorgeous. This simple sink and vanity combination offers a practical place for getting ready in the morning with maximized storage below. The gold framed mirror and light fixture offer just the right touch of elegance.
3. Tiny, Beautiful and Highly Practical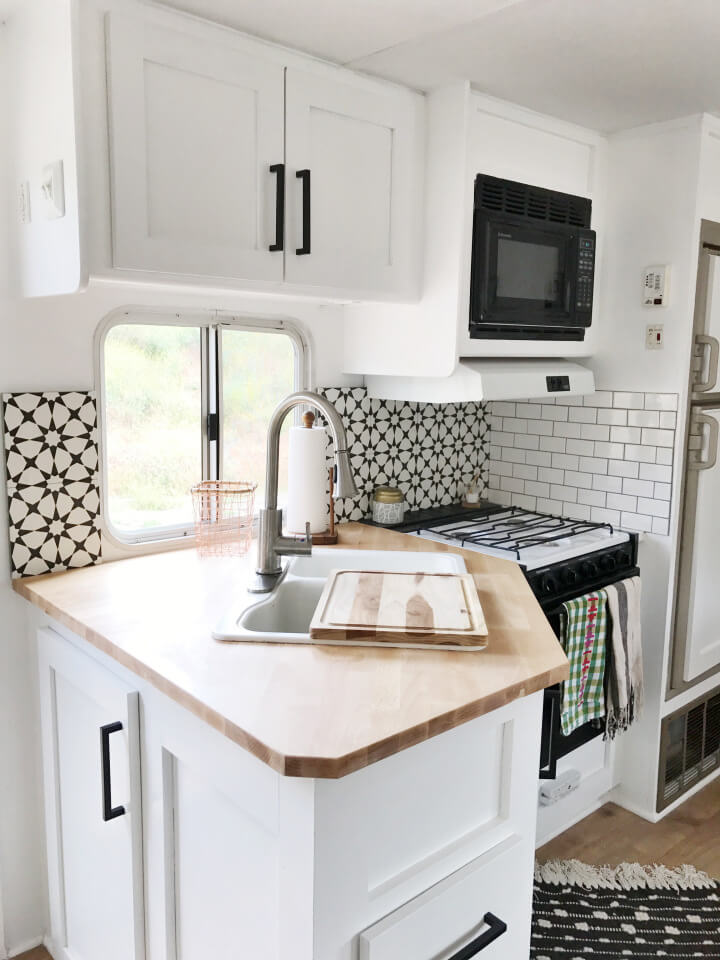 Living in a small space often means dealing with a tiny kitchen. This stylish kitchen offers everything you need in a very small space. White cabinets offer a fresh look that blends well with the rest of the space. The black and white backsplash behind the black stove offers a refined contrast. Modern handles perfect the details in this kitchen.
4. Small Black and White Bathroom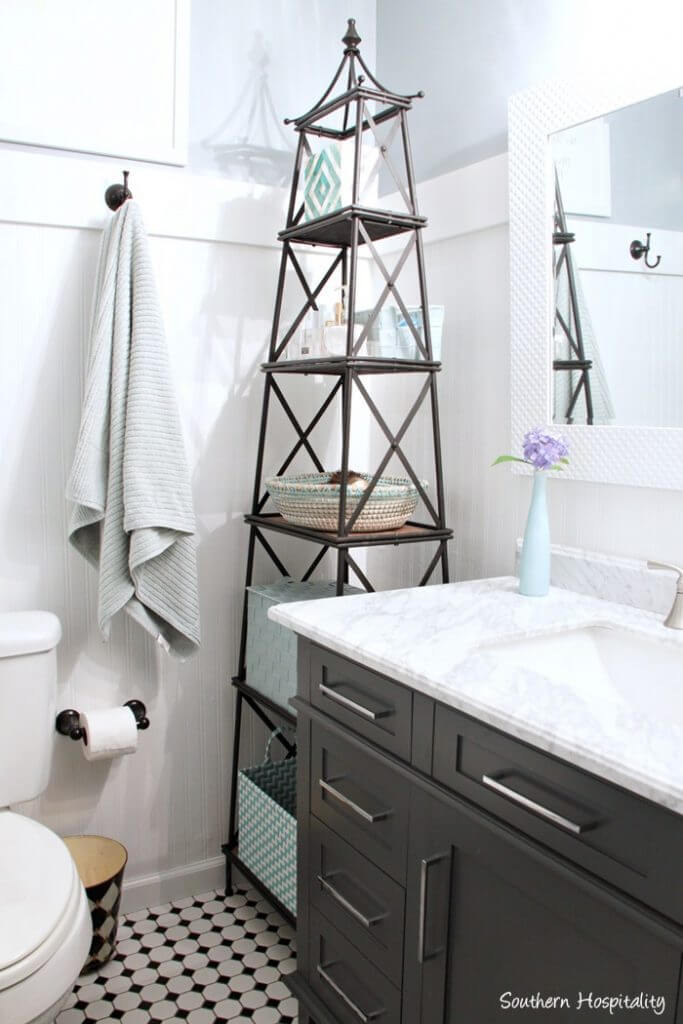 When it comes to decorating a small space, simple color combinations seem to work the best. This bathroom's black and white theme is an exemplary example of this. White tile on the walls widens the space visually, while the black and white tiles on the floor harmonize the rest of the room.
5. Think Tall and Small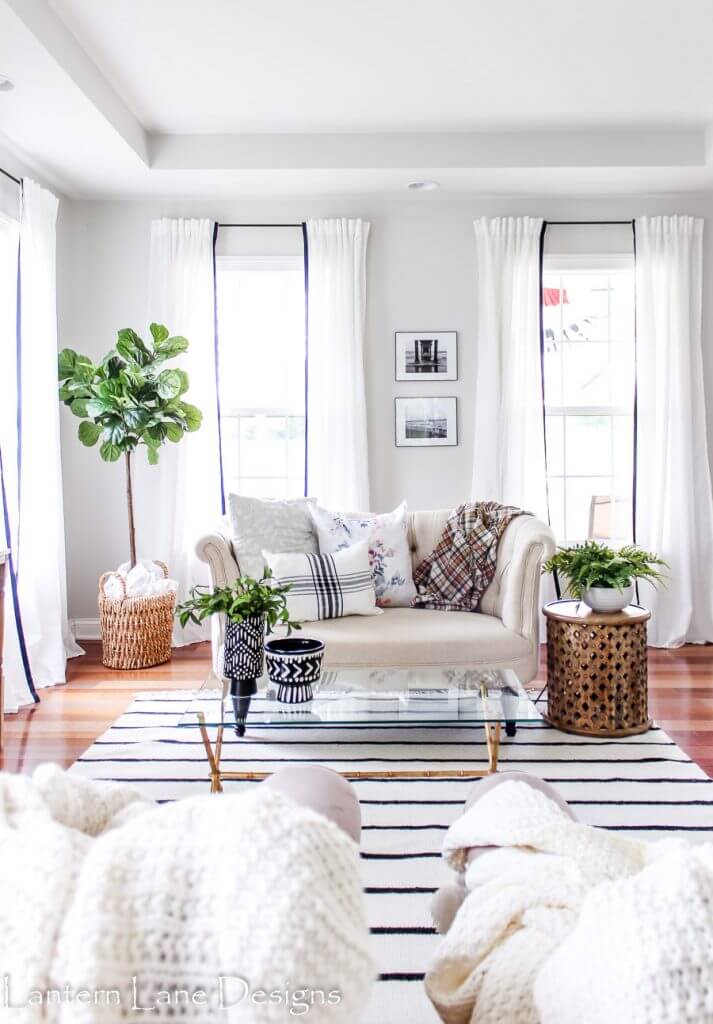 This petite loveseat is the optimal size for this small living room. The graceful lines of this beautiful rug set the tone for this room. Tall windows deserve taller window treatments. Bringing the drapes so high creates a visual expansion of the space. A glass coffee table allows the eye to continue moving through space.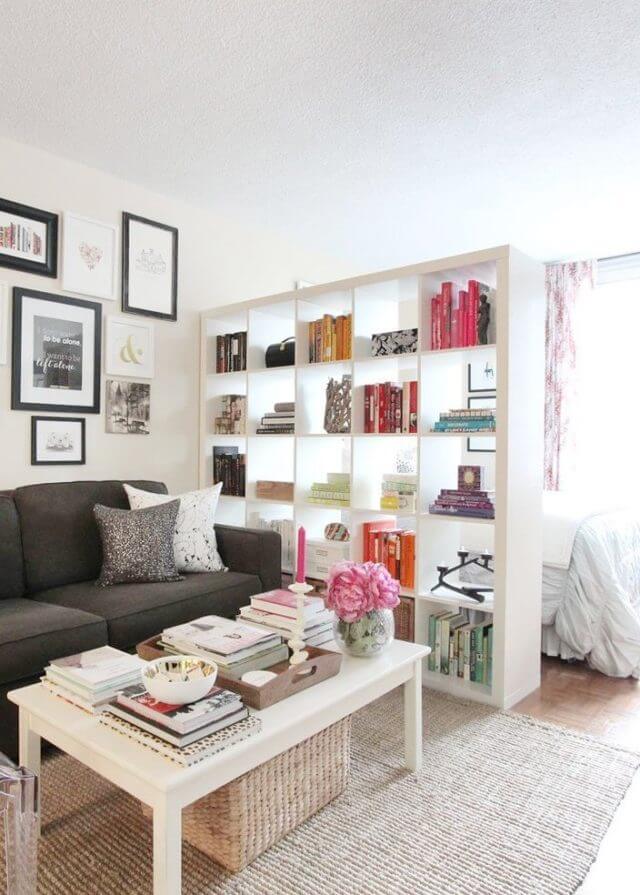 Living and entertaining in a studio apartment can be socially daunting because your bed is right next to the sofa. This tall shelving unit is the solution to keeping these spaces separate without blocking the light. The shelves allow light to filter through while still offering a visual separation of the space. The open shelves allow access from both sides.
7. The Beauty of Built-In Bunk Beds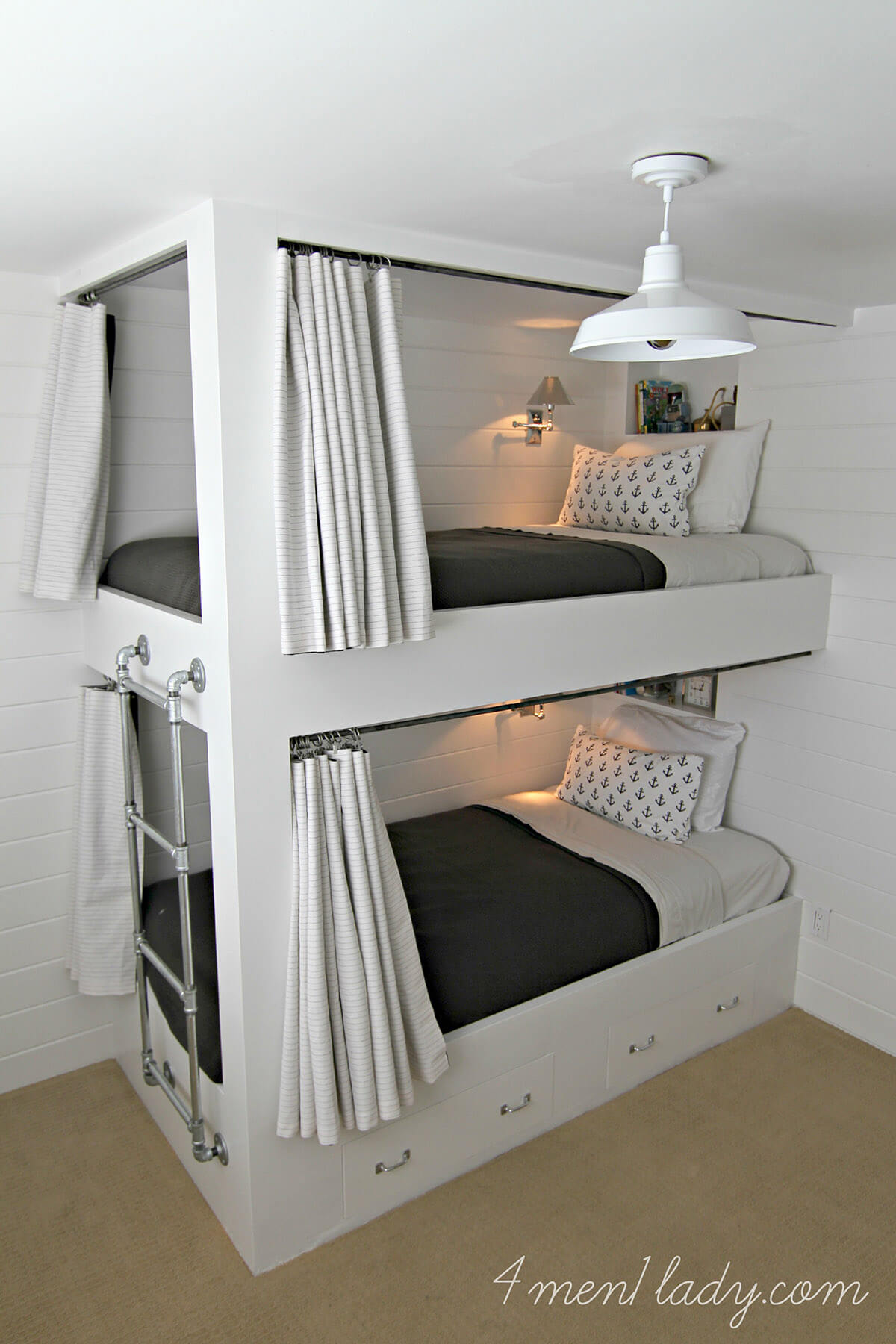 Space is at a premium in a small bedroom. When two brothers need to share a small room, space becomes even more precious. Instead of taking up valuable floor space with twin beds, a built-in bunk bed offers a better solution. Each bed is its own space, complete with light and storage. Privacy is just a draw of the curtains away.
8. Loving the Loveseats and Large Accessories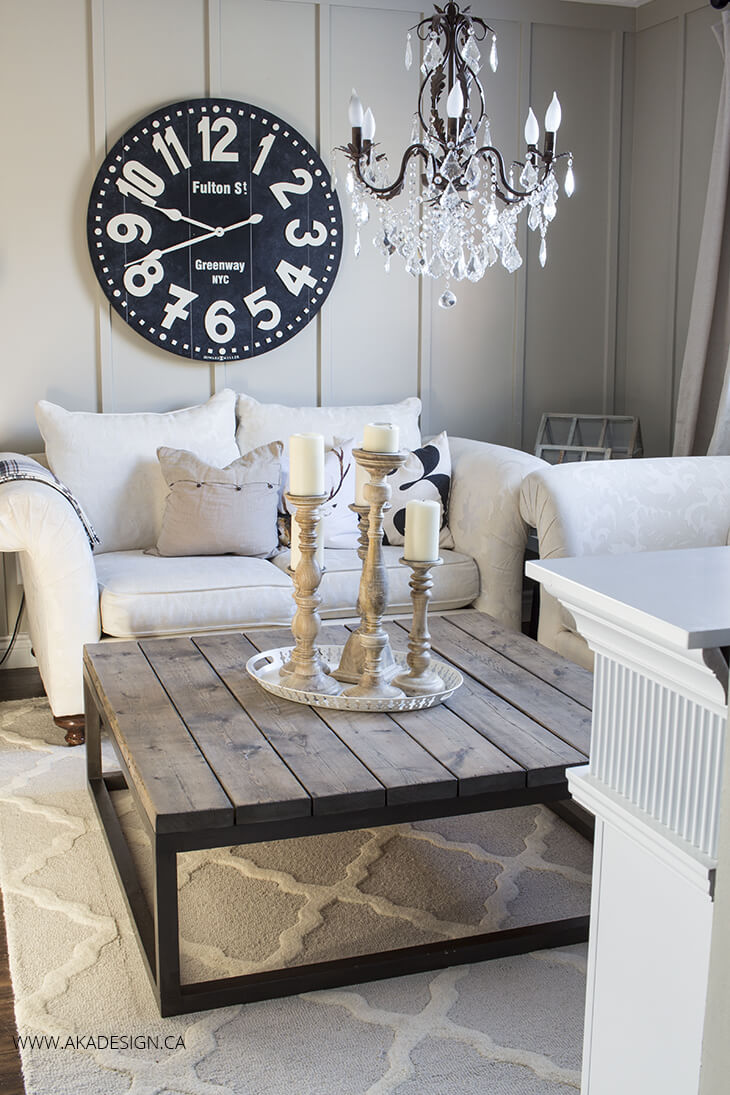 Two loveseats offer optimal seating in this tiny living room. They offer plenty of comfortable seating for family and friends without taking up the wall space of a couch or the floor space of a standalone chair. The oversized clock and candle arrangement counterbalance the smaller seating arrangement nicely.
9. The Perfect Small Space Scale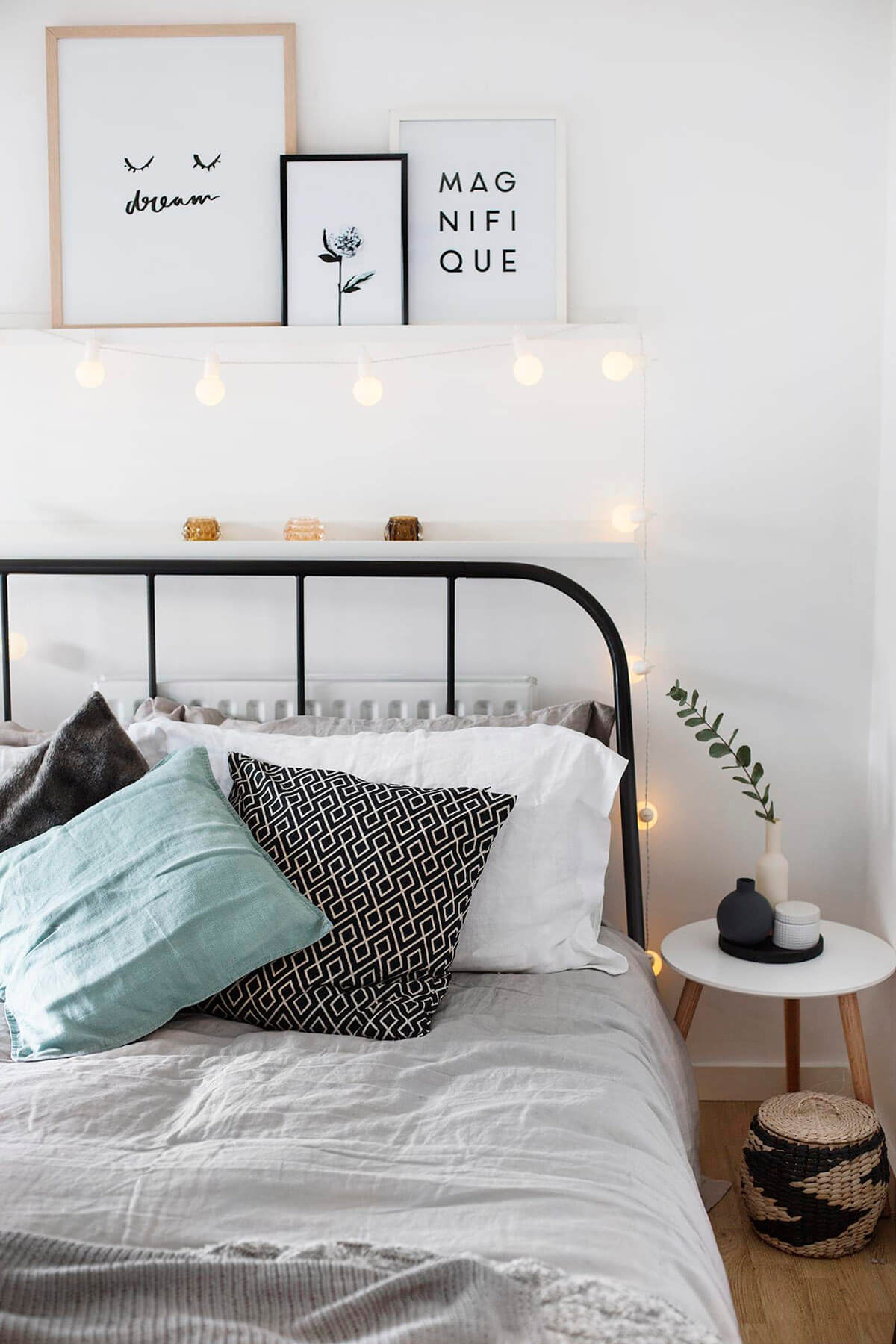 Trying to fit a bit of table and storage space into a petite bedroom can be a challenge. The thin shelf above and the small bedside table below are just the right touches. The shelf offers a place to display artwork or family photos, while the table is great for water glasses and reading glasses. The open headboard and soft linens finish this comfortable sanctuary.
10. Graphics Visually Expand a Small Bedroom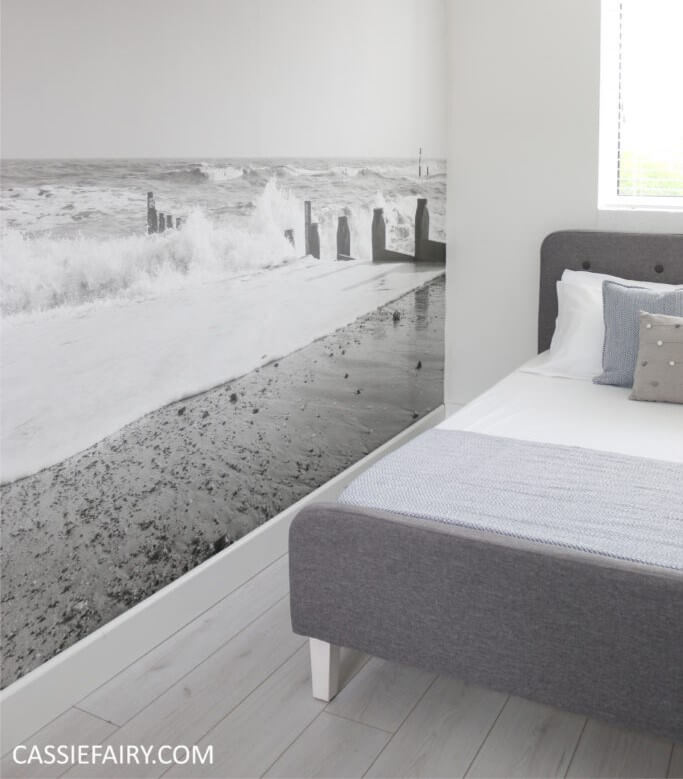 Vinyl wall graphics often get overlooked when it comes to small apartment design and decor ideas. This picture of an ocean waterfront with crashing waves visually expands the room beyond the physical walls, while the soft grey tones of the graphic also set the color scheme for the rest of the room.
11. Make Your Entryway Work for You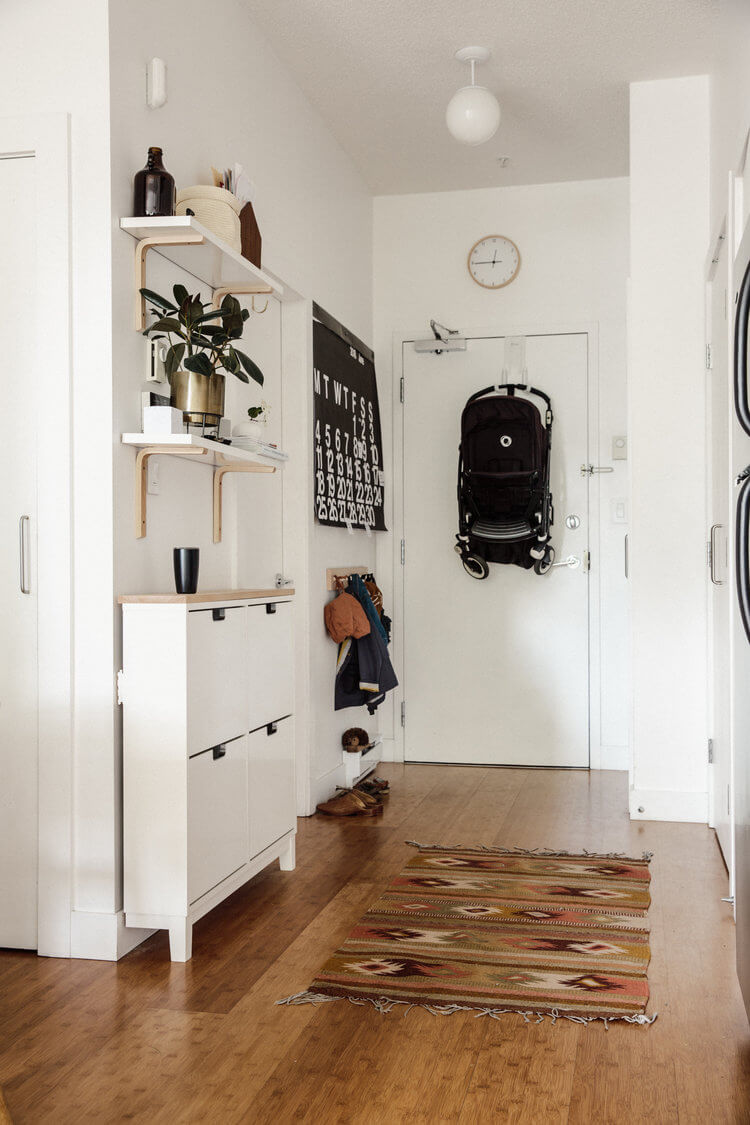 Having a small entryway can be a challenge, especially if you have younger children. Where do you put the stroller? How about on the back of the door? This small entryway has been decorated and organized with the family's needs in mind. Hooks, bins, and shelves keep things off the floor, while the clock and calendar keep things in order.
12. Taking Your Work to the Closet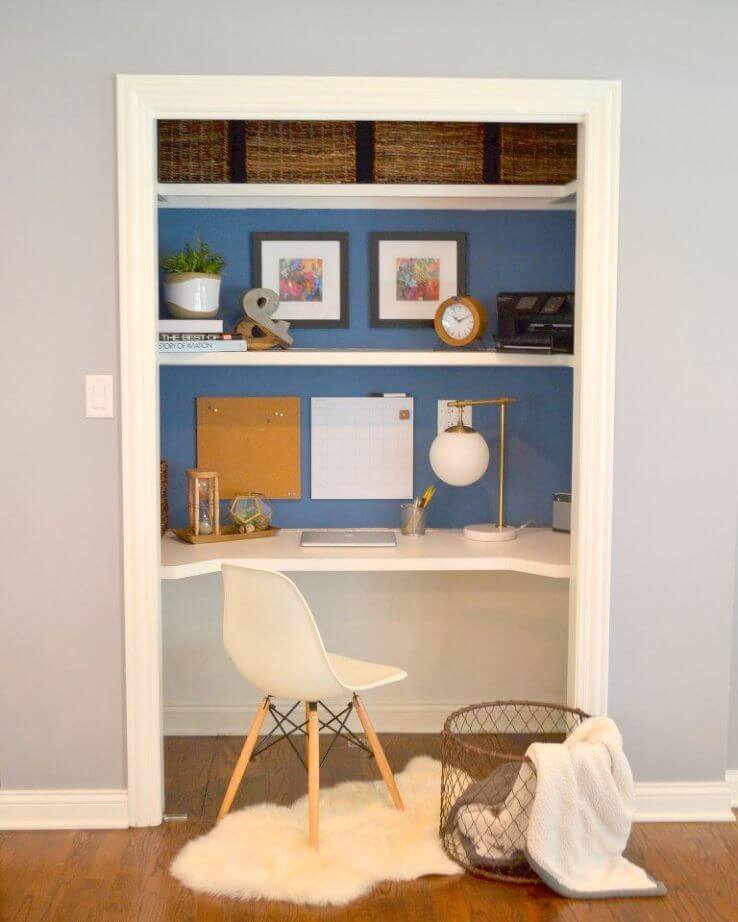 Finding a dedicated workspace can be challenging for those who live in small apartments. This closet desk makeover started with shelving and a desktop. The desk is deep enough for a laptop, yet curved to allow the chair to rest inside when the door is closed. Paint, baskets, and desk accessories give it the finishing touches that make it functional and beautiful.
13. Modern Update to a Small Bathroom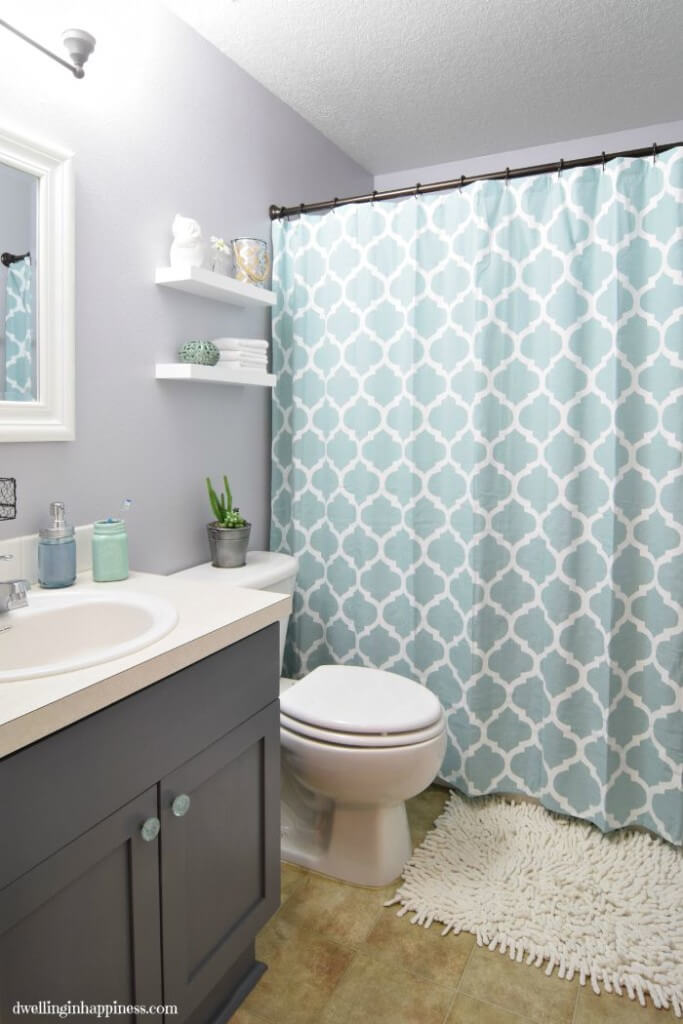 A coat of paint, a coordinated shower curtain, and the right accessories transformed this bathroom into a modern oasis of calm. Soft grey walls and fresh white trim provide the backdrop. A dark grey vanity anchors the white sink, while the floating shelves offer function and beauty. The blue and white shower curtain brings the right pop of color.
14. A Living Room in Perfect Scale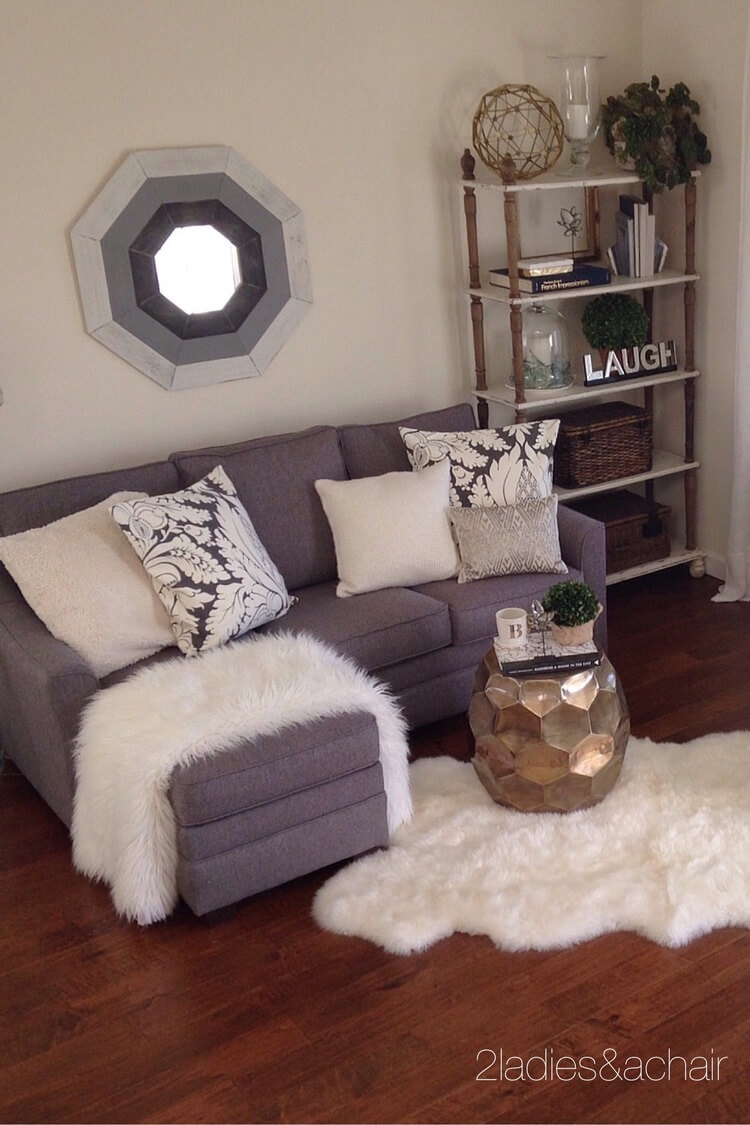 Trying to stuff oversized furniture into a small living room might give you seating, but it won't give you style. This petite sofa with chaise fits into this tiny living area. It brings seating for at least four without overwhelming the rest of the room. The tall shelf next to it offers a place for mementos, pictures, and storage baskets.
15. A Perfect Place for Sun and Plants
These simply beautiful shelves offer a place for your favorite plants to thrive. Three wooden shelves hang from simple cotton ropes which hang from hooks above. The minimalist design of this shelving system makes it a perfect choice for any decor, plus it would work well not only in front of windows but on any wall where you need a bit of storage.