When you think about the summer, you probably envision yourself in your backyard, sipping a cold drink and enjoying the warm sunny weather. But then you remember that your backyard isn't ready for summertime lounging – not yet, anyway.
24 Summertime Ideas and DIY Projects for Backyard Relaxation You can Make Yourself

If you are realizing that you either need to redo or fix up your backyard space, then you are looking at the perfect list. These 24 ideas will inspire and motivate you to get going on creating the backyard of your dreams. You may even come across the perfect idea that you hadn't even thought of. There is a world of possibilities just waiting out your back door.
When you find an idea you like, don't hesitate in implementing it. Sometimes it may seem like a lot of work, but remember your vision of the perfect relaxing summer and get to it. You will be surprised by how much you can accomplish with a clear vision and a go-getter attitude. Just be sure you prepare for a project before jumping in, and most of all, be sure you have the space to accomplish what you are hoping to do.
Notably, many of the listed options are for purchase as well, meaning you can choose to go full on DIY and take inspiration from others' designs or go the pricier but more convenient route and simply order their creations.
This list includes ideas that range from simple classic swings to outdoor movie screens and so much in between. You are sure to find something that matches your decorative taste that you can picture in your backyard. Take your time, and be sure you have the space, skills, and/or budget to make your dream project a reality. Once you are confident, get out there and get to work!
1. Easy Breezy Summertime DIY Hammock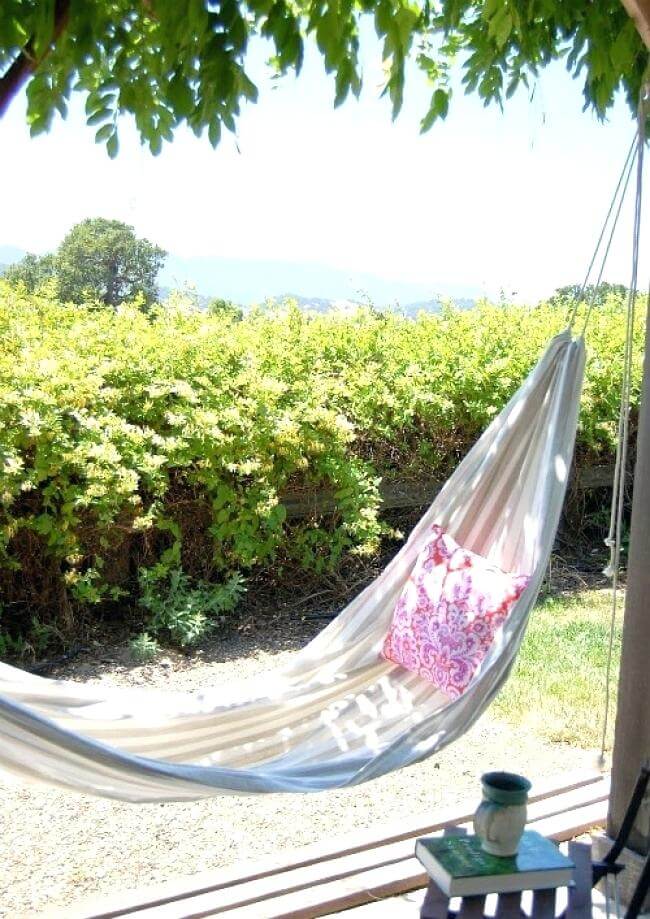 A hammock is a backyard summer essential. It is the perfect spot for a sip of tea and a good book until the warm summer sun drifts you away into an afternoon siesta. This hammock is about as easy a project as you can find, featuring just two main components and a little sewing. Just be sure when you are choosing your fabric, your sewing thread, and your rope that you select types that will support the weight you plan to put on it. Double stitching would be a good idea, as would selecting a sturdy branch or post from which to hang your hammock.
2. Enhance and Update your Patio Furniture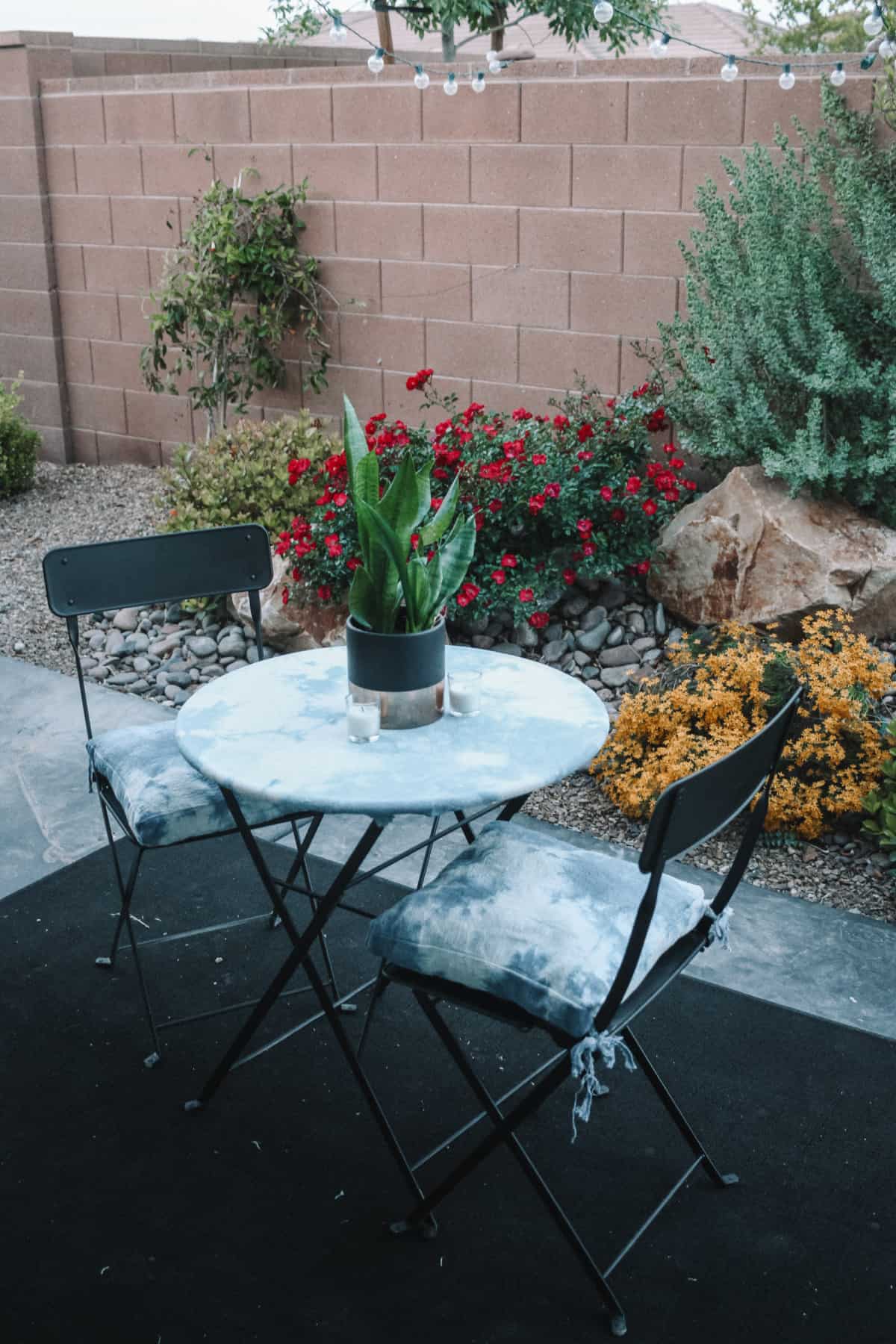 If you have a set of patio furniture that is either looking like it could use an upgrade or is just a bit too plain for your taste, this idea is worth considering. It takes little time and just a few simple skills to transform a bistro set from bland to awesome. You can either start with a set that is your desired color or paint it to your favorite hue. Then simply add some decorative touches with a fabric that you can either craft yourself or purchase. In the end, you will have a fun and unique creation.
3. Retractable DIY Hanging Garden Canopy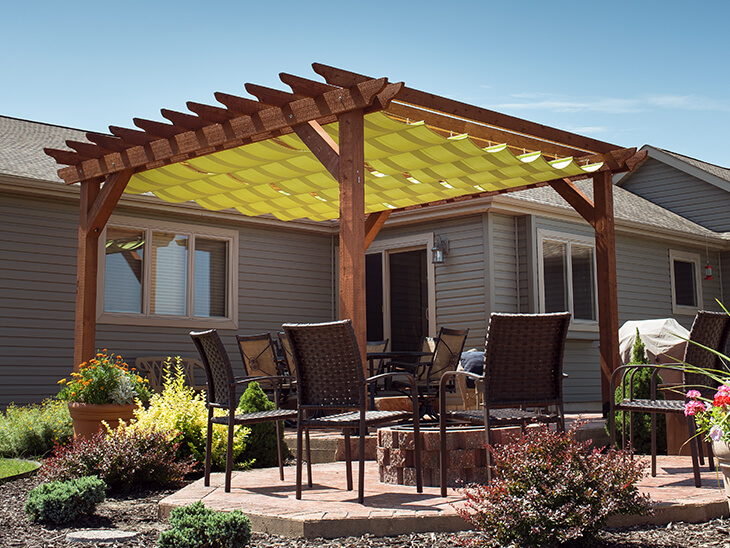 If you have a pergola or other open-topped deck covering, you may wish you had a way to shade yourself better from the sunshine. This super fun DIY canopy operates with wires and cables and can be pulled into place for your desired amount of shade from the summer sun. Be sure to take your time and use correct measurements as each element is important to the success of this sun shade. Pick a fun and heavy fabric that will match your outdoor décor and keep you safe from the sun's powerful summertime rays.
4. Stay Cool with a Stock Tank Pool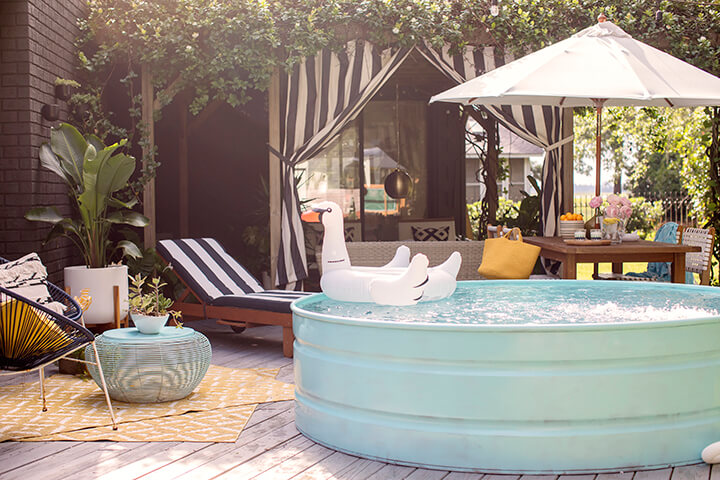 Stock tanks can be found at your local tractor or farm supply store and can easily be turned into your new favorite summer spot. Take your time when first installing your stock tank pool to ensure it is properly lined, hooked up to a pump to keep it clean, and placed on sturdy ground. Add a coat of your favorite paint for a splash of summer fun. There are also opportunities to create a heated pool if you are crafty, meaning you may even be able to use your new splash spot all year long.
5. Create Your Own Garden Seating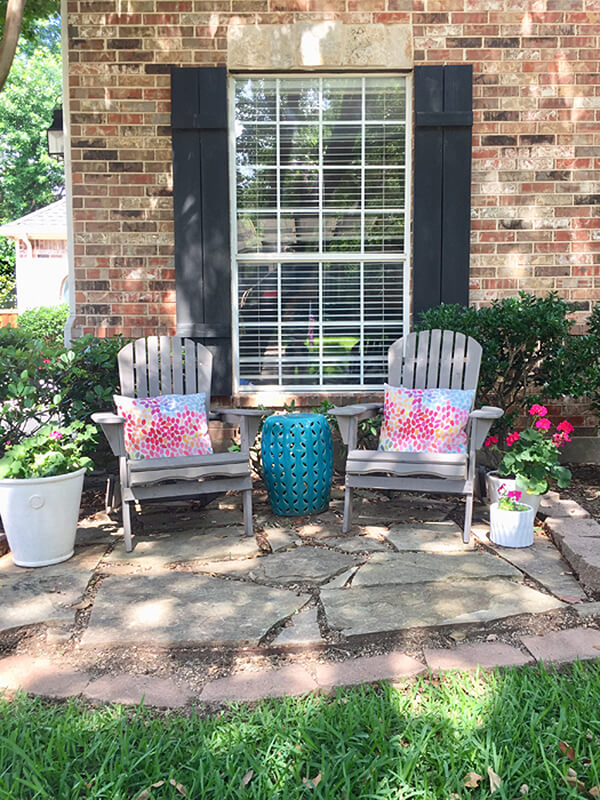 Making something from nothing is the best way to do any DIY project. When you look at a space and change it from plain to awesome, you are doing it right. This tutorial covers everything from laying the groundwork of flagstone to finding the right décor. This is a great idea when you just need a cozy backyard spot to give yourself a rest and comfortably watch the kids or have a chat and a snack with your favorite neighbor. Have fun, and think about how big or small you want your self-made patio space to be.
6. Bringing it All Together for an Update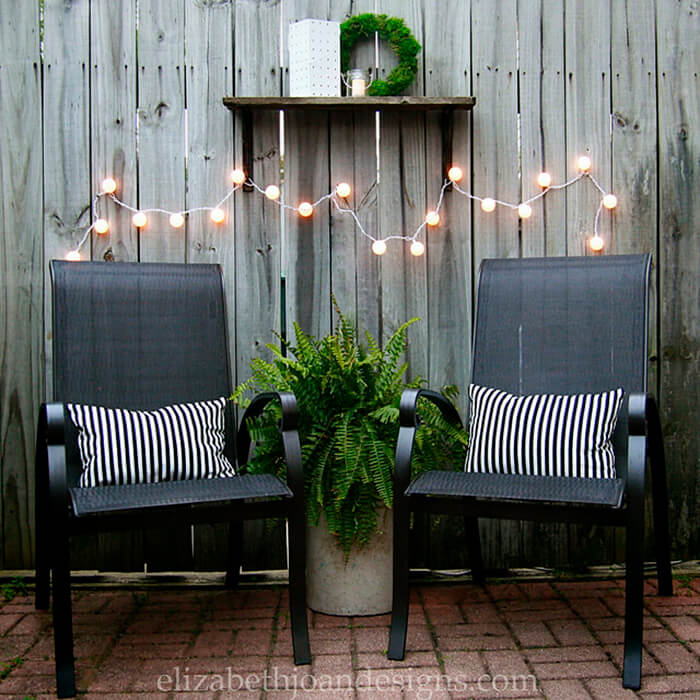 One of the best ways to renew a tired space in your home is to brighten it up with some forgotten items. This beautiful patio space is comprised mostly of items found around the house and brought together in a new home. Another great way is to add a fresh coat of paint or a new fabric cover. These updates are so simple that you just need to get out and do them. Don't settle for rusty or discolored chairs any longer; you have the ability to make the changes you want to see in your backyard right now.
7. Awesome Umbrella for Your Patio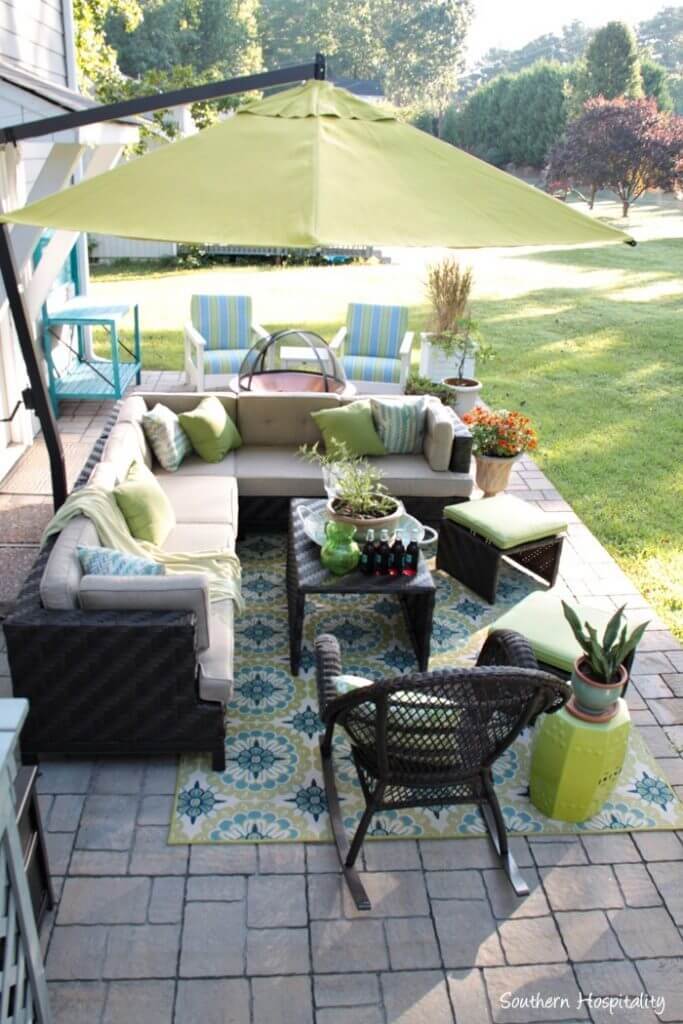 If you don't already have a large umbrella generously shading you from the scorching summer sun, you should order yourself one right now. With their wide rims, most patio umbrellas can easily shade a whole family enjoying a meal or visiting outdoors. Pick a color and size that works with your current look, and enjoy the warmth without the burn. If you have an extra-large space, consider ordering a matching or complementing set of umbrellas to ensure the shade is shared by everyone. Be sure to find an umbrella that folds up well for easy winter storage.
8. Practical and Pretty Porch Updates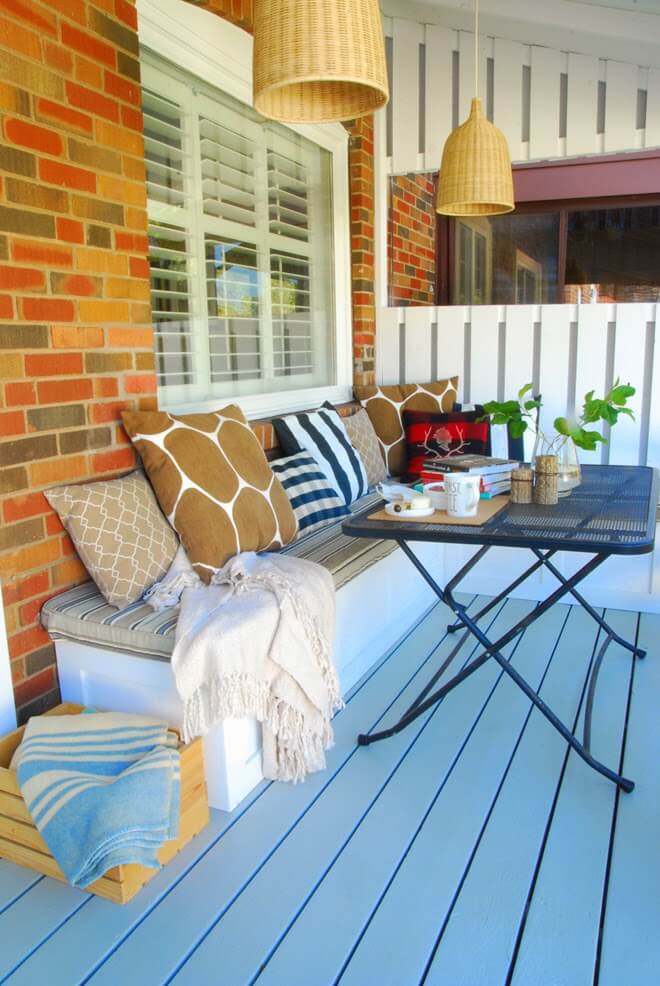 Many people enjoy spending every evening outside during the summer. And why not? The warm weather allows you to be out of doors all the time, enjoying the fresh air and natural scenery. That is why adding a table to your porch is a great idea. Think dinners, games, and maybe even some work. With the addition of some big fluffy and fun pillows, you can make the space even more personalized and comfortable. You will hardly need to go inside at all — only to refill your glass of cool iced tea and maybe grab a snack.
9. Bright and Summery Patio Look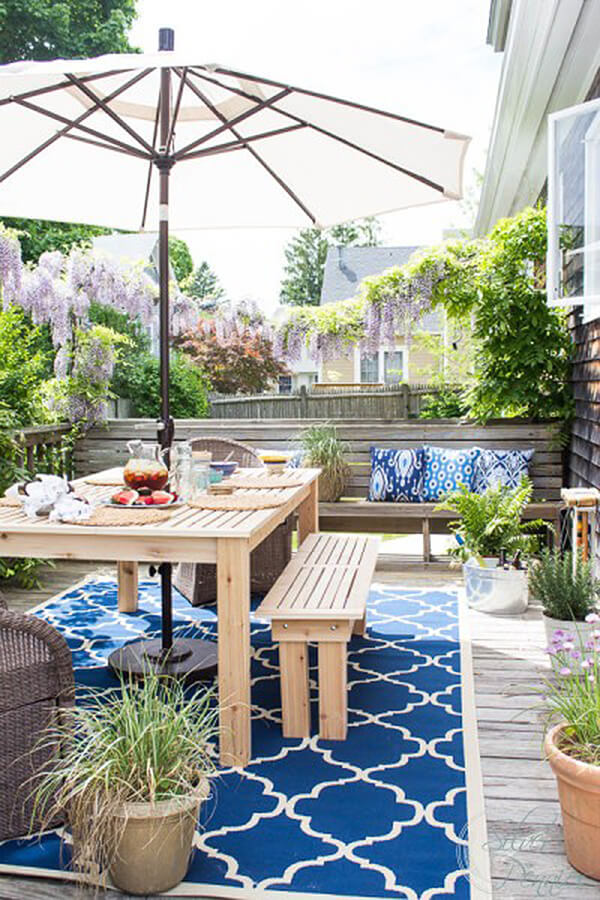 If you have a large patio space, you should take advantage and create an outdoor living area for your family. The primary color scheme here features light wood and whites with a single accent color of bright blue that reminds one of cool water on a hot summer day. A dinner table is a great way to get the reluctant kids out into the sunshine and away from ever-present tech. Bonding around a dinner table is wonderful and is only made better when you are outside. Go all out and create a space your family can enjoy every night.
10. Amazing Outdoor Garden Big Screen Theater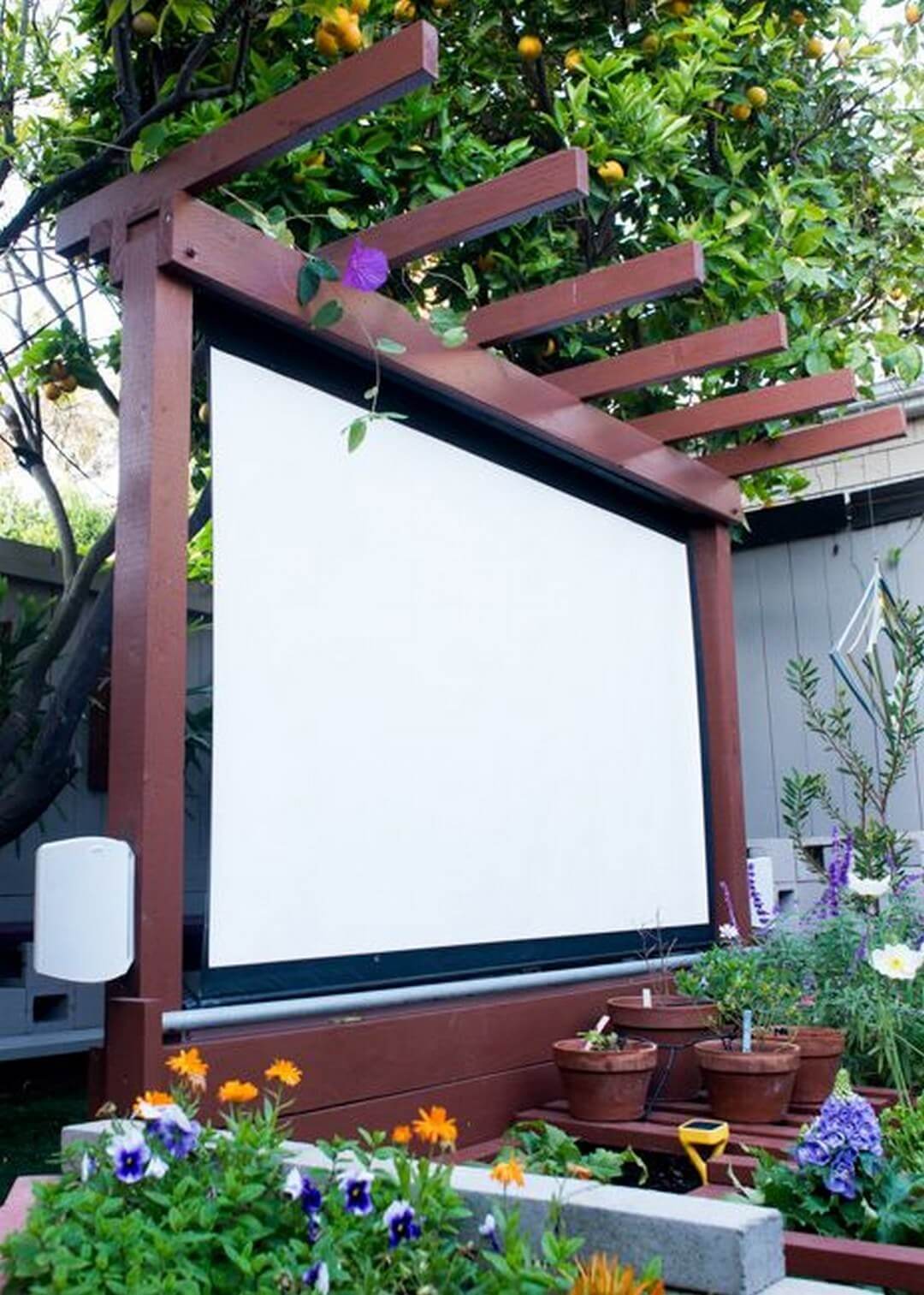 A home theater may feel like an extreme luxury, but this simple guide will allow you to create your own garden theater with ease. You merely need a pergola or trellis that will fit a projector screen and a place to hide your projector, and voila! You have a complete theater in the comfort of your own garden. You can keep your screen and seating area small for a more intimate feel, or you can expand the space for larger parties or neighborhood gatherings. Just know that once word gets out, everyone will want to see it for themselves.
11. DIY Backyard Fire Pit Project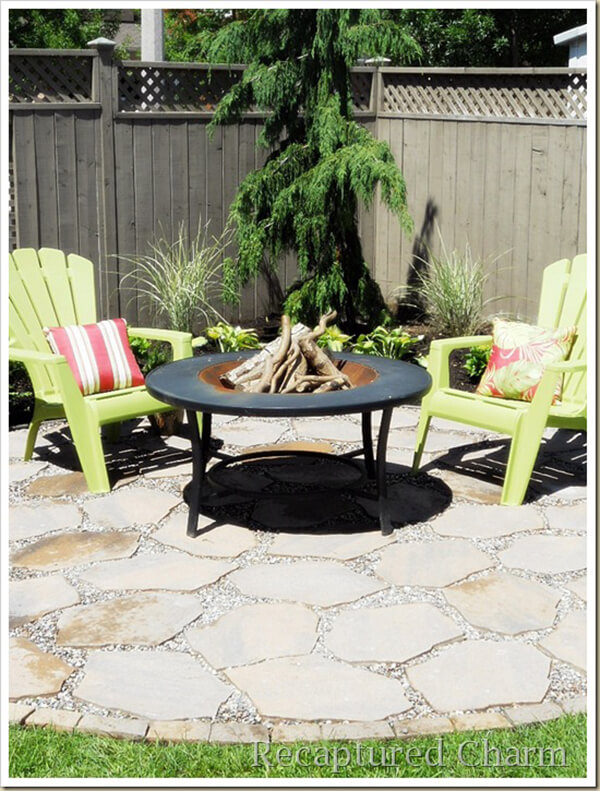 Buying a small fire pit may be simple, but creating a beautiful, safe, and convenient patio for it is a bit more difficult. Still, it is totally worth it. This project takes time, with elements like limestone and brickwork, but the outcome is a gorgeous patio for your standing fire pit with no fear of catching your lawn on fire. Use your new space for roasting marshmallows and enjoying a warm fire. Consider adding a picnic table for more seating. Remember that you can create a space as big or as small as you desire.
12. Custom Painted Concrete for a Personalized Patio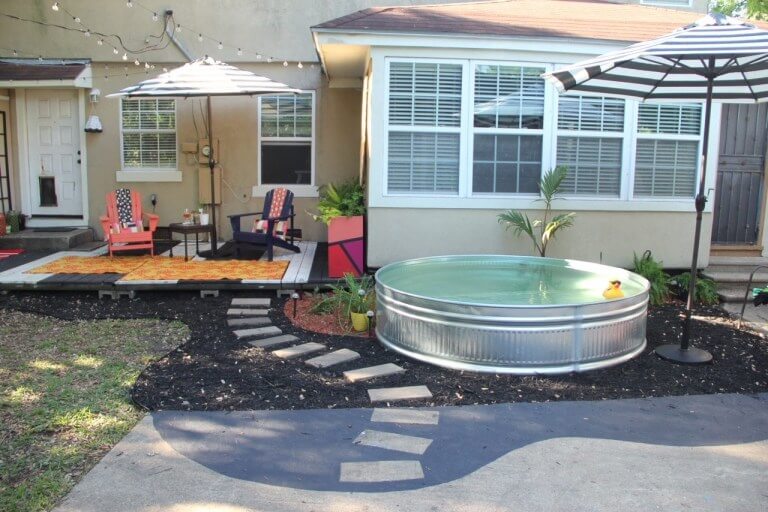 If your patio happens to have more concrete than personality, it may be time for you to consider sprucing up the pavement with a bit of paint. It is simpler than you would think and can be done in an interesting pattern, color, or design for a fun and unique look.If you are a confident artist, go freehand for your design. If you aren't so sure or just want to be extra safe, use a stencil to ensure straight lines and perfect patterns. In the end, you will have something that is unique to your home. Be sure to check the permanence of your paint before you begin.
13. Planter Box Pea Gravel Patio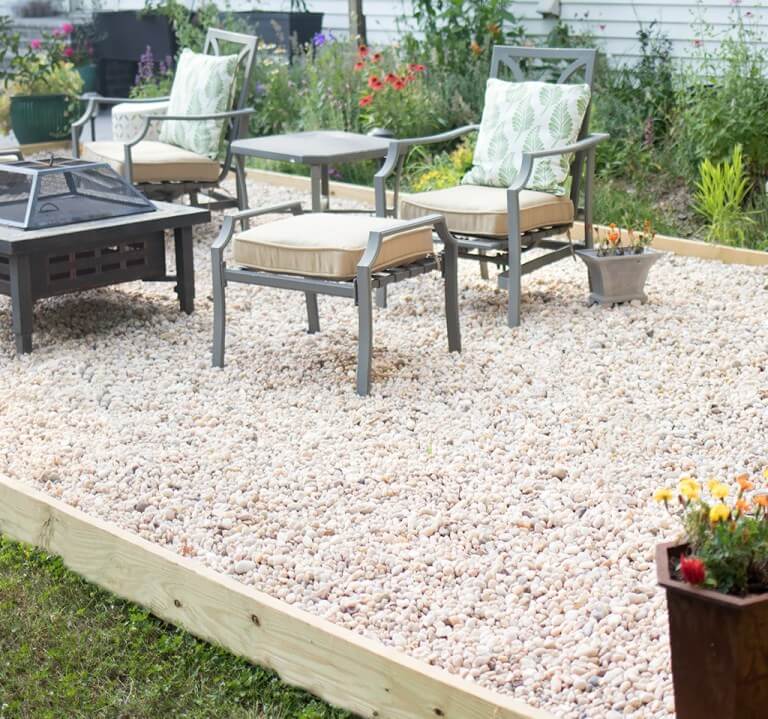 Many homes have great backyards, but sometimes there is not a great place for sitting. That is when you can design and build your own patio using tiny rocks, following the same concept behind a planter box. Plan out where you want your patio, ensure your beams are sturdy, and fill in the space with rocks, plants, and furniture. You will be able to enjoy your new patio as though you were hanging out on a rocky tropical beach. Never worry about hot concrete or chipping paint on a wooden backyard deck again.
14. Beautiful Patio with Playful Features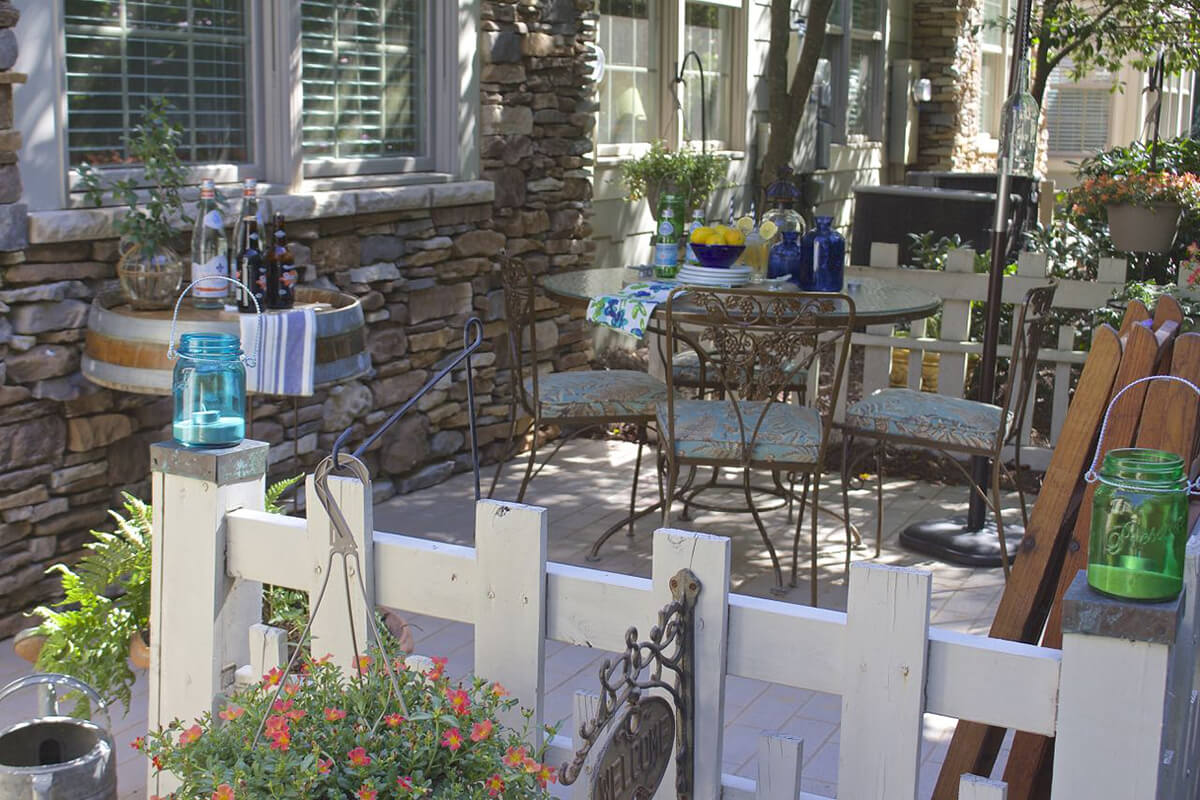 If you find yourself wanting to incorporate many cool designs into one, then go for it! This look takes an amazing floating barrel bar, fun Mason jar lights, and a super cute style to create a patio that has both classic and unique features. This DIY idea is great for hosting or just for lounging outside. Remember that even when incorporating many fun ideas, it is important to feature a specific item or two to give your space a focused look and allow your craftsmanship or design skills to shine. This bar, for example, is the perfect centerpiece.
15. Simple and Elegant Patio Pergola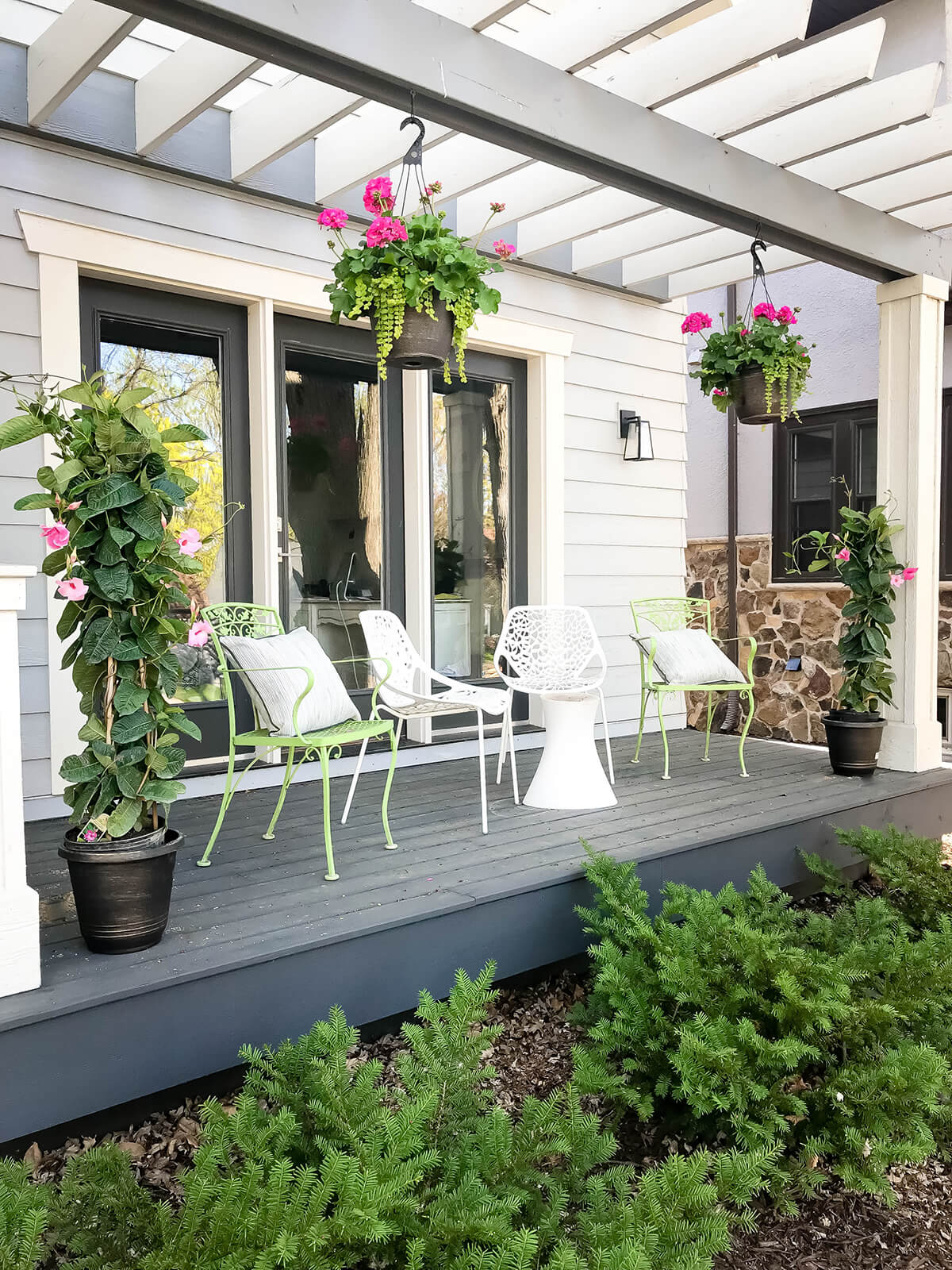 A great pergola provides shade, looks lovely, and is just right for hanging beautiful baskets or lights. This gorgeous example overhangs some simple and elegant wrought-iron chairs for a look that is clean and classic. With a pergola this pretty, you don't need fancy or ornate furniture; it is best to let the architecture shine. Consider incorporating plenty of flowers to enhance the romance of the space. Since this pergola is attached to the home, it makes for easy use, and can be seen and enjoyed even from the inside looking out. Be sure to give it a fresh coat of paint every year or two to maintain a polished look.
16. Comfy and Durable Adirondack Chairs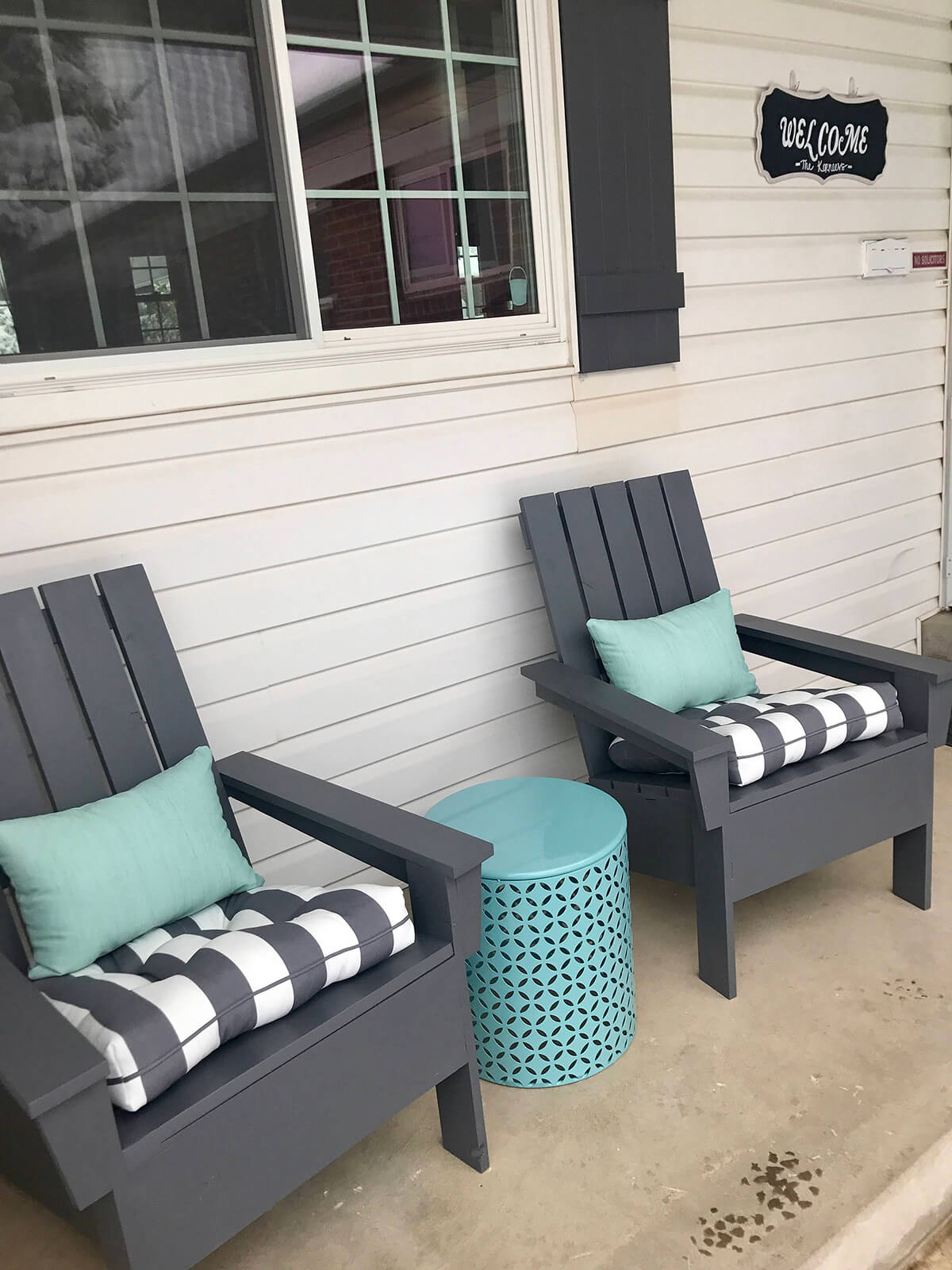 Custom made, these chairs are so lovely you'll want to use them all the time and so durable that you don't have to worry about moving them inside during a storm. These sturdy and comfortable chairs are available in custom colors to perfectly match your outdoor space. If you choose to have your chairs in a more neutral color, consider bringing in a few playful and brightly colored pillows for a more vibrant splash of summer. Just be sure not to forget to bring in the pillows when the autumn rains start to fall.
17. Simple and Slim Adirondack Set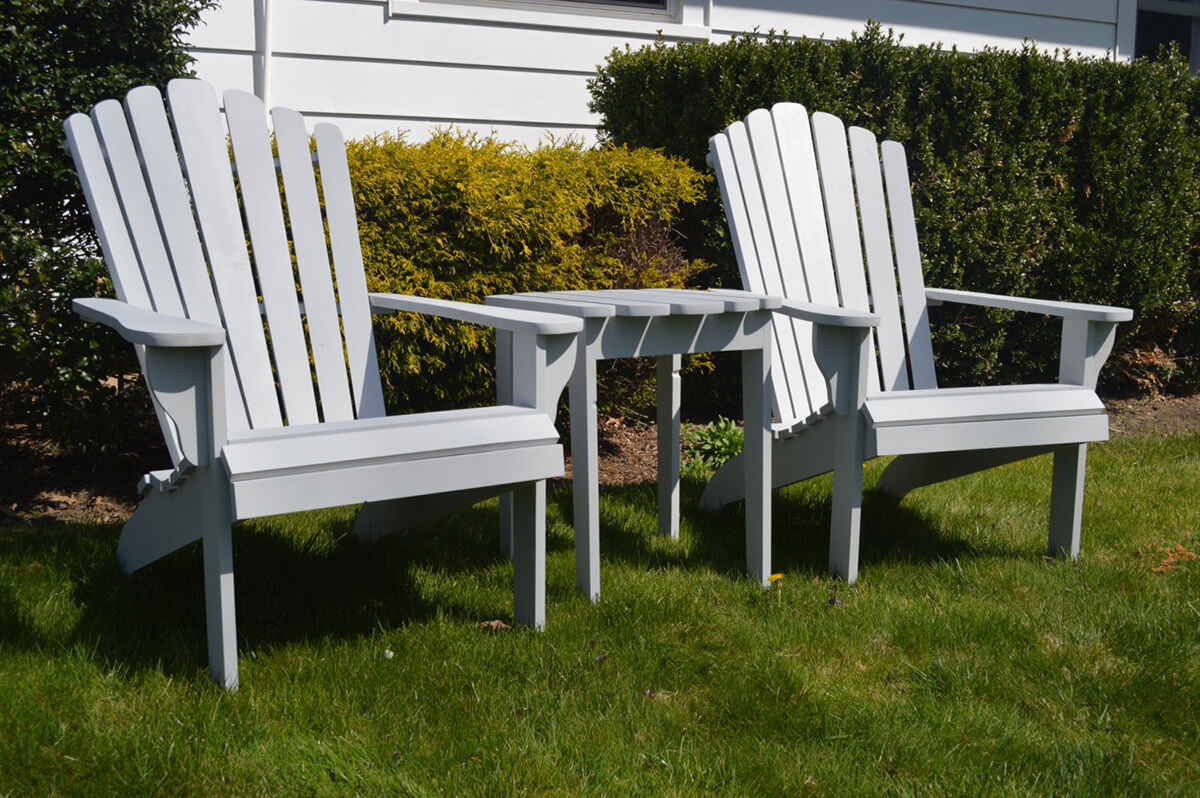 Featuring two very laid back patio chairs and a small table, this patio set is crafted with durability and comfort in mind. Thanks to the wide armrests and a contoured back, you can enjoy many hours in your new chairs and possibly even doze off for a warm summer snooze. The table, having been crafted along with the chairs, perfectly matches and is at a desirable height for setting drinks, books, or snacks. Since they come pre-assembled, you don't even have to do anything except sit back and enjoy once you get your beautiful new outdoor chairs.
18. Super Comfy Cushioned Hammock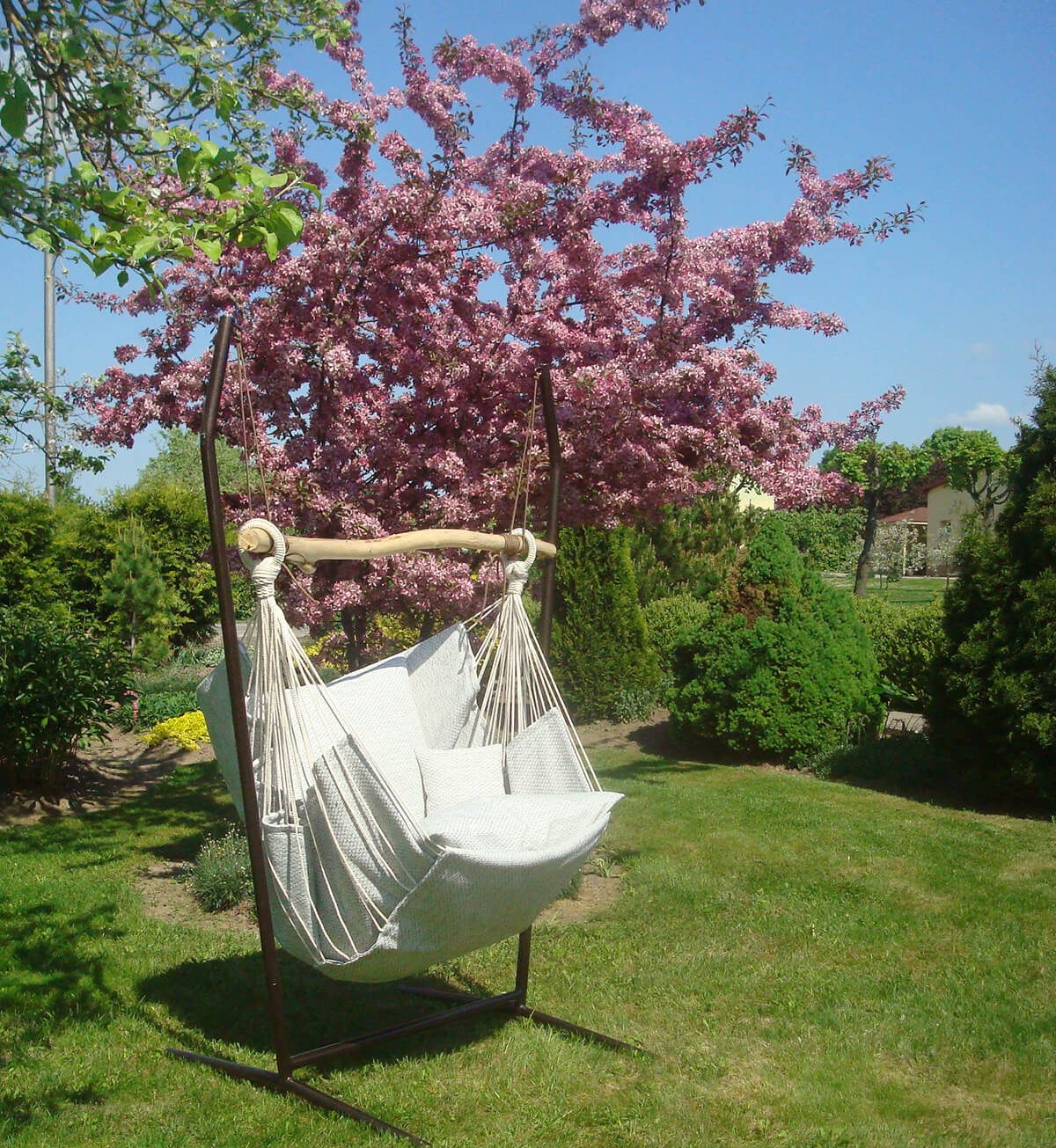 Hammocks are already amazing, but this design takes it to a whole other level. With a giant, super lush cushion, this hammock chair will swing and cradle you in sweet summer bliss. Made from natural materials, this hammock is durable and can hold about 250 pounds. You will be the envy of all with this show-stopping backyard piece, and you may find yourself outside more this summer than ever before just to have a swing. Ask for a push from your sweetie and then snuggle up for a cozy summer snooze or a relaxing afternoon of reading in your big cushy hammock chair.
19. Whimsical and Romantic Porch Swing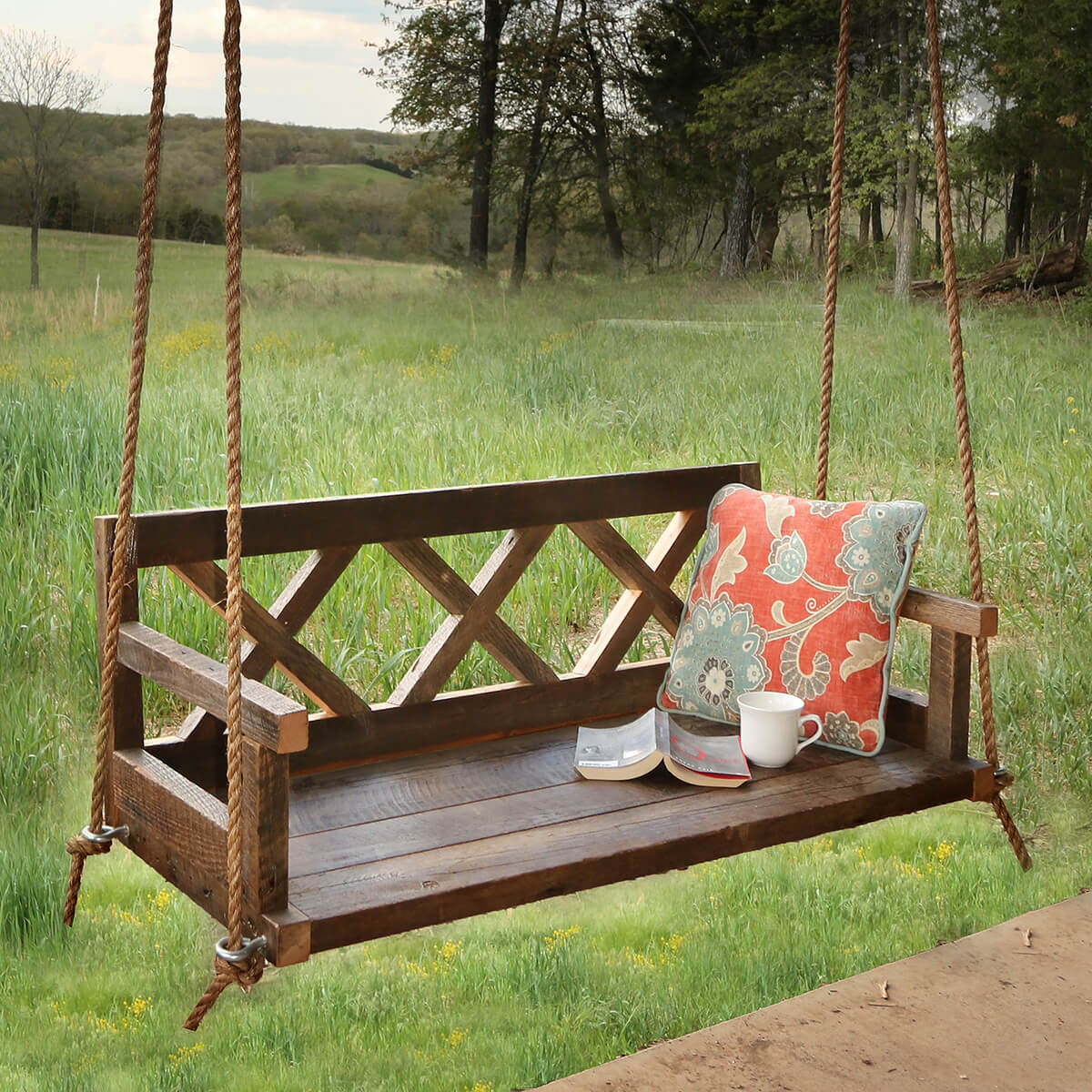 There is something so sweet and innocent about a plain wooden porch swing. Thanks to its wide bench and simple frame, you can snuggle up with your sweetheart to enjoy a cool summer iced tea and a gentle swaying swing. The beautiful reclaimed wood gives this piece a cozy summertime farmhouse chic look and is enhanced with the beautiful crosswood pattern on the back. Enjoy whiling away the hours in your new favorite spot all summer long. Be sure to hang this somewhere sturdy as it is sure to see lots of use for years to come.
20. Wisconsin-backed Adirondack Chair for the True Midwesterner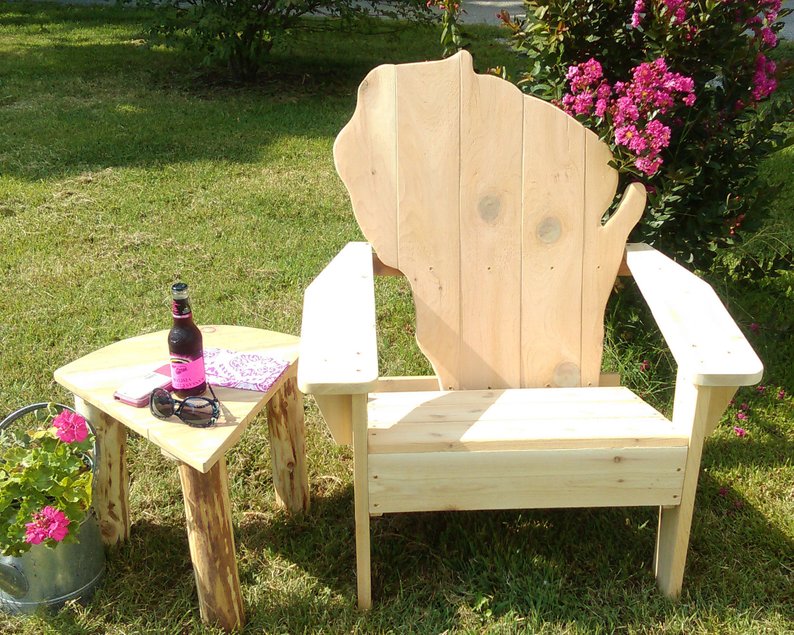 Calling all cheeseheads! No matter where you live, putting this chair in your backyard will show everyone where home really is. You can buy this to sport your state pride, or it makes a great gift for a Wisconsin expat who could use a little reminder of home or your sports fan dad on Father's Day. (Pair with beer and cheese curds for a real treat!) Great for a tailgate or Super Bowl party, it will look right at home next to a grill and cooler in the backyard of your dreams. Be sure to consider a matching (or opposing!) set.
21. Curved Back Wooden Patio Chairs in Color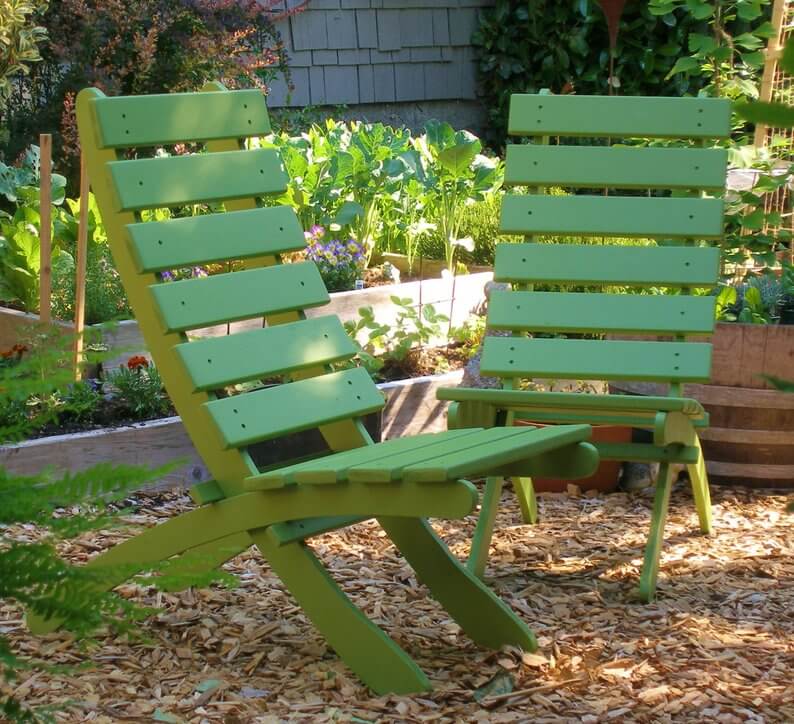 If you are going to be lounging in your backyard, you have to make sure you are set up to lounge. These distinct-looking chairs are that right blend of stylish, comfortable, and sturdy. Their cedar material ensures a long life, and their bright colors – 16 to choose from – are a fresh deviation from the standard brown look. They can be used as a backyard focal point in the right color or can easily be paired to match existing furniture. However you choose to use them, you will be happy you have somewhere to rest and breathe in the fresh air.
22. Custom Cushion Covers for Outdoor Furniture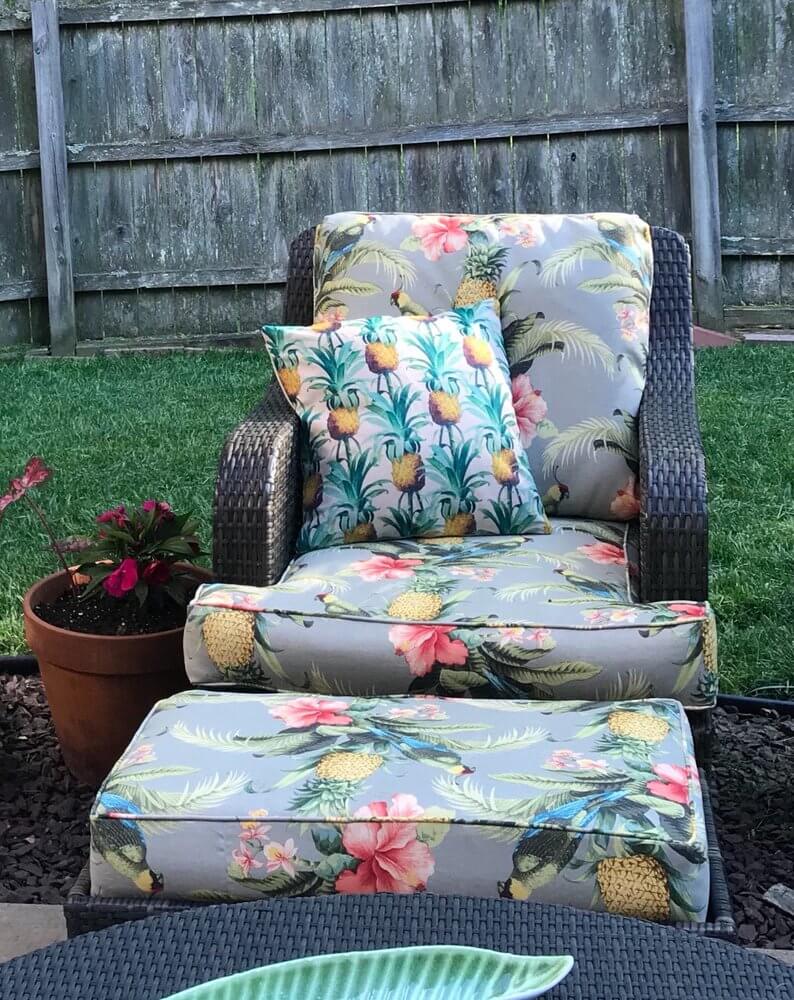 Outdoor furniture takes a beating. It bakes in the sun all summer long, endures rain and wind throughout the year, and unless it has extra conscientious owners, it may sit in the snow all winter long. Rather than toss those worn out cushions, revitalize them with brand new covers. This artist will apply just about any color or fabric you wish so that you can maintain your unique look. Consider mixing it up and adding a fun new cover, or, if you prefer to stick to tradition, order new covers that maintain the look of the old. Options abound!
23. Free-Standing Wooden Swing with Stand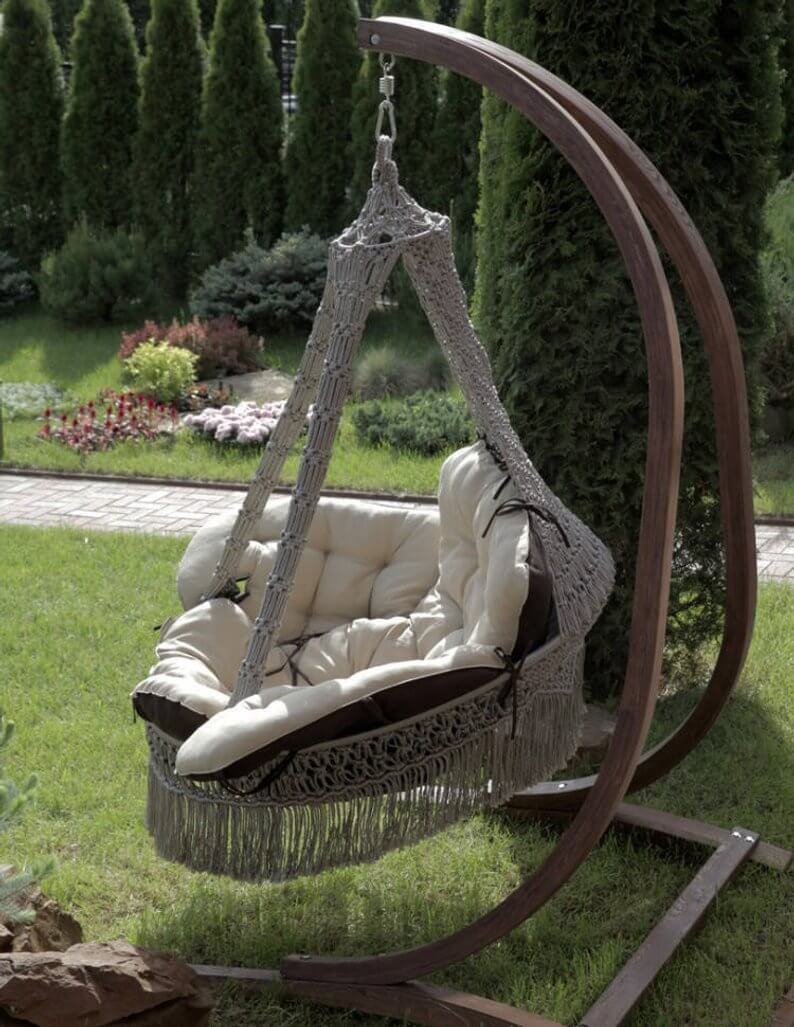 Think La-Z-Boy meets tire swing. With this luxurious outdoor furniture, you will have all the comforts of a plush sofa with all the childlike whimsy of an afternoon at the playground. In addition to the stylish tassels that match the rope chains, what makes this item so appealing is its beautifully crafted wooden stand that curves upward in distinctive fashion. You can place this swing just about anywhere! Be sure to take care not to abuse this with heavy swinging or hard jumping — you will want to keep this fun backyard swing looking and moving good for years to come.
24. Vibrant Patterned Hammock for Swinging and Sleeping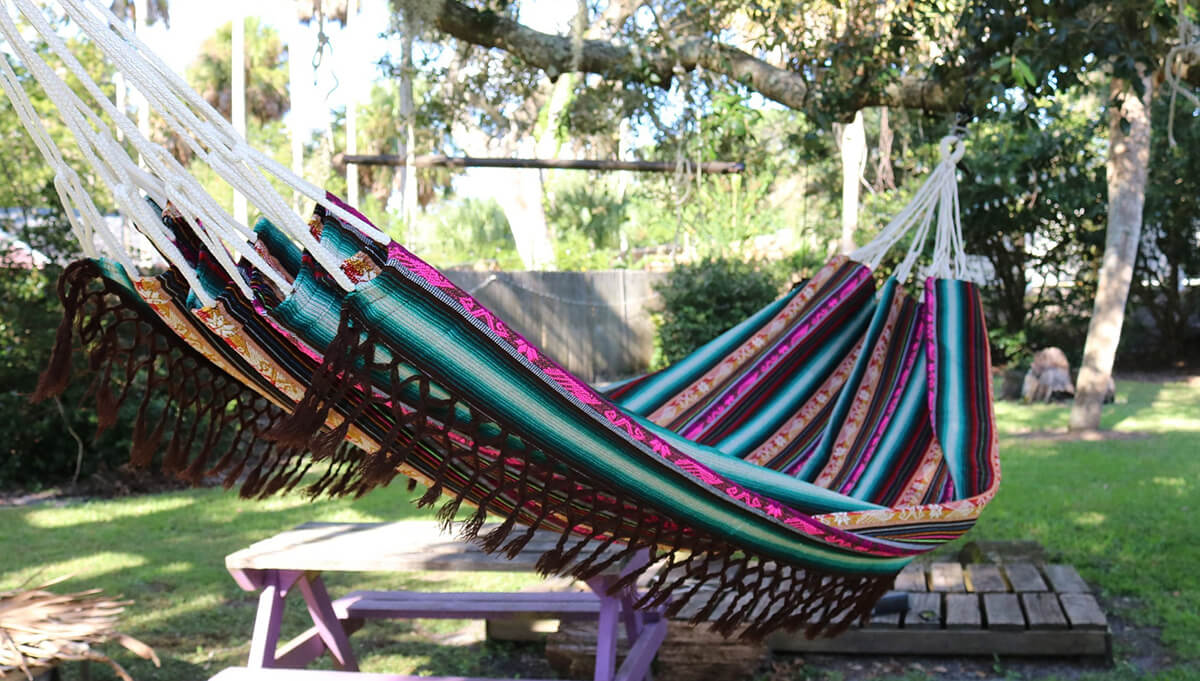 Is there any outdoor furniture that says "relaxation" as clearly as a hammock? This one is particularly inviting, with lovely tassels and a gorgeously colorful Inca pattern. Picture yourself swaying back and forth with a lemonade in one hand and a page-turner in the other, breathing in the fresh sweet summer air and working on a tan. For maximum enjoyment, find a good shady spot so you don't burn up. Just be sure to always consider where the sun is going to be because with a hammock this cozy, you are liable to drift off and catch some outdoor z's.
Have fun taking your backyard from boring to enchanting. Use this list as a jumping off point to explore all your options for your patio. Remember that most of these ideas are adaptable and can be modified to fit any space, no matter how big or small.
Turning your outdoor patio remodel into a family project can be a fun way to create new memories and give everyone in the house the opportunity to add their mark to your backyard.
When deciding on what project or projects to tackle, don't forget to be considerate of how you want to use the space. Will it be a small private garden for you and your family, or do you want to create something like a home theater and open it up to nearby friends and family? Only you can decide what is best for your home, so think through what you are envisioning, and share your ideas with your family.
At the end of the day, creating and crafting your new space should be fun. Let go and make your remodel a relaxing project so at the end of the day, no matter the state of your yard, you can sit down and breathe easy sipping on a cool glass of lemonade, ideally in your cozy new patio furniture.
Our Favorite Front Door Flower Pots to buy on Amazon