24. Christmas Cheer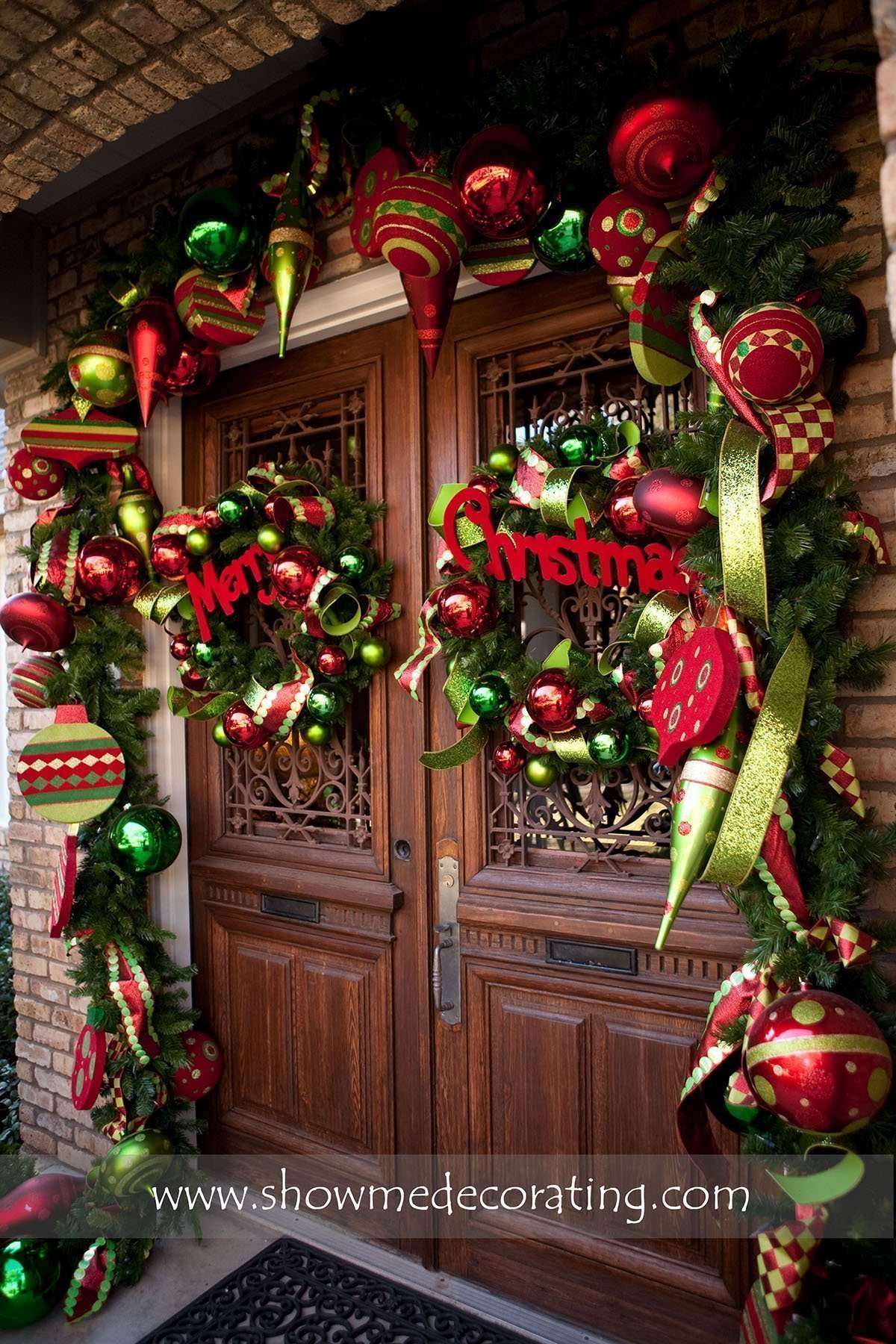 DIY Project Details: showmedecorating.com
Christmas Cheer radiates from this vivid, joyous holiday garland. This garland uses the traditional pine boughs as its base. Brightly colored green and red Christmas ornament bulbs, both round and tapered, shine and glitter among the rich dark green of the pine boughs. Wooden cut out mimic the shapes and colors of the other bulbs while adding edges for more interesting shapes for the eye to take in. A wide vivid red ribbon trimmed with over sized bight green sequins and a sparkling bight green glitter ribbon are loosely wound throughout the colorful chaos to tie the cheerful garland together.
25. Paper Lanterns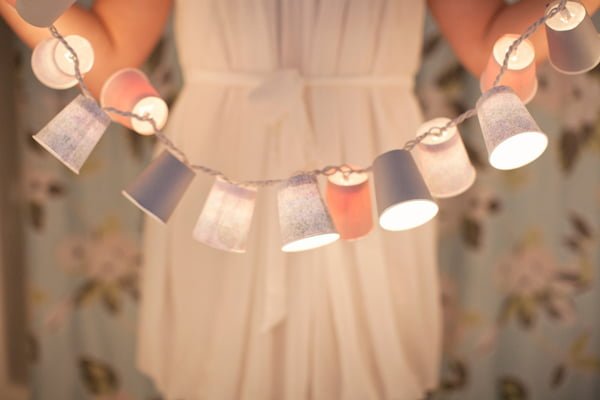 DIY Project Details: heygorg.com
The warm soft light of a paper lantern is given off by this garland. The base of this garland is a plain string of white fairly lights with a white cord. Small plan white Dixie Cups are covered in beautiful decorative papers. Some are solid colored and others are prints. A "X" shaped cut is placed in the bottom of each Dixie cup so the paper cup can be slid over a fair light. This creates a sort of lampshade for each tiny light. The light shines through the color and printed papers on the cups to generate variances in the glow.
26. Naturally Fresh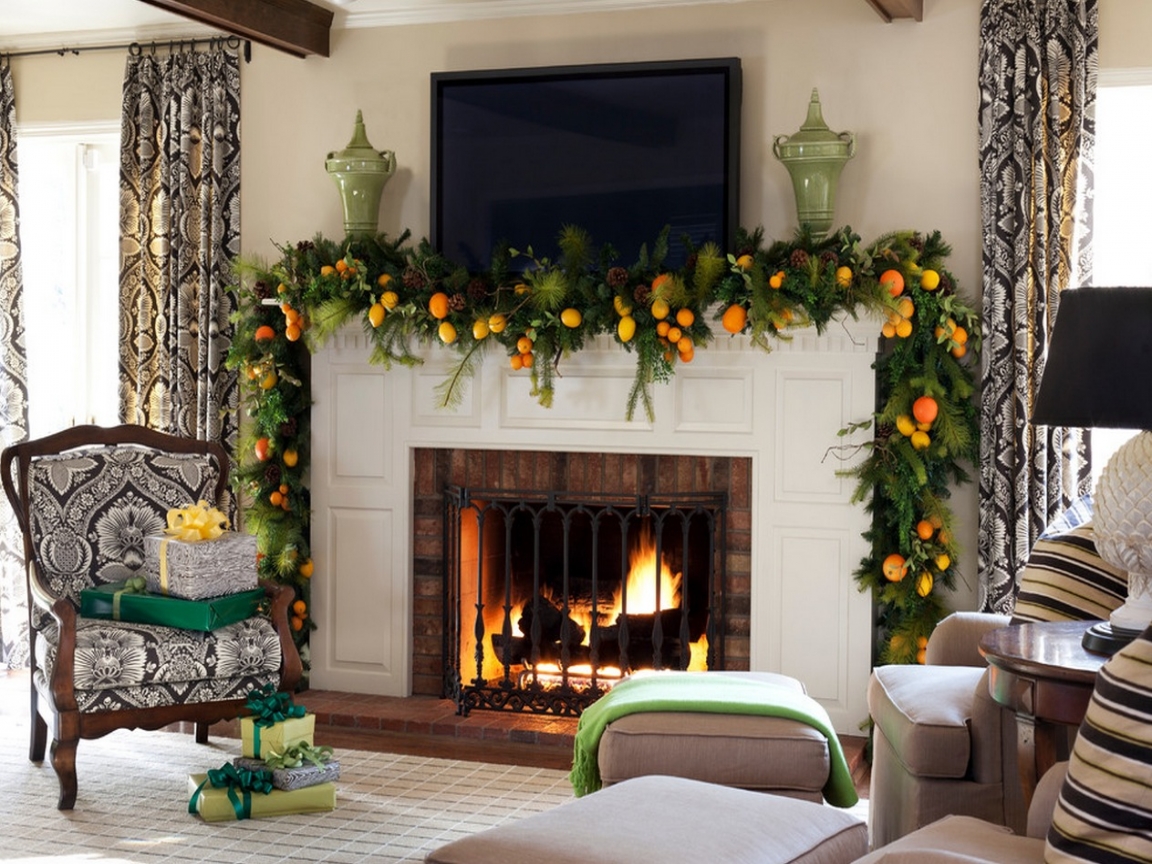 DIY Project Details: elledecor.com
Various kinds of pine and fir tree boughs are used together to creatively produce a lovely texted look as the base of this garland. Then in place of the more traditional accent decoration of Christmas ornament bulbs, different types of citrus fruits are used. The citrus fruits add a fresh clean look and scent to rich look and smell of pine and fir boughs. This garland is not only pleasing to the eye but it also keeps the room smelling fresh and pleasantly scented with the holiday spirit. This is a great way to keep your Christmas garland decorating completely natural.
27. Twinkling Burlap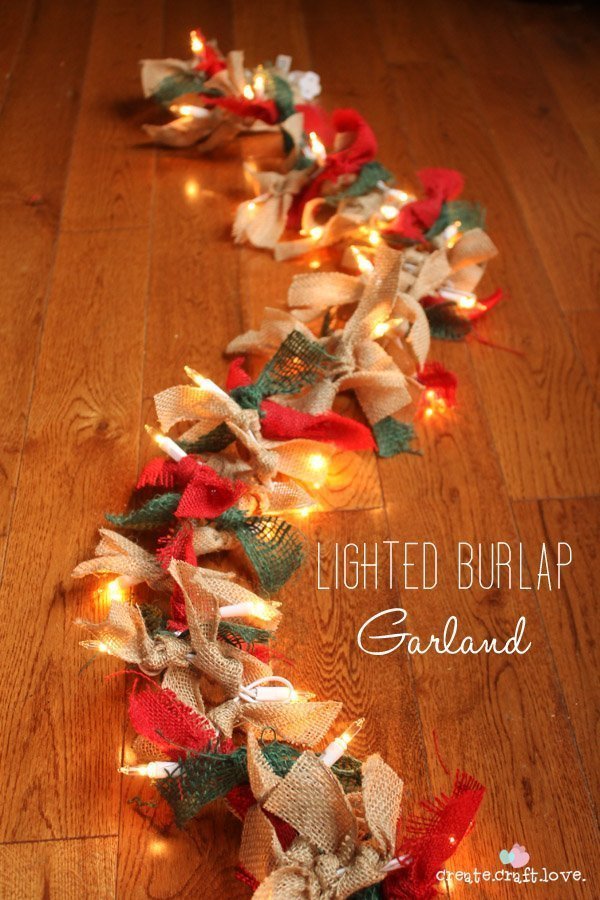 DIY Project Details: createcraftlove.com
The neutral color of the burlap strips are softly highlighted by the twinkle of fairly light producing an enchanting country garland. This garland uses natural, red, and green burlap cut into strips that are then tied around the cord of a string of white fairy lights. This is a simple and easy project to make but it is time consuming. So sit back with a nice cup of tea or coffee put a movie on and tie all of the little strips. The results are worth the time that is invested. It will create a amazing one of a kind Christmas garland decoration.
28. Cookies and Sugarplums
DIY Project Details: blog.umbrale.cl
Visions of sugarplums danced in their heads and in this playful garland as well. Sugarplums along side of cookies and candy canes make this a garland of tasty treats. The cookies and candy canes are slightly stuffed felt cut outs that are stitched together. The sugarplums are brightly colored felt balls. All of the felt treats are strung to hang down from one long cord and are accented with ribbon bows. This is a fun garland that would be a great decoration for a kitchen where the baking is done or over the table where tasty treats are set out for a party.
30. Lighted Houses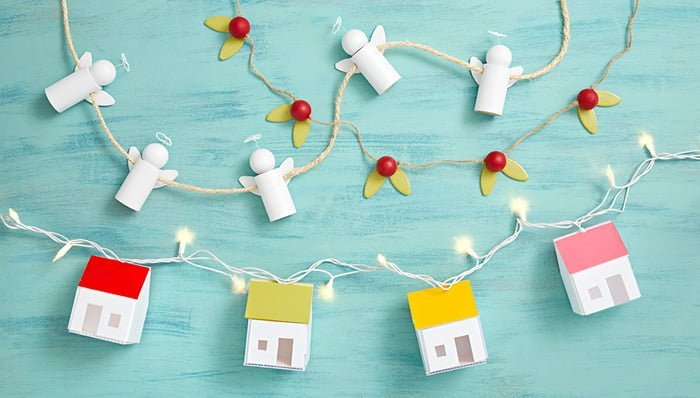 DIY Project Details: lowes.com
These cute little lighted houses strung between fairly lights are a lighthearted addition to the family's Christmas tree or a charming sight hanging in a window. These little houses are made of corrugated plastic with the roofs painted bright colors. Small holes are cut into the roofs to allow the little houses to slide over a fair light, creating the illusion that the lights are on inside of the house. The houses are only slid over every third fairy light to give the houses plenty of room to hang freely and so the light can illuminate the brightly painted roofs.
31. Brilliant Beads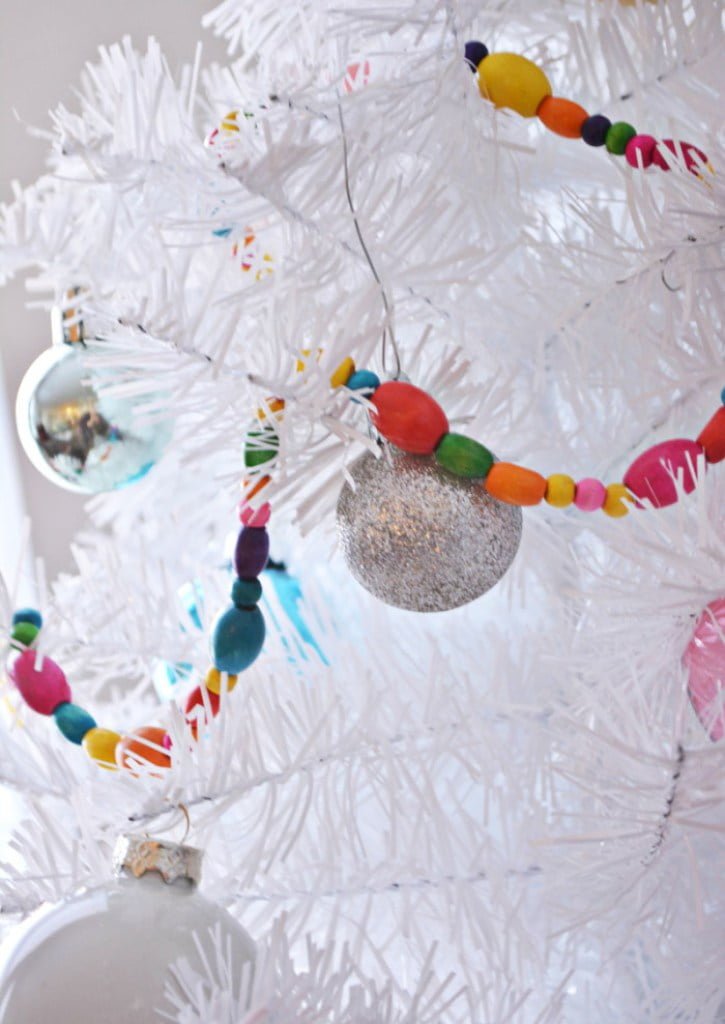 DIY Project Details: pinterest.com
Brilliantly colored wooden beads strung together make a straightforward Christmas garland decoration. This garland is just the right fit for the creative DIY Christmas crafter. Wooden beads of any shape and size can be painted in any number of colors and designs, glitter can even be added. The endless options means there are endless possibilities of how this garland can turn out. It's completely up to you. The wonderful part of this project is that it is still easy enough that the children will enjoy helping. These brilliant beads would look gorgeous decorating a Christmas tree or wound throughout a balsam pine garland.
32. White Leaves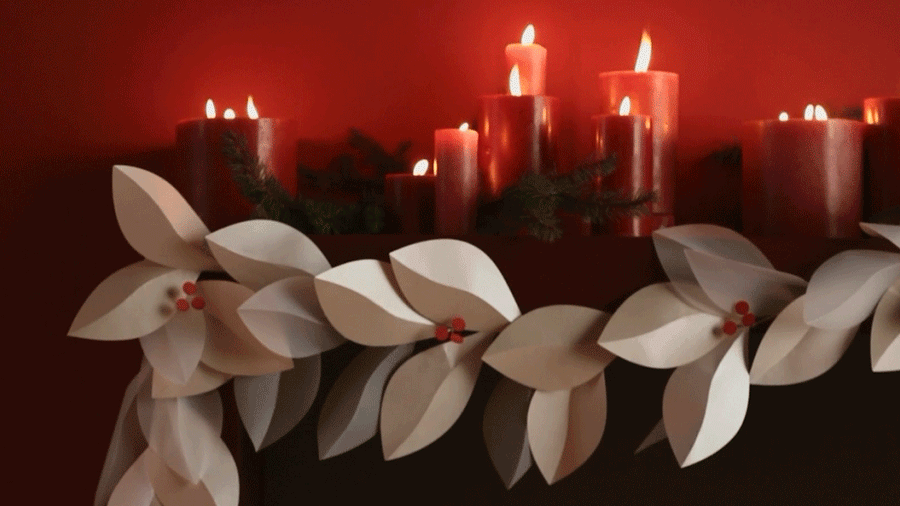 DIY Project Details: bhg.com
Stunning white leaves cascade over the edge of the mantel after flowing gently across it. These pristine white leaves will remain that way because they will never wilt, ever. They will never wilt because they are made of paper. More precisely, they are cut out of card stock and vellum using a template as a guide. Then the leaf cut outs are gently folded down the middle to give depth. Each neatly cut and folded leaf is hot glued to a string. As a final touch, red dots made with a hole punch are glued on as accenting berries.
More DIY Christmas garland decorations on the next page…