Outdoor spaces are becoming more and more an extension of our homes and that's why it's important to find the best DIY garden bench ideas for your own space. Nearly anyone can create a handmade garden bench with a little planning and preparation. These outdoor furniture pieces are versatile and essential for enjoying our personal backyards to their fullest potential. For starters, any avid gardener knows how important it is on an extremely hot and humid day to take a break. And taking that break outside is critical as the drastic temperature change from the yard to your house can be intense. Pace yourself and make the most of your time in the garden by including a nice outdoor bench in the center of it or nearby. Sometimes all it takes is 10 minutes to recharge and refocus to complete your garden project for the day.
17 DIY Garden Bench Ideas for Your Personal Oasis

Another reason to include a nice garden bench in your outdoor space is for entertaining. Nowadays, entertaining has become the way to stay up-to-date with friends. Be sure you have plenty of seating space by adding a bench into your outdoor arsenal. Benches are better than chairs when thinking of larger crowds because of their seating capabilities. You'll always be able to sit more people on a bench in less space than if you choose enough chairs to hold the same amount. Plus, benches are generally easier to store when not in use.
These are a couple of reasons why outdoor benches are so handy. Which style and size you choose it depends upon your personal needs. Try out one of these best DIY garden bench ideas to increase your seating space this summer!
1. Repurposed Pallet L-Shaped Outdoor Couch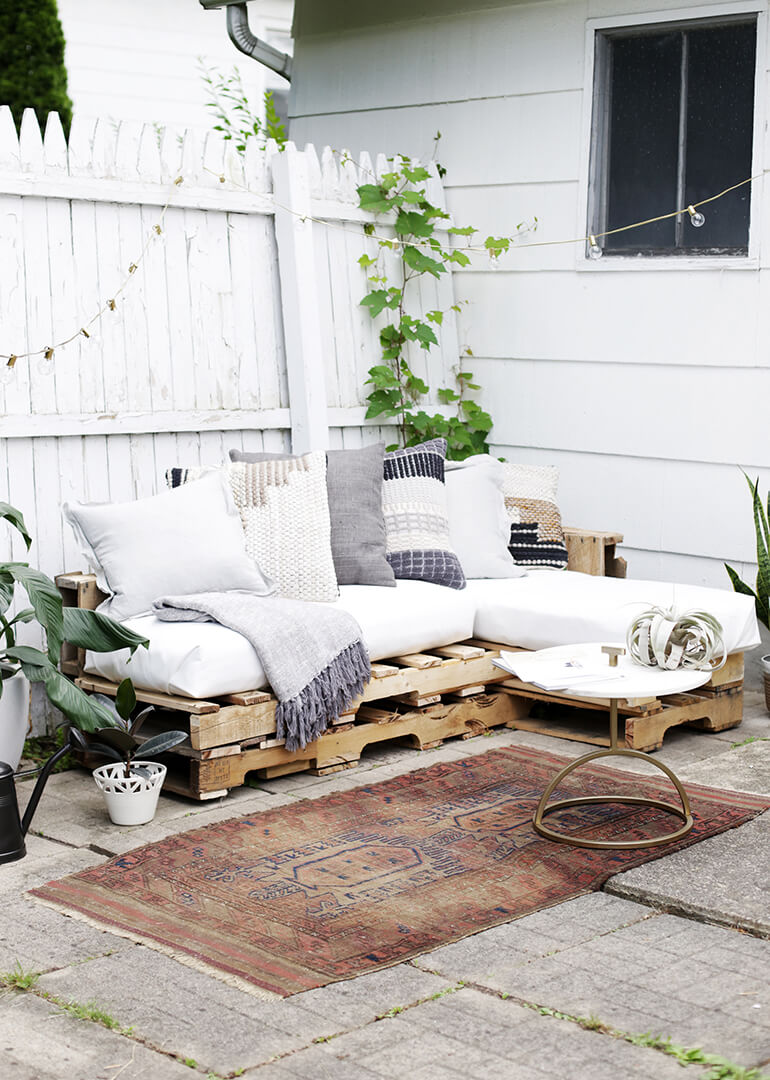 In your backyard, you can never have too much seating for your tribe. Give everyone a place to relax with this repurposed pallet couch. Crafted from a pallet, this DIY homemade bench quickly transforms into everyone's favorite seat. Enjoy the soft glow of a nighttime fire as you unwind under the star-filled sky. Create a comfortable reading nook to catch up on your reading list this summer. And a nice afternoon nap is always a good idea! This incredibly practical seating choice is a great option for an environmentally friendly choice, as well as one that's easy on your wallet.
2. Simple and Savvy Cushioned Pallet Seat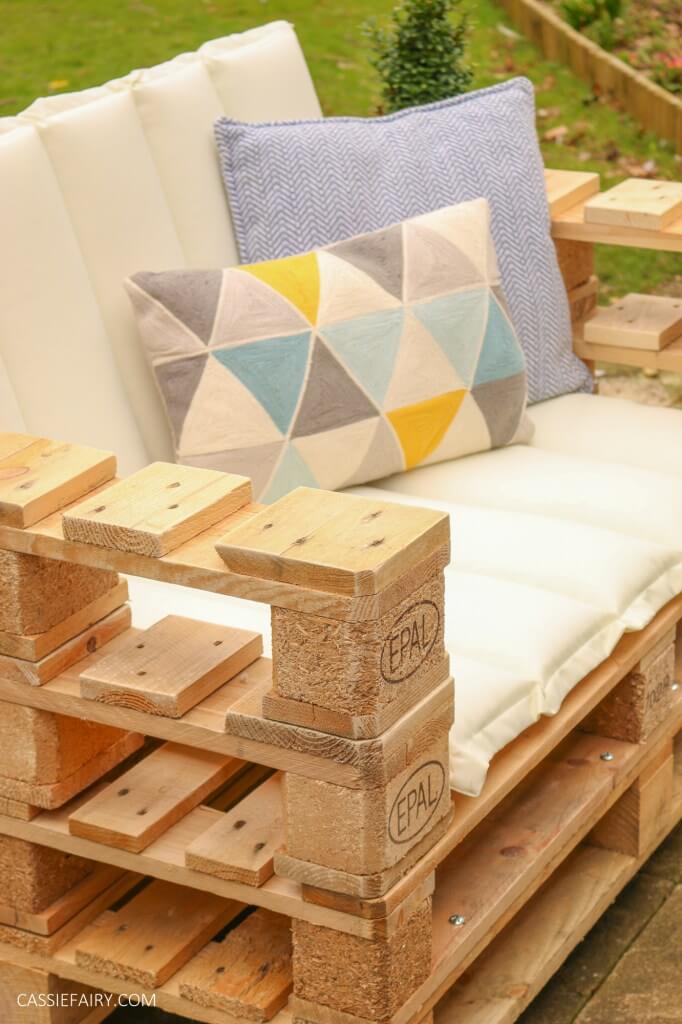 Pallets seem to be aplenty so challenge yourself to a creative DIY project to repurpose one or a few. Here pallets provide the sturdy base for this comfy outdoor chair. Adding a nice cushion and a few decorative accent pillows enhances the comfort factor of this charming repurposed seat. Add a pair to your backyard deck to provide a fun and cozy conversation area.
3. Sturdy Low Back Handmade Garden Bench
Give your garden or front porch a sturdy resting place with this DIY outdoor garden bench in white. The coating of fresh white paint gives it a clean and happy finish. With a low profile back, this bench is merely a slight drift from the traditional frames. Place a few decorative cushions on top for a more comfortable seat. A nice wooden bench makes a great companion for sitting in the shade surrounded by your favorite potted plants.
4. Small Wooden Outdoor DIY Farmhouse Bench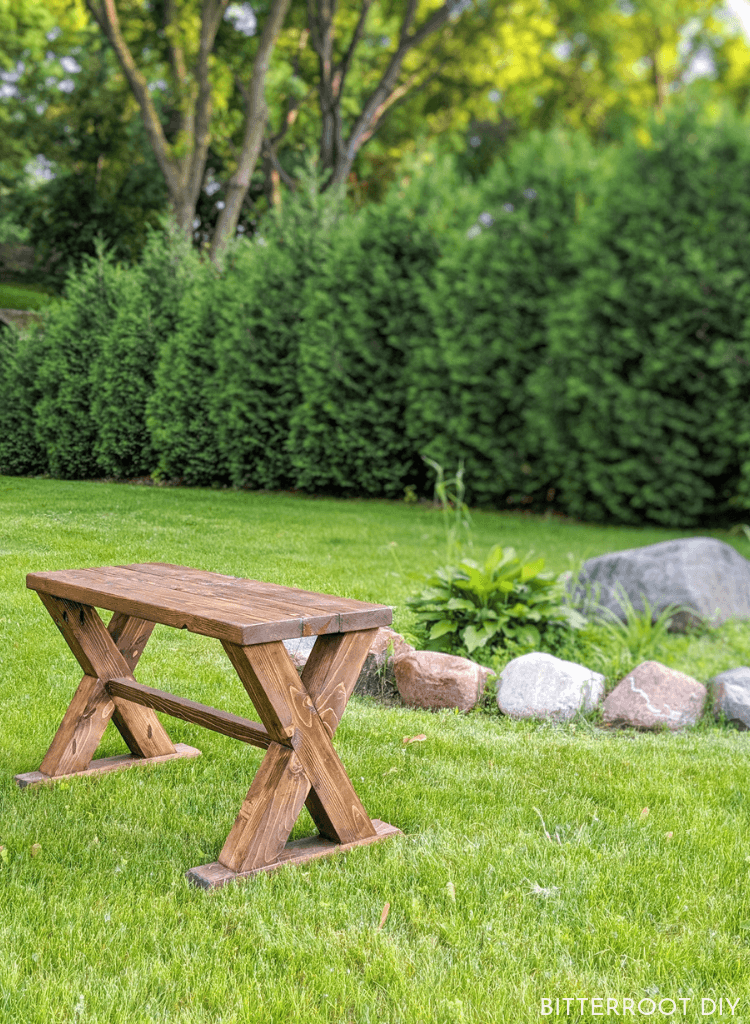 There's always a little room to add a cute bench to the backyard. This wooden farmhouse choice provides a nice and sturdy seat that's easy to tuck into nearly any nook or cranny in your outdoor space. Within the garden, on the porch, or placed on the back patio, this bench is just the right size. It takes up minimal space while offering the right amount of room for taking off your shoes or watching the kids play. A group of these would work well alongside a wooden dining table and could be stacked on top or slid underneath for storage when not in use.
5. Pretty Pallet and Pillow Outdoor Bench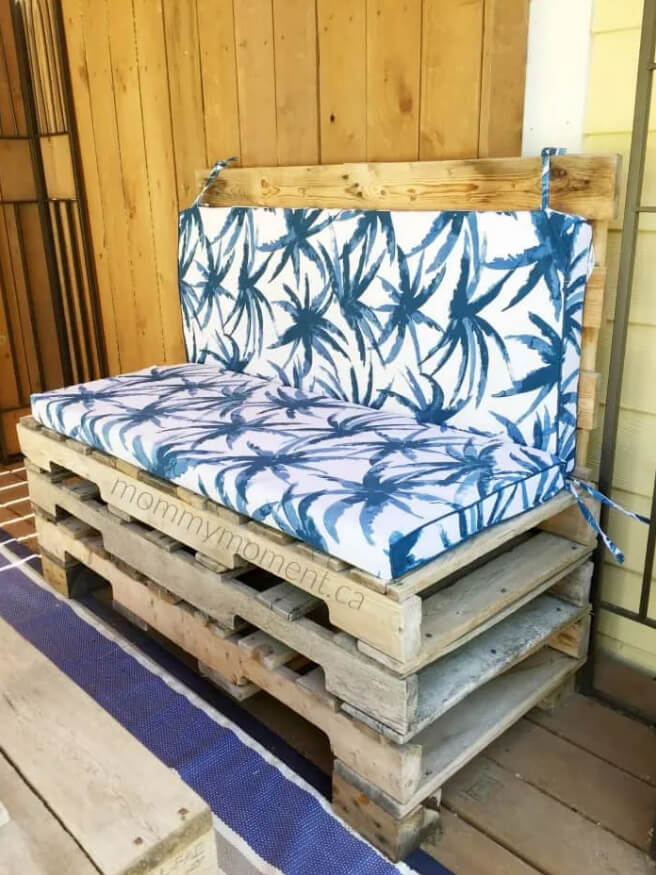 DIY pallet furniture is the go-to option for outdoor seating. It offers rugged dependability that is guaranteed to withstand the elements and also is sturdy enough for people of all ages to use. This bench is composed of stacked pallets forming the base with a portion used as the back. To add some style and comfort, a nice and thick outdoor cushion is positioned on top to cradle you as you sit down. Pallets can be stained or painted to match your decor as well. A nice two-person pallet bench like this looks great on the front porch or back patio giving you the perfect place to enjoy a summer evening.
6. High-End Knock-Off Modern Outdoor Bench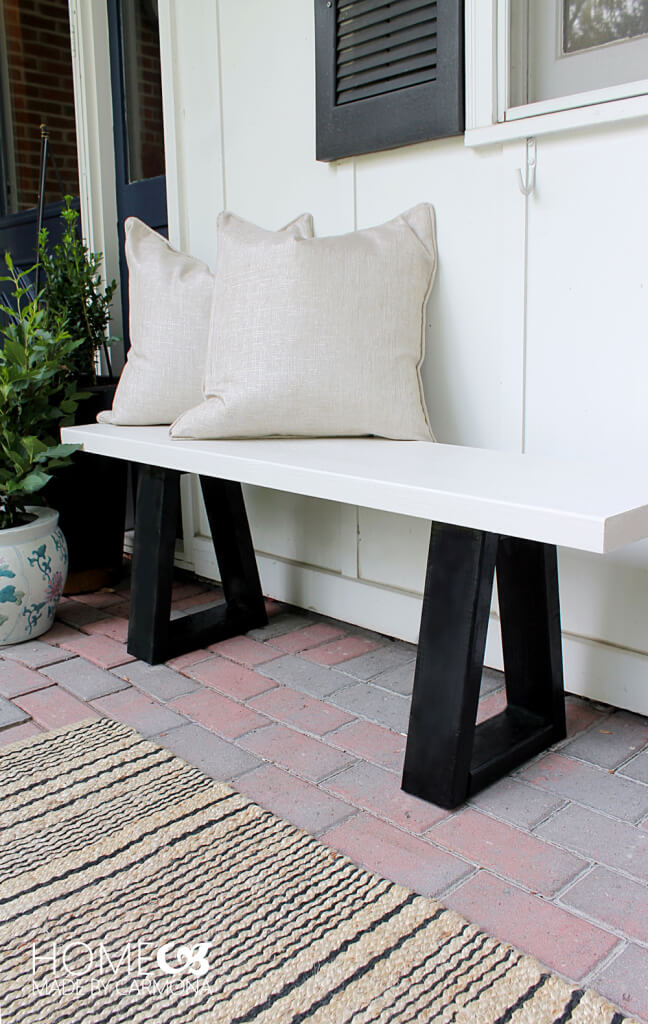 Grab your favorite handyman if you aren't much of a do-it-yourselfer and enjoy this amazing high-end bench in all of its knock-off glory. The simple lines of the seat and legs give a modern contemporary look that's up-to-date and the color combo of black and white further adds to its style and charm. This bench offers versatility as it's a wonderful outdoor seating option, yet would also look at home in a mudroom. Several of these would be all the outdoor dining seating you need for an evening of alfresco entertaining.
7. Super Simple DIY Outdoor Wooden Bench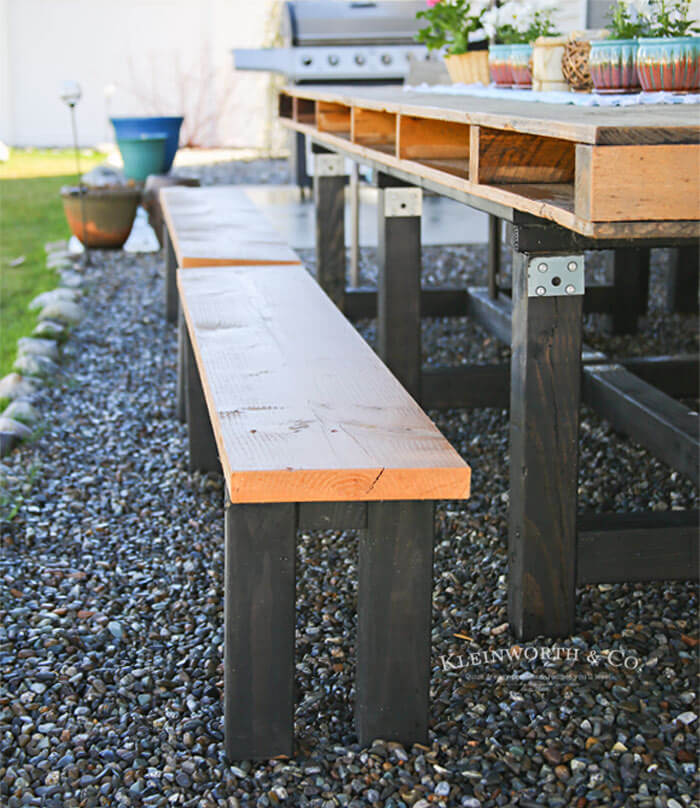 If you're short on outdoor space but still enjoy entertaining, consider bench seating instead of chairs. For starters, bench seating provides a seat for more than one person so you'll instantly have more places to sit. Next and most importantly, benches are much easier to store and some even slide underneath your table, maximizing your floor space. With that being said, this super simple DIY outdoor bench project might just call your name. Customize the stain and paint to your taste and make it work on your back patio. It's a handmade garden bench that works well in the garden yet is just as perfect to be used at the outdoor dining table.
8. Pretty Plywood Outdoor Deck Bench Seating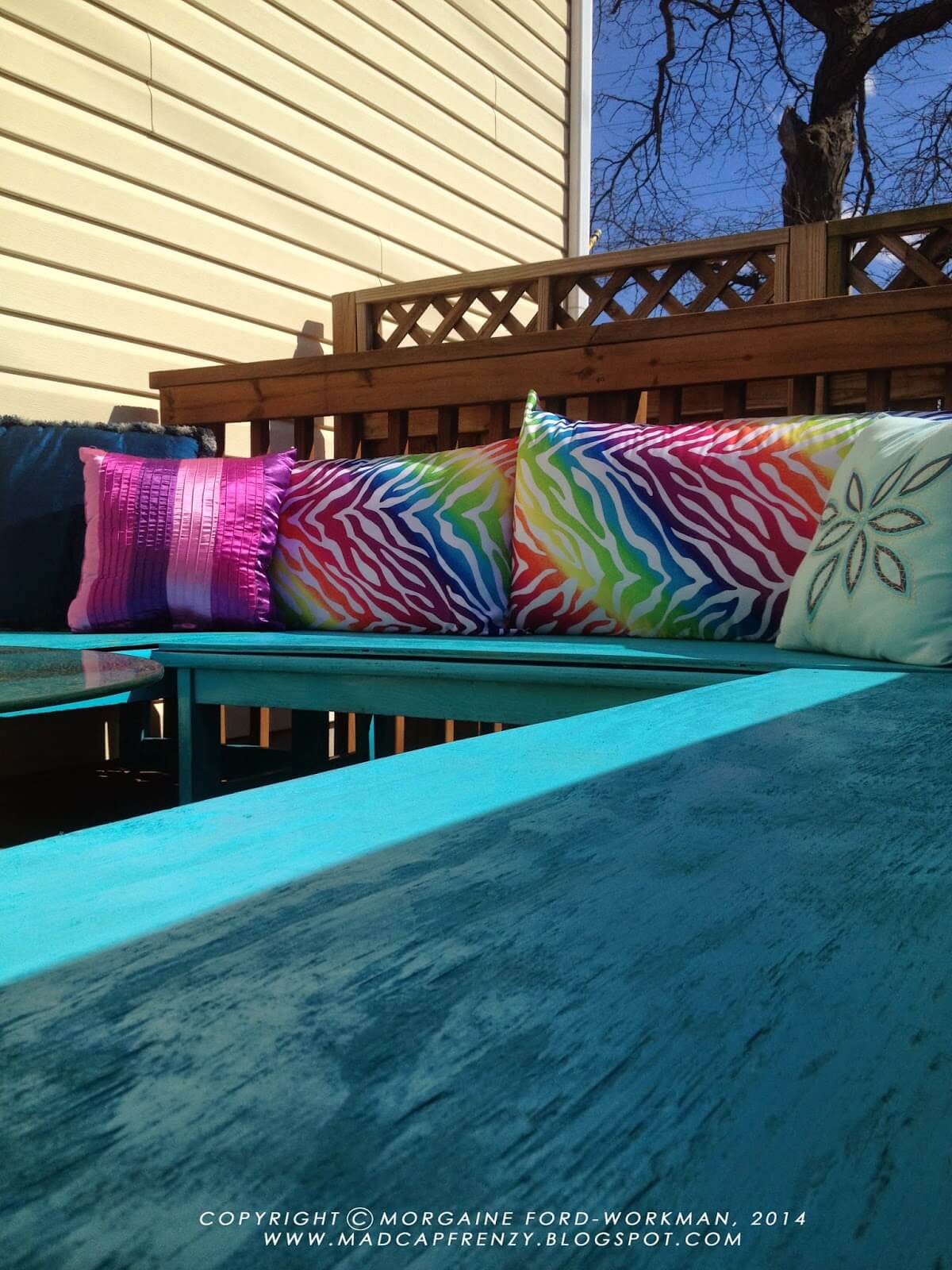 Even small outdoor spaces need plenty of seating so think outside the box and maximize every inch of space you can find. These three deck benches make the most of this small back deck as they line a corner giving ample places to sit and relax. Finish the cheap wood with some bright paint to make it look bold and beautiful. The cherry on top of this seating cake has to be the decorative pillows providing plenty of comfort and tons of style. Make your own backyard hangout more enjoyable for everyone by providing plenty of seats with this fun and cool DIY homemade bench.
9. Bed Frame to Bench Beautiful Repurposed DIY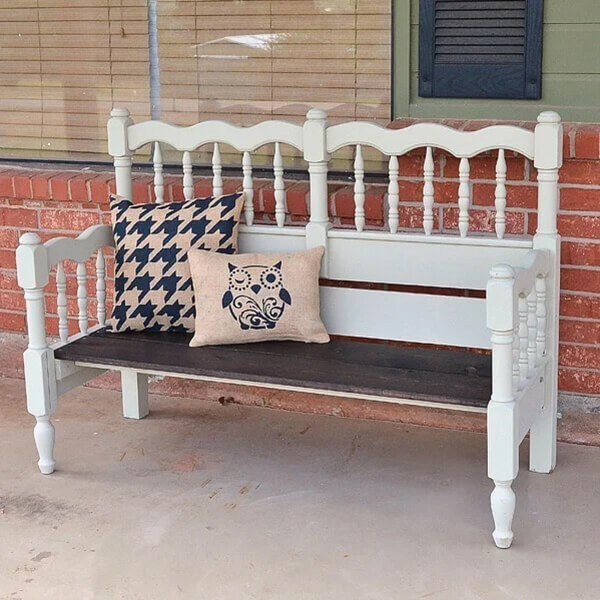 Upcycling and repurposing often create some of the most interesting and beautiful pieces. This bed frame to bench project is no different. Taking an old bed frame and breathing new life into it just makes sense. Finished with a coat of your favorite paint color makes it a custom piece that is sure to cozy up your front porch for extra curb appeal. The spindles add a nice decorative touch for more shabby chic charm.
10. Brown and Blue Outdoor Storage Bench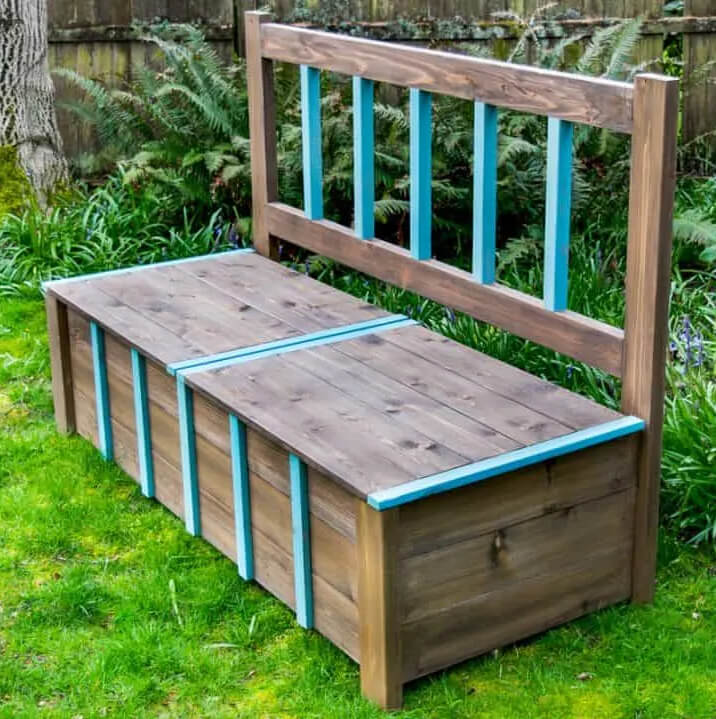 There is no such thing as too much storage. Even outside, we still find ourselves searching for nooks and crannies to hold all of our stuff. Make the most of your next DIY project by creating a piece that serves dual functions. This outdoor storage bench provides additional seating as well as a hidden storage compartment. It's a great place to store sports equipment, gardening supplies, or shoes. And when needing a place to take off your shoes, it's just the right size for that!
11. Casual Comfort of Indoors Now Useful Outside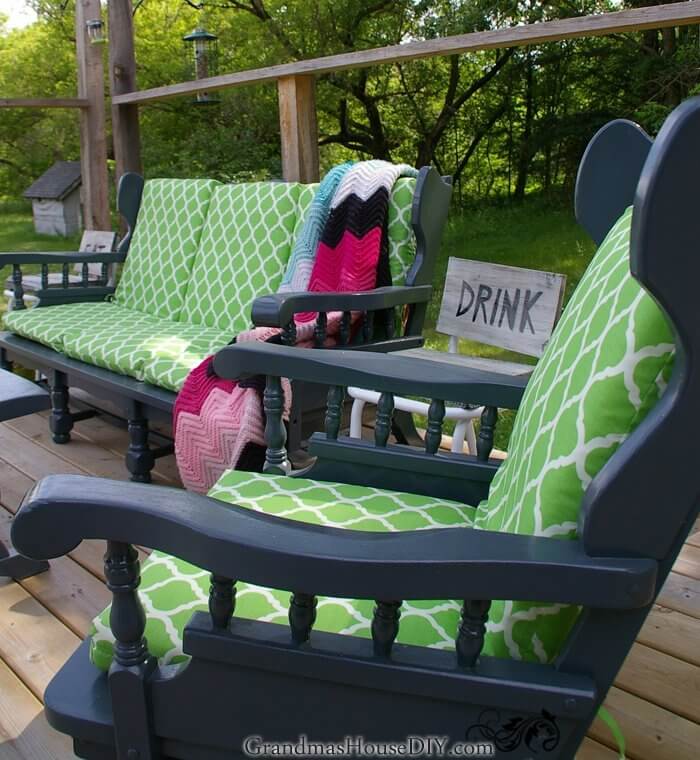 Sometimes old furniture gets in the way since it's outdated, but there isn't a good place to put it. If donating and selling aren't your cup of tea, consider transitioning them to your outdoor living space. To transform your furniture into unique outdoor pieces, you'll need the appropriate paint to withstand the outdoor elements as well as some cushions made for outside. It's always amazing what a solid coating of paint can do for outdated pieces. Watch your couch and wooden rocker come back to life as your new favorite seats on your back patio or front porch.
12. Outdoor Painted Metal Park Bench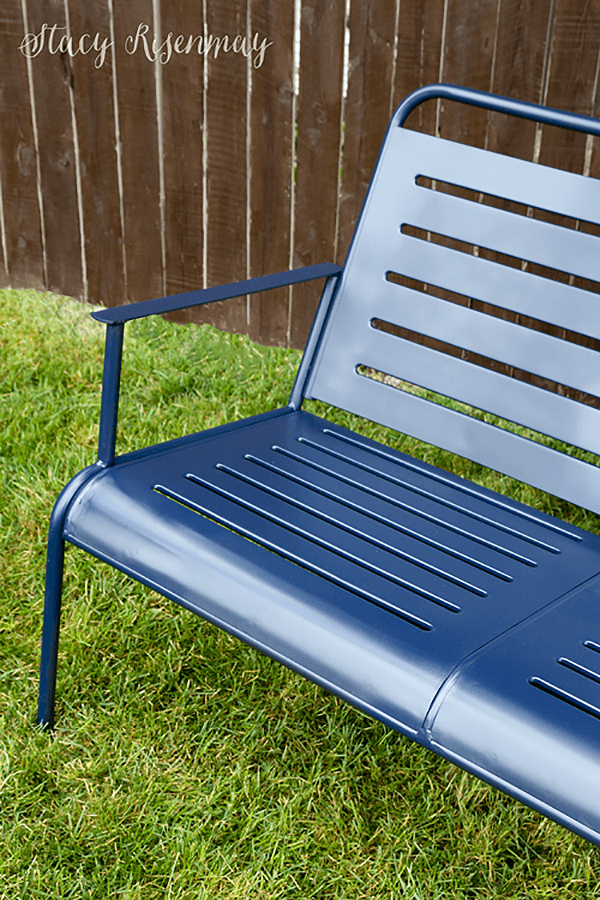 Choosing a metal outdoor bench is smart for several reasons. One, metal is a durable material that is likely to withstand nearly all of the seasonal elements thrown at it. Two, it is lighter than wood making it easier for one person to move. Finally, painting metal is much simpler than coating or staining an entire wooden bench. A coat of spray paint in a cool color is super easy and lasts a long time. Just be sure to use paint that's made for outdoor use. This metal park bench is a more modern-looking choice as well. It may be hard to decide where to set it as it would easily work on the porch, in the yard, on the patio, or within the garden.
13. Now Seating Six on Your Back Patio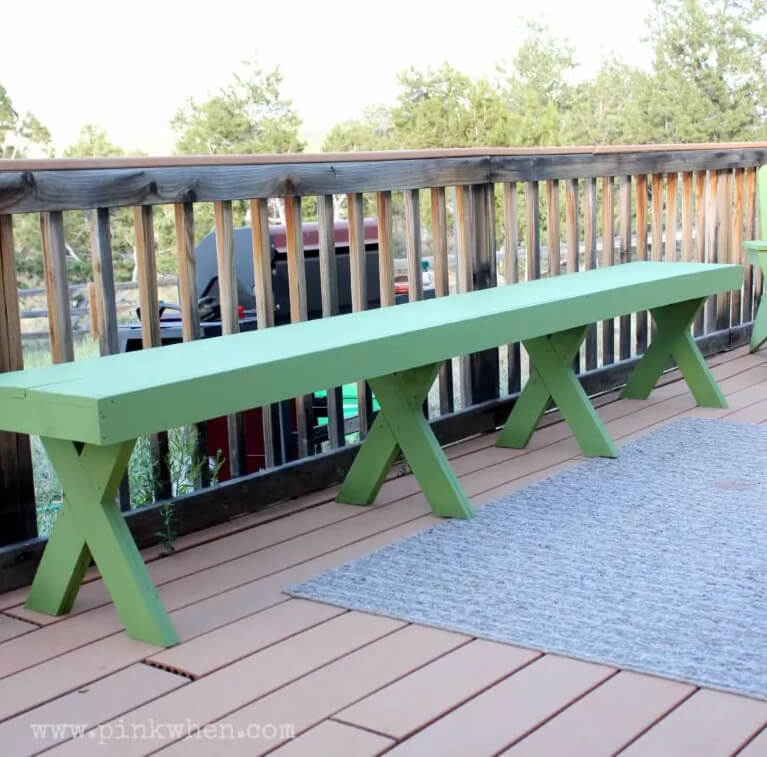 Create a long and lean outdoor bench that easily seats six people. The traditional and classic style of this wooden bench provides all the extra seating space you need for your next get-together. The long streamlined style of this bench works well right against the lattice wall of your deck or as the frame for your concrete patio. Two of these benches are perfect for a long outdoor table to host a delicious backyard picnic for family and friends.
14. Seat the Whole Family Wooden Farmhouse Bench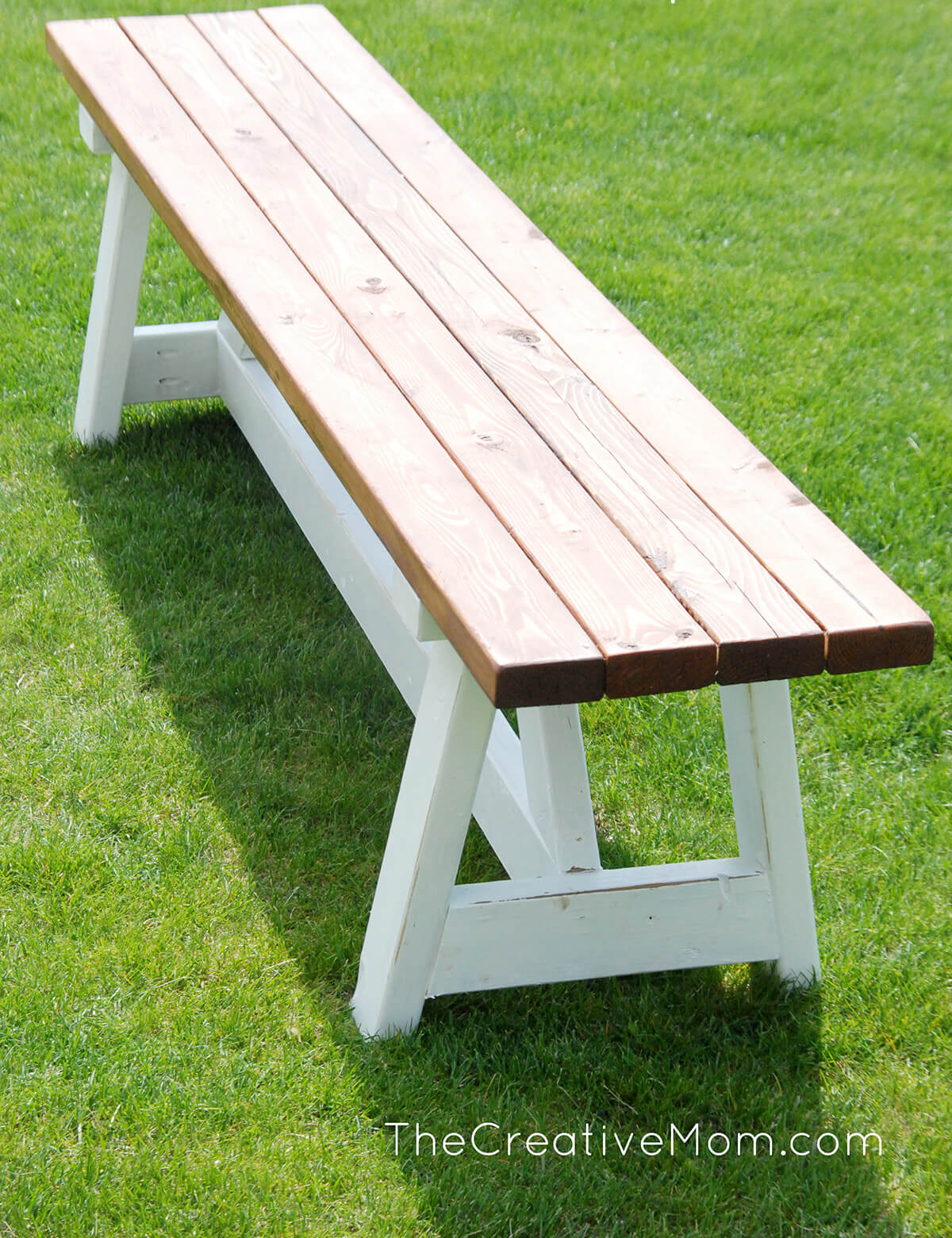 Extend your modern farmhouse style out your back door and into your backyard. Your outdoor dining space will thank you! These are the best DIY garden bench ideas because they provide plenty of seating and loads of style. Place one in the garden to give you a nice tablespace when you're on your knees planting, weeding, and harvesting. In the center of the flower garden, this farmhouse bench is a nice spot to converse with a friend or take a much-needed rest. And of course, these benches are ideal for your outdoor dining space.
15. Plain and Simple Outdoor Street Bench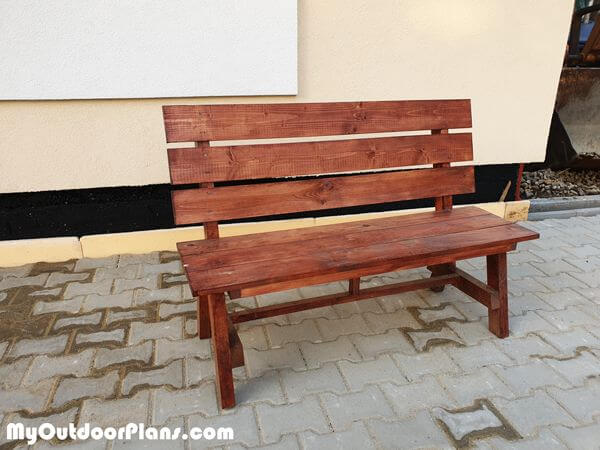 If you've ever taken a walk and decided to stop for a rest, you've probably enjoyed the comfort of one of these simple street benches. This wooden bench is perfect for two and easily fits nearly anywhere you need it. On the front porch, it's a nice place to catch up with a friend or enjoy some refreshing lemonade, on the back porch it's a relaxing place for your first cup of coffee, or it works as a multi-purpose bench in your garden. Choose a solid stain as the finish for a traditional look or customize like crazy with paint in a pattern for a more decorative look.
16. 3 Plank Top Super Simple Wooden Bench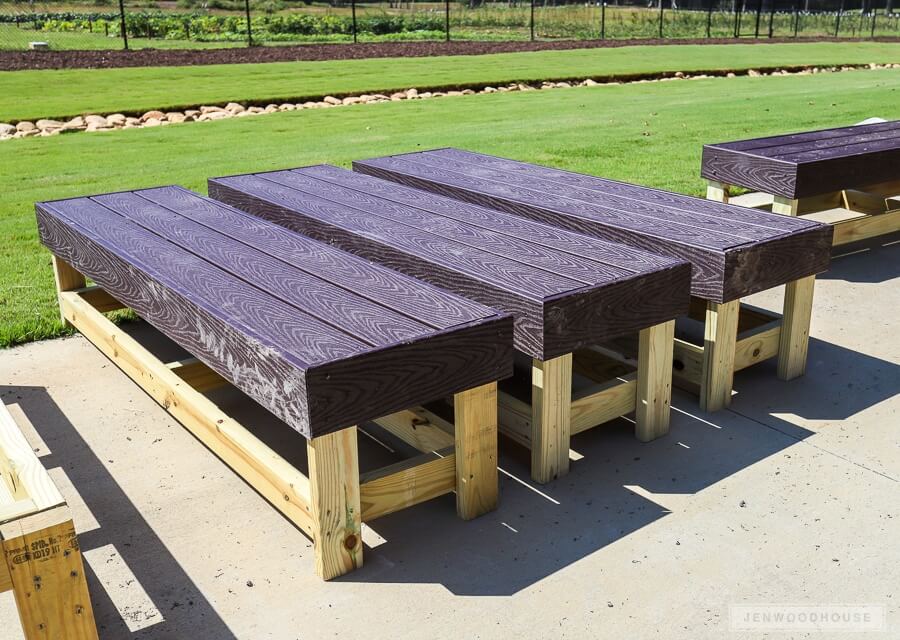 Here's a cool homemade bench that is backless making it an extremely versatile piece of outdoor furniture. Without a back, this bench becomes the go-to place to sit no matter where you stand. You can choose to sit on nearly any spot of its 3 slabbed top. It could also be utilized as a low and long table creating a fabulous planting ledge for your back porch or patio. Younger kids may even sit on the ground or floor and use this as a crafting station or play area. No matter how you choose to use this simple wooden bench, it's sure to look amazing.
17. Cinder Block Outdoor Garden Bench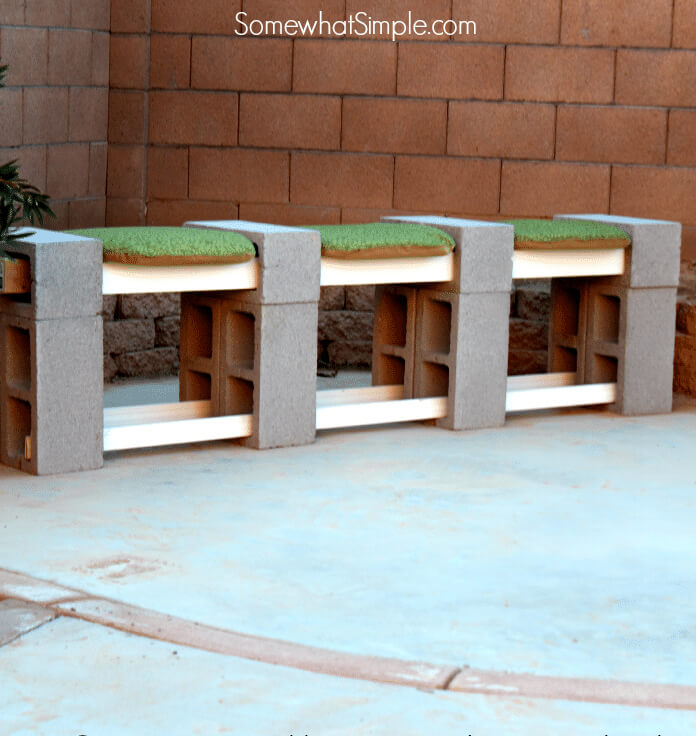 Create a cozy seat for a trio with this cinder block garden bench. Each seat features its own cushion for added comfort and there is block space to serve as a great drink resting spot at your fingertips. These materials are durable making them perfect for outdoor use. The sleek and slim design makes it a good choice for many backyard spaces like the fire pit, edge of the garden, or along the side of the patio. Not only does this cinder block project provide extra seating, but it also serves to give definition to your outdoor space.
Beat the Heat with the Best DIY Garden Bench Ideas
Perhaps you want to align your personal style of interior decorating with your backyard. That's an easy goal to attain when you consider the incredible selection of these handmade garden benches. Repurposing some pallets quickly kills two birds with one stone by eliminating waste and providing ample seating space for your backyard. A large two-seater chair or a nice l-shaped couch work wonders in creating a relaxing and lived-in comfortable corner in your own backyard.
Achieving a designer-look at a fraction of the price is awesome and within reach for even the most novice do-it-yourselfer. Peruse the pages of your favorite magazine or catalog for inspiration and get to work making your dreams come true.
Looking around your basement or garage, you might discover an outdated couch, rocking chair, or bed frame which are incredible finds for transforming into some amazing outdoor furniture pieces. Upcycling these outdated pieces creates unique benches for those who prefer one-of-a-kind designs over those cookie-cutter store-bought items.
From the front porch to the backyard garden, a great outdoor bench is always handy to have around. Whether you wish to increase your dining seating or create a cozy nook for relaxing, nearly any seating need can be answered with one of these best DIY garden bench ideas.