As the leaves turn gorgeous hues of red and gold, it seems everyone is searching for the best DIY outdoor fall decorations to welcome this season of cozy comfort. From the quintessential pumpkins carved to perfection and the bright and bold colors provided by mums, there are so many ways to style your yard as you kick off the fabulous season of fall.
15 Ideas for Warming Up Your Yard for Fall

To begin, consider your existing flower beds. Perhaps they are looking a little less than fabulous since their summer days. Why not bring them back to life with a second wind for fall? Instead of planting more flowers, fill up the space with some of fall's favorite pieces. Pumpkins in all sizes and shades of orange, and even a white one or two is a great place to start. Next, you can bring in some pots of mums to really brighten up the space.
Another area to think about is the front porch. Everyone loves a nice and cozy front porch and the season of fall is the perfect time to capitalize on this feeling of comfort and warmth. Greet friends and neighbors as they mosey over for a quick chat about the local sports team or weather. Including a corner dedicated to seasonal decor is an easy and convenient way to update your porch for the changing seasons without going overboard.
The space around your front door might just be the most important space when choosing the best DIY outdoor fall decorations since it's the focal point of your home. This is the place where everyone enters your home or waits for you to join them on the porch. It's the gateway to friendship, laughter, and memories. The keeper of comfort and secrets. And so, you must maintain its appearance to keep this feeling alive from one season to the next.
In order to make your front yard and porch successfully make the transition into fall, it's never been easier. From real pumpkins and mums that you can choose each year to faux decorations that will last for years to come, the choice is yours. As is the color palette you pick. Go with traditional orange and red hues or off the beaten path with some soft and creamy pale pinks and whites. You're certain to discover something that meets your needs in this collection of 16 incredible fall yard decorating ideas.
1. Pink Fall Ladder Banner Porch Decor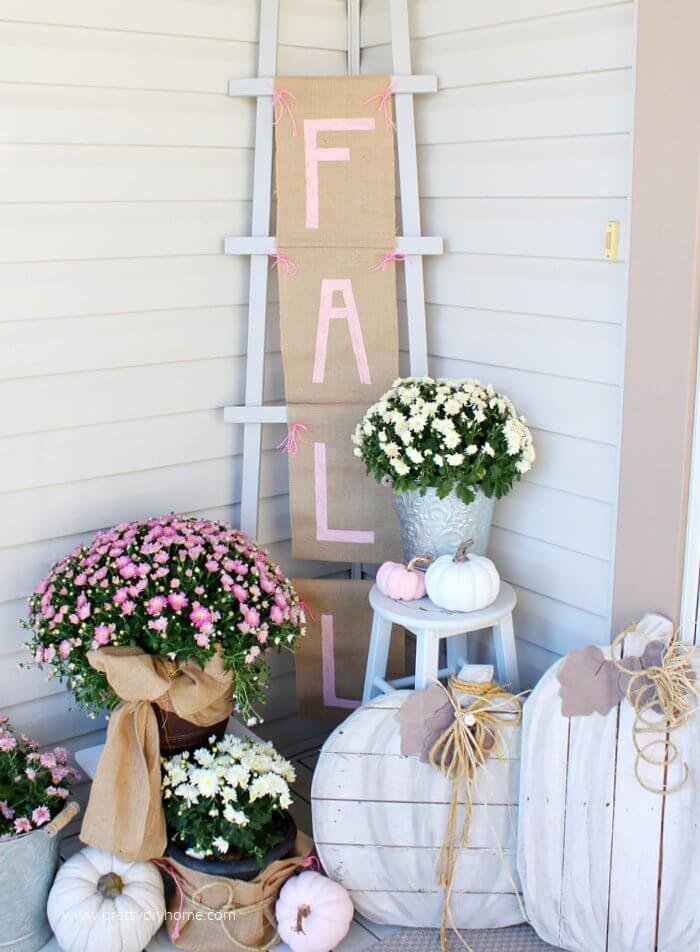 Use an unexpected pop of pink this fall in your outdoor decor to make a bold and pretty statement. To anchor the entire look, a ladder stands in the back complete with a burlap banner announcing fall has arrived. The contrast of the tan and rough burlap with the dainty and feminine pink is a nice touch. Continue the pink color palette with some soft-colored mums, and a pastel pink-painted pumpkin or two. Including a white pumpkin cut-out is a great way to add another soft tone to this fabulous fall-themed porch display.
2. DIY Pretty Pallet Pumpkin Cut Out Decorations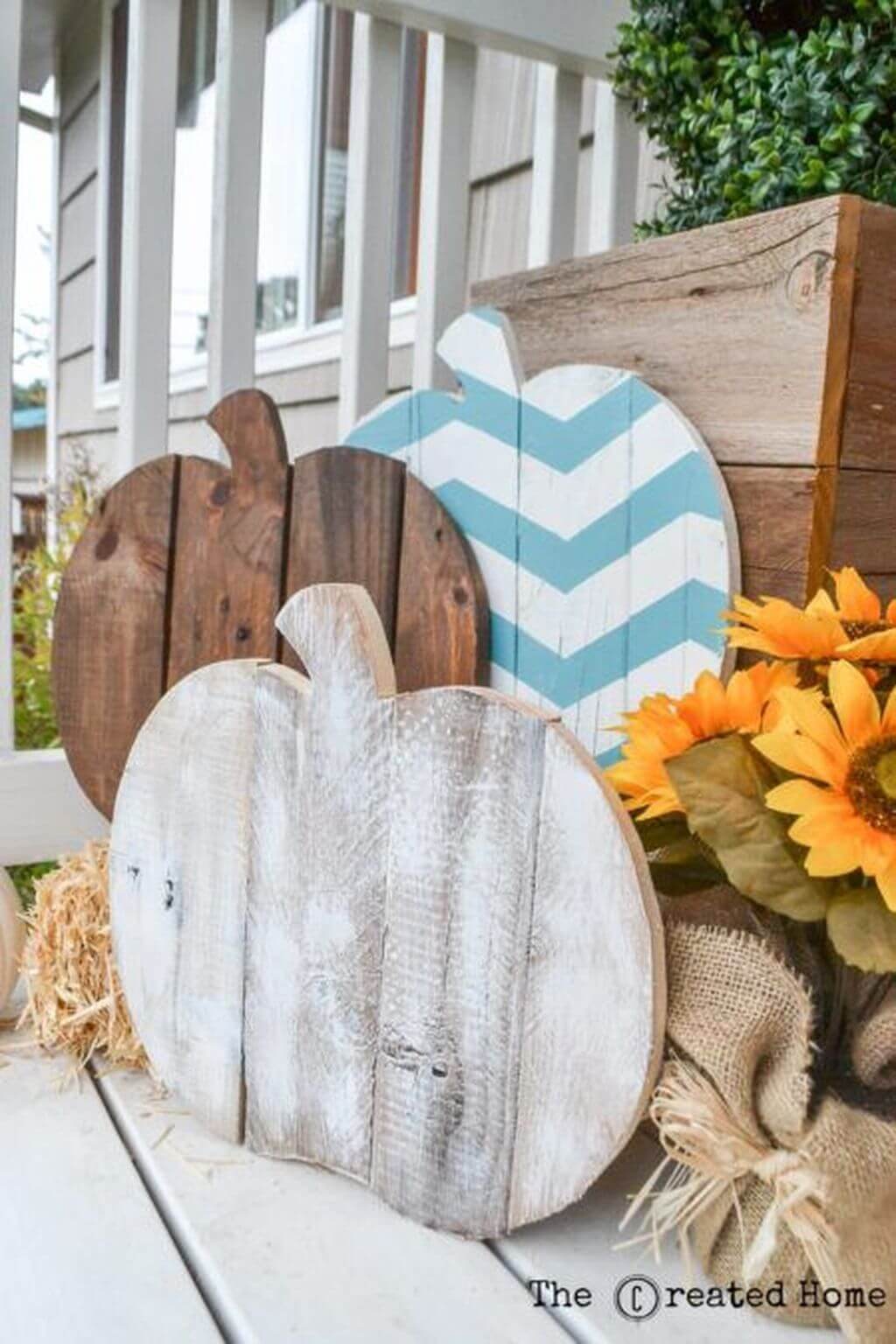 Reuse those hearty pallets to create these amazing cool pumpkin cutouts. Group them in a terrific trio and show off your favorite solid and print designs. From chevrons and polka dots to solid paint or rich stains, any way you choose to enrich these wooden cutouts will be a hit! To add a more personalized embellishment, customize them with the last name for a welcomed addition to your fall porch decor. Place a group together with a potted mum and hang one on the front door. This would be a cheap and lovely favor at a fall harvest party too.
3. Hand Painted Harvest Pumpkin Crate for Fall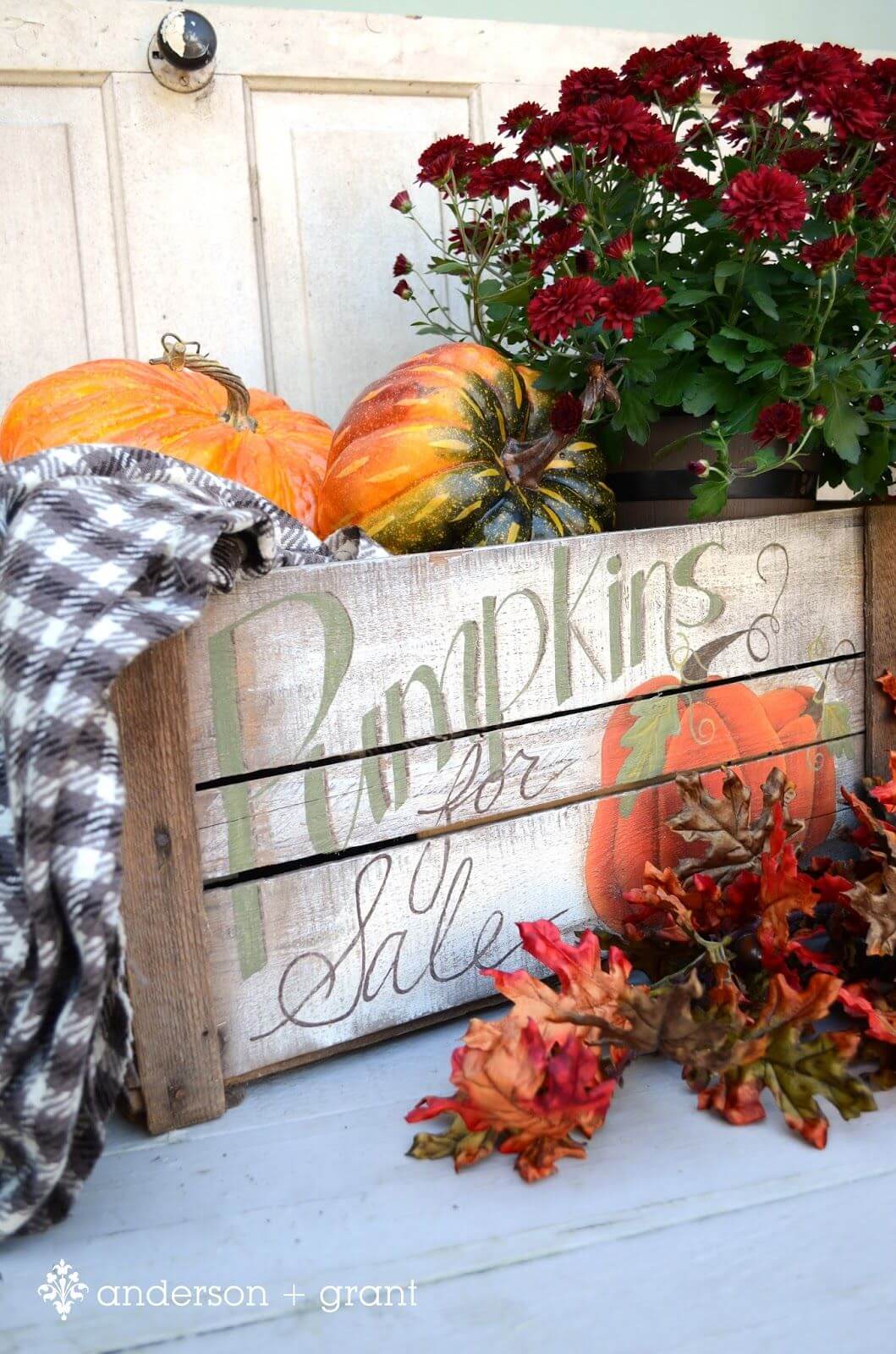 Jazz up your large craft crate with fall's favorite harvest from the garden. A little hand painting magic on the side completely transforms the look of this plain wooden crate. After you have the stencil of your choice and have painted it, you may wish to make it more unique with some light distressing with some sandpaper. Don't forget to fill it up with some seasonal treasures. A plaid flannel blanket, some real pumpkins, and a richly colored mum make for a great collection for a complete fall decoration.
4. Garden Scarecrow with Fabric Garland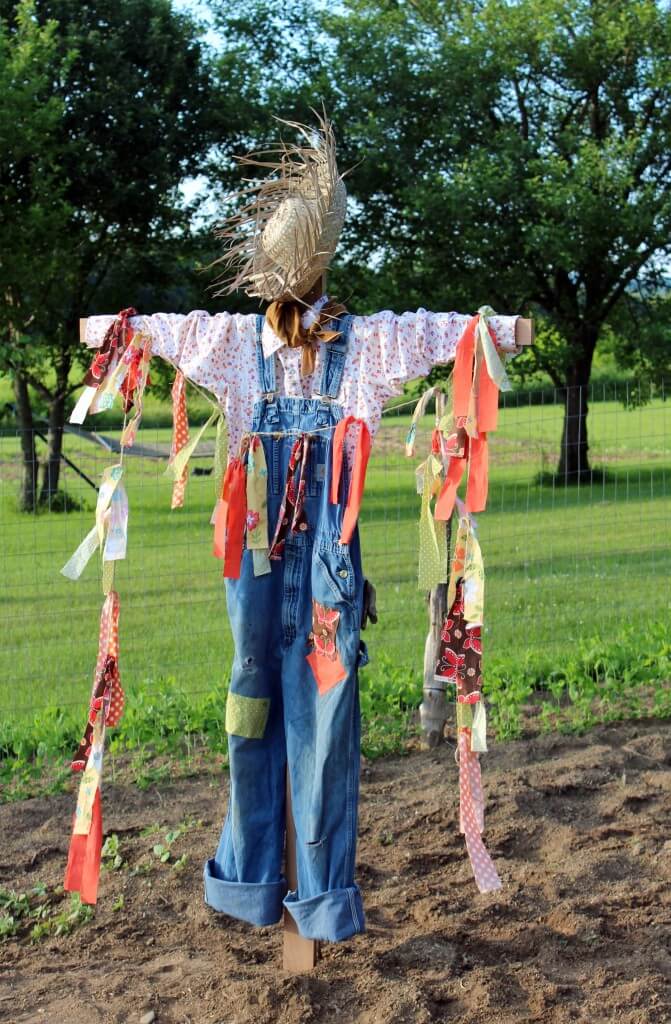 Give your backyard garden a little helping hand with this easy-to-make scarecrow. Using some leftover lumber and clothing, it's a quick and fun DIY project in which the kids will want to assist. Say goodbye to crows and hello to a bountiful harvest when you add this outdoor friend to your garden. Complete with a flannel shirt and straw hat, your scarecrow will not only keep the pests away but look good doing so. For large gardens, consider a whole scarecrow family for the most effective crow control.
5. Pretty Pumpkin Porch Topiary with Lights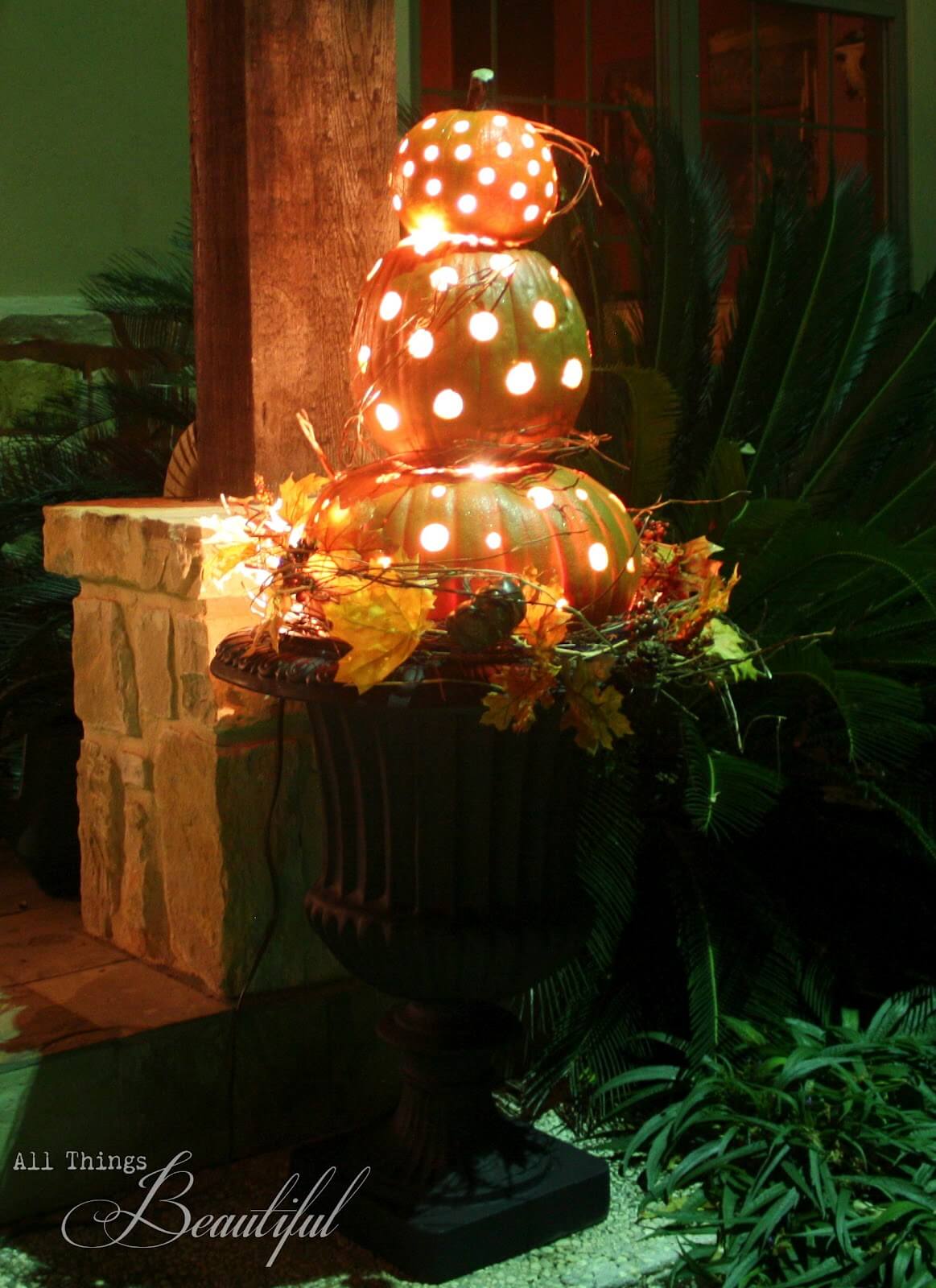 Add some light to those earlier nights with these fabulous pumpkin topiaries. You'll need a pair to set off your front door like never before. The beauty of these topiaries is a combination of their height and lights. Be sure to use faux pumpkins from your local craft store so you can reuse these gorgeous guys for years to come. The stack of small, medium, and large pumpkins are set off with the polka dot cutouts to filter the light. Around the bottom of this trio is a grapevine and leaf garland to finish the look.
6. Fall Favorites Cut Out Yard Signs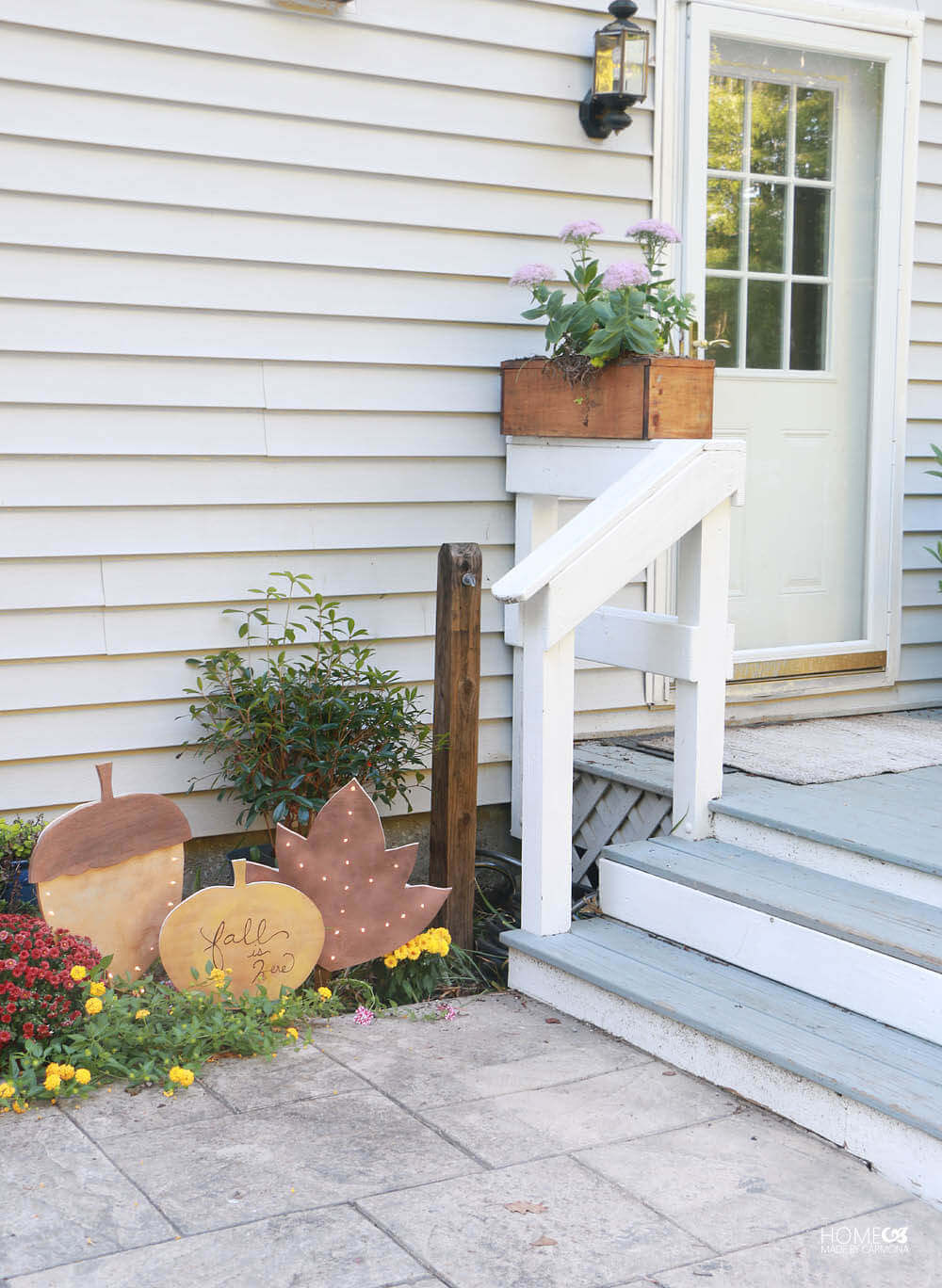 Check out these darling and super cute cut-out yard signs for fall. For handmade fall yard decor ideas, you can't go wrong with an acorn, pumpkin, and leaf to spruce up your yard for the season. With three of the essential icons of fall, these cut-out yard signs are the perfect addition to your weary flower beds as they head into the next season. Accent them with some bright bursts of color with a few mums, as well as a real pumpkin or two. Stick them all around your flower bed or line your sidewalk with these darling and happy fall cutouts.
7. Faux Pumpkin Triplet Topiary Outdoor Decor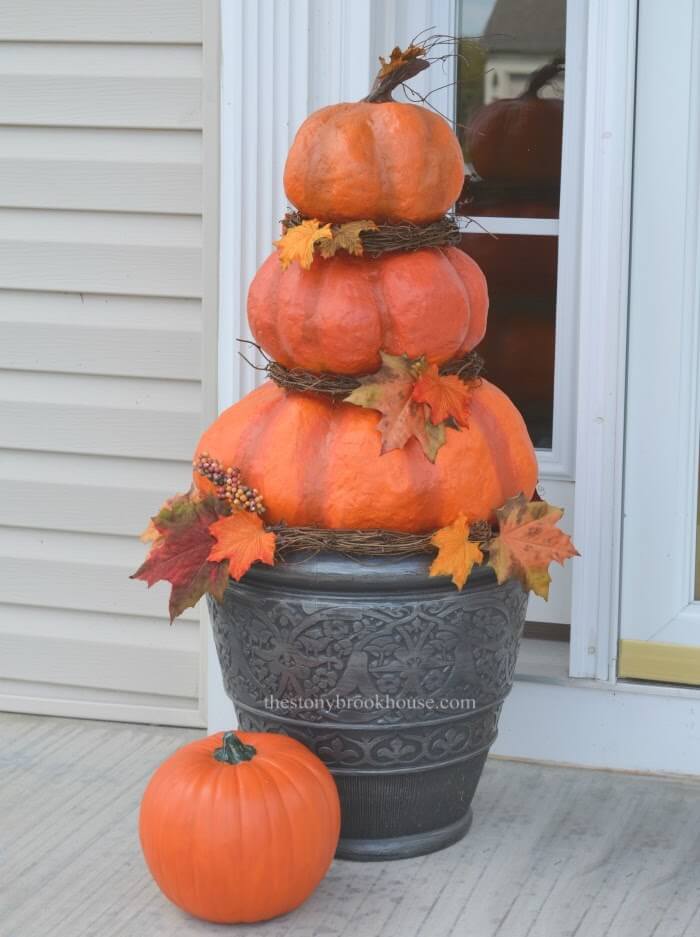 Grab a pair of these gorgeous pumpkin topiaries to set off your porch and enhance your curb appeal this fall. The trio of large to small pumpkins is stacked to perfection to add some decorative height to welcome guests to your front door. Show them off on the top of your favorite planters to give your front yard decorating scene a nice splash of orange. The bottom of the stack features a gorgeous grapevine garland that's topped off with some orange and red leaves and berry bunches to give it a perfect homemade charm.
8. Fall Festivities Fun Decorative Direction Sign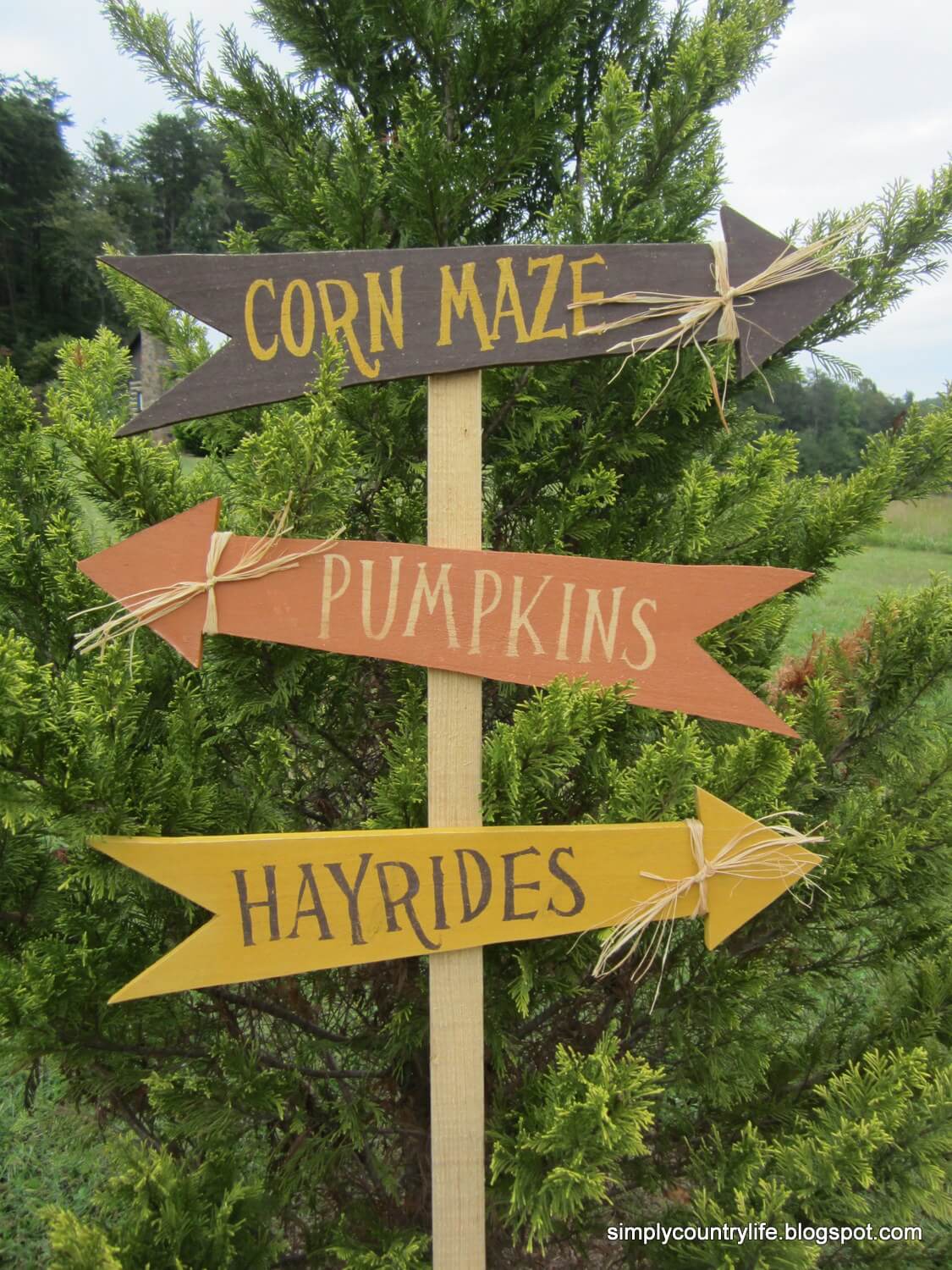 Point your family and friends in the right direction for loads of fall fun with this cool sign. Whether you look forward to the fall weather for the hayrides or the corn mazes, this sign makes the perfect addition to your outdoor fall decor. Your fall flower bed will look fabulous with this direction pointing fall festivities sign that's one of the best DIY outdoor fall decorations to liven up the scene while the seasons and tree colors change.
9. Fall Harvest Pumpkin and Corn Galvanized Tub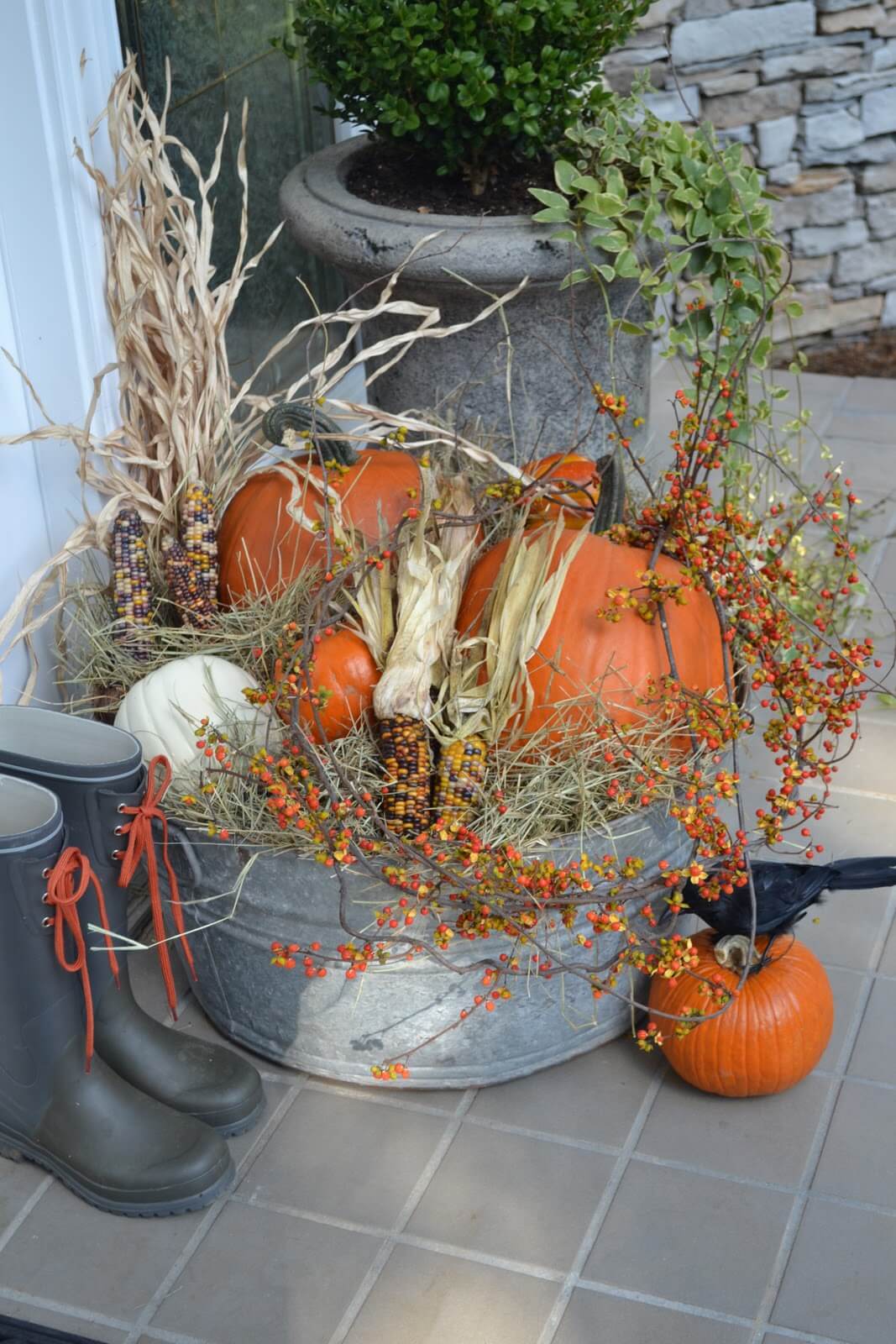 This galvanized tub is the ideal size for adding some harvest heartiness to your front porch in little time. Simply fill it with some of your seasonal favorites and voila! You'll be ready to welcome fall in no time at all. To spruce up your pumpkins inside it, a few pieces of hay strategically placed does the trick. And the multicolored gorgeous corn really takes the entire look to the next level. Include a garland strand of bittersweet from the woods and you're all set for one of the best DIY outdoor fall decorations that's complete from start to finish in under 30 minutes.
10. Hello Fall Cozy Front Porch Decor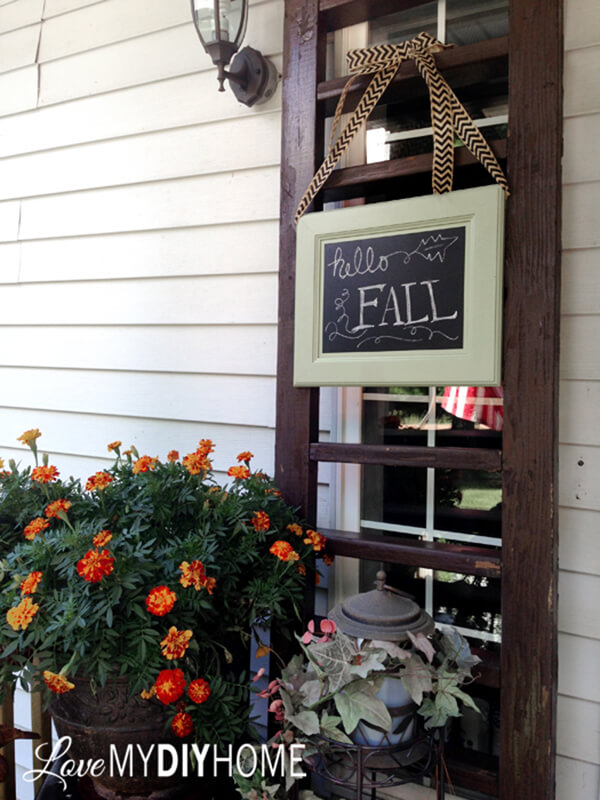 Add some quaint and festive touches to your front porch this fall to cozy up the welcoming atmosphere at your front door. Greet guests warmly with an inviting chalkboard sign hanging on a cute chevron ribbon. Below arrange a few potted plants for a nice, natural touch. Marigolds and ivy work just as nicely as chrysanthemums. An old and worn wooden painted ladder provides a great background to secure this fall scene to amp up your curb appeal this season.
11. Pallet Pumpkin Patch Family Yard Decor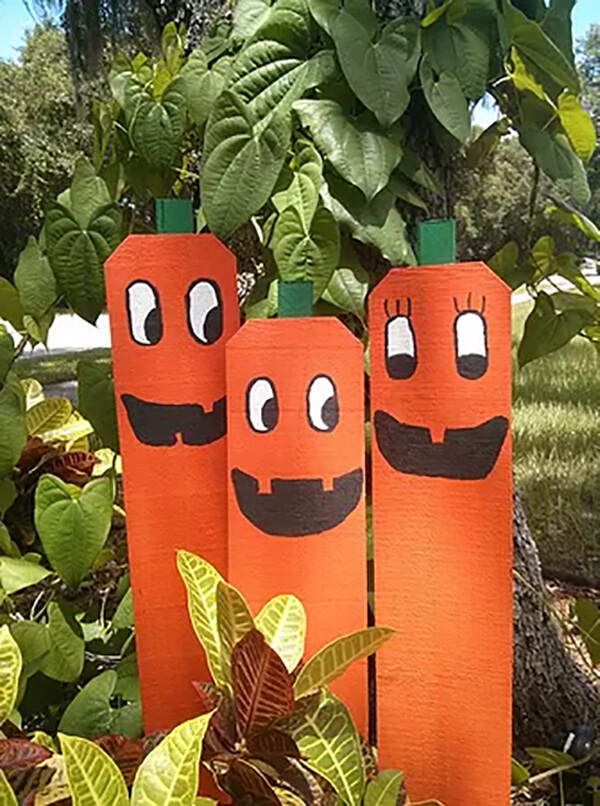 Bring the best of both worlds together when you incorporate your dearly beloved family members into your festive fall decor. For the yard, these pallet pumpkins don't take up much space but deliver a lot in terms of style. Each family member is represented on a pallet piece in the form of a pumpkin with his/her name written accordingly. This would be a fun present for grandparents so they could have their brood of grandkids displayed in a cute and playful manner in the front yard.
12. Fall Bushel Basket Tower of Pumpkins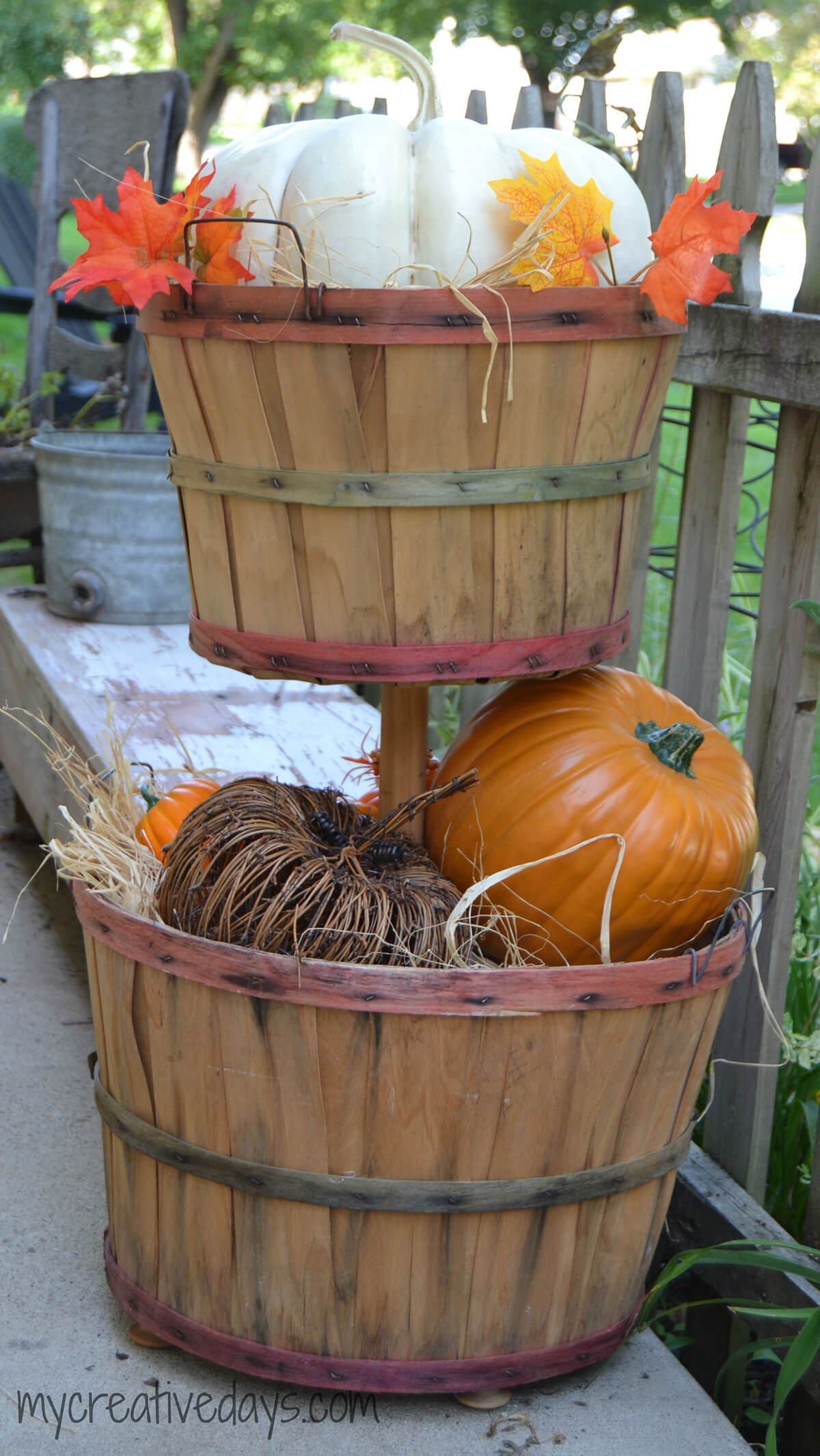 Take two-bushel baskets and enjoy a festive two-tiered display for your front porch this fall. Each basket adds character with its nostalgic design and provides the perfect place to show off some of your new pumpkins. Add several shapes, sizes, and colors for a dramatic display. Be sure to include a few pops of color and texture too like leaves and straw. Nestle one of these handmade fall yard decor ideas in the corner of your yard or by your front door for extra curb appeal.
13. Scarecrow Hay Ride Fall Front Yard Decoration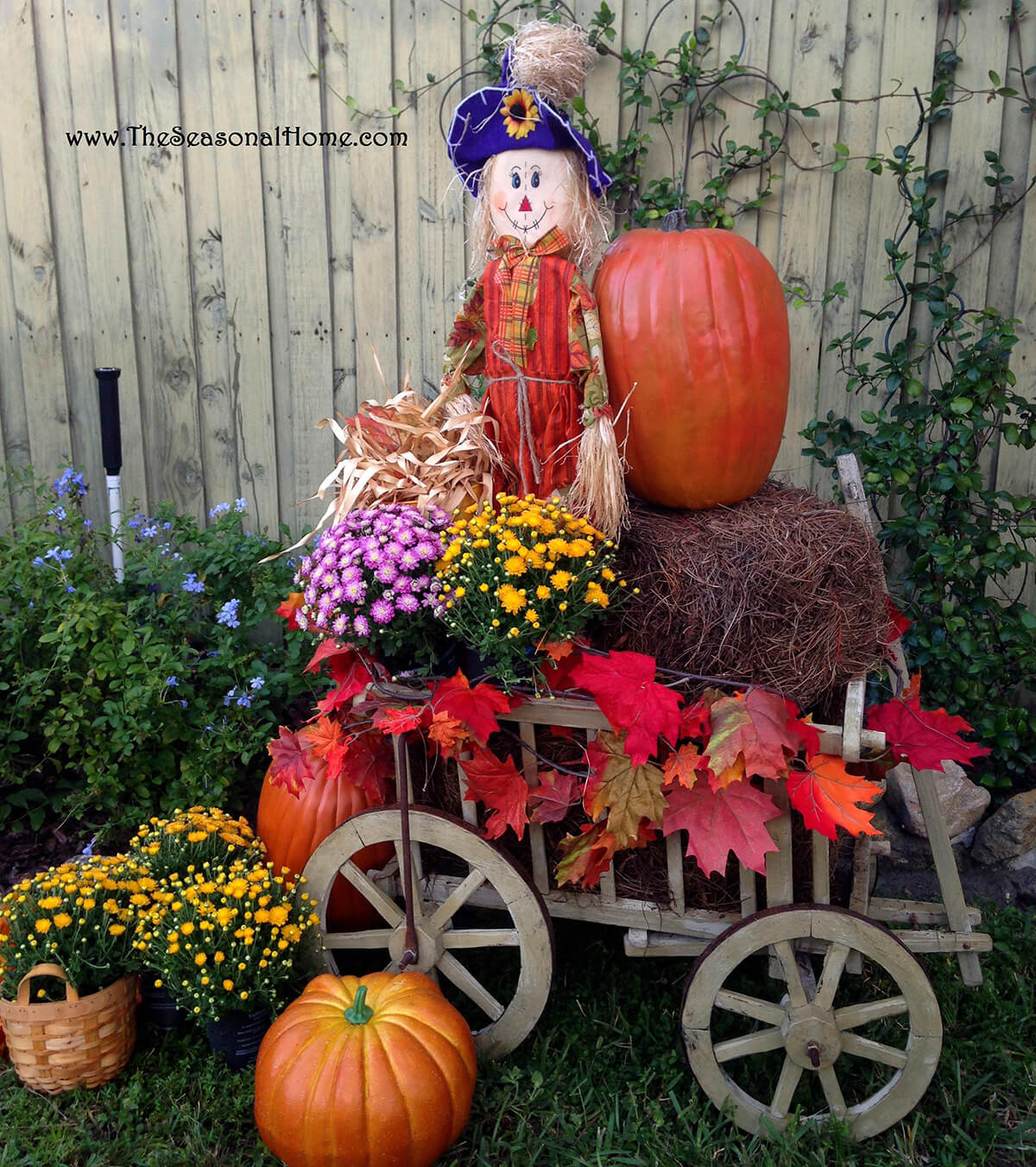 How adorable is this little scarecrow dressed in his bright plaid shirt and enjoying a little hayride in the wagon? This wooden cart is overflowing with all things fall. You'll notice some seasonal favorite mums, along with a hay bale, pumpkin, and a bunch of brightly colored leaves. Wheel this wonderful decoration to the front flower bed and park it where all passersby can see. Weave a few more mums and pumpkins around the bottom of the cart on the ground to give the perfect finishing touch.
14. Beautiful Burlap and Bow DIY Pumpkin Decoration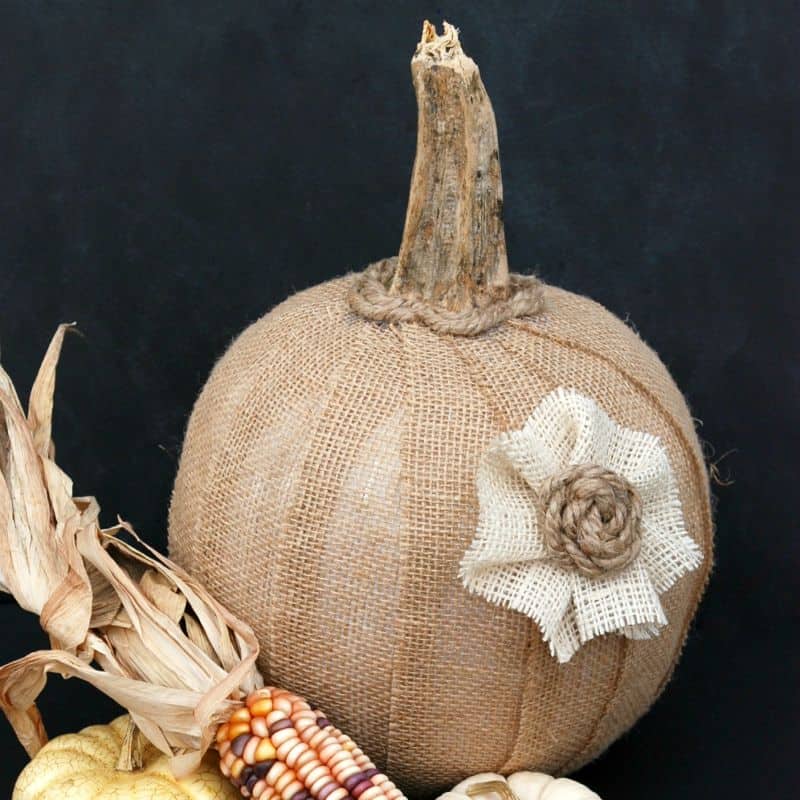 Bring a little texture into your decorating scene with this cool and cute decorative burlap pumpkin. It's a wonderful way to add another pumpkin to your outdoor decorating patch on your porch to celebrate the season of fall. All of your other orange beauties will blend in perfectly with this warm brown and beige burlap creation. Add more than one in different sizes to achieve an even more visually appealing arrangement for your outdoor fall display. If you're planning or hosting a fall celebration, these are awesome DIY fall centerpiece ideas as well. They not only are budget-friendly, but they are easy to construct and their finished product is the right size and weight to place in the center of your tablescape.
15. Darling Little Horseshoe Pumpkin Outdoor Fall Decor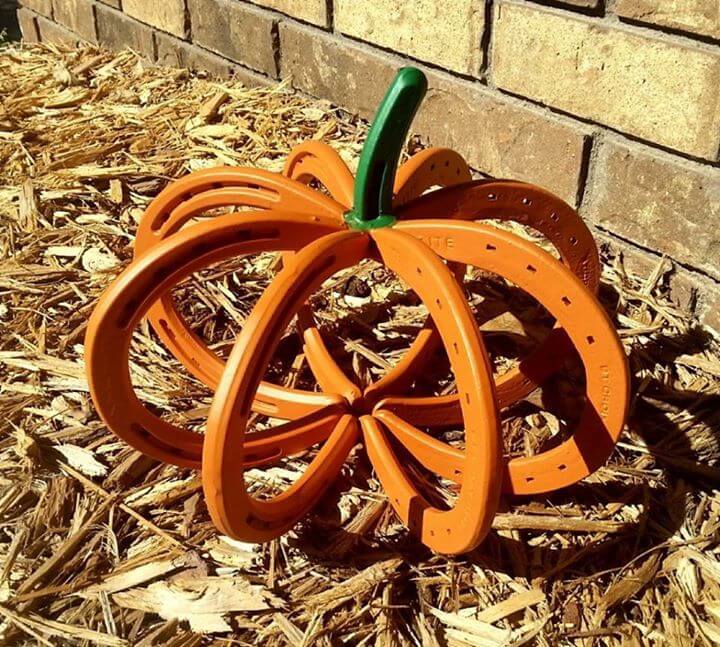 Carefully crafted with a circle of horseshoes, this unique pumpkin is one of the most fantastic handmade fall yard decor ideas to add a burst of orange to your yard this fall. Instead of only decorating with the real plump pumpkins themselves, this makes an amazing addition to your yard decor and the added bonus is that it can be reused year after year. Nestle it on your porch or place it within your flower bed to bring fall's favorite hue into the mix. Repurposing old horseshoes in this way is a great way to recycle while enjoying a one-of-a-kind fall decoration that won't be seen on everyone else's porch.
15 of the Best DIY Outdoor Fall Decorations
As you feel the cooler temperatures blowing into your neighborhood, make sure your personal yard is ready to welcome the season of fall. It's amazingly incredible what a nice arrangement of pumpkins can do. Line them along with your steps, stack them into a topiary, or fill a metal tub with them and you're going to enjoy the bright orange pops delivered to your front door.
And everyone loves a cute scarecrow decked out in his festive plaid to keep the crows away. Place him in your garden or use a smaller, more decorative version in a cute little wooden cart.
Repurposed pallets always have a home in fall decor and transforming them into a pumpkin family is one of the best ideas yet. Your family will join the ranks of your favorite front yard decor as there is a pallet piece representing each one of them.
No matter if you focus on your porch and flower bed, or go all out when it comes to your outdoor fall decor, you can use nearly every one of these incredible ideas to complete your look. From cozy porch to spectacular yard decorating, your curb appeal only has one way to go this season!