It's no wonder that DIY pipe shelves are all over design blogs and Pinterest boards. They are stylish, versatile, and budget-friendly. As do-it-yourself projects go, they're also rather simple to create and install. Your biggest challenge will be choosing just one DIY pipe shelf idea to stick to!
17 Awesome DIY Pipe Shelves for Budget-friendly Organizing

Just in case you haven't been engaging in the DIY home decor space recently, let us tell you about these design gems. DIY pipe shelves use metal pipes and fittings combined with (usually) wood to create shelving units. These units may sit on the floor or be mounted to the ceiling or wall. The design is industrial-inspired and looks absolutely perfect with minimalist decor, boho-chic design, and eclectic aesthetics, but it can also be worked into just about any design theme. That's because there is so much versatility in the color and shape of metal and wood used.
If you're going for a raw, edgy look, then check out the ideas with black pipe and raw or dark finished wood. If you want a softer, more sophisticated version, then look at the antiqued designs or those with more structural elements. For a more creative flair try copper pipes or fully painted wood shelves. You can really mix and match the possibilities until you come up with a look you absolutely love.
Let's talk wall mounting, folks. These designs make incredible wall-mounted and floating shelving units. You can also ceiling mount shelves for a unique spin on the theme. For pieces on the floor, you can use pipe fittings or swap them out for wheels to create a movable unit.
Think about where you want your shelves to go, what you plan to put on them, and how you want them to look in the context of the rest of the room. This can make your DIY design process easier and ensure that you choose the perfect DIY pipe shelves for you!
1. Simple and Stylish Pipe Wall Shelf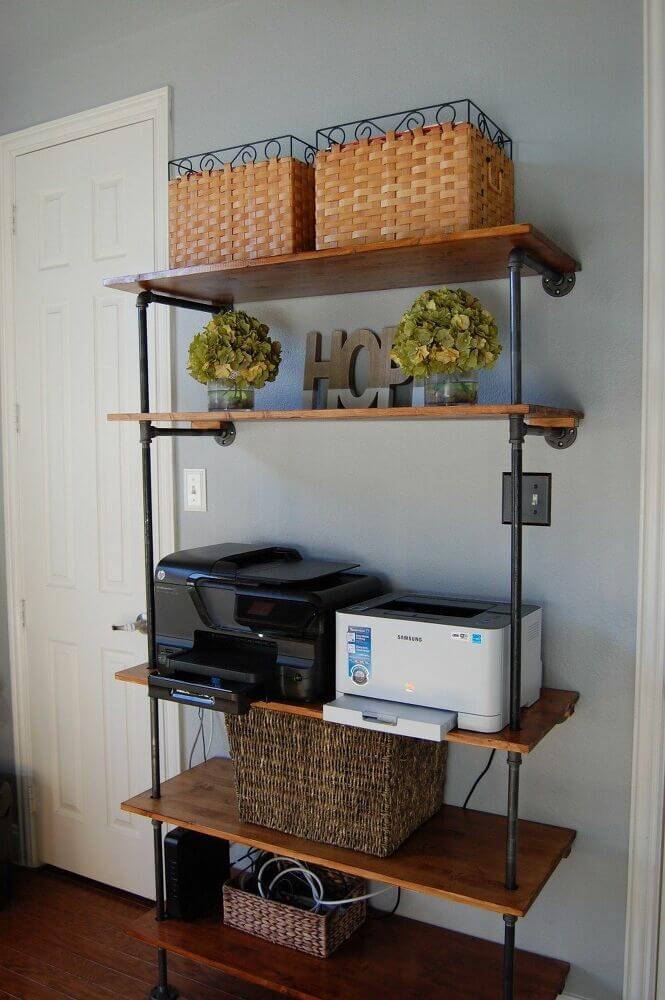 This do-it-yourself wall unit is simple, sturdy, and looks amazing. If you want something that can handle heavier loads like these printers, then anchoring to the wall like this is a brilliant idea. You won't have to worry about bumping into things. Woven baskets are a fabulous idea for organizing odds and ends in a pipe and wood shelving unit like this. Add a couple of purely decorative items to soften the look and make it homier. Another great thing about this type of design is that you can make it as wide or as tall as you need to. The possibilities are endless!
2. Minimalist Floating Bar Shelves with Iron Pipe Brackets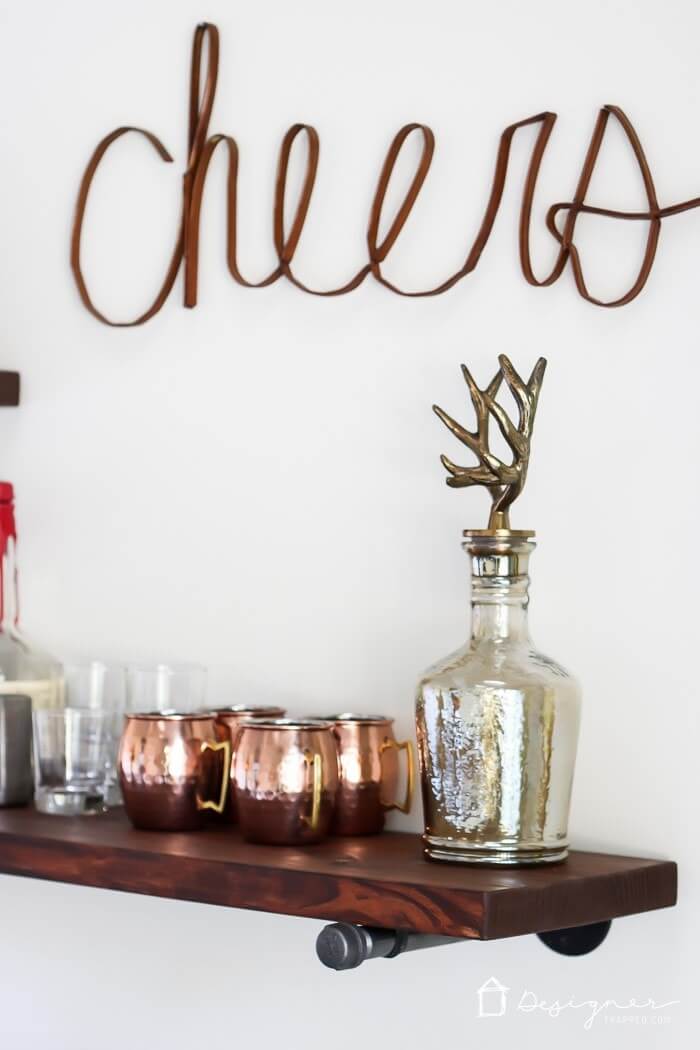 Want to have a bar in your home but short on space? This floating shelf idea is a stylish solution! In fact, this looks so amazing that you may want to opt for a floating DIY pipe shelf idea for a bar no matter how big or small your home is. A project like this couldn't be easier. Forget a weekend – you can pull this off in an hour! All you need are the necessary pipes and brackets, a secure wall mount, and a piece of finished wood. Arrange your glasses and spirits on the shelf and you've got yourself a bar. Cheers!
3. L-Bracket Pipe and Wood Wall Shelving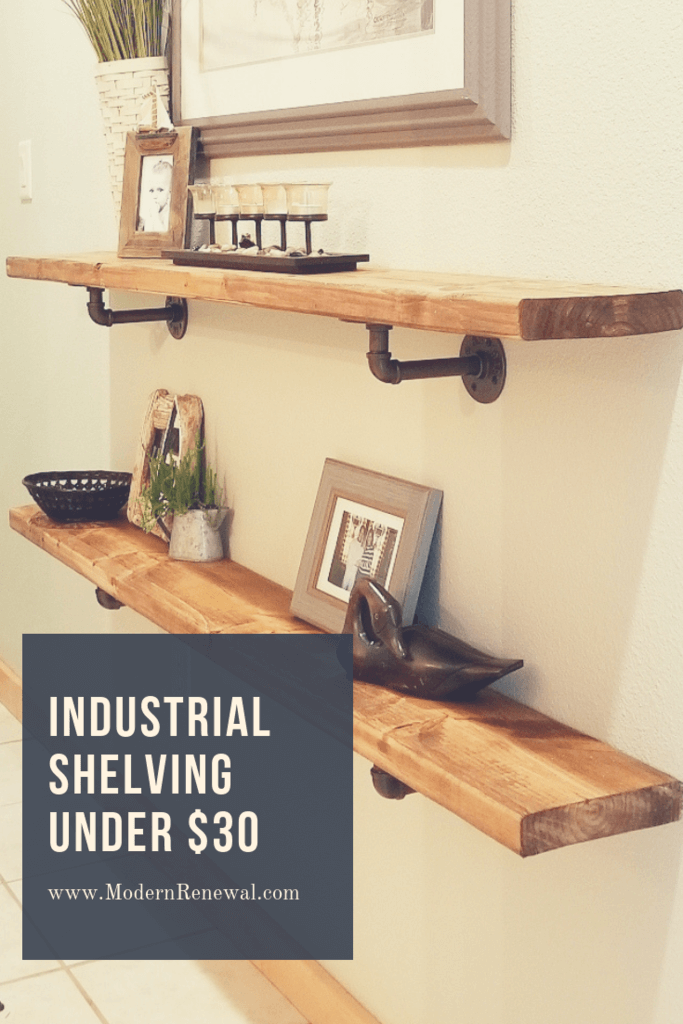 This is not exactly a floating shelf, but it gives you the same effect while also showing off a little bit of raw, industrial style. Using a pipe configured into an L-bracket makes for a super-secure shelf. It's hard to believe that something this pretty can be made with a couple of pipes and a two-by-four, but here's your proof! You can play with the pipe color – either by choosing a different metal or painting it – to suit your decor. You can also mix this up by finishing the wood differently. A darker finish would look warm and masculine. A whitewash would look great with farmhouse decor.
4. Hip Portable Pipe and Wood Shelving Unit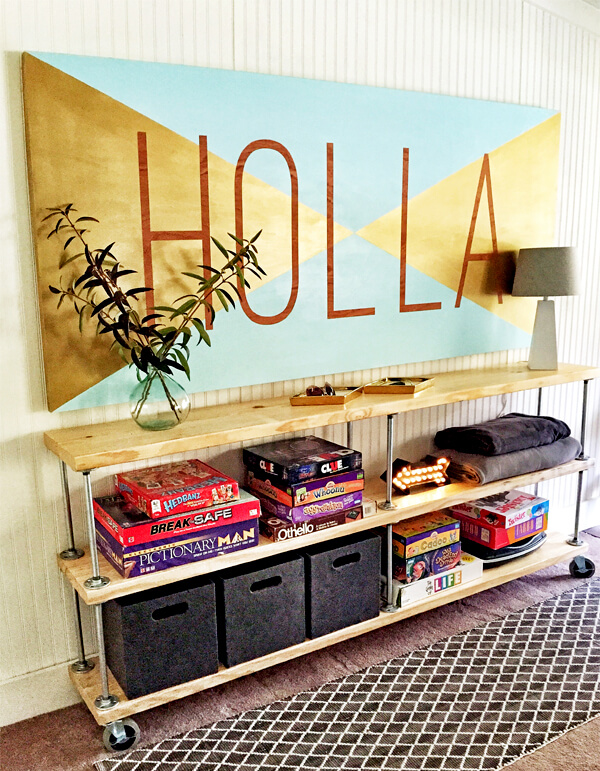 Oh man, this movable shelving unit is inspiring major design envy! This is an awesome example of how (almost) raw wood and galvanized pipe furniture can perfectly complement the eclectic decor. This particular set of DIY pipe shelves is particularly brilliant because it's on wheels! If you need to be able to move things around in your home (say for a guest staying over or in a multipurpose room) this makes it incredibly easy to do. Just roll the shelving unit wherever you want it! You can push it out of the way, use it as a room divider, or change it out with another piece of furniture in a snap.
5. Warm and Welcoming Pewter and Wood Shelves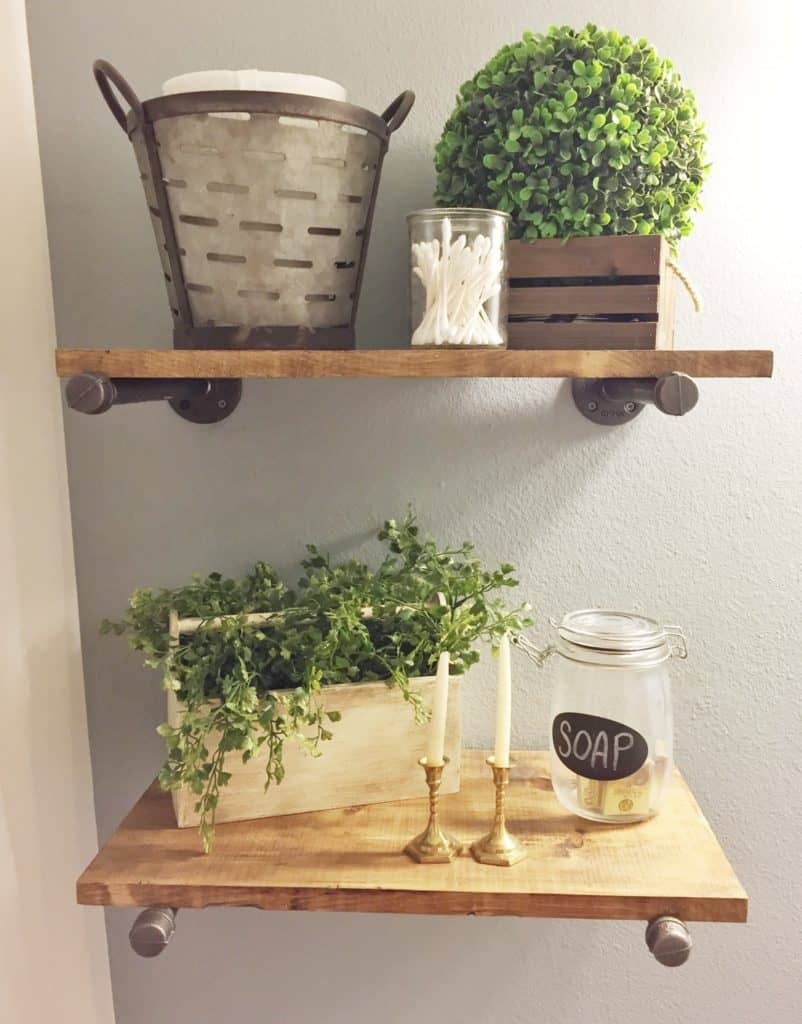 One of the best things about DIY pipe shelves is that you can customize them like none other. Simply cut the wood pieces down to the length and width to fit into your living space and get the pipes cut to match. Just look at this adorable solution for floating bathroom shelves. Bathrooms can be full of odd nooks, crannies, and empty walls that can look awkward when they're bare. Add a couple of floating shelves and some cleverly disguised storage decor to liven up the space.
6. Boho Industrial Iron and Wood Floating Shelves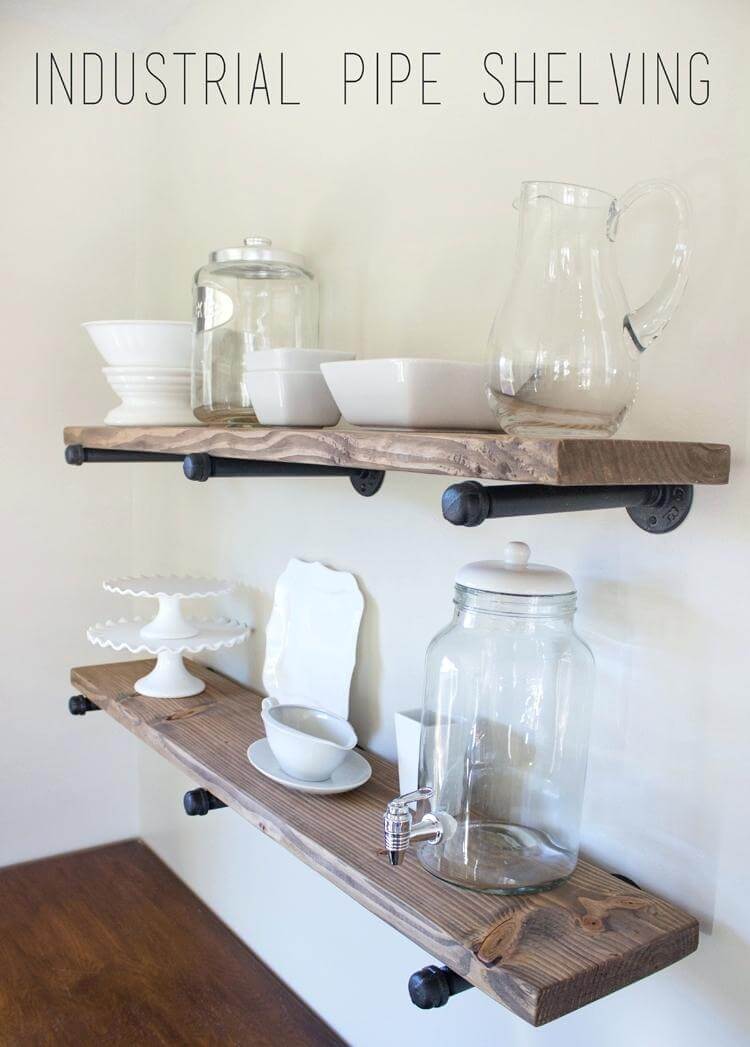 Often DIY pipe shelf design is categorized as "industrial" decor, but that doesn't mean you have to live in an NYC loft to make it work. Just look at how gorgeous these soft and frilly ceramics look atop industrial wood and iron floating shelves! This particular style can lend a touch of modernity to farmhouse or shabby chic style, which can sometimes look a bit dated. Keeping things simple and sparse will only make this decor look more stylish. If you like to keep things minimal – or just can't afford a bunch of stuff – then this decor theme will work especially well for you as minimalist simplicity is the name of the industrial game.
7. Office-Ready Professional DIY Pipe Shelf Design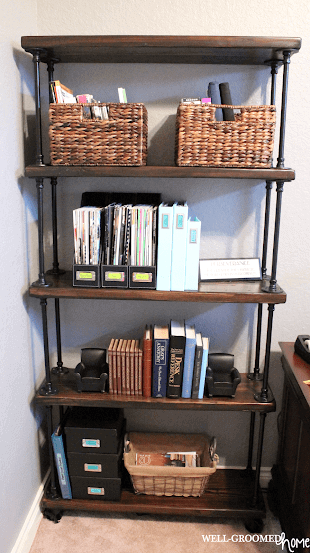 Whether your office is in your home or your place of work, this DIY pipe shelf idea will look professional and get the job done. Using a thinner pipe and rounding the corners of the wooden shelves adds some refinement to this rustic style. The dark finish on the wood also makes a great match for a professional environment. This is a much more attractive, fashionable, and unique design than your run of the mill particle board shelving unit. Since the shelves are exposed, organize your items with baskets, book ends, and magazine boxes.
8. Complete DIY Wall Unit with Jointed Pipe and Wood Shelves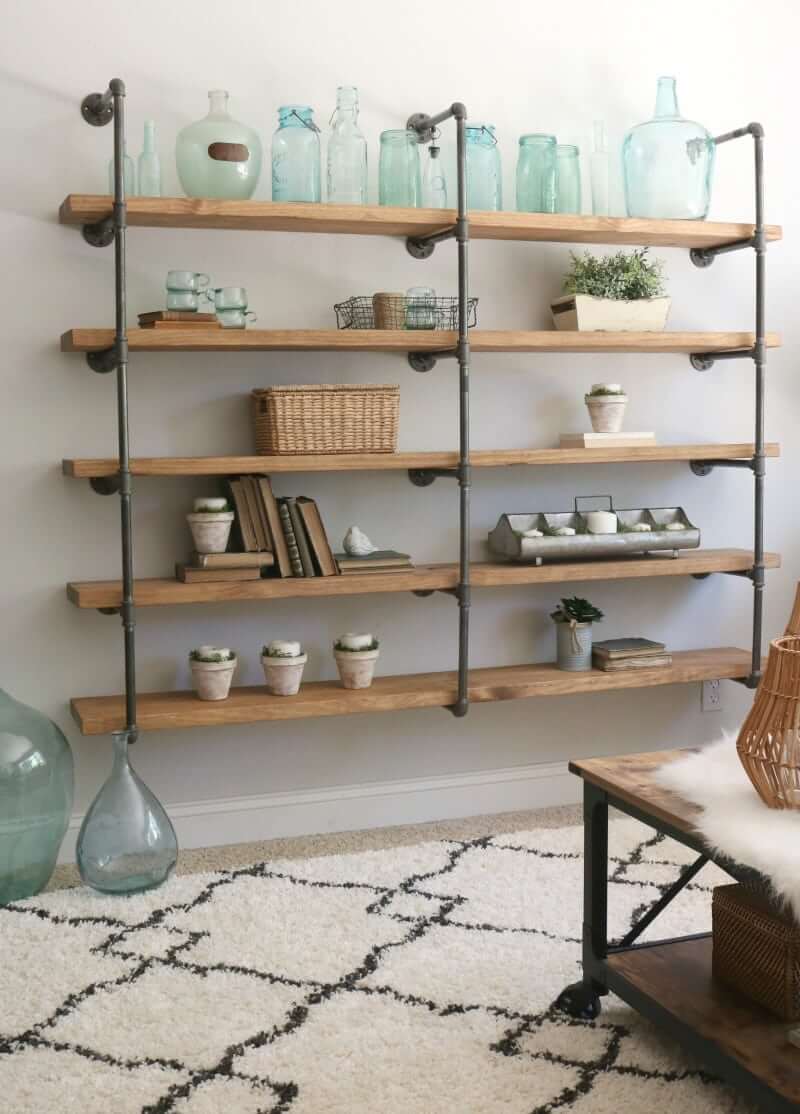 A wood and pipe wall shelf can be functional and fashionable. Just take a look at this stunning design. A pre-fab shelving unit of this size would easily cost five or six times more than this do-it-yourself version. The simple, symmetrical design sets the perfect backdrop for a collection of your favorite things. This is absolutely perfect for rooms with big, empty walls that are begging for a statement piece. Place larger pieces on higher shelves and smaller pieces on lower shelves to perfectly balance the space. Hot tip: colored glass adds interesting color and texture while still appearing spacious and letting light through.
9. Rustic Ceiling-Mounted Wood and Pipe Craft Shelves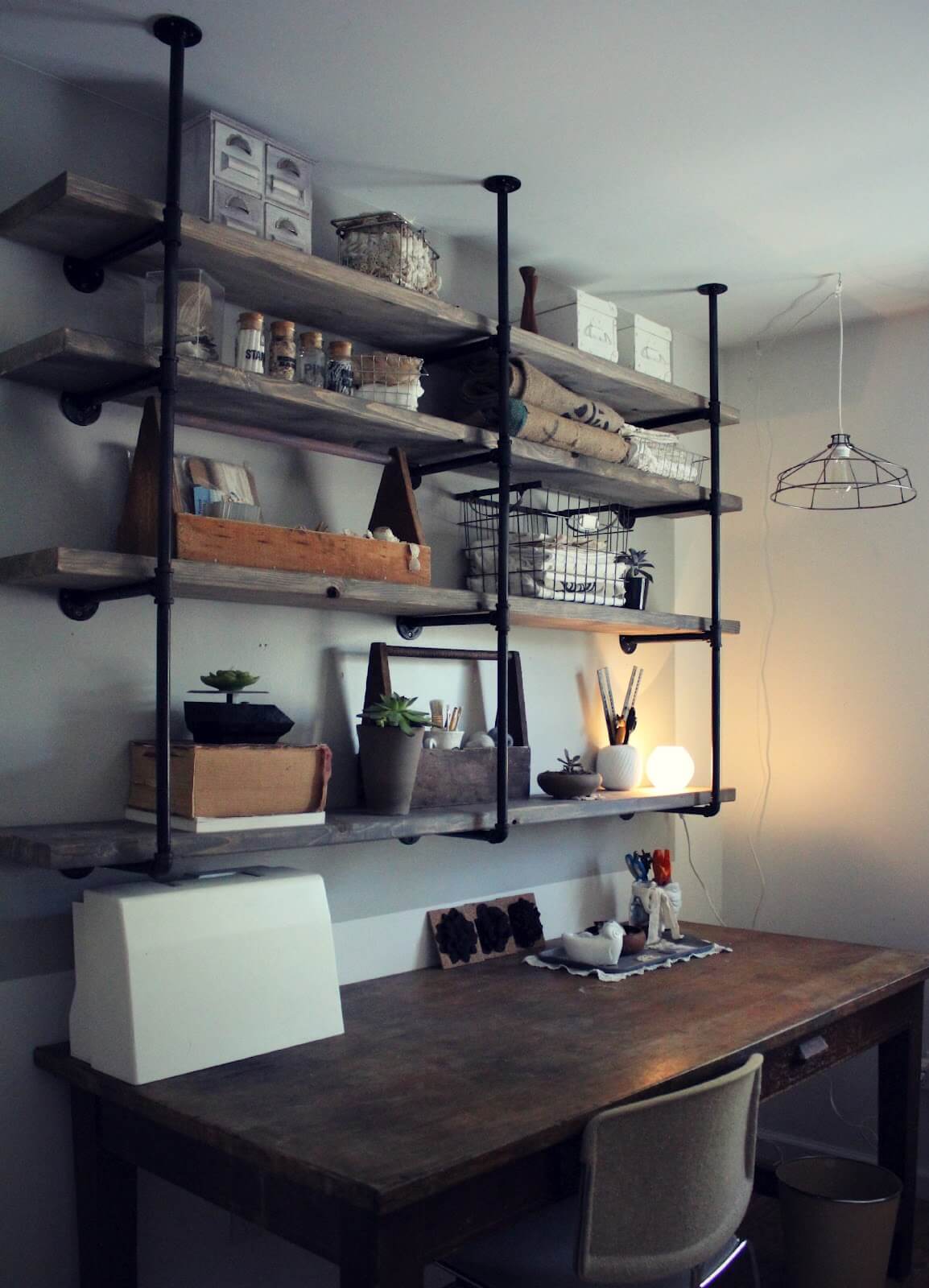 Flip it and reverse it! Create DIY pipe shelves that come from the ceiling instead of the floor to expand your working and storage space. This is a genius solution for a craft room like this, for an office, a laundry room, a kitchen – any room where you have furniture on the floor, need storage and have wall space that is underutilized. Aside from the use of a ladder, this is about as simple as installing DIY pipe shelves from the floor. It looks amazing and gives you a very practical solution for storing your things.
10. Gorgeous Floor-to-Ceiling Dimensional Pipe Shelving Display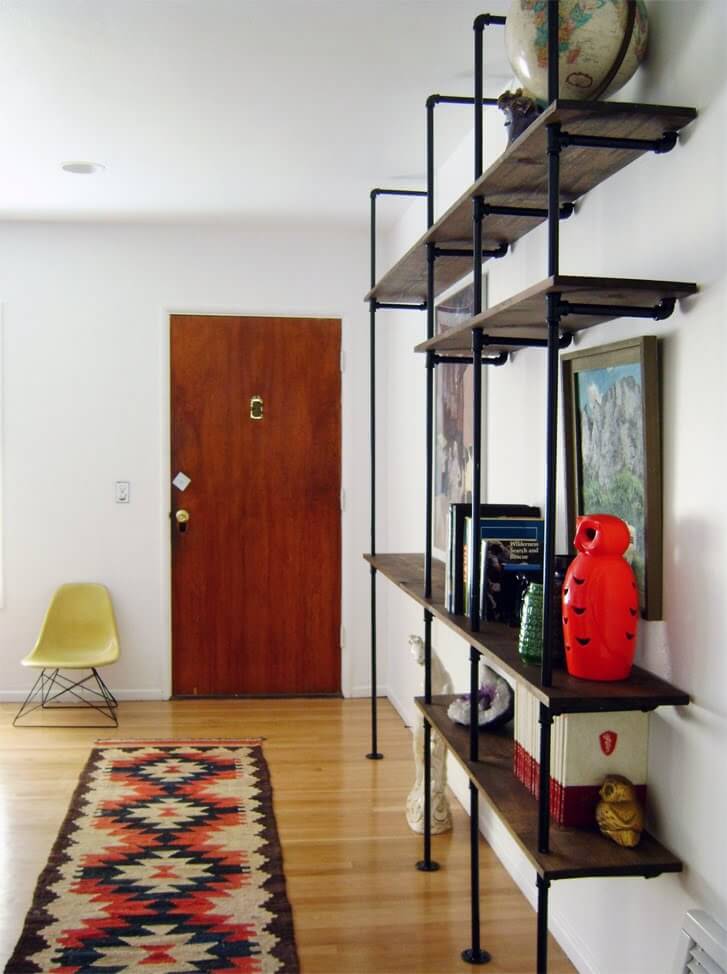 Get creative with your design with this elegant solution. One of the great things about a DIY pipe shelf idea is that you can mix and match width and height to just the way you want it. A wall unit like this is a perfect example. You can plan your shelves to accommodate works of art or other decorative items. Having various shelf heights also adds an artistic appearance that's less utilitarian and more design-focused. This particular room is an awesome example of an eclectic, bohemian design blending perfectly with a warm industrial pipe shelving design.
11. Sturdy, Affordable, and Chic Pipe Bookshelf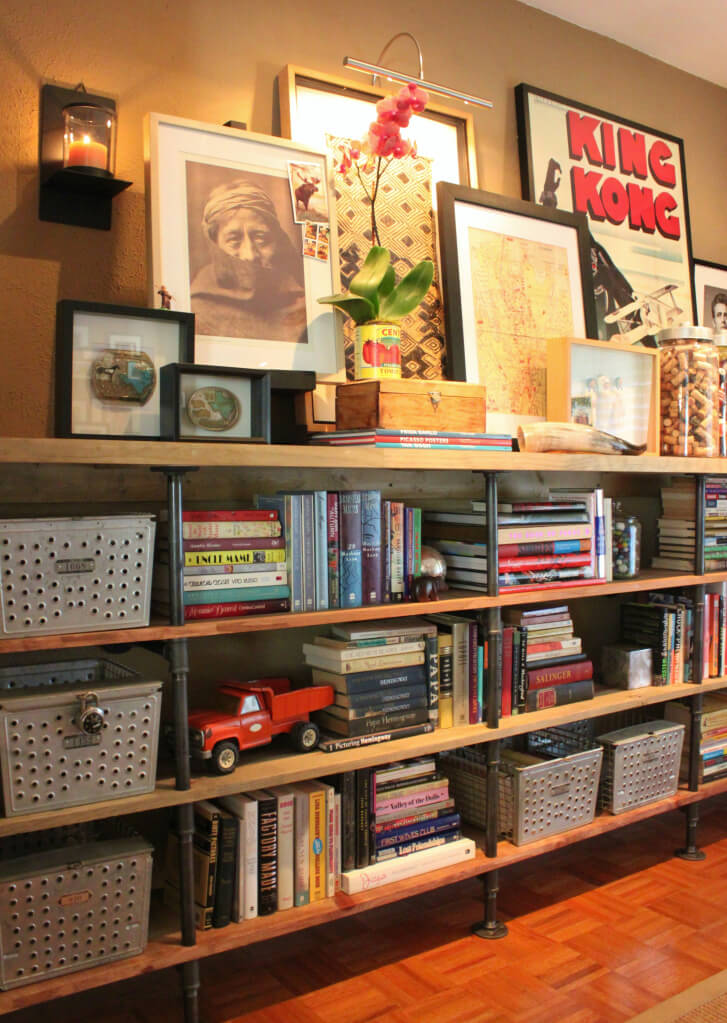 DIY pipe shelf design is incredibly sturdy. You can load those shelves up with super heavy items like a collection of books or records with no problem at all. This shelf is proof positive of the load-bearing capacity of this design choice. If you've ever dreamt of having a personal library, this is a great way to put it on display. Having a unit for these very heavy items is best to be placed on the floor. A properly mounted pipe wall shelf can also handle a lot, but a floor mount is your safest choice.
12. DIY Copper Pipe Transformation Idea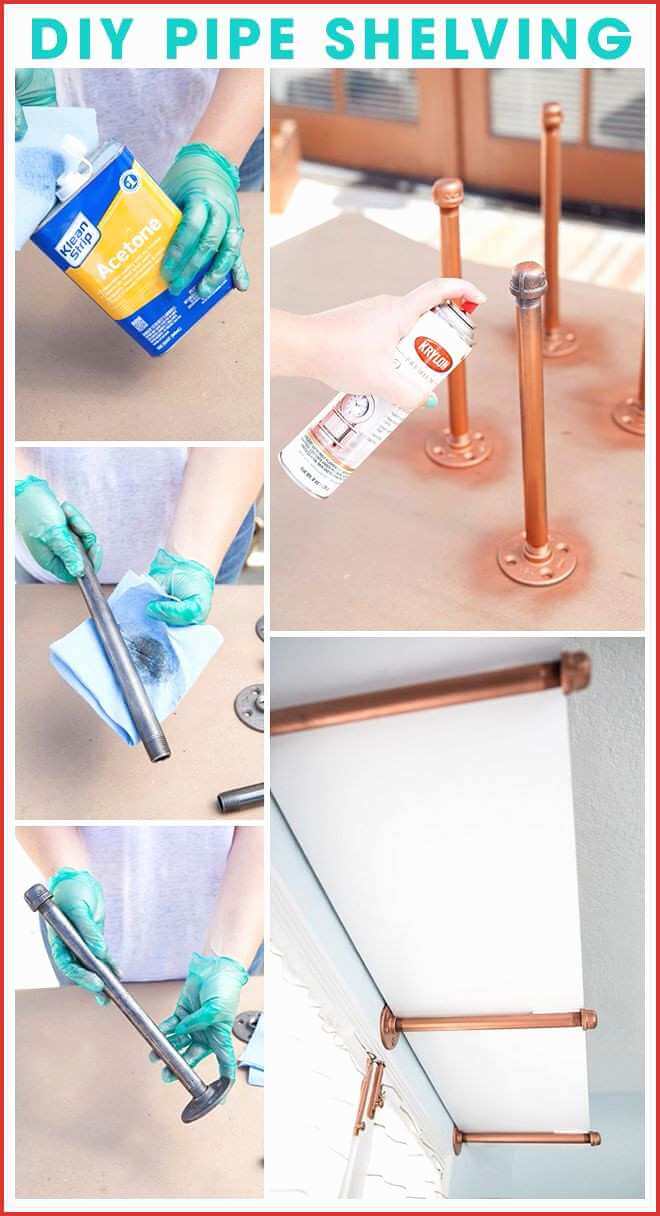 Depending on the design of your home, you may want to opt for a different shade of metal in your DIY pipe shelves. You can pretty easily find pipes in black, silver or copper. The price differences in these materials can be significant, so to change colors on a budget you can simply spray paint the pipes instead. Just pick up a can of metallic spray paint in the color of your choice. Spray the pipes and allow them to dry before installing them. Because these are overall stationary objects, there's not a huge risk of paint chipping or wear and tear.
13. Simple Copper Pipe and White Wood Floating Shelves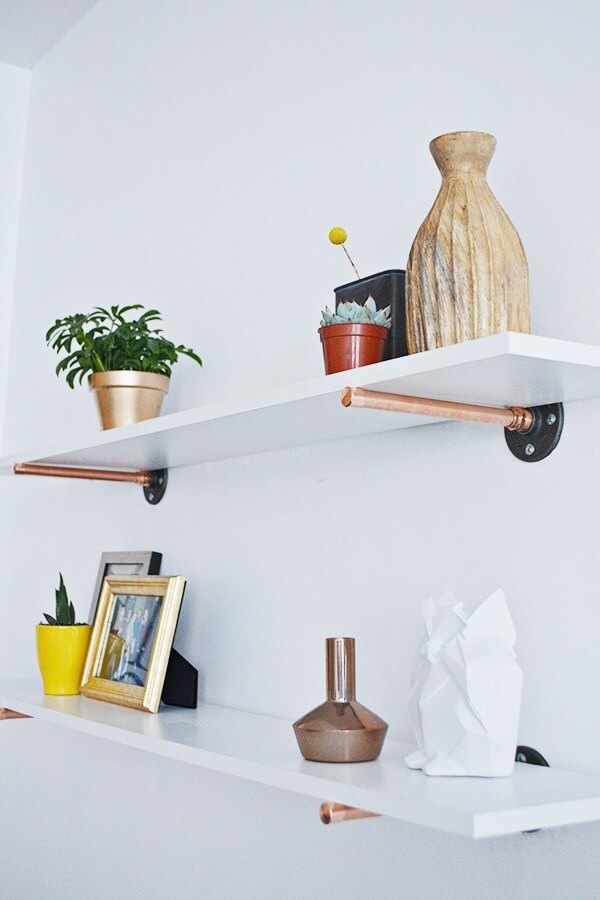 Using copper instead of black or galvanized steel pipes can completely change the look of your DIY pipe shelf design. The appearance is lighter and brighter. It goes beautifully with white shelves like these, or with wooden shelves. If you want an almost invisible look, then painting the shelves to match the wall they are mounted on will do the trick. The glossy finish also goes nicely with the brightness of the copper color. You can also tie in the soft, warm metallics with the items you display on the shelves, like the copper-hued vase and metallic frame.
14. Warm Industrial Floor-to-Ceiling DIY Pipe Shelves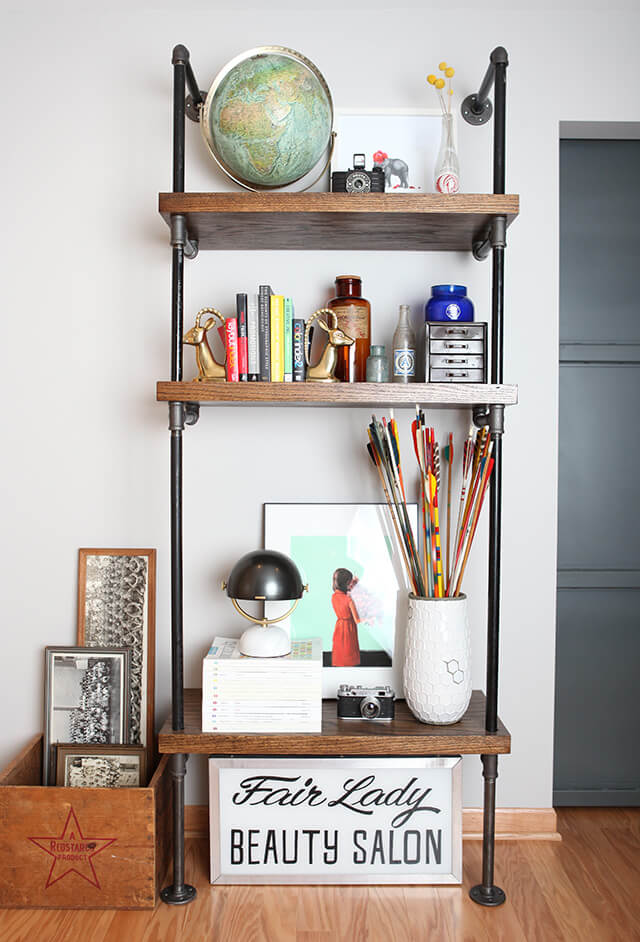 You can make your ceilings appear taller and create attractive display and storage space by taking your pipe wall shelf from floor to ceiling. The vertical lines create an optical illusion of height which can really open up your space. You can double down by varying the height of the shelves as well. Adding in a double-tall shelf adds more open space and contributes to the visual effect of more height. Add a collection of beautiful things, books, and mementos to create a truly gorgeous design. The chic, industrial look really lends itself to displaying eclectic decor.
15. Indoor Garden on Shelves Made of Pipe and Wood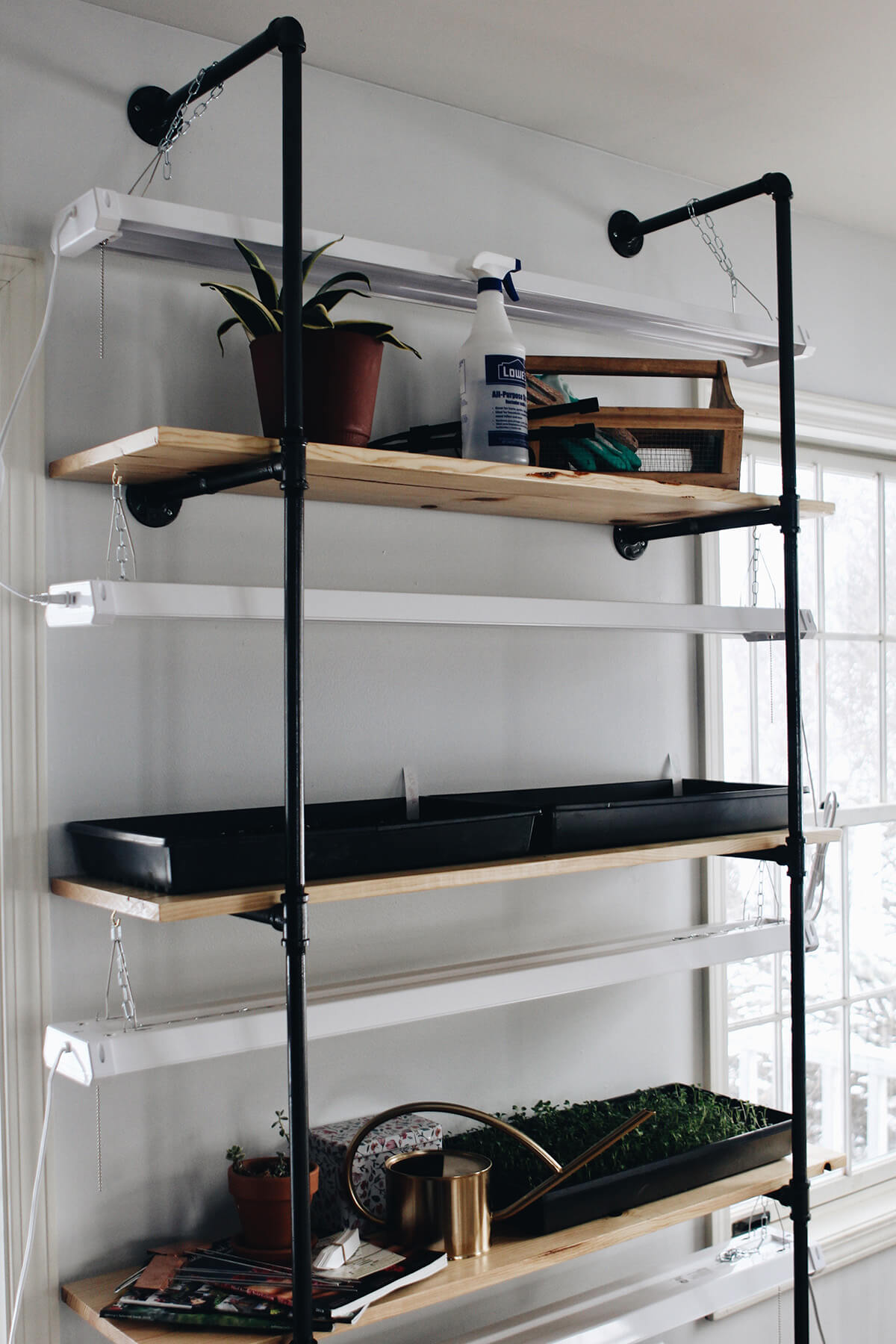 Art, books, and dishes aren't the only things that can go on your shelves. How about some plants instead? Just check out this brilliant DIY pipe shelf design for an indoor garden! The shelves hold the plants and the lights are mounted on the bottom of each shelf to shine on the surface below. This is such a cool way to grow things like herbs and microgreens indoors or even to house your outdoor plants in the winter months. You could even paint the light fixtures to coordinate with the shelving unit – or add a creative design.
16. Bright, Warm Copper Pipe and Mahogany Shelves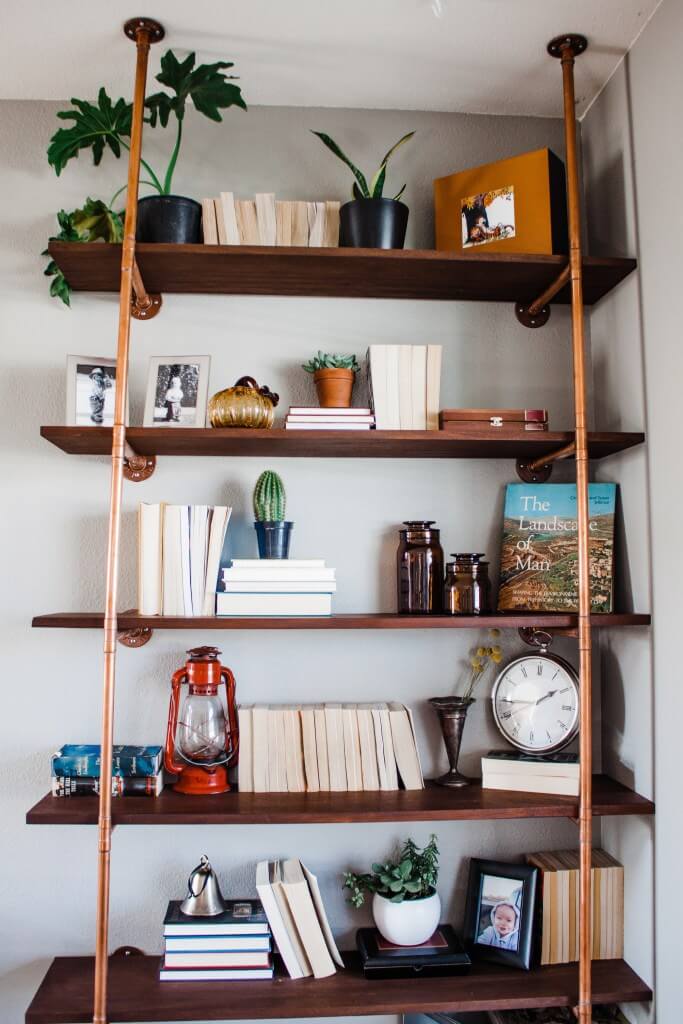 It's just incredible how much the color of metal pipes you choose for your DIY pipe shelves can change their appearance. Don't believe us? Just take a look at this copper pipe shelving idea. The warm copper color almost blends in with the color of the wood. It's a much softer look than black pipes, but just as functional. Using a wood finish with a reddish stain is a great idea to go with copper pipes. This just goes to show that the shade of wood or metal used in these designs can dramatically change the way the final result looks. It's also helpful to know that if you're unhappy with your design you can change it pretty easily with a can of paint!
17. DIY Pipe Shelf Design Home Office Solution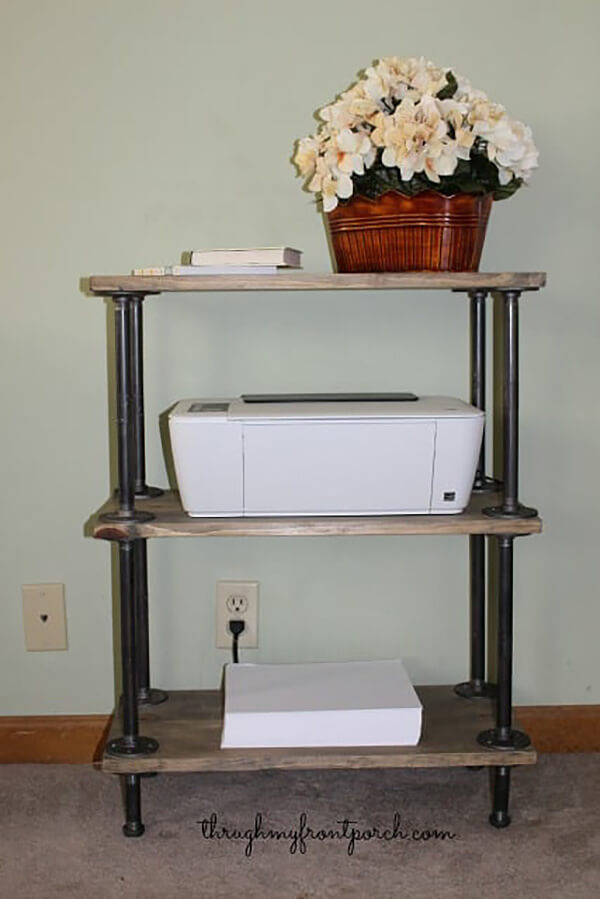 This design has an almost antique look to it. Black pipe is reminiscent of cast iron and, when paired with weathered wood, has a look that's old-fashioned in the best sense of the word. This style would look lovely in a more traditional home or with country-style decor. It is simple, elegant, and functional all at the same time. This piece works great in a home office space, but could just as easily hold items in the kitchen or serve as a bedside table.
17 Amazing-looking DIY Pipe Shelves for Every Budget
What an incredible collection of creative design ideas! It's hard to believe that just two elements – pipe and wood – can create such a variety of styles and ideas. If you're not sure where to start, any employee at your local hardware or home improvement store can walk you through the basics of putting together the pipes and fixtures to create the shape you want. They can also help you determine what types of screws or other hardware you'll need to attach the pipes to the wood as well as the walls or ceiling if you're doing a mounted version. Happy DIY-ing!
Our Favorite Farmhouse Decorations to buy on Amazon