Once confined to the early American homestead, farmhouse design has gotten a trendy do-over in recent years thanks to a growing passion for rustic decor. Fresh and comfortably modern, the farmhouse heritage aesthetic can be integrated into any home, regardless of location. Whether it's a warm welcoming sign outside the door or showstopping mason jar chandelier, you don't need to live in a barn or own a vast acreage of land to show off a little country style.
29 Farmhouse Decorations to Die For

So what are the characteristics of farmhouse decor? Much like the shabby chic trend, vintage farmhouse and farmhouse-inspired items are often heavily painted throughout the years, with multiple layers showing through particularly worn areas. Newly crafted farmhouse pieces often use a glaze or sanding technique that artfully strips away the top coat of an object to show the wood or "base" coats underneath. This technique is widely known as distressing, and is used by many artisans and manufacturers.
Farmhouse fabrics tend to be soft cottons and wrinkly linens, as well as rough burlap for heavy-duty or accent use. More decorative fabrics sport attractive vintage pastel floral patterns, as well as the iconic gingham print.
Coveted antique farmhouse pieces include metal and wooden crates, canisters, baskets, and signs, as well as an assortment of repurposed country goods such as scales and other worker's tools.
Farmhouse style is undoubtedly punctuated by a blend of recognizable architectural details, but also the rough-hewn furnishings and accessories often passed down through generations–and now starting with your very own. Ultimately the goal of the farmhouse aesthetic is to inspire a lived-in feeling of comfort and hospitality through attractive but unpretentious decorations.
If you're looking to incorporate some farmhouse magic into your own abode, look no further than these 29 farmhouse accessories.
1. Reclaimed Wood Welcome Sign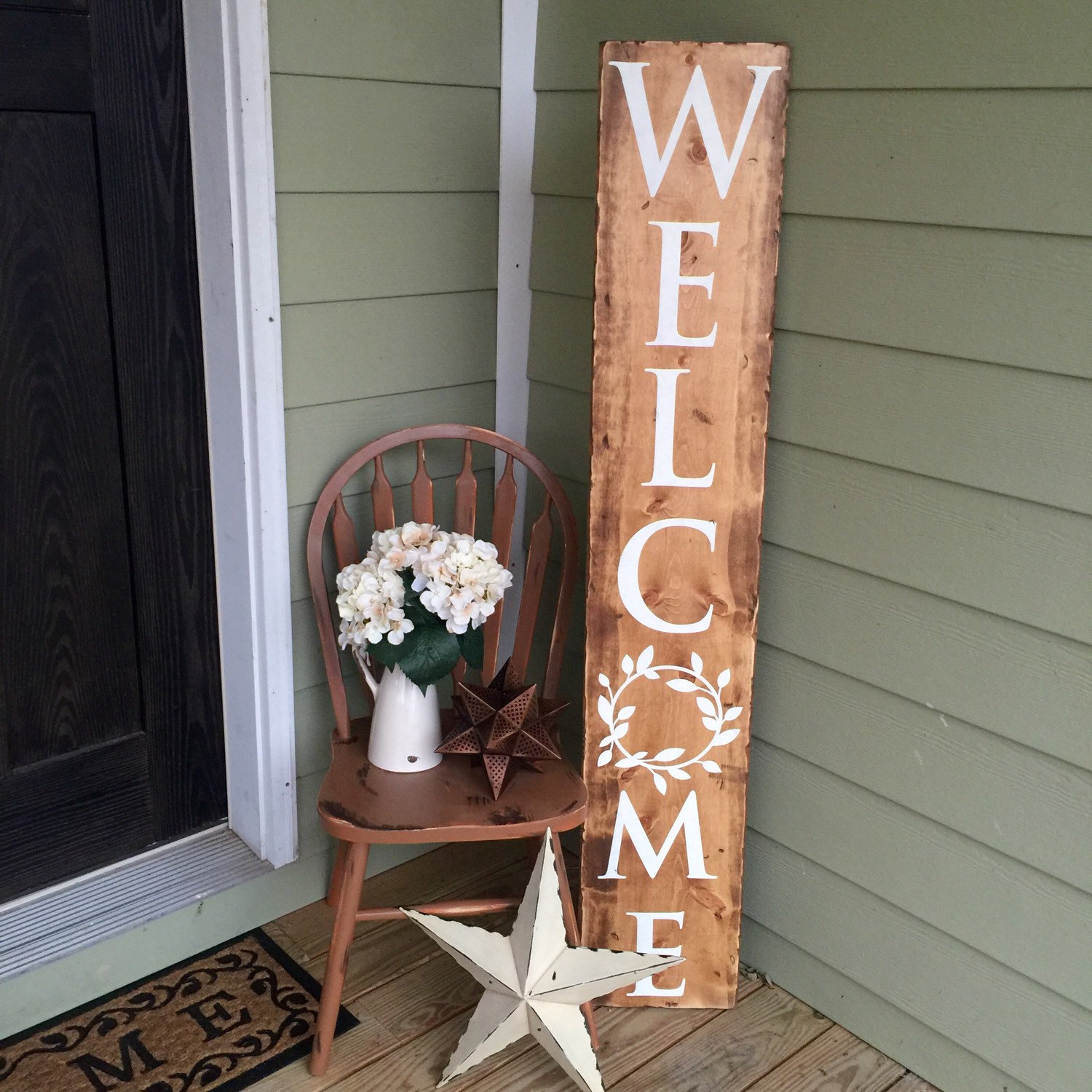 This 11″ x 63″ stand up welcome sign is the perfect addition to any entryway, be it city or suburbia. Crafted from genuine pine and artfully stained and distressed for added "roadside" appeal, this welcome sign evokes a simpler age of American hospitality. Wall hangers are included to allow for optimal display options. Tip: Though safe for outdoor use, make sure you read any instructions before setting up your welcome sign, as certain materials react differently to particular climates and outdoor environments.
2. Wooden Crate Trio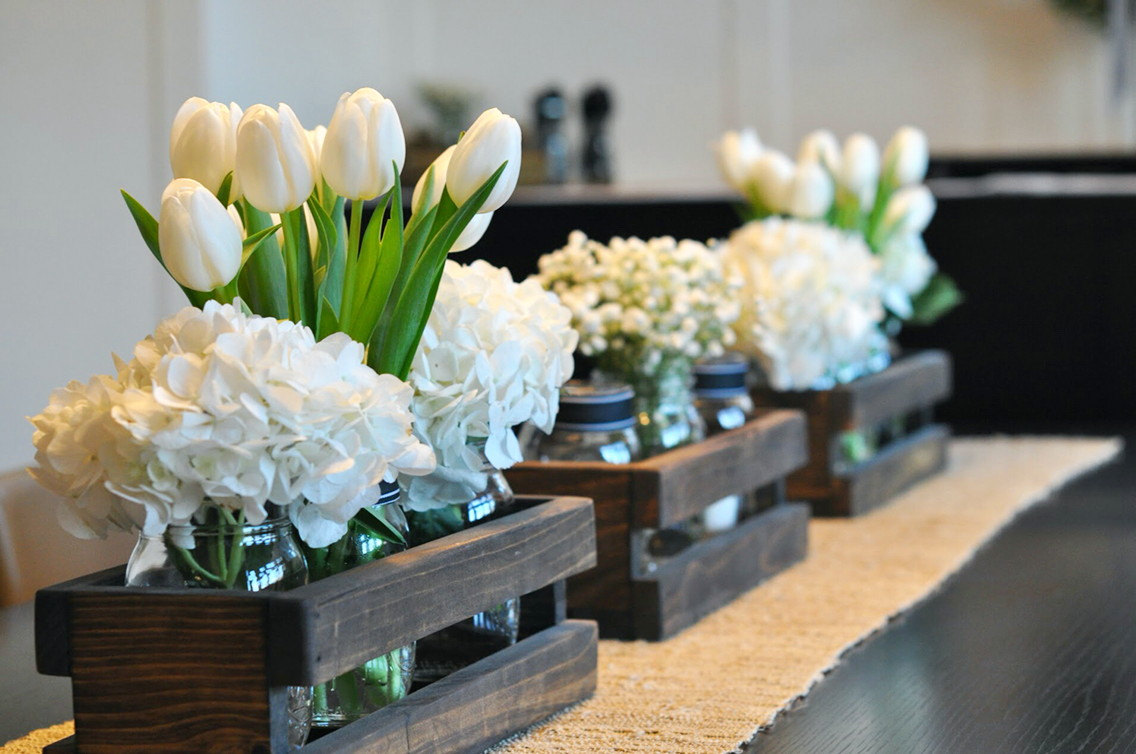 This gorgeously durable wooden crate trio was designed with the tabletop or garden in mind. Perfect for festive centerpieces as well as practical holding containers, they're conveniently sized at 14in long x 5 1/4in wide x 4 1/4in tall to accommodate flowers, candles, and delectables, as well as act as an attractive household catch-all. These crates also make for great alternatives to traditional gift packaging. Available in Blue, Red Oak, and Dark Walnut, these are the ultimate farmhouse accessories to build your collection from.
3. Mason Jar Chandelier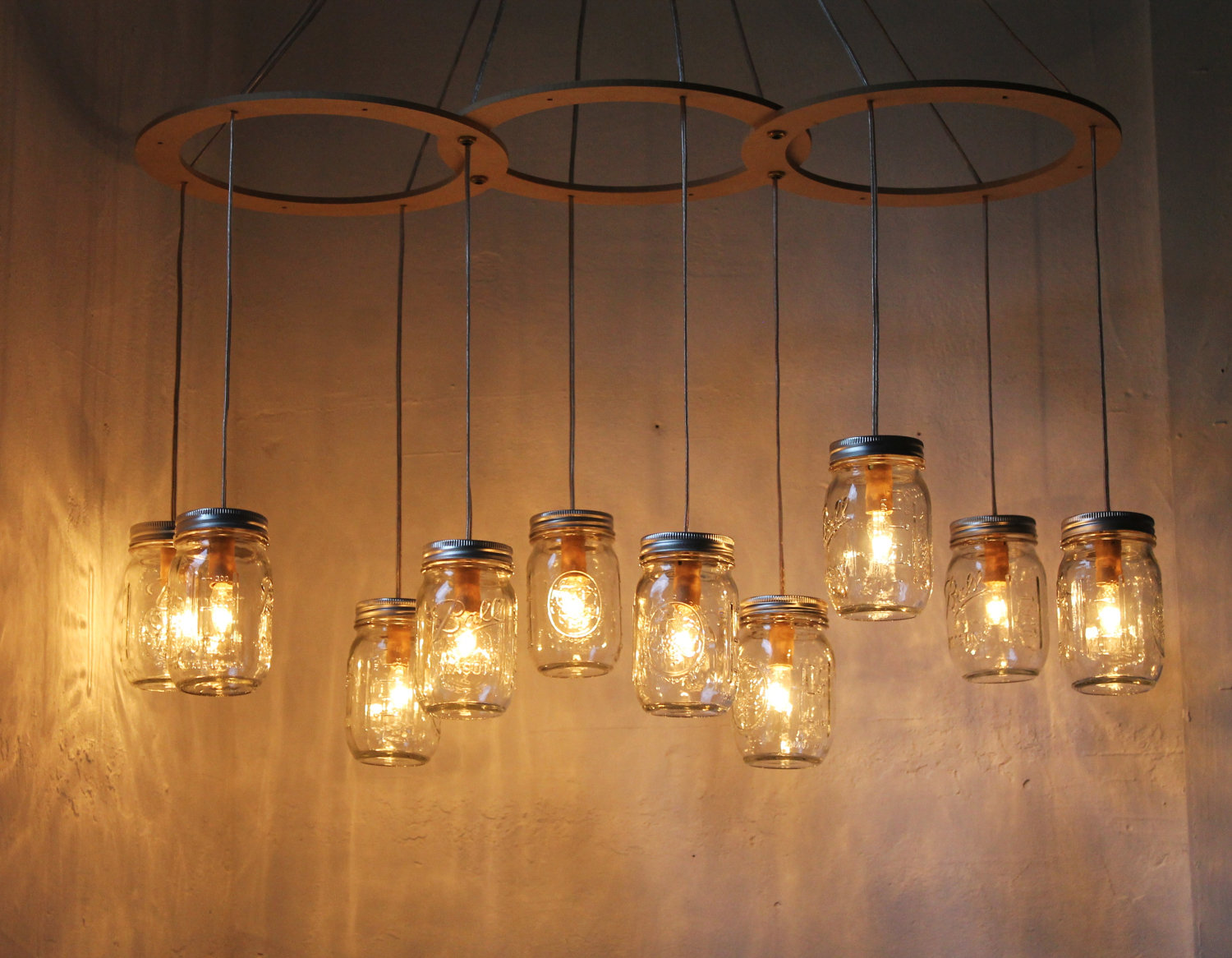 So much more than a lighting fixture, this mason jar chandelier is nothing short of a work of art. Perfect for suspending over a dining room table or illuminating a front hall or social space, this stunning piece can be wired into the ceiling or plugged into the wall, with heat-safe mason jars separated by birch veneer stained plywood. Surprisingly easy to assemble, this clever take on the classic chandelier is the epitome of modern farmhouse ambiance. Tip: Instead of stringing up the usual holiday lights, try swapping out the classic white bulbs inside the mason jars and replacing them with festive colors. You can do this for a variety of holidays other than Christmas, such as Halloween, Easter, and the 4th of July.
4. Vintage Farmhouse Animals Sign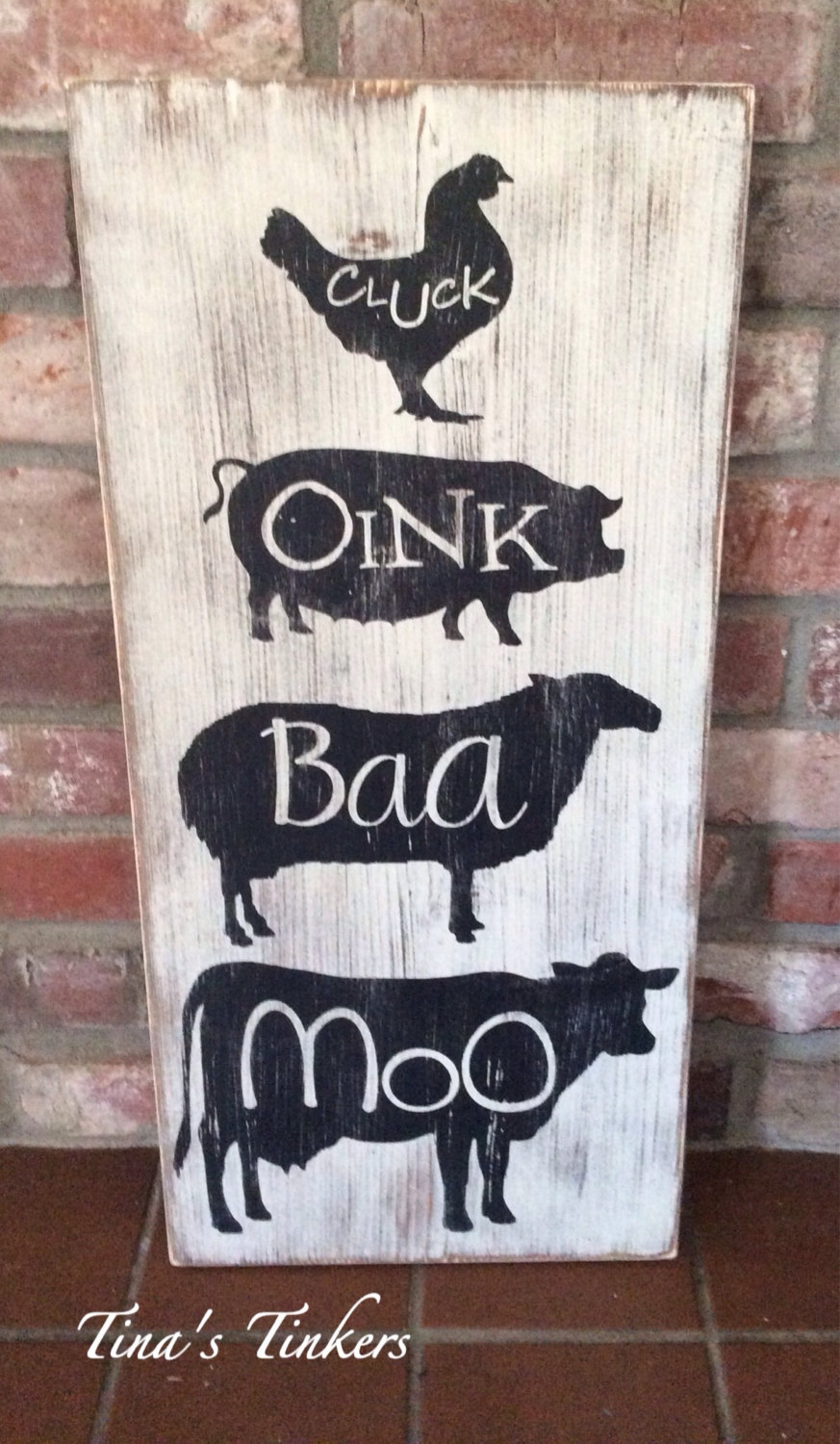 What better way to welcome friends and family into the nursery, playroom, kitchen, or common area than with a cheerful farm animal greeting? This vintage inspired 11 x 24 sign can be ordered distressed or in brand new order, and makes for a perfectly quirky farmhouse decoration idea. This delightful animal sounds sign additionally makes a great teacher or veterinarian gift, and is sure to appeal to those with a penchant for farmhouse whimsy.
5. Preserved Boxwood Wreath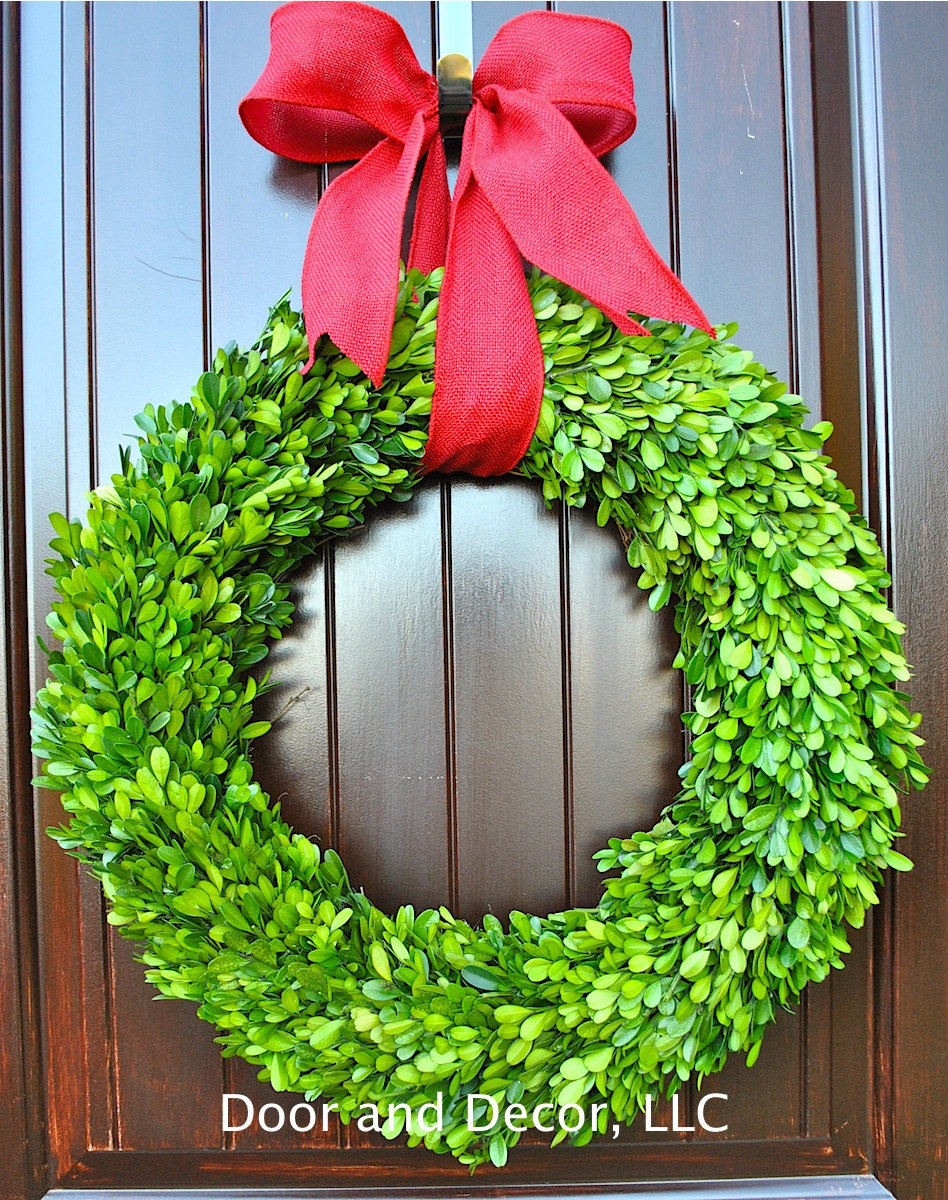 Why not welcome visitors this winter with a festive farmhouse wreath? Featuring real preserved boxwood leaves and stems, this door wreath can be adorned with fruit, candles, and other decorations to complete your seasonal style. A simpler, more elegant alternative to gaudier holiday wreaths, this lovely boxwood wreath also makes a thoughtful gift for wedding, birthday, and anniversary celebrations. Tip: Because these are organic preserved boxwood leaves, make sure to read instructions regarding plant care in order to ensure long-lasting leafy green splendor!
6. Twine LOVE Wine Bottles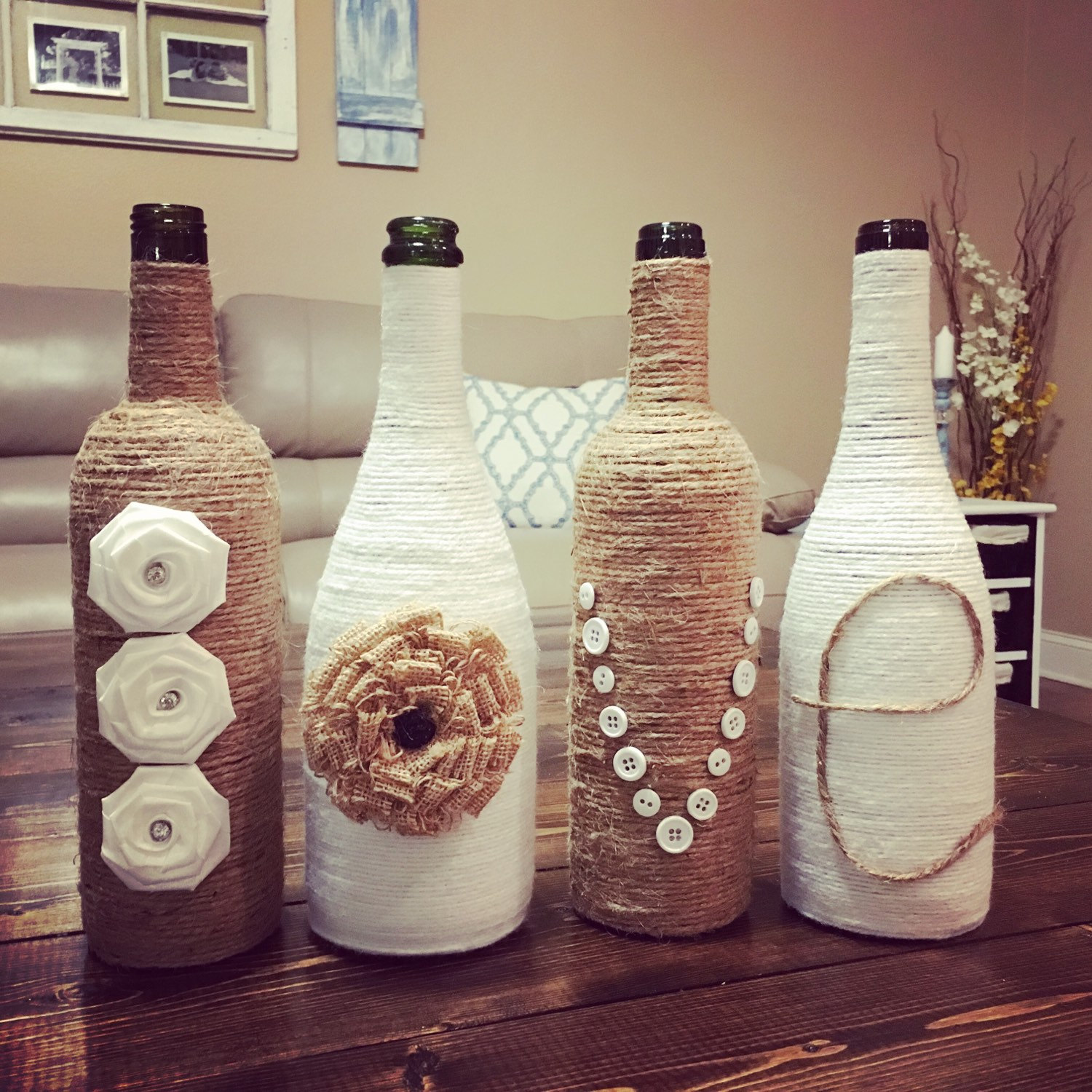 Nothing says shabby chic like these jute twine and yarn wrapped wine bottles. Perfect for farmhouse-style wedding vases and everyday floral arrangements, no two bottles are alike, ensuring absolute uniqueness. Set them up on a dining room table, desktop, or window ledge for a bit of homespun style no matter the flora & fauna you choose to fill them with. Tip: Try using a bit of twine or wire to wrap around the necks of the bottles to transform them into wall hanging vases.
7. Vintage Wooden Canisters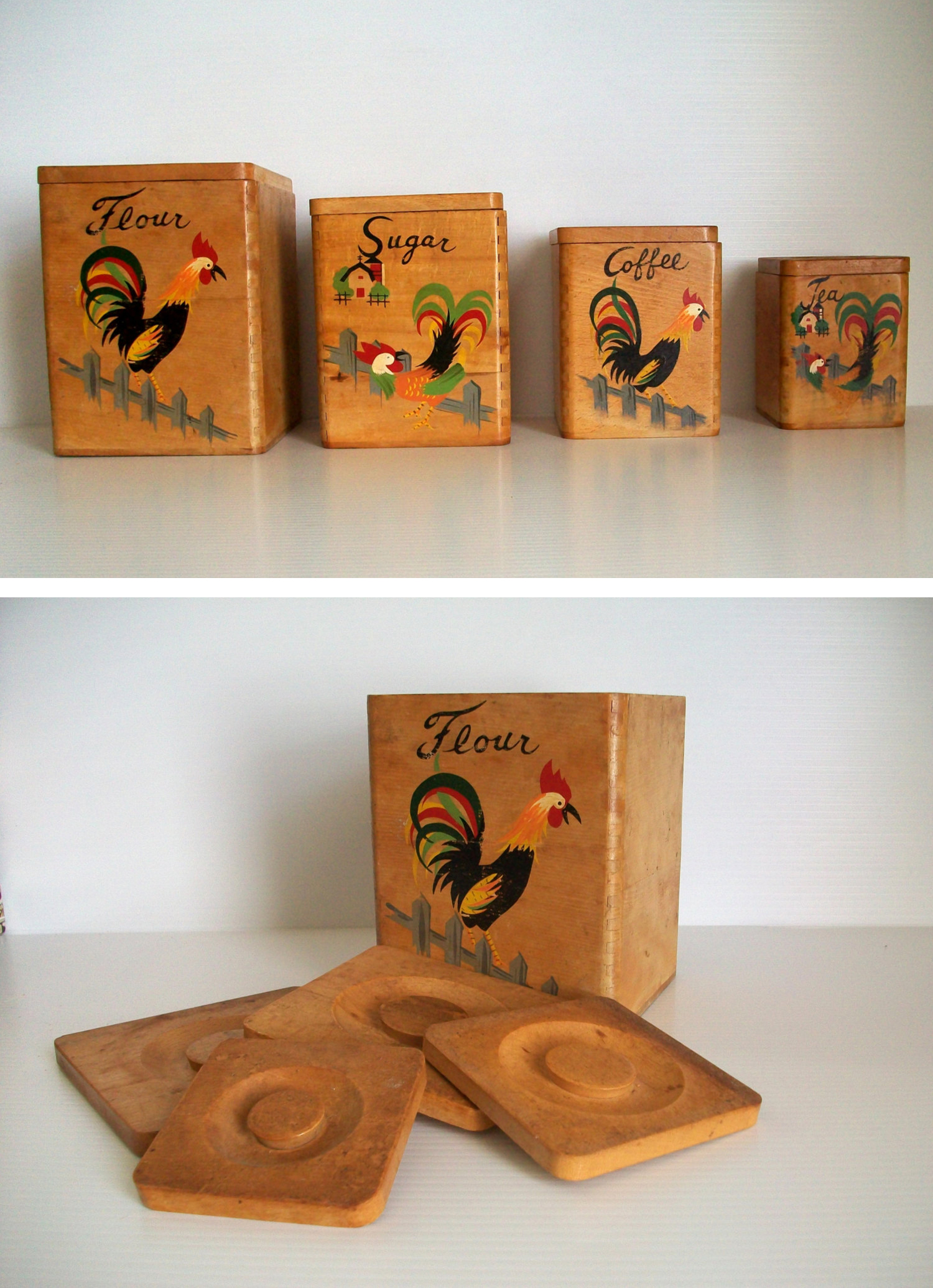 These nesting canisters are truly reminiscent of the definitive farmhouse kitchen. Flour, sugar, coffee, and tea can be properly stored and displayed the country way with these wooden containers, each featuring a funky hand-painted rooster motif. You can use these nostalgic nesting canisters to hold all your kitchen and household necessities or give them as a newlywed or housewarming set. Either way, these pleasing-to-the-eye containers are sure to make the kitchen the heart of the home.
8. Custom Primitive Aged Farm Stand Wooden Menu Sign with Rusty Hook & Chain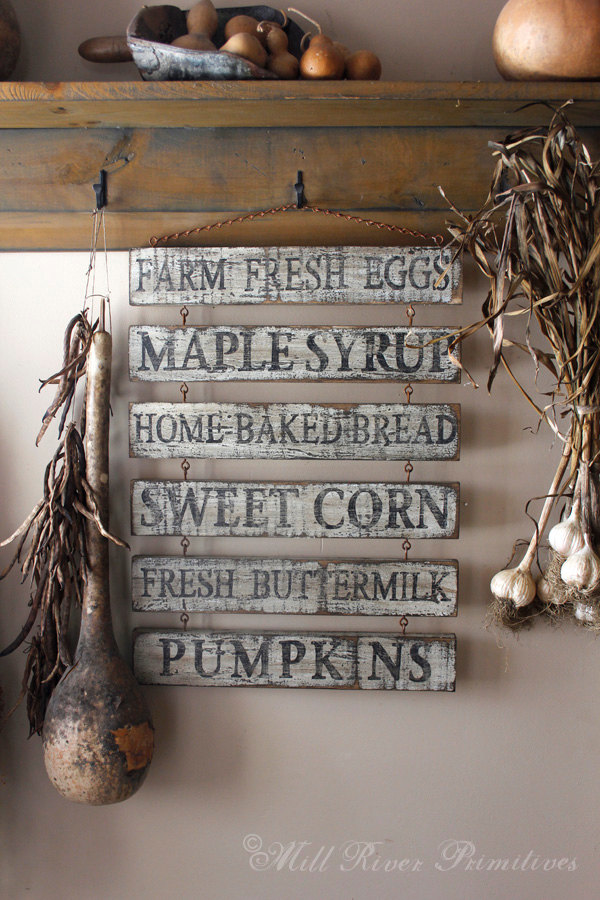 Kitchen or country-style cafe? Why not allude to both with this custom-made wooden menu sign? Painted in layers of brown and white with black lettering and given a final aged finish, you can customize your very own "ingredients" to showcase your favorite culinary staples. Rusty eye-hooks and chain complete the old-timey allure, and convenient sizing means you can hang your menu anywhere you call home.
9. Set Of 2 Hanging Mason Jar Sconces With Hydrangeas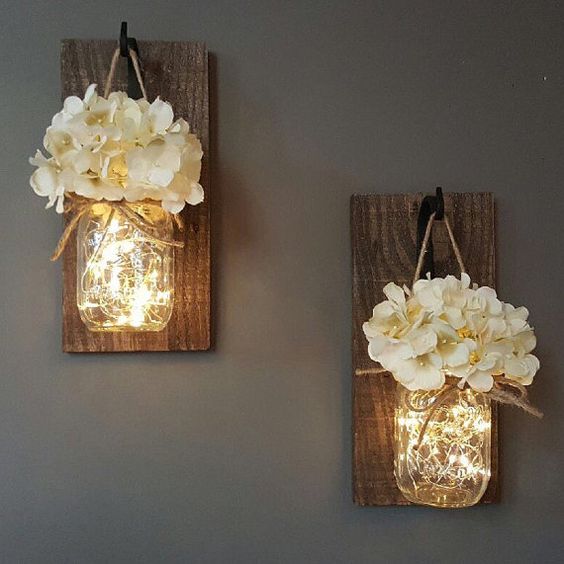 Mason jars are a must-have in the farmstead-style home, if for no other reason than their numerous–and surprisingly creative–uses. These handcrafted wood mounted mason jar sconces are perfect for displaying the included multi-colored hydrangeas, as well as candles, feathers, and personal floral arrangements. Purchase as many as you like to transform each room of your home into a posh country retreat. Tip: These mason jar sconces are additionally great for hanging in bathrooms and/or craft spaces to hold light utensils, toiletries, and other objects, keeping them in sight and conveniently in reach when you need them.
10. Bakery Wood Sign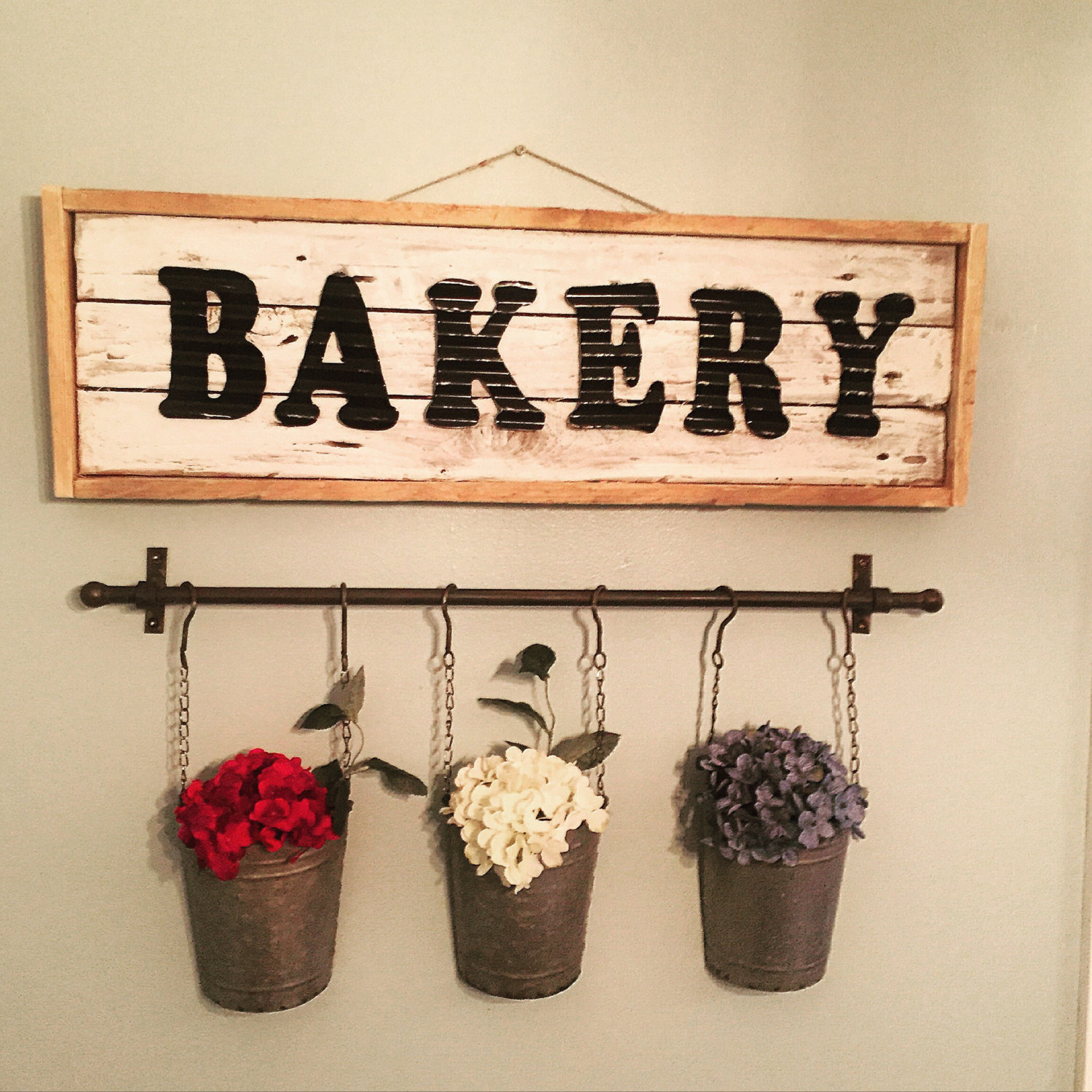 Nothing is as immediately pleasing to the eye (and tummy) as spotting a bakery sign just around the corner. Crafted from reclaimed wood and boasting hand painted galvanized metal lettering, this distressed bakery sign adds a touch of farmhouse charm to your front hall or kitchen space. Perfect for a housewarming (or actual bakery!) gift, this sign is sure to keep the cozy feelings coming.
11. The "Abigail" Farmhouse Clock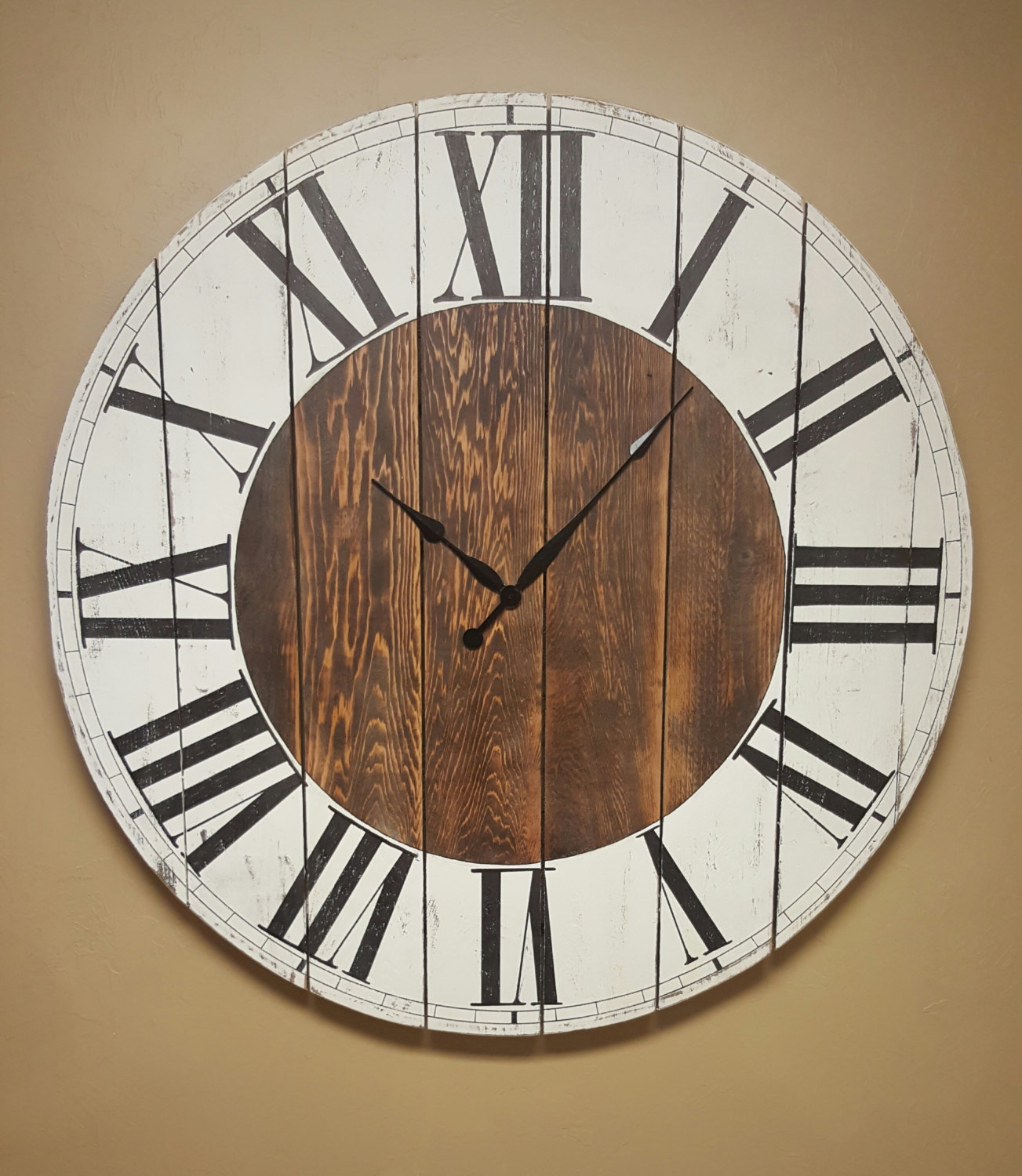 This fixer-upper farmhouse wall clock is the perfect addition to a sleekly styled study or entryway. Hand-painted Roman numerals and antiquated spade hands are highlighted by a distressed finish, while the timepiece's 4 available sizes ensure a place in any upscale country–or likewise downtown–interior.
12. Mason Jar Bathroom Kit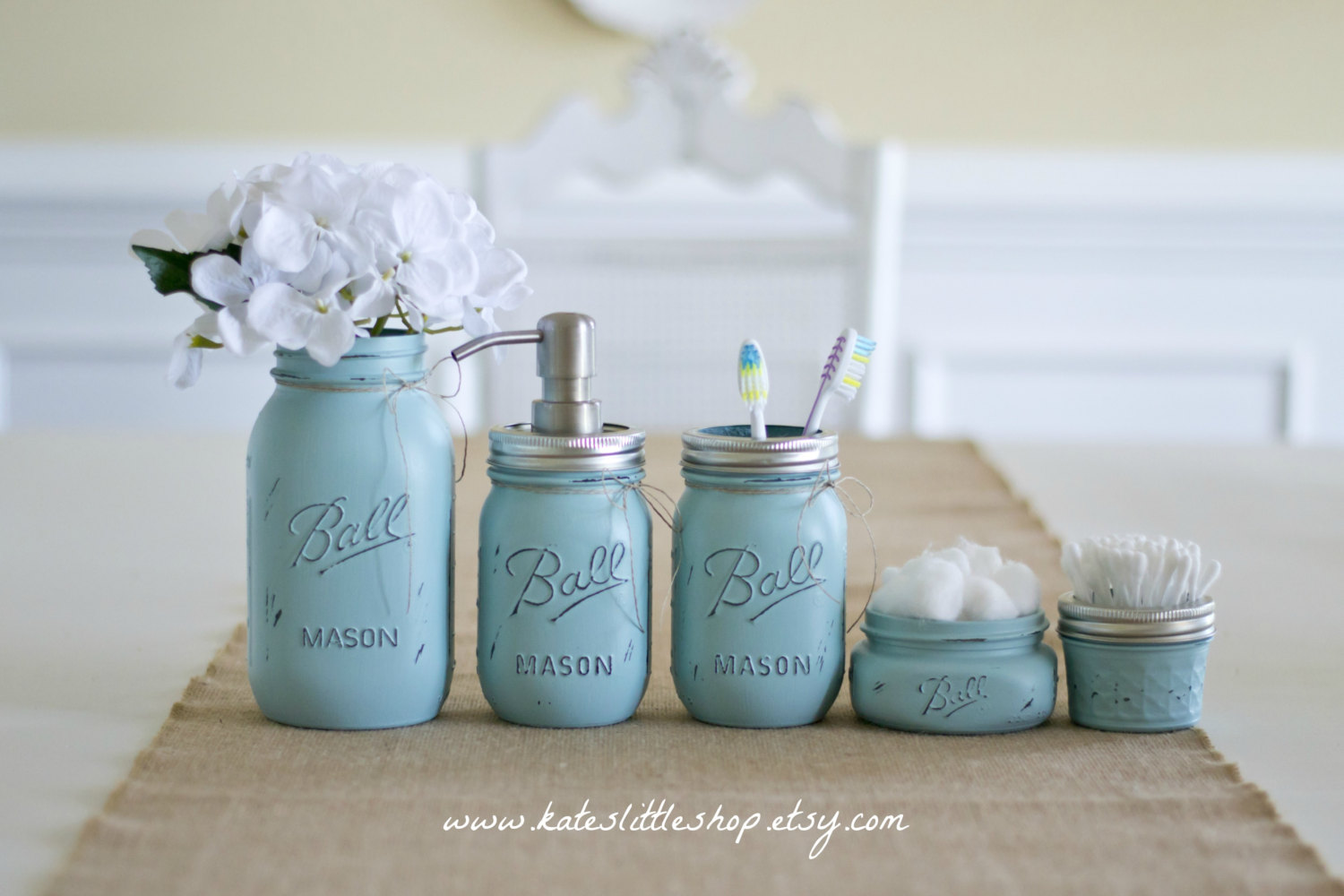 Once again mason jars show off their potential with this genius farmhouse decoration idea! Bring some pastoral beauty into your bathroom with this hand painted mason jar bathroom set, available in a variety of luscious colors. As sturdy as they are lovely, this mason jar set includes a vase, soap dispenser, cotton ball and/or tissue holder, and Q-TIP holder, with additional toothbrush holder also available. A lovely accent piece to any bathroom, this set also makes an equally fantastic wedding or housewarming present.
13. Rustic Coat Rack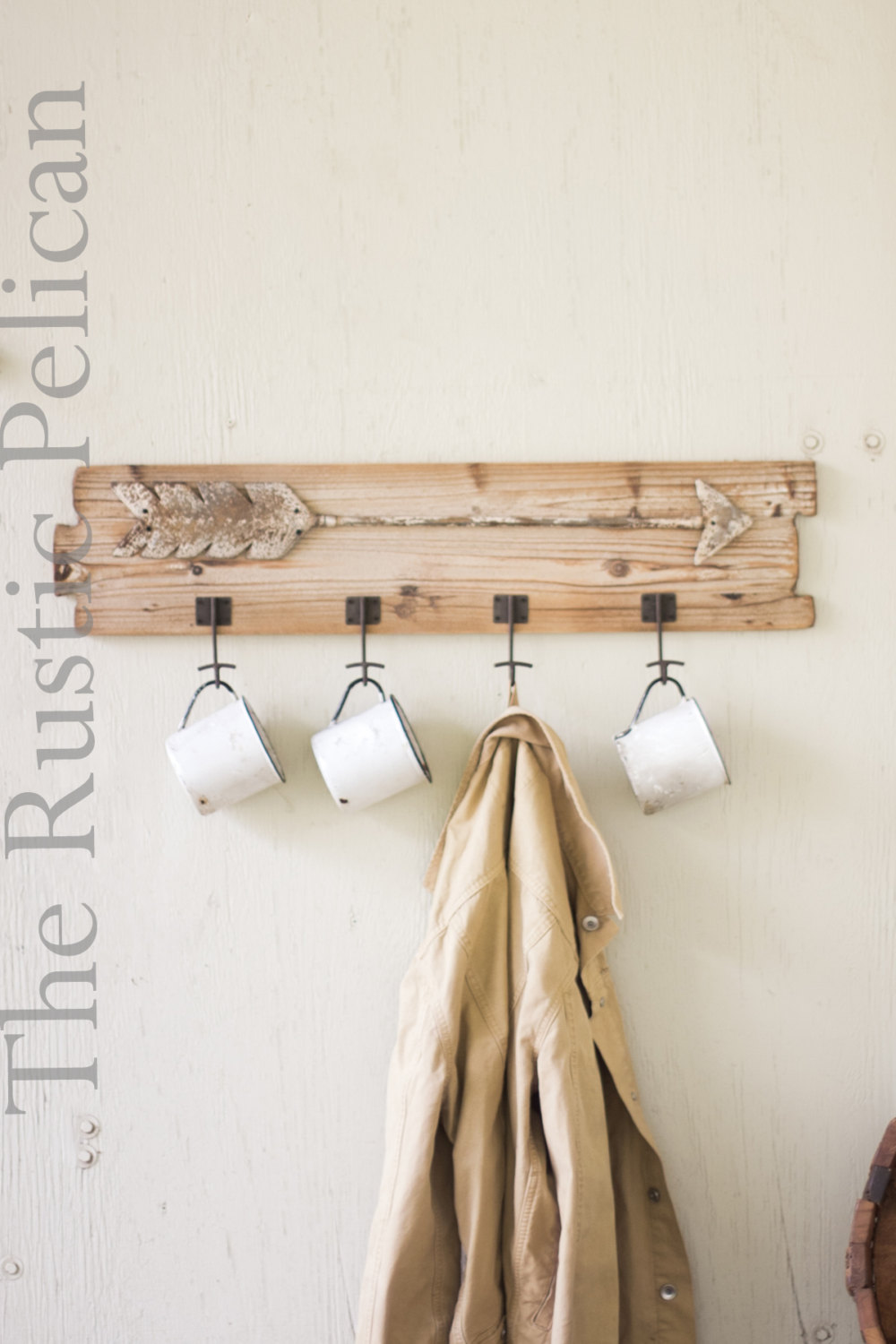 Lance Morrow once wrote, "Everywhere you hang your hat is home. Home is the bright cave under the hat." After a long day the simple act of hanging your coat and hat can be a delight with this wall mounted reclaimed wooden coat rack. Also great for hanging dog leashes, scarves, gloves, towels, robes, umbrellas, and keys, this rack is as utilitarian as it is ingenuous.
14. Funny Dish & Tea Towel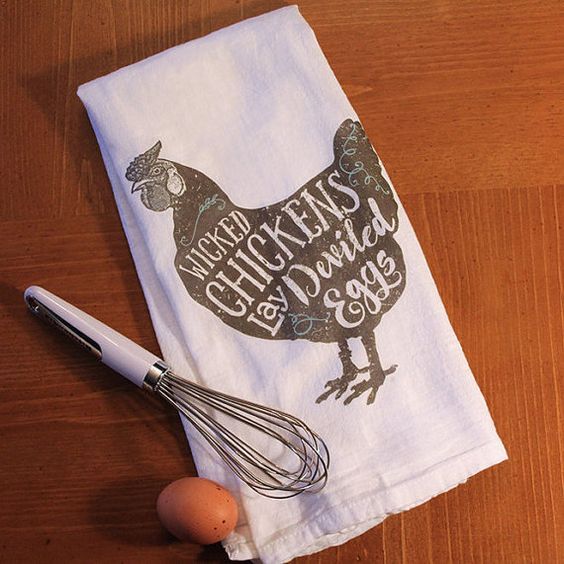 "Wicked Chickens Lay Deviled Eggs" is the motto of this delightful kitchen towel, and you'll be hard-pressed (or boiled…) to find a more charming farmhouse accessory. A fantastic hostess or bridal shower gift, this 100% cotton, and lint-free towel evokes the comfy charm of an old flour sack with its softy and wrinkly texture. Keep a stack on hand to gift to a friend, or just to bring on a chuckle while you do the washing up.
15. Large French Wire Storage Basket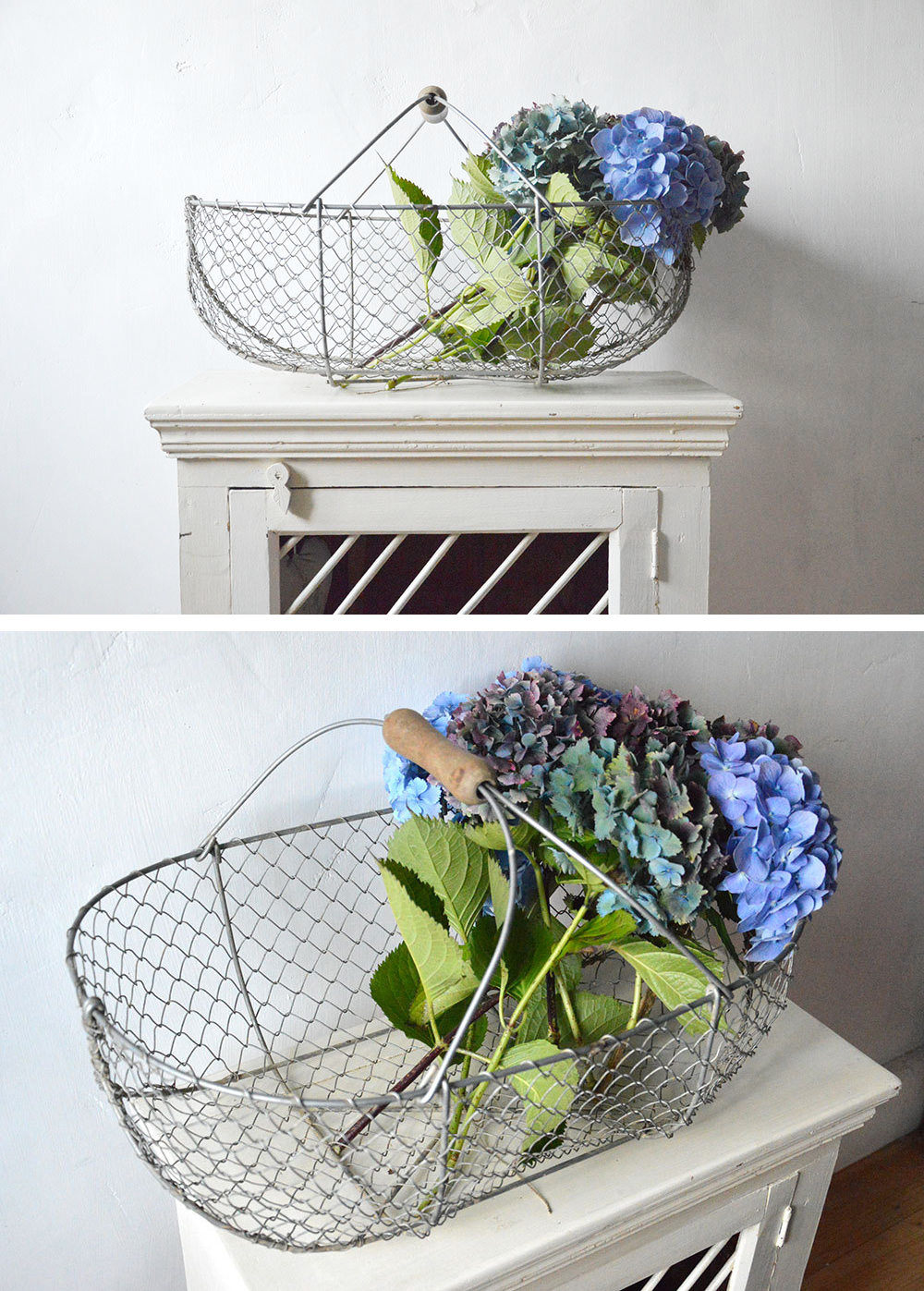 Originally designed for gathering mussels and oysters along the French coastline, these beautiful old "harvesting" wire baskets are now finding their way into stylish farmhouse interiors. Constructed from sturdy French metal and fitted with a single wooden handle, these genuine vintage finds are perfect for toting, storing, and displaying all manner of household items, from light grocery purchases to magazines, fruits, and bathroom towels. Vintage, as well as modern accouterments, take on a whole new look when tucked into these timeless carriers, and their multi-use mobility make them ideal for any home, regardless of proximity to the sea.
16. Home Sweet Home Pillow Cover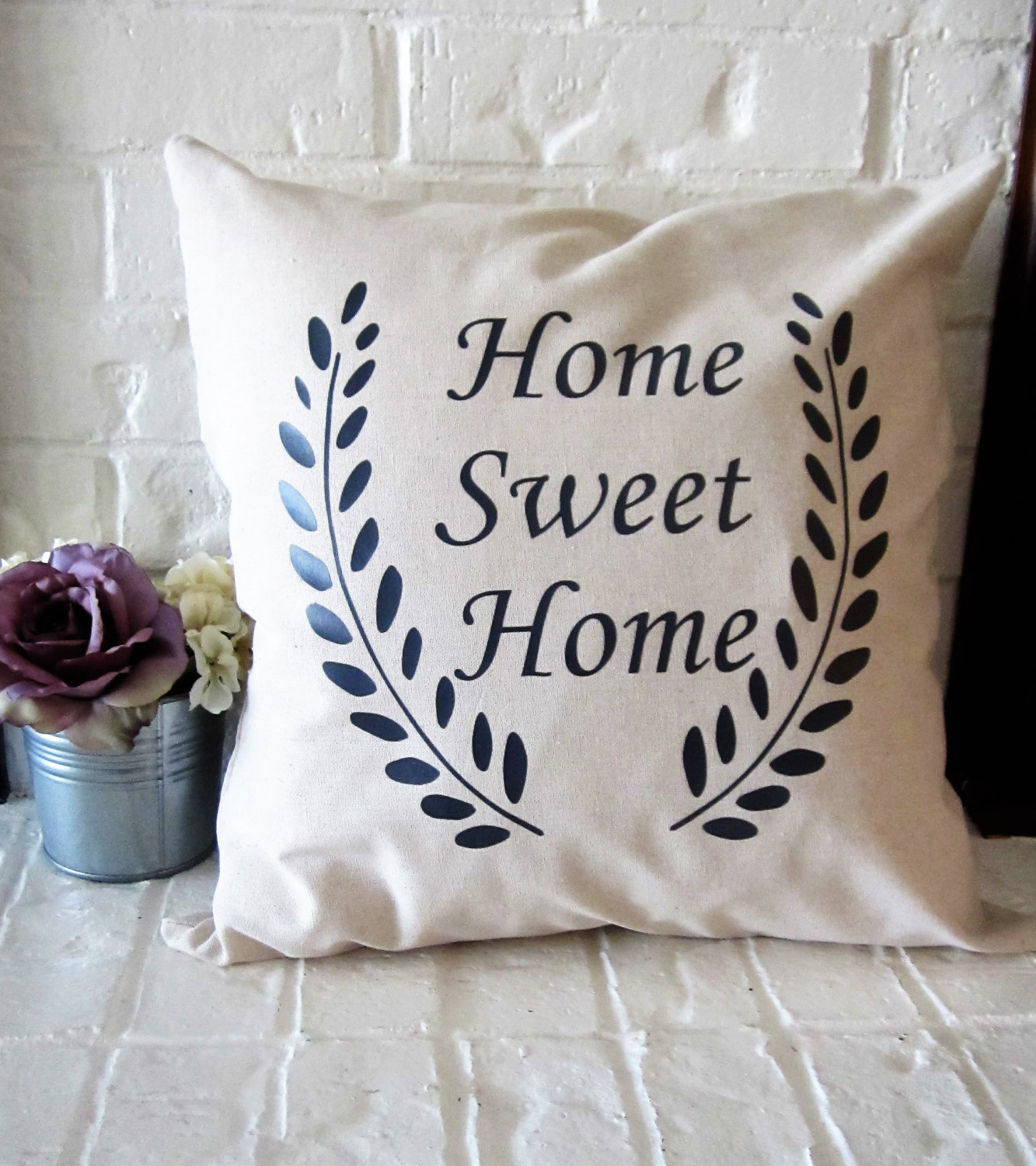 It's a greeting old as time, and has yet to go out of style; this black vinyl lettered "Home Sweet Home" pillow cover provides a soft and cozy way to curl up with the best of farmhouse decor. A wonderful housewarming, holiday, or bridal gift, this cotton pillow cover has the look of fine linen without the annoying upkeep. Toss onto a sofa or guest room bed to promote the heart and soul of your home.
17. Be Our Guest Wooden Sign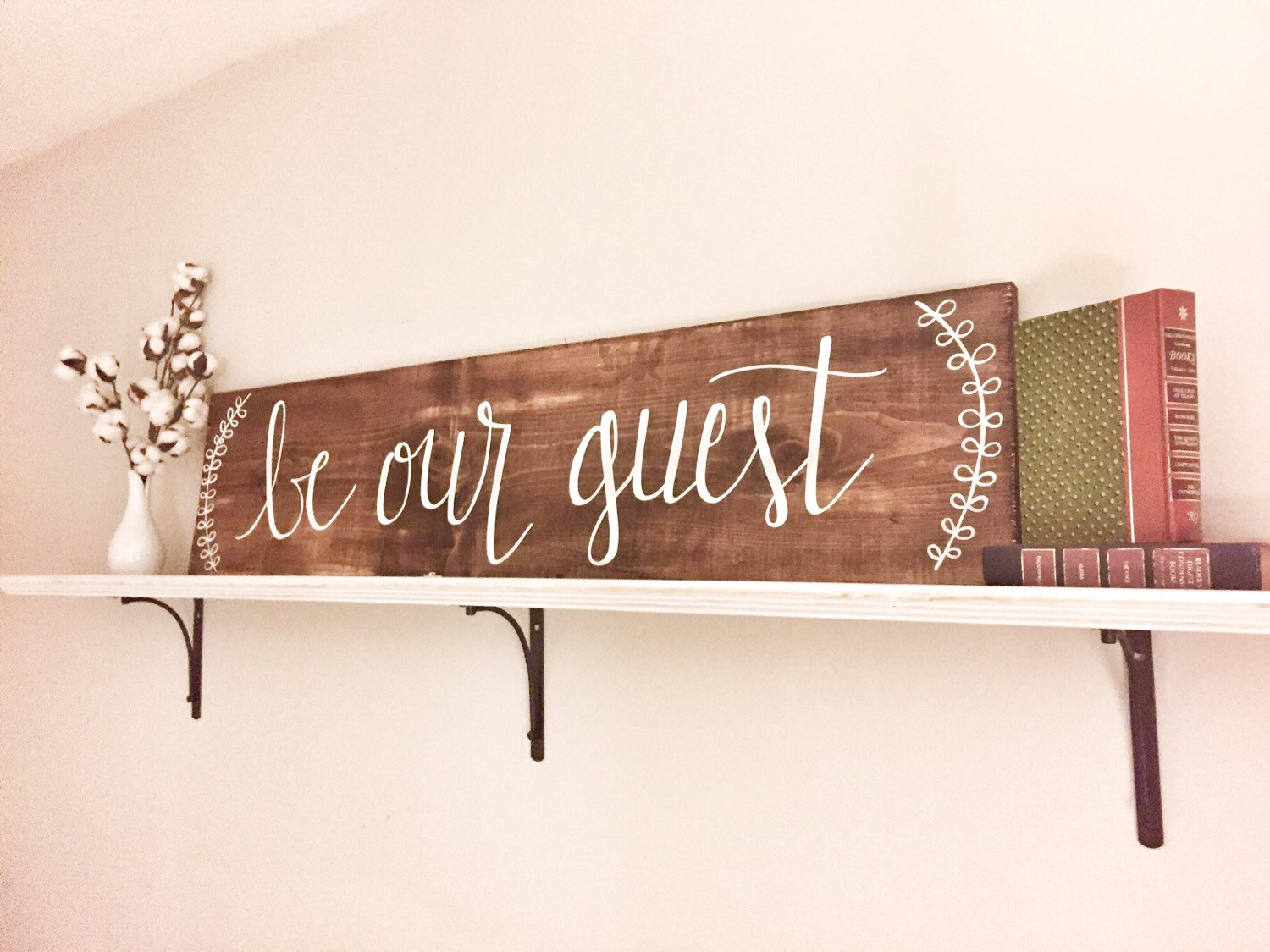 Not just a much-loved Disney song, this hand painted wooden sign welcomes any guest into your home in true country fashion. Crafted from superior wood stained mahogany and festooned in pretty handwriting, this piece is perfect for propping up on a bookshelf or hanging over a doorway. Wherever you choose to place it, you can be sure your guests will be charmed by this simple but heartwarming addition to your farmhouse accessories. Tip: While it's not recommended for outdoor use, you can hang this sign over an outside entryway to welcome guests for baby showers, weddings celebrations, and other afternoon occasions. Just don't forget to take it down and return it indoors when the day is done!
18. Set of 3 Small Wooden Arrows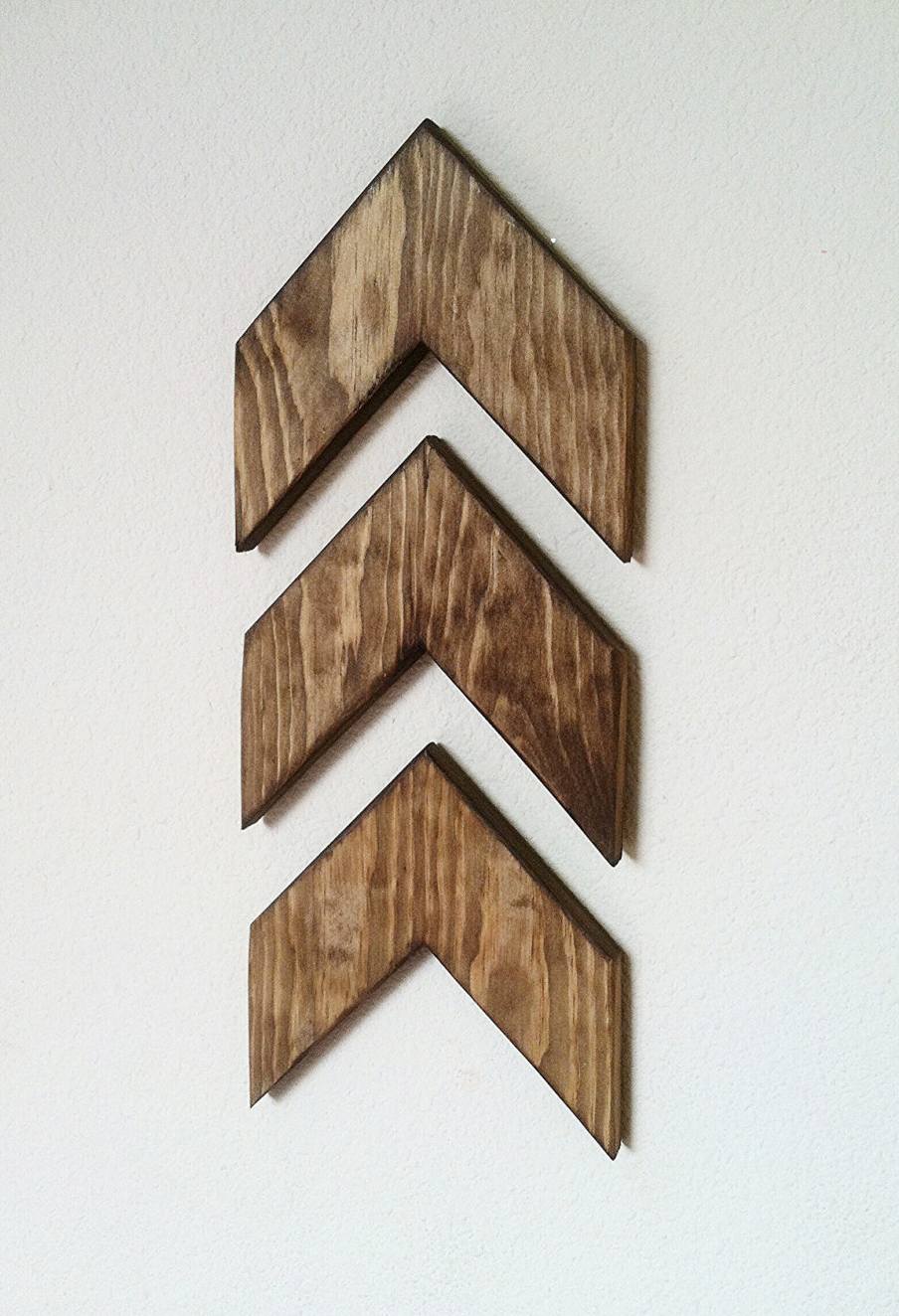 A brilliant farmhouse decoration idea, this set of 3 wooden arrows turns any wall into an artistically rustic statement. Stained in an attractive "provincial" tone, the arrows are also available in other colors, making them the perfect finishing touch for gallery spaces, as well as trendy bedrooms, nurseries, and offices. Tip: If you feel like putting them to more practical use, you can also use these wooden arrows to "direct" guests to their tables or certain rooms at events or gatherings. Think of it as corralling them in style!
19. Rustic Industrial Wooden Bed Tray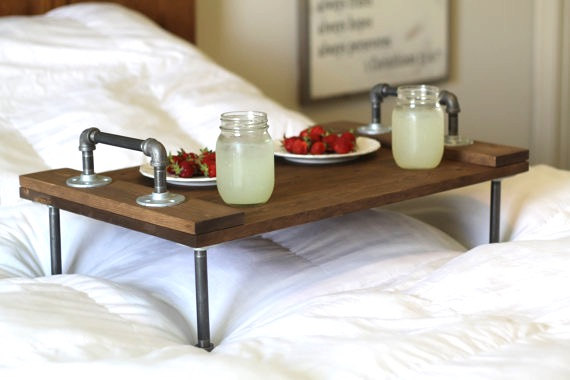 Breakfast in bed, anyone? These handmade industrial bed trays bring a steampunk aesthetic to a classic country home tradition. Stunning to look at and just as functional, these trays are sturdy and spacious enough to hold anything from plates of food to beverages, books, and even your laptop. These dark walnut stained pieces feature genuine galvanized & iron piping, with gunmetal iron piping along the handles. They're perfect for gift-giving of all occasions, as well as some good old fashioned 'treat yourself' luxury, and are guaranteed to stand up to all your contents and uses.
20. Mason Jar Centerpieces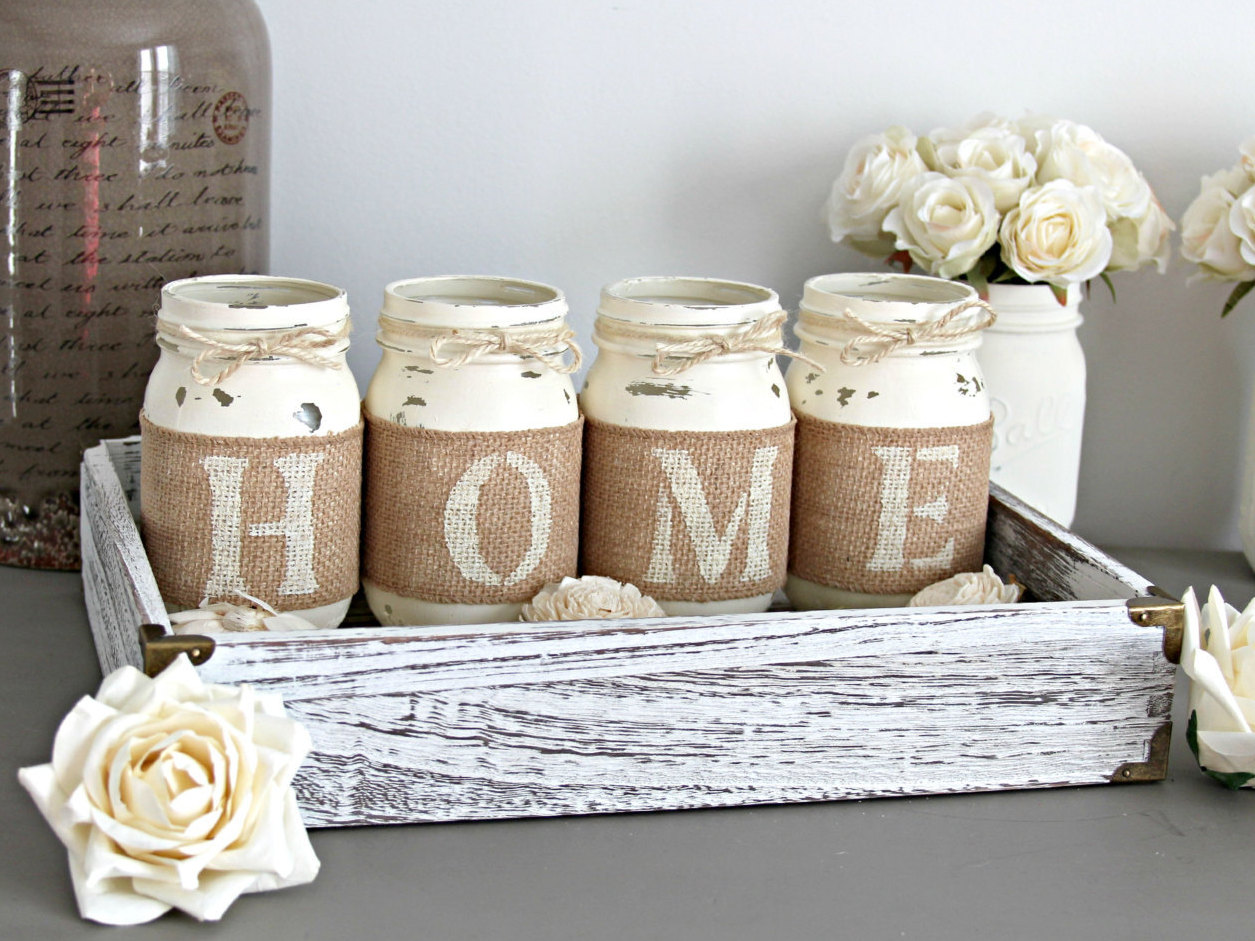 Mason jars are essential to a true shabby farmhouse theme, and these hand painted creations are perfect for any farmhouse decoration idea or scheme. These pint sized Mason jars are lightly distressed and wrapped with a burlap finish & bow, making them the perfect centerpiece holders for weddings, dinner parties, casual gatherings, as well as simple household enjoyment.
21. Paper Towel Holder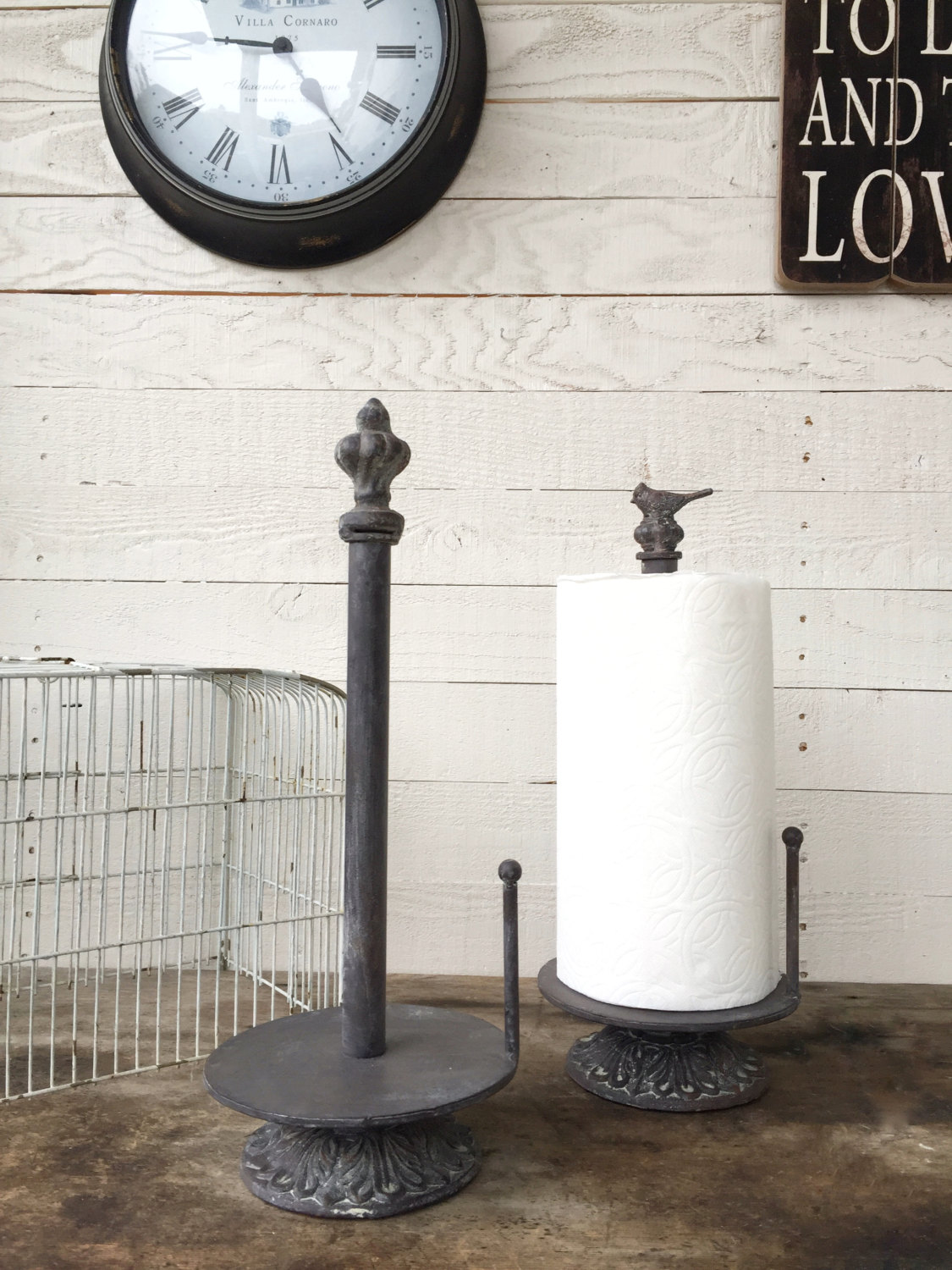 This rustic cast iron paper towel holder proves that even practical household implements can enhance the look and feel of a space. Charmingly reminiscent of French farmhouse decor, this paper towel holder is available in a simple streamlined style or studded with a sweet songbird. Whatever your preference, kitchen clean-up is bound to get a little more stylish with these sturdy but chic paper towel holders.
22. Metal Pantry Sign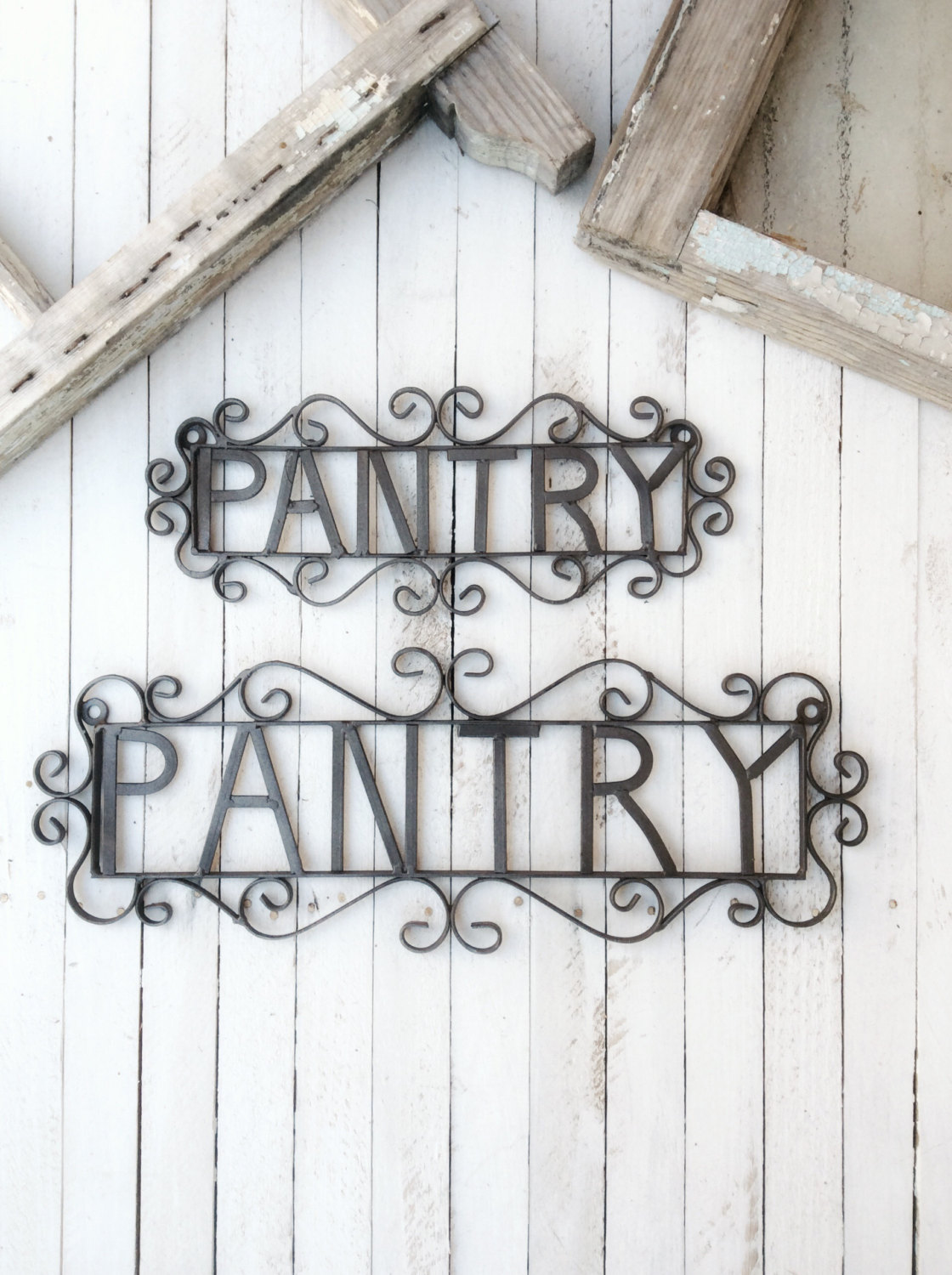 Nothing evokes the domestic charm and order of bygone eras more than Victorian-styled signs like these. This collectible pantry sign (and it's laundry counterpart)is forged from iron and metal to give an antiquated "downstairs" quality a'la Downton Abbey-meets-farmhouse Americana. Perfect for lending a unique accent to your kitchen or laundry room, this handmade sign also makes for a perfect work space addition.
23. Rustic Wood Tote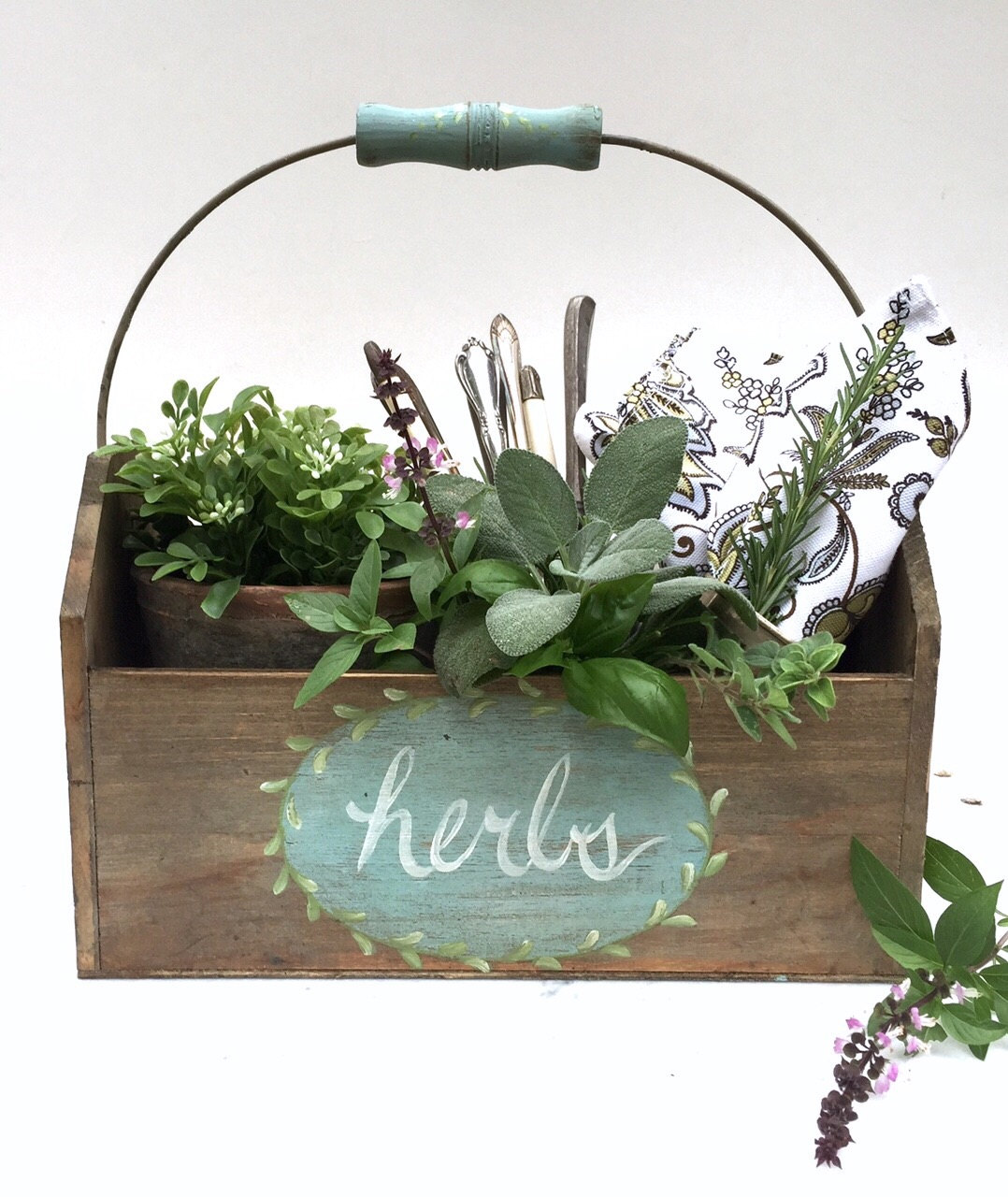 Every farmhouse kitchen needs a proper catchall, and this hand painted wooden box is perfect for holding herbs, utensils, and the usual household bits-and-bobs. This cheerful aqua blue container also makes for a lovely French cottage-chic centerpiece, as well as vanity container for cosmetics and toiletries. Tip: a pretty container like this makes for an equally adorable flower girl carrier and holder for wedding guest favors.
24. Farmhouse Kitchen Sign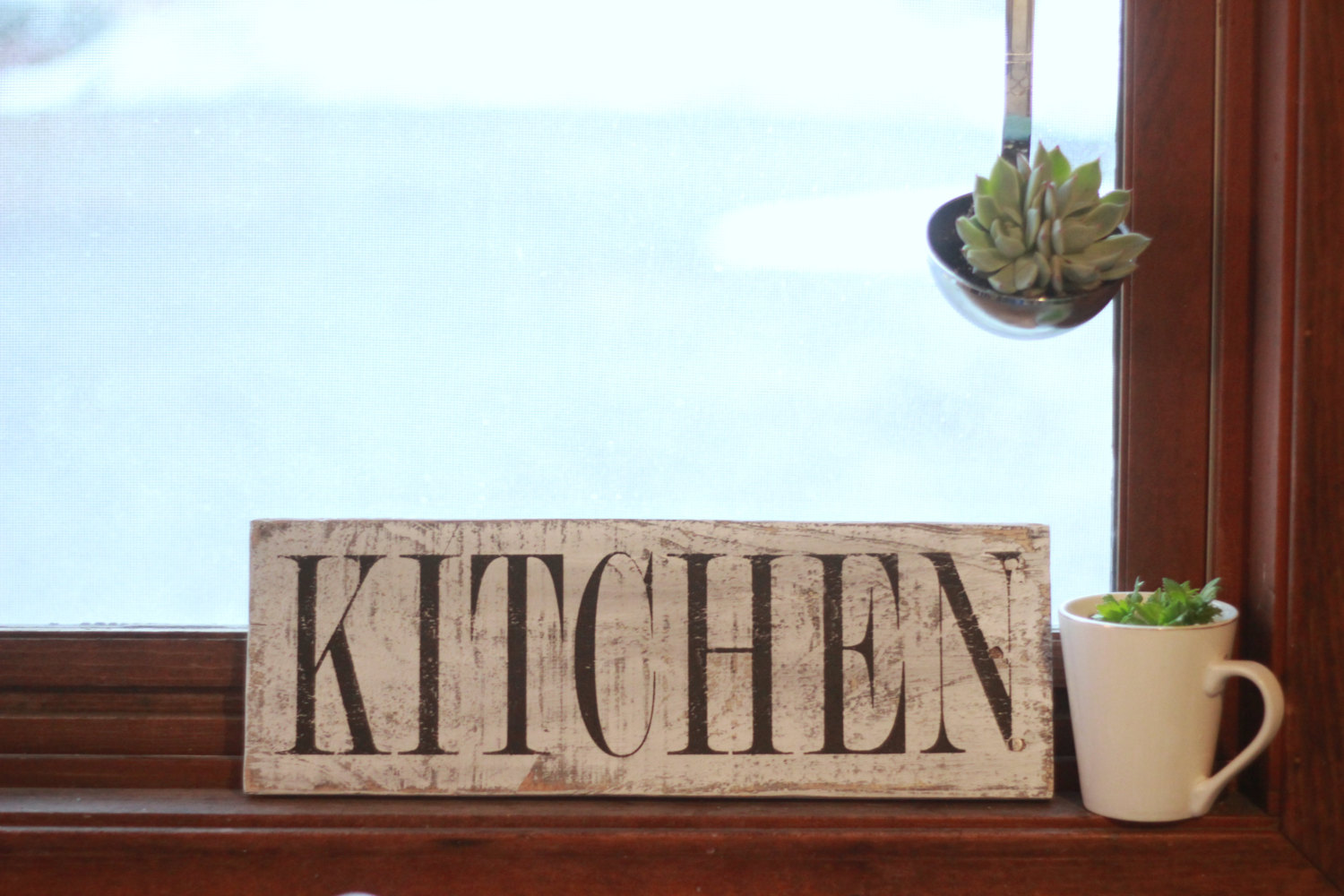 This reclaimed wooden pallet-style sign is sanded and painted by hand for the ultimate rustic home accent. Perfect for hanging on the wall or propping up on a window ledge or shelf, this aged sign is a must when collecting farmhouse accessories to build your country-style look. Tip: Don't be afraid to mix and match signs, such as this wooden pallet kitchen sign and metal pantry & laundry signs, for an even shabbier farmhouse chic look. The rustic country interior is all about the incorporation of differing colors, materials, and textures for that signature look we celebrate today!
25. Mirror Coat Rack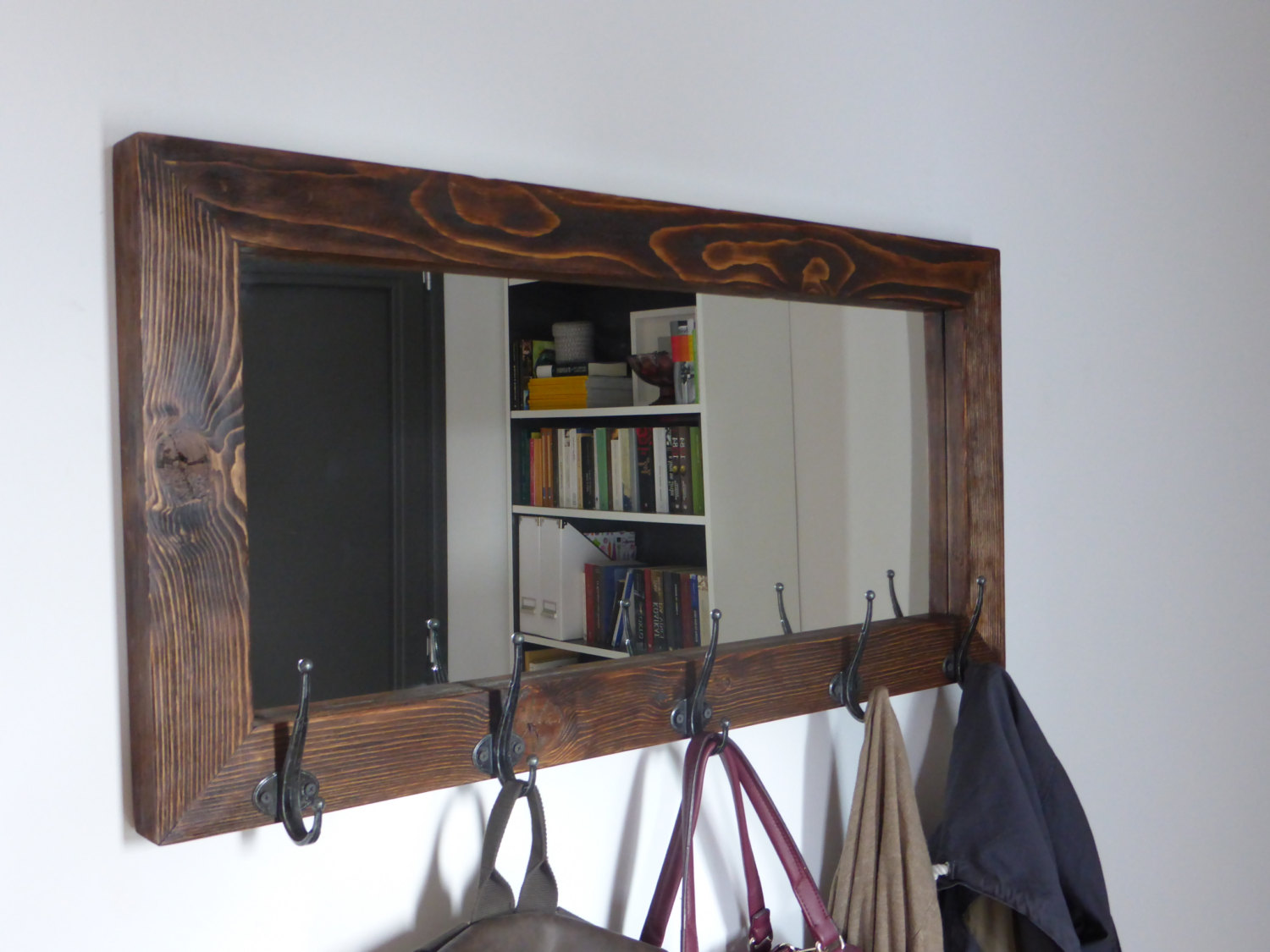 Handmade in Greece, this handsome antiquated entryway mirror with hooks for hanging is crafted from solid stained and polyurethane-coated wood, with each piece carefully made to order. An impressive addition to your front hall or entrance, this wall-mounted mirrored coat rack is a beautiful way to hang jackets, scarves, hats, keys, and handbags, while offering a little last-minute-mirror check before heading in and out. Truly a timeless piece that never goes out of style, this coat rack is sure to stand out as the definitive heirloom piece in your farmhouse collection.
26. Farmhouse Scale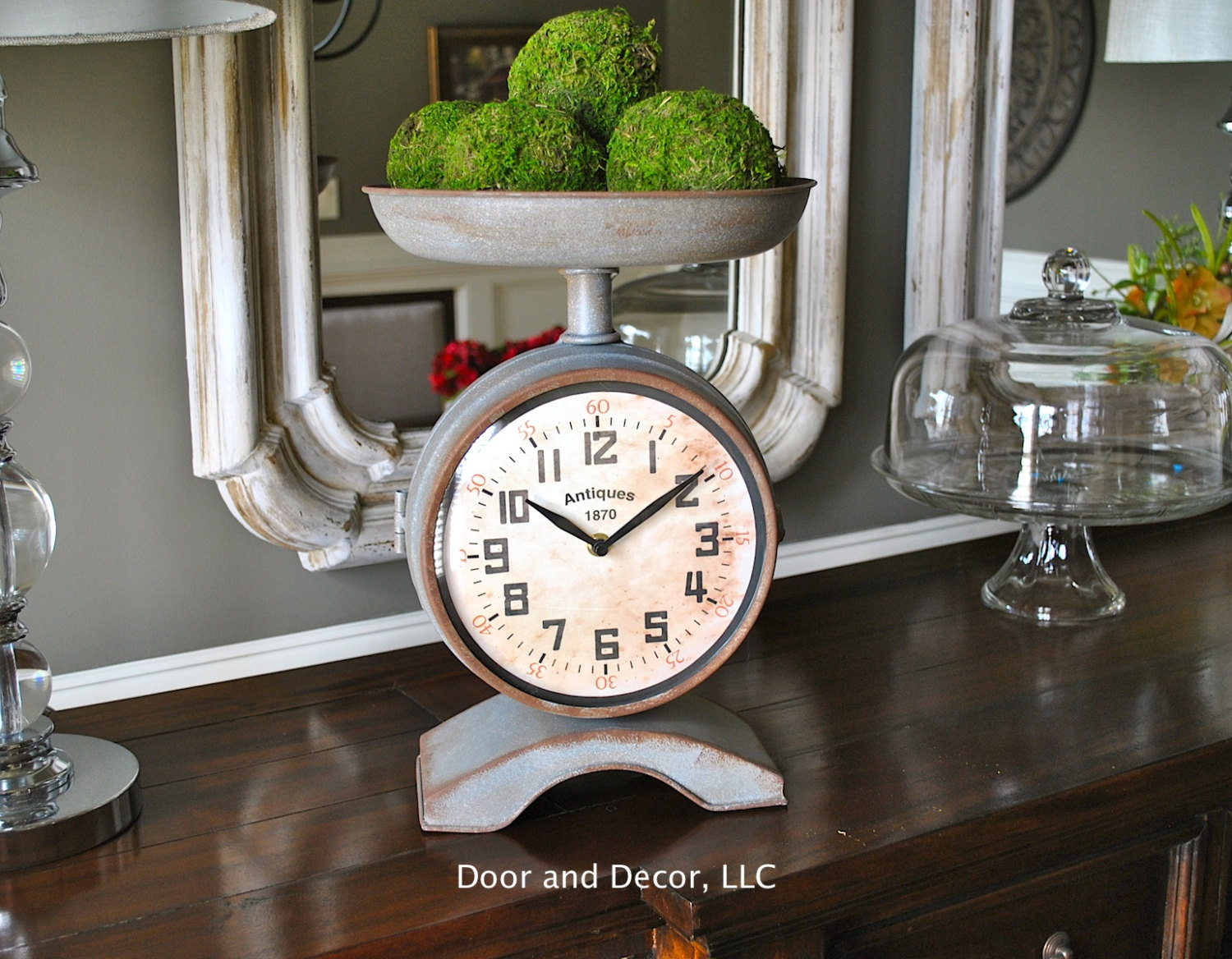 Though it certainly appears to be a true produce scale from an earlier time, this piece is actually a working two-sided clock! Fashioned with a metal antiquated frame, the clock face conveniently unlatches to allow for time adjustment and battery replacement. A fantastic eye-catcher in the living room, study, or kitchen, this clever timepiece proves that some of the best farmhouse accessories put a new spin on an old standard.
27. Rustic Wall Vases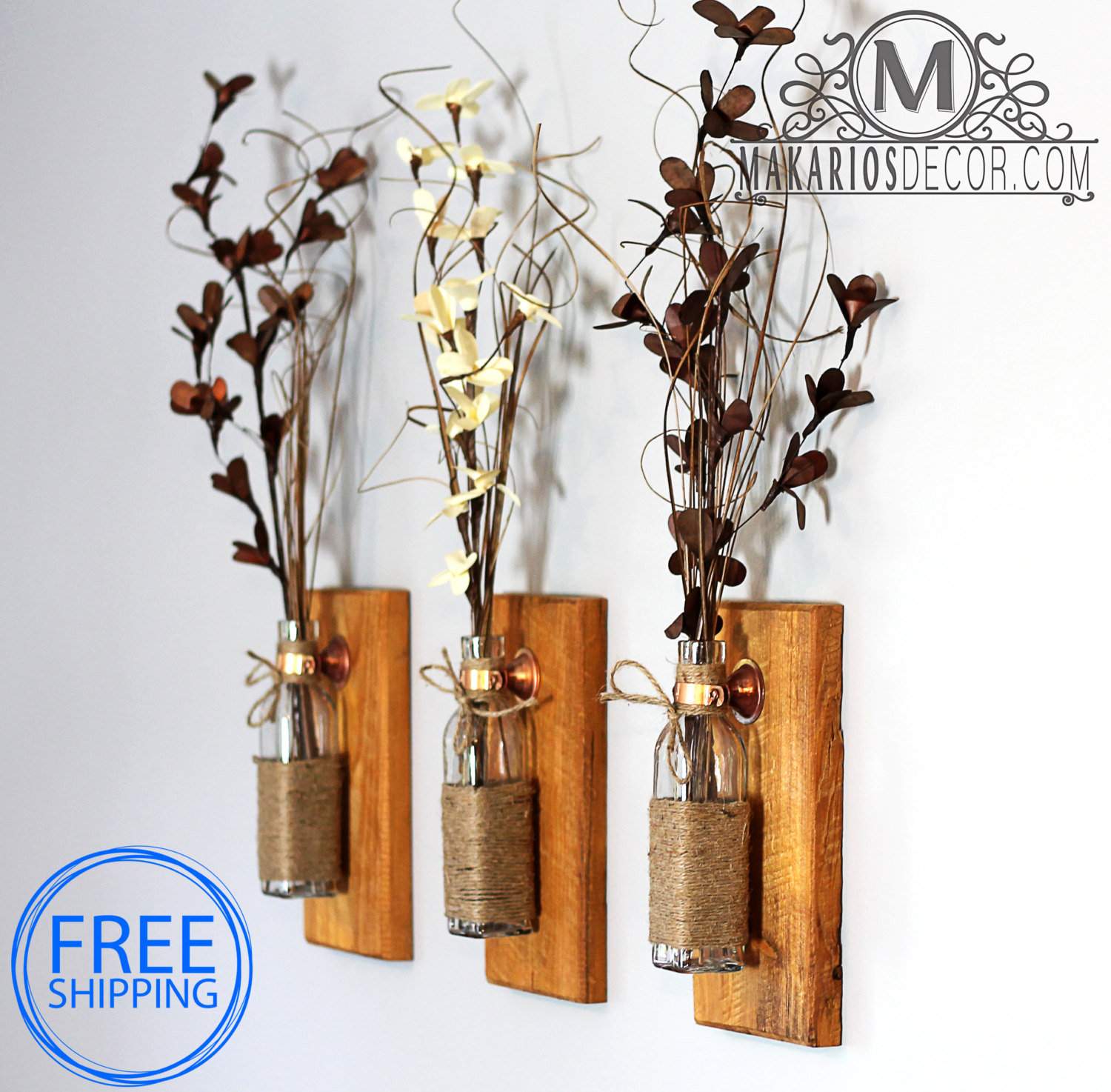 True shabby chic accessories, these wood-mounted twine wrapped bottle vases are a distinctive way to brighten your wall space with a little creative flair. Perfect solo or displayed as a trio, these handcrafted creations make a unique farmhouse decoration idea for wedding events and festive occasions, as well as displaying your own dainty floral arrangements at home.
28. Wall Mounted Metal Basket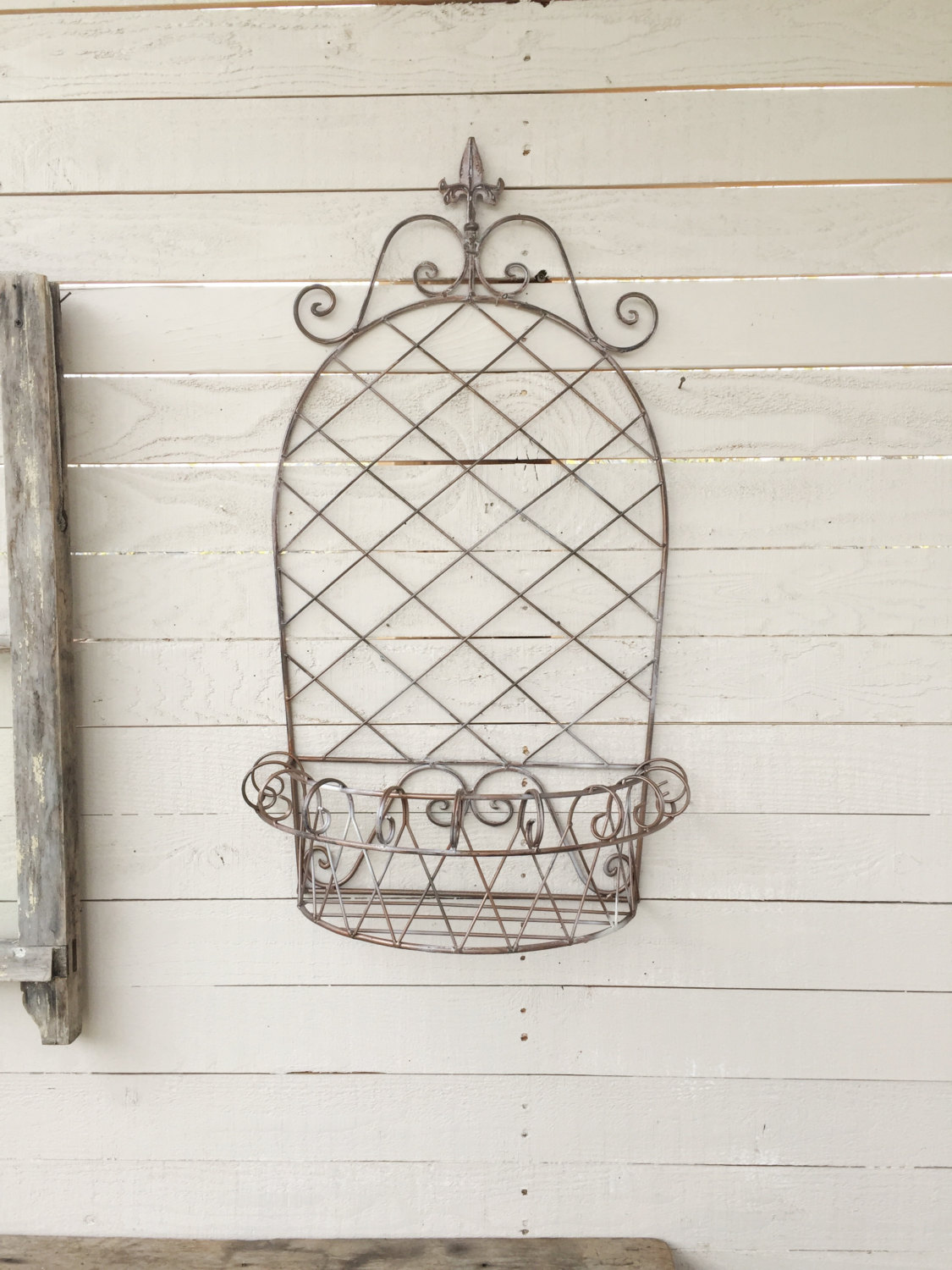 This set of two wall-mounted French country baskets offer countless possibilities for decking your home out farmhouse-style. Great for displaying plants, fruit and floral arrangements, potted plants, or personal creations, these distressed metal and copper baskets add a touch of provincial utility to your home and garden. Tip: Not planning to be home on Halloween but still wanting to hand out treats? Hang this by your front door and fill with goodies and a note for trick-or-treaters; this metal basket can similarly be used to hold party favors and other guest offerings all year round.
29. Morning Sunshine Cow Sign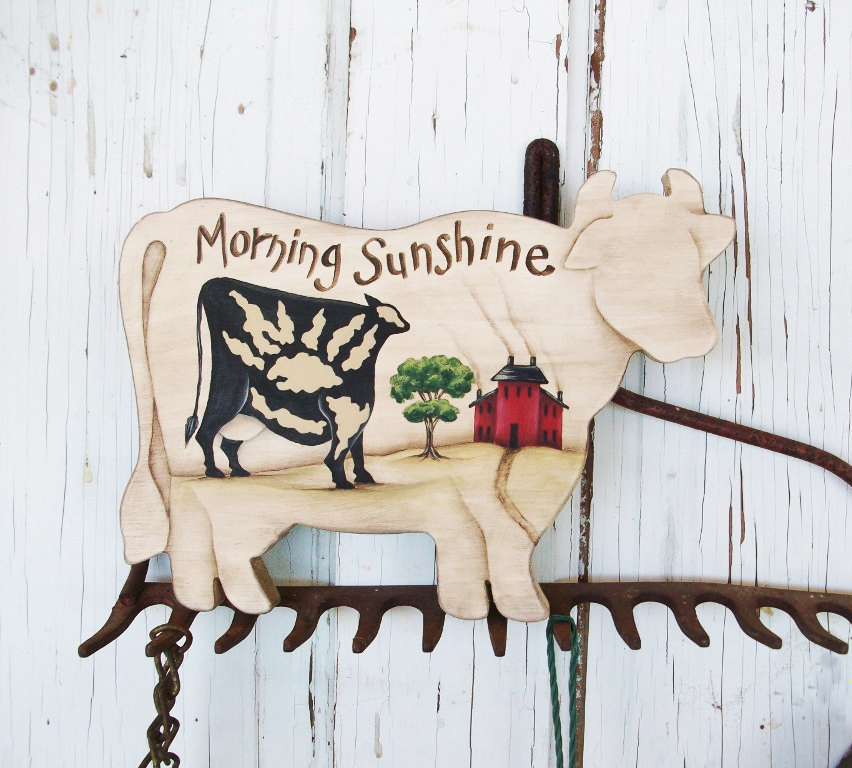 This cheery hand-painted wooden cow sign features a picturesque painted scene on our character's belly, making it as much a piece of art as a welcoming sign. This prettily posed cow is ready to greet the day in an inviting farmhouse scenario, and you'll be in the good company each morning when you get up to meet yours. An equally thoughtful gift for those in need of a little encouragement, this wooden sign is a colorful way to cozy up to a new day.
Bringing Some Country Into Your Modern Home
Whether you live in a city or quiet suburb, there are many ways to incorporate farmhouse decor into your everyday living. Farmhouse interiors are all about the little pleasures: a welcoming sign and place to hang your hat, a mason jar filled with delightful personal effects. This early American style has recently undergone an exceptional resurgence, attracting those who prefer the classic over contemporary, with a few touches here and there that showcase the spirit of the individual.
Make sure you take proper care of your farmhouse decor items, and read any instructions before implementing them into your household. While traditional farmhouse supplies and utensils were designed for sturdy country wear n' tear, many pieces crafted and sold today are intended for lighter use, if not solely decorative.
Whether you opt for a few carefully selected pieces or a full-scale farmhouse look, you'll be amazed at how these household decorations instantly add a welcoming cheer to your home. Traditional farmers and their families built their homes to reflect the land they settled and worked on, using building materials and goods that were native to the rural surroundings. Most of us may be long past that way of life, but the lasting charm, beauty, and nostalgia of farmhouse tools and wares is far from forgotten.