There are few images as iconic and instantly appealing as the traditional farmhouse. Warm, welcoming, and uniquely defined by its inhabitants, the farmhouse represents what most of us dedicate our lives to finding: our very own home sweet home.
27 On-Trend Farmhouse Entryway Decor Ideas for a Fantastic First Impression

Contrary to common perception, one needn't reside in the country to bring a bit of pastoral harmony to their front door. In fact, your home's entryway is the perfect opportunity to make your own memorable farmhouse impression. Repurposed antique goods, raw materials, and comfortable textiles and furnishings are the hallmark of the idyllic farmhouse. Now is your chance to scour your favorite flea markets and antique shops, as well as show off your beloved heirlooms. The beauty of the farmhouse aesthetic is that there are no hard and set rules; what inspires, delights, and makes you feel right at home is exactly where your farmhouse awaits!
These farmhouse entryway decor ideas are just a few ways to help you curate your own countryside abode, no matter where in the world you reside.
1. Farmer's Market Parlour with Wooden Bench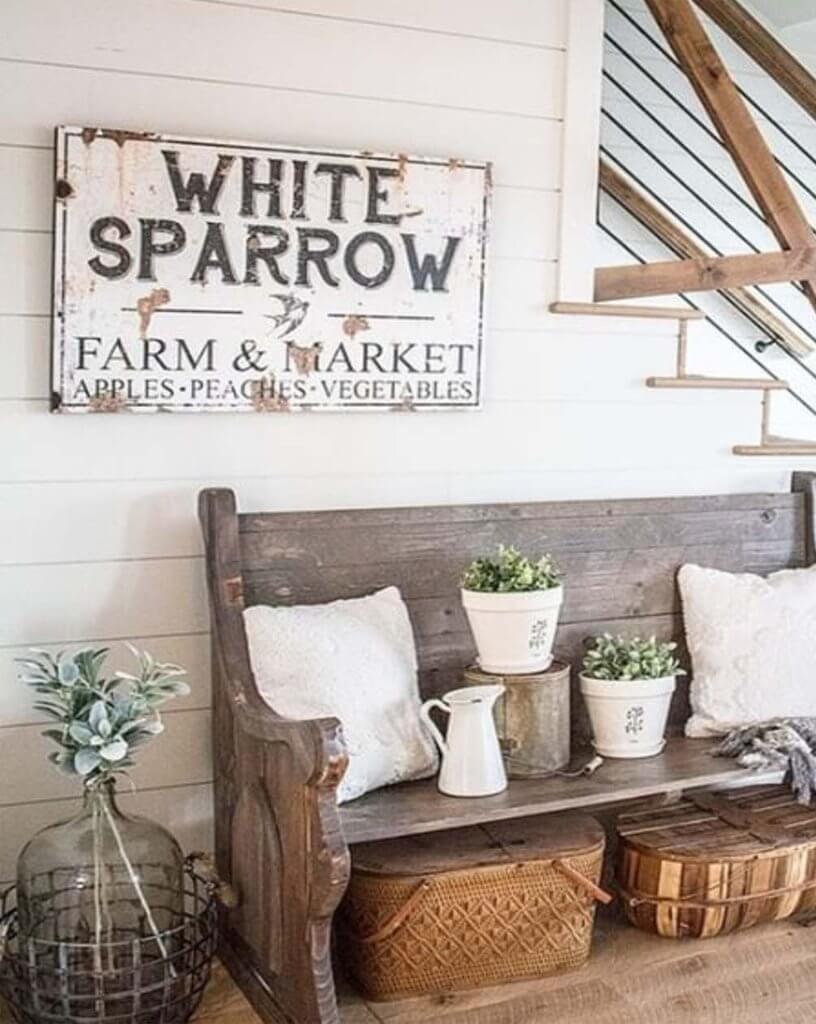 The timeless antique aesthetic gets a chic update with perfectly potted greenery and rustic wooden seating. Guests will no doubt want to linger in your foyer thanks to this inviting mixture of country quaintness and eye-catching implements.
2. Wood & Winter Berry Entryway with Vase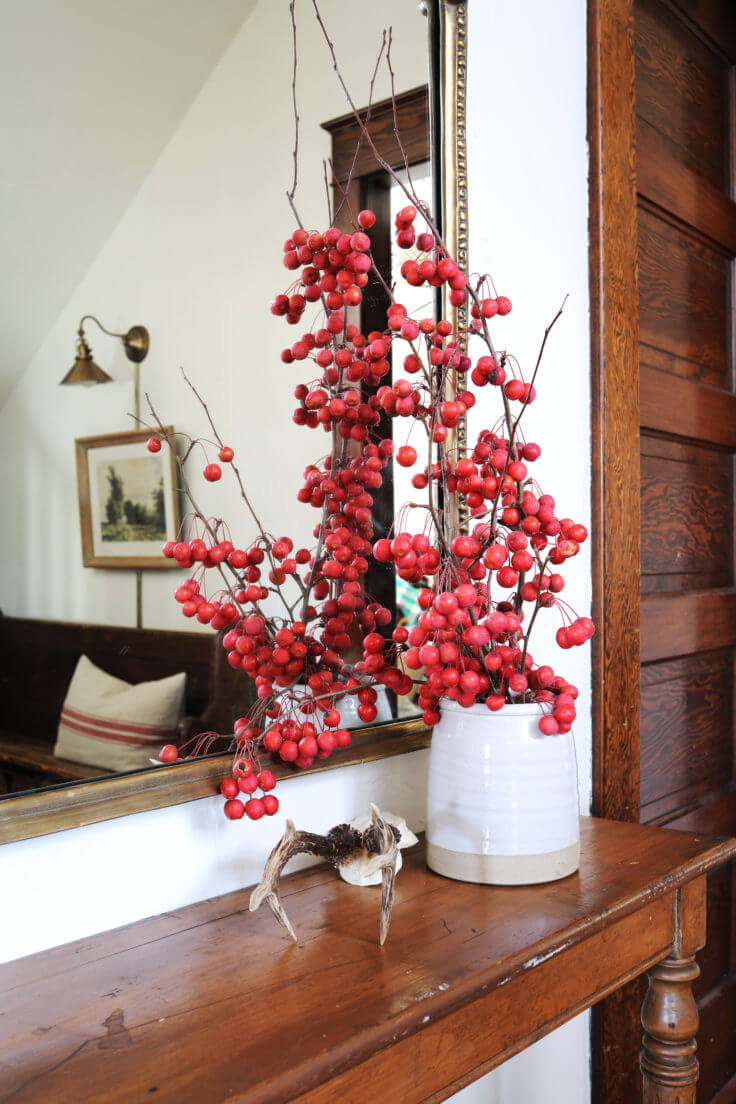 "Elegance is refusal" Coco Chanel once famously noted, and this sparse but hardly sparing mirror-and-mantle entryway arrangement is proof. A bright spray of winter berries adds a striking note to the otherwise earthy decor, making for a particularly poetic way to display your forest finds and natural treasures.
3. Chic Uptown Farmhouse Foyer for Modern Homes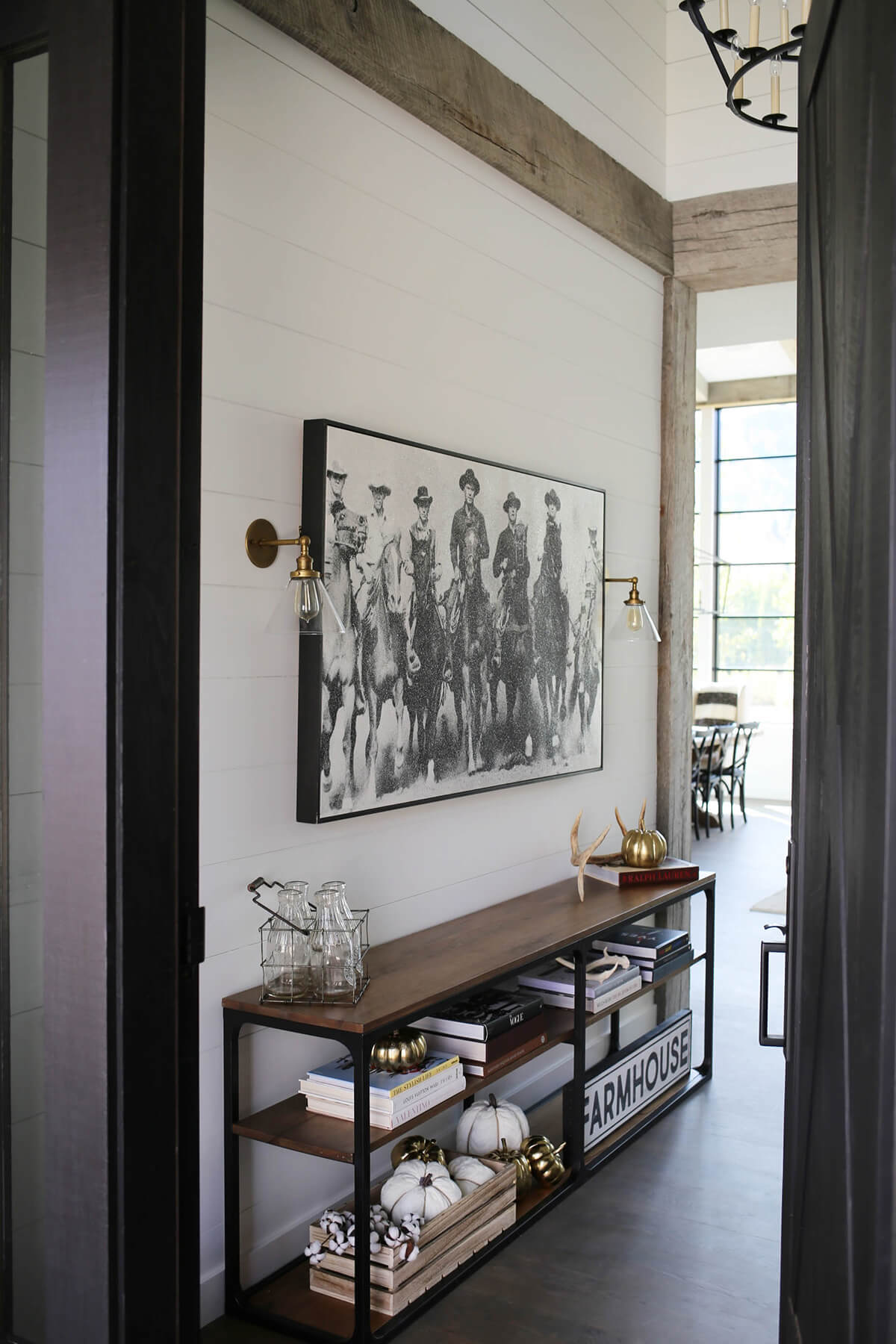 The best farmhouse entryway decor ideas combine old-world values and nouveau sensibilities alike, resulting in a surprisingly eclectic sophistication. Unframed vintage prints and poignant lighting fixtures highlight your objects d'intérêt, while convenient shelving allows for ample storage space.
4. Corner Nook with Slate Picket Sign and Garland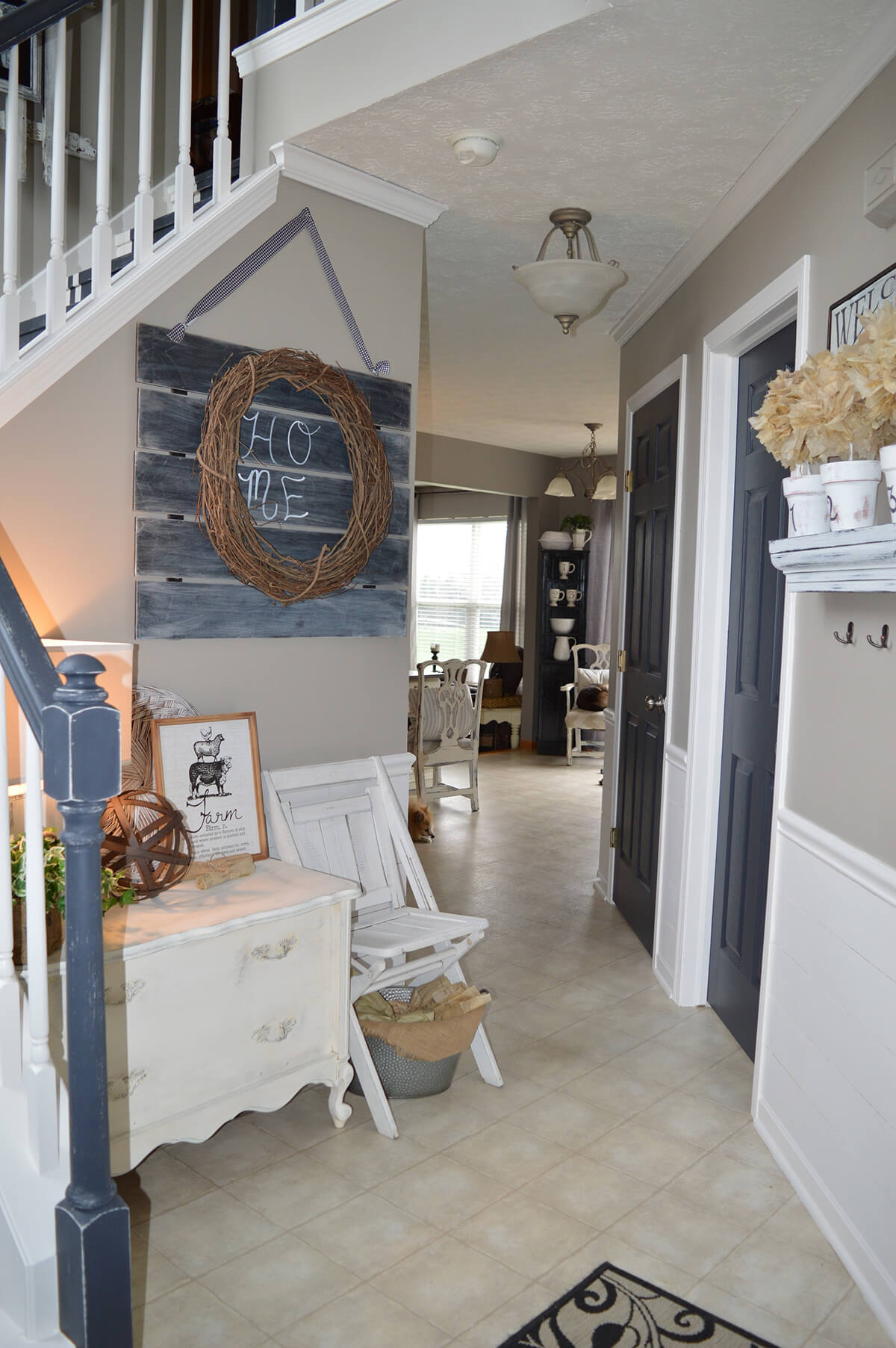 Who doesn't want a nook to settle into when they come in from the cold? If the standard mudroom isn't to your liking, this cozy corner provides a pretty space for removing boots and items upon entering. A charming slate-style picket sign and spacious bureau-style table make coming home an affair to savor.
5. Rustic Pacific Style Stripped Chest and Antique Sign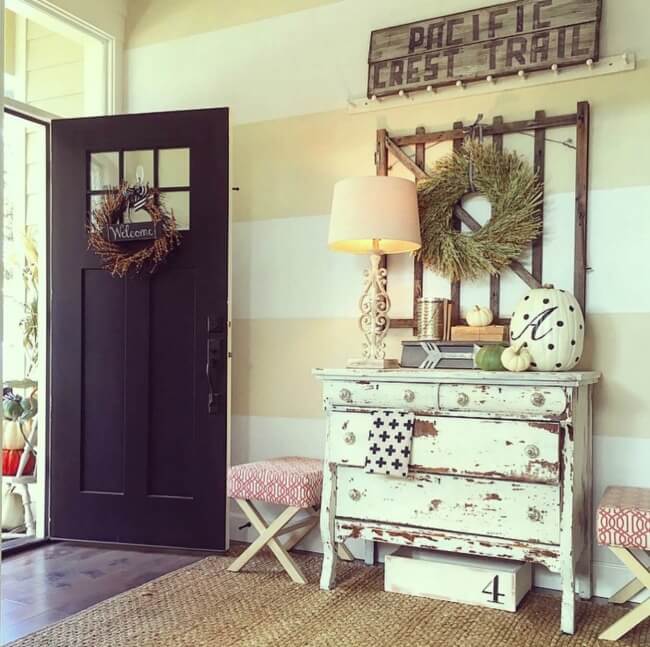 The Pacific Northwest has long been celebrated as one of the most stunning locations in the world, a place where earthy enchantment prevails and everything moves at a more serene pace. You can bring a bit of the Pacific Trail into your own home with stripped wood, evergreen garlands, and naturally subdued tones.
6. Wintery Corner with Chalkboard and Evergreen Garlands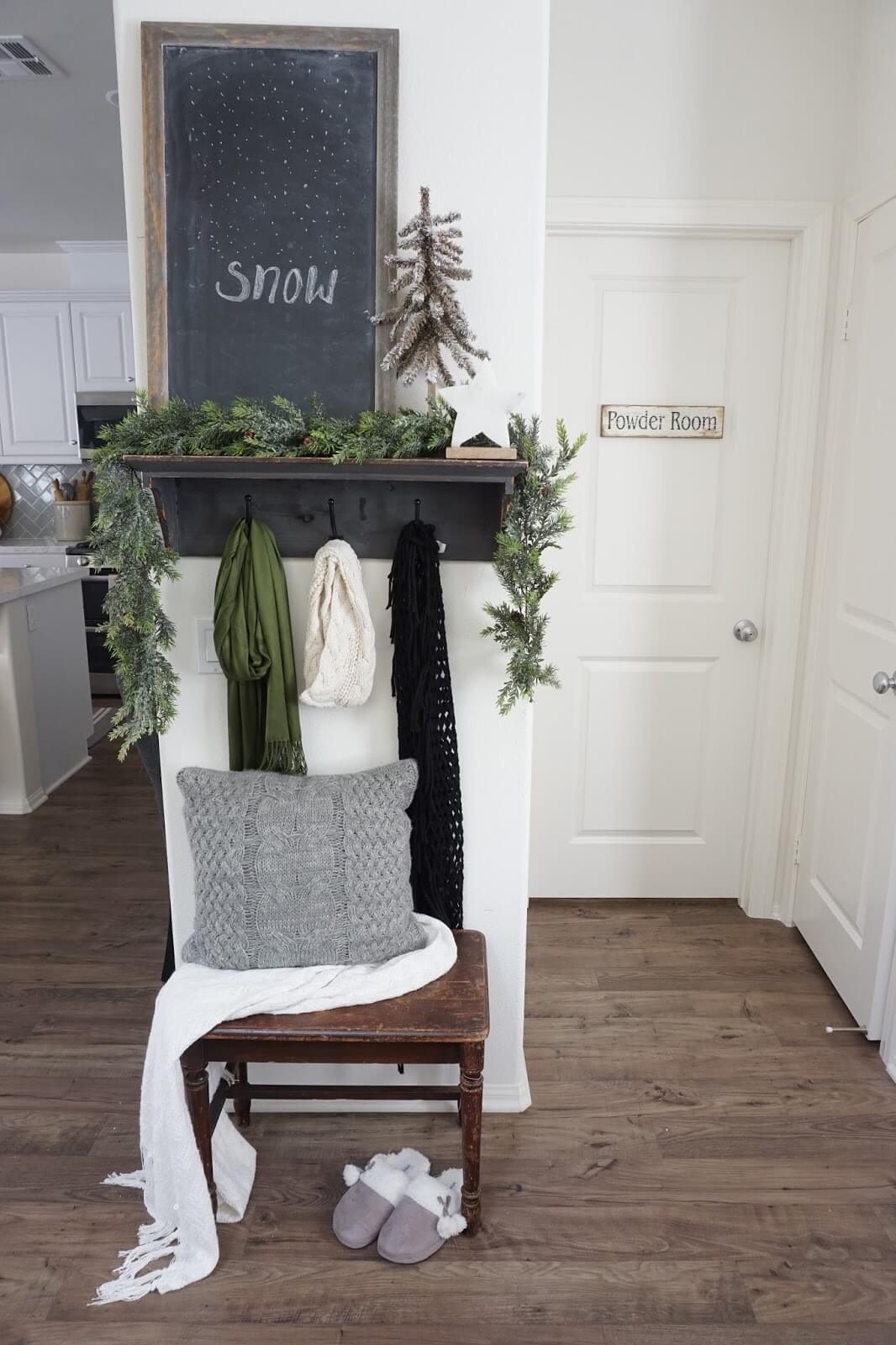 There are few delights that equal a long walk in the winter wood, followed by the heavenly warmth unbundling one's self back home. A dainty hat and wrap rack, stout wooden bench, and evergreen sprays keep a bit of the forest about you, with none of the cold and damp!
7. Ivory Entryway Flower and Lantern Display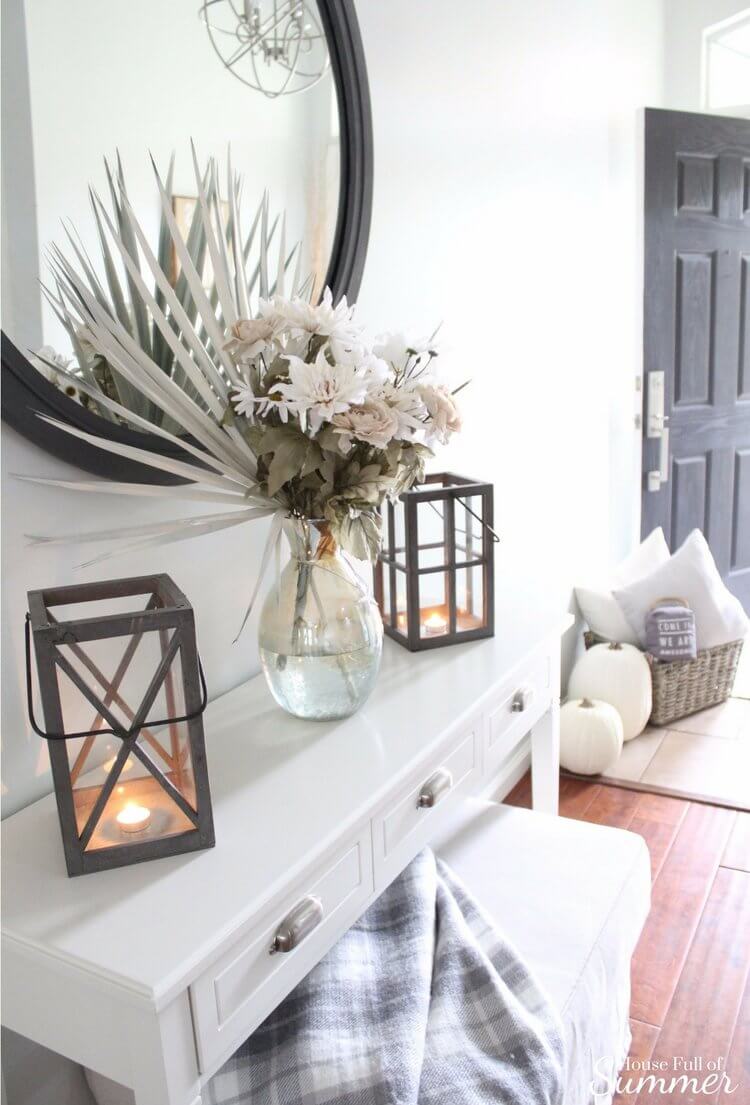 Not all interior farmhouse ideas need to implement strictly country decor; on the contrary, a sumptuous flower arrangement and equally refined lighting and color scheme are often all it takes to strike an unforgettable scene.
8. Cheerful Perriwinkle Entryway Chest with Green Spray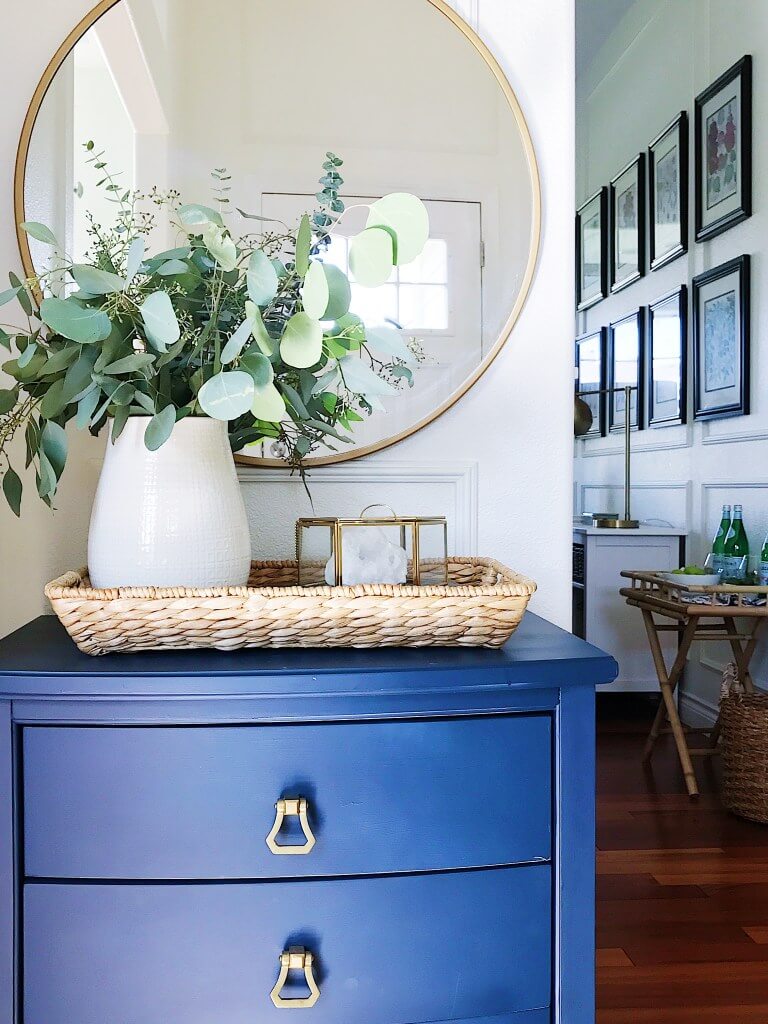 Sometimes all one needs to the quintessential farmhouse look is the perfect standout piece. A brightly painted table, chest of drawers, or roomy seat, complimented by the right flora & flora, is a pairing worthy of returning to time and again.
9. Marble and Tile Cosmopolitan Foyer with Mirror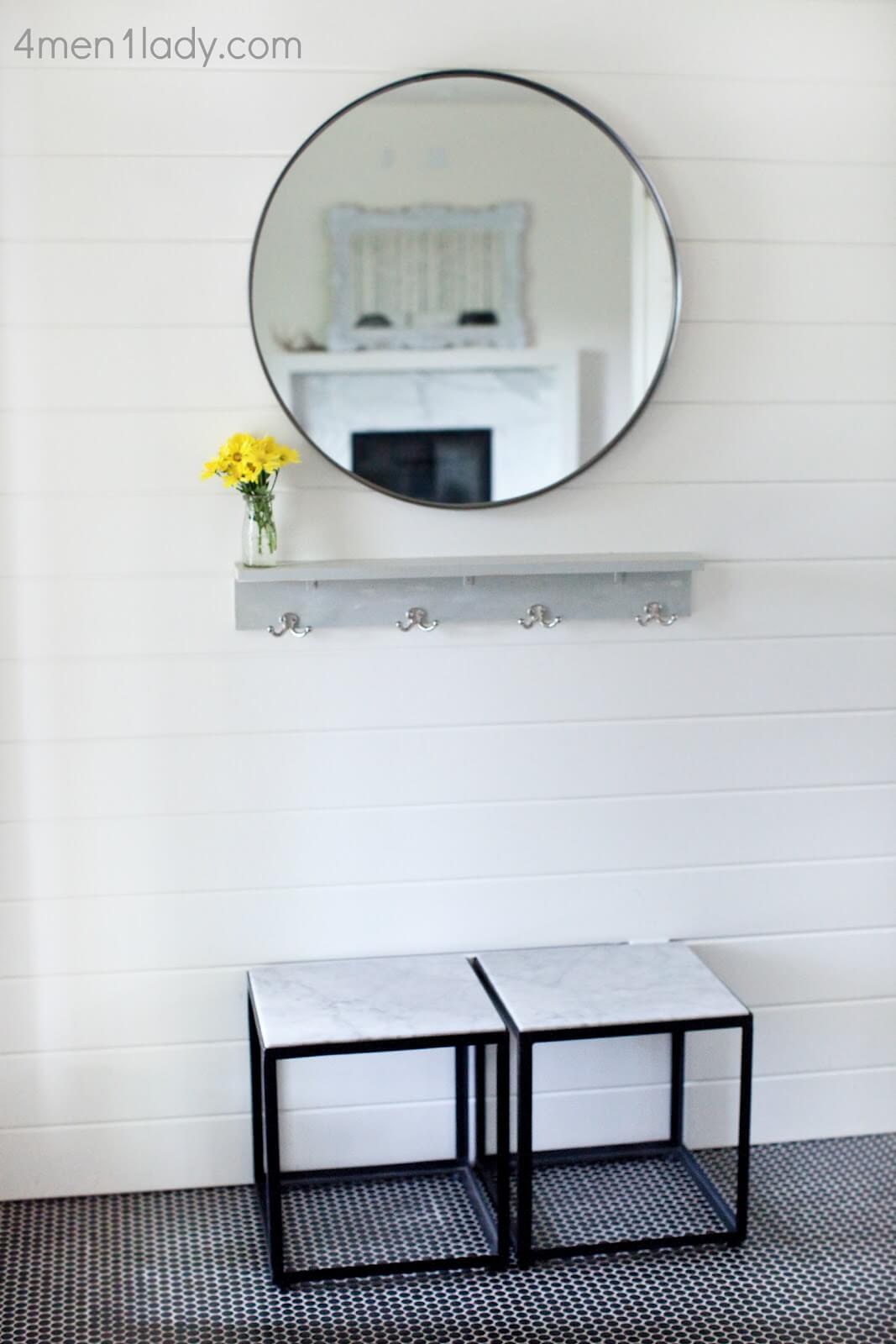 The country manor meets Hamptons beach house in this simple but strikingly stylish entryway. Punctuated by symmetrical seating and mirroring, your foyer will echo the ease of the classic farmhouse while implementing your own updated accents.
10. Ranch-Style Front Hall with Assorted Signs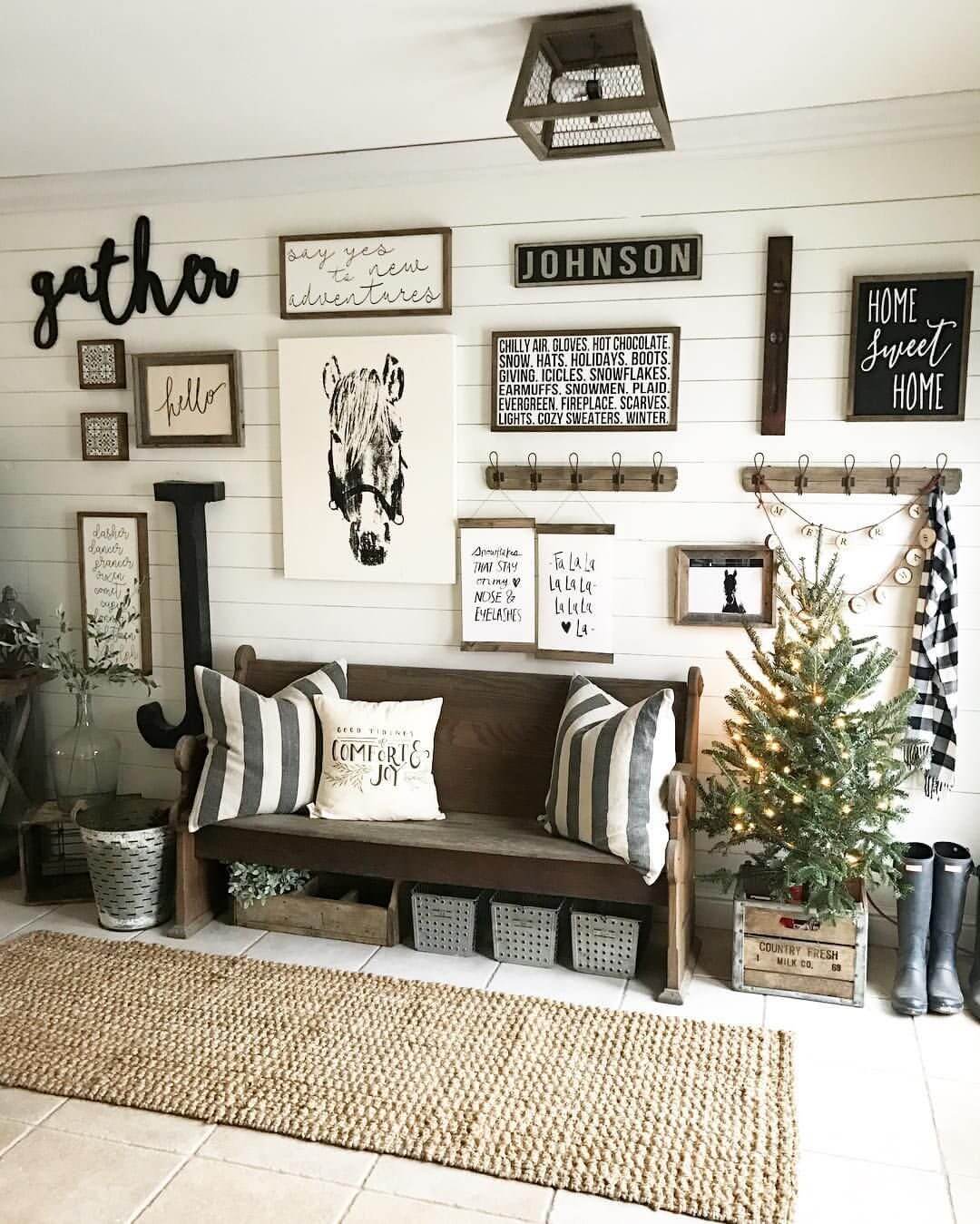 The west has long made its way into popular farmhouse entryway decor ideas, popping up in a number of stylishly surprising ways, from rustic signs to repurposed lighting and seating implements. Giving your farmhouse entryway a bit of the Deadwood spin adds an unexpected layer of nuance, all the while keeping with your country theme.
11. Stable-Style Entrance with Wooden Storage Seating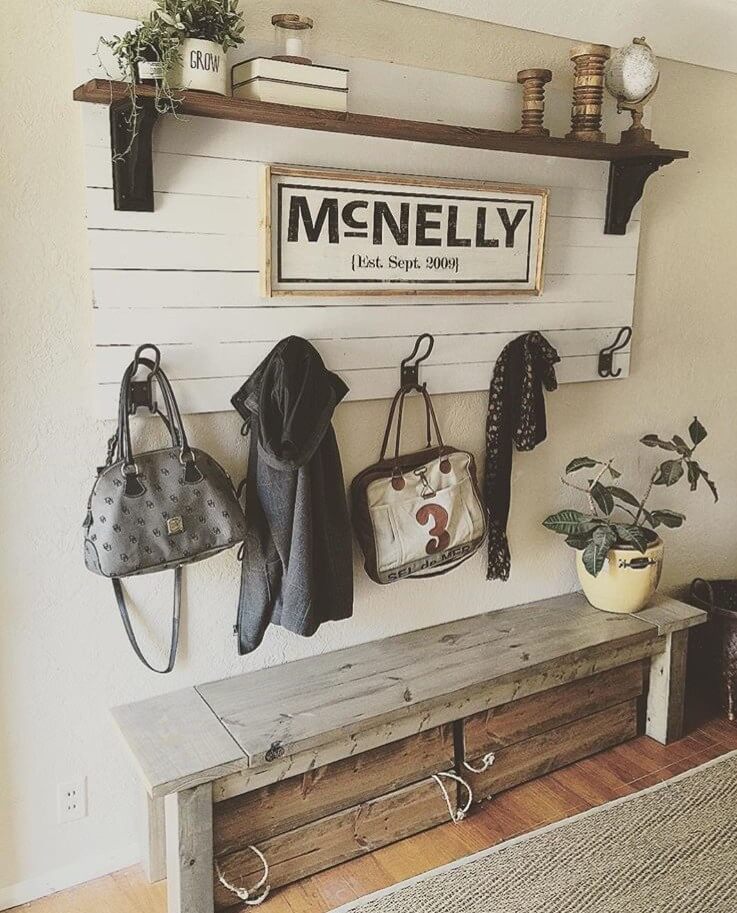 Distressed and/or reclaimed wood makes for easy and impossibly attractive storage and seating inspiration, and this front entrance blends style and convenience in a way that stays true to the farmhouse philosophy. While coats and boots can be stored above and below with ease, personal items and decorative accents draw the admiring eye on high.
12. Home is Where the Heart Is Entry Greeting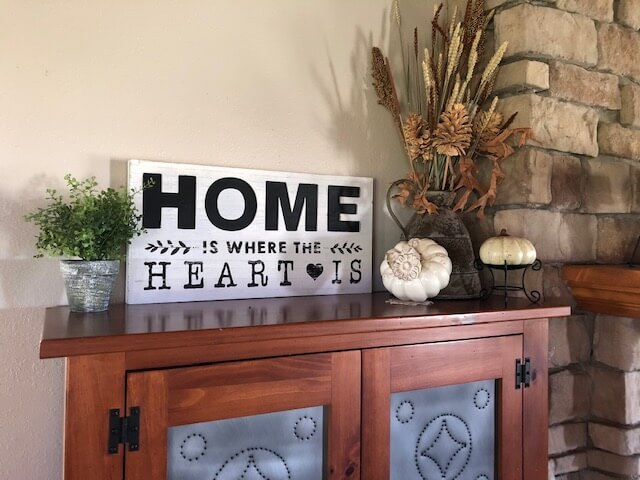 Who doesn't love being greeted by the reassurance that they are indeed welcome wherever there are love and friendship? Such a warm salutation is only made better by a tin-panel cabinet and harvest arrangement, and you and your guests alike will no doubt smile upon every entrance.
13. Simple Nautical Hook & Display Shelf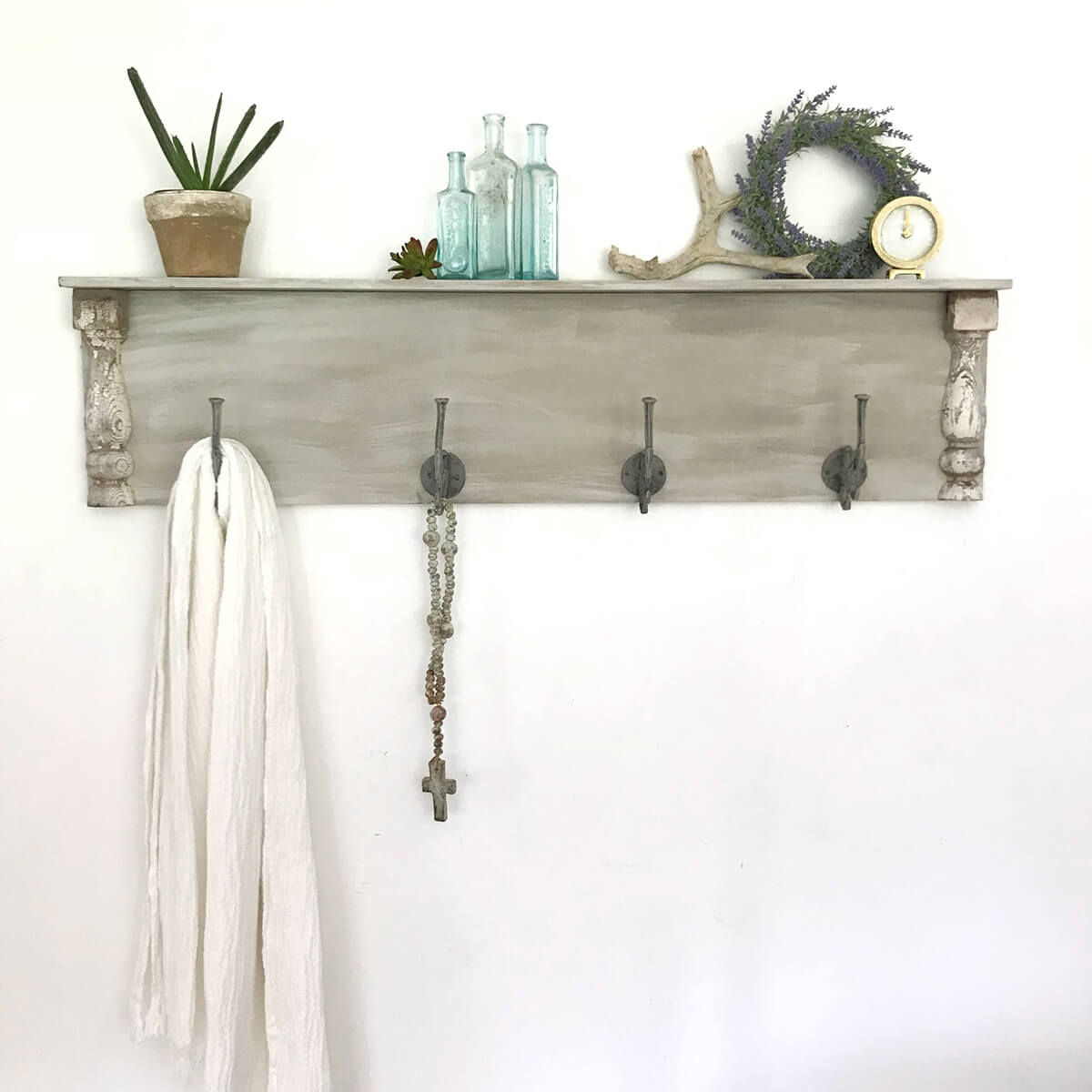 The nautical and country seamlessly combine in this lovely entryway setting, where guests can hang their belongings and admire your mantlepiece treasures. Here is where the best farmhouse entryway decor ideas prove to also be the simplest, with sand washed wood and flotsam & jetsam items making a poignant statement with minimal fuss.
14. General Store Corner with Antique Signs and Tools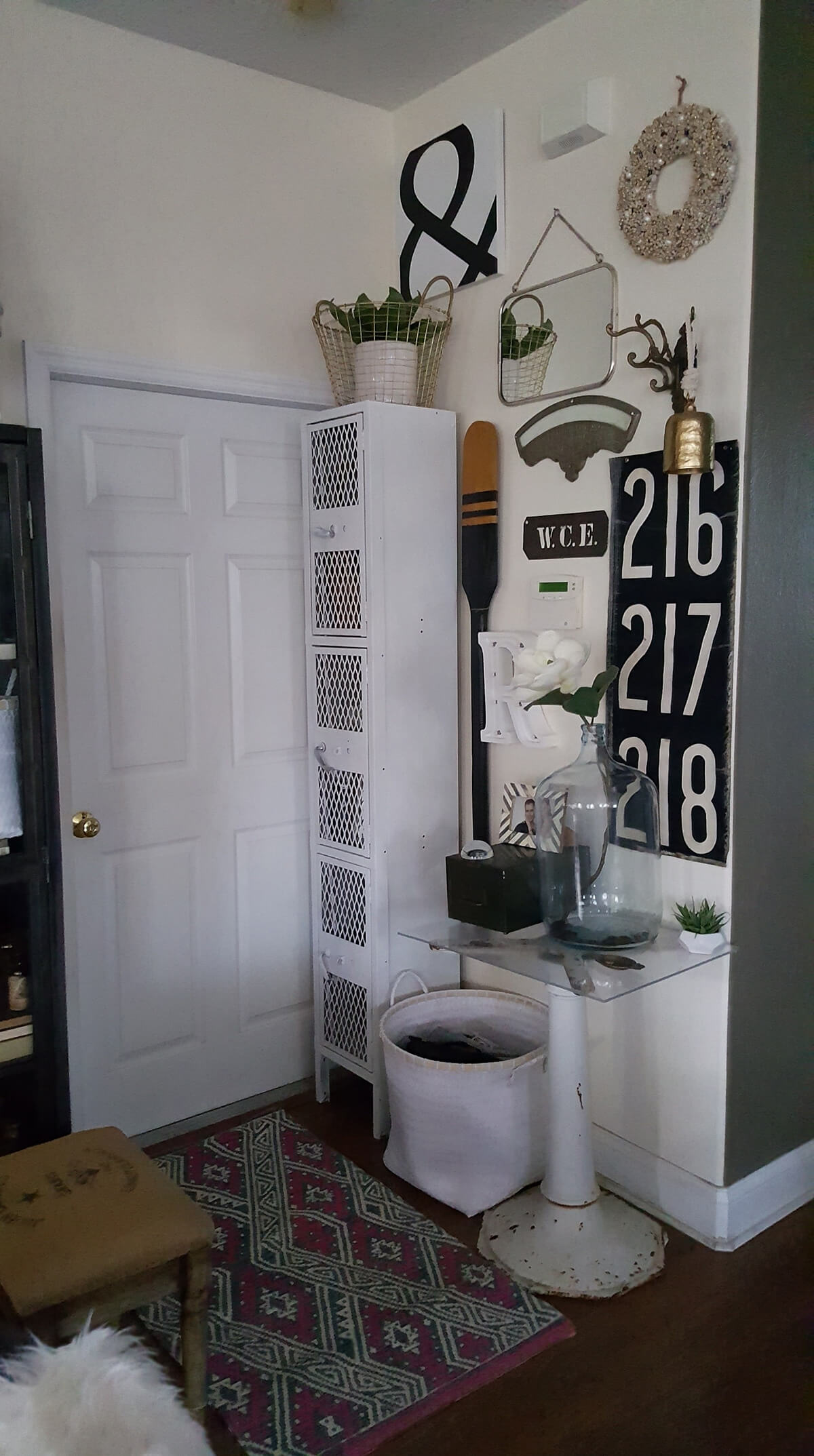 The farmhouse, like the indispensable general store, boasts a charming mixture of decorative odds and ends, household necessities, and utilitarian components. Your entryway can similarly show off your wide-ranging tastes with vintage signs and tools, as well as modern surfaces and planters.
15. Feather Entryway with Accent Lamp and Pillows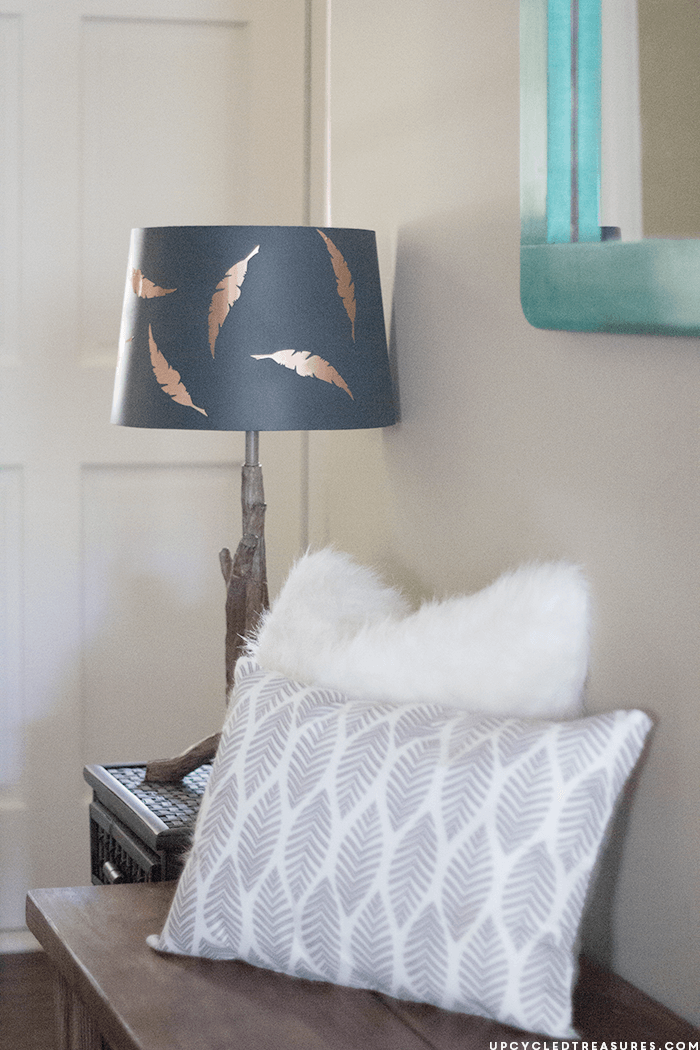 There's nothing like coming home to those personal touches that make the space uniquely yours. From feathers to delightfully fuzzy pillows, your very own farmhouse entryway decor ideas should reflect who you are and what you love, because while birds of a feather may flock close together, the special ones stand (or soar) apart from the crowd.
16. Gardener's Themed Distressed Wooden Shelf and Bench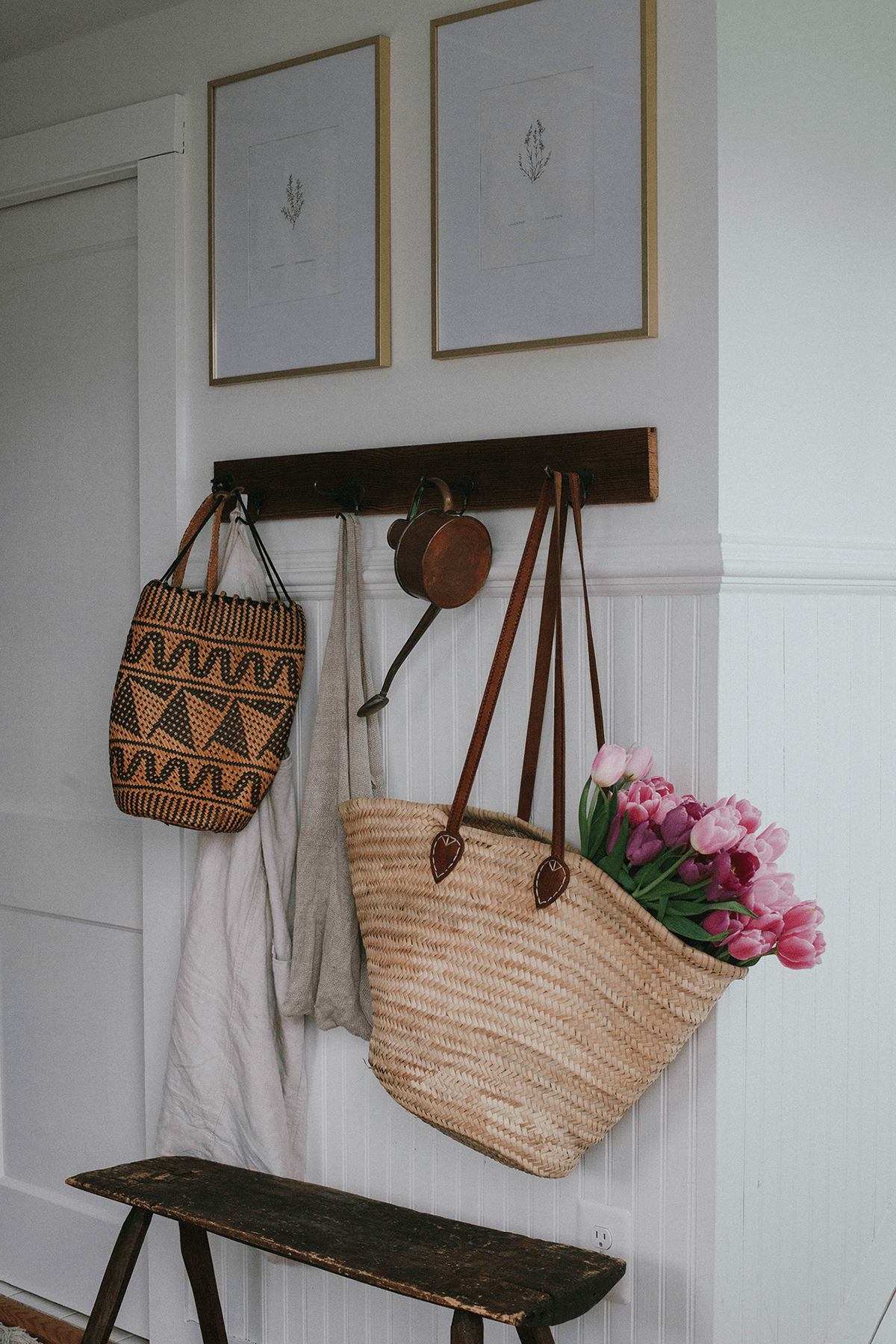 Those with a green thumb understand the importance of a space to hang one's hat and gloves after a rewarding day in the dirt, but that doesn't mean you can't leave a style signature to match your gardening passion. This simple wooden bench and hook post paints a picture of unforced refinement, with the added dash of an antique watering can and spray of flowers providing a year-round haven for lovers of flora & fauna.
17. Harvest Themed Entryway Table with Pumpkin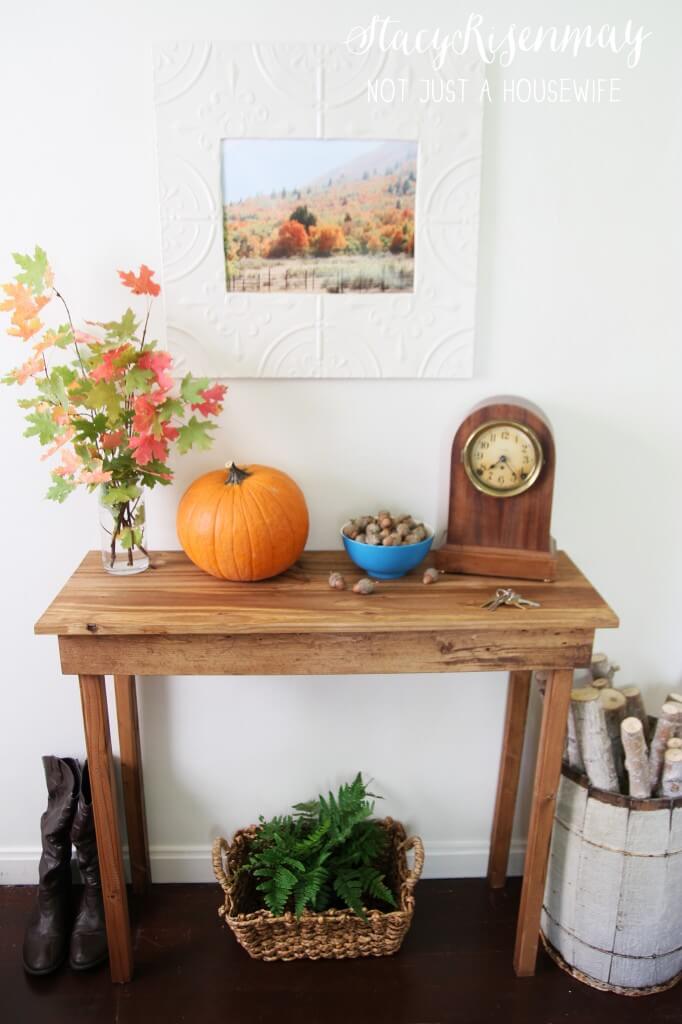 Autumn is a season both wonderfully festive and all too brief, which makes it the perfect inspiration for your front entrance. This harvest scheme evokes all the joys of pumpkin season and hearthside fires to come, of chestnuts soon to be roasted on the open fire but colorful walks among the changing trees still very much in season.
18. Wood Paneled Country Coat Room with Hooks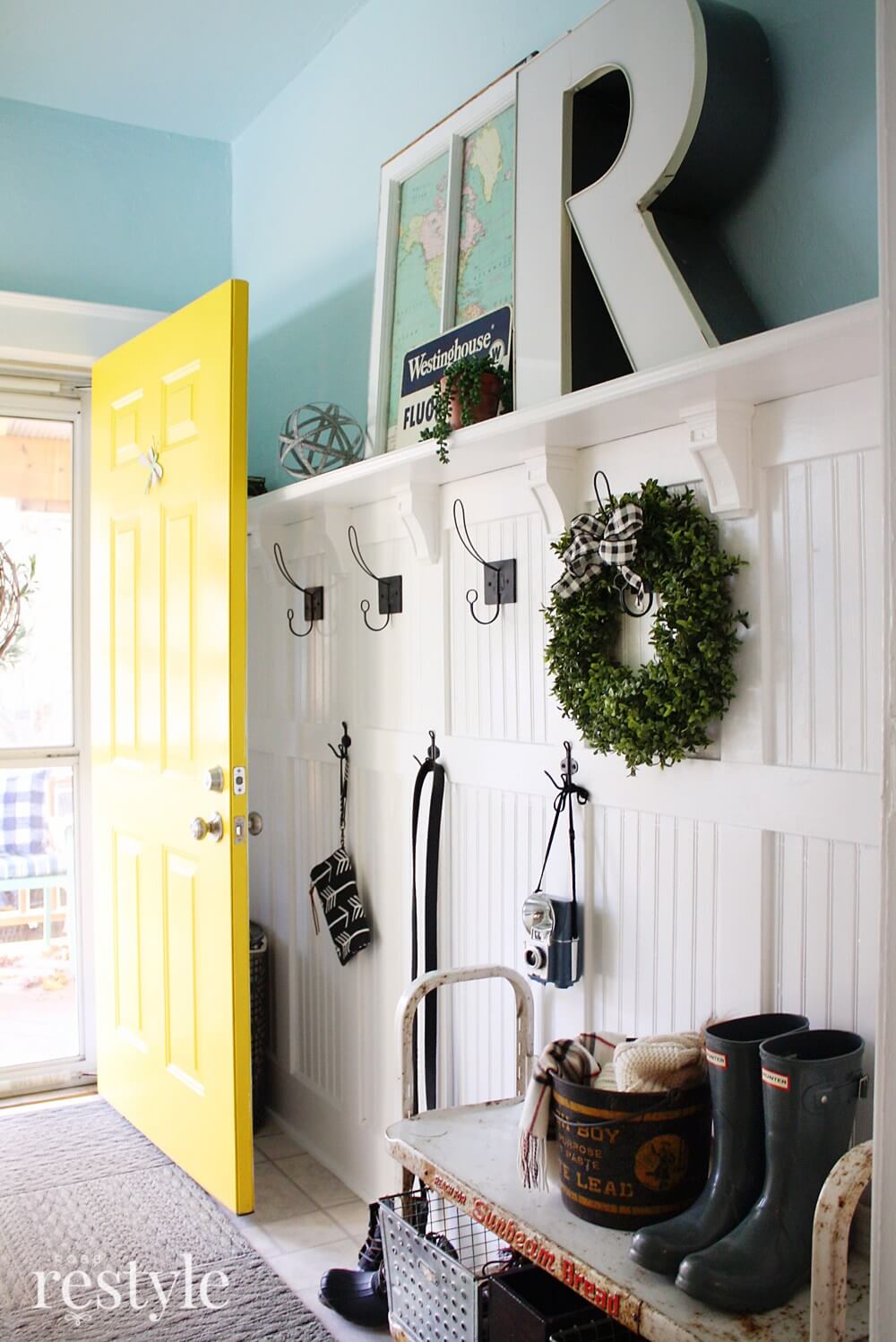 Coming home and discarding your snowy apparel has never been so inviting, thanks to this gallery-style coat rack and vintage storage entrance. You and your guests will have ample space to hang up coats and bags, store scarves, and kick off your boots while taking in the delightful personal touches you've implemented at eye level and above.
19. Simple Entry Nook with Numbered Hooks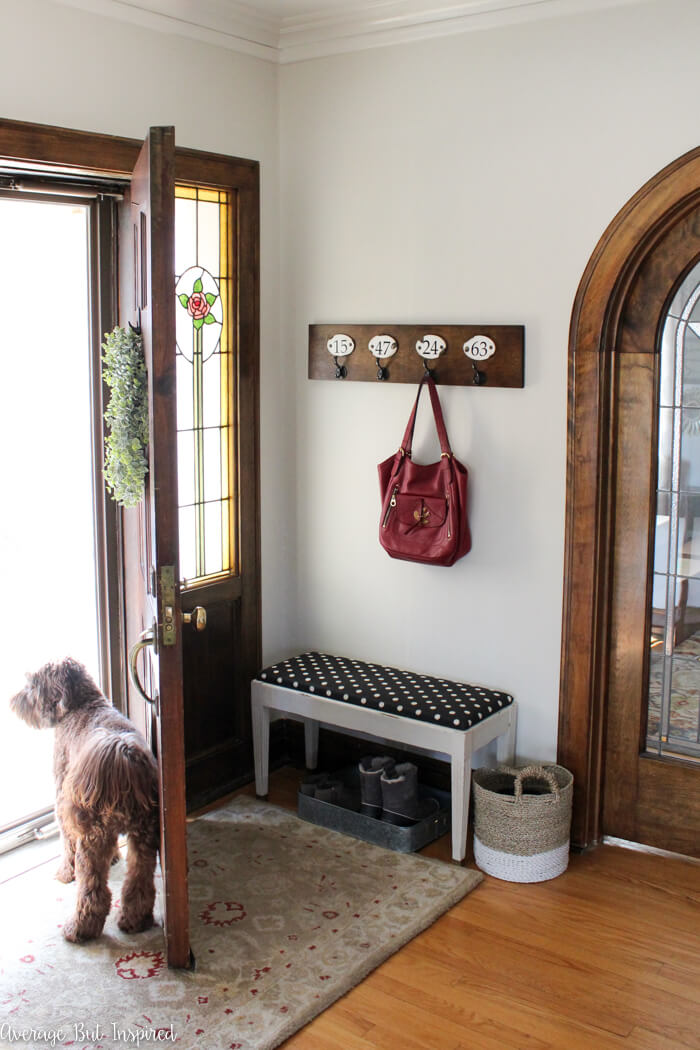 Coming home is a classic comfort not everyone needs to embellish; instead, why not select those simple signature pieces that welcome you home with ease and elegance? A numbered hanging rack and comfy bench are just a few farmhouse decor suggestions that will never go out of style, but keep you in it year after year.
20. Schoolhouse Style Wooden Seating and Storage Entryway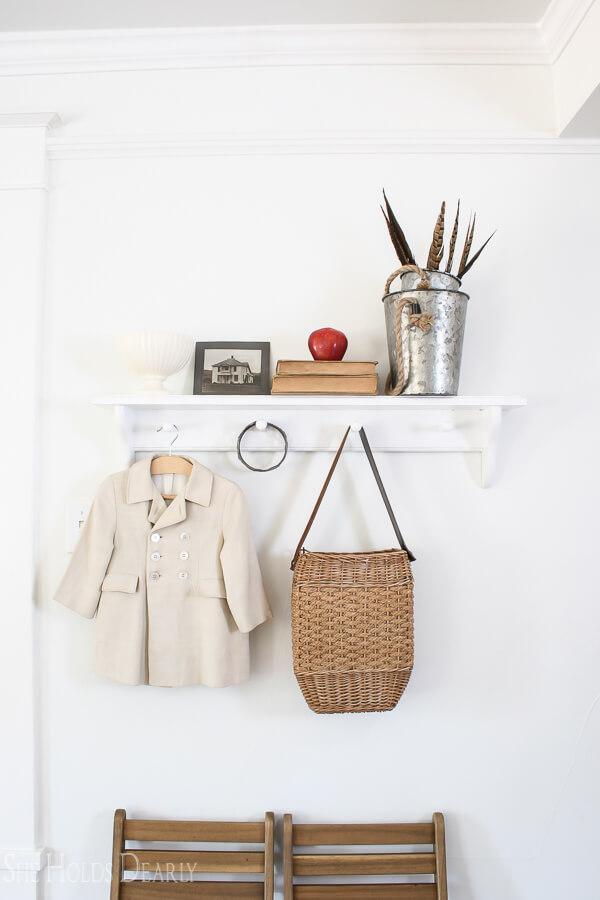 The brush of white against wood and cheerful stacking of books and apples evoke the schoolhouse memories of yesteryear in this sweet entryway arrangement. Children and adults alike will delight in peeling off coats and hanging up hats thanks to this timeless farmhouse tableau, which more than a little echoes Anne of Green Gables and her own beloved homestead.
21. Supermarket Sign with Multi Lighting Accents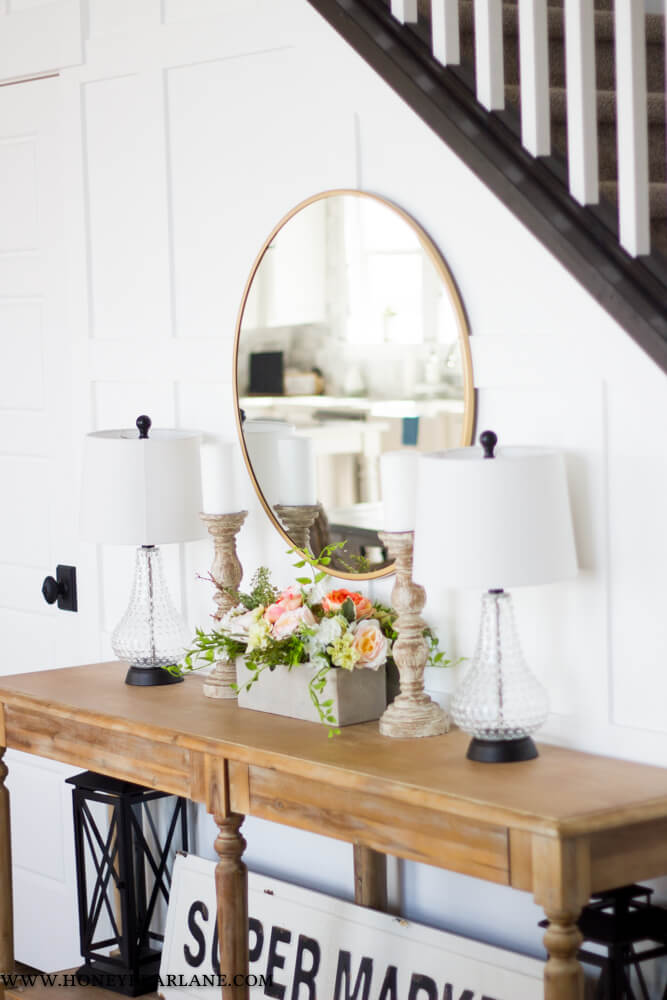 Don't be fooled by the winsome supermarket sign; this entryway table display is all about incorporating breezy sophistication into the farmhouse aesthetic. A fresh flower box bordered by towering sconces adds a touch of uptown class, while the aforementioned vintage sign and lower lanterns promise an unpretentious homecoming.
22. Classic Entryway with Large Antique Style Clock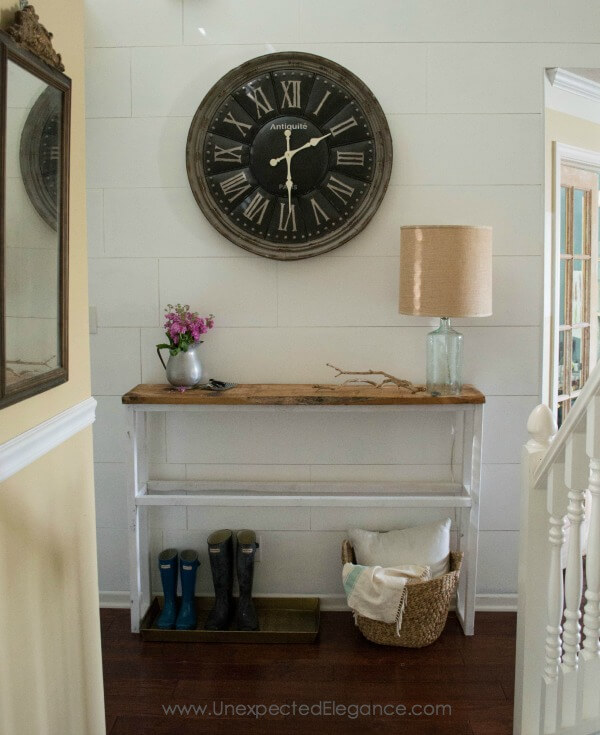 Echoing the wooded coastal landscape, this entryway is as effortlessly on-trend as it is unembellished. A handsome clock keeps the hour while a simple wooden side table holds all your worldly possessions, honoring the farmhouse's unfussy sentiment that less is more, so long as you make it your own.
23. Individually Numbered Entryway Cubby with Vintage Decor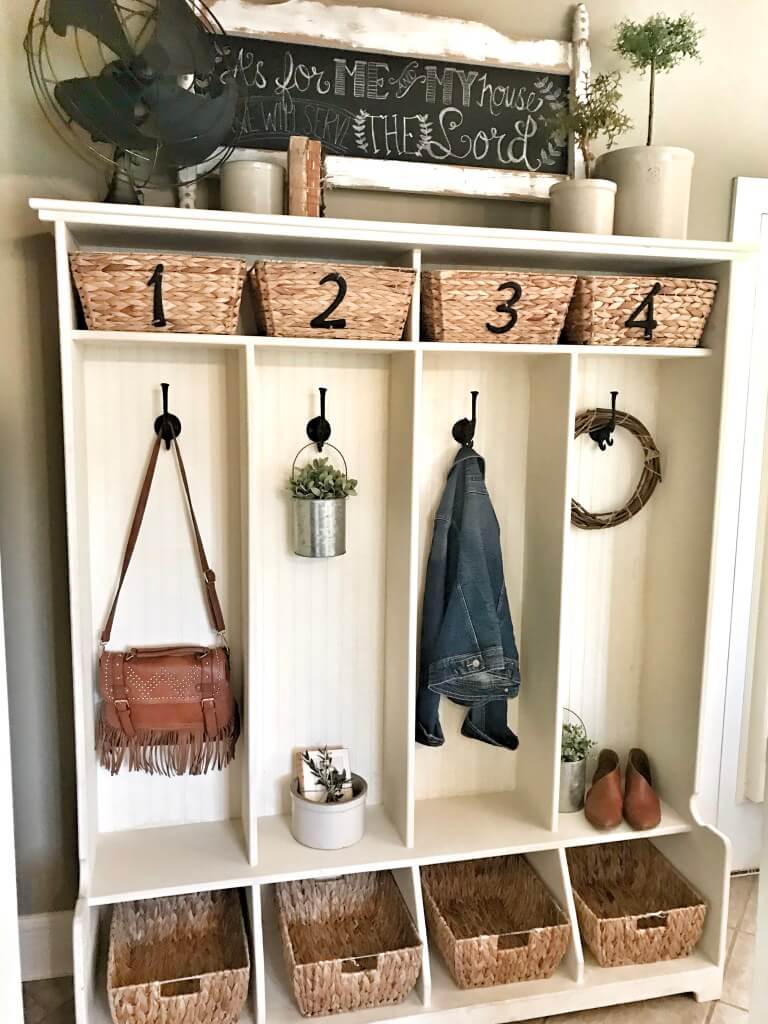 Those with small children will especially appreciate this charming but oh-so-orderly entryway addition, which pays tribute to the schoolhouses of the past. Numbered compartments and convenient hooks make for easy storage, while conversation-starting accouterments on display above will no doubt cleverly disguise its true utilitarian value.
24. Painter's Ladder Multi-Use Entrance Rack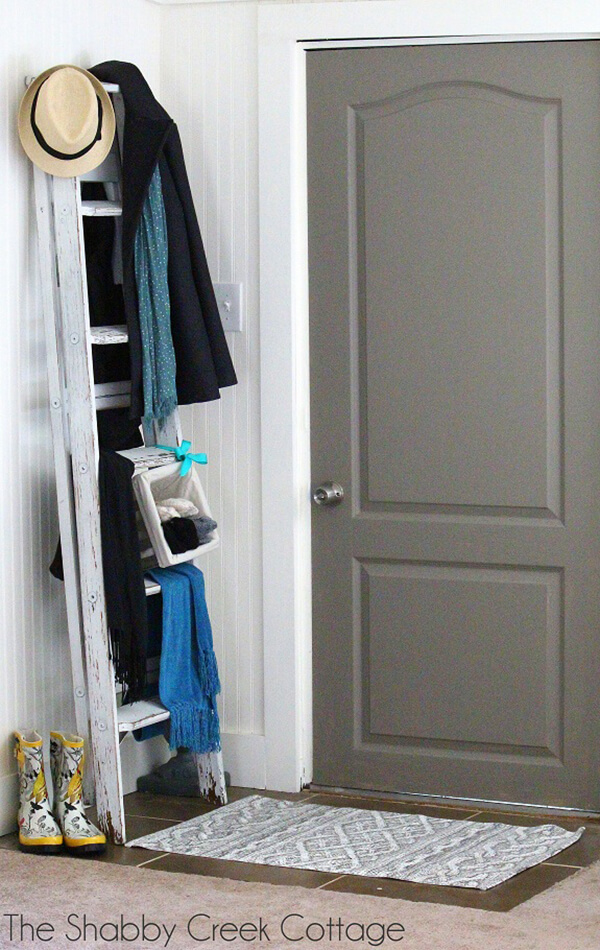 Who says only pegs and hooks will do for hanging one's belongings? This stripped wooden painter's ladder upholds the true farmhouse spirit of ingenuity, allowing multiple units of space for folding coats, hanging hats, and even stashing shoes and boots below. Like all the best farmhouse ideas, this addition not only utilizes what you may very well already have on hand but elevates it to display-worthy new uses.
25. Chic Southern Stool & Hook Arrangement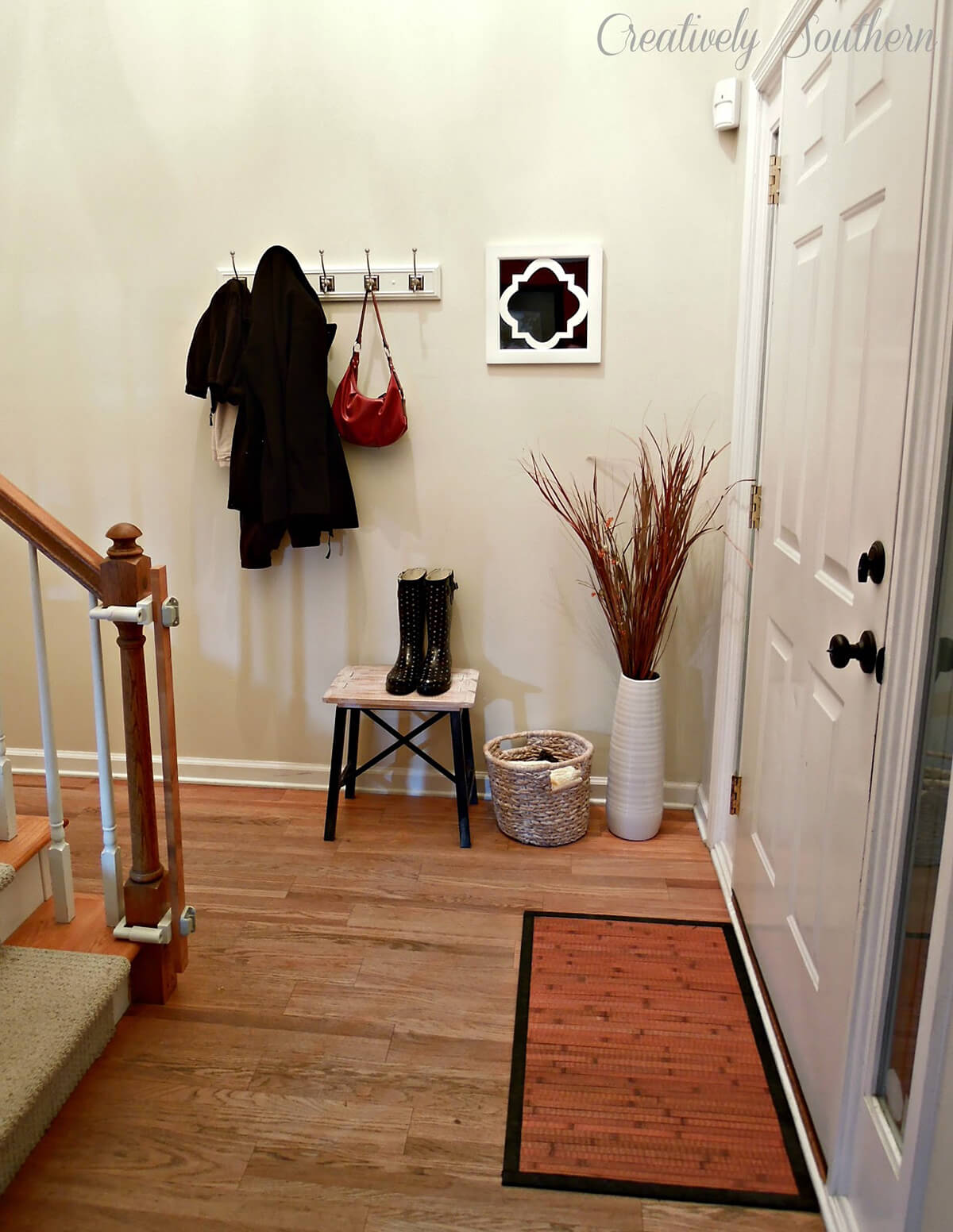 Perfect for those with limited space or little inclination to overdo the farmhouse aesthetic, this arrangement is both elegant and efficient, with just enough flair to set it apart from the standard home entryway. A simple hat and coat rack overlooks an equally unassuming storage stool, while the presence of potted greenery brings everything back to its organic country roots.
26. Raw Wooden Wardrobe with Garland and Window Pane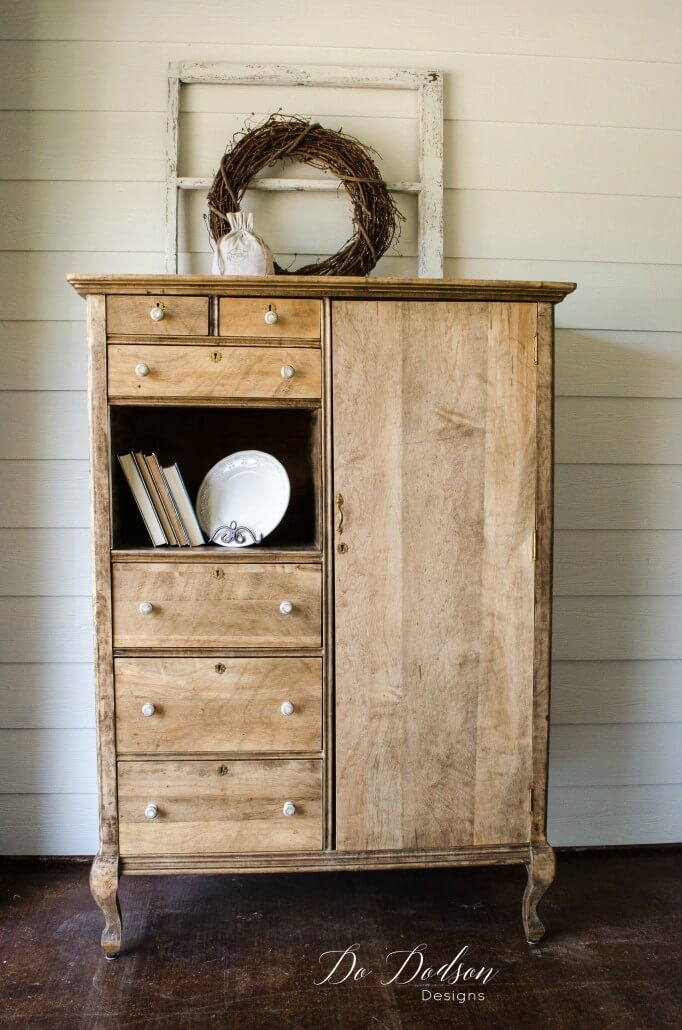 Handsome and harkening back to the days of grand entryway pieces, this raw wooden wardrobe adds some updated but unimposing grandeur to your home. Perfect for storing all manner of items but likewise displaying books and various accent pieces, this is the ideal take on a timeless farmhouse necessity. A wreath of green overhead adds a splash of natural color, while the perfectly placed vintage implement speaks of your home's nouveau country demeanor.
27. Cozy Corner with Armchair and Hanging Accents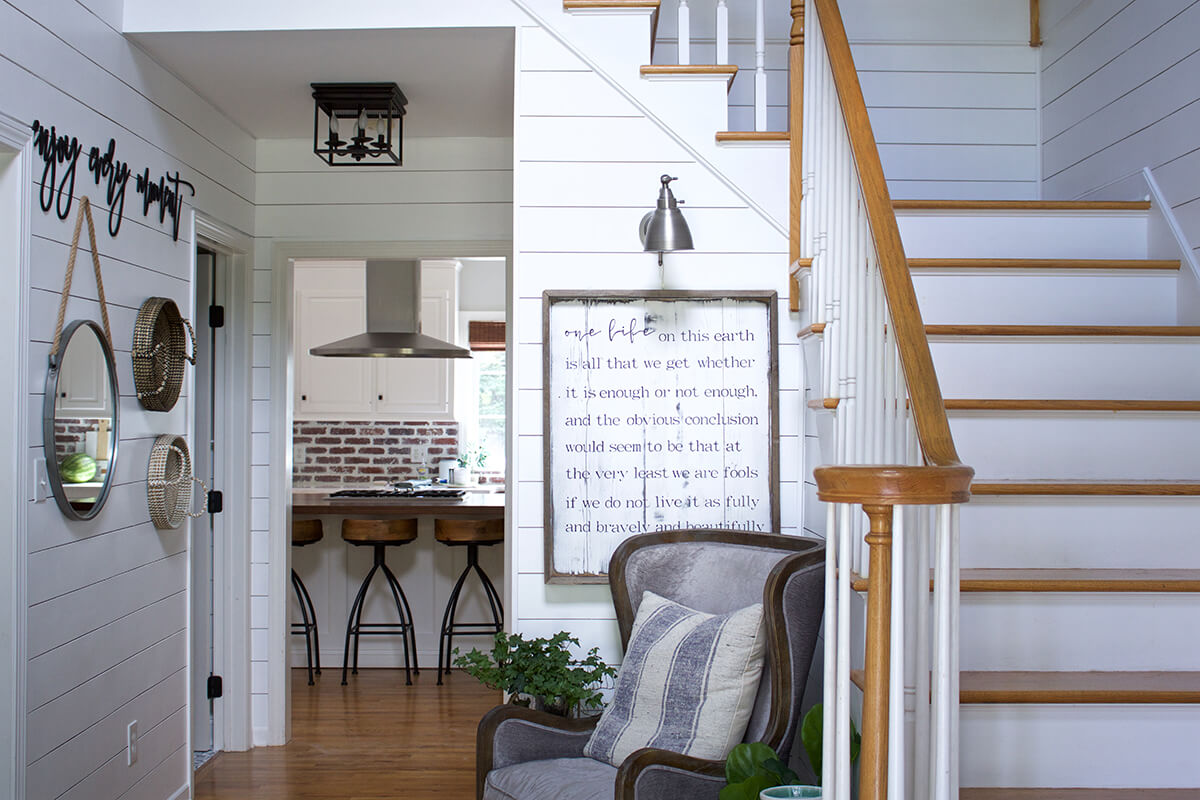 This decadent velvet armchair and overhanging inspirational sign bring the country library to your front hall, along with the promise of comfort, quiet, and a place to put up your feet after a long day out in the world. Soft violets and simple textures keep the look and feel farmhouse-cosy while hanging implements and arrangements of green lend an earthy style only the country cottage can boast.