The farmhouse aesthetic is all the rage. Primitive antiques have been climbing in price for years, but you don't need a huge budget or a professional interior decorator to pull off the newest and best farmhouse furniture and decor ideas. If you're looking for some fresh, editorial inspiration for your next design project, then we've got you covered with 50+ gorgeous looks for every space in your home.
50+ Magazine-Worthy Farmhouse Furniture and Decor Ideas for Rustic Interiors

If you love the country look, then a rustic farmhouse table is a given. We'll show you how to use one in the dining room, the living room, and even the hallway. But farmhouse tables barely scratch the surface of this warm, lived-in style. Pair yours with classic black lanterns or galvanized steel hanging lamps that also introduce a bit of industrial design.
Whether you want to dedicate one free corner to farmhouse furniture and decor ideas or you want to fill your whole house with fabulous farm fresh finds, we've got your ready-made inspiration board below. From seating, surfaces, and lighting to flooring, architectural features, and smaller accents, we've gathered all of this season's best country-inspired standouts in one convenient list.
1. Butcher Block Table and Baluster Candle Stands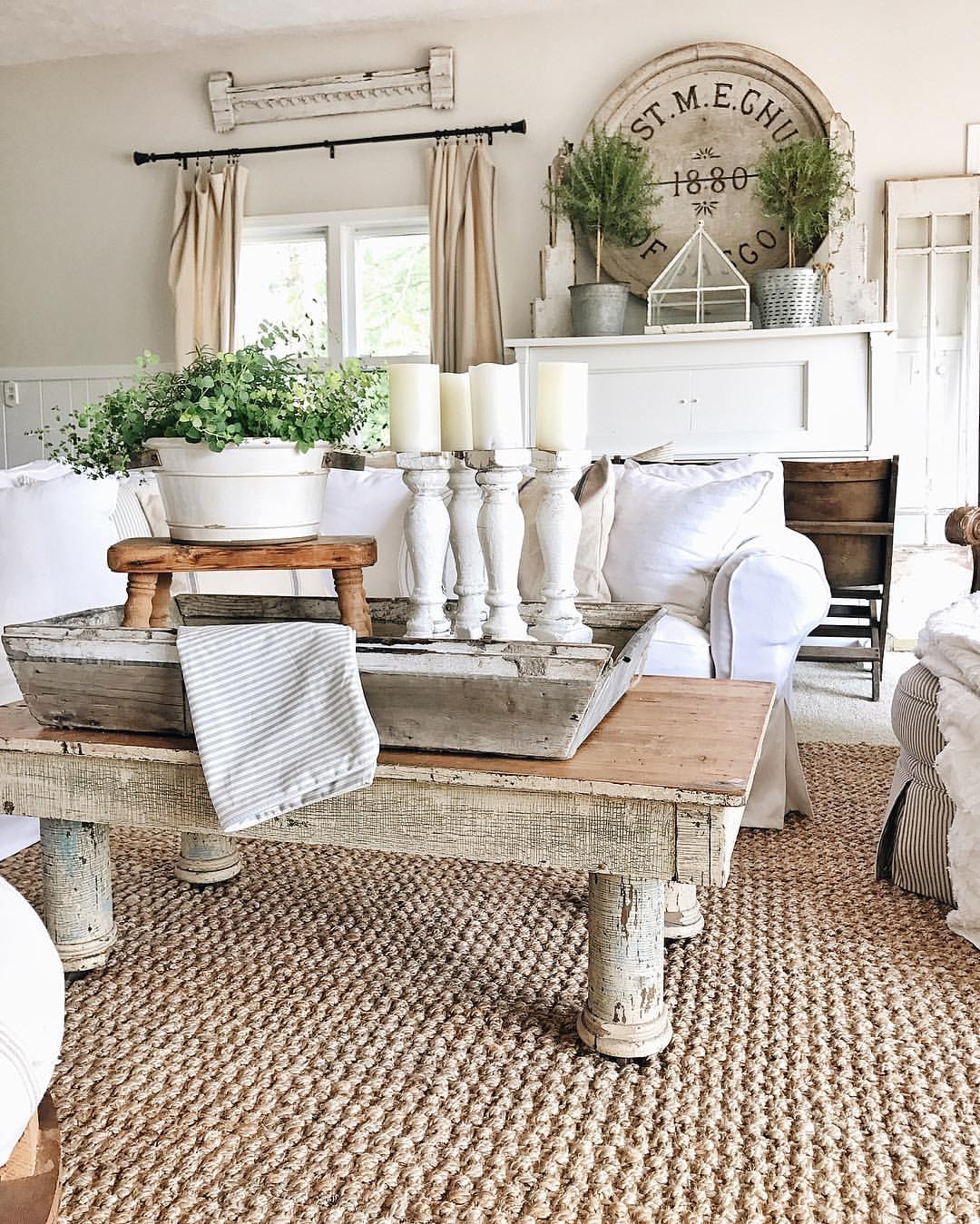 This neutral farmhouse living room is a rustic decor dream. From the gorgeous beige on the walls to the distressed white paint on the balusters and wooden wall accents, there is a simply unaffected look here. It's casual and picturesque but pulled together with the jute rug and striped fabrics.
2. A Cluster of Country Store Décor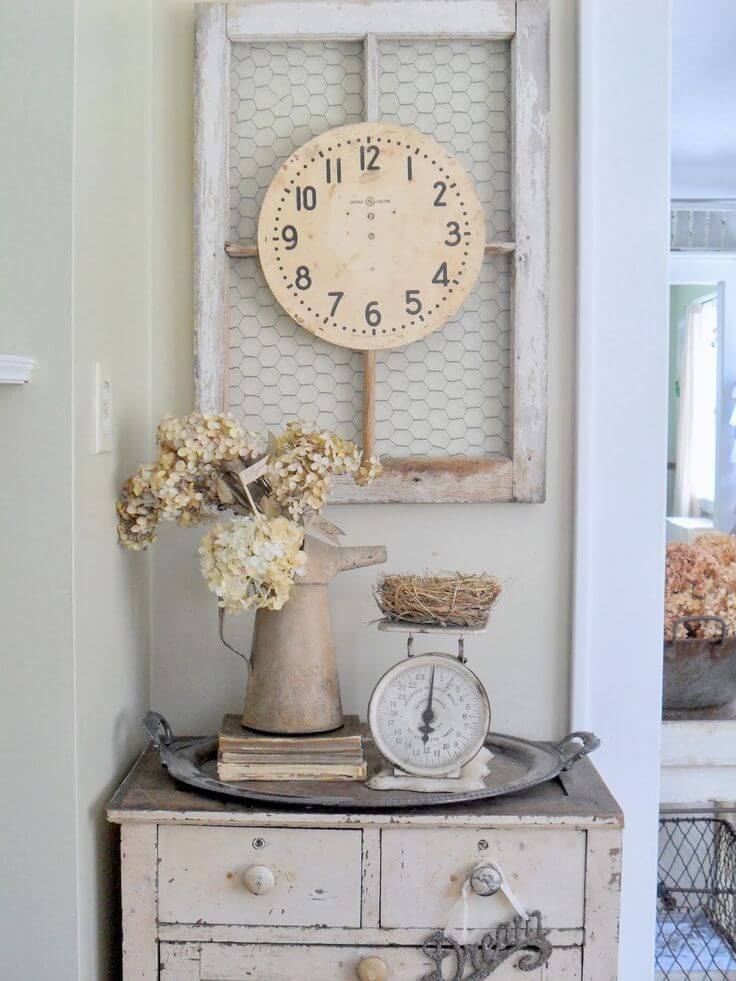 This is such a great idea for a small, bare corner without being overdone. The chicken wire in the window pane and the watering bring a little piece of the outside indoors while the scale and clock balance each other for a general store feel. The small dresser can be storage for linens and extra place settings.
3. Raw Cotton and an Inspirational Sign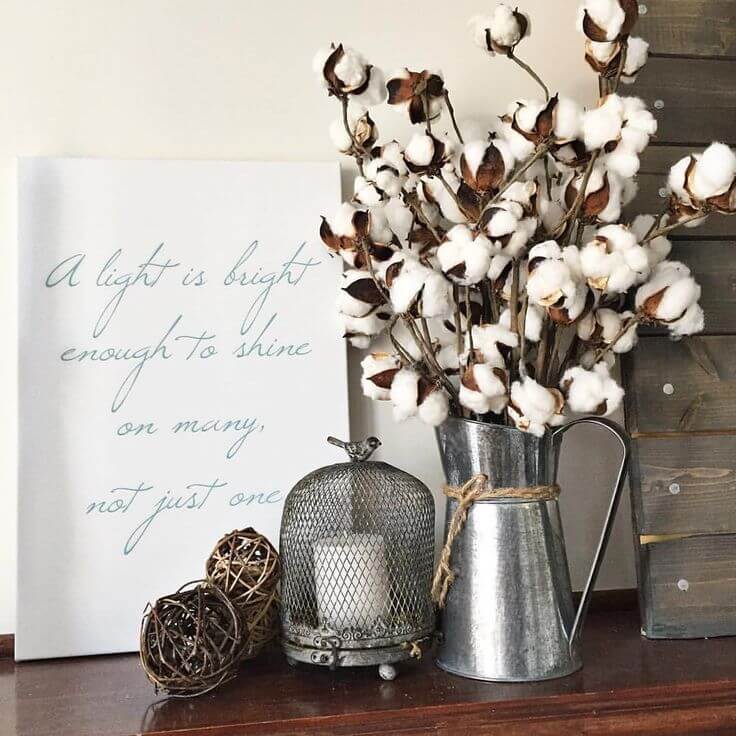 Pallet wood, cotton stalks, and pewter accessories are combined here for the quintessential country charm look. Farmhouse decor is often centered around a handful of elements that are similar in material but different in purpose. Using a watering pot for a vase gives it new life, and the wood pallet behind it balances this tablescape.
4. Many Ways to Say Hello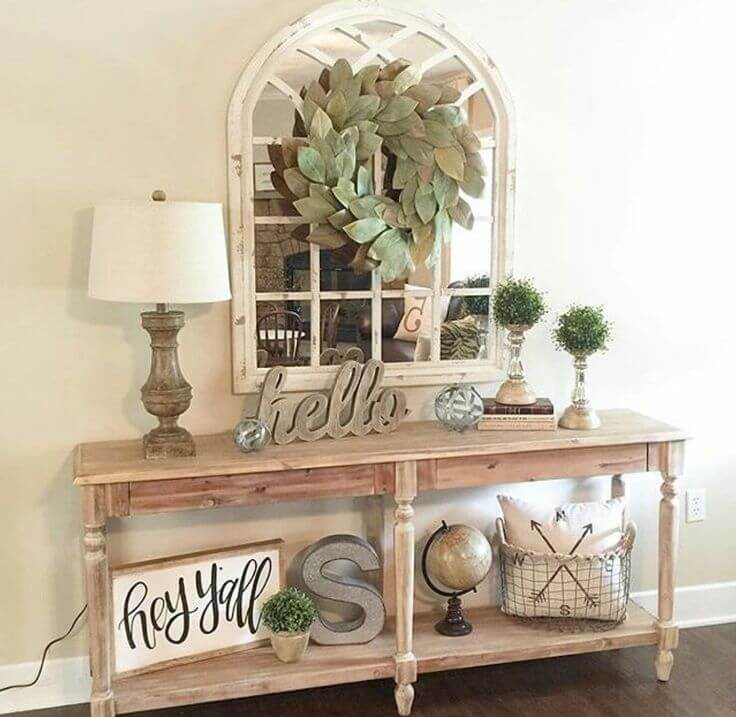 This entryway is wide and bright with beautiful wooden floors and a window-like mirror that creates the illusion of more space. Both a southern and more global way to say hello send a welcome message, and topiaries bring in a bit of green life and differing heights. The globe and pillow give a travel feel that welcome new guests and wish buen viaje to those leaving the home.
5. Mid-Century Industrial Meets Farmhouse Chic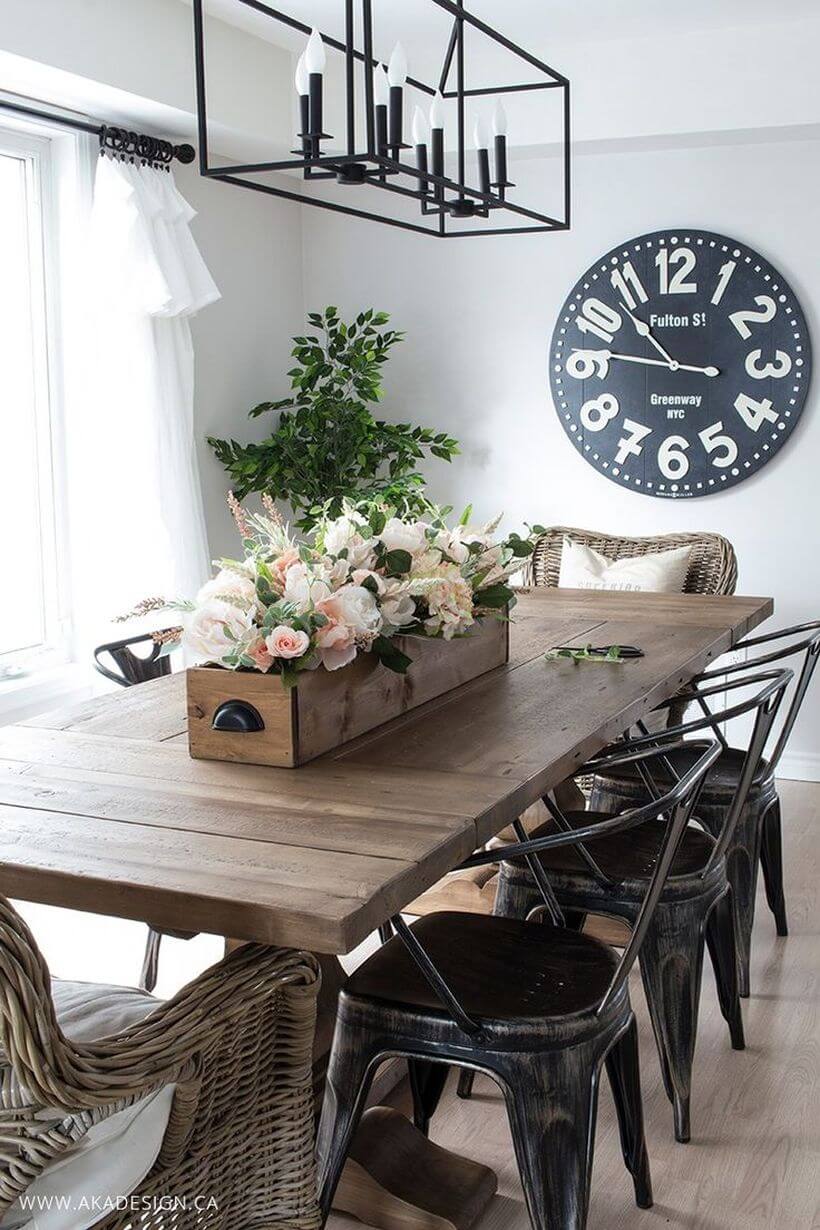 Balancing industrial and farmhouse looks is very popular, and this composed dining room does not disappoint. The wooden table, iron chandelier, metal chairs, and wicker captain's chairs work beautifully together with the fresh florals in the centerpiece. White flowing curtains and a large, chunky clock finish off the blended look handsomely.
6. A Wire Tidbit Tray Full of Whimsy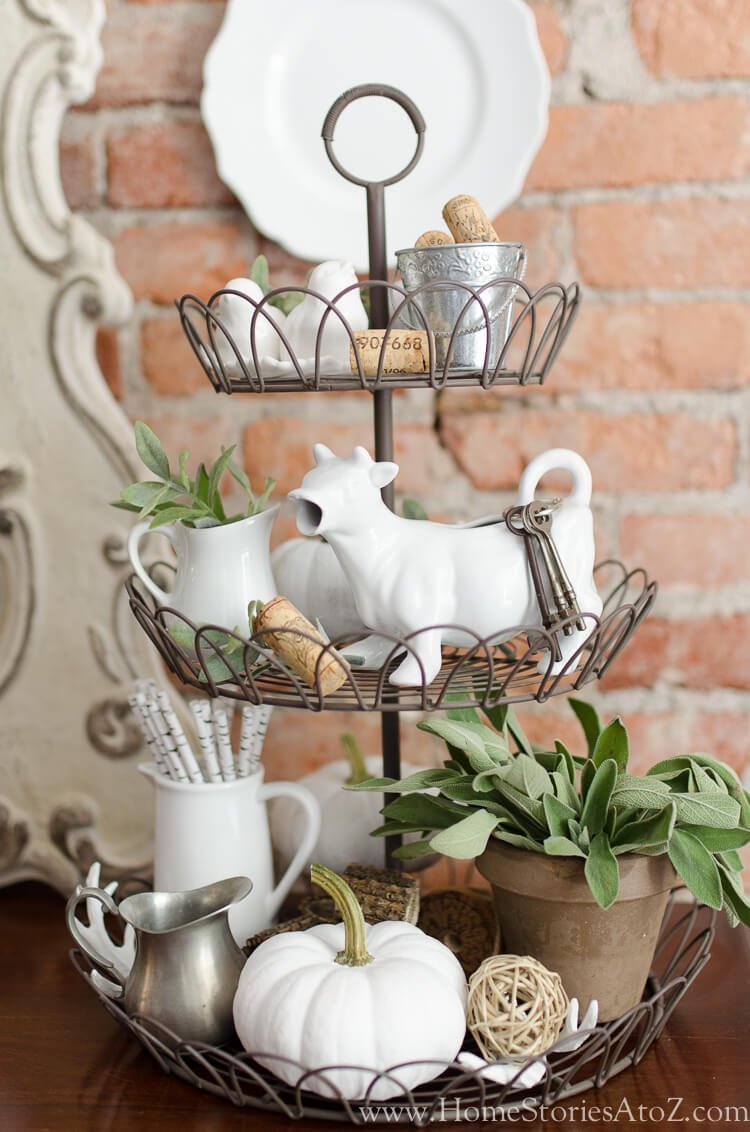 This whimsical tiered tower gives height to any surface – dining table, kitchen island, or entryway console table. Lively green plants and painted pumpkins pair well with tin and stainless steel. Rustic metal and smooth porcelain create a great juxtaposition with the red brick wall behind. The ring at the top also provides portability so it can be used wherever it's needed.
7. Farmhouse Furniture and Decor Ideas for Doors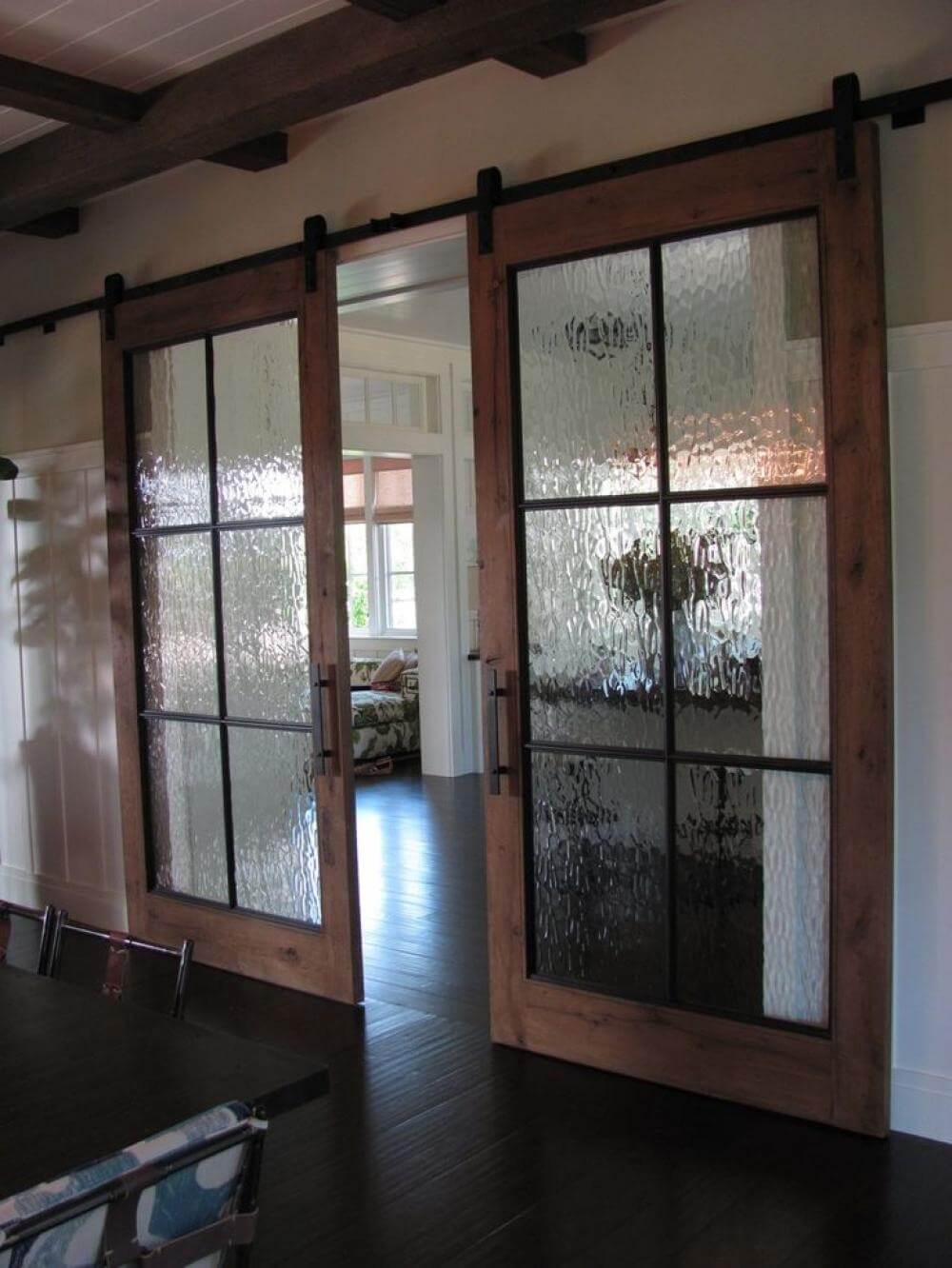 Sliding barn doors provide access and privacy both in areas where swinging doors would be bulky or unnecessary. They are also a big hit in industrial and farmhouse décor. These doors fit the bill for both with stained wood trim and iron accents. The dappled glass provides a little extra privacy while still letting natural light through to the room.
8. Repurposed Galvanized Steel Light Fixture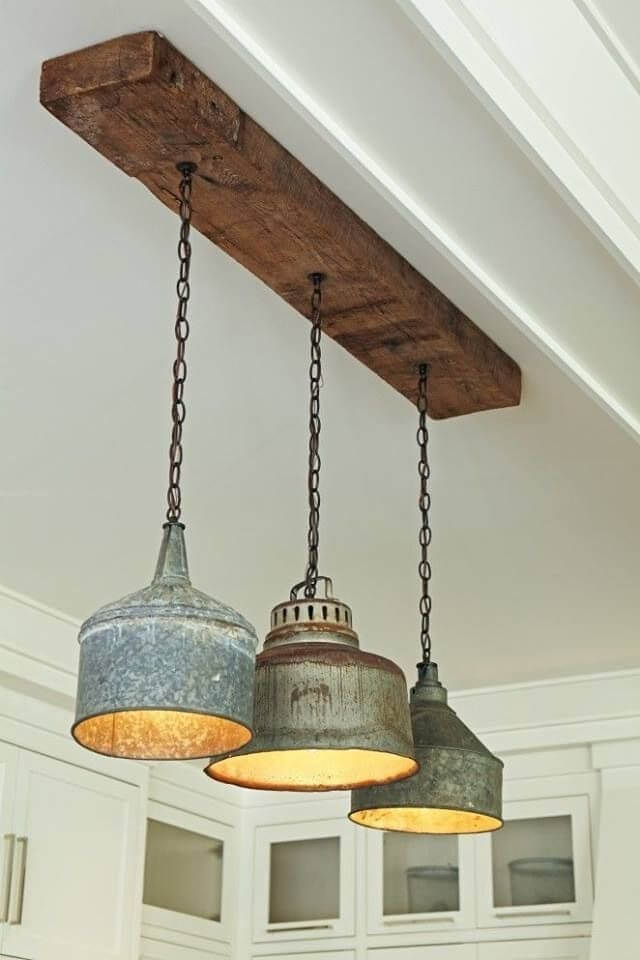 Mismatched galvanized steel pendant lights mounted on reclaimed wood make a great pair in this kitchen fixture. In an otherwise clean, white space, this fixture creates a bit of whimsy and nostalgia for when things weren't always perfectly matched. The chain could also easily be shortened or lowered depending upon where it's hung.
9. A Window, a Mirror and a Wreath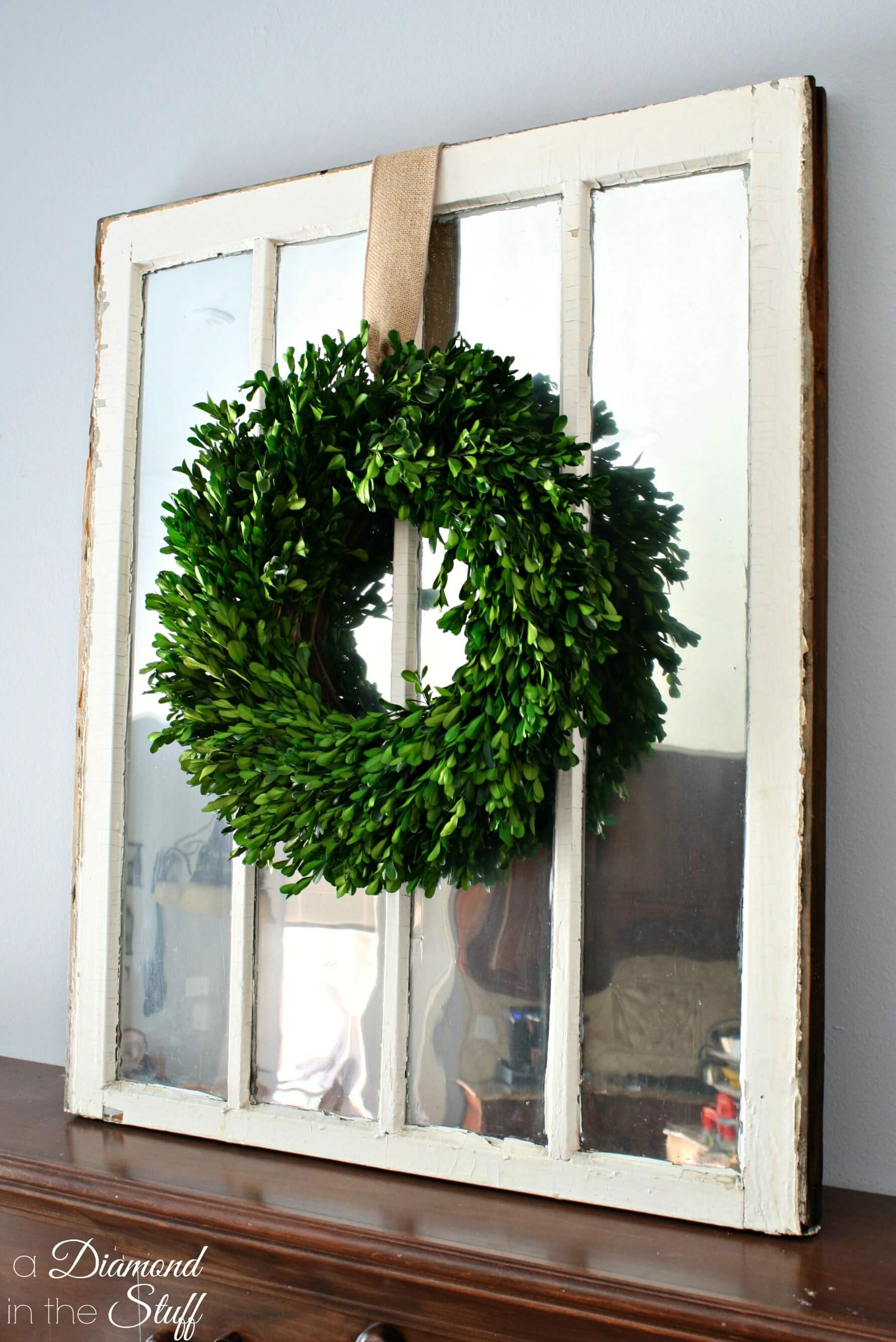 Using window panes for mantel and wall decorations is a staple in farmhouse décor. They can be used for room dividers and picture frames, but here, it's used to display a green leafy wreath. That mixed with the stark contrast between the distressed white frame and dark wood mantel creates a visually striking combination.
10. Sweet Sophistication with Hanging Lantern Votives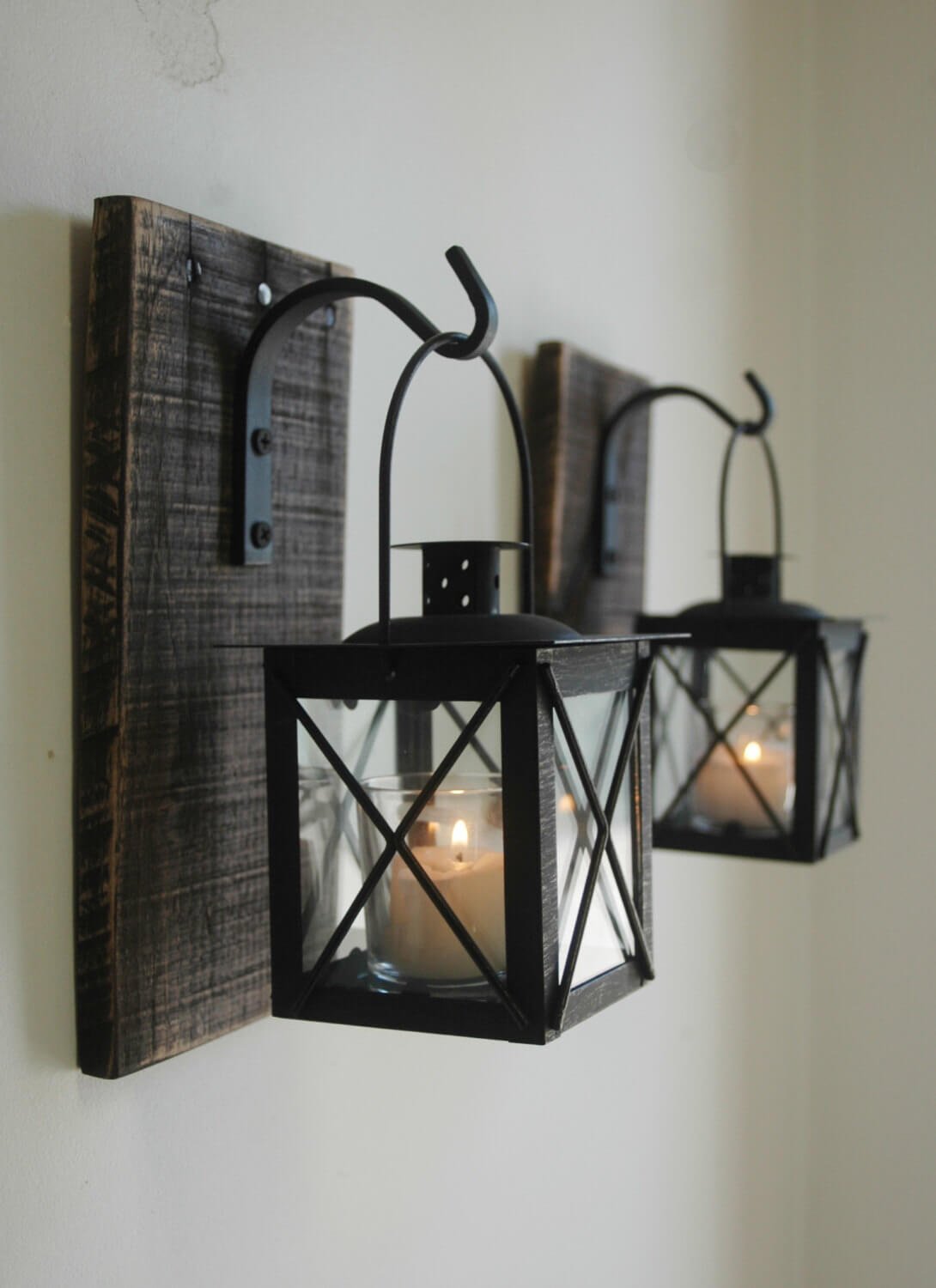 Looking for a fresh way to create light in dark spaces? Try these lantern votives that can be suspended from a ceiling or hung on sconces as they are here. Use LED candles for a child-friendly option, or light votive candles for a sweet, romantic glow in a dining room during a romantic dinner.
11. Twice the Impact with Matching Antique Windows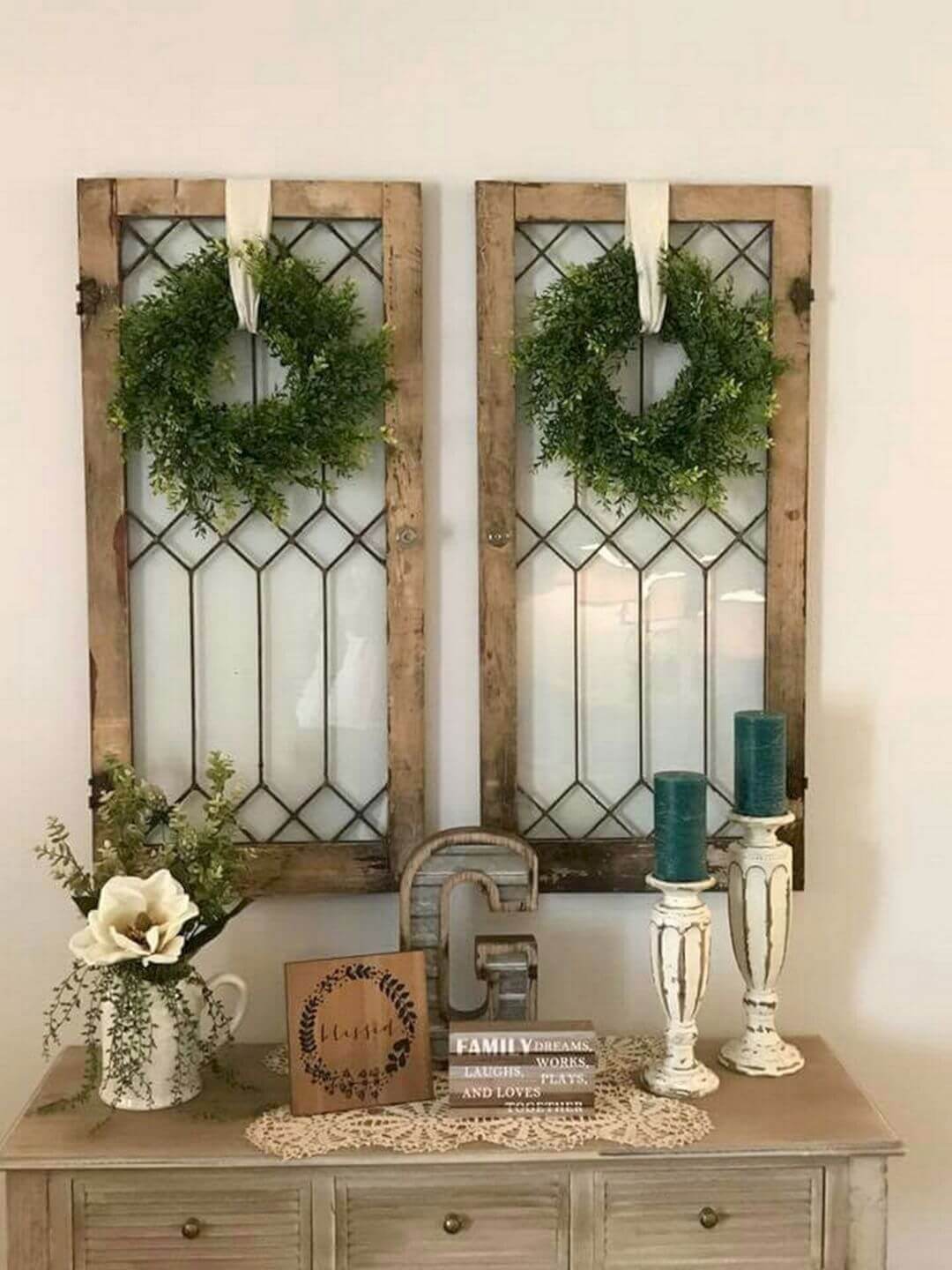 These antique windows lend themselves to a great entryway piece. They create a welcoming feeling from the live wreaths to the transparency of the glass. Throw in a few baluster candlesticks, inspirational plaques and a monogram or initial, and it's a perfect combination. Fresh flowers and lace doilies add a homey touch.
12. Mixed Stains and Simple Accents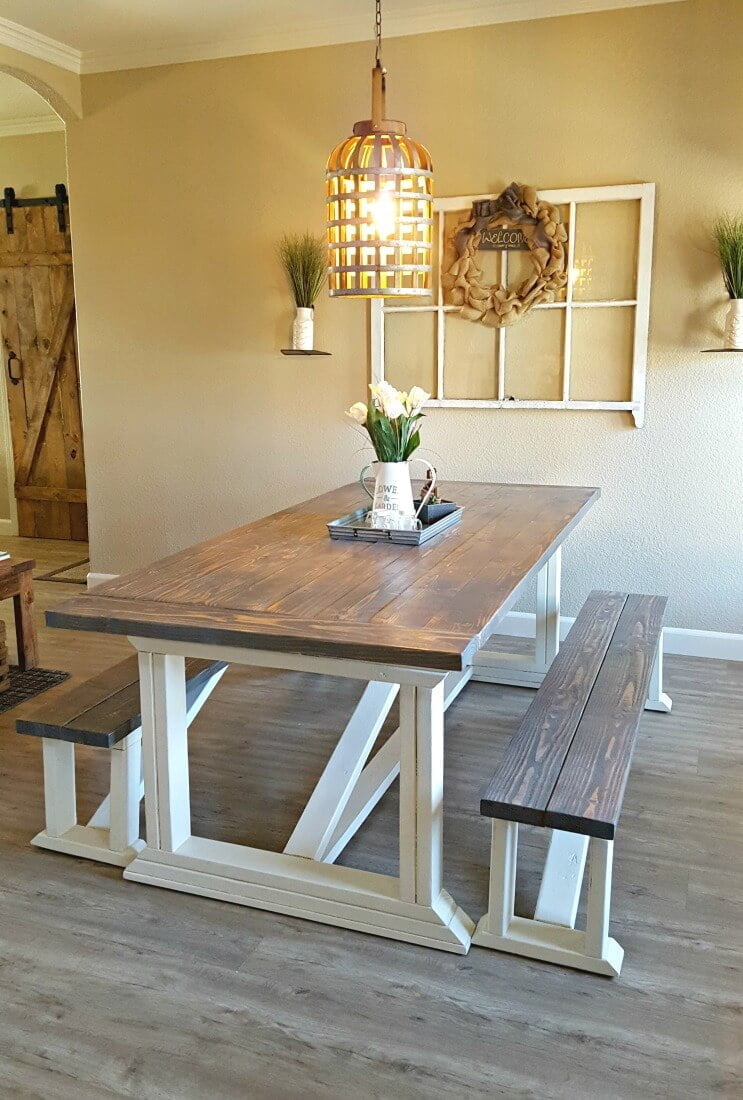 Imagine this two-tone farmhouse table loaded down with holiday favorites! Don't be afraid to mix stains; the dark wood on the table top and benches contrasts nicely with the grey finish on the floors. Another window on the wall with a wreath and a lantern pendant finish out this dining room perfectly.
13. Crate Expectations with Kitchen Primitives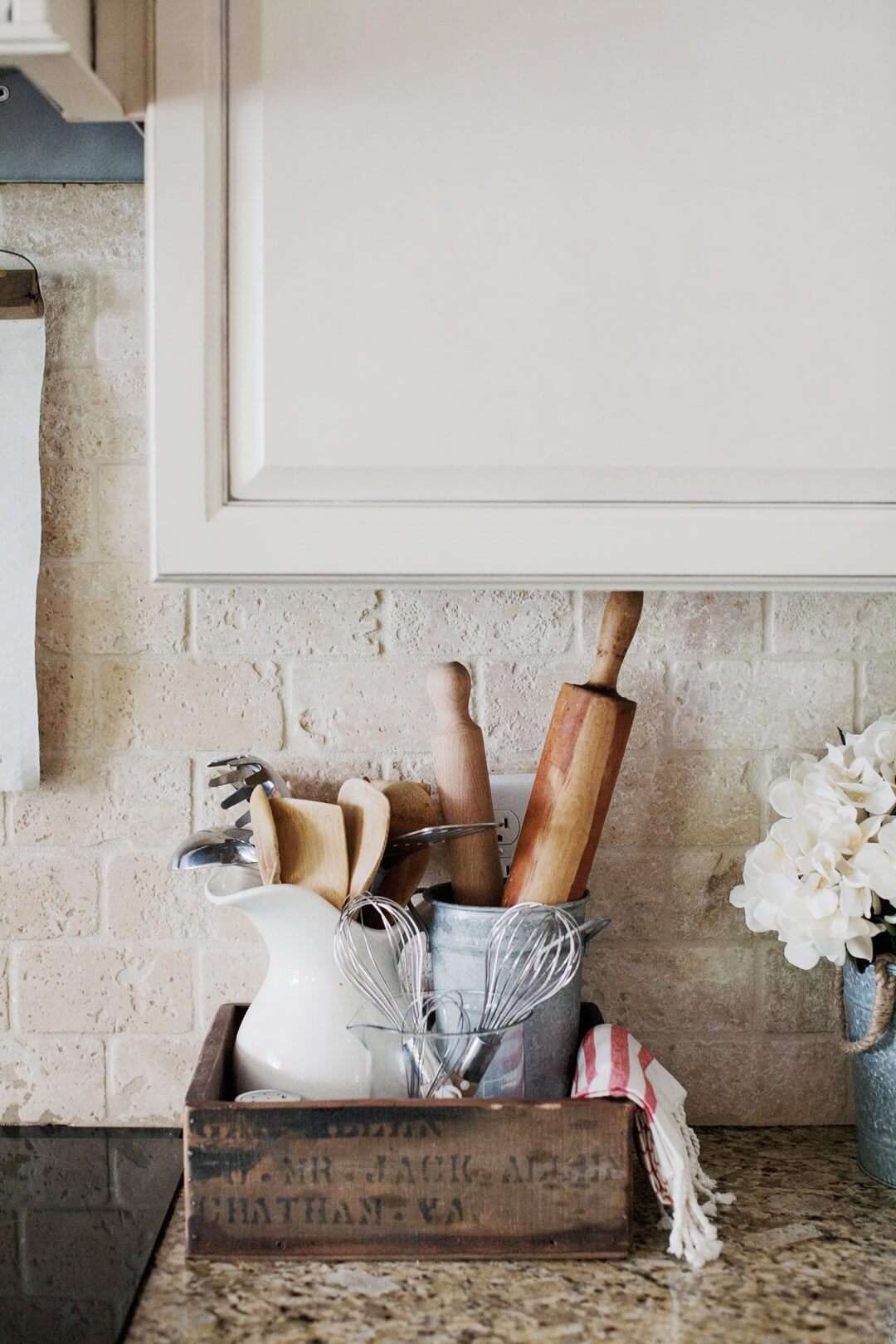 This utensil holder on the counter is reminiscent of a grandmother's counter. Whisks and rolling pins tell a story of days gone by, and the fresh flowers and modern countertop bring you back to the present. Distressed brick on the backsplash ties it all together with the similar paint color on the cabinets.
16. The Best Seat in the House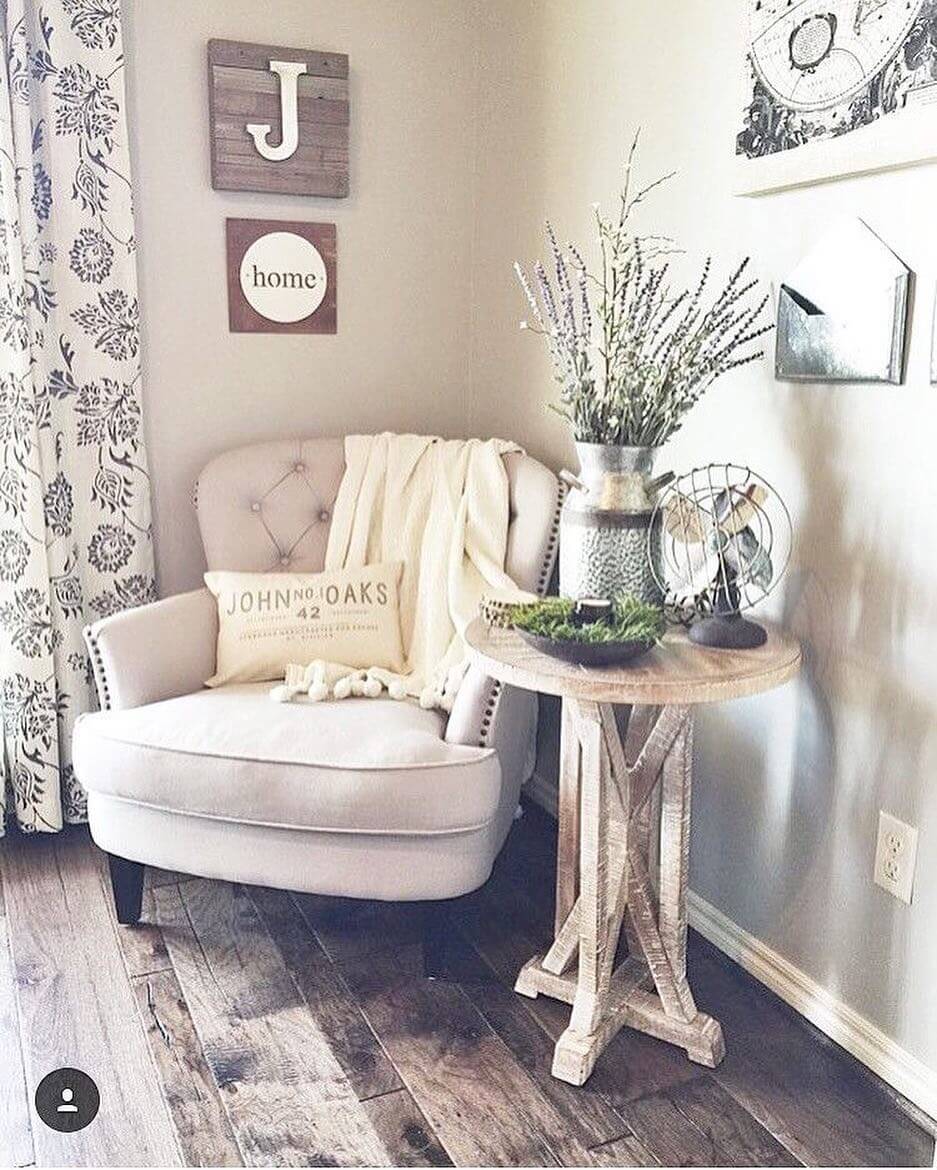 Curling up with a good book in this corner would be a perfect afternoon. A cozy chair, a soft pillow, and a warm throw are an unmatched recipe for comfort. A distressed table to hold a mug of coffee, and an outlet for a space heater or fan adds to this relaxing spot. The natural light coming through the window can be adjusted with the printed duck cloth curtains.
17. Family – Every Step of the Way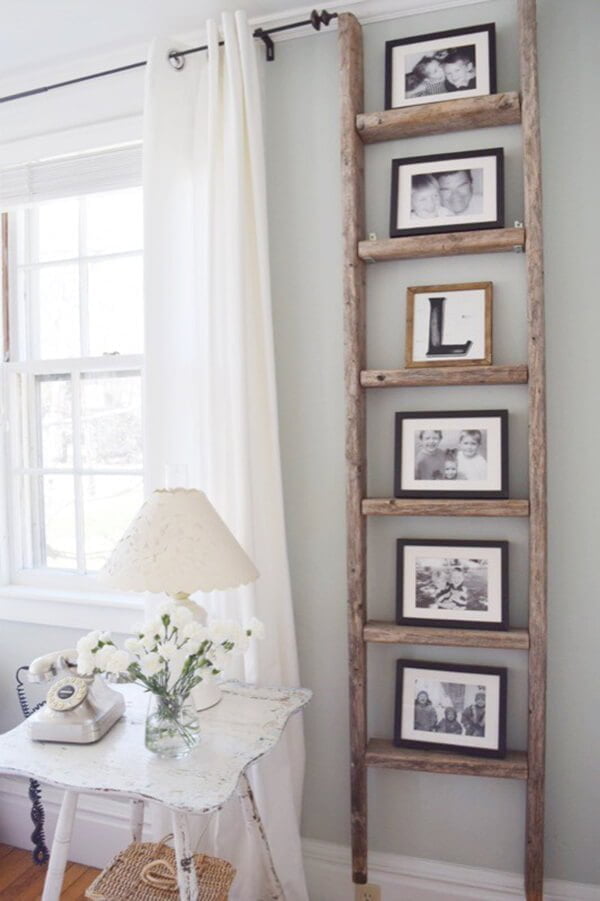 Displaying family photos in a unique way is right at the heart of what a farmhouse should feel like. This antique ladder with a photo on each rung is perfect for a living room wall. Add a distressed accent table with fresh flowers and a unique phone, add a basket for a bit of storage, and you have the perfect corner of a room to show off all those amazing photos.
18. Dramatic Rustic Floor-to-Ceiling Mantel Design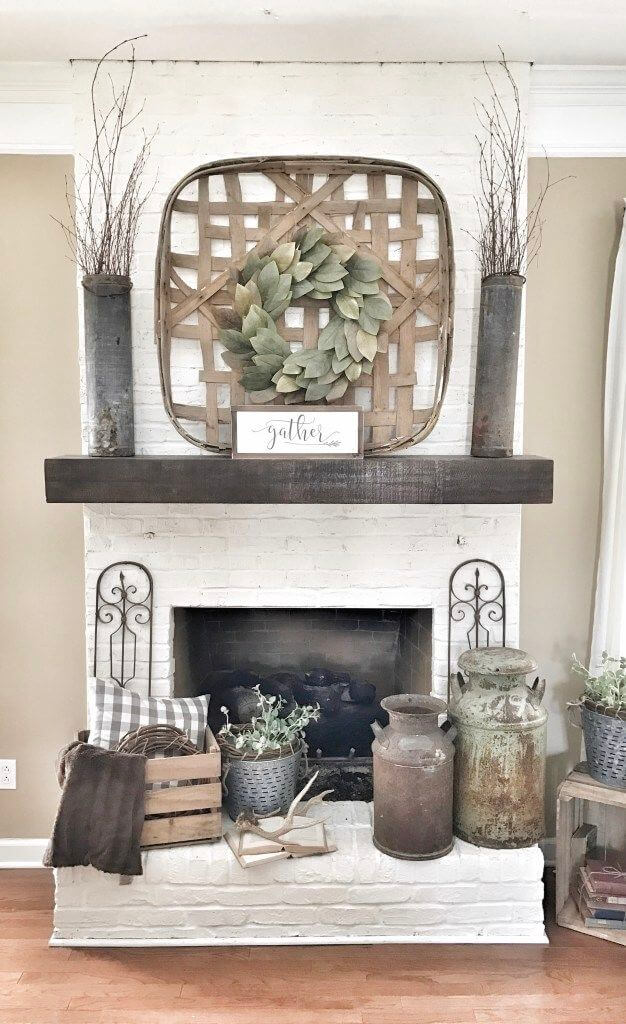 Wood-burning fireplaces with rustic mantels just shout rustic chic. There's symmetry here with the iron scrolls on either side of the hearth and the vases up top, but it's broken up for a more casual feel with the milk jugs and storage crate. The antlers and magnolia leaves in the wreath give a nice winter-time touch.
19. Stenciled Barnyard Mason Jar Art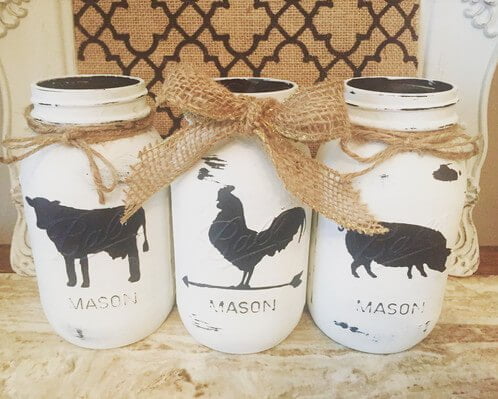 Mason jars are great for making instant vanilla pudding or butter from scratch. They're also great storage for dry ingredients, but here they're used for decorative purposes. They serve as art just as well as they serve as storage. Cow, chicken, and pig stencils add a country flair.
20. Found Windmill Makes Major Statement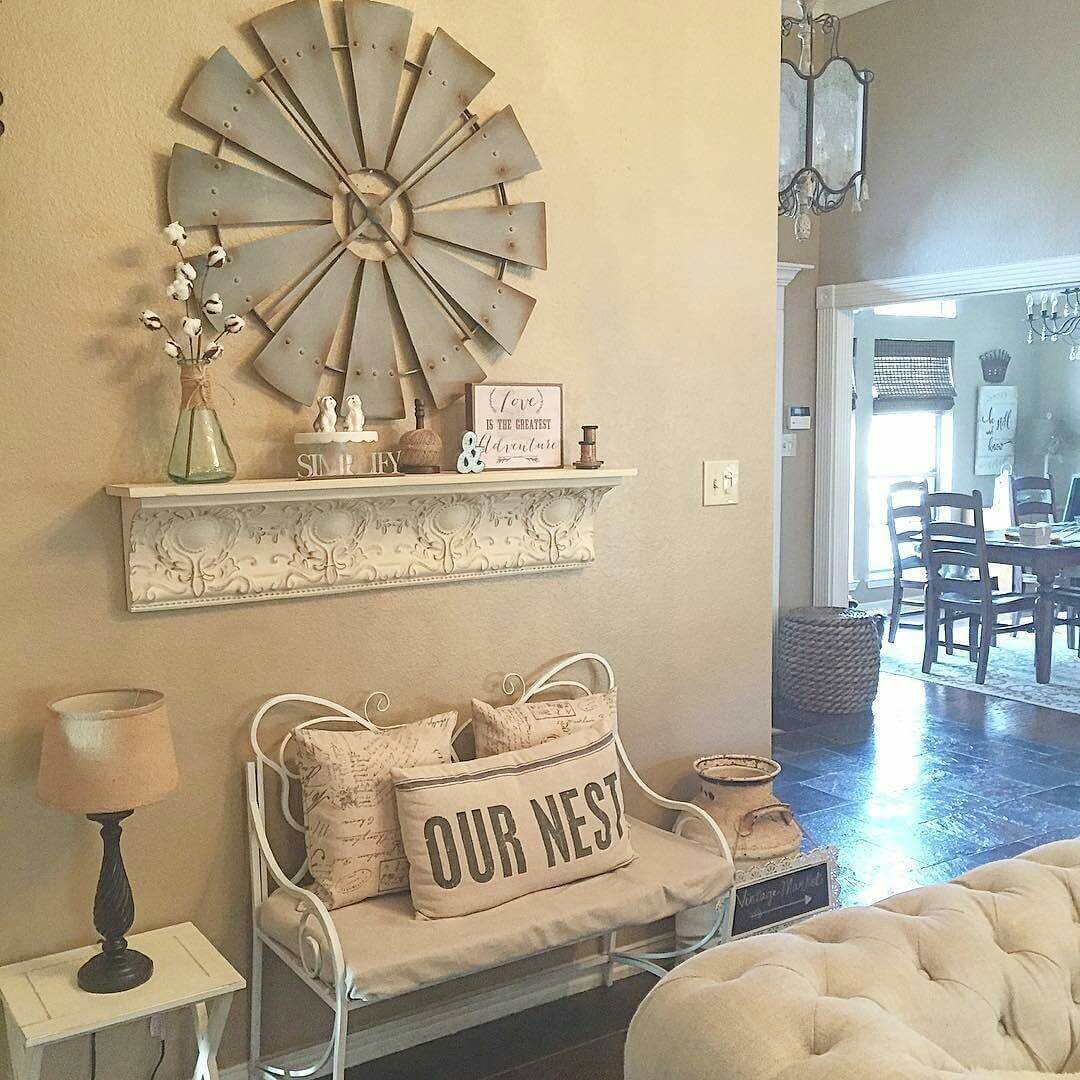 When you have a large piece like this windmill, it can make a very bold statement. This piece is balanced well with softer elements like the throw pillows and cotton stalks. This is a perfect place to sit and tie shoes for little kids or provide extra seating when the guest list exceeds the living room! A lamp and milk jug frame out this space perfectly.
21. A Fresh Alternative to Flower Arrangements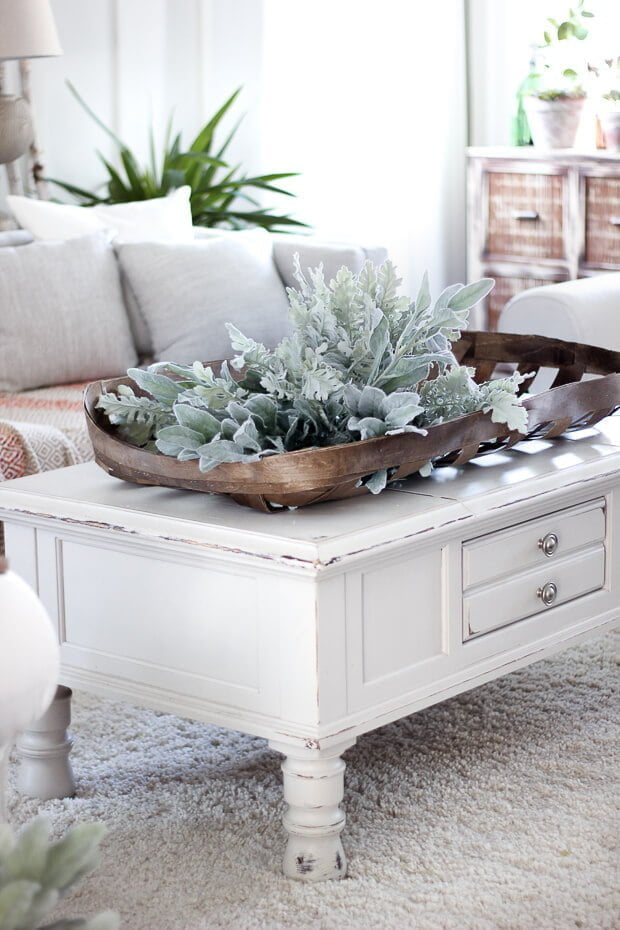 The tobacco basket on this distressed coffee table makes a perfect place to bring in fresh and living elements. The stark white rug and table are a great foil to the bright green wintery plants lying on top. The rug is plush and gives you a feeling of luxury, and the deep couch and chairs let you settle in for a relaxing afternoon with a book or with friends.
22. Farmhouse Kitchen Sink, Schoolhouse Lighting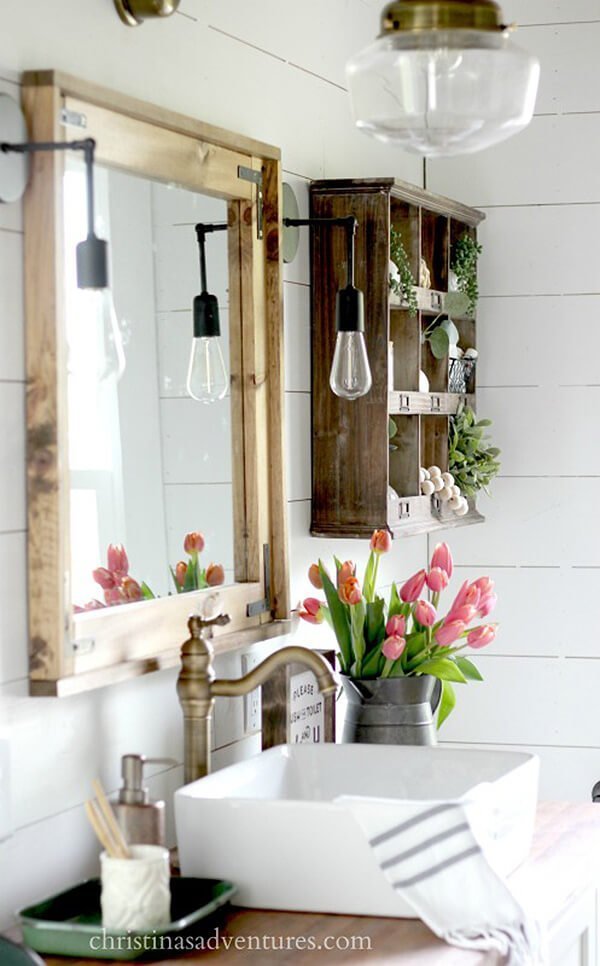 This white farmhouse sink is a seamless pairing with the old-fashioned water pump faucet. The watering can doubles as a vase and adds to the rustic charm. The storage cubby on the wall and the ceiling light fixture gives you a schoolhouse feel, while the sconces on the wall frame the mirror to give an industrial twist to the room.
23. Another Way to Upcycle a Bedrail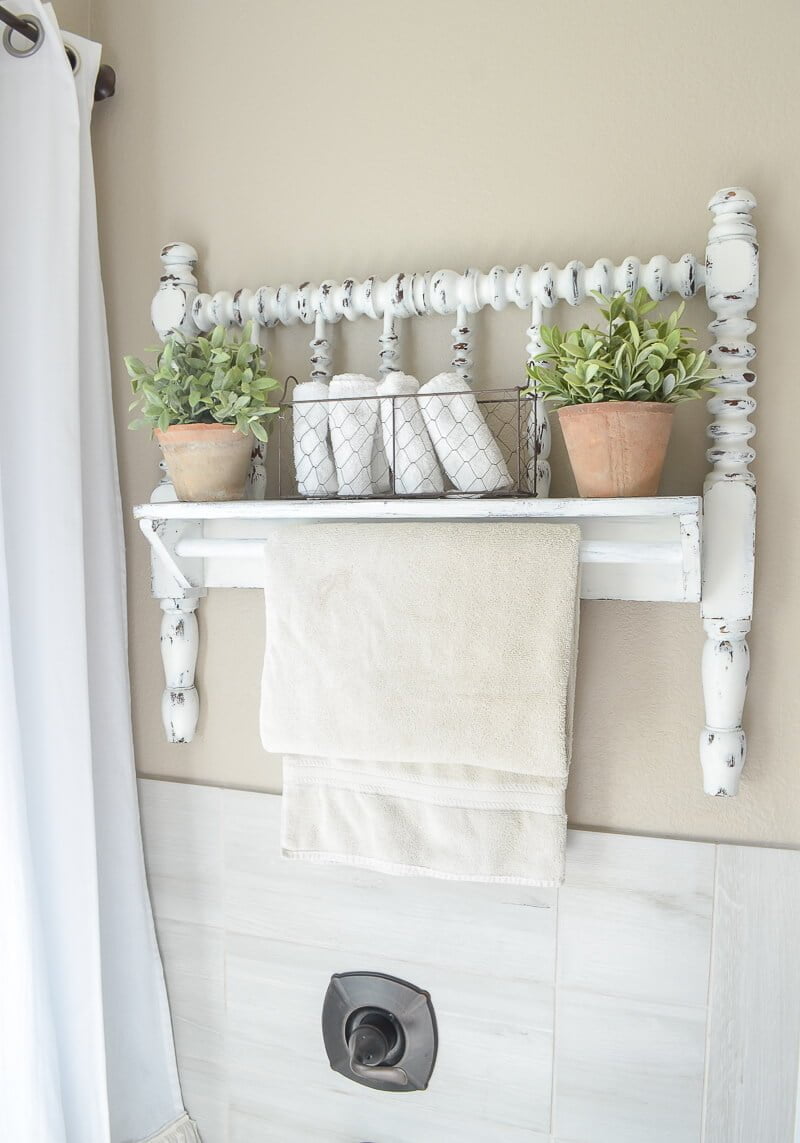 Don't have any linen closet space? Need a fresh, new way to display and store towels and washcloths? Thrift stores are full of wooden bed frames of all sizes; just paint and distress the footboard, (it's shorter and will take up less wall space) and add a small shelf and rod. Find some pretty greenery to freshen up the piece: instant linen shelf. And, it's pretty!
24. Give Thanks for Country Living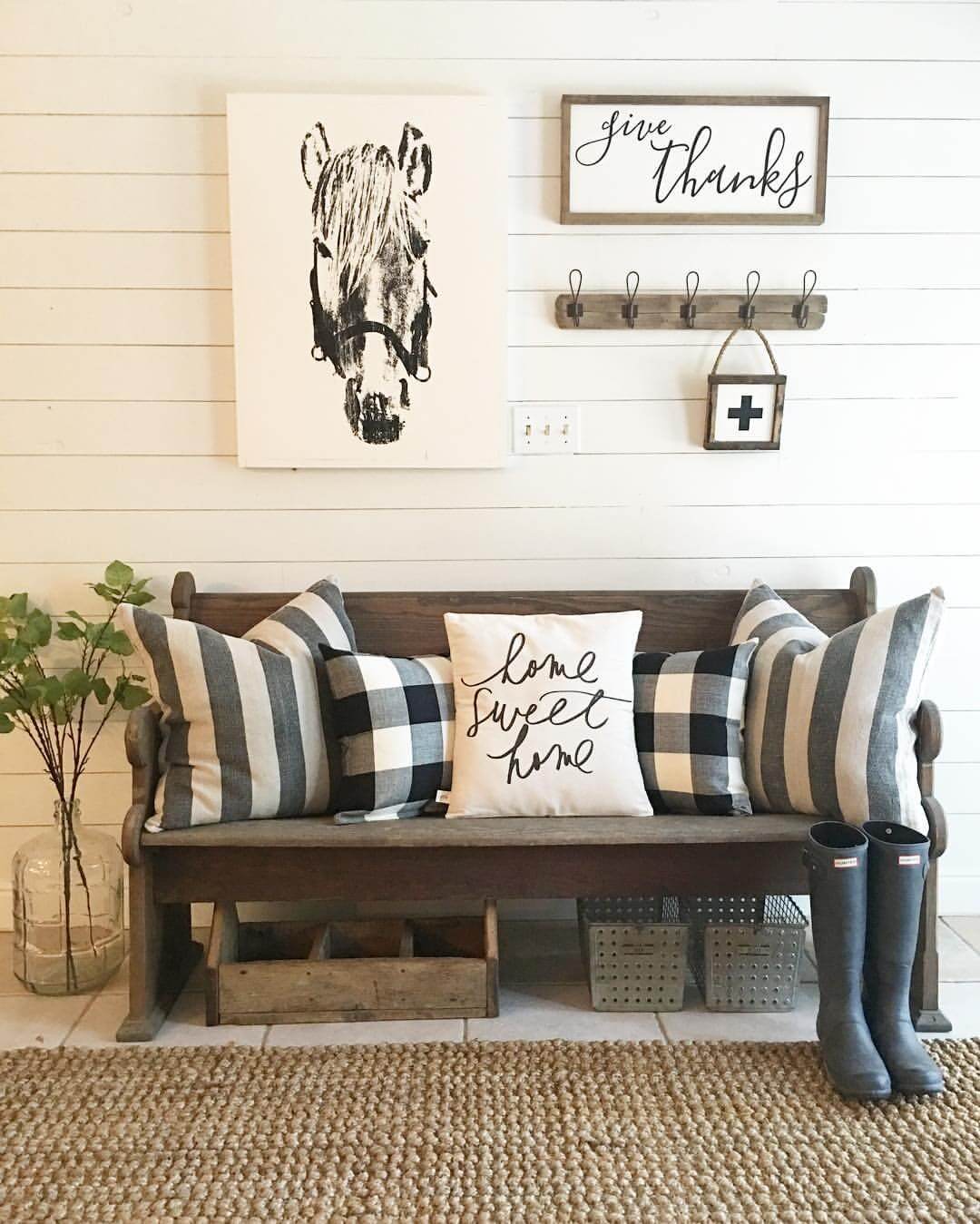 How amazing is shiplap? It gives both rustic charm and clean lines, and it pairs so nicely with all types of wall art and furniture. Canvases here mixed with wooden and metal hooks go nicely with the antique bench and glass milk jug. Soften the space with some monochromatic throw pillows, and add storage underneath for a perfect mudroom space.
25. A Magnolia Leaf Wreath Is a Must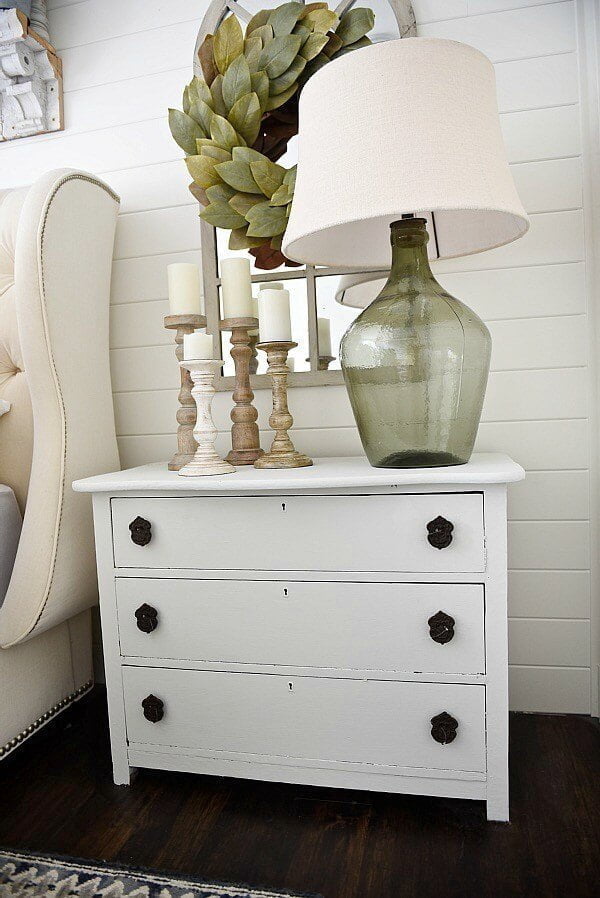 Magnolia leaf wreaths are a farmhouse necessity to bring southern charm into any environment. A green glass lamp pulls the color from the wreath, and the short, distressed dresser gives great storage beside a luxurious white wingback headboard. The corbels above the bed with a shelf add storage and pair well with the mismatched candlesticks.
26. How to Work TVs into Farmhouse Décor

Most living rooms have televisions, but working one into a room without it being obtrusive can be difficult. This television is flanked by charming glass jars doubling as vases, and it sits on a white credenza with wooden doors that mimic barn sliders. It is a great way to display a television without it being the center of the room.
27. Barn Door Pantry with Vintage Accessories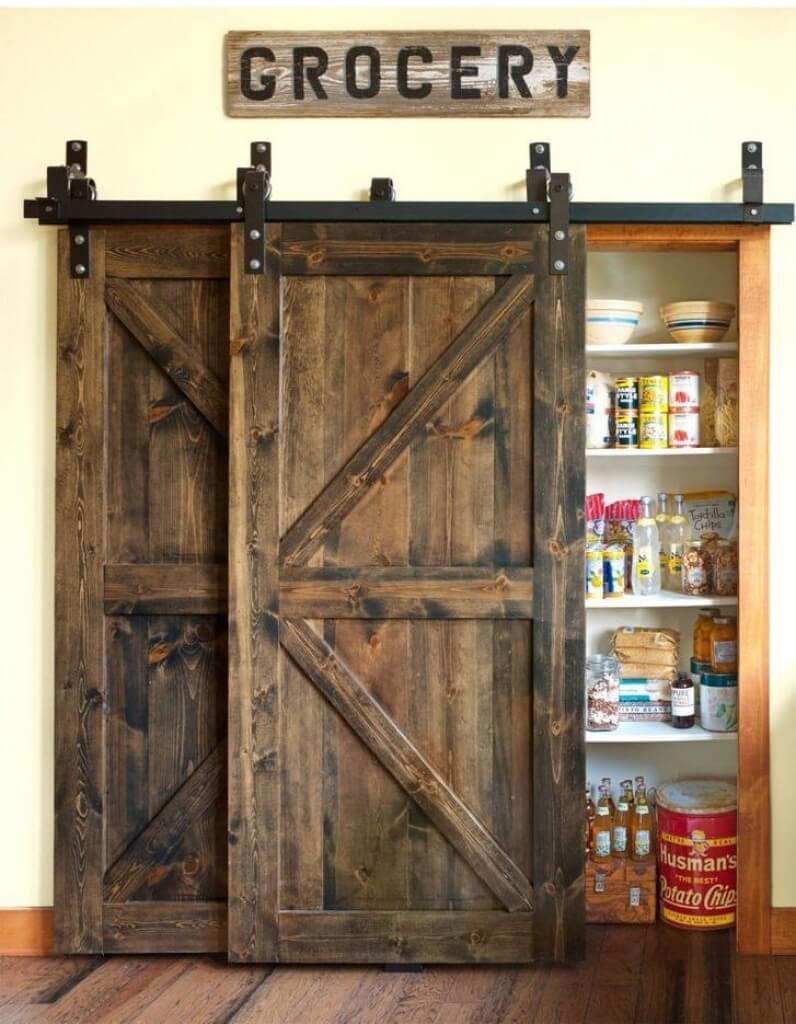 Most floor plans don't have a pantry like this one. This space could easily be built between the studs. Shelving board and containers provide storage at whatever heights you need, and using an antique sliding barn door gives the impression that the pantry was always there. Add a rustic sign above the opening to finish the look.
28. A Ladder for All Your Linens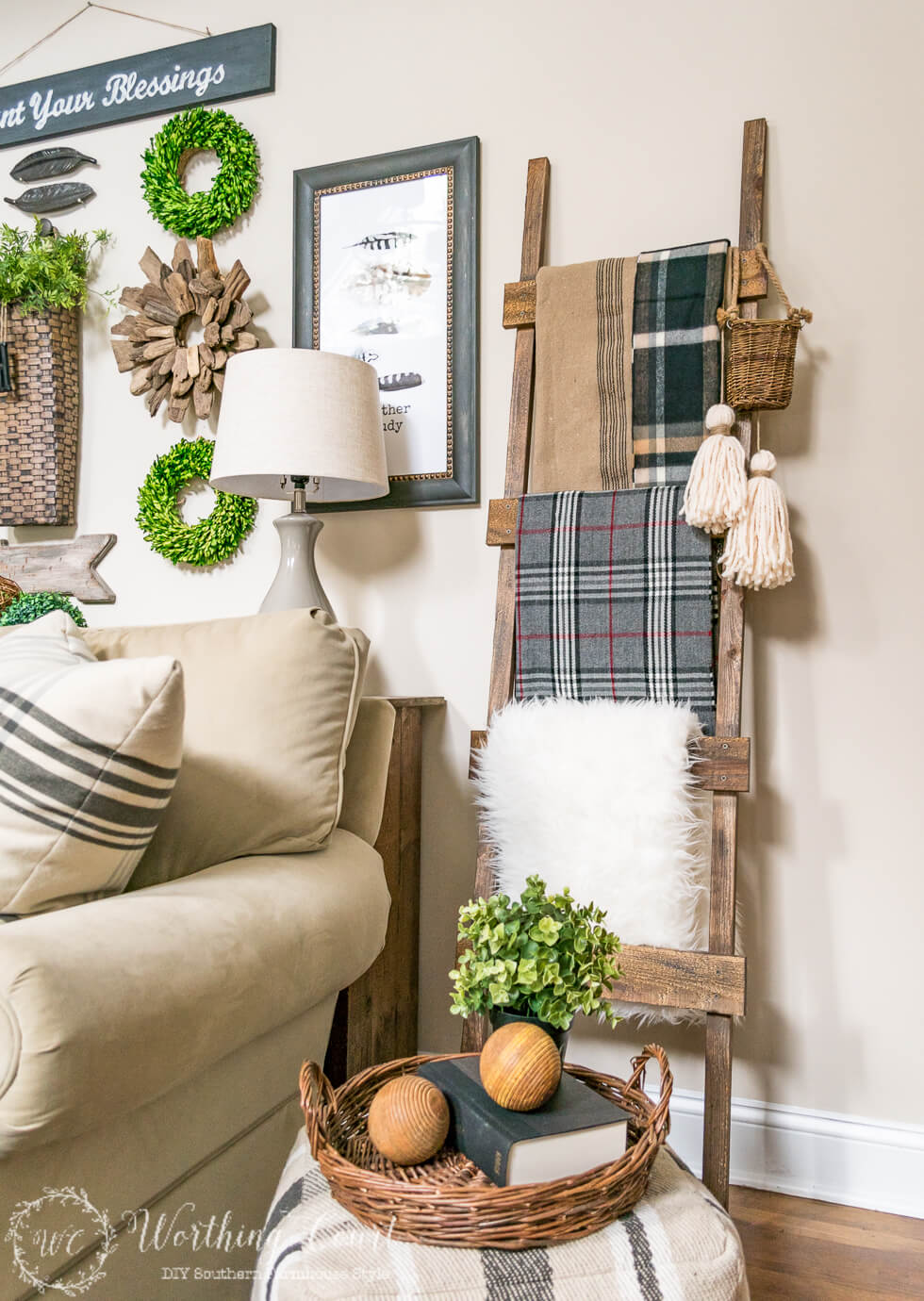 A ladder isn't just for displaying pictures. They can be useful for storing blankets in a cute way. Lean an antique version against a wall with other wooden and green accents, drape throws across each rung, and use coordinating fabrics on the furniture to tie everything together.
29. A Six Pack of Spring Flowers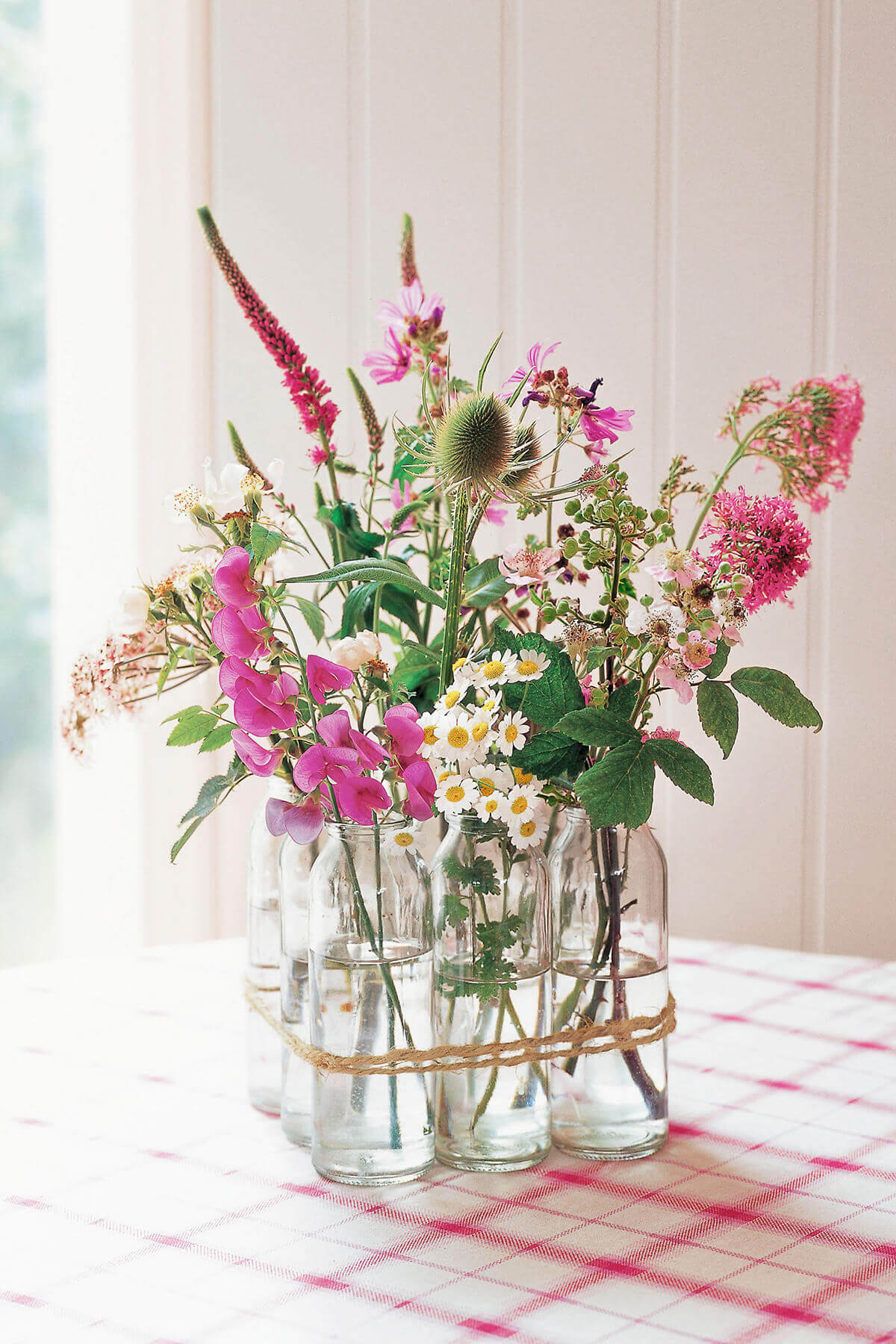 Vases can be so boring. Using things that normally don't serve that purpose can give life to an otherwise boring tablescape. Tie six slim glass bottles together in a pyramid pattern with jute twine and fill them with water. Drop in slim stems of flowers of varying colors and mix with green pieces. Instant centerpiece.
30. Cheese Box Book Holder Idea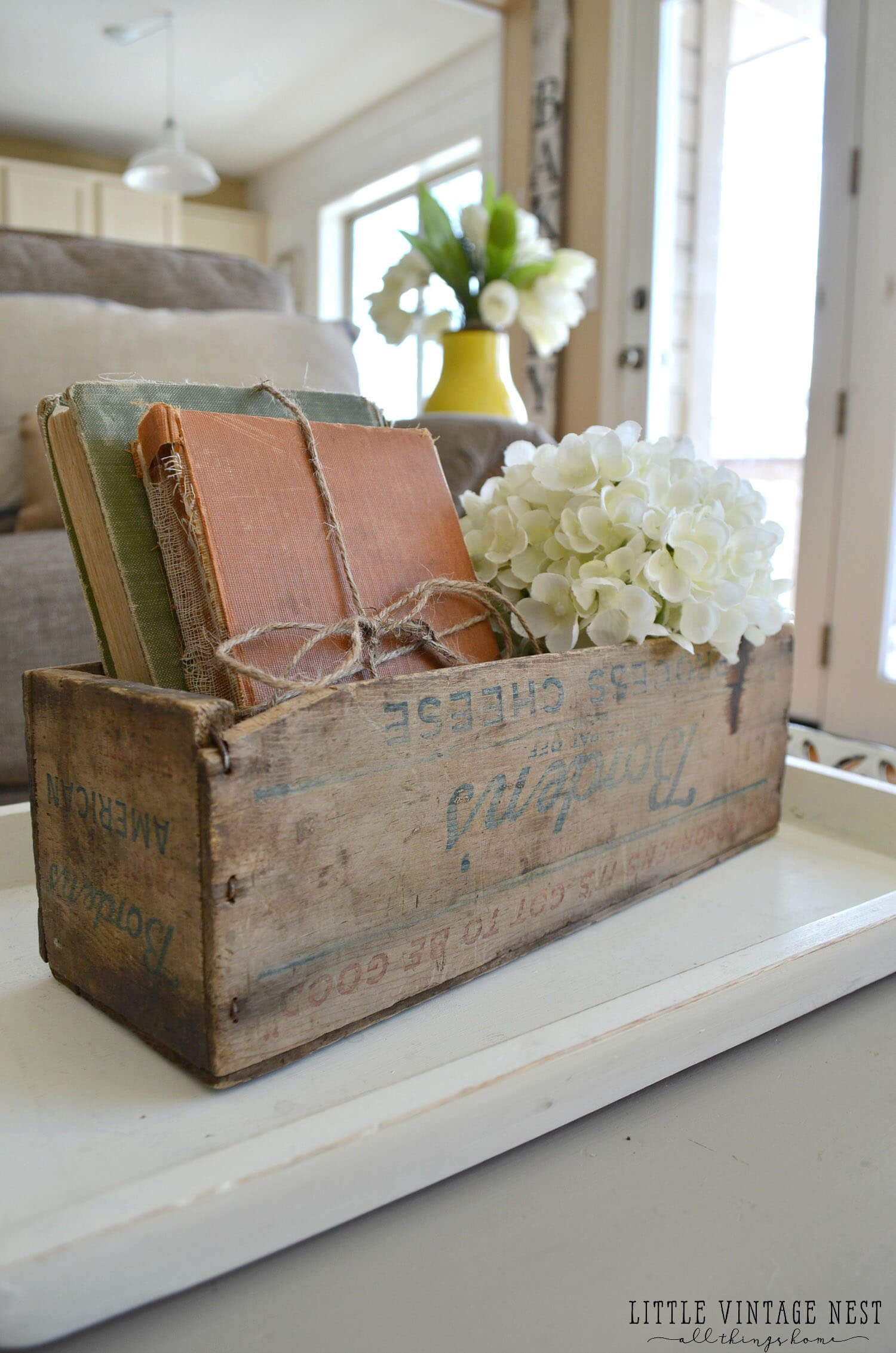 Antique wooden crates make the best storage containers. This cheese box holds old books tied together with twine. When you add a small handful of fresh flowers, it gives the piece a homey look. It's a great centerpiece for a coffee table like it's displayed here, but it could work for an end table or console table in an entryway.
31. Upcycled Architectural Salvage Stairway Wall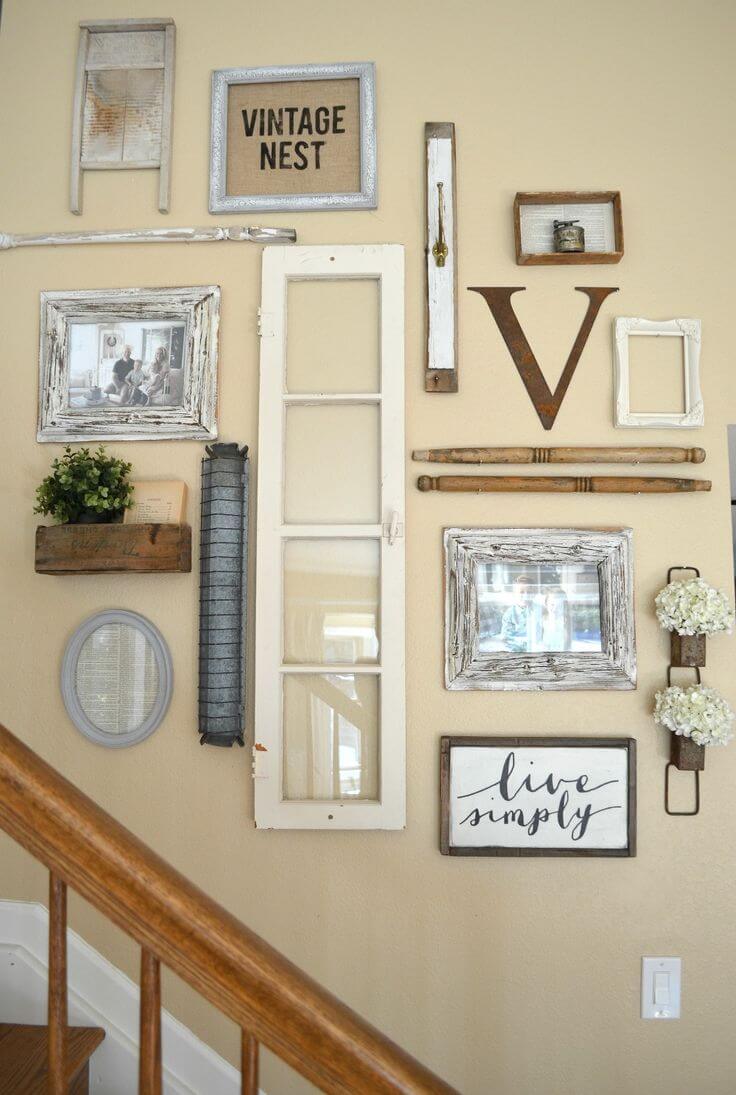 Stairwell walls are usually massive blank spaces. Break that huge wall up by adding vintage items. The washboard and frames without glass work well with the shadowboxes and windowpane. Mixing shapes and colors break up the monotony of a large space. Signs with inspirational messages give a pick-me-up going up or down the stairs.
32. Ultimate Shabby Chic with Ladder and Chandeliers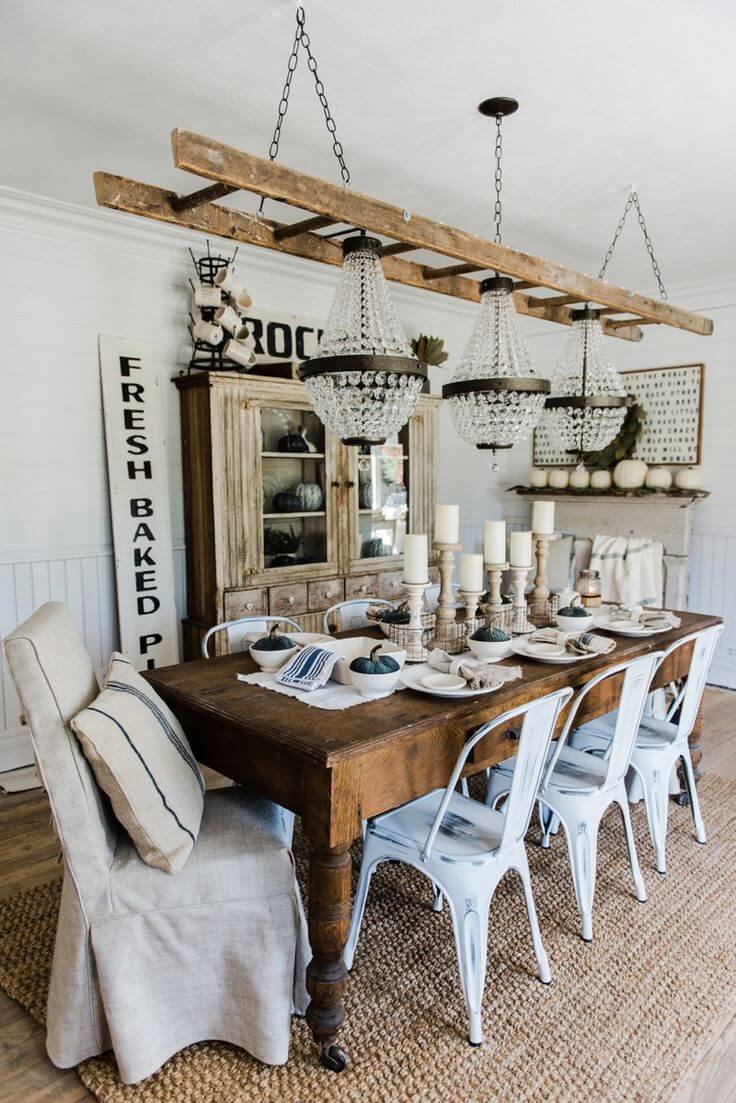 Here is another example of utilizing a ladder for decorative purposes. This one is repurposed as a light fixture. The wood matches the farmhouse table while the glass elevates the look without being too stuffy. Using a tall metal sign on the wall mirrors the length of the ladder on the wall for a well-thought-out look.
33. Farmhouse Furniture and Decor Ideas for Dinettes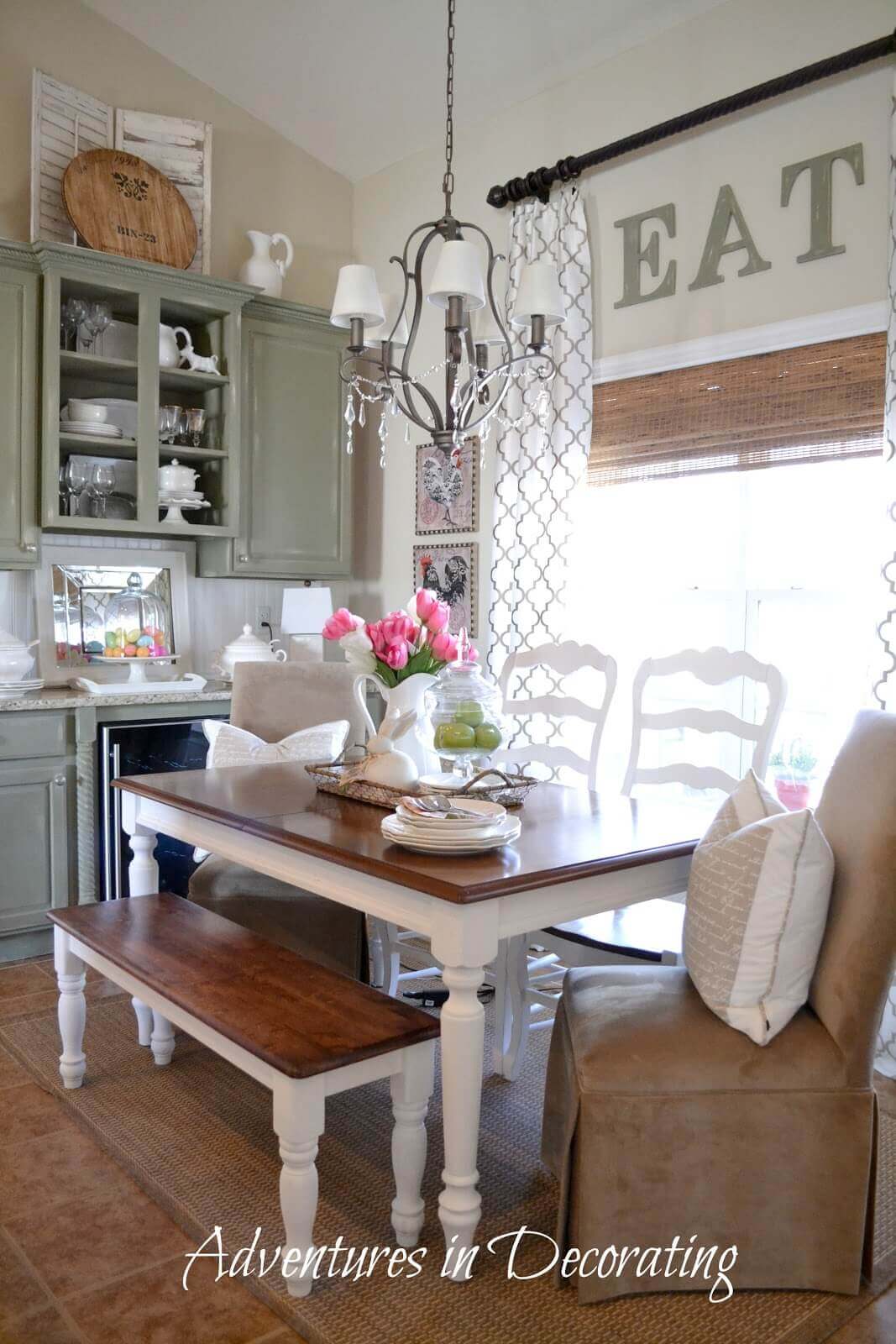 When eating areas are small, maximizing space is a must. A farmhouse table with a bench that can slide underneath gives extra seating but can hide when it's not needed. Use an ornate light fixture to make the space seem bigger without taking up any floor or wall space. Lay a rug to delineate the space, and it will pull the look together.
34. Ideal Space for Reading Romances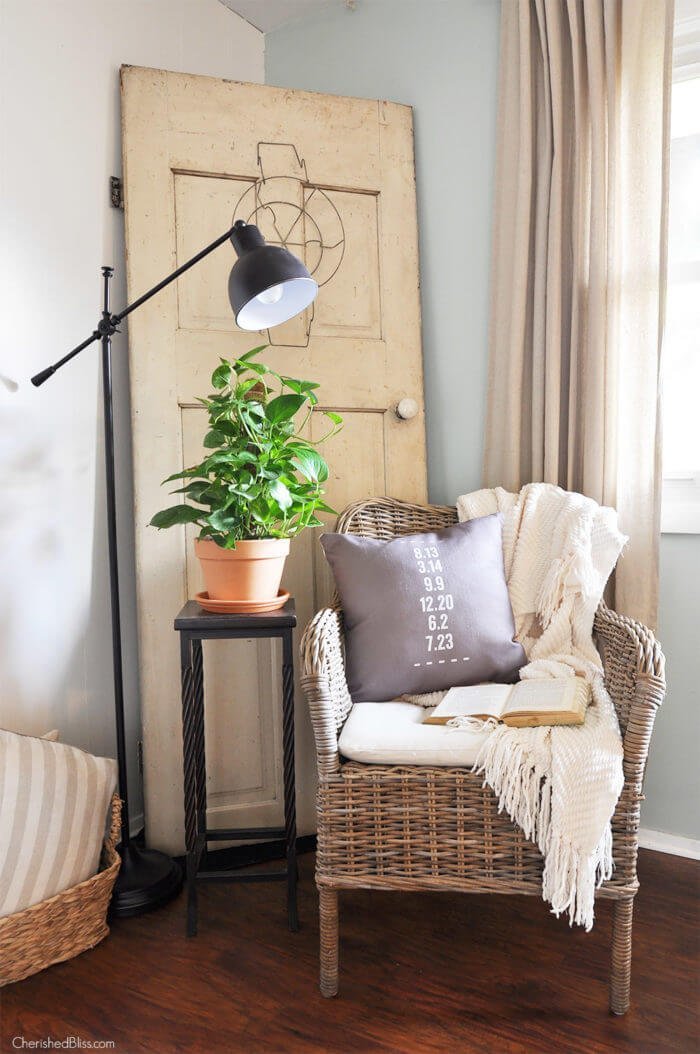 Man, oh man, is this a gorgeous reading nook?! It has all the right pieces: a comfy chair, a pillow and blanket, natural light for daytime reading and a lamp for evenings. There's even a plant for bringing life into the space. Floor to ceiling window panels create height, and the door propped against the wall brings the farmhouse charm.
35. How to Fashionably Feather Your Nest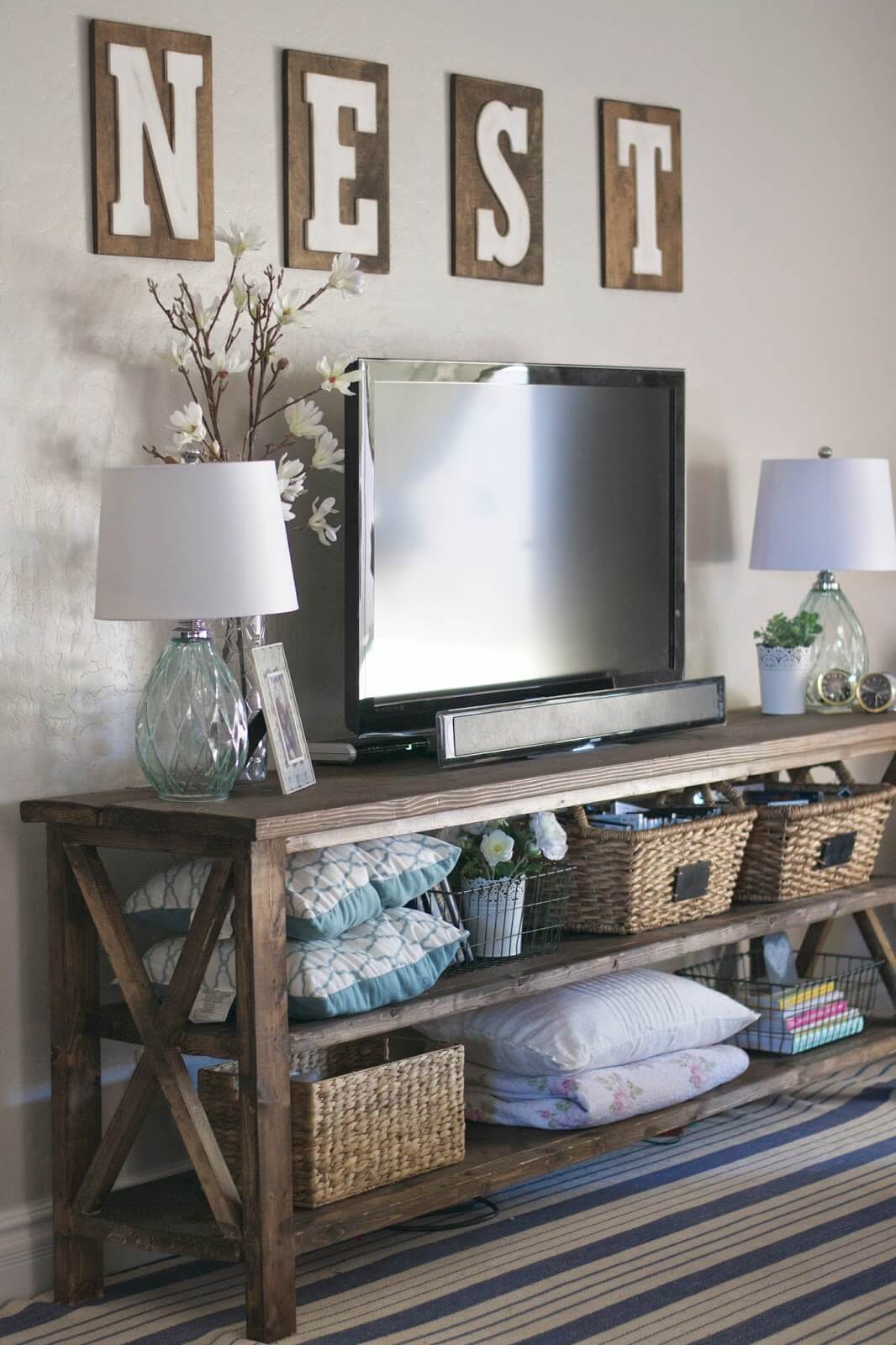 This is another great example of how to display a television without making it a focal point. A rustic, chunky table with open shelving provides storage that is both useful and pretty. Glass lamps sit at either end to provide light in the evenings, and rustic letters above the television draw the eye up when the television isn't in use.
36. Dining Room Barnwood Wall Backdrop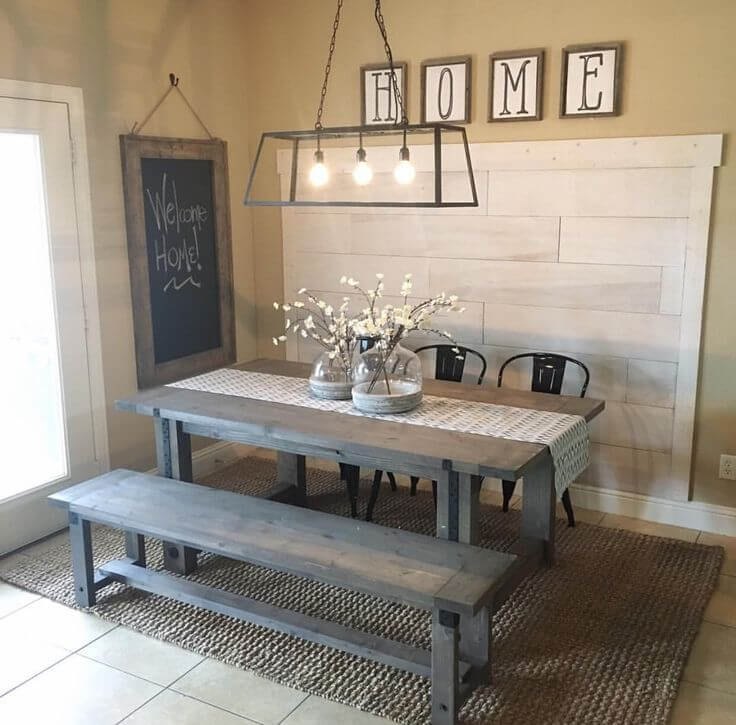 This farmhouse table is stained a gorgeous grey color. The chalkboard sign on the wall can serve as a message board or a menu for a dinner party. The light fixture and the metal chairs pair well to pull a little industrial into the rustic look in the framed-out wood panels on the wall behind the table.
37. If This Table Could Talk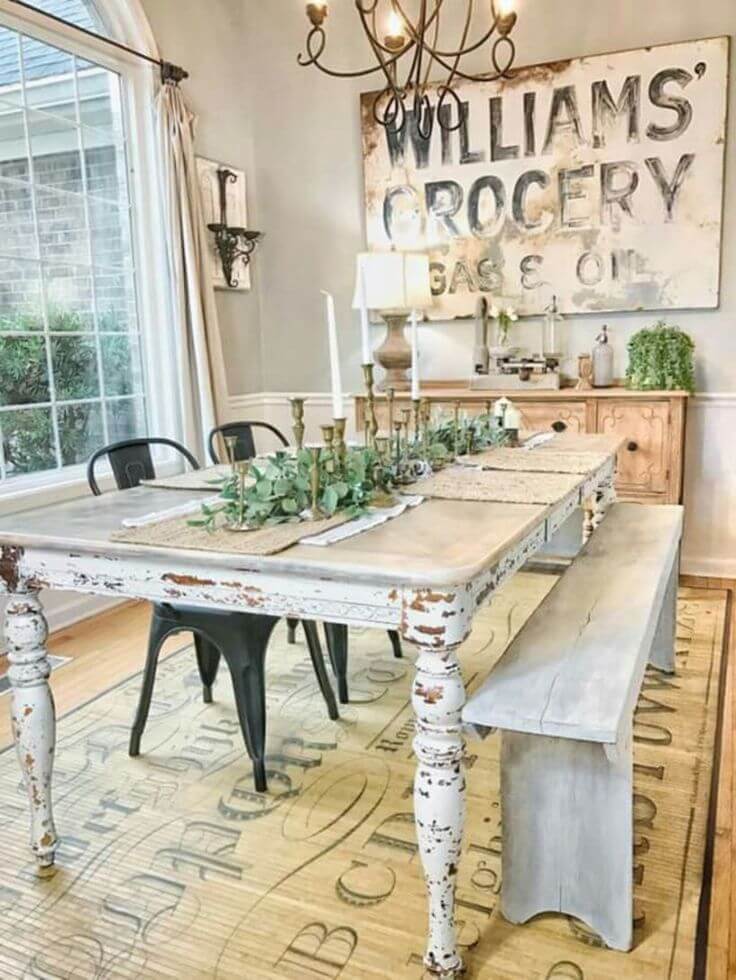 This table must be the most distressed and most beautiful example of farmhouse rustic. It's got to have the best stories. The rustic nature mixes perfectly with the large hand-painted sign on the wall. The faded sign and the distressed table make a great pair. A long bench and metal chairs are a perfect companion for the sideboard.
38. Distressed Headboard Bench Hallway Seating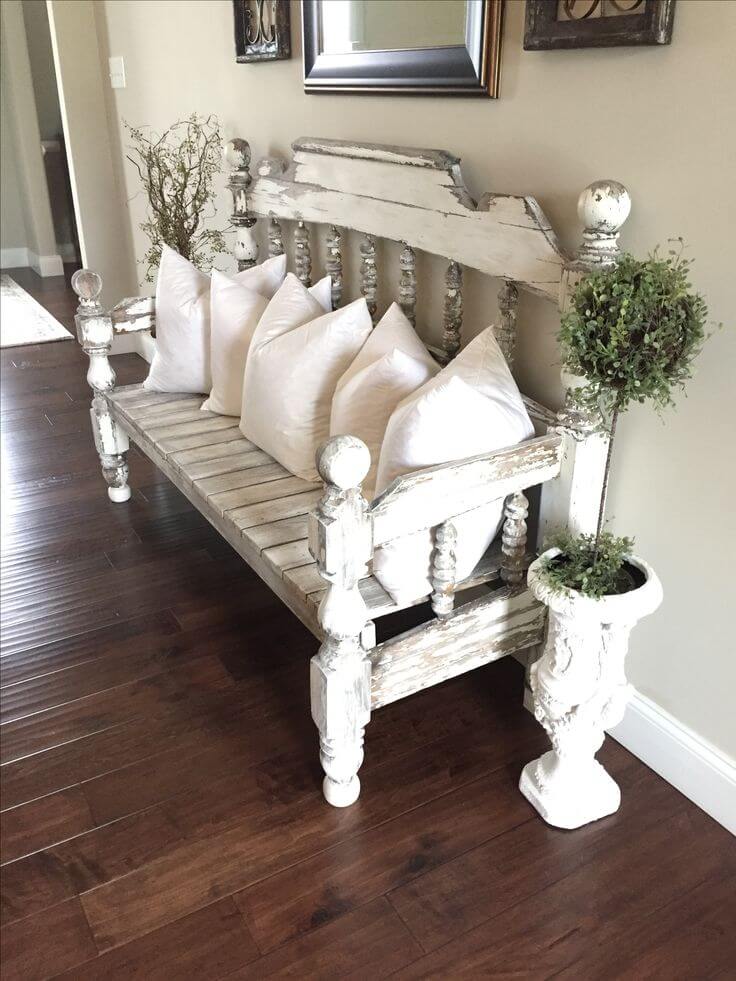 Wide-plank floors and a neutral wall are the best backdrop for a distressed, chunky bench in an entryway. Repurposing old items that seemingly have no further use is a staple in farmhouse décor. This bench was made from a headboard and footboard with slats added to make the seat. Topiaries and other greenery add a nice touch.
39. Arranging Flowers in Stoneware Crocks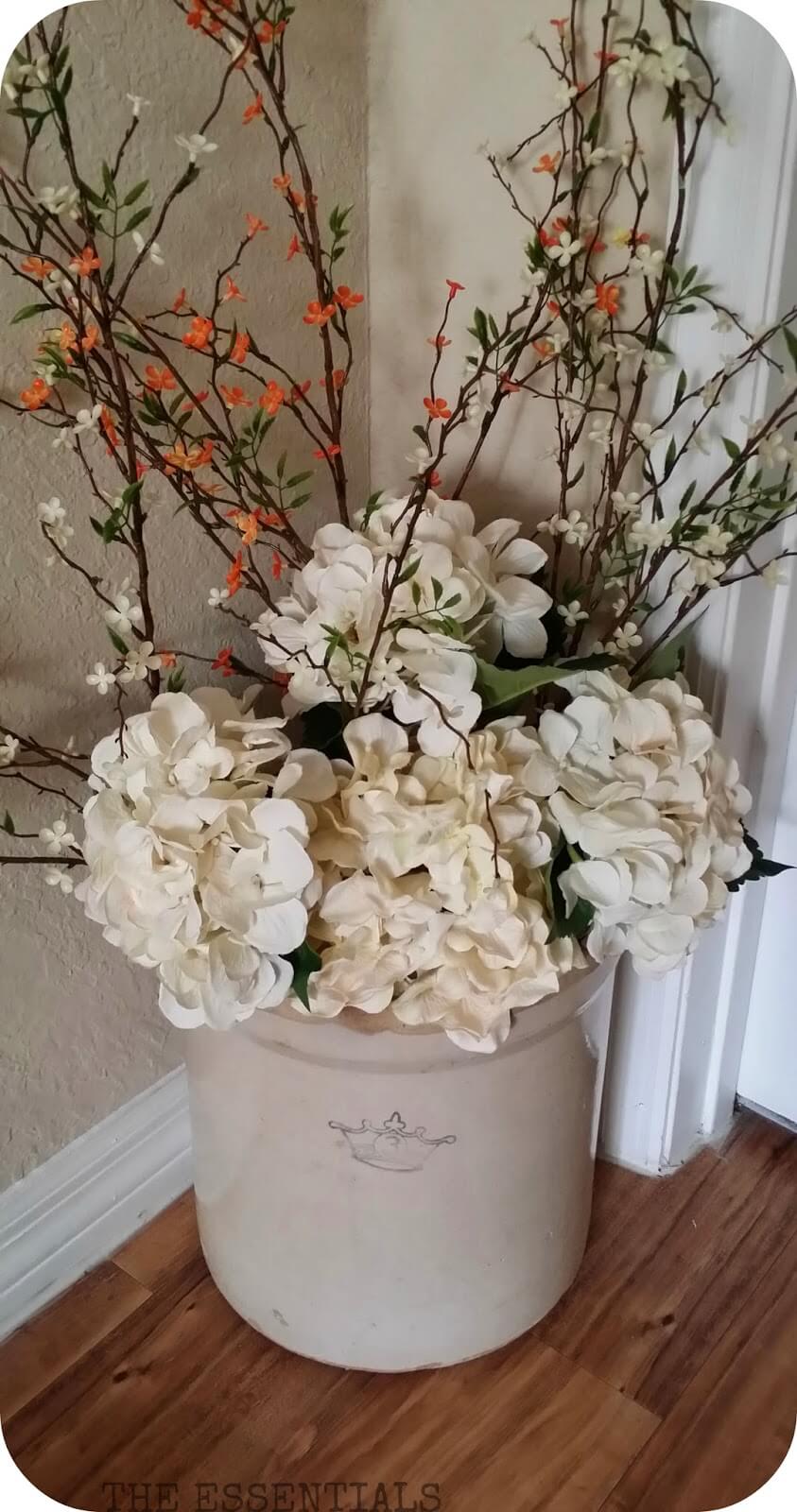 This large stoneware crock that probably held flour or sugar now holds an assortment of flowers for a nice corner-filler. Tall, vine-like plants give height and white petals pushed into green Styrofoam floral blocks fill the space. Check the local craft store for sales on floral stems. Sometimes they're up to 50% off.
40. A Very Country Window Seat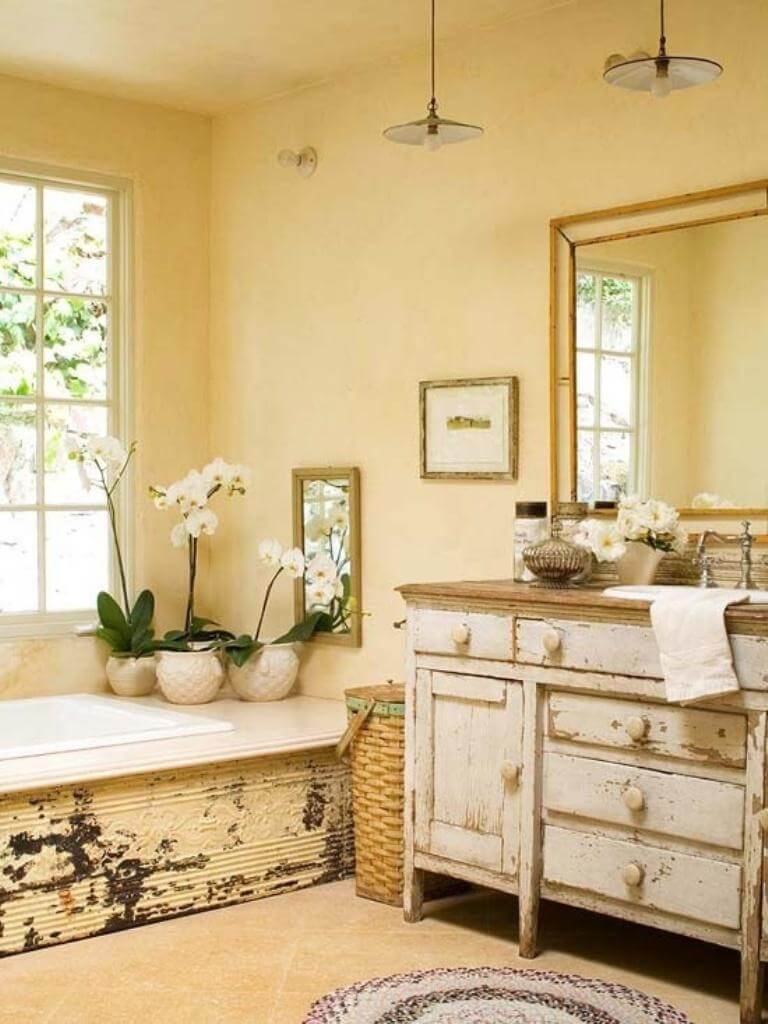 This enclosed soaker tub has a sweet little window seat. The tin that surrounds the tub is antique and distressed for added punch of farmhouse flair. The wicker hamper adds a nice touch to the old pantry repurposed as a vanity. The sink matches the tub to give an overall feel of rustic chic to this beautiful bath.
41. 10 Light Fruit Jar Hanging Fixture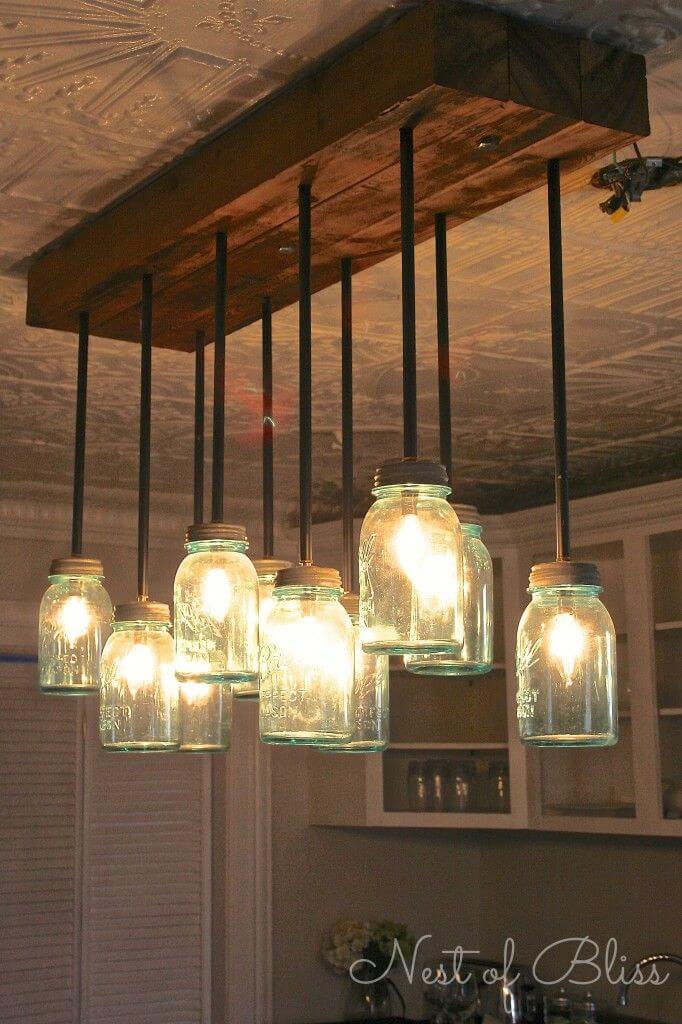 Mason jars at varying heights suspended from a piece of reclaimed wood create the perfect farmhouse light fixture. That ceiling tile also gives dimension and depth to an otherwise undecorated surface. Use Edison bulbs to give a true antique feeling.
42. American Gothic Architectural Entryway Look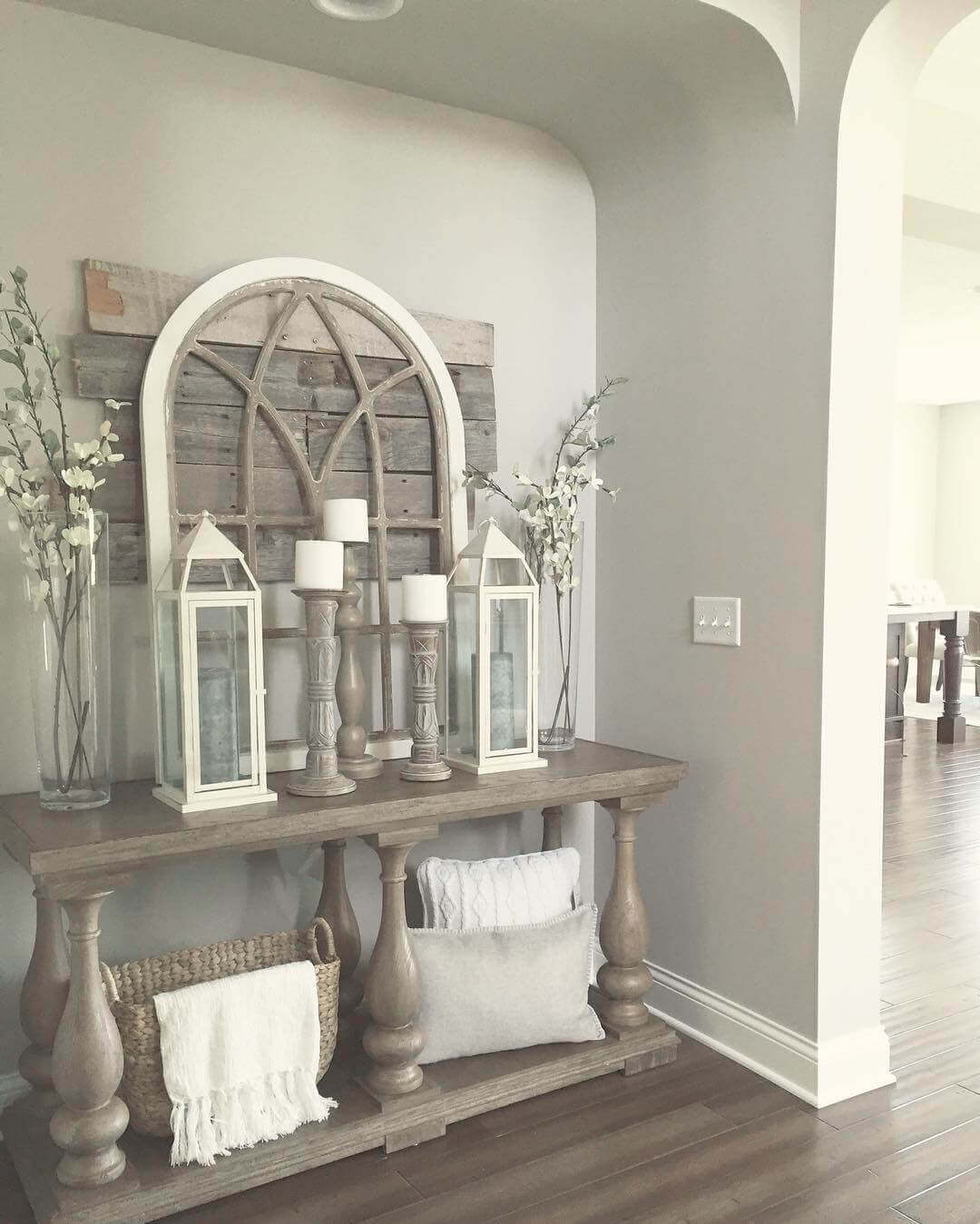 Grey floors are so beautiful and neutral. They match well with the console table and lend themselves to bringing any color into the design. White and grey pillows and throws add to the monochromatic look, and tall lanterns and baluster candlesticks give height and dimension. The window pane frames the pallet boards on the wall for a depth that is easy to recreate.
43. The Farmhouse Version of French Doors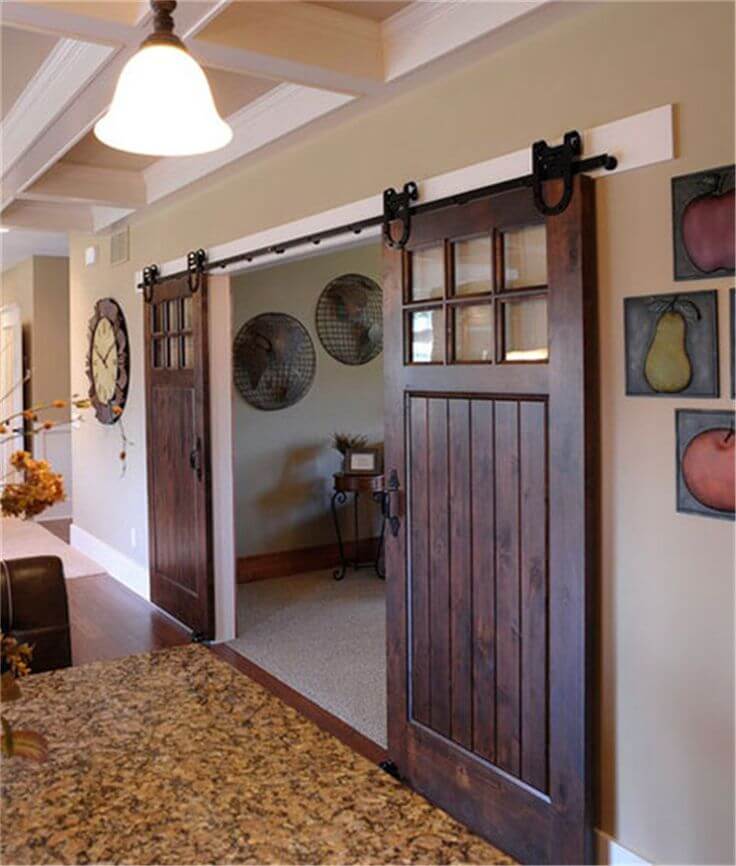 If farmhouse is your goal, but you don't want to be rustic, try these finished, stained sliding barn doors. They give a country feel without being distressed. Pretty iron hardware creates a finished look with a bit of elegance. Privacy and access come together well in this look.
44. Life Could Be a Dream Bedroom Design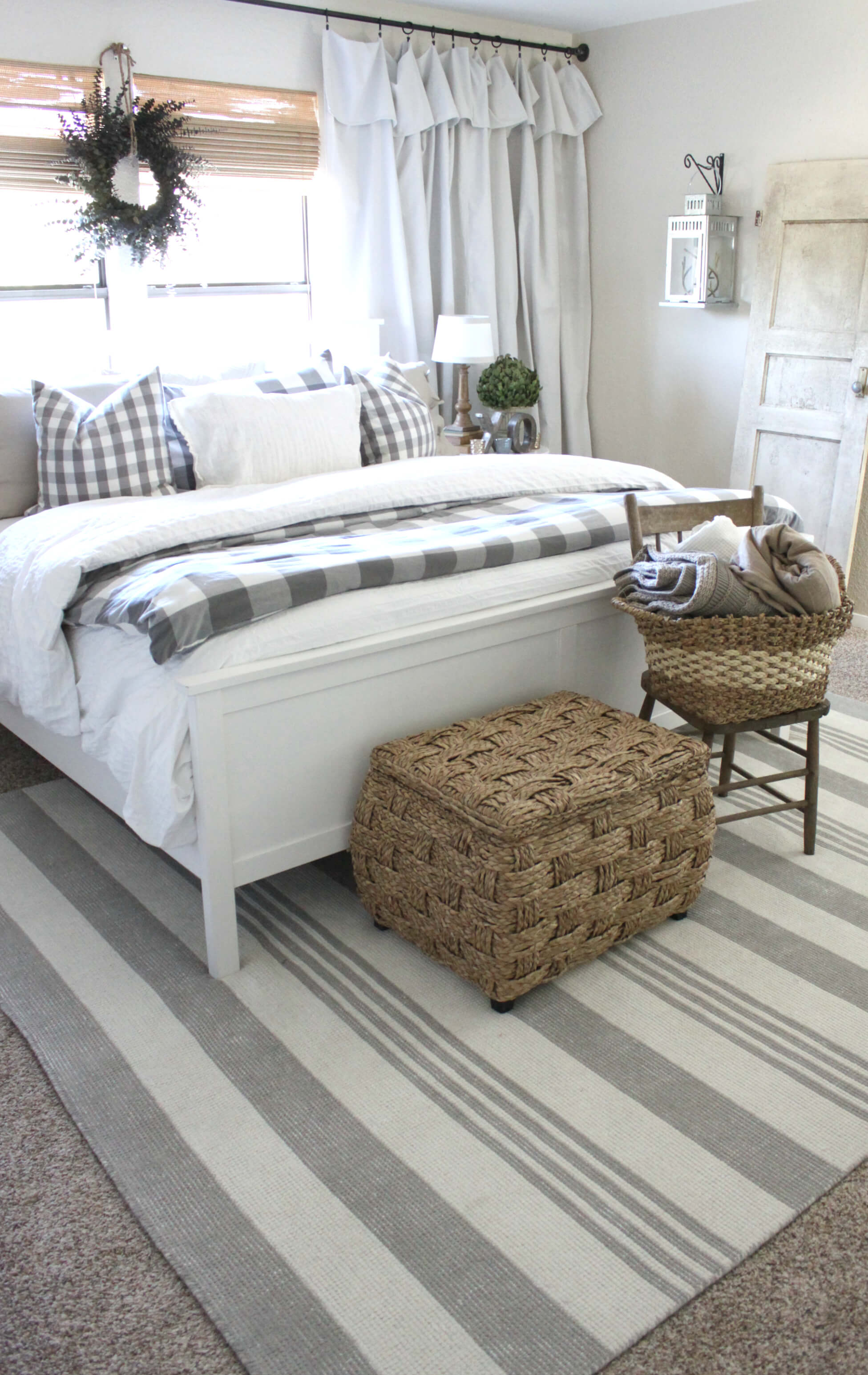 Don't be afraid to mix patterns! This is a great example of how plaids and stripes can work very well together. Make sure the patterns are the same color or color family so that it's not an overload! White on the bed, walls, curtains and wall accents give way to the use of patterns in a fun yet classic way.
46. Hand-painted School Chalkboard Family Sign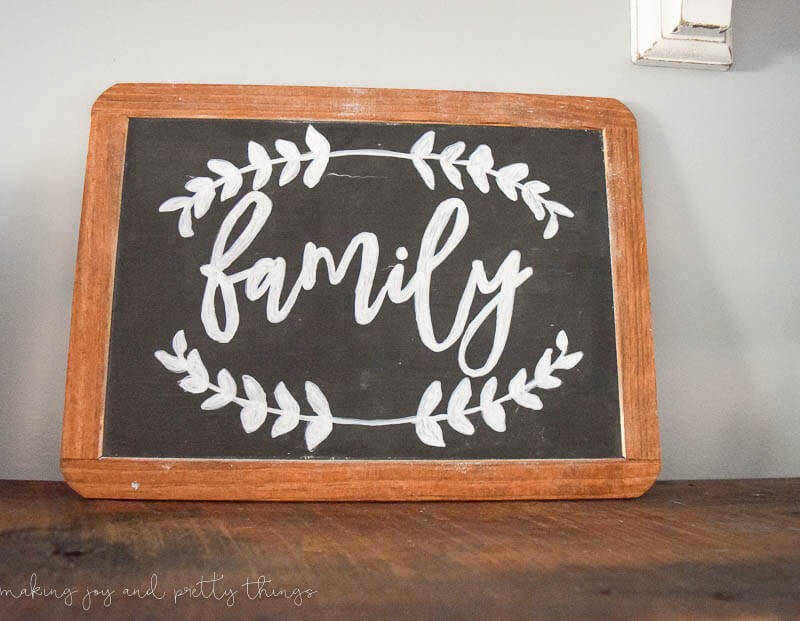 This chalkboard sign is nostalgic and reminds me of the one-room schoolhouse days. The wooden edges and black chalkboard help the white paint pop. Use real chalk to have a reusable message board in a kitchen or a menu board in the dining room, or use white chalk paint to create a more permanent inspirational message.
47. A Wreath on Every Door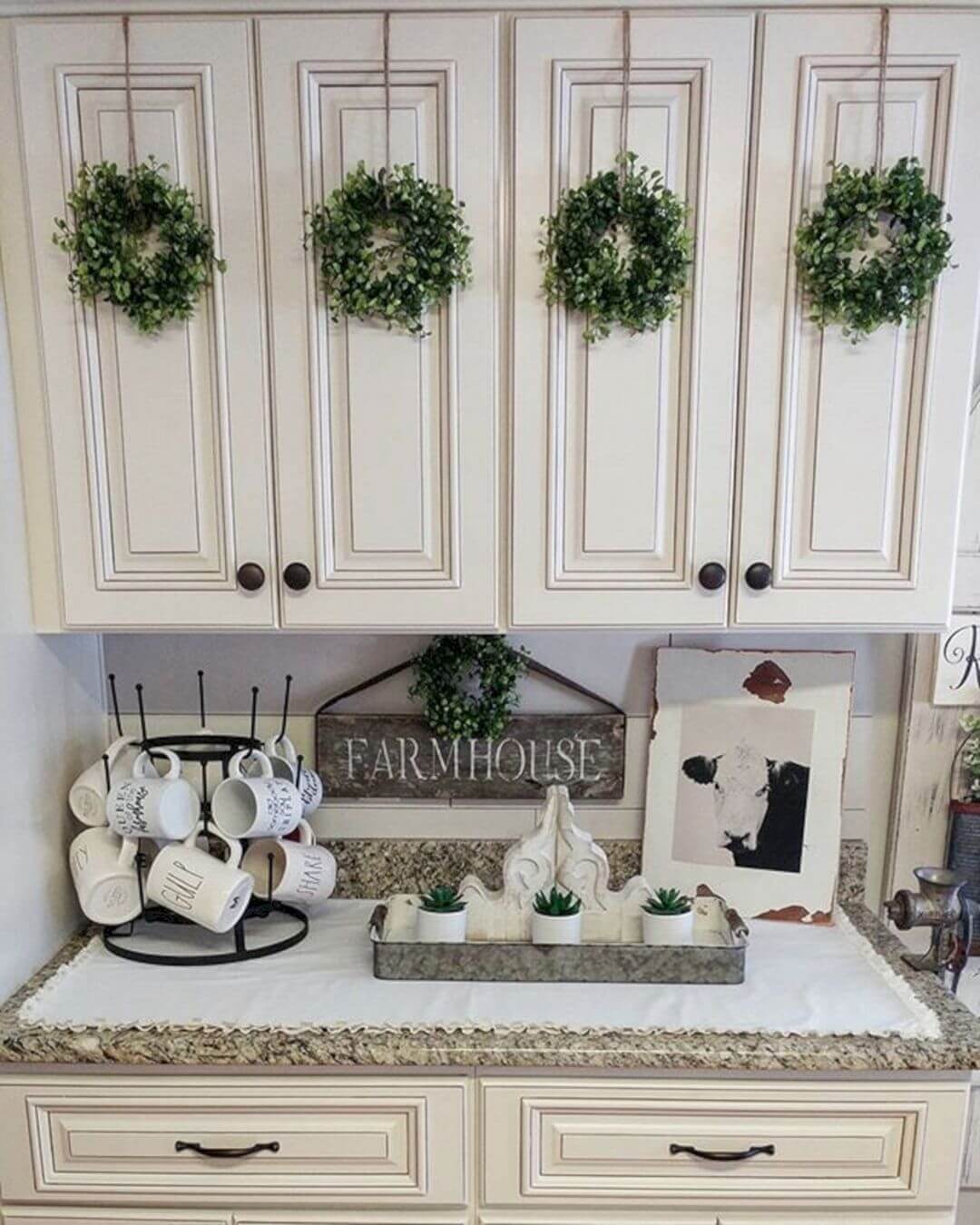 Counter space is often hard to come by, but giving up a small piece for this pretty combination is worth it! Lively, green wreaths on each upper cabinet door, a matching smaller one at the backsplash with a cute sign, and coffee mugs create a useful and attractive space. The cow is just an added bonus.
48. Convenient Tiered Kitchen Conversation Piece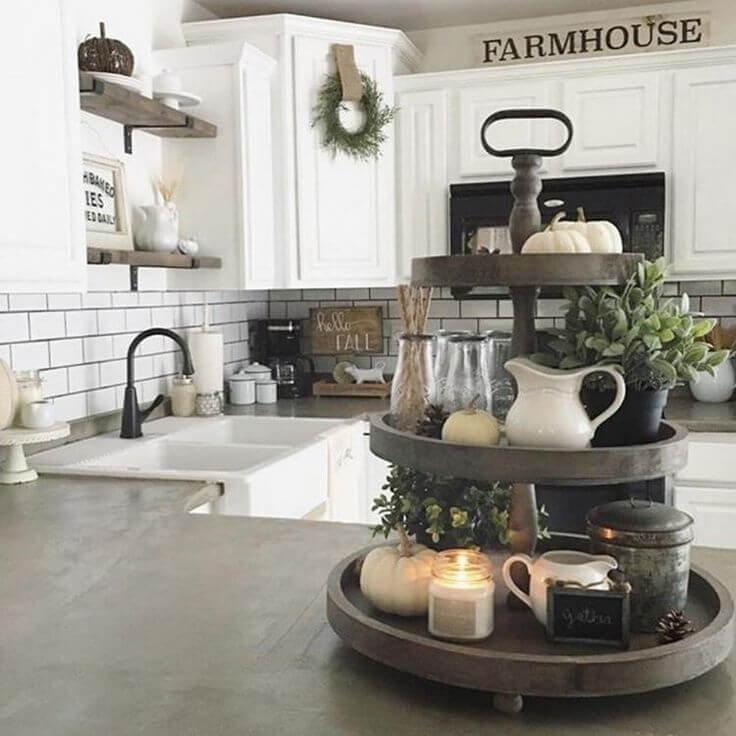 Concrete is so amazing in kitchens. It's easy to maintain and clean and adds an industrial feel to a country kitchen. The matching open shelving above the white farmhouse apron sink pulls everything together. White subway tiles with grey grout is a nice touch that puts a little traditional into the design. Add a tiered shelf with knickknacks and the look is finished.
49. Clever Repurposed Cheese Grater Towel Holder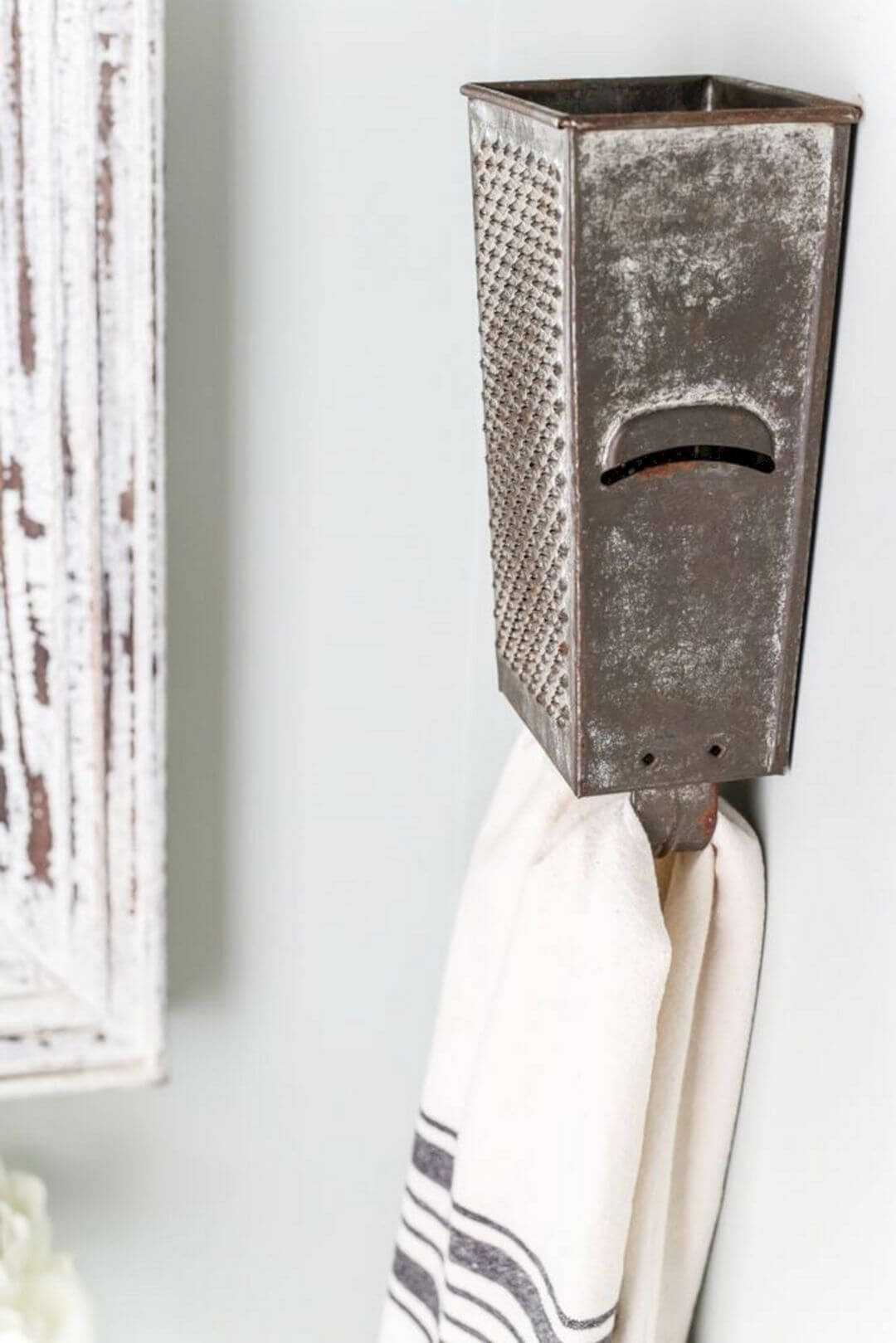 This is another innovative example of repurposing old items for new functions. This old galvanized metal box grater hung upside down on the wall is the perfect hook for a kitchen towel or oven mitts. The white distressed wood in the background pulls everything into the farmhouse look.
50. Sewing Machine Base Side Table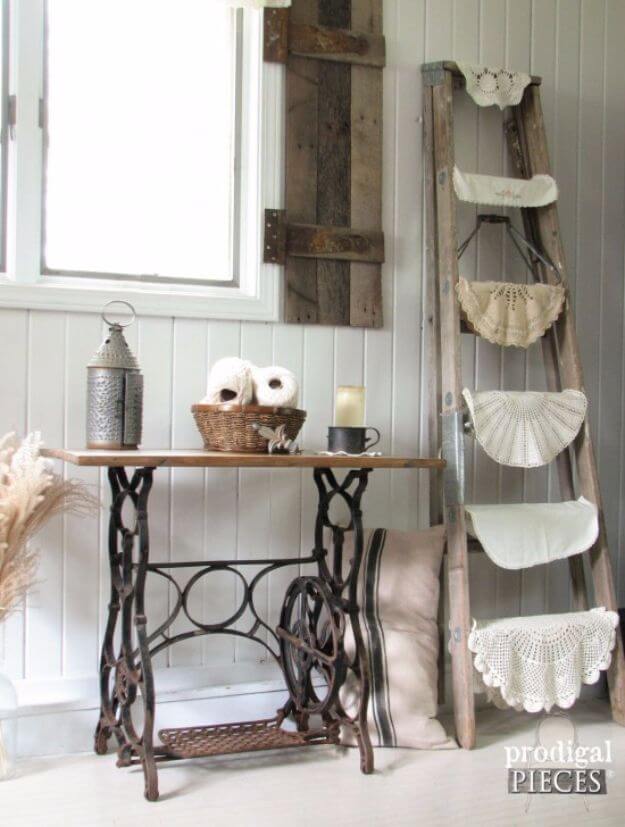 Antique sewing machines are the perfect pieces for end tables or storage in a large bathroom. They bring iron and wood together with pretty scroll work and naturally distressed surfaces. Add reclaimed wood shutters and an antique ladder with lace doilies for a finished look.
51. White Porcelain, Succulents, and Simple Messages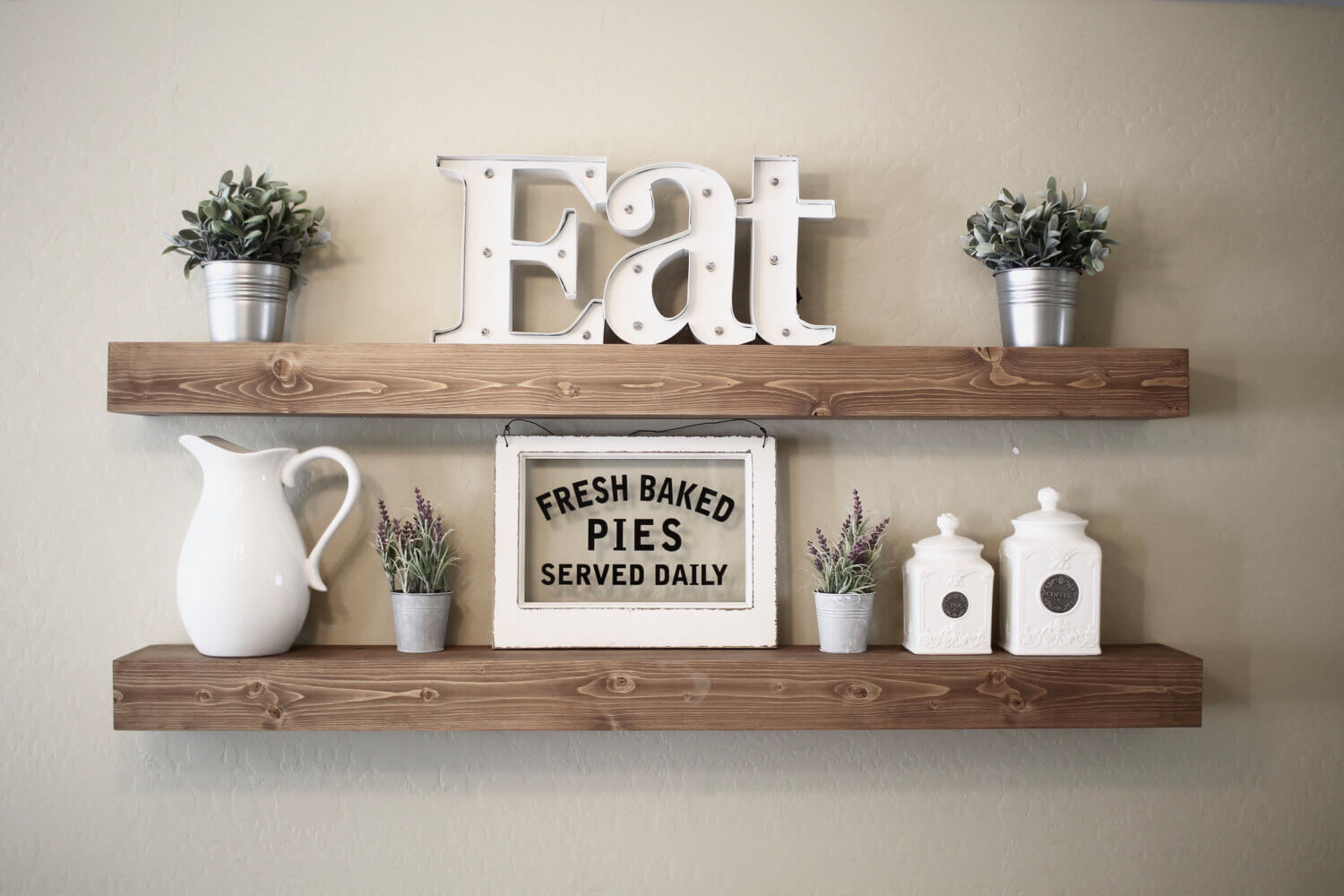 Open shelving is useful and beautiful in any situation: bathrooms, kitchens, pantries, closets. Here, in a kitchen or dining room, mixing natural wood shelves with white porcelain storage and galvanized metal buckets as vases brings the farmhouse look. Vinyl on glass and chunky white letters are innovative ways to define the space.
52. Wall-Hanging Lantern and Plant Display

Fresh ideas for lighting in a dining room call for pretty lanterns like this. Use a battery powered candle for a safe option that also gives nice, soft light for romantic dinners. The basket allows seasonal changes: holly at Christmas, fresh daisies in the spring, and wildflowers in the summer.
53. The New and Old Geometry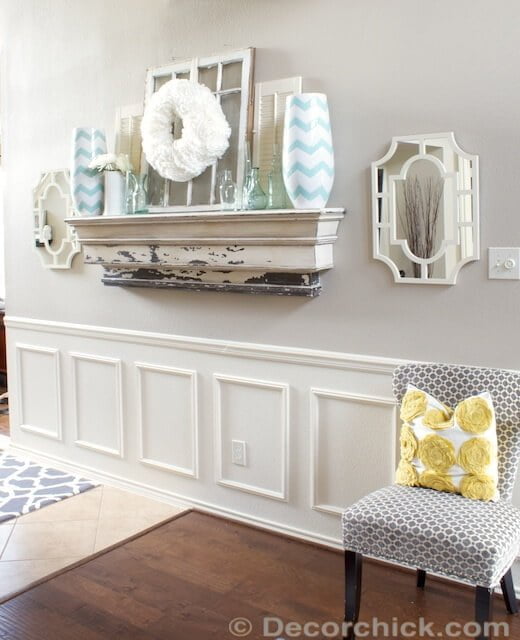 Geometric patterns are a modern way to decorate small spaces with interest. Mix chevron and quatrefoil prints with other more random patterns as long as they all stay within the same neutral color family. The distressed wood mantel and the molding and chair rail give a nice contrast, and the mirrors create the look of more space.
54. A Pumpkin on a Pedestal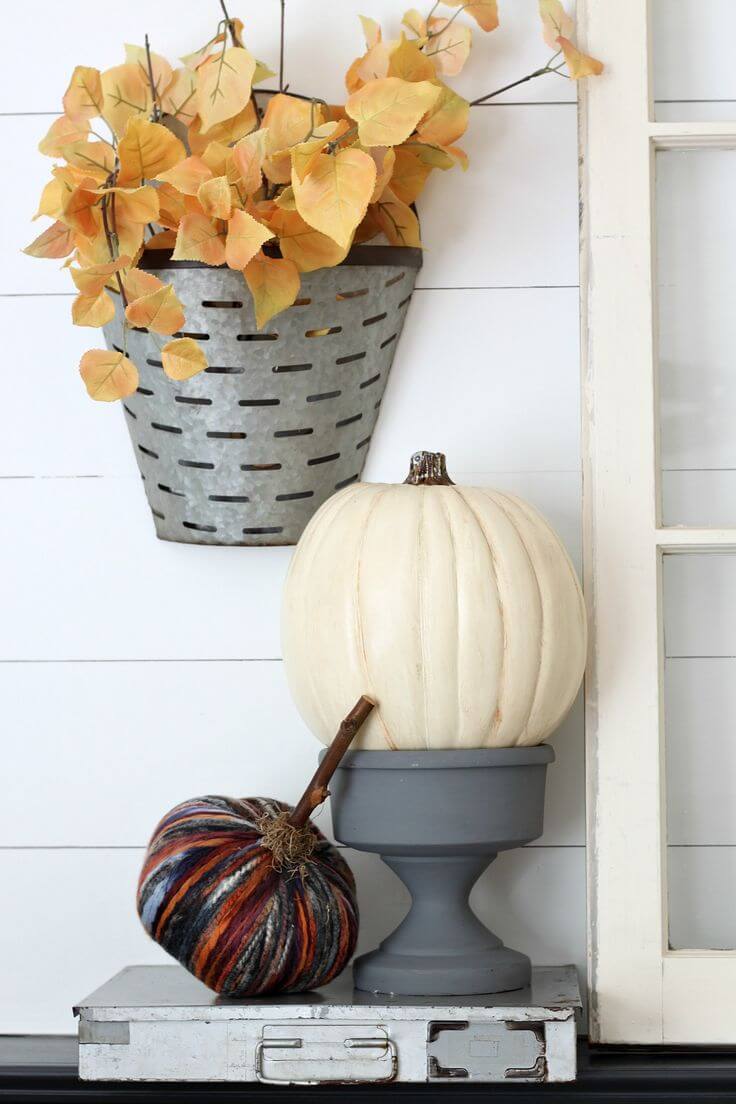 This white pumpkin on a painted grey pedestal makes a bold, pretty statement on a front porch. Wide white board siding makes a great backdrop. The galvanized planter on the wall is great to change out seasonally, and the flat wide box makes a great platform to give the space different height and dimension.
55. Old Trunk = Instant Coffee Table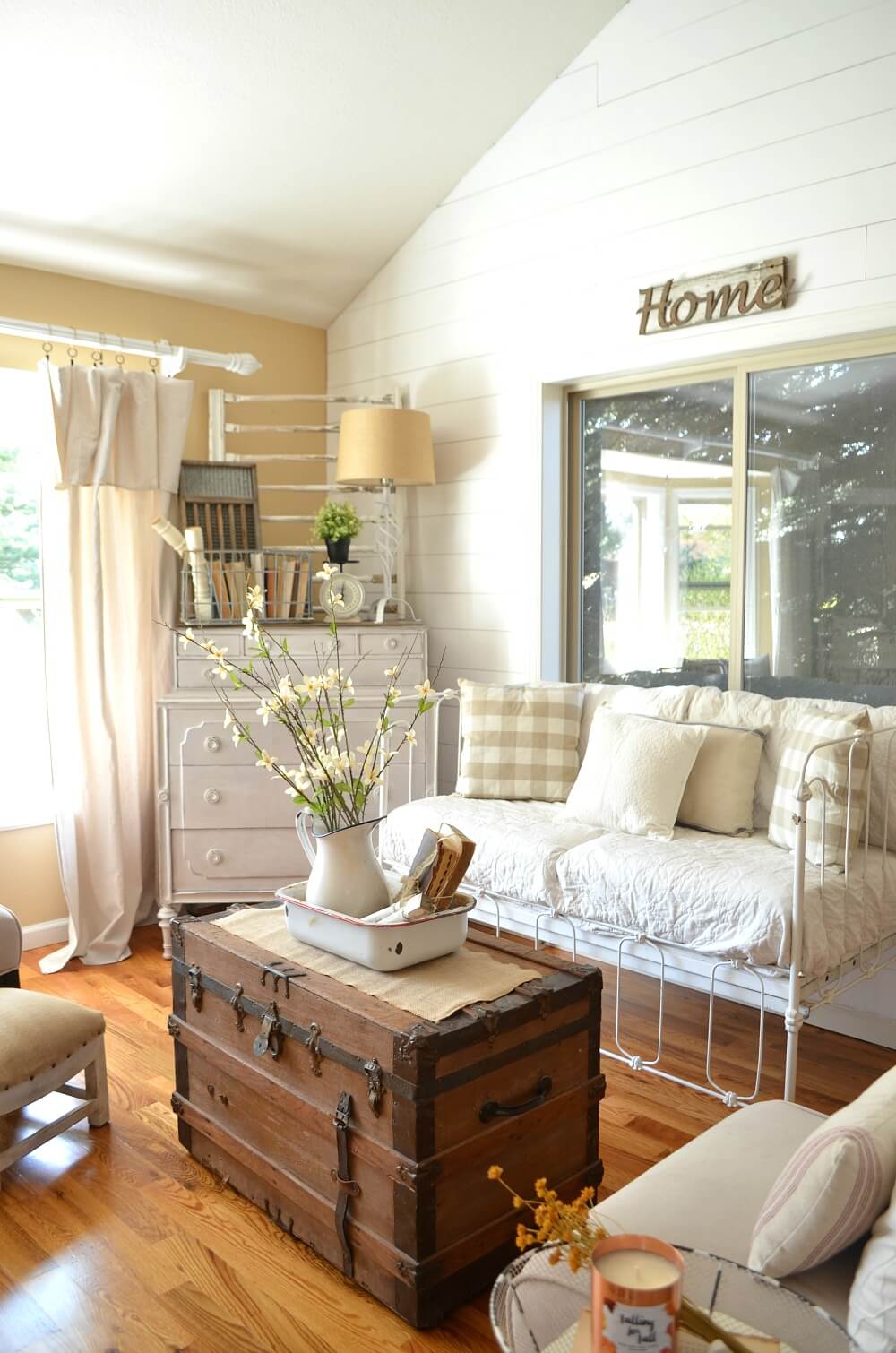 Shiplap walls, antique furniture, a wire bedframe, and low chairs are the perfect setting for a steamer trunk turned coffee table. It serves as a flat surface and storage for blankets or books. Light pine floors give an airy feel that goes well with the white linen curtains. Bring a combination of solid and patterned pillows to finish off the farmhouse look.
56. The Perfect Church Bench Centerpiece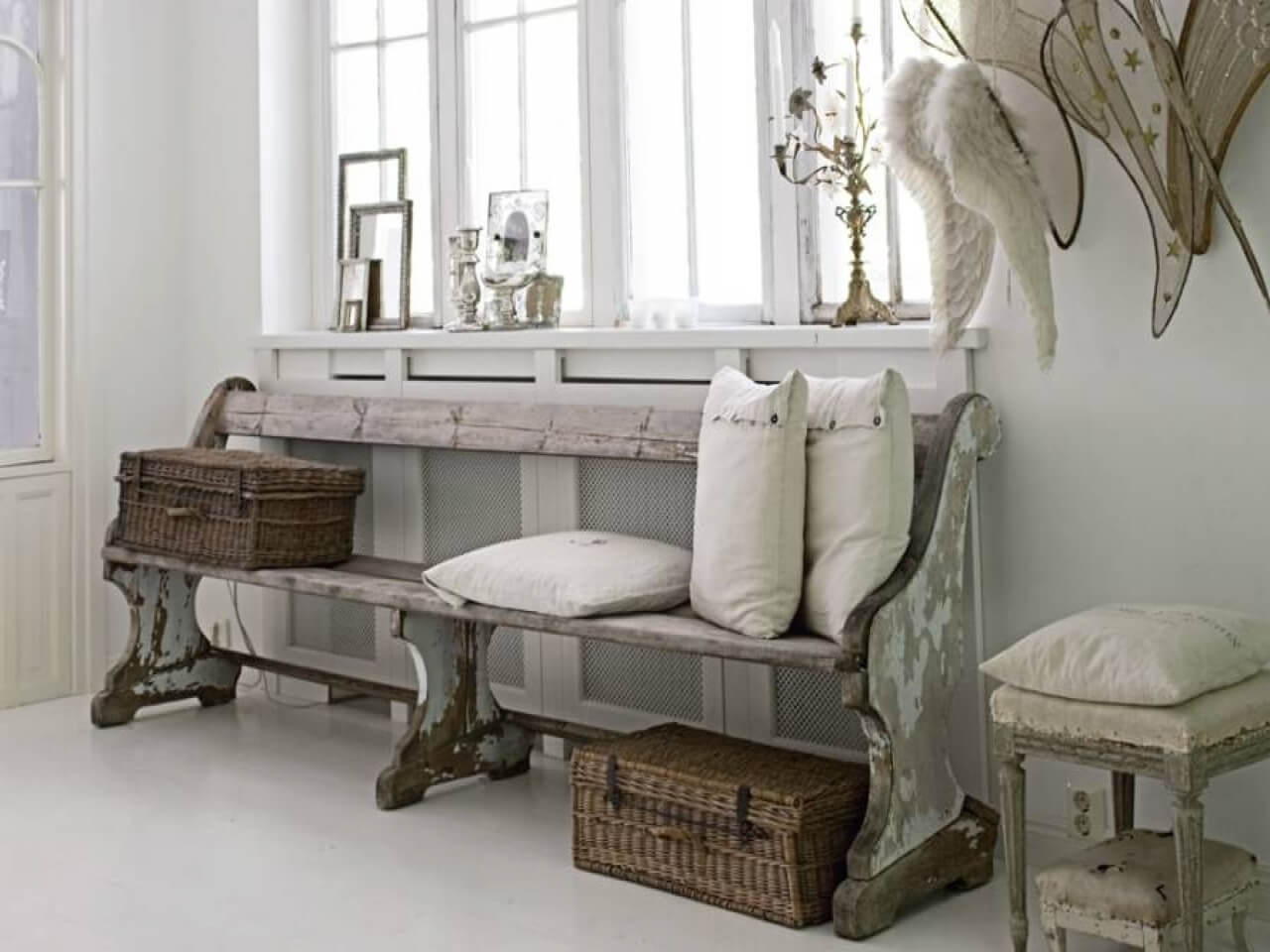 Church pews are the quintessential country farmhouse pieces. They make the perfect place to sit and put on shoes or even as extra seating in a dining room. Sitting on this bench, holding a plate of hors d'oeuvres and chatting with a friend at a dinner party is the ultimate farmhouse picture. Add pillows for comfort and baskets for storage, and set it in front of a pretty window that dressed, and you have a great entryway.
57. Old Shudders and Elegant Topiaries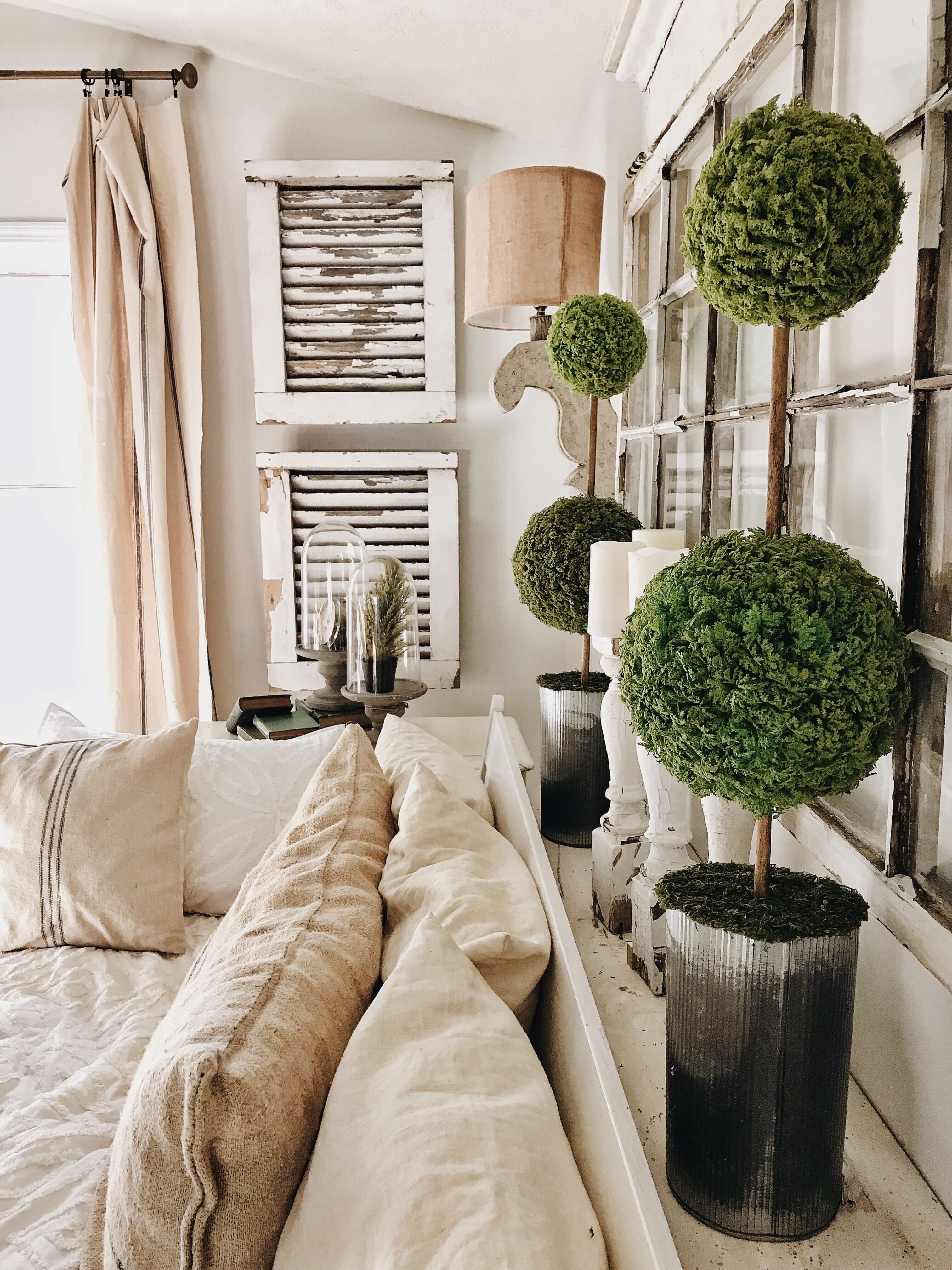 You can't drive down a country road without seeing a topiary flanking a front door. Bringing them inside is such a fresh, new idea! Complimenting the height of the plants with tall baluster candlesticks and a large antique window makes a beautiful wall in a living room. The antique shutters are farmhouse accents that never look bad.
58. Rustic Farmhouse Style Cylinder Planter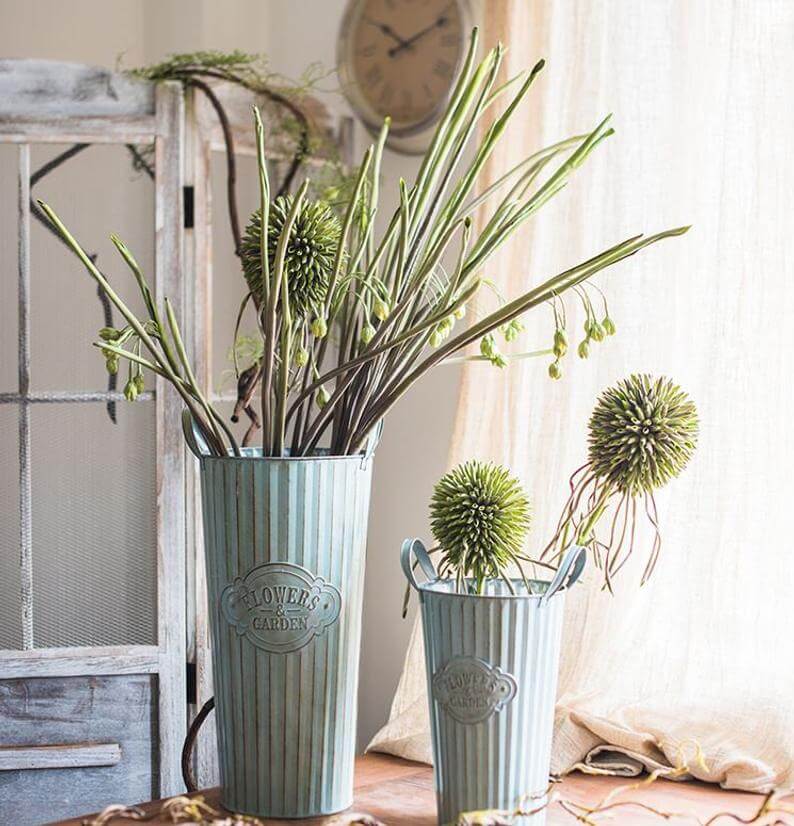 Fill your home with greenery while still sticking to a farmhouse style with these cool rustic planters. Constructed from metal, the planters have a vintage vibe. They are made in both low bucket and high bucket styles, and each of them has multiple size options too so you can hold different types of plants.
59. Traditional Painted Church Pew Bench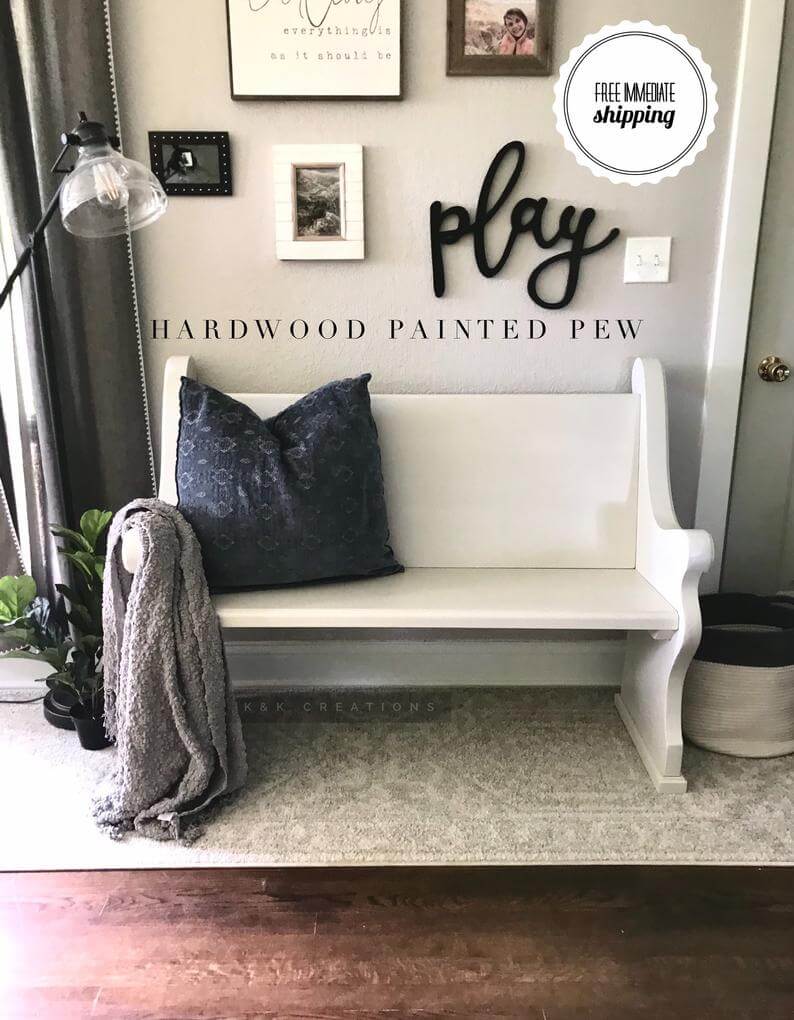 This church pew bench is a wonderful, versatile piece of furniture that can work in numerous rooms in your home from the bedroom to the entryway. This bench features a powdery, light gray paint job that helps it have a rural feel. Also, a bench is a perfect tool to use to house more décor items.
60. Handcrafted Rustic Wooden Corbels Décor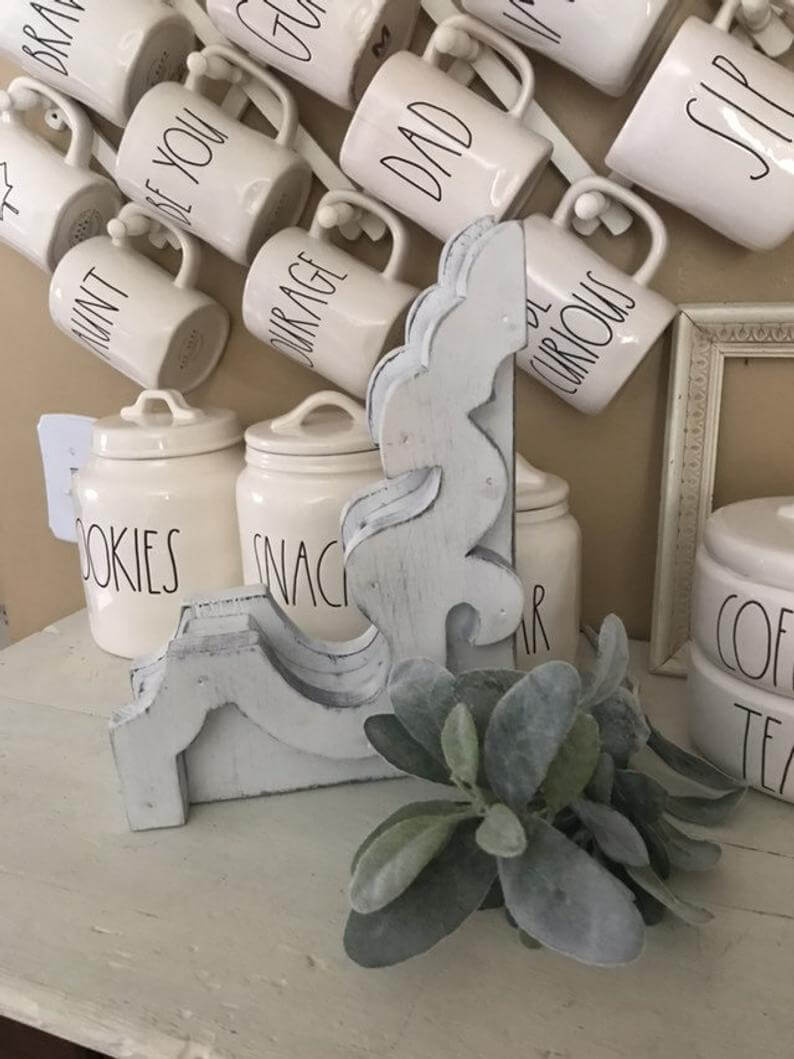 With these handcrafted wooden corbels, you are able to blend modern and farmhouse décor in a successful union. They go together easily with other decorative items in addition to working well as bookends. There's a pleasant distressed appearance applied and three colors to choose from black, gray, and white.
61. Ruffled Linen Dining Room Chair Covers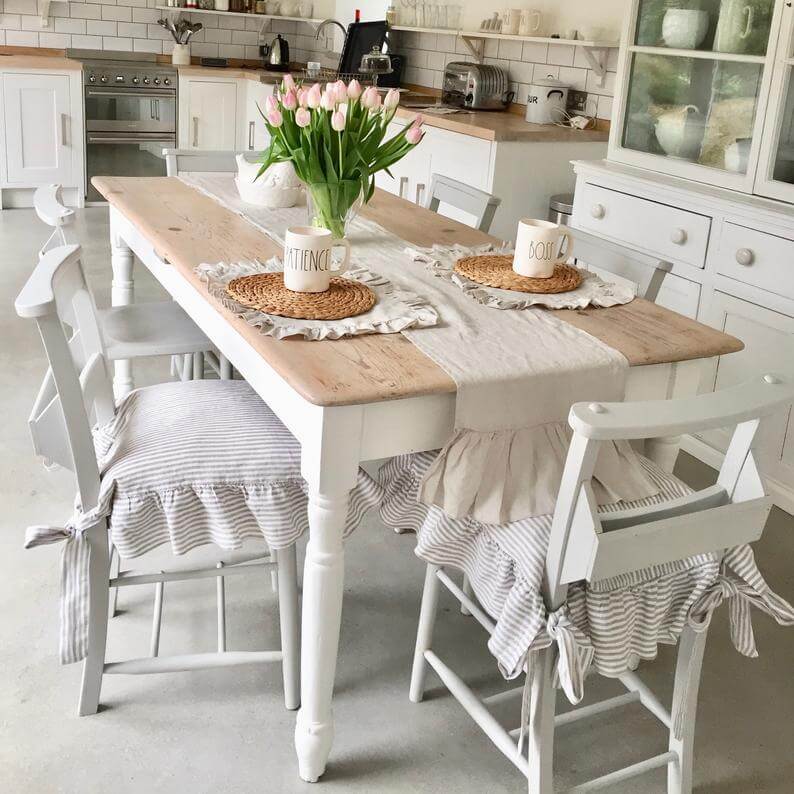 Available in multiple colors and styles, these beautiful dining room chair covers can help you emphasize your farmhouse table and chair set. You can even get them in customized sizes so that they can fit your particular chairs better. Depending on the style you go with, you can even get one that has room for you to add a pillow.
62. Jute Rope Country Style Table Runner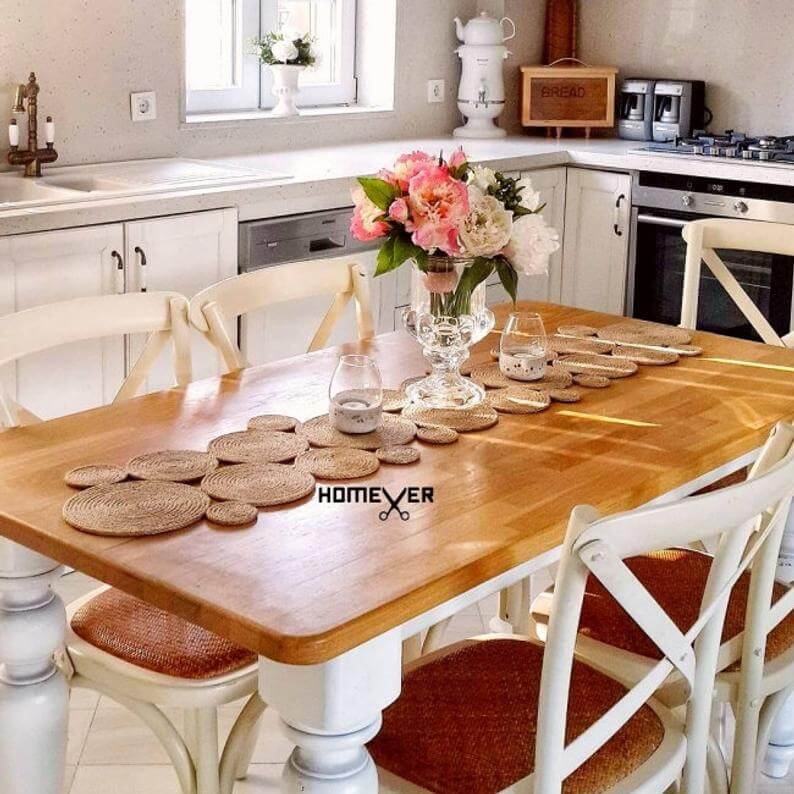 With this jute rope table runner, your dining room table will never look so stylish and chaotic at the same time. This unique pattern instantly stands out, and the use of this particular material helps convey the farmhouse feel. Also, since it's 100% jute rope, it's completely reversible so it doesn't matter how you lay it down.
63. Sweet "Home" Hanging Farmhouse Sign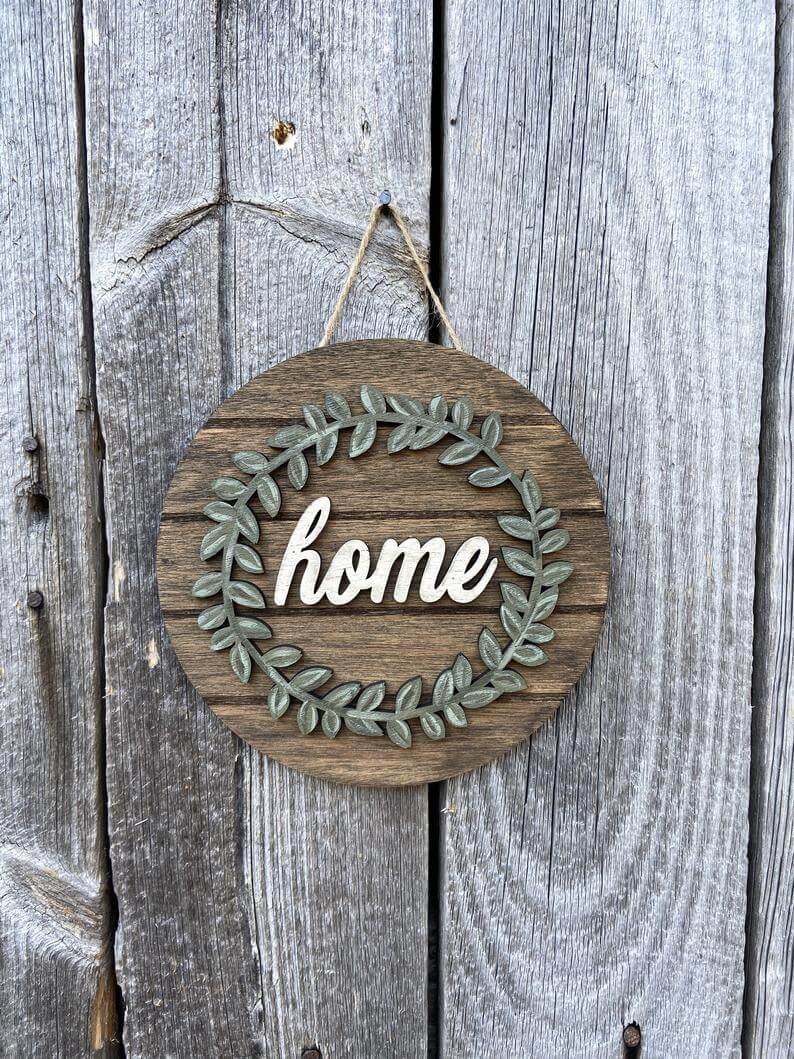 Decorating in a farmhouse style isn't limited to the inside of your house. This "home" sign is perfect to welcome guests, and it already gives an indication of what your personal style is. The wreath design helps it pop a bit more too. You can get it simply stained or choose from the many color options.
64. Beautiful Country Candlestick Holder Décor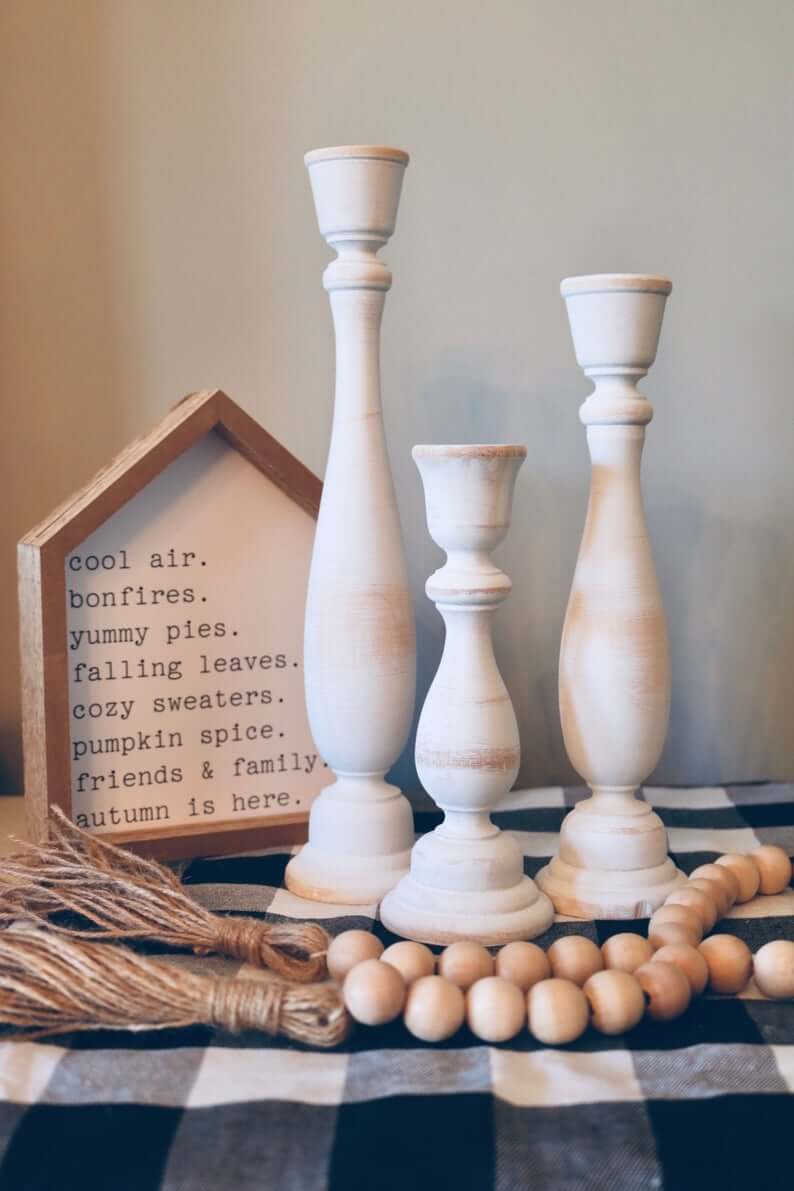 With or without actual candles, candlestick holders can be used to add some elegance to your rural décor. They come in dark walnut, a dark charcoal gray, or a chalk-white style, giving you enough options to find the one that best matches your specific farmhouse aesthetic.
65. Painted Mason Jar Artificial Planter Set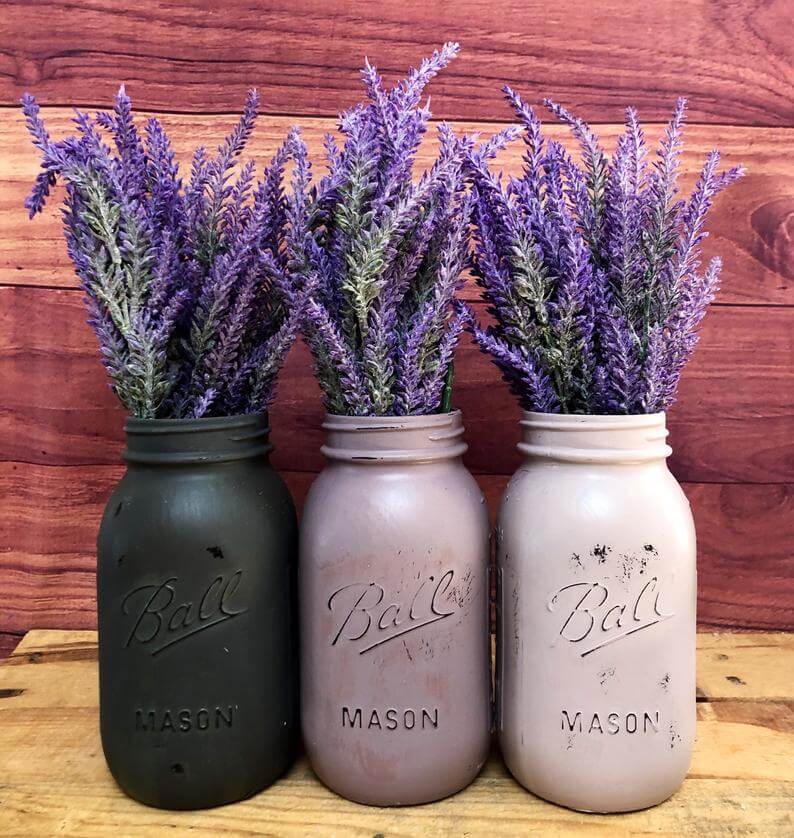 Mason jars are always a good choice when decorating with a farmhouse style. You can go for the painted jars or have them with some twine tied around the mouth for a more rural design. Also, the jars come with or without artificial lavender. No matter how you get them, they're all distressed for a natural aging appearance.
66. Sola Wood Flower 3D Heart Sign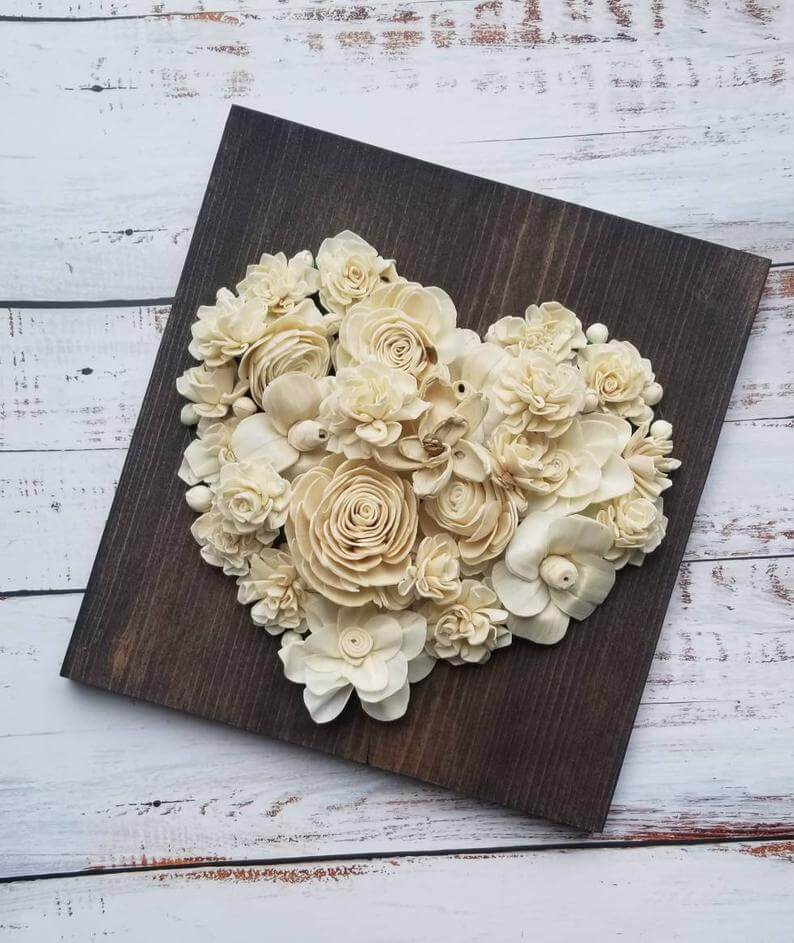 With a 3D sign, you can add more life and texture to your home's décor. This flower-based sign proves it doesn't need to be completely modern either. The sign is both elegant and rustic, using gorgeous flowers styled as a heart against a rural wooden background. There are several board colors to choose from too.
67. Decorative Rustic Ottoman Serving Tray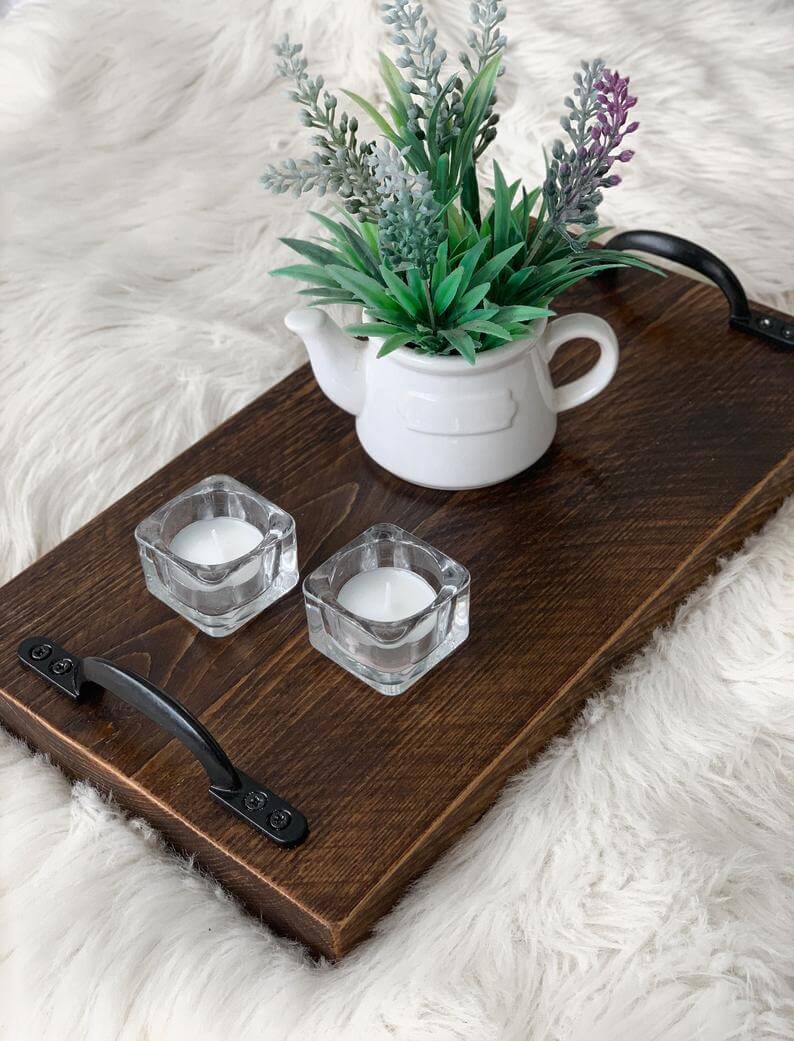 Elevate your typical serving tray with this decorative farmhouse piece. You can choose from four different colors and three different lengths, finding the one that best suits however you wish to use the tray. It can be purely decorative or functional as the iron handles add to its durability.
68. "Welcome to Our Porch" Throw Pillow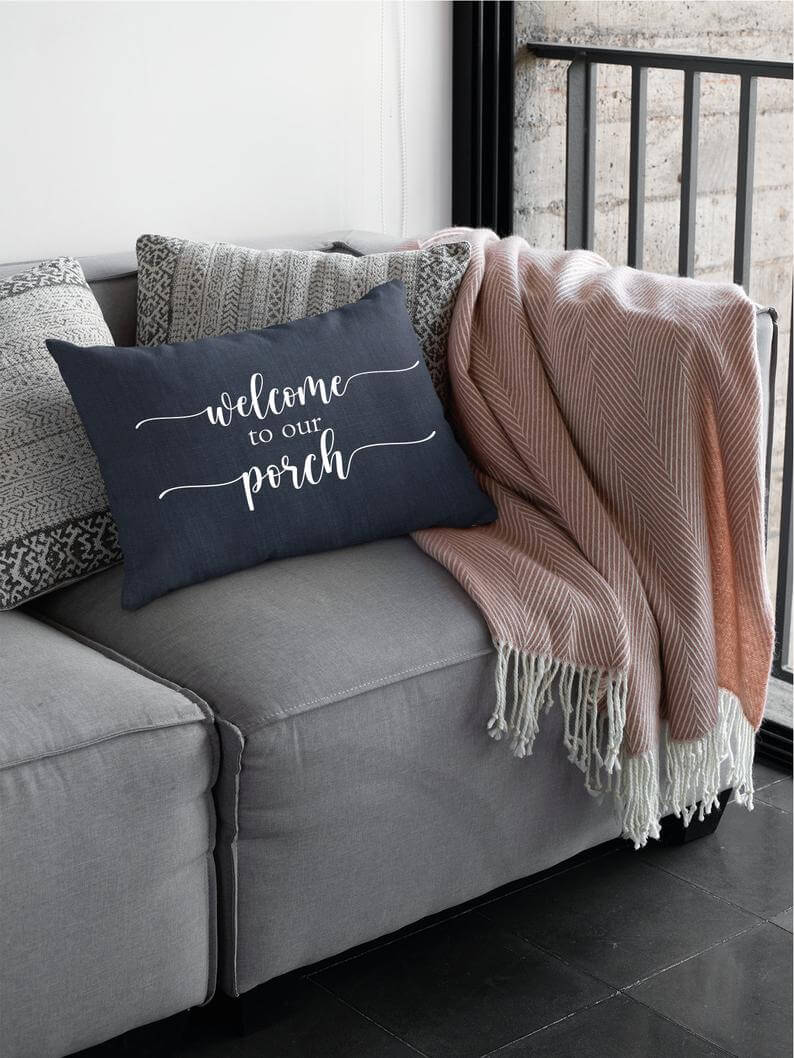 For your outdoor deck or patio, throw pillows are an easy way to add some style to the sitting area. This one is straightforward, but it works wonderfully when you want to make a farmhouse-theme statement. You can select eight different colors as well, and all of them fit with the décor.
69. Antiqued Hand Painted Farmhouse Chair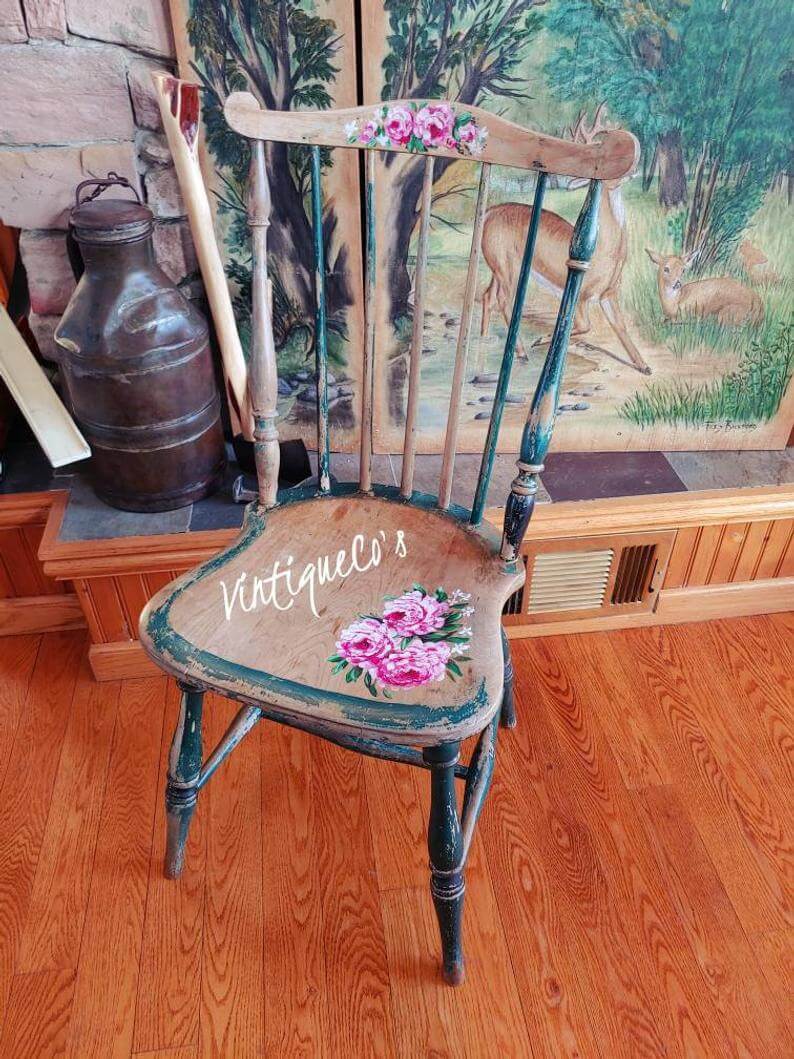 An antiqued chair can be a great focal point in any room, especially one hand painted in such a way. This one features cute peony flowers that breathe color into the furniture. They work well against the vintage and weathered design so that it can work as rustic décor.
70. Shabby Chic Light Up Bottle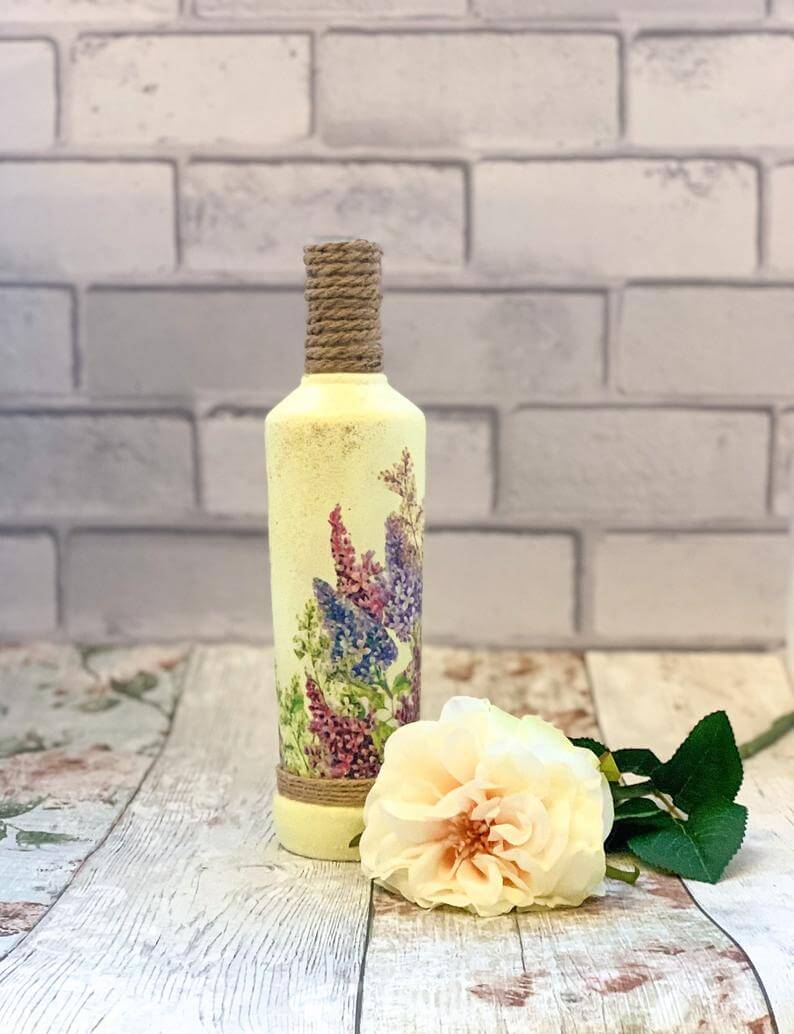 This stunning bottle is a versatile piece of décor that can work on its own or when filled with different items like artificial flowers. With its lovely flower design and rope tied around the top, it has a country-like appearance. You can get it with scented beads, white lights, or three pinecones.
71. "Farmhouse" Rustic Entryway Decorative Sign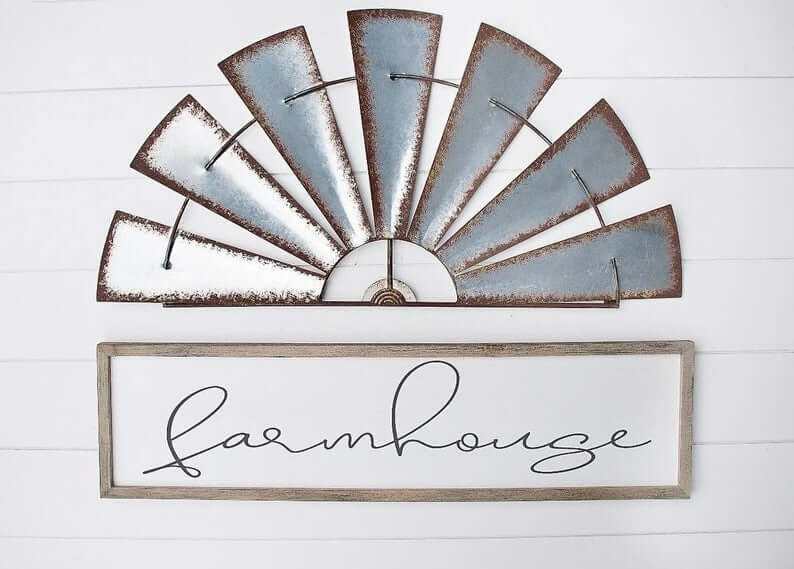 Nothing quite shows off a farmhouse style than getting a sign that states it. The writing here appears elegant, but it pairs well with the wooden border. You can even get this border in special walnut, dark walnut, or ebony stain. This works well hanging on the wall or even situated on a shelf along with other decorative items.
72. Welcome Wooden Wreath Door Hanger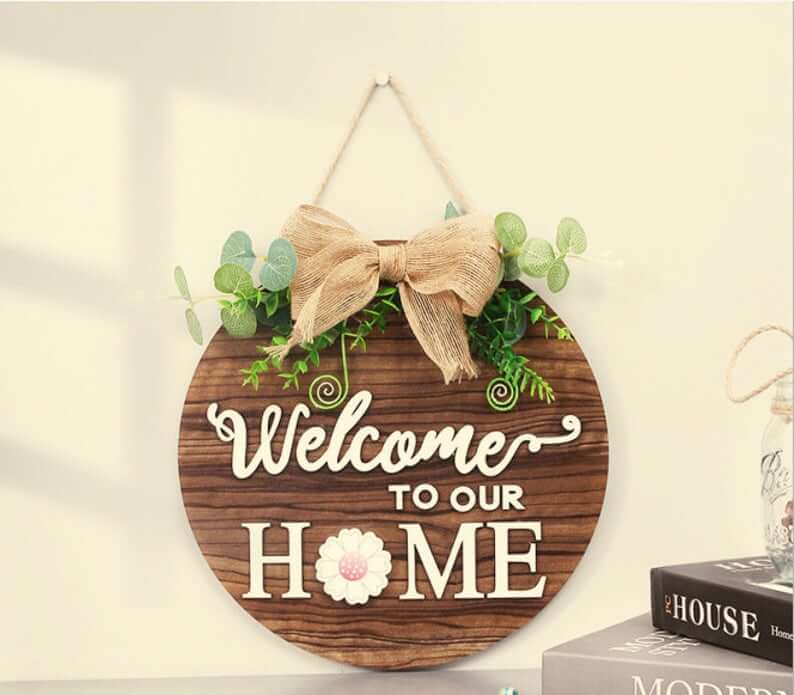 This adorable wooden sign can give off the right first impression to anyone coming to your home. Hang it on the front door to welcome all guests. There's bold lettering that instantly lets the wording stand out, while the artificial greenery and rope used to hang it create a rustic appearance.
73. Black and White Donkey Print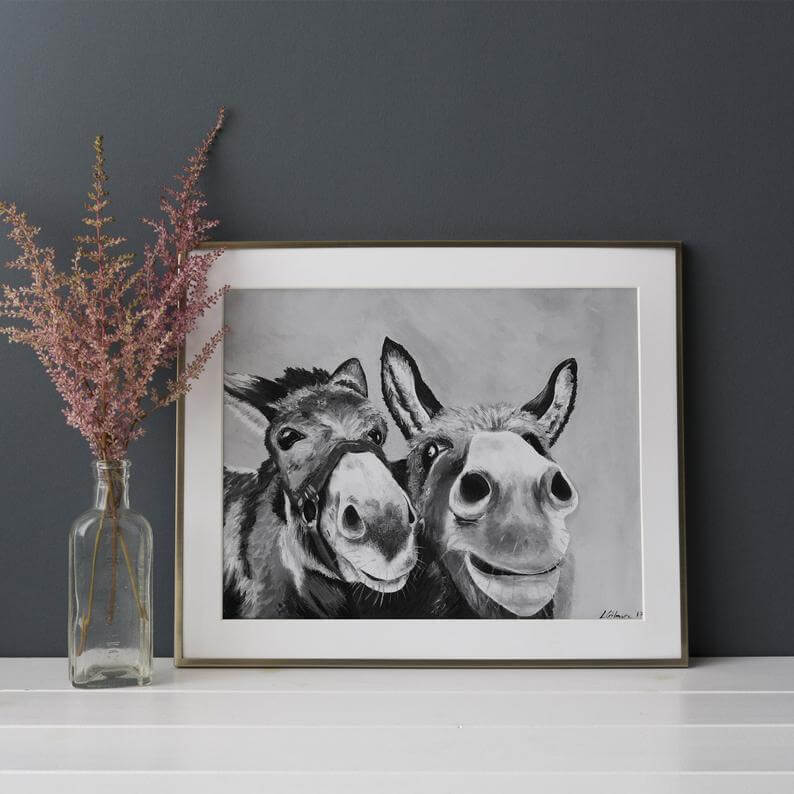 Art prints offer a great way to decorate the walls in a farmhouse-style house. Black and white, in particular, look excellent adorning the walls in this case. This donkey print can especially set the tone as it works for a country style as well as those who are simply animal lovers.
74. Classic Linen Ruffle Cushion Cover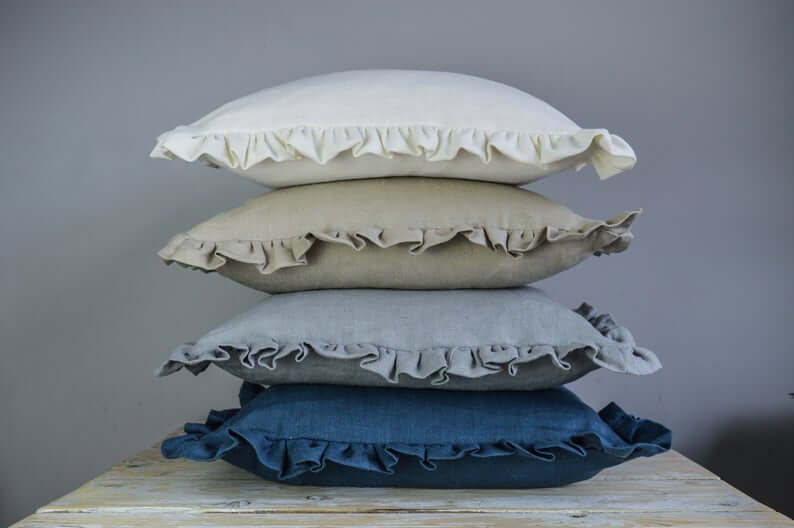 Give your pillows a makeover with these downhome cushion covers. Handmade using 100% washed linen, the covers have a ruffle style that makes them look vintage. The available colors aren't overly bright, providing the right tone that goes with a farmhouse style.
75. Vintage Linen Farmhouse Hanging Hearts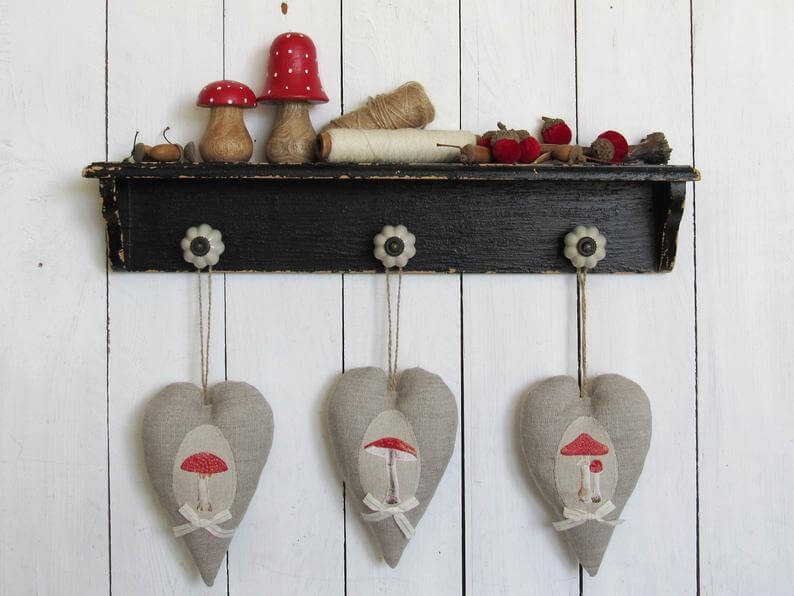 Add something distinctive to your décor with these nice vintage hanging hearts. Made from French linen, each of the hearts features an oval that has a fly agaric, adding just a bit of color to them. They also come with a jute cord for hanging and a cute tiny bow to emphasize the country style.
76. Horse Theme Wooden Wall Clock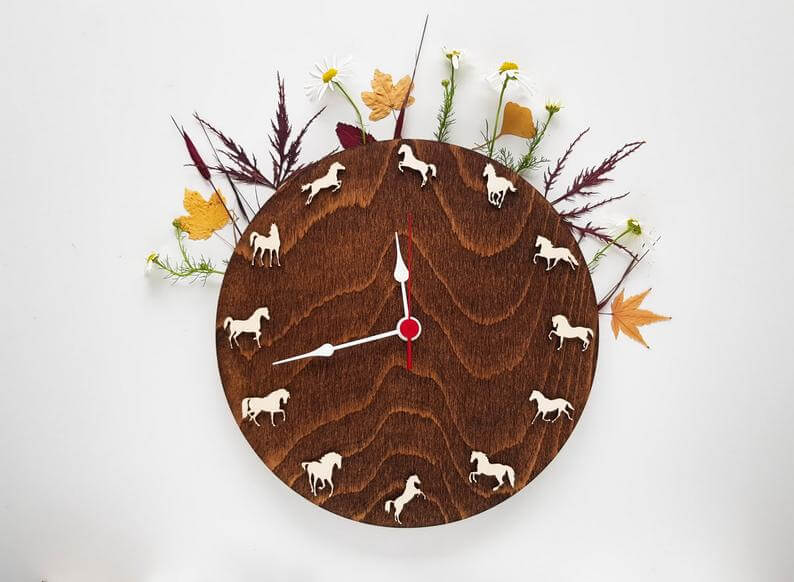 Animals provide a welcoming country style to your walls, and this clock goes about it in a more unique, simple way. There are tiny horses in place of each number that would be on a typical clock, and since they're in different stages of movement, it gives the clock a sense of flow.
77. Handmade Wooden Farmhouse Coffee Table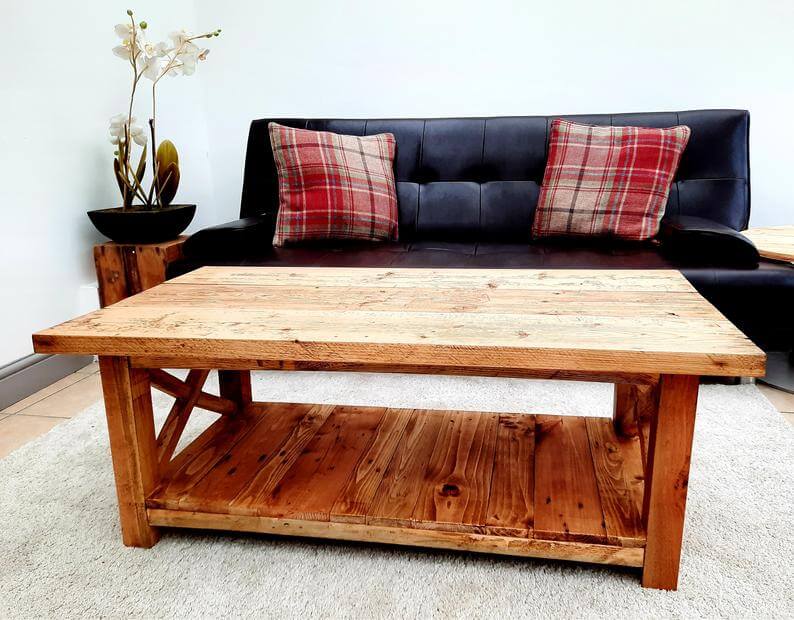 This coffee table not only works with a rural theme, but it's eco-friendly thanks to the use of the upcycled material. Since it's made to order, you can choose specific dimensions or staining options if you wish, making it more personalized for your specific rural style. No matter what you choose, the table has a nice heft to it to make it long-lasting.
78. Stylish Chunky Farmhouse Dining Table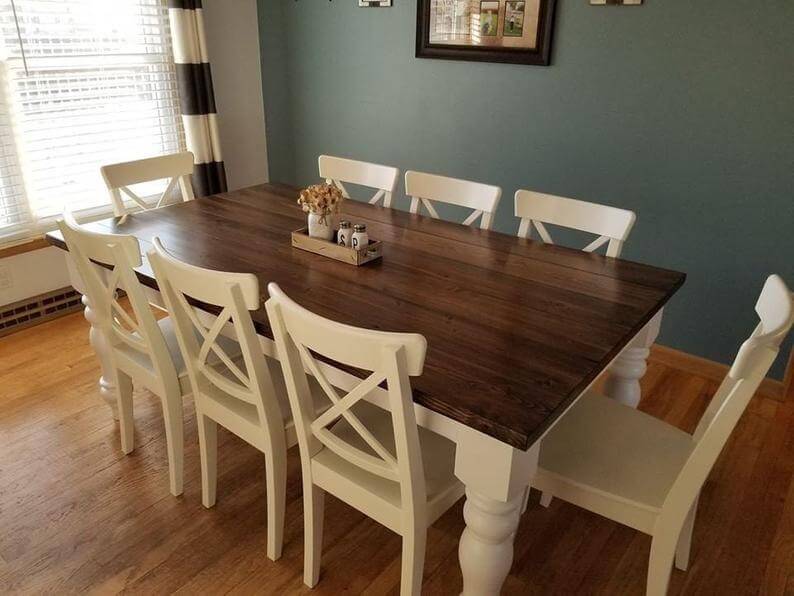 With both simplicity and beauty, this table is an ideal solution to helping you bring your farmhouse dining room décor to life. It's certainly chunky with handcrafted legs that should last in your family for years to come. There are three different widths to choose from as well so you can get the right dimensions for your room.
79. Unique Rustic Farmhouse Table Set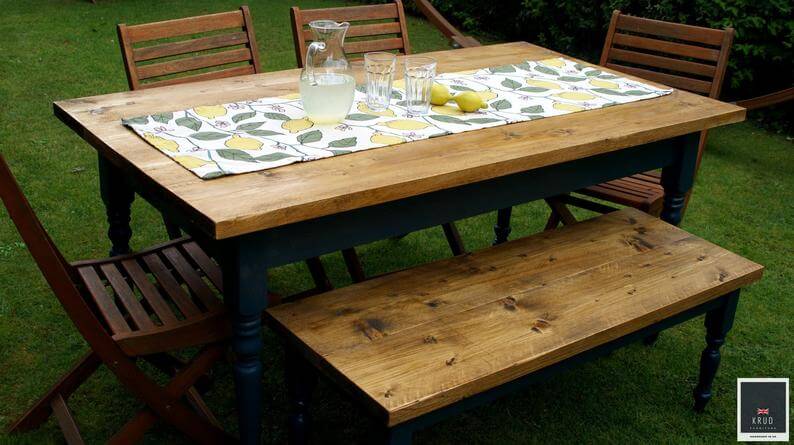 For outdoor or indoor use, this farmhouse table set works as décor all on its own. The use of reclaimed wood in its construction adds to its vintage appearance. You can get it in various sizes as well as choosing to get just the table or get the matching bench to go along with it.
80. X-Style Living Room Furniture Set Décor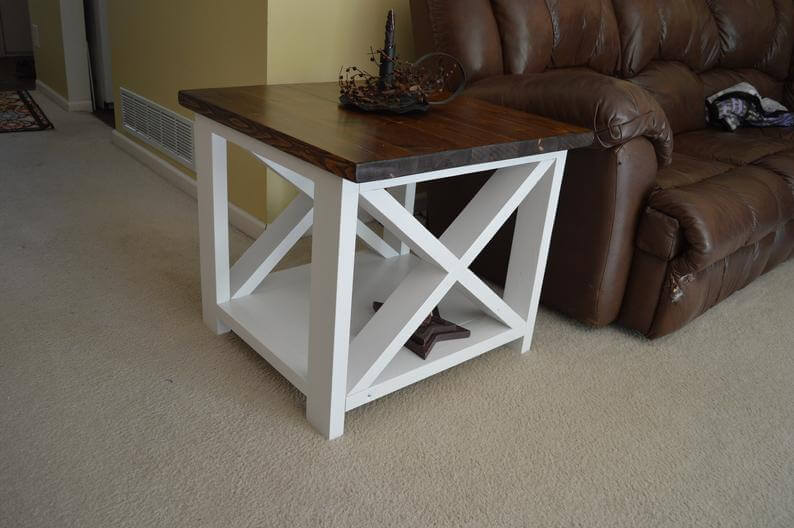 Deck out your entire living room with this stunning rustic furniture set. It comes with two end tables and a coffee table. All of them have the modern "X" style applied. This is a great way to add a touch of contemporary to the otherwise farmhouse look of the living room set.
Our Favorite Farmhouse Furnitures to buy on Amazon