Creating that coveted farmhouse style in your home is nearly as easy as cracking an egg. First, you start by curating pieces that speak to you and have a meaning which can't be rushed. Don't expect to complete the look overnight as a staple of this design is the slow development which is like a good wine that gets better over time. You will need to start with some basics like neutral colors and natural elements as the foundation of your design. Think cozy comfort with a stylized functional purpose. Thanks to the large tech gurus of the world, achieving this look can become a reality while you shop from home at some of the best farmhouse online stores like the 15 found below.
15 Farmhouse-themed Online Stores that have Everything You Need for a Rustic Look

1. Antique Farm House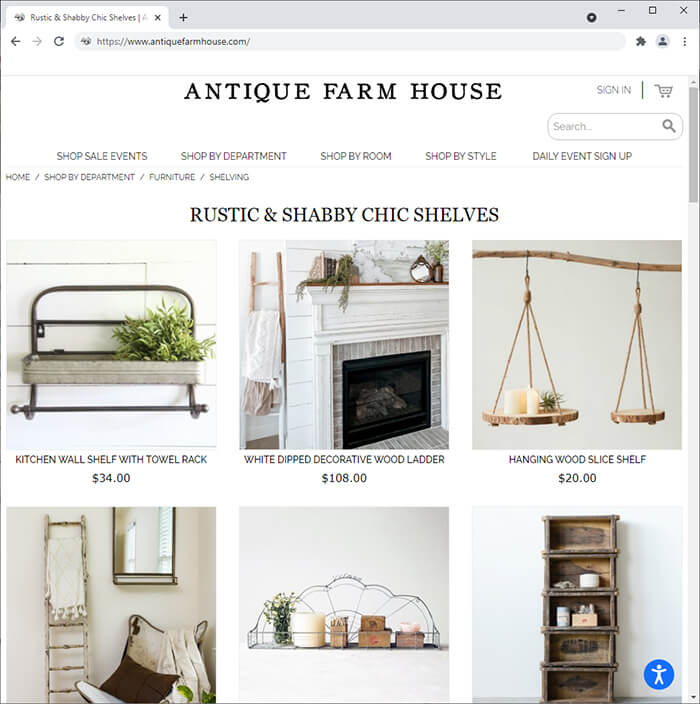 See website: antiquefarmhouse.com
No matter if your spin on the modern farmhouse trend leans towards French Country or Industrial Chic, you are certain to discover some impressive decor pieces at one of the best farmhouse online stores known as Antique Farm House. One of the greatest features of the site is not merely its extensive selection of farmhouse pieces in all varieties, but its user-friendly nature. Search according to what you need from room, style, or department and you'll easily find anything you need from window treatments and wall decor to lighting fixtures and more. Maybe your favorite feature would be the perfectly titled sections like "saffron and spice" and "weathered romance" that you click to discover the feminine French character or unique gift-giving items that are just what your heart desired. You'll find both indoor and outdoor pieces for your home and garden as well as a blog and "just for friends" section that's your go-to for hostess gifts.
2. Vintage Farmhouse Finds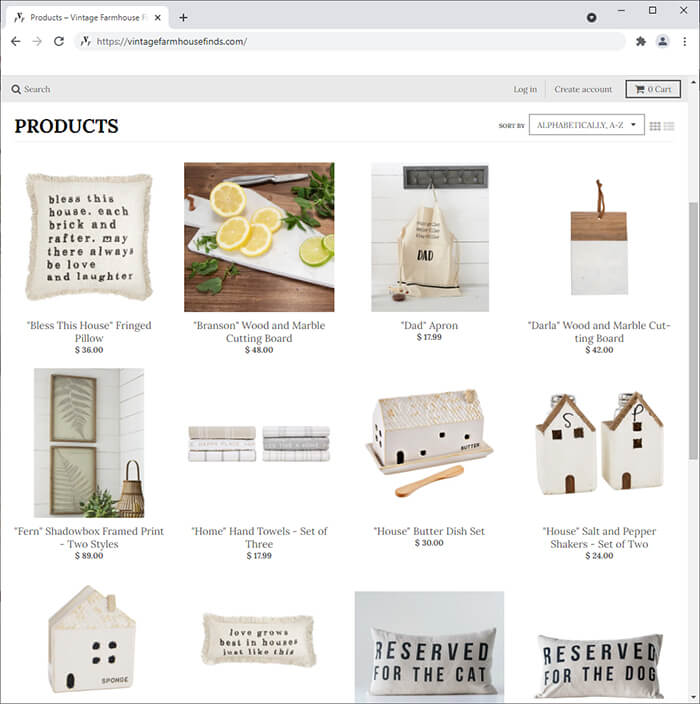 See website: vintagefarmhousefinds.com
Two sisters' love of all things farmhouse is captured in their uniquely curated online store. From exclusive vintage discoveries to reproduced pieces, the vintage farmhouse vibe is alive at Vintage Farmhouse Finds. Choose to shop by room if you are focusing on one specific corner of your home or check out the collections category to feel inspired by a variety of pieces and looks. In the Rustic Meets Refined section, you'll enjoy a range of items like a set of two corbels used as bookends and a piece of rustic walnut wood crafted into a charcuterie board. On the other hand, if a more soft, feminine touch is more your speed then The Cottage Collection is just what you're looking for to peruse an array of floral motifs and creamy neutrals in all things shabby chic. One of their best features is their nostalgic tea towel collection.
3. Urban Farmhouse Market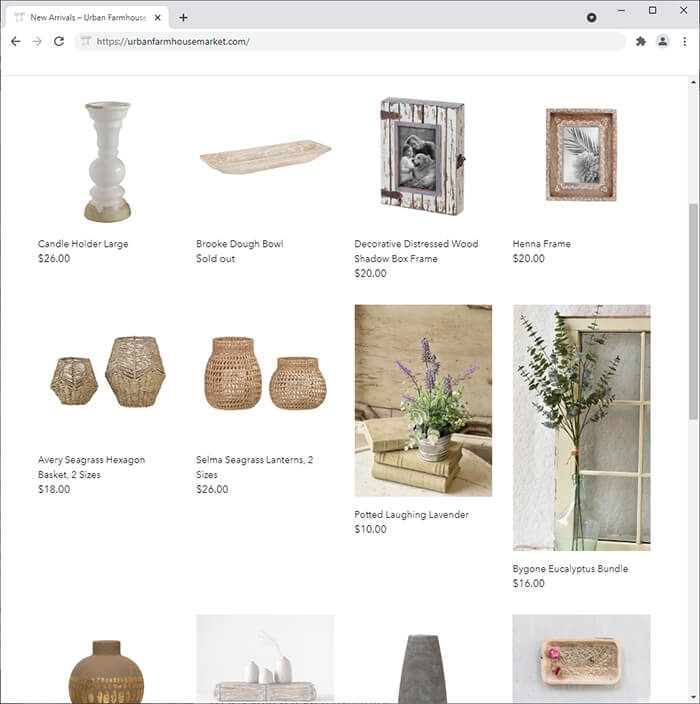 See website: urbanfarmhousemarket.com
Shopping online just got a whole lot better for the lady looking to redecorate her home with this amazing Urban Farmhouse Market. By far the best part of this site is the inspiring before and after pictures of rooms that have been made-over by the in-house home-styling team that offers interior design and styling services. You can get a first-hand look at the process and result of hand-picked items that are perfectly placed into your personal space to achieve that magazine page of your own. From pillows and throws to create a cozy atmosphere to constantly changing decor pieces and gifts under $50, this store from Long Island goes the long haul for making your design dreams a reality with their styling team and variety of home decor items.
4. The Reclaimed Farmhouse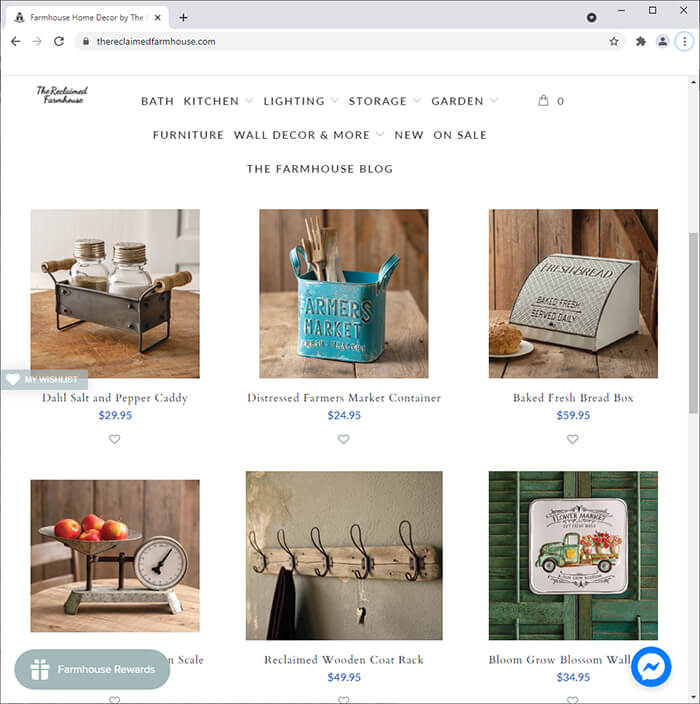 See website: thereclaimedfarmhouse.com
From flat-rate shipping to trending now, guests will be impressed with the unique larger pieces available on this farmhouse boutique. Specially crafted from the special childhood memories of life on a farm, the site owner reminisces on mushroom hunting, milking cows, and gardening in hopes of bringing some of these cherished childhood memories back to life for customers. One of the coolest parts of this site is the unique and interesting garden planters available from vintage truck pots to water spigot plant hangers. You'll find kitchen, garden, and furniture pieces that make your home feel just like your fond memories of going to grandma's house as a kid. There are even larger furniture pieces to meet your unique needs.
5. Pottery Barn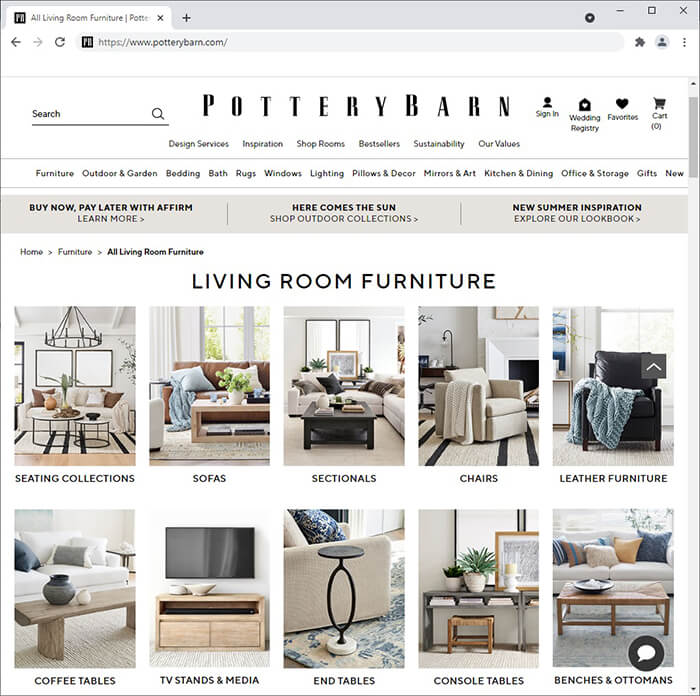 See website: potterybarn.com
This national chain capitalizes on a lived-in sophistication look for its clients. Frequent customers enjoy the look and feel of Pottery Barn's unique talent in mixing new pieces into exiting decor and achieving the comfort of home with a modern update. It's one of the only national chains to make this work and not appear to promote a cookie-cutter look in American homes. Throughout the site, you'll notice their nod to tonal neutrals in all designs that showcase very stylish furniture and furnishings for every room of your home. You're just a click away from getting inspired for the upcoming decorating season as they have an amazing section devoted to this conveniently titled "The Spring Lookbook."
6. Farmhouse Decor Shop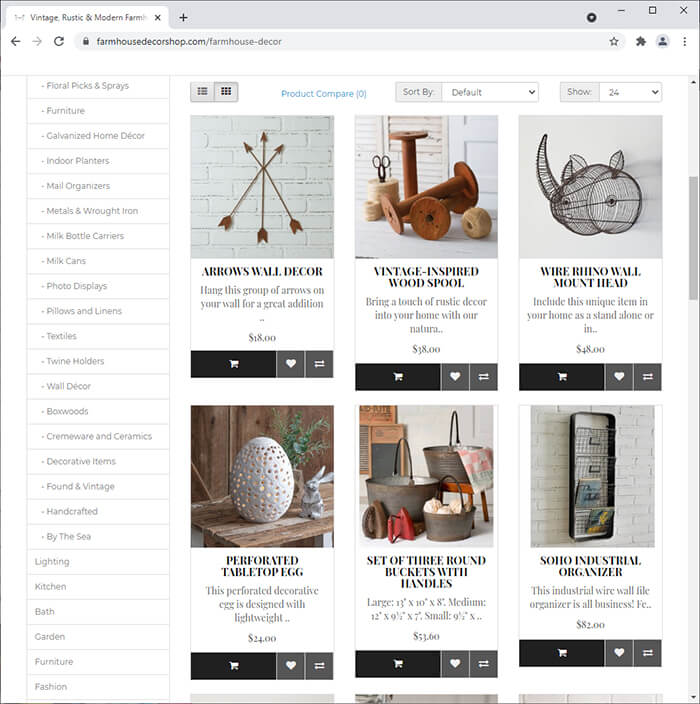 See website: farmhousedecorshop.com
Deep in the heart of Texas comes this online shop that sells anything your heart desires in American and French-style furniture and accessories. Their garden department offers the cutest and quirkiest displays from a watering trough boot planter to an ice cream truck bird feeder. If you know exactly what you're searching for, this site is simple to navigate since it utilizes very specific search buttons to label everything in its inventory. From kitchen and bath to lighting and furniture, the inside of your home will have all it needs. Perhaps the money piece of this store is the small selection of authentic vintage pieces as well as handmade items. And no one else has the variety of unique lids like the screened dome and Hungarian pickle jar.
7. The Bella Cottage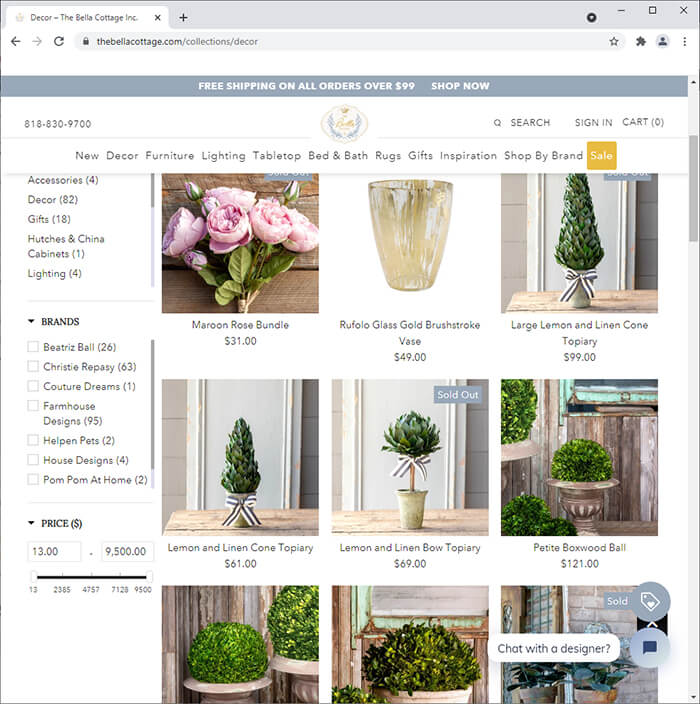 See website: thebellacottage.com
With a high 4.7 star rating for customer service, there's a lot to love about shopping this farmhouse store online for your home decorating needs. You'll love the luxurious French Country collection as well as the traditional Farmhouse style you've grown to know. There are tons of inspiration everywhere you click with the enormous offering of brands and ease in shopping by the specific one you favor. All of the home furnishings you need from furniture to tabletop decor as well as rugs and lighting are at your fingertips. Maybe what sets this site apart from the rest is the darling designer pet accessories department.
8. 1851 Farmhouse Store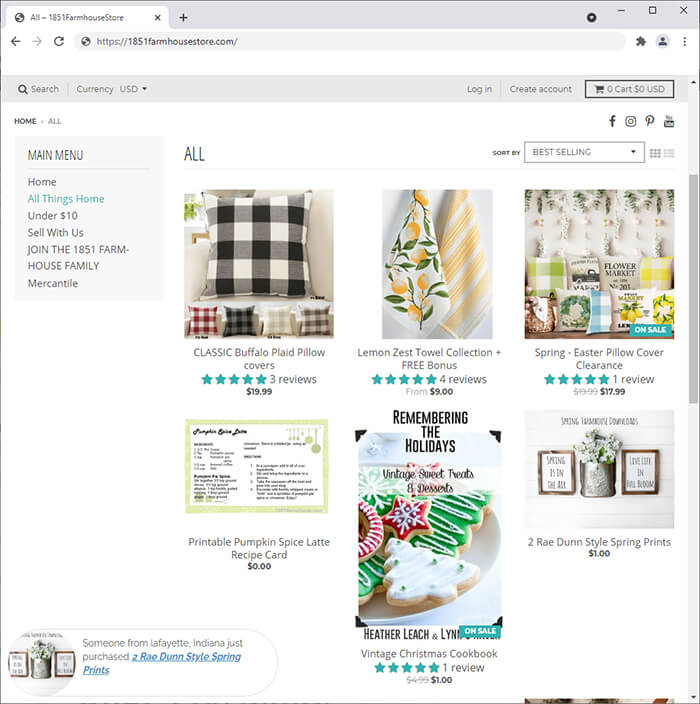 See website: 1851farmhousestore.com
Who doesn't love a good deal? And it's even better when you find that go-to place for small gifts. Here is the place where these worlds collide. 1851 Farmhouse Store boasts a fabulous "under $10" section that forever takes the dread out of office gift exchanges. This online mercantile set-up is the quintessential modern version of the mercantile stores of the past. You'll find all things for the home as well as some free and/or very cheap downloadable recipes and prints for your pleasure. Each season, there is a featured collection to keep you on-trend with the changing of the thermometer outside.
9. Decor Steals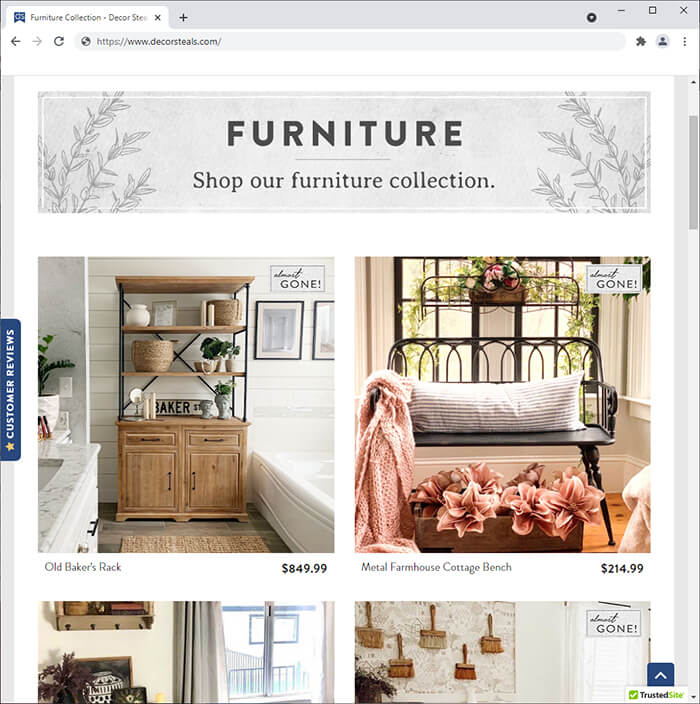 See website: decorsteals.com
Owner Yas began creating a home of her own and this labor of love resulted in carefully curated items offered to assist in creating your special palace of peace. A fun feature of the site is the timer at the top which counts down the remaining time until the deal of the day ends. You'll love the arrangement of what's trending, must-haves, spring boutique, today's steals, furniture collection, as well as the blog which provides great inspiration for storage solutions and color trend ideas. One unique feature that is user-focused is the shop by photos where you click on a photo with the opportunity to shop for the items displayed. It's an amazing concept since you can visualize the piece within the setting of the room to know what it will look like in your space and not merely how it's featured in a store display.
10. Marmalade Mercantile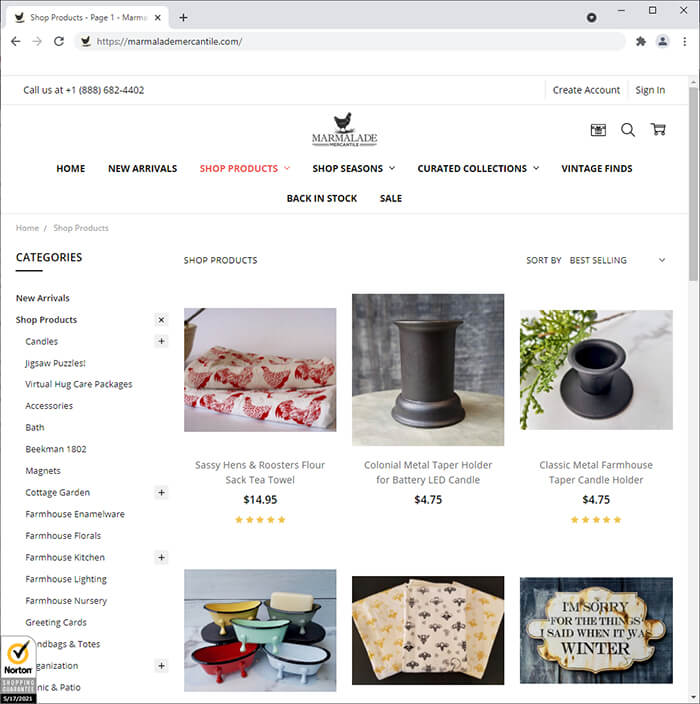 See website: marmalademercantile.com
Straight out of Ithaca, NY, you'll feel the love of this small family business that exudes farmhouse love with a Southern sentiment. Complete with a rewards program, this site delivers on a variety of creations from handmade, machine-made, imported, and proudly made in the U.S.A. to meet your decorating needs. The team scours those hubs for one-of-a-kind items like estate sales, flea markets, and auctions to do all of the dirty work for you. You'll delight in these vintage finds when creating your home and keeping it in season. An original aspect of this farmhouse boutique is the mailable and wearable tiara greeting card assortment. What better way to celebrate a birthday when you can't be together in person?
11. The Cottage Store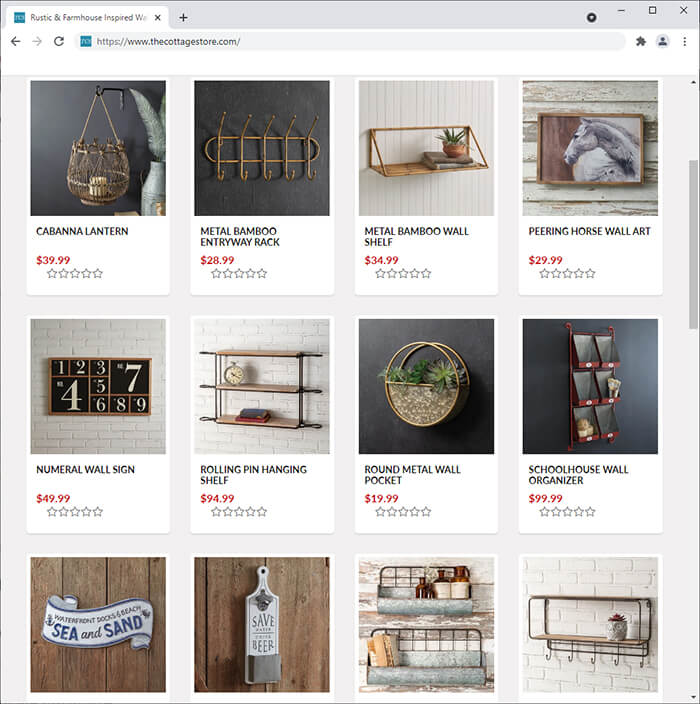 See website: thecottagestore.com
As one of the best farmhouse online stores, The Cottage Store offers a huge selection of home decor with their partnerships with several manufacturers that are gurus in all things vintage and rustic farmhouse. What's the best part? If you can't find a specific item, you can give them a call and they'll burn the midnight oil to uncover your hidden treasure. Based out of Livermore, California, this farmhouse store online allows you to search to your specific style needs of farmhouse, country, rustic, or vintage. You'll love their selection of galvanized metal home decor pieces that are perfect for any designer's style. Some interesting choices include metal farm feeding-inspired storage solutions and reclaimed shutters that neatly and cleverly serve as a base for a series of shelves.
12. Shabby Chic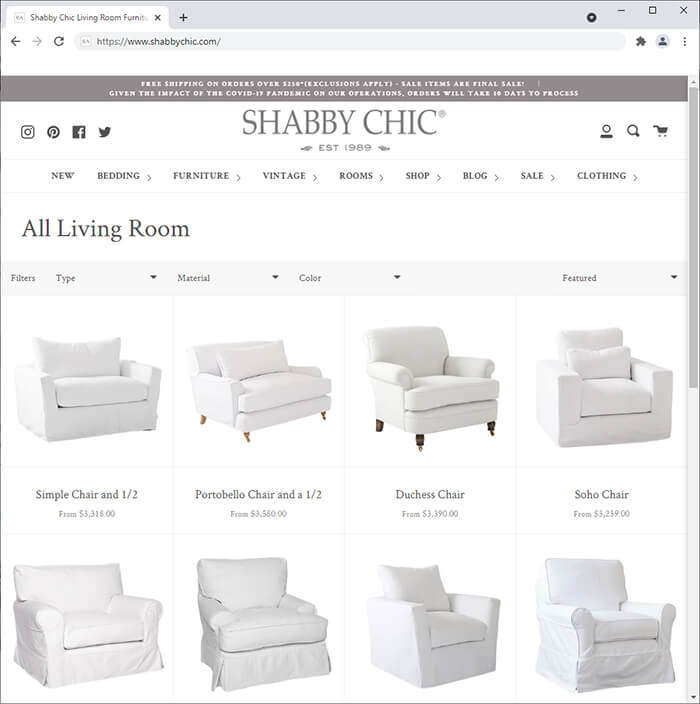 See website: shabbychic.com
Established in 1989 in Santa Monica, Shabby Chic is a prime place to pick up some vintage floral or old-world items to cozy up your home. Search bedding, furniture, vintage, rooms, and clothing to find what your heart desires. They even offer a registry and wish list so you can help others shop for you. And if your love of design isn't matched with ability, check out the design services available to assist in your home styling needs. Probably their most noteworthy contribution to the farmhouse store online business is the completely original collaborations section. Here you'll be amazed at the detailed dollhouse masterpiece sets and the lovely, feminine surfboards that are shabby chic covered from head to toe.
13. Chic Artique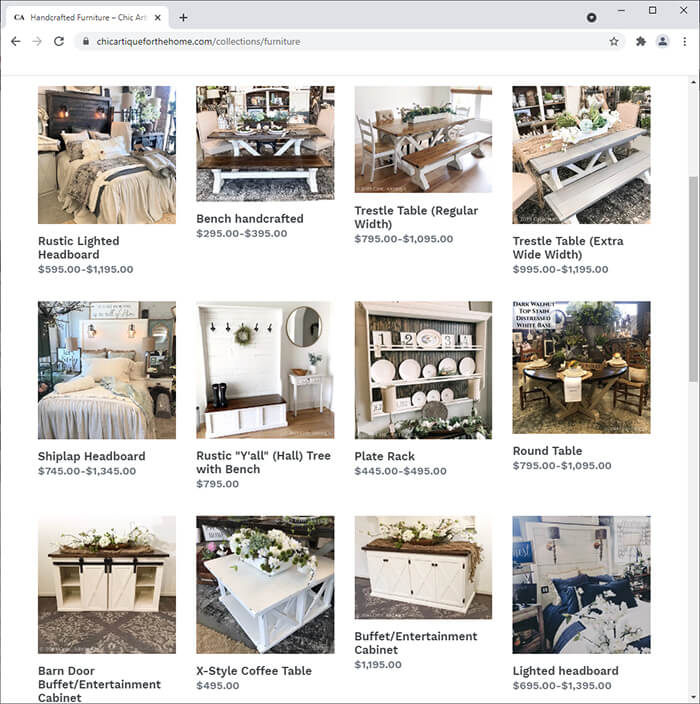 See website: chicartiqueforthehome.com
You'll be most impressed by the hand-crafted headboards and farmhouse tables you'll find that makes this site one of the best farmhouse online store options on the web. No matter what size of space you have, these custom pieces are just what you need. Emerging out of Tennessee, this family business boomed from a 10×15 booth to the 5,000 square foot storefront it is today. Selling all things farmhouse in the categories of home decor, furniture, boutique, and seasonal, you'll be happy to know they have a wish list and registry too. Some of their featured furniture pieces include a plate rack, trestle table, and hall tree with bench. Their most prized possession has to be their uncanny ability to craft a shiplap headboard complete with USB ports and lighting fixtures with dimmers.
14. Blackforest Decor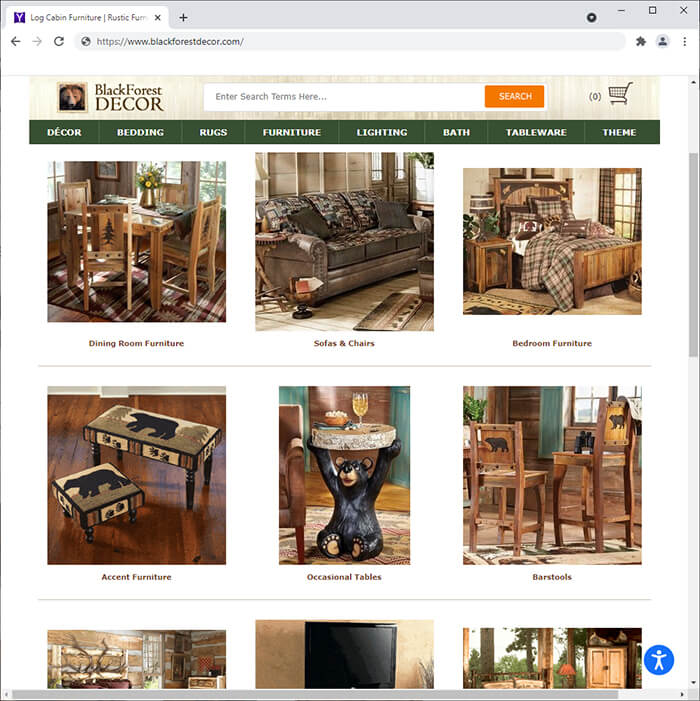 See website: blackforestdecor.com
Sometimes having cabin fever is a good thing, especially when you can decorate your woodland wonderland with all of the amazing rustic lodge-inspired decorations and furniture pieces found at this cool online cabin-loving store. Based in the state of Oklahoma, Blackforest Decor capitalizes on all things cabin. From bedding to meet your luxury or rustic taste to rugs, lighting, and wall hangings that mimic the great outdoors, you'll find everything you need to transform your cabin into your home. Focus on your favorite critter choice of bear, moose, or fish to accent your rustic Pine tree paradise. This store also offers some amazing and great gifts like footwarmer pocket blankets to keep the winter chill off your toes to switch plates that blend into the veneer of the log walls.
15. The Modern Rustic Home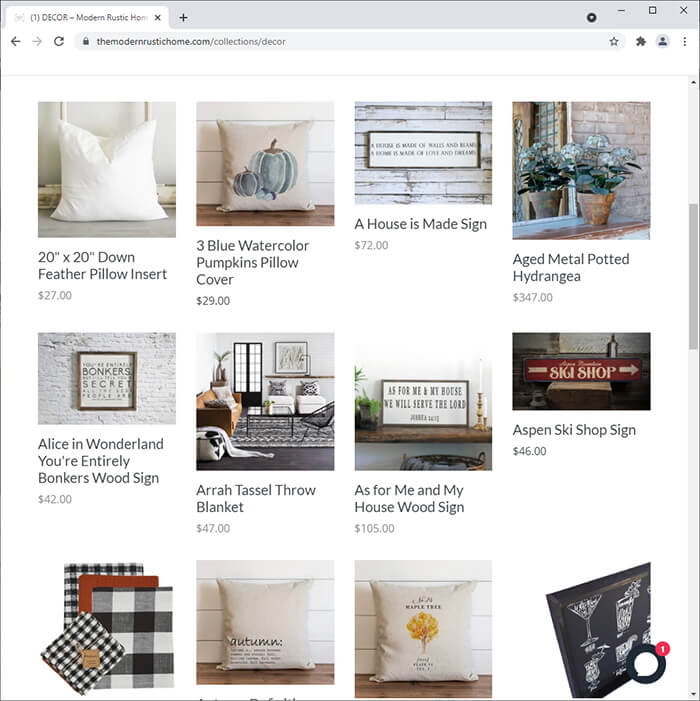 See website: themodernrustichome.com
Maybe one reason this is one of the best farmhouse online stores is that you'll find it's an amazingly helpful blog that includes tips on incorporating farmhouse style into your space and detailed pieces into your place you call home. While furniture is not the focus of this store, it certainly compensates with a huge collection of apparel, gifts, custom items, signs, rugs, lighting, and all the accessories your tabletop decorating demands. Featuring clay pieces by Rae Dunn, you'll delight in her simplistic style as well as the large variety of t-shirts bestowing fun quotes for Mamas everywhere. Enjoy the distressed white wash finish, plaids, black and white pieces, and all of the neutrals your heart desires.
15 Online Stores that will Complete Your Farmhouse Look
Take your time and carefully meander through this large and lavish grouping of online farmhouse boutiques to begin, continue, or complete your home's farmhouse goals. The perfect formula takes planning and some organization to make the farmhouse trend feel like home. From large and sturdy wooden furniture pieces to the soft and delicate textiles of tea towels, throws, or pillows, you are guaranteed to discover the item on your checklist. And even if you're searching for a perfect farmhouse-inspired gift, you will be certain to find just what you're looking for in that department too. Have fun perusing these farmhouse finds from vintage and handcrafted to reproduced, to keep up with this trend that seems to be here to stay!