Centerpieces are one of those finishing touches that demonstrate your style to family and friends. These farmhouse style centerpieces will tell the world that you love the combination of vintage and rustic. Let your imagination run wild with these ideas so that you can showcase your own farmhouse style.
18 Creative Farmhouse Style Centerpieces to Make Your Table Unforgettable

When you think of this style of centerpieces, your thoughts may go towards colorful wildflowers spilling out of an old milk pitcher. That is definitely a classic centerpiece for the old farmhouse. However, that doesn't have to be the only option available.
Change up your containers. Instead of a milk pitcher, why not use an old apple basket or wire egg basket? For something a bit more sophisticated, clear glass jugs and large Mason jars are definitely. You will find these containers, and many more, in these farmhouse style centerpieces. Add in accessories to make your arrangement personal. Old cookbooks, family heirloom kitchenware, and even vintage toolboxes can take your centerpiece in new directions.
Small and large. Round and square. You will find just the look you want to create among these farmhouse centerpieces. If one doesn't stand out, take ideas from several to make your unique vision come true.
1. Pop Bottle Box Holding Beautiful Flowers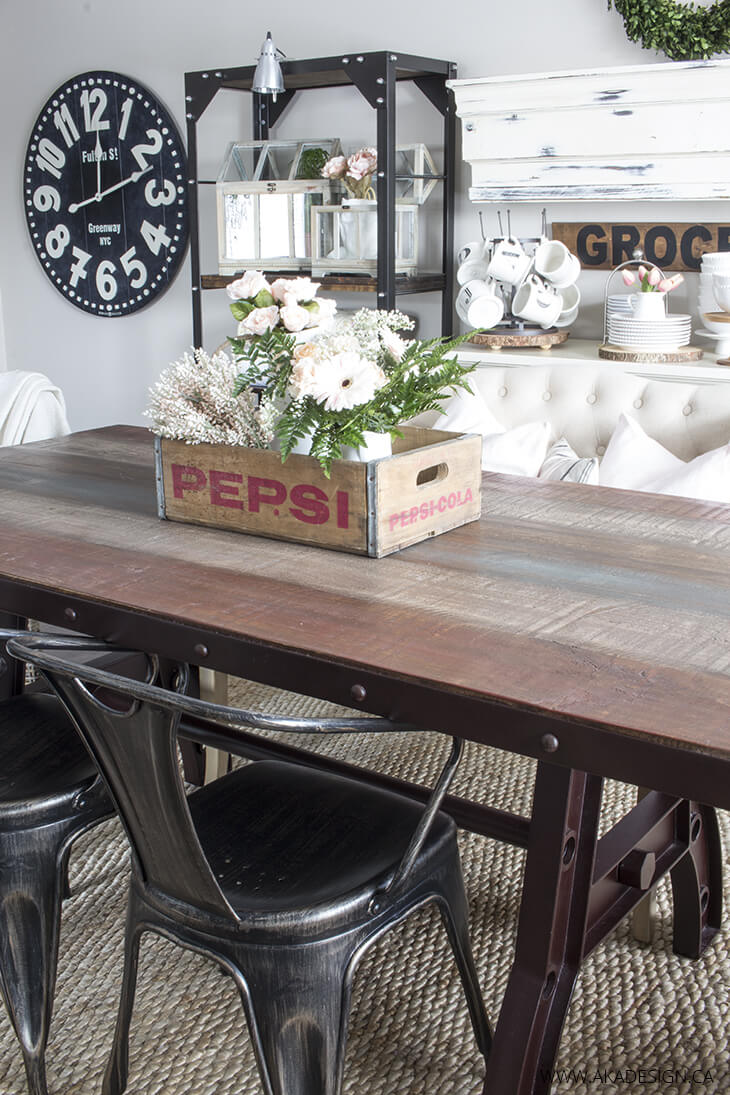 Garden flowers in rough bundles look extra special when displayed in creamy white containers. However, they take on a rustic feel when you place all of the flowers and containers in a well-worn pop bottle box. These old wooden boxes offer a beautiful vintage touch to any farmhouse table. The flowers can change with the seasons.
2. Industrial Ball Meets Rustic Coffee Table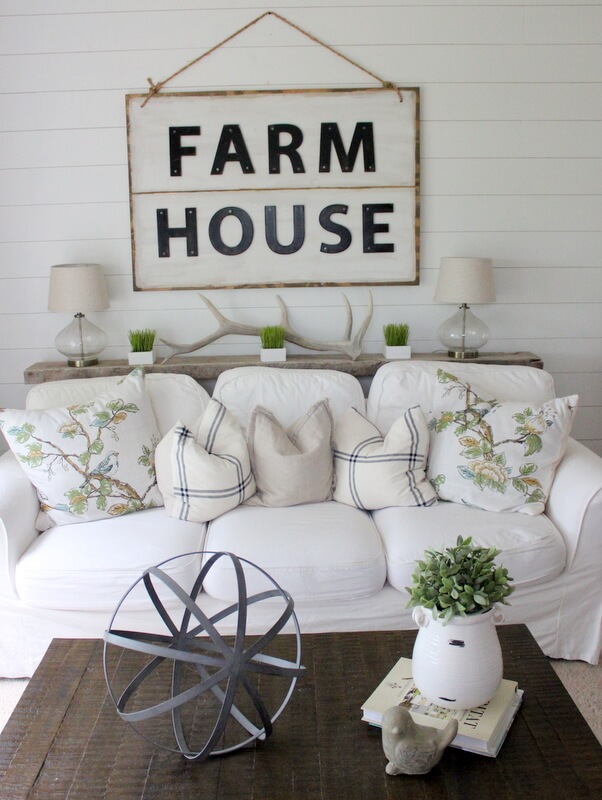 The industrial look of a metal globe makes an interesting statement in any decor. When it sits on a rustic coffee table, alongside a simple white jug filled with succulents, it fits perfectly into the farmhouse look. The jug sits atop a couple books to give it height to make the globe, while a simple bird figurine finishes the vignette.
3. Galvanized Pots Holding Glorious Zinnias
Zinnias are one of the more rustic flowers, taking on a wild-cut look with no problems. Adding faux zinnia flowers to galvanized pots brings a certain sophistication to these rough and tumble plants. The clock and the book offer a tidy contrast to the irregular arrangement of the flowers in their pots. Perfect for your coffee table or mantlepiece.
4. Peaceful Pumpkins and Harmonious Greenery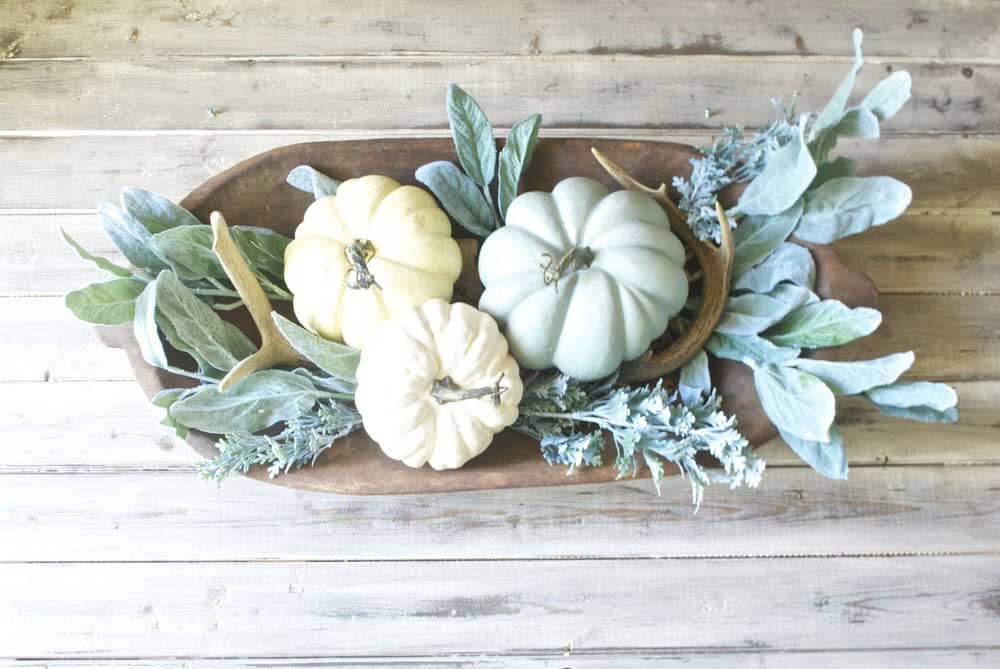 Decorating with pumpkins doesn't have to be a riot of orange. Painted pumpkins allow you to enjoy the shapes of the fruit without the strong tones of its natural color. Placed in a large dough trough, these pumpkins nestle into an arrange of deer antlers and lamb's ear. The rough wooden container and the rustic elements make it a perfect farmhouse table centerpiece.
5. A Tumble of Pumpkins with Personal Bits Mixed In
One of the essential elements of a harvest table is an explosion of seasonal items down the center. This farmhouse table hosts a plethora of pumpkins tumbling in all directions, sitting on a vintage kitchen towel. To make it extra special, personal mementos like starfish have a place. A bit of nature makes its mark in the form of kindling sticks.
6. Vintage Kitchenware in a Beautiful Galvanized Tray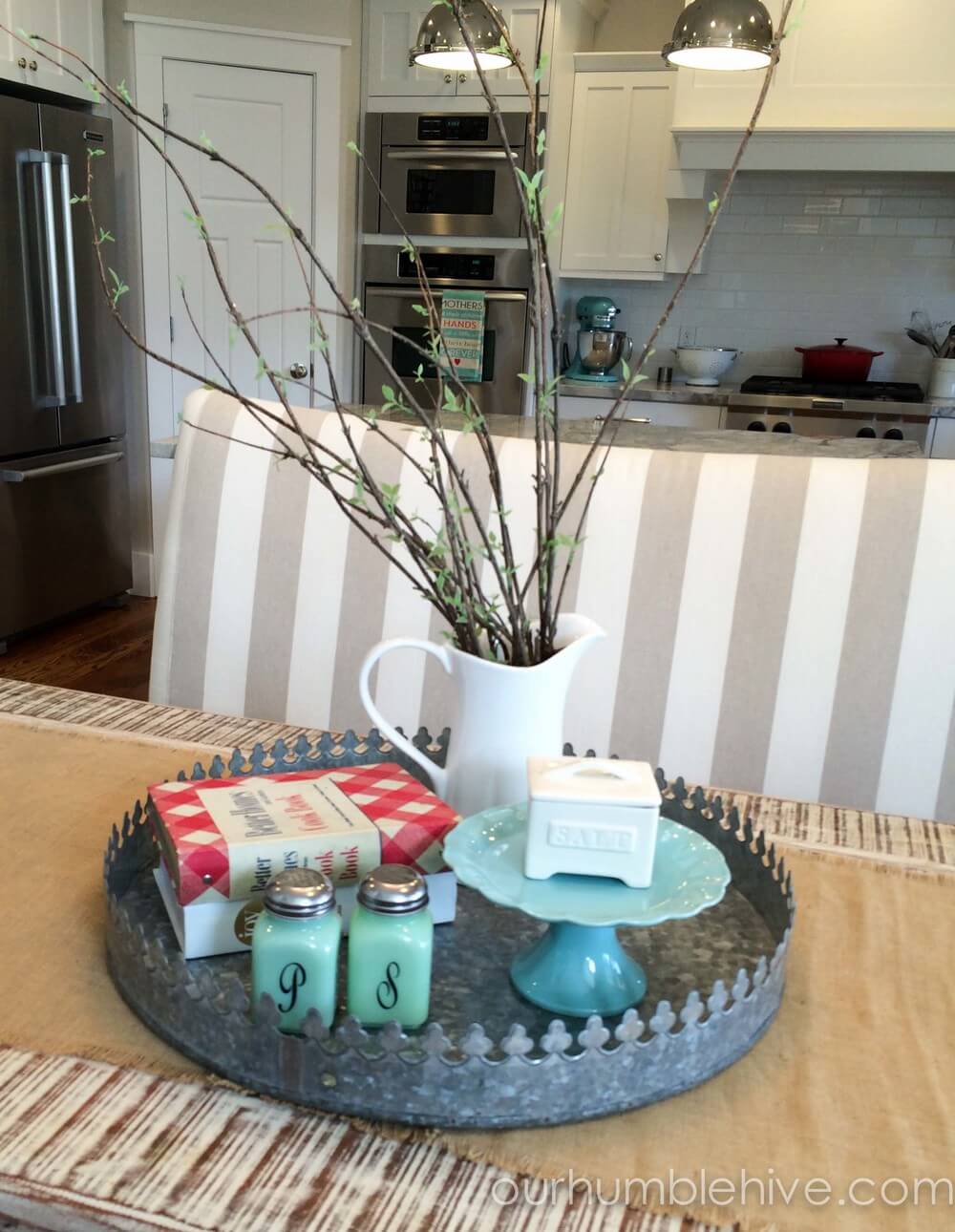 A hallmark of old farmhouses is the collection of vintage kitchenware it contains. Old cookbooks, antique salt and pepper shakers, a classic milk pitcher filled with flowering branches combine to create a homey, rustic reminder of days gone by. There is no better way to use family pieces than at the center of your dining table, where you gather to eat and celebrate.
7. Creamy Whites and Pastels in a Wire Basket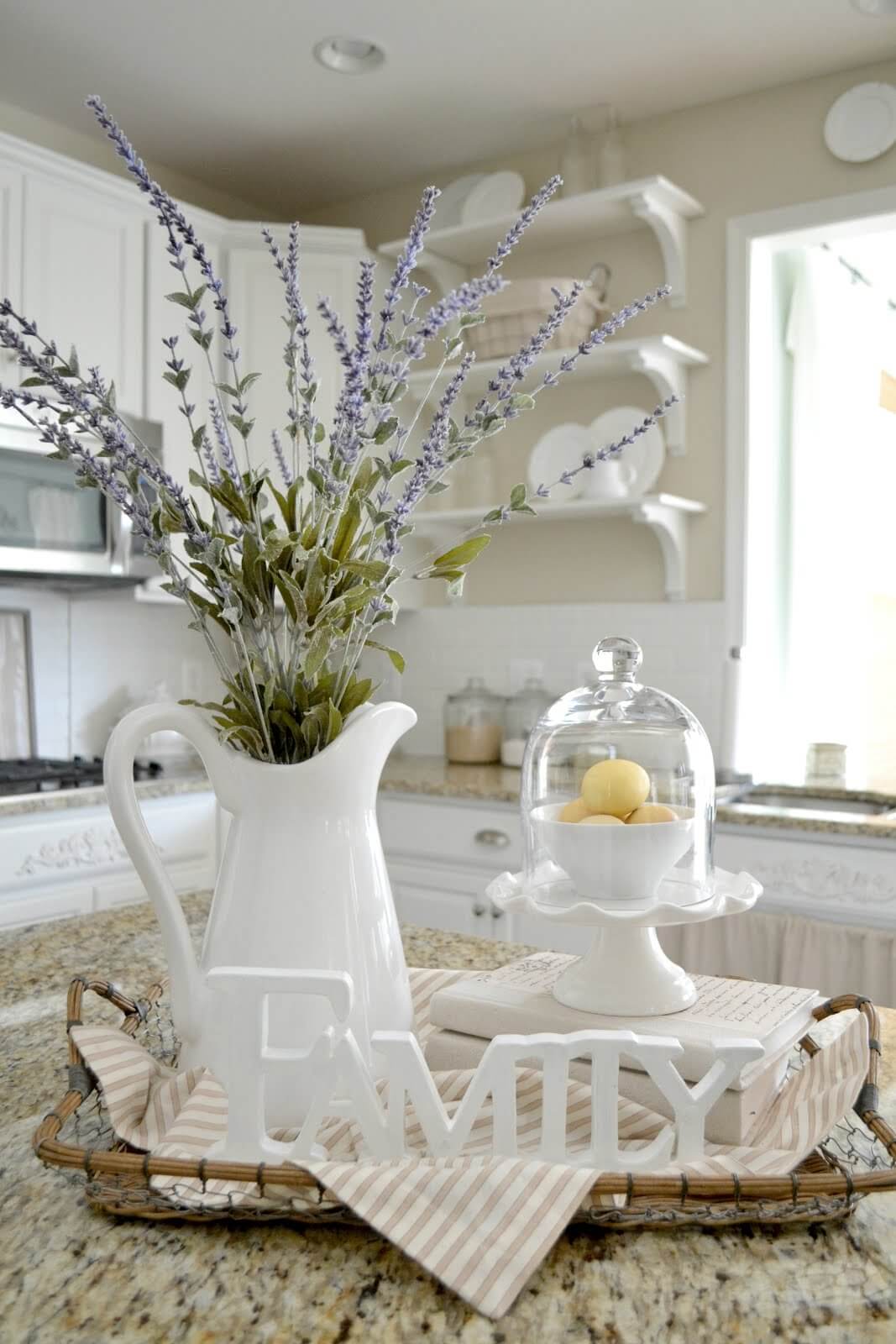 The wire basket at the base of this arrangement offers the perfect touch of rustic. Creamy white accessories in the form of a pitcher and books stand next to the most important statement of Family. Simple shoots of lavender add a scented height to this centerpiece, while eggs under glass bring a touch of gentle color.
8. Riotous Blossoms Spilling Out of a Mason Jar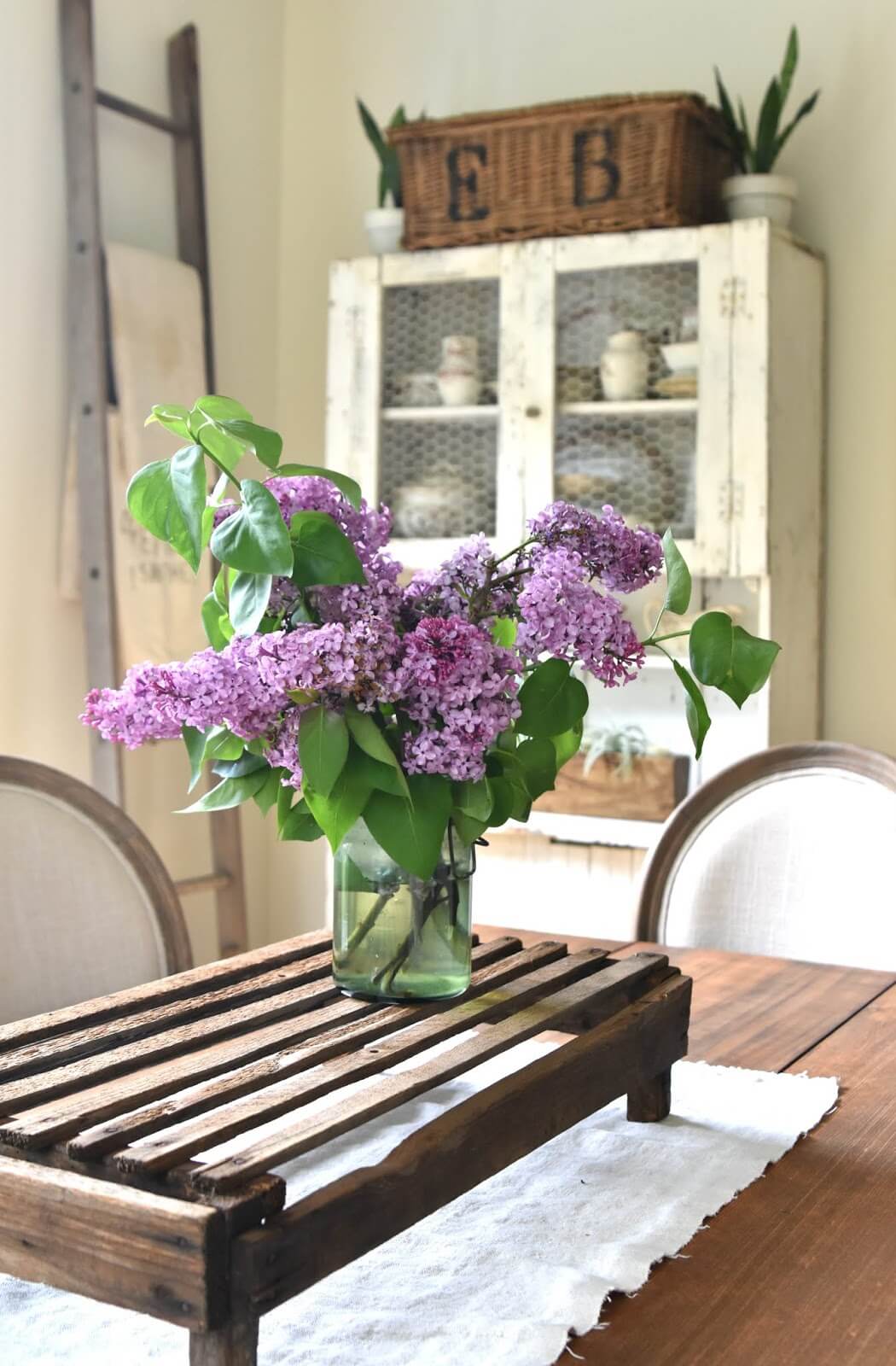 Gathering flowers from the garden for display is a great way to freshen up your dining room table. These riotous purple blossoms spill out of an oversized Mason jar set atop a rustic wooden rack. Placed off center, the bouquet of rustic blossoms provides a gentle height while the wooden rack provides a comfortably vintage base below.
9. Distressed Wood and Rounded Rock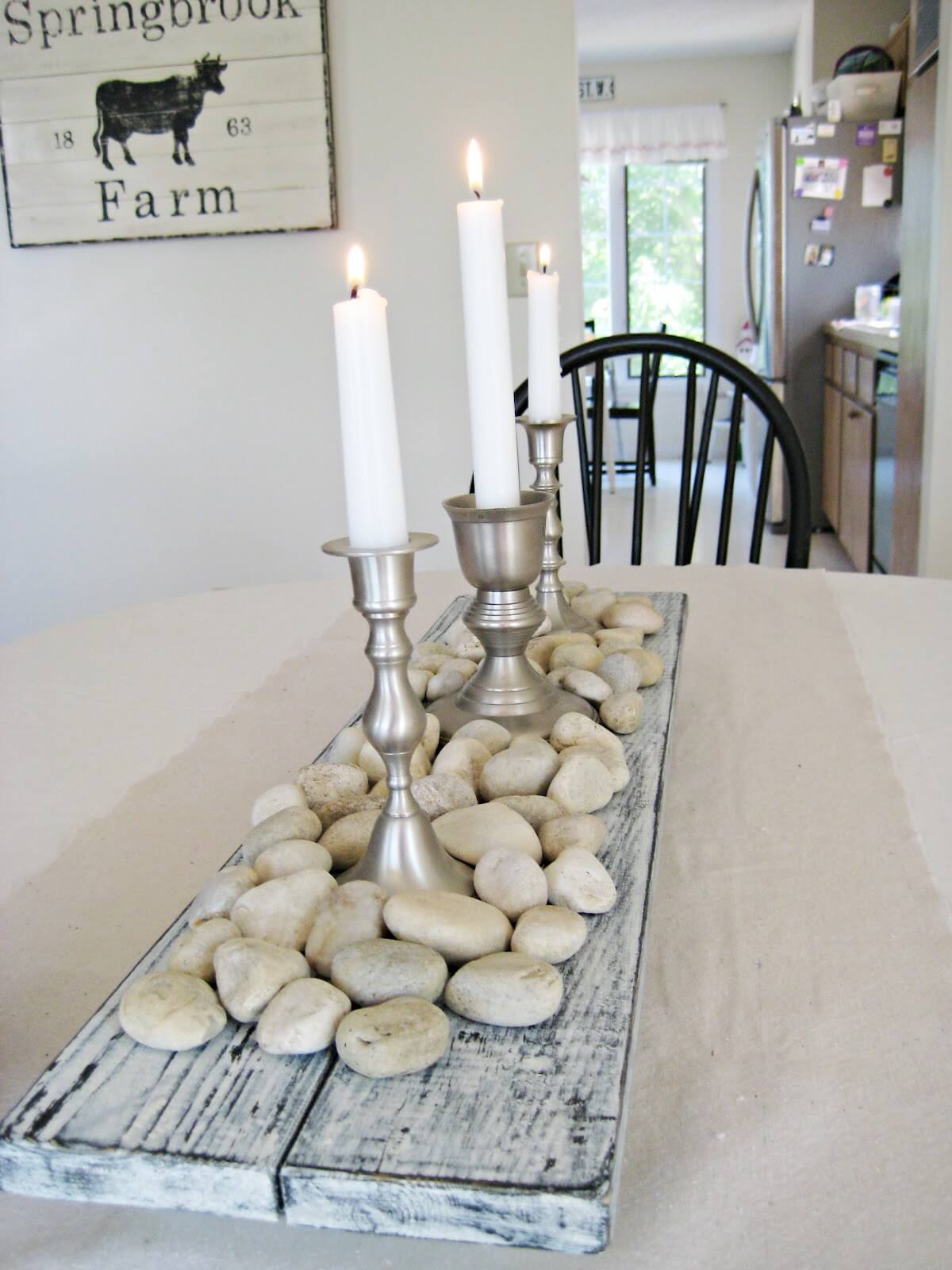 The farmhouse look is all about bringing old pieces together with items that we find in nature. This centerpiece offers all of that and more. The painted distressed wood base gives this arrangement a gently colored base with a rustic touch. Silver candlesticks rise up to give the piece height, while the rounded rocks bring texture and rhythm.
10. Clear Glass and White Flowers
Nothing says that farmhouse style centerpieces need to be complicated. Simple clear glass jars make the perfect base for white flowers standing on high. The green of the flower stems shows through the glass, bringing color to the arrangement, while the white blossoms offer a subtle sophistication to this gentle arrangement. Set two of them side-by-side for a perfect centerpiece.
11. Moss-Covered Succulent Eggs In a Cup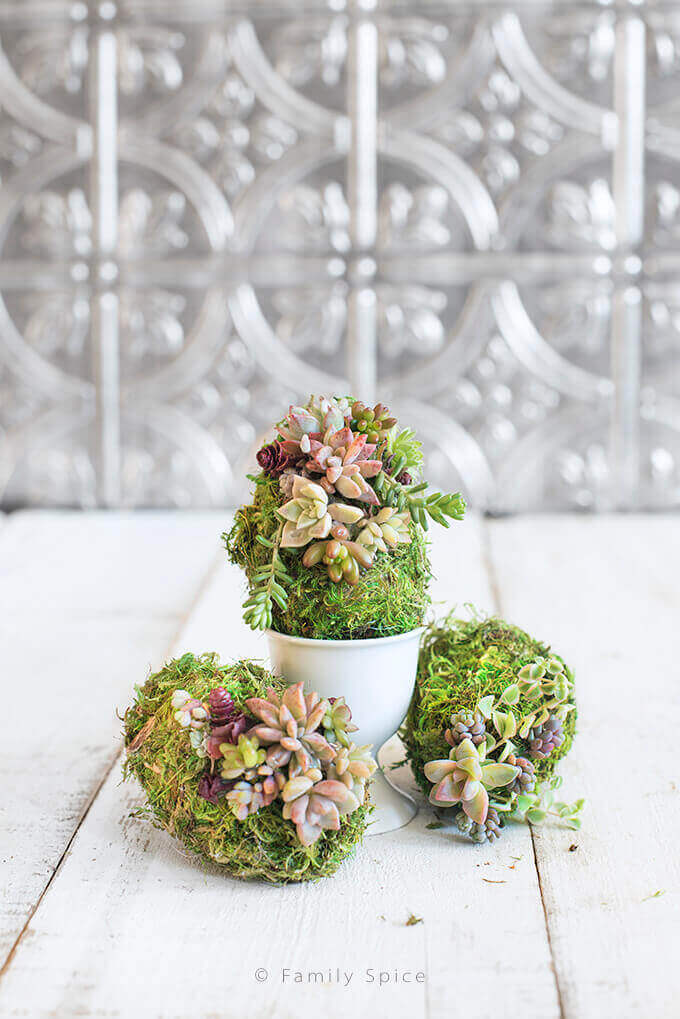 Succulents come in so many different colors, most of which are subtle and sublime. Their varied textures have a built-in rustic charm. Eggs covered with moss make the perfect background for a unique arrangement of succulents. Each egg is a unique masterpiece. This arrangement sets one in a vintage egg cup while the others tumble about.
12. Pumpkins and Black Birds Galore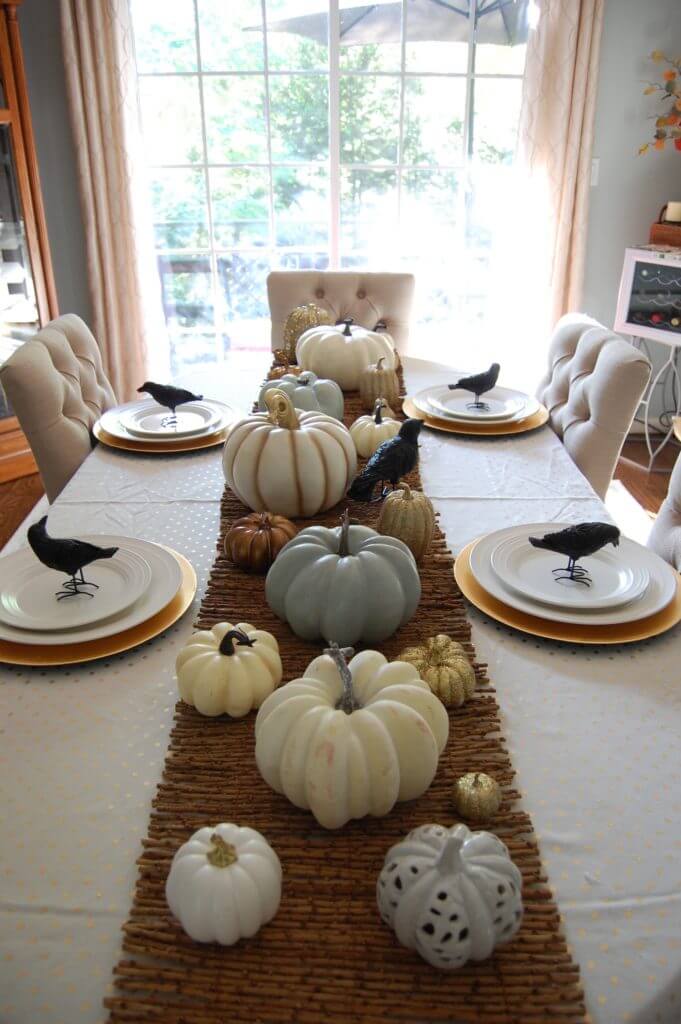 Subtle shades of white, blue, and yellow grace the larger pumpkins in this arrangement, while darker oranges and golds highlight the rest. This centerpiece gives each pumpkin a chance to shine. The addition of black birds to the arrangement brings a sense of whimsy to the arrangement while also making it perfect for the Halloween season.
13. An Old Toolbox and Kitchenware Meet at the Table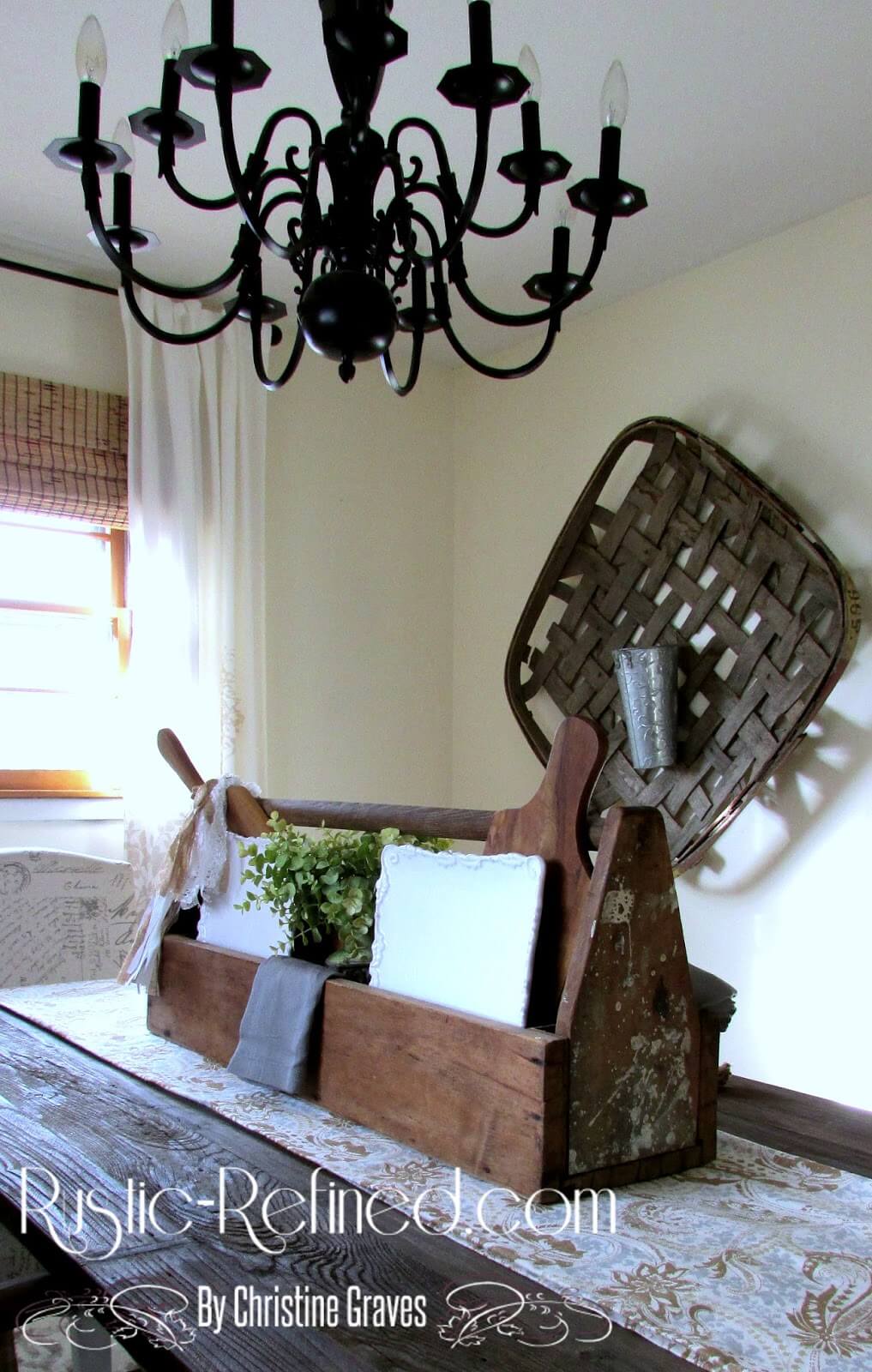 Are you looking for something different and unique for your next centerpiece? An old rustic toolbox is the start to this extraordinary arrangement. It's filled with pieces you can collect from around the kitchen and dining room. Vintage plates, cutting boards, napkins, and lace burst forth to create a farmhouse masterpiece. The addition of hydrangea blossoms finishes it off in style.
14. French Cheesebox and a Simple Candle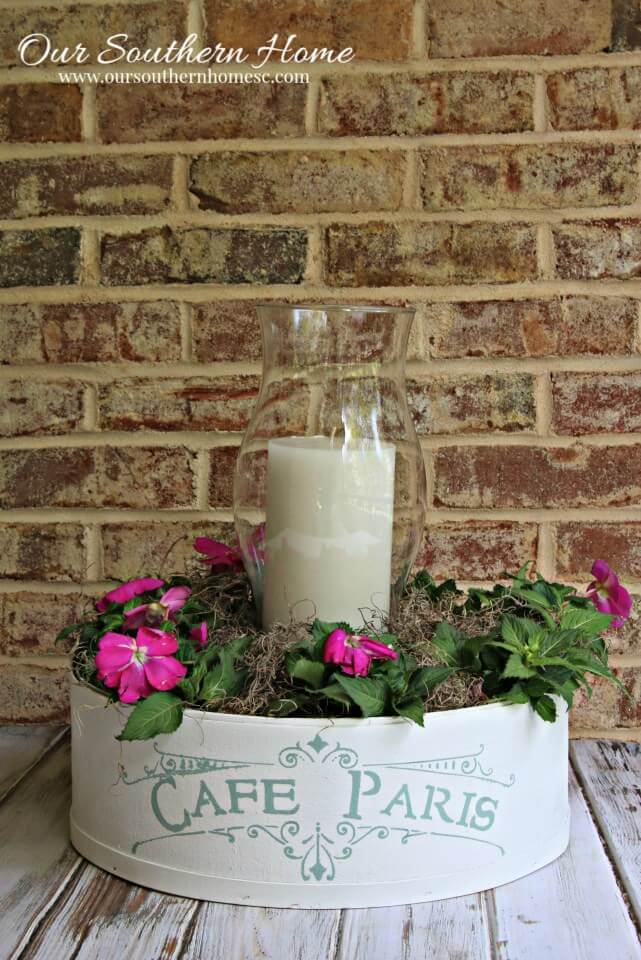 A cheesebox is one of those items you don't see very often. However, its distinct style makes it a perfect addition to your farmhouse decor. Its rounded shape and height make it the right size for an oval or round table. A simple glass vase with a white candle raises from the center, surrounded by live annuals for a touch of color and nature.
15. Farm Containers and Beautiful White Flowers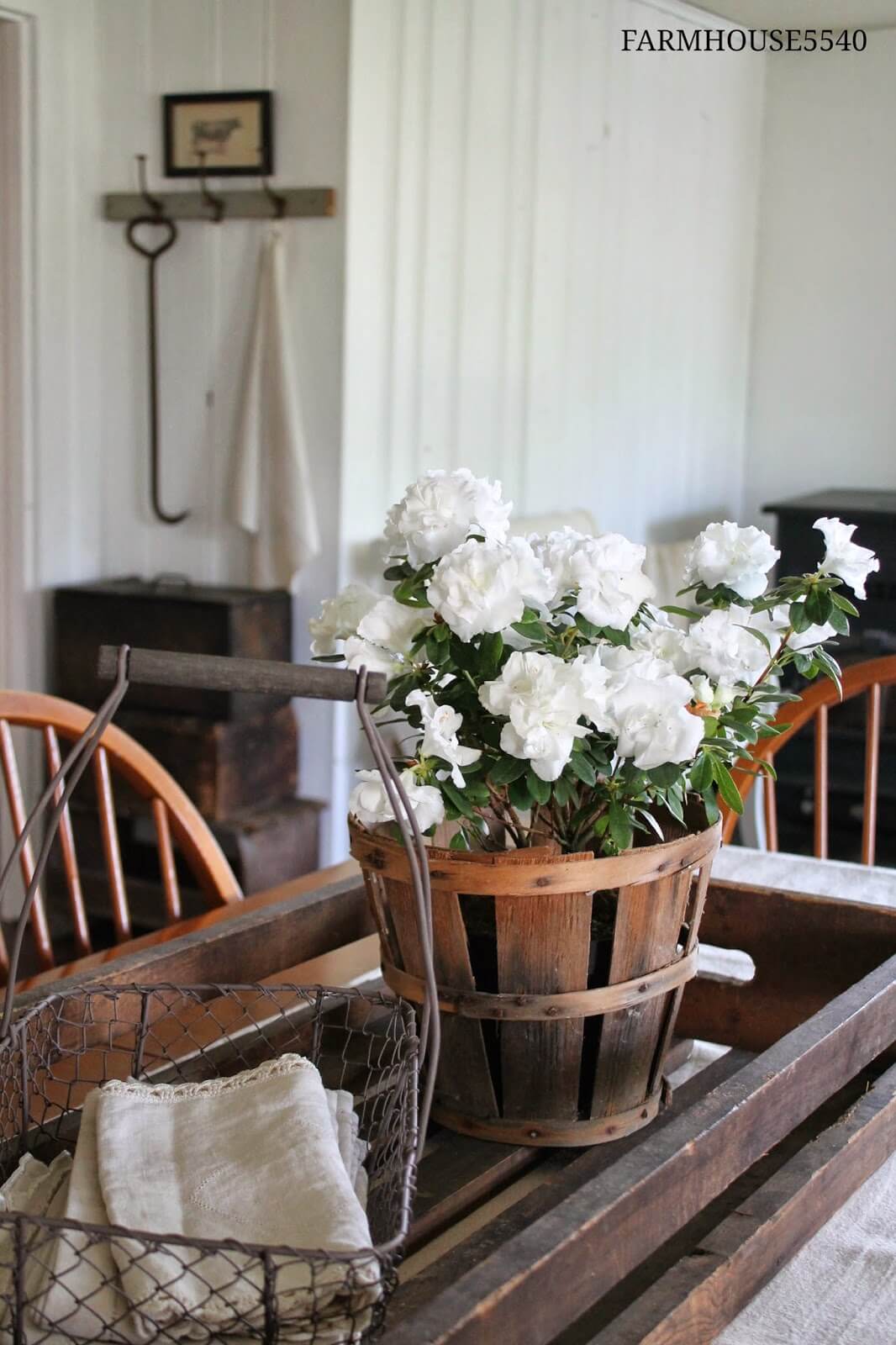 Orchard baskets once held apples in the fall. A farmwife once gathered eggs in a wire basket. Those classic containers make a beautiful addition to any farmhouse table. Filled with white flowers, the orchard basket's wide slats bring an instant rustic charm. The egg basket makes a perfect container for cloth napkins. The wooden crate holding it all offers a solid base for this farmhouse DIY fall centerpiece arrangement.
16. Flowering Branches in a Milk Pitcher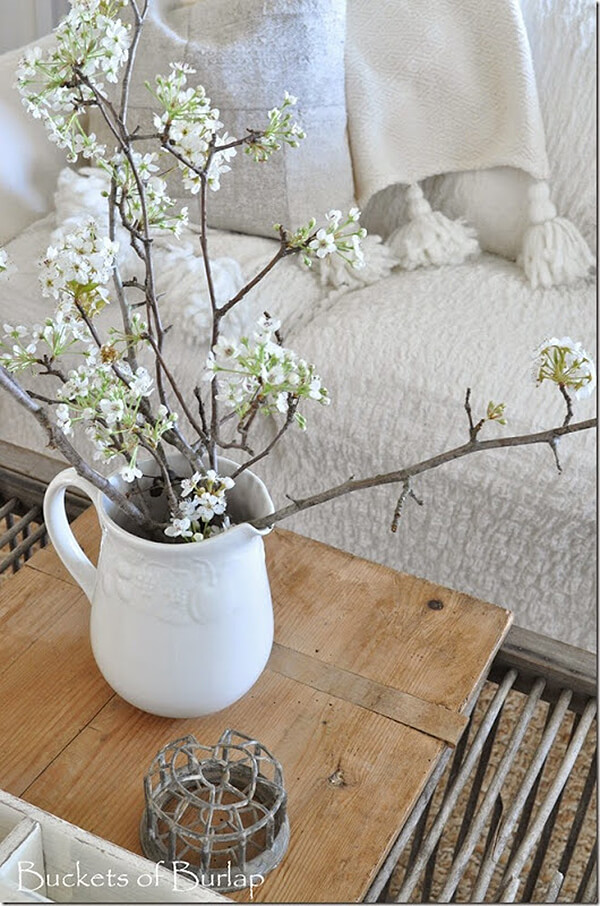 Branches of opening blossoms are always a welcome addition to any home. They bring nature into the room along with texture and color. Place them in a vintage white milk pitcher and you create a beautiful centerpiece for your farmhouse coffee table. The old wooden cupboard door offers that rustic touch as does the old metal light cover.
17. Burlap, Silver, and White Blossoms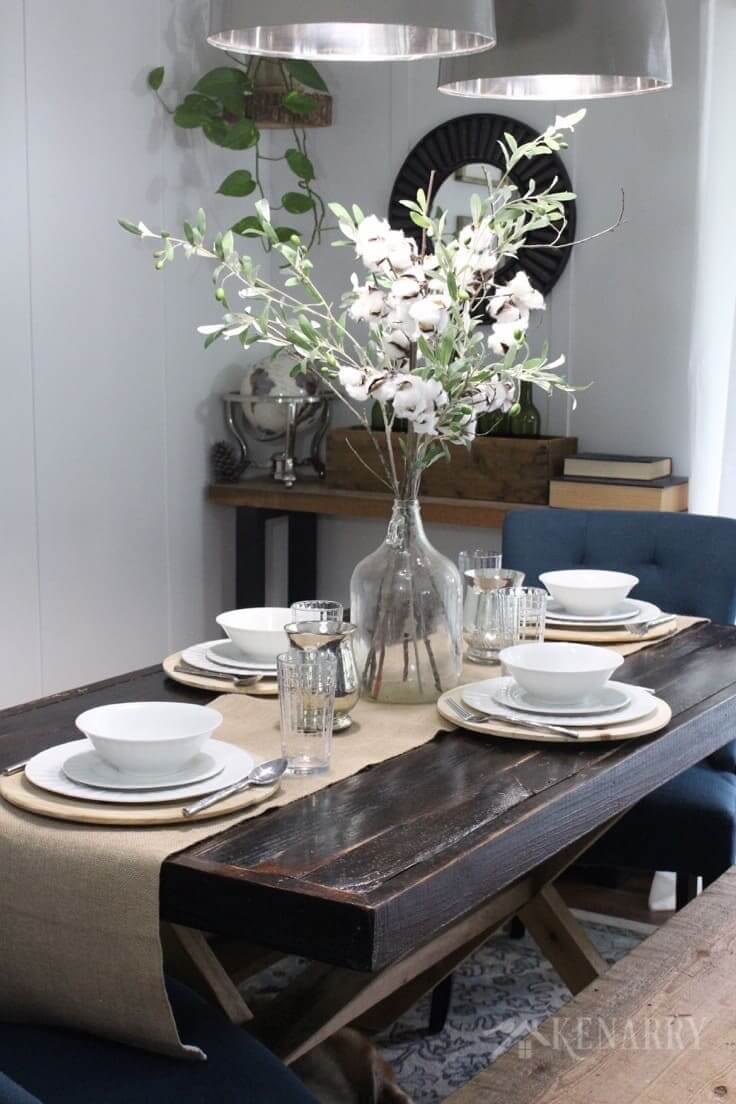 Farmhouse sophistication is actually a beautiful thing. A burlap runner down the center of the table brings that touch of rustic necessary for true farmhouse style centerpieces. A large clear jug is just the right container for tall blossoms and flowing greenery. Two silver containers on either side of the job bring a hint of sophistication to this centerpiece.
18. Flowers in Pink, Jug in White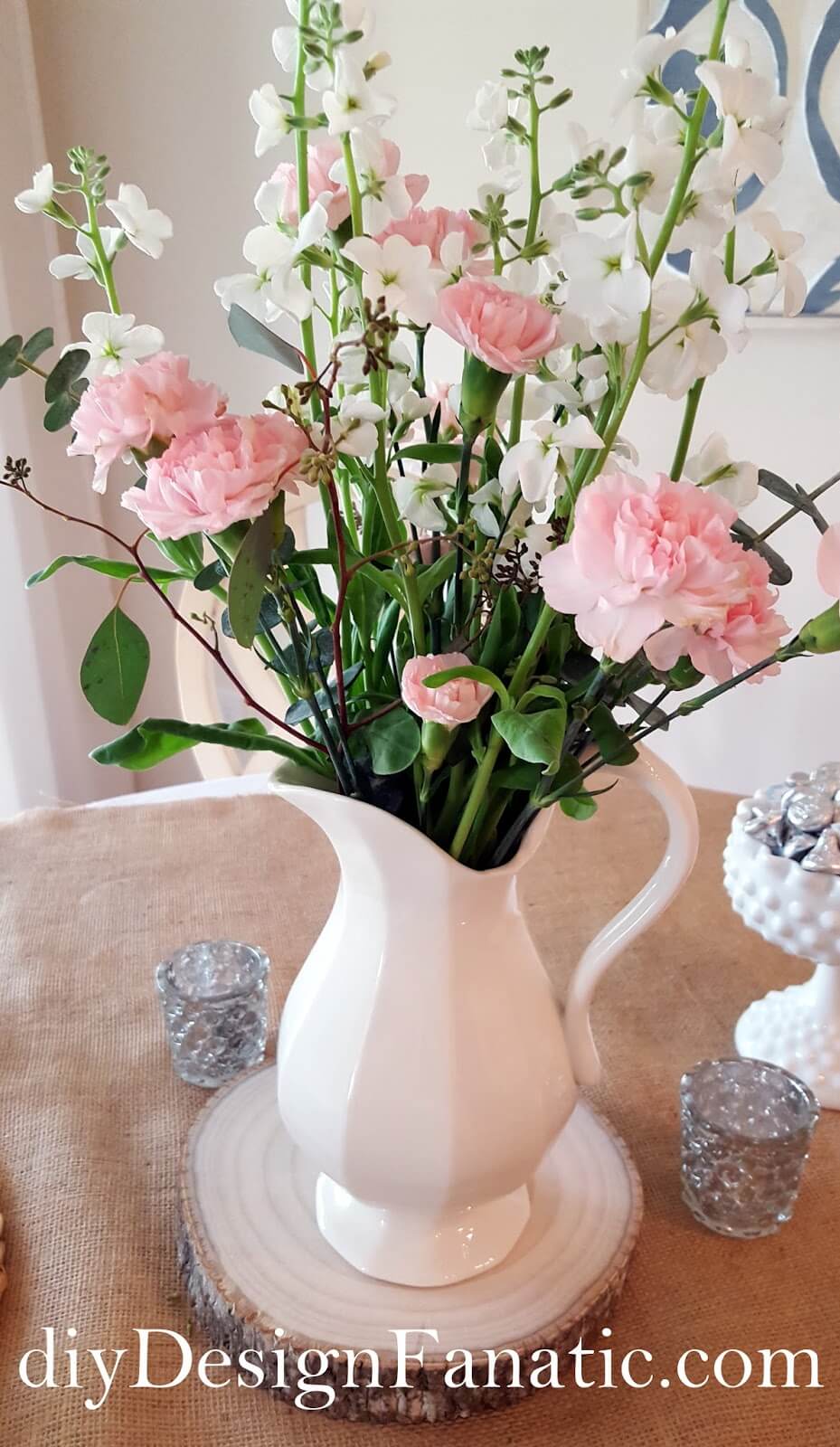 Beautiful blossoms are never the wrong decision when it comes to creating a centerpiece. Subtle shades of pink and white combine with its beautiful leaves to create a scented abundance of natural texture. The multi-sided pitcher brings a sophisticated grace and touch to these rustic blossoms. This tall arrangement would look good at the breakfast table or on your entry stand.
Our Favorite Farmhouse Wall Storage Items to buy on Amazon