A backyard is a blank state in terms of decorating, so if you find yourself in the mood to elevate the outside of your home, consider checking out some of the best garden makeover ideas. The garden can be a remarkable focal point to any home. As it is such an attention-grabber, sprucing it up with some attractive décor can ensure that your backyard is one of the coolest places to be.
17 Garden Makeover Ideas for Your Next Remodeling Project

There are numerous ways you can take revamping your garden. You can build onto the deck you already have, adding some sort of covering or additional plants for more greenery. Or you can do away with the standard fence around your garden and opt for something more personal or colorful to truly help it pop. Further exciting backyard landscaping ideas include adding furniture or building a brand new patio from the ground up to help your garden appear larger and more inviting.
Because there are several paths you can go down to breathe new life into your backyard garden, it is no surprise that some at-home renovators become a bit overwhelmed from all the options. So, we searched around to discover some of the most recommended makeover ideas for your garden, and our journey allowed us to narrow things down to 17 of the best options. These should provide you with enough inspiration to master your next home renovation project.
1. Intimate Pergola and Raised Garden Bed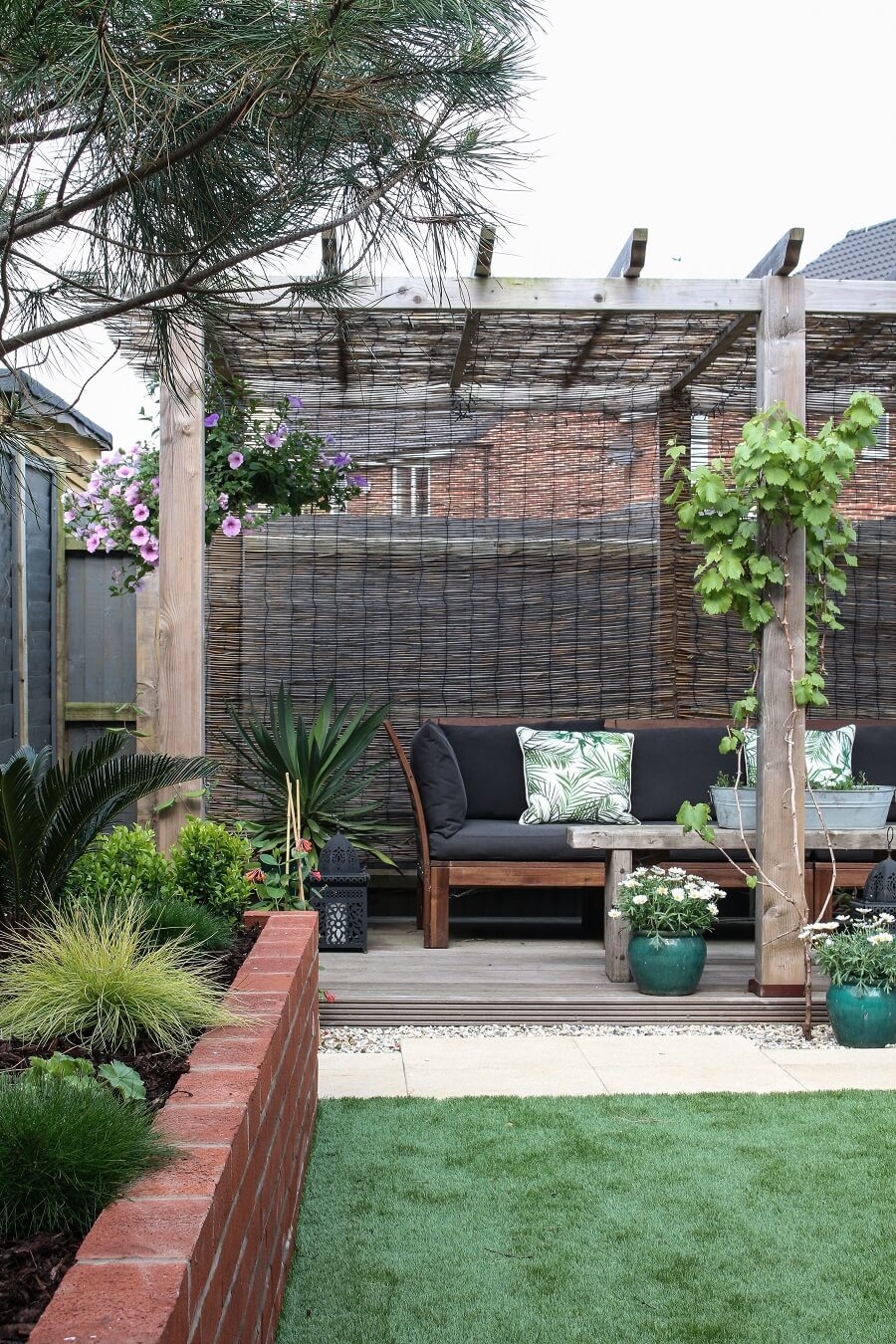 This combination of a raised brick flower bed and a decked out pergola is an awesome idea that transforms typical garden décor into something more personal and intimate. The addition of reed screening offers much-needed shade in the warmer months while also providing a semblance of privacy. What brings it all together is through the selective placement of hanging flowers, tall potted plants, and of course the rest of your garden added to the raised flower bed nearby. It is a wonderful way to create a seamless flow from one area of your backyard to another.
2. Bright and Bold Garden Patio Creation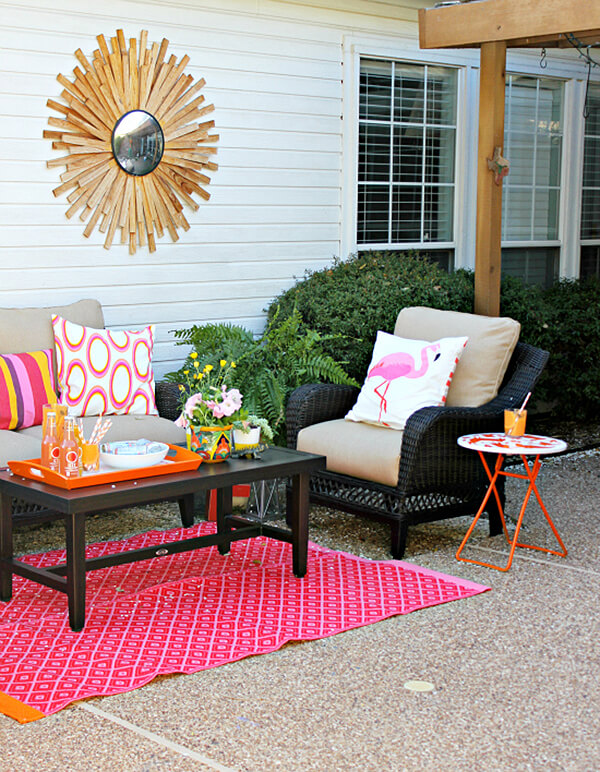 Some incredible backyard landscaping ideas start from nothing, so if you have a wide-open, blank space behind your home, consider creating a garden patio area with some furniture and plants. All you need is some quality patio furniture with some colorful decorative items like throw pillows and an outdoor rug to nail the main part of this project. Once it is time to bring the garden section to life, simply add in some of your favorite potted plants and flowers and set them strategically around the furniture. It helps if you have a nice table so that there's more room for smaller plants and other décor items that will set the unique tone you're looking for.
3. Quirky Rainbow Design Privacy Fence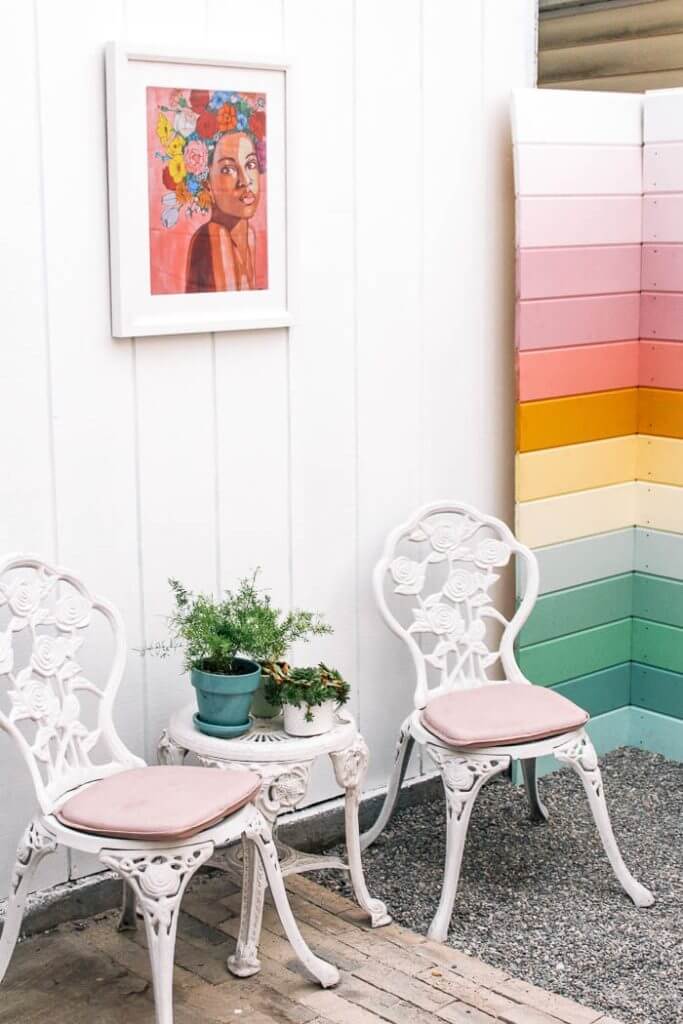 Whether you have a garden that may be too close to a neighbor or you simply want to look at something more than just your standard fence, this rainbow-colored fence can be a fun and cool way to bring some color to your backyard deck. If you have ever installed any sort of fence before, then this shouldn't be too difficult of a project to undertake. You can even place some chairs and a small table nearby to make a cute patio space. This is all a straightforward way to add some vibrancy to your garden without bringing in a host of different decorative items.
4. Beautiful Pergola Patio Dining Set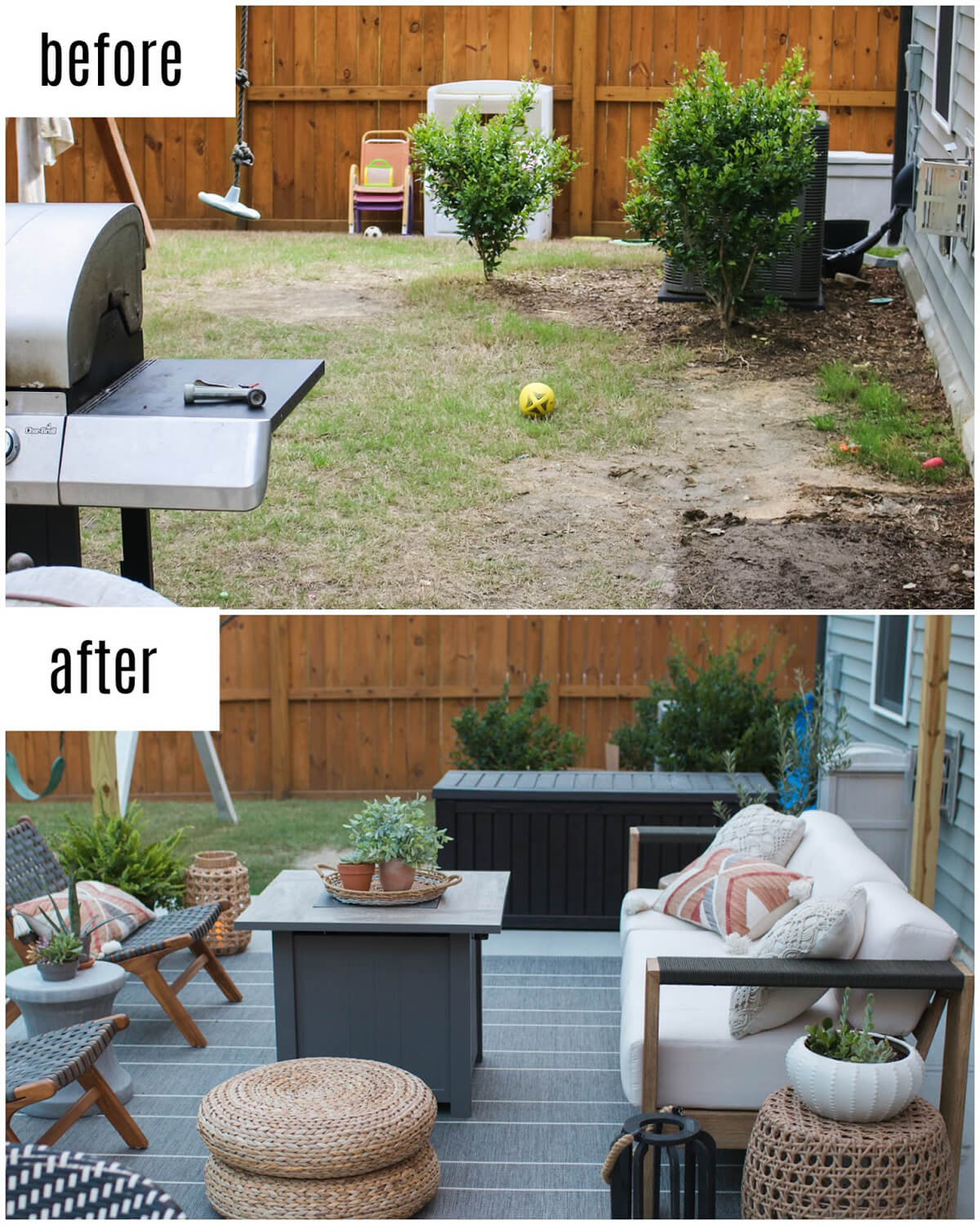 Many of the best garden makeover ideas require you to make a full overhaul of a section of your backyard, and this project successfully does that. If you have a blank space, you can transform it into a beautiful patio with a lovely pergola hanging over it. This type of decorating style may add an idea of more space to your garden while also giving you room to lounge on some chairs and admire your backyard in peace. Add in some side tables to support various plants and you can easily combine your patio with your garden. You can further enhance the area with some hanging lights strewn over the pergola.
5. Simple Budget-Friendly Cozy Patio Garden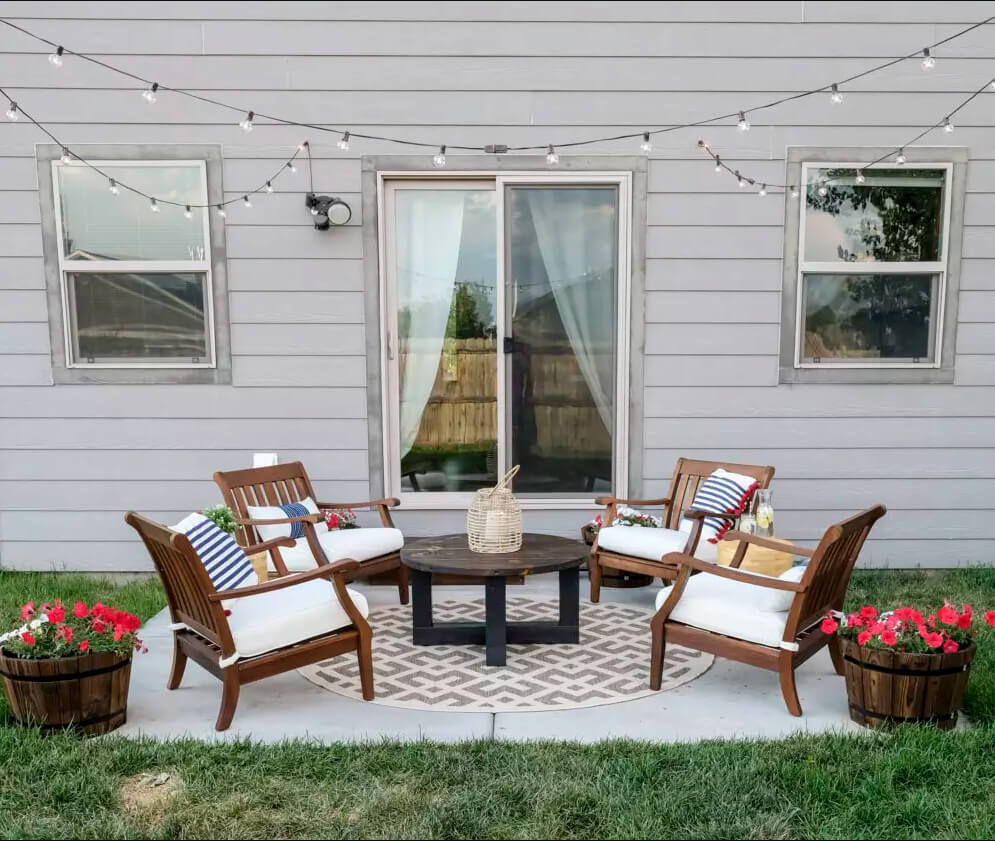 Sometimes you simply do not have the means to go all out with your garden makeover, but that does not mean there is a lack of garden design ideas for you to make use of. This can be an especially useful and awesome idea to make good use of minimal space if you don't have much room for a full garden. Not only does this allow you to have an area to sit, but you can decorate the area around the chairs and table with some larger potted plants to help set a particular tone or enhance your current home décor style.
6. Great Pea Gravel Garden Patio Décor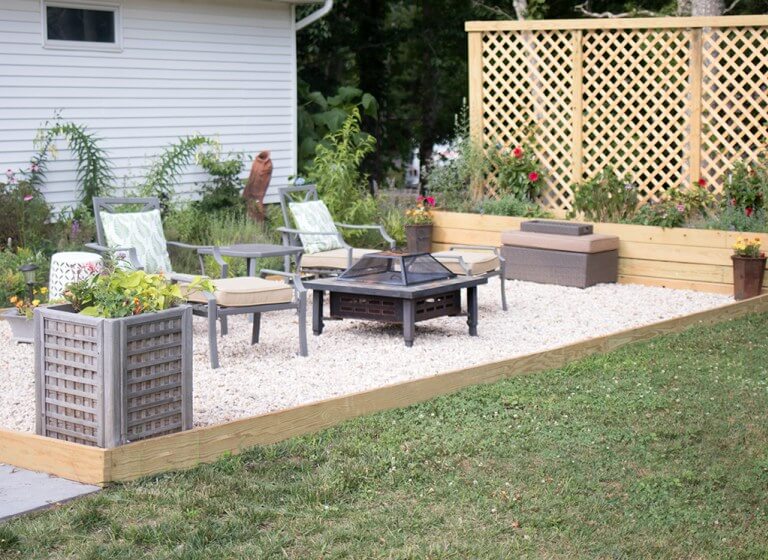 If you are looking to add a beach-like vibe to your garden, pea gravel is a perfect choice. Simply create a special section via a wooden frame and you can easily add in the gravel and decorate from there. It is a wonderful project that combines a patio and a garden while also separating them from the rest of your backyard to make them the center of attention. Such a personalized space makes it easy for a lounge and fire pit setup that can overlook your raised garden flower bed. There is still enough room left for you to place scattered plants and flowers within the frame.
7. Perfect Small-Space Relaxing Gravel Garden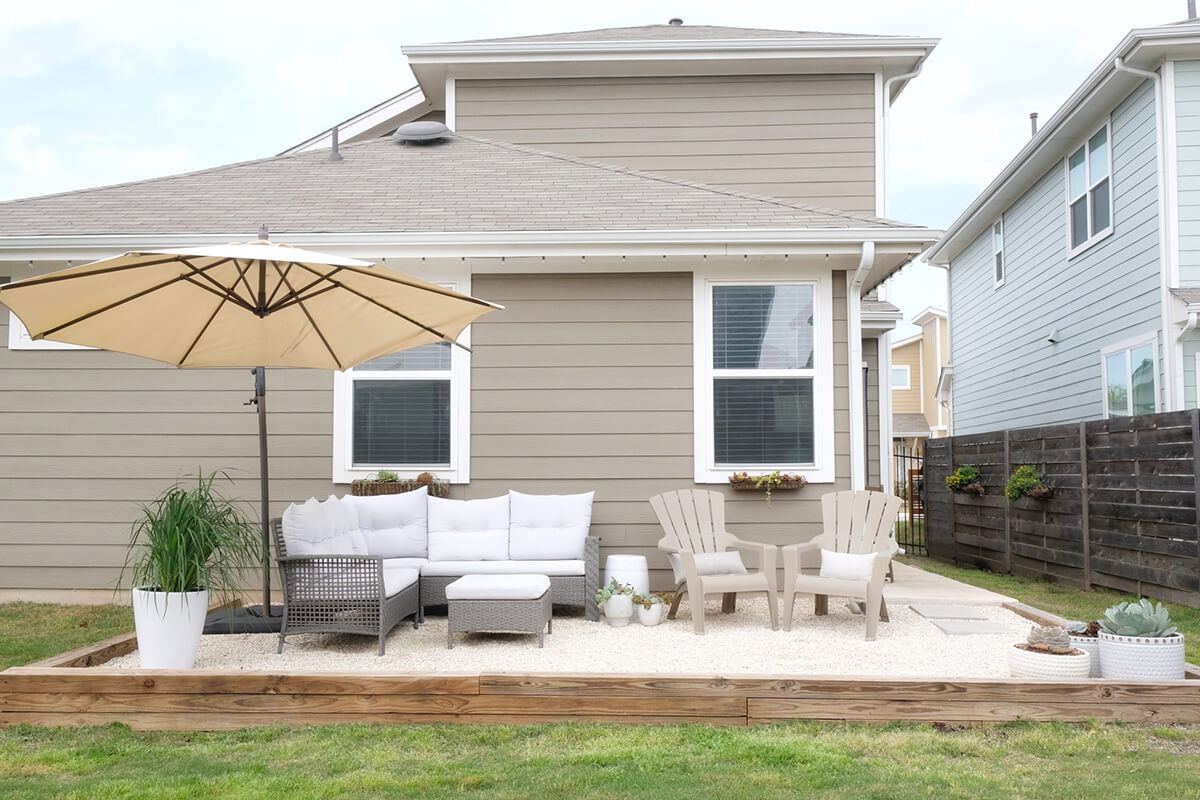 Don't let a limited amount of space stop you from using some of the best garden makeover ideas. All you need is a wooden outline frame, gravel, and some nice furniture to lay down the foundation of your garden area. It may help to use white-based colors to help the area look lighter and eye-catching. This is yet another fun way to utilize larger plants and flowers for your garden considering the amount of room offered inside the closed-in frame. Or perhaps you'll even throw in a mixture of small to large plants instead to create more diversity.
8. Large Vibrant Walkthrough Garden Oasis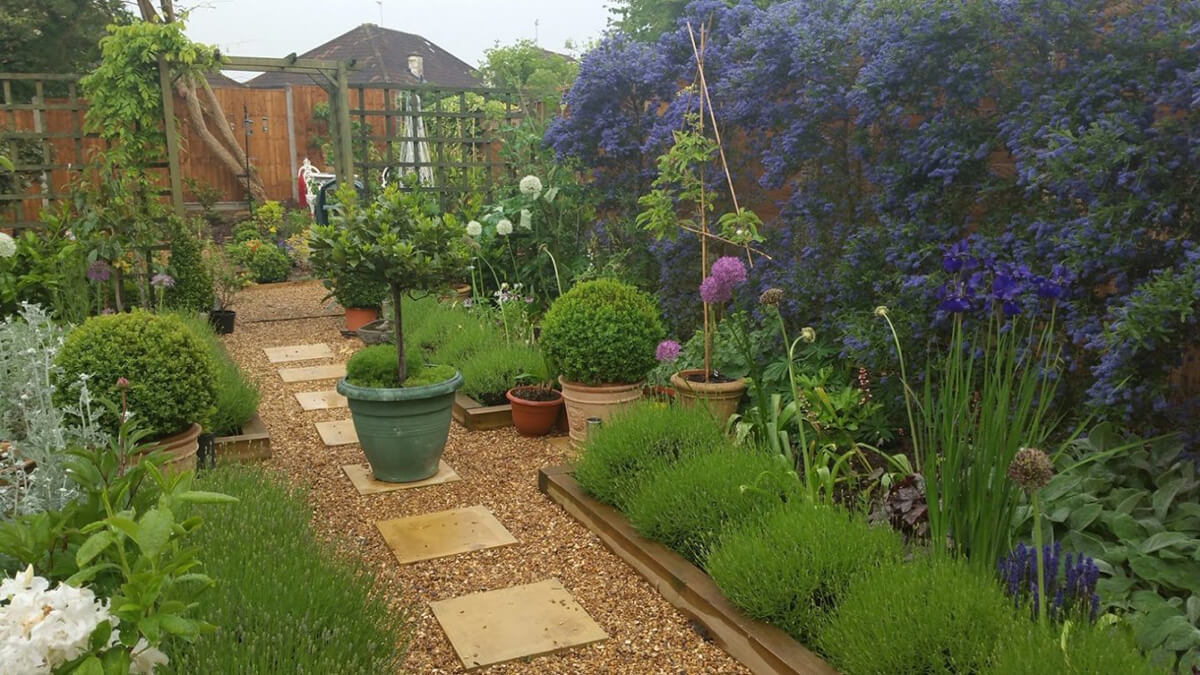 For those of you with some space to spare, you can elevate your backyard makeover project with this large, gorgeous walkthrough garden. You don't have to settle for just a few plants and flowers as the area grants you more than enough room to add whatever you wish. But don't just stop there. You can section off the region with gravel and lay down an entire stone pathway so you and anyone else who wants to venture through your garden can easily view the flowerbeds as well as any taller plants or trees you may have planted throughout the area.
9. Beach Vibe Relaxing Garden Space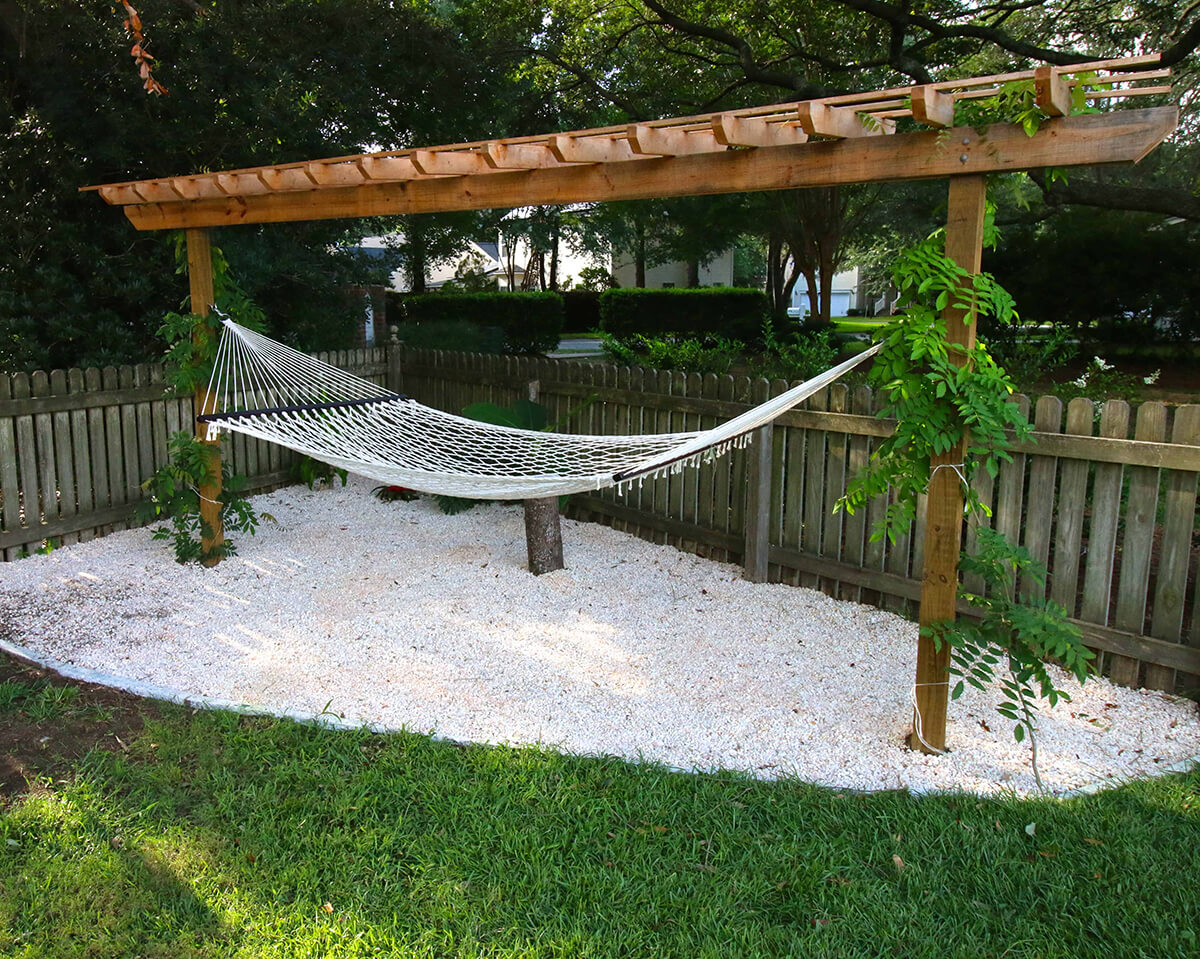 Perhaps you simply want to lay back and just enjoy your garden in relative peace and tranquility. Well, you can create a beautifully serene environment in just a few steps. All it starts with is a small fenced-in area and from there, you can build up a pergola stand with a hammock attached to it. The beach-like gravel and the hanging plants can help you enhance the overall theme. This is a more understated garden makeover, but it is still unique, letting you add a more personal touch to your backyard style. At the same time, it is a wonderful way to grab some fresh air and view your beautiful garden scenery.
10. Paved Fire Pit Backyard Garden Patio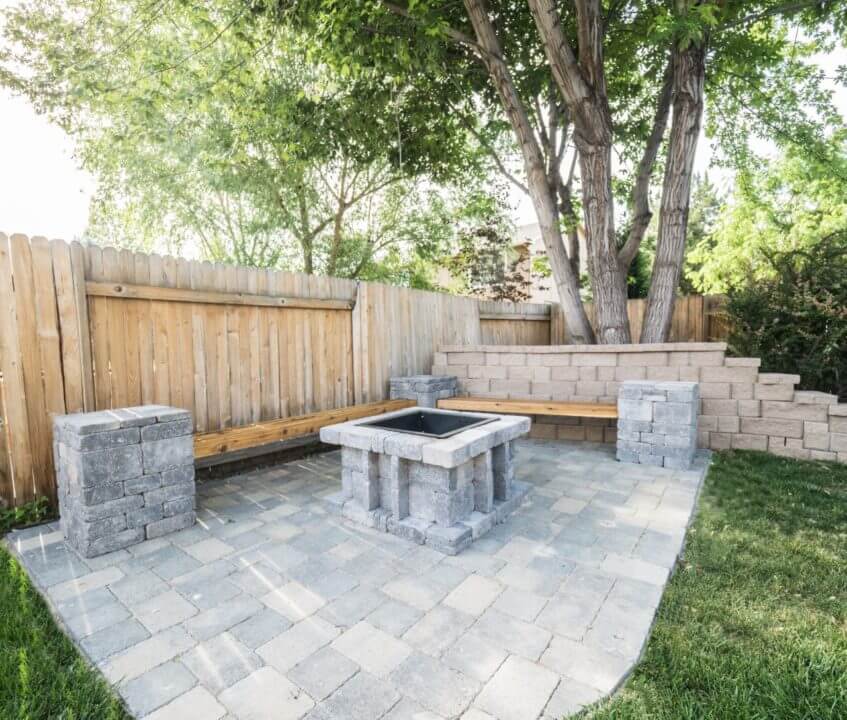 Take a bold approach to a garden makeover with this paved fire pit design. This can be a good choice if you are more interested in a rustic style centered around the concept of simplicity. Now, there isn't much greenery with this garden design, but it can still work well if you want to add in some potted plants. Otherwise, the wooden bench and stone provide both a functional and appealing layout. It can all perfectly suit a stone fire pit, and with the space offered, it allows the entire family and friends an easy place to gather around for some quality bonding time.
11. Spacious Modernized Deck and Garden Bed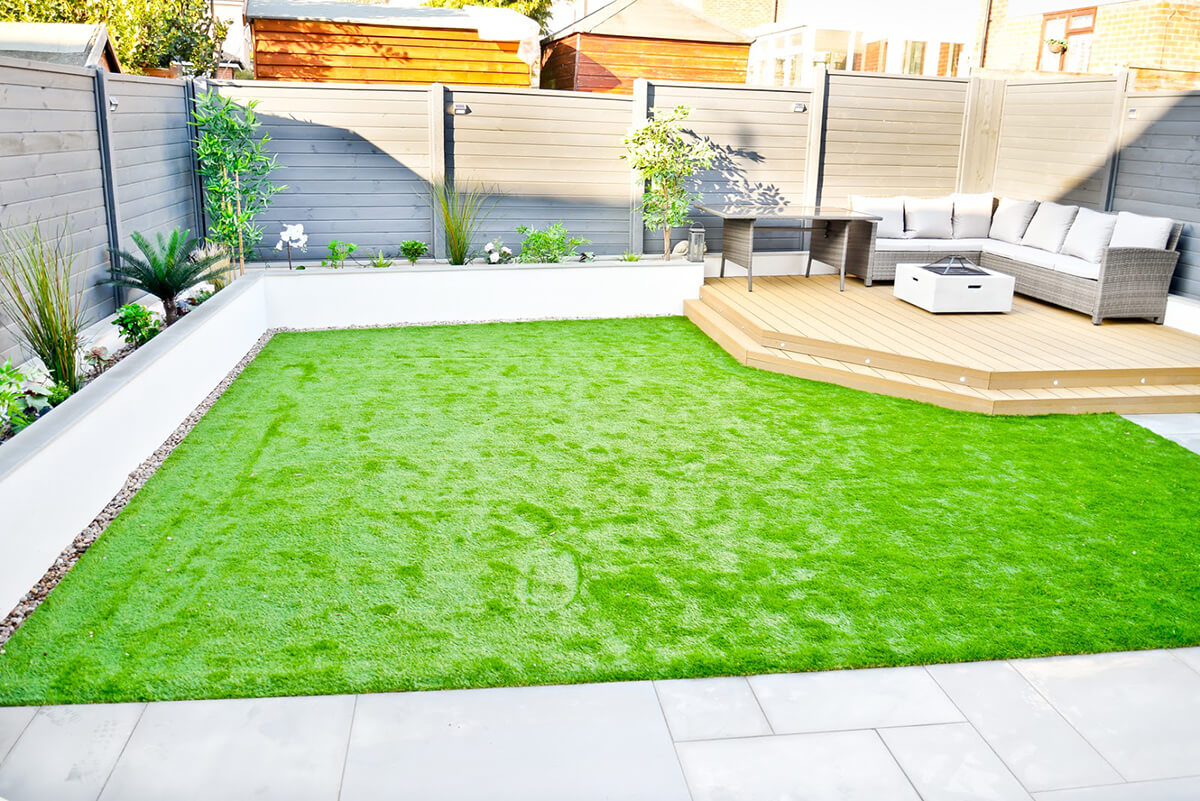 Some of the best landscaping ideas are simply clean and modern like this deck and garden flowerbed layout. This type of backyard garden makeover makes great use of your yard's bright green grass to create an open space that leads to your deck and garden. Setting up a raised flowerbed near a fence, if you have one, does well at filling up space without taking up room from the rest of the yard. The raised flowerbed is also contemporary so it helps to add some unique plants. All of it leads toward the deck to make a fun lounge area for guests and family.
12. Vivid Curving Front Yard Garden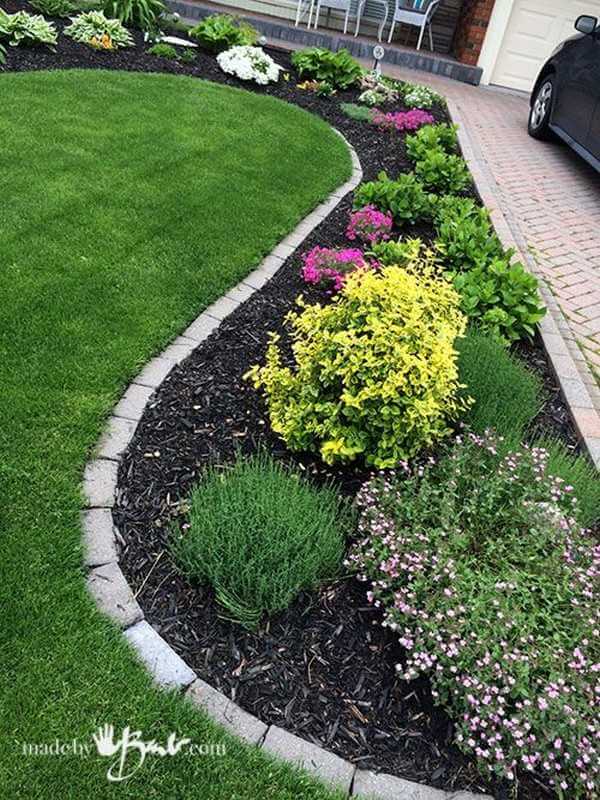 If you prefer a front yard garden setup rather than leave it in the back, then check out this amazing curved garden style. By using a curved pattern, you can direct attention appropriately for anyone who visits or even drives by your home. Beyond that distinctive appearance, one of the best things about this garden makeover idea is the amount of room you have to add a variety of plants, shrubs, and even small trees. You can create a vivid, colorful garden to show off all your lovely landscaping skills. Just imagine how it will all look with the changing of the seasons.
13. Backyard Corner Dining Room Garden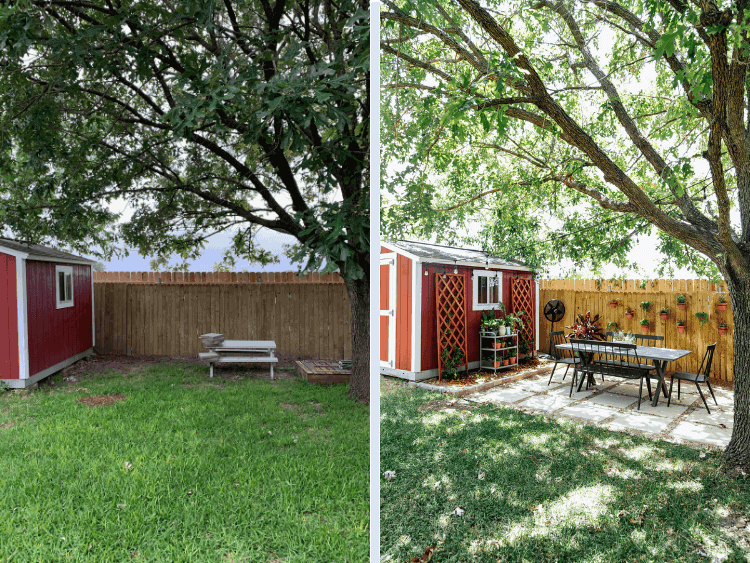 Who knew how well you can take a simple corner in your backyard and transform it into a beautiful dining room garden? Out of all the top garden design ideas, this one helps you build a fun, inviting environment where you can check out your greenery and sit down to enjoy a meal when the weather permits. For your herbs and flowers, all you need is a rolling cart to place the potted plants on, and they even look incredible hanging on a fence for easy access. The dining table in the center helps the style come together as does a gorgeous tile and gravel flooring.
14. Beautiful Retro Front Yard Garden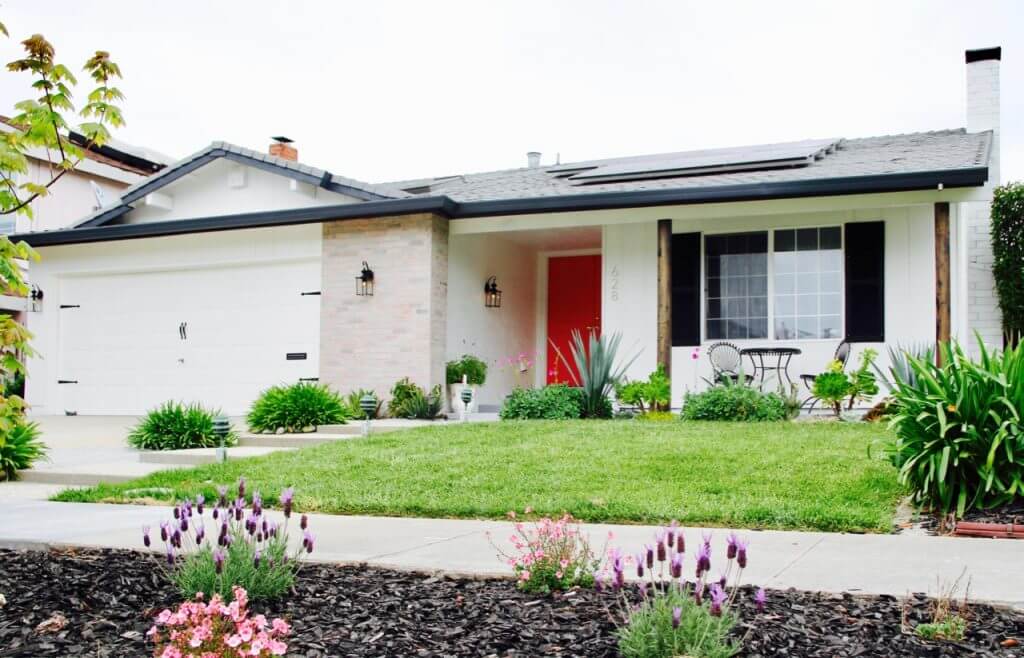 A retro house deserves front yard décor that matches, and this garden style can help you accomplish that. It's clean-cut for those of you who seek some sort of simplicity, while it also boasts a stunning edge thanks to the addition of some rocks and gravel around the plants. Such a style appears most ideal to suit larger plants such as bold succulents or low bushes. It's a nice way to add some green to your front yard without overdoing it. You may even want to consider tossing in some ground lights as a way to illuminate the path and the garden itself.
15. Stunning Dark Mulch Flowerbed Transformation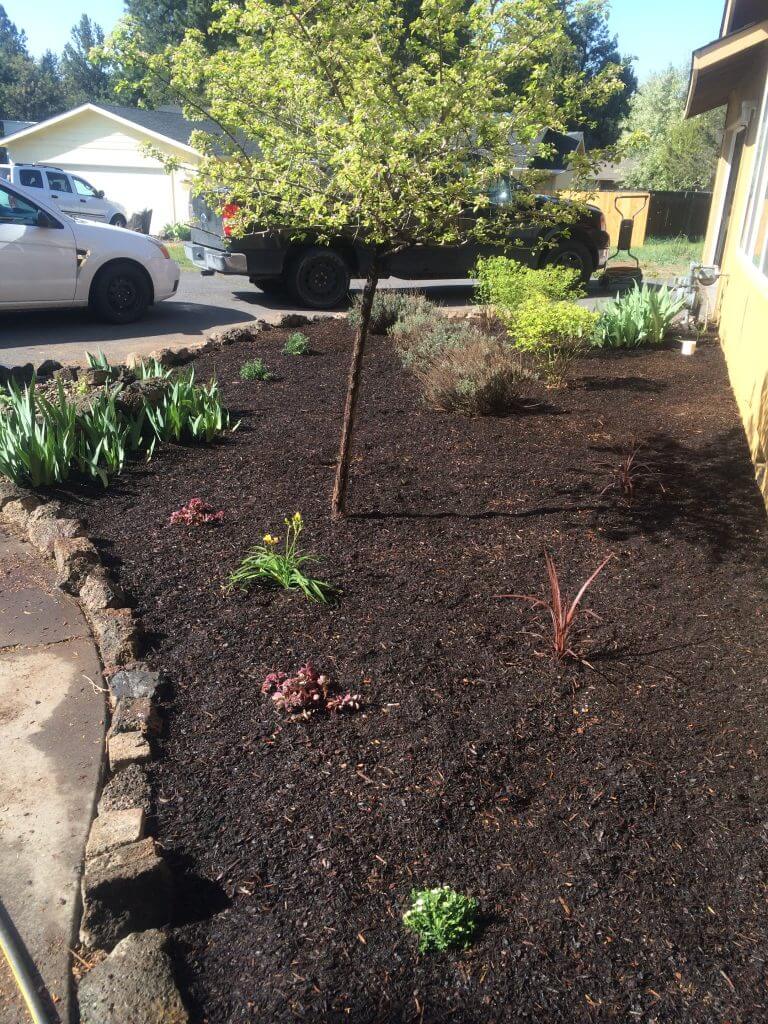 Oftentimes, the best backyard landscaping ideas simply require a change of color tones. If you have relied on normal dirt, perhaps it is a good time to consider switching it out for some dark mulch instead. It is an inexpensive and surprisingly easy way to upgrade a typical flowerbed into something that appears brand new and fresh. Dark mulch can also make the area come across as larger than what it is, so you can take advantage of that space to add an assortment of different plants. This style is topped off with the rock barrier, but you can, of course, use any kind of wall you'd like.
16. Mulch and Gravel Backyard Patio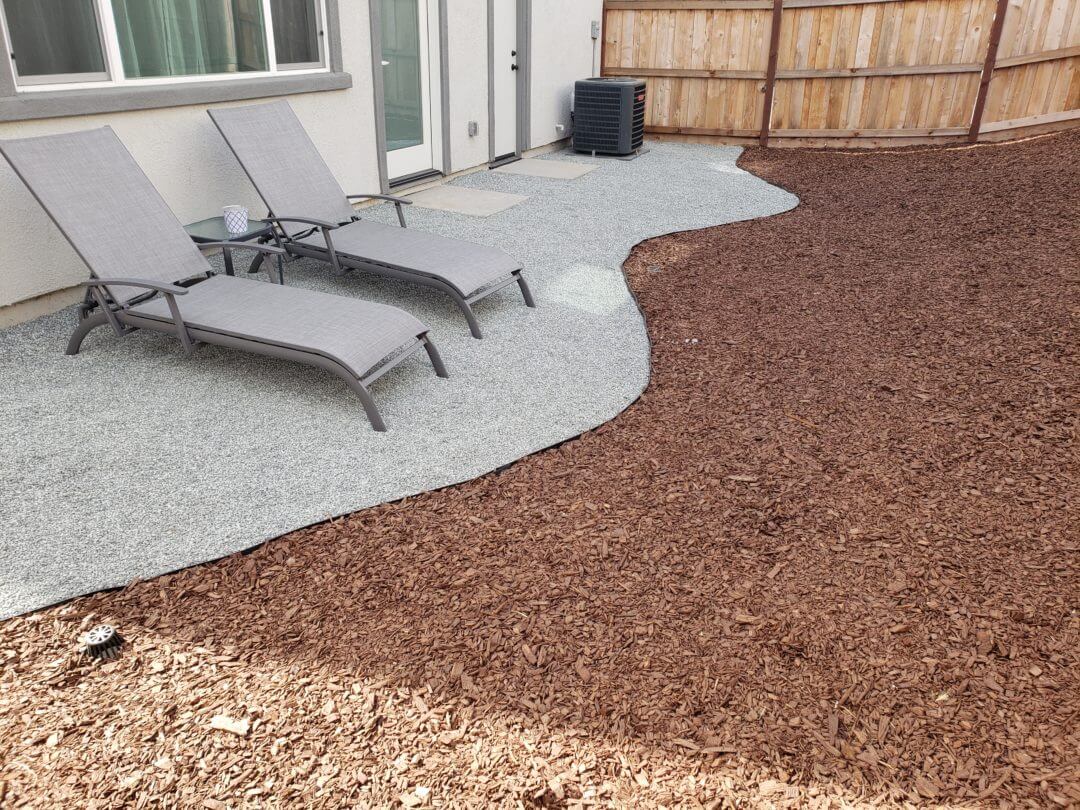 An awesome idea for a garden makeover is to combine two very different properties to develop a singular, eye-popping piece of décor. It wouldn't seem like gravel and mulch can go together so well, but this project proves just how compelling they are in a backyard setting. Once you lay down your dividing wall, you can spread the mulch and gravel in whatever pattern suits your specific yard. The gravel can be the ideal place for a chair and table set up too if you need some lounging room. If you still want to add some greenery, an end table can be a good place to start.
17. Raised Brick Curved Garden Bed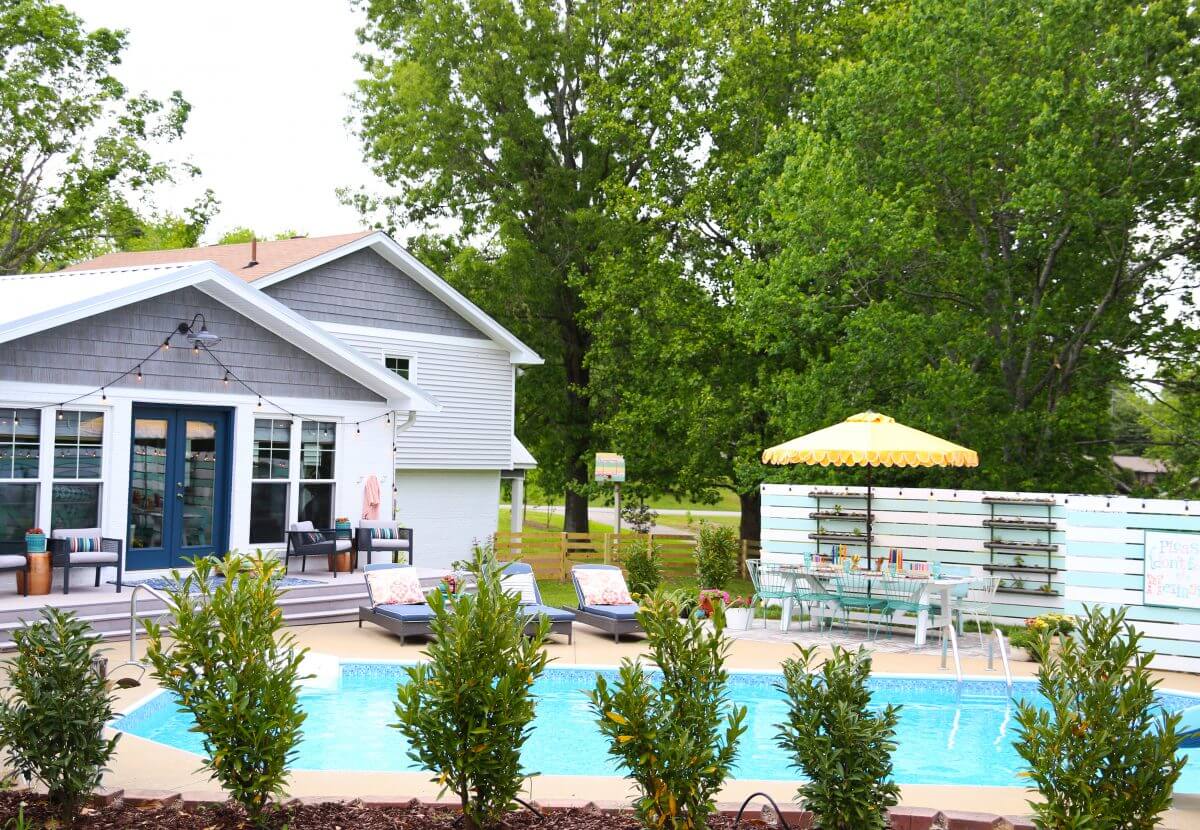 A raised flowerbed is always a fun way to add some more emphasis to your garden so that it proudly stands out in your yard. Using brick as the foundation for the wall creates a bold and reliable style, and it is easy to build in a curved pattern for the sake of décor. Such an appearance bodes well for those of you who have a pool in the backyard as you can readily set this up to follow the outline of your pool. Just fill the bed up with some dark mulch to help it pop more and you are left with a lovely, stylized garden.
17 Fun Garden Makeover Ideas to Personalize Your Backyard
Gardens have always been a major, intricate part of many people's home decorations. What's so fun about them is that there are just countless ways you can set them up. You can use the standard dirt birds in the front or back areas of your home, add some elevated brick flowerbeds, or even fancy them up with some dark mulch or gravel. Sometimes, you may even consider combining your garden with another aspect of your backyards such as a deck, patio, or lounge area. Or maybe you don't even want an insane amount of greenery, focusing instead on the style with an occasional plant or two thrown in.
No matter what you desire, some of these best garden makeover ideas are bound to elicit a spark of creativity to get you eager to do some more decorating. So, browse through them all and hopefully, you will gain the necessary inspiration to have an exciting and fulfilling outdoor home project.
Our Favorite Outdoor Decorations to buy on Amazon