From glamorous opulence to rustic charm, the best grey and white bathroom ideas can successfully achieve a wide variety of ambiance possibilities. Because of their neutral simplicity, white and gray not only pair well with each other, but can also let other colors shine as accents. In addition to the visual benefits of choosing this palette, there are some practical benefits as well. Many bathroom appliances and tiles are readily available in gray, white, or a combination thereof, which means you will not have to pay premiums for custom colors.
14 Perfect Ways to Use the Best Grey and White Bathroom Ideas to Create a Serene Sanctuary

Depending on your specific choices, bathroom designs with grey and white colors can feel invitingly warm or tranquilly cool. Because gray can be either warm- or cool-hued, you have the power to decide which you prefer. Once you have colors selected, finding complementing hardware is hardly a hurdle. Choose a black finish for a modern aesthetic or try a metallic finish to add something shiny to your space. Choosing warm-hued metallic hardware like brass and gold can add a glamorous yet welcoming touch to a bathroom.
Unlike bolder bathroom color schemes, white and grey bathroom decor can allow for more complicated design elements to take the stage. Intricate patterns on the floor tiles, hexagonal marble tiles, ornate mirrors, show-stopping chandeliers, and concrete countertops are only a few possibilities. You will also be able to play around with textures: smooth marble, rugged rope, luxurious towels, living plants, and brushed metal can cohesively create a tactile feast.
Even if you are not planning a full bathroom remodel right now, there are a lot of ways to easily and affordably give the space you are in now a gray and white facelift. Rejuvenating with a coat of paint, fresh decor, or some new hardware can not only give outdated bathrooms new life, but also make the restroom a pleasant retreat instead of a room to leave as quickly as possible.
1. Elegant Black and White Vanity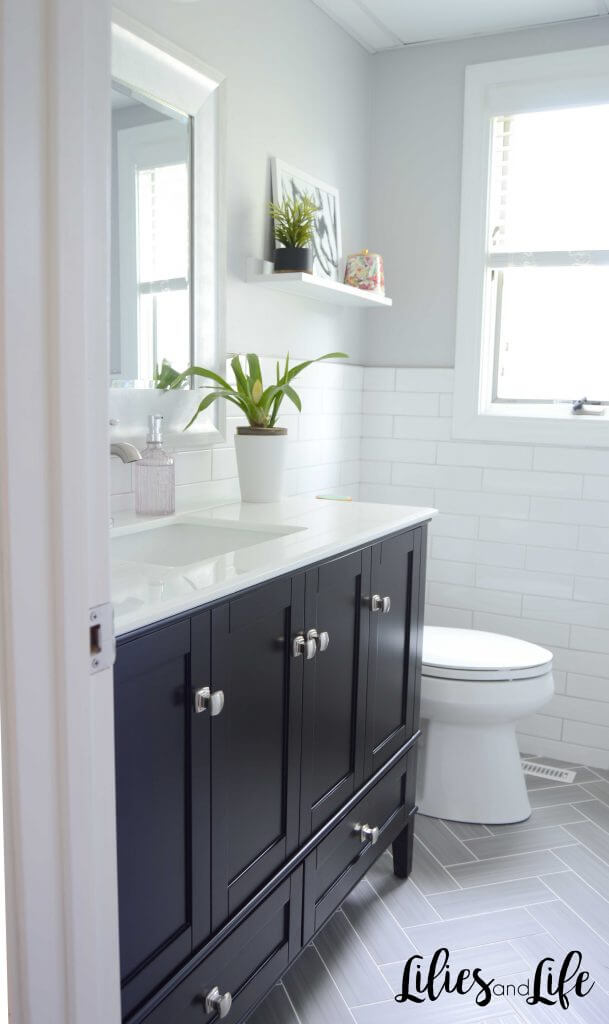 When remodeling a bathroom, consider incorporating some black along with white and gray. In this case, black does well with making a bold statement since it graces most of the vanity. It boasts sophistication with how clean it makes everything look overall. This is rounded out well with the white everywhere else, freeing your attention to travel around to capture the bathroom as a whole. When it comes to gray, the hardware shines well and stands out effortlessly against the daring black cabinets on the vanity. Not much other color is needed in a bathroom design such as this when you have the black so prominent since it helps everything else look vibrant in comparison.
2. Minimalistic Industrial Theme Bathroom Design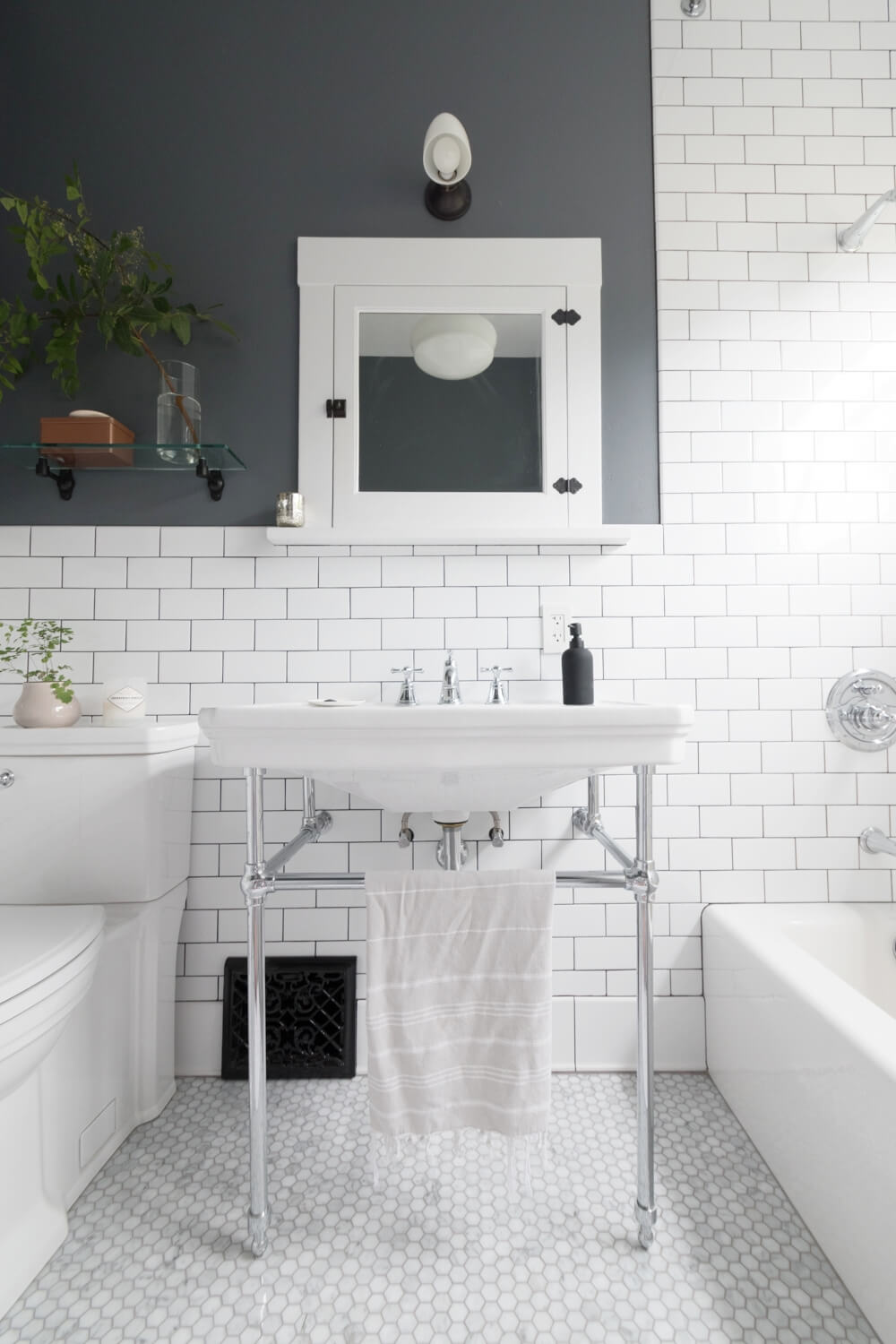 Tones of gray and white work well if you have a bathroom that leans more with a mix of industrial and vintage. The gray look works well with the pipes and fixtures throughout, and at the same time, leaving the pipes seen rather than hidden behind a cabinet really nails down that lofty-like theme. It is certainly a minimalistic design that still manages to speak with its own style. The bright white all around the rest of the bathroom contributes to this design easily snatching attention without doing too much. With the addition of a single gray or black accent wall, the room has a great sense of flow.
3. Refinished Gray and White Cabinets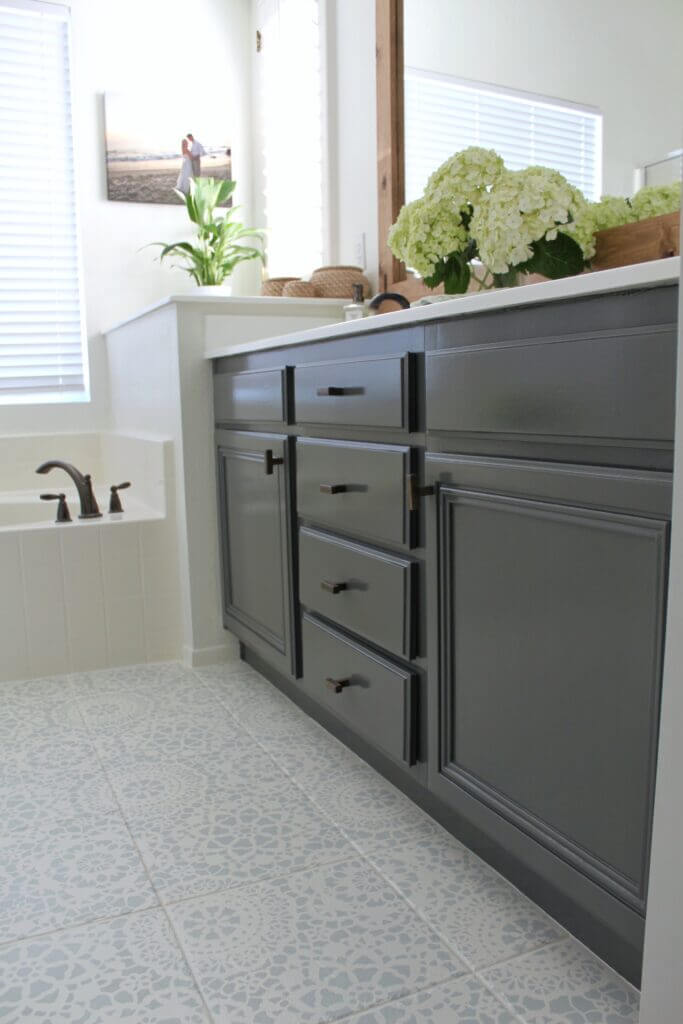 To get the bathroom of your dreams, you sometimes need to do a little upgrading. Consider transforming the cabinets you already have into a smooth gray color with a nice refinishing job. It works out well with the white top and anything else you have white in the bathroom such as the tub and shower area. The use of darker hardware further helps with the style too. Those darker touches provide an additional layer of contrast, allowing the overall design to stand out even more. The result is a bathroom setup that appears sleek and modern.
4. Farmhouse White and Grey Bathroom Vanity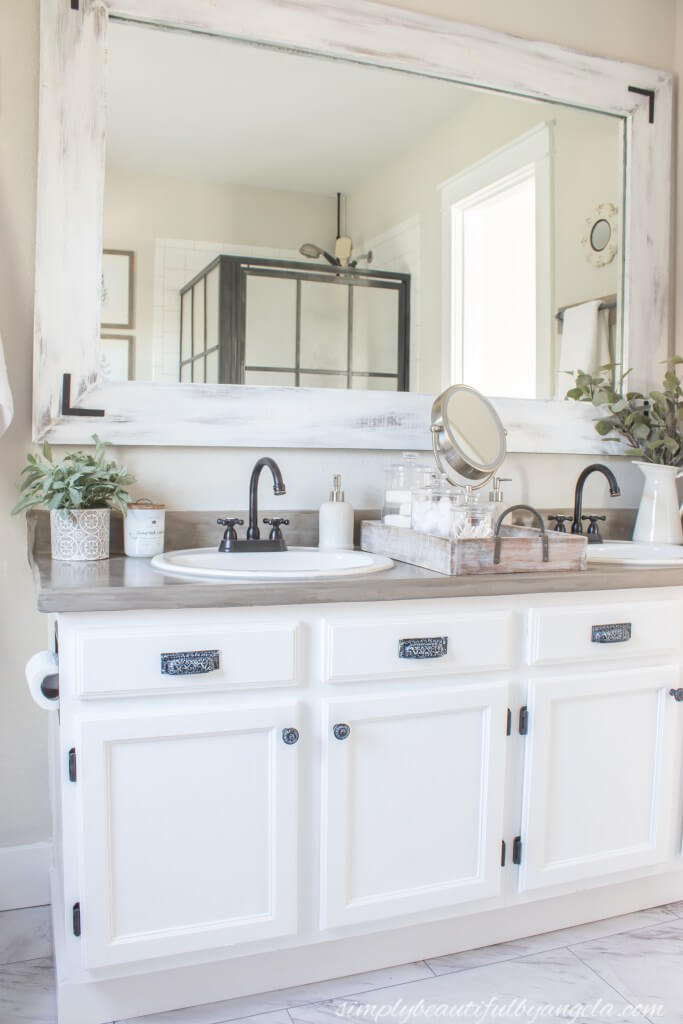 Of all the best grey and white bathroom ideas, picking the perfect lighting is one of the most important, as it really helps set the mood. As the focal point, the chandelier in this image transforms this bathroom from a brief pit stop to a rejuvenating destination. However, the gray and white vanity provides the perfect backdrop and allows the stunning chandelier to steal the show. For some extra farmhouse flair, try making your own concrete countertop for your vanity. Until you read this tutorial, you might not realize how easy it is to give an old vanity a modern farmhouse facelift.
5. Gray and White Vision in Marble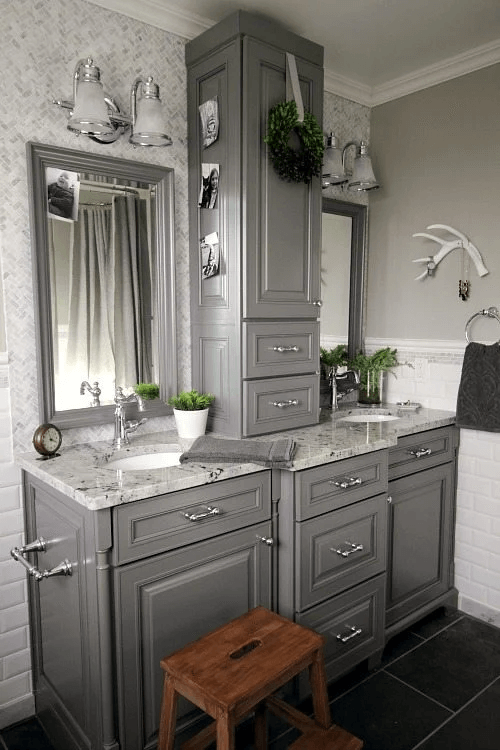 Making it feel both inviting and spacious, the combination of natural light and warm gray paint opens up this bathroom. A large custom-designed vanity serves as the focal point with the added benefit of preventing countertop clutter. Instead of bathroom paraphernalia living in other rooms, the vanity also ensures that it stays out of sight. While creating a splendid visual contrast, the beveled white subway tiles offer historic charm balanced perfectly by the modern black floor tiles. Pops of greenery and a wood stool connect the space to nature without overwhelming the white and grey bathroom decor theme.
6. Gray Swirls with Crisp Whites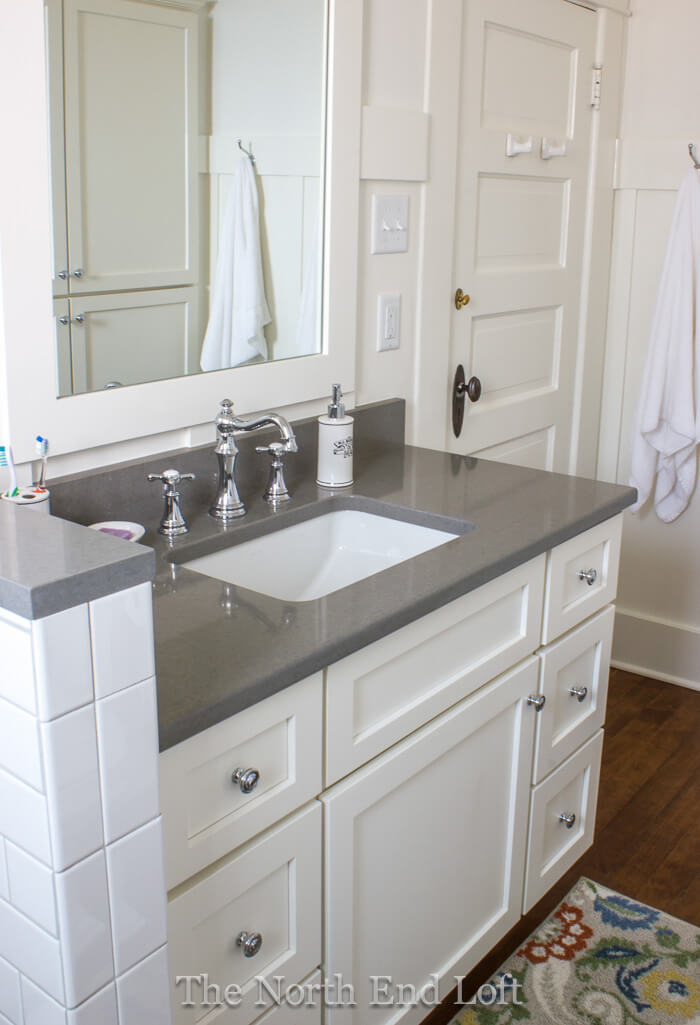 When designing your white and gray bathroom, do not be afraid to pick white to be the dominant color and let gray be the accent. This image and the bathroom reveal show how dramatic a white bathroom with gray accents can be. Silver hardware and gray swirls in marble tile floor tie both rooms together. Like the tutorial, you can use preexisting flooring for the main bathroom and marble tiles in the shower or you can go for the all-marble flooring approach as in the image. Featuring swirling white and gray marble in a primarily white bathroom creates an atmosphere of airy extravagance.
7. Warm Gray Tones with Cool Frameless Mirrors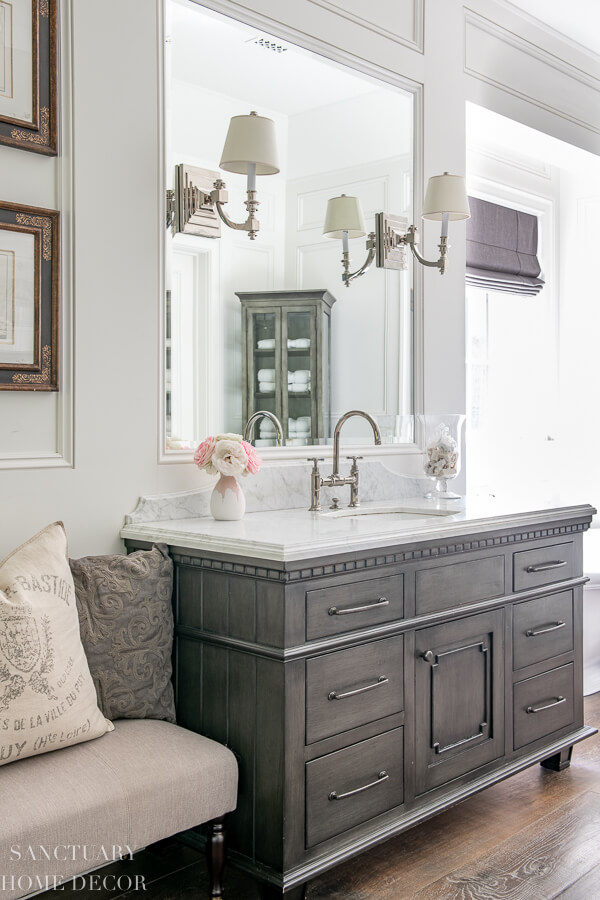 A room decorated in cool grays might feel soothing and spa-like, but a bathroom decorated in warm tones will feel welcoming and relaxing. Whichever look is right for spicing up your space, using warm accents like the gold hardware featured in this image or cream pillows highlighted in the tutorial add to the welcoming atmosphere. The frameless mirror keeps the room open while the warm gray paint keeps the space softly inviting. Greenery adds another layer. Succulents like the ones shown in the image keep a space looking chic and modern, but a spray of peonies adds some romantic drama.
8. Double Vanity White and Grey Bathroom Decor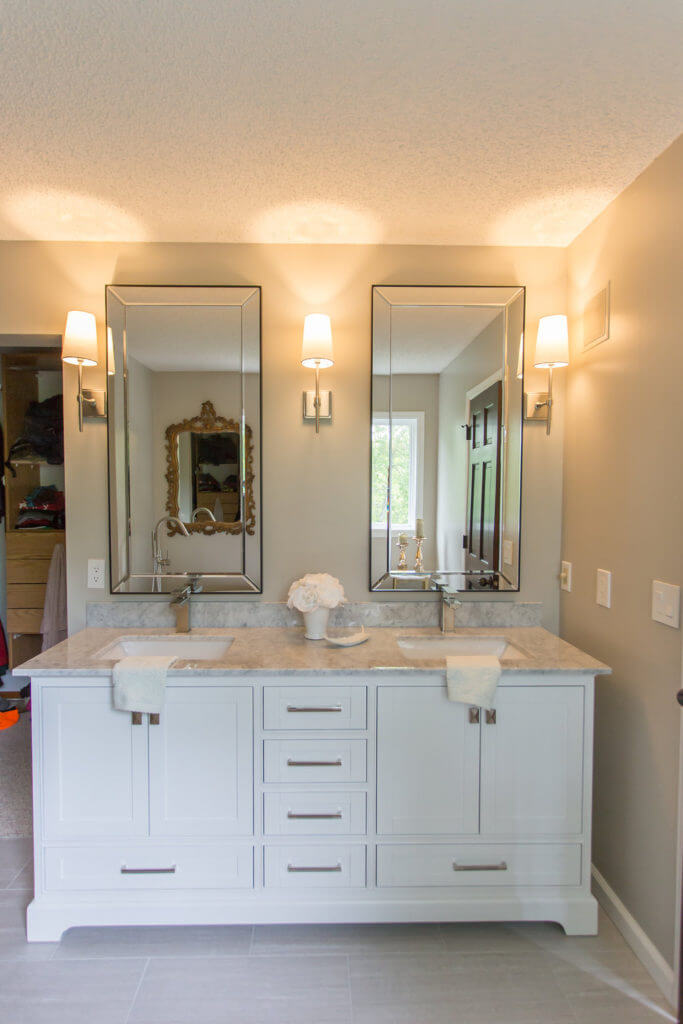 While a double vanity might seem an intimidating design challenge at first, it is really an opportunity to experiment with geometry. Straight lines and square edges energize while curves soften. Because this double vanity is simple and white, you can have fun with some of the best grey and white bathroom ideas. For example, you can use bold paint colors, intricate tile flooring, and feature ornate accents in other parts of the bathroom without the vanity fighting to be the focal point. Choosing to keep a double vanity simple is the gateway to a unique and exciting bathroom decor experience.
9. Success with Marble Hexagons and Black Accents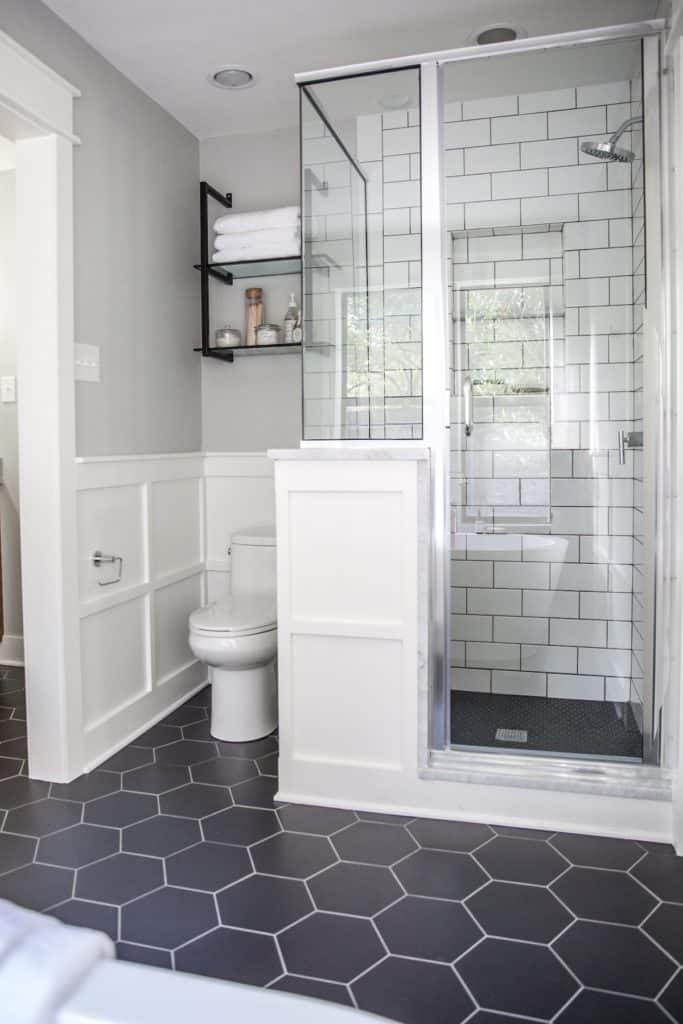 When designing your ideal bathroom, one of the most important steps is to make a plan. By narrowing all the best grey and white bathroom ideas down to your favorites, as explained in this tutorial, you can decide which elements will look best in your space. This image integrates grey-veined white marble with crisp black accents. Black does not need to be excluded from grey and white bathroom decor. By using it sparingly, as shown in this example, you can create contrast and develop dimension. Playing around with geometry by using both hexagons and rectangles is another way to build some engaging contrast.
10. Shaker-Style Gray and White Vanity Makeover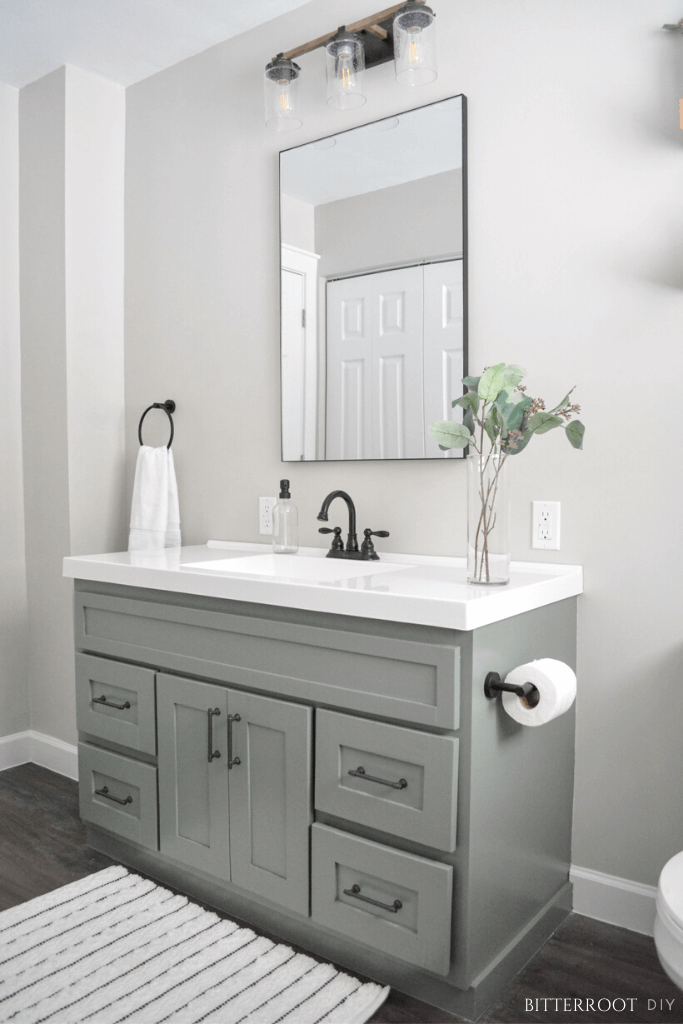 Transforming a passé vanity into an elegant focal point might be easier than you think. This tutorial shows how easy it is to create your own vanity metamorphosis. Shaker-style furniture features timeless lines and subtle simplicity that blend with nearly any space. By featuring a white countertop and gray cabinetry in your bathroom design with grey and white colors, you direct focus upwards instead of downwards. This gives the mirror you choose an opportunity to shine. Square-edged mirrors will modernize your bathroom with invigorating energy. However, an ornate antique mirror contributes old-world charm while providing a chic focal point.
11. Floor Stickers for a Budget-Friendly Refresh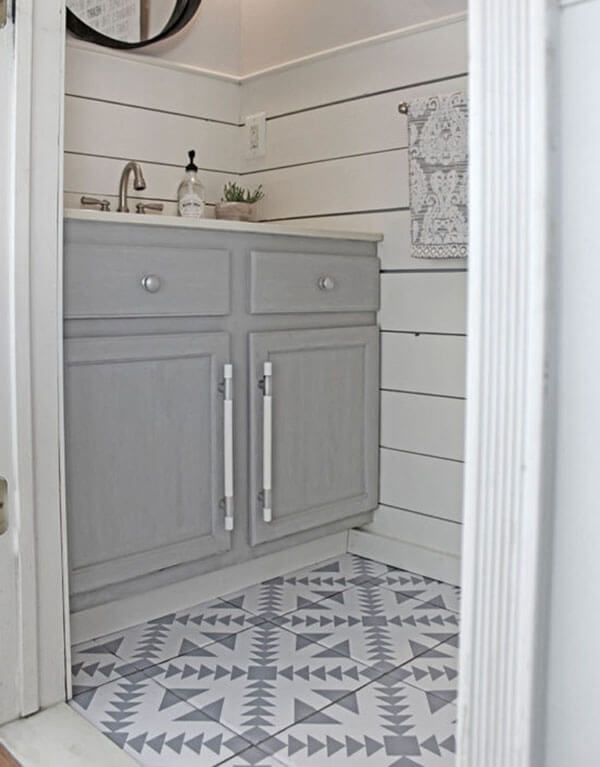 The key to creating this breezy bathroom is using easy-to-apply floor stickers on the existing tile floor. Even though these are pull-and-stick adhesives, they are waterproof and easy to clean. Pull-style handles on the vanity give the space a unique and modern vibe. With a few copper pipe fittings, a dowel rod, and some spray paint, you can refresh your vanity to create your own bathroom design with grey and white colors. Pairing the patterned floor with a patterned towel helps tie the whole room together. Because this bathroom uses pale gray and white, it feels much larger than it actually is.
12. Instant Elegance with Marble Subway Tiles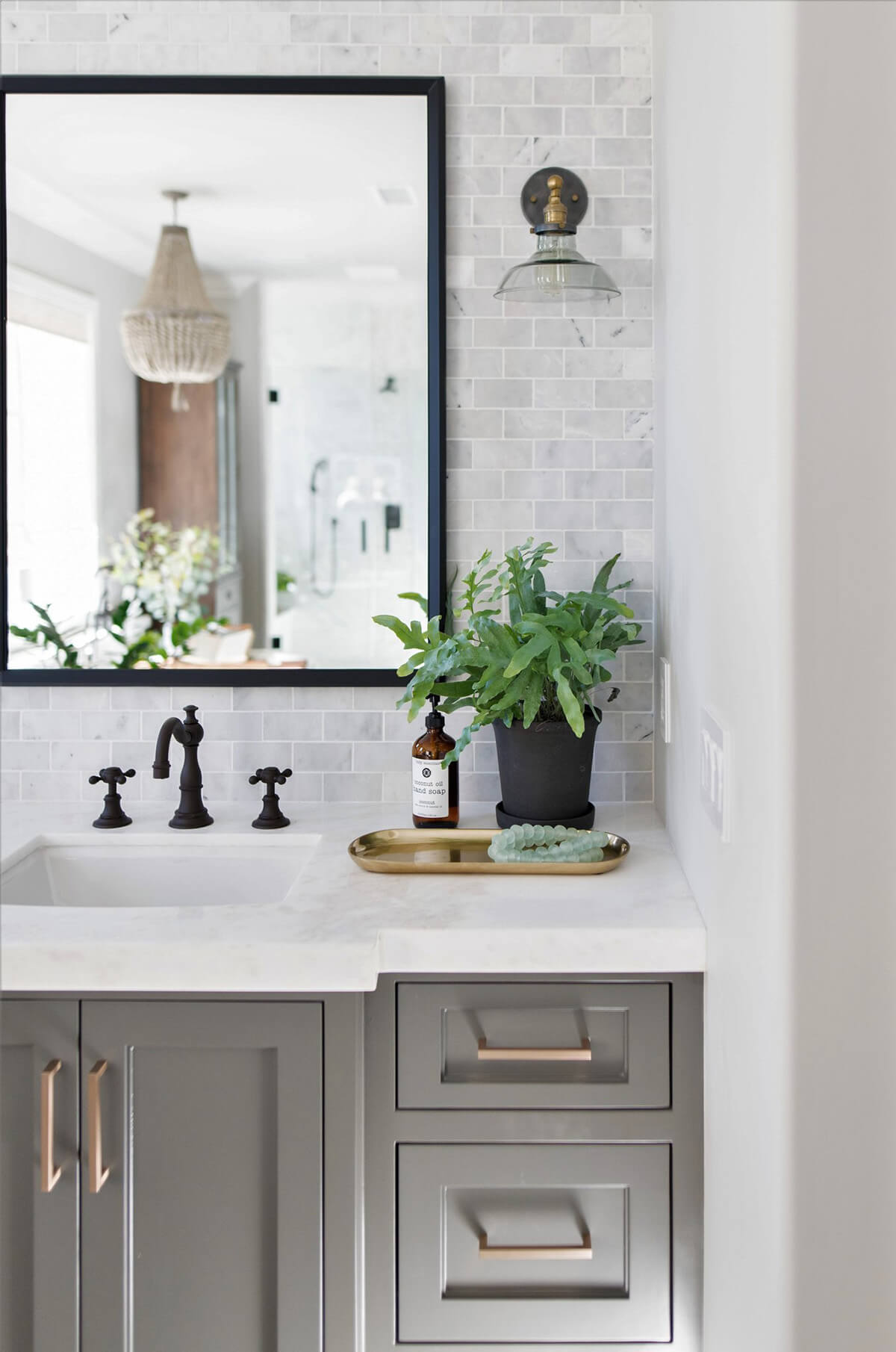 When the rest of your bathroom design with grey and white colors is simple, you can get really creative with shapes, colors, and textures. Bestowing effortless polish in any bathroom, marble subway tiles combine marble's refinement with the functionality of subway tiles. You might be surprised at how well marble, despite its reputation for opulence, can set off a rustic or farmhouse-inspired space. Instead of fighting the rustic vibes, using marble tastefully can exude low-key sophistication. As this image shows, hardware does not need to be identical throughout the room to look complete. Pairing metallic hardware with matte black accents looks pleasantly modern.
13. Handmade Gray Farmhouse Hanging Ladder Shelf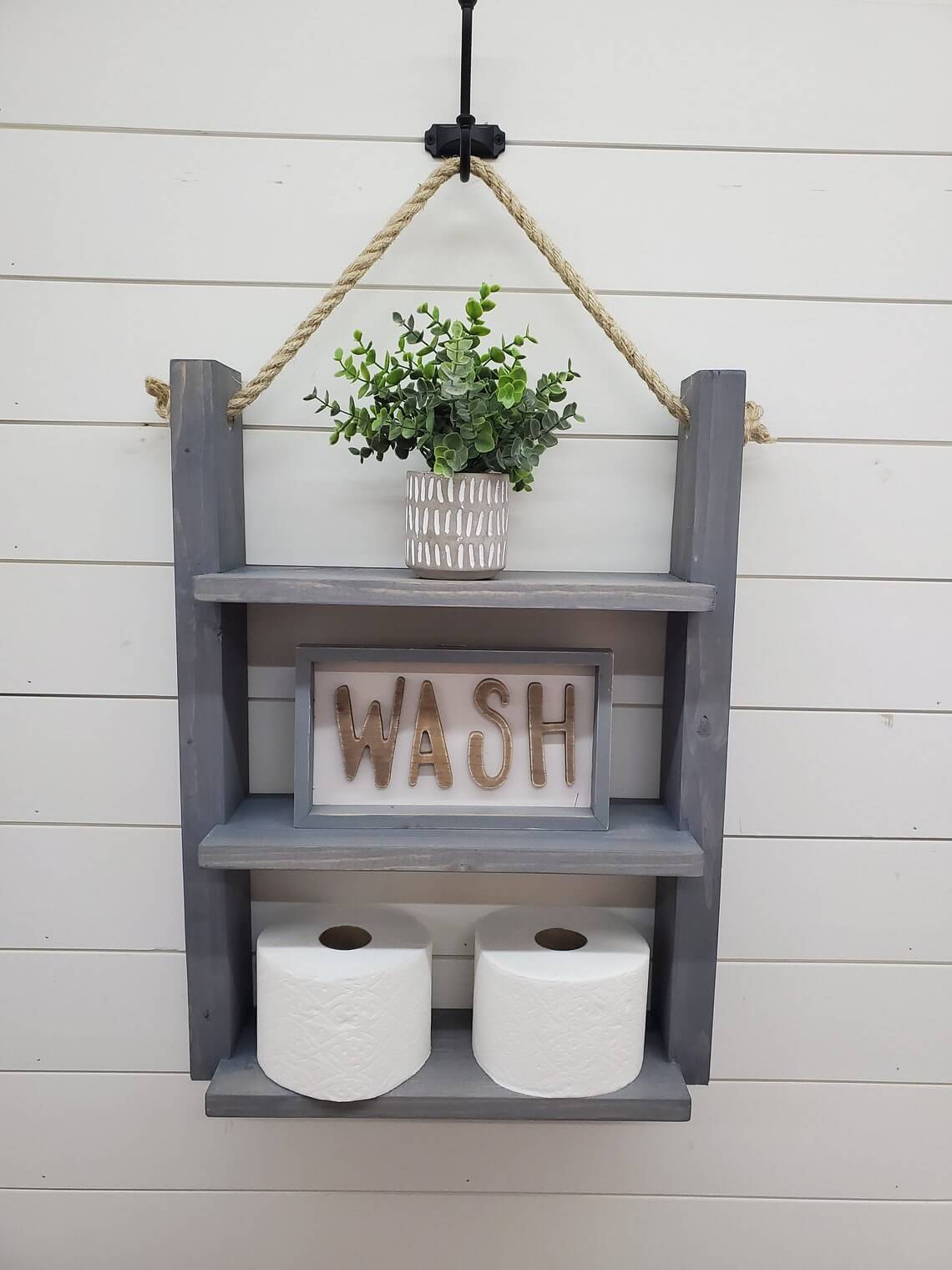 Once the best grey and white bathroom ideas have been executed to perfection, you will be able to add unique touches to personalize your space. This handmade shelf is a great way to add some farmhouse pizazz to a bathroom. Instead of using gray paint, the gray wood stain highlights all the knots, wood grain, and natural imperfections. Depending on your tastes, the deep shelves mean you can display pictures, plants, candles, toilet paper, or lightweight tchotchkes. If you enjoy seasonal decorations, this hanging ladder shelf is the perfect vehicle to showcase your latest projects or treasures.
14. "Get Naked" Set of Three Downloadable Prints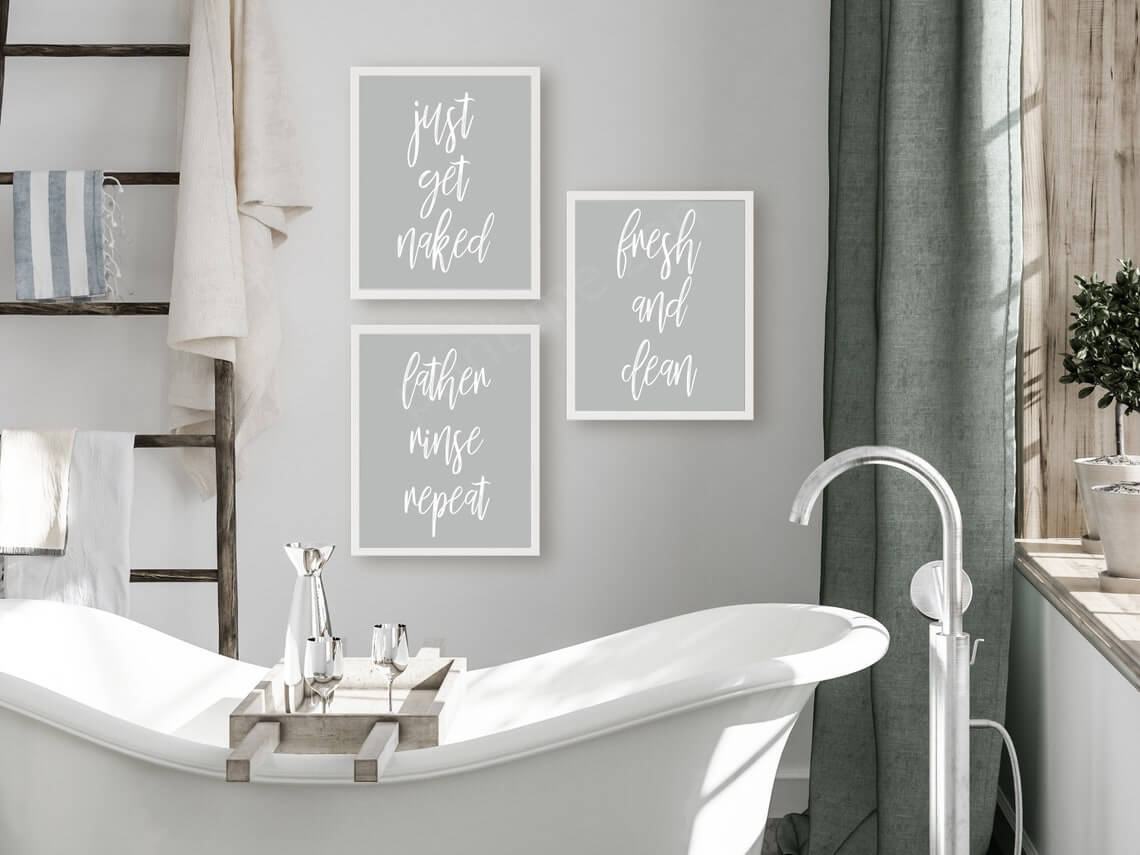 Adding a touch of clever humor to your bathroom is as easy as hanging some fun wall art. Able to blend in many bathroom designs, these prints feature flowing cursive script that adds whimsically relaxed flair. While you can display all three prints at the same time, you could also design a space for only one and spice things up by switching them out throughout the year. Because you will be printing these, you can select a frame that will seamlessly tie these playful prints into your bathroom decor. If your goal is to create a relaxed ambiance instead of a formal environment, these are the perfect prints for your space.
14 Brilliant Examples of the Best Grey and White Bathroom Ideas for Budgets Big and Small
White and grey bathroom decor color schemes can help an outdated bathroom feel pleasantly modern and timelessly classic. This color combination is also great for those who enjoy experimenting with textures, shapes, and materials to create an utterly unique restroom. If you are remodeling from the ground up, there are lots of tile and flooring options to make your wildest dreams come true. Giving a gray and white facelift is possible on a budget if your creative arsenal can include floor stickers, spray paint, and updated hardware.
Bringing your ideal gray and white bathroom to life is possible even if your style is rustic farmhouse, minimalist modern, or anything in between. It is all about figuring out your focal point, developing a plan, and making it happen. As you begin this process, remember to have fun and to include your personality in your bathroom refresh.
Because the bathroom is often the first destination after waking up and the last stop before bed, it is an important room in everyone's life. This space will need to both help energize as well as help unwind. The best grey and white bathroom ideas do more than making a bathroom look good — they help this private space become a tranquil haven.